Decorated Life is reader-supported. When you buy through links on our site, we may earn an affiliate commission. Learn More
Kitchen Style Trends to Fall For
By: Decorated Life Team
|
Kitchen Style Trends To Fall For
Kitchen style trends come and go and if you are finding yourself in the kitchen more and more these days, you are probably asking yourself how you might improve your kitchen. Well, where do you start? Yes, you need to update, but changes should help your kitchen to be more user friendly, not just bigger or new.
Your kitchen needs to be easy to get around and highly functional, and still look like the jewel in the crown, not a fast food joint.
There are a lot of very accessible kitchen style trends that you can incorporate in your existing kitchen design or have installed in your new kitchen.
There is no right or wrong, and there are enough styles to go around, so you get your modern kitchen plus all the coziness you need to make your kitchen feel like the heart of your home and not like something out of a flat pack. You want it to 'feel custom' (even if it is out of a flat pack!).
Transitional Style Kitchens Are Still the Top Trend
Top of the list is the transitional kitchen.
This style uses elements that are both traditional and contemporary. With a lot of rich character and interesting features, expect it to be around for a few more years.
The result is a kitchen that is warm and welcoming, unfussy with classic components.
A mix of natural and manufactured materials – A transitional kitchen mixes wood, glass, steel, stone or marble in the same space. This blend creates contrast and harmony.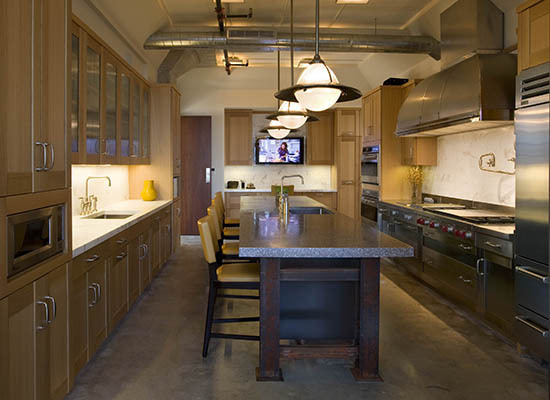 A neutral palette – Transitional kitchens use shades of neutral colors;  timeless and sophisticated.
Lots of texture – The absence of color means more texture, using everything from polished or rough concrete or stone to hand made tiles for visual interest.
Streamlined cabinetry – Cabinets are simple; no intricate carving, or fancy hardware.
Blending old and new – Use elements, style, features and characteristics of the past with contemporary features to create something that looks fresh and new. How you mix them is up to you!
Contemporary Style Kitchens are Gaining Strength
A growing trend is the popularity of contemporary-style kitchens, overtaking traditional kitchens.
Contemporary kitchen have clean, open floor plans with uncluttered lines, and use of concrete, glass, metal, brick, stucco, and wood fabrications through out along with appliances that blend seamlessly. They are high functioning with streamlined surfaces but also have a livable feel.
Stainless steel is this kitchen's fabrication of choice. Chrome, brushed nickel, and brass are also trending.
While any color works in a contemporary kitchen, white and gray are still the most popular choices with black as an accent. Granite kitchen counters are the favorite, with white granite as the number one choice.
Traditional Style Kitchens Decline
Traditional kitchens use detail and ornamentation to create elegant and luxurious spaces, in contrast to modern kitchens that love minimalism. The traditional kitchen style has seen a decline, but if you have one, don't panic.
With so many homes having a traditional kitchen design, manufacturers of faucets and fixtures are releasing new products to keep up with demand. Homeowners are remodeling their traditional style kitchens, not swapping them out. If you have a traditional kitchen, update your home with the latest in fixtures and fittings so it looks like a gem.
Natural Materials
Traditional kitchens mix and match natural materials like patterned stone or stained wood. No concrete.
Raised or Recessed Cabinetry
Raised or recessed panel cabinets with large applied moldings and decorative inserts like glass or mesh.
Classic Stains and Colors
Most colors are muted with varying shades of creams, grays, light pastels, greens. Wood is often stained or finished with a glaze to make it look distressed or aged, creating a timeless feel to the room.
Crown Molding
Decorative crown molding adds character.
Natural Flooring
Natural materials like patterned stone, stained hardwood or tiles.
Custom Made Range Hoods
The main feature of a traditional kitchen is often the custom range hood. Think of using ornate metal, carved stone, wood, or even custom-made plaster hoods to get a decorative effect.
Decorative Lighting
Lighting often combines chandeliers, lantern-style lights and recessed task lighting. Its a layered luxurious effect.
Industrial Kitchens Are on the Up
Rugged texture is one of the main characteristics of industrial style. From hand scraped rustic wood flooring, to rough, textured interior brick walls, natural stone and concrete surfaces to exposed pipes or large ceramic tiles, add some cool, smooth metal as a contrast and you have the makings of an industrial kitchen.
Experts predict that many will move away from overly industrial designs that feel stiff, uncomfortable or cold.
Interest in mid-century modern was revived in 1998 and hasn't died since. This style is still going strong and the trend shows no signs of slowing. Its quirky, interesting and stylish.
Mountain Modern Kitchens – Emerging Trend
Mountain modern style is an up-to-date twist on classic lodge styles with contemporary style kitchen trends.
Common features of the style include:
High ceilings
Minimal trim
Large, abundant glass windows and / or glass door systems

Ceiling beams

Rustic wood floors
Concrete countertops/floors
Glass tile back splashes
What's not to love…
Farmhouse Kitchens
The coziness of farmhouse style kitchens isn't new, but an up-to-date twist on country-style kitchens. The main features are:
a large sink,
wood floors
big pantry space,
warm or light-colored woods, and interesting wood grains.
lots of cabinets,
canning jars, bakeware and gadgets a gardener needs to process and preserve fresh produce.
The farmhouse kitchen is typically a warm, comfortable space. It uses the freshness of neutrals such as off-white, cream, butter or golden yellow, or pale blue surfaces.
Farmhouse kitchens differ from French style kitchens that use floral or rooster motifs as popular design elements. It's a streamlined look and less fussy.