Laundry Room Hanging Ideas
Across the globe people are feeling the financial pinch, so holding off from using your electric dryer can be a good way to save some pennies. Not to mention helping the environment by saving energy.
You're left with more laundry to dry so you'll need some smart hanging ideas for your laundry room. Perhaps you have precious clothes you don't want to shrink in the dryer that you already hang up but your laundry drying space is in need of improvement.
Whether you have a large laundry room or live in a small apartment, you can use clever design when hanging up your clothes to dry. Some of the products around are even stylish. And many can be easily stored away when not in use.
Let's take a look at some of the best laundry room hanging ideas for all sizes and budgets.
Making the Most of Your Laundry Room Space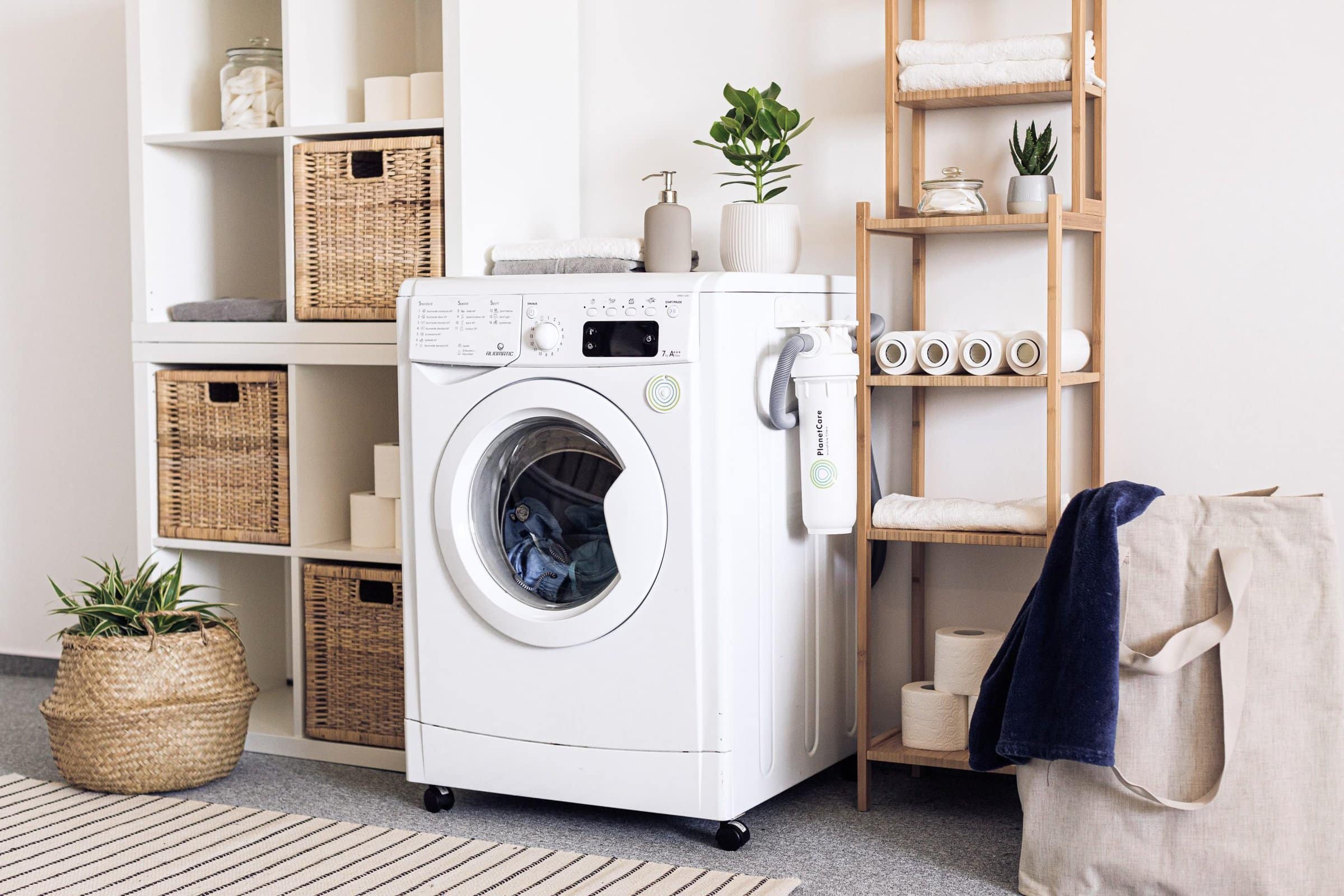 Have a look at the layout of your laundry room when choosing your laundry hanging ideas. Is the washer in the best place? Could it be easily moved?
Do you have a dryer placed on the floor that might work better on top of your washer? Figure out the best configuration for the space.
If you have high ceilings then a drying rack suspended from the ceiling is a good use of the layout. If you have lots of floor space then you might choose a freestanding rack or a folding clothes airer.
Use a Drying Nook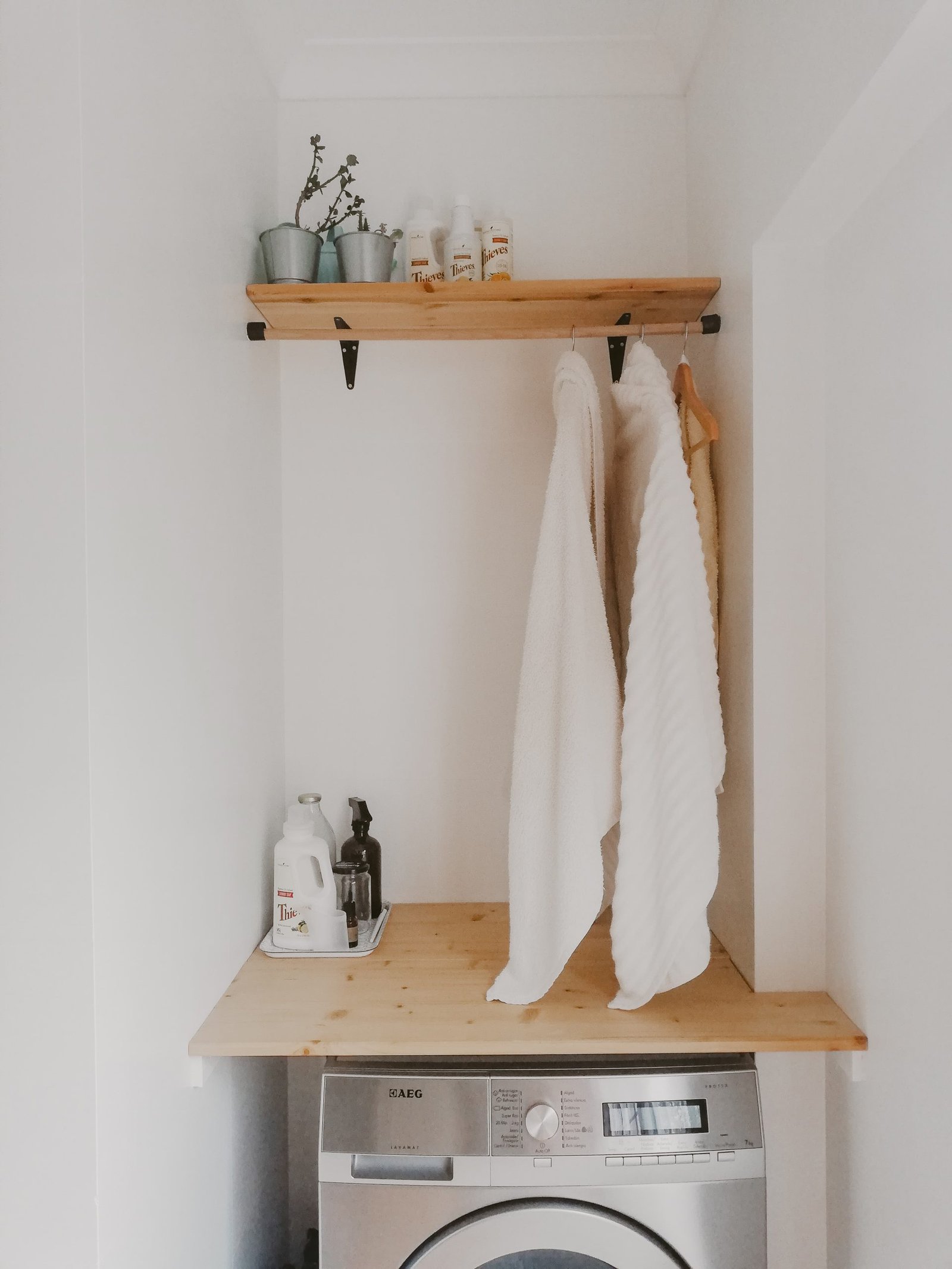 Small laundry spaces can be surprisingly roomy if you design them well. If your washer is tucked into a recess, consider attaching a closet-style hanging rail above. A neat solution for a good amount of shirts and kids' clothes.
If your washer is in a closet then your drying clothes can be shut away and out of sight. Make sure the doors are slatted or have gaps to let the air circulate and moisture to escape.
Drying racks with horizontal wires can fit in a nook and are useful to hang underwear and smaller items from with clothes pins.
If you have space around a hot water tank then this is an ideal place to hang your laundry and you should find that your clothes dry fast.
Be Creative with Closet Rods
A closet rod fixed between two parallel walls is an easy way to give you extra laundry drying space. You can choose a traditional wooden rod or you might go for a metal finish like chrome or copper to match your laundry room hardware, or a plain, classic white.
Closet rods will need to be permanently attached. But if you live in a rental or are not so handy with DIY, you can buy tension rods. Just make sure the rod is strong and secure, and that you don't overload it.
If you like an urban, industrial look then a black pipe-style rod attached to the wall like in this picture might work for you. A great up-to-the-minute look for a modern home.
You could also try attaching towel bars to the wall to hang clothing on coathangers. Think about using the whole height of the wall, they don't have to be fixed at waist height like an ordinary towel bar.
Suspend a Drying Rail from the Ceiling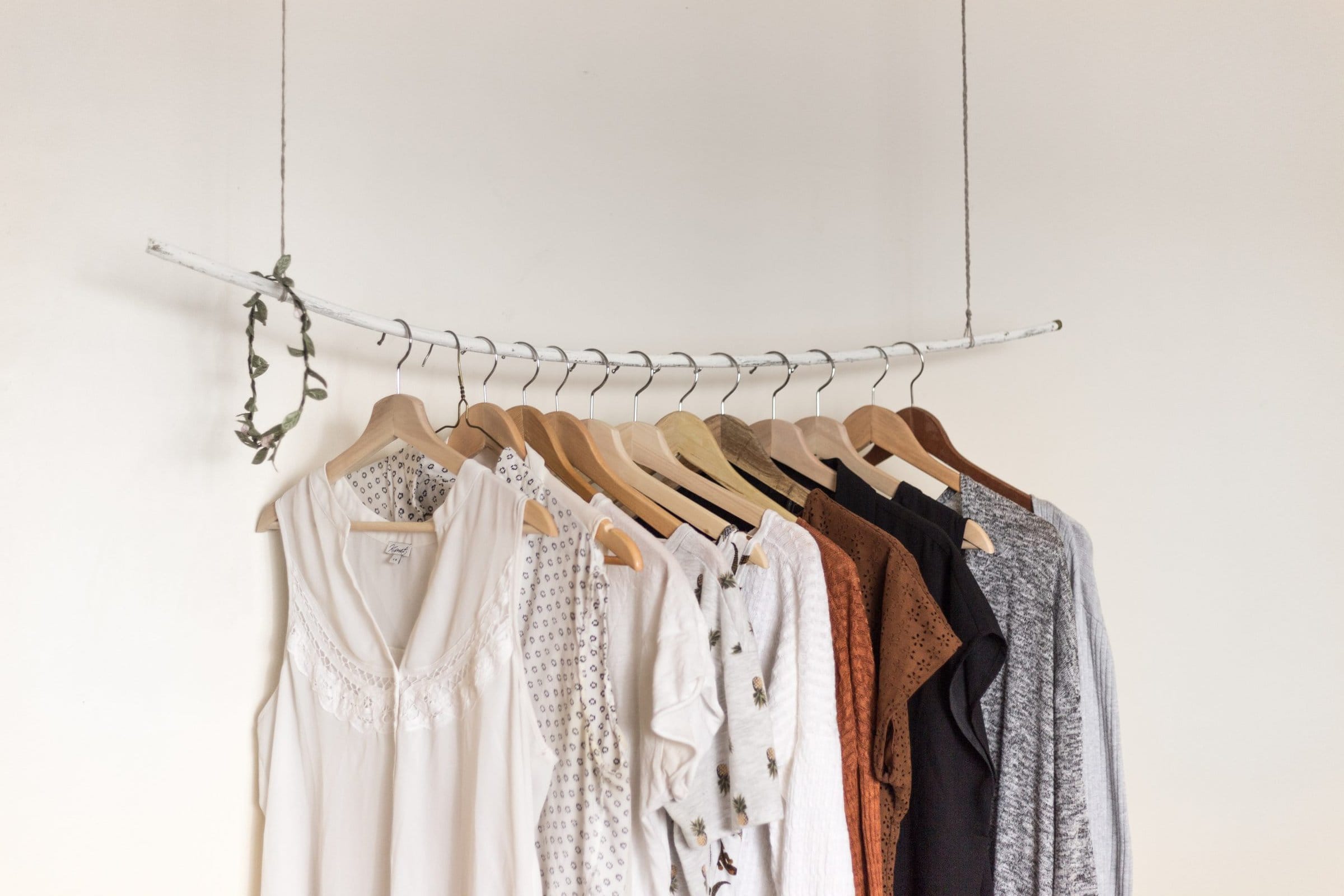 If you're short on floorspace then you could hang a laundry rail from the ceiling. You can choose something makeshift yet stylish like in this picture. Or you can buy a purpose made kit.
To make your own drying rail, all you need is rope or twisted wire and some strong ceiling fixings. Then choose a bar of your choice as a drying rail.
You could use an old closet rail, a broom handle or a metal pipe. Ensure you fix it securely and, voila, additional drying space.
Make Your Own Hanging Drying Rack
You can buy English-style laundry drying racks which have character and charm with their wooden rods and wrought iron fixings. This is perfect if your home has a period theme or you want to give a plain room more interest.
The drying rack is on a pulley system. You can lower it to hang and organize your damp clothes, then raise it up to take advantage of warmer air at ceiling height.
This useful article gives full instructions on how to make your own drying rack, with a list of materials and sizes.
Find a Freestanding Clothes Rail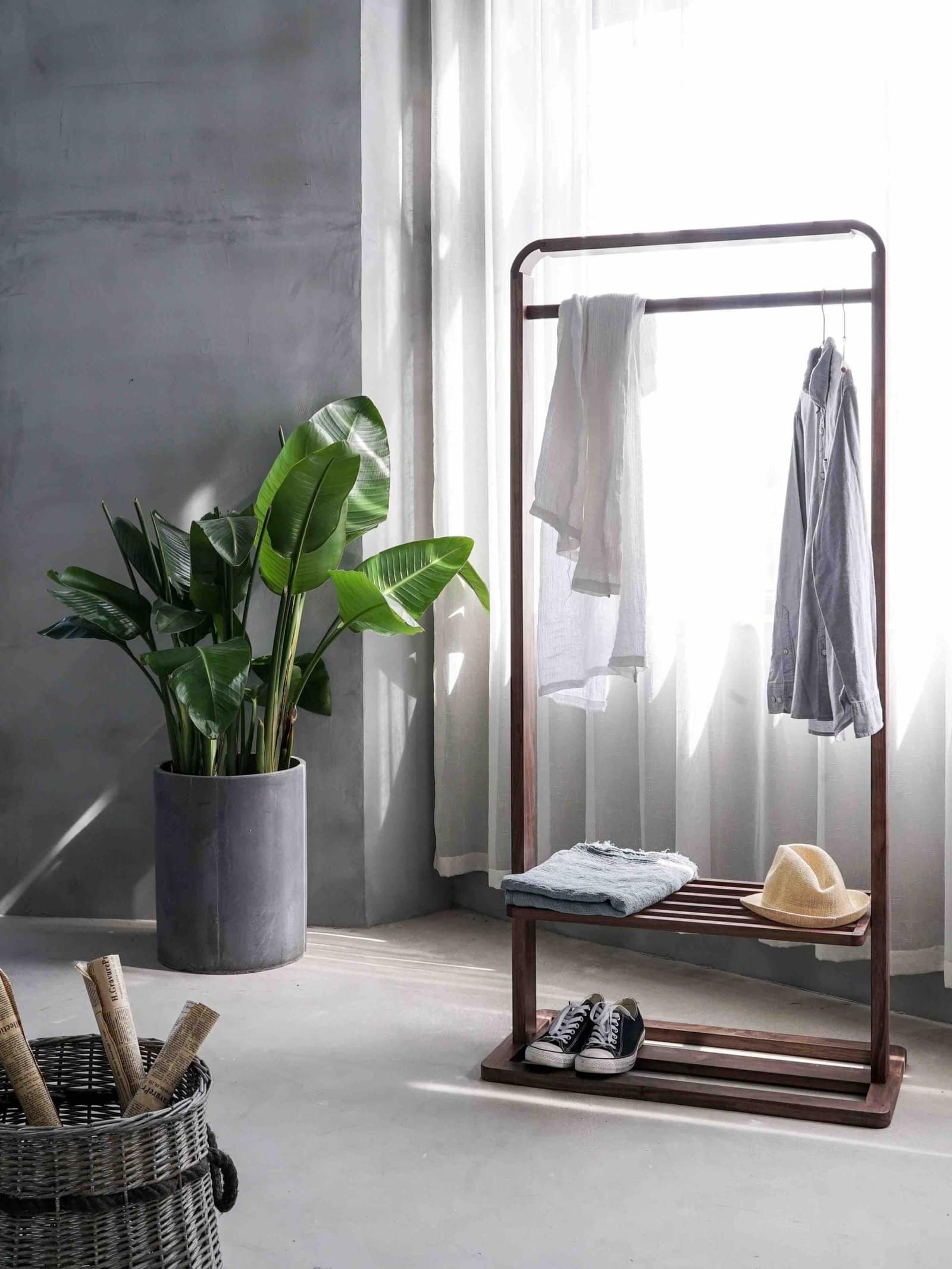 For a stylish look, you could repurpose or buy a garment rail to hang out your laundry. A wonderful way to keep your beautiful clothes on display even when drying.
Freestanding clothes rails often come with integrated shelving so you can organize your laundry room by putting your laundry items like detergents and your electric iron in storage boxes underneath.
You can leave your dry clothes neatly folded on the lower shelf and find ways to make the most of these extra surfaces.
Choose Foldaway Drying Solutions
You might choose a traditional metal concertina style drying rack attached to the wall. This works well if you have a good amount of space to pull out the rack.
There are, however, now a whole array of clever folding racks like this one which disappears into the wall when not in use. It can also be secured at a 45-degree angle to take up less space in your laundry room.
You can buy in a range of finishes or customize your own wall drying rack with a color to match your interior scheme.
A Piece of Art for Your Laundry Room
If you want to pay a little more or you are handy with your tools then you can even turn your laundry room drying racks into a piece of art.
This clever use of varying-sized frames in the picture is practical and visually intriguing. It is space-saving and could be an unusual talking point. Just right for a smaller home where storage needs to work hard.
This freestanding star-shaped laundry rack takes up more room when in use but is ingenious in its drying capacity and looks pretty good too. So if you are bored with your conventional freestanding laundry rack then have a look around for more imaginative solutions.
Space Savers for Tiny Homes
If you have a very small home or apartment then this highly creative dual purpose laundry rack is ideal. This is perfect for micro homes or perhaps an RV.
This laundry drying solution works first as a wall-mounted table or desk or as a side table. The rack is hidden in a drawer when not in use and clothes are neatly out of the way when they're hung up to dry.
When you dry your clothes the table can still be used as extra storage. You could place some books and plants for a designer-style look or use it practically for working or eating, even when your laundry is drying.
In Conclusion
With the current financial climate and a push towards caring for the environment, you'll probably be using your electric dryer less. This means finding laundry room hanging ideas that suit your home best.
There is a surprising range of products available from practical, conventional laundry drying choices to creative and attractive racks as well as space saving solutions.
Look at your space and find the best configuration. Perhaps you'd never thought there was drying room above your washer but a closet rod suddenly gives that extra space.
And if you thought laundry room hanging racks were ugly, then think again. You can source some attractive solutions, and with a bit of imagination, even create your own.