Decorated Life is reader-supported. When you buy through links on our site, we may earn an affiliate commission. Learn More
Lazy Gray by Sherwin Williams Paint Color Review
If you're looking for a neutral color to be the backbone of your palette, but you're not sure you're really digging this whole warm gray and greige trend, you might want to try a cool gray. What makes that special? Aren't all grays cool? Well, they may be cool…but are they blue gray cool?
For more jokes that are at least that corny, as well as to find out why you might want to use a blue gray paint for your next project, I invite you to join me as we cool off with Lazy Gray by Sherwin Williams.
What Color is Lazy Gray?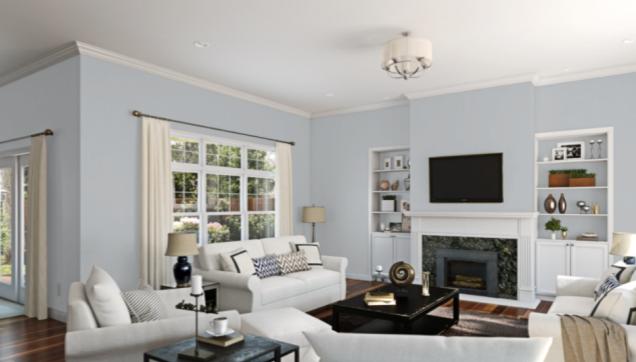 Lazy Gray is a light-to-medium blue gray. It's a perfectly versatile neutral, but it makes more of a statement than your average gray. Even if Lazy Gray's chill vibes make us all feel like lounging around, you can be sure it will do its job!
LRV of 53
Lazy Gray has a light reflective value (LRV) of 53. This is pretty close to the middle of the scale, which runs from a complete black at 0 to a pure white at 100. It should be bright enough to be an all-over color in most spaces, but it may be a tad too dark in rooms that get less light.
Lazy Gray Undertones
Lazy Gray has a strong blue undertone, and is truly a blue gray, rather than just a standard gray. But this combination adds some depth and life to the color.
Is Lazy Gray a Warm or a Cool Color?
Lazy Gray is a cool gray, thanks to its strong blue component. You can easily see this coolness if you compare it to warm gray and greige favorites like Repose Gray, Anew Gray, and Mindful Gray.
Where Can You Use Lazy Gray?
Lazy Gray is a comfortable neutral that adapts well to a variety of situations. Its mid-range LRV is appropriate for many lighting situations, although in your darkest rooms and hallways you might want to opt for something a little brighter.
Like other grays, Lazy Gray is an excellent companion for appliances and metalwork, making it a natural choice for the kitchen, home office, or bathroom.
If you want to tone down a room that's too bright or intense, Lazy Gray's cool shades could be a good fit for that project.
Let's take a breather with Lazy Gray and start chillaxing:
Entryway
This foyer transformation contrasts Lazy Gray with a crisp white and adds a mid-century lighting fixture to wake things up. Any of your favorite whites will look brighter next to Lazy Gray.
Living Room
Lazy Gray is at home in modern decor, where it looks classic and polished.

Kitchen/Dining Room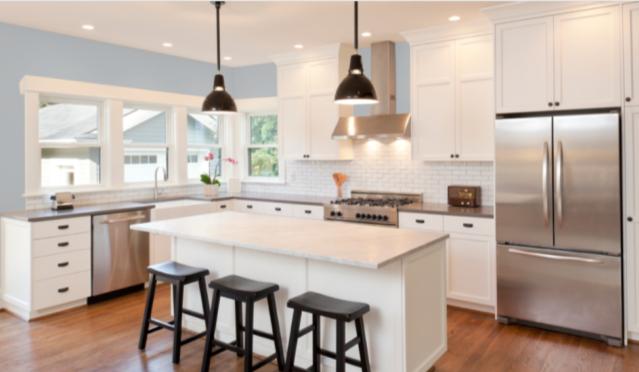 In this kitchen you can really see Lazy Gray's blue side as it contrasts with the bright white cabinets.
This dining room uses Lazy Gray as the backdrop for a special focal wall that personalizes the space for the family. Contrast is built with white trim and Sherwin Williams Dustblu.
Bedroom
This cozy attic bedroom pairs Lazy Gray with white to keep the space from feeling too small. You can't go wrong by putting a variety of grays together; they look polished and harmonious.
In this rustic bedroom, Lazy Gray steps back to let the raw wood be the star of the show.
Bathroom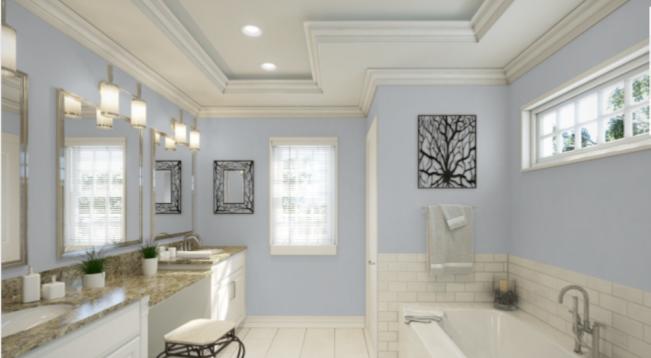 Lazy Gray makes this bathroom cool and relaxing. Even under bright lighting conditions, it's sturdy enough to partner the white trim and tile.
This bathroom looks sharp and lively, pairing Lazy Gray with Sherwin Williams Charcoal Blue. See how Lazy Gray looks more blue in this room? Its undertones are being brought out by its color companion. The balanced use of white keeps all that blue from getting overwhelming.
At the Dentist's Office…No, Really!
This dental practice wanted to create a feeling of home for their patients. They used Lazy Gray and beautiful coastline art to encourage a relaxing atmosphere.
Lazy Gray Coordinating Colors
Blue. The first and the last word of this section needs to be "blue", because Lazy Gray loooves blue! It's such a lovely companion to blue colors that you might forget to explore in other directions!
Pale, icy blues can make Lazy Gray feel calming and ethereal, while darker blues can evoke a nautical look or the night sky. If your space needs it, add a crisp white for balance so that the blue undertones in Lazy Gray don't become overwhelming.
Lazy Gray also looks great contrasting with white on its own. It has enough blue in it that you might decide a separate blue color isn't needed.
Black, gray, and white is a very classic combination you can use to add drama or make things look polished and chic. Sherwin Williams recommends a trio of contrasting grays to accompany Lazy Gray: Peppercorn, Cornwall Slate, and Ice Cube.
Lazy Gray looks absolutely killer with one of my favorites, teal. Each color just really brings out what's best in the other, amping up the intensity of the hues.
Let's take a look at some great coordinating colors for Lazy Gray. Oh, yeah, and…blue!
How Does Lazy Gray Compare With Other Colors?
Lazy Gray vs Repose Gray by Sherwin Williams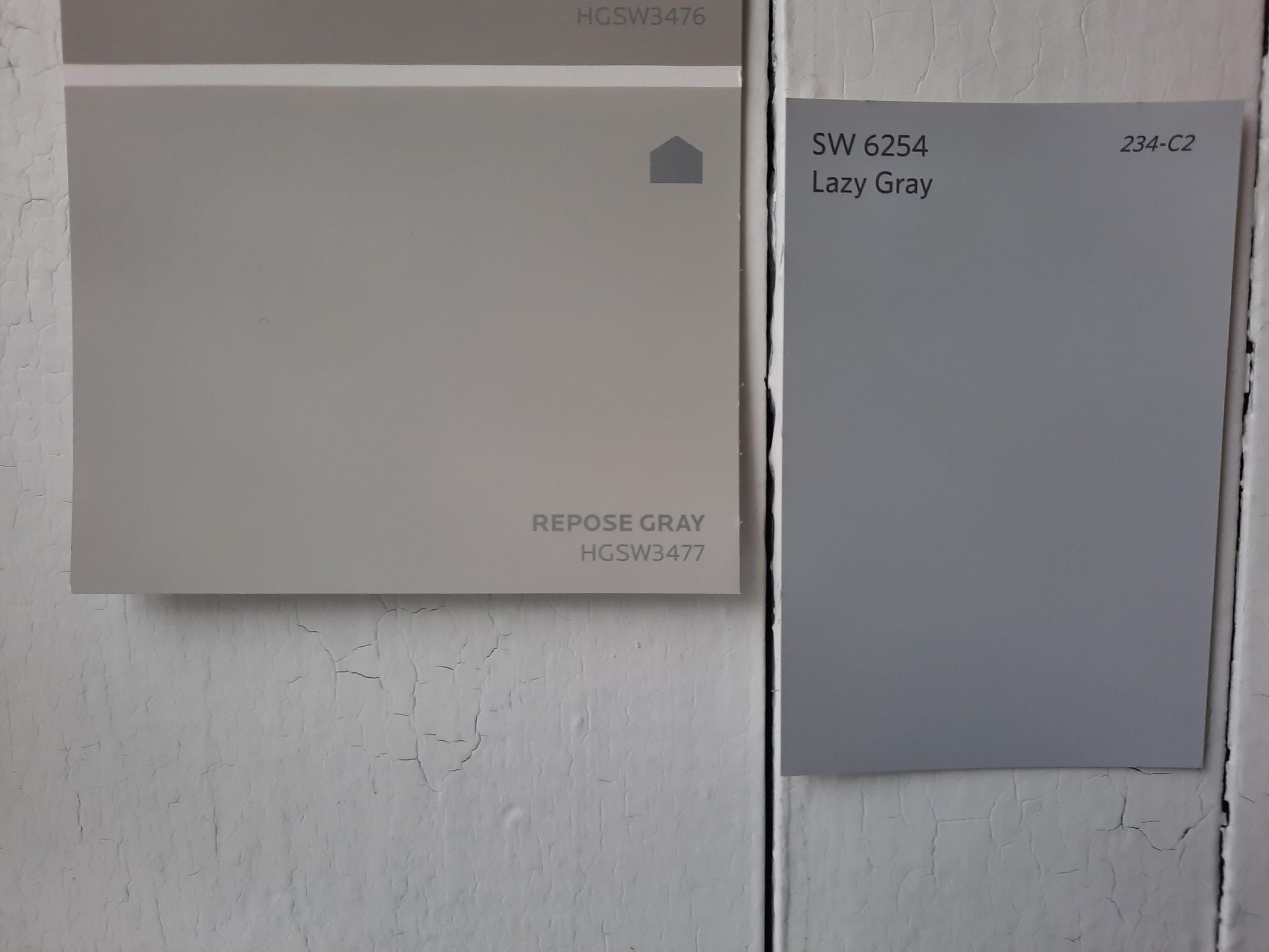 Repose Gray is an extremely popular neutral color from Sherwin Williams. It has a similar LRV of 58 to Lazy Gray's 53. Repose Gray is warmer than Lazy Gray, which is cooler because of its strong blue side.
Lazy Gray vs Agreeable Gray by Sherwin Williams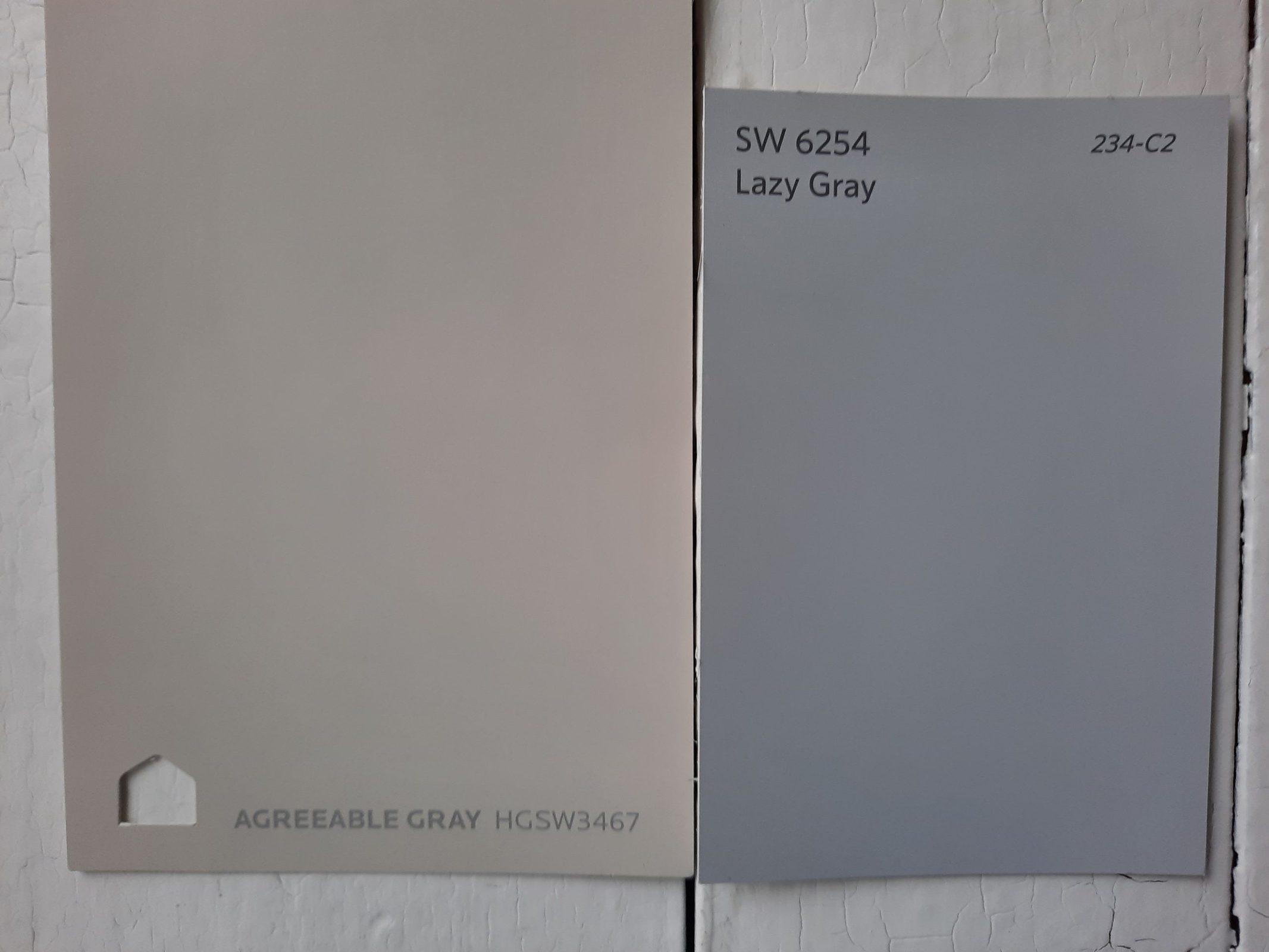 Agreeable Gray is another super popular gray from Sherwin Williams, and it's a member of the greige family, which means it's a mix of gray and beige. That makes Agreeable Gray warmer than Lazy Gray. You won't be able to see a lot of the typical gray undertones, like blue, purple, and green, in Agreeable Gray, because its beige side blends them away. Lazy Gray is also darker than Agreeable Gray, with an LRV of 53 versus Agreeable Gray's LRV of 60.
Lazy Gray vs Gray Owl by Benjamin Moore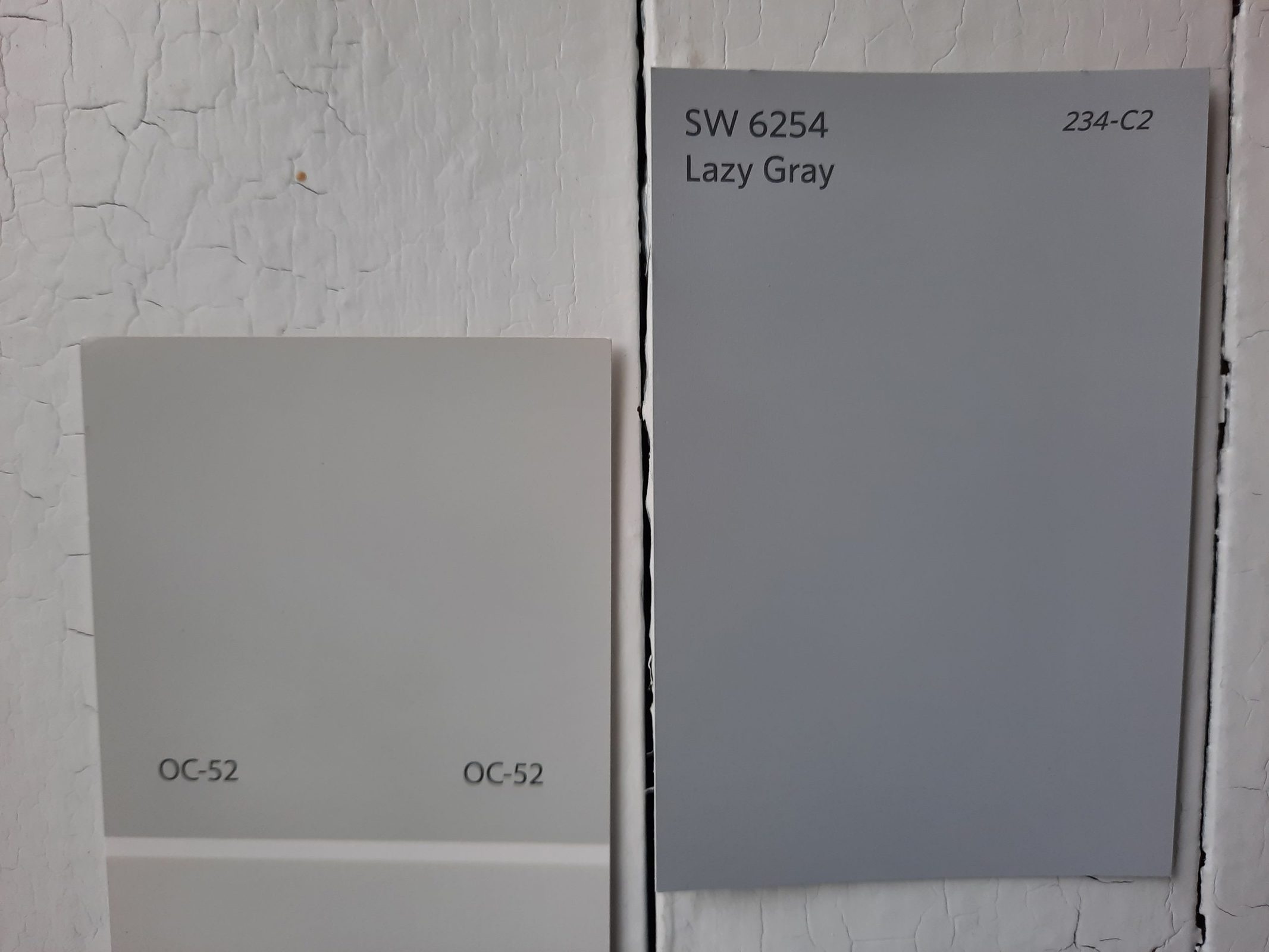 Gray Owl is a crowd-pleaser from Benjamin Moore, and it's got more in common with Lazy Gray than our first two comparison colors. Both are cool grays, and neither of them qualify as greiges. But Gray Owl is considerably brighter with an LRV of 65.77, and it's definitely not as blue as Lazy Gray.
Final Thoughts
Lazy Gray is a smooth, cool neutral that will make any space more peaceful. Its best friend is blue, and it's a great companion to other members of the neutral family. If your home gets a lot of natural light and you're looking for a color that's refreshing but not overpowering, Lazy Gray is a great choice.