Decorated Life is reader-supported. When you buy through links on our site, we may earn an affiliate commission. Learn More
25 Living Room Mirror Ideas
Mirrors are an essential part of living room design. They can make the room feel larger and allow light to disperse to all corners of the room. They can also look very elegant, making your room feel more luxurious.
If you're looking for living room wall mirror ideas, we've gathered this list of 25 living room mirror ideas to help you out.
Go For Simplicity With a Circular Mirror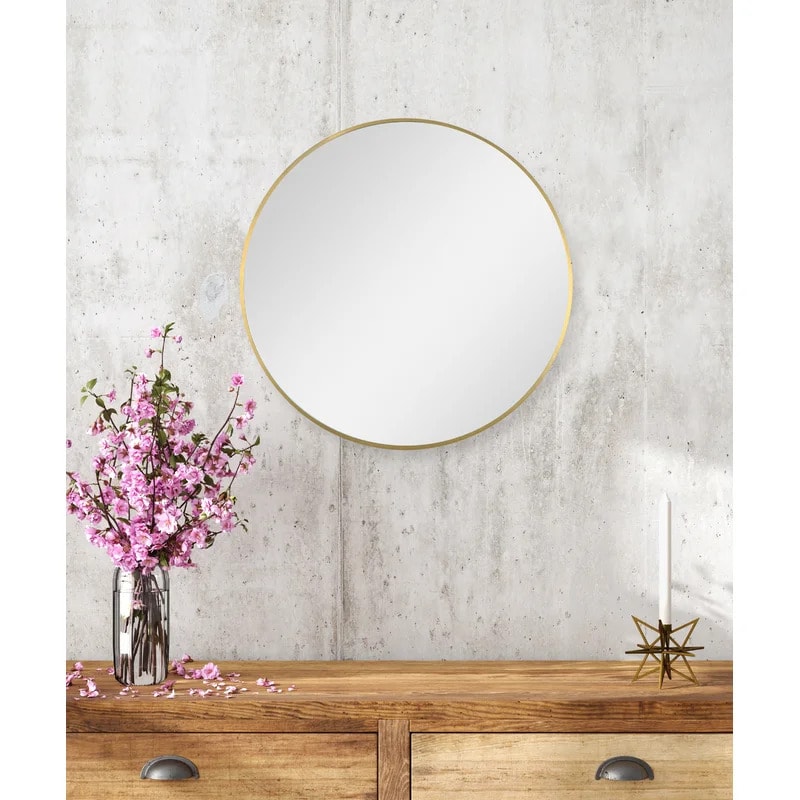 If you'd like to take advantage of the additional natural light mirrors can bring, you don't need a mirror that's too busy. You can easily use a simple circular mirror.
This golden framed mirror can fit in a variety of different spaces. The golden frame could easily go with a luxury aesthetic, or it could add a simple touch to a minimalistic room. It would work well with light, warm-colored rooms. It could also tie in well with a golden and black living room and add some contrast. No matter your style, a simple circular mirror could be a great option.
Use a Stainless Steel Framed Mirror for Large Living Rooms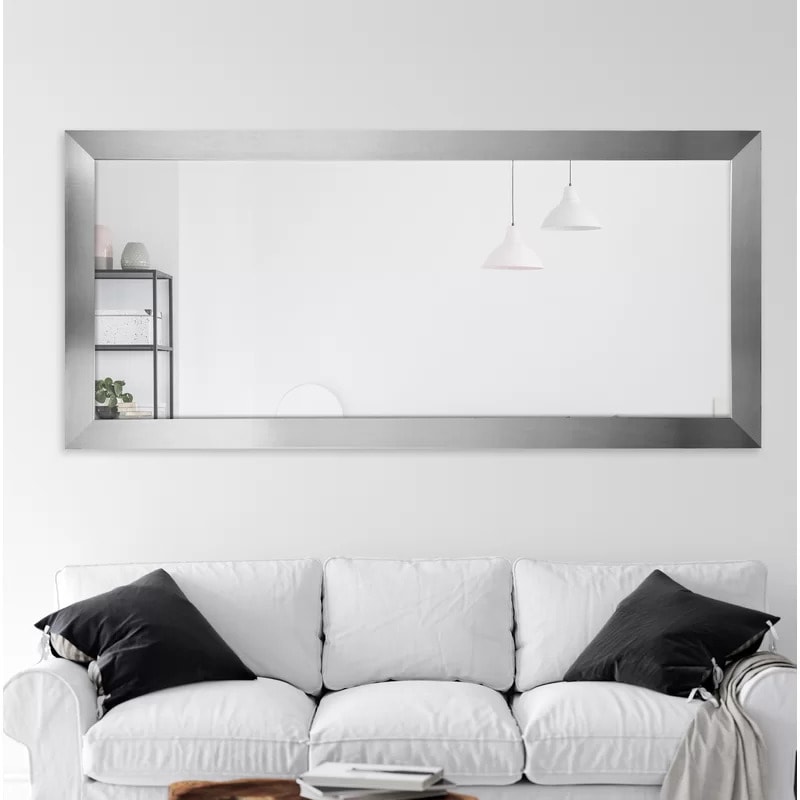 Large living room mirrors certainly stand out and can make a larger space feel even larger. This mirror can fit with many different aesthetics thanks to its simple, stainless steel frame.
It also adds a level of design versatility since it can be placed in either a horizontal or vertical orientation. You can place it above a couch, or on a dedicated mirrored wall.
Choose an Antique Silver Mirror for a Classic Touch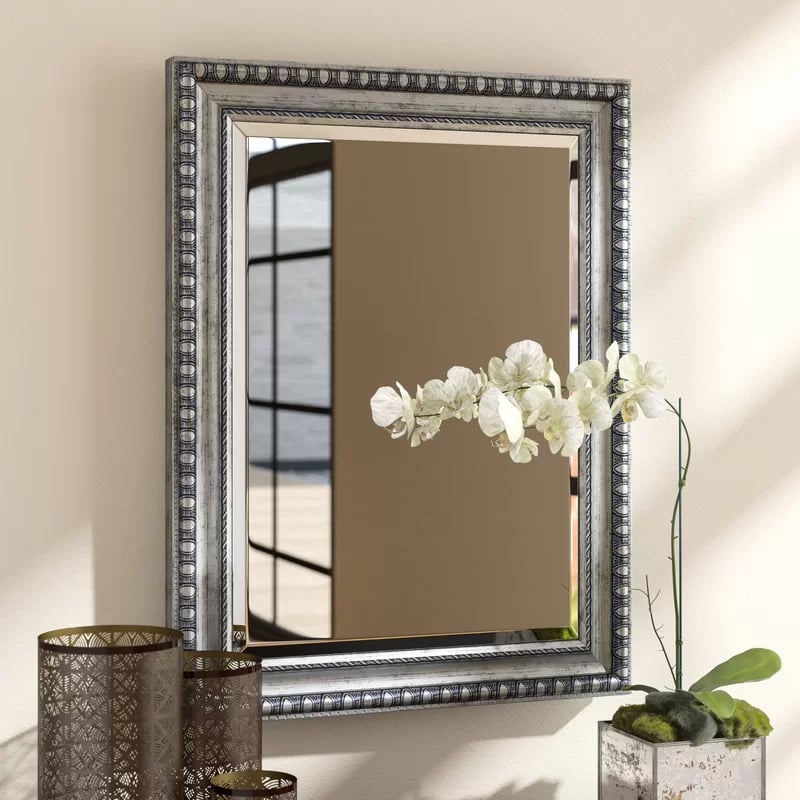 Antique silver is a popular choice for classic-style rooms. Since it's silver, it can go with pretty much anything, no matter what color palette your living room uses. If you'd like to incorporate antique silver into your living room, this antique silver mirror is a great option.
This mirror also uses recycled material, which is perfect for eco-friendly interior designs.
Add a Touch of Simple Luxury With a Golden Arched Mirror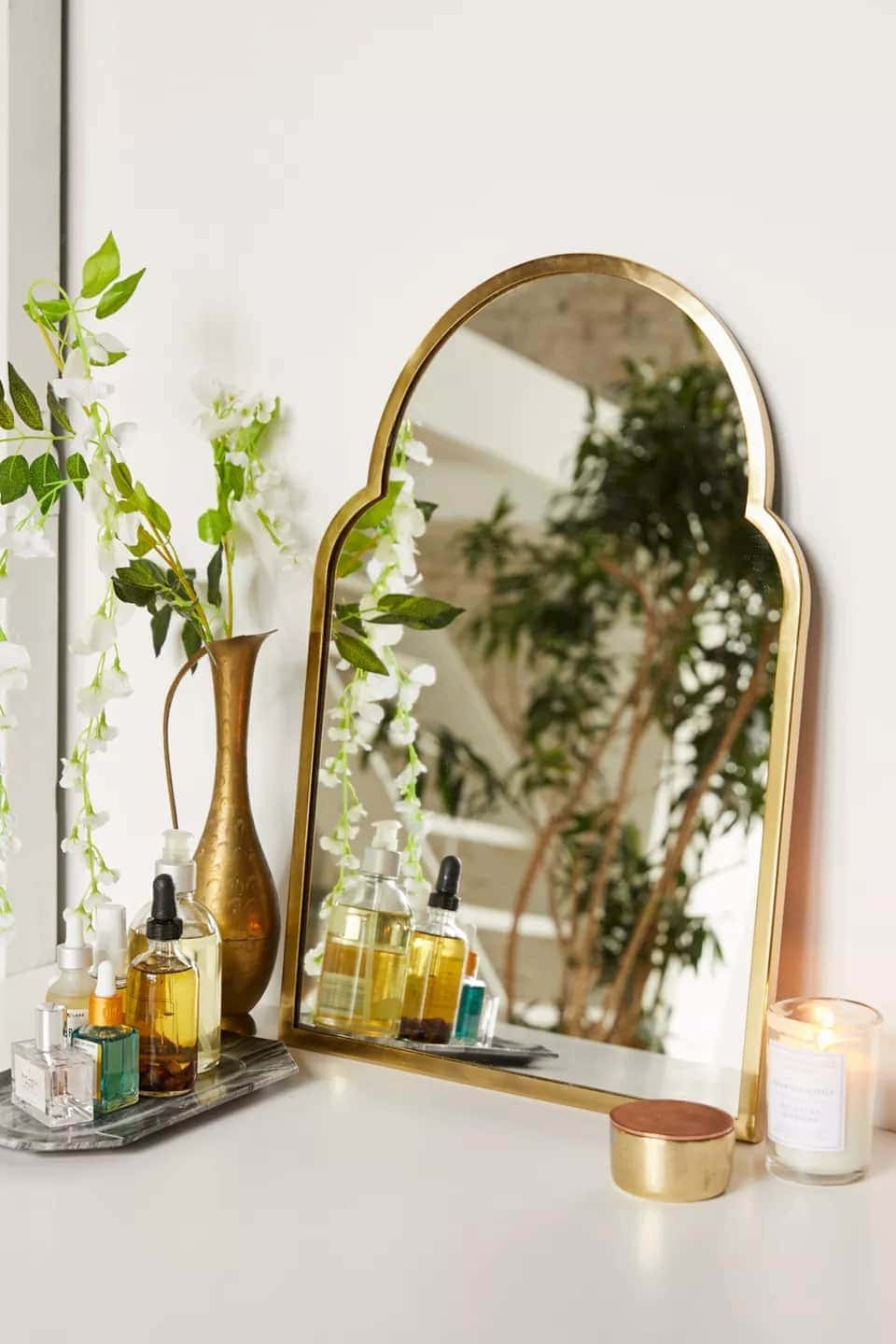 Arched mirrors have a beautiful shape, and look similar to a window without grilles dividing it into sections. This arched mirror has a golden frame while still being affordable, making it perfect for adding a touch of luxury to your living room on a budget.
This mirror also isn't too large, meaning you can add it to a smaller living room without taking up a lot of space.
Go For a Classic Look With a Distressed White Framed Mirror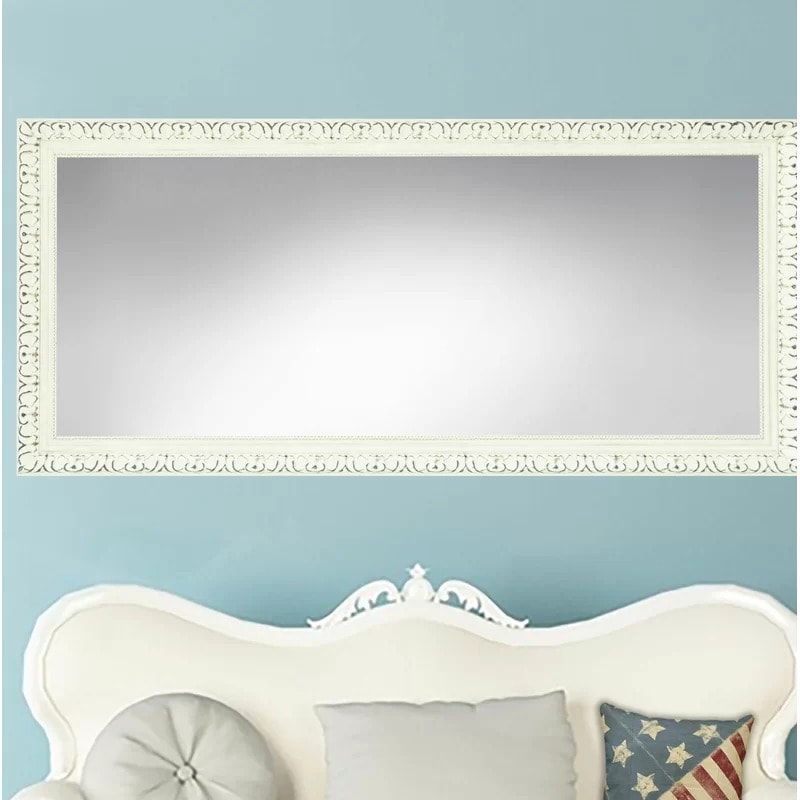 Classical looks are great for making a room feel bright, luxurious, and vintage. This mirror fits perfectly into the classic aesthetic with its distressed ivory-finished frame. Its frame has intricate carving details, allowing it to stand out without being too gaudy.
It's also large, making it perfect for a statement piece in larger living rooms.
Use a Sunburst Mirror To Add Cheer to Your Living Room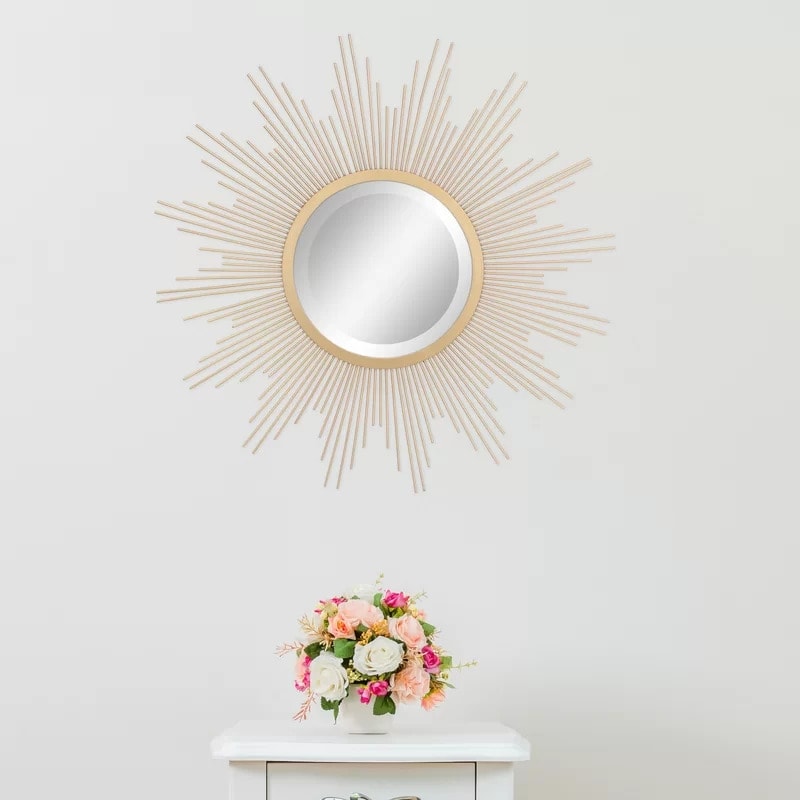 Sunburst mirrors are a popular choice for living room mirrors, and for good reason. With their bright, cheerful, and artsy appearance, they can make any living room set-up stand out.
They're also great in terms of design versatility– you can easily add more than one sunburst mirror if you like decorating with multiple mirrors. Or you can use just one, which is especially great if you need mirrors for small living rooms.
Make Your Living Room Feel More Open With a Window Mirror
Whether you don't have a lot of windows or you just want to reflect more light into your living room, a window mirror is a great option.
This window mirror set in particular uses distressed wood, making it great for a rustic or classical style. Thanks to its neutral color, though, it can work well with nearly any living room design.
Use a Geometric Frame Mirror for a Modern Look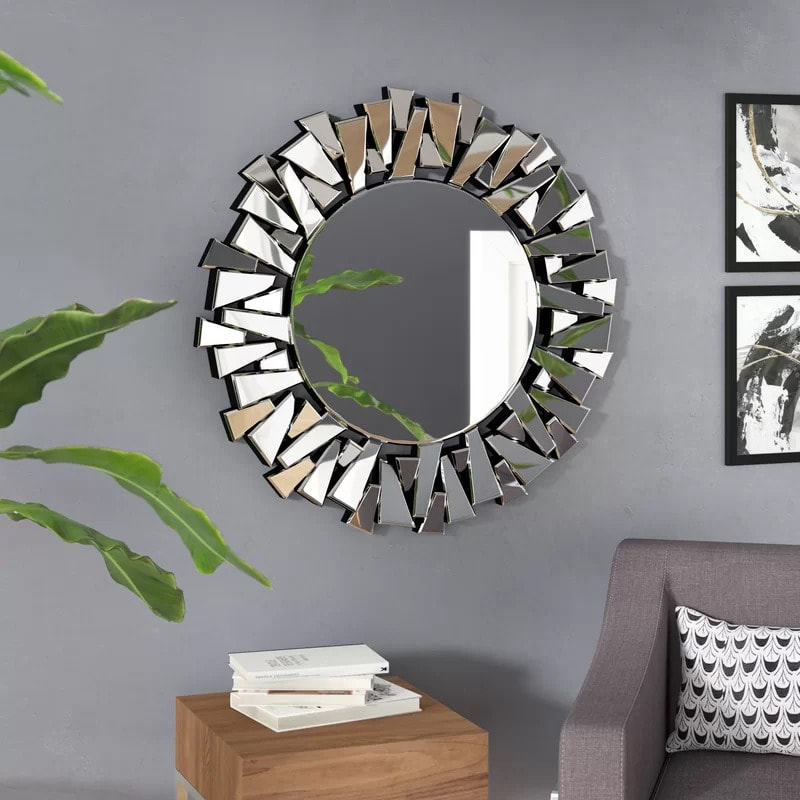 Modern homes tend to use geometry and clean lines on the outside, but geometry can also work well on the inside of a modern space as well.
This mirror can add a unique touch to a modern space. Its frame incorporates shapes at different angles, which are great for adding texture.
Choose a Wooden Mirror for a Rustic Look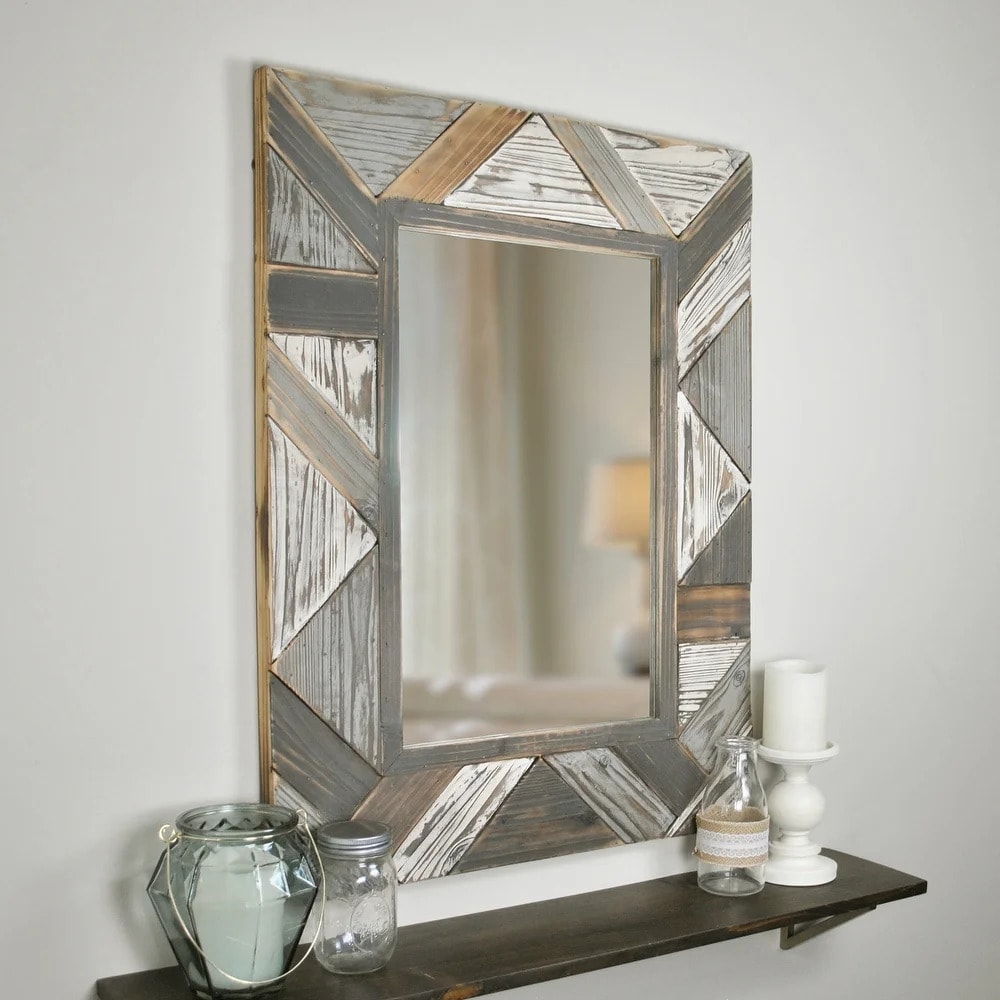 Rustic spaces often incorporate wood in their designs, especially distressed or weathered wood. Sometimes a wooden mirror can be just what a space needs to fit into a rustic aesthetic.
This mirror fits quite well with its neutral color palette and distressed wood. It isn't too simple, however, since it has multiple colors and a unique triangle pattern. If you need something to make your rustic living room feel complete, this could be a great option for you.
Go For Versatility With a Mirror Set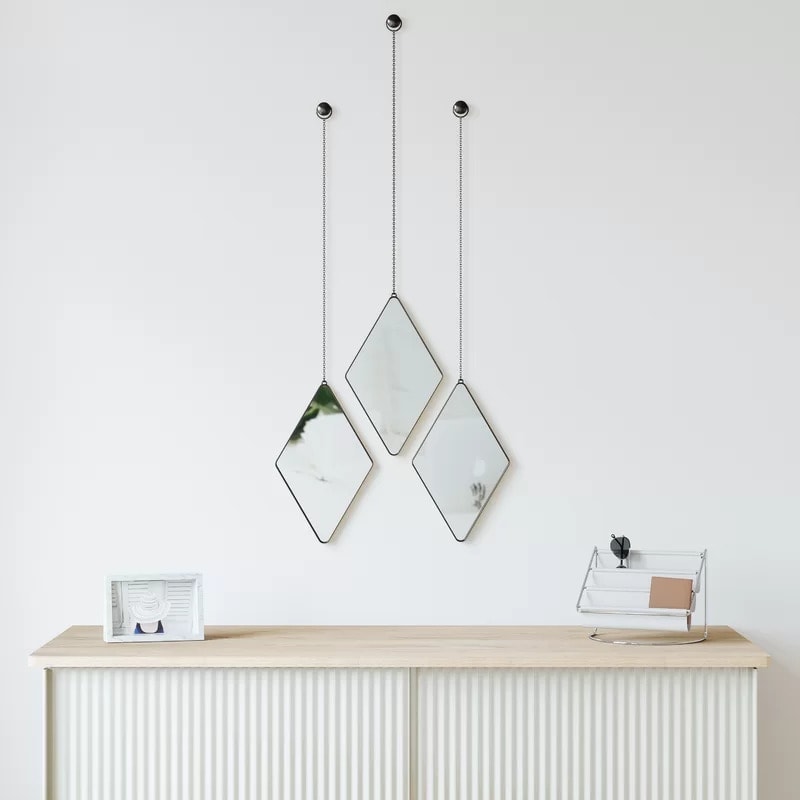 If you aren't satisfied with just one mirror, you might prefer a mirror set instead. It's a popular option that comes in a variety of shapes. In terms of size, it isn't too large, so it could easily fit into a smaller living room. Alternatively, you can combine mirror sets to fit in a large space. The possibilities are virtually limitless.
This diamond mirror set uses a simple black frame, allowing it to fit in a variety of spaces. Due to its metal construction, it could work especially well in a modern living room.
Choose a Farmhouse Style Mirror for a Rustic Look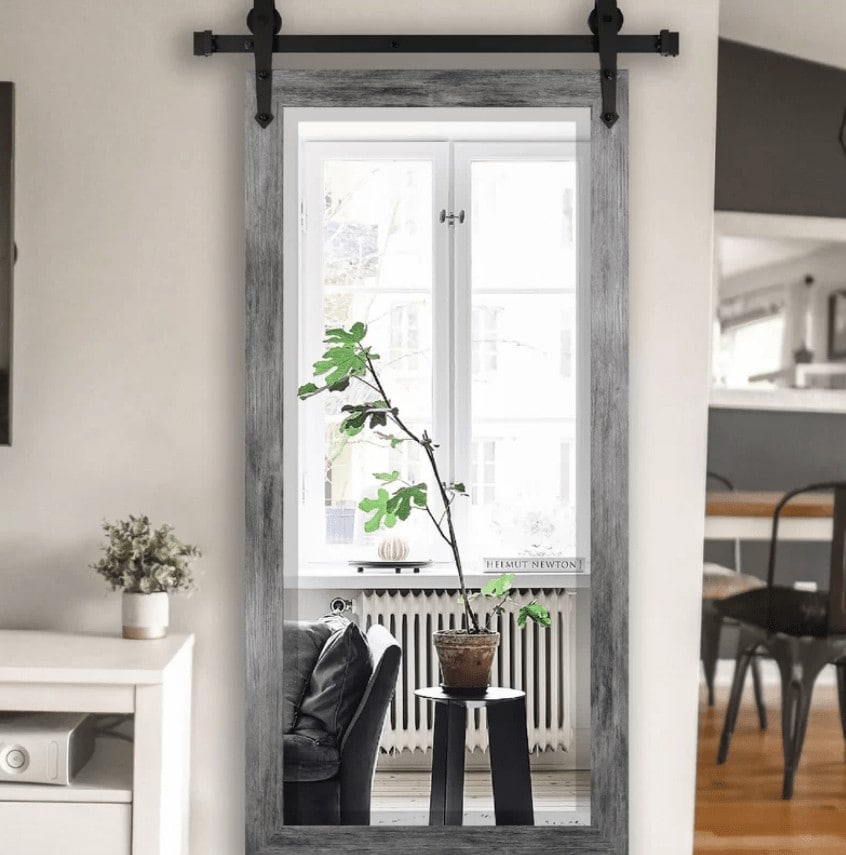 Farmhouse style is both cozy and versatile, making it a popular style for many living rooms. It can even be combined with modern elements for a chic and trendy room.
This unique mirror resembles a farmhouse door, which can add a rustic touch to any living room. If you like mirrored walls in living rooms, this tall and vertical mirror would suit that purpose perfectly.
Use a Hexagon Mirror for a Subtle Modern Touch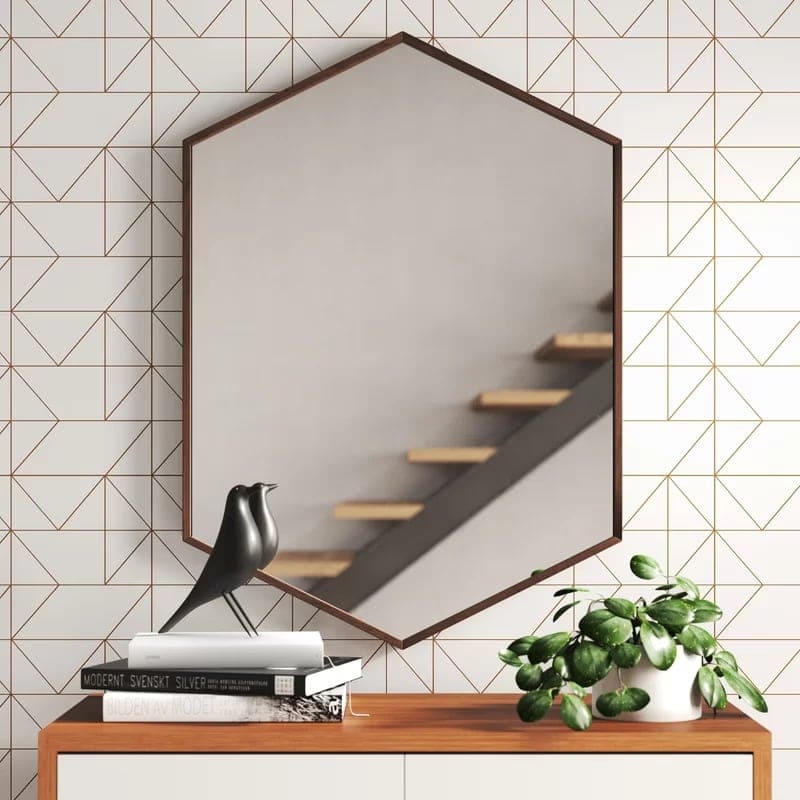 Mirrors are typically rectangular or circular, but when you're looking for living room mirror ideas, you need not be limited to those two. You can also use a hexagon mirror to add a modern touch without going overboard.
This hexagon mirror can work in a variety of spaces thanks to its brown frame. It also has a medium size, meaning it can fit well in living rooms of nearly any size.
Add a Unique Touch With a Quatrefoil Mirror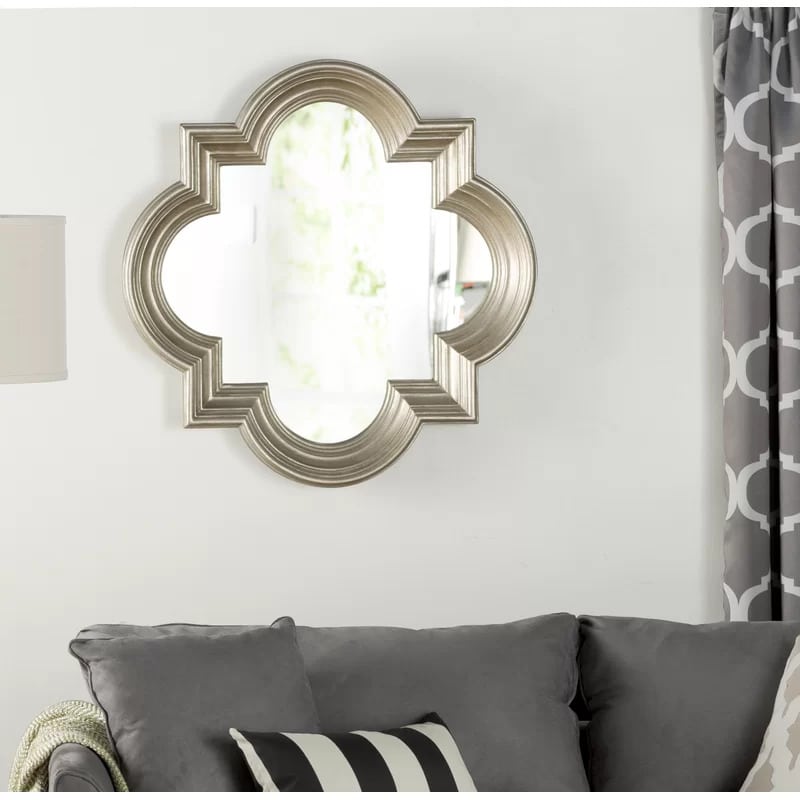 Quatrefoils have a storied history and have existed for many centuries. They have a variety of meanings in different cultures but are a universal symbol of luck due to their four-leaf clover shape.
This quatrefoil mirror, like the hexagonal mirror, is a unique mirror shape that can allow your space to stand out without too much fanfare. It can work well with existing quatrefoil design elements such as wallpaper or furniture, or as a standalone piece.
Add an Artsy Flair With a Mosaic Mirror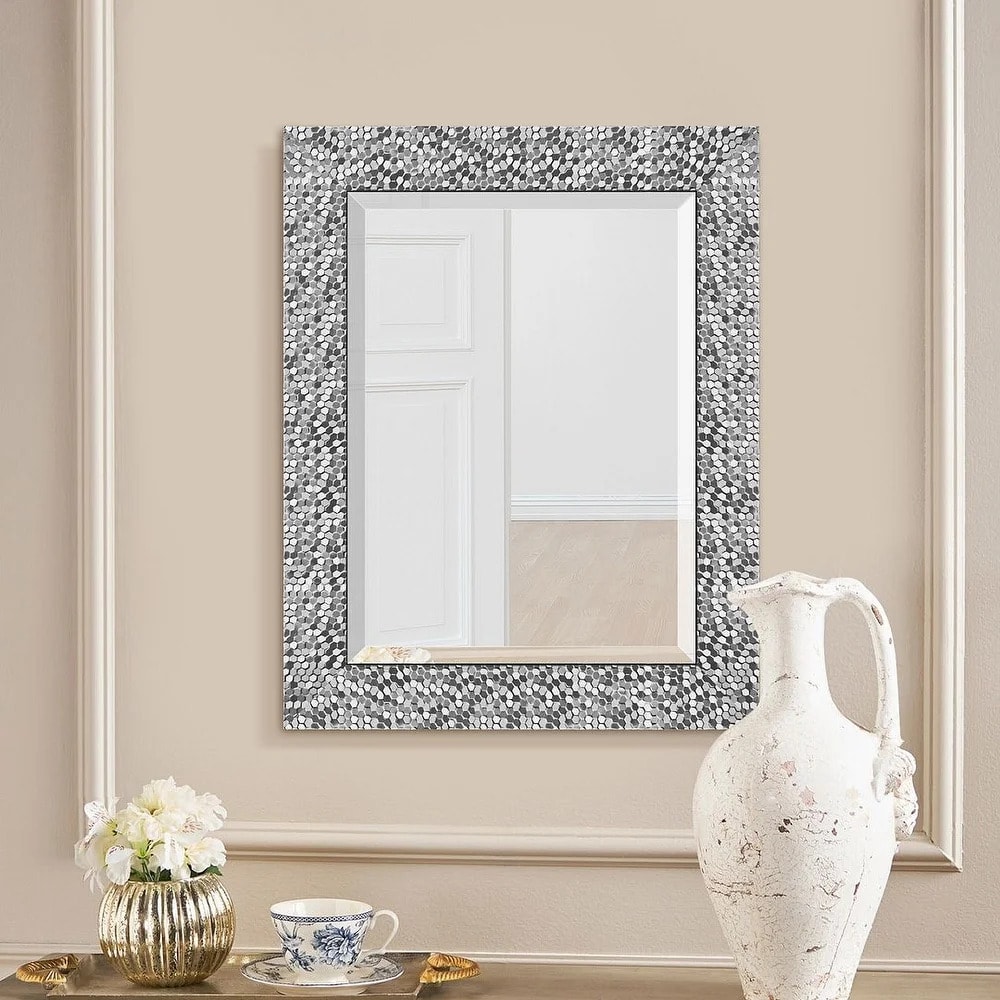 Mosaics are a timeless art form that can add color and texture to virtually any room. You don't have to be limited to mosaic art, however– you can find mosaic mirrors as well for a similar effect. Except, in this case, it comes with the added benefits mirrors can bring.
This mosaic mirror is both trendy and dramatic with its contrasting monochrome color palette. It's a great option if you're looking for a statement piece for your living room.
Use a Floral Wall Mirror for a Natural Look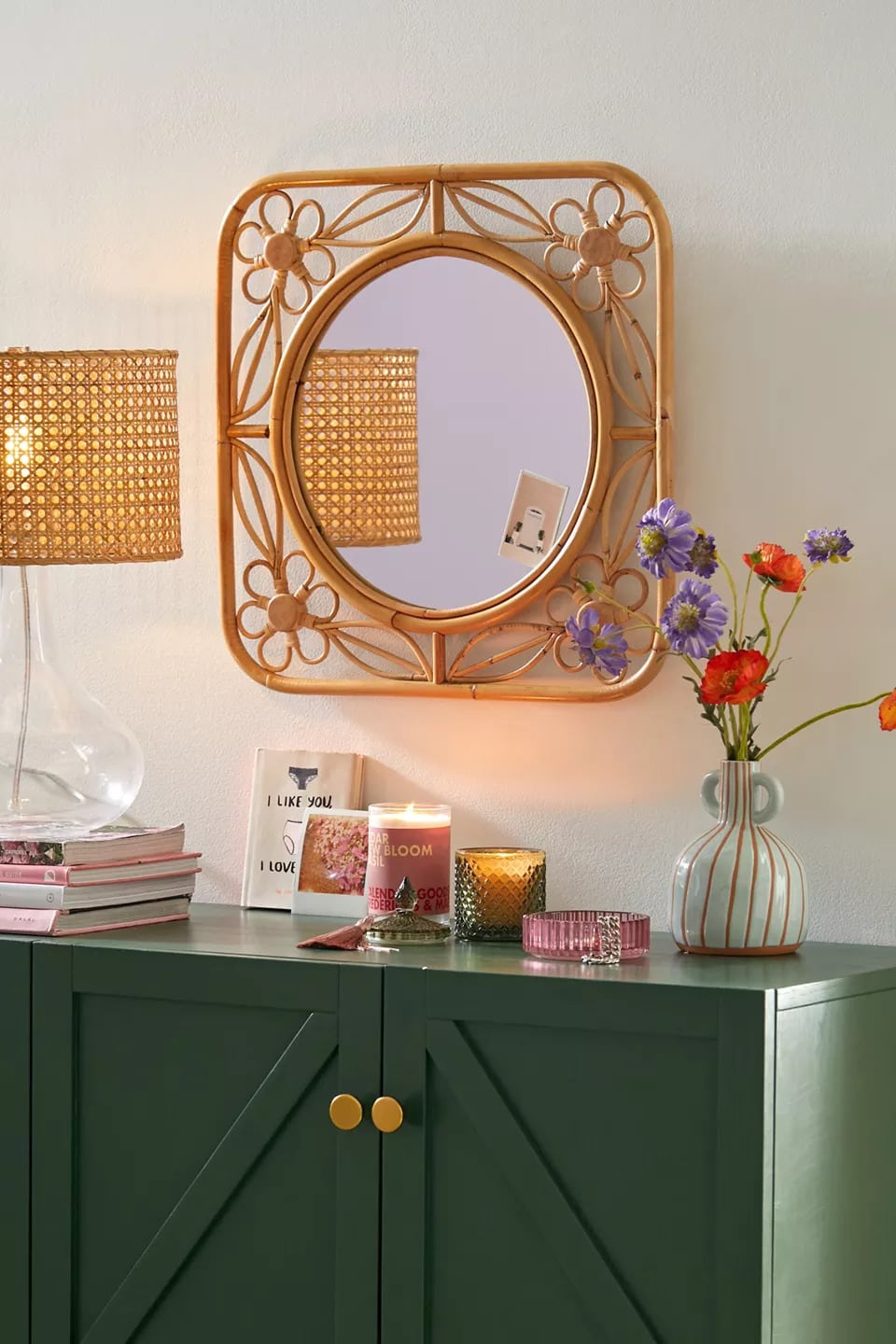 Floral decor can add a natural touch to any space without needing to maintain indoor plants. This mirror has both floral elements at the corners and natural color thanks to its rattan construction.
It's also a smaller mirror, making it great if you have a small living room or don't have a lot of wall space.
Use a Wicker Mirror for a Bohemian Look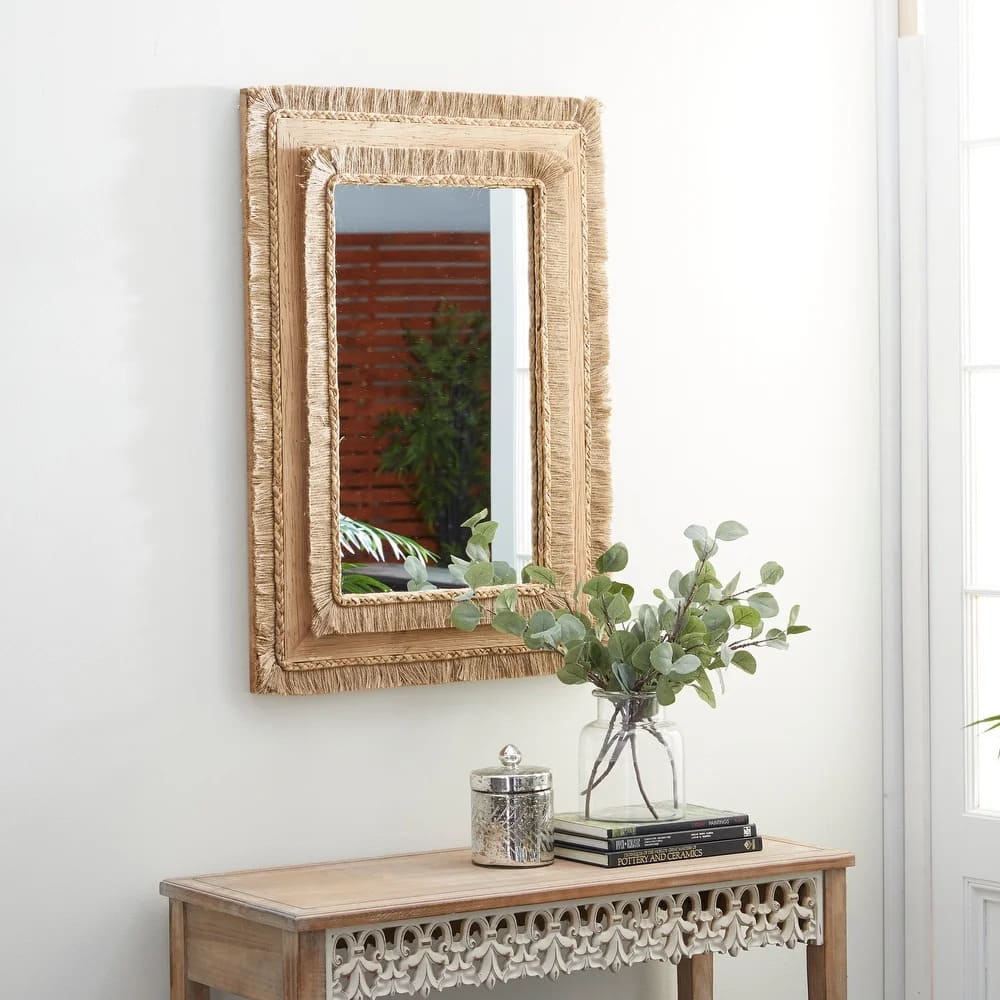 Wicker is a popular choice for bohemian looks. It's very natural and adds visual interest to an otherwise dull-looking room. Depending on how you incorporate it, it can even make your room feel beachy and tropical.
This wicker mirror is simple, but it has just enough texture to add a much-needed design element to tie your living room together.
Choose an Asymmetrical Mirror for a Unique Aesthetic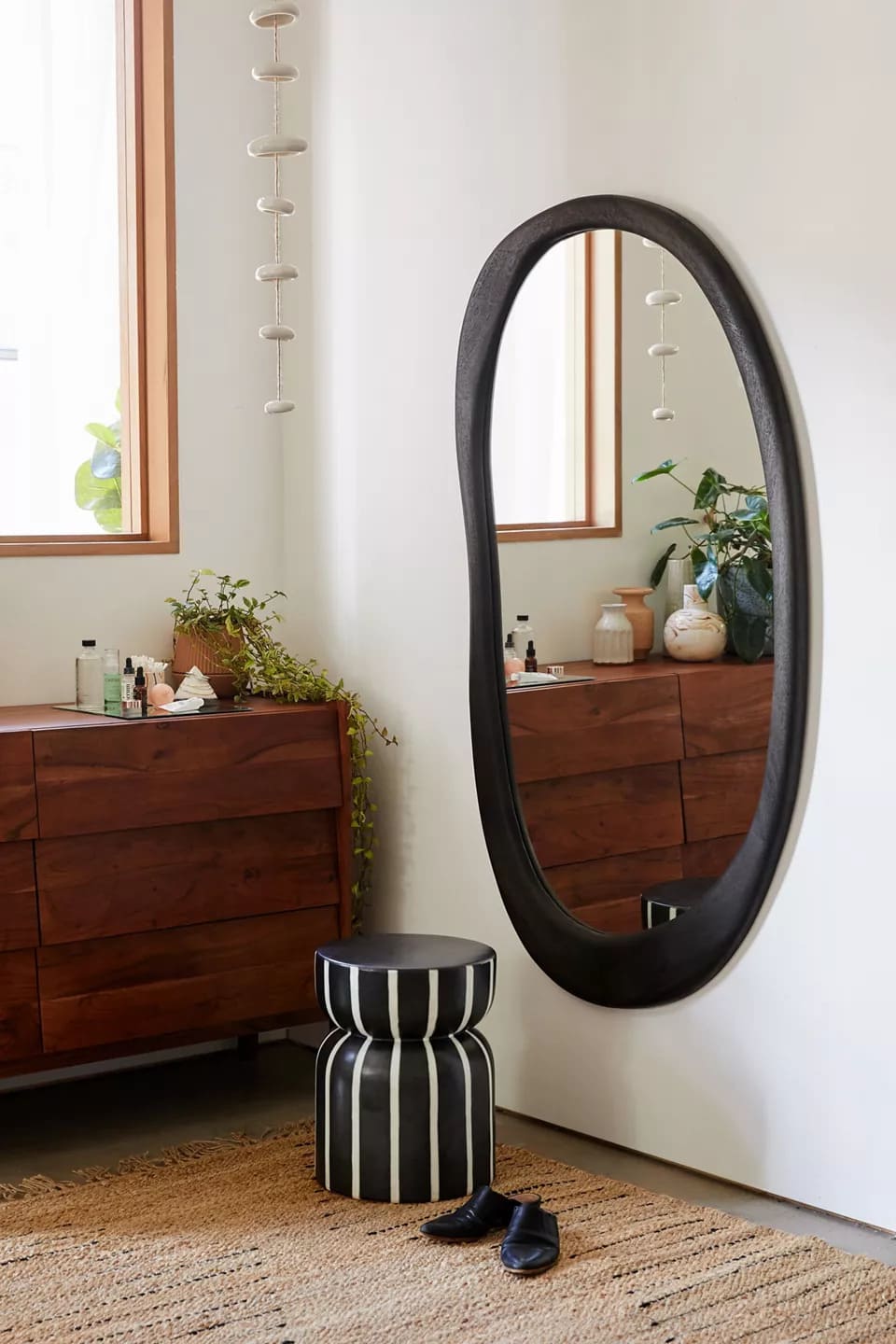 Perfectly symmetrical rooms typically feel more balanced and orderly, but experimenting with asymmetry can inject creativity into your interior designs. If done right, rooms with asymmetrical elements can still feel balanced.
If you'd like to add an asymmetrical element to your living room, this asymmetrical mirror can serve as a jumping-off point. It isn't too lopsided, but it still makes a statement through its shape more than a perfectly straight mirror would.
Add a Natural Touch With Pebble-Shaped Mirrors
Many interior designs incorporate natural elements in some way, whether in the form of artistic decor or potted plants. If you'd like to add a unique natural touch to your living room, these pebble-shaped mirrors are a great choice. It has a simple silver frame color, so it will blend in with your existing decor while standing out in its own right.
Being a mirror set, it's also highly versatile. You can order them by size, put them in a cluster, or spread them out across your wall.
Make Your Room Brighter With an LED Mirror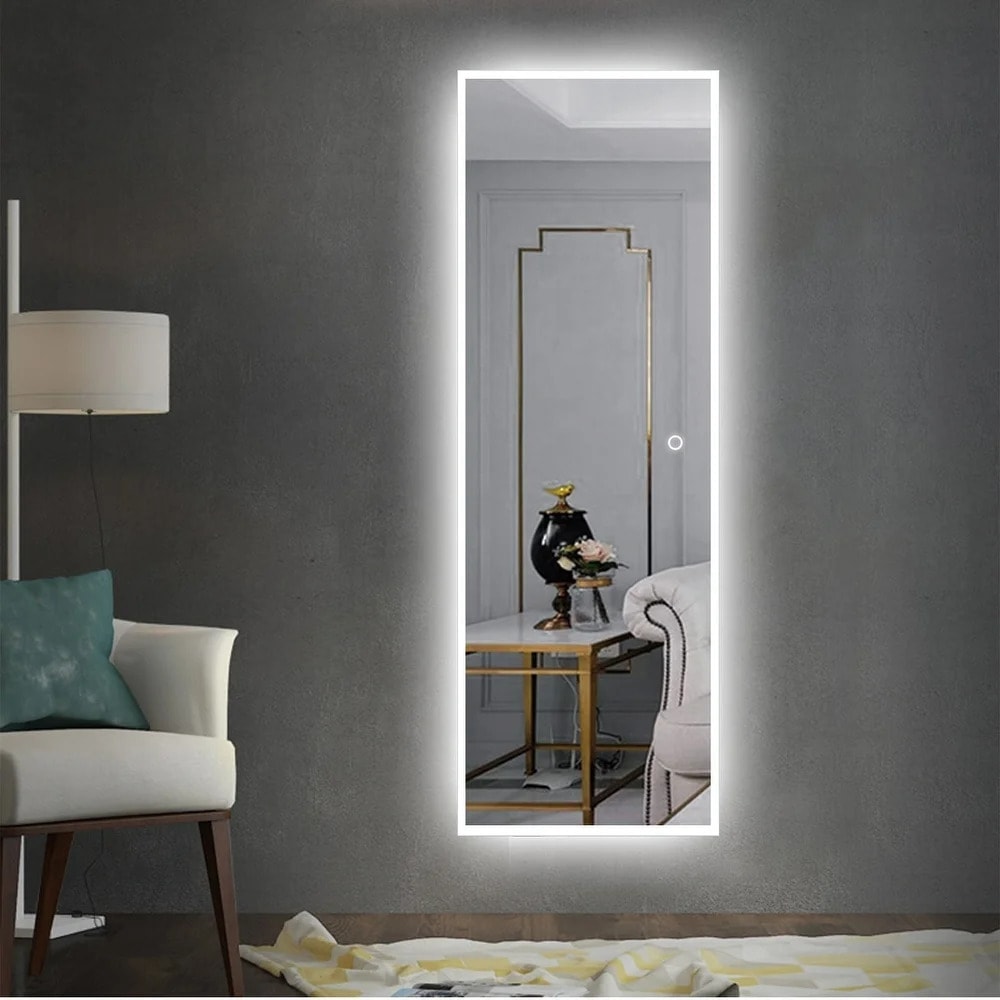 LED mirrors aren't incredibly common, but they can make a great option if you're looking to add light and make a unique statement. The LEDs are bright and look like natural light, making the mirror a perfect choice for dim living rooms.
It would stand out especially well against a dark-colored living room wall, providing great contrast.
Choose a Greek Square Art Framed Mirror for a Unique Look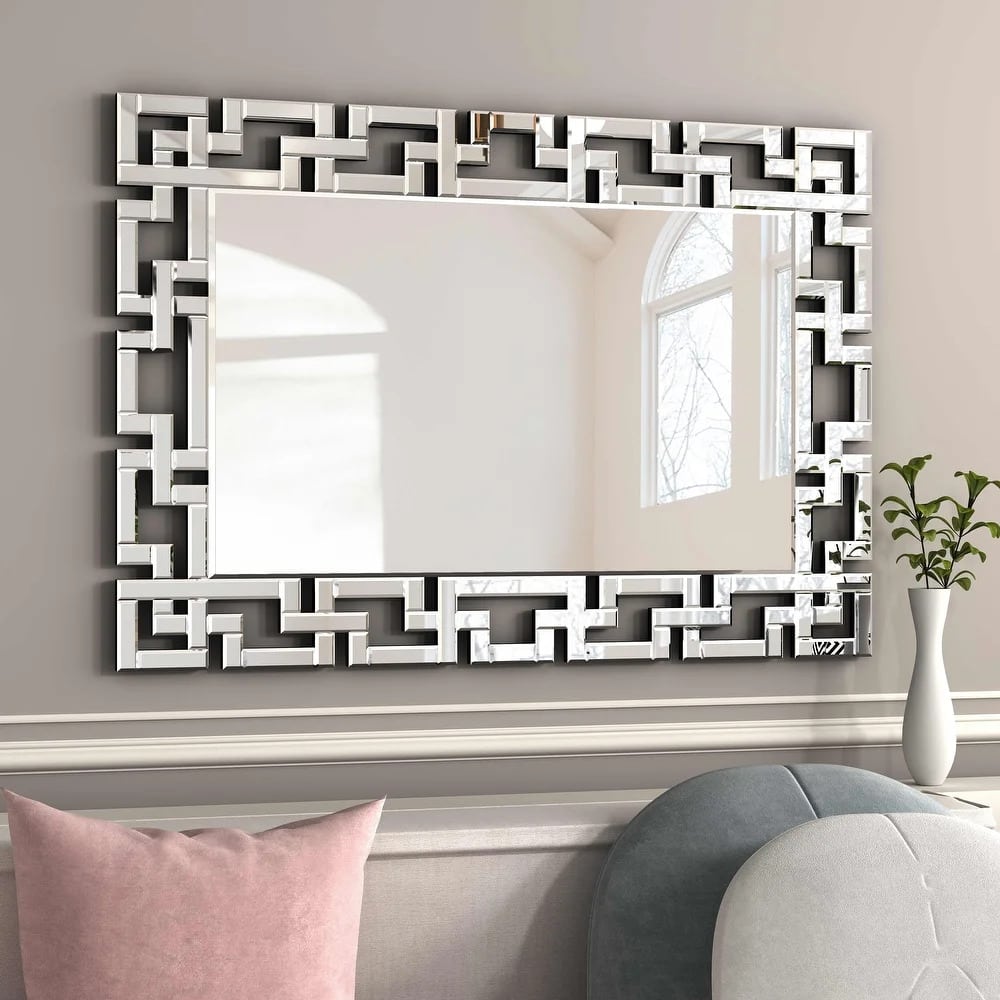 Referred to as meanders, Greek square art has existed for many centuries and is still incorporated in designs today. It makes sense, considering Greek meanders are unique and can stand out among existing decor.
This mirror uses Greek square art in its frame. While it's simple in color scheme, the frame alone allows it to make a dramatic statement in many contexts, including luxury and modern rooms.
Choose a Crystal Mirror for a Luxurious Look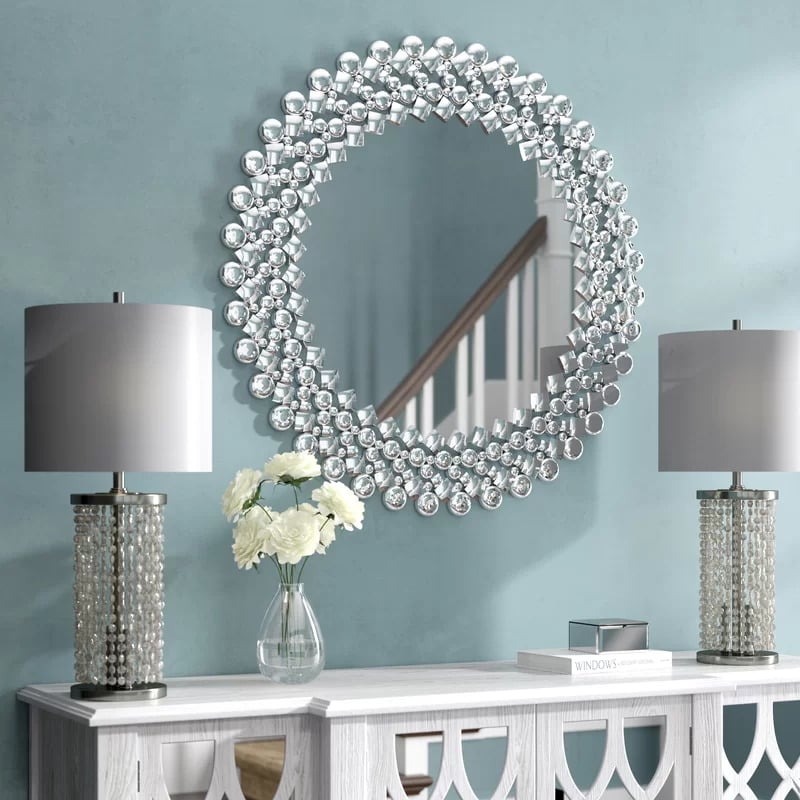 If you're looking to add a touch of luxury to your living room, this crystal mirror can suit that purpose well. Its simple circular shape is accented by crystals of different shapes and sizes.
It could match well with other crystal furniture pieces. Or, due to its transparent color, it could add a standout accent to an existing living room setup.
Have Your Mirror Double as Art With a Painted Frame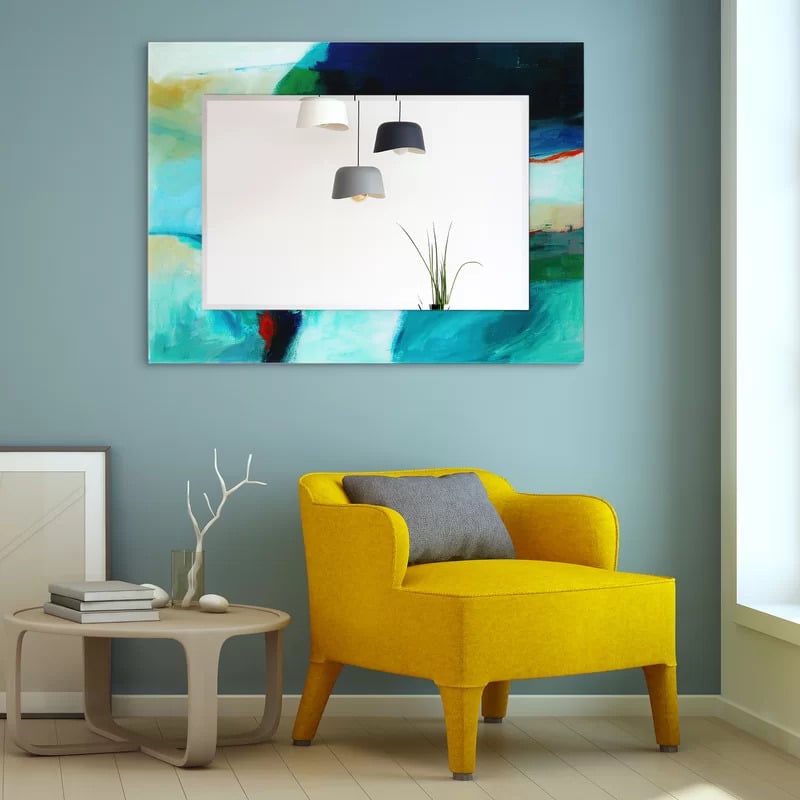 Sometimes it can be difficult to choose paintings for your living room. Some paintings can get quite expensive, and they may take up too much wall space to fit a mirror if you'd like to include one.
Thanks to this unique mirror, this is no longer a problem. Its abstract frame stands out as a work of art in its own right. It would work especially well in a room that uses a lot of cool colors, such as a sea-themed room.
Go For a Traditional Look With a Decorative Scroll Mirror
Scroll art works well in traditional contexts, adding a touch of elegance. This mirror incorporates scroll art in its overlay. It also has a distressed look, adding to its vintage flair.
Still, the mirror maintains subtlety thanks to its clean white color palette, allowing it to fit with your existing decor.
Use a Pipe-Framed Mirror for an Industrial Look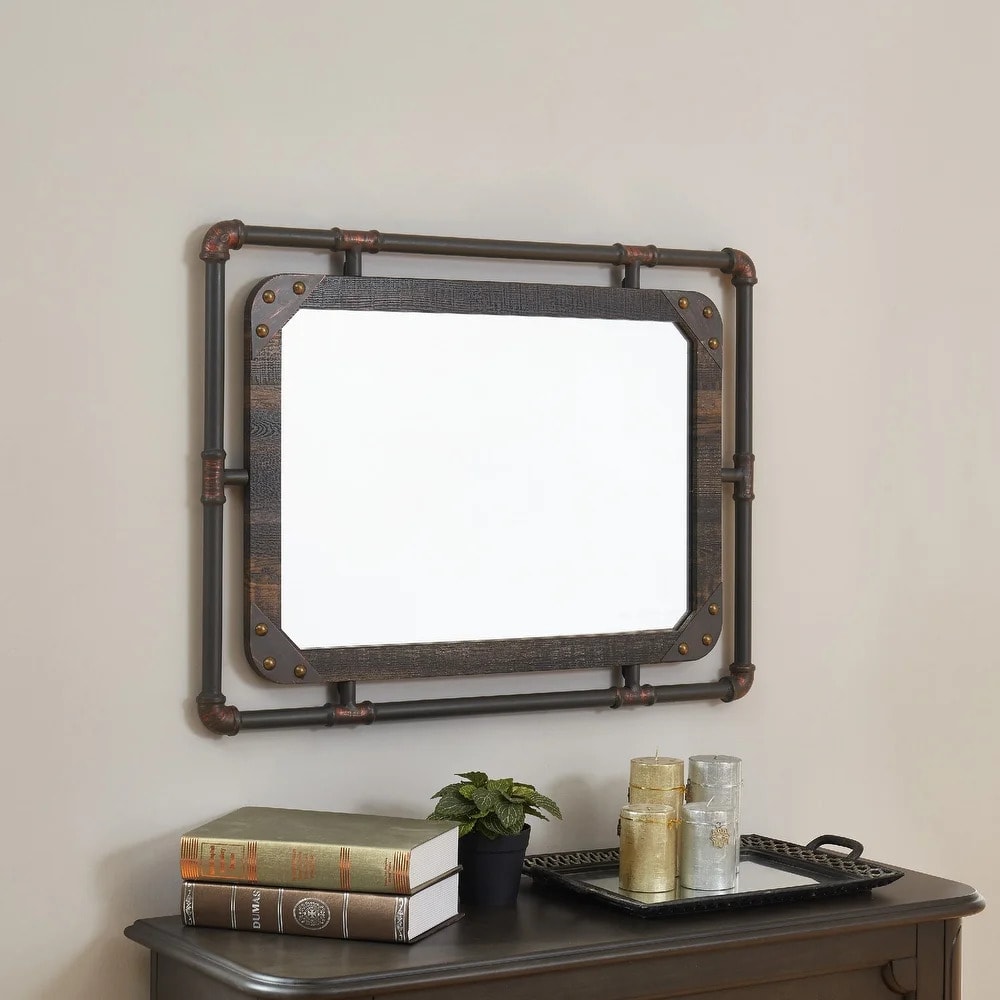 Industrial living rooms aren't necessarily common, but they look very unique. This industrial pipe-framed mirror is a perfect standout piece to make your living room pop.
It also has a neutral color palette, so it can fit in a variety of industrial living room styles. Whether you prefer dark colors alone or dramatic contrast, this mirror can fit in with your desired aesthetic.
Stand Out With a Cubic Mirror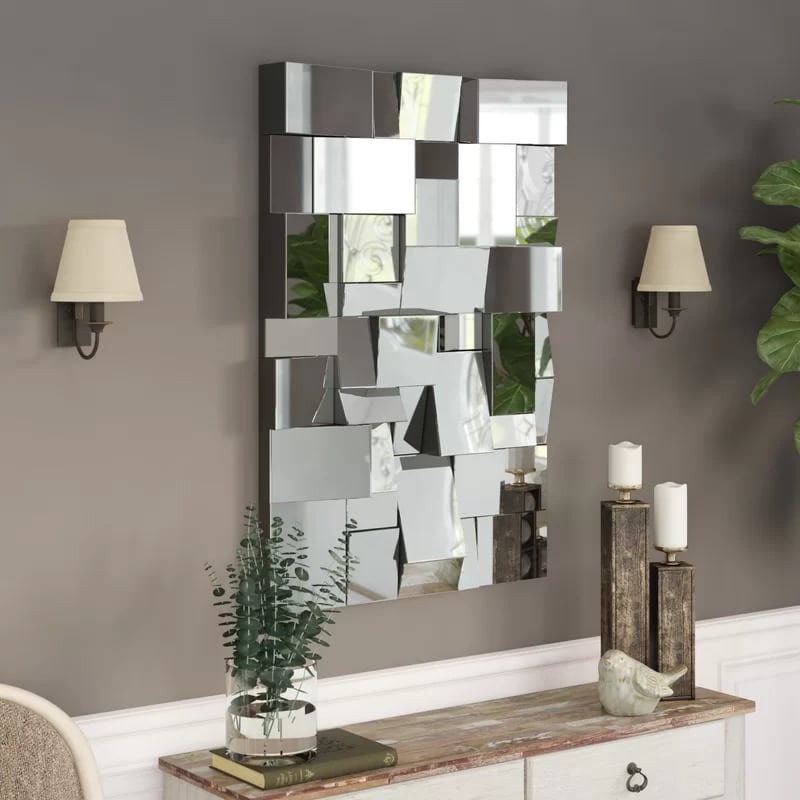 If your living room is looking a bit too plain, a standout mirror like this one could be just what you need. This cubic-style mirror looks exceptionally modern and unique.
It's also neutral-colored, meaning it won't clash with your existing living room aesthetic. Due to the 3D nature of the mirror, it can add some texture and visual interest.
Final Thoughts…
When it comes to living room mirrors, there are plenty of approaches, from dazzling mirror sets to unique asymmetrical shapes. Mirrors can also fit a variety of different styles, allowing them to serve as a dramatic statement piece or a muted accent.
Whether your living room is large or small, there are plenty of mirror decorating ideas for you. We hope this list gave you a starting point on how to incorporate mirrors into your living room.