Decorated Life is reader-supported. When you buy through links on our site, we may earn an affiliate commission. Learn More
15 Modern Teal And Gray Bedroom Ideas
A combination of teal and gray is exquisite, outstanding, and at the same time, dazzling and breathtaking. It's neither too loud to prick the eye, nor too subtle to play old-school and monotonous. Well, just the perfect duo for transitional, Eclectic, as well as Mid-Century Modern interior design styles. So, when it comes to designing a bedroom, you have the full opportunity to splash your favorite hues – simultaneously, that also makes you feel motivated and welcoming.
And the elegant blend of teal and gray will play a great role! However, there are various ways to play with this combination! Whether on the walls, accessories, bedding, or the furniture – the teal and gray is proven to make you go 'wow'! So, let's have a look at this 15 modern teal and gray bedroom ideas to take inspiration from!
Glam Teal and Gray Bedroom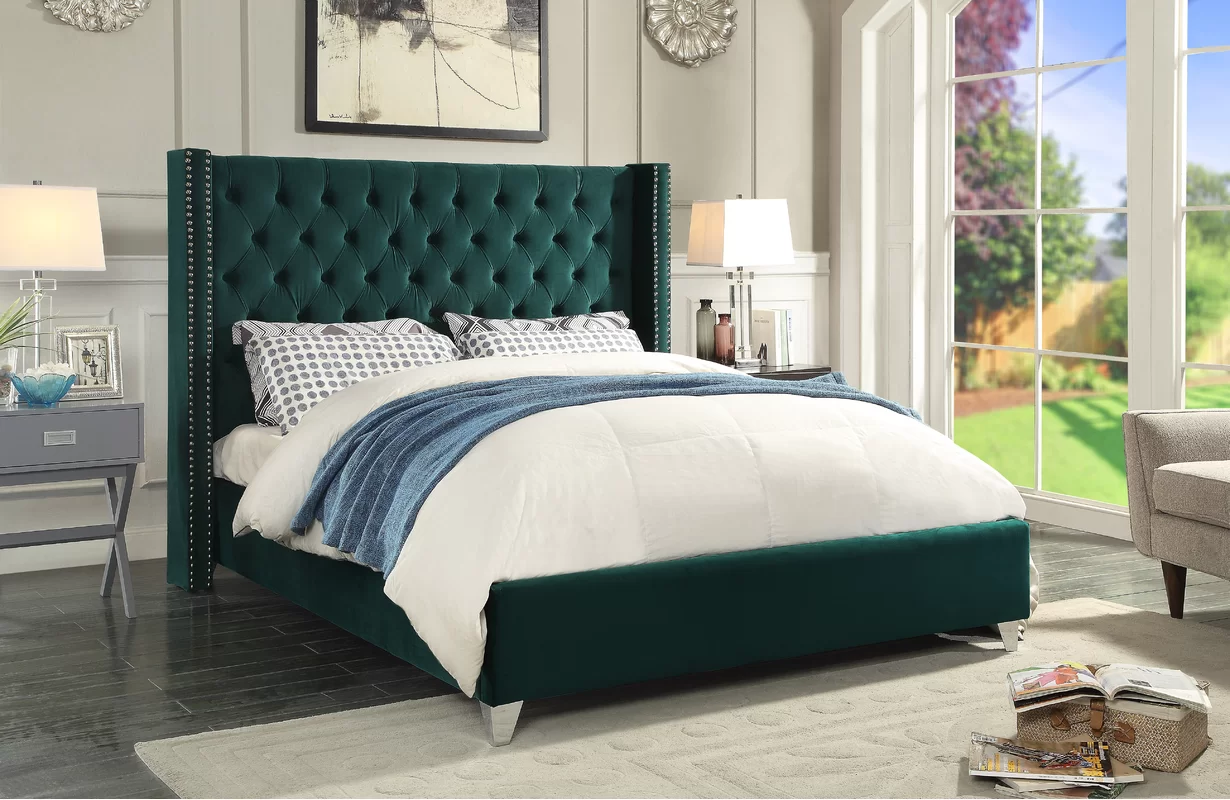 When splashing a teal and gray color theme to your bedroom, one of the most popular and classic ideas is to throw a tinge of teal on the bed frame and headboard. Furthermore, this tufted upholstered bed can be placed in juxtaposition with the gray walls to further protrude and stand out in the room.
Especially for interior design styles like Hollywood Glam, Eclectic, and Modern – this panorama is going to play flawless. You can even add a tinge of silver or chrome on the lighting fixtures to further exuberant the space.
Traditional and Moody Teal Bedroom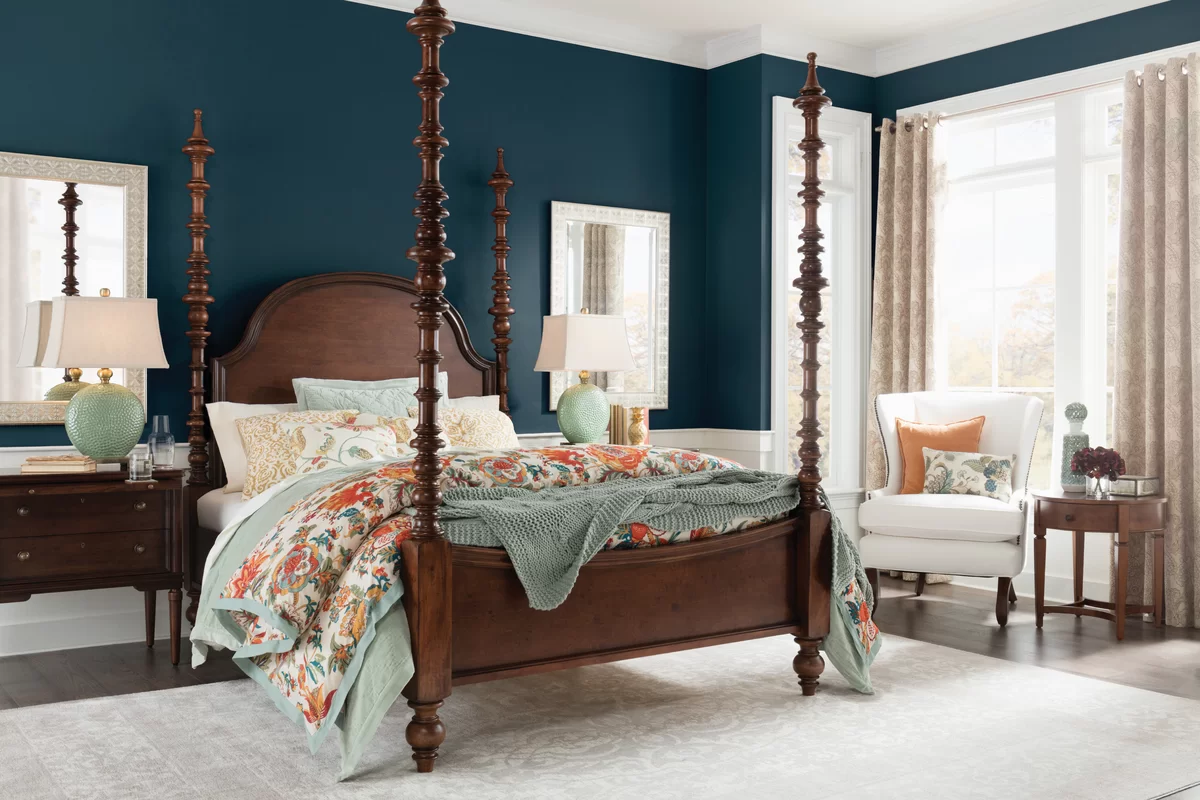 If you have the size, scale, and perspective – you can consider painting all the walls of your bedroom in any of the beautiful shades of teal. It definitely creates a moody and dramatic experience – and at the same time, stays coherent to the interior design styles of traditional, glam, and Eclectic.
In such a case, you can let the neutral or base of your room (the bedding, furniture frame, and accessories) shine bright in a tone of light gray.
Add a Third Wheel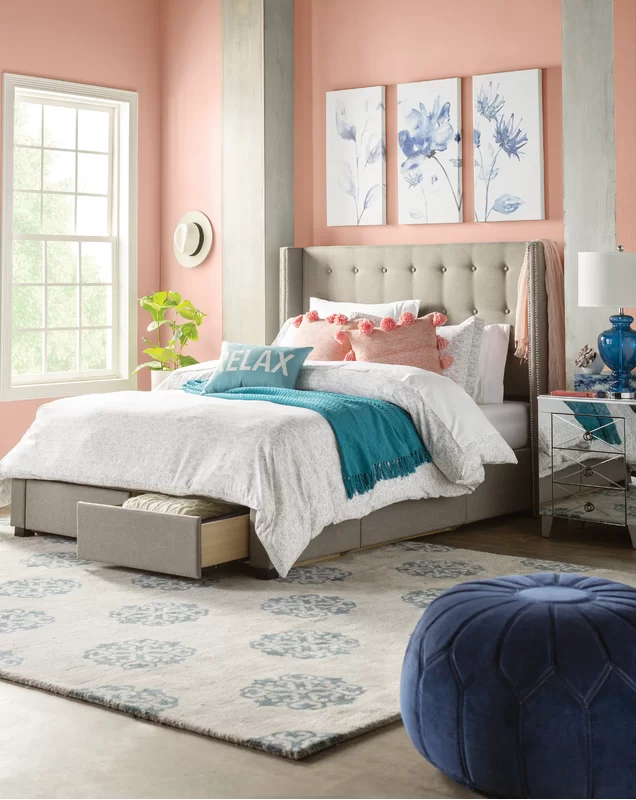 Do you think a combination of teal and gray is incomplete? Maybe you want to make your bedroom feel more lively, bright, and high-spirited? Well, in such a case, you must add a third wheel like coral pink or lemon yellow to perfectly complete the color palette. And believe it or not, you can be as creative as you want!
You can consider painting the backdrop wall in a soothing pastel and further add tinges of teal on the accessories like bed cover, duvet, throw pillows, ottomans, or artwork.
Joyful Eclectic Bedroom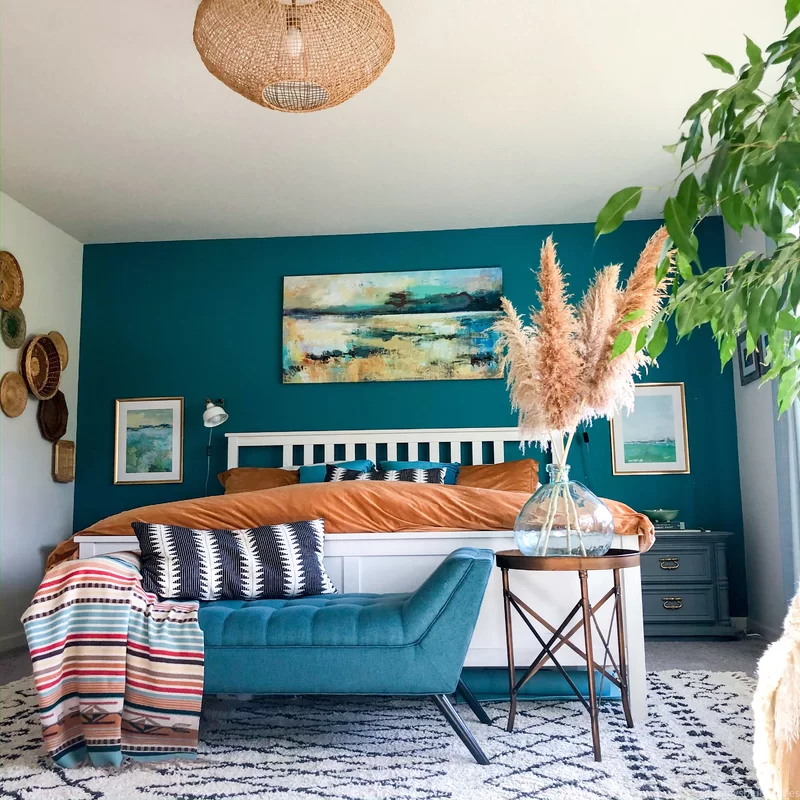 Teal can truly be fun-loving, joyous, cheerful, and bubbly! But not when it's paired only with gray and white, but rather a mixture of other contradictory hues. Well, yes! If you crave a similar vibe, you can add shades of burnt umber with the help of your duvet and bedding. Furthermore, don't hold back from adding details like pampas grass, rattan, and wicker.
Secondly, to neutralize the two high-spirited hues, add a combination of subtle gray, black, and white on the engaging patterns of the pillows, bench, and ottomans!
Recreate a Sober Look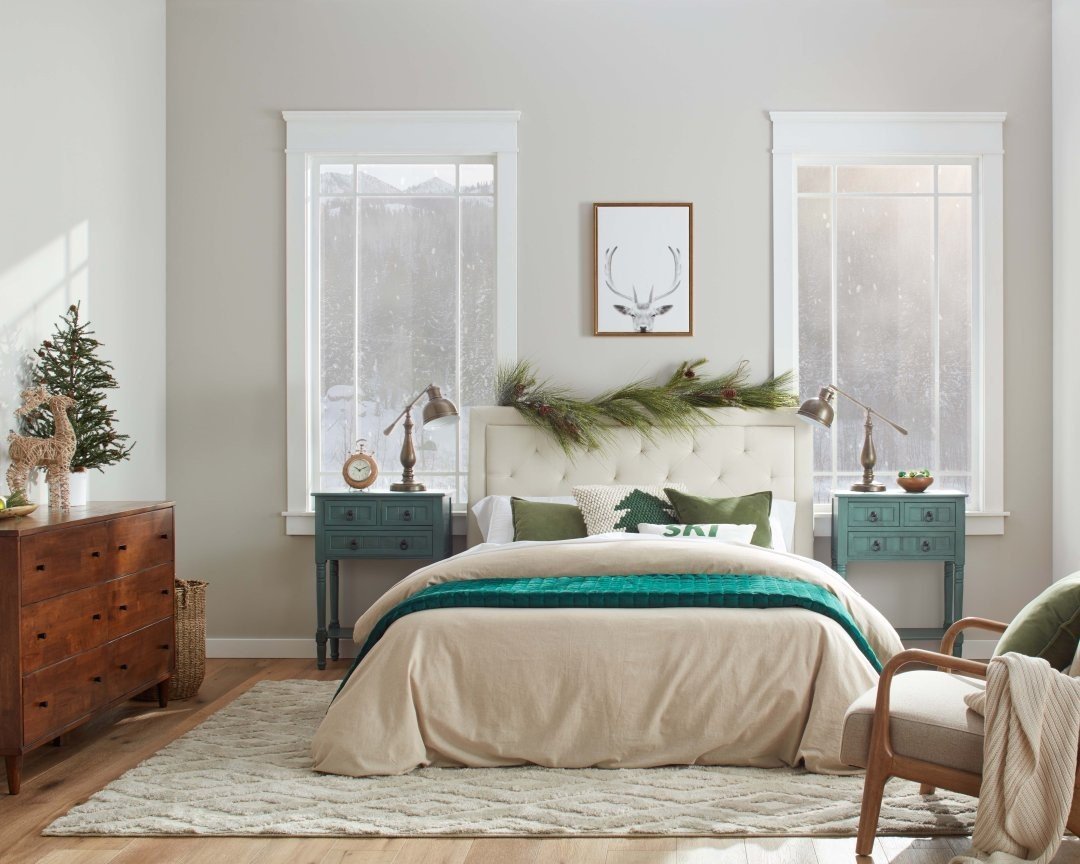 Choosing a light gray color for the major decor features and teal on the accent is not a bad option either. Yes, let the gray play dominant. Well, look at this nature-inspired transitional-style bedroom! Isn't it totally flabbergasting? The bed cover and nightstands could spark in sharp teal with a soothing, creamy base for the bed frame, headboard, and area rug.
Furthermore, you can pick wooden finishes for the sideboard and accent chair. Now you see – teal is not always loud!
Serene Modern Bedroom Design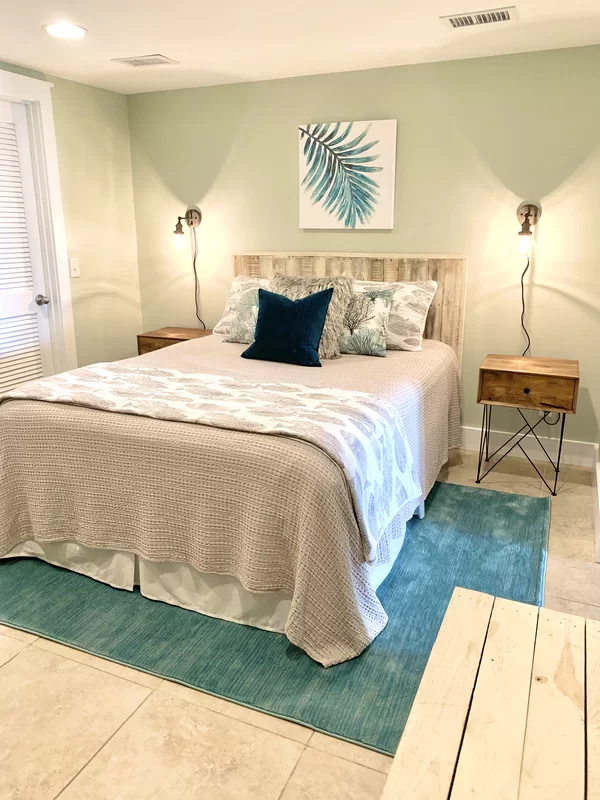 It's not necessary for the teal in your bedroom to always play focal. Sometimes, you can infuse just a touch of it – with the help of a large area rug – just like the modern bedroom design above. It's serene, calm, and at the same time – quirky, eye-catchy, visually appealing, and coastal.
Furthermore, add shades of gray on the furniture fabrics and bedding to create a subtle and tranquilizing experience.
Play Eye-Catchy with Teal Nightstand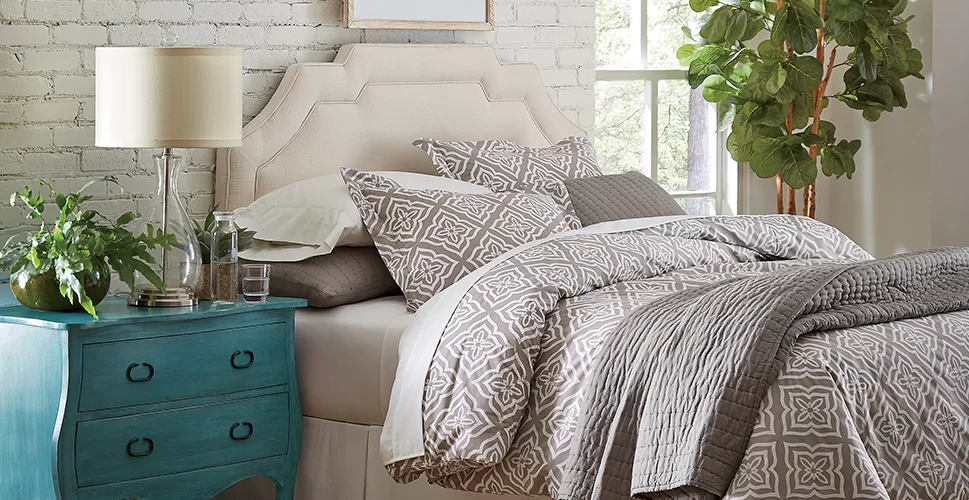 If you have an eye for detail – this traditional and modern farmhouse bedroom is something to take inspiration from. Keeping the backdrop in neutral whites, grays, and beiges with a pop of hue like teal, specifically on the nightstand – you can create an utmost artsy and out-of-the-box appeal.
At the same time, you would want to add a blend of whites and grays on the wall, duvet, bed sheets, pillowcases, and table lamp shades. Don't forget to place a large indoor plant right beside this quirky and focal piece of the nightstand!
Teal and Gray Bedroom with Wooden Textures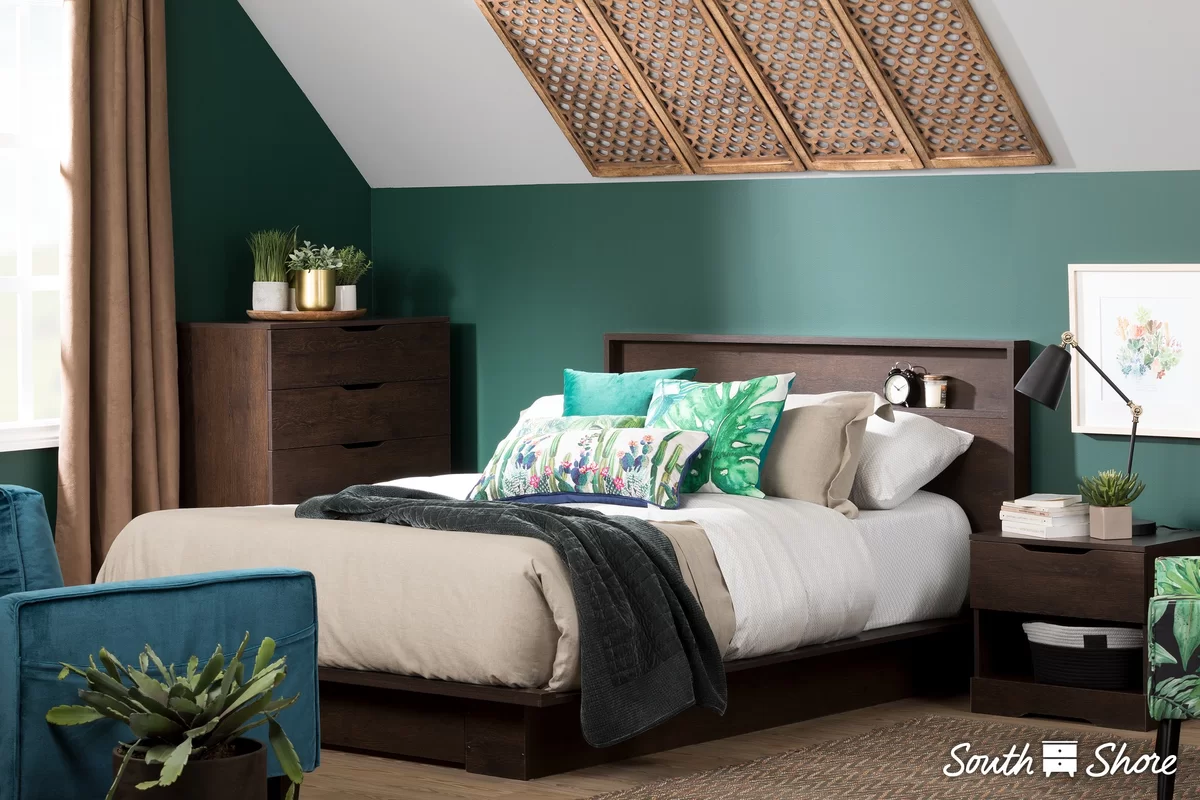 Well, there are two major kinds of teals and three major kinds of grays. Firstly, the teal could either be blue-undertone or green-undertone, whereas the gray could either be warm or cool. Hence, if you want an overall warm and welcoming appeal, it's generally best to pair the teal greens with warm grays – just like in the modern bedroom design above.
And cherry-on-the-top is the wooden textures (walnut or mahogany) that can beautifully add a traditional statement.
Teal and Gray Transitional Bedroom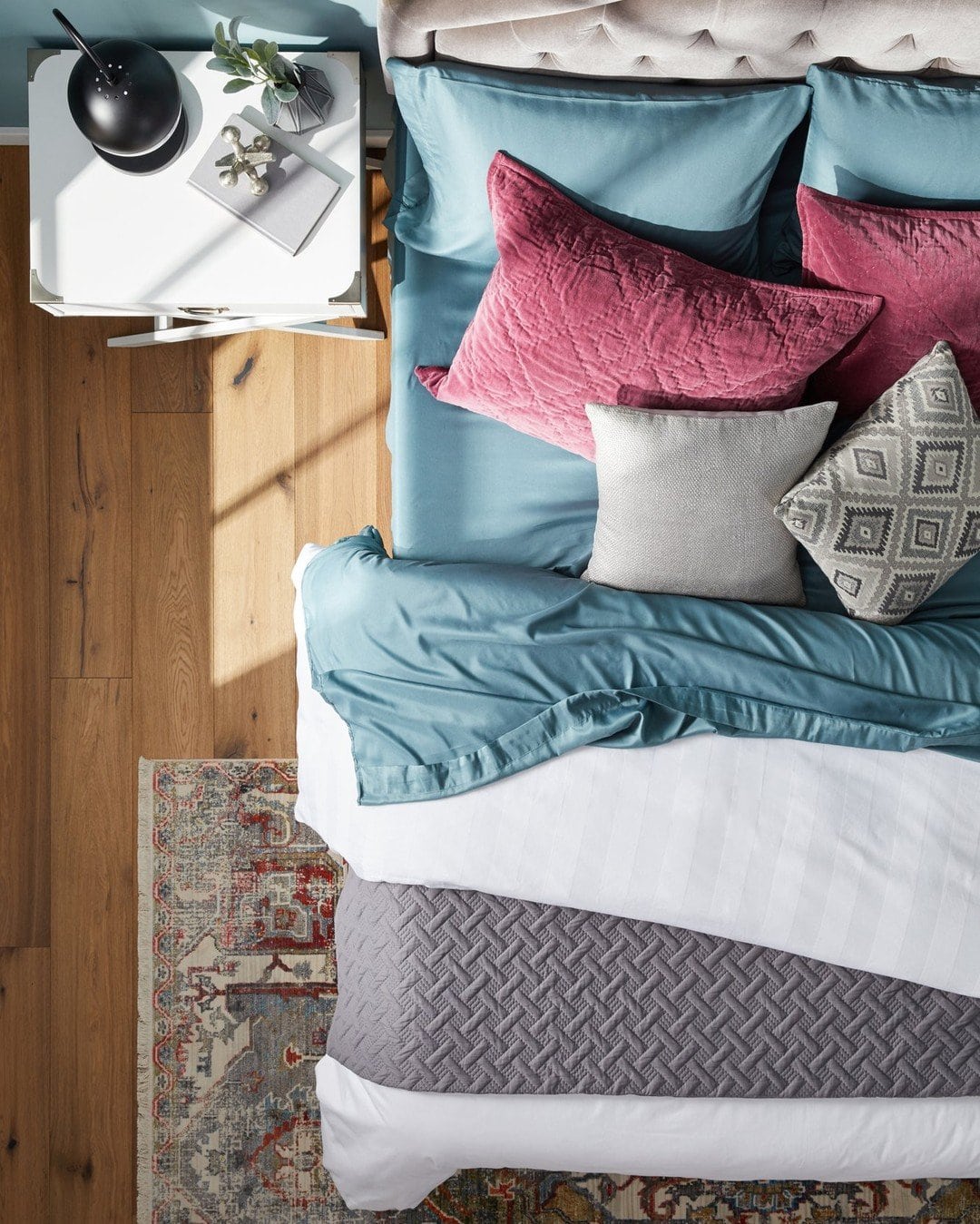 A combination of teal, gray, red, and white will never go out of style! It's classic, quirky, eccentric and out of the ordinary. So, another way to style a bedroom in teal and gray is by simply choosing this color palette for the bedding and further adding lighter grays on the backdrop wall.
Let the hardwood floors shine bright in weathered oak or pine and further add various indoor plants, checkered patterns (black and white), and material textures like faux and fur on the accessories.
Fusion of Teal, Gray, and Green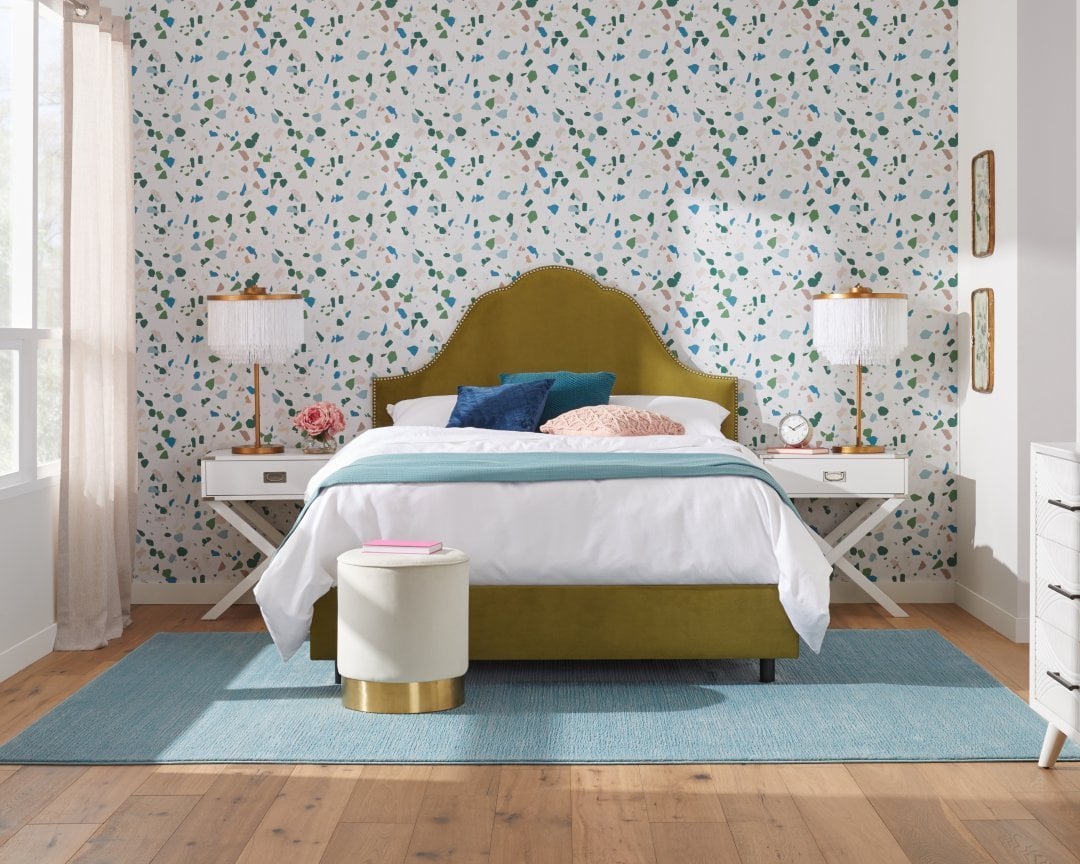 You can either choose a very minimal teal and gray palette or something absolutely outstanding! Well, this modern teal and gray bedroom showcases a beautiful array of analogous color schemes – with a fusion of teal blue, moss green, and green.
With a tinge of brushed brass or gold on the foot of the ottoman and other lighting fixtures – you can absolutely bring a sense of luxe, sophistication, and glam to your space.
Chic Teal and Gray Bedroom Design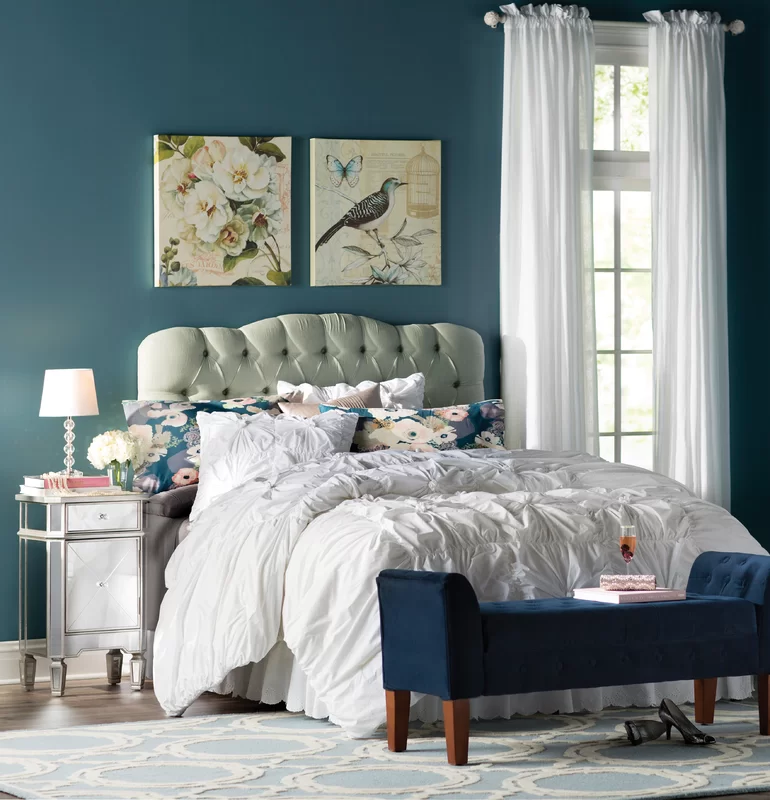 How much teal is too much teal? Well, is this bedroom too redundant for you? Generally, teal blue has the potential to not overdo your space – rather add a calm and composed feel. So, you can truly consider painting the walls of your bedroom in teal and further even adding monochromatic tones of teal on the bedding and fabrics.
All this while, add a pop of gray on the headboard so it can protrude and add a sense of depth to the room.
Mid-Century Modern Teal and Gray Bedroom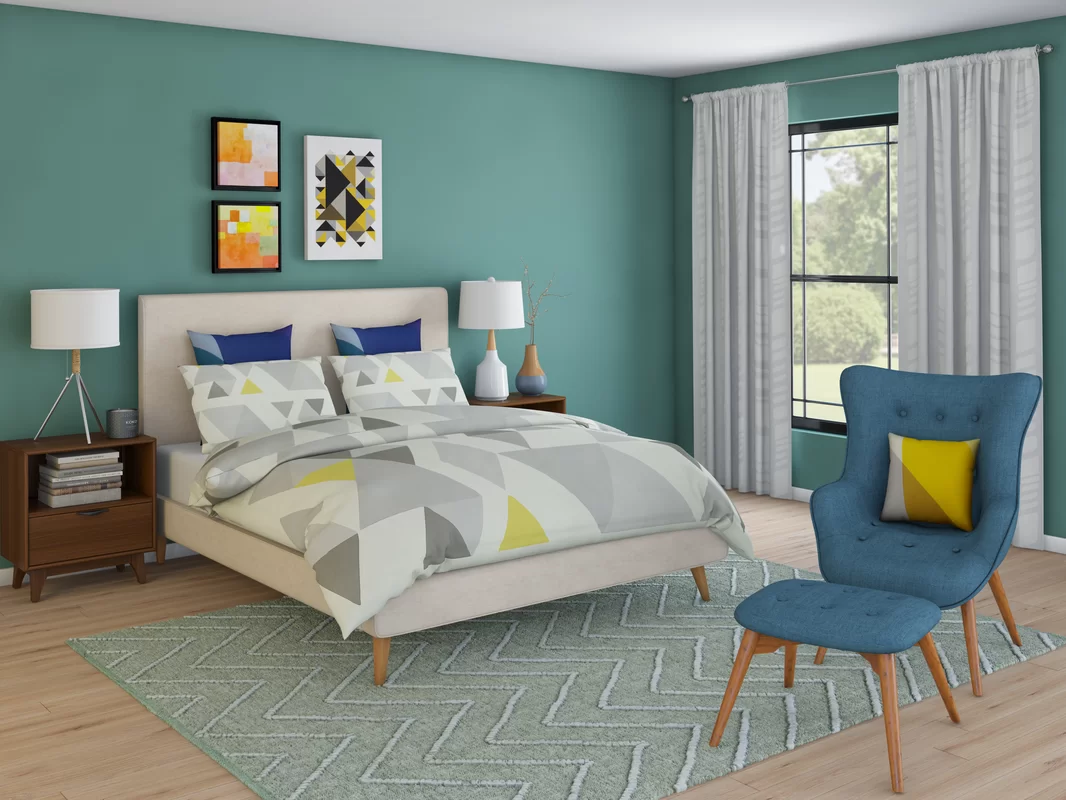 When Mid-Century Modern you know is your style, you shouldn't hold back from abstract details, intricate geometries, and a playful blend of contrasting hues. With an all-teal wall backdrop, you can consider hanging your favorite gray sheer curtains and light gray bed sheets, duvet, and bed covers.
Furthermore, to add a sense of interest, splash some bright hues on the focal artwork, throw pillows, and accent chairs or ottomans. (The bright hues that best compliment teal are lemon yellows, bright orange, and mint greens)
The Luxury Teal and Gray Bedroom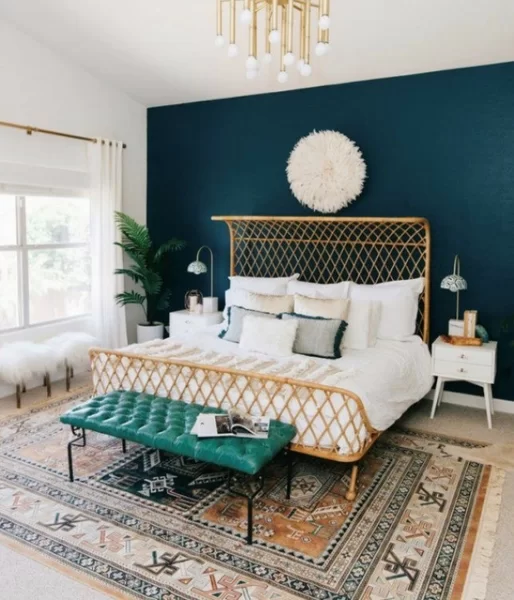 Classic, timeless, and elegant – it's time to throw a splash of teal on the accent wall of your bedroom with a perfect pair of clean white on the adjacent walls. This sophisticated duo is a versatile option for most interior design styles. And just in case if you further put together a couple of golden-tinted metallic accents, rattan, wicker, and fur – the result would totally be mind-blowing.
If a shag rug is not your style, don't hold back from a large, medallion vintage area rug!
The Flamboyant One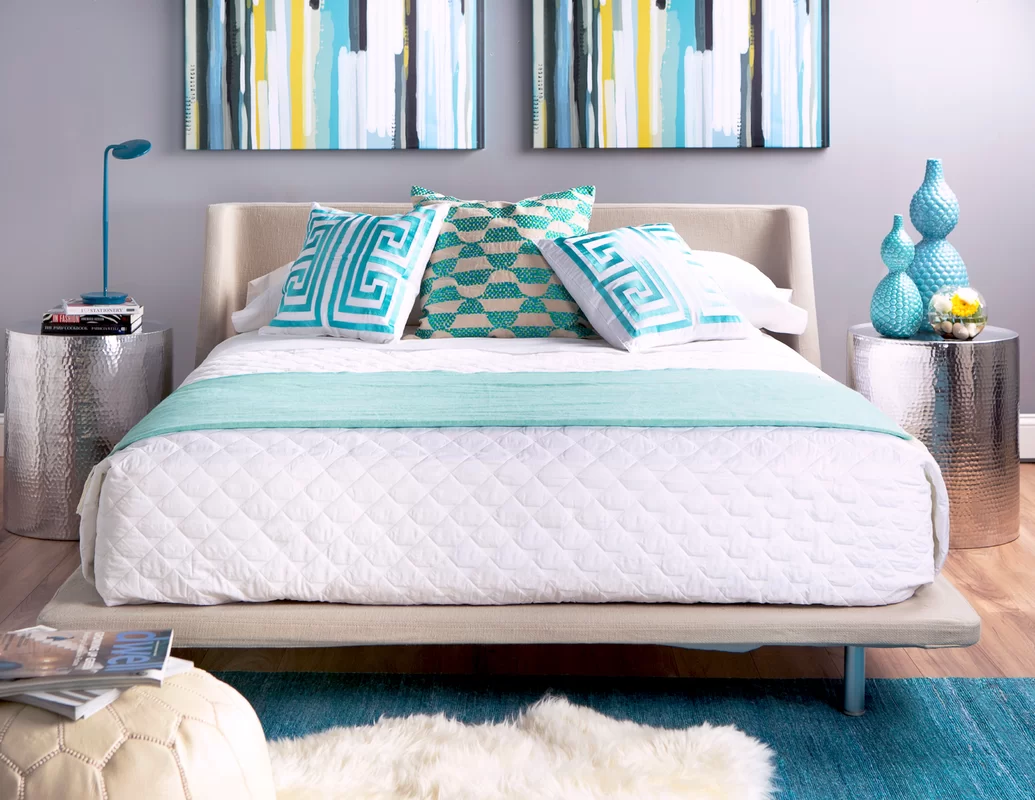 It's time to create a perfectly striking, vivid, and vibrant picturesque for your bedroom – with the help of various contrasting hues, patterns, and textures! This bedroom showcases a beautiful array of aquamarine teal in contrast with yellow, gray, black, and white. However, remember not to overdo your space since that can exhibit a confusing vibe!
Lastly, all this while, choose gray for the backdrop wall and add chrome or silver for the accent lighting fixtures!
Hollywood-Style Teal and Gray Bedroom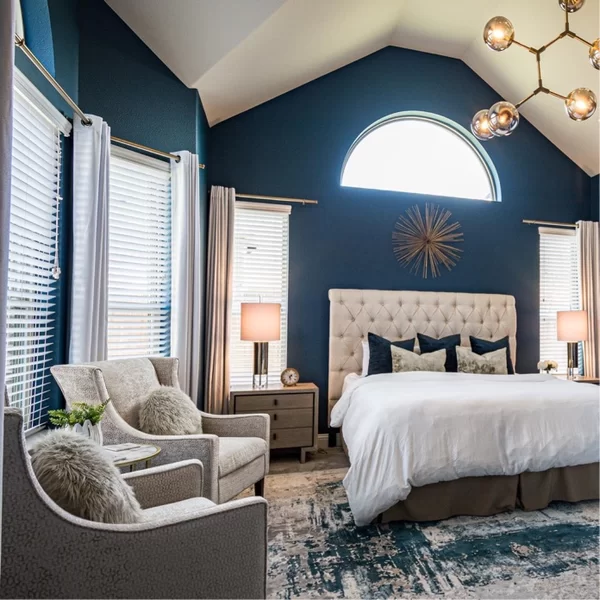 Especially if your bedroom receives ample natural light (from all the angles), it's best to apply a fresh coat of paint on all the walls of your bedroom. This way, you can best achieve the best of both worlds. Furthermore, adding whites and gray (on the window molding, headboard, and bedding) is a great way to infuse timelessness and a rich and elegant look.
Adding golden tints on the wall hanging and chandelier will further exhibit a Hollywood-Glam style look.
Summing It Up
Did you like any of these teal and gray-inspired bedrooms for your home? Well, you must remember to analyze the saturation (warm and cool) character of the teal and gray color and further pair it with wood, glass, or faux to create an eye-catching appeal. Let me tell you, this combination will never disappoint you!
So, are you excited to decorate your bedroom in teal and gray? Well, do let me know your thoughts in the comments below!