Decorated Life is reader-supported. When you buy through links on our site, we may earn an affiliate commission. Learn More
23 Farmhouse Bedroom Ideas in 2023
Farmhouse living has a very unique feel. If you long for that feeling, you can create a farmhouse style bedroom and have a warm and cozy space of your own that's always welcoming when you want to call it a day.
If you live in the city but your heart is back in the country, a farmhouse style bedroom will give you the right feeling that's both casual and comforting.
There are several ideas to create a farmhouse bedroom but whichever style you choose, make sure it's airy because that's what a farmhouse is all about – open and airy spaces.
Shiplap Walls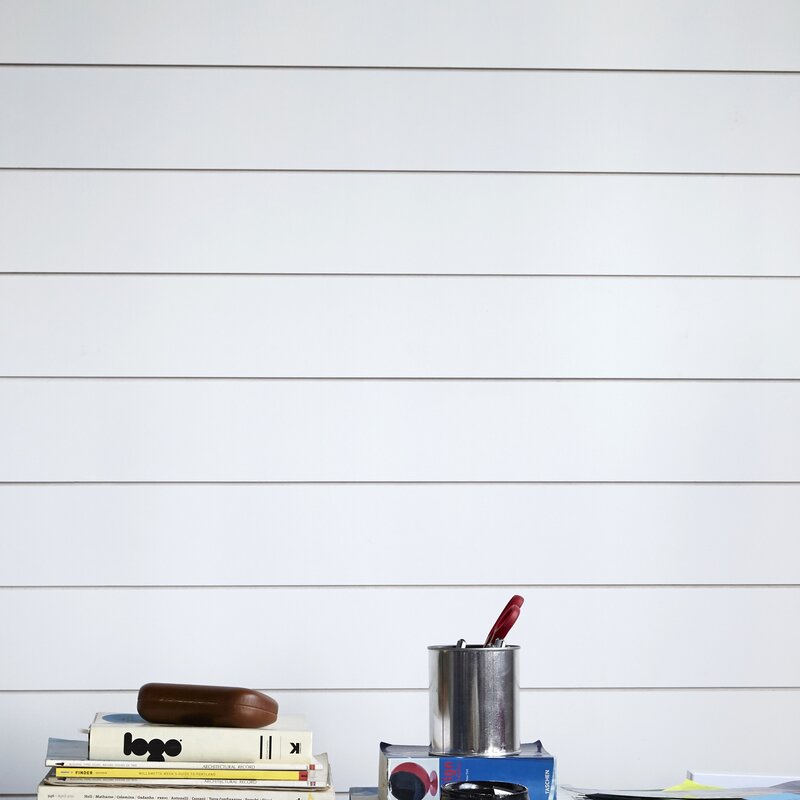 When you think about a farmhouse style bedroom, the first thing that comes to mind is shiplap walls. While they are most commonly white, you can select other colors for them as well. But, the lighter, the more farmhouse-style they will look.
Light colors don't just give the farmhouse feel, they also make the room look bigger. Shiplap walls are generally made from wood or PVC. But you can also get a wallpaper with a shiplap look. And since shiplap doesn't take too long to install, it can be the perfect weekend project.
Script on the Wall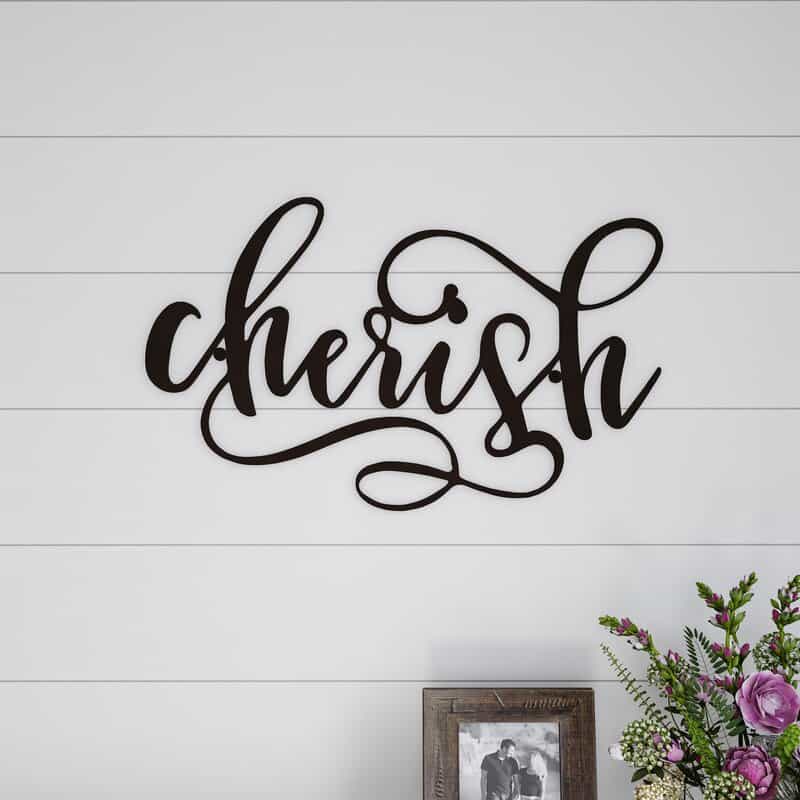 It doesn't matter which word or quote you go by, as long as it shows your love of togetherness and the happiness in your life. Your farmhouse bedroom should be a happy and cozy place and the script should show it.
Bold words against a white wall will look amazing. You can also go for a bold wall clock. Big and bold alphabets or numbers against a white backdrop look amazing.
Chandelier Lights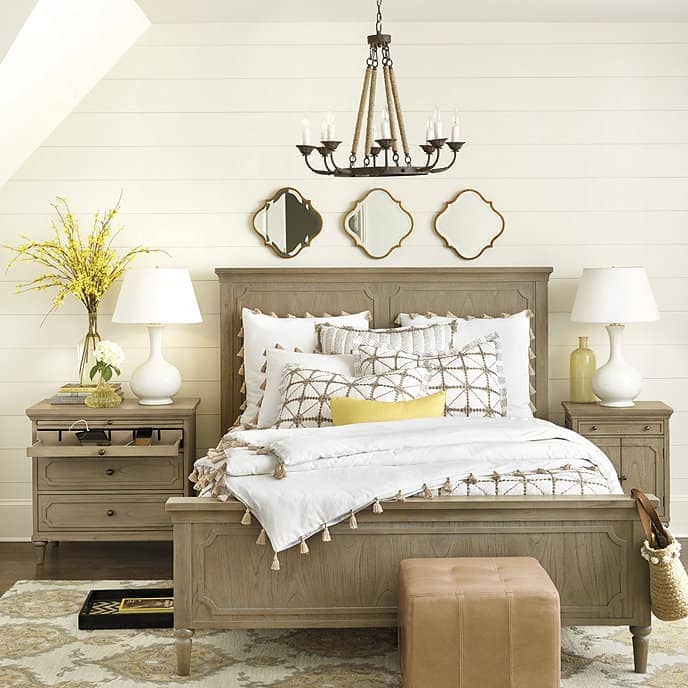 A candelabra chandelier is the hallmark of a farmhouse bedroom. If you're a diehard lover of the olden days, you can install a real candelabra. And if you want to improvise (which is a better option), there are several chandeliers that look like candelabras.
This way, you can switch it on and off whenever you want and it won't create goops of wax. But if you want to create a middle-ages look, you can go for a real candelabra (maybe just with flameless candles). Get whatever your heart desires.
Candles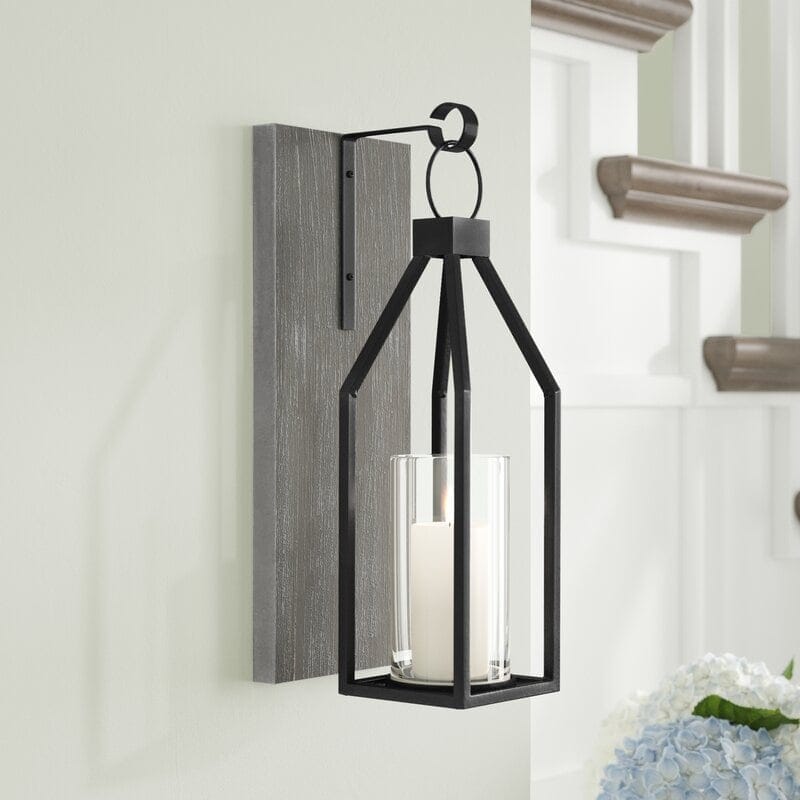 Can't get real candles for the chandelier? Don't worry, you can install candles just about anywhere else in the bedroom. It has the vintage touch of a farmhouse.
This wall-mounted candle holder is the perfect blend of farmhouse and modern and ensures your flame is far enough from the wall that it won't be a hazard.
Wood Headboard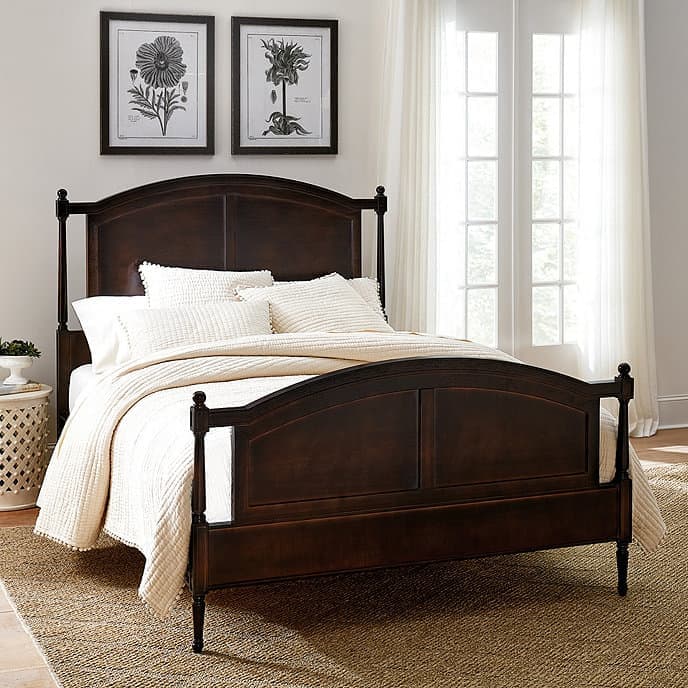 When you're planning a farmhouse bedroom, make sure you select a raw and rustic look. The two looks I like are metal and wooden. Of them, wooden is my favorite. Wood gives a very raw feeling that's classic of a farmhouse bedroom.
So if you're planning a headboard for your farmhouse bedroom, go for a wood headboard as a centerpiece. A dark stain will look great up against some white shiplap, but a grey weathered wood will look great, as well.
Some Greenery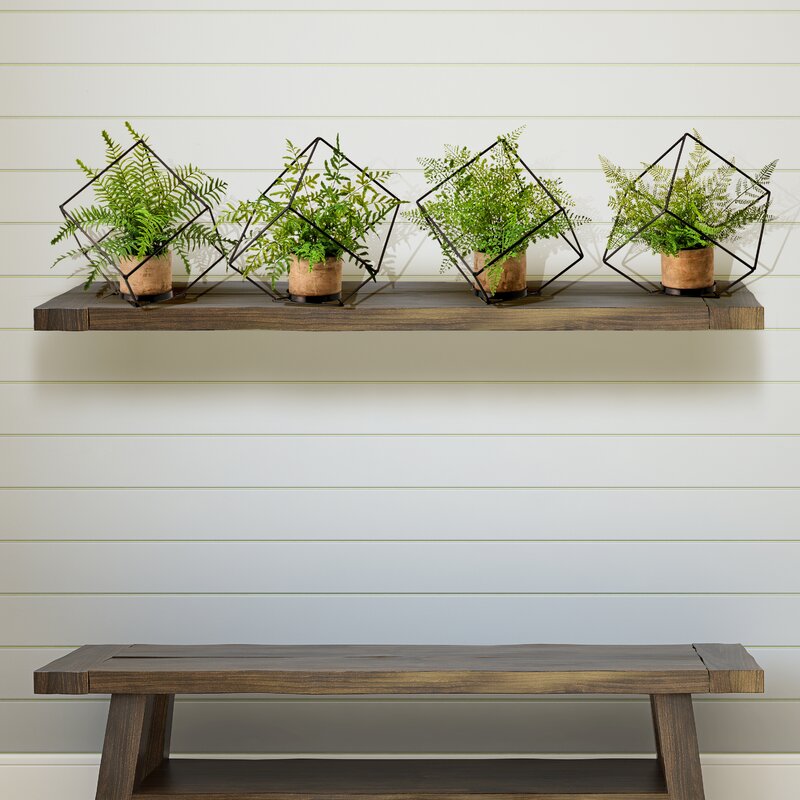 The contrasting rustic white and dark of the classic farmhouse look leaves for a great airy look, but it can also feel a little flat if you're someone who likes a little more color.
You can add pops of color by hanging, mounting, or placing green plants throughout the room. They'll really stand out from the white walls and bring life (literally) to the room. If you don't have a green thumb, artificial plants will give you the same look without the maintenance.
Farm Animals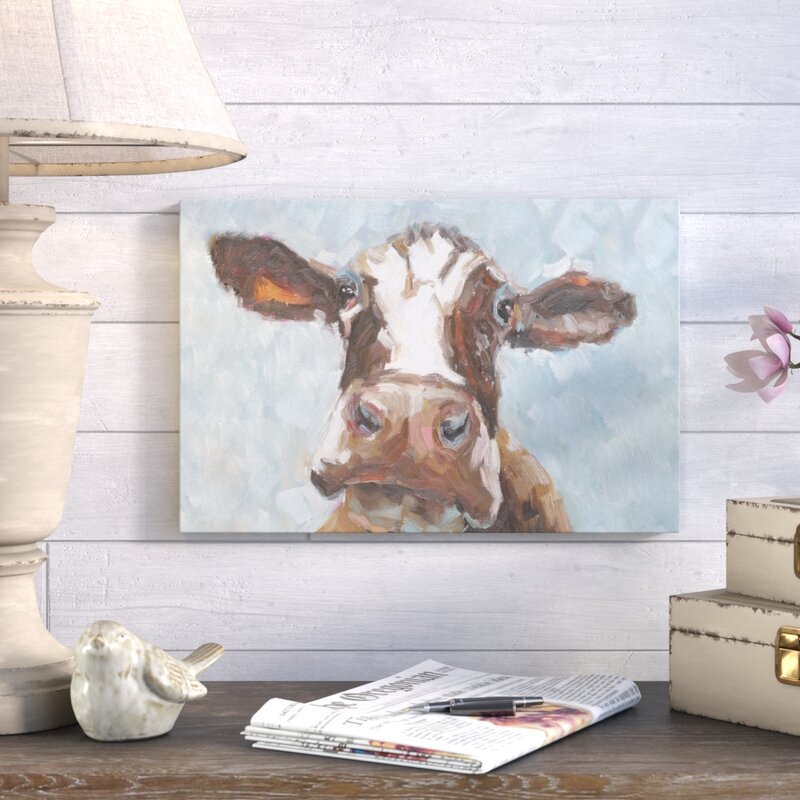 What's a farmhouse without animals? Hang a print of a cow, if you have one. Your family dog, your pampered cat – just about any animal will give you the feel of a farmhouse bedroom. The decor will also look great on a wooden shiplap wall.
You can also hang the photos of other animals on the other walls. Whether you want to use a photo, artwork, or a wall decal, any animal imagery will help you have a farmhouse feel.
Barn Door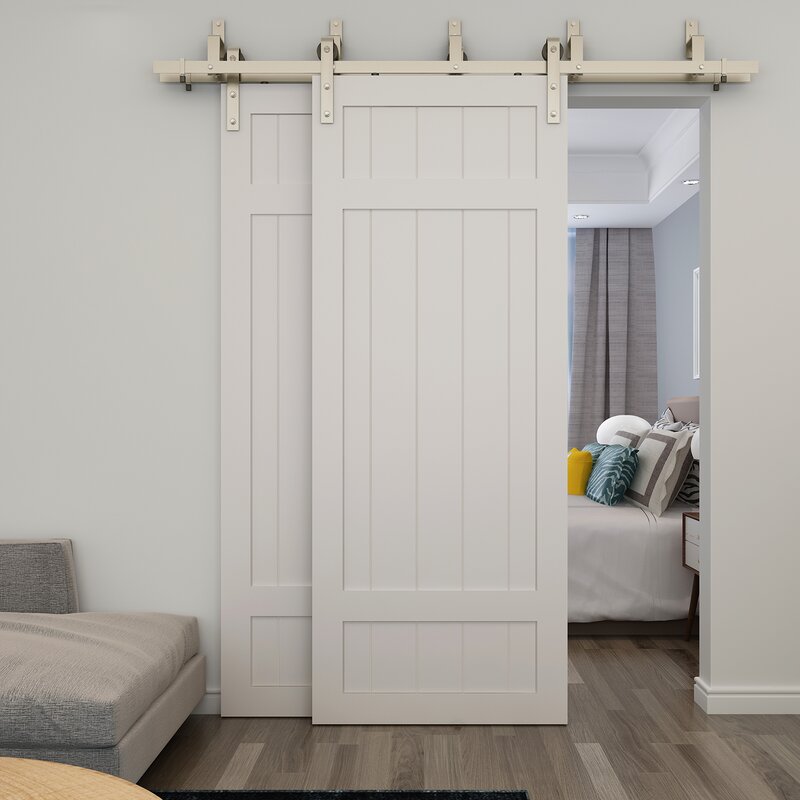 Barn doors look classy anywhere, but they especially look beautiful in a farmhouse bedroom. A rustic wooden door that opens up to the bathroom or a wardrobe can be the perfect way to add a rustic touch to your bedroom.
Add a matching rug on the floor and you'll have a cozy and comfortable room that will be warm and welcoming.
Poster Bed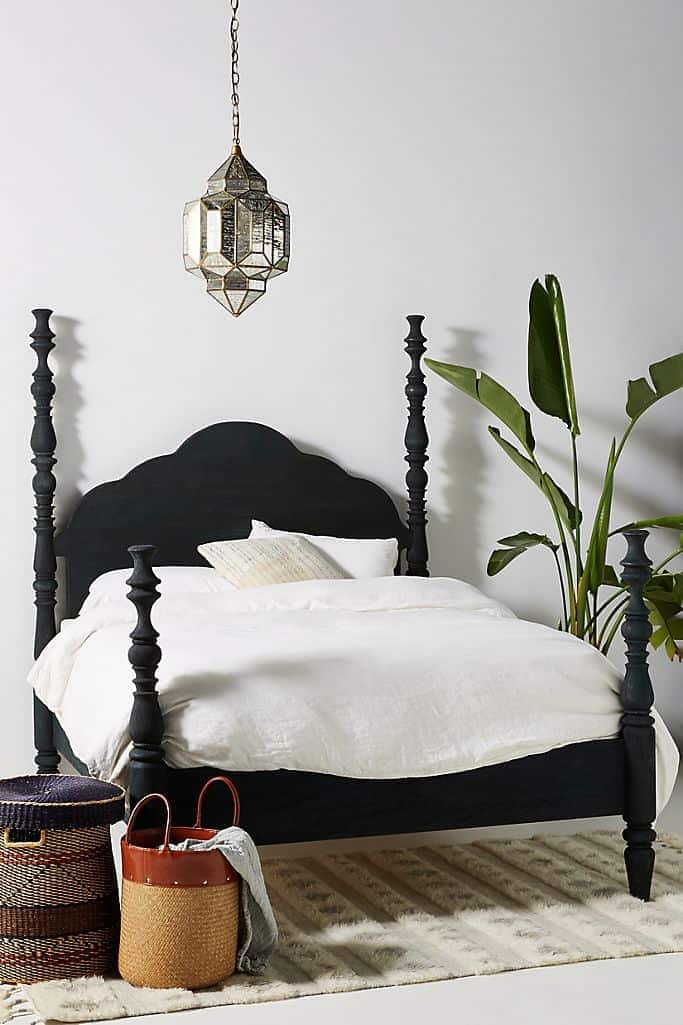 Whether you want to have a double bed or two single beds, you can create that farmhouse style magic by going for high bedposts. Depending on your taste, you can get pencil posts, cannonball posts, pine tree posts, acorn posts, or any other types of posts.
With bedposts, your bed will not just be stylish but also sturdy. If you're looking for a Victorian style, make sure you get cannonball posts.
A Wreath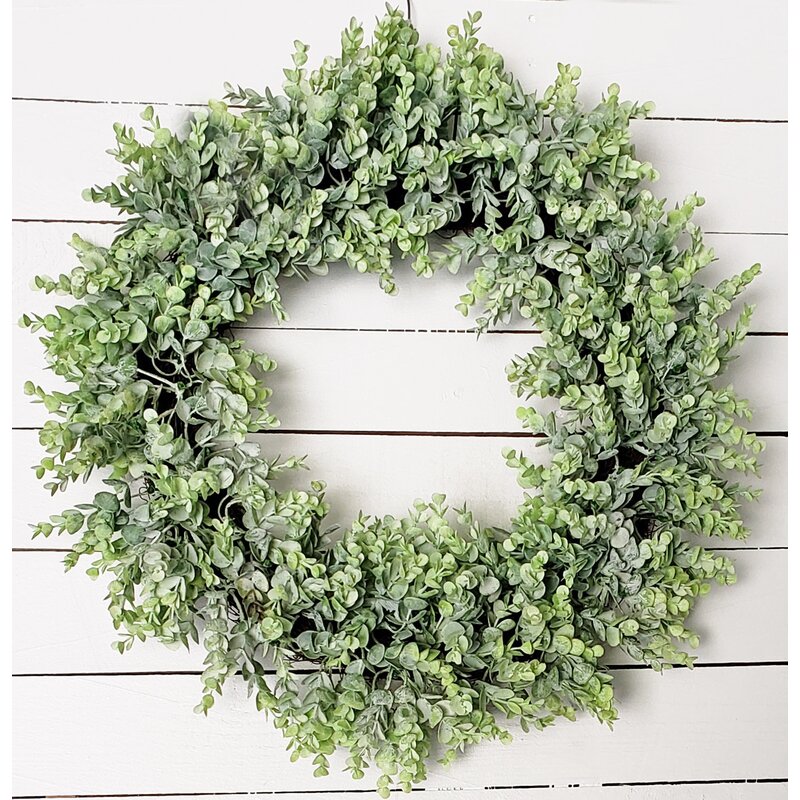 Christmas or no Christmas, a colorful flowery wreath can add a spirit of festivity in any room. It can also create an accent in a dull room. Want to add a soft touch to the room? Add a wreath of light pink flowers.
Want to add excitement in a dull room? Make a wreath out of bright flowers. And if it's Christmas time, make a wreath out of red flowers and Christmas decorations. It's just the perfect thing to add life to just about any dull place.
Some Cotton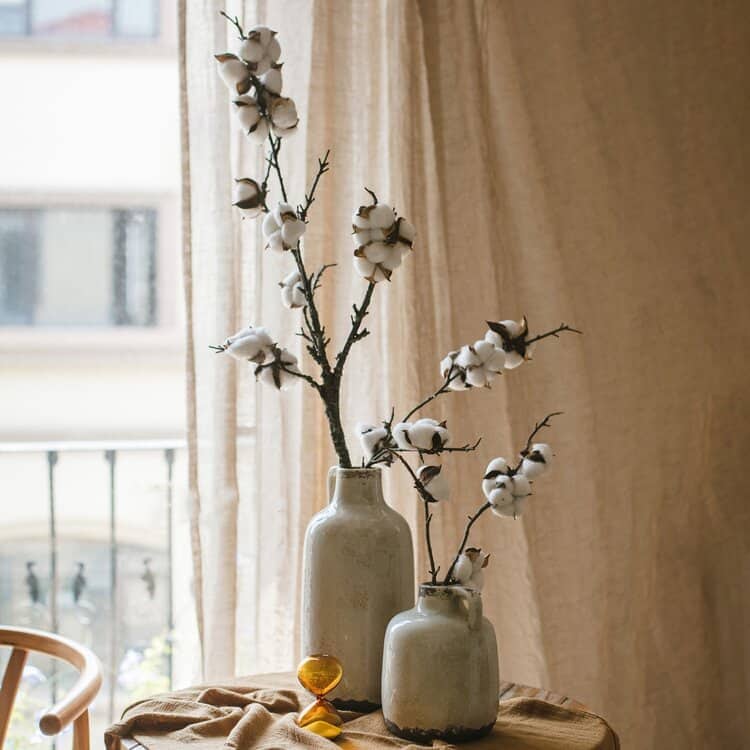 Cotton stems are basically perfect for a farmhouse rustic bedroom. They're the epitome of the style with the rustic brown stems and soft fluffy cotton buds.
Buy a few faux stalks and put them in a clear vase, a cool pot, or just about anywhere that could use a little splash of something. They will definitely add a nice earthy touch.
Hang an Antique Mirror
The farmhouse look is all about bright and airy paired with weathered, rustic pieces. A wall mirror is a staple in any bedroom, but an antique (or just antique-looking) mirror is the right touch for a vintage farmhouse bedroom.
Set your sights on something with an oval shape, intricate framing, or even signs of wear on the mirror itself. It'll add to the charm and feel of the bedroom.
Rustic Ceiling Fan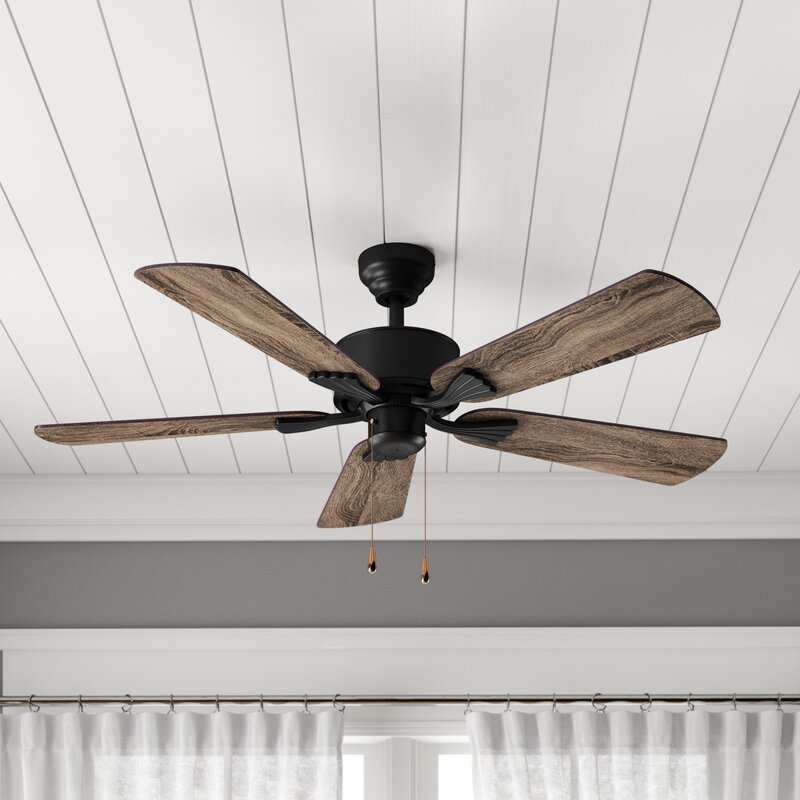 When we were kids and went to visit our distant uncle on his farmhouse, I remember seeing those big ceiling fans. I would look at them for minutes on end.
So I can say from experience that ceiling fans are sure shot attention grabbers. And of course, large ceiling fans add an old school look to the room, making it look more farmhouse-like.
Bedroom Bench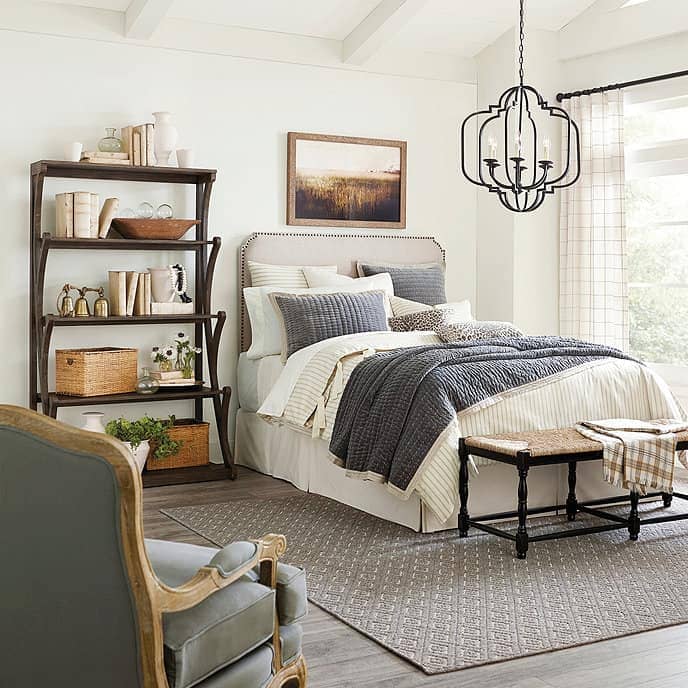 A bedroom bench is an ideal place to place the breakfast tray as you wake up your beloved for breakfast in bed. And it also looks great.
Since a farmhouse bedroom is large and airy, space shouldn't be an issue. Place the bench near the foot area of the bed. It's also a great addition to the bed. Place a couple of cushions here and a couple of books that you might want to read before sleeping.
Touches of Gold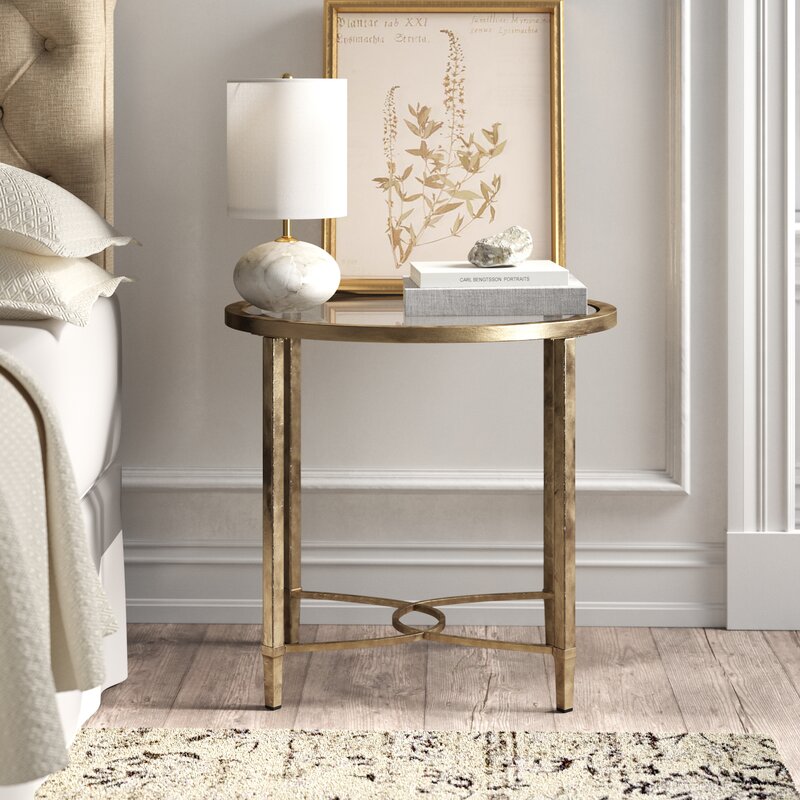 If you love the airy farmhouse look, but not so much the super weathered or rustic look, you can elevate your aesthetic with some gold touches here and there.
Go for a gold nightstand, table lamp, or frames to just add a little glam without taking away from the farmhouse style. A farmhouse chic bedroom is just as good as a farmhouse themed one.
Cozy Bedding
One of the biggest appeals to the farmhouse style is how cozy it all feels – which is why having the theme in your bedroom makes sense.
Make sure you pick bedding that goes well with the theme, your wall color, and basically screams "come fall asleep here." Remember to also mix up the neutral colors and add in different textures with throw pillows.
Wrought Iron Bed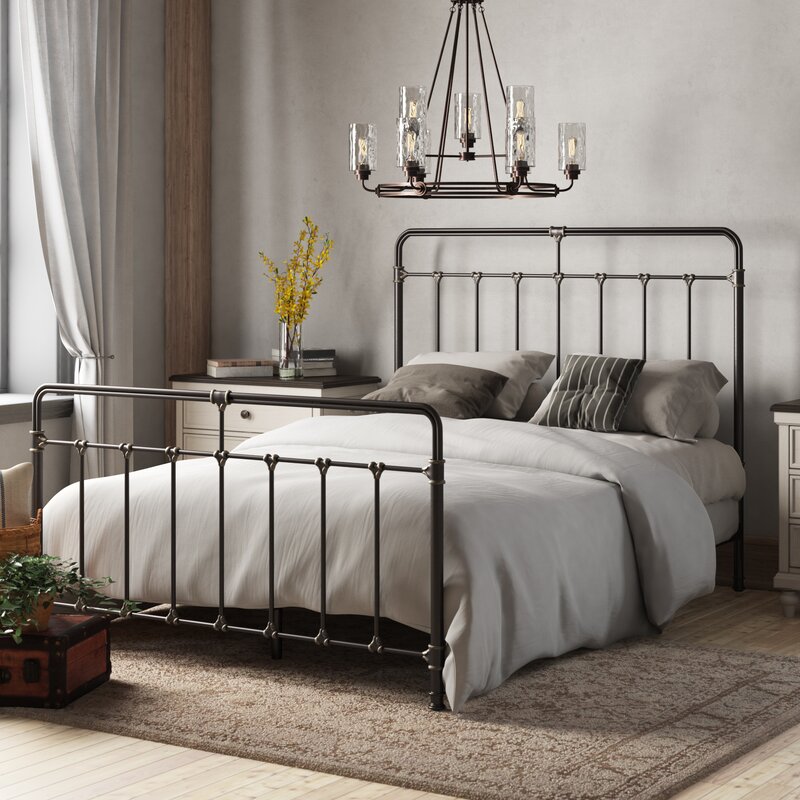 If you've already got wooden walls and wooden flooring, a wooden bed will be an overkill. The next best thing to wood would be wrought iron, especially if you want an industrial farmhouse bedroom.
Place a colorful wreath over a Victorian-style wrought iron bed and you can get a traditional yet minimalist look. Make the room more beautiful by placing a bedroom bench and placing a vase on it.
Hanging Bed Curtains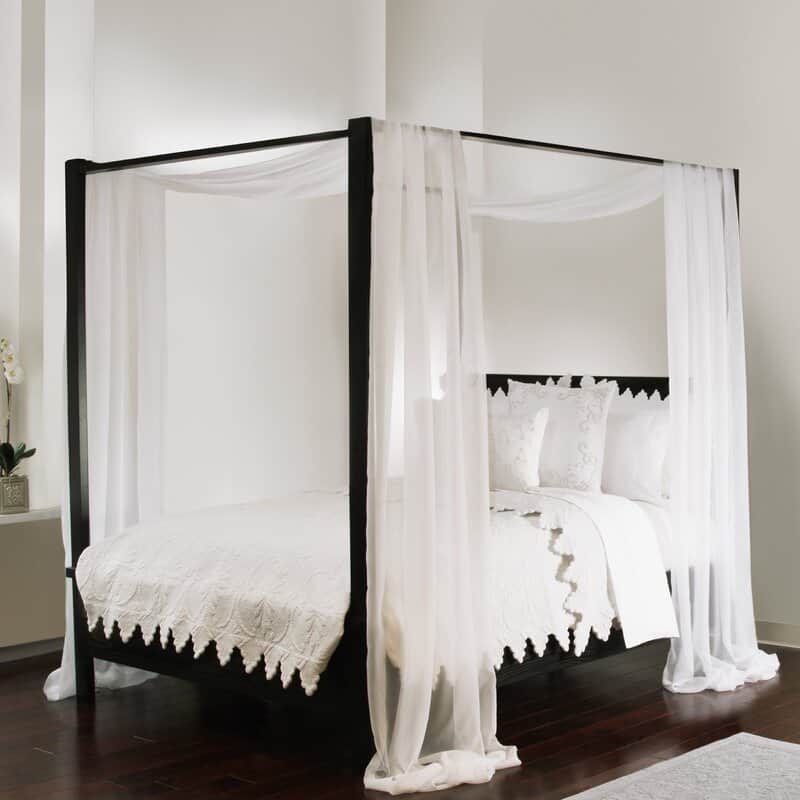 If you want to create absolute magic in your farmhouse bedroom, use bed curtains. While most commonly used in lighter hues, they can be available in just about any color.
They create a mesmerizing effect on their own. And if you install lights in them, it looks like a starry night. Bed curtains are cozy, comfortable, and romantic. They help you have a good night's sleep and add a feeling of luxury and richness to the room. You can match their colors with the bed linen to create a better ambiance.
Rustic Sconces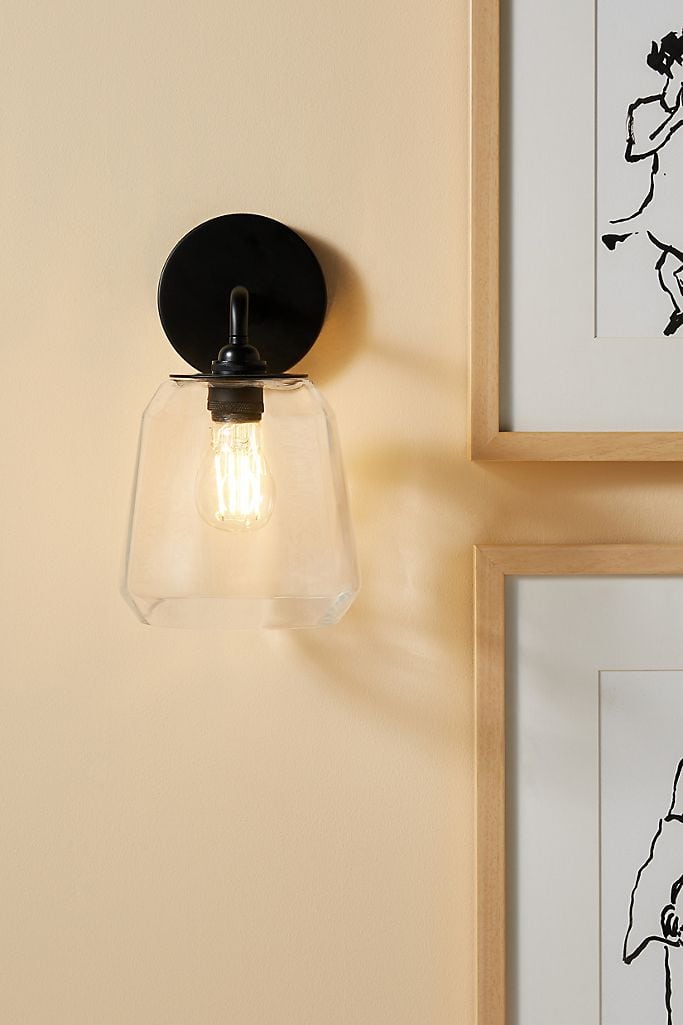 If you're not a fan of ceiling lighting, but also don't have a ton of room for floor lamps, installing sconces over your bed or nightstand is a great way to save space and still get the farmhouse look.
Pick a sconce that compliments your room and the theme. Something in black or galvanized metal with an Edison bulb would fit right in.
Wallpapered Statement Wall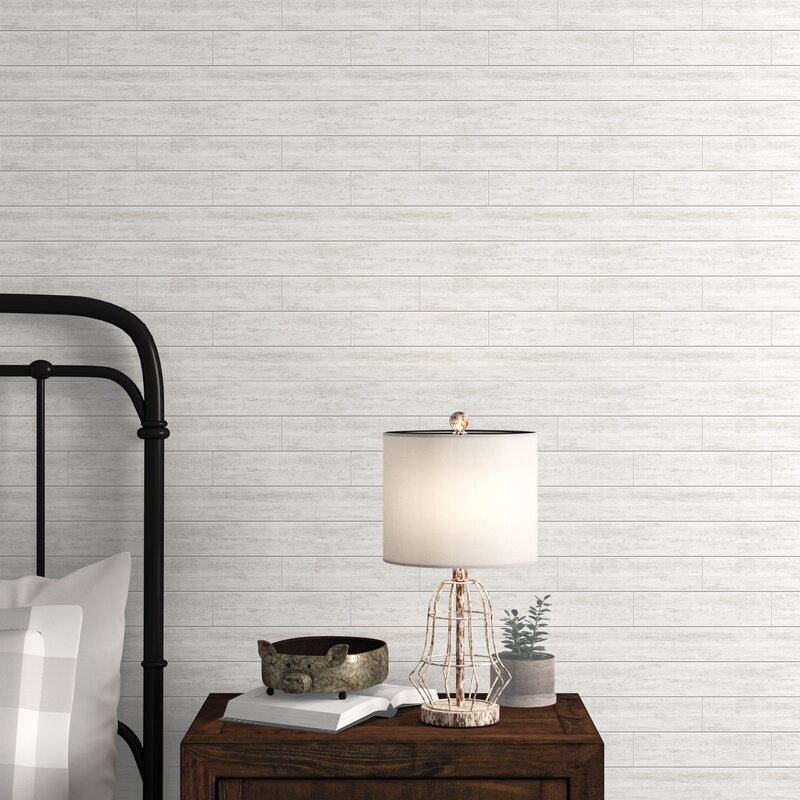 No one says your shiplap has to be real, you can paste or stick it on using wallpaper. If faux wood wallpaper isn't your thing, consider a floral pattern to elevate your room.
You can still stay on theme without sacrificing color and your own personal style. Your bedroom can still have a farmhouse feel without looking like Joanna Gaines came in and styled it herself.
Airy White Curtains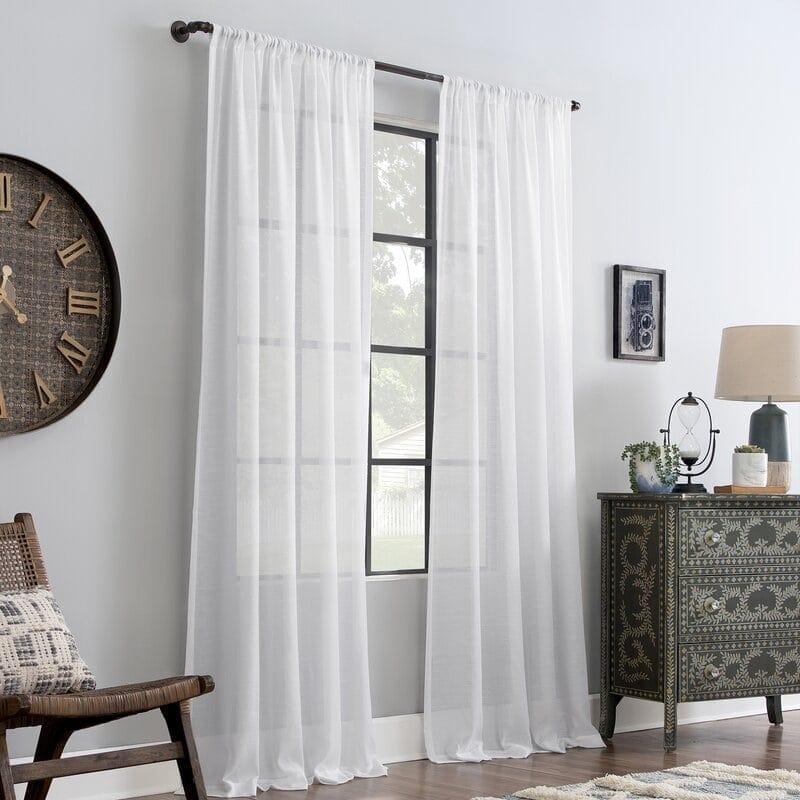 You can't get that gorgeous airy look without some tall white curtains to help elevate the ceiling and brighten up the room. They are a must-have.
Remember to buy them in the right length, because you want them to go all the way to the floor for the right effect. Measure from at least 6 inches above your window to the floor to determine the length you need.
Scale Down For A Small Space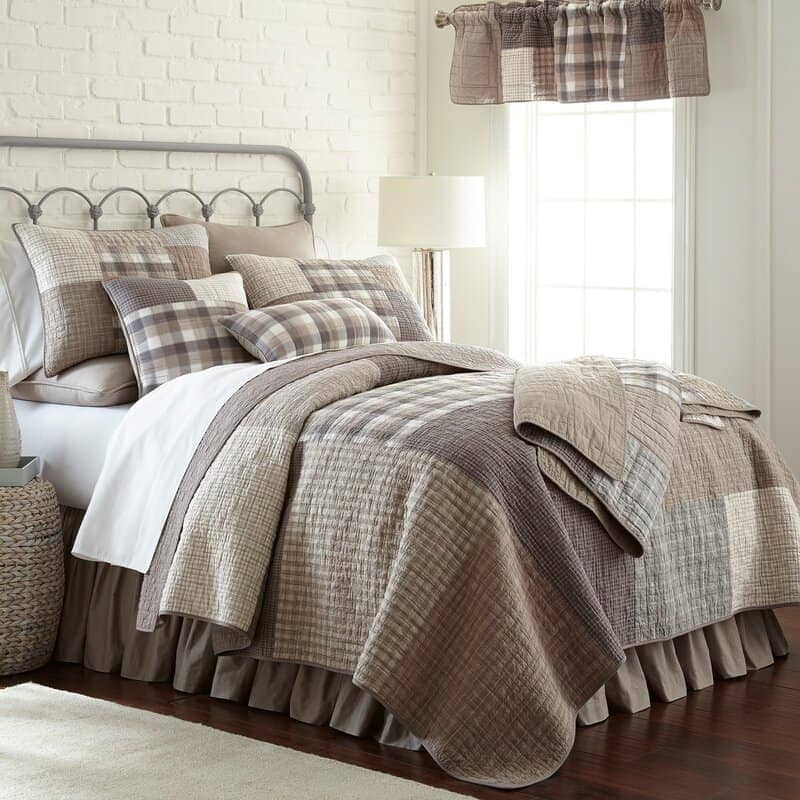 While farmhouse bedrooms look good when there's enough space for a large bed, you can create one in a tight apartment as well. Instead of a king-sized bed, place a queen-sized bed to save space. If planned properly, you can get a farmhouse bedroom in your small apartment.
This room might be small but it has all elements of a classic farmhouse bedroom. Ideal to be called a master bedroom, this is a perfectly cozy and comfortable space.
Invest In A Good Rug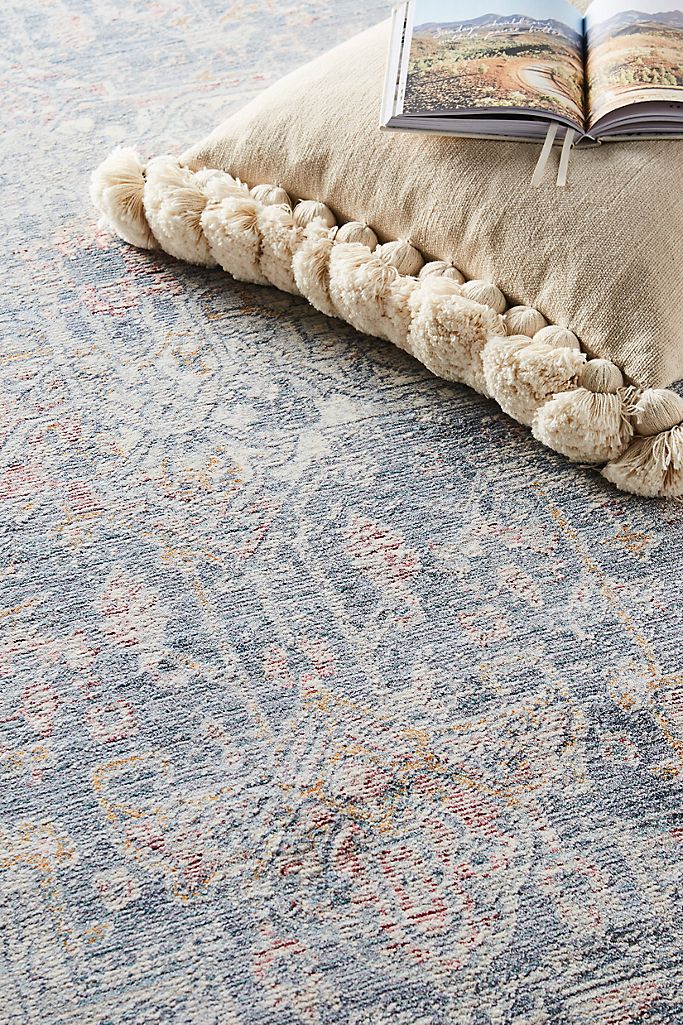 If you're lucky enough to have hardwood floors in your room, soften it up a bit with a gorgeous rug. Pick one that has a little bit of a worn or faded look to it, like it's been walked on for years.
This is a great opportunity to add a little bit of color and tie your room together, too. Pull colors from the rug and find complementing pieces for your farmhouse bedroom decor, like picture frames, candles, or other decorative items.
Beautiful, Cozy, and Stylish
So there you go. Some simple ideas to make your simple bedroom look like a luxurious farmhouse bedroom. And the best thing is that space isn't even a restraint. Just implement these easy tips and get a beautiful bedroom, with a minimum investment of time, money, and resources.