Decorated Life is reader-supported. When you buy through links on our site, we may earn an affiliate commission. Learn More
Outdoor Dining Table for Great Summer Outdoor Entertaining
By: Decorated Life Team
|
Outdoor Dining Table Ideas
Summer is a great time for outdoor entertaining. As the weather warms, more time is spent in the garden, on the porch or patio around your outdoor dining table. If you don't have a garden table, large outdoor table or patio table for dining then its a perfect time to choose an outdoor table that suits your lifestyle.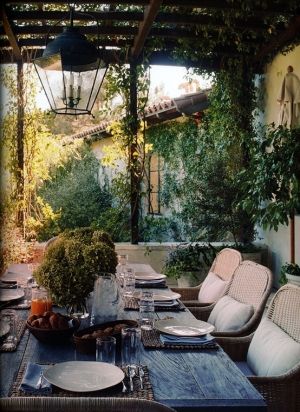 Source: Indulgy
A small brick patio, porch or garden can be transformed into a rich dining destination with a spacious outdoor patio table and some chairs. If your space is big enough you can add an outdoor sofa, chaise lounge, daybed or outdoor loveseat. Some patio cushions, a porch swing and rattan furniture will keep your dining outside in one area.
You can create the same look in miniature on a balcony or pocket garden. These petite garden getaways are so cozy, your guests won't want to leave.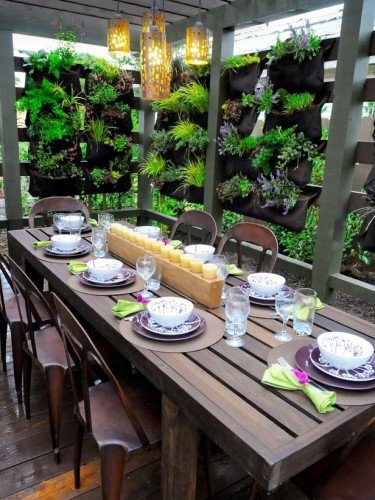 Source: HGTV
Outdoor decor is important and the best place to start is with a dining table that fits your space and gives you enough seating. Use the area and shape of your patio, balcony, porch or garden to work out the size of your outdoor dining table.
Choosing Your Outdoor Table
If you have the space, your table should be big enough to sit guests comfortably, wide enough (around 36 inches) for place settings and food and still leave room to walk around it.  That's about 2 feet of eating space per person. You can add more people, of course, the more the merrier, but it may not feel as comfortable.
If your table is near a wall or furniture,  allow 42-48″ between them and your table; include table leaves. This allows diners enough space to easily get in and out from their seats.

If you are looking to buy a table and not sure what size will look good, take a bed sheet or large throw, place it where your table will go, and fold it into the shape of the table. This helps to visualize and choose your table shape and take into account the wall/furniture-to-table clearance.
Your weather, the amount of care required, and how your outdoor table will look can help you make a decision on the type of outdoor seating and table to use.  Outdoor furniture made from aluminum, resin or teak need little care. Wrought iron can take heat and moisture and is built to last. Resin outdoor furniture is ideal for damp conditions and available in looks of different looks.

Source: This Old House
Will your patio dining set rest on soft ground or grass, or on a paved patio or wooden deck or a paved patio? Can you store them in a garage or basement winter months or should you buy folding outdoor furniture? Even the toughest furniture will last longer if it is protected in storage.
If you don't have room, cover the furniture with a heavy-duty vinyl all-weather tarp or maybe folding chairs, a folding table or one that is easily taken apart could be perfect for you.
Wood Outdoor Furniture
Wooden outdoor furniture is wonderful for outdoor dining. Consider outdoor dining furniture in teak, eucalyptus, and cedar. Its best not to use pine, natural wicker or oak as they will deteriorate outside. Teak patio furniture is the most expensive, but will last you a lifetime, as it weathers and changes from brown to silvery gray.  You can protect your new teak outdoor furniture color with teak protector once a year (in most climates).
For much less, eucalyptus patio table and chairs will last as long as teak, if treated each year with a water-based acrylic sealant. Cedar outdoor furniture costs less than teak, lasts around 20 years and needs an annual coat of protective oil.
If you're going to the expense of wood patio furniture, never buy furniture that is glued or stapled. Look for sturdy joinery: dovetail or mortise and tenon joints, dowels and pegs, and stainless steel or brass screws with an anti rust protective coating.
Remember, moisture from the ground can cause the wood to rot and metals to corrode.
Metal Patio Furniture
Your best buying options when buying outdoor metal furniture is wrought iron patio furniture and aluminum patio furniture. It is prudent to buy powder coated wrought iron furniture that has been sprayed with ground pigment and resin for rust protection.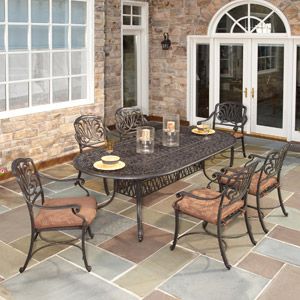 Source: Walmart
Make sure any future scratches are immediately sanded and applied with touch-up paint from the manufacturer to avoid rust.
Aluminum outdoor furniture can cost about the same as wrought iron options. They are very light and easy to move and completely rust-resistant. Cast aluminum patio furniture can look wonderfully ornate so shop around.
Stainless steel outdoor furniture, which is galvanized and powder-coated steel, is durable and easy-care, and often more moderately priced.
Plastic Outdoor Furniture
Plastic patio furniture is easy to come by and the most affordable outdoor furniture. They are hard wearing, easy to stack and store but not always attractive or comfortable. The more expensive the set, the better the seating and look. If possible stay away from white plastic which can discolor and shows scuff marks.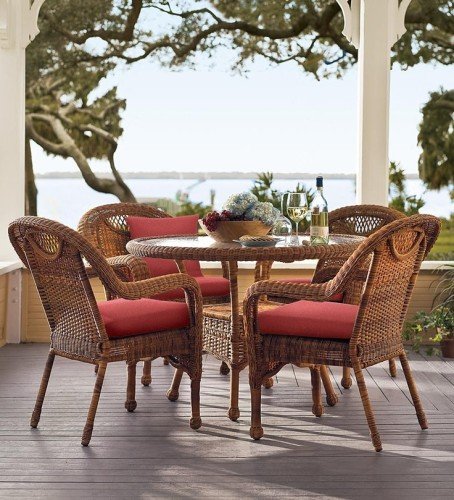 Source: Plow Hearth
Resin wicker patio furniture is a great choice to consider. Almost identical to natural wicker, it's easy to clean and more affordable for weather proof outdoor furniture. For the best long term results make sure your resin patio furniture frames are made from stainless, galvanized, powder-coated steel or rust-resistant aluminum.
Buy easy-care patio furniture when ever possible. Most teak, metal, cedar and all-weather resin wicker pieces are good in almost all weather conditions. Outdoor furniture in these materials look great and last for years.
DIY Outdoor Table
This is the fun part. While cost or budget can keep you away from buying gorgeous outdoor dining sets that cost thousands of dollars. You can always create your own outdoor serving or dining table. After all, its just legs and a table top.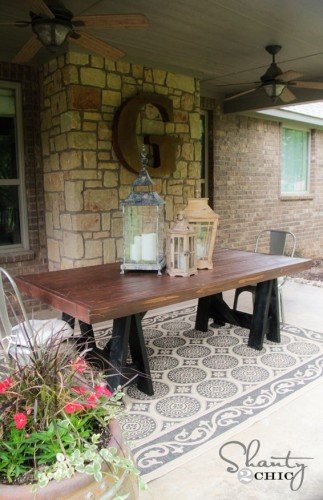 Source: Shanty Chic
So, whether you use easel legs, wooden stumps or Greek plaster columns from a garden center and an old door as your table top, you can be as creative as you want.
This give you the flexibility to change table tops for a bigger or smaller crowd, create your own unique outdoor extension table add stools, benches or chairs and you have a very unique and memorable table setting – as long as you tie it all together with a table cloth or color cushions.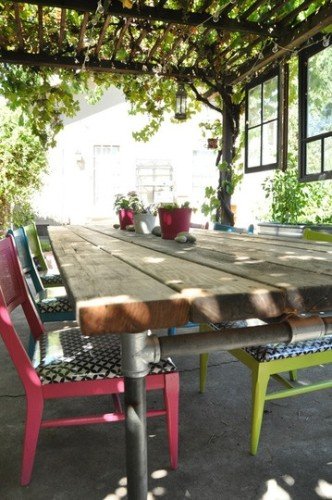 Source: Pinterest
Outdoor Cushions
An outdoor dining table needs comfortable chairs. If your chairs don't come with cushions, buy or make some. Outdoor chair cushions should be UV and weather-resistant; so check tags before buying. If they get a little mildew, scrub them with a solution consisting of one cup bleach to a squirt of detergent per gallon of water but try warm water and mild detergent first.
If you make your cushions, use good quality outdoor fabric that is fade and mildew resistant or you will be replacing them before you know it. Store them in cooler months to help them to look their best in an outdoor storage bench or outdoor storage cabinet.
Small Spaces? Use a Round Outdoor Table
Round tables are perfect for small spaces. No sharp corners mean more people can fit around them and they site nicely in tight spaces. If leg room is an issue, go for a pedestal table.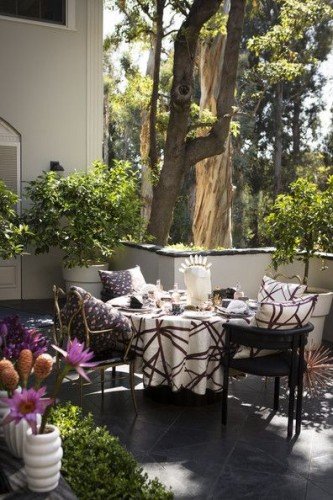 Source: lonny
If your outdoor area is very small, transparent acrylic chairs show off your table and table setting ideas and feel more spacious. A bar table is often a good choice, because they are narrower, and stools take up less room than chairs. Cafe or bistro tables and chairs are also smaller and can fit neatly into a small area.
Seating for a round table.

The wider the diameter, the more people you can fit around your small outdoor table. But over a certain size, a round patio table can make it difficult for guests reach for food.  Here is a guide to how many people can fit around round patio tables.
Pedestal Tables
3′  – seats 4

5′  – seats 6

6′ –  seats 8

7′ – seats 9
Leg Tables
4′  – seats 4

5′  – seats 4

6′ –  seats 8

7′  – seats 9
For a round table over 60″ in diameter, consider a lazy Susan in the center to make it easier for people to reach the food. It also adds height to your table and a great feature to add flowers or other table setting decorations.
Rectangular Outdoor Tables
Rectangular tables work well in a long, narrow area and leaves more room for traffic flow. As most tables, increase in length they generally increase in width too, so make sure you have the space to fit a large table.
Seating size for a rectangular table.These are general seating allowances. You can always fit more people according to your needs.
4′ long  – seats 4

5-6′ long-  seats 6

7′ long – seats 8

8-9′ long – seats 10

10-11′ – seats 12
When you need to seat more people around your table, here are a few things you can do with your existing table.
1. Go small on seating. Use smaller sized chairs or an outdoor bench instead of chairs on one or both sides of your table. Outdoor benches can be hidden away, when not being used, making the space look larger and neater. You could also use an outdoor storage bench or garden bench that double up as seating.

2. Use outdoor table tops or add a folding outdoor table for additional guests.  These can be packed away when not needed. Large sheeting or table cloths can be added over the entire table area so it all looks like one.
Try to buy the best furniture you can afford. Even if your budget is lower than your heels right now here are some options so you get the best quality for your money.
Buy towards the end of the season in July or August.

Consider aluminum or resin which are less expensive.

Do up your existing furniture. Change pillows and cushions to update old patio furniture.

Buy at yard sales or thrift stores. Refurbished good quality outdoor furniture is a great project.
Enjoy the summer days with lots of outdoor entertaining and great table settings to set it all off.