Decorated Life is reader-supported. When you buy through links on our site, we may earn an affiliate commission. Learn More
Indoor Outdoor Rugs – Trends + 4 DIY Outdoor Rug Tutorials
By: Decorated Life Team
|
Indoor outdoor rugs are a still on trend and perfect for the porch, terrace, pool, small courtyard, patio, or balcony. Washable and durable, indoor outdoor rugs are textured to be soft and can be used anywhere. This post covers the best materials your rug should be made of, how to care for your rug and DIY rug tutorials further down the post.
To define your space, layer your indoor outdoor rugs using a sisal outdoor rug underneath with your main rug on top. The top rug adds color and helps separate the entertaining areas. You can this idea in gardens, porches and patios, terraces and outdoor kitchens to create a polished outdoor look.
The colors, patterns and textures of the latest rugs are so luxurious that they look great with almost any outdoor seating and decor.
Because indoor outdoor rugs are so easy to clean and durable it makes them great for high traffic areas like your kitchen, entry, laundry or mudroom. And if the rug contains polypropylene, a common feature in outdoor rugs, it will have the softness of cotton complete with stain-resistance and quick-drying features.
Outdoor rugs work well to create boundaries and act like invisible walls. That makes your outdoor spaces feel like rooms. It feels cozy and intimate.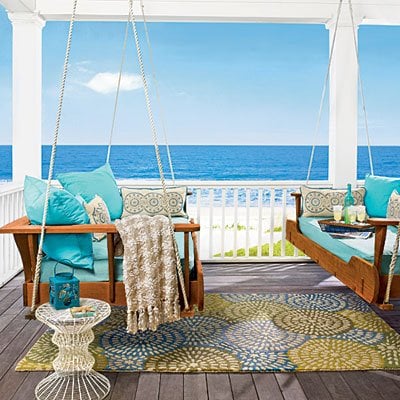 Source: One Kings Lane
Using an outdoor rug is also a highly practical solution if your patio floor is worn or uneven or your garden floor is less than perfect. Use a large rug to cover the majority of the space; choose a plain, hard wearing, waterproof rug and add a more colorful rug over the top. This double layer of carpets creates your zone or boundary and also helps to absorb any creaks your old porch or patio might have.
Recycled Plastic Outdoor Rug from Pinterest
Outdoor carpets introduce a feeling of luxury to your outdoor living spaces and offer unlimited decorating potential for any style of outdoor space and perfect for any outdoor entertaining. They work particularly well in large bricked or paved areas, helping to break up what may feel like a monotone desert.
Simply adding a bright or bold geometric rug for color and texture can change the entire look of your outdoor space without adding new furniture. The bigger the rug, and pattern, the larger the space will feel, and the greater the impact.
The latest indoor outdoor carpet styles are mold, mildew & moisture resistant and faded resistant. Some even made of recycled plastic. These quality rugs won't:
rot or smell,
fray or rip,
stain,
and are insect resistant.
Which Materials Make the Best Outdoor Rugs?
Outdoor rugs can be made from nylon, polyester, polypropylene and bamboo. Bamboo is popular and best used in a covered area. Jute and sisal rugs are also very popular, but moisture and humidity will break down the fibers. Check labels for UV protection and water resistance.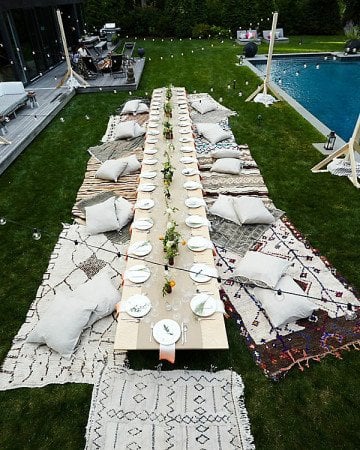 Polypropylene outdoor rugs are softly textured underfoot. They are easy to care for with regular vacuuming and can be spot-cleaned with mild detergent and water. Make sure its 100 percent polypropylene. The product tag will also list if the rug is UV-stabilized to resist mold, mildew, fading and weather-resistant.
Even though outdoor rugs for decks and patios are practically indestructible, it's still important to lift and hang your rug over a railing after it rains to dry out. This will prevent mildew and rot between your rug and the underlying floor and prevent any damage.
Avoid fabric borders on outdoor rugs. They often deteriorate faster than the rest of the rug.
Here's a video on the best way to clean your rug and outdoor furniture so it will last longer.
What Size Outdoor Rug Is Best?
When looking for out door rugs, you can be overwhelmed by the selection of colors, size rugs, shapes and designs. Depending on the size of your porch, patio, balcony or outdoor area you have two main options.
Go smaller. Make sure all front legs of armchairs, sofas and other seating are on the rug. For a dining table, all chair legs should be on the rug, even when chairs are pulled out and guests are seated.
Go bigger and let your rug define the space. This might be a more expensive option (aren't you happy when the sales are on) but the look is more designer with greater impact.. and often means less decorating everywhere else in the space.
Don't be afraid to add color. Your outdoor rug can become a feature when surrounded with low-set furniture.
Exclusive, stylish and extremely comfortable to walk on with your bare feet, particularly if you add an outdoor rug pad for additional comfort – there are so many large outdoor rugs in a huge variety to help you decorate your outdoor entertaining space.
Indoor Outdoor rugs are perfect for areas exposed to the elements. Moisture can be a problem but most indoor outdoor rugs and carpets are made specifically to deal with this and are the perfect solution to slippery flooring.
Most indoor outdoor rugs are easy live with and to clean. Most of the time all they need is to be hosed off. An outdoor area rug on a porch, outdoor deck rugs or rugs around an outdoor fireplace, are not only incredibly practical but they help to create the 'room' effect of any external entertaining are.
How to Look After Your Outdoor Rug
Indoor outdoor rugs are affordable, stylish and easy to care for. There is no reason why an outdoor rug shouldn't last for years if its cared for properly. In most cases it is not mildew or mold that destroys rugs, but dirt. Follow these few steps and you won't have to replace your rug for years.
Outdoor rugs will last longer if stored in a covered area, and kept clean. If it is exposed to the elements all year round, it will need replacing every two to three years.
A slatted deck provides better drainage than a concrete patio, but never allow your rug to sit in water, especially if you are expecting prolonged rain.
Vacuum or sweep your rug regularly to stop dirt going deep into the fibers. Sweep under your rug to prevent mildew or mold.
If your rug is water-resistant place over a railing, and hose. Allow both sides of the rug to dry before you return it to the floor.
Clean spills as quickly as possible.
If you are adding a pad under your rug, make sure it can withstand the same cleaning techniques you plan to use for the rug. Even so, it probably won't be mold resistant.
Roll your rug and store it in the months you don't need it.
To remove stains scrub your rug with a brush and a solution of mild dish soap and water. Make sure both sides of the rug are dry before you return it to the floor to prevent mildew.

M

any outdoor rugs can be used indoors, especially in wet or high traffic areas like your mudroom, garage, bathroom or laundry. These are available in great designs and colors for any budget.
DIY Indoor Outdoor Rugs
You can stripe, stencil, spray paint, roller or brush a your own one-of-a-kind rug for under $50 and a few hours of work. Here are a few easy ways to DIY an outdoor rug using an inexpensive outdoor rug.
Spray Paint Method – DIY Outdoor Rug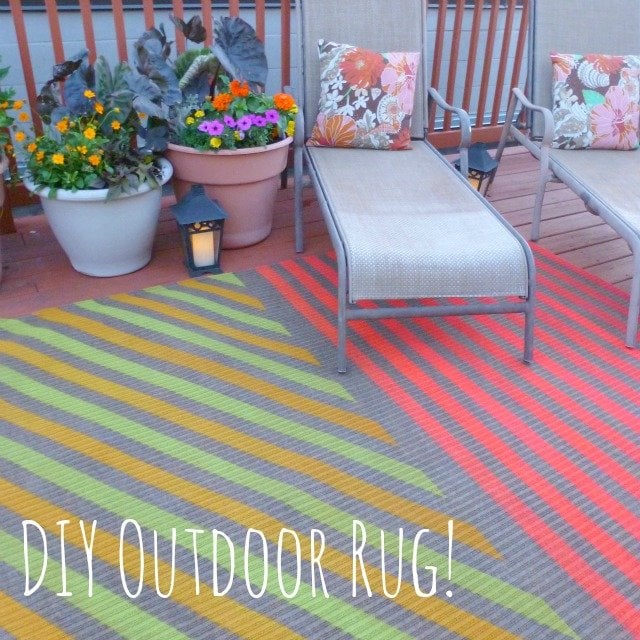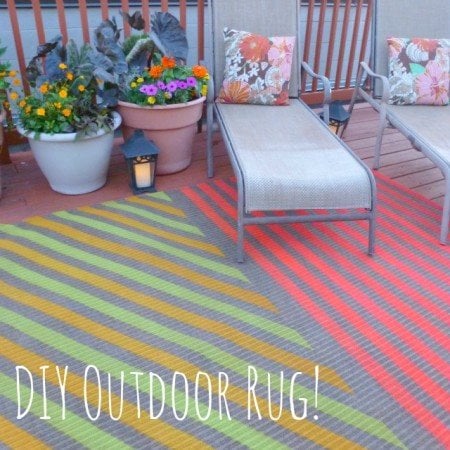 Source: Tutorial from Design Improvised
Stripes are easy to use as a design. The rug above has been divided into two sections, for two different stripe colors, going in different directions. The tutorial is from Designed Improvised here.
Use a cheap indoor outdoor rug from Target, Walmart or Amazon,
1 roll of 2-inch thick masking tape + drop cloths,
Outdoor spray paint like Rust-Oleum Painters Touch (3.5 – 5 cans depending on the size of your rug and the design). Its hard-wearing and fade resistant.
Create your stripe design with your masking tape.
Spray paint and wait to dry before using.
Roller Paint Method – DIY Outdoor Rug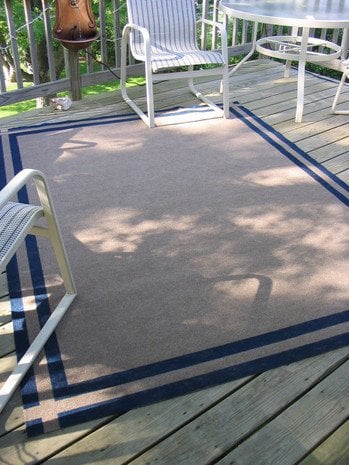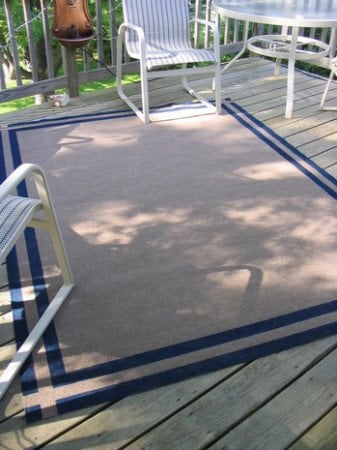 Source: Curbly
One indoor outdoor rug.
Paint suitable for outdoor application such as Rustoleum Indoor Outdoor American Accents in Midnight Blue satin used above.
A small paint roller and paint tray, 2″ wide masking tape, plus newspaper to protect your floor.
To create a border, tape two inches from the edge. This produces a finished result.
Use your roller to apply paint to your taped-off area. Allow to dry.
Painted DIY Outdoor Rug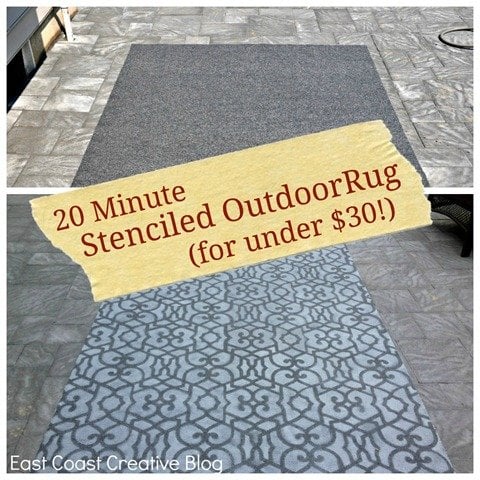 DIY Painted Rug on Concrete
The final DIY is a rug painted directly on to concrete. Using the same paints above and an Indian inlay style stencil you can quickly create this gorgeous painted rug. Make sure you cover your piece of art with a coat of polyurethane to protect it.
Indoor outdoor rugs come in such a wide variety of stylish and funky colors and patterns. They are ideal to increase your curb appeal and installing them is not an issue. The only issue is selecting just one rug.