Decorated Life is reader-supported. When you buy through links on our site, we may earn an affiliate commission. Learn More
10 Over the Sink Kitchen Window Treatments
A lot of homes have one thing in common: a window over the kitchen sink. While these windows certainly help bring natural light into the space, it's tough to find stylish and functional over the sink kitchen window treatments.
If you've found yourself on the hunt for this very thing, you're in luck because we've found some of the best ideas and options on the market. Whether you are going for a traditional, farmhouse, or modern aesthetic, there are kitchen sink window treatments for you.
Roller Shade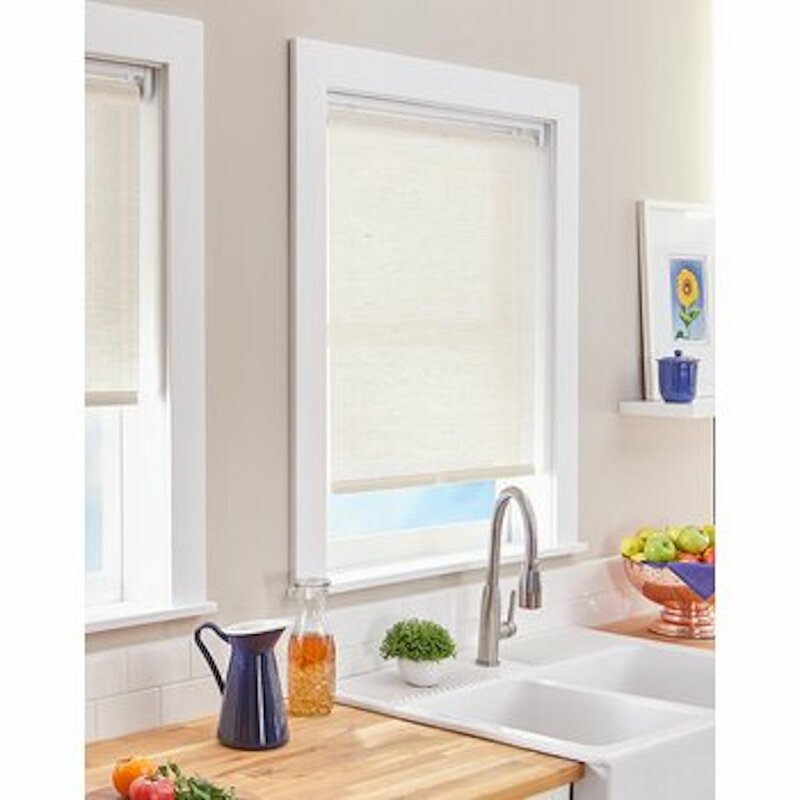 For a quick and easy cover, a roller shade will do the trick. Just pop it up during the day when you want some light, and roll it down at night when you need privacy.
One thing to keep is that a lot of roller shades are somewhat sheer, so you'll likely still get a bit of sunlight through if it's down during the day. This is a really great solution if you get blasted with sun through the window during the day, but don't want a shade that will entirely block out the natural light.
Farmhouse Valance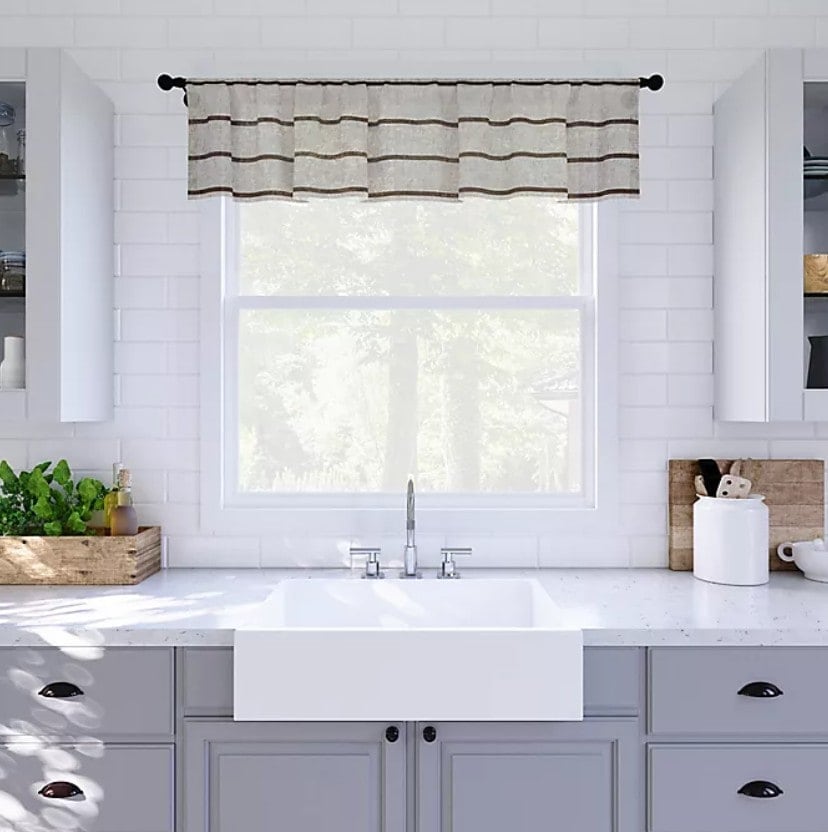 If you're going for the popular farmhouse style, try something like this valance. It's simple, but still adds a decorative touch to the window.
To really pull in the farmhouse look, pair the valance with a black or oil rubbed bronze curtain rod, like in this picture.
Decorative Lighting
Sometimes, it's not the window or the sunlight that's the issue, but the space around the window that needs a little sprucing up. If that's the case, consider adding some decorative lighting around it.
In this photo, the windows have a thick trim around them to help fill up the space and decorative lights over top of them to add extra light and a touch of style. It's unique, and looks pretty fantastic.
Roman Shade
You can't go wrong with a Roman shade. They're classic, functional, and they're easy to customize to the size and pattern you like.
Unlike the roll-up shade, Roman shades fold up like an accordion and have a little more style to them. For a safe look, go with the classic bamboo Roman shade.
Lower-Half Curtain
Switch things up a bit by covering the lower half of the window instead of the top half. It's a great way to get the privacy you need without sacrificing your natural light.
In this photo, they use the framing on either side of the window to hold up a tension rod at the halfway point of the window. A few curtain clips and a style-appropriate curtain and they've created an adorable window treatment.
Cut-to-Size Blinds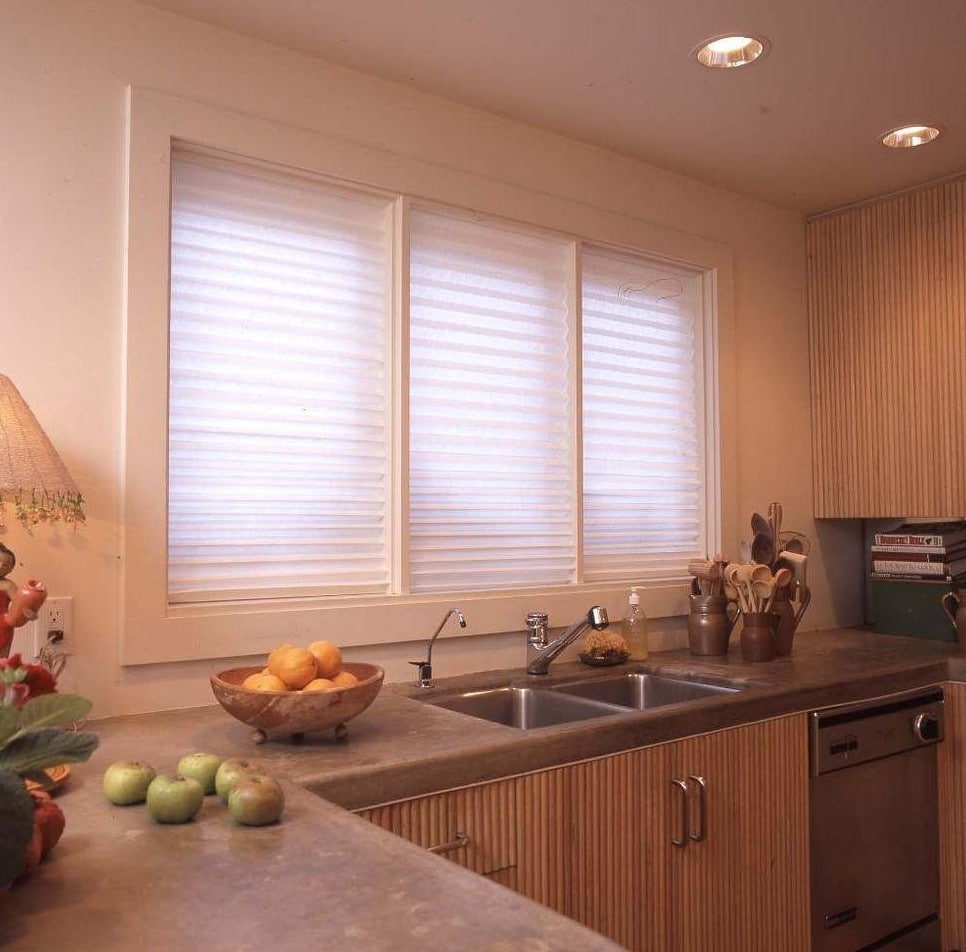 For a more budget-friendly window treatment option, pick up some cut-to-size blinds. You can usually get them in a range of standard window size widths, then you cut the length to what you need once you're home.
This is a great solution for someone living in a rental home or apartment who doesn't want to put a lot of money toward upgrades and window treatments since they won't be able to get a return on their investment.
Statement Trim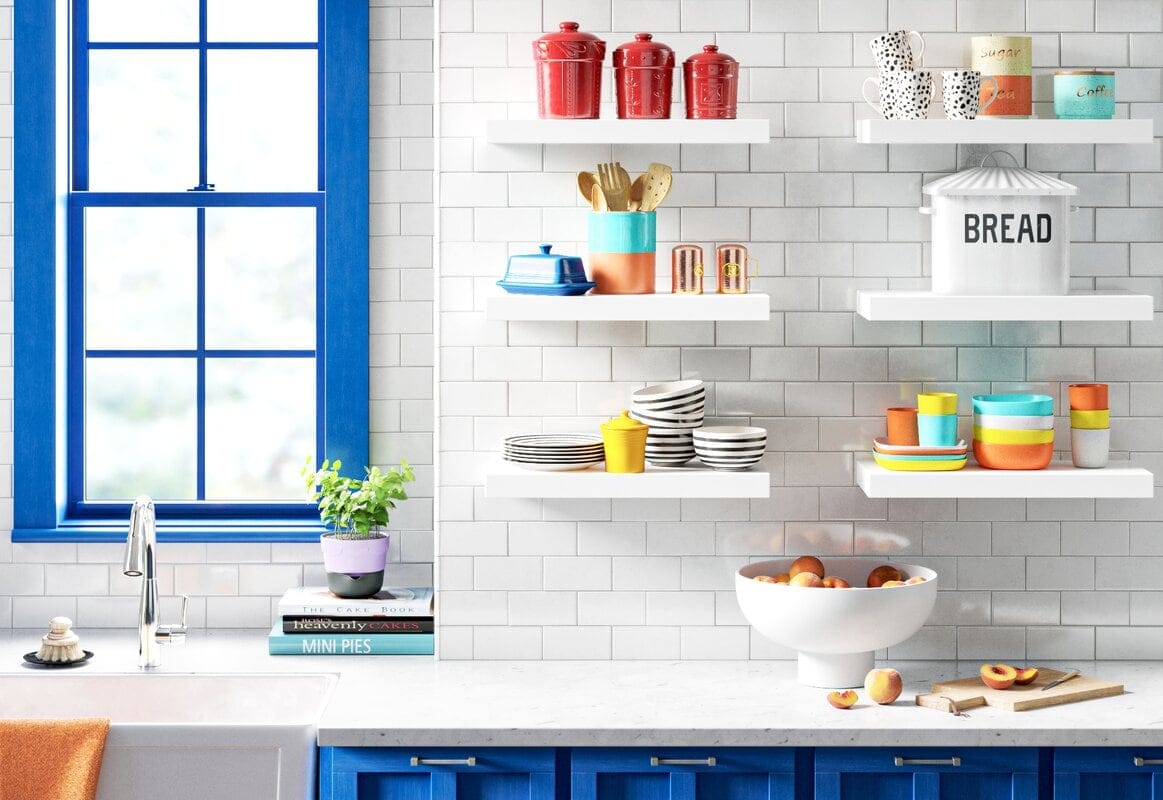 Another fun way to liven up your window about the kitchen sink is by simply painting the trim a fun standout color. While white always looks great, something bold like this blue makes a statement and makes the space a lot more interesting to look at.
Modern Print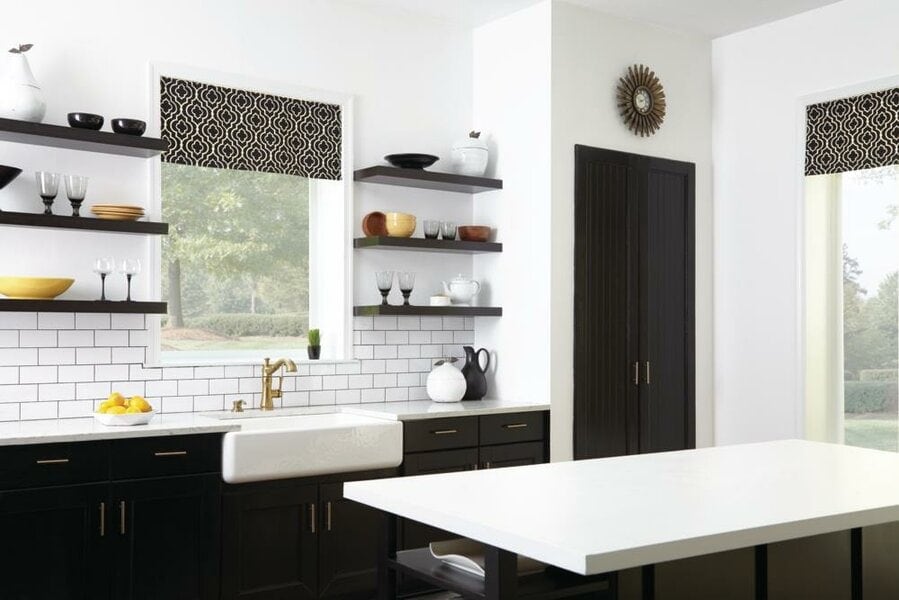 For a more modern look, go for something with a simple, minimal pattern with clean lines and contrasting colors.
The valance in this photo is a great example of a modern window treatment. The pattern is fun without being overwhelming, and the classic black and white combo make the perfect modern touch.
Bright Florals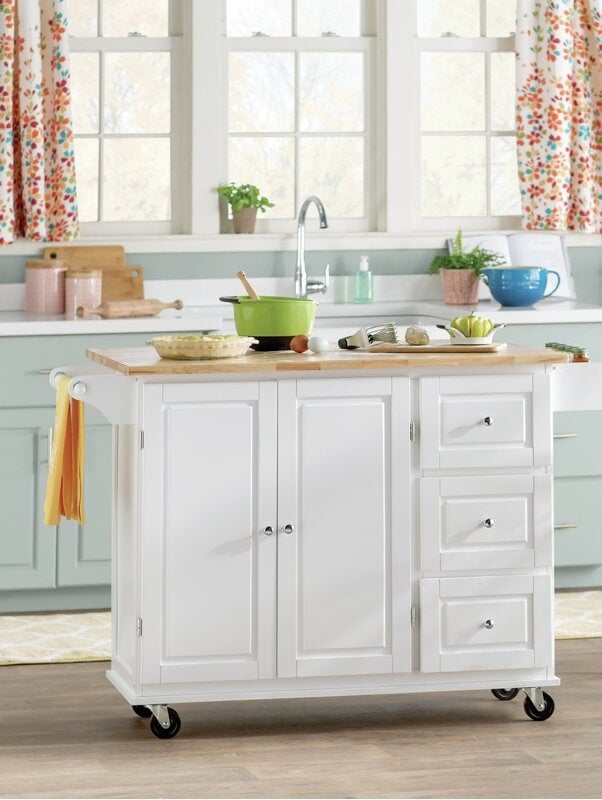 If you prefer brighter spaces, consider a colorful floral curtain like the one in this photo. Not only does it pull the light blue and white from the kitchen cabinets, but it adds in other fun colors to create a look with more variety.
Another great takeaway from this photo is the double curtain look, with a panel on each end of their row of windows. Even if you don't have multiple windows you can still pull this look off if you have a bit of space on either side of your single window.
Decorative or Seasonal Wreath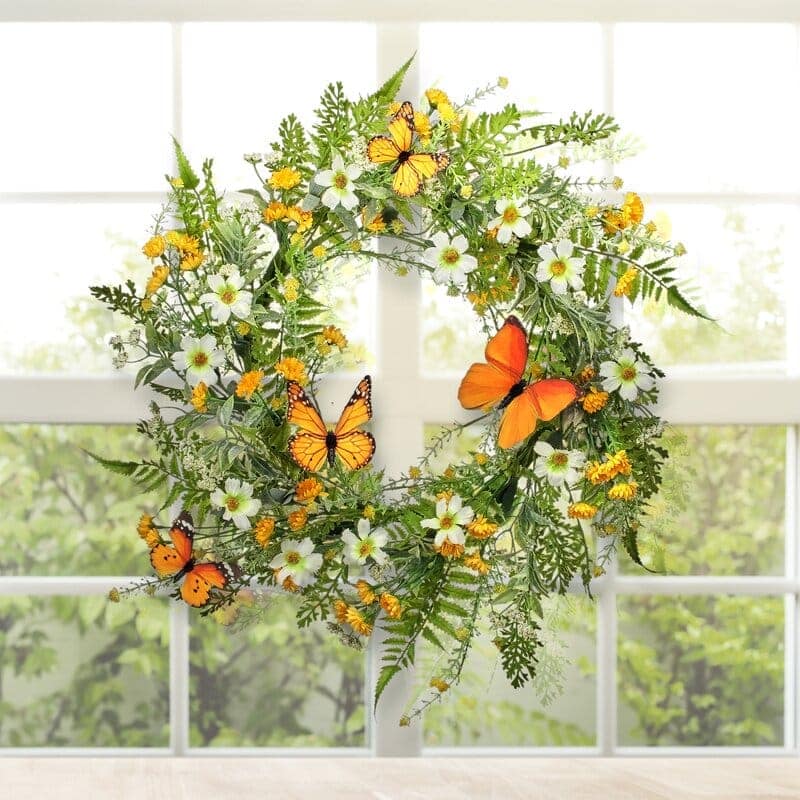 Why settle for one window treatment when you can do something that's interchangeable? Create custom wreaths (or buy some pre-made ones) for the window that fit your style or the season, or both!
This is a really fun option for someone who enjoys crafting and changing things up on a regular basis. The options are basically endless.
Final Thoughts
With choices like decorative curtains, stylish lighting, and basic blinds for the kitchen window over the sink, you can definitely find a solution to fit your needs and style. Get creative and try out different looks to find out what works best for your kitchen.