Decorated Life is reader-supported. When you buy through links on our site, we may earn an affiliate commission. Learn More
Pink And Blue Bedroom Ideas
Pink and blue is a pair made in heaven! Juxtaposing the saturation and appearance, these two colors, when blended, can totally create a vibrant and vivid appeal. In a way, these hues also make a number one option for the kids' bedrooms – whether it's a girl or a boy! So, now that summer is right around the corner – it's more inspirational to throw a spark of pink and blue in your bedroom to imbibe a refreshing, cheerful, and fun-loving vibe.
However, not just restricted to the nursery, this color combination can also be used to create various moods in a bedroom. From daring and bold to soft and feminine – it all boils down to the kind of vibe you're aiming to create. So, here is a list of 15 awe-inspiring pink and blue bedroom ideas to take inspiration from.
Glam Pink and Blue Bedroom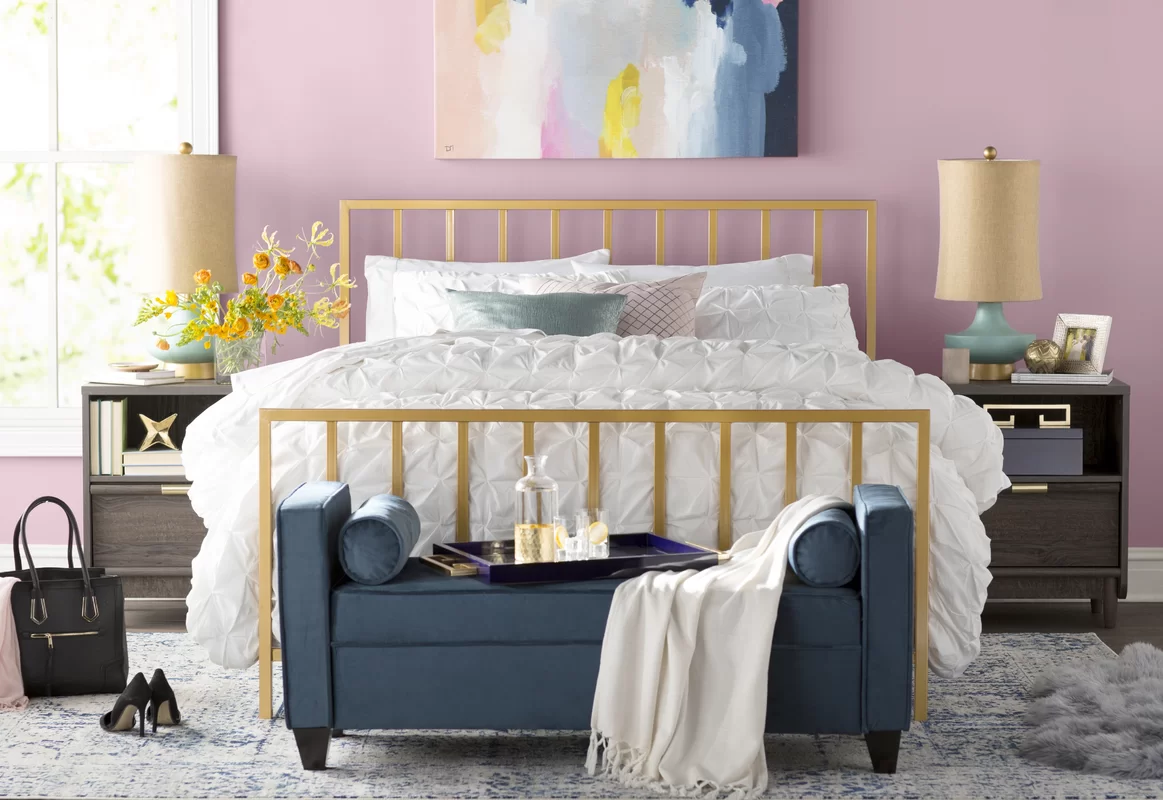 A fusion of pink, blue, and gold makes a great statement in a bedroom. It adds just the right amount of glam, contrast, and depth – while making your space appear quite characteristic and vibrant. Choosing a satin gold bed frame with a touch of gold on the lighting fixtures is the way to achieve a neutral, classy look.
And let's not ignore the beauty of pink walls in juxtaposition with a blue bench and a unique abstract artwork!
Kids' Pink and Blue Bedroom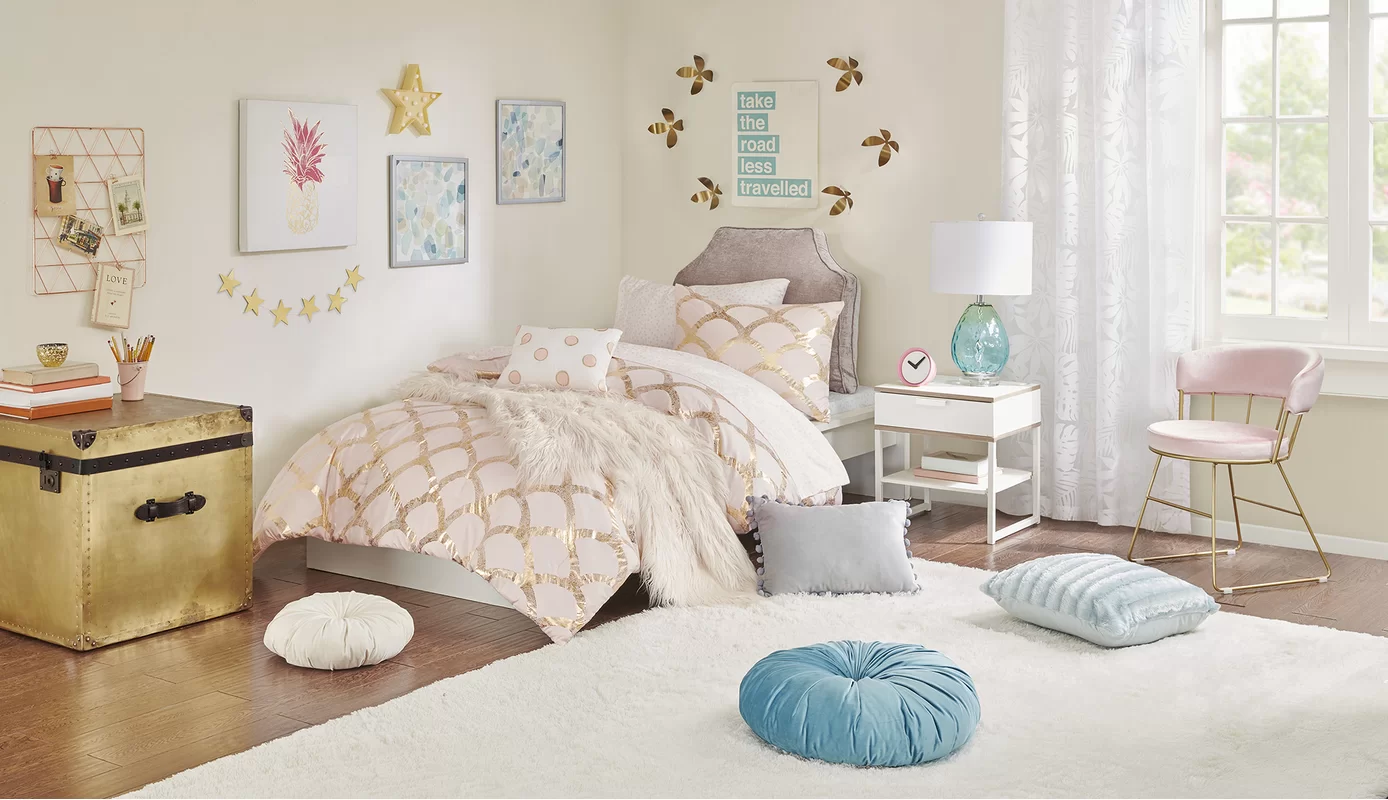 Does your baby daughter crave a pretty and cute pink bedroom that also has a tinge of blue? If yes – this is the bedroom idea to take inspiration from! The bedroom flaunts a dominant pink hue with just a touch of light blue round ottoman that makes the space feel more fun-loving.
Furthermore, an off-white shag rug and a blush-hued chair totally complete the palette.
Farmhouse Pink and Blue Bedroom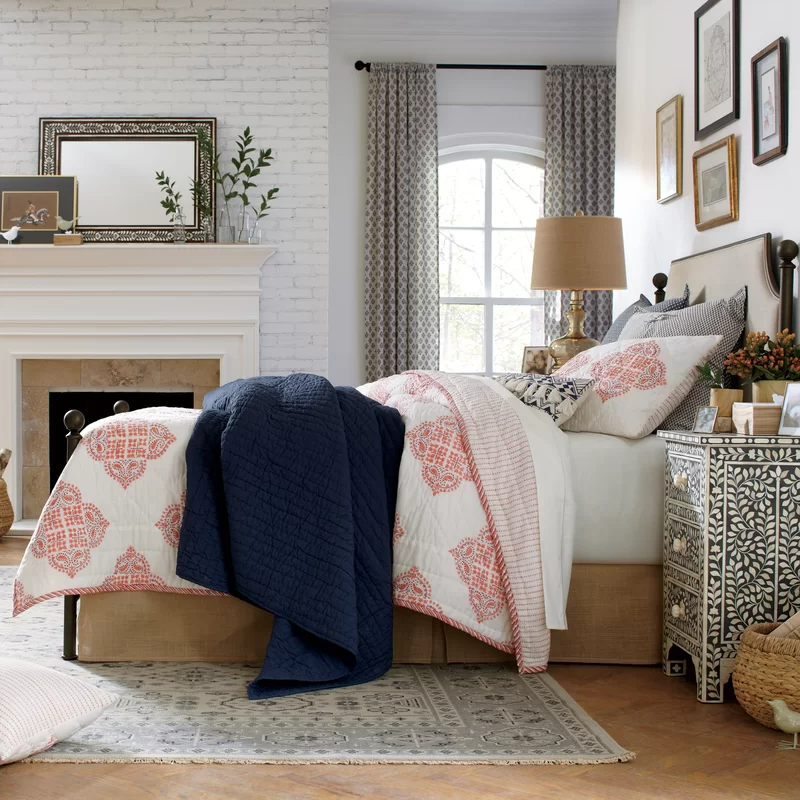 As mentioned earlier – the pink and blue bedroom has the capability to exhibit a fun-loving as well as formal and farmhouse vibe. And this is one such notable example! In amalgamation with wooden textures, barn doors, and vintage signboards – you can incorporate a spark of navy blue and pink on the bedding to achieve a distinctive look.
Although, you must remember to not style these two colors dominantly. Too much of this combo can mislead the Farmhouse vibe!
Patterned Fun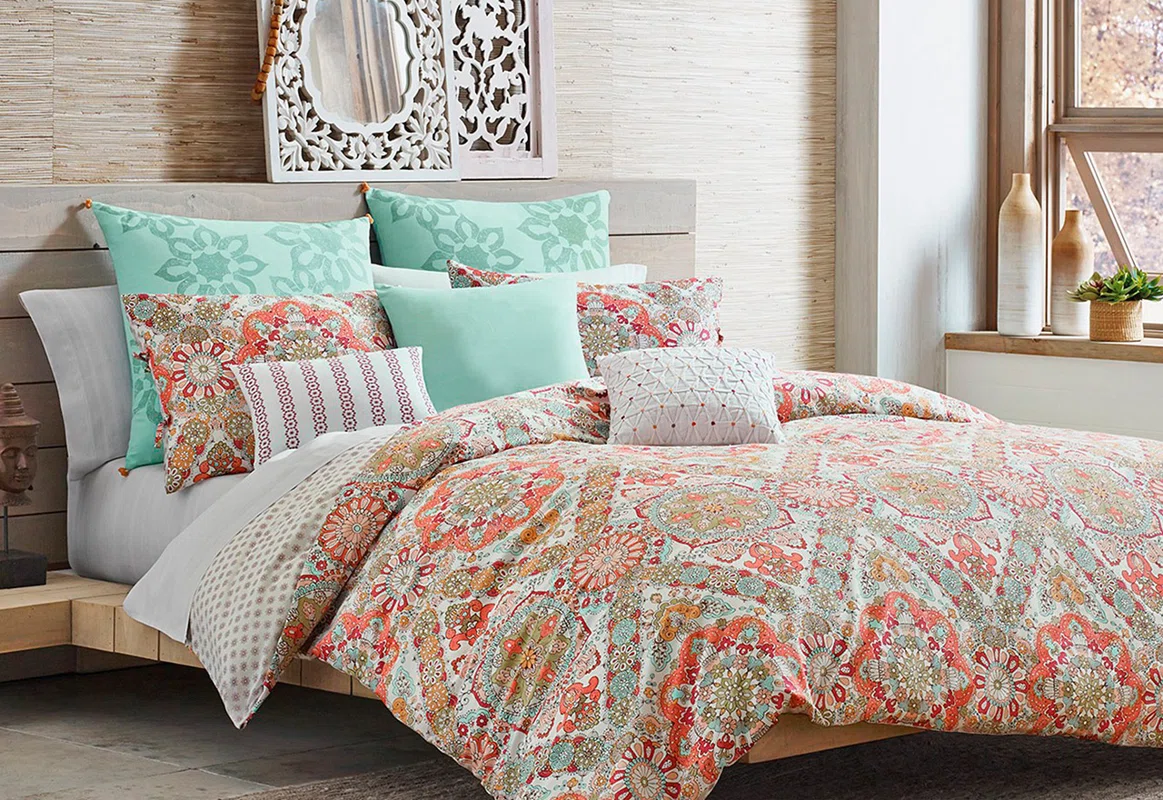 There is an endless list of blues on the swatch. And if you have an admiration specifically for the quirky and eccentric ones – the aqua or cyan, this blue and pink bedroom is worth having an eye on.
Infusing patterns on the duvet and pillow cover in amalgamation with solid hues as an accent is a cohesive and seamless way to play with this palette. This idea also applies if you want to ignore solids in the bedroom!
Bohemian Pink and Blue Bedroom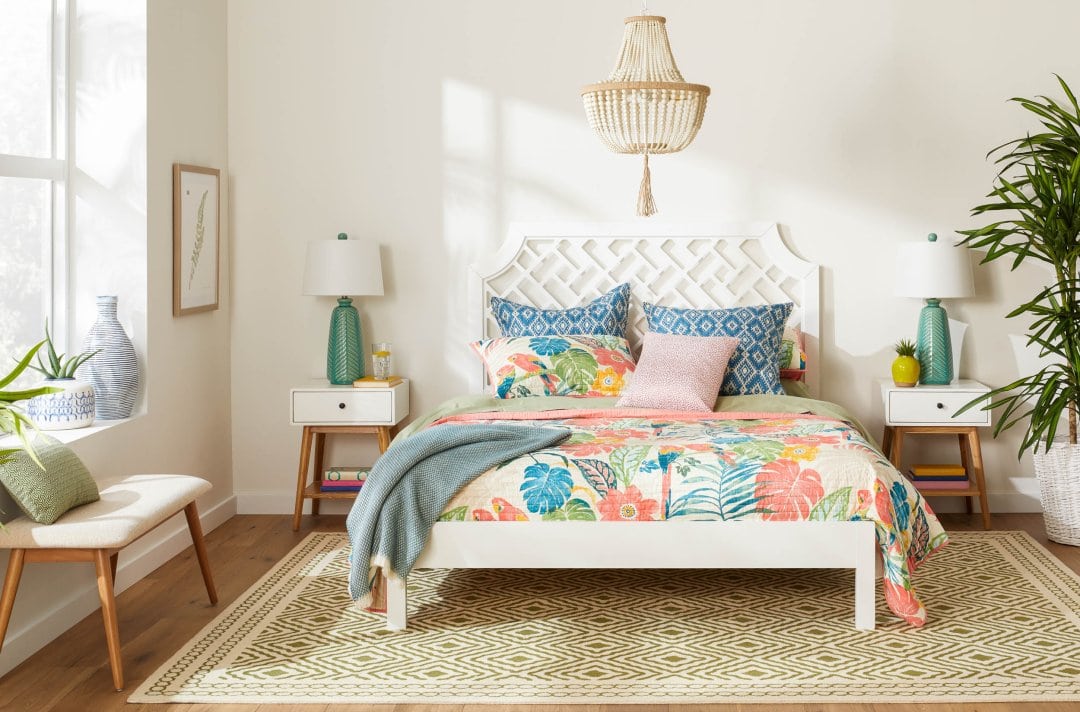 The bohemian interior design style is all about a free-spirited, laid-back, and vibrant vibe. To infuse a sense of creativity and vividness – a combination of blue, pink, and white will always play flawlessly.
So, have a look at this pink and blue bedroom idea! Isn't it totally flabbergasting? The beaded chandelier merges with white and blue ceramics and an indoor plant to create a lively and homely vibe. At the same time, pay attention to the details!
Cool, Fresh, & Airy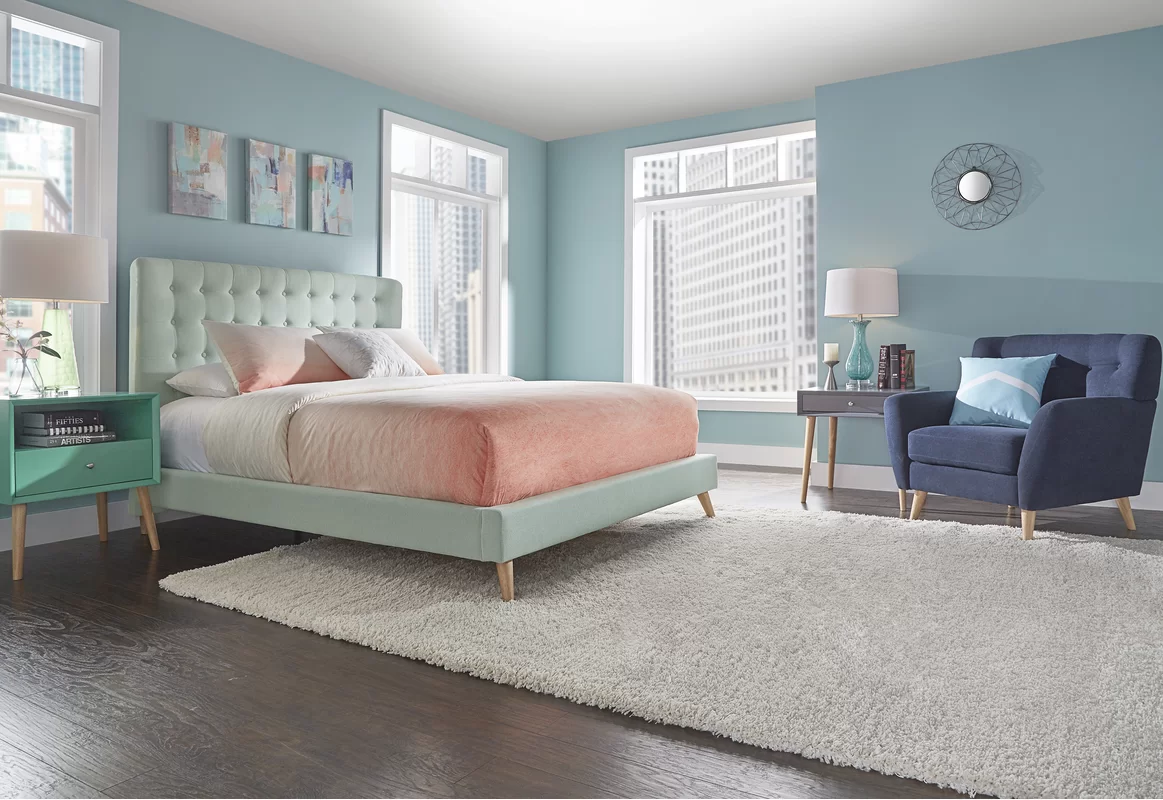 A light baby blue color has the potential to create an illusion of an airy, light, and bright space. It feels cool and calm – which is why it tends to push back the walls and make the room appear larger and enhanced. So, if you have the similar requirements – this pink and blue bedroom is something to watch out for!
Wouldn't you want to relax in this bedroom after a long day at work? The cool blue walls complement a tinge of pink on the bedding to create a winter wonderland.
Soothing Pink and Blue Bedroom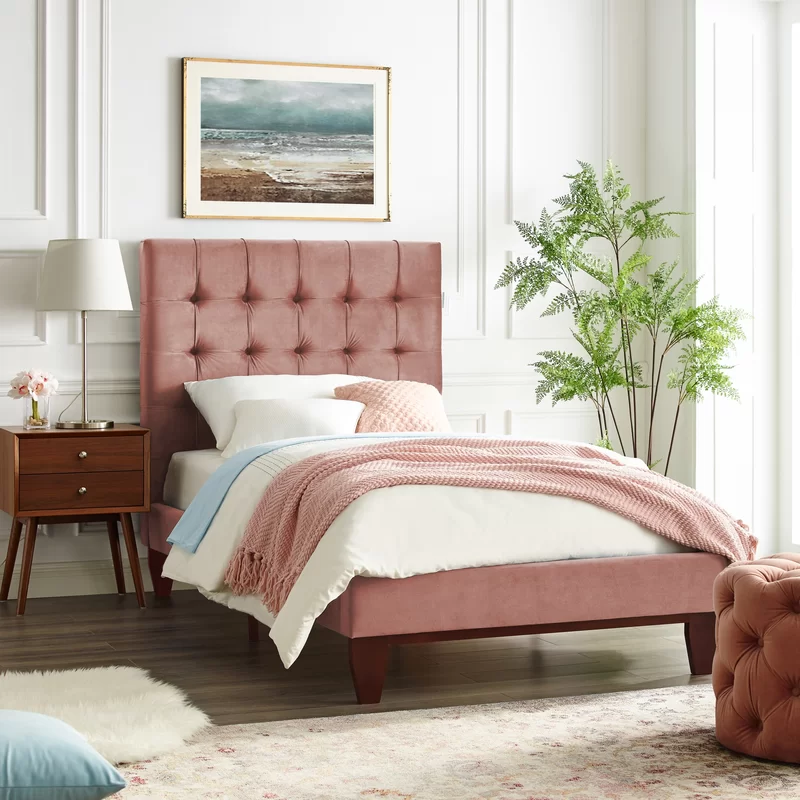 If you want a calm and soothing bedroom, the tones of baby/sky blue and blush or pastel pink would work the best. Of course, with a blend of white base and fresh indoor plants! Believe it or not – you wouldn't want more when you have this soothing backdrop in your space!
Simultaneously, don't hold back from a vintage faded area rug that's neither too loud or bold nor too subtle!
God is in the Details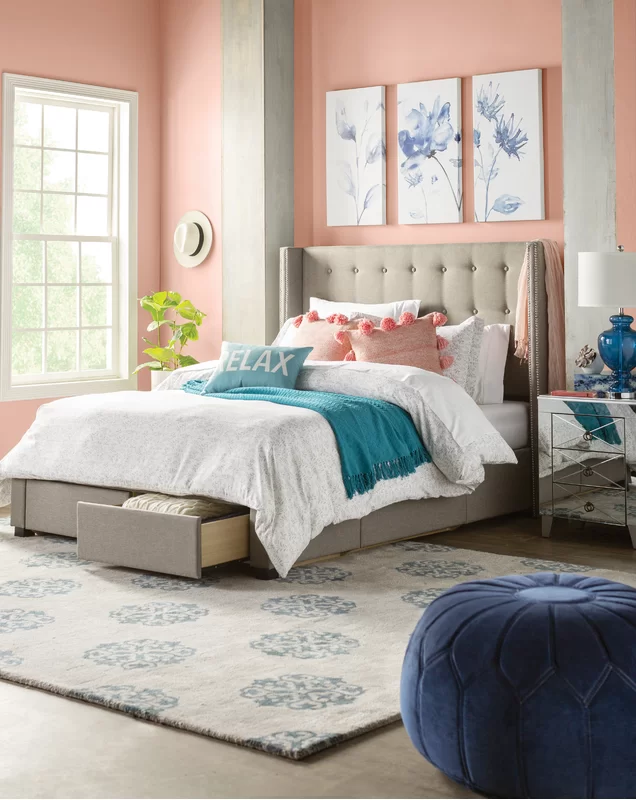 When decorating your navy blue and blush pink bedroom, it's ideal to focus on the details and specifications. Well, details like the texture of the throw pillows or the pom-poms you see! Yes, they're bound to add an extra touch of fun and energy to the room.
You can even choose to play with more than one tone of blue! For instance, navy blue plays well with teal and soft blue works well with charcoal blue.
Contemporary Pink and Blue Bedroom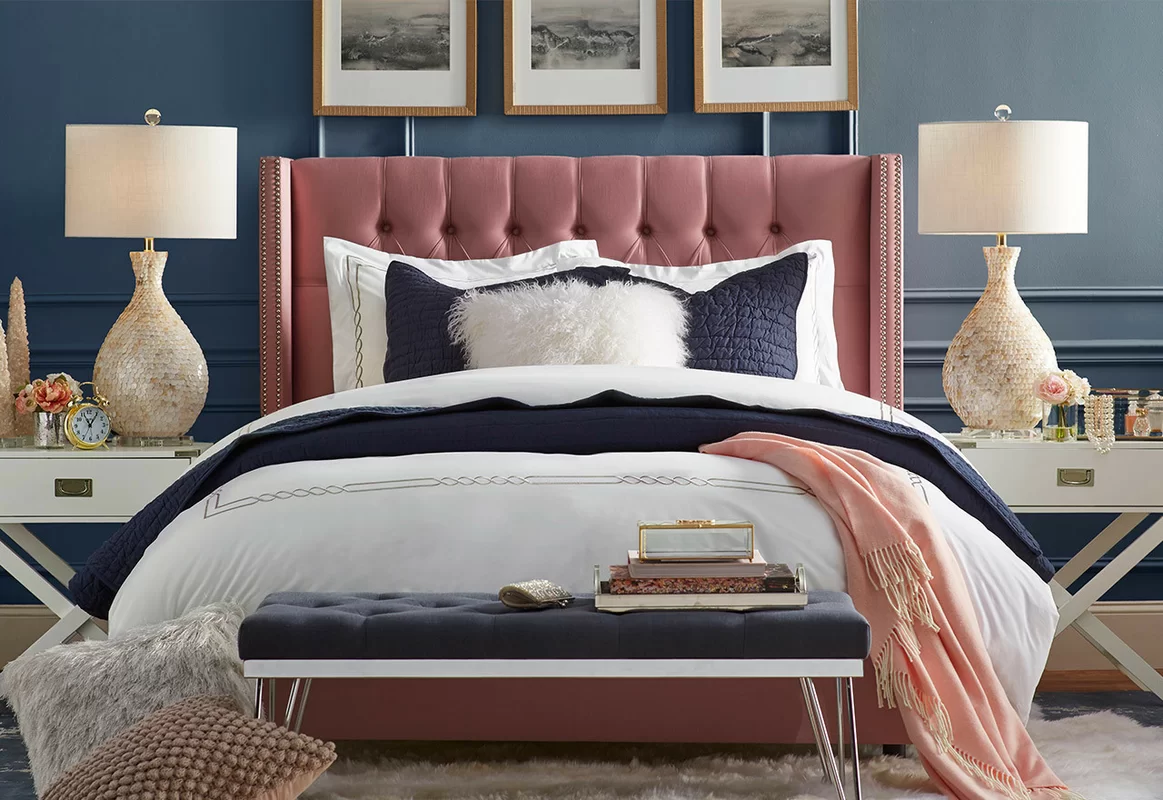 You will never get bored of this bold and dramatic bedroom setup! Defined by utmost sophistication, elegance, and timelessness – the pink and blue in the bedroom complement each other and offer a seamless overall experience.
And with this palette, never forget to style faux fur throw pillows, gold details on the fixtures, and an off-white shag rug to add a cozy factor to the room.
Mid-Century Modern Pink and Blue Bedroom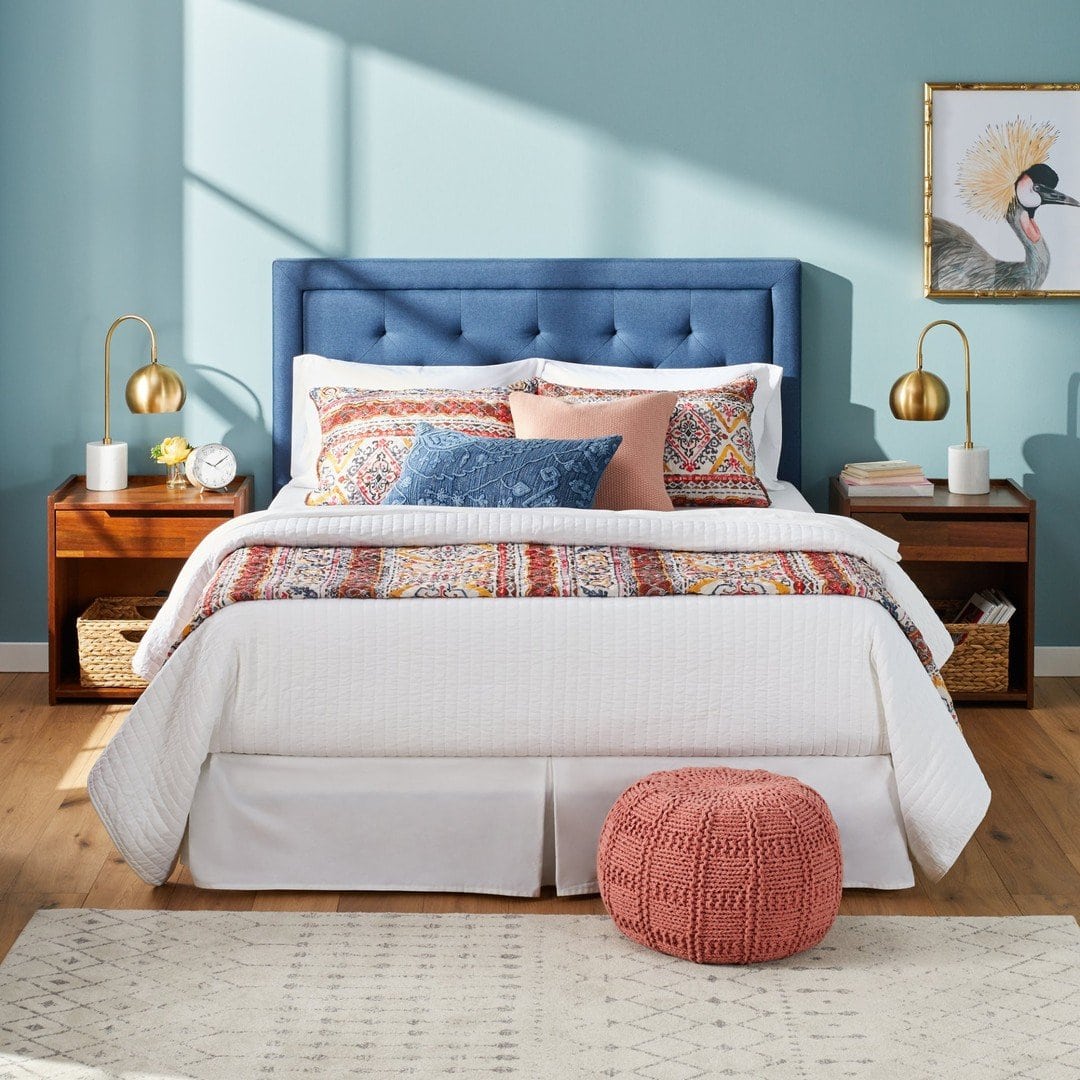 Your pink and blue bedroom doesn't have to be too overwhelming or mismatched. Even though these two colors are contradictory, you can seamlessly style and fuse them to create a cohesive, welcoming, and heavenly aura in the bedroom.
Have a look at this Mid-Century Modern bedroom setup! The blue headboard juxtaposes with pink patterned throw pillows and white bedding to add character and depth to the space.
Rich Pink and Teal Blue Bedroom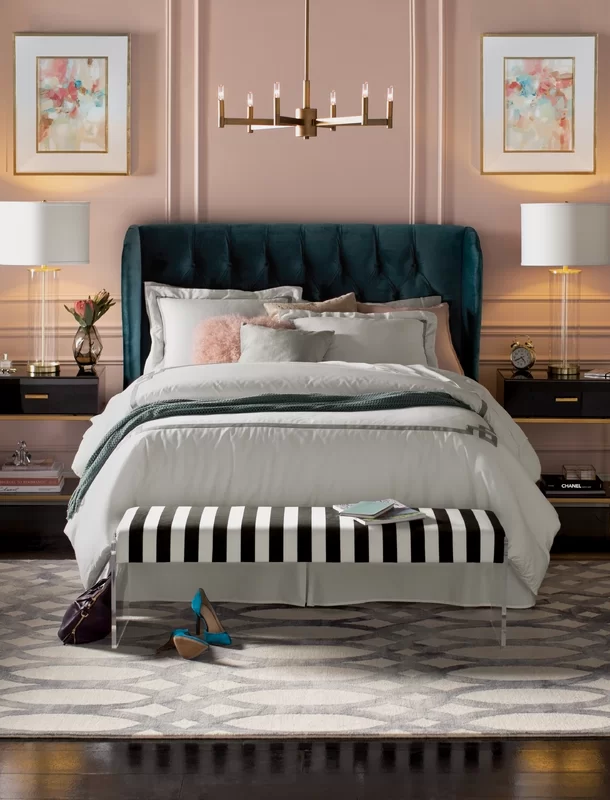 One shade of blue that never goes out of style and plays utterly rich and luxurious with pink is the shade of teal blue. This soft and feminine pink bedroom makes you want to lay and relax – and simultaneously, feel splendor and opulent!
In juxtaposition with teal, pink, black, and white is the copper finish on the lighting fixtures that is bound to take the breath away! So, wouldn't your daughter love this bedroom setup?
Add Third Wheel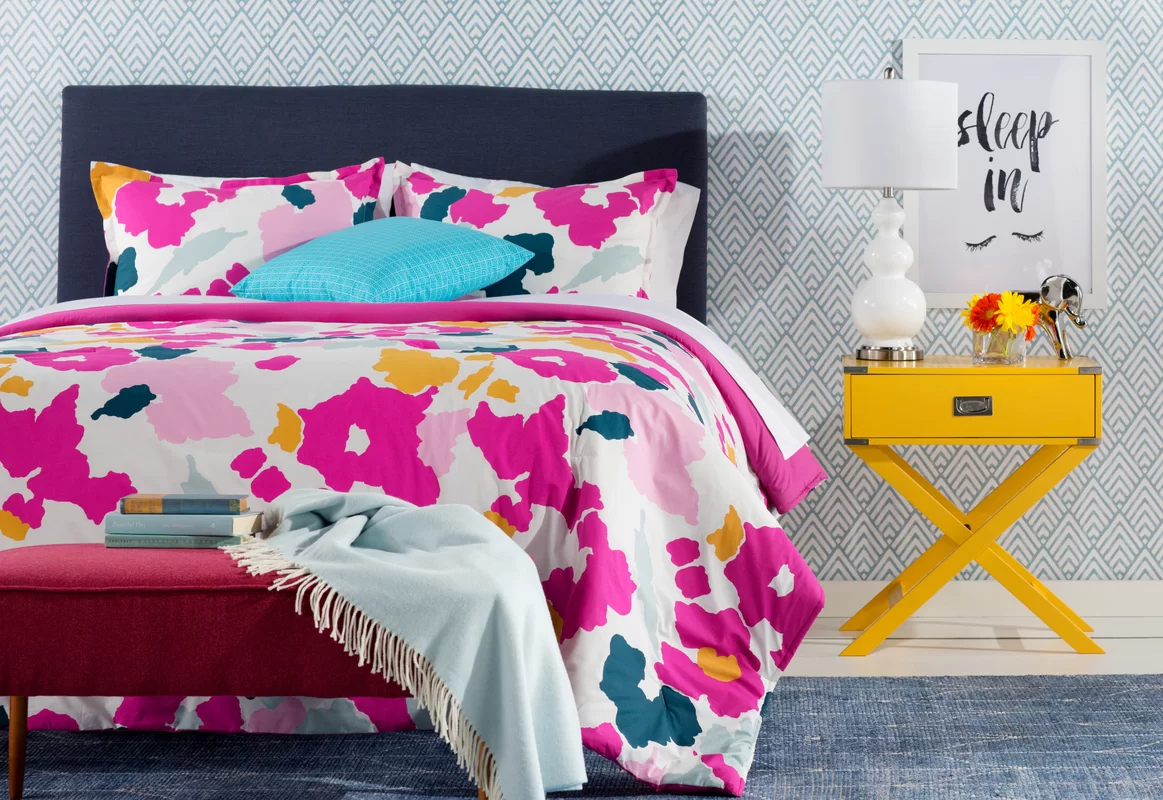 It's not a bad option to have a loud pink color in your bedroom! As far as you know how and what to pair it with, the result will never disappoint you. For instance, choosing a magenta pink in fusion with navy blue and majestic mustard is what will induce a sense of vibrancy and vividness into the room.
The third contrasting wheel to choose is mustard! It perfectly blends seamlessly with the two colors without standing out abnormally!
Light, Bright, & Fun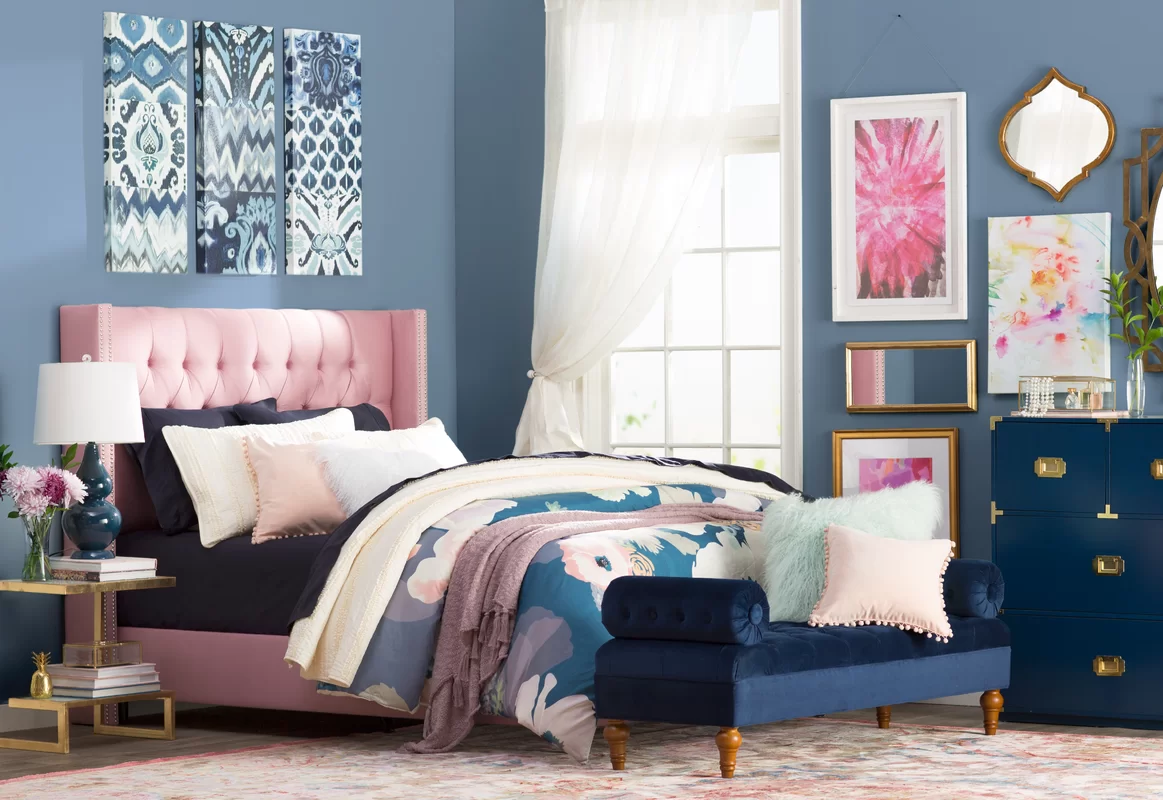 A light, bright, and fun bedroom will always make you feel energetic, motivated, and enthusiastic. The combination of pink and blue is ideal for such an ambiance, especially if you merge floral imprints, tinges of gold, and a variety of fabrics and textures.
There's no doubt your daughter would love this pink and blue bedroom setup! It's neither too childish nor too overwhelming – hence, making a harmonious statement to adore.
Stark and Cheerful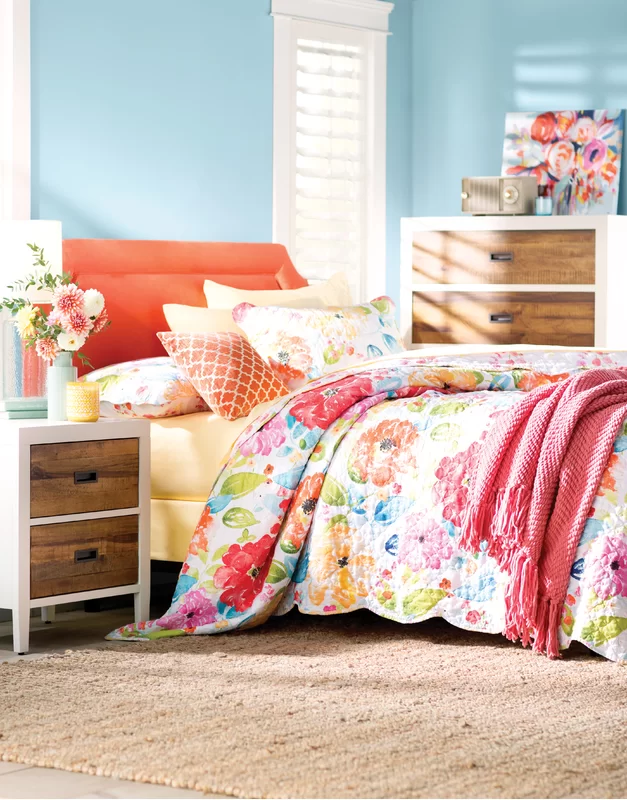 This pink and blue bedroom showcases a beautiful array of multicolored florals, eccentric patterns, and calm soft blue on the background to play stark and cheerful. Of course, adding a tinge of lemon yellow, crisp white, and wooden textures would astoundingly neutralize the boldness of the room.
Here, the eye-catchy feature is the natural jute rug that further complements the aura and makes your room feel raw and distressed.
Play Focal with Headboard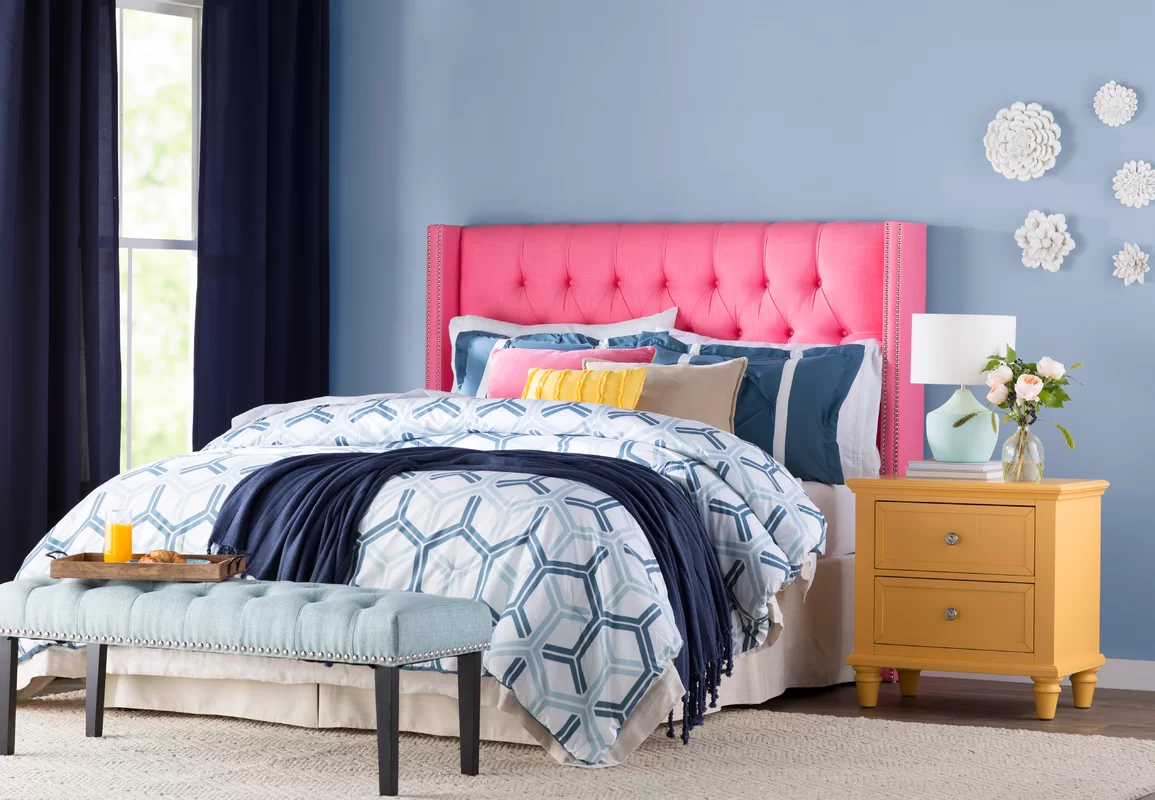 For an all-blue monochromatic bedroom, the soft and fragile pink can play focal on the headboard. Yes, it grabs all the attention which is how the color palette is further enhanced. Secondly, you can always add wooden textures and ample white as a base on the bedding and accessories.
Lastly, don't hold back from a fresh indoor plant or two on the nightstand or the negative corners.
Summing It Up
So, how mesmerized are you by this chic color combination? It can play glam and rich or fun-loving and bohemian! Moreover, this color palette isn't something you can get bored of easily. So, buck up and get ready to spruce your pink and blue bedroom! Let me know about your experiences in the comments below!