Decorated Life is reader-supported. When you buy through links on our site, we may earn an affiliate commission. Learn More
25 Modern Coastal Living Room Ideas
Modern coastal living rooms are a trending style that gives you many options for designs, from natural elements like rattan, rope, and seashells to nautical pieces like anchors, boats, and oars.
We've compiled a list of 25 coastal-inspired living room designs, including coastal living room furniture, wall art, decor, and floor coverings. Modern coastal living rooms allow for a range of color choices, including navy, seafoam, turquoise, white, and brown. You can also use coral when you want a rich pop of color.
Keep reading to learn about 25 inspiring ideas for beach living room furniture and other ideas for colored or blue coastal living rooms.
Put a Decorative Paddle on the Wall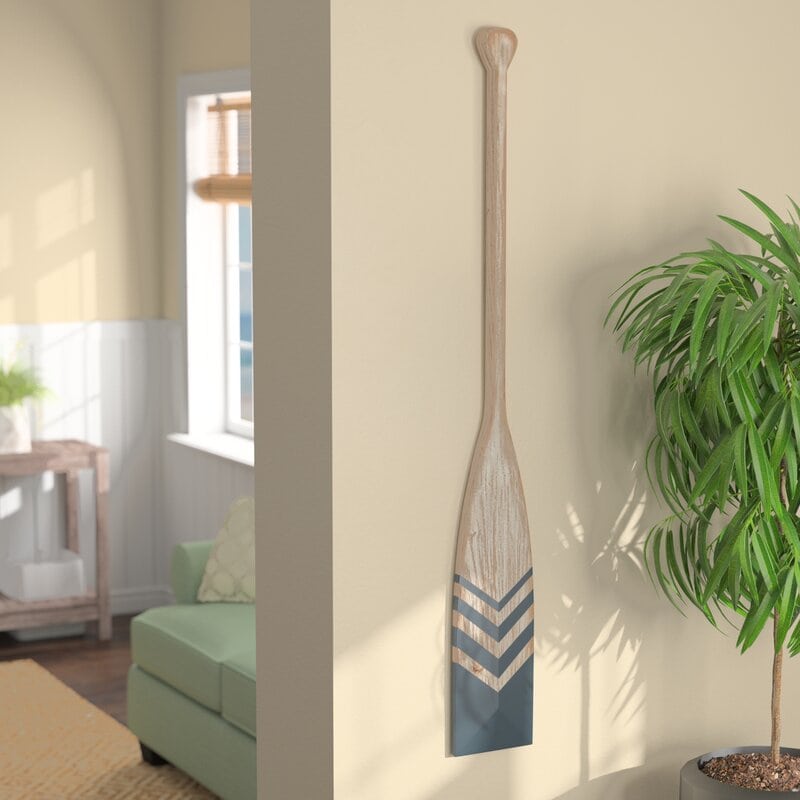 A simple way to accessorize your living room in a coastal theme is with a decorative oar hung on the wall. While paddles are nautical to start with, picking a design like this adds an extra layer of sea love.
The dusty blue and distressed white chevron pattern scream coastal vibes while providing subtle decor coverage for adorning a bare wall – in a classic color combo that's perfect for pairing with a water-inspired color palette.
Add an Anchor for Simple Wall Art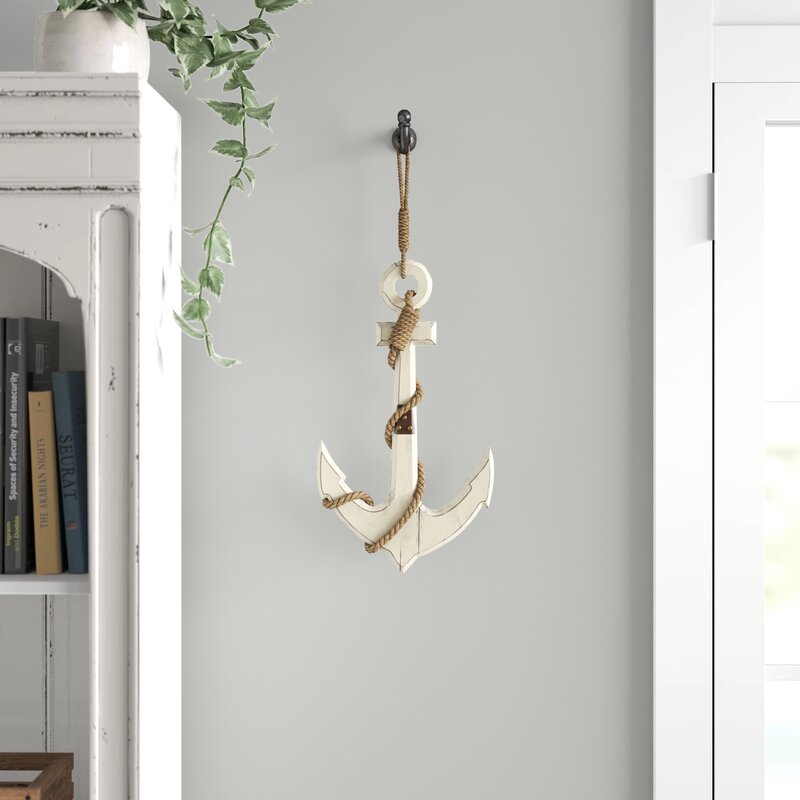 Anchors are pretty on-the-nose decor pieces for coastal themes, but that's because the classic look always goes fantastic on any wall.
A simple hook added to a small expanse of bare wall space between the door frame and a distressed white hutch gives the perfect platform for a distressed white anchor dangling from a rope.
Much Ado about Coastal Modern Minimalist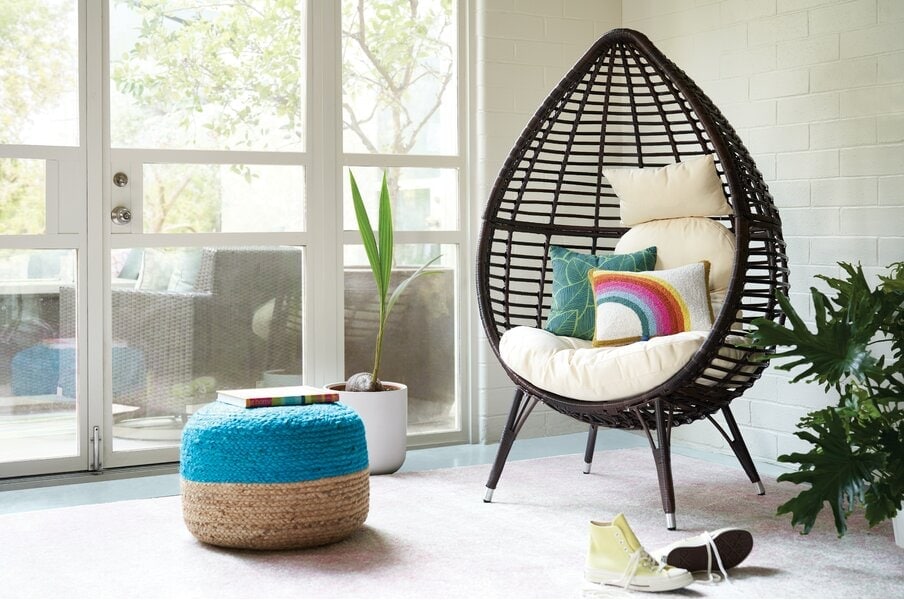 Create the perfect reading nook in the corner of your coastal living room to enjoy the views of windows while feeling tropical in a funky tear-drop rattan chair with plush cream pillows.
And stretch your feet out on a beachy round footstool in a two-tone natural tan and vibrant blue rope. You can also use stools like this for small tables.
Blend Lights like White with Darks like Blue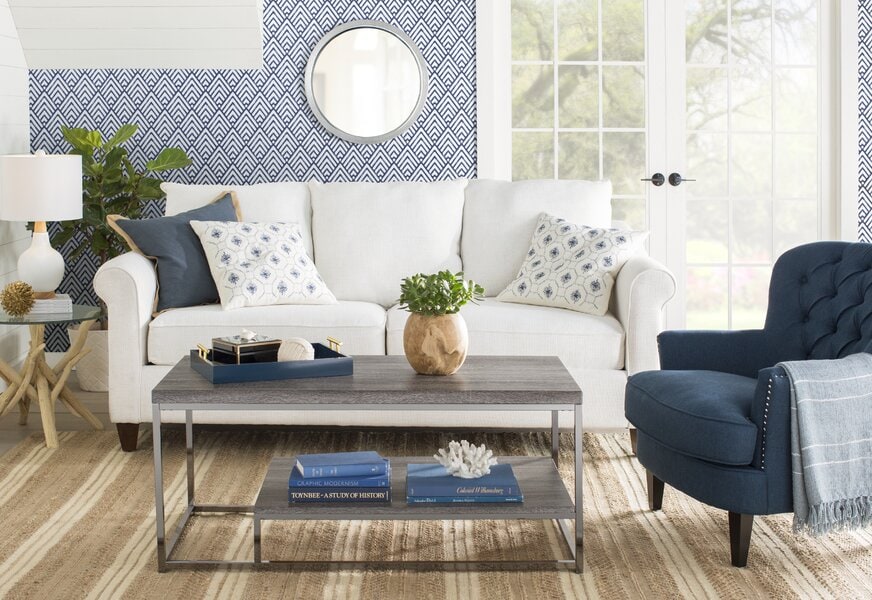 You can create a charming living room by blending light pieces like a white couch and throw pillows with the modern trend of blue accents, like the pillows, and the stylish design of a wide tufted club chair.
For modern touches, add a blue and white geometric pattern wallpaper for an accent wall, a shiny round mirror, and eclectic tables like this metal and reclaimed wood coffee table and bone legged end table with a glass top.
Mix Materials for Modern Coastal Vibe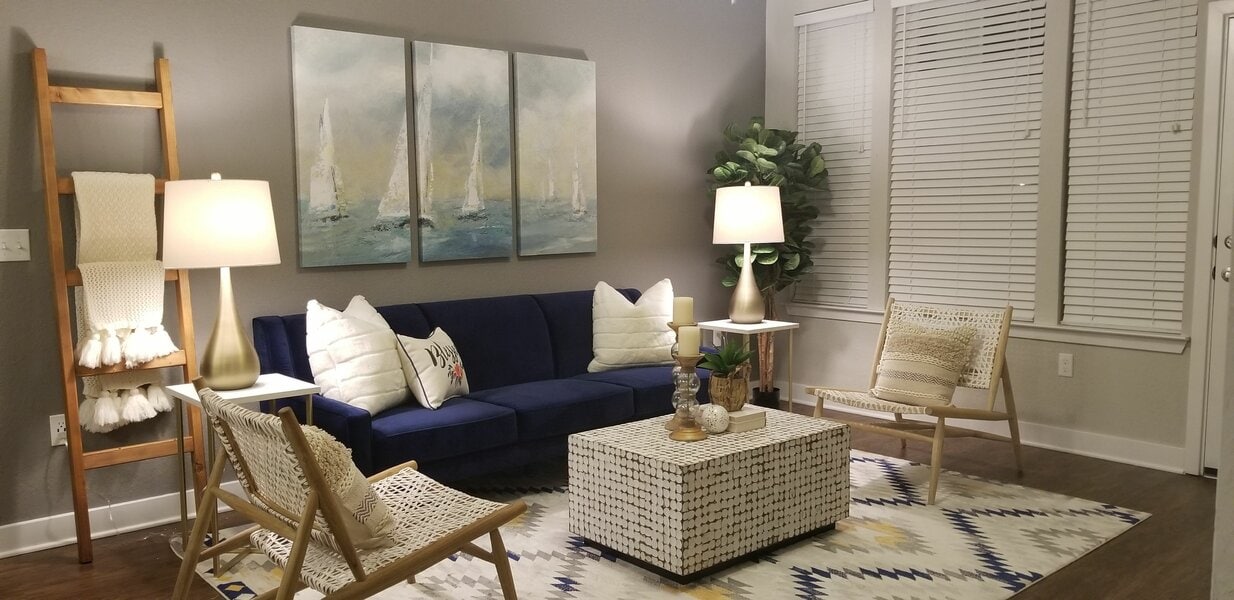 Most coastal-themed living rooms make use of multiple styles of furniture and accents. For example, combine a plush dark blue sofa with wood and woven wicker chairs with an assorted collection of different shaped neutral-colored throw pillows for nautical living room furniture.
Metallic colored lamps with white shades, a few plants for some natural greenery, and an eclectic selection of tables, like these simple end tables with a clunky wood coffee table, create an elegant coastal living room. A simple ladder provides storage for blankets while adding style. And coastal paintings of sailboats complete the design.
Natural, Nude, and Navy is Nice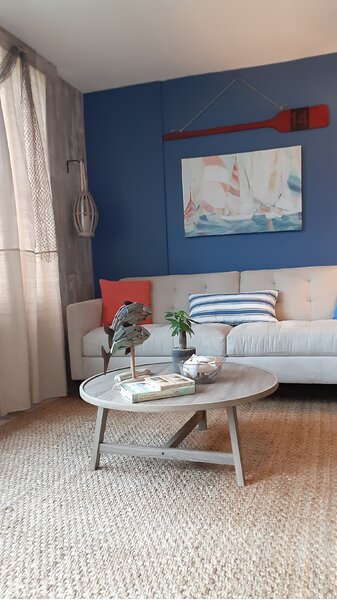 You can enjoy coastal living room sets in a modern theme by adding an accent wall in a nautical blue to create some color and personality. A fish figurine and a small potted plant provide the perfect understated decor.
Keep the color palette neutral for the other walls and accents, like sheer white curtains, a beige braided jute rug, a light-colored circular table, and a simple yet comfy thick cream couch. Then, up the coastal factor with colored throw pillows, a nautical-themed painting, and a rattan lantern.
Navy Blue and White Blends Be Popping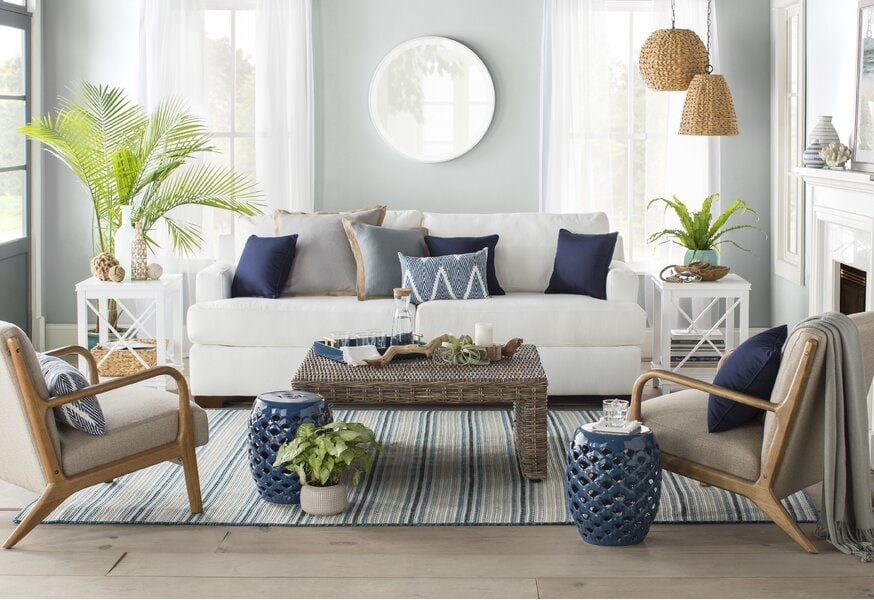 Many modern themes feature bright, bold colors, while coastal pieces lend themselves more towards dark blues, grays, and whites.
This living room makes use of all our favorite trends, including colorful pillows, including some with white and navy prints. In addition, there are tons of white elements, from the bright fireplace to the couch and end tables.
Then there's all the natural brown, from the minimalist wood chairs to the rattan coffee table. And the navy goes from the floor in a striped rug to the vases and up to the pillows.
Try Turquoise and Teal for Aqua Themed Modern Coastal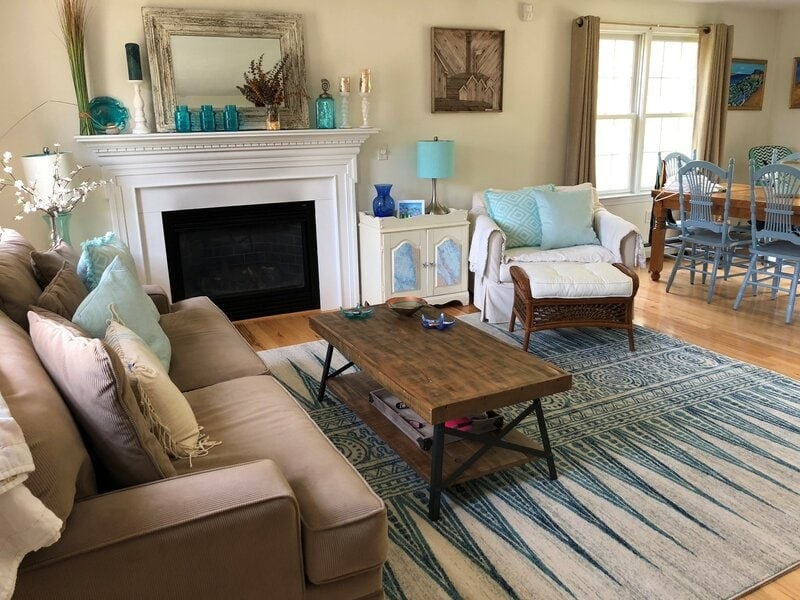 Another modern aquatic-inspired design choice is to choose accent pieces in rich turquoise blue, such as the bottle, plate, and cups adorning the bright white mantel, and balance the look with white candlesticks, a few beach plants, and a reclaimed wood mirror.
Then toss in some cleverly thought out pieces in a lighter blue like seafoam or teal, such as for throw pillows, lamps, and vases. Then finish the look with natural furniture like a wicker chair, rich wood and metal coffee table, and a brown couch. Finally, a navy and tan boho rug can tie all the elements together.
Alternate White and Dark in Bright Rooms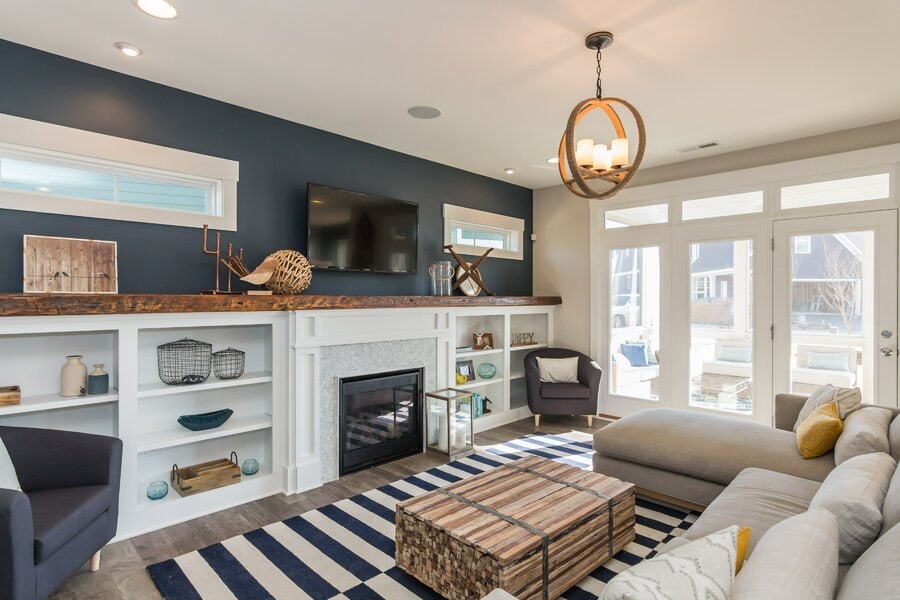 When you have a large room that receives a heavy amount of natural light from lots of windows and doors, you have the perfect base to pair white and dark. The light-colored sectional with dark armchairs and a reclaimed wood coffee table with a blue and white striped area rug is a total balancing act.
Observe how this accent wall forms the perfect focal point for this room, with a dark blue top half separated from the light white shelved bottom half by the thick wood mantel. A modern chandelier with candle lights, candle pendant lights near the fireplace, and many beach-themed accents complete the look.
Keep It Simple with Shiplap and Sconces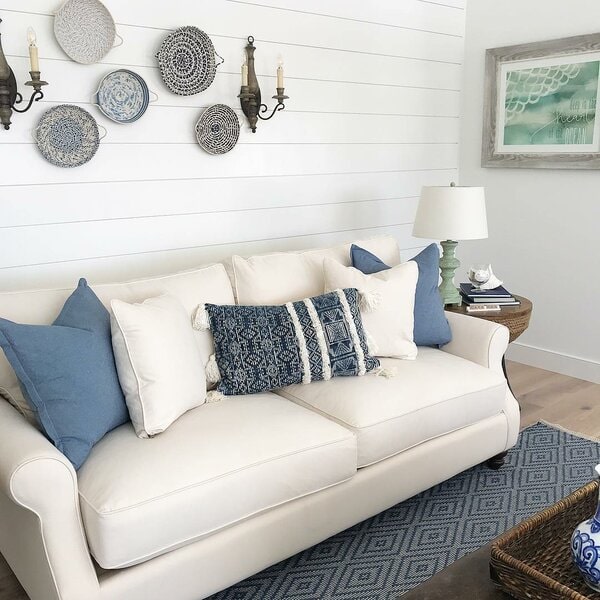 Shiplap is becoming a raging trend for multiple design themes, from farmhouse to coastal. You can put a modern twist on an old classic using a collection of decorative accent trays placed on the wall bracketed by candle sconces.
Can't use the real deal reclaimed wood? Try this stylish reclaimed shiplap wallpaper. A simple yet elegant fish scale picture with a reclaimed wood frame, different shades of blue pillows, a classic lamp, and a blue geometric diamond pattern area rug add the final pieces.
White and Blue with Starfish and Florals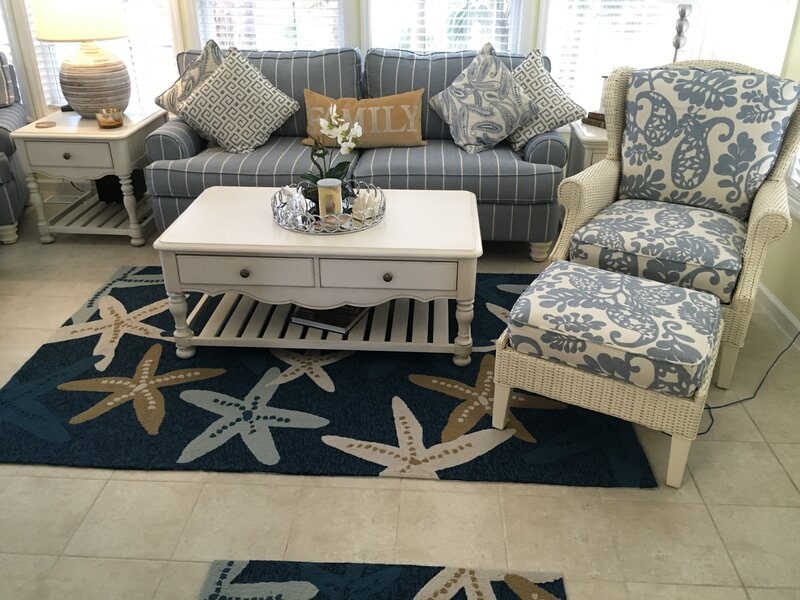 This living room encompasses all the things that make a coastal theme such a hit. The blue and white striped couch with similar color schemed geometric patterned print pillows complements the white high back armchair with blue and white floral print cushions and footstool.
And the contemporary style coffee table and end tables with a stylish mirrored tray give the space a flair of modern style. And the bold blue area rug with a starfish pattern creates the coastal piece de resistant.
Pick Pale Pieces and Put a Pop of Dark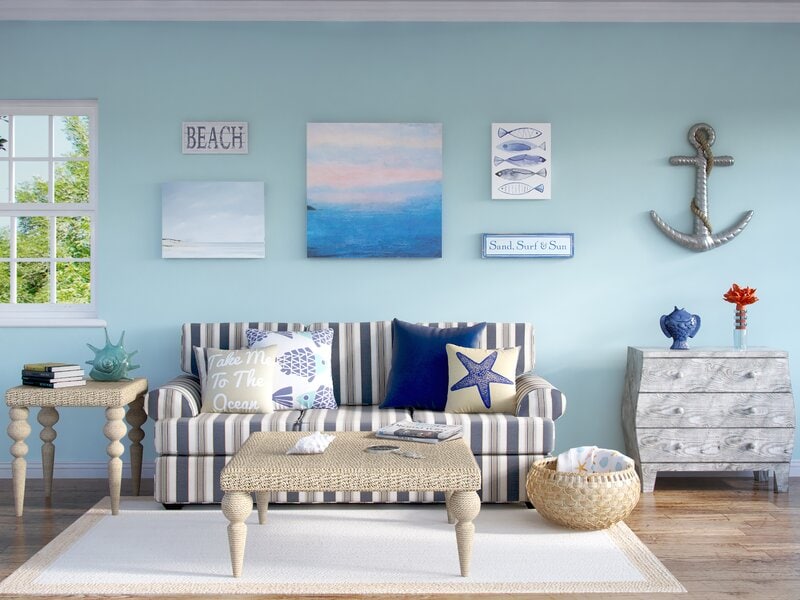 Give your living room a fun, bright theme that lightens your space while still being colorfully stylish by starting with pale sky blue walls. Then, adorn the large expanse of blue with coastal-themed pictures and decors like this metallic anchor, beach plague, and fish print.
On the ground, add woven-style tables and baskets with a modern-style sideboard. Then finish the style with some modern decor pieces that match the color palette of the beach pillows and classy striped sofa.
Select Aquatic Themed Sea Animals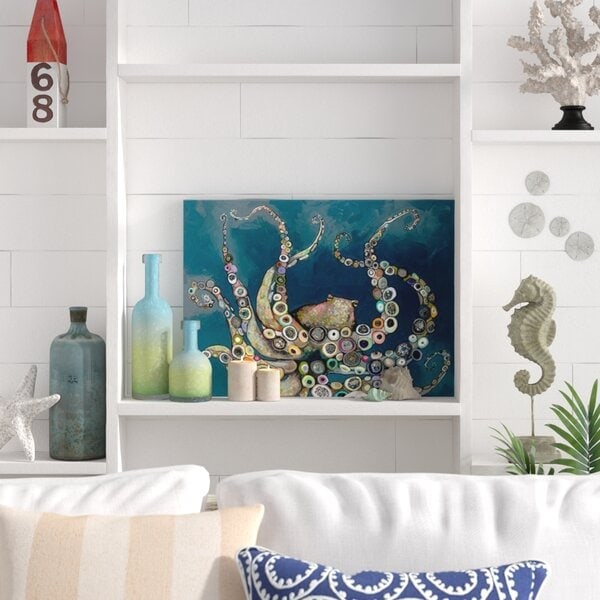 Nothing is more coastal than decorating your living room shelves with sea-faring creatures like starfish, seahorses, silver dollars, coral, and blinged-out octopuses.
Ombre green and blue bottles, a cyan vase, some greenery, throw pillows in navy blue and white patterns, and subtle cream and tan stripes on a white sofa finish the look.
Adorn the Walls with Coastal Art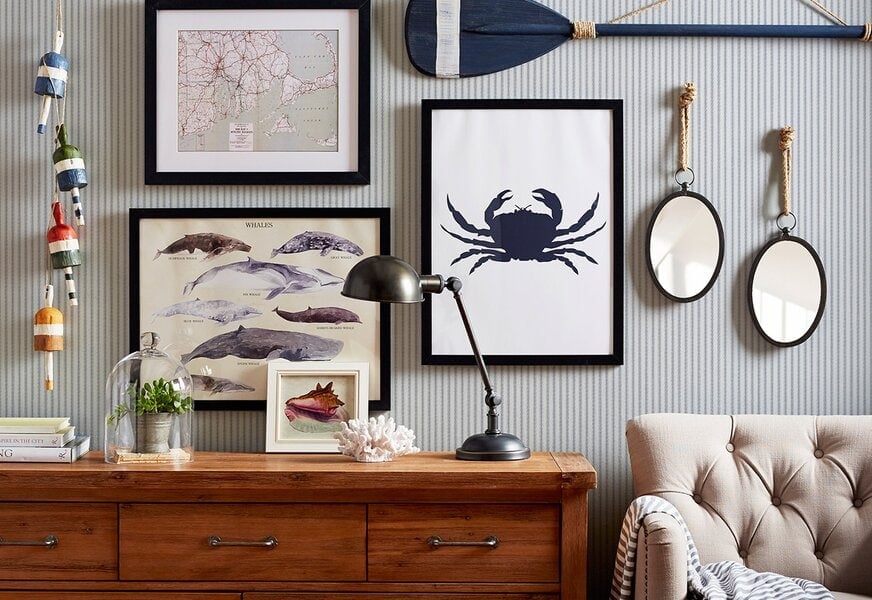 You can achieve a modern coastal theme in your living room with a variety of wall art. We dig this assorted collection of nautical pictures in black frames, from the bold blue crab, the identification piece of different whale types, and a map.
A navy blue paddle, oversized colored wood floats, and two black mirrors on rope knots complete the wall art. A coral sculpture, a white framed image of a seashell, and a simple black desk lamp finish off the nautical theme.
Try an Eclectic Mix of Design Elements
Some people like an empty slate with one simple design element on the wall. But other designs can consist of a whole wall of decor pieces.
Start with shelves holding knickknacks, add some flags, then some pictures of coastal themes – boats, coral, seashells. Other nautical-themed design elements include brass bells, distressed porthole mirrors, and fishing nets.
Consider Coastal Floor Coverage in Jute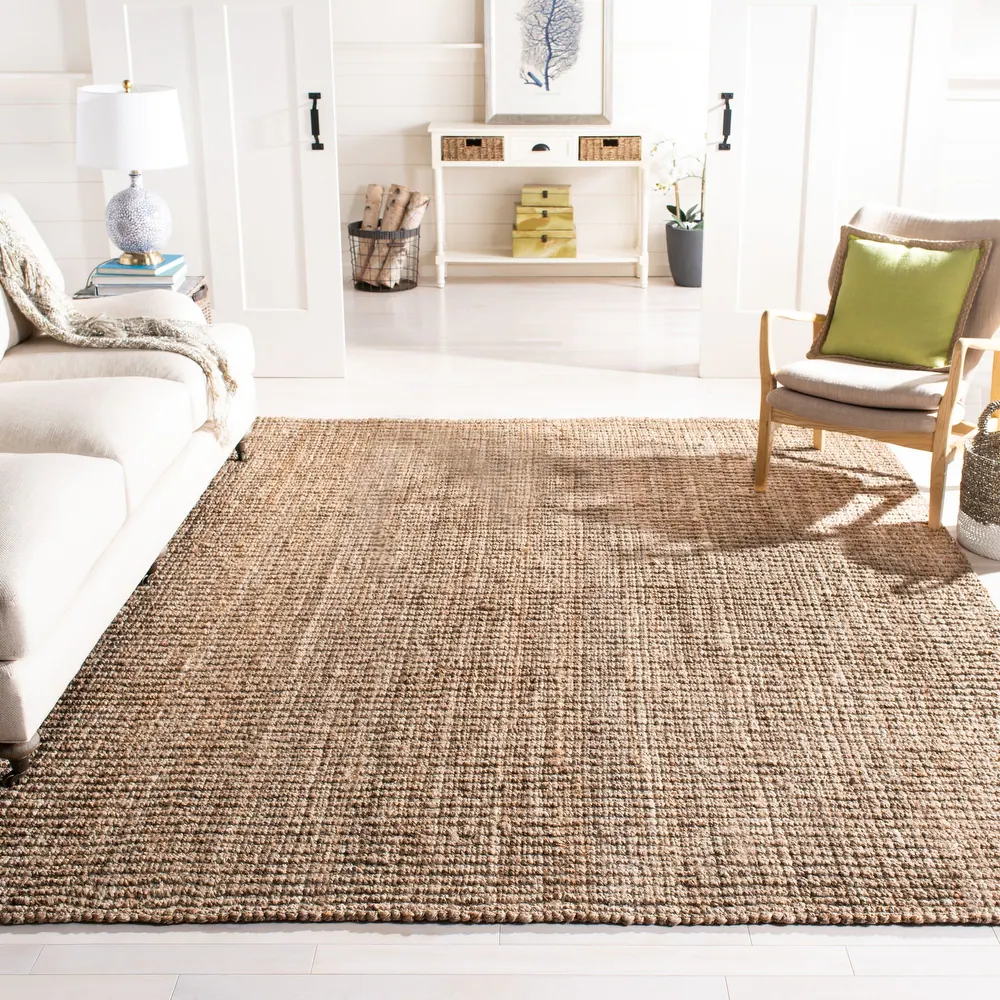 One way to go when protecting your floors with an area rug is with a simple yet chunky jute fiber in a solid natural brown color.
The medium pile height offers comfort underfoot, while the classic neutrality of handwoven braid designs gives your floor tropical coastal vibes.
Break Out the Beachy Braided Rug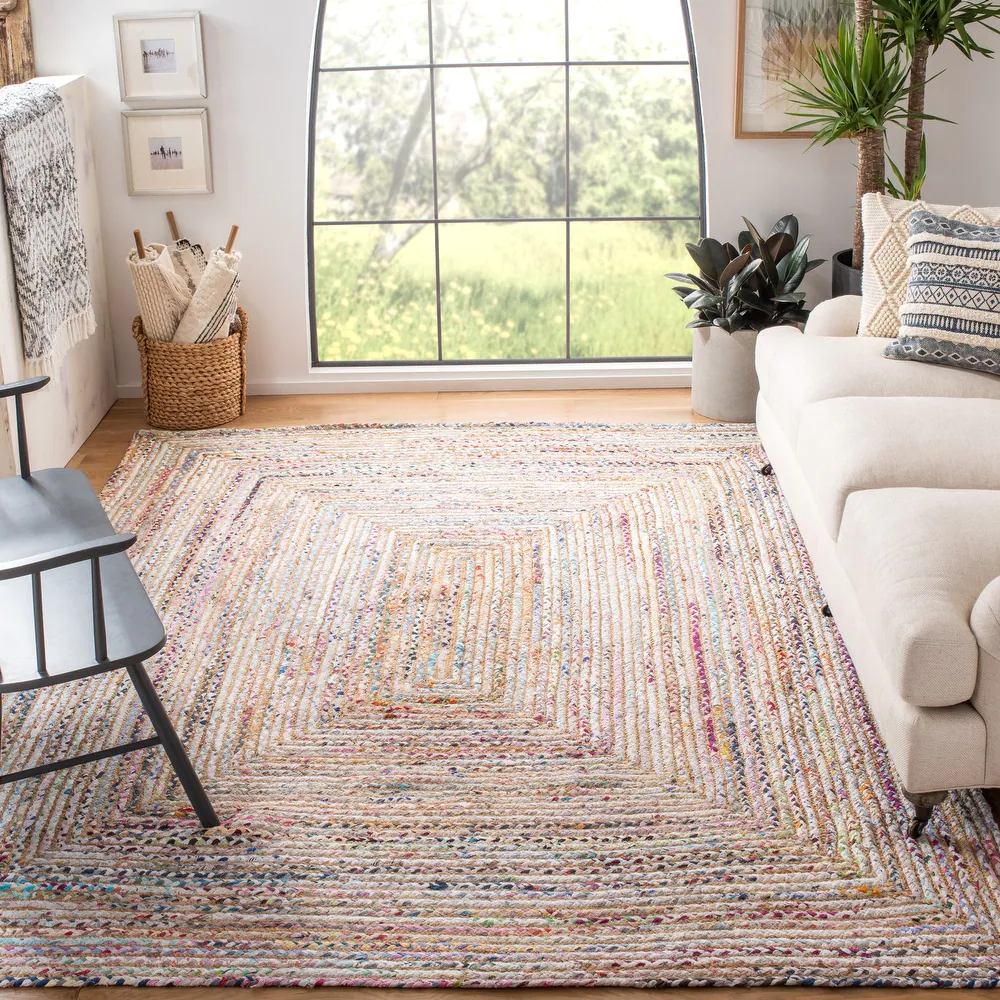 Braided rugs in multiple colors are the quintessential Bohemian coastal accessory for your living room. Go with the traditional rectangular beige rug with multicolor braids for a traditional look, or pick red for a more bold and modern round style.
A rattan egg chair, an open-sided wood bench, some floral prints on the walls, with a few wicker storage baskets, a chunky neutral colored couch, and lots of plants look fantastically coastal with a beachy braided rug.
Show Some Coastal Love with Starfish on the Floor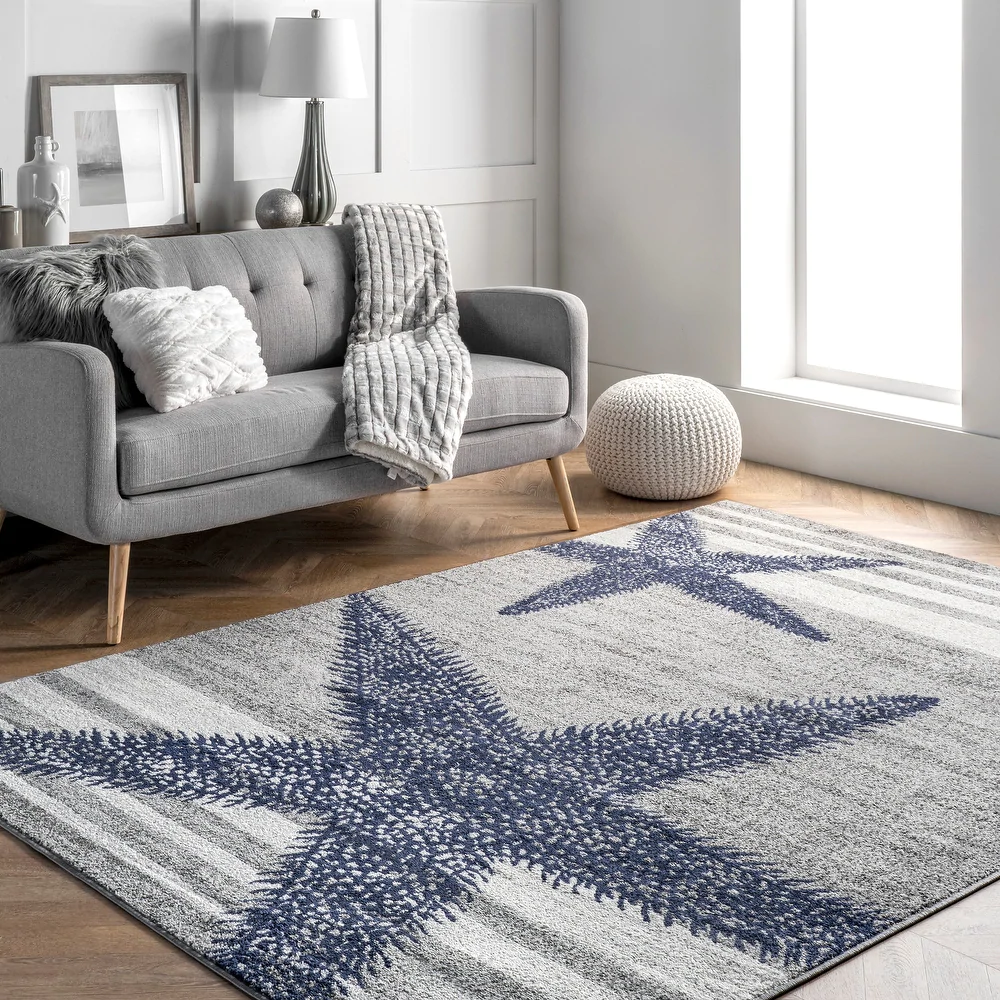 An area rug with large print starfish is just the thing for screaming coastal in your living room. Available in a gray base with navy blue starfish or a bold navy pattern with gray stars and lines, this rug works for any living room.
Coordinate with the decor in grays like picture frames, lamps, and fuzzy throw pillows and blankets. Then tie in some whites with cushions and a modern style footstool and walls.
White Wood Makes Your Space Bright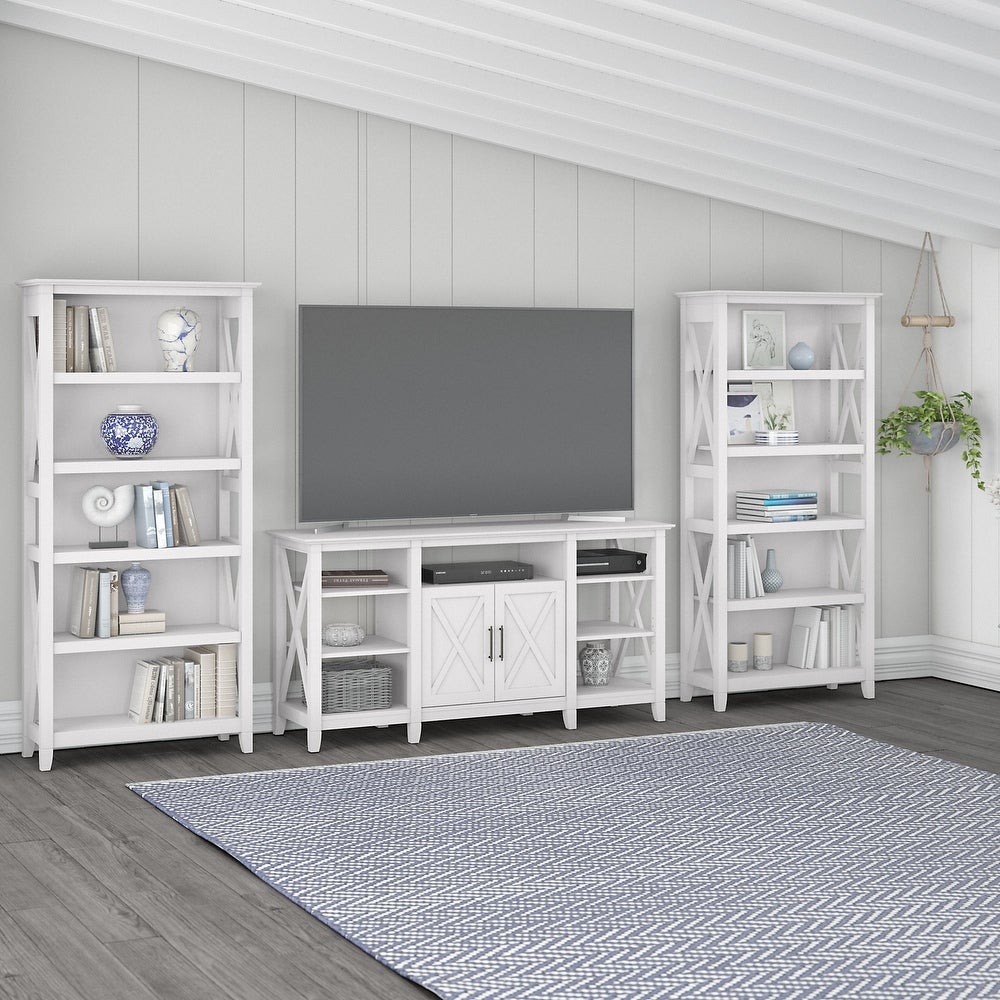 You can make your living room organized, and beachy feeling with this white oak set consisting of two five-shelf bookcases and a matching tv stand with double doors.
You get the benefit of closed and open shelving with X-pattern accent ends and plenty of storage space for decor and essentials.
Tan Rattan Barrel Seat for Transitional Coast Look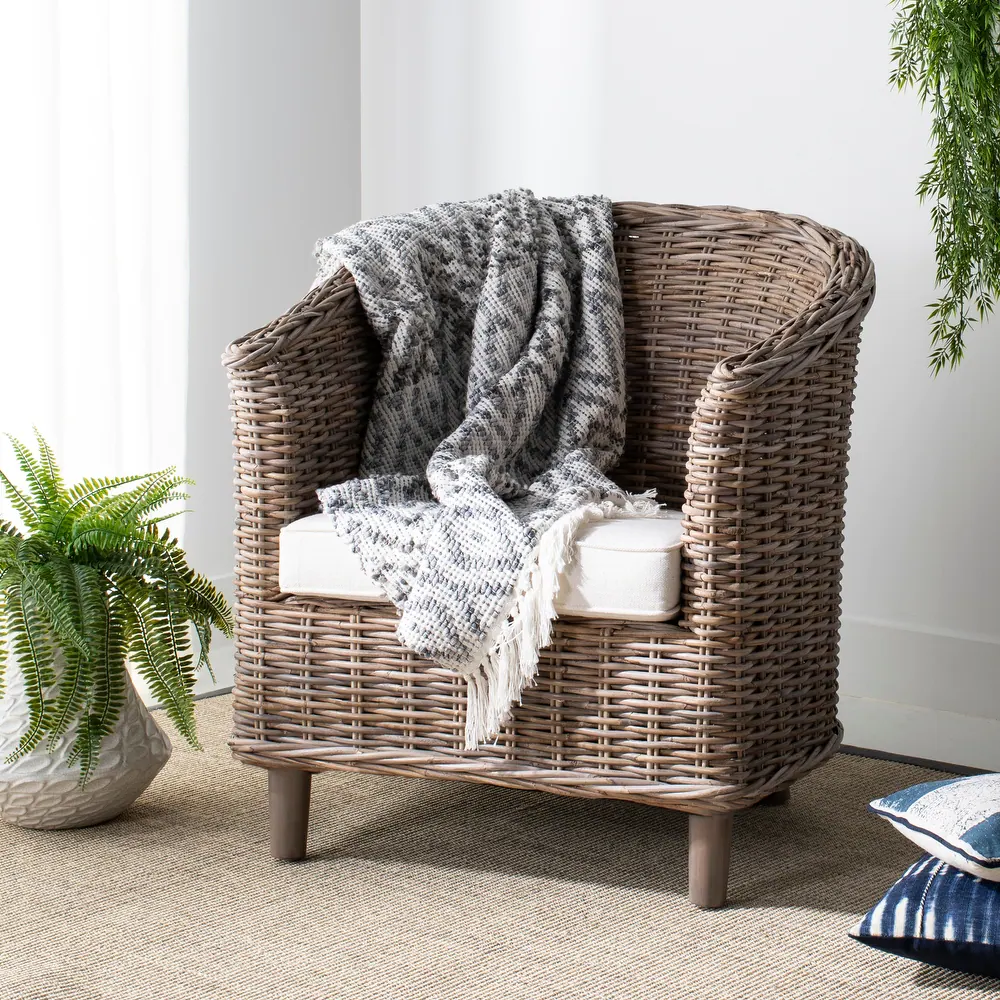 Your room will look fantastic with the tropical feel of a natural-looking chair like woven rattan. A thick bright white cushion is stylish enough to go with everything without being too much.
Add a colorful throw pillow and throw to give your chair some personality. This style is perfect for a zen spot to soak up some sun near a window or positioned around a sofa for a social circle.
Add a Glass Top Woven Accent Table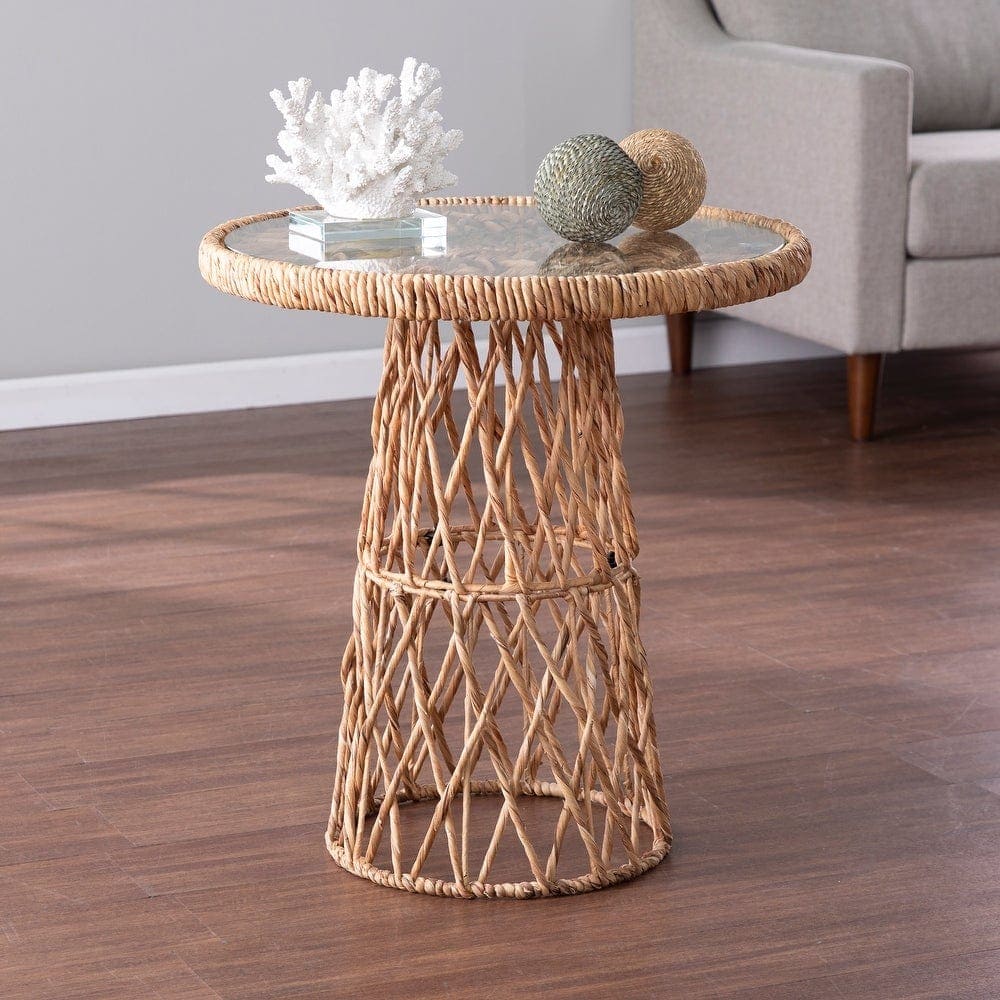 Show your modern coastal love with a small yet tropical accent table. The open frame woven base of the water hyacinth material gives this table a charming look.
A 5mm thick glass top makes this wicker accent piece perfect for small nooks, end tables, or entryway tables. Or you can add a modern style chair to have a sitting area.
Casual Contemporary Coastal Couch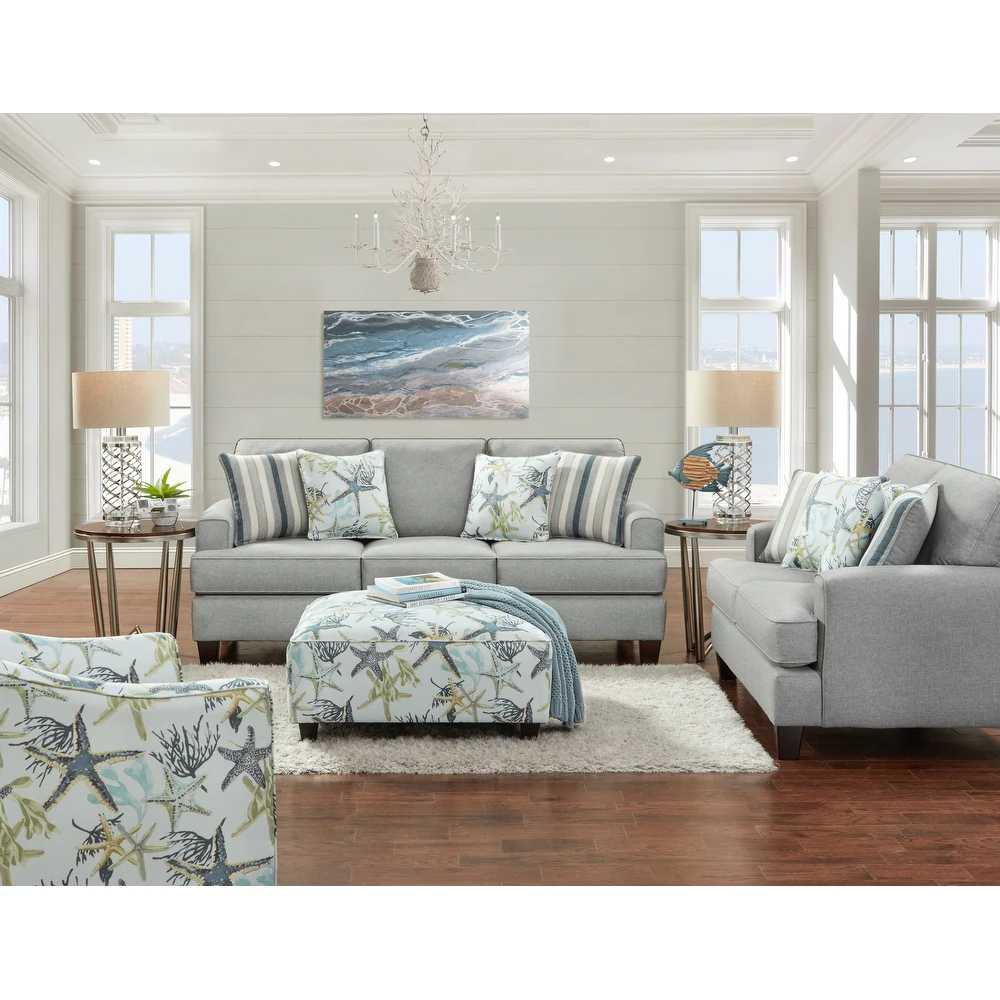 Gray is a camouflage color that can take on traits of the other colors around it. It's also fantastic as a contemporary coastal color.
This sofa in a light gray with square cushions and tapered wood legs is the perfect accessory for nautical-themed rooms. The striped pillows and starfish patterned pillows add the perfect touch of modern.
Use a Boat for a Bookshelf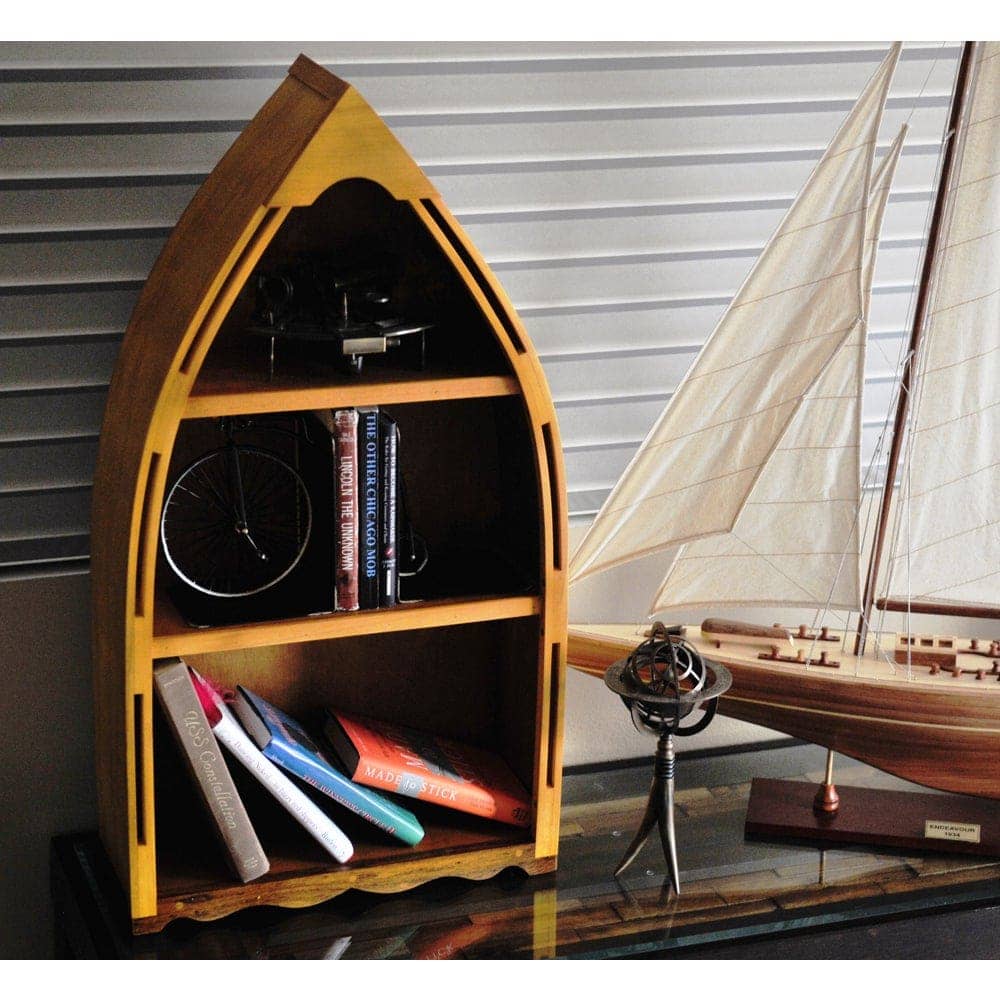 Embrace the novelty of a small bookshelf in the adorable shape of a boat, perfect for tabletop ornamentation. Three shelves provide storage for small knickknacks and books.
Then pair your canoe shelf with a table-size replica of a sailboat and other nautical-inspired decor items.
Nesting Trays for KnickKnacks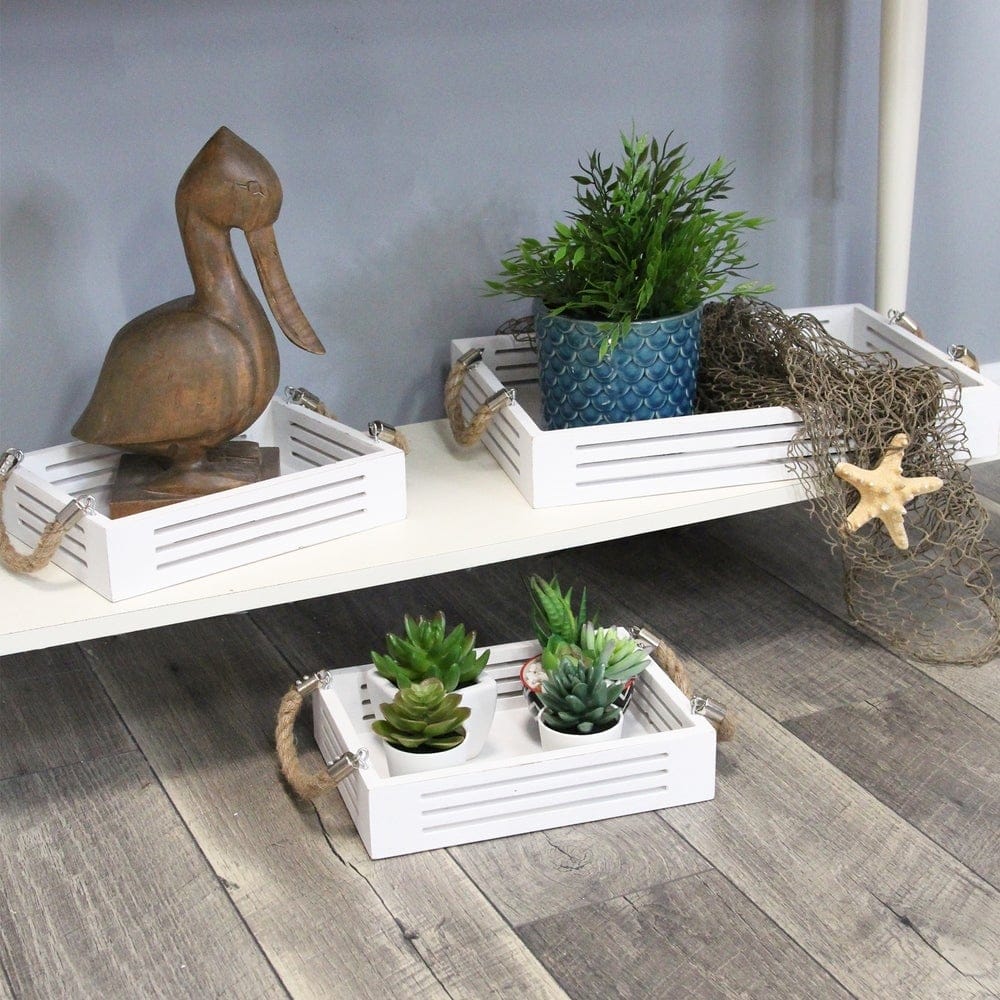 Trays provide the perfect combination of decor and function, working for storage or transport and looking stylish.
This set of three trays capture the coastal vibe with rope handles and distressed whitewashed boards. The stylish slat design and nesting function make these modern trays magnificent for any living room.
Mixed Material School of Fish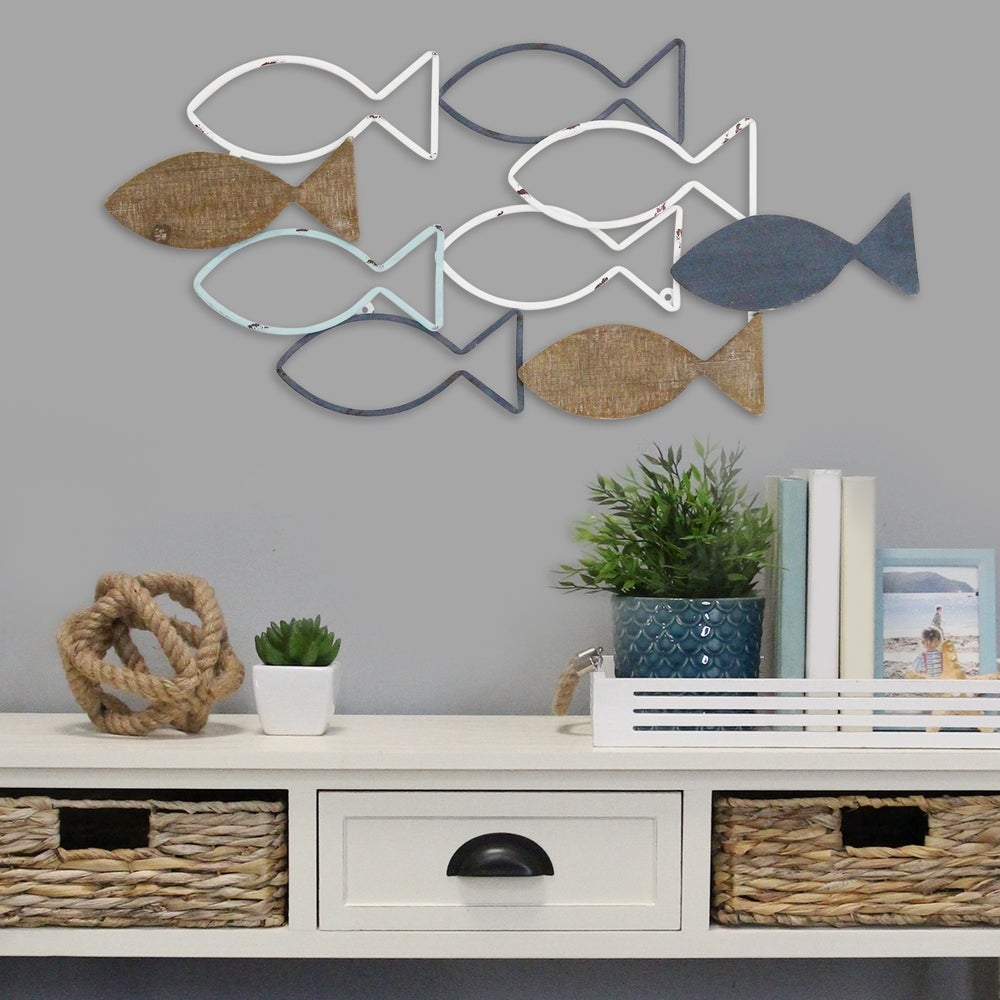 Your living room is sure to look fabulous with wall art like this school of fish in metals and woods in white, seafoam, brown, and navy – all signature coastal colors.
Add a white table with wicker baskets for organizing, white serving trays for decor, and greenery in white and blue pots.
In Closing
Modern themed spaces use bold colors – navy, silver, coral, black – patterns – geometric, striped, or abstract – and materials. Coastal themes use natural materials, nautical colors – blue, white, seafoam – and symbols like anchors, helms, paddles, and sea creatures like starfish, crab, and seahorses. What is your modern coastal design must-have? Drop your pics in the comments.