Decorated Life is reader-supported. When you buy through links on our site, we may earn an affiliate commission. Learn More
21 Boho Living Room Ideas Worth Copying
Boho living rooms have a unique blend of materials and textures. They can be modern and neutral or bright and fun.
But either way, the result is always a cozy and visually appealing space.
And because there are so many takes on this style, you have a lot of freedom regarding furniture and material choices.
If you need some ideas to get you started, check out these 21 boho living rooms.
Use a Low Profile Couch
A couch is an essential piece in any living room. And for boho, you'll want something with a low profile like this sofa from Urban Outfitters.
This couch comes in four colors: cream, green, mustard, and terra cotta. For expensive purchases like a sofa, I recommend choosing a neutral you'll like for years to come. Then, you can add color with accessories like wall art and throw pillows.
Fill the Walls with Art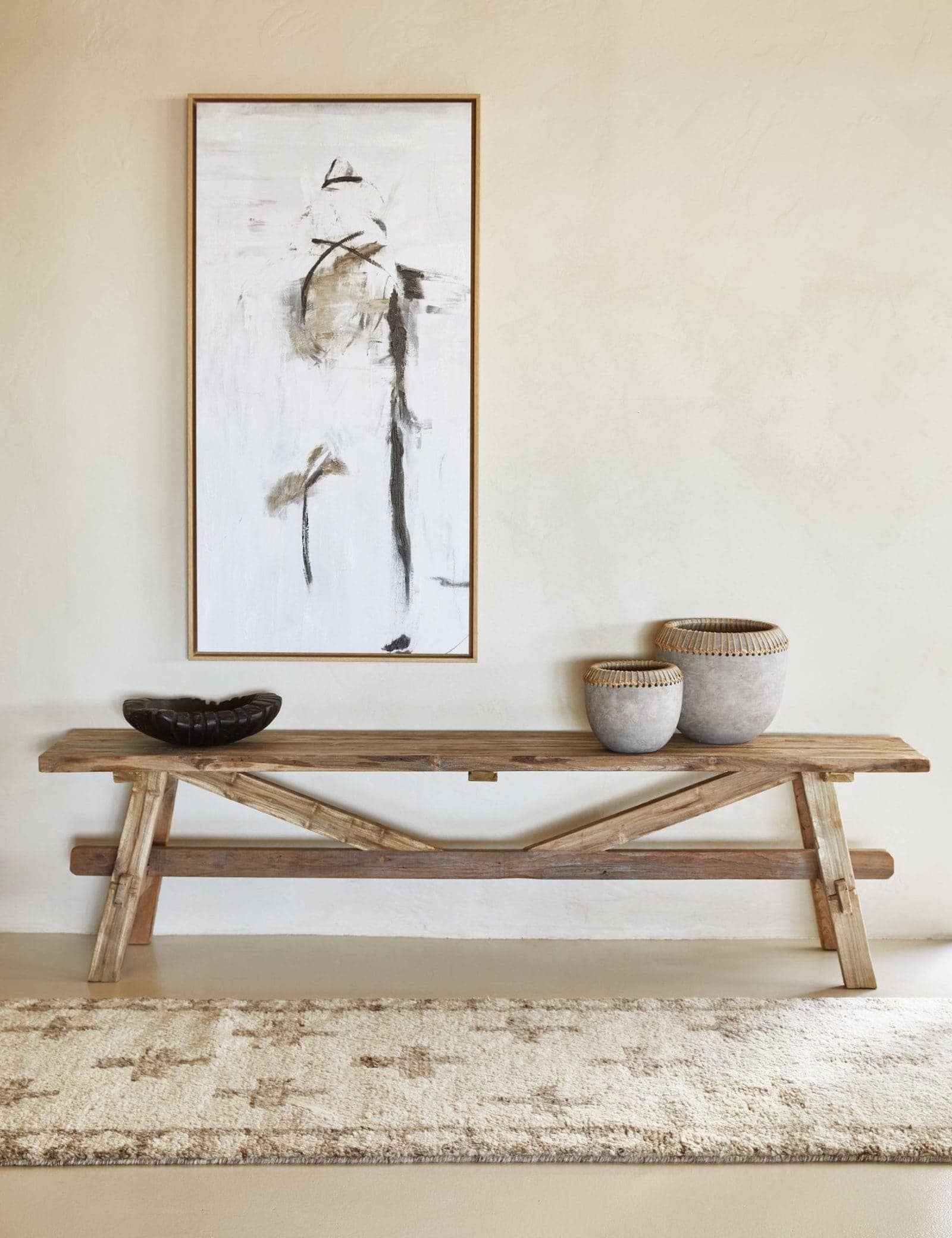 If you need to fill the walls in your boho-themed living room, consider large wall art like this. This piece is neutral enough to go with any color scheme and comes in two large sizes.
You could put this art over your sofa and use smaller pieces to fill in around it. Since this piece is tall, you could also lean it against the wall.
Add Throw Pillows to Your Couch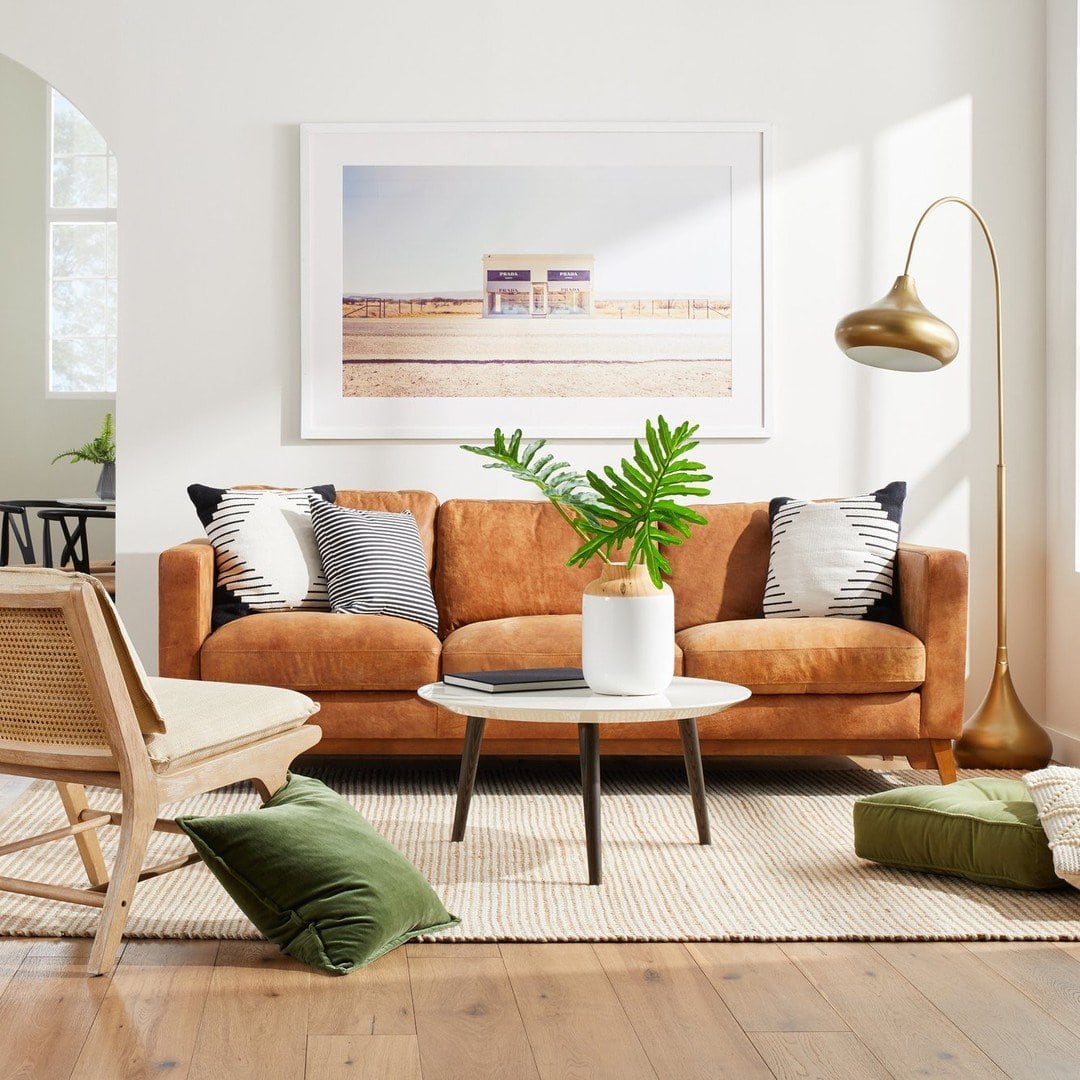 Throw pillows are a great way to bring in your favorite colors and patterns. If you love neutrals, try options like shown in the photo.
If you're a color lover, feel free to go wild. You can mix and match bright colors and bold patterns for an eclectic look.
Have Fun with Your Accent Lighting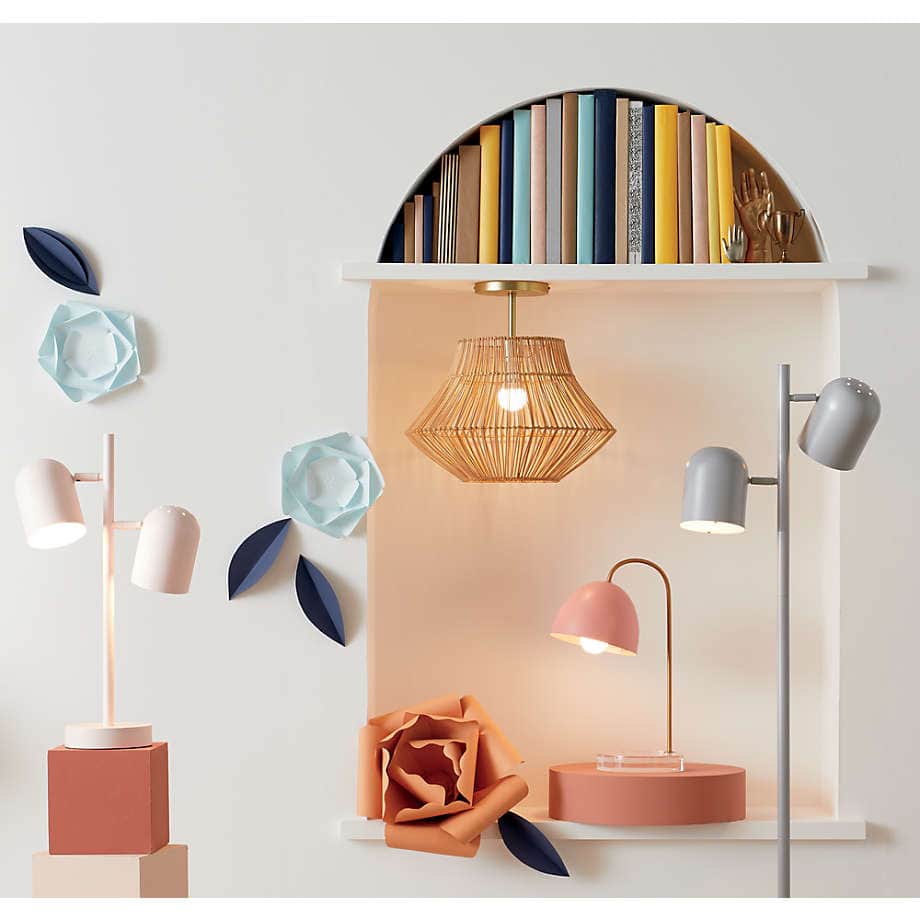 Boho is anything but boring. So ditch the standard flush mount lights and ceiling fans and opt for something fun.
One option that will always work in a modern boho living room is a rattan ceiling light. Rattan is a natural material that brings warmth to the room and matches all color schemes.
Pack in the Plants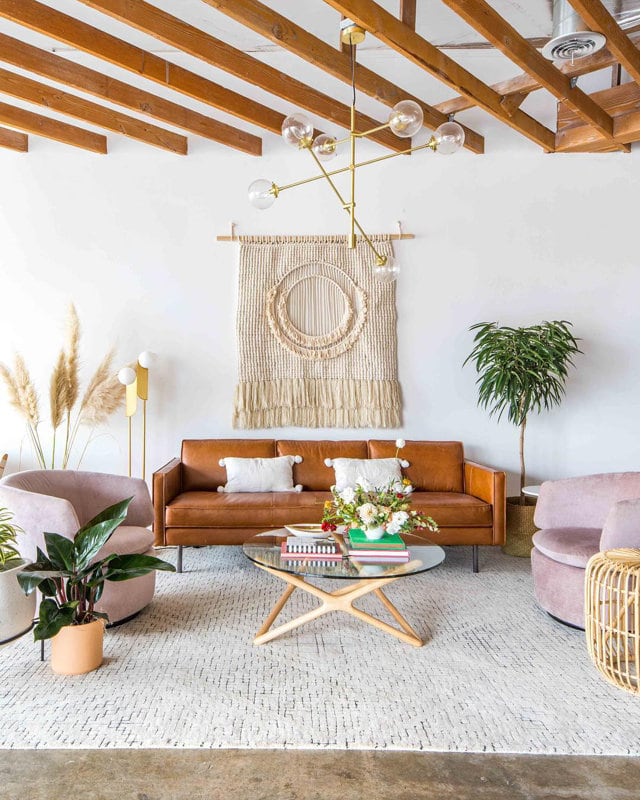 While plants are essential to any room, bohemian styles especially favor them. So, if you're a plant lover, the more, the better.
But if you're feeling left out because you have a black thumb – don't. Artificial plants (as pictured) pack just as big of a punch as the real thing. At the very least, consider adding a faux tree to an empty corner.
Put a Pouf Next to Your Chair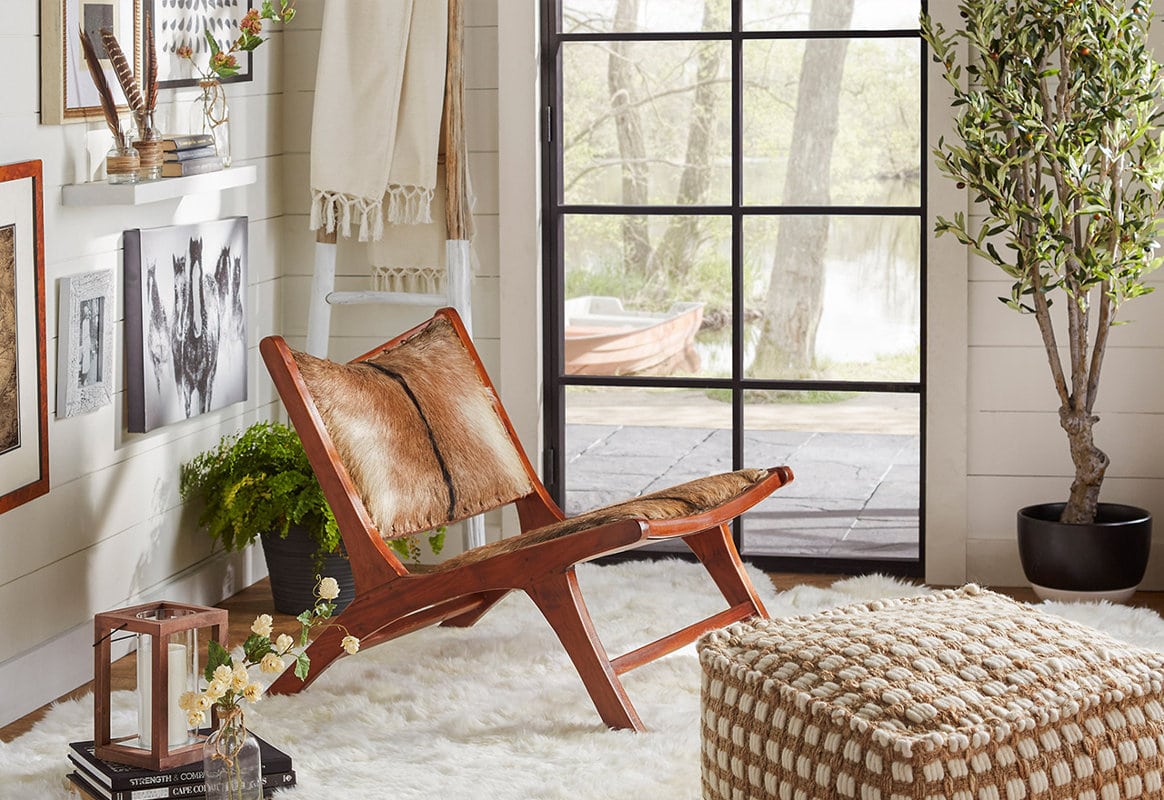 Poufs are the ultimate accessory. Next to your chair, they can act as a footrest but double down as extra seating and even work as a table if you put a tray on top.
And aside from them being so functional, poufs allow you to bring more pattern, color, and texture to the room. If you like neutrals, I love the one in the photo.
Try a Rattan Coffee Table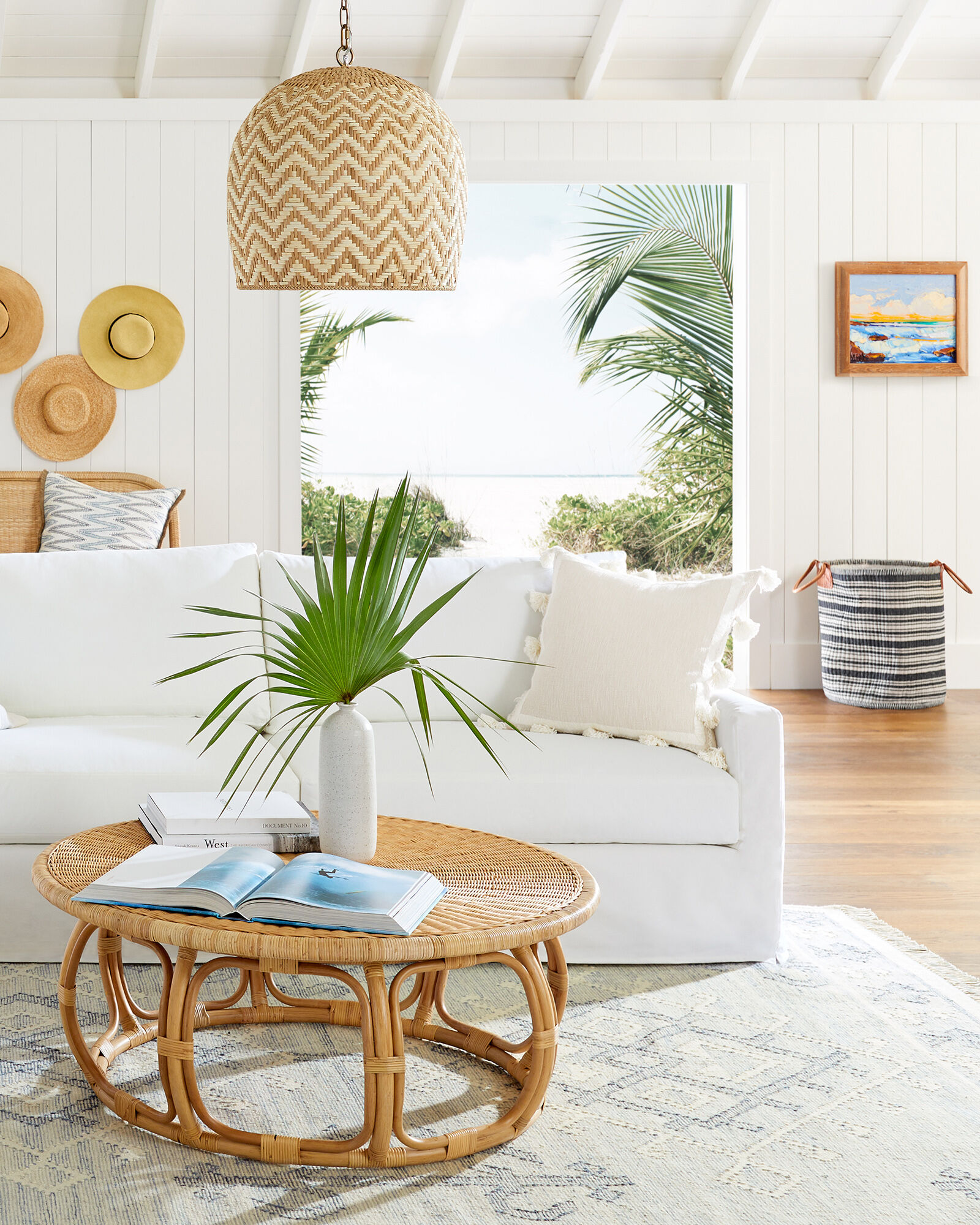 If you're searching for the perfect coffee table for your living room, this one from Serena & Lily is a good option. It's rattan, so it will blend with your other accessories.
Since this coffee table is round, it's an excellent choice for families with young kids. It has a tightly-woven top, and the base is hand-bent.
Replace Your Side Table with a Ceramic Stool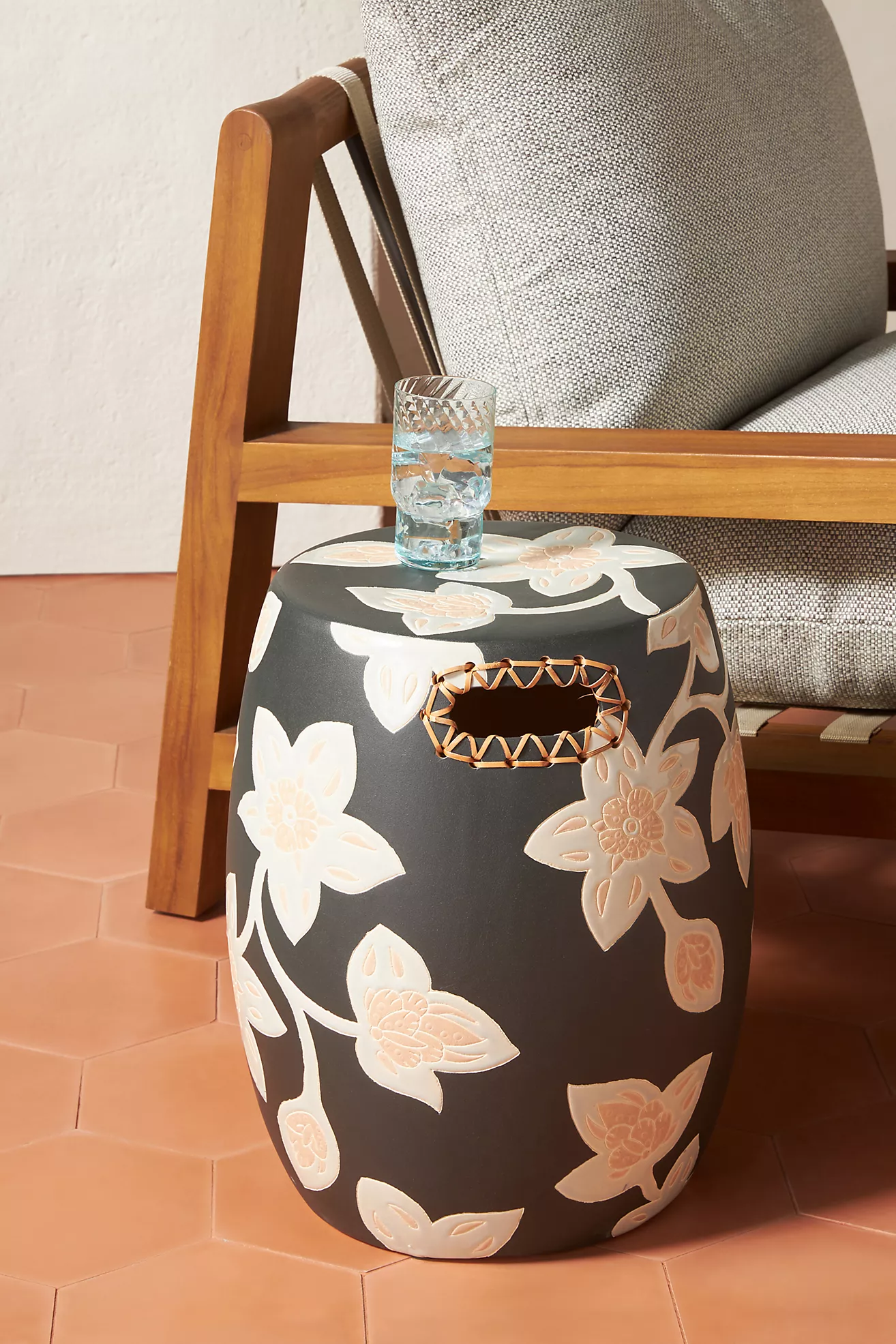 Want to bring more patterns to your room? Forget the standard side table and bring in these painted ceramic stools.
This handcrafted stool features a rattan handle and beautifully detailed flowers. And luckily, if you like the look of these stools, you can find several more options at Anthropologie.
Layer Your Rugs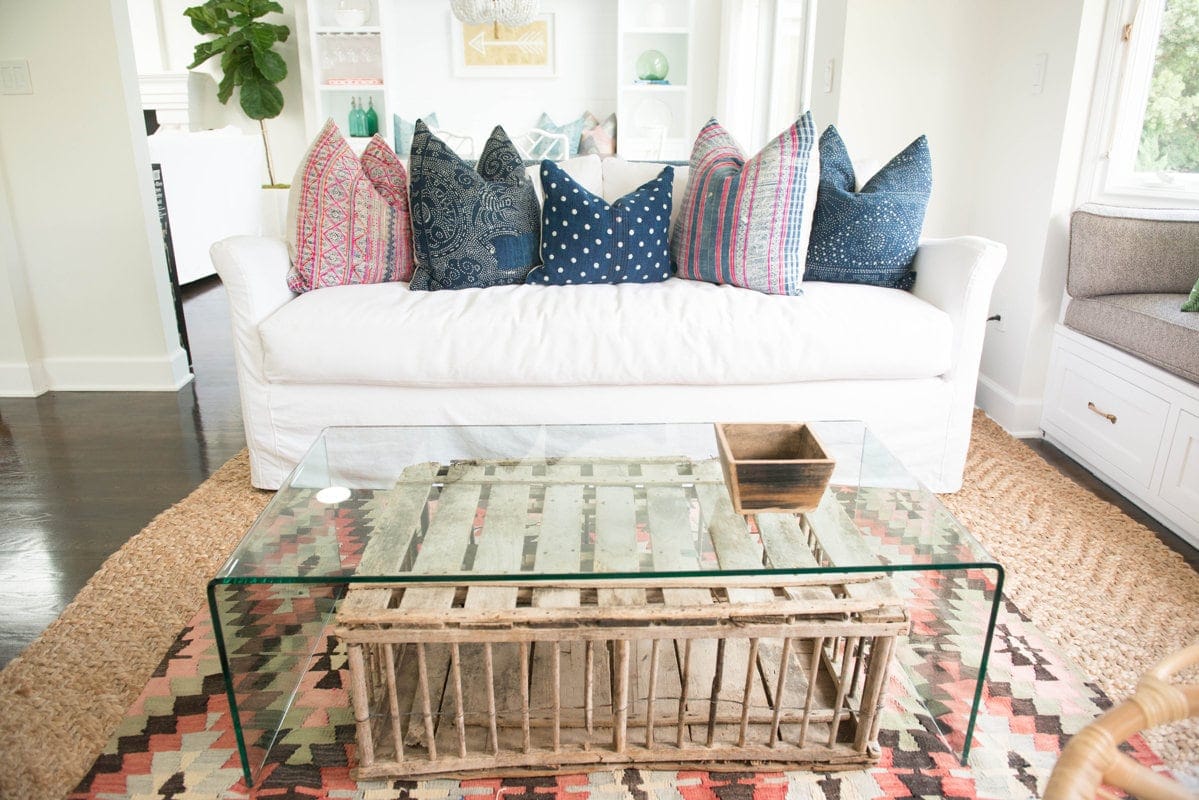 If you love the look of jute rugs but also want to bring in some color, layer the two together. You'll need to start with a large jute or sisal rug and then find something colorful that's a size or two smaller.
Doing this can help you achieve a gypsy bohemian living room. Plus, it grounds your furniture and creates visual interest.
Hang Wall Tapestries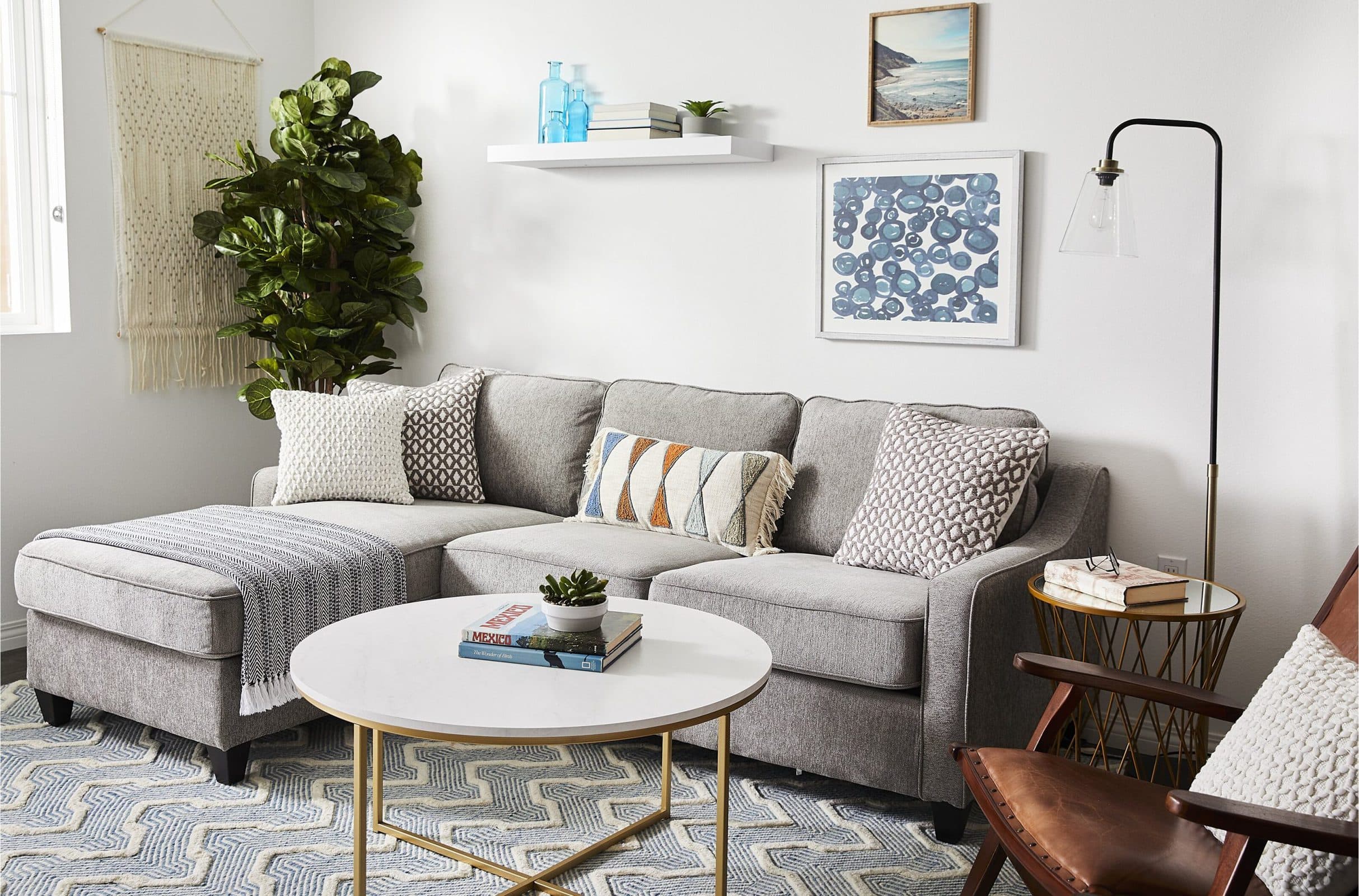 Wall tapestries are perfect for filling in any awkward bare spaces. You can find them in macrame or cotton, like this one.
This large tapestry from Wayfair is about 24 inches wide and 36 inches high. It comes in cream or gray, so one or the other would work regardless of your color scheme.
Bring in an Antique Looking Rug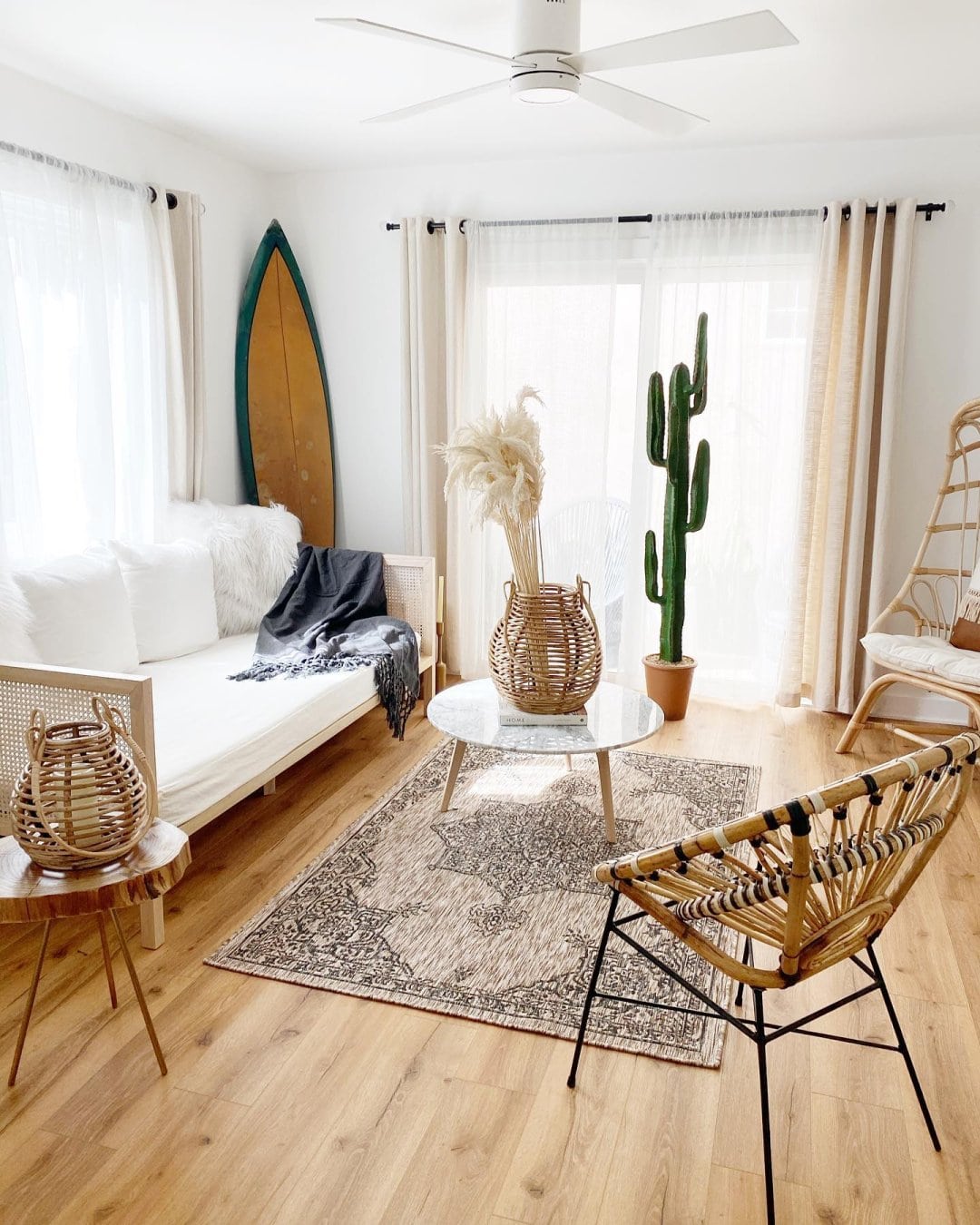 There are a lot of different rug looks that work in bohemian rooms. And if you're looking for a neutral alternative to jute, try a rug with an antique look.
This rug from Overstock is an outdoor rug. It has a very antique look and can hold up to living rooms with a lot of foot traffic. Plus, the color conceals normal wear and tear.
Draw the Eye Up with a Hanging Planter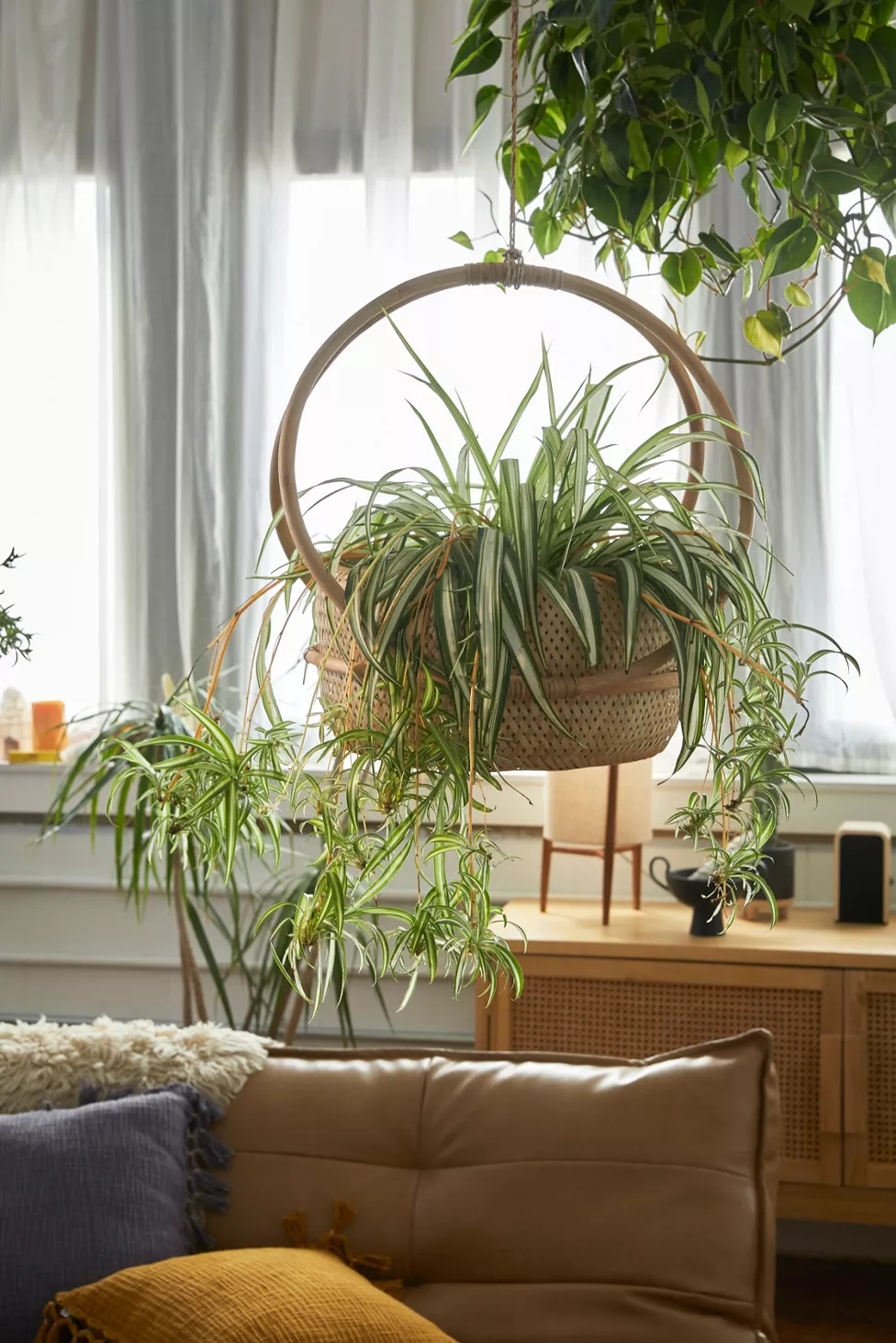 If you want to go all out with your design, hang some plants from your ceiling. This hanging rattan planter from Urban Outfitters is an excellent solution for that.
This planter would work best with a low water plant in it. But, you could also use a vining faux plant so that you don't have to worry about watering it.
Create Storage with a Console Table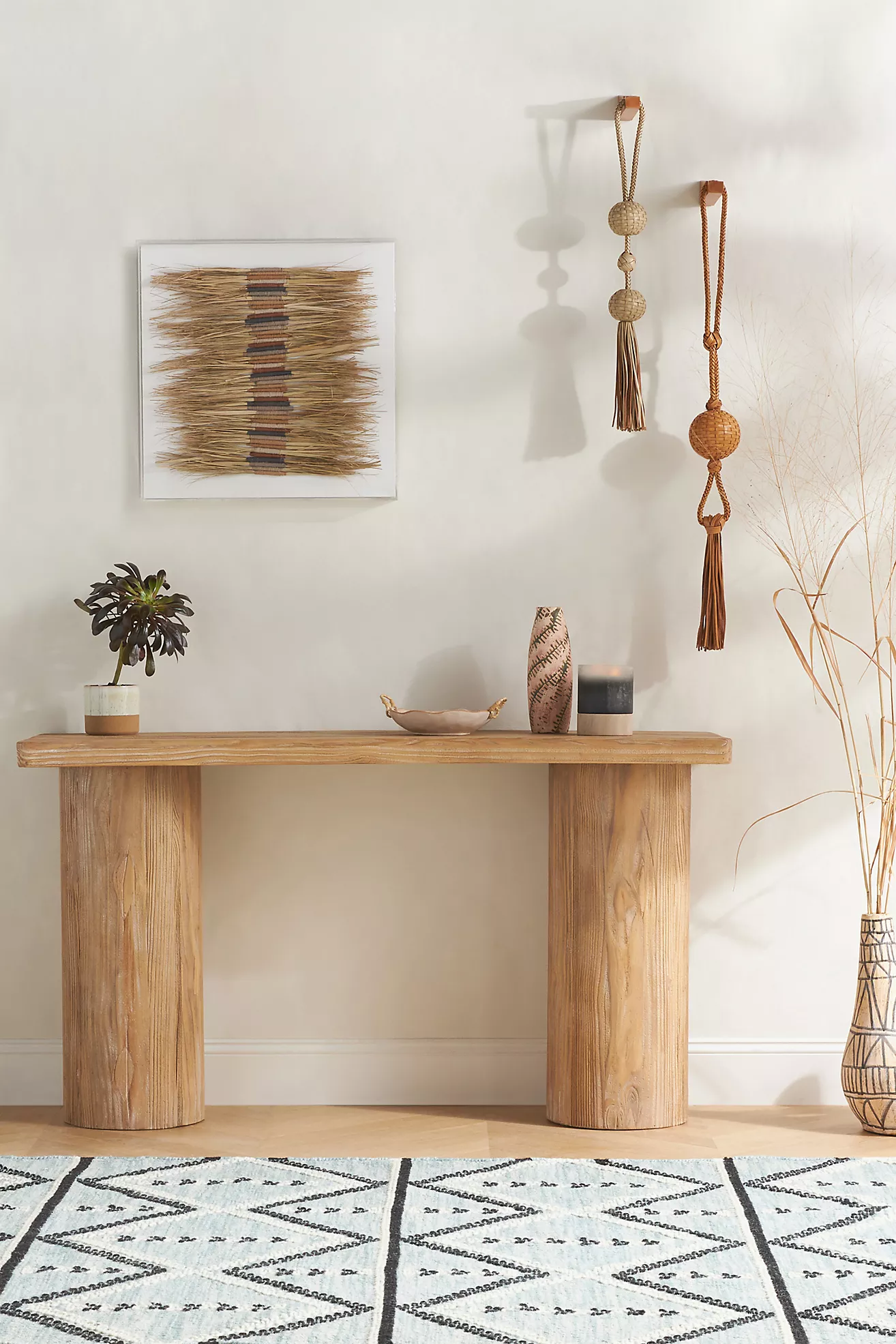 Need to create extra storage space in your living room? Consider a console table like this. While not large, it is big enough to place books, keys, and some decor on.
From Anthropologie, this reclaimed pine wood console table is perfect for a boho-chic living room. If you need more space than this table provides, you could alternatively bring in a console storage cabinet.
Use Unique Pendant Lighting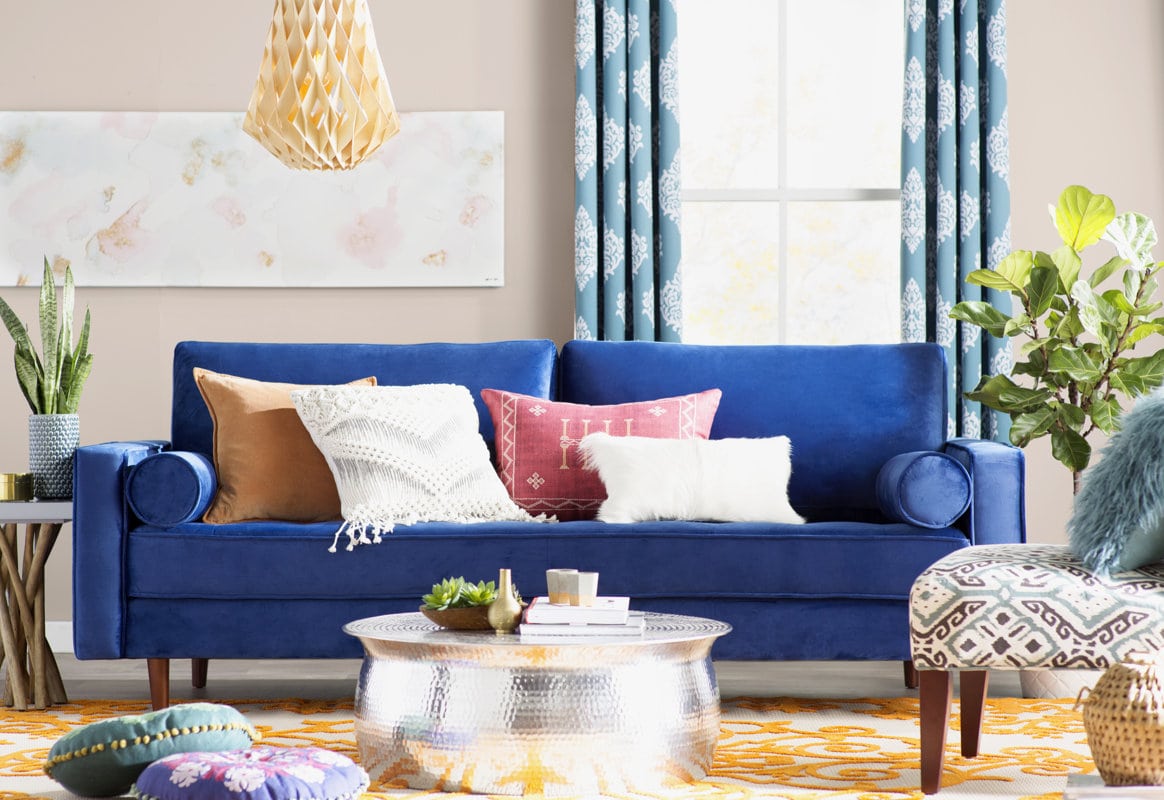 If you're looking for a truly unique lighting solution, try a pendant like this. This light from Wayfair is a geometric wood pendant.
You can add this as accent lighting or swap out your main overhead light for it. This light fixture is a true statement piece that will be a talking point in your design scheme.
Decorate with Interesting Prints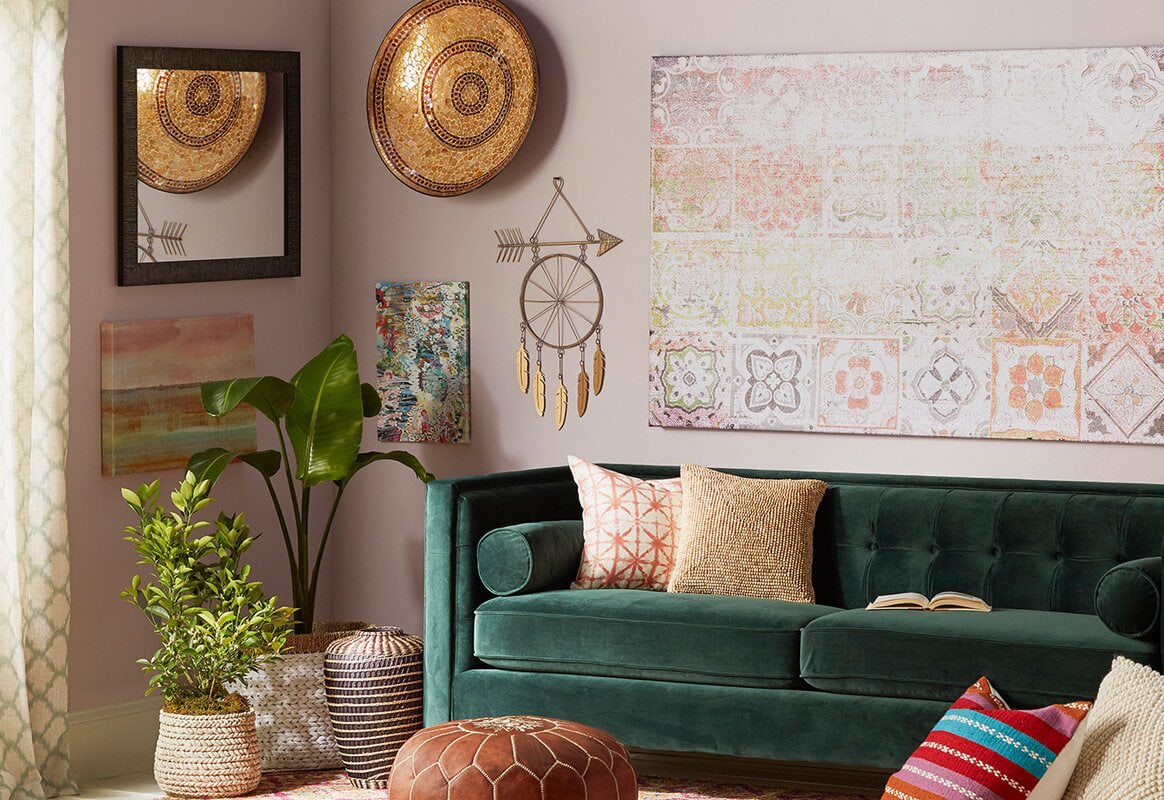 The best living room boho decor is a mix of patterns, materials, and colors. And fortunately, this means you get to mix a bunch of stuff that you like.
Some ideas are large prints like the one shown on the wall above. In addition, you can add plants in wicker baskets, wall mirrors, and your favorite throw pillows.
Accent Your Windows with Tassel Curtains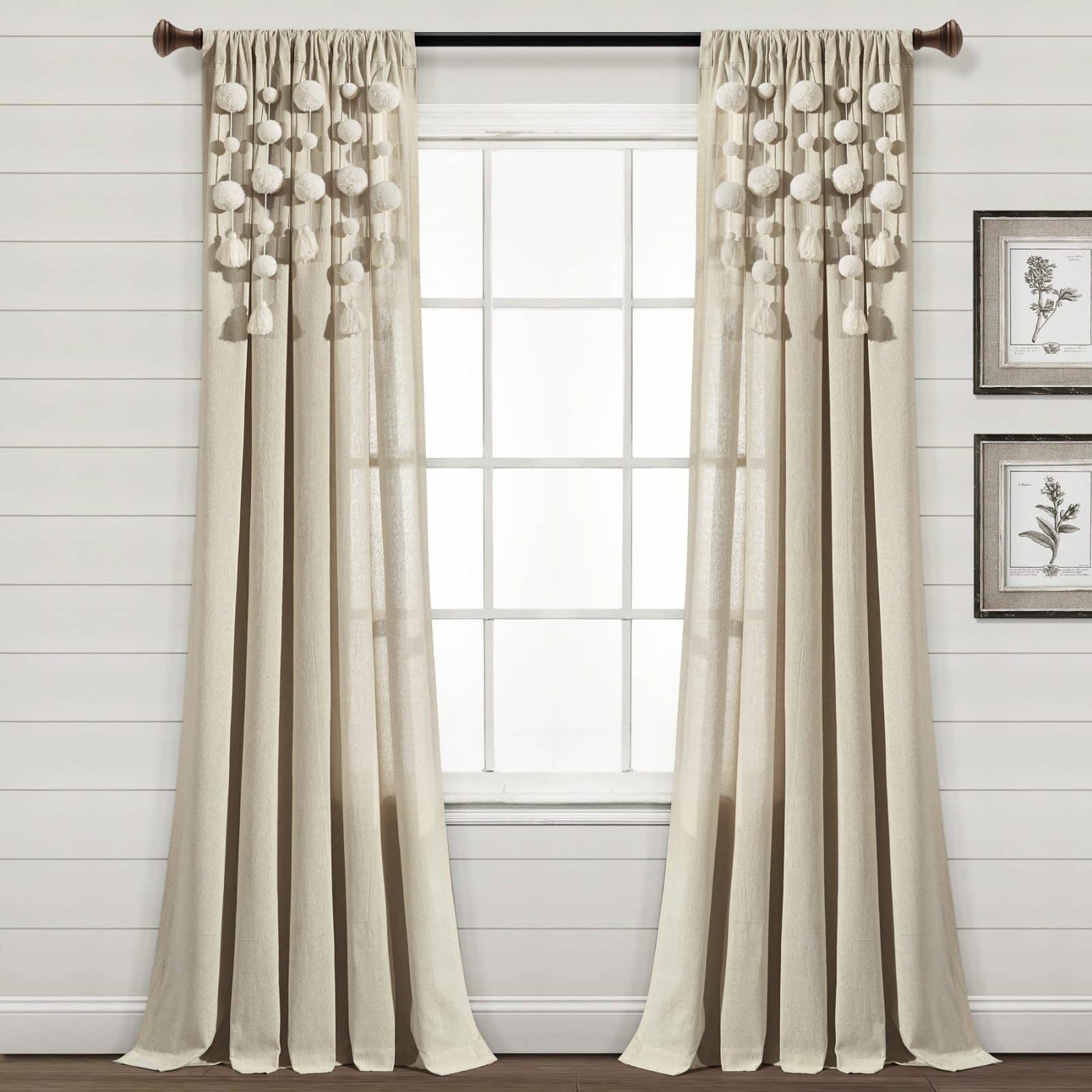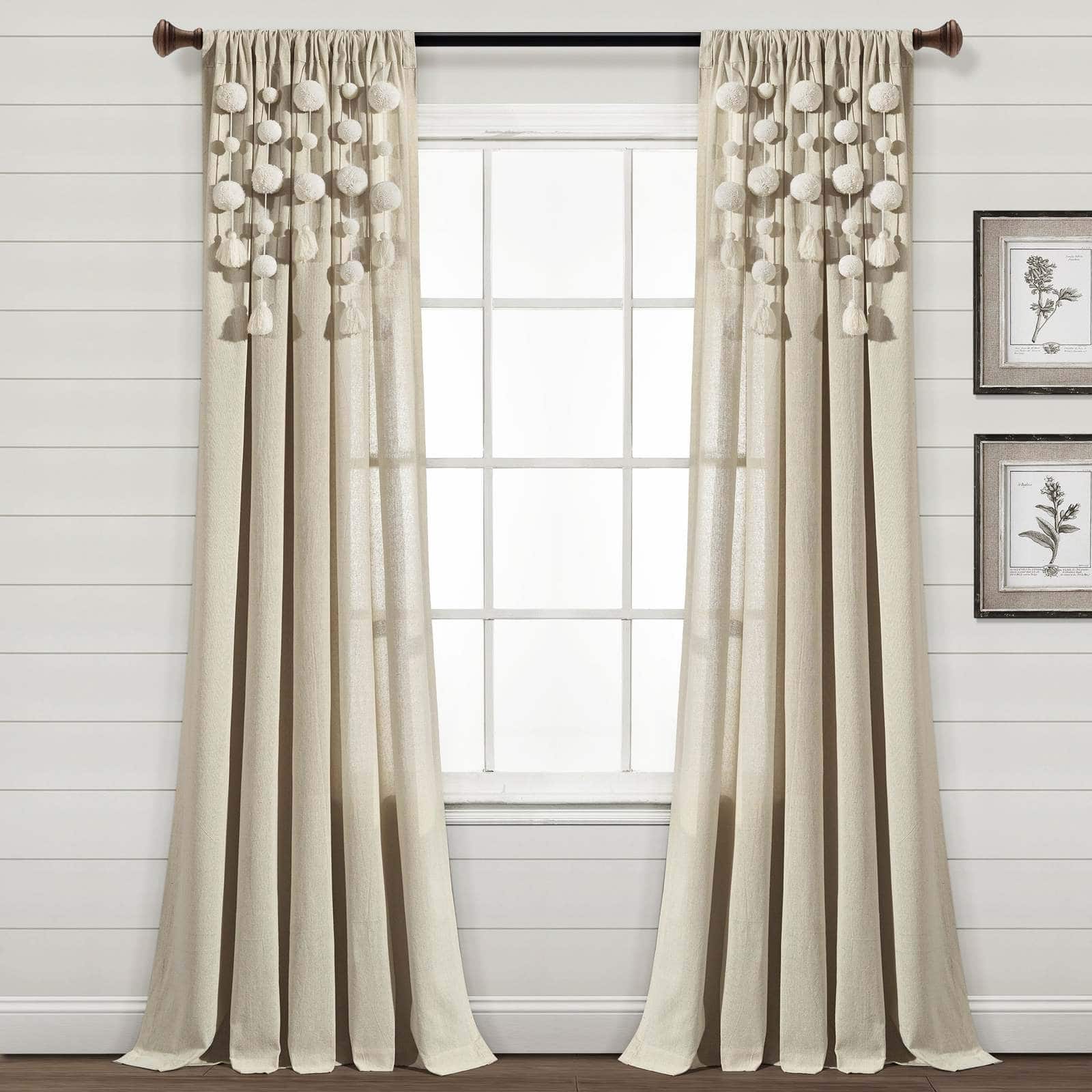 You can go a few different routes with window dressings for a boho living room. For the most simple look, just use a woven shade. You can also use solid linen curtains or a fun pattern.
But, the ones I love the most are these tasseled full-length curtains. The solid color keeps the curtain simple, while the tassel adds the perfect boho detail. These curtains come in off-white, light gray, and dark linen.
Make Room for Guests with a Velvet Lounge Chair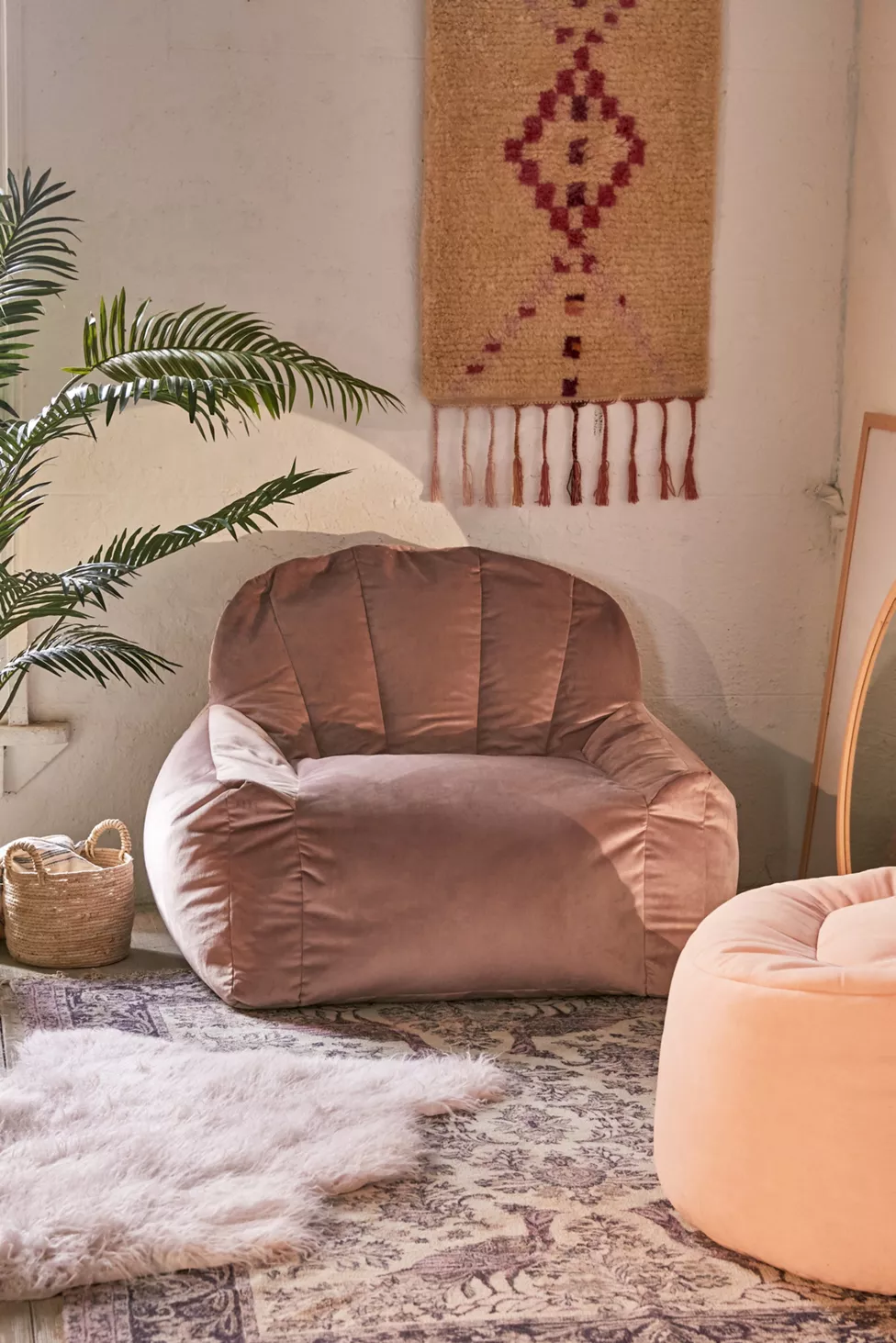 If you need more seating in your living room, add it with this velvet lounge chair. While this chair is fun, the velvet gives it a more upscale look.
You can toss this chair anywhere you'd like to lounge or add seating. It comes in three colors: rose, harvest, and teal. This chair is perfect for curling up with a book.
Don't Forget the Leather
If you don't like the look of rattan for chairs, try leather. Leather is another fantastic way to add a natural element and texture to the room.
You could use one of these chairs in an empty corner or use two across from your couch to create a conversation area. These have a more modern boho look to them.
Display a Pair of Mirrors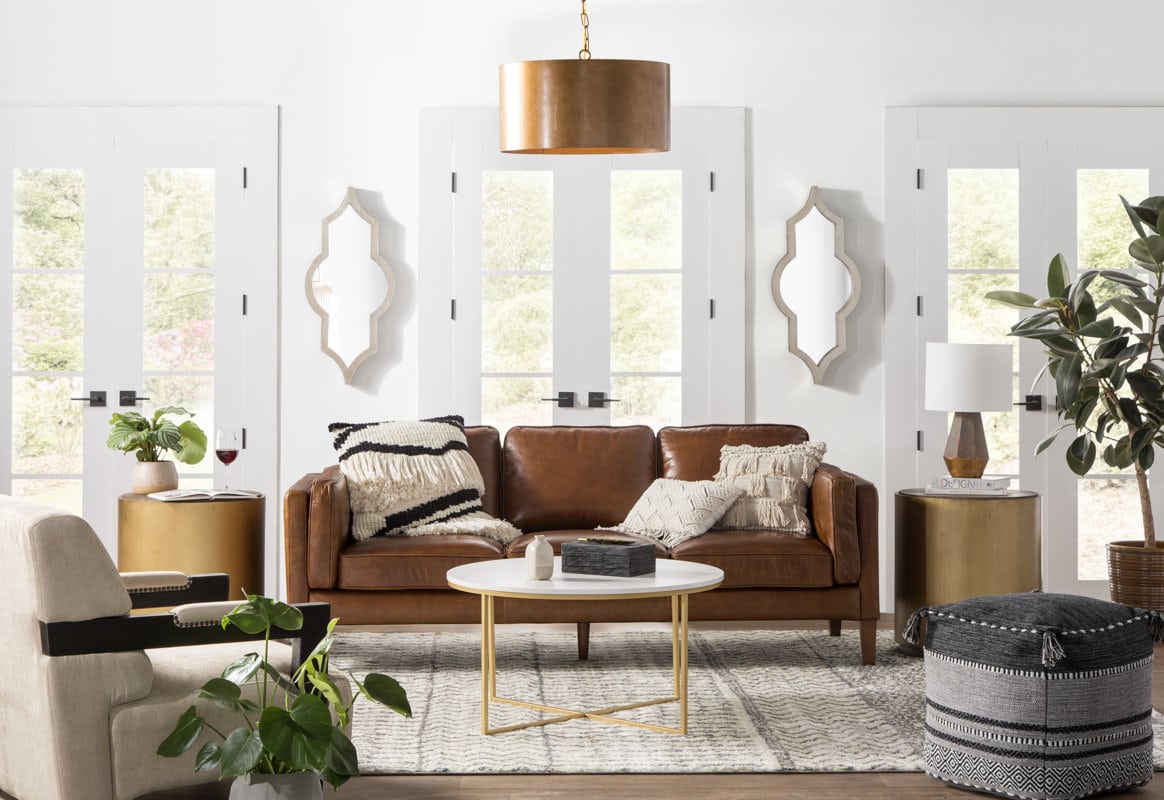 Mirrors are great for the living room – especially in small spaces you'd like to appear bigger. Instead of a standard round or rectangular mirror, I like unique ones for a boho design.
These mirrors are keyhole shapes and look great when hung as a pair. If you only have room for one, try blending it in with an accent wall.
Swap Out the Recliner for an Interesting Armchair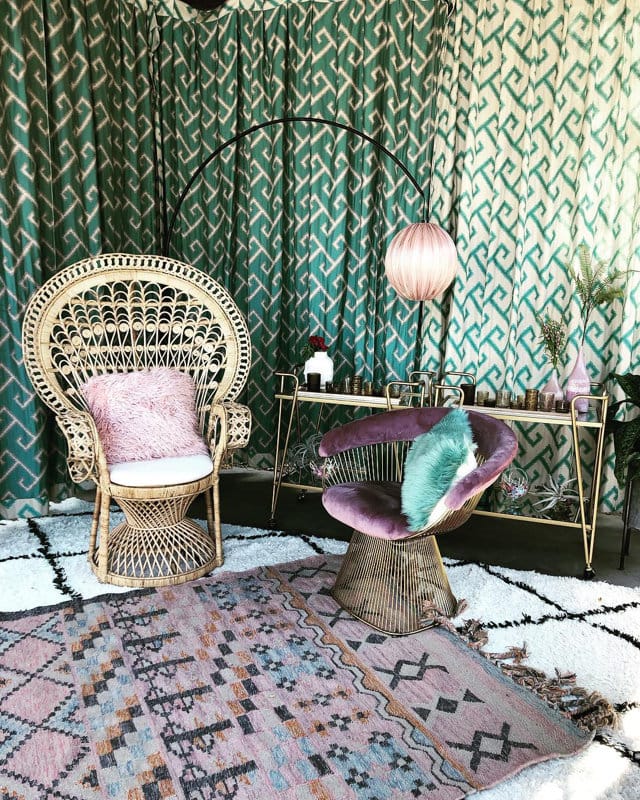 Boho style living rooms have a unique mix of furniture. You'll often see couches that sit low to the ground and accent chairs made of natural materials.
For a fun spin, swap out a standard recliner and use an armchair like this. This chair not only has an eye-catching design but adds texture to the room.
Hang a Chair from the Ceiling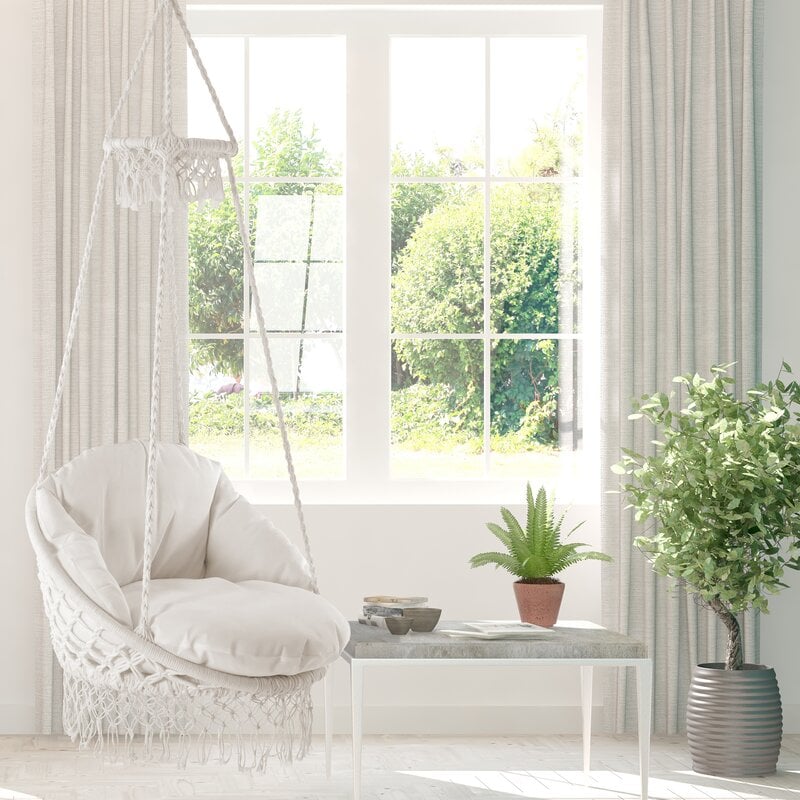 While meant for a porch, this one-person swinging chair can work perfectly in a boho living room design.
From Wayfair, this chair comes with an extra deep cushion and the hardware you need to hang it. You can use this instead of a traditional accent chair. And if you have kids, this will quickly become their favorite spot in the house.
Final Thoughts
If you're decorating a boho living room, have fun with it. Bring in comfy furniture that's low to the ground or made of natural materials.
You can layer your rugs or choose something jute or antique. Then, just be sure to bring in patterns and some plants for the ultimate boho living room style.