Decorated Life is reader-supported. When you buy through links on our site, we may earn an affiliate commission. Learn More
10 Shaker Kitchen Cabinet Hardware Ideas
Shaker kitchen cabinets stand the test of time. They remain popular even as other types of cabinets fall in and out of style.
And while they have a minimal, classic look, you can influence their style with the pulls and knobs you choose.
Here are the best shaker kitchen cabinet hardware ideas to consider.
Get a Modern Farmhouse Look with a Warm Chestnut Pull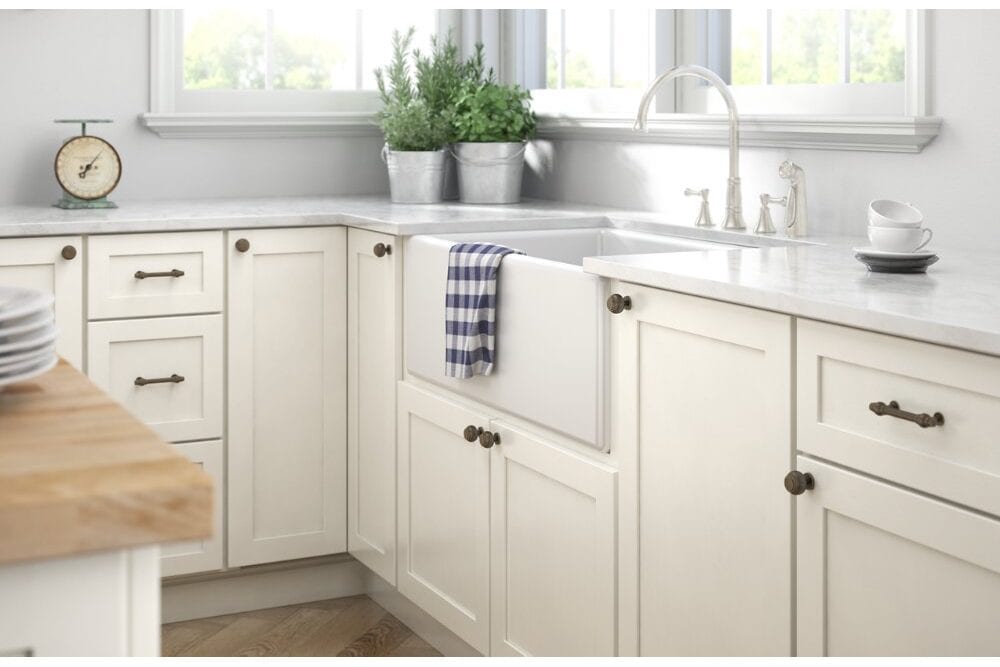 If you want to give your kitchen a modern farmhouse look, consider adding these warm chestnut pulls.
The warmth in these handles provides a slightly rustic look that goes with farmhouse, modern farmhouse, and traditional kitchens. You can find these in sizes ranging from 3 inches to 6 5/16 inches.
Go For a Sleek Feel with a Nickel Bar Pull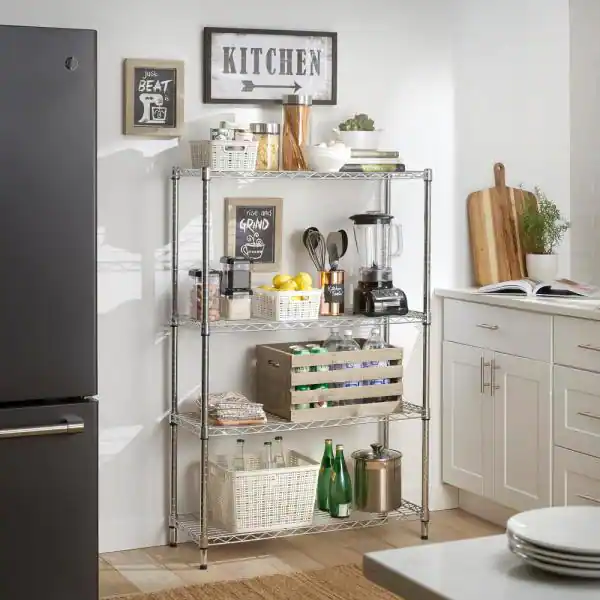 Are you looking for something a bit sleeker? Try hardware in a nickel finish.
These shaker cabinet pulls look understated on white but will contrast a darker color beautifully. And if your cabinets are wood-toned, they will provide a modern touch. You can find these at the Home Depot in a 3-inch center-to-center size.
Complement Wood Cabinetry with Matte Black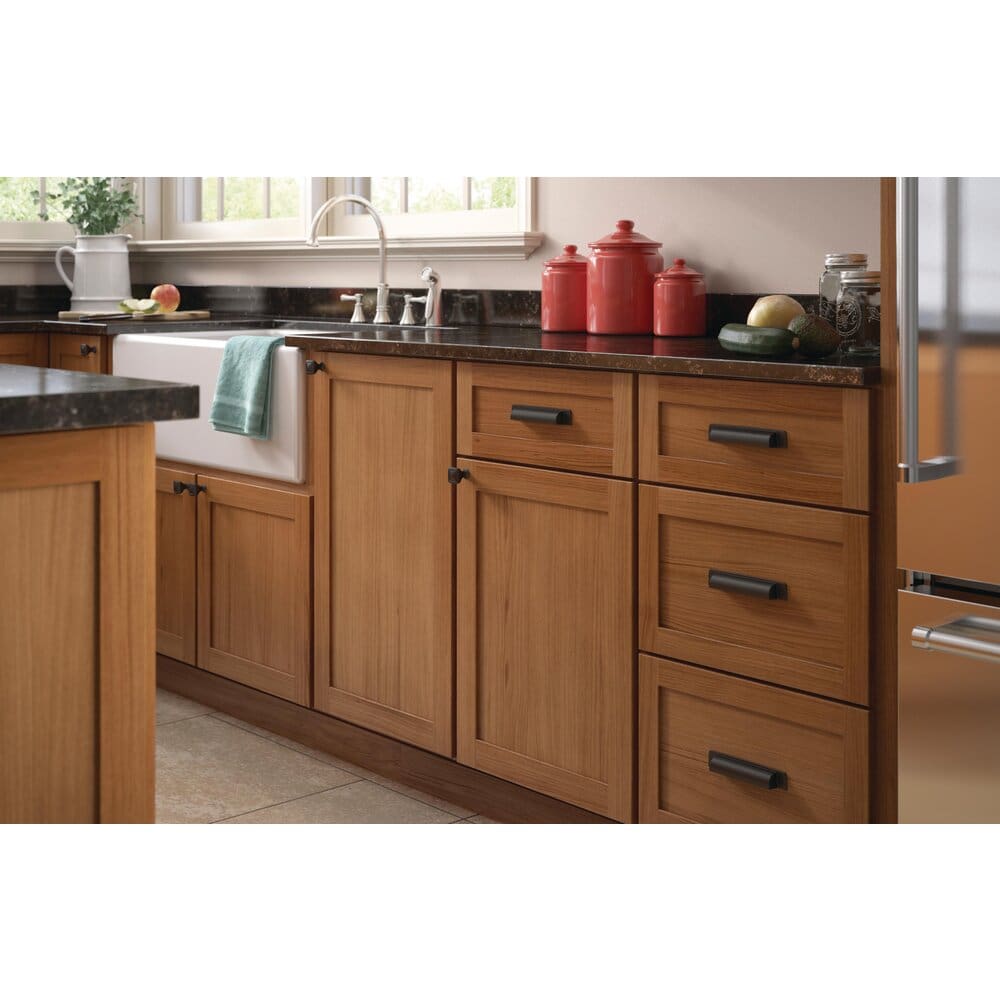 If you want a modern look, you can't go wrong with matte black. But for something a bit more unique, ditch the standard cabinet handle and try a bin pull like this.
These bin pulls from Wayfair are 4 inches center-to-center. Their modern style perfectly fits with any color shaker cabinet. You can also get them in distressed black if you prefer a rustic look.
Contrast Black with a Soft Bronze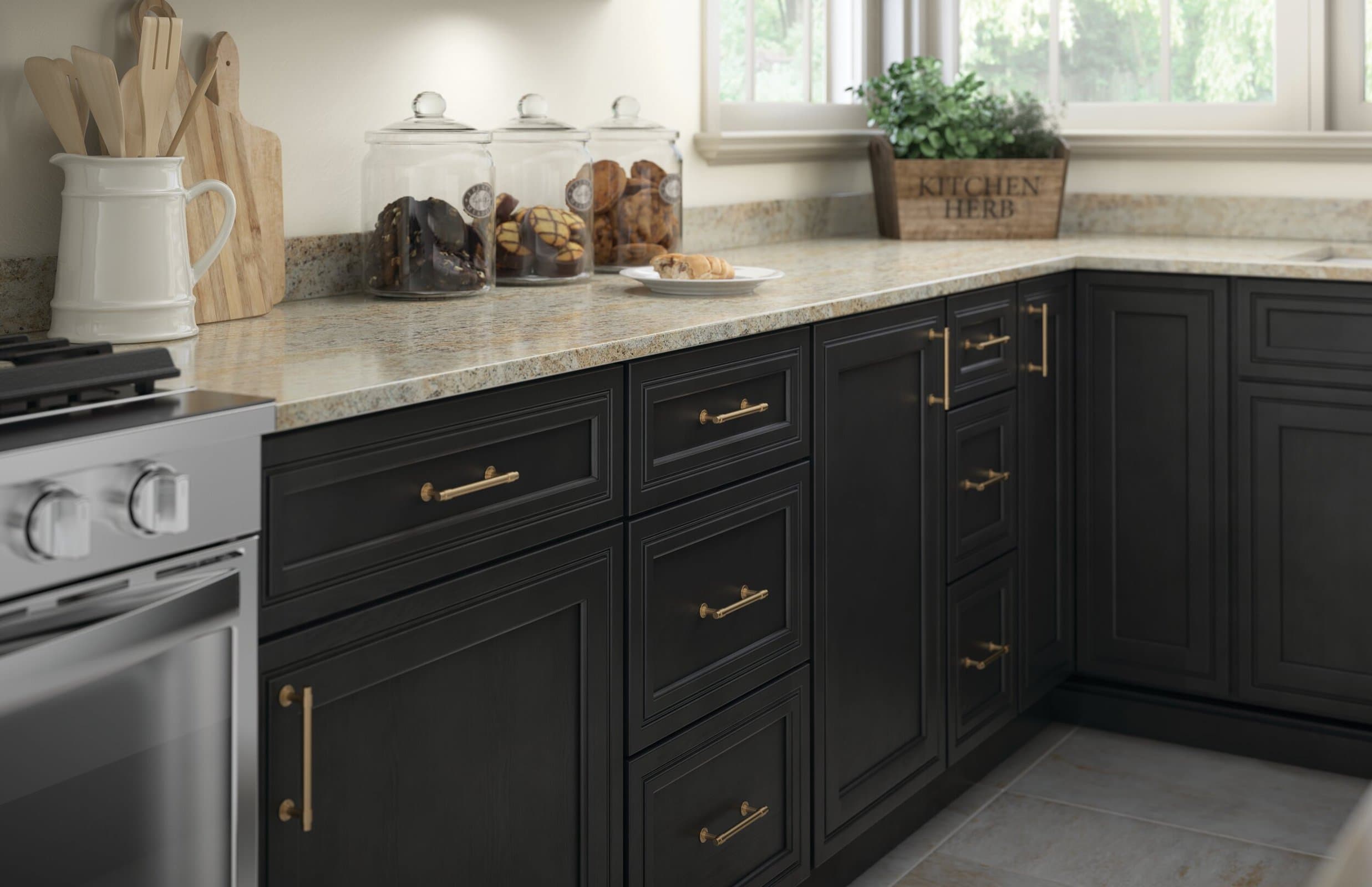 Black cabinets are very high-end. And when choosing cabinet hardware for them, you want something that offers a bit of contrast.
If you're trying to soften up the darkness of the cabinets, consider champagne bronze. These are great handles for shaker cabinets if you don't want something too stark.
Keep It Simple With a Black Knob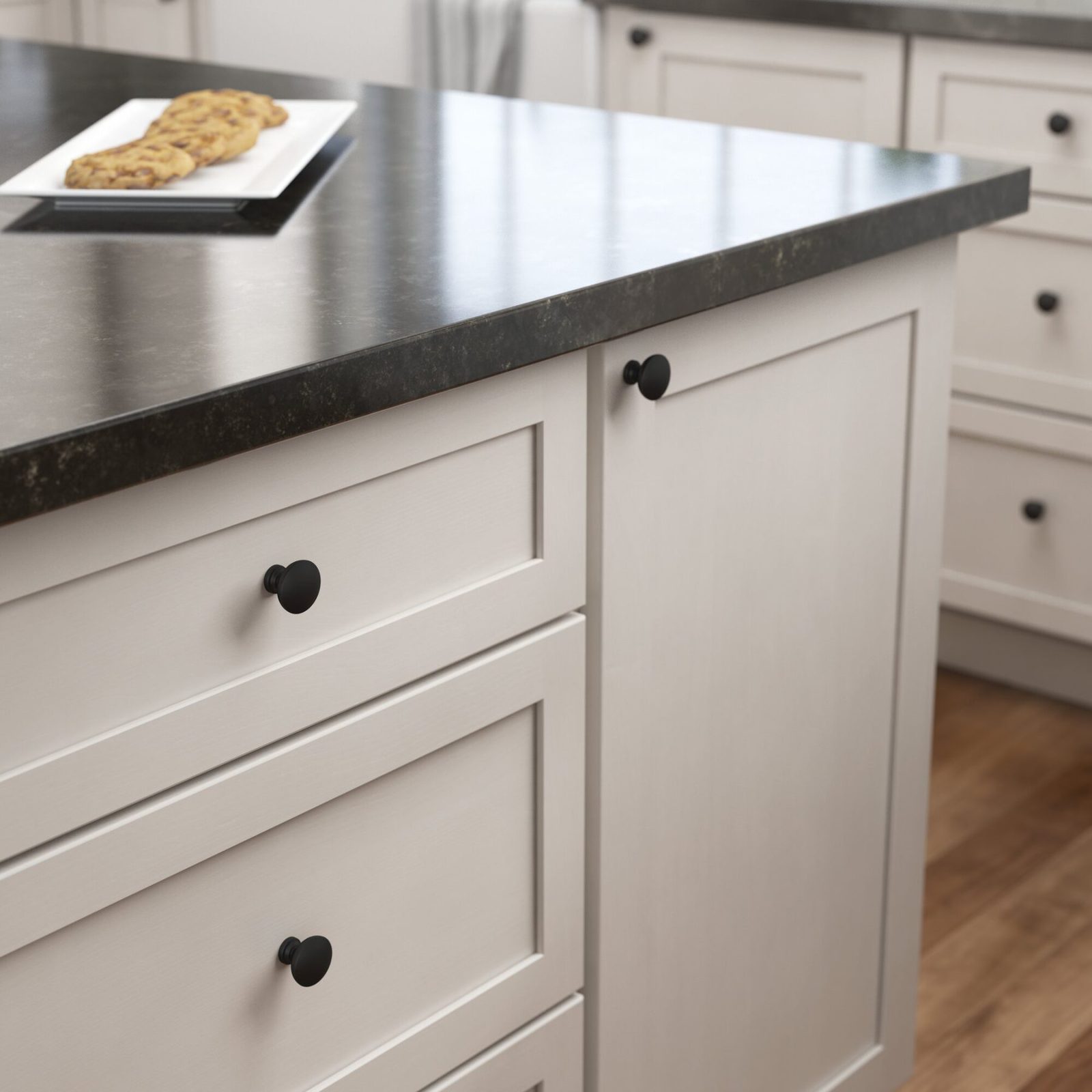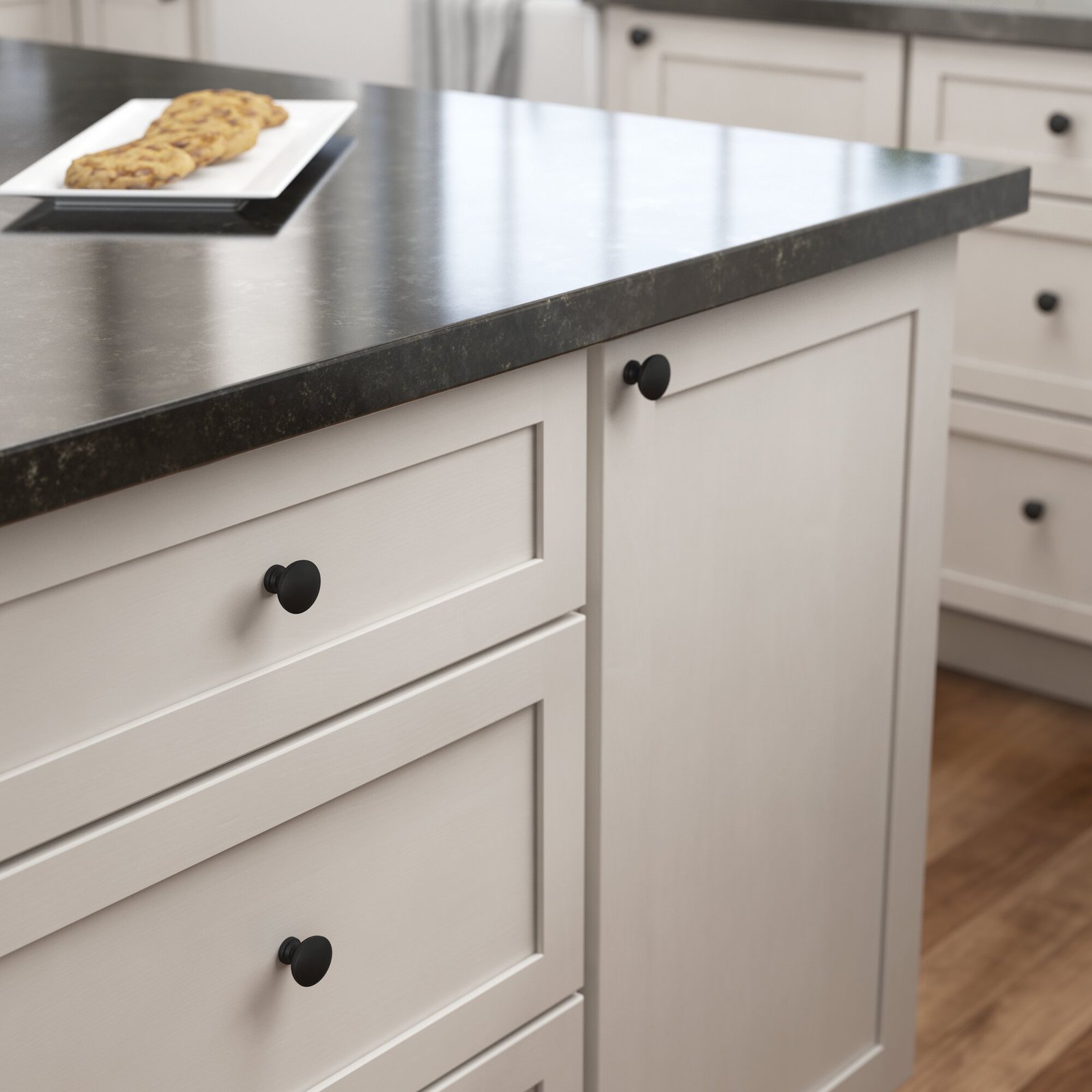 Shaker cabinets are timeless, and when it comes to hardware, you can't go wrong with a simple black knob.
Black knobs will work with every cabinet color except black. They are very basic, so they'll match any decor and never go out of style. So, if you want something you won't have to replace in 10 years, this is a good option.
Get an Old-World Feel with Antiqued Hardware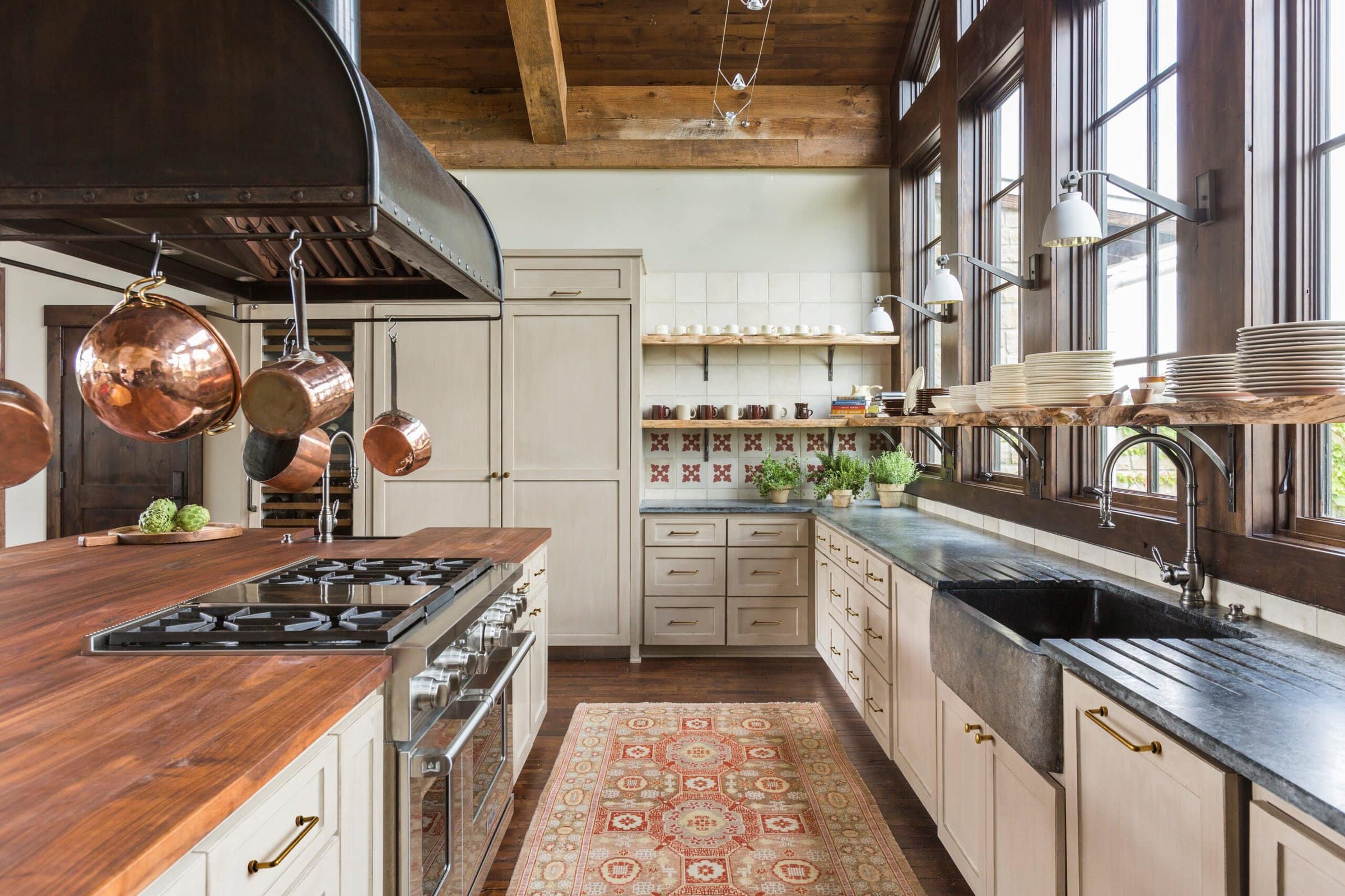 If your kitchen decor includes antique pieces or you're trying to get an eclectic old-world feel, use shaker drawer pulls and handles that reflect that.
These antiqued brass handles will add a softness to white cabinets and beautifully contrast darker cabinets. If you're after elegance, this cabinet hardware is hard to beat.
Use a Mix of Pulls and Knobs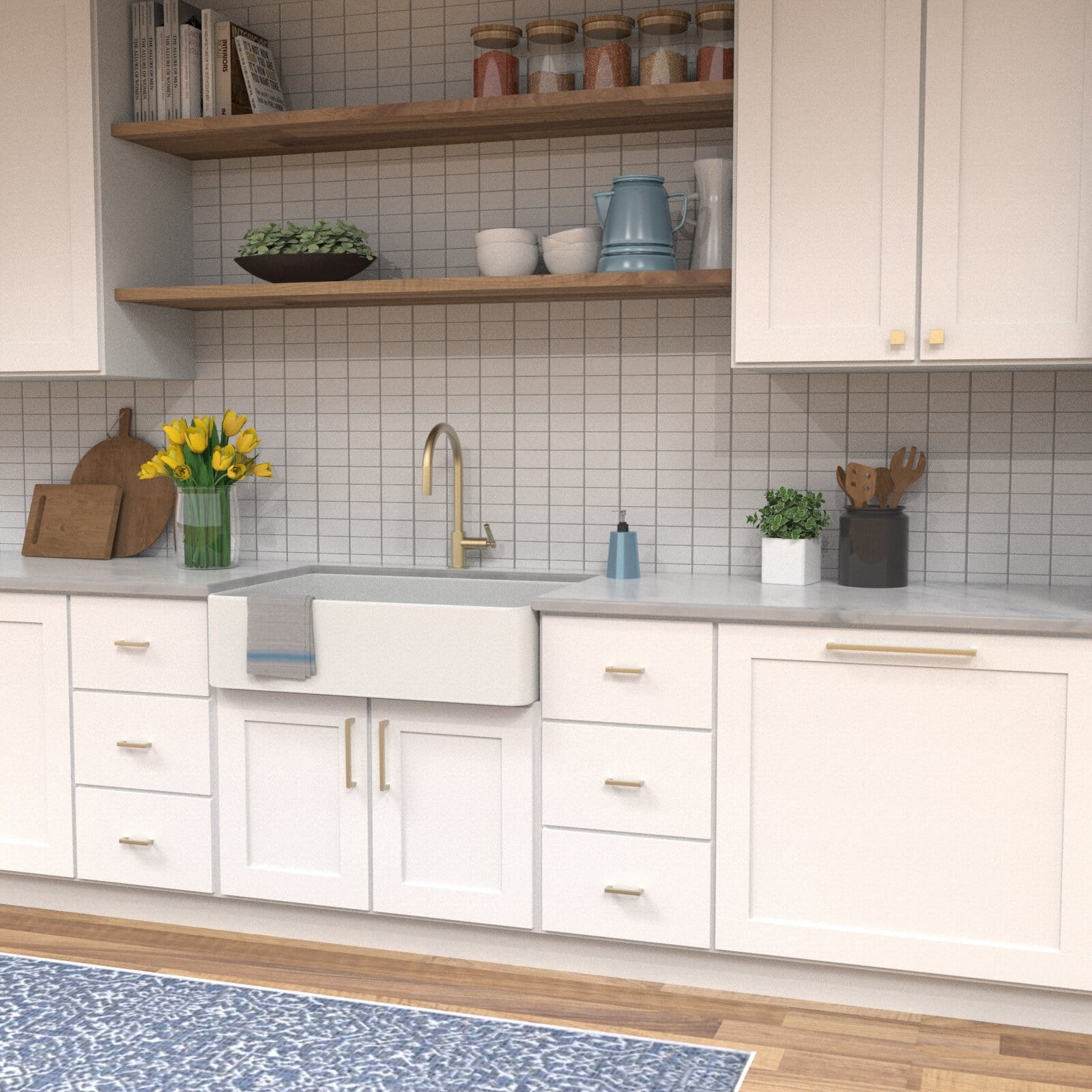 You don't have to use only one style of handle for shaker cabinets. Instead, you can use a mixture of knobs and pulls as long as they're the same finish.
If you like square knobs, these from Wayfair are an excellent option. They come in three finishes: golden nickel, polished nickel, and stainless steel. You can put them on your small drawers and select a handle for cabinetry.
Consider a Simple Arch Pull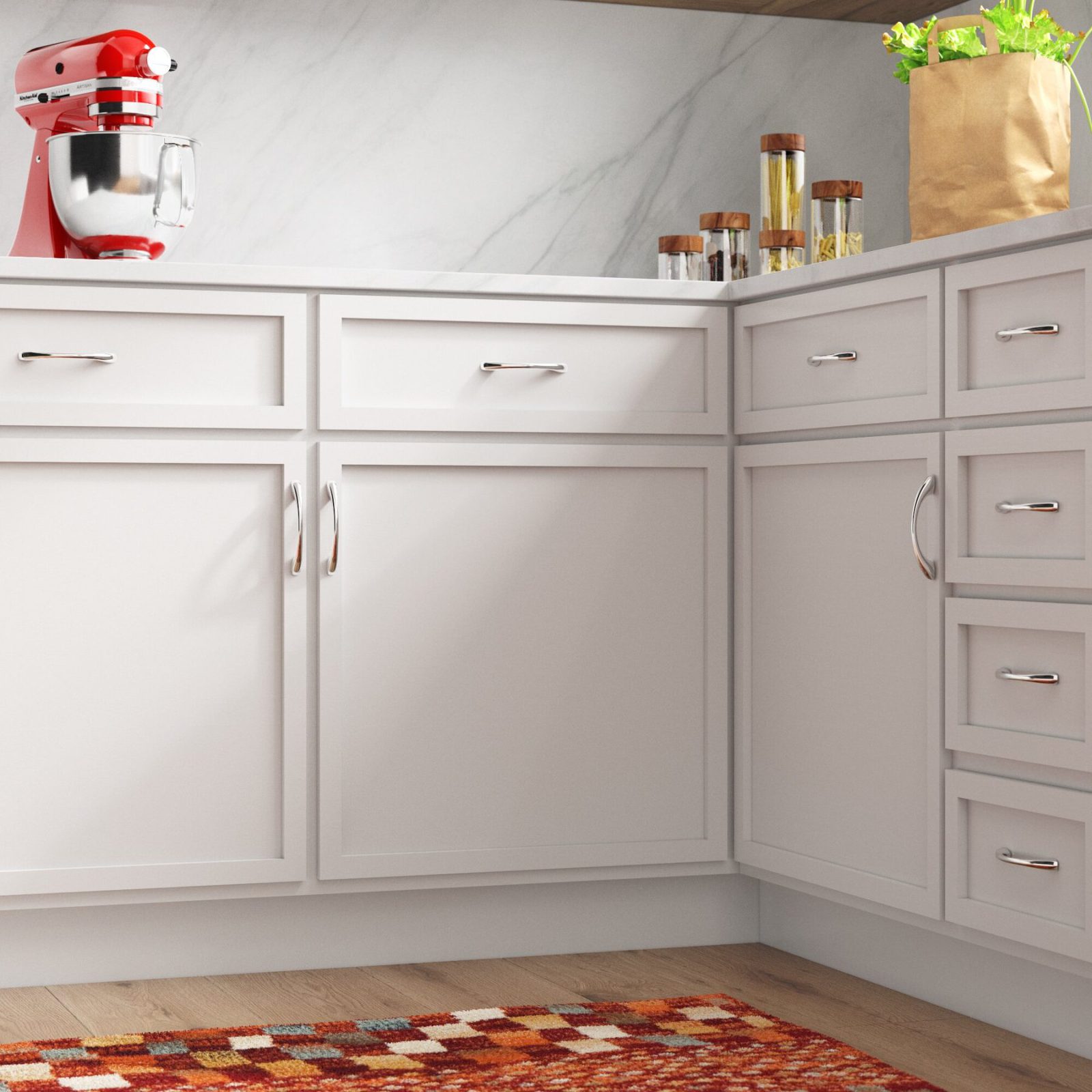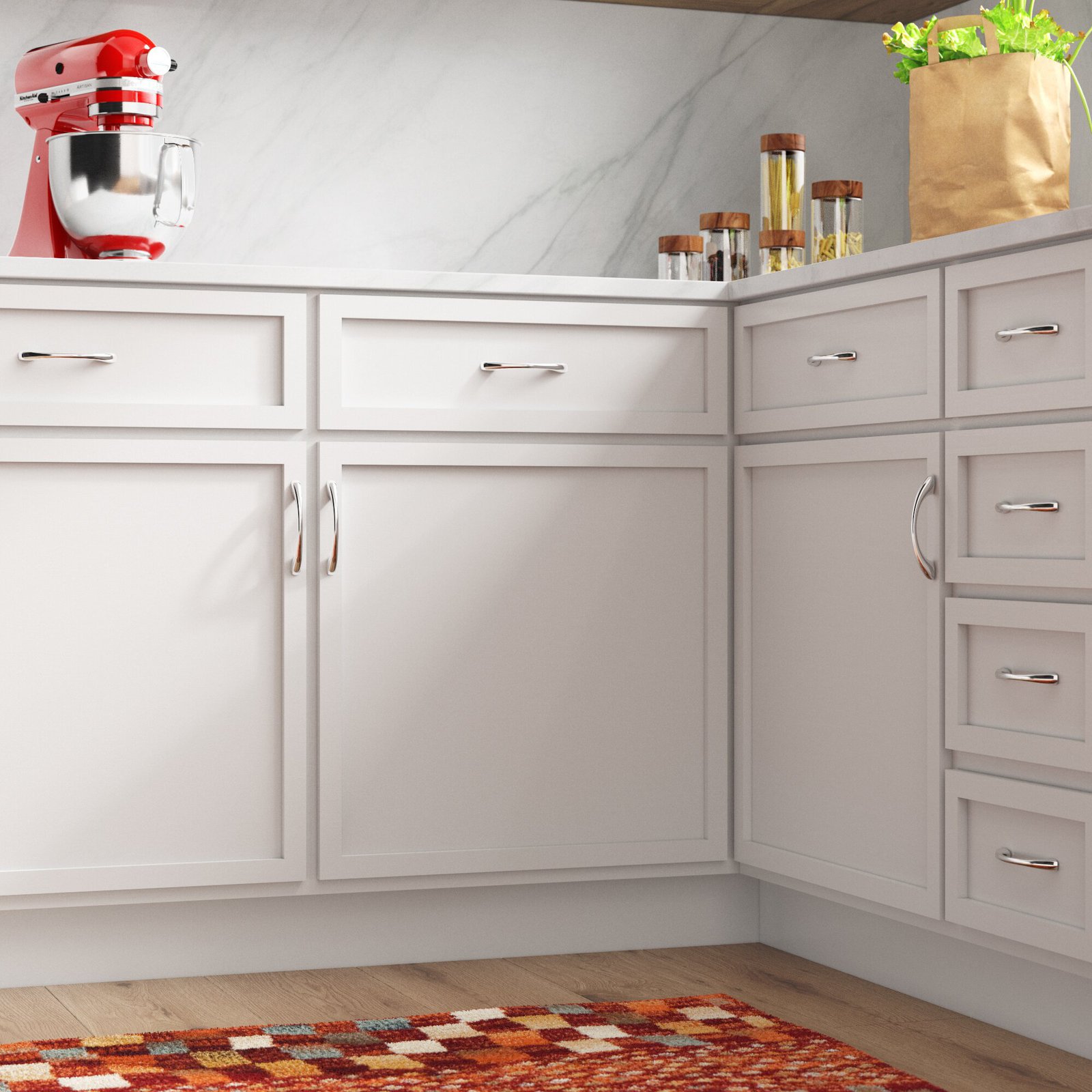 Skip the sleek hardware and opt for an arched pull if you like traditional style. Arched handles are classic and will complement your cabinets, giving them a casual feel.
These arched pulls from Wayfair come in four colors, including matte black, satin nickel, oil-rubbed bronze, and polished chrome. You can use these for your drawers and cabinets or mix and match with compatible knobs.
Add Glitz with a Gemstone Knob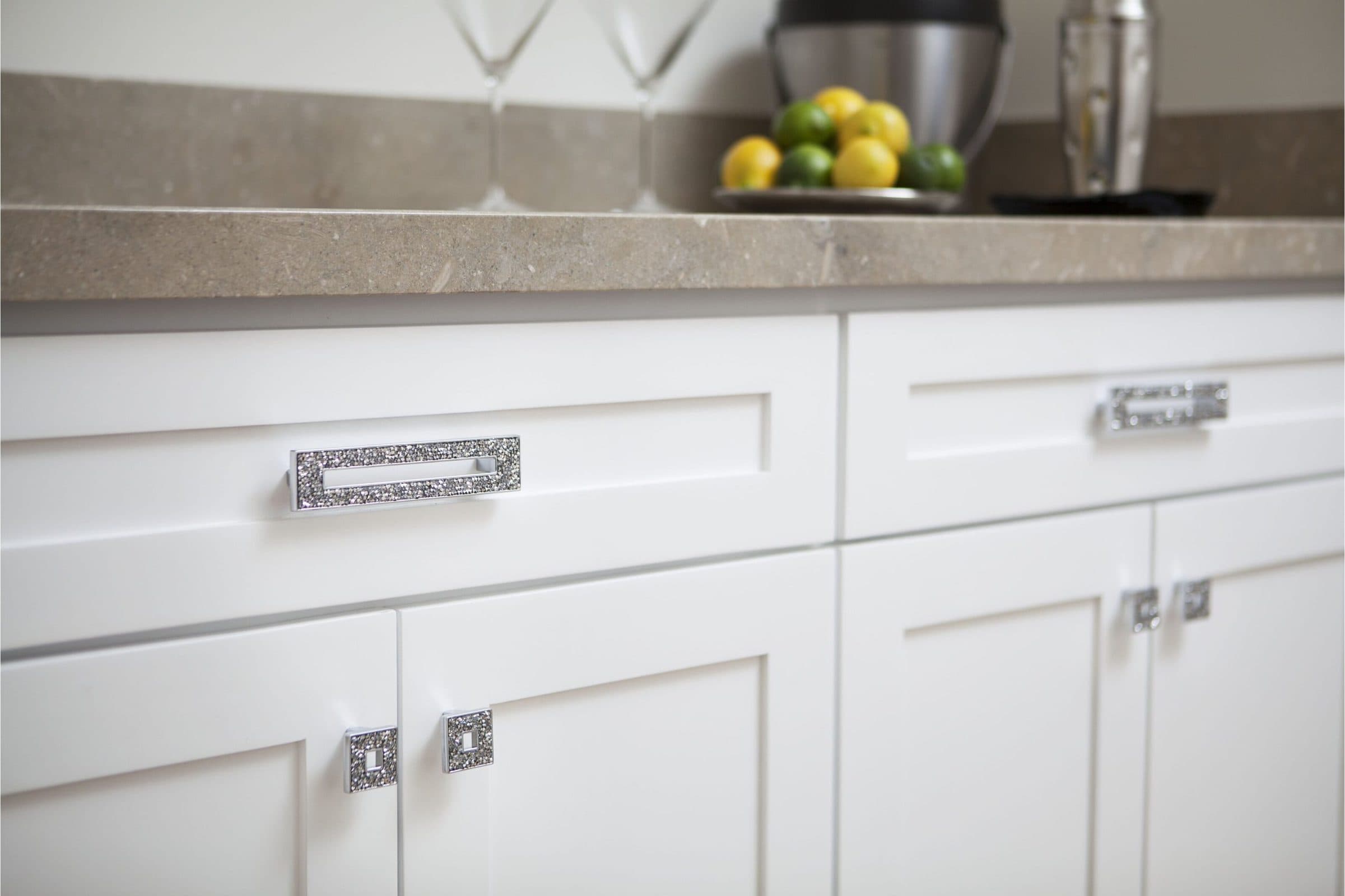 When choosing your cabinet hardware, you don't have to go the standard route of a black or metal finish. Instead, you can add unique pulls if that's more your style.
If you want some glitz and glam in your kitchen, these gemstone drawer pulls will add it. You can get these in polished chrome or polished gold.
Try a Finger Pull for a Contemporary Look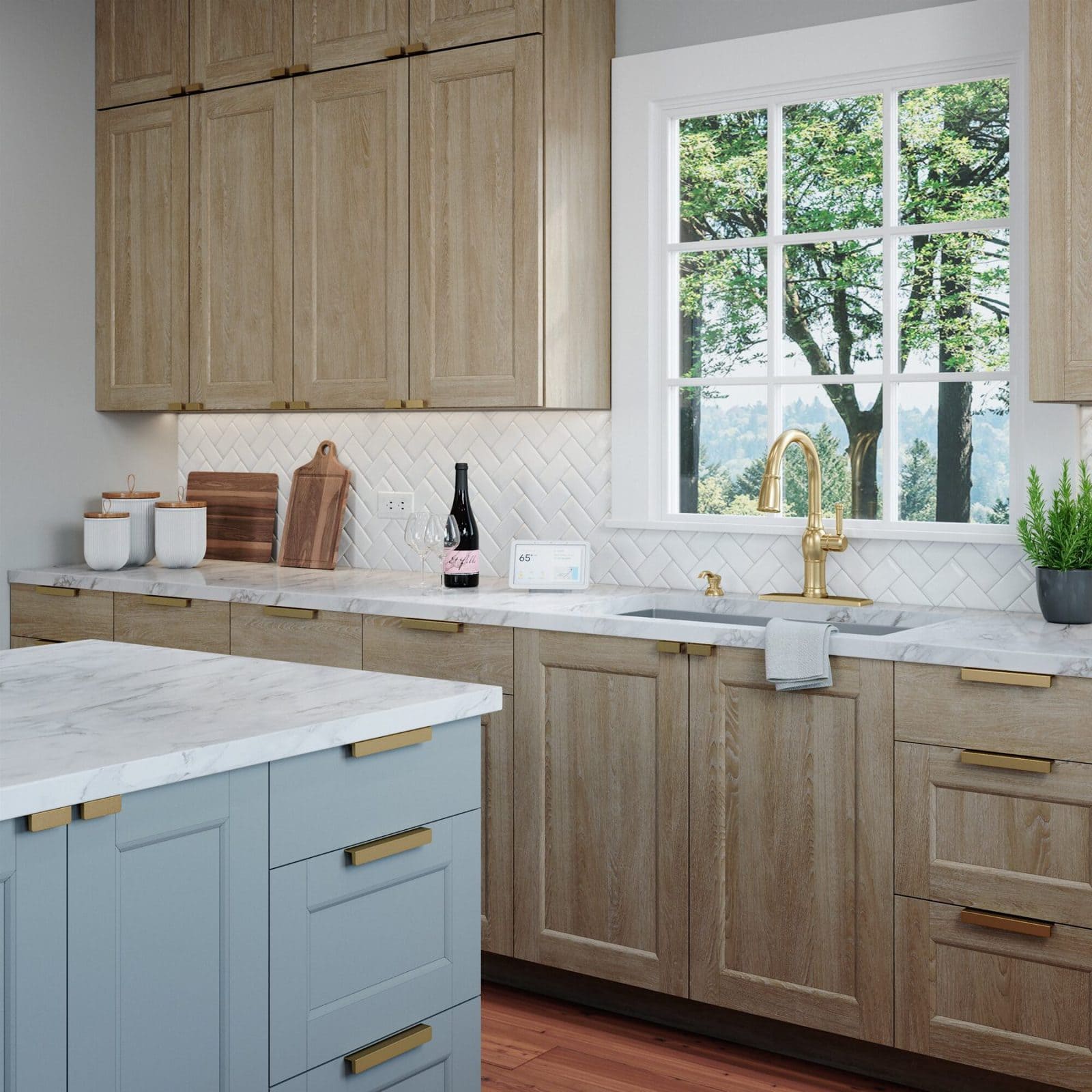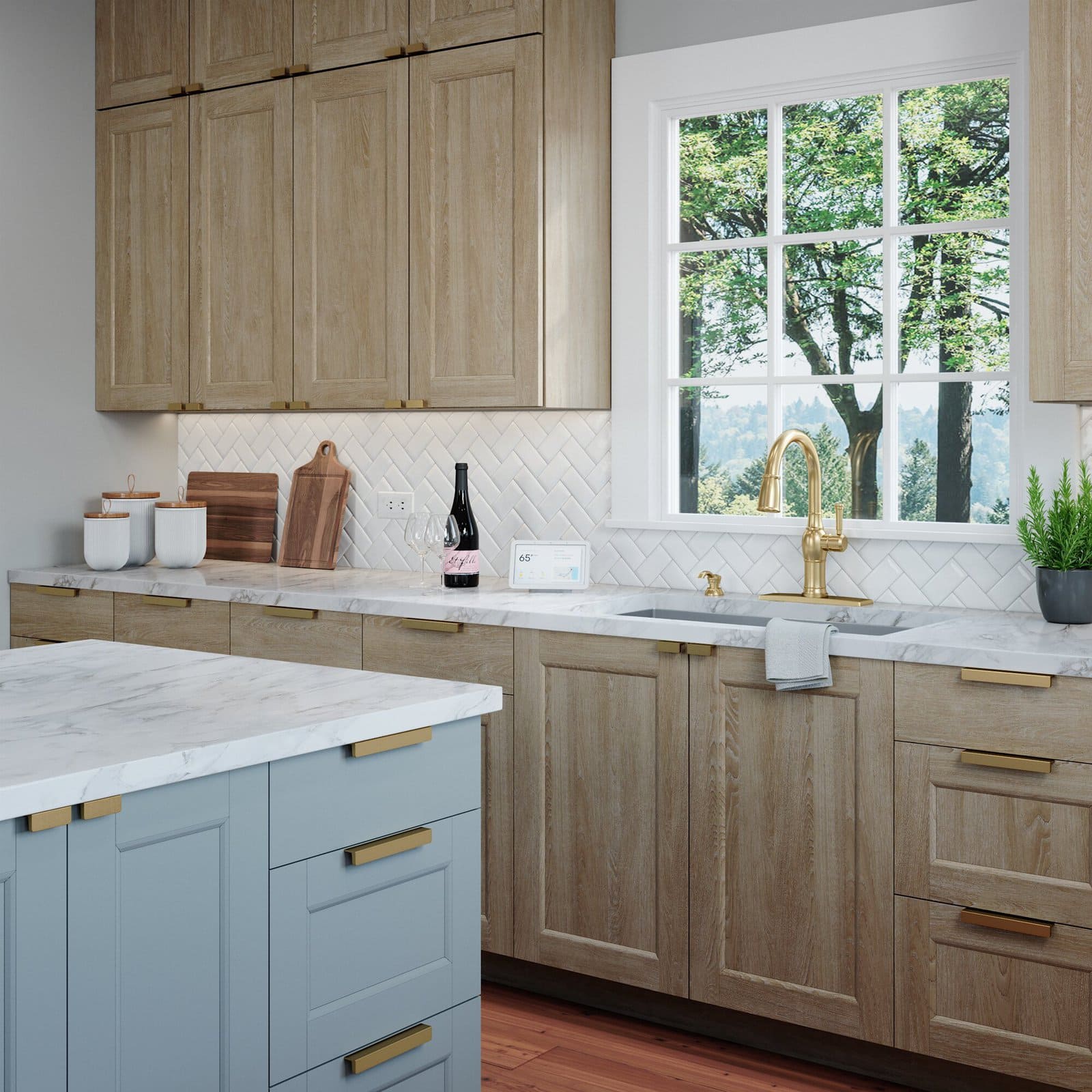 Modern shaker cabinet hardware comes in many forms. And if you like a minimal look, this finger pull might be for you.
Finger pulls don't take up a ton of space and look like jewelry for your kitchen. If you like the style, you can find these in four finishes: matte black, satin nickel, satin brass, and polished nickel.
Final Thoughts
Shaker cabinets are the most timeless cabinet choice. They'll give the kitchen a minimal yet modern look and never go out of style. And best of all, they go with any decor depending on the cabinet's finish and hardware choice.
If you want an effortlessly modern look for your shaker cabinets, consider a matte black knob. If you have darker cabinets and want contrast, go for a bronze, nickel, brass, or gold pull.