Stained Kitchen Cabinets Ideas
While sleek and minimalist kitchens are all the rage these days, there's something to be said for homespun and cozy kitchens.
Stained kitchen cabinets are a great way to achieve this look. This innovative trend enables homeowners to achieve a rustic and warm appearance while maintaining a modern aesthetic. Instead of masking the natural, coarse appeal of wooden cabinetry with layers of paint or laminate, stained kitchen cabinets let it shine.
This unique method of refining organic wooden cabinetry not only improves the overall appearance of the kitchen but also protects it from daily wear and tear. Stained kitchen cabinets are known to be more resistant to unexpected scratches or minor chips than painted ones, as well as being less expensive to implement.
You're probably wondering how you can go about achieving the stained wood look so that it blends in seamlessly with the rest of your kitchen decor. We have some fantastic stained kitchen cabinet ideas to get you started!
Dramatic Look
A dark-wood stain is often the best choice if you want your kitchen to be a striking space with bold colors and patterns. Dark mahogany- or cherry-toned wooden stains complement both light and dark tones. However, to offset the dark-stained cabinetry and draw out its inherent boldness, we recommend using contrasting shades of light beige or ecru across the rest of the kitchen.
To soften the overall look, add a splash of color and vibrancy with indoor plants on the windowsill or strategically placed curios throughout the kitchen. A touch of warm lighting will also enhance the look. Alternatively, a contrast-patterned backsplash tile can be used to add character and oomph to the space.
Incorporating deep red-stained cabinets into the kitchen space is another unconventional way to achieve a dramatic look. If you're worried about it looking too garish, keep accessories and embellishments to a minimum and let the boldness of the deep reds shine through.
White-and-Wood Combo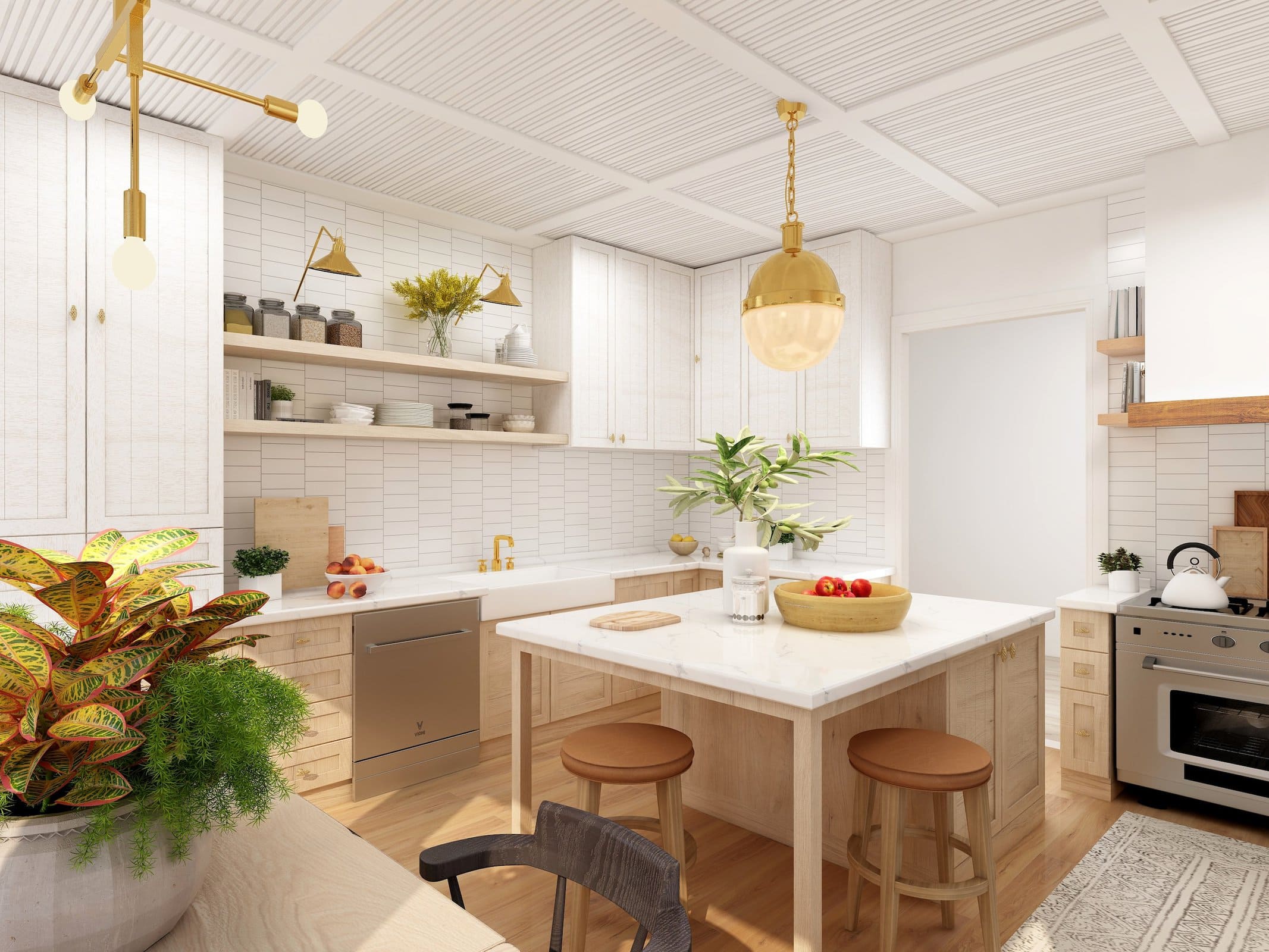 This is another classic combination that will give your kitchen an elegant yet cozy farmhouse vibe. Choose a light wooden-toned cabinet to complement an otherwise all-white kitchen to create a warm and inviting space that also appears spacious.
You could use quartz-white countertops with white-toned upper cabinetry and cool wood undertones on the lower shelves. This fills your kitchen with pleasing contrasts and creates a tranquil atmosphere.
For a pleasantly balanced look, mix light wood-stained cabinet accents with cool white subway tiles and a white grout tile floor.
Vintage Appeal
There is no better choice than the classic chestnut stain if you want your kitchen to exude vintage, nostalgic vibes. While this timeless color can stand on its own, those who prefer elegant aesthetics will appreciate its organic rough textures and coarse grain feel.
Because chestnut stains have darker hues, they work best with warm white tones and lighter contrasts to bring out their vintage appeal.
On the other end of the spectrum, vintage can also refer to a retro style that appeals to a wide range of people. This style is much more fun and bold than its muted, classic counterparts, but it looks just as good in the kitchen.
Turquoise and jewel-toned color stains are ideal for a retro-vintage look and allow for more creative kitchen space management than others. These look best with patterned backsplash tiles and white countertops, which bring out the turquoise cabinetry. As a result, the space has a bright, farmhouse-style ambiance and energy where anything is possible!
Light-stained Cabinetry
Light wood stains, such as natural light oak and soft walnut, are excellent choices for creating a warm and spacious atmosphere in the kitchen. These lighter wood tones have Scandinavian-style minimalist undertones that make your kitchen appear more modern while still maintaining the buoyant appeal of a rustic space.
For some, embracing an all-wood kitchen with natural tones may be challenging, but there are subtle ways to incorporate this style. Using light-stained wood for the upper cabinetry and kitchen island while keeping the countertops white-gray is an excellent way to transform your kitchen into an inviting space without making it look overly wood-dominated.
Industrial-chic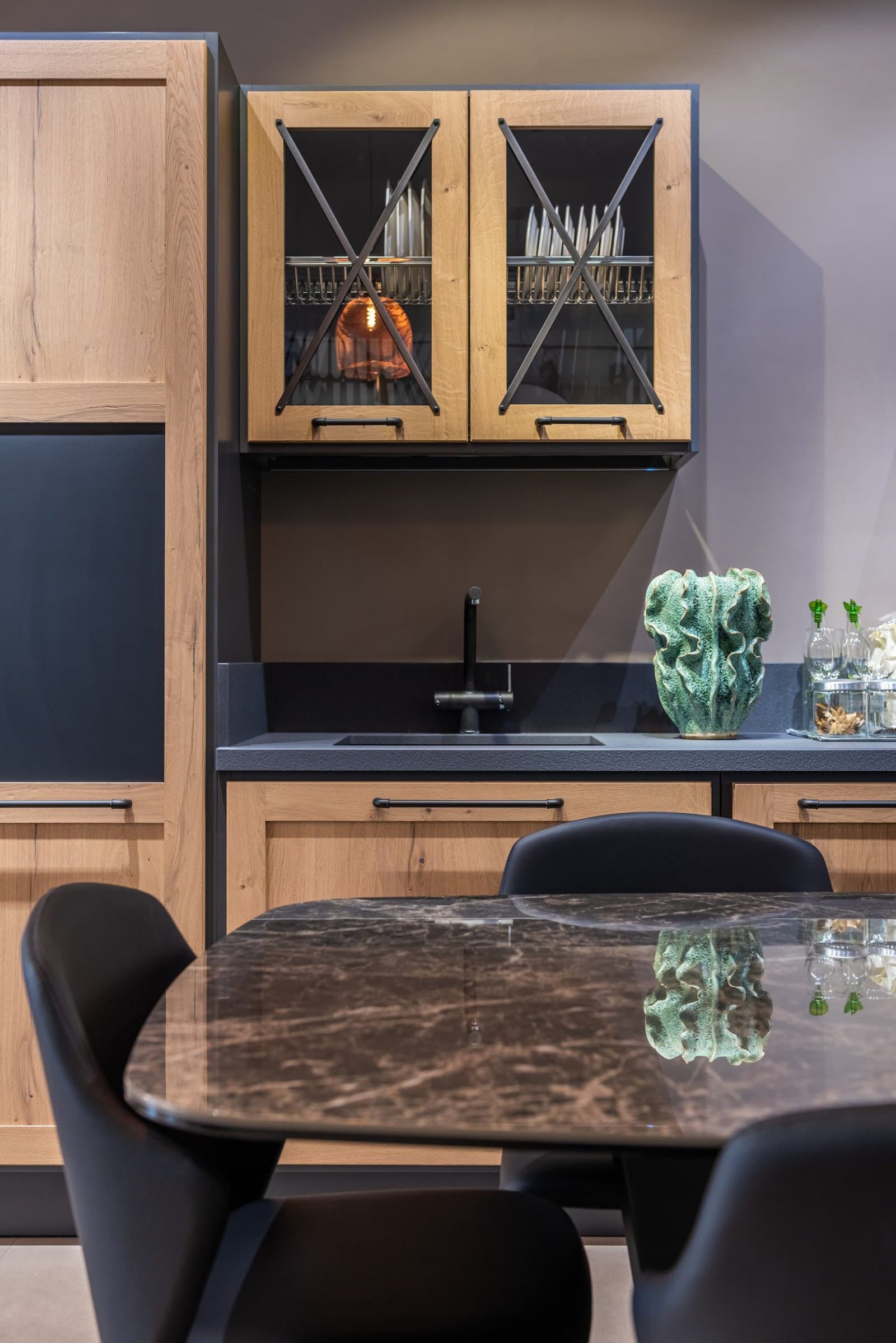 For those who don't want to commit to extreme light or dark-stained tones, a slightly red-tinged hickory-style wood is the ideal middle ground. They also give the kitchen a more stylish appearance, especially when combined with matte black accessories, fittings, and a patterned, granite countertop.
Consider adding a brick-walled backsplash tile to tie in with the overall theme. The result is a trendy, industrial-chic aesthetic grounded in a timeless wooden hue.
A green-gray hue, which is also a neutral color tone, is another way to achieve an industrial-style look. Combine it with black pulls and fixtures for a unique and bold look.
Blue Wood Stains for a Luxe Touch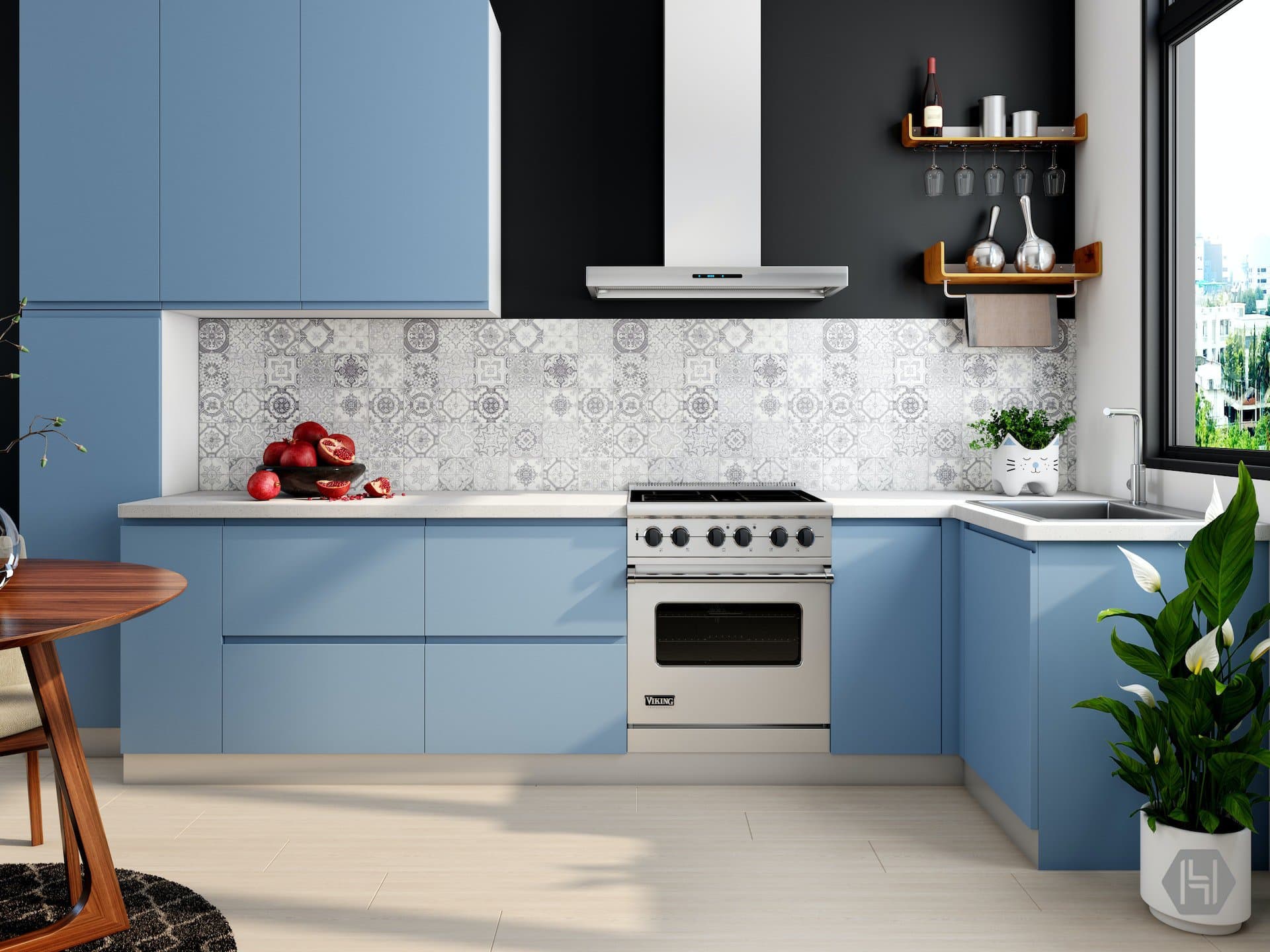 Blue wood stain is an unlikely color that has recently gained popularity for kitchen spaces and could spruce up your kitchen in ways you hadn't expected. However, the shade of blue you use can go a long way toward deciding a particular theme.
Darker and louder pops of blue contribute toward a more flashy Mediterranean vibe that has its perks, but if you wish to add a spot of sophistication and luxury to your kitchen, you'll want to opt for a more muted shade of blue. Powder blue, chalk blue, or pastel blue wood stains are all excellent choices for this look.
They make for unique accent colors and stand out when paired with rich wood or light wood stains, depending on the mood you want to create in your kitchen. If your kitchen is naturally spacious and bright, choose a chocolate-brown and powder blue color scheme with gilded pulls and quartz-white countertops.
Light pastel-blue wooden accents interspersed with blonde wooden stains create a sense of space and openness in smaller kitchens.
Silver-gray Tones
This is yet another creative option for those who don't want to fully commit to the idea of an all-wood kitchen. Silver-gray cabinetry strategically placed throughout the kitchen space adds depth and character to the decor. It not only balances other heavy wooden accents in the kitchen but also creates a visually balanced aesthetic.
Silver-gray wood stains are also excellent for modernizing a kitchen without introducing stark and austere chrome steel elements into the space.
In Conclusion
A kitchen, perhaps more than any other room in the house, is a labor of love and thus requires much more thought when it comes to upgrading or revitalizing the space.
Choosing the right color for a wood stain, while a matter of personal preference, is heavily reliant on selecting the right color palette and marrying functional elements with key aesthetics.
While some people enjoy experimenting with cool blues and white stains, others prefer the comfort of a classic dark wood stain. But ultimately, when it comes to kitchen design, it's important to listen to your instincts and choose a theme that reflects your personality!