Decorated Life is reader-supported. When you buy through links on our site, we may earn an affiliate commission. Learn More
15 Stylish Industrial Wall Decor Ideas
Industrial interior design is effortlessly cool and creative, using raw materials such as rustic wood, bare metal, and exposed brickwork to create a unique interior. The best thing about industrial design is that it can blend so well with other decor styles, such as modern farmhouse or contemporary design.
If you are a fan of industrial home decor, then you are going to love these industrial wall decor ideas. We've done the hard work and gathered the best industrial wall art ideas from around the web, to inspire you for your own home.
Industrial Gears Wall Clock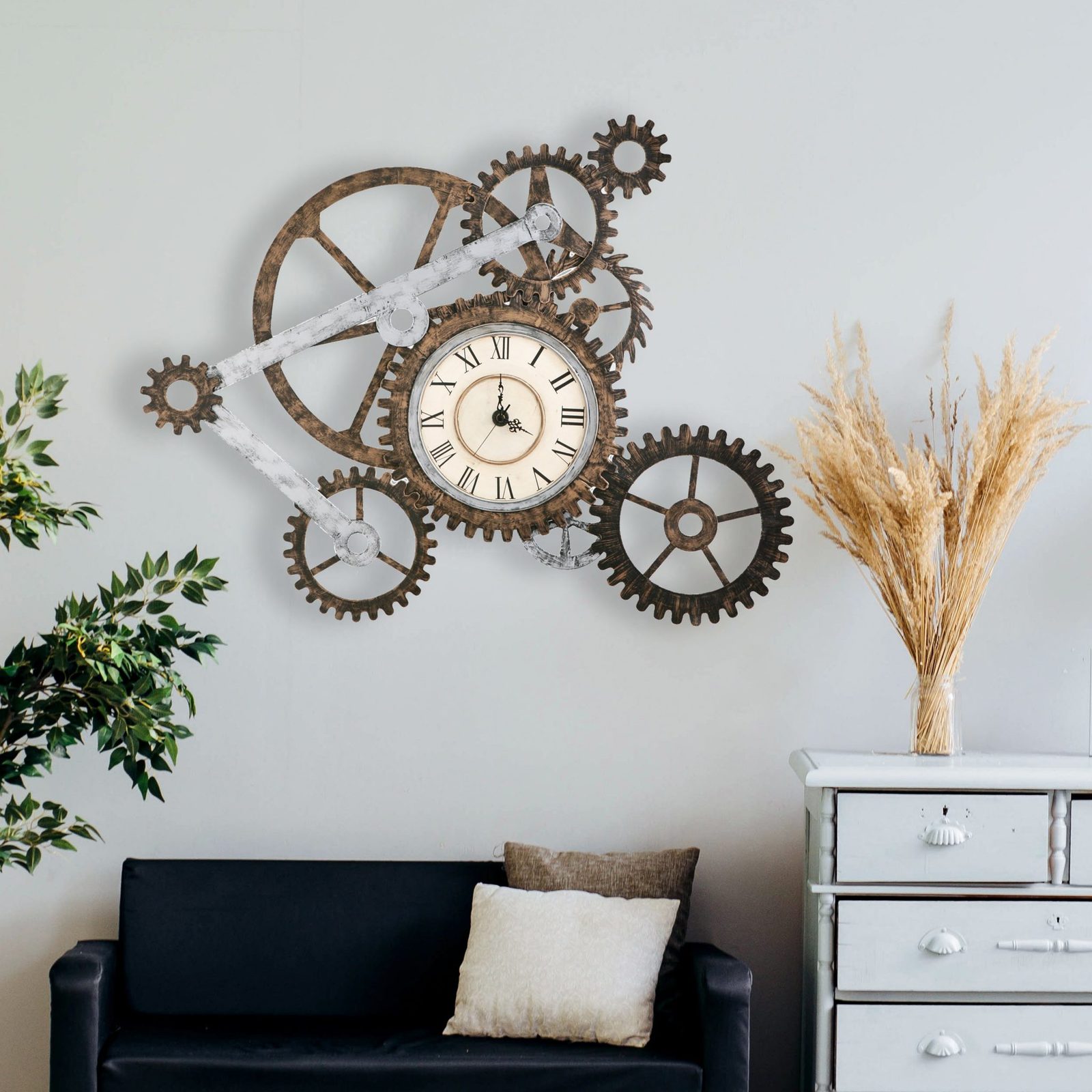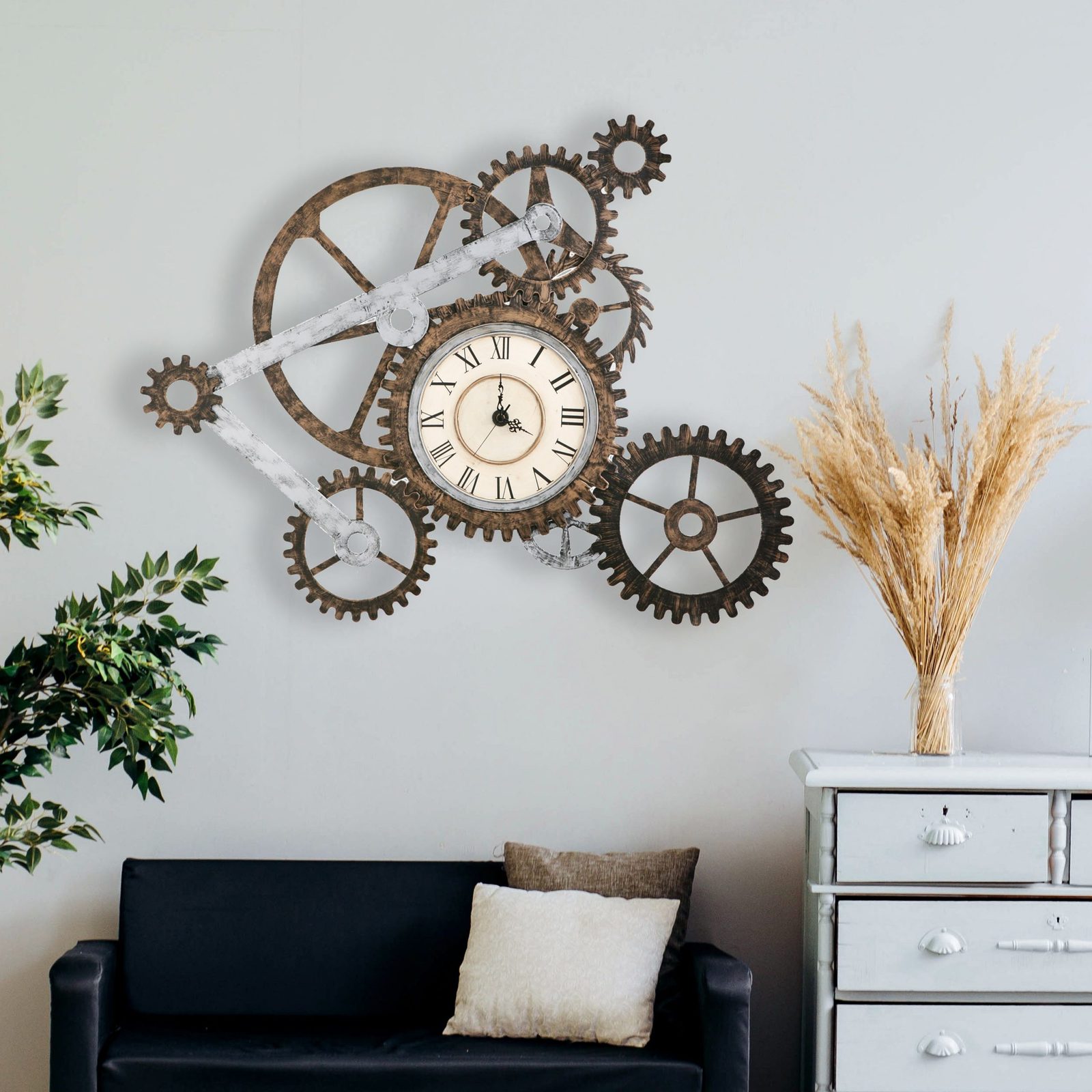 This unusual industrial wall clock features a unique design of rustic gears, that will be a great accent piece in any industrial interior. With a weathered rusty finish and a fully working clock, this unique piece is sure to be a conversation starter.
It's made almost entirely from metal, so it will work well when paired with other industrial elements such as wood, concrete, or even bare walls.
Industrial Crane Wall Mural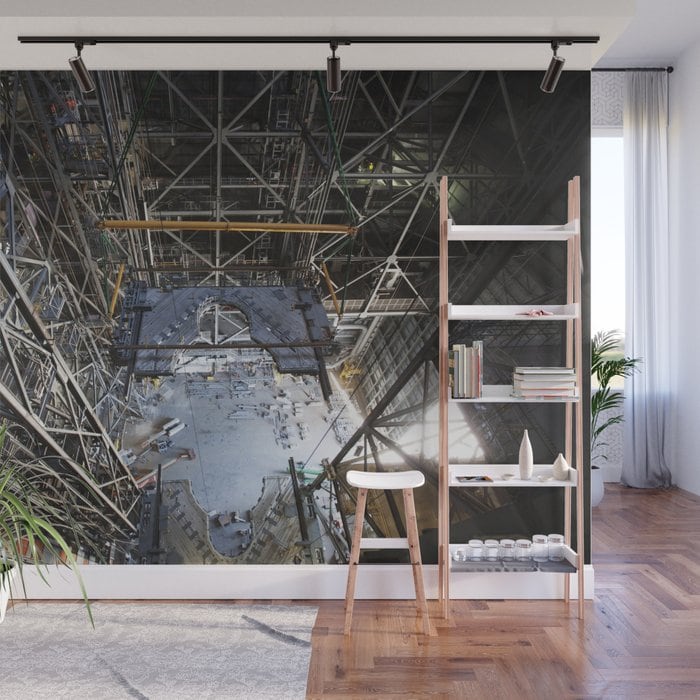 If you want to create an industrial accent wall in your home, a wall mural is a great way to do it. This industrial crane mural shows a crane designed for use by NASA to build their spacecrafts. It doesn't get much more industrial than that!
Wall murals are the perfect way to add an industrial element to your home without having to paint or refinish the walls. They are an ideal choice for renters too, as they will remove cleanly without damaging the walls.
Large Industrial Wall Art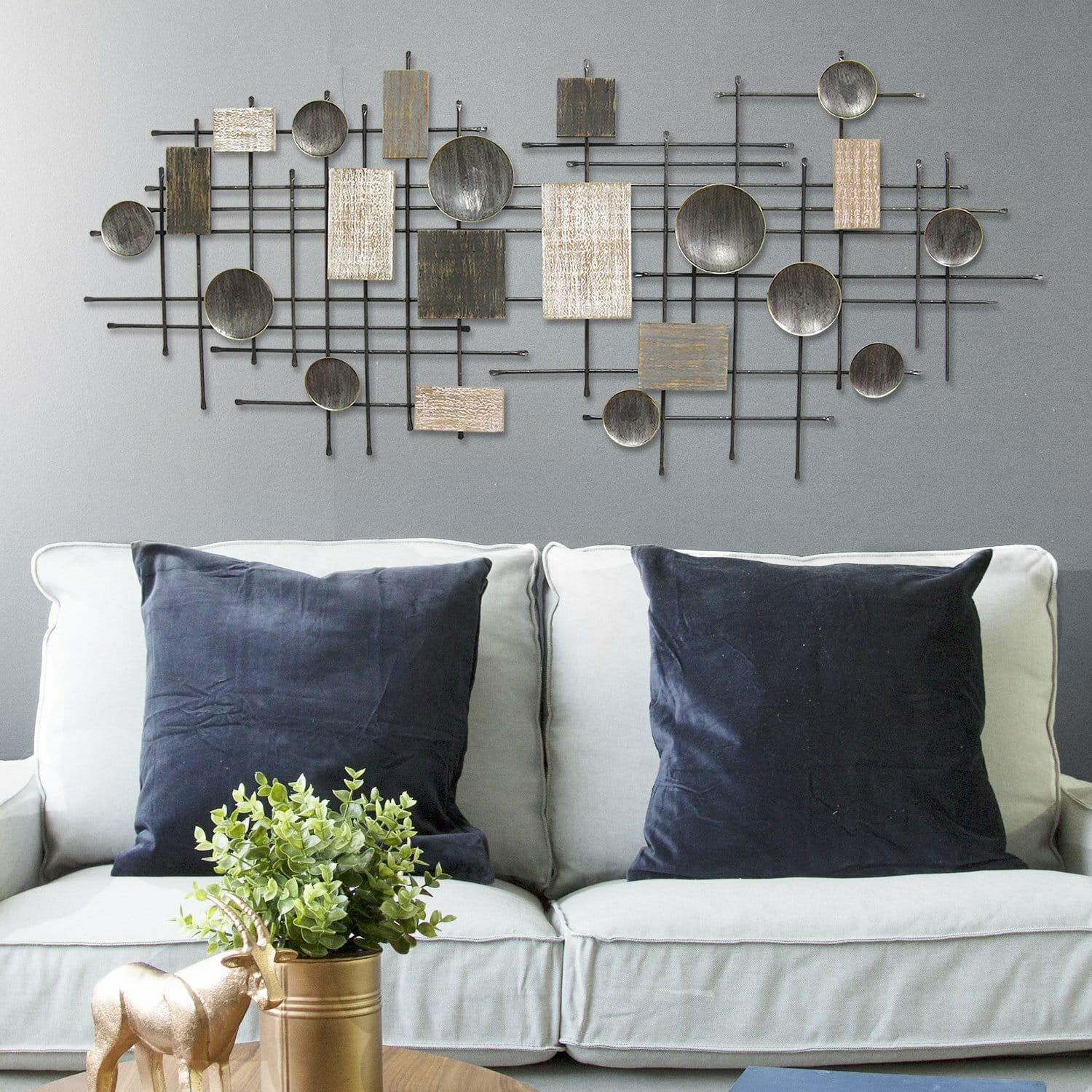 This large industrial wall art sculpture is perfect if you want a statement piece for your walls. This abstract piece is crafted from wood and metal, with a distressed finish, so it will work with most industrial decor styles.
The unique abstract design will work well in a living room, bedroom, or even a hallway, so you can be sure that you will be able to find a place for this in your home.
The Old Truman Brewery Chimney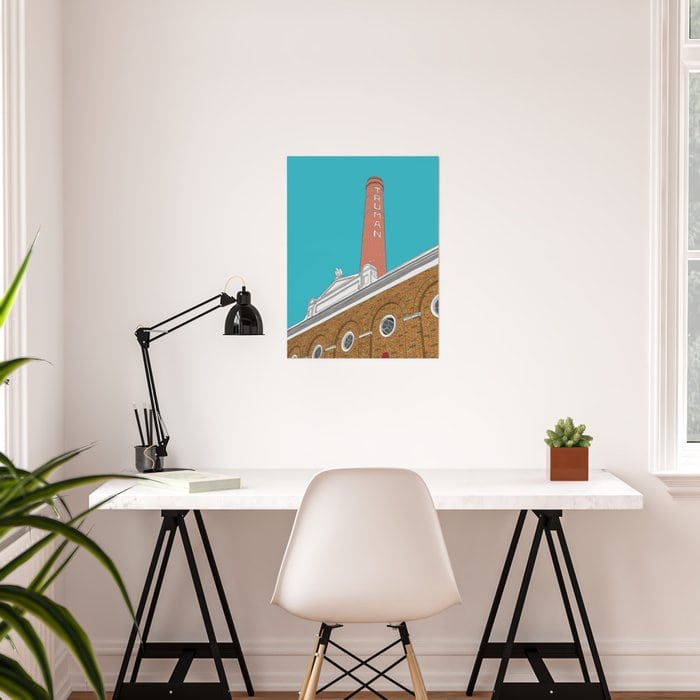 If you're looking for industrial chic wall decor, you can't go wrong with a bold art print. This art print of the chimney at the Old Truman Brewery in London is perfect if you want to add a splash of color to an industrial-style interior.
The print is available in a variety of different sizes, so whether you are looking for a large piece of art to make a statement, or something smaller as an accent piece, you can make this work for you.
Circular Metal Industrial Shelf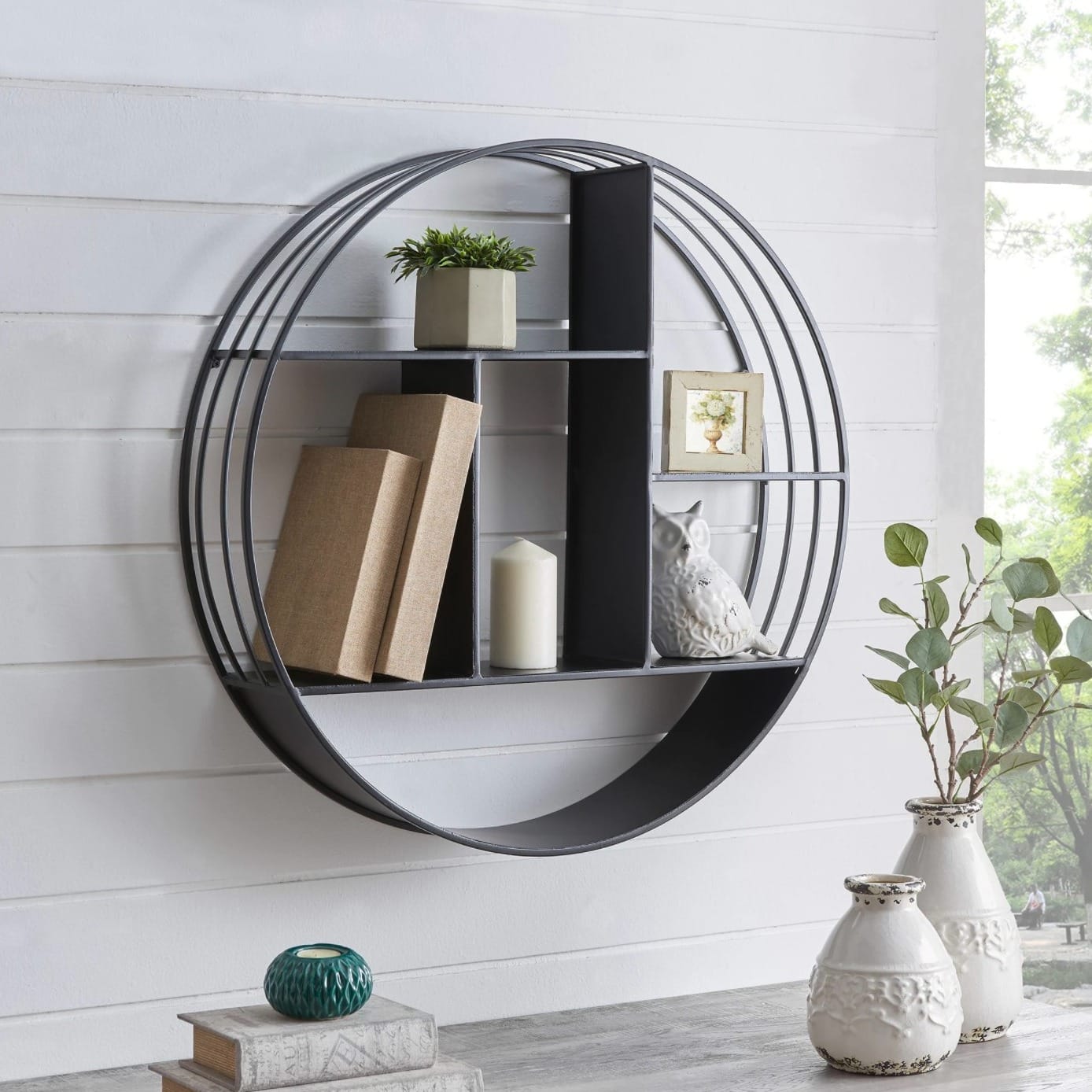 When it comes to decorating an industrial interior, you don't have to stick to wall art. An industrial-style shelf is a great way to decorate your walls, and you can style it with other industrial accessories to complete the look.
This stylish metal shelf features a circular design crafted from metal for the perfect industrial look.
Industrial Pipe Wall Shelving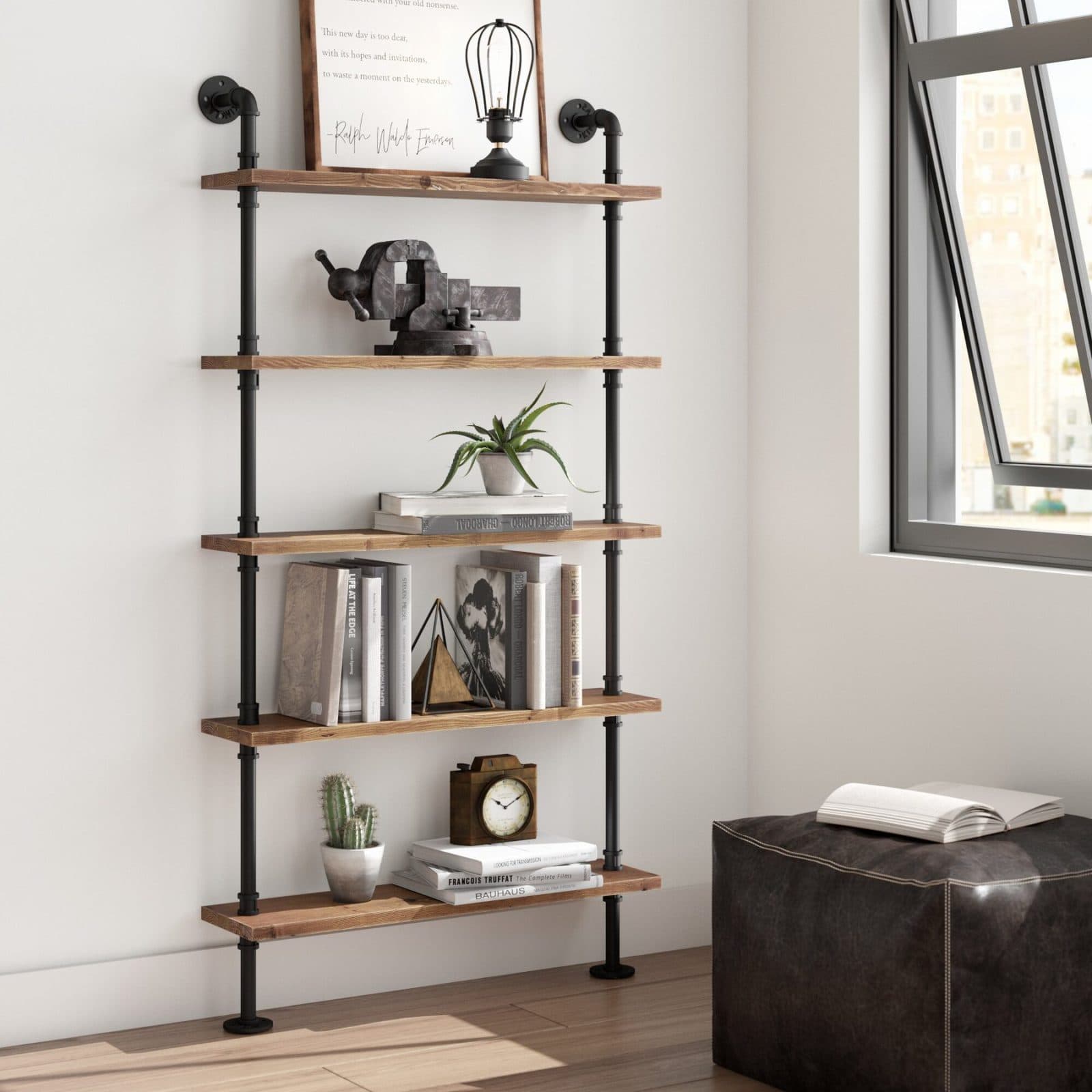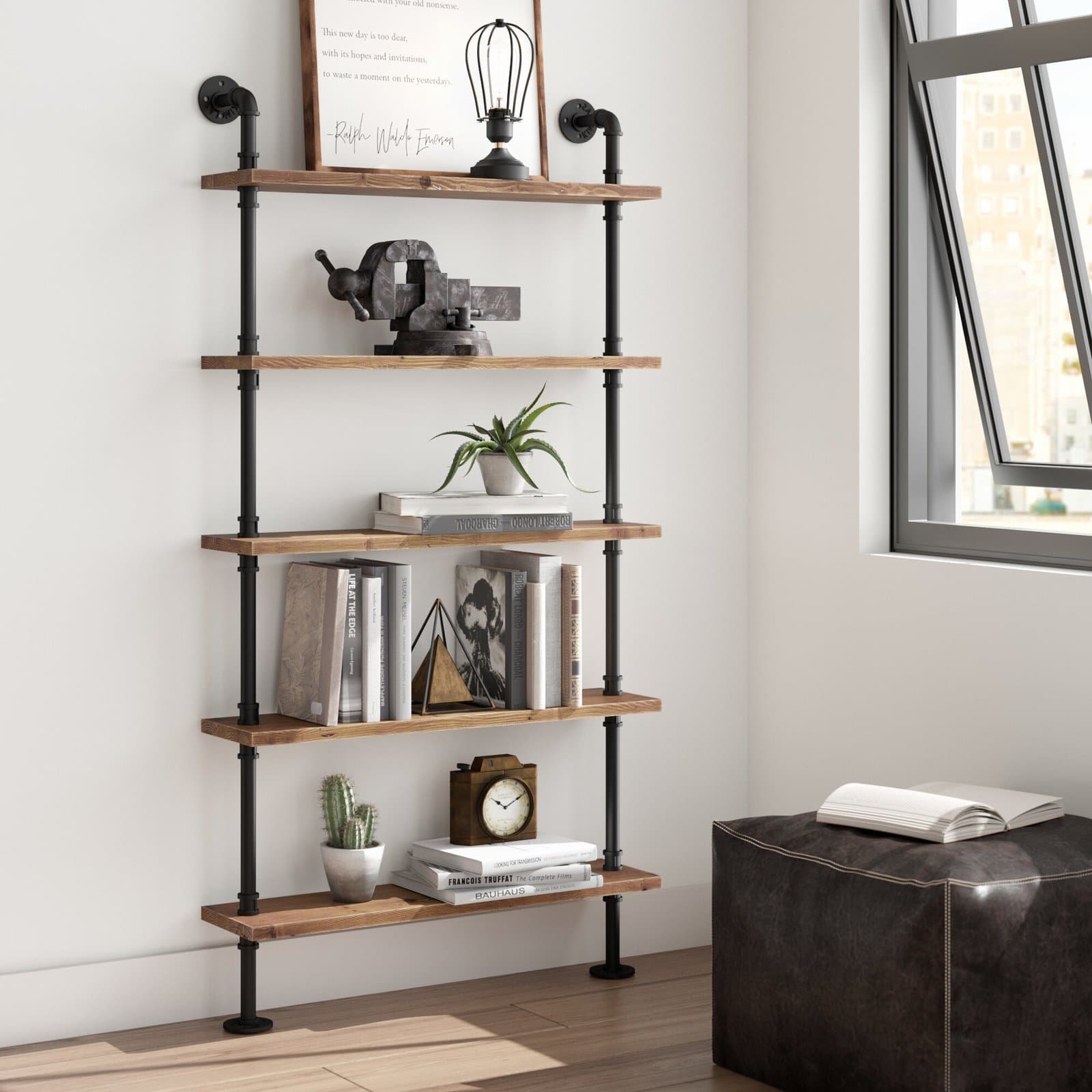 Another example of how industrial-style shelving can serve as a piece of wall decor in its own right. These industrial shelves have been crafted from black metal pipes, and rustic wooden shelves for the ultimate industrial look.
The shelves rest on the floor and are anchored at the top to the wall, creating a unique statement piece for any industrial interior.
Apollo 11 Blueprint
If you're looking for industrial wall decor ideas that ooze industrial chic, then blueprints are a great option. This Apollo 11 blueprint shows the details of the spacecraft, in a simple blue and white color palette, making it perfect for anyone who likes understated decor.
You can buy blueprints of many different things, depending on your interests. So whether you're into vehicles and spacecrafts, sports equipment, or even shoes, you will be able to find the perfect blueprint art to complement your decor.
Black Metal Plane Propellor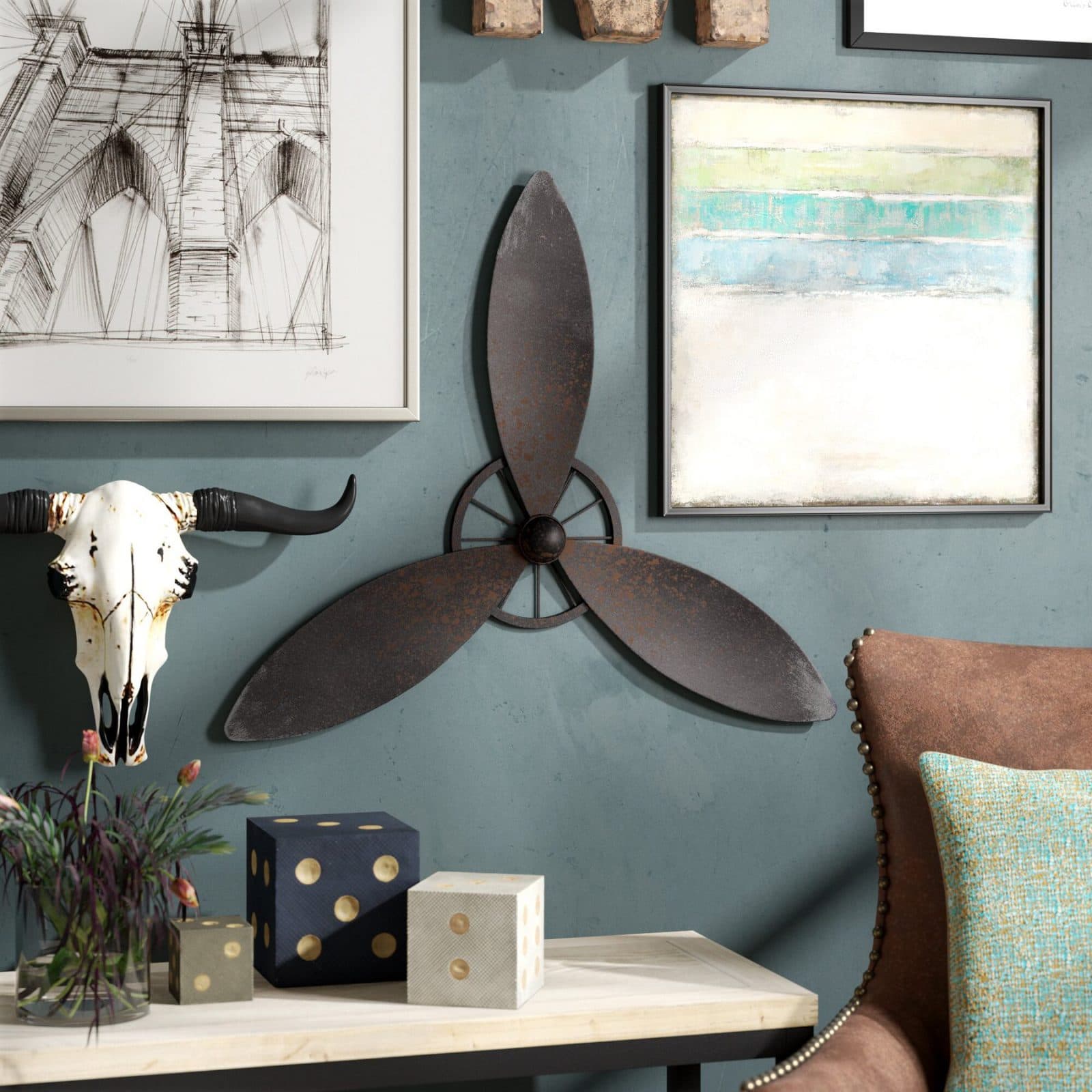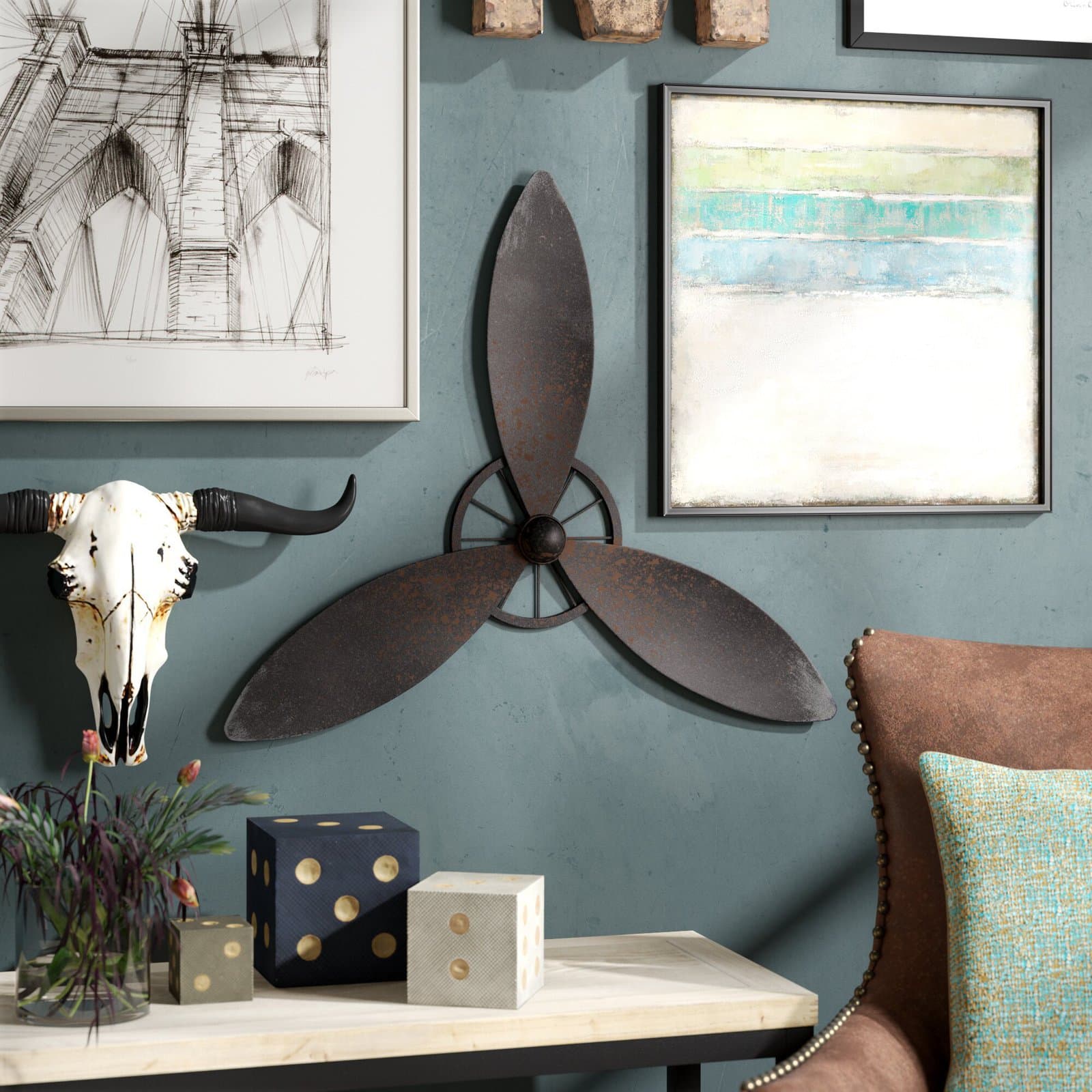 When it comes to rustic industrial wall decor, you can't go wrong with a piece of machinery displayed on your wall! This handmade fan blade is sure to make a statement in your home and will be a definite talking point for guests.
It can be displayed on its own or as part of a larger gallery wall—either way, it will look stunning with its striking design and rustic black finish.
Rusty Metal Mechanical Clock Wall Mural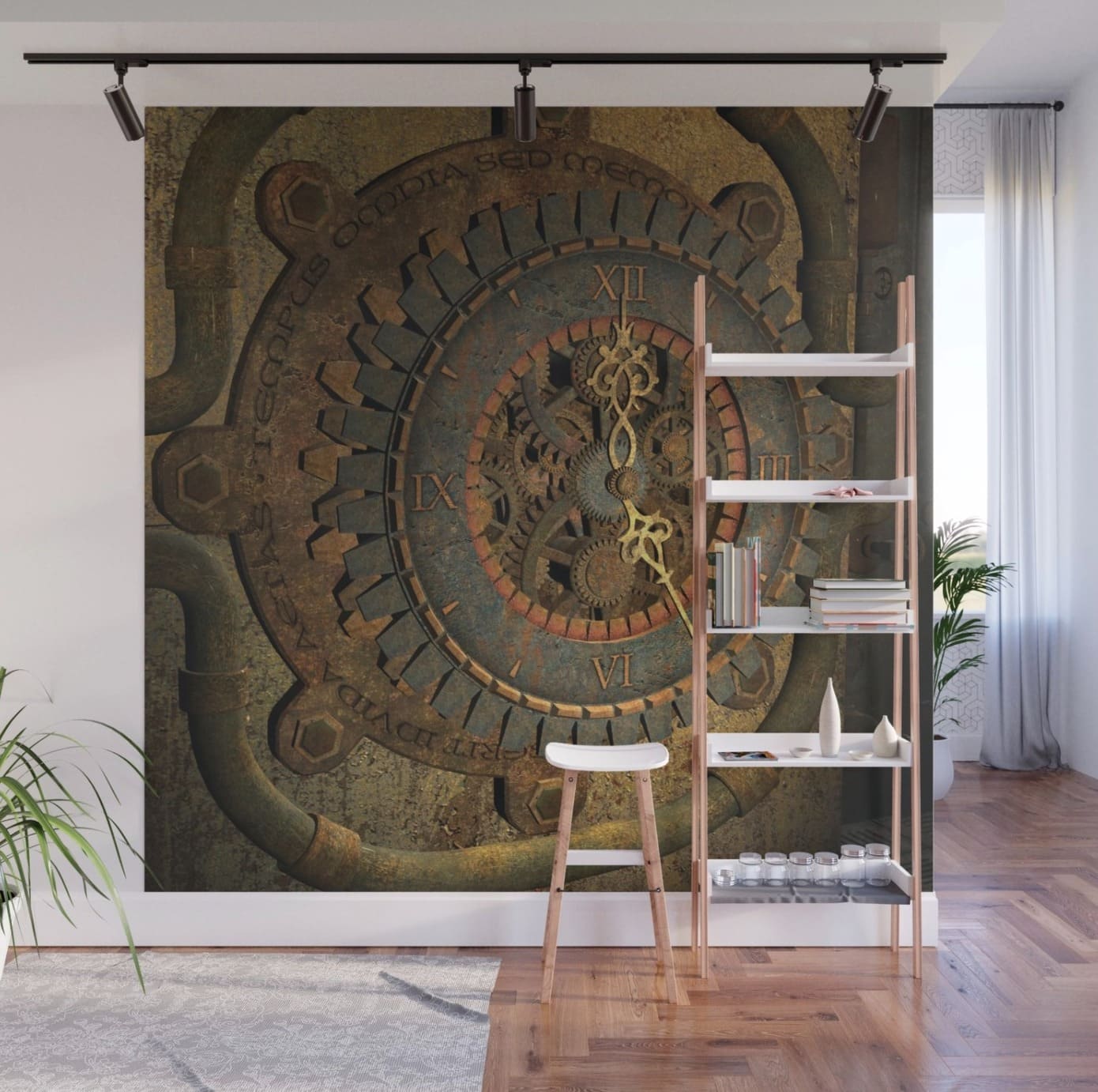 Wall murals are an easy way to make a huge impact, even if you're on a tight budget. They can instantly change the look of a room, so if you're looking for a quick way to get an industrial look in your room—try using a wall mural!
This stunning photographic wall mural of the inner workings of a rusty clock is ideal for creating an old industrial vibe in your home. This mural would look great in a living room or bedroom!
Lightbulb Blueprint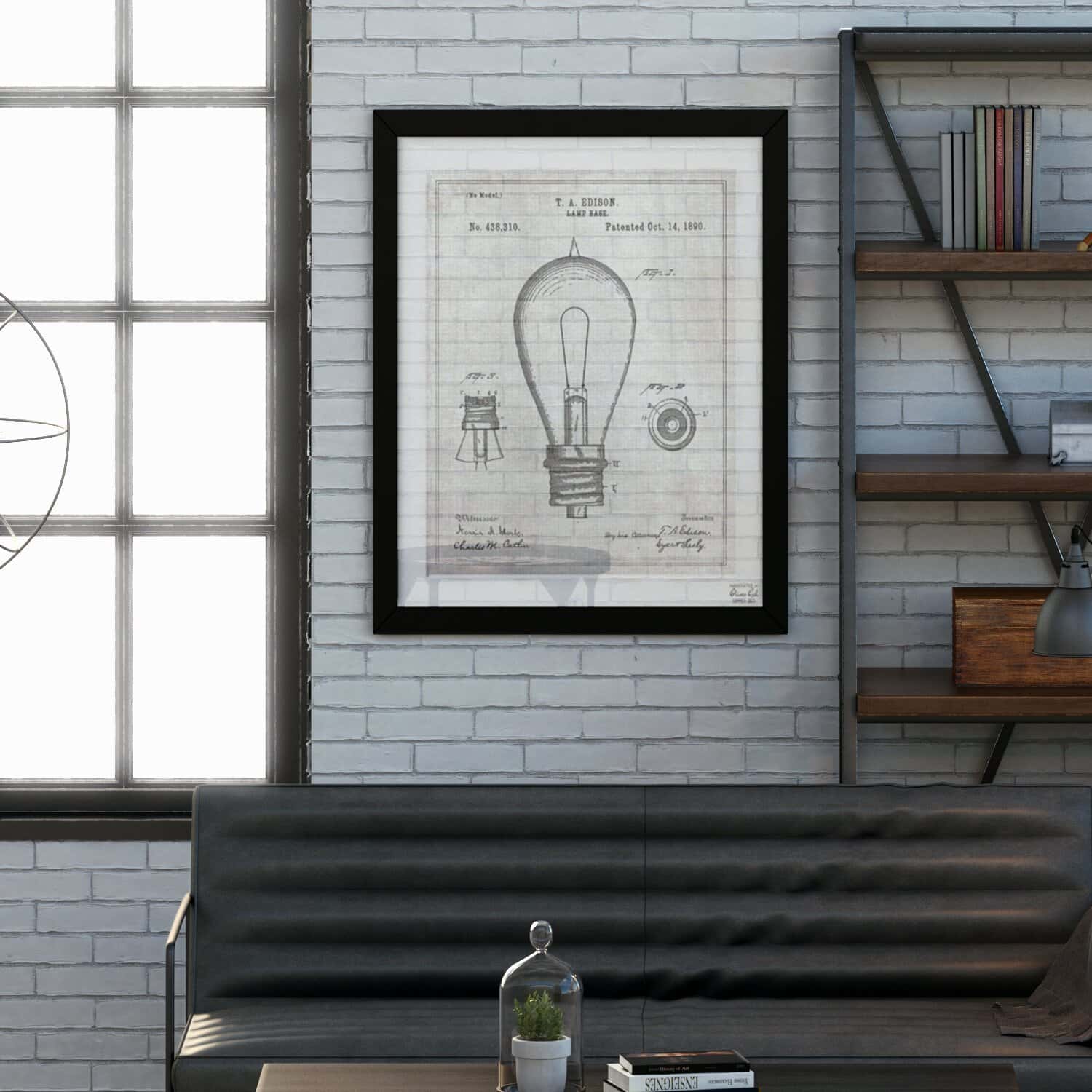 This lightbulb blueprint art print is perfect for adding character to an industrial-style interior. It features a detailed diagram of an Edison lightbulb printed on matte proofing paper and framed in a stylish black frame.
This is a great choice for a living room, office, or even a bedroom, and is perfect for anyone looking to add something unique to their walls.
Monochrome Factory Print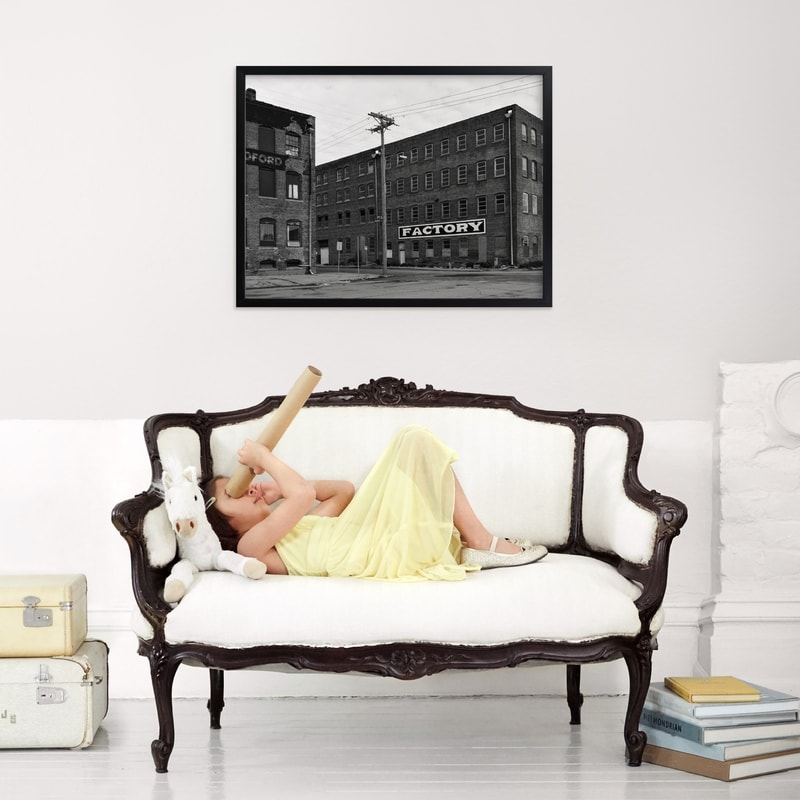 Photographic art prints can work really well in industrial interiors. The photograph depicts an old factory in black and white, which gives it a nostalgic feeling.
Because it's a monochrome print, it will work well with most industrial decor styles and is perfect for adding a touch of moody industrial nostalgia to your home.
Industrial Pipe Wall Shelf Set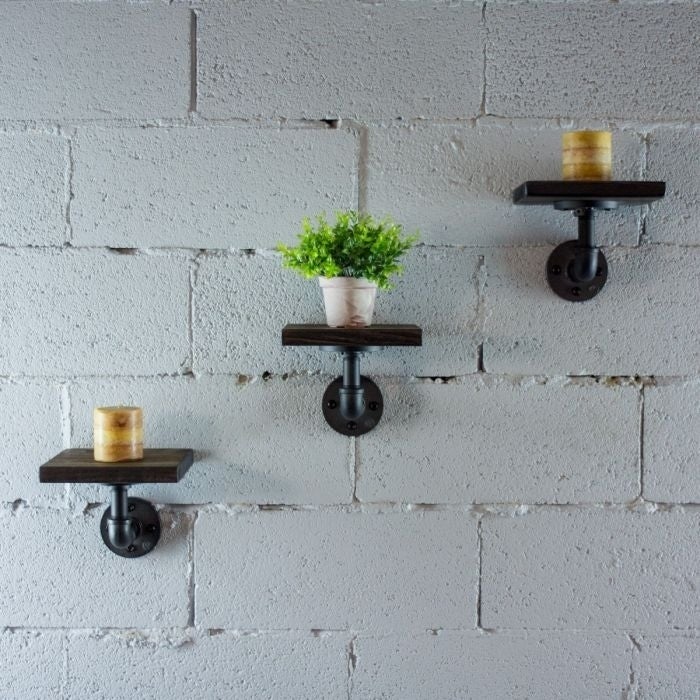 This set of three industrial mini wall shelves is perfect for adding something unique to a smaller wall in your home. Each shelf is made from aircraft-grade aluminum pipes and sustainable Paulownia wood.
These shelves are perfect for displaying ornaments or small potted plants and are sure to add a touch of industrial charm to any space.
Wood and Metal Industrial Wall Mirror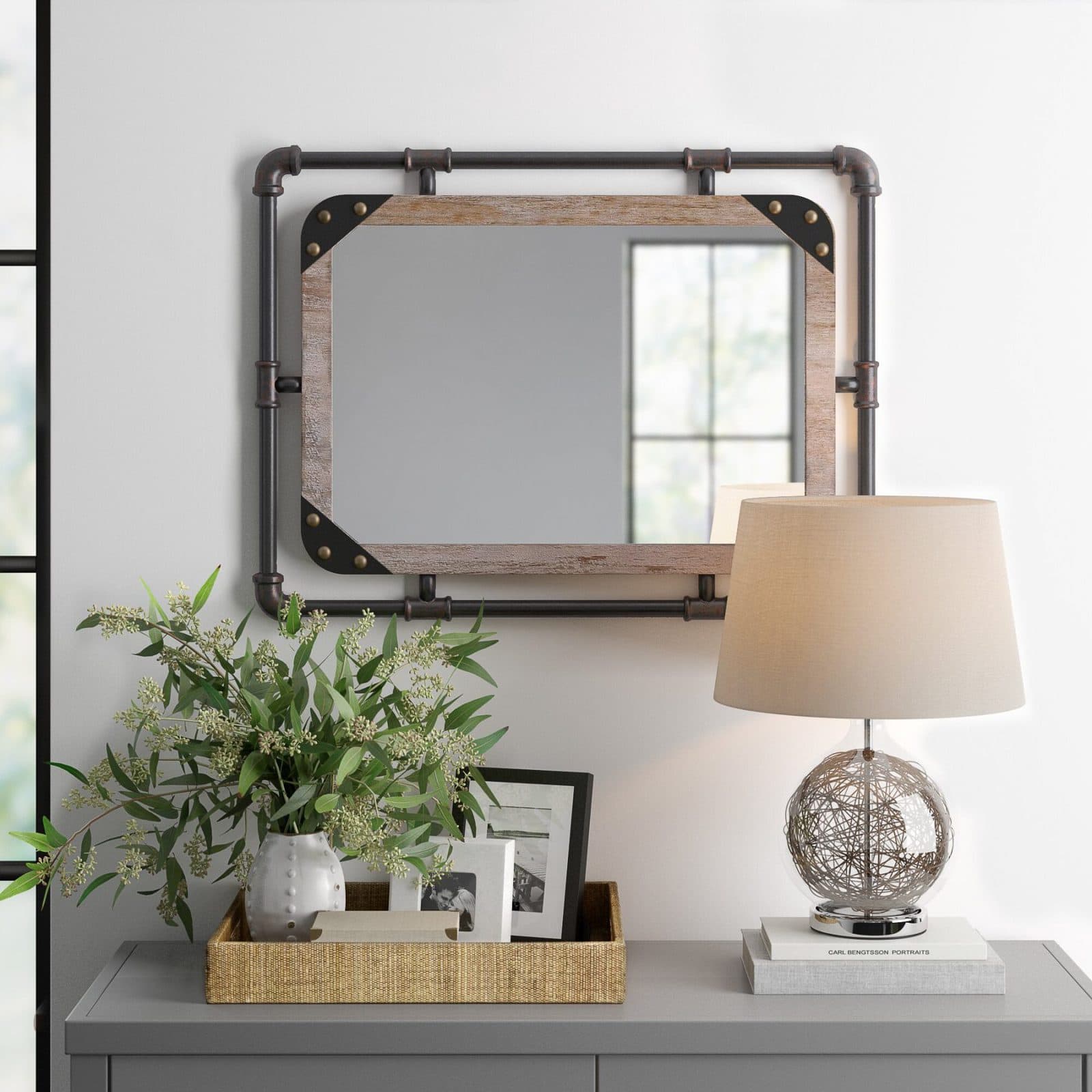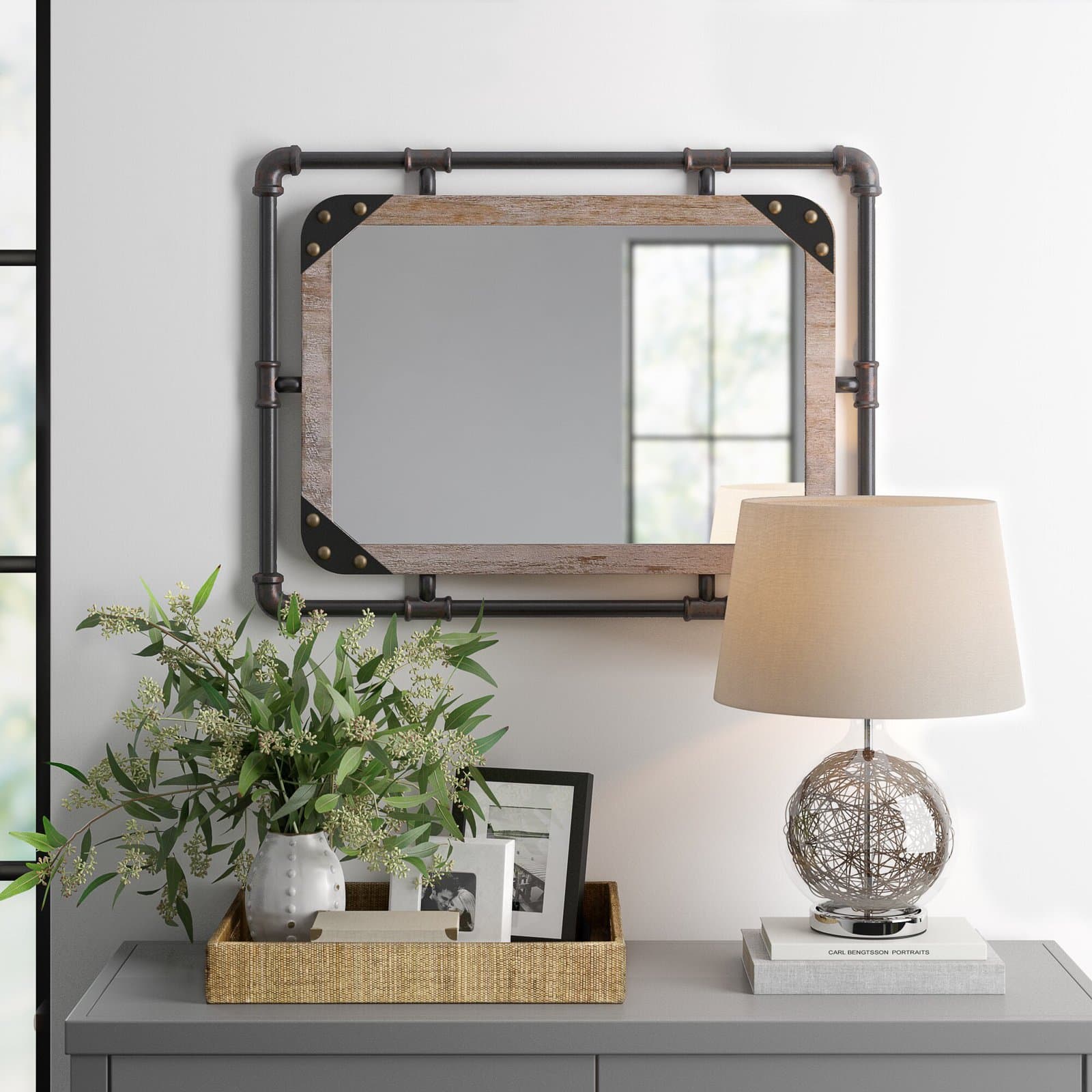 Mirrors are one of the best ways to decorate walls in your home. Not only do they serve a useful purpose, but they will also help to make your space feel bigger and brighter, as they bounce light around the room.
This stylish industrial wall mirror is sure to make a big statement in your home! It has been crafted from metal pipes and rustic wood, with a distressed for that perfect industrial look.
Industrial Wall Sconce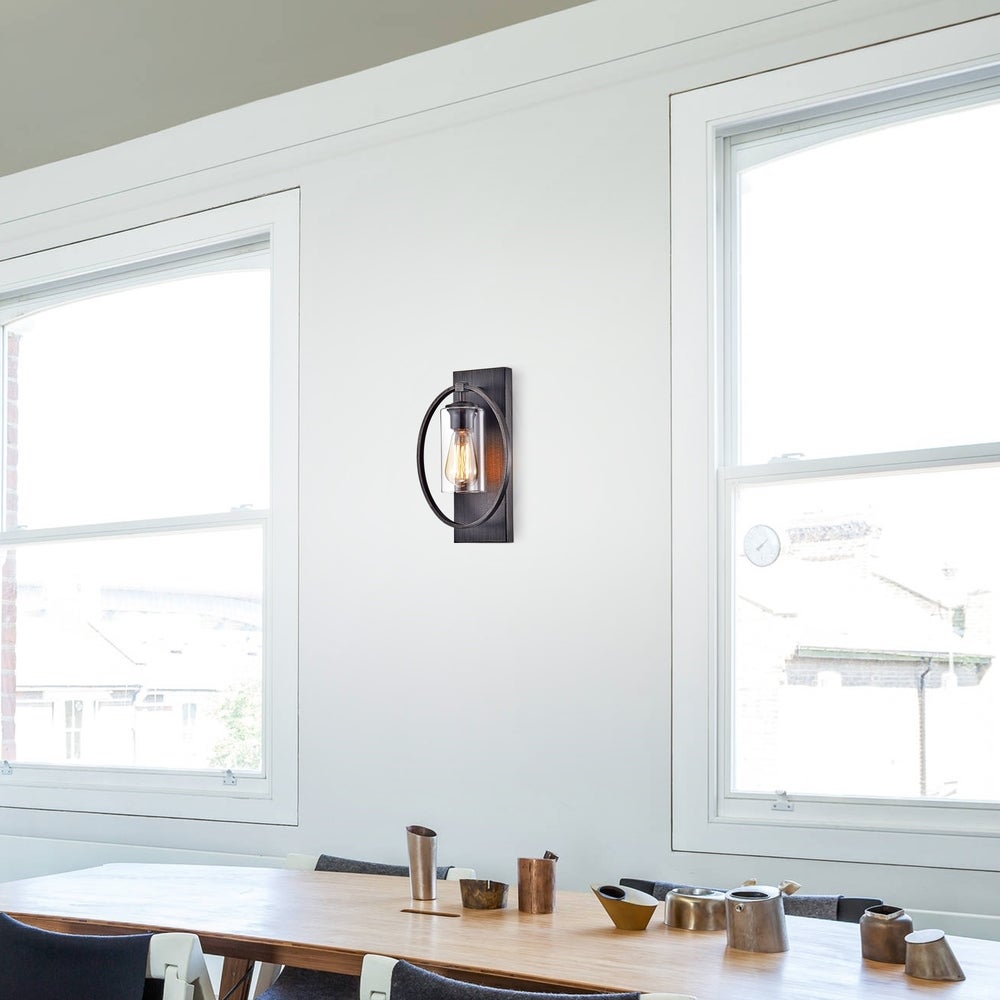 When it comes to industrial-style wall decor you don't need to stick to art and mirrors. Using sconce lighting is a great way to get an industrial look on your walls, as well as adding extra light to your space.
This industrial-style wall sconce is perfect for adding a touch of industrial glamor to your home. It features an exposed Edison light bulb, with a bold black brushed metal finish to complete the industrial look.
Oversized Industrial Wall Clock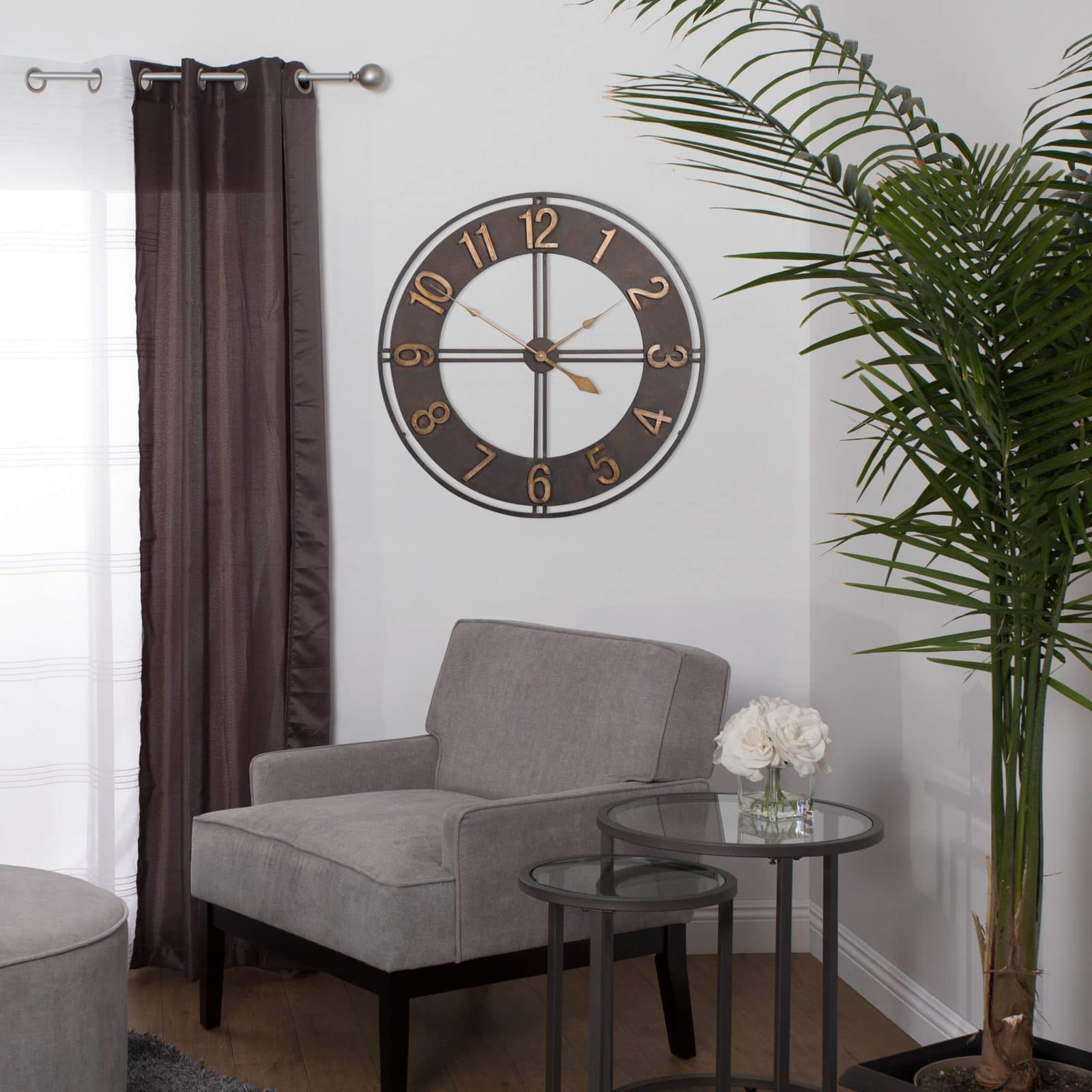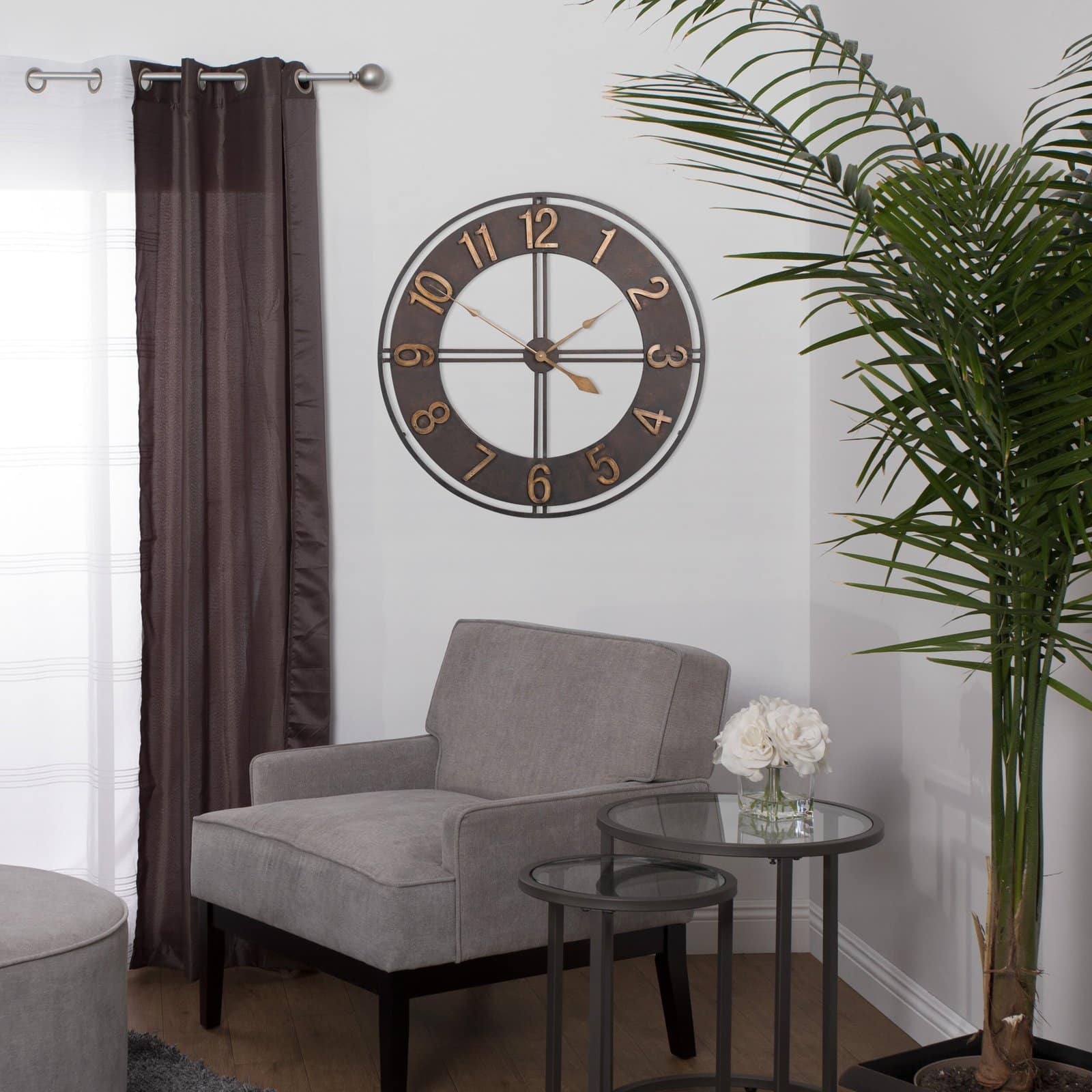 This oversized industrial wall clock is the ideal choice for anyone who wants to make a big impact on their walls. This clock has been crafted from iron, so it's strong and sturdy in the true industrial fashion.
This industrial wall clock would look perfect in a living room or kitchen, adding instant industrial vibes and making a bold statement in your home.
Final Thoughts…
Industrial decor is hot right now, and it's easy to see why. This effortlessly cool decor style can work in so many ways. Whether you want a touch of industrial charm in a modern farmhouse home or a completely industrial-themed interior in a downtown loft apartment, industrial wall decor will help complete the look.
Whether you're looking for industrial art, wall murals, or even something a little bolder like industrial wall shelves, there will be something to help you create this stylish look in your own space. Hopefully, these ideas will have given you some inspiration for your own industrial interior!