Types of Moldings for Kitchen Cabinets
If you're installing a kitchen, particularly if you're doing it yourself, you may wonder how to create a professional finish.
Perhaps you have some gaps that you weren't expecting or you want your cabinets to look less plain. With a whole range of moldings available, there are excellent choices for making your cabinets look bespoke and to add a touch of class to a cheaper DIY kitchen.
With every gap and problem of your kitchen design covered, you can decide which options work best for you.
Crown Molding
Crown molding is used as decoration at the top of kitchen cabinets. In the past, crown molding had a more practical purpose of covering cracks between the wall and the ceiling but now it is used aesthetically.
You can pick a curved, architrave-style molding for a traditional look. Or if you have a modern or shaker kitchen and are looking to add a professional finish, there are simpler options to fix to the tops of your cabinets.
You might want to get your kitchen fitter to fix your crown molding for you as part of the kitchen installation. But if you're handy, you might like to try doing it yourself.
Starter/Riser Molding
A starter or riser molding is used as a mounting frame for crown molding, as described above, so as to increase the overall height of your crown molding.
It can also be used to raise the crown molding so that it is flush to the ceiling. Crown moldings are often not the exact size you would need so the riser helps compensate with this difference. Be sure to measure accurately.
Using a starter with your crown molding assembly will give you a true fitted kitchen look. You can impress visitors – they won't believe you didn't have the designers in!
Light Rail Molding
Light rail molding finishes the bottom of wall cabinets. It can serve as a trim to conceal under cabinet lighting fixtures, providing a barrier from the glare, or it can simply add interest to your cabinets.
You'll need to ensure that the molding height leaves enough space on your countertop for appliances such as your toaster. There are a range of light rail moldings available, from ornate to plainer designs.
Base Molding
To enhance your kitchen installation, and for a bespoke look, a base molding gives a decorative trim at floor level of base cabinets.
Completing the lower sections on islands and peninsulas it produces a more furniture-like feel, creating one continuous look.
It can be used with the profile placed out or in to create the look you want. Experiment to see what looks best in your kitchen.
Fillers
Whether by design or accident, it could be that your kitchen cabinets don't quite reach the wall or stretch to a corner. There is a solution!
Fillers are flat panels that can be used vertically to cover the space between a cabinet and a wall. They keep the edge of doors from knocking into the wall, and can keep drawers from hitting walls or objects.
They can also be used horizontally as a crown or as a light rail. Or as a starter molding to add height to a crown molding. Usually available in widths of 3 and 6 inches, fillers come in a variety of lengths to best suit your kitchen.
Toe Kick Molding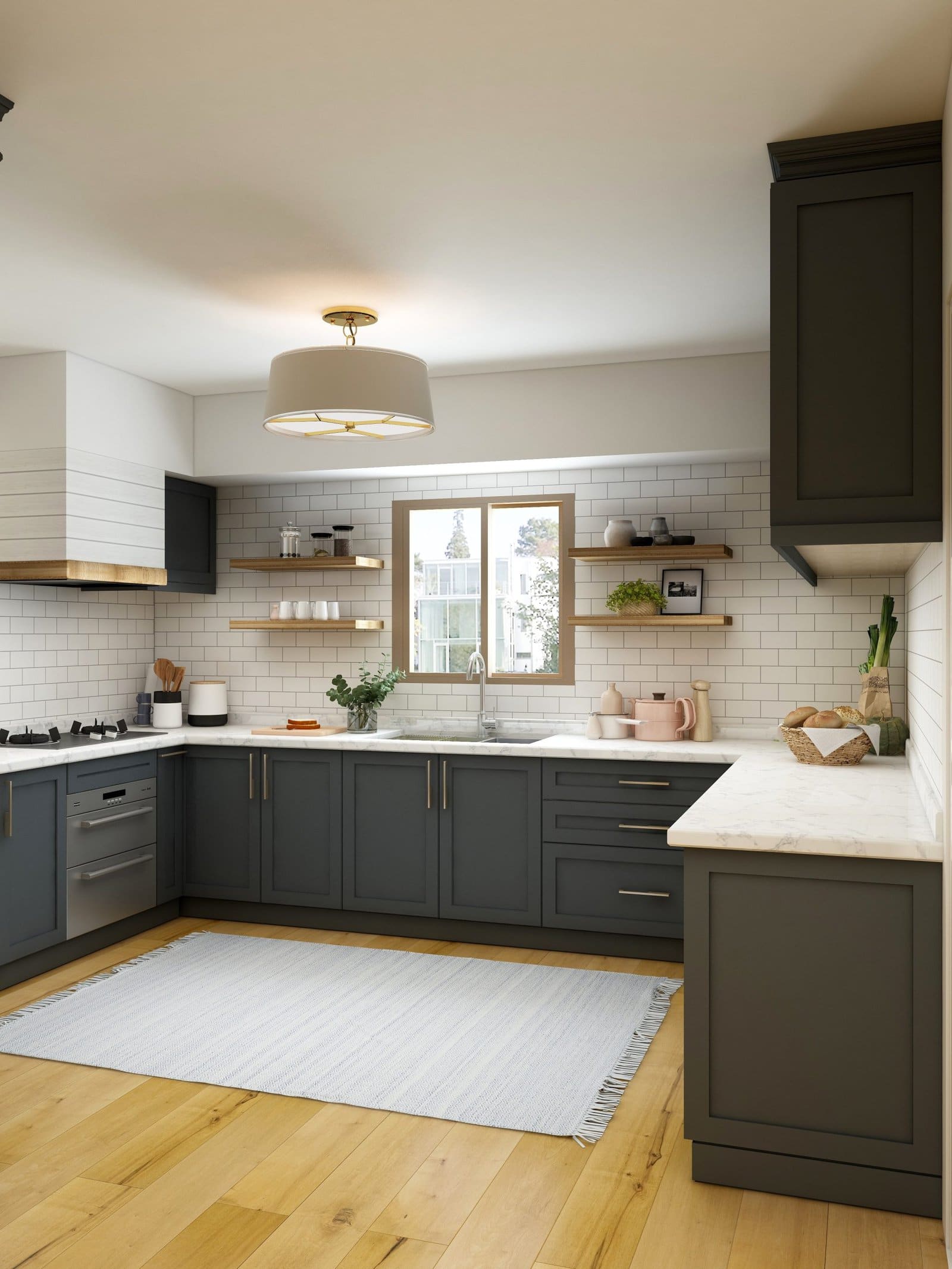 Most fitted kitchens have them these days so we may take it for granted, but a toe kick creates a recess for your feet. When you're cooking and working at the countertop you'll be more comfortable standing.
Toe kick molding is a 96 inch-long strip of finished covering that is fixed into the recess under the lower cabinets to provide a continuous look.
This is a must for home cooks and chefs. Not only is it practical but it will give your kitchen a great finish.
Scribe Molding
Scribe molding is a thin piece of trim which can cover any uneven gaps or raw edges you might notice after installing your cabinets.
The trim is slightly flexible, so it can cope with curvatures on the walls and ceiling. This is particularly useful if you have an older property with bumpy walls.
It is typically used where straight edges of cabinets are fitted against a surface that is bowed or uneven. It also comes in a variety of styles and finishes.
Corner Molding
Corner molding can cover an unfinished edge or a gap where two panels meet at 90 degrees. Outside corner molding can disguise the raw edge of material on an exterior corner.
Inside corner molding, as you'd imagine, is used to cover gaps where two pieces of material meet at interior corners.
Again, these will be available in a range of finishes to match your own kitchen design.
Skin Panels
Skin panels are ¼ inch plywood with one side to match your individual kitchen. Some kitchen cabinets need a panel on each visible side if there are unfinished sides.
Panels are available usually in specific sizes and come as part of your fitted kitchen. They are designed to fit on the side of a cabinet behind the face frame edge.
Oversized skin panels, for example, those used on the back of a kitchen island will need to be cut to the required dimensions. You should check on your kitchen cabinet finish and whether you need to buy additional skin panels.
In Conclusion
In whatever style of kitchen cabinet you have, there will be a molding type to match. So whether you need to cover some raw edges or you feel like enhancing your kitchen with some crown molding, you can find a style to suit you.
There is no reason your kitchen can't look bespoke with these simple molding finishes. And you may even like to try installing them yourself, just be sure to measure up correctly.