Decorated Life is reader-supported. When you buy through links on our site, we may earn an affiliate commission. Learn More
17 Unique Wood Wall Art Ideas
There's something sad about seeing empty walls in your home, but by adding some art you can instantly make your space feel unique, and show off your personality making your home truly feel like it's yours.
If you want to add a touch of rustic charm to your home, you might want to consider adding in some wooden wall art.
Today we're going to be sharing the best wood wall art ideas, to give you some inspiration on how you can use wood to decorate your home!
Let's dive in!
Intricate Indian Carved Wooden Wall Art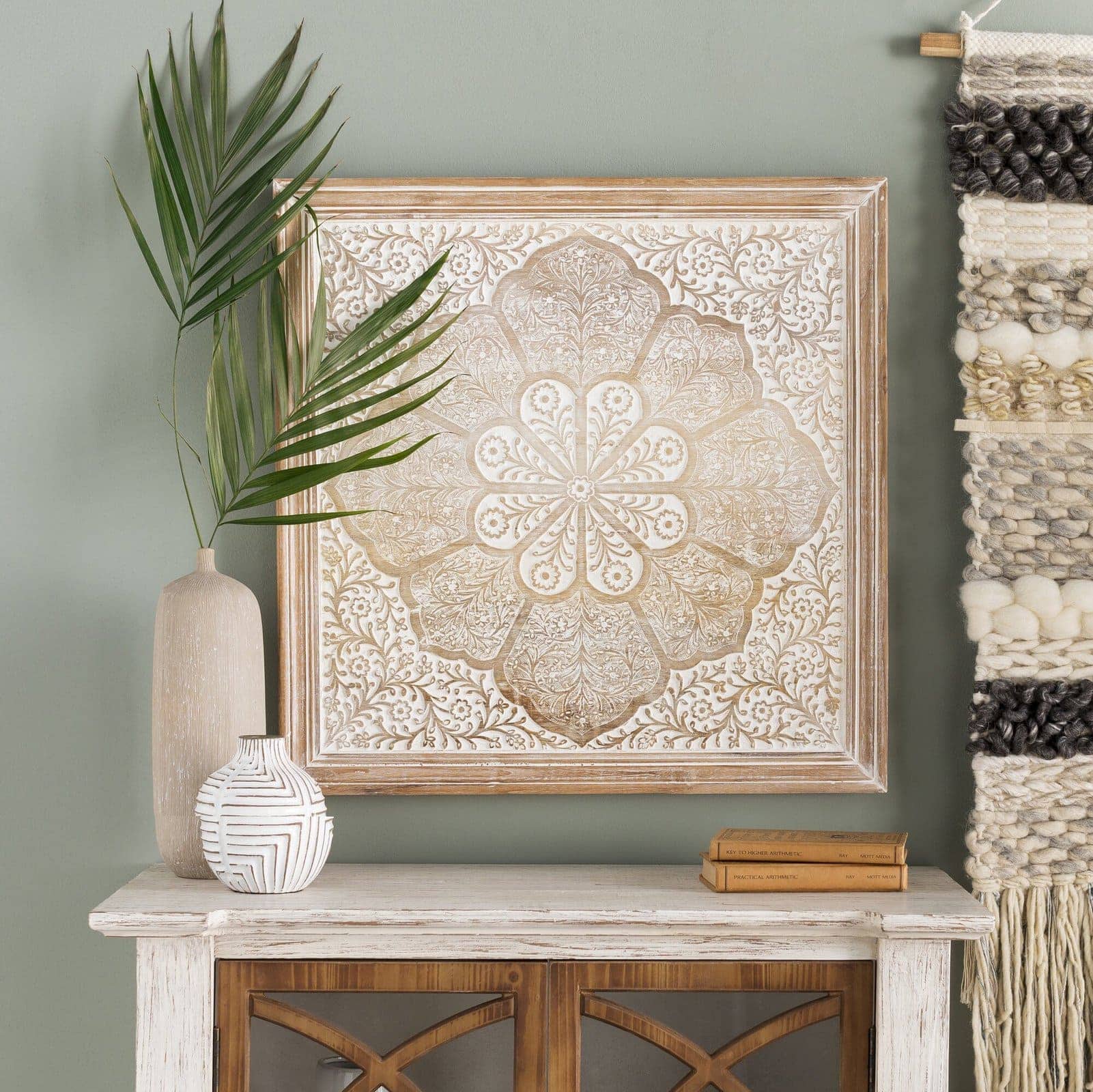 This beautiful carved and hand painted piece of wall art has been lovingly made by artisans in India. Its intricate carved design will bring a touch of Asia to your home, while its understated neutral color palette will suit most decor styles.
It's quite a large piece at 24" x 24", so is perfect for using anywhere that you want to make a statement. The design has been painted and lightly distressed to give it an aged look.
Aztec Reclaimed Wood Wall Art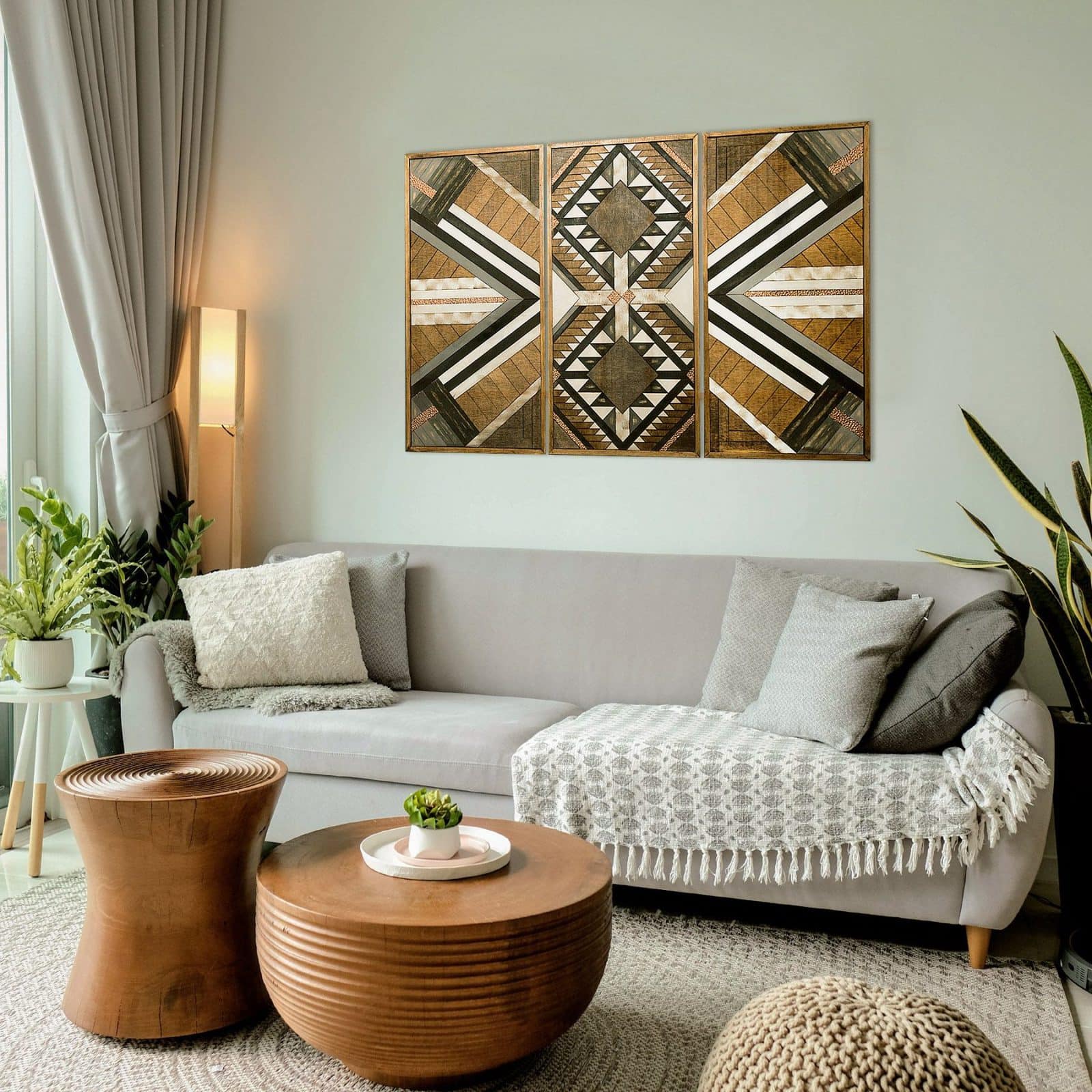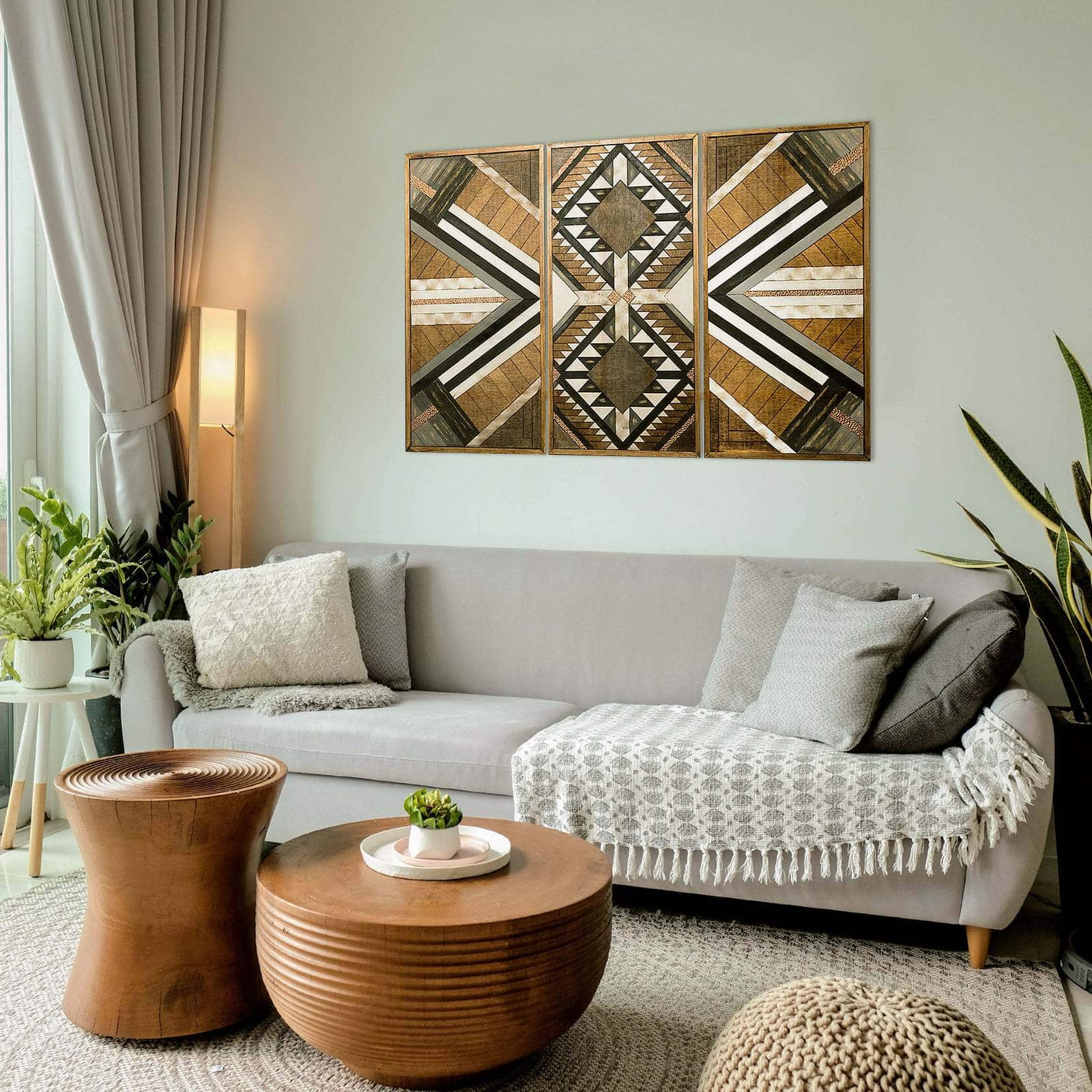 Three separate pieces come together to create this stunning Aztec style work of art, each with its own unique geometric patterns. Since the three pieces are separate, they can be hung as close together or far apart as you wish.
Each piece is made from sustainably sourced and reclaimed woods, finished in a variety of wood-stain varnishes to create contrasting colors. These would work well in modern homes as well as more rustic and bohemian interiors.
Madison Park Gabbie Natural Wood Wall Decor Set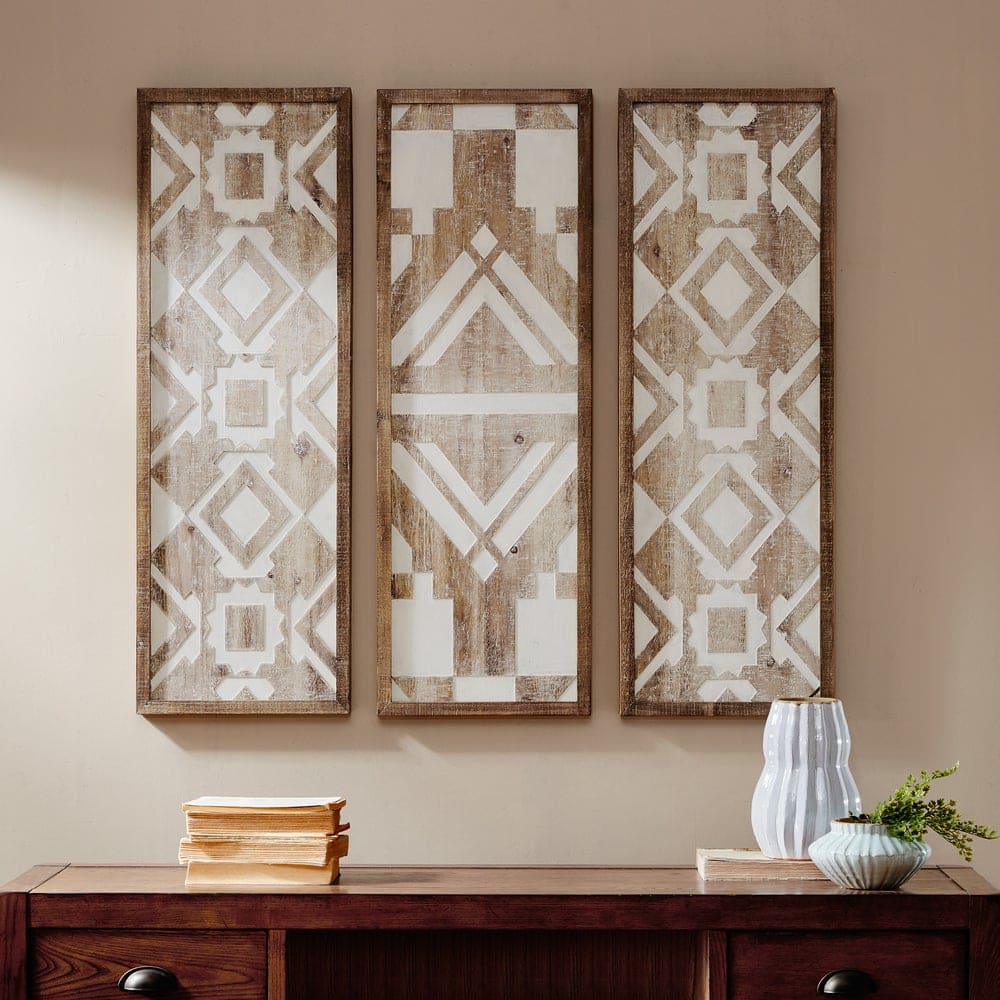 If you're looking for simple and effortlessly stylish wooden wall hangings, you will definitely want to check out this trio of painted wood wall carvings. Globally inspired geometric patterns have been printed onto the soft natural wood, creating a unique look that differs from piece to piece.
They come as a set of three, and will arrive ready to hang with mounted hooks at the back of each piece.
Uma Carved Wall Panel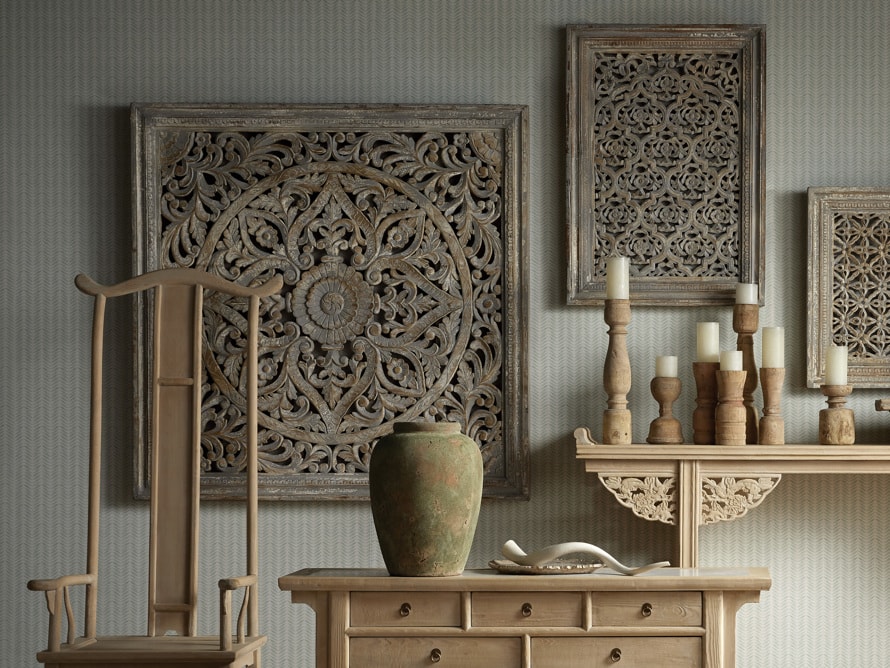 This gorgeous decorative wall panel features classical Indian sculptural and architectural motifs, hand shaped by dedicated artisans from solid Mango wood.
The intricate carved designs are perfect for anyone who wants to add texture and interest to their space. This sophisticated piece will definitely be a talking point for any guests who come to your home!
Mountains by Parvez Taj – Print on Wood
'Mountains' by Parvez Taj is the perfect way to add a rustic feel to your home. This eye catching print has been created using fine art UV ink, on natural pine wood creating a stunning piece of art.
The artwork itself is fairly large, so it would be ideal to hang over a fireplace somewhere else it can really make an impact. Each piece of wood used in these pieces is hand selected by fine craftsmen for printing, however the natural knots and marks in the wood mean that each piece is truly unique.
Reclaimed Wood Wall Art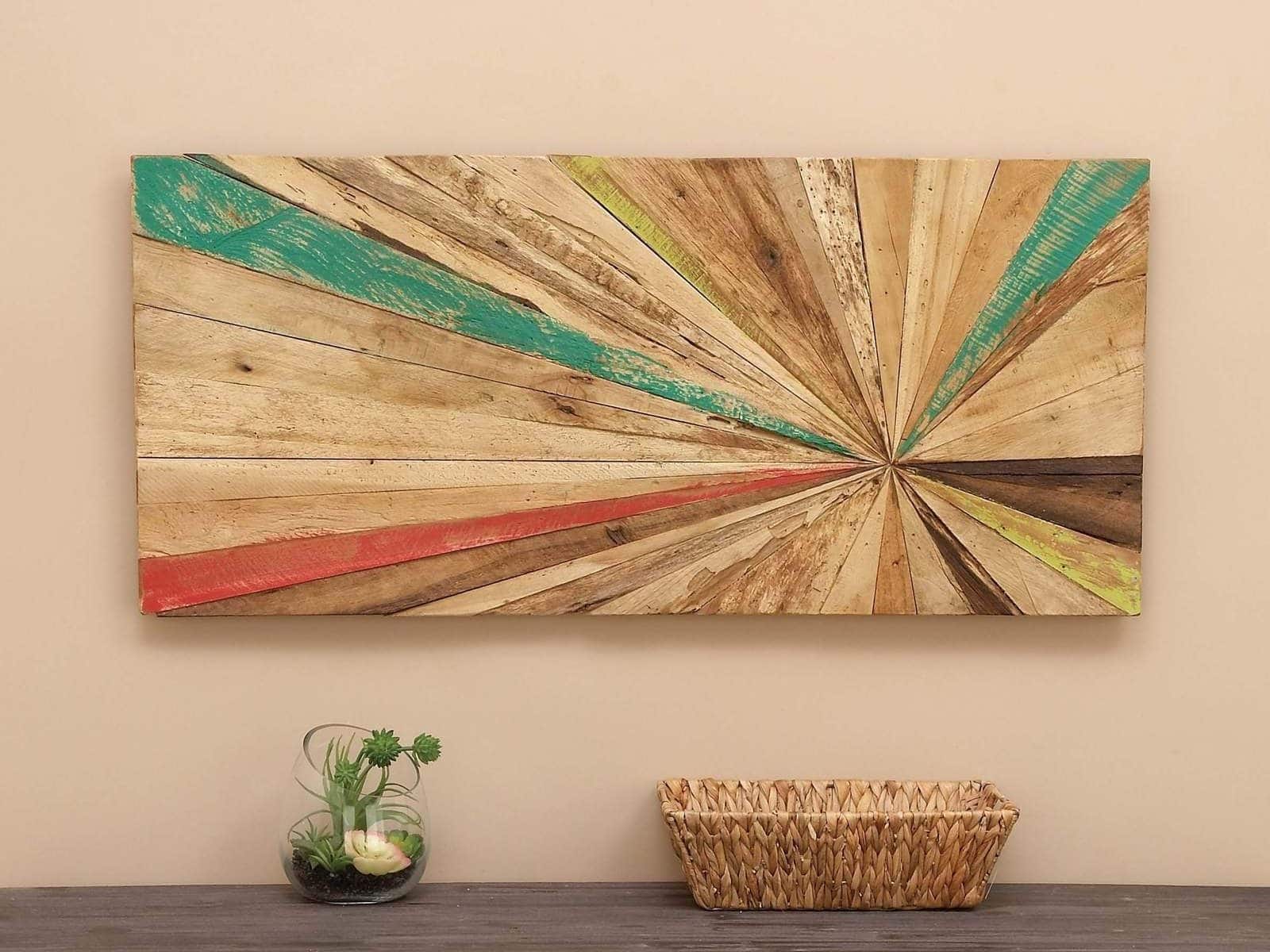 If you've been looking for wooden art ideas, you might want to consider this stunning piece of art! It is made entirely from reclaimed wood, so each piece is different, and unique in its own special way.
It features a 'sunburst' design, with painted pieces of wood amongst the natural pieces to add color and contrast, making this piece feel joyful and uplifting. The colored pieces of wood have been lightly distressed to give the art a rustic look.
3D Wooden World Map Wall Art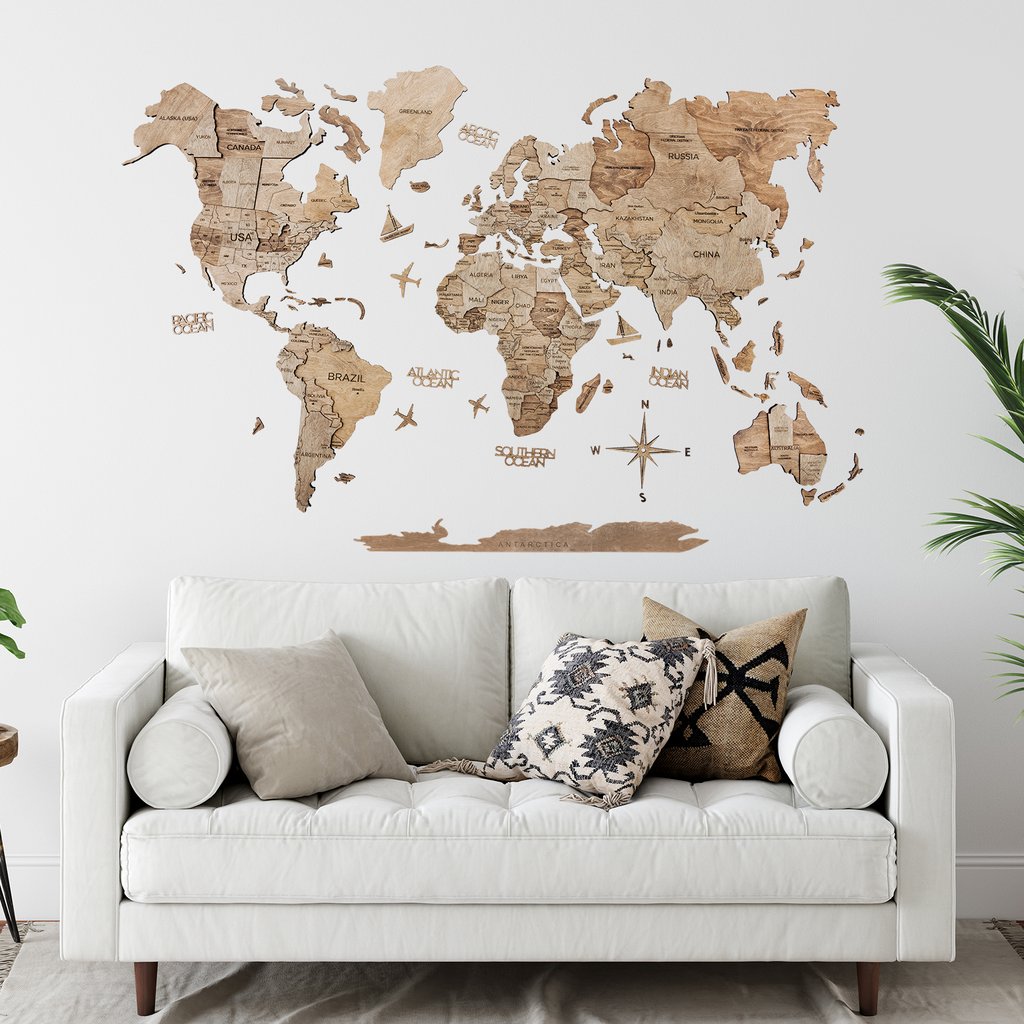 For anyone with wanderlust, this 3D wooden world map wall art is a must have! It even comes with flag push pins so you can mark where you've been (or where you want to go next!).
This cool wood wall art is eco friendly, and sure to attract attention from any visitors to your home. Each map is handmade from natural birch plywood with countries and states labelled so you know exactly where each place is. Ocean names, boats, and a wooden compass area also included to complete the look!
Mountain Wood Wall Art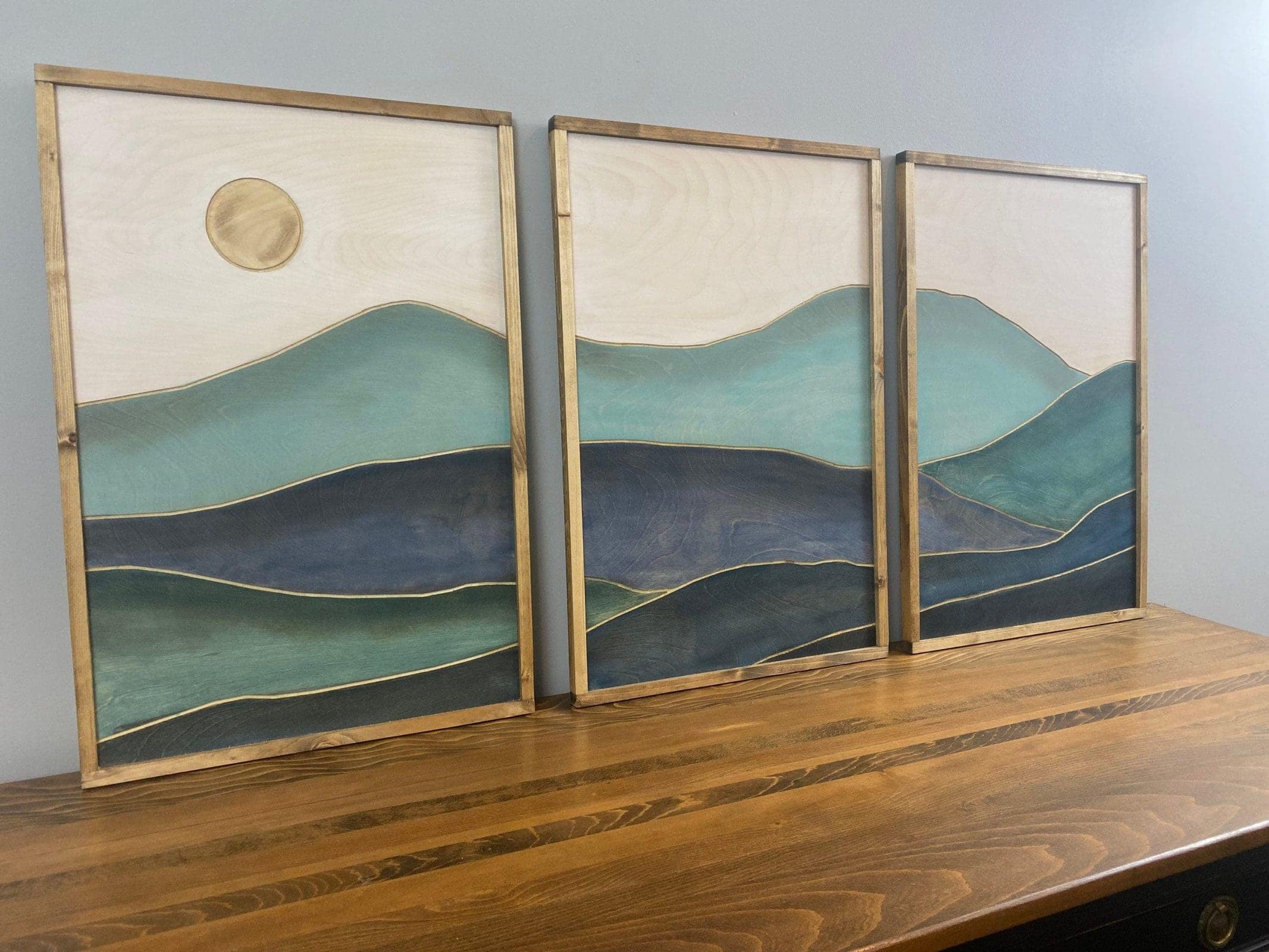 Bring some natural beauty into your home with this set of three minimalist, hand painted wood wall hangings. Each panel features abstract mountains, with the sun in the sky on the first panel creating a beautiful set.
The design is hand engraved and each one is hand painted and framed. These would be ideal above a bed in a master bedroom, or just as at home in a living room or hallway. Due to the natural variations in the wood, each piece will differ slightly.
Sand Dunes, Photographic Print on Wood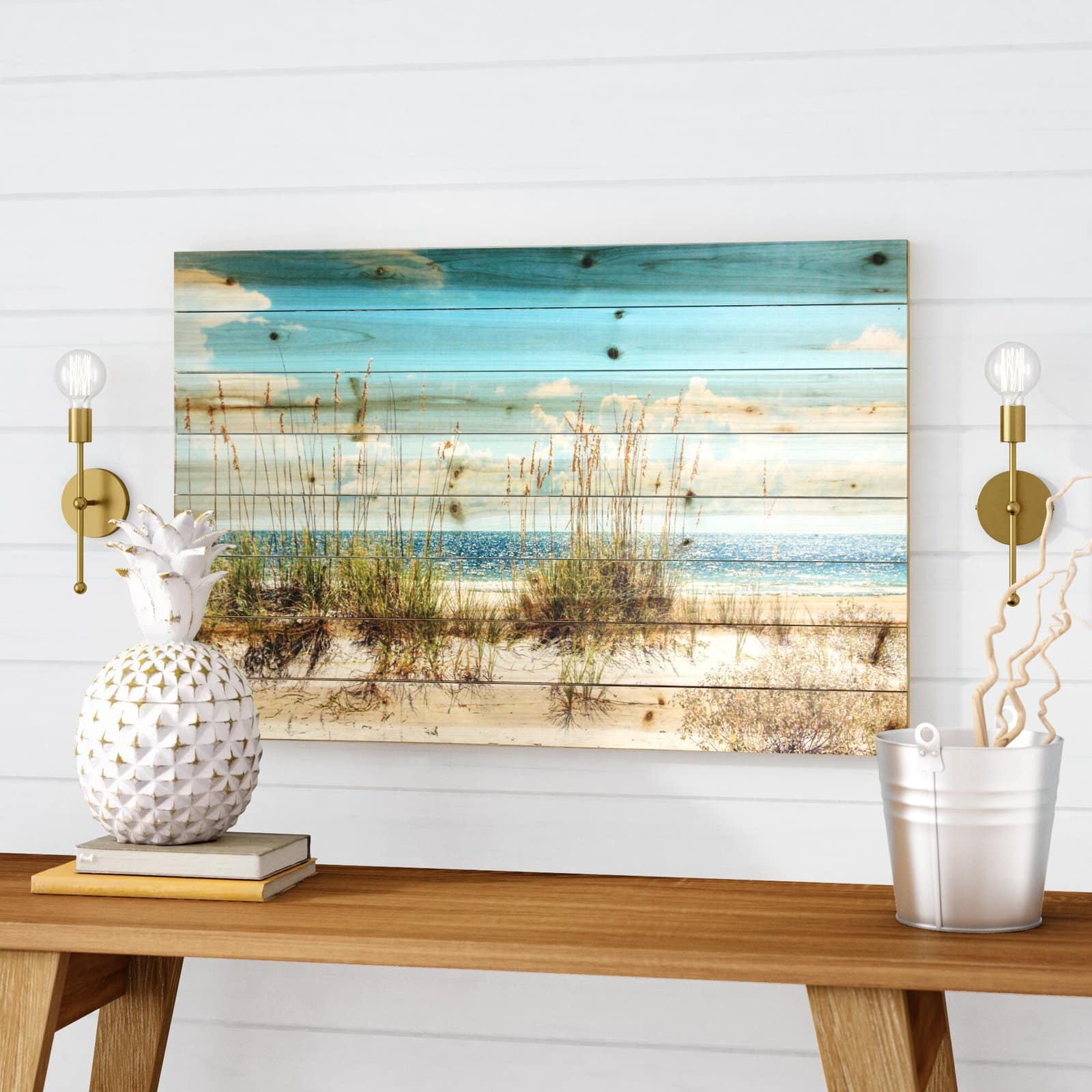 This gorgeous photographic artwork of sand dunes overlooking a beach on a sunny morning is bound to bring happiness to anyone who sees it! It has been digitally printed onto wooden planks for a beachy, rustic feel, meaning each piece is unique due to the natural imperfections of the wood.
It comes in a variety of sizes, and would be the ideal wall decor for a beach house, or the home of anyone who likes to spend time by the sea!
New York 3D Wooden City Map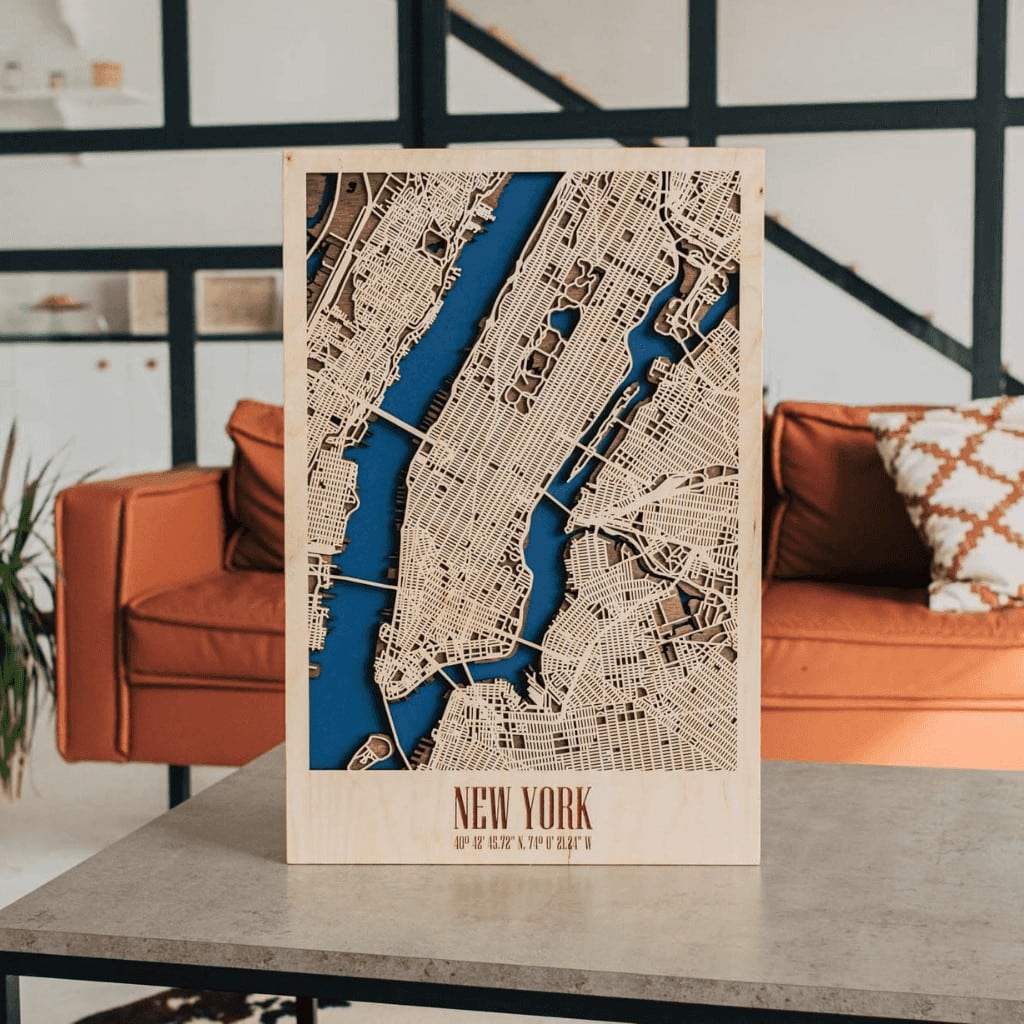 If there's a City that's close to your heart, why not commemorate it with a beautiful 3D wooden City map! The map pictured is of New York, but they also have maps of London, Tokyo, Boston, Portland, and many other cities.
Each piece is hand made from 17mm thick birch plywood, giving a wonderful depth to each piece of artwork. They are also available in three different sizes, so no matter where you want to use this in your home, you will be able to find the right size for you.
Square Wood Mosaic Wall Art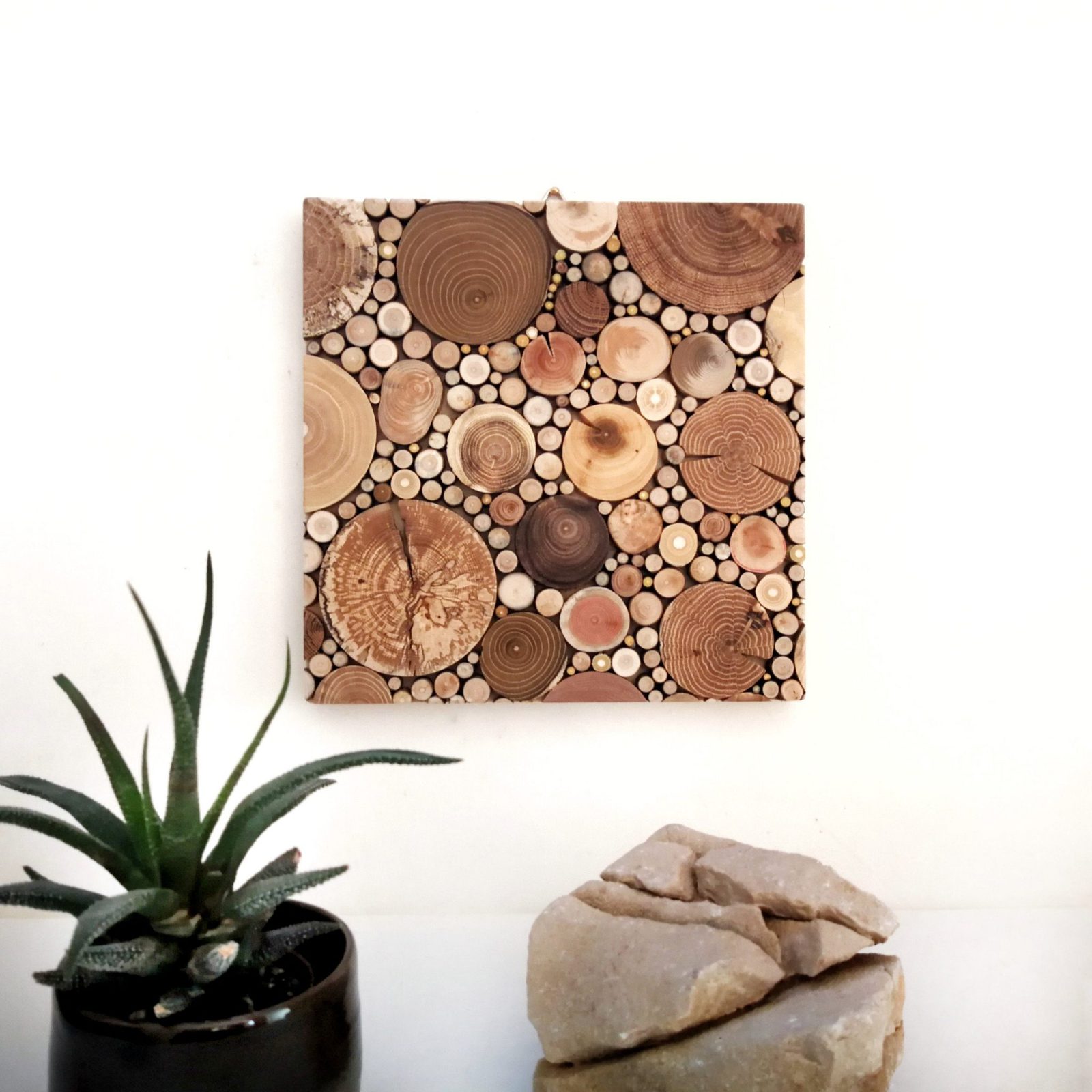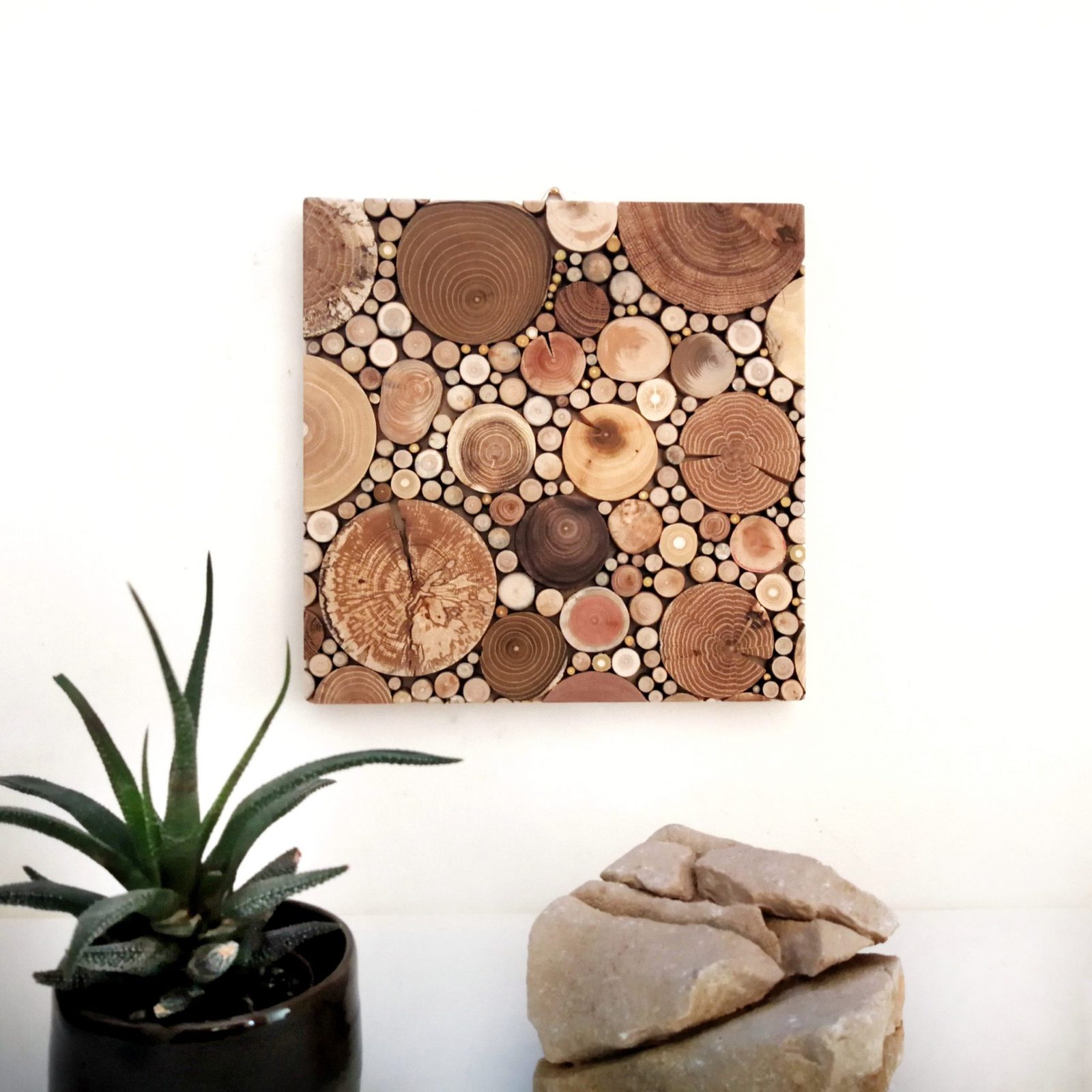 If you're looking for eco friendly home decor, then rustic wood wall art is a great choice. This piece has been created from a variety of natural tree species, each with their own beautiful colors and qualities to create a truly unique work of art.
No resin, varnish, or oil has been used to create these stunning mosaics, instead the natural colors of the wood are allowed to shine. Each piece of wood has been lovingly sanded to allow the grain to show through.
Farmhouse 'Bird Cottage Family III' Print on Wood.jpg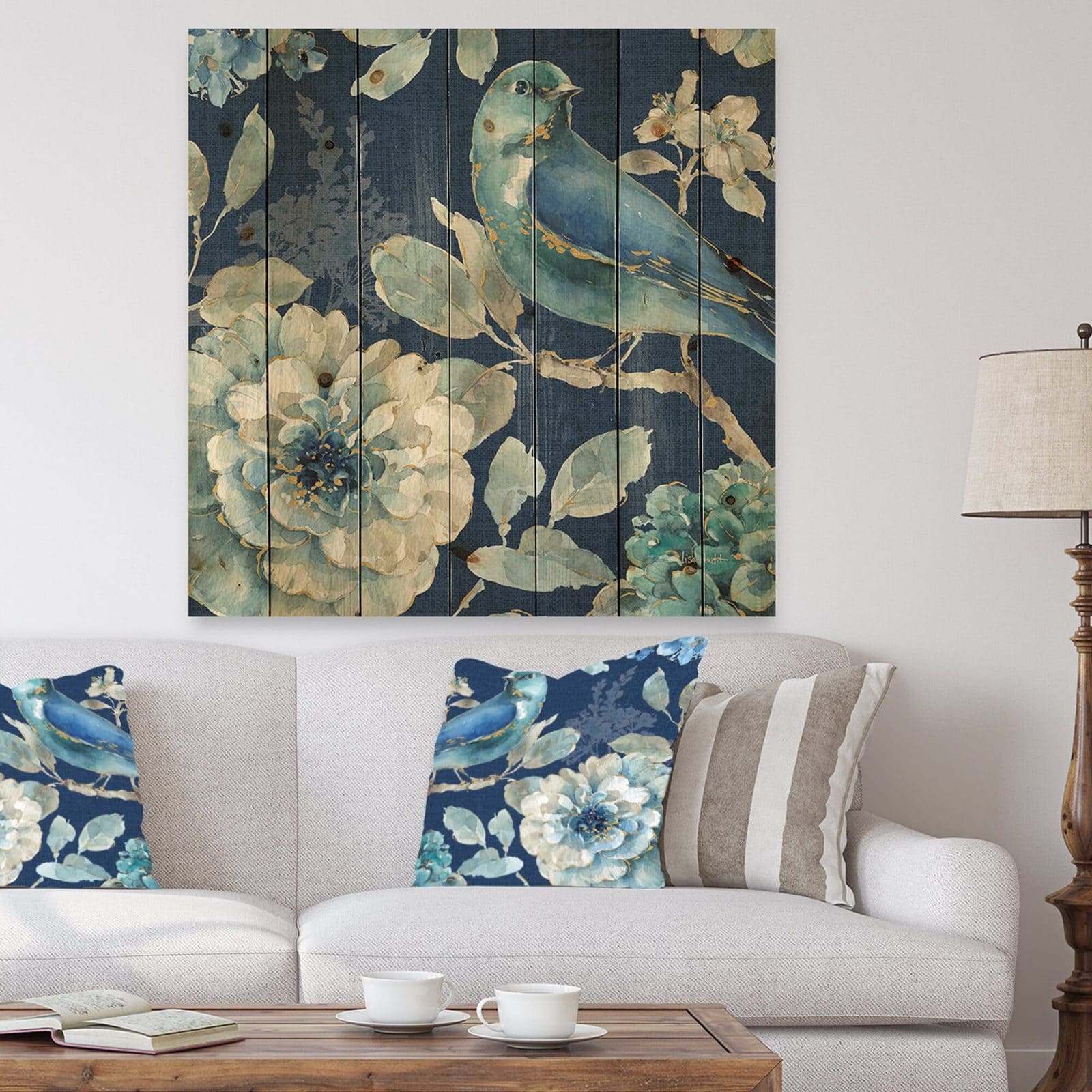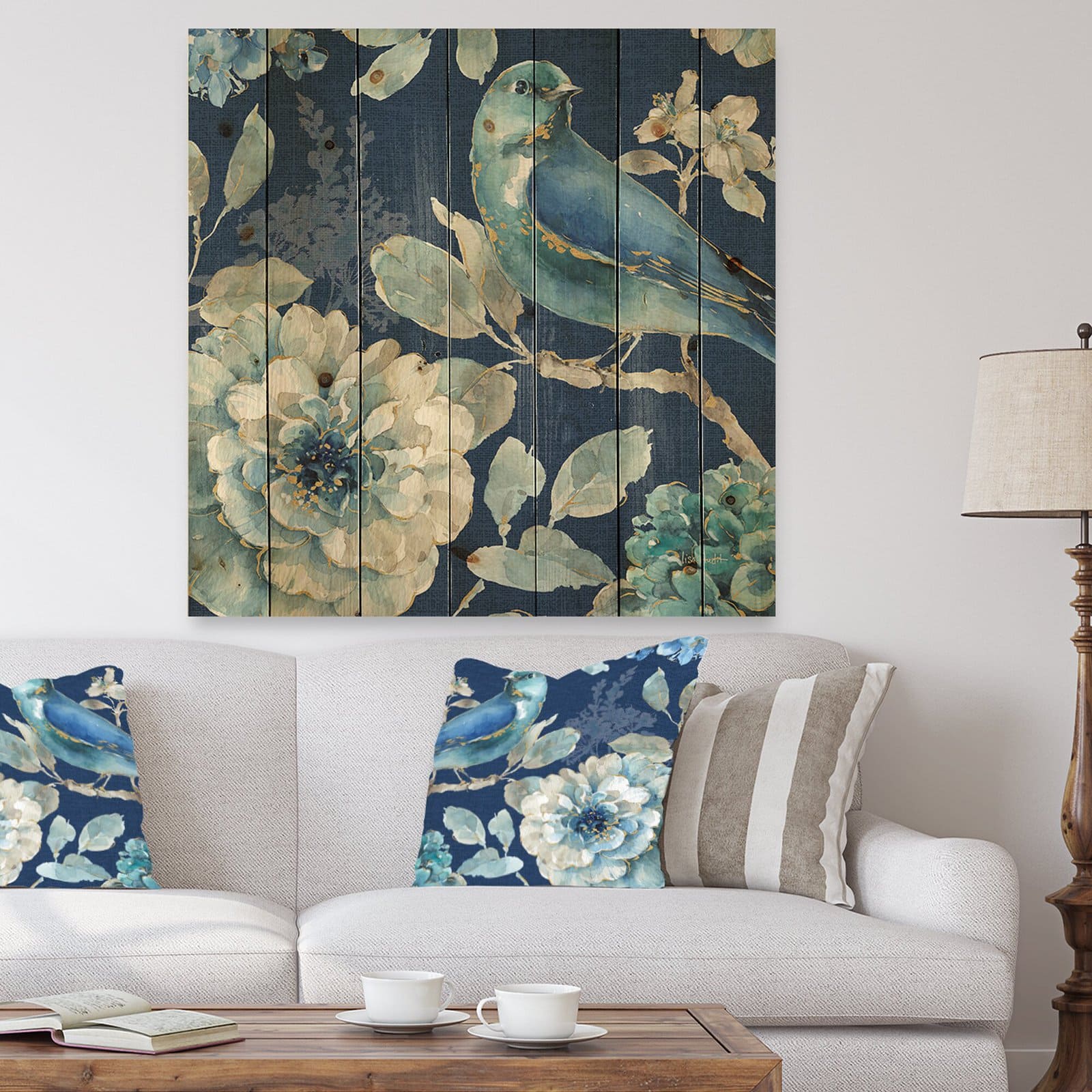 This unique wood wall art features a beautiful print of a bird nestled amongst flowers and trees. Typically wood wall art would be more at home in a farmhouse setting, but this modern take on wooden wall art would be just as at home in a modern apartment as it would a traditional setting.
Each piece is handmade, with the natural grain of the wood showing through subtly making each piece unique in its own way.
Carson Carrington Tapa Natural Wood Wall Decor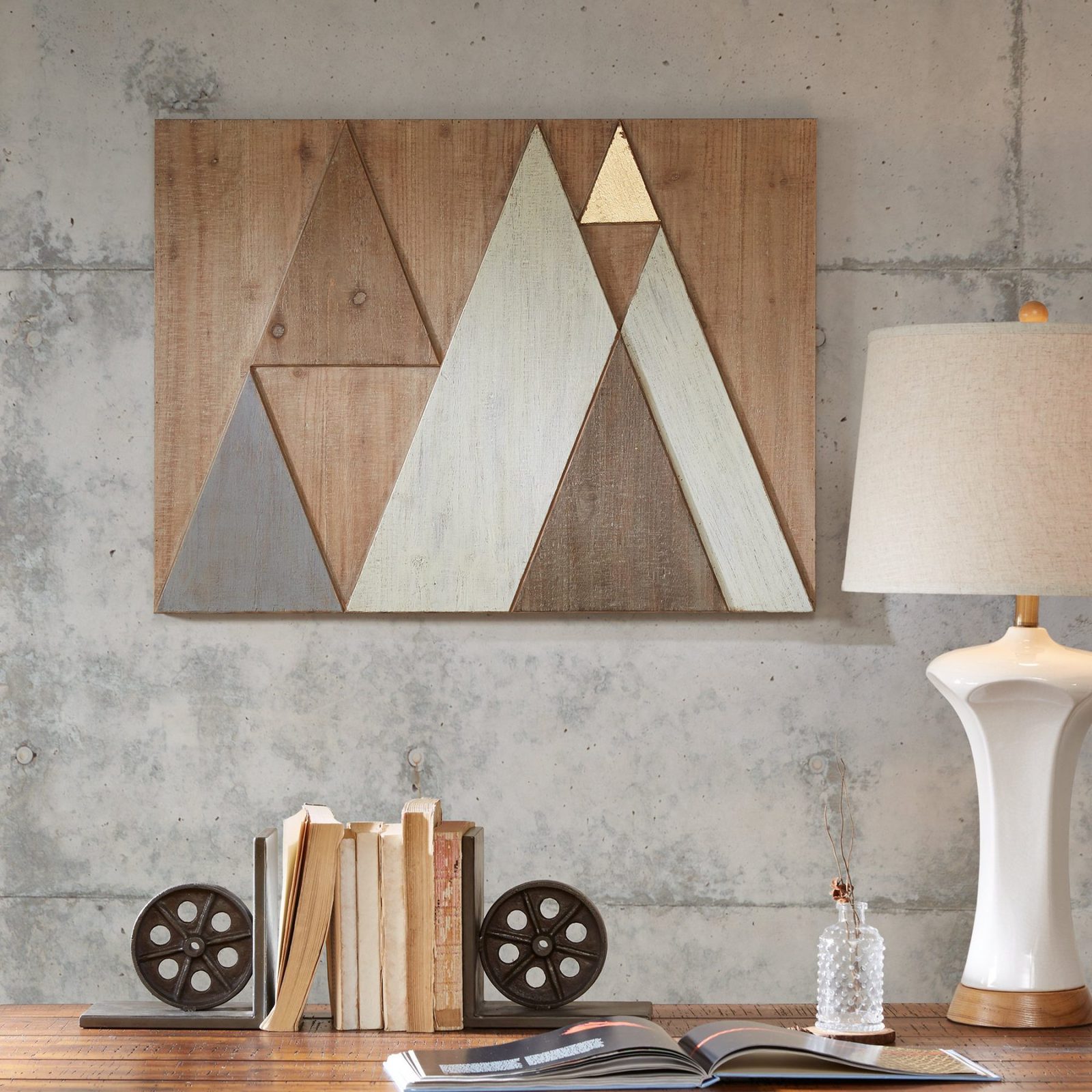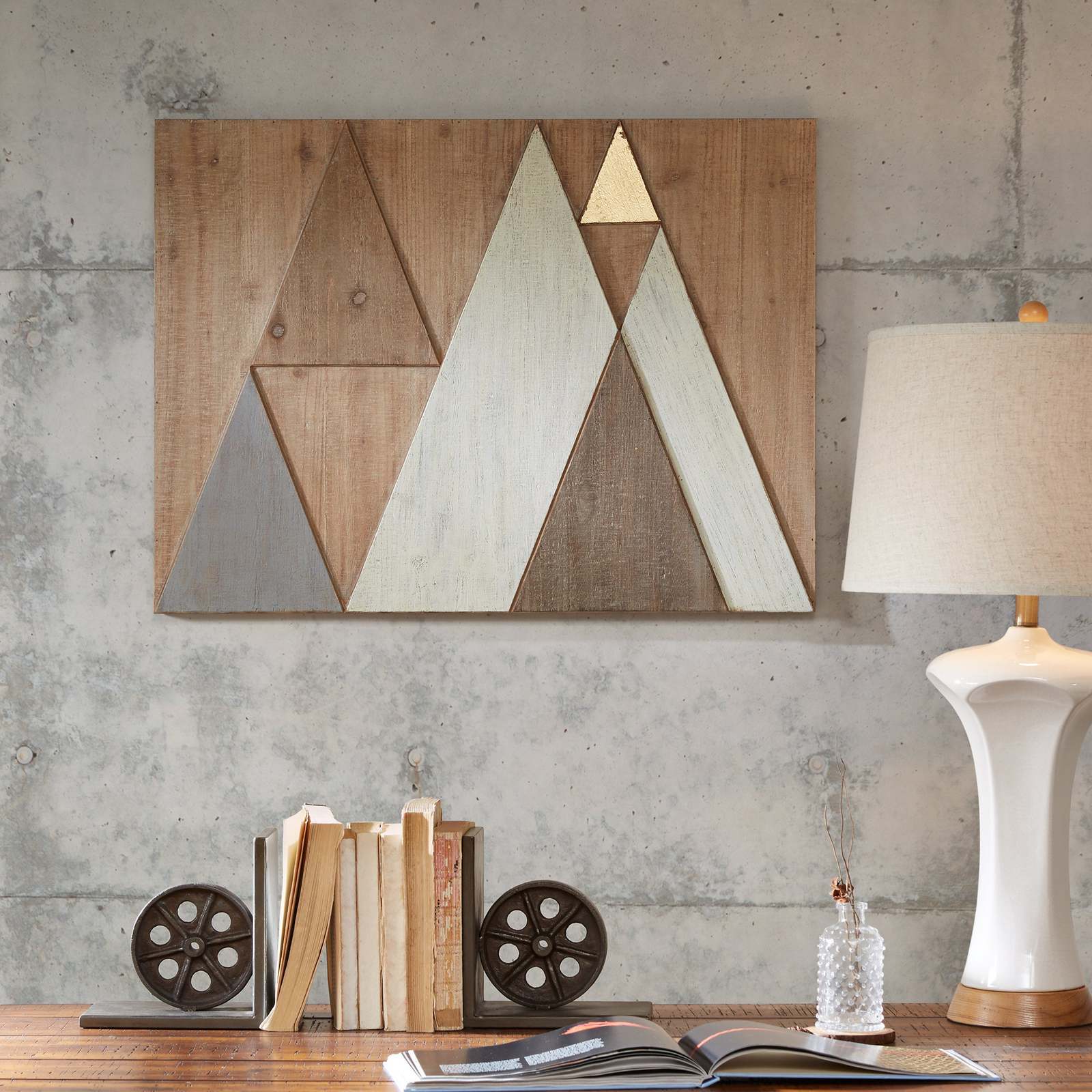 This abstract artwork features a mid-century inspired abstract mountain design that would look incredible in any modern or industrial home. Each work of art is made from solid Fir wood, which has then been lightly painted in gray, white, and brown, as well as some parts being left natural.
A gold accent makes this piece really special, catching the light and adding a little something special to make this piece truly unique.
Cottage 'Beautiful Flower Composition' Print on Wood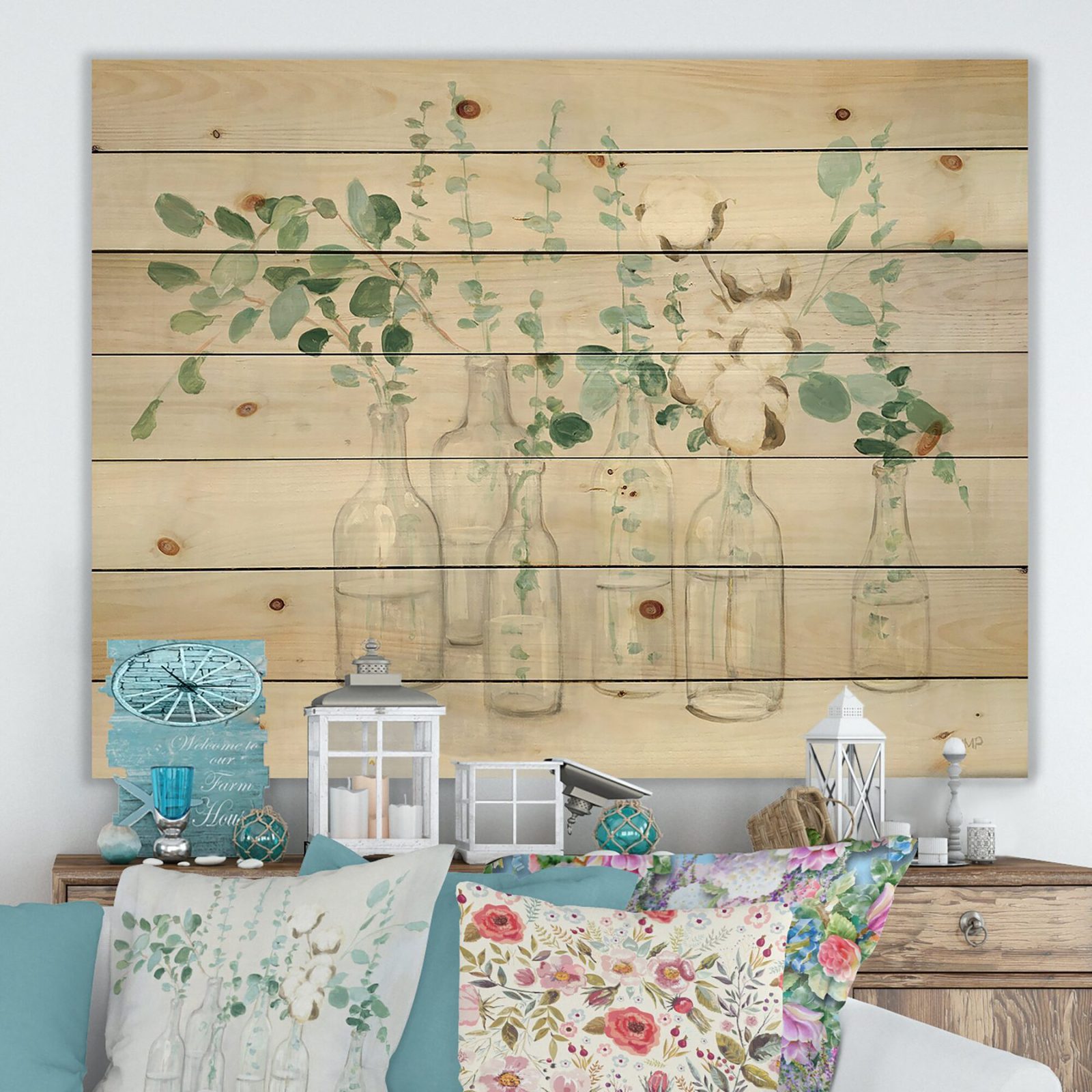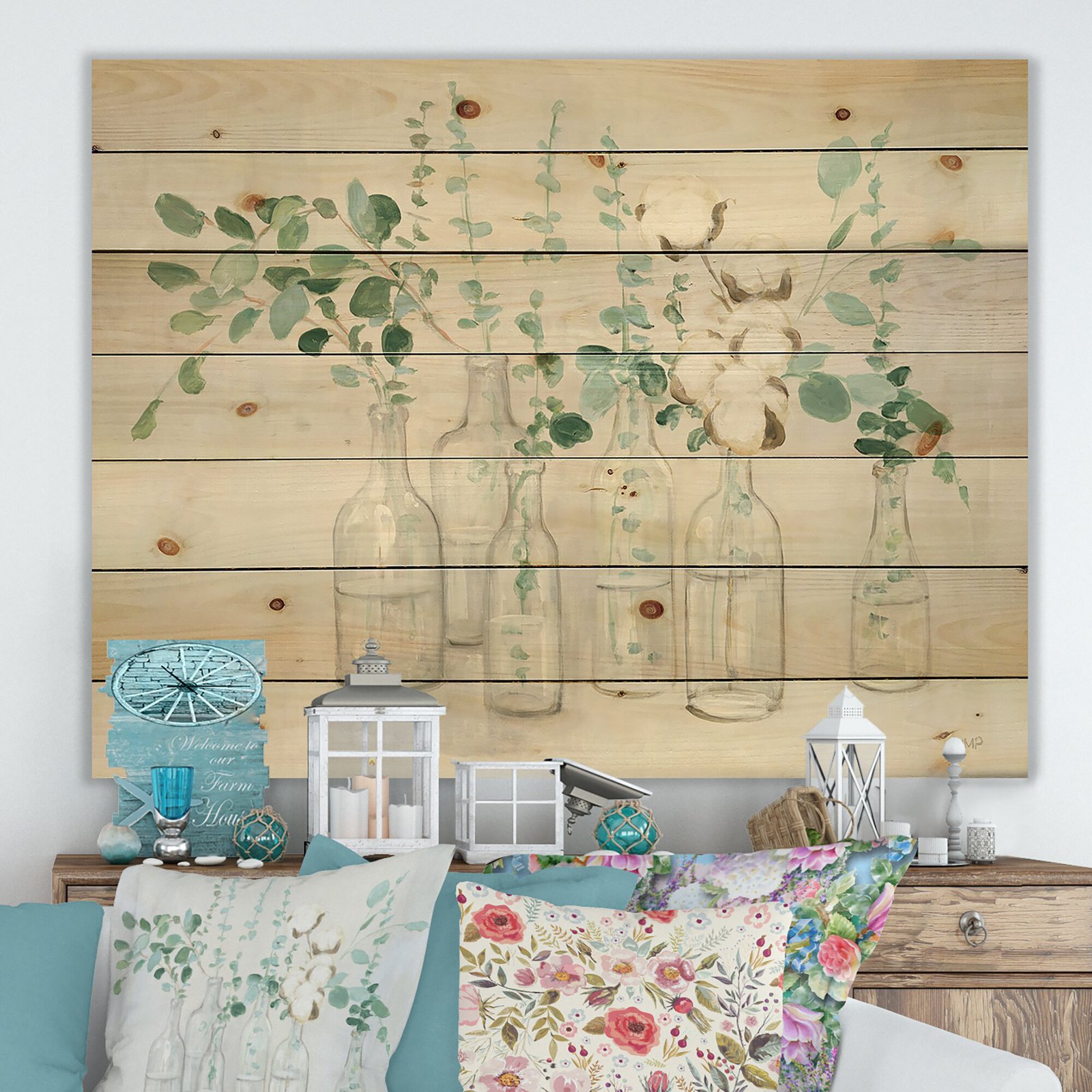 This beautiful painted wood wall art flower composition print is a modern take on wooden wall decor. Each design has been printed with high quality UV ink that won't fade over time, onto a background of natural pine wood planks.
This stunning piece would be at home in both traditional and modern spaces, adding a unique botanical touch to any room. The wooden planks it is printed on each have their own unique grain which makes each piece slightly different.
Rustic Mountain Tops Wooden Wall Art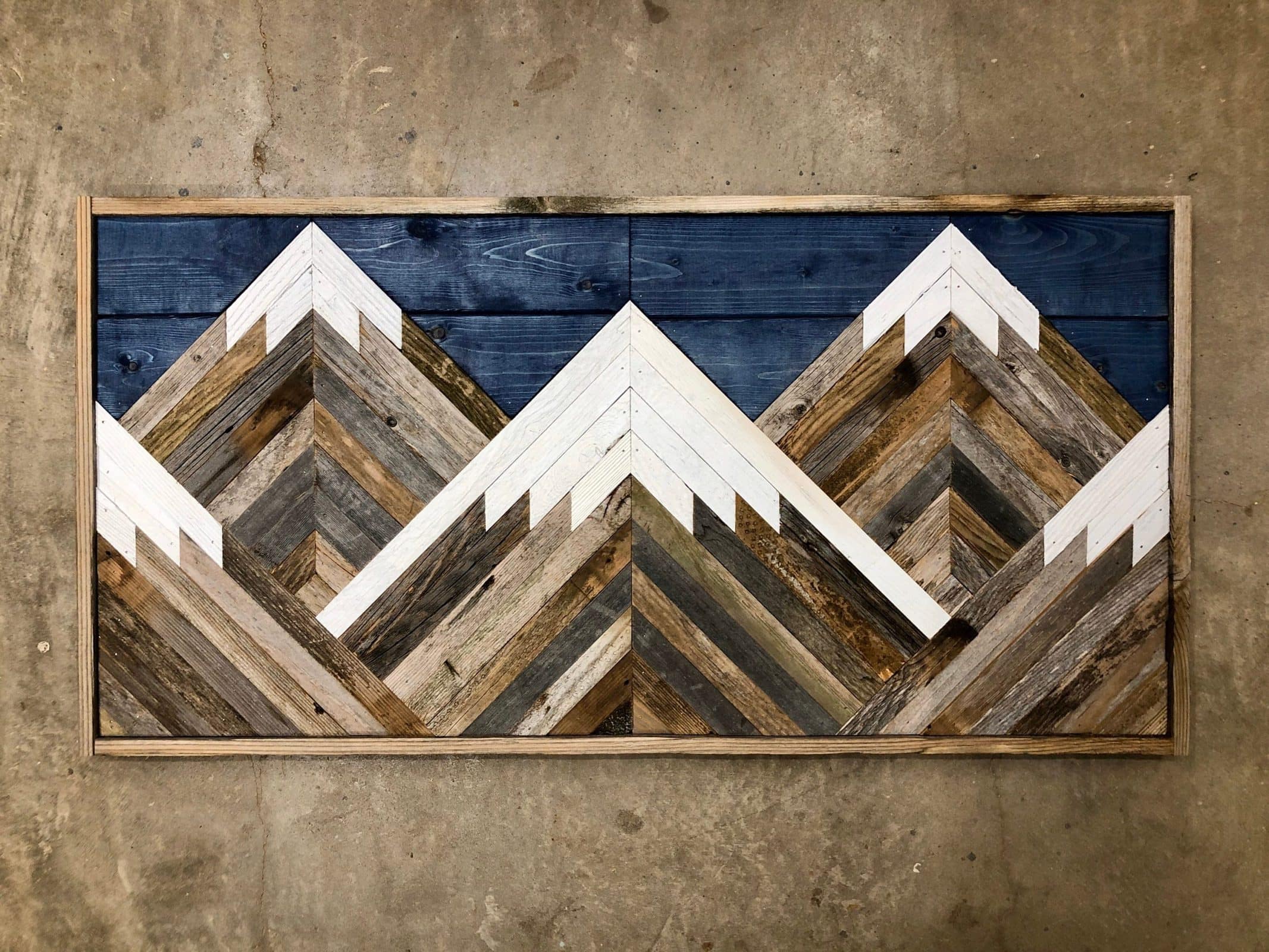 This stunning piece of art features three mountain tops against a blue sky. Each piece is carefully hand made from locally sourced reclaimed wood. Because of the natural texture of the wood, each piece is unique, and full of its own character.
Hanging hardware is included, and because each item is handmade you can request any specific colors within the design to complement your existing decor perfectly!
Large Round Geometric Natural Wood Wall Art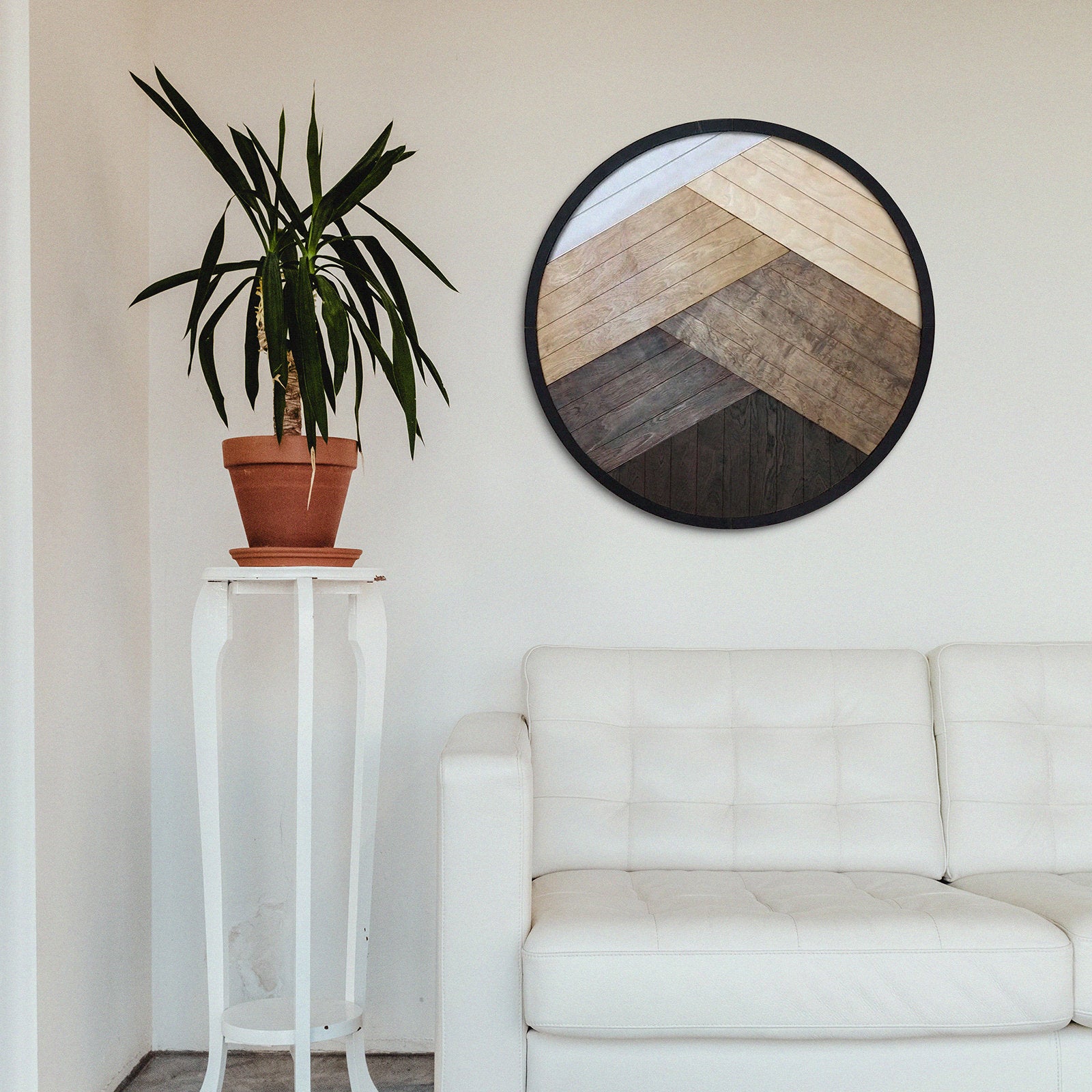 For something a little different, check out this round geometric natural wooden wall hanging. Featuring a modern geometric pattern with a hint of rustic charm, this piece would work well in any modern or rustic home.
Each piece is hand made from sustainably sourced hardwood, and hand finished in a mixture of light and dark wood stains for a striking effect.
3D Map of The USA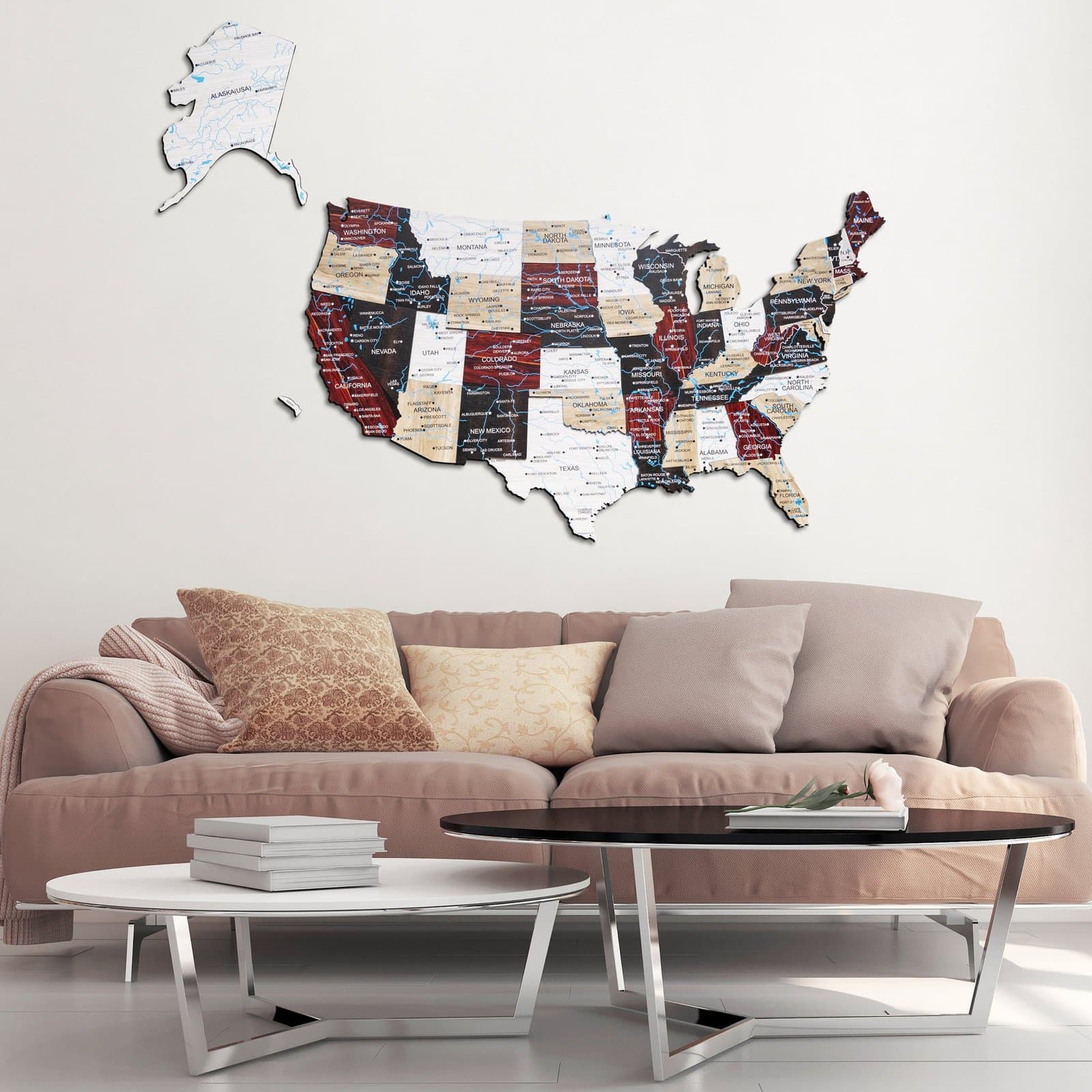 This beautiful map of the USA is handmade by professional craftsmen from 6-15mm birch plywood. The map uses four different contrasting shades of wood to allow each state to stand out. Rivers are included on this map too!
This is an ideal work of art for anyone who loves to travel around a lot and see the places they have been, since you can easily mark places you have been, or want to go to with push pins!
Final Thoughts…
If you have been looking for wood walls decorating ideas, hopefully these ideas will have given you some inspiration! Wood wall decor is perfect for anyone who wants to achieve a rustic or farmhouse style look in their home.
A lot of the pieces we have featured here are crafted from reclaimed wood, making most of these wood wall art ideas an eco friendly choice. Since wood naturally has warm tones to it, any of these pieces will help to add warmth and personality to your home, and wooden wall art is always a great talking point when you have guests in your home!