Decorated Life is reader-supported. When you buy through links on our site, we may earn an affiliate commission. Learn More
12 Vanity Ideas For Small Bedrooms
Having a vanity in your bedroom is becoming more popular and stylish than ever. There's such a stylish look to the vanities that are being designed now. If you've been contemplating making a vanity purchase for your bedroom, there's truly no better time than now!
One concern people may have with buying a vanity if they have a smaller bedroom is the space it may take up. To solve this problem, we will review some vanities that will fit perfectly in your smaller space!
Simplistic, Bohemian Vanity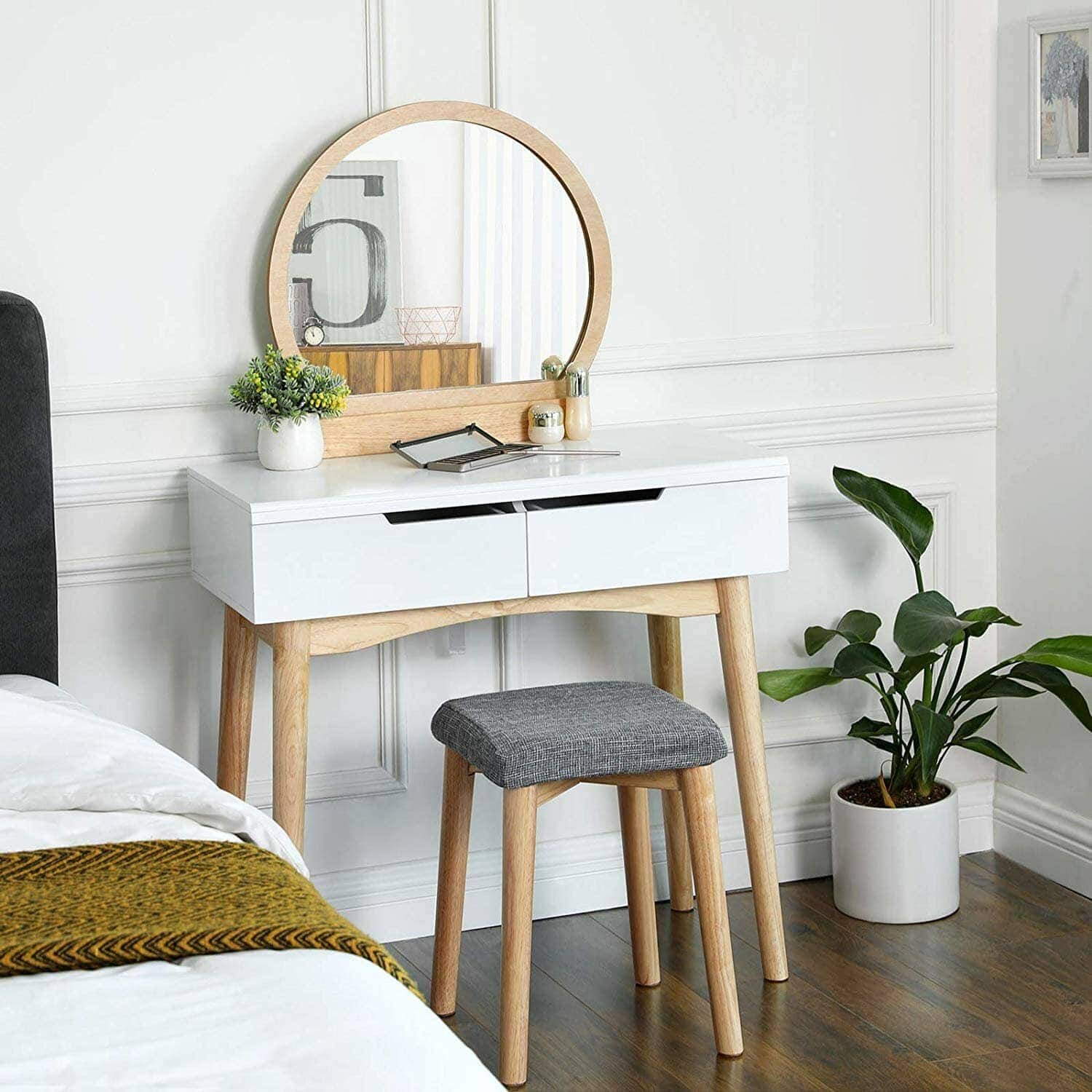 If you're aiming for a free-spirited, bohemian vibe in your bedroom; a simple but unique, wooden vanity is ideal for you! Thinking of color, white is always a perfect choice for a simplistic look that will match any other colors you decide to incorporate in your bedroom.
These smaller, simplistic vanities are easy to assemble, and will look elegant in your bedroom. For an even more unique and bohemian look, you can drape some lace over the surface of the vanity before you place your other necessities on top!
Small Space Glam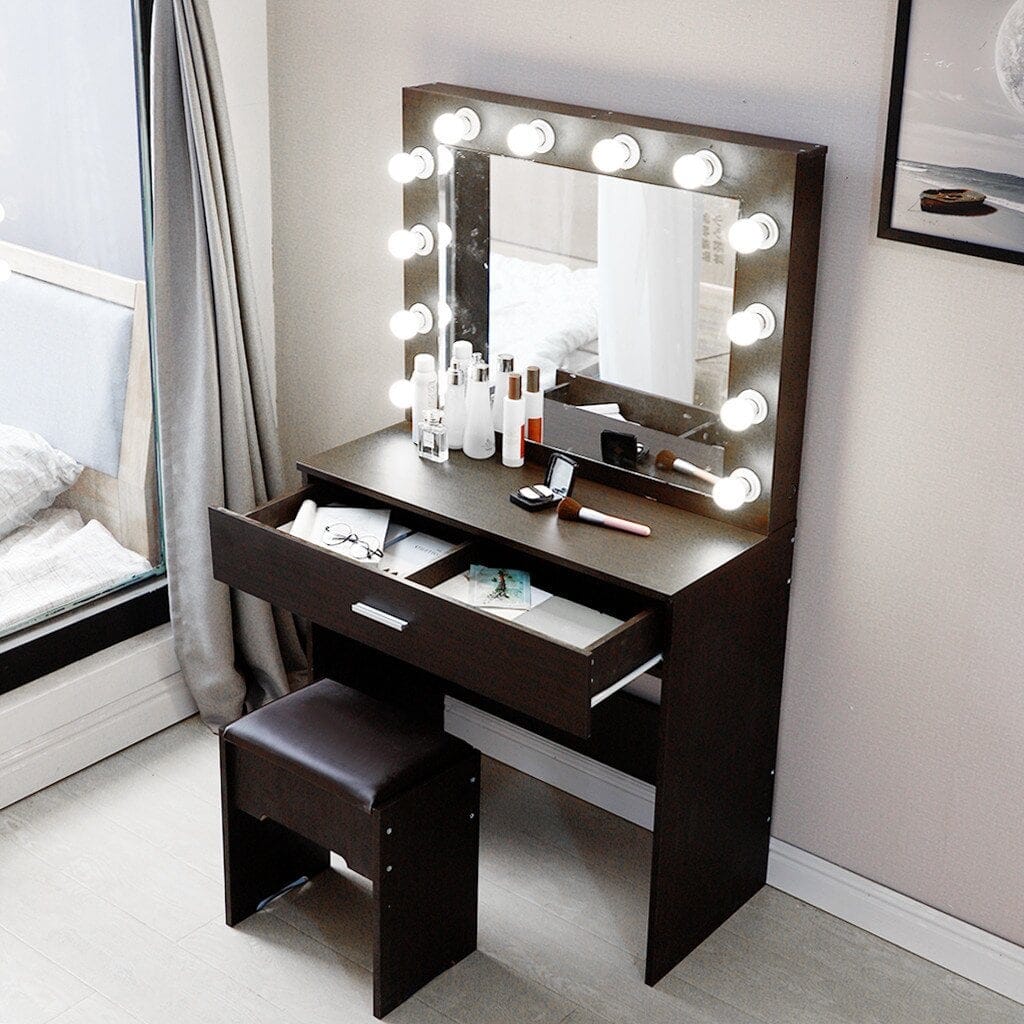 Do you love feeling like a star while applying your makeup for the day? If you do, a glammed up vanity with plenty of illumination is a need! Luckily, you don't need to sacrifice a large area of your bedroom to achieve this look.
There are plenty of vanities that include light bulbs surrounding the mirror to achieve this famous look. This not only looks modern and chic, but also allows plenty of illumination to ensure that you're always looking your very best!
An Antique Approach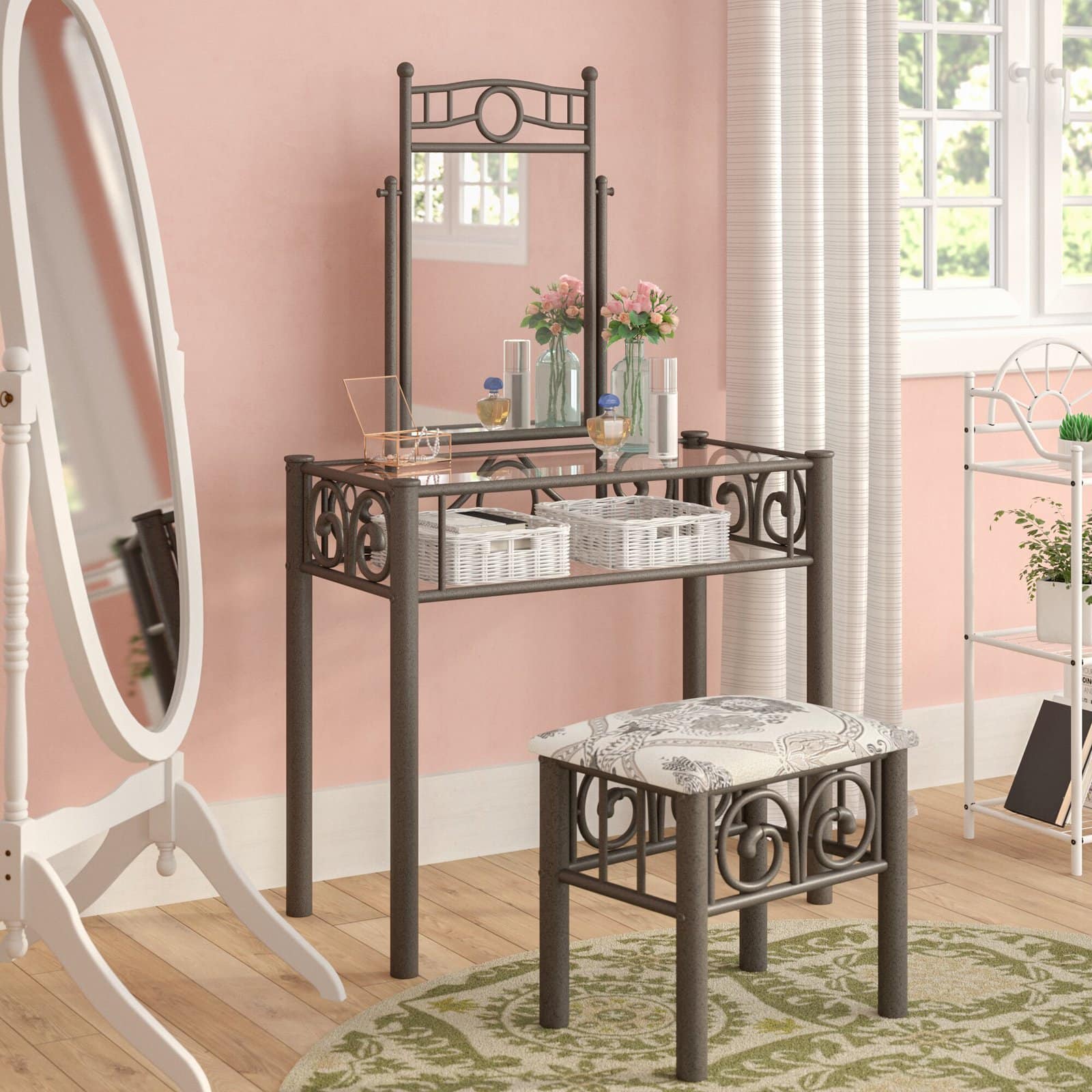 If your small bedroom has an antique theme, you'll have hundreds of vanity choices to choose from. Vanities in the bedroom are timeless and there are plenty of vintage ones to find. Big or small, these vanities are undeniably beautiful!
For those with a smaller bedroom, you are definitely not limited in your options. A metal vanity with intricate designs will perfectly capture the theme of your bedroom and tie the entire antique theme together.
Certainly Modern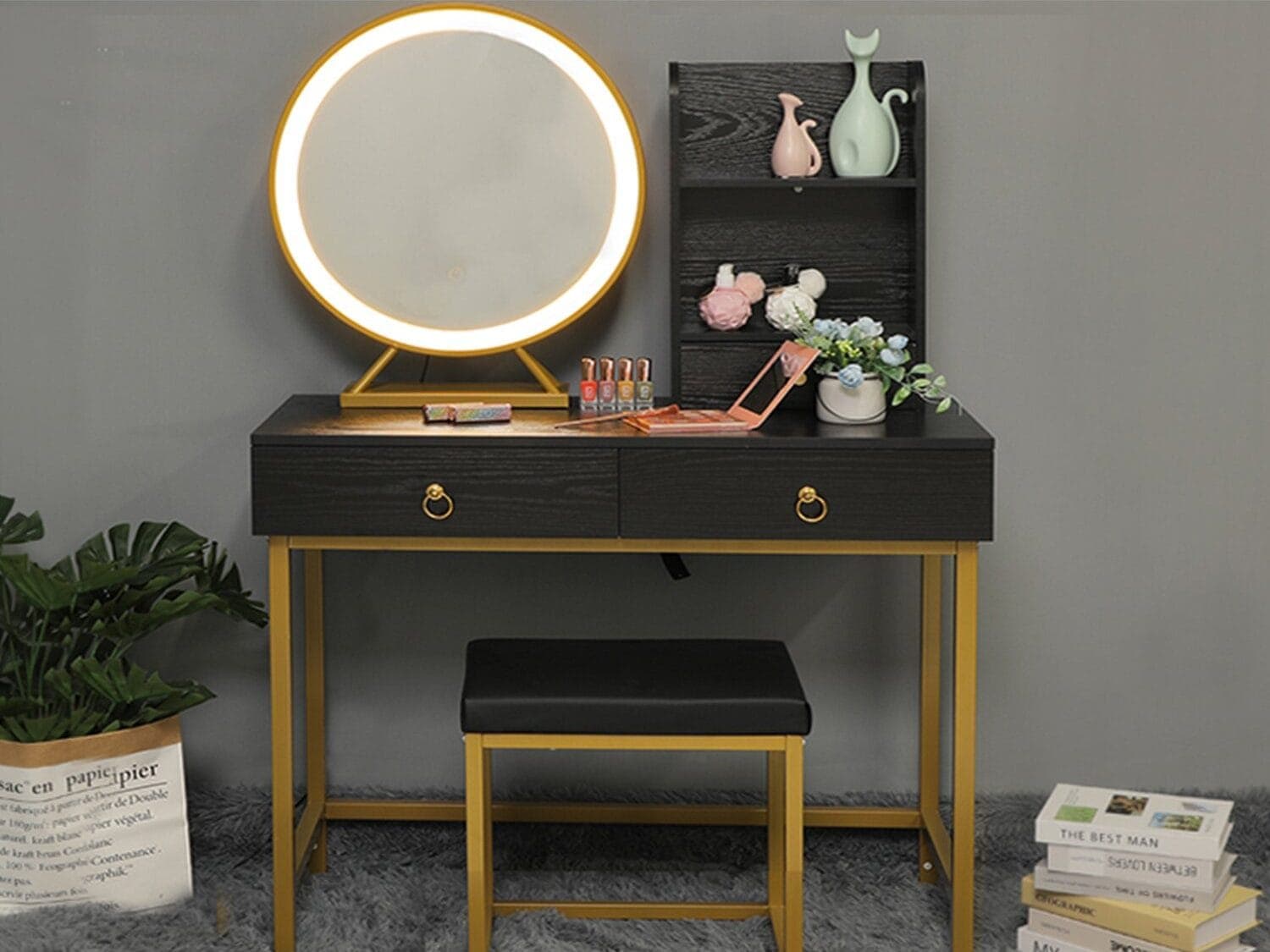 Modern vanities are being created with so many unconventional and astounding features. LED lighting, intricate storage space, and contemporary additions to the mirrors are all being utilized. Technology is only becoming more advanced, and is now being integrated into vanity design!
One of the most interesting features of the modern vanity mirror can be found in the light settings. New lighting in these types of mirrors can be dimmable and even change in color. This is not only an interesting quality, but an incredibly useful one as well!
Flip-up Mirror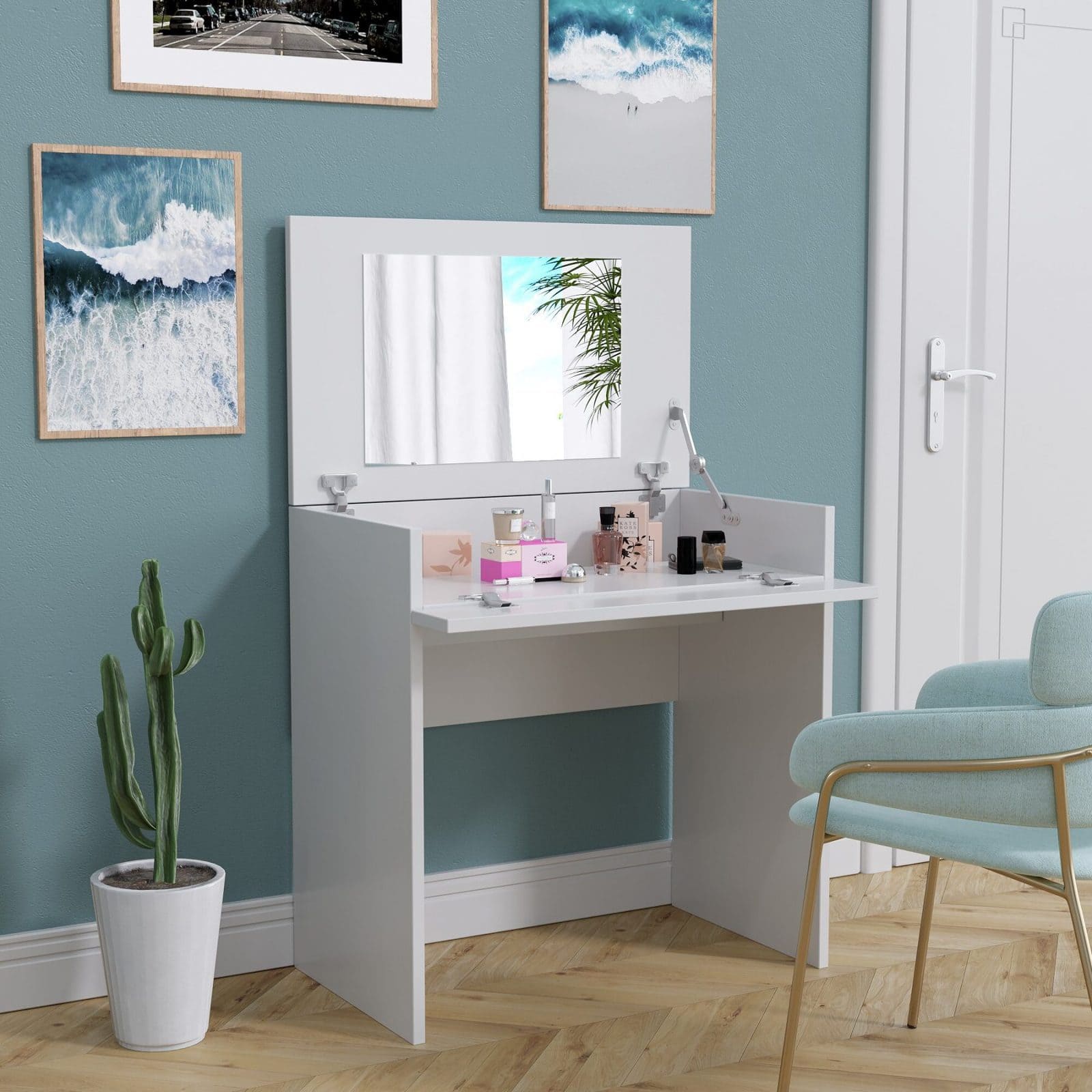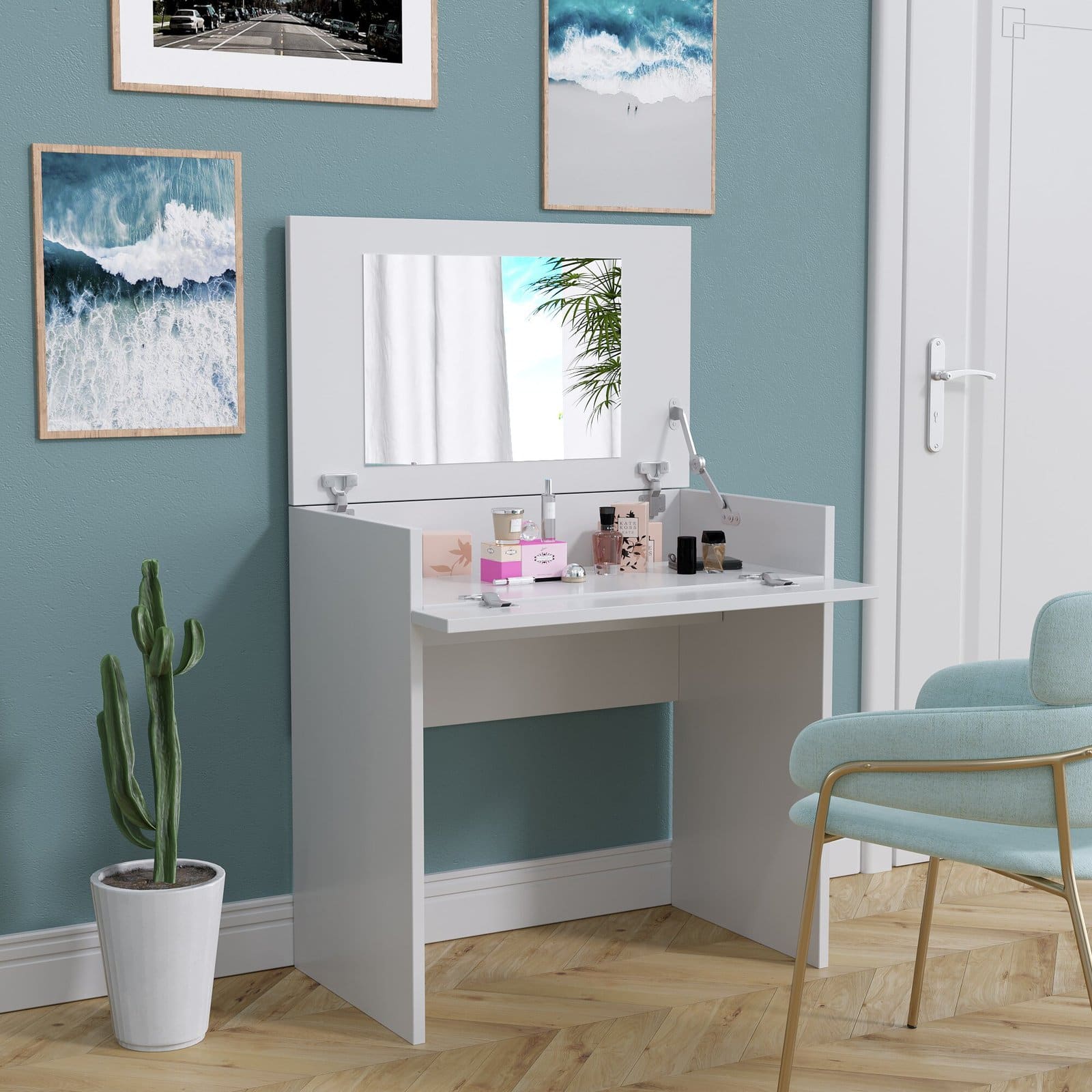 A flawless, space saving vanity idea for a smaller bedroom is a flip-up vanity! It's a creative choice and allows you to easily convert it from a flat surface, to a vanity with a mirror. The flip-up feature allows you to use this vanity for its intended purpose and as a desk as well!
If you only use the mirror on occasion, you can simply leave the mirror flipped down and decorate the top of the vanity with other room decor items. Since this vanity is multi-purpose, it's truly a smart and practical investment. Not to mention how nice it will look in your bedroom!
For The Jewelry Lovers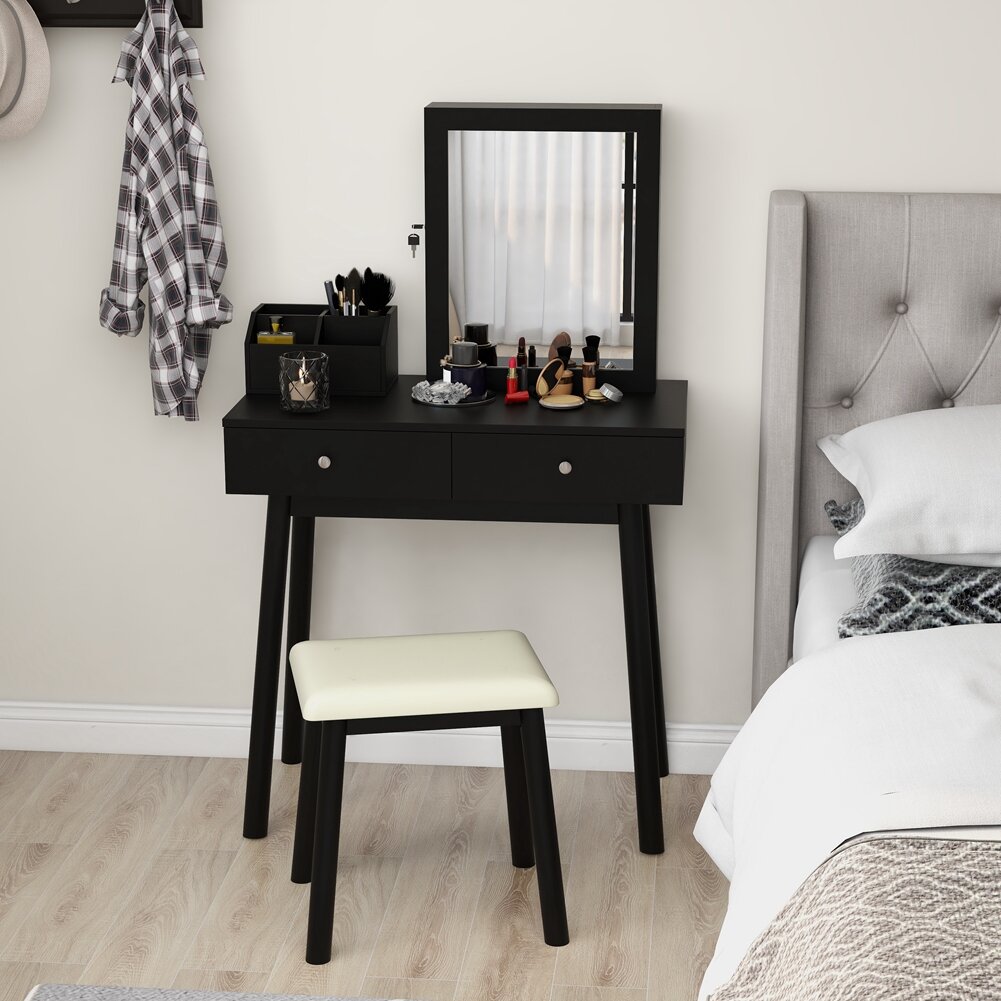 If you're planning on collecting jewelry or already have quite a collection, you know how important it is to have a safe space to store these pieces in. In this case, finding a vanity with storage space for your jewelry is absolutely essential, especially if you choose to invest in more expensive accessories.
There are plenty of vanities that incorporate a specific place for your jewelry, so luckily, we have some to choose from! Some of these types of vanities have a mirror that can open up to reveal a place to hang necklaces or store rings, keeping your jewelry safe and sound!
Use Your Corner Space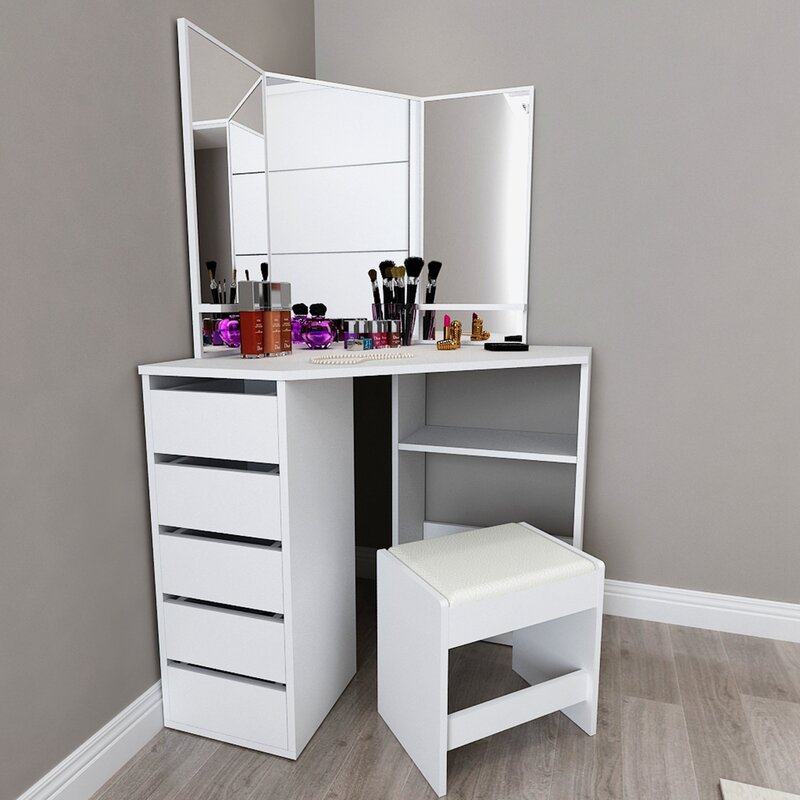 Having to create the illusion of more space in a small bedroom can seem like an impossible task. Let's debunk that fear and check out a space saving makeup vanity that not only looks amazing, but functions flawlessly in a smaller area.
All you need to do is go on the hunt for a vanity set that will fit perfectly in the corner of your room. Being able to set up your vanity in the corner will eliminate the need to use up an unnecessary amount of space. As a bonus, these vanities can also come with all kinds of storage options!
Chrome Or Silver Look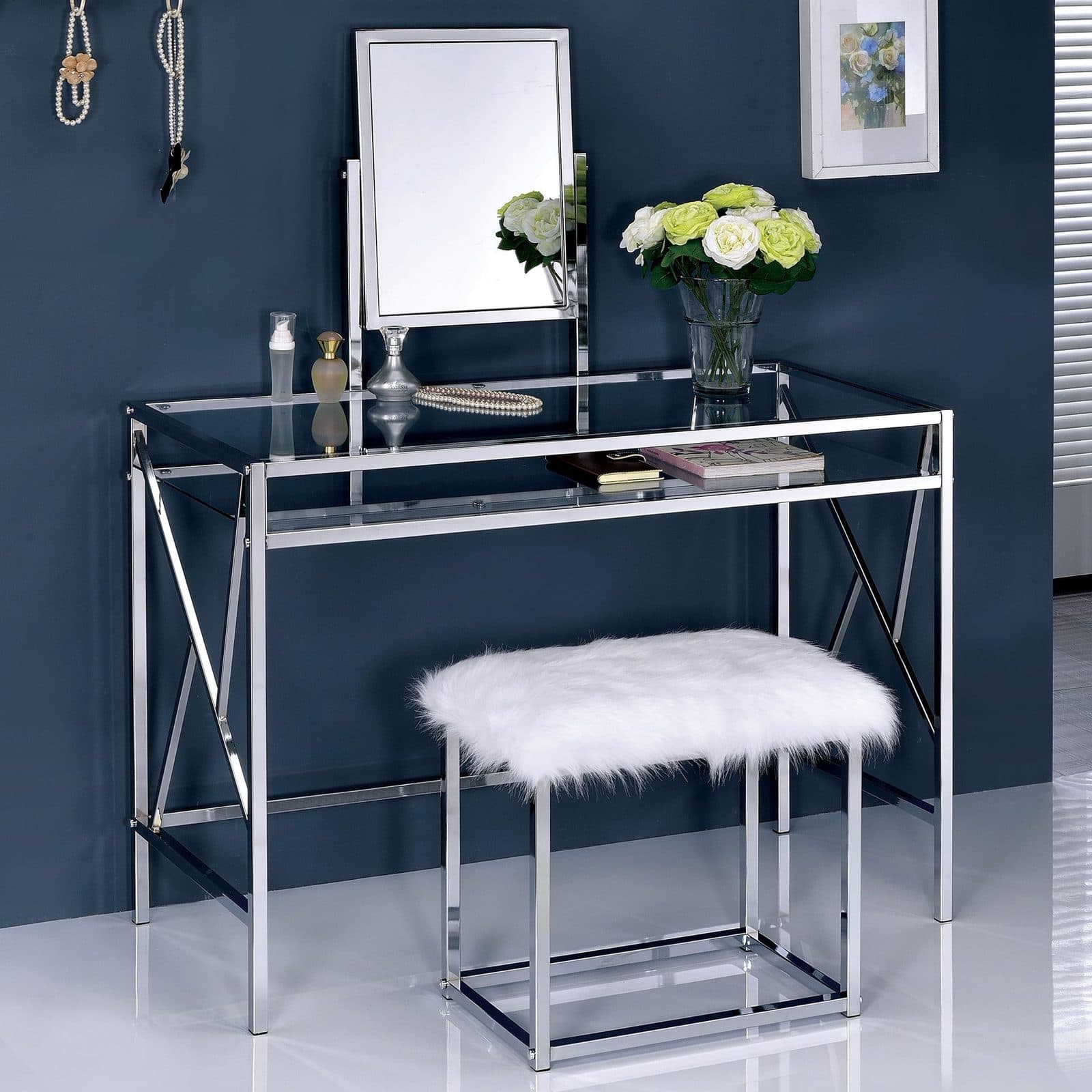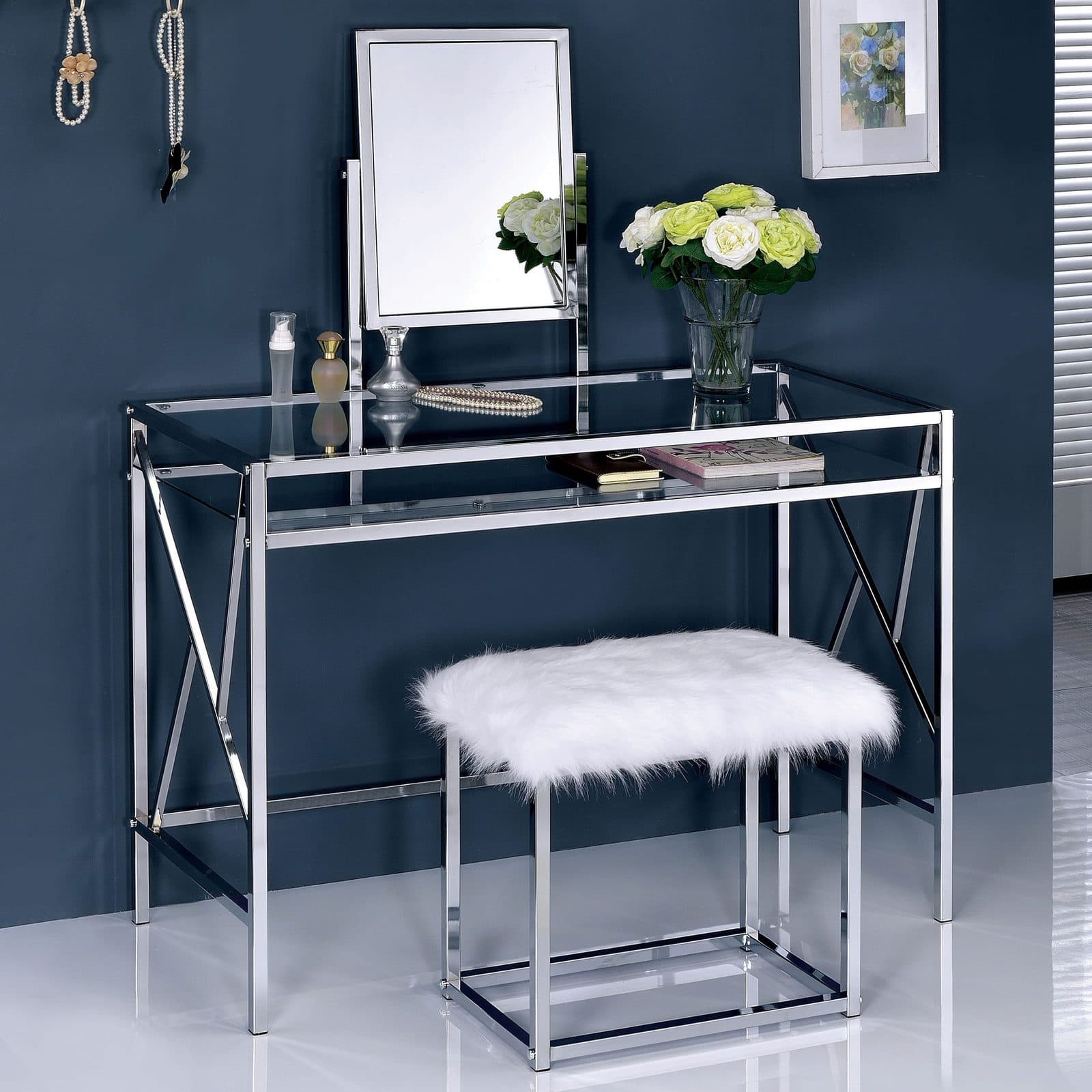 A cool vanity idea for your bedroom is to find one with a fresh and new look. Although black and white are notorious for matching anything, a chrome or silver color choice will make your room look polished and classy!
There is no reason you need to give up space for a modern looking vanity to place in your room. If anything, a smaller vanity can look even more refined and have that simplistic, clutter-free feel.
Perfect For A Princess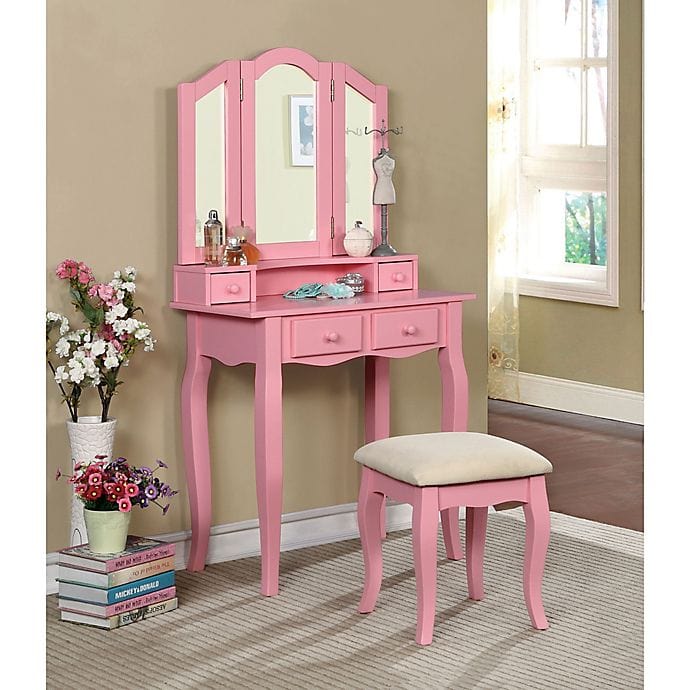 Who could resist the glamorous feeling of getting all dolled up while sitting in front of a stunning vanity before going out for the evening? If you're obsessed with a royal-themed bedroom, you'll definitely need to find a vanity that reflects that, and is well suited for a princess or a queen!
Whether you want a more classic take or a modern one, a royal vanity can come in all shapes and sizes. The perfect princess look might typically include shades of pink and intricate designs. What a beautiful addition to your bedroom!
Gothic Style Vanity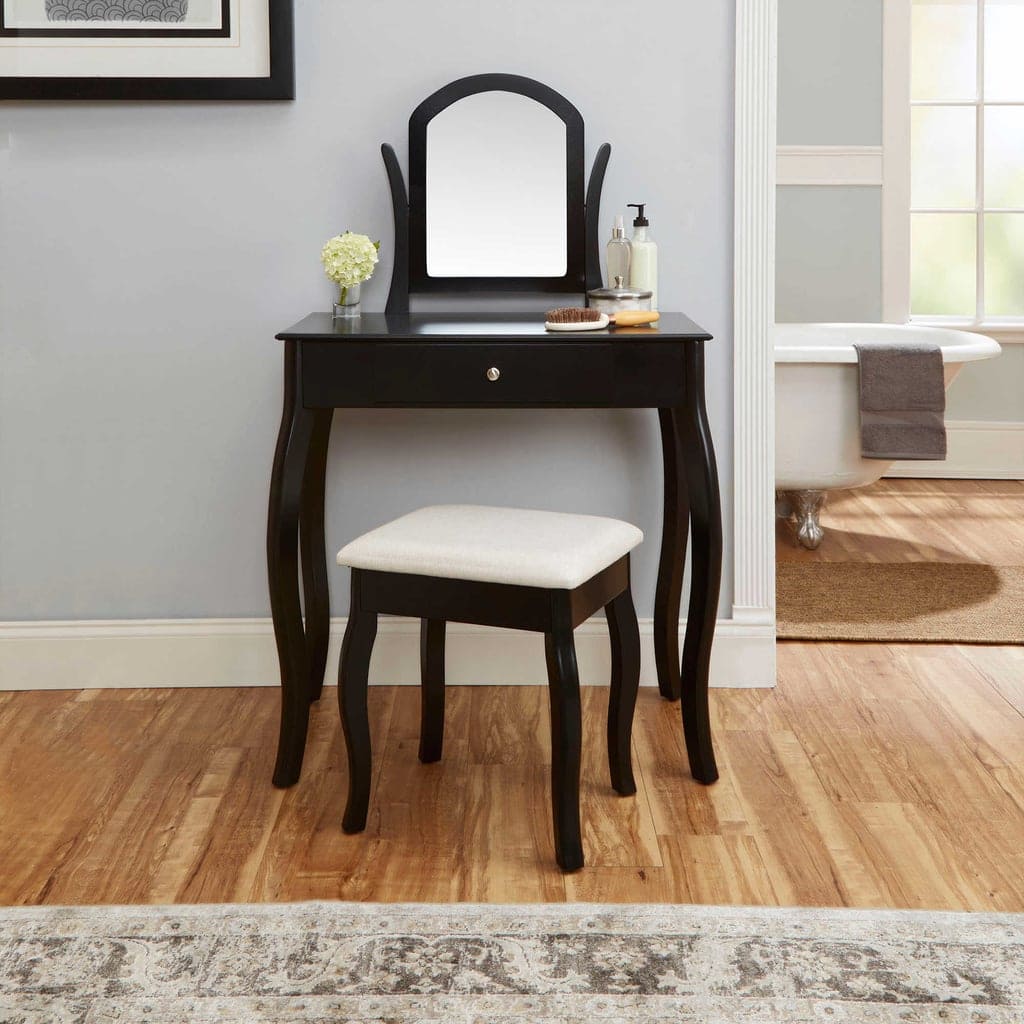 When decorating your bedroom, for those who love the gothic aesthetic, we must look for a vanity that encapsulates your theme. If you have a smaller bedroom, don't feel left out! There is quite an abundance of chic, darker colored vanities
For a gothic or darker theme, we will obviously focus the color scheme around colors such as black, dark brown, and grey. Don't doubt this type of vanity, it will only look dull if you don't decorate the rest of the room, so make sure you really commit to the theme!
Get Creative With A Vanity Table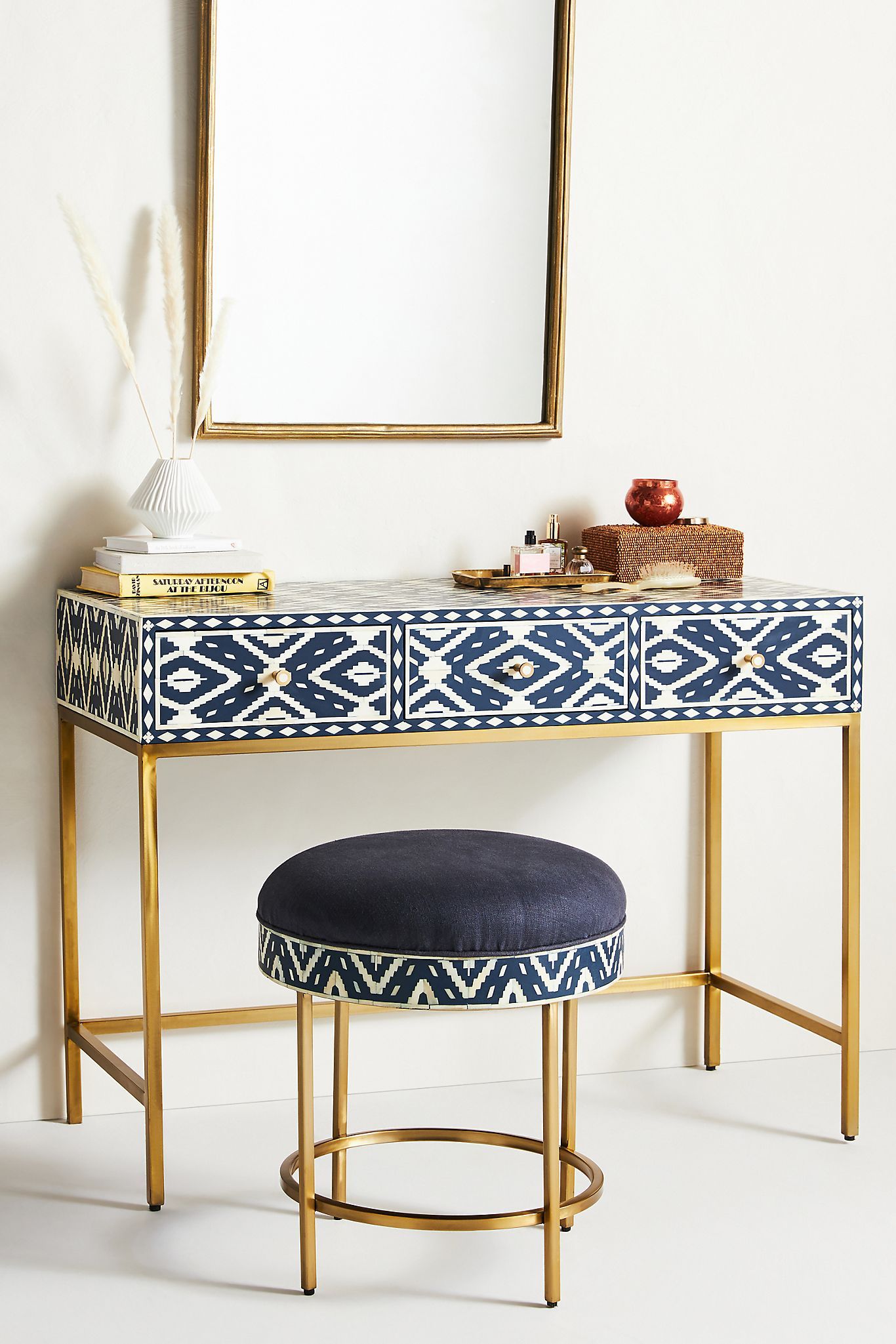 Not every vanity set-up has to look the same, and purchasing a vanity table will prove that! This specific idea will work flawlessly in a small space, as it allows you to get creative with the area around your brand new vanity table!
A vanity table does not necessarily include a mirror or other typical vanity additions, but it may have some built-in drawers for storage. A vanity table gives you the freedom to hand-pick the other items you need to tie the vanity together.
Find A Vanity With Shelves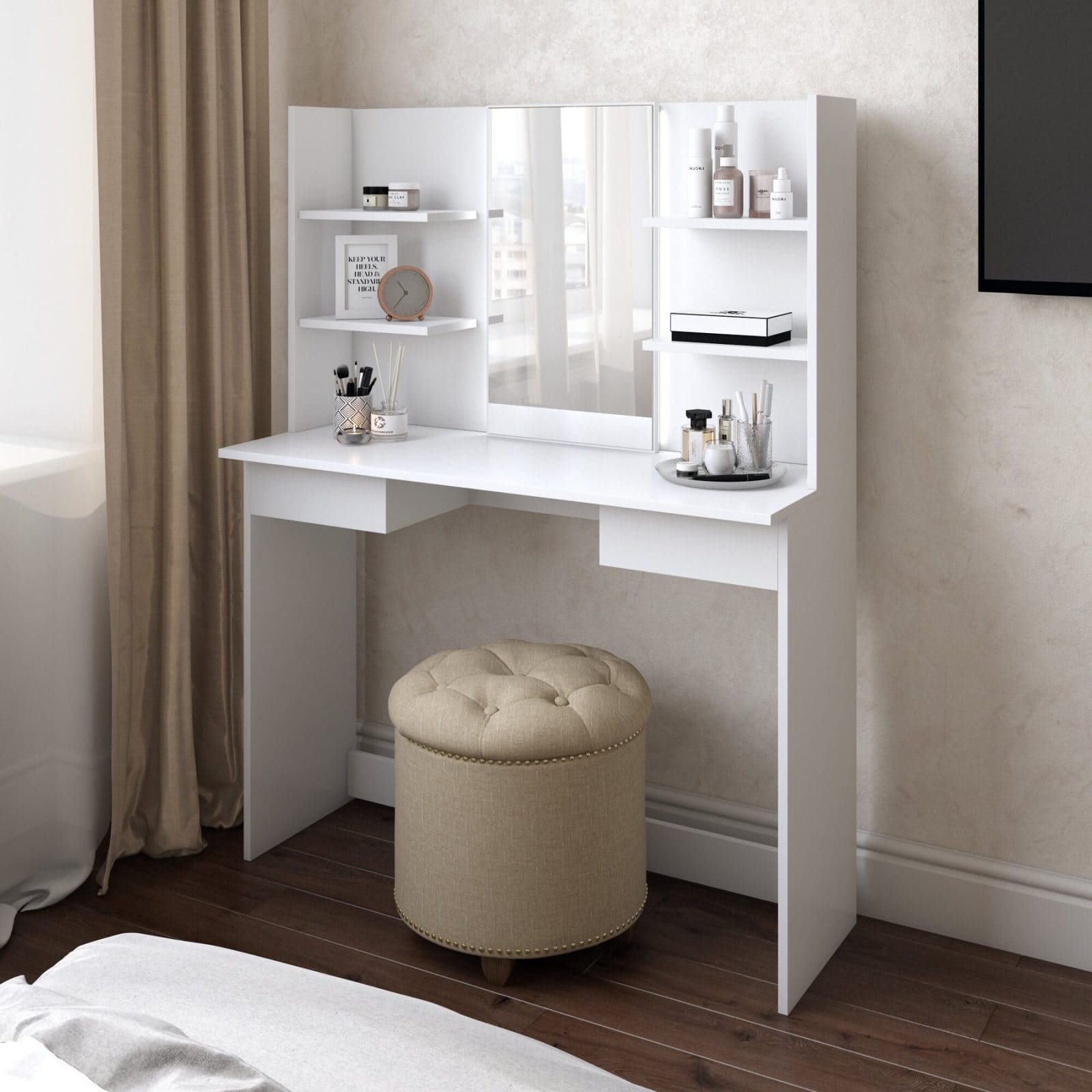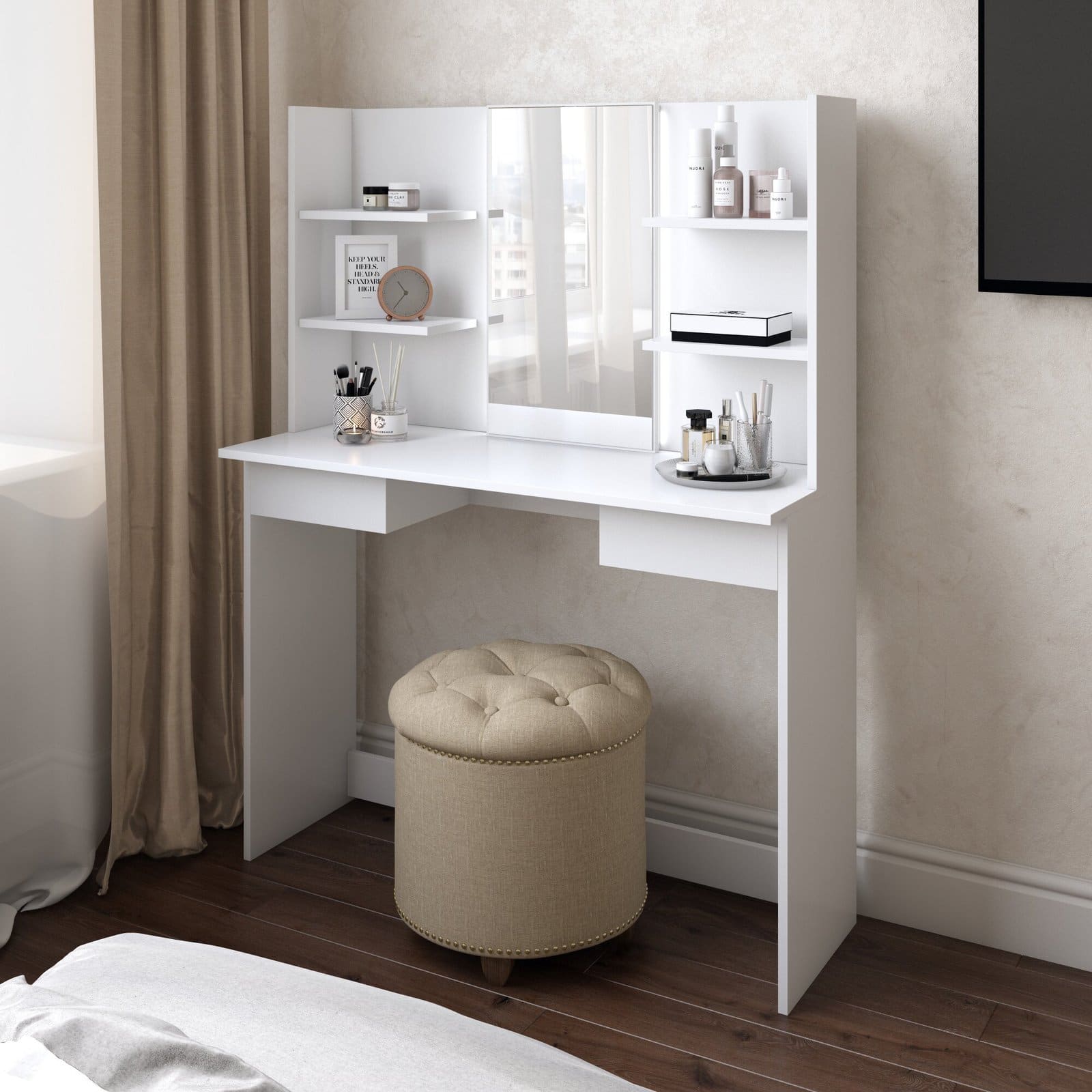 This is probably one of the most innovative ideas for a vanity, as well as an ideal way to create more space in a smaller bedroom. Buying a vanity with shelving on the side or anywhere else built-in will allow you to store even more items, which is highly important in a more limited area.
Drawers, a light-up mirror, and shelving are all amazing features you can find in a vanity and will show you just how useful your vanity can really be. You don't have to settle for one to two awesome additions when you can find a vanity that has it all!
Vanity Inspiration Review
Today, we've looked at some absolutely breathtaking vanities that not only add pizzazz to your small bedroom, but also have so many funky features that will prove to be useful within your confined space! A vanity truly is a necessity and shouldn't be counted out.
We've reviewed some vanities with a more simplistic approach, and ones that seem to have all the features jammed packed and built-in. No matter what your style is, your bedroom has a need for a stylish vanity!