Decorated Life is reader-supported. When you buy through links on our site, we may earn an affiliate commission. Learn More
What Color Bedding Goes With Gray Walls? 14 Ideas
The reason why most homeowners choose to paint the walls in gray is due to its utmost versatility. And one of the biggest advantages is that you have a wide array of color palette options to pair it with! A subtle neutral like gray (whether warm or cool, dark or light) is gradually gaining a ton of attention. And it all boils down to the kind of vibe, size of your bedroom, and a specific illusion you're trying to create.
So, do you want to make your bedroom appear brighter with the help of lighter-hued sheets? Or moodier with darker tones indeed? From coral to gray, white, blue, green, pink, and black – the following are the 14 color bedding options that go with your gray walls.
Gray Linen Bedding Set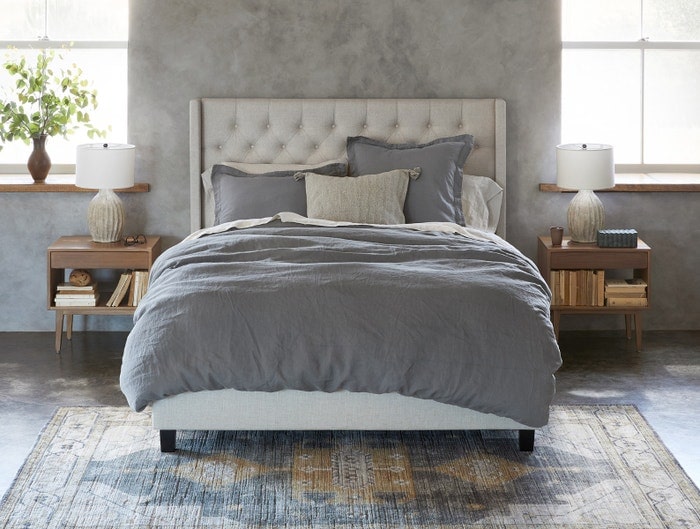 For a perfect monochromatic touch, you must have an eye on the fifty shades of gray! From something as airy and light as a light gray to deeper and darker like charcoal gray – you truly have a long list of options. And do you know the best way to play it all?
Well, choose a mixture of grays for the comforter, throw pillows, and bed sheets – and clean white to play a great subtle base.
Coral Comforter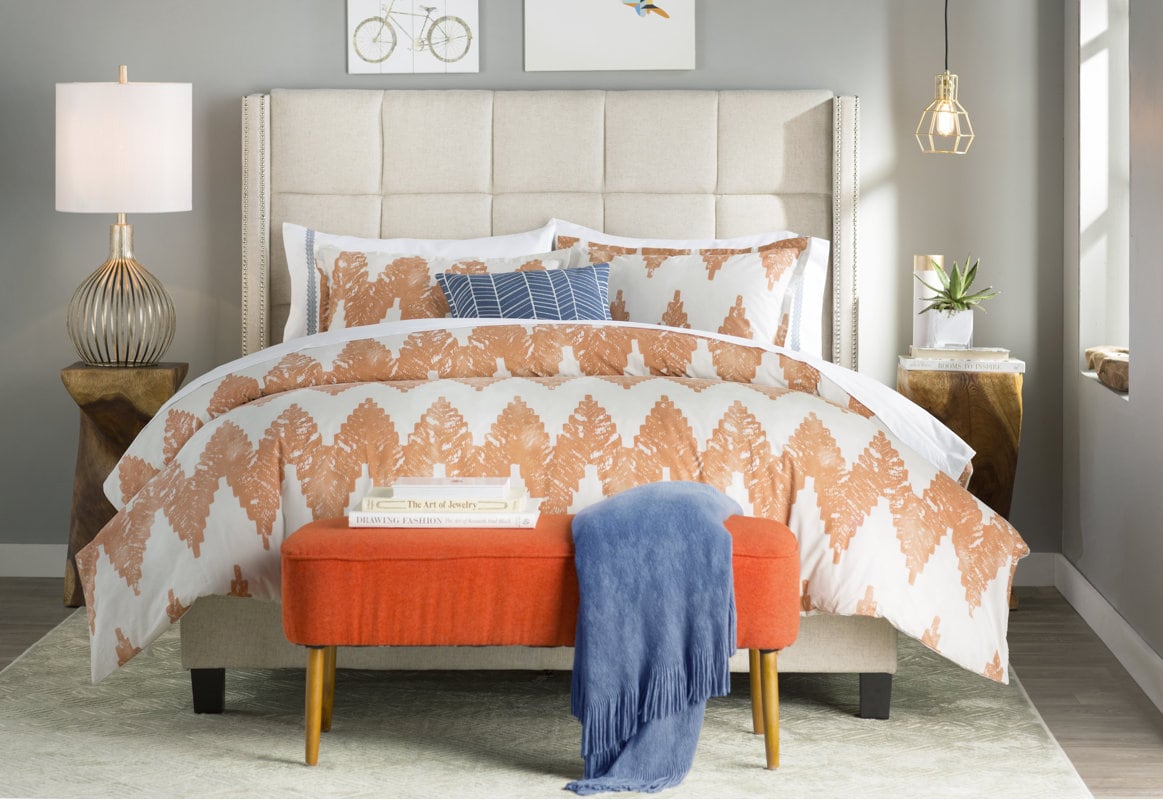 If you like a pop of bright hue in your bedroom, it's time to incorporate this unique shade of pink that has a deep hidden orange undertone. It will tend to give your room a sense of quirkiness, warmth, and utmost charm that it craves!
And let's not ignore the intriguing pattern that takes your breath away. Moreover, a coral-colored comforter with your gray walls will completely transform the feel and vibe of your room.
Green Bedding Set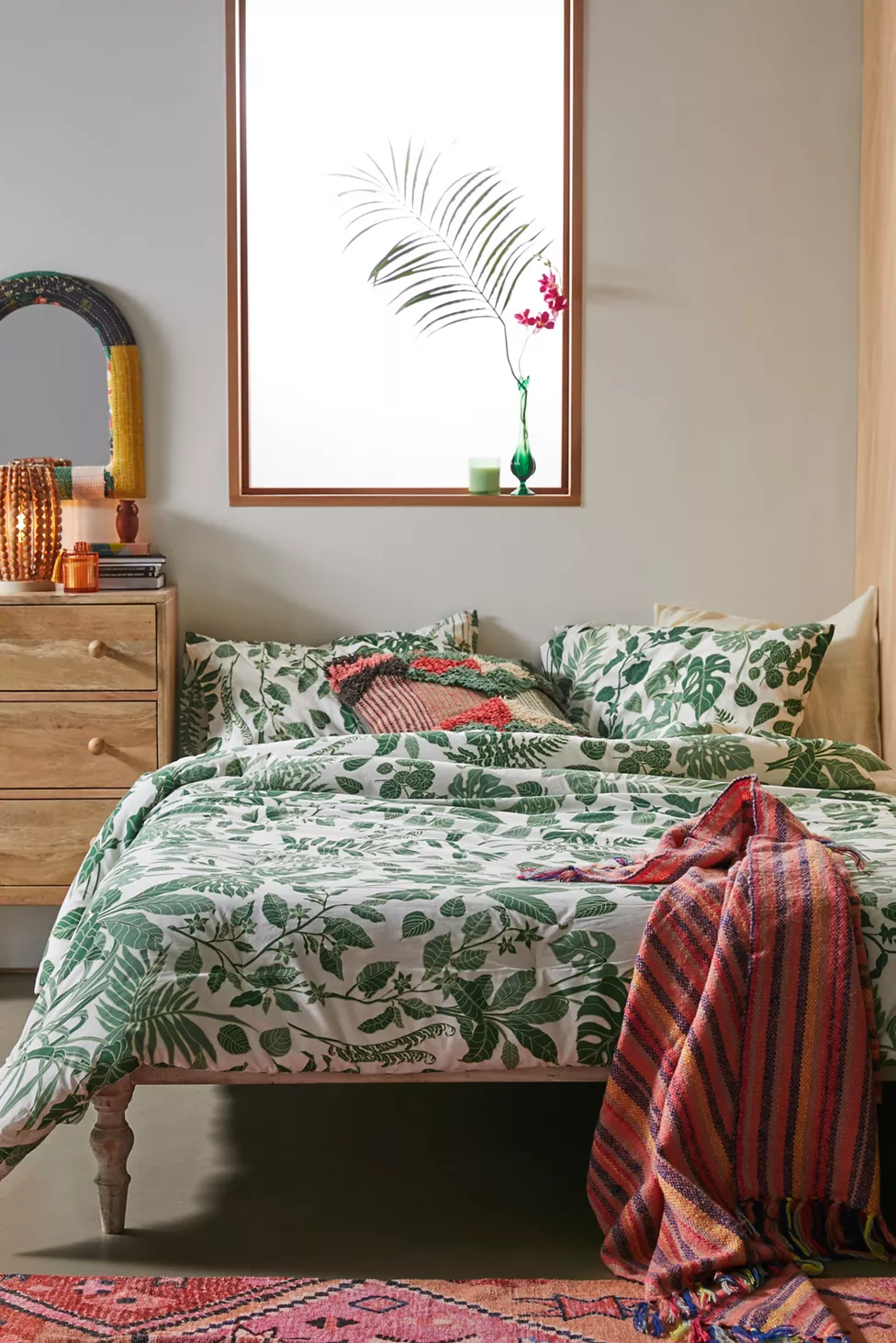 Green is a gorgeous color option to pair with your gray walls. It brings a refreshing, organic, and natural vibe – while imbibing a cool tone indoors. You can further add tinges of pine woods and dried leaves like pampas grass to further complete the look.
On the other hand, for a perfect luxe touch, you can even play with gold-jewel tones on the chandelier, nightstands, and wall paneling. Also, this is a great color sheet for a jungle-inspired theme in the kid's rooms!
Mustard Duvet Cover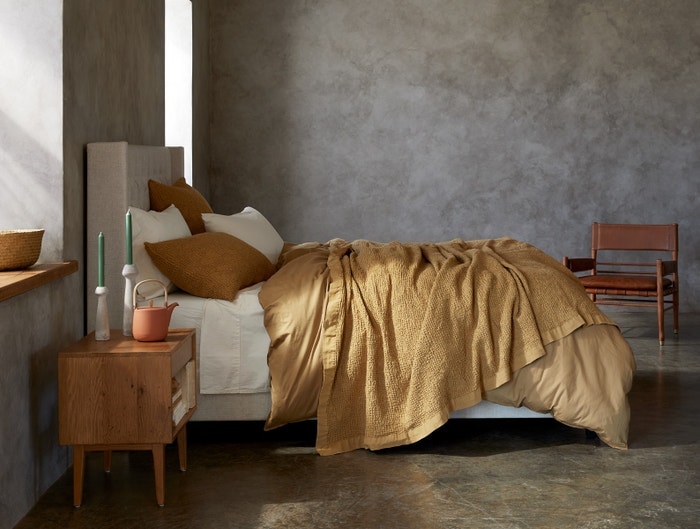 When it comes to gray walls, you simply can't hold back from a mustard duvet cover. It adds a stark contrast and at the same time, juxtaposes the cool tone of the gray on the walls with a touch of warmth. Let me tell you, this is a great color combination (especially if you're amazed by Pantone's Color of the Year 2021).
Furthermore, you can add whites and lighter grays to neutralize the overall drama created.
Multi-Colored Block Printed Bedding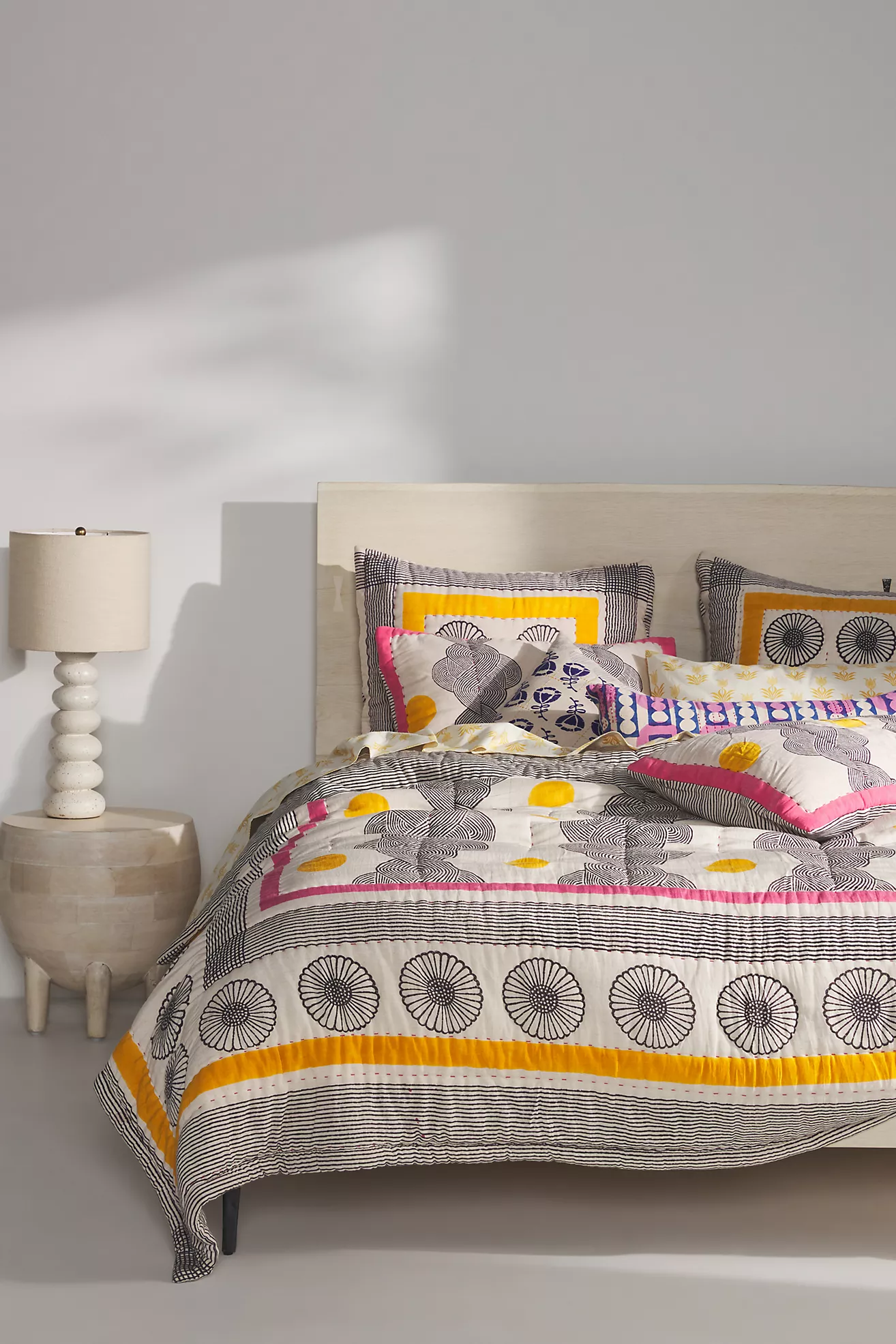 Exquisitely showcasing a broad spectrum of patterns, hues, and designs – this multi-colored block printed bedding definitely goes with your gray walls. It adds a statement of vibrancy, vividness, quirkiness, and playfulness in the bedroom.
Hence, if you're renting the property and are too bored of the monochromatic gray walls, this bedding is a great way to spark a sense of joy! Moreover, this duo is a great fit for bohemian, contemporary, and eclectic-style bedrooms.
Navy Blue Duvet Set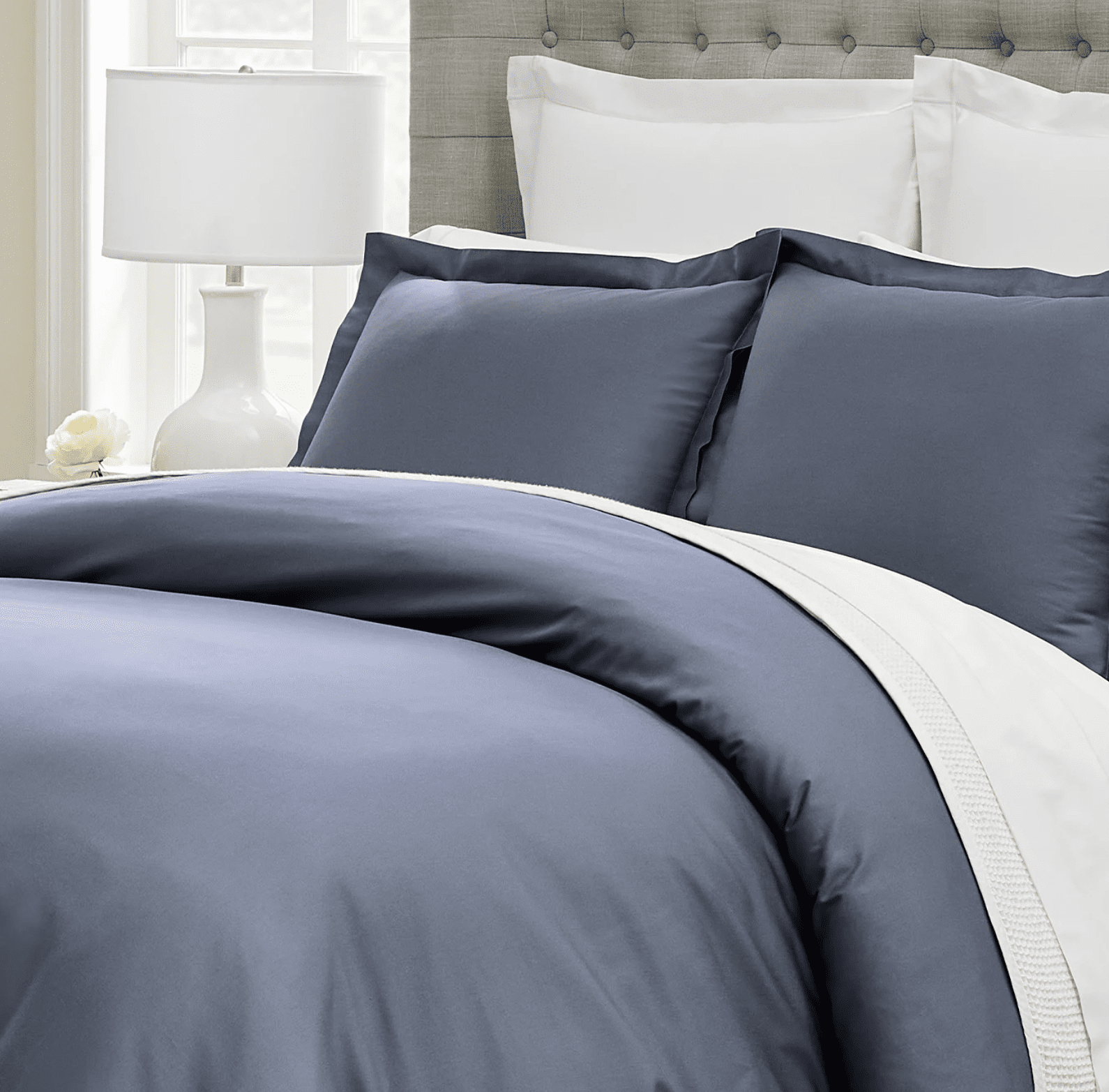 Even though gray and navy blue play a masculine, bold, and strong role in the bedroom – it's equally a much-admired color palette to consider in the modern and contemporary setbacks. Let's face it – this duo will add depth and drama to your bedroom while equally exhibiting a cool, nature-inspired look.
Secondly, if you've always admired a bachelor's pad style, this is something to look forward to. And lastly, don't forget to add whites to play a subtle base!
Beige Comforter Set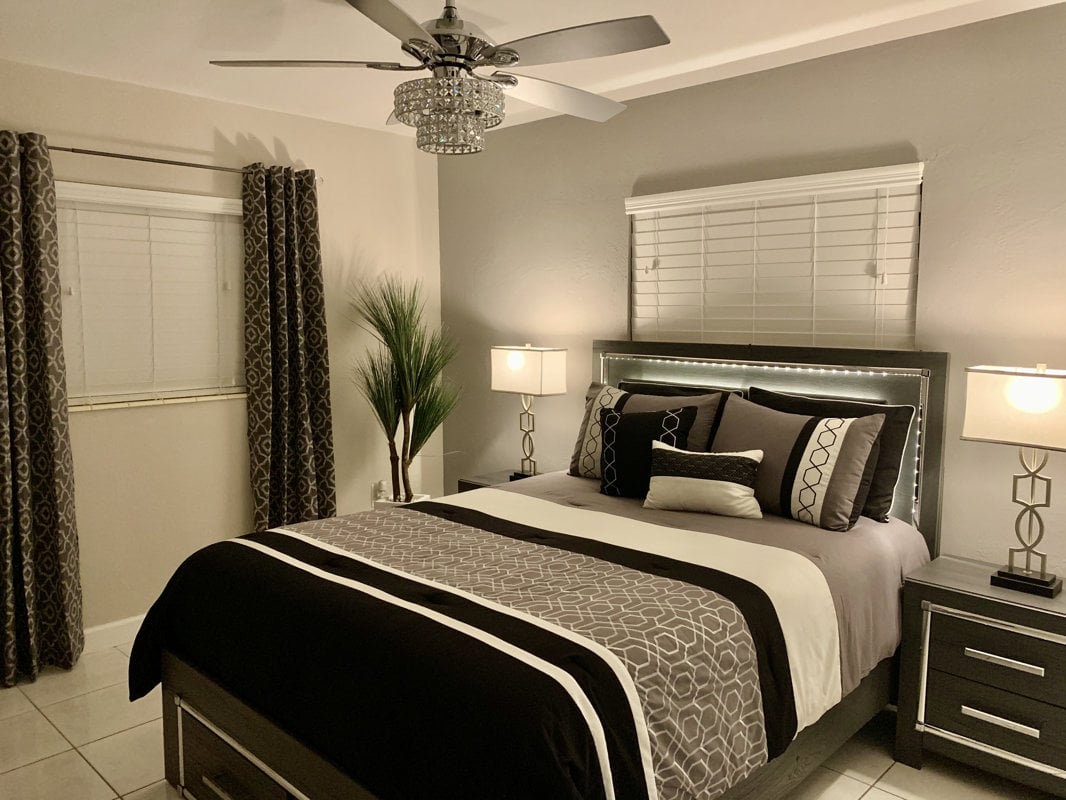 Beige and gray contradict – but at the same time, they make a good pair when cohesively played in a bedroom. Not as a solid hue – but this comforter is composed of the shades of charcoal gray, beige, and off-white to create an equally stunning palette.
Moreover, the warmth exhibited by this blissful combination is something that makes your bedroom more appealing, welcoming, and cheerful! Also, a great recommendation for traditional bedrooms!
Rust Duvet Cover
Rust may or may not be the first color option to pair with your gray walls – but at the same time, it makes a great, jaw-dropping statement. The warm, raw, and organic feel of this bedding would add a touch of romance to your room – while bringing the utmost energy and joy.
You can also consider adding metallic accents of matte black and brushed brass to further add an eye-catchy look.
Silver Comforter Set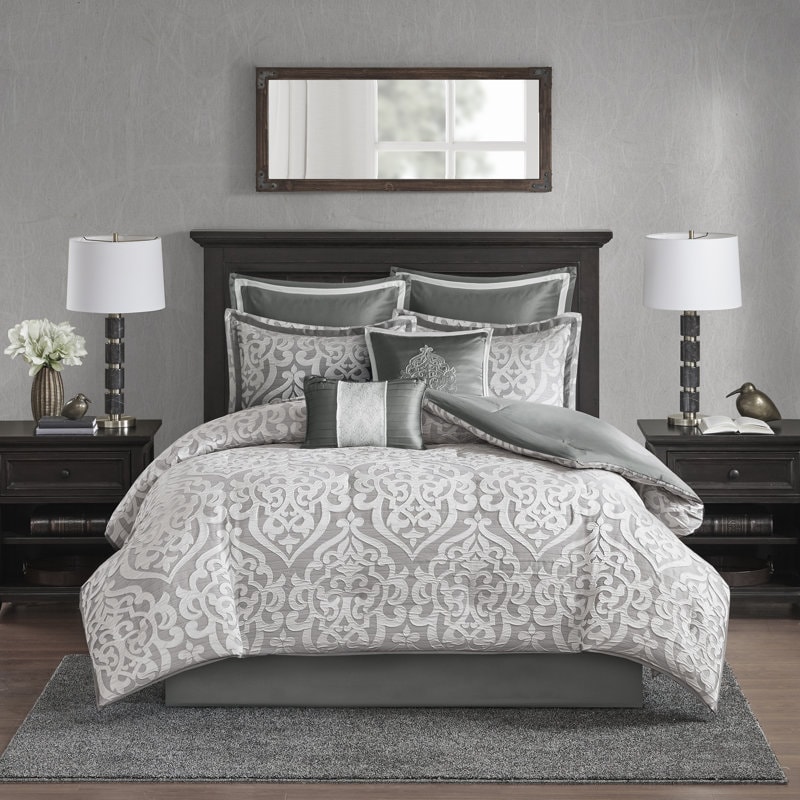 Do you have an admiration for clean and sleek, elegant modern bedroom design? And if glam is your thing, it's time to catch hold of this sophisticated piece of the comforter that exhibits a chic, shiny texture. Flaunting the luxurious textured jacquard, this gorgeous comforter set also displays a satin medallion design that plays absolutely luxe.
Furthermore, you must add shades of light and dark gray along with clean whites to foster cohesiveness.
Lavender Duvet Set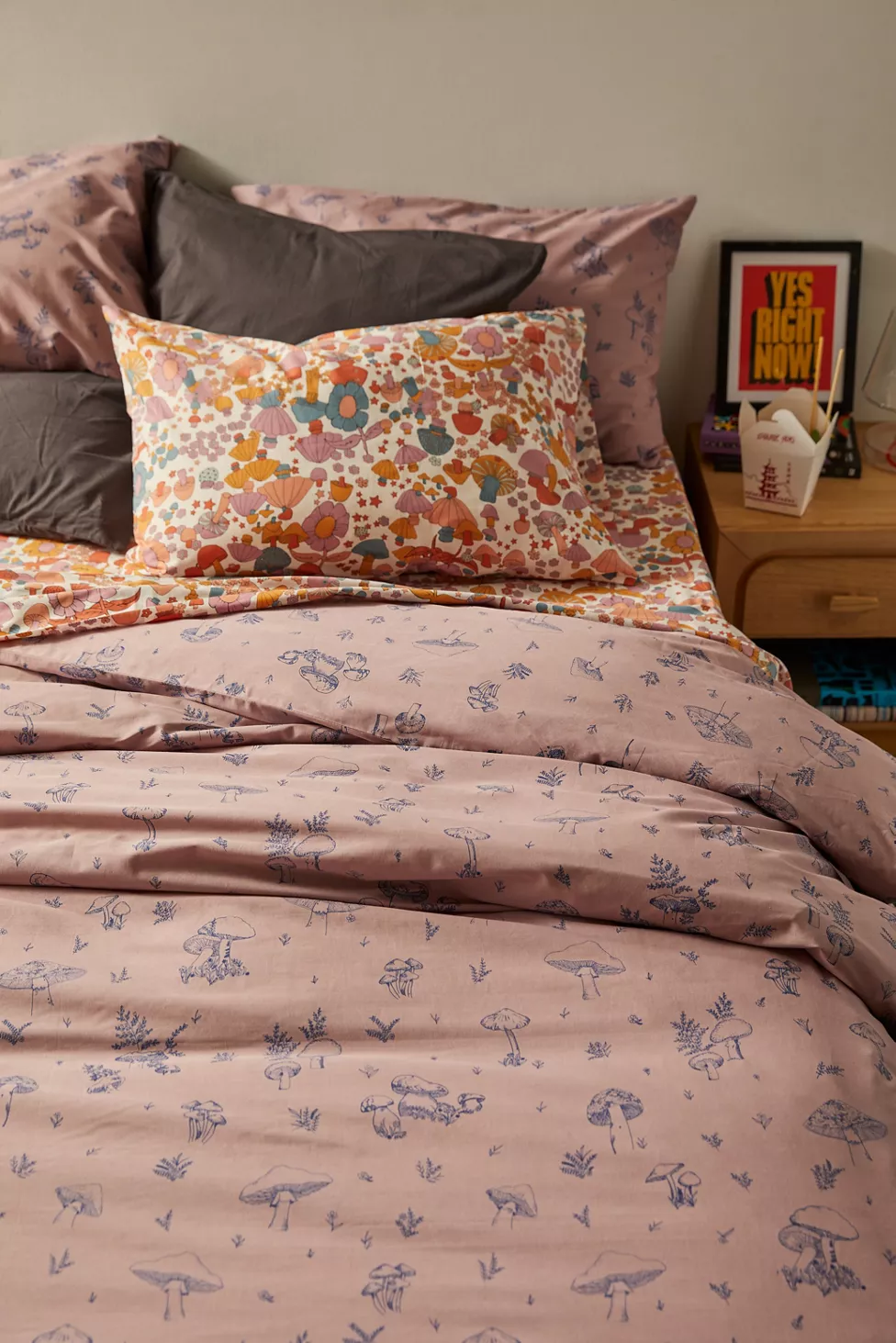 Are you looking to introduce a whimsical boho and Eclectic vibe to your bedroom? Well, don't hold back from this mesmerizing, quirky, and out-of-the-box shade of lavender. It perfectly complements the gray walls while seamlessly blending into the cool and calm panorama.
You can further inject creativity with the help of multicolored sheets, bold throw pillow covers, and ample indoor plants. Note that this duo is also quite feminine and can bring a soft and sobre vibe.
Patterned Black and White Set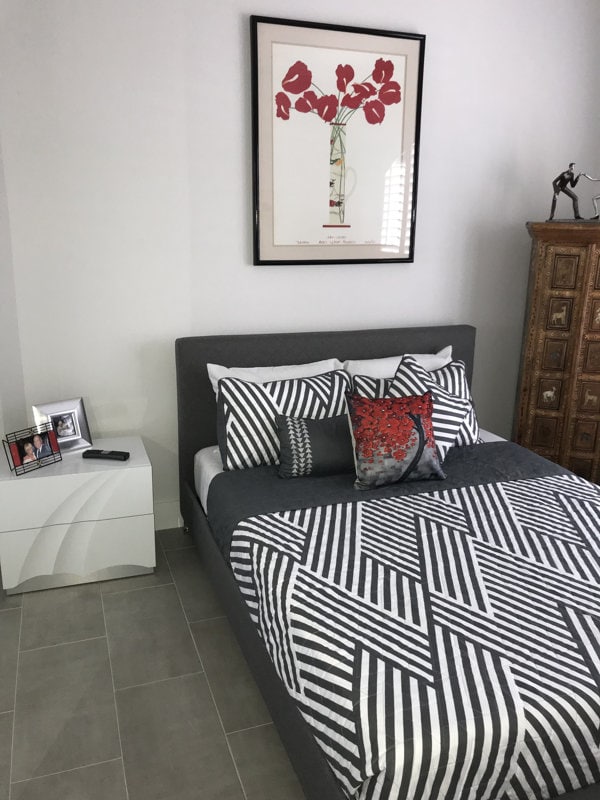 The gray walls are bound to look flabbergasting with this set of patterned black and white duvet covers. It exhibits a modern and contemporary appeal – while at the same time, bringing a sense of visual interest and harmony to the bedroom.
This color palette even works if you like the idea of a monochromatic bedroom. Lastly, adding tinges of brushed brass or golden will induce a luxurious vibe (if you crave a touch).
Light Blue Duvet Cover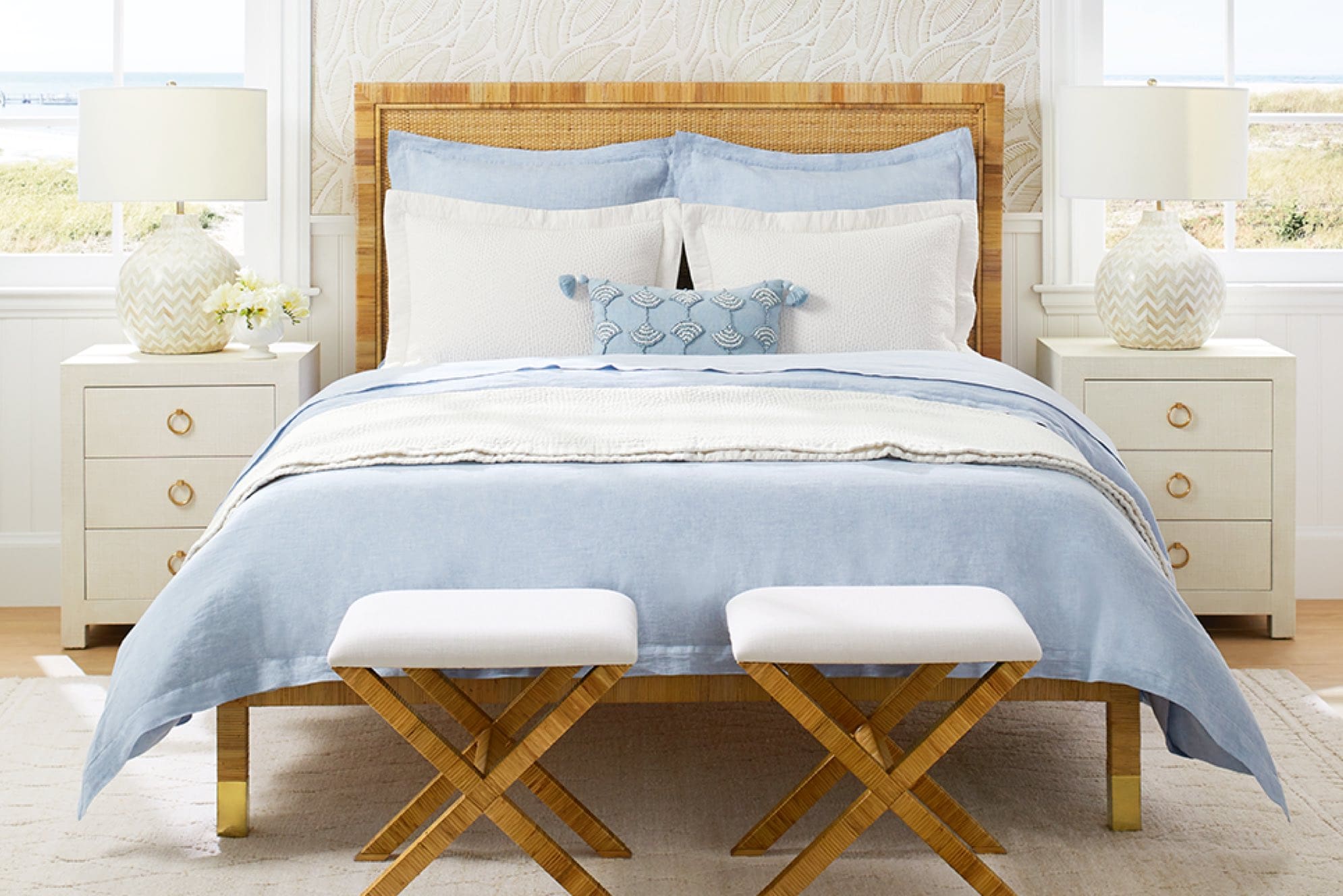 Do you reside by the coast and simply adore the beachy vibe in your bedroom? Well, this light blue duvet cover is what you must have your eye on! Especially for a light gray background, rustic pine wood finishes, and soothing white furniture – this combination plays utmost phenomenal.
At the same time, you must look forward to raw finishes like rattan, jute, wicker, and cane. Undeniably, this overall palette will make your space go wow!
Off-White Duvet Cover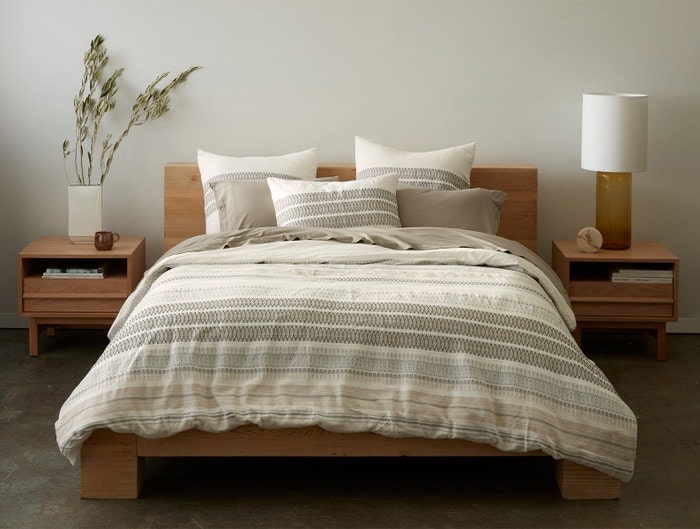 The exquisite stripes and hues of the duvet capture an utmost soothing and tranquilizing environment in the bedroom. So, if you're craving an organic and natural vibe indoors – this combination in amalgamation with your light gray walls is something to look forward to!
This off-white bedding for gray walls will also not overpower your room. Rather, make it all together calm and composed! And believe it, you would truly love to come back home after a long, hard-working day!
Black Quilt Set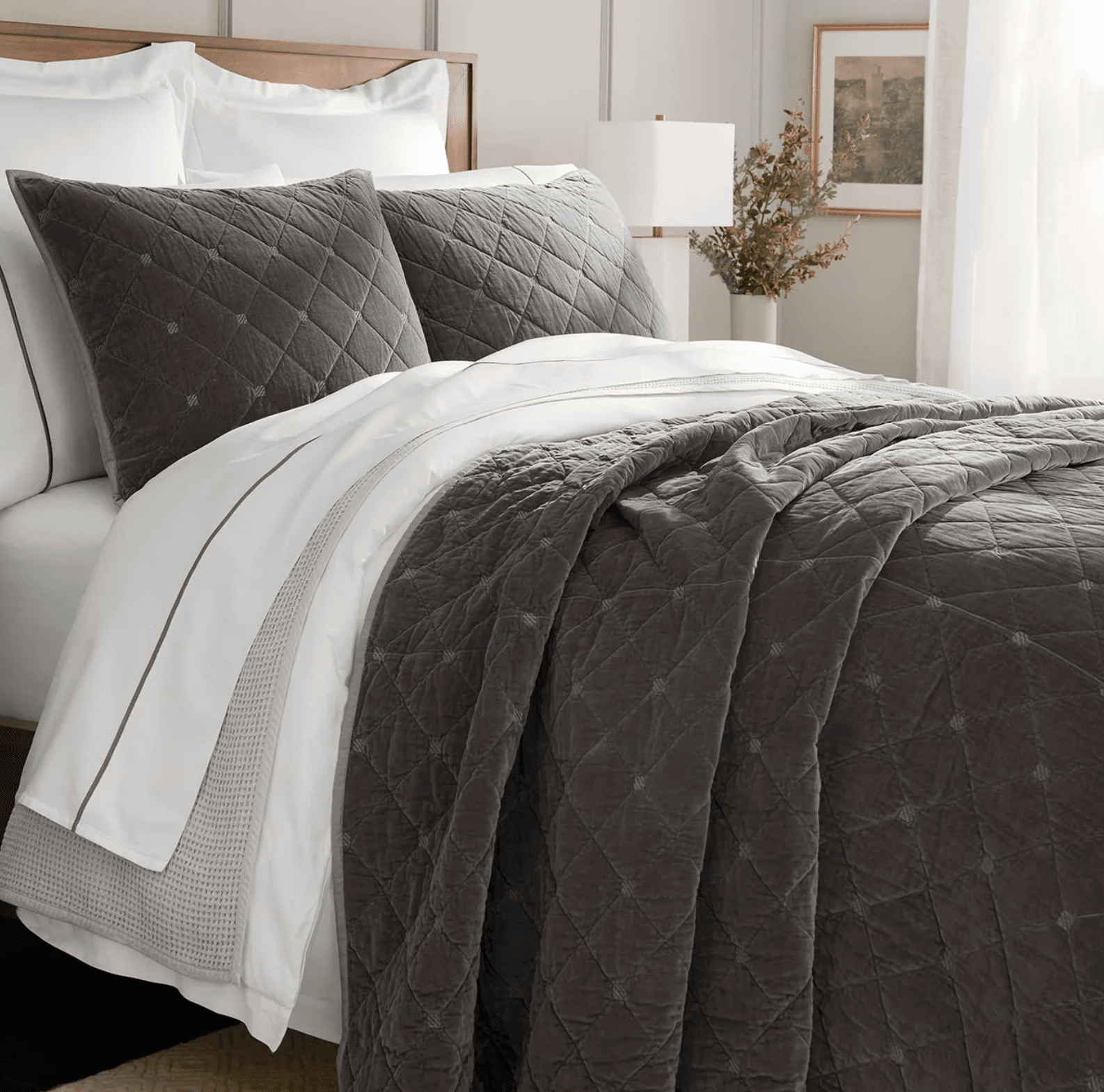 It's time to elevate your bedroom with this luxurious and soft, charcoal and black quilt set. This comforter will definitely go with your gray walls to create a stylish modern, transitional, and contemporary appeal in the bedroom.
Furthermore, the embroidered diamond pattern plays a wonderful accent that touches upon the hints of elegance and sophistication. Lastly, with this palette, you can consider adding metallic accents of matte black or gold!
Summing It Up
Gray walls are gaining more and more attention – and so is the fun in creating color palettes for them. And now that we have come across the gorgeous 14 bedding ideas that go with the gray walls, you know exactly the vibe you want to create. From nature-inspired themes to quirky and vivid – gray walls are a great option to experiment and style! So, are you particularly intrigued by any color bedding? Do let me know your thoughts in the comments below!