Decorated Life is reader-supported. When you buy through links on our site, we may earn an affiliate commission. Learn More
What Color Sheets Go With a Gray Comforter? – 15 Ideas
A color that can complement one and all hues – yes, gray it is. This neutral can be tricky, but at the same time, is one of the easiest to pair against the juxtaposition of bold shades or subtle pastels. However, when it comes to your bedroom – the gray may seem slightly challenging since it can potentially offer a wide array of moods. And believe it or not – it all boils down to the kind of vibe you're aiming to create.
Owning a gray comforter is quite common. And selecting that perfect color of sheets to complement the comforter is even more fun and entertaining. From simple whites to feminine pinks, classic blue-grays, beiges, and shades of green – the list is truly endless. So, let's have a look at these 15 examples of sheets to give your bedroom a perfect dreamy aura.
Pewter Hemmed Sheet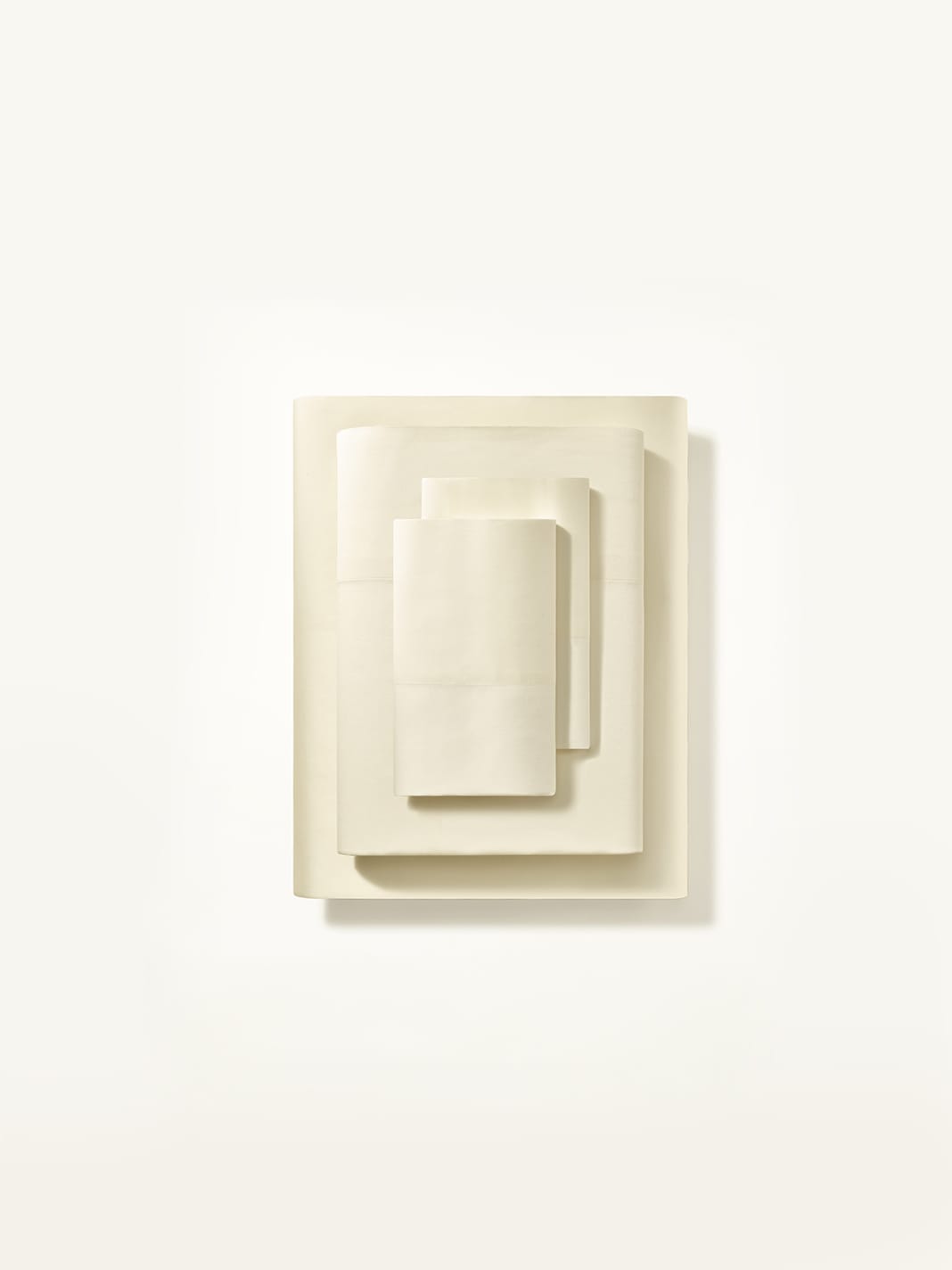 With a spectacular drape and silken feel, this pewter-hued sheet fabric makes a great pair with a gray comforter. Crafted in pure organic cotton and finished with couture detailing – this sheet definitely adds a statement of luxe, comfort, and elegance to the room.
First and foremost, this combination will make a desirable moody aura in the bedroom and will also never make you feel monotonous or out-of-place. Want a monochromatic vibe? Yes, this is your answer.
Terracotta Sheets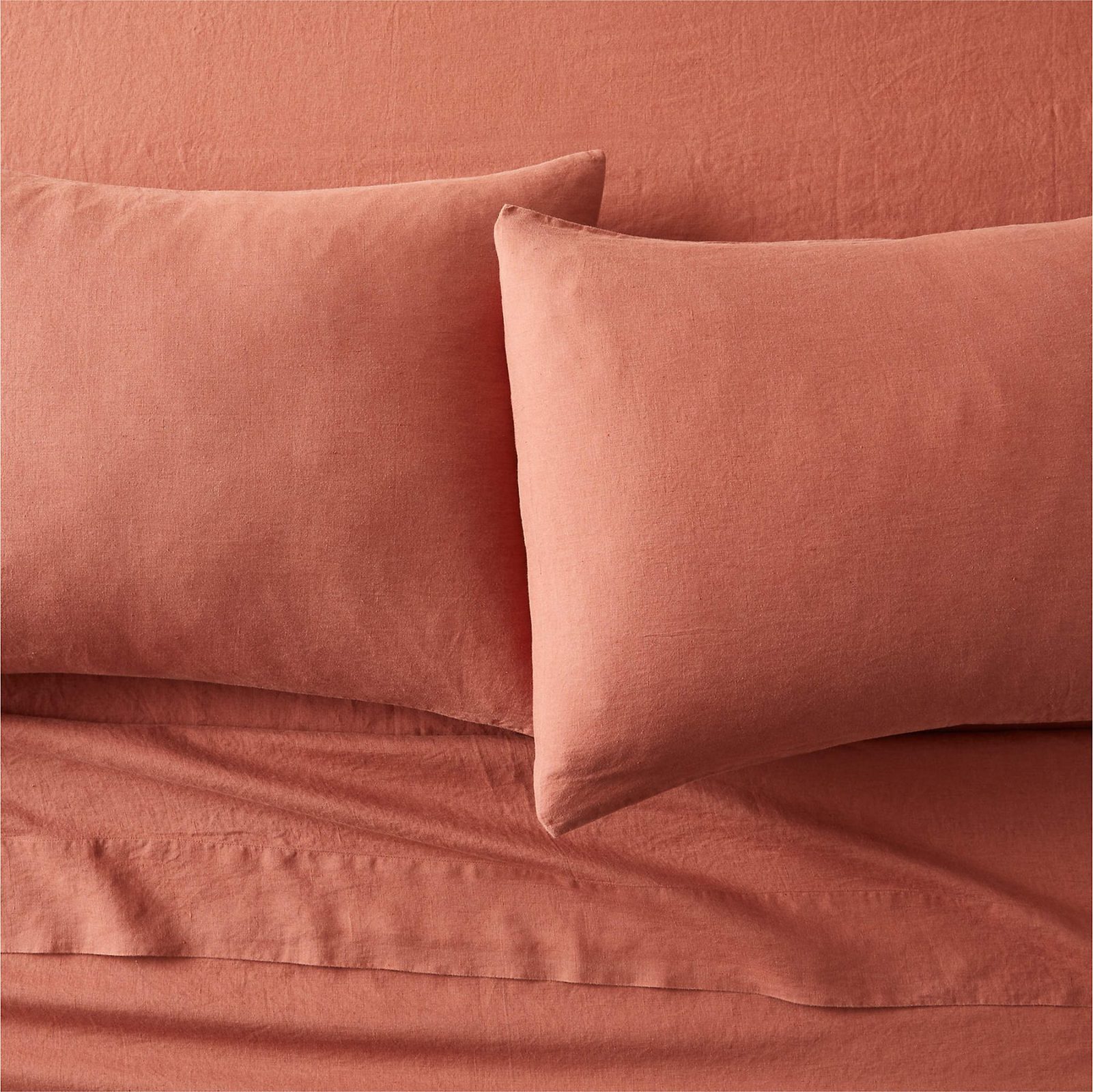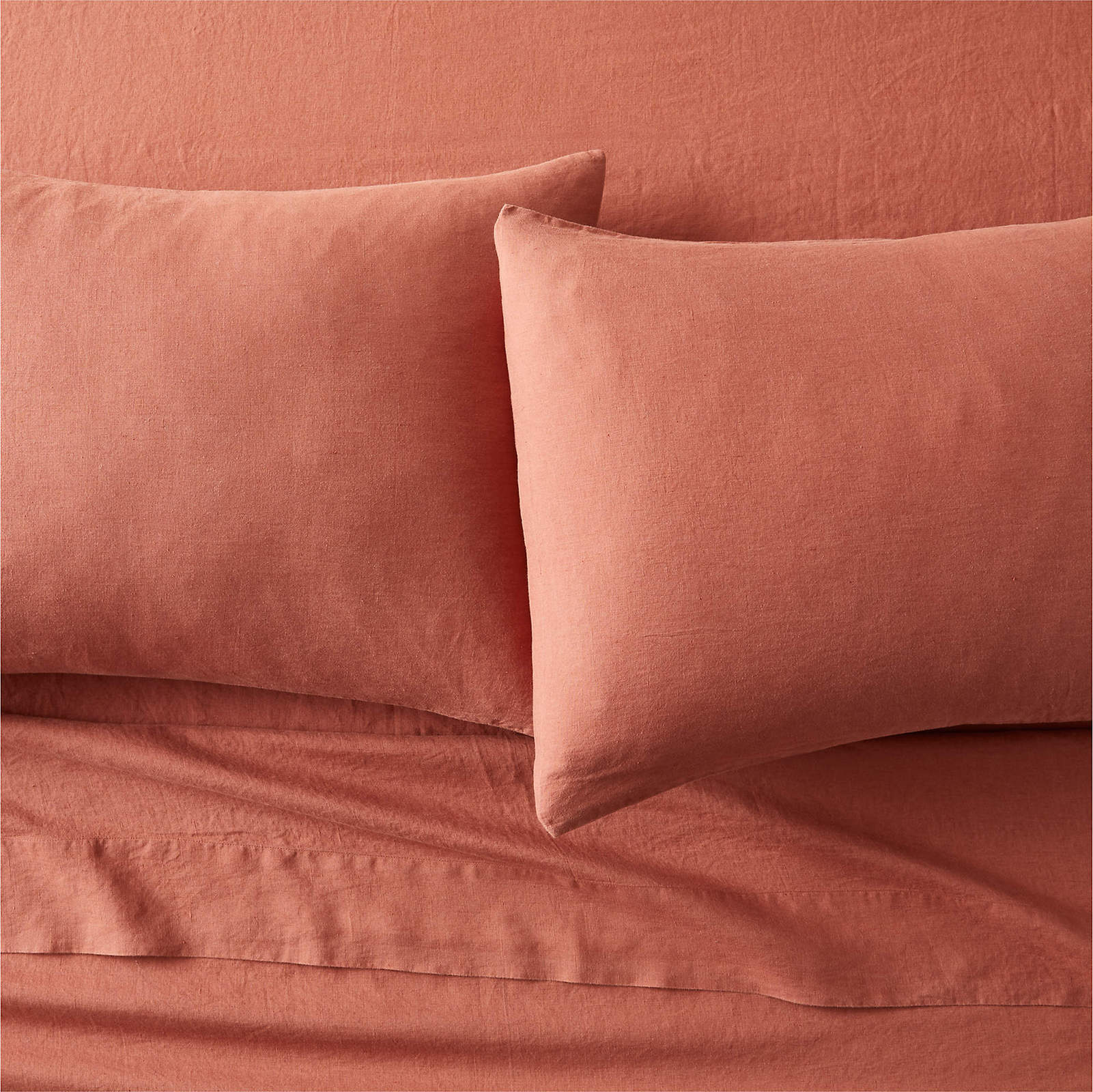 If you don't want an old-school, monochromatic feel to your room – this particular warm-toned terracotta shade is a perfect answer. It induces a sense of warmth and welcomeness while making the bedroom feel more energetic than ever.
Shades of terracotta on your bed sheets would feel beautiful with your gray comforter. Not only does it contradict the tones with each other but also sparks a sense of joy and contrast.
Pink Printed Sheets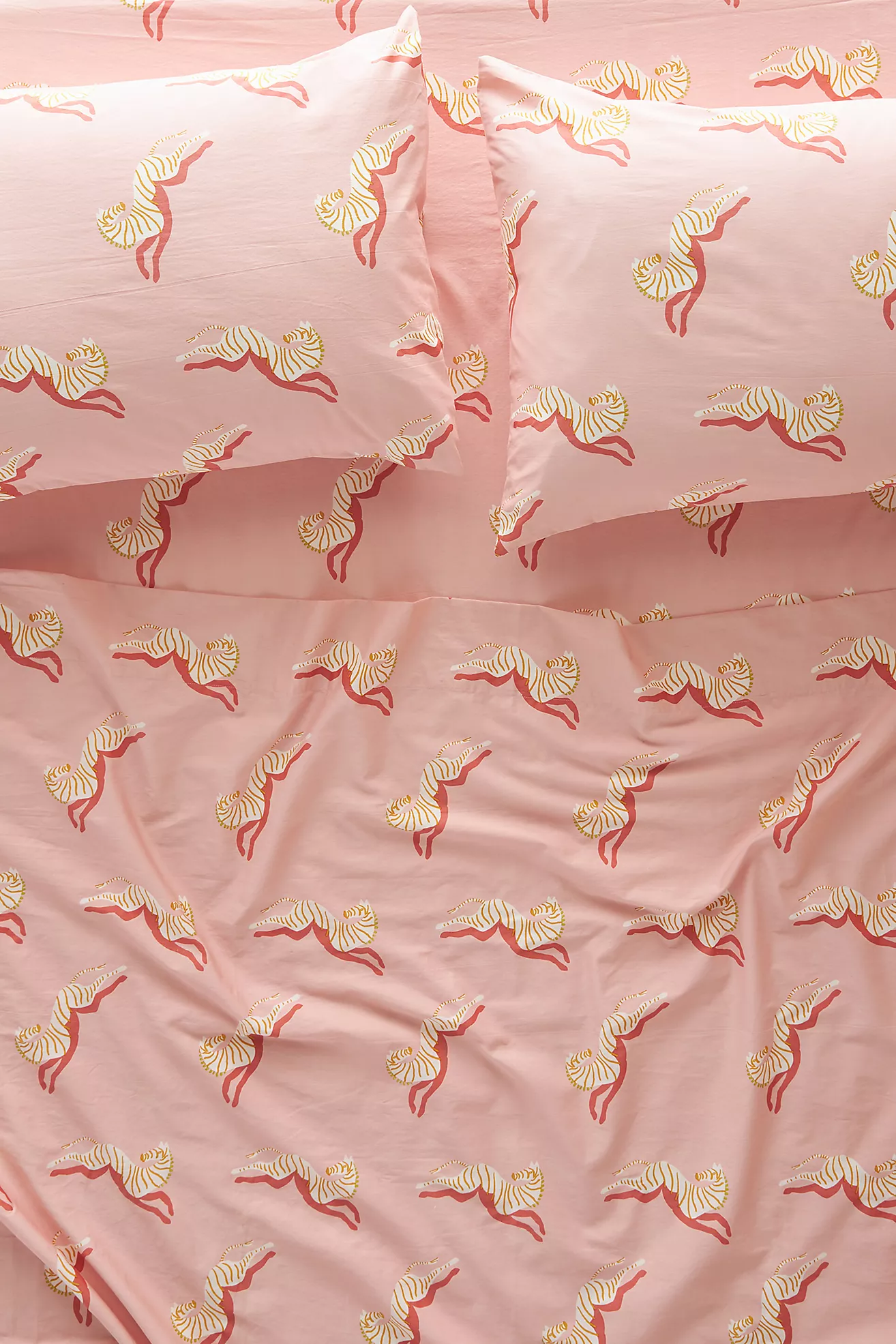 Have an eye for prints and patterns? Well, why choose a simple and bold bed sheet when you can style with this printed pink sheet to pair with your gray comforter. It feels quite silky and comfortable – and especially if it's a daughter's room you're decorating – this pink sheet would play flawlessly.
Also, don't ignore the intricate florals and vibrant blooms that make this sheet even more inviting and eye-catchy.
Steel Blue Sheet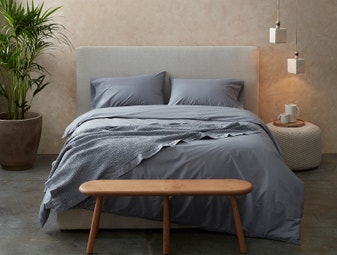 This steel blue sheet works tremendously well with your gray comforter. It adds a laid-back and relaxed vibe while also inducing a cool and calm touch to the room. Generally, this combination makes a great option for minimalist, modern, contemporary, and coastal-style backdrops for the bedroom.
Furthermore, you can even consider adding tinges of wooden textures to create an overall cohesive palette. Remember, a combination of steel blue, gray, and teak would take your room a long way!
Checkerboard Sheet Set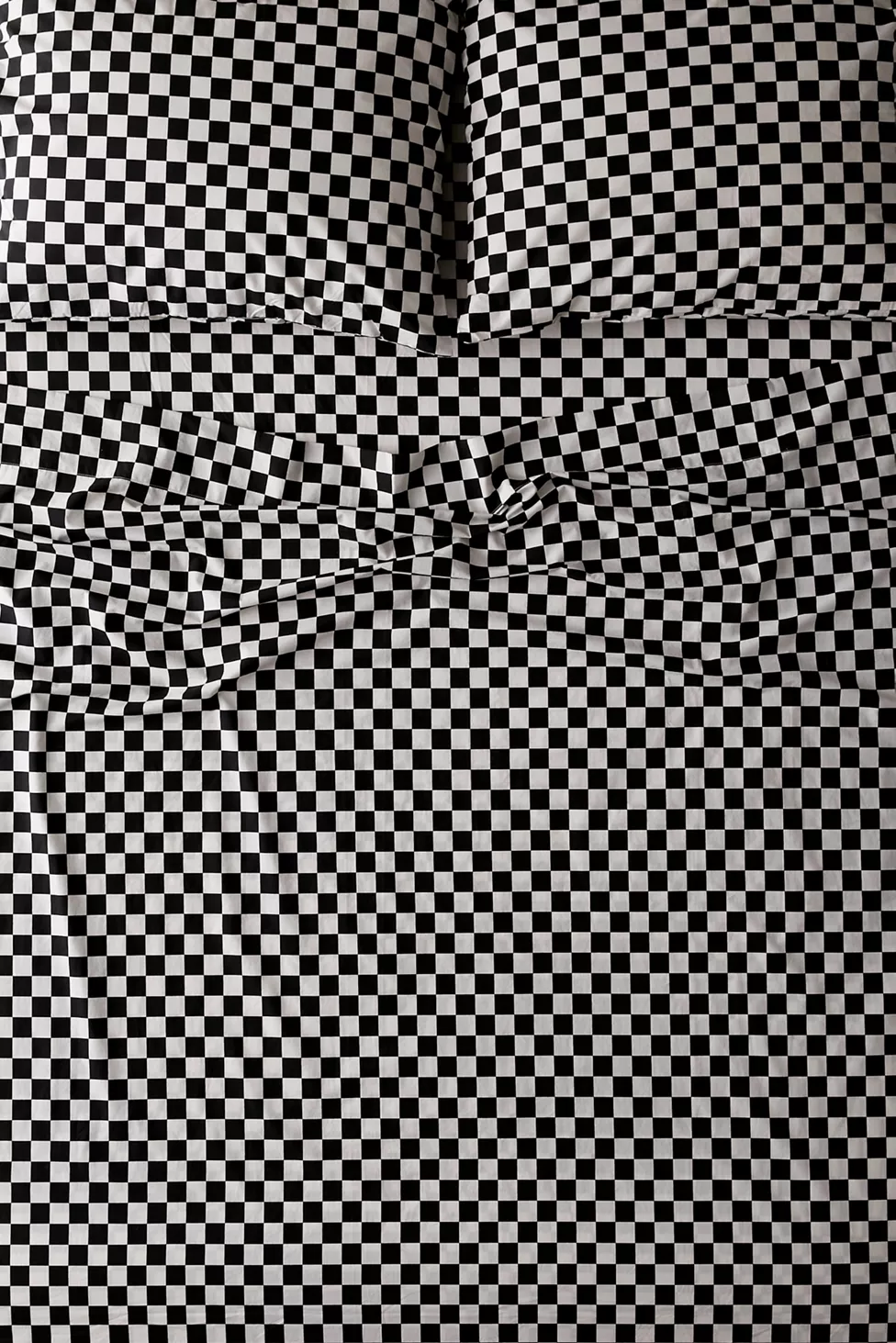 Checkerboard patterns have a specific charm, right? Well, they create a perfect graphic-cool appearance while intriguing you into a desirable, fun-loving mood. The black and white pattern will undeniably pair with your gray comforter to give your room an enhanced visual appeal.
And now that your bedroom is majorly dominated by a combination of white, black, and gray – you can consider adding a pop of warm-toned color to create a contrast.
Navy Botanical Sheet Set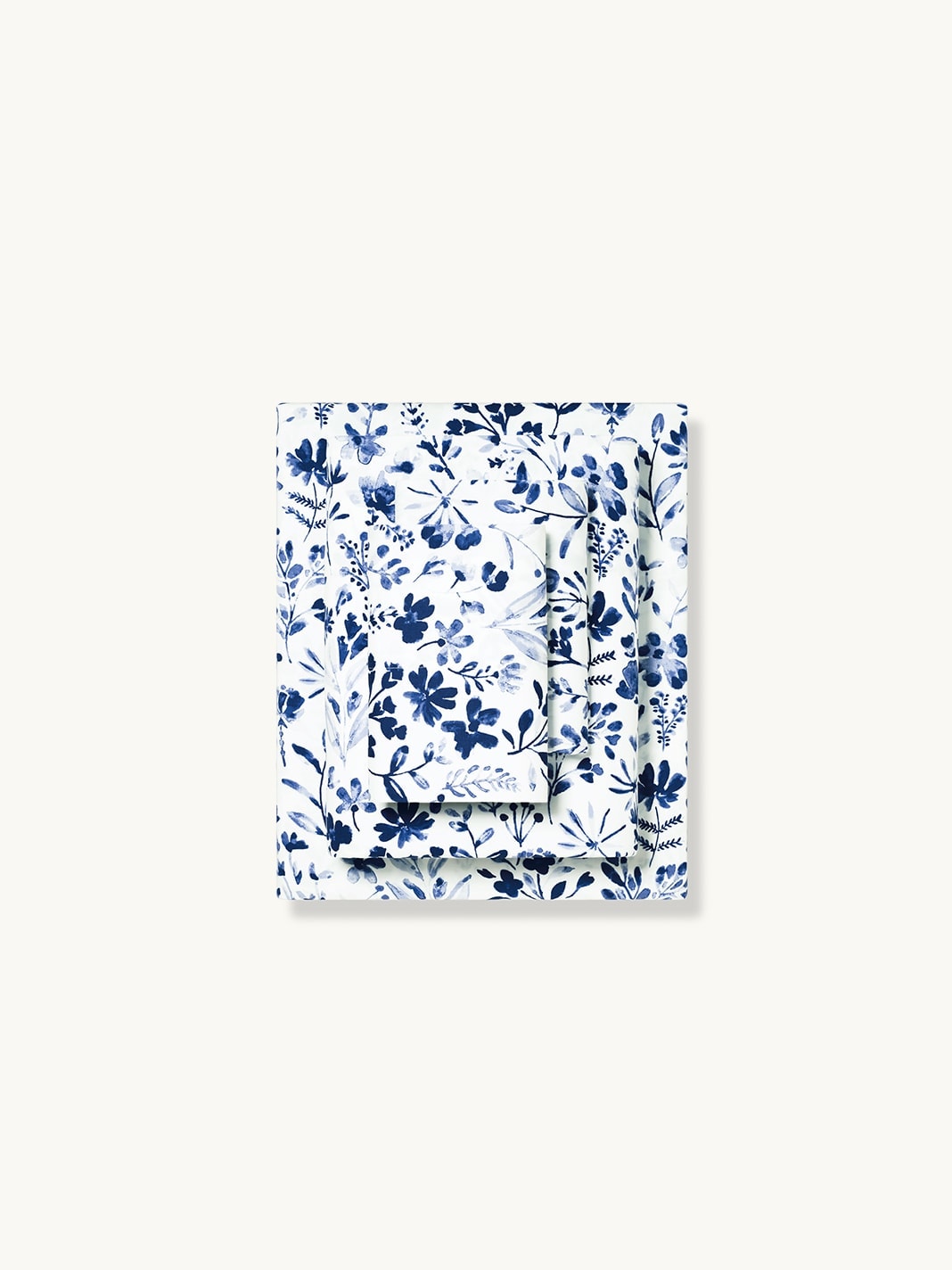 Bringing a fresh, floral essence to the bedroom – this uniquely crafted navy-hued botanical sheet makes a great pair with your gray comforter. This hand-painted sheet has an exceptionally soft sateen fabric to make the bedroom feel more delightful than ever.
Also, don't confuse this tone of navy blue when pairing with gray. It will never go out of trend and will always add a bold statement into the space.
Burgundy Red Sheet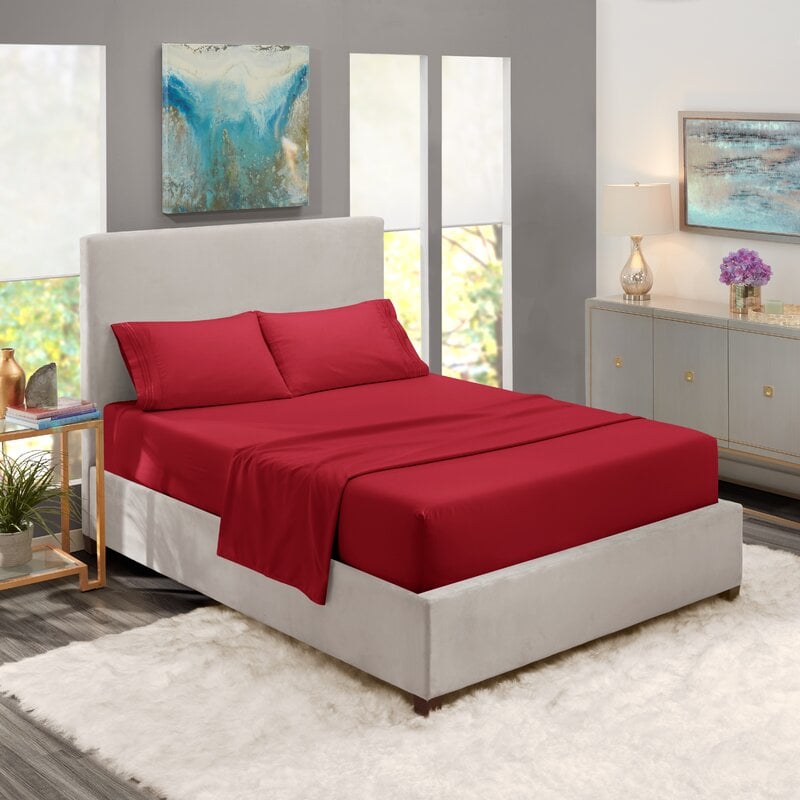 As opposed to cool blues and subtle neutrals – this stark tone of burgundy red can beautifully pair with your gray comforter. Yes, it's true that the color will tend to stand out – but at the same time, it will create an eye-catchy contrast that you have been dreaming of. Also, only a great idea if you're open to loud and bold statements.
Secondly, the red can truly trigger romantic and energetic vibes. So, if you're aiming for a similar vibe, this red color sheet is something to look forward to!
Gray Embroidered Sheet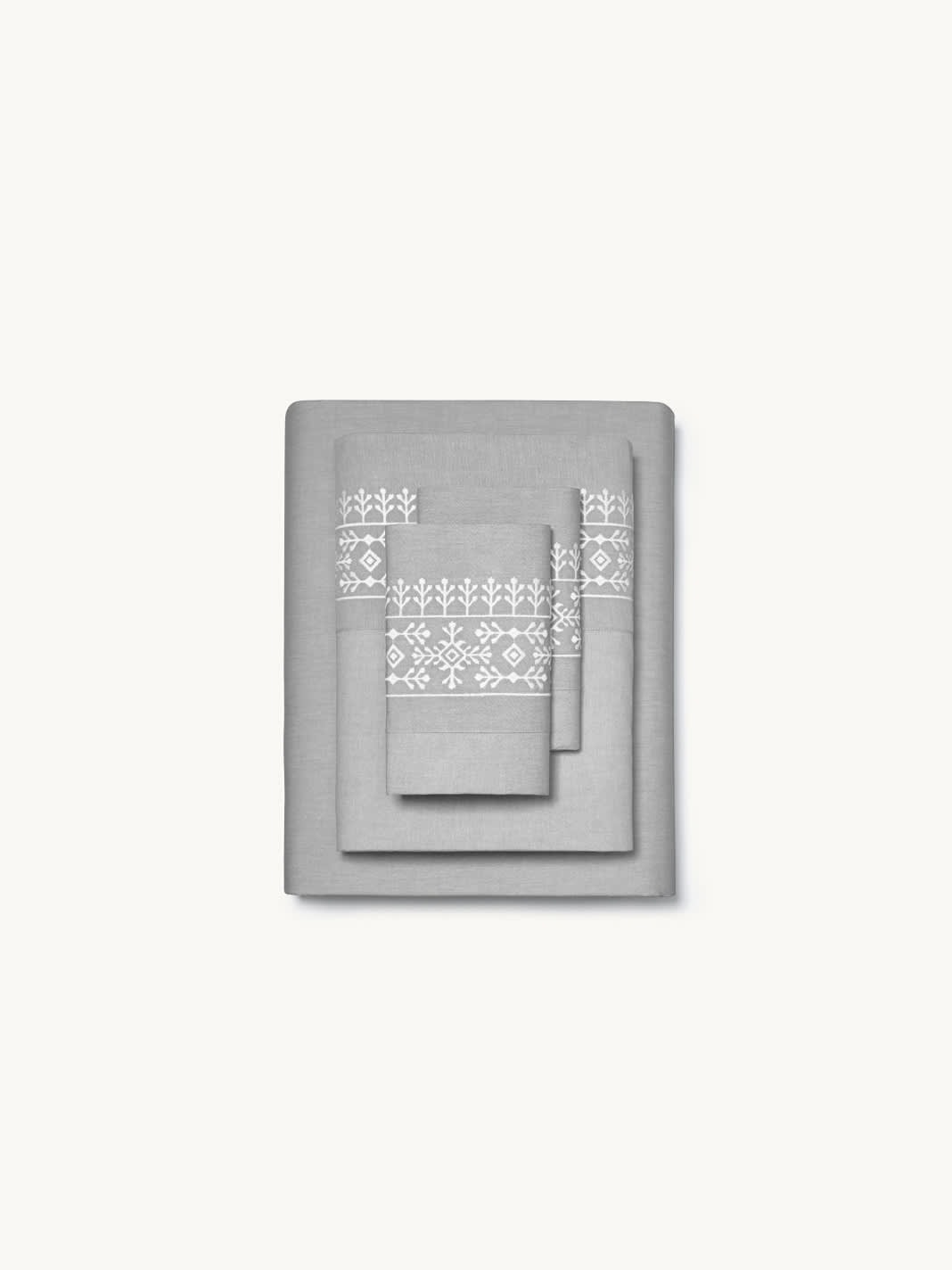 Do you simply adore only gray sheets in your bedroom? Well, if solid is too boring – you might as well pick an elegant option. Yes, a gray embroidered sheet with an intriguing motif design will bring the beauty of nature right into your bedroom.
This gorgeous design can create an equally stunning effect while uplifting the mood of your space. And to further enhance the appearance, pick a richly textured fabric for the secondary throws and bed covers.
Charcoal Floral Sheet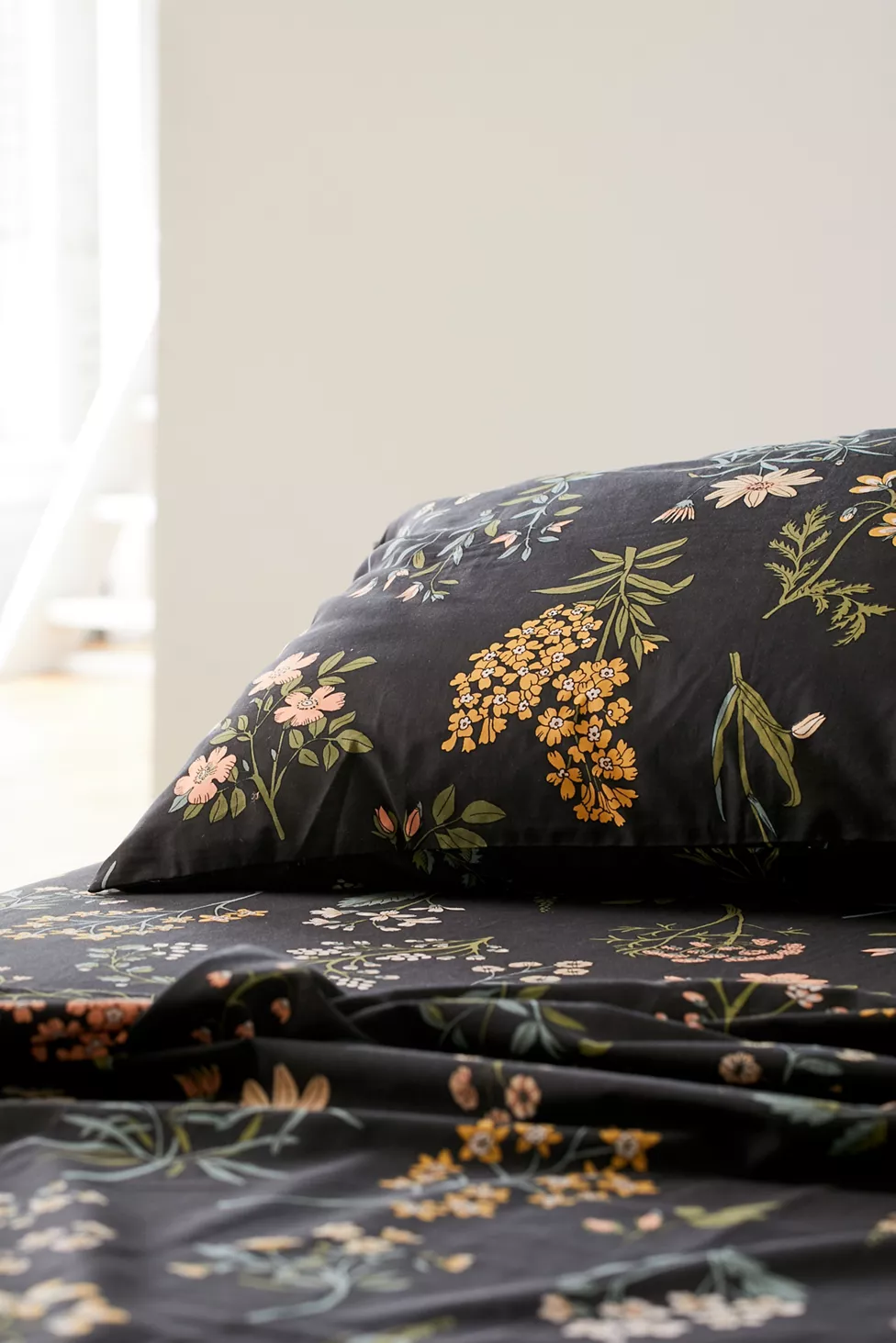 Whether you have a boho touch or contemporary – this charcoal floral sheet will undeniably make your room feel flawless and welcoming. Don't worry – since the gray comforter will perfectly complement this patterned bed sheet. Furthermore, you can add a couple of sage green, burnt umber, and pink throw pillows to complement the sheet.
Lastly, don't forget the ultimate cheerful, fun-loving, and yet bold statement this particular sheet creates!
Sage Green Linen Set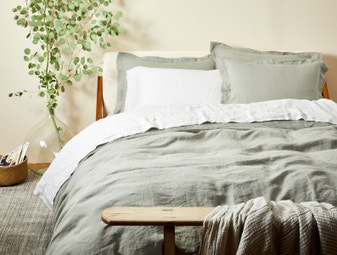 It's time to talk about organic and timeless greens. Apart from exhibiting a calm and comforting vibe – this particular linen set will make your room feel tranquilized and blissed. This shade of green will also seamlessly complement the gray comforter – without tending to stand out a lot!
Furthermore, you must take into account that this fabric is quite durable and can be used year-round. Every wash makes it even more supple! Great, right?
Cream Butterfly Sheet Set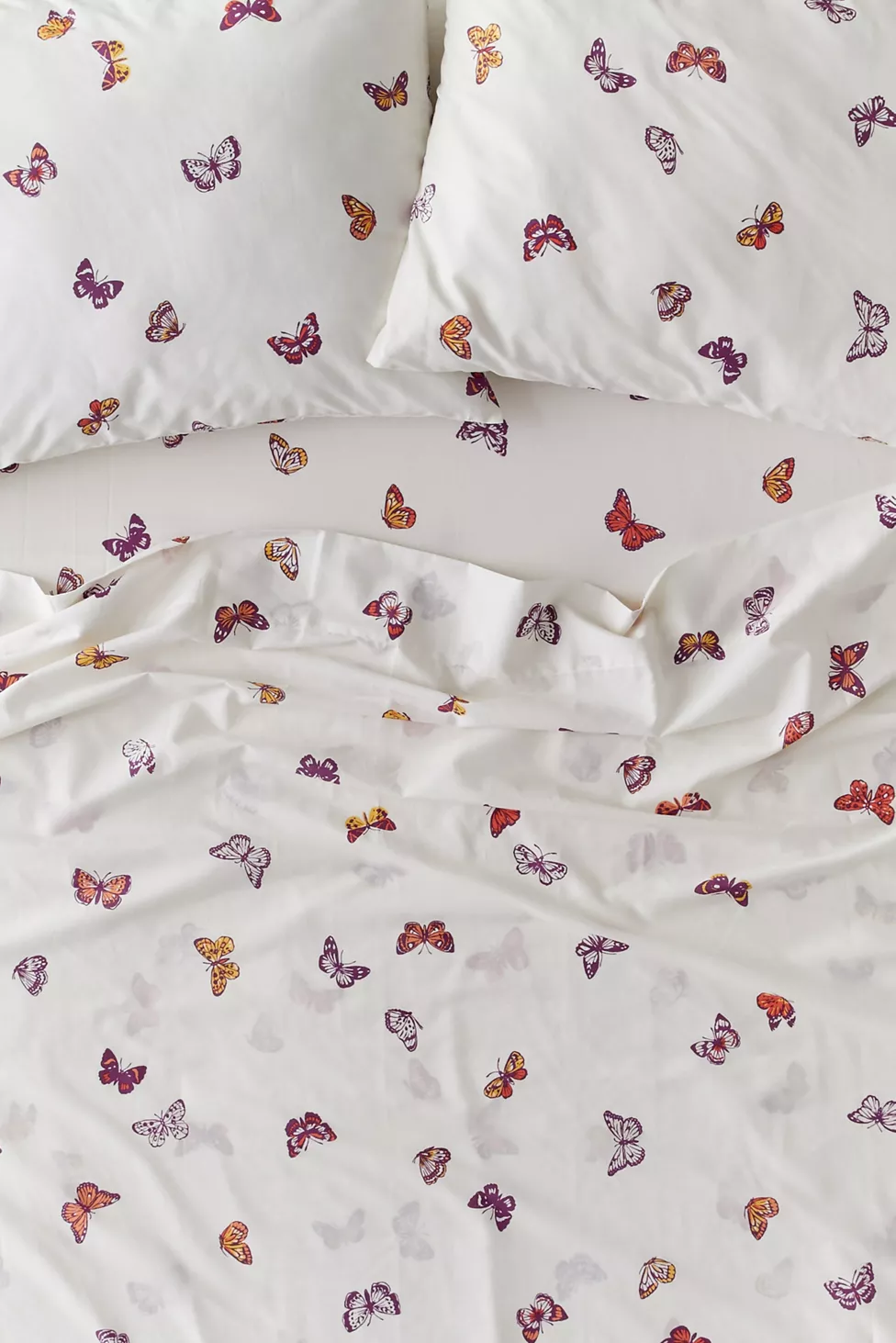 If you don't want the bedroom to speak loud, this cream-toned butterfly sheet set is something to have an eye on. It wouldn't overpower your room and at the same time, make it feel even more cheerful, welcoming, and fun-loving.
Don't worry – this color sheet will definitely go with your gray comforter without having you feel doubtful about it! And especially if it's the kid's rooms, this sheet is a plus point.
Mustard Printed Sheet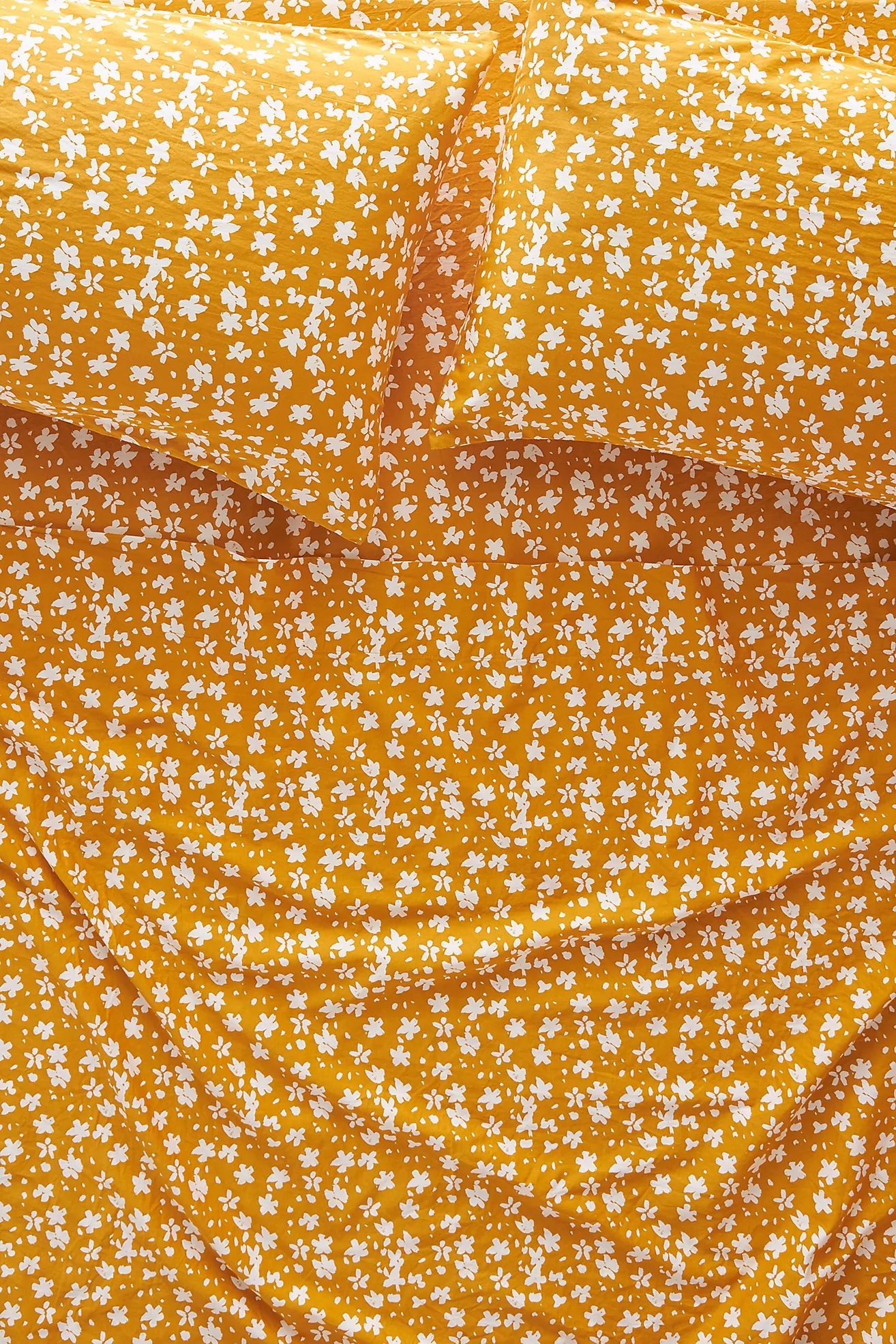 Another color sheet that beautifully pairs with your gray comforter is mustard. And believe it or not – this pair is made in heaven! Yes, it equally plays delightful and fun-loving while imbibing friendly and cheerful vibes in the bedroom.
Laying out this sheet is a great way to connect happy thoughts and positive feelings in your bedroom! Moreover, the luxurious drape can be easily layered, loved, and lived during any season.
White Bamboo Sheet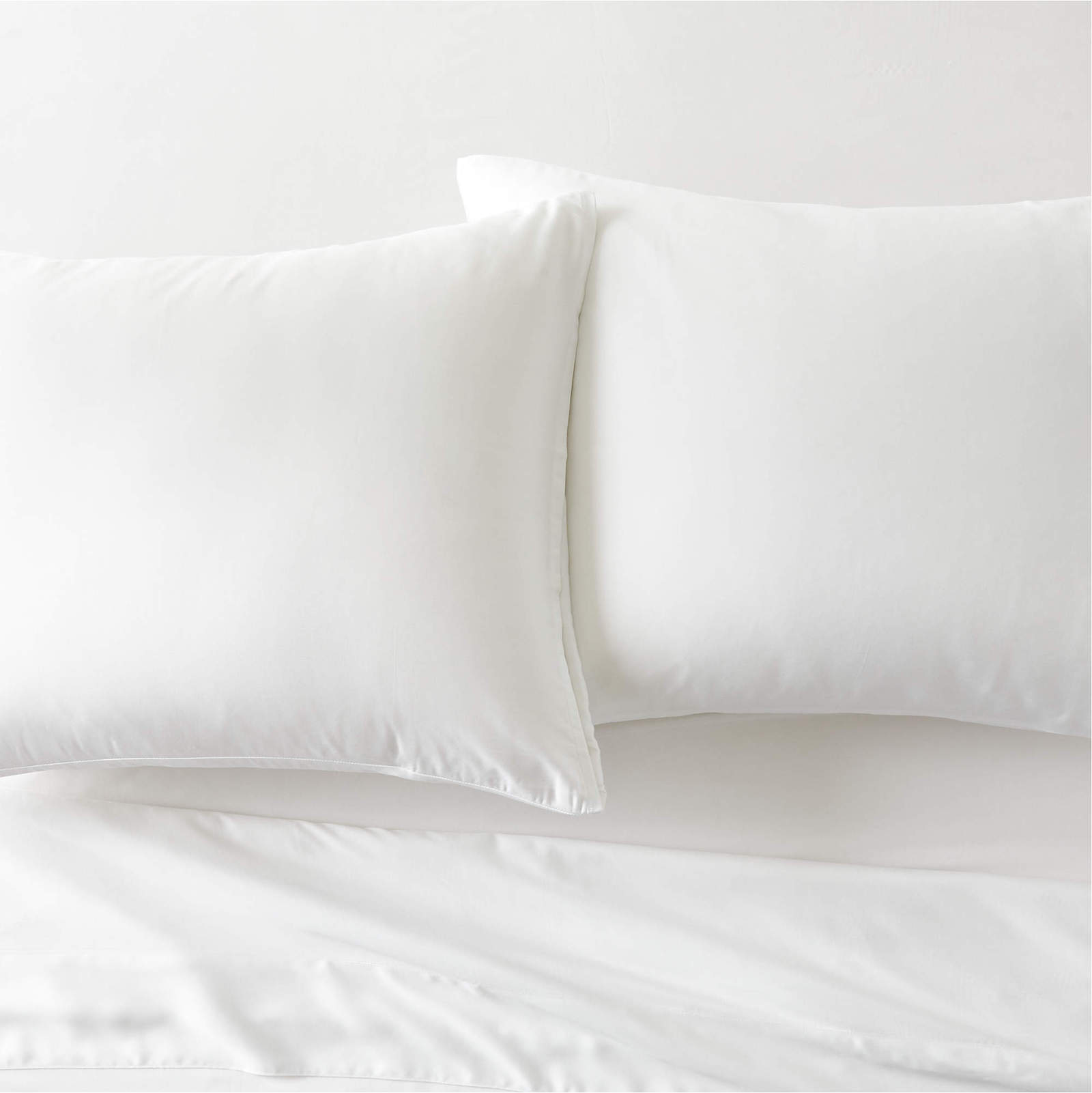 Classic and simple, white-colored sheets prove to be one solution for all. So, whether you have a dark or a light gray comforter – white sheets will always play timeless and versatile. Furthermore, they will also protrude the gray and make it a more dominant factor in the room.
And you would be glad to know that this sheet is hypoallergenic and is free of harmful chemicals – thus, making it ideal for sensitive skin.
Cyan Patterned Sheet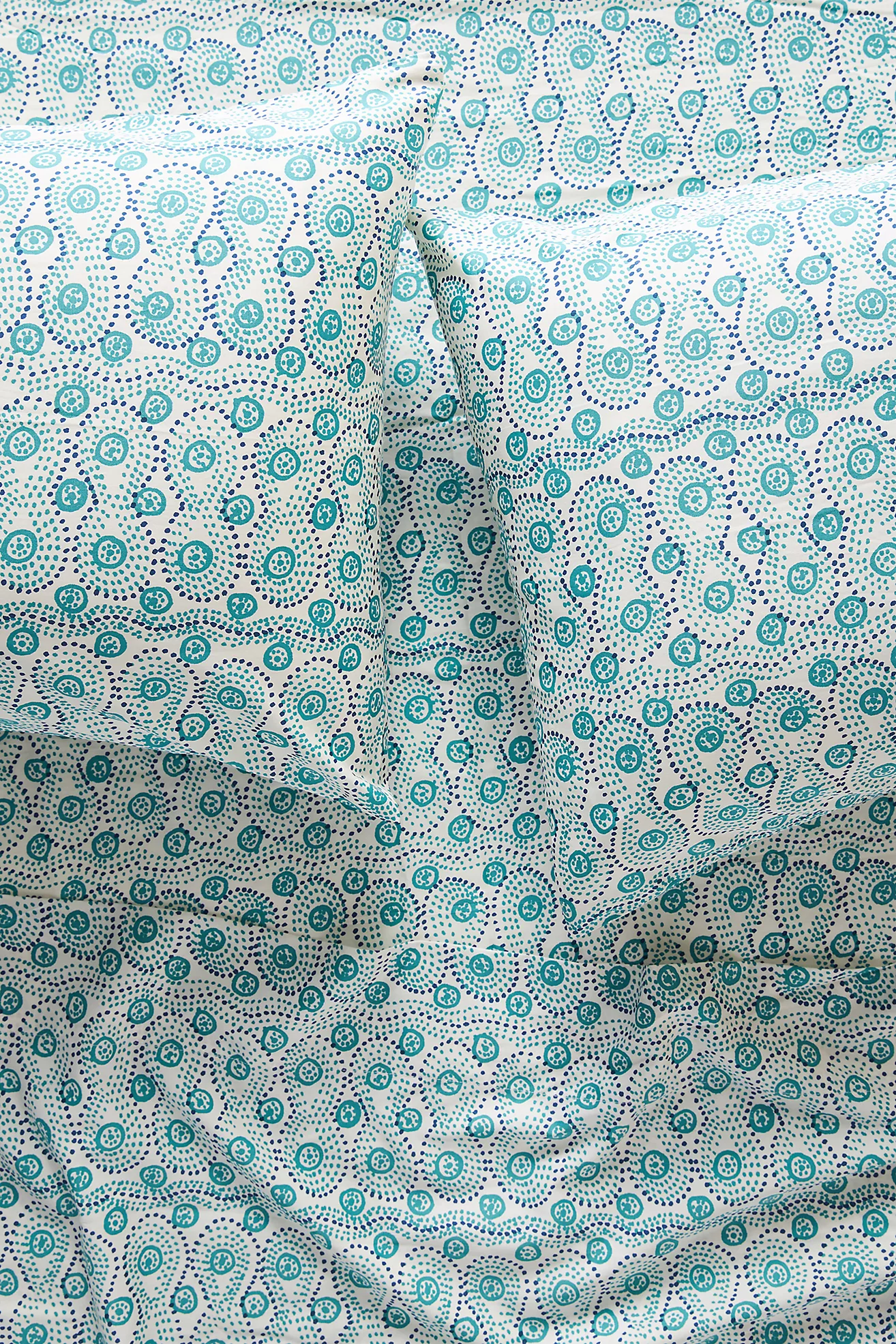 Colors infused in patterns can create a charming and magical appeal for your bedroom. And especially if it's an intriguing color like teal or cyan – you must not hold back! It's stark and quite chirpy – and that's how you can imbibe a friendly statement.
Moreover, the best part about cyan is that it wouldn't stand out a lot. It can seamlessly pair with your gray comforter without appearing puzzled or hay-wired!
Camel Flannel Sheet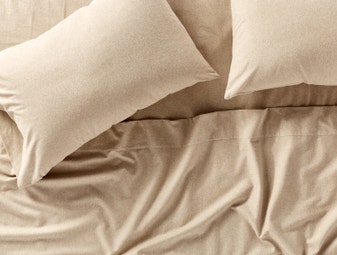 A color family you simply can't ignore – yes, camel or taupe it is. So, if you have a Japandi, Scandinavian, or Modern Farmhouse interior design style – this blissful combination is something to look forward to. It feels equally warm, welcoming, soft, and calm.
Adding a couple of material textures with the help of faux and fur through throw pillows will undeniably complete your bedroom palette and give it a 'wow' factor.
Summing It Up
You see – there is a long list of the best color sheet options to pair with your gray comforter. However, you must watch out for the color saturation and temperature of gray to seamlessly align it with a likewise color sheet. A warm-toned gray would look fabulous with taupes, browns, and burnt umber whereas a cool-toned gray is a great fit for blues, greens, and pinks.
So, are you excited to jazz up that bedroom with a perfect pair of sheets? Do let me know your thoughts in the comments below!