Decorated Life is reader-supported. When you buy through links on our site, we may earn an affiliate commission. Learn More
What Color Furniture Goes with Blue Walls? 13 Ideas
Blues make a beautiful wall color.
In fact, many designers use shades of blue to promote calming, serenity, or as a backdrop to a nature-inspired design scheme. But even though some blues are relaxing, you can also use darker tints to create moody, high-contrast rooms.
If you have blue walls and wonder what color furniture goes best, try any of these thirteen ideas.
Try a Blue and White Color Scheme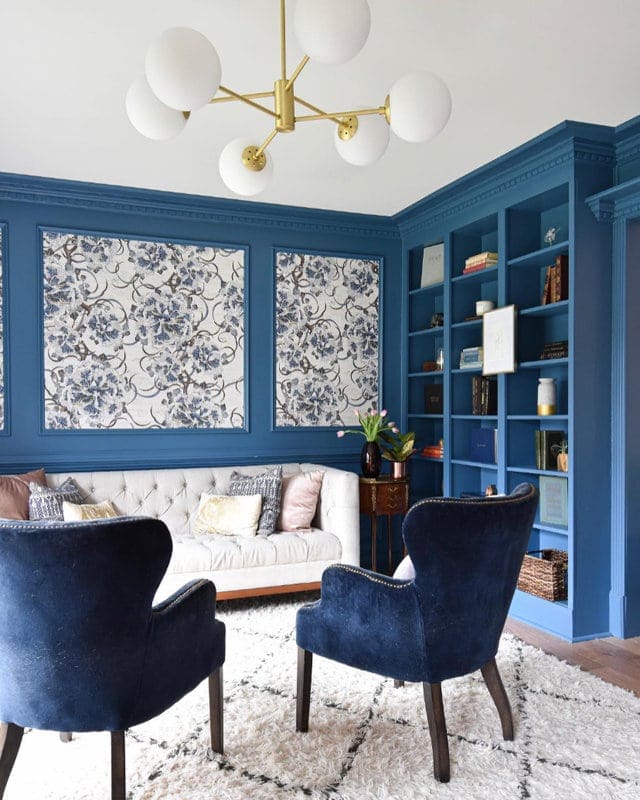 If your walls are a deep blue like this, you can create a luxe room by incorporating more blue and whites into your furniture.
Try a white or off-white sofa and velvet chairs. Then add gold accents for a glam style. If you want to make the room feel more light and airy, try soft blue accent chairs.
Go With a Neutral Couch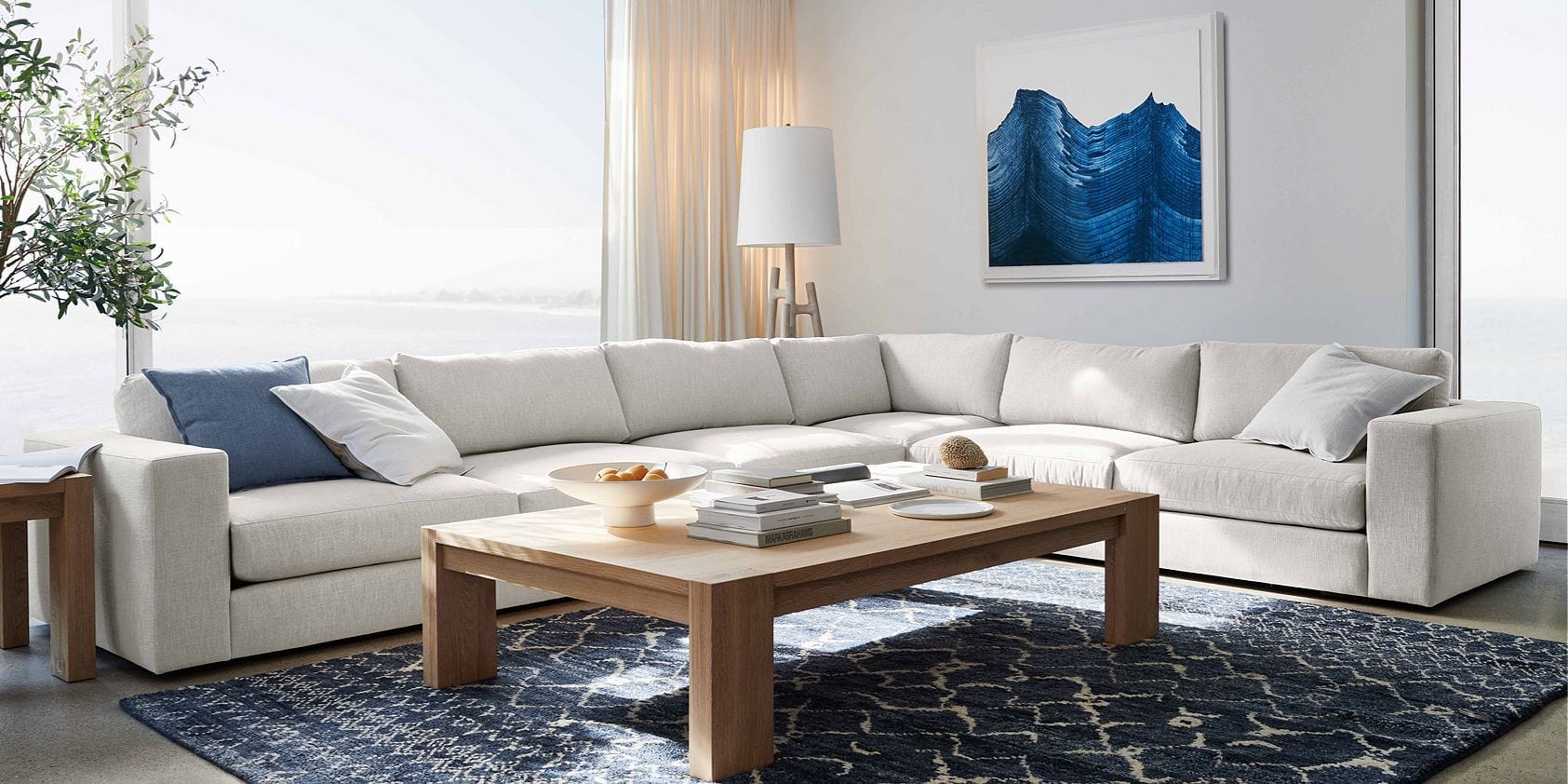 An easy way to match your furniture to your blue walls is to go with a neutral couch.
This sofa from Crate & Barrel is a cross between a light gray and linen color. Paired with light blue walls, it gives off a modern coastal feel. Paired with a dark navy, it will provide a ton of contrast.
Use a Warm Gray Sofa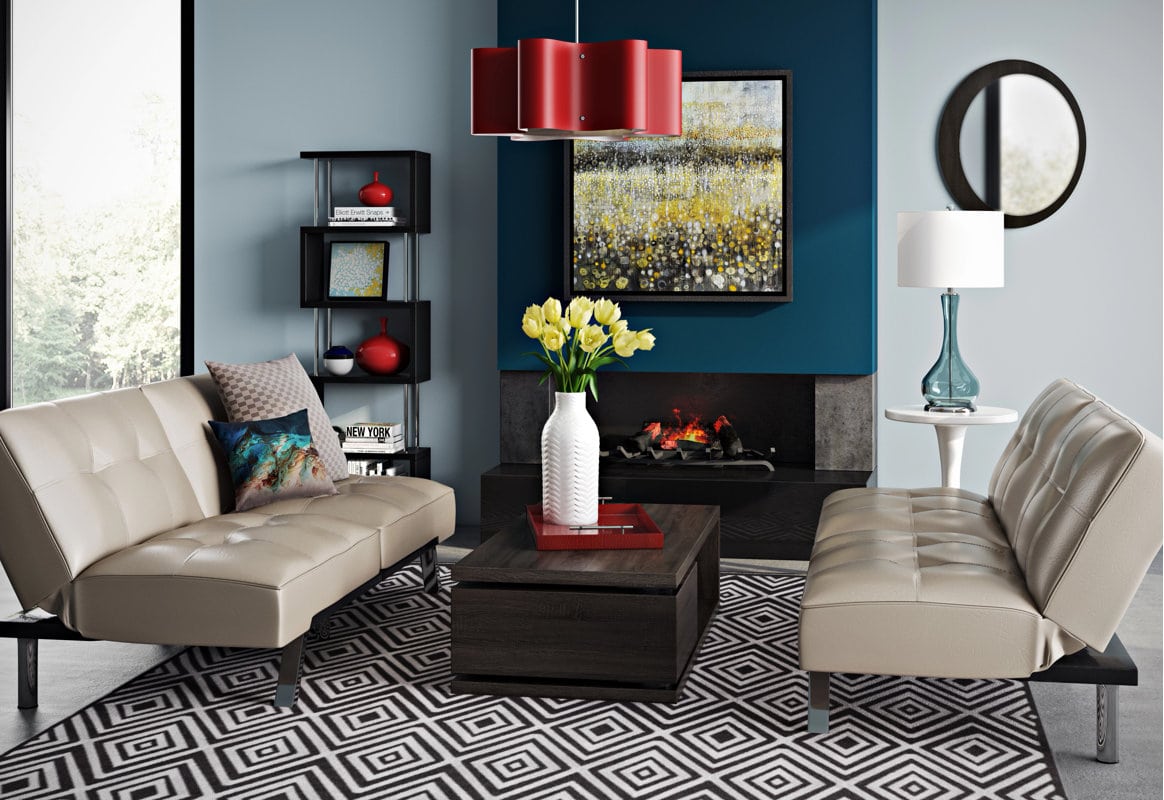 It's no secret – grays and blues work wonderfully together. But if all the blues in your room have cool undertones, you can offer some warmth by bringing in a warm gray sofa.
These sofas from Wayfair turn into beds which is great if you constantly have overnight guests. You can use two of these as pictured or create a seating area with one sofa and two accent chairs on the other side.
Add a Pop of Color with Green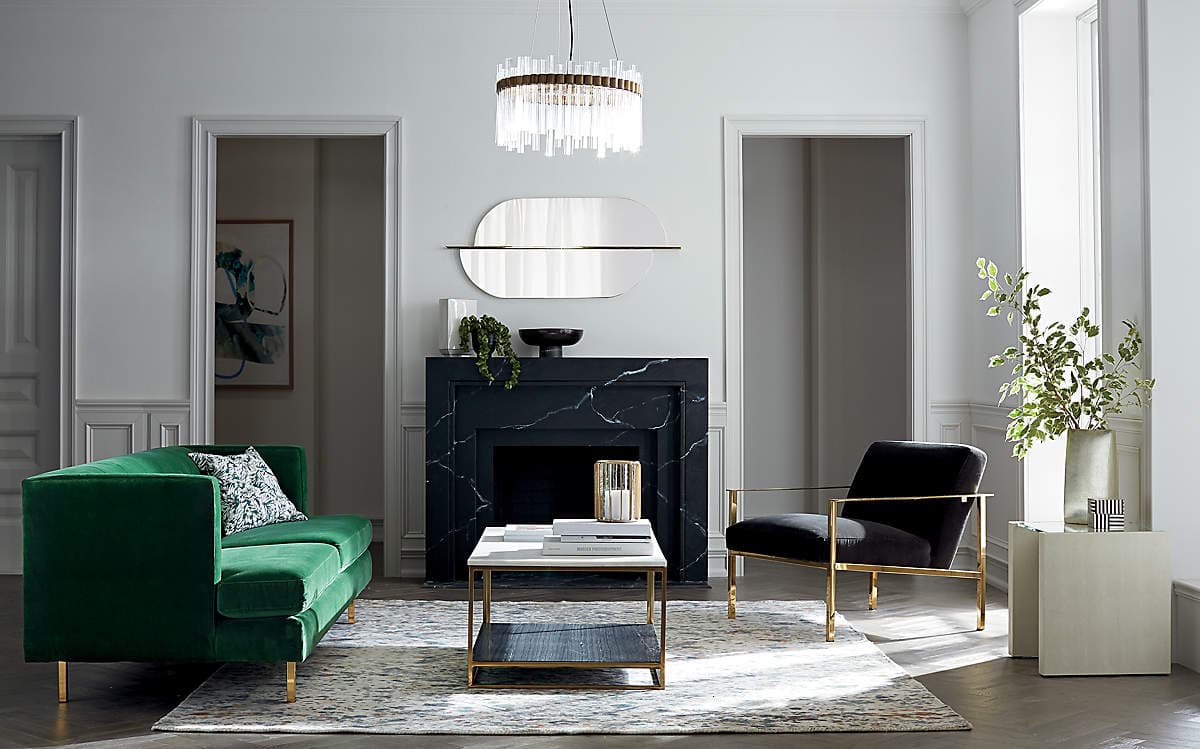 If your walls are pale blue-gray, you can use any color furniture you'd like. This wall color is neutral and goes well with bright dashes of color or toned-down hues.
For a formal feel, try a green velvet sofa. The green pops against the blue on the wall, and the velvet looks extremely luxurious.
Go With a Different Shade of Blue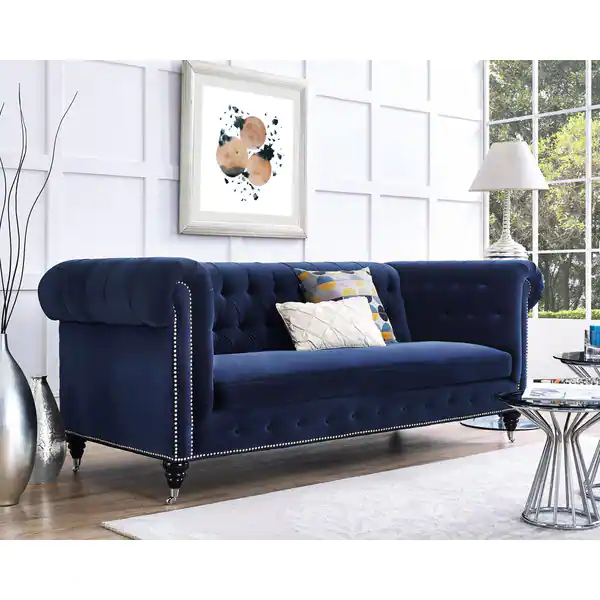 Blue walls can work with blue furniture as long as the shades are noticeably different. So, if your walls are a baby blue, try a navy sofa.
You can find this couch at Overstock. It's an 18th century inspired sofa with rolled arms, velvet upholstery, and nailhead trim and would work great in modern or transitional living rooms.
Warm Up the Room with Copper
Blue and brown are a great color combo. But you can take things one step further and bring in a copper-colored sofa.
This sofa from Urban Outfitters is a warm color that looks great against cool blue walls. It has a vintage feel, great for a casual or boho-inspired room. It also features velvet upholstery and beautiful tufting details.
Bring in Rattan Accents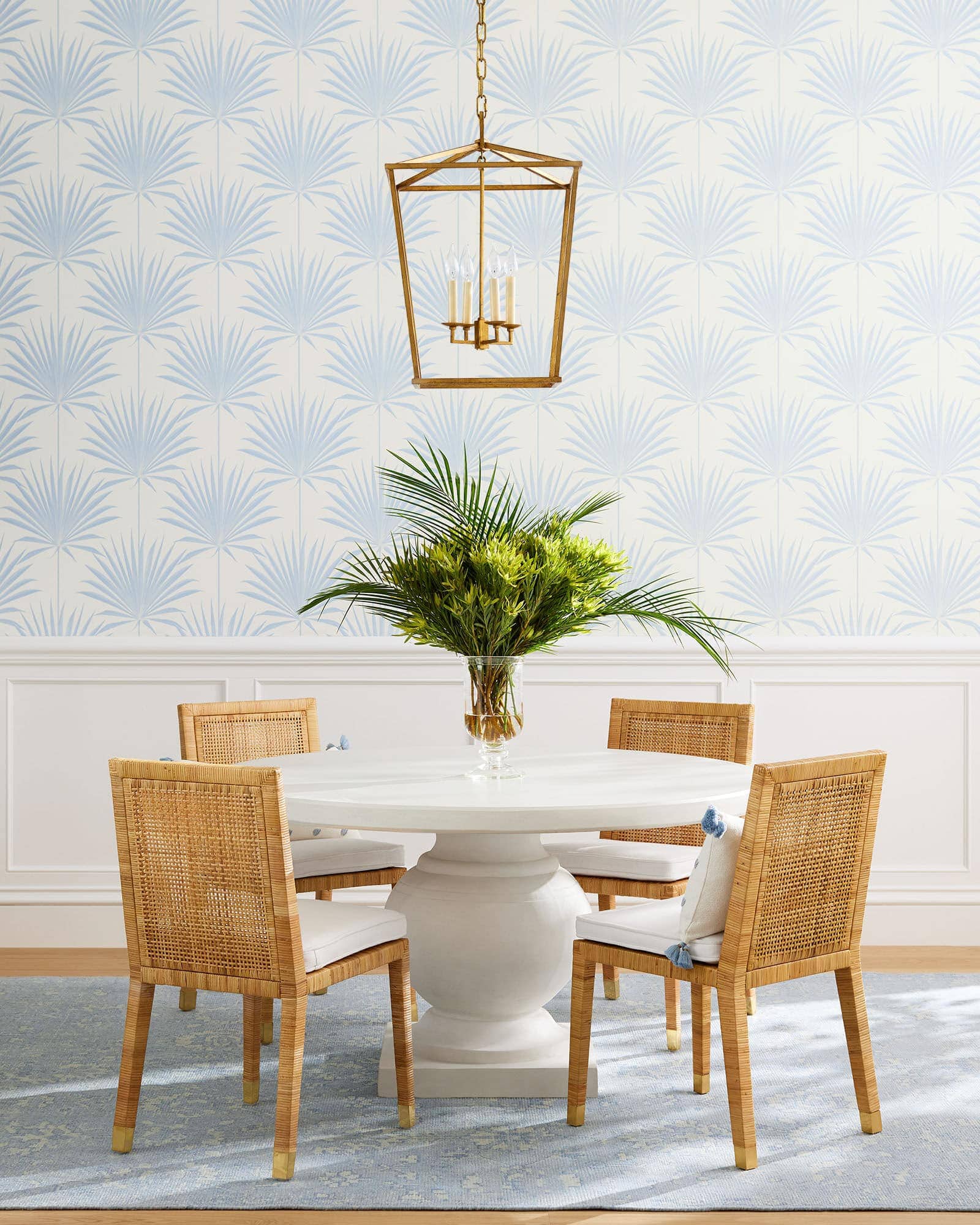 Regardless of the room you're buying furniture for, you can add rattan accents for texture.
If you're working on your blue dining room, surround your table with these rattan chairs. If the walls are light blue, you'll get a coastal look, and if your walls are navy, you'll get a beautiful modern contrast.
Pair Navy Walls with Soft Blue Furniture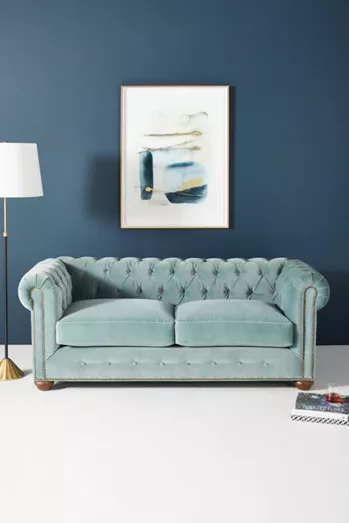 Light furniture almost always works best if you have dark blue on your walls.
One pretty option is a soft blue couch like this from Anthropologie. This is a chesterfield sofa with velvet upholstery and nailhead trim. It works best in contemporary spaces but can also fit glam or traditional style.
Try Taupe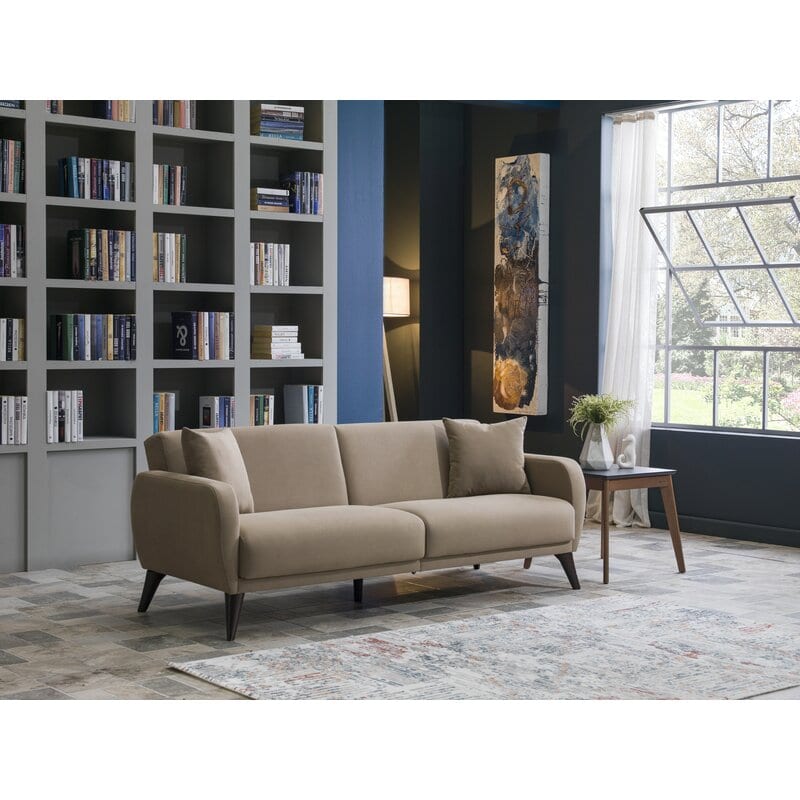 Blue normally has cool undertones, and shades of brown are warm. Because of the opposite undertones, brown and blue pair together nicely.
So if you're looking for a neutral-colored sofa to go with your blue walls, any color brown will work, including this taupe. This sofa is from Wayfair and features a modern design that works with just about any decor style.
Use Lots of Wood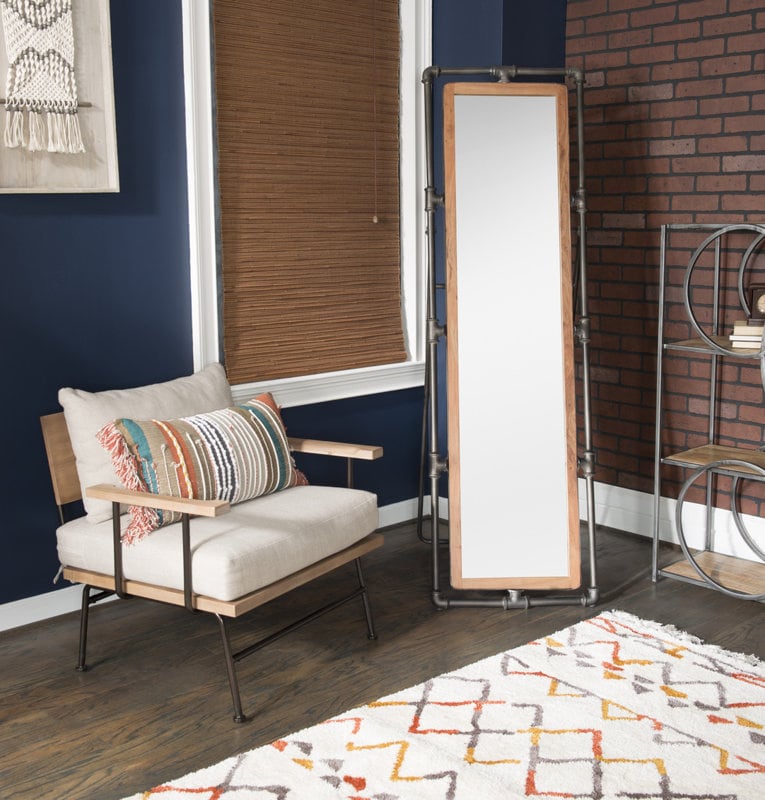 If you like a collected or boho look, use lots of wood accents with your blue walls.
Light to medium tones of wood look fantastic against a dark blue background. Consider bringing wood pieces through your accent chairs, mirrors, and blinds. You can even find sofas with exposed wood framing.
Keep it Clean with White Linen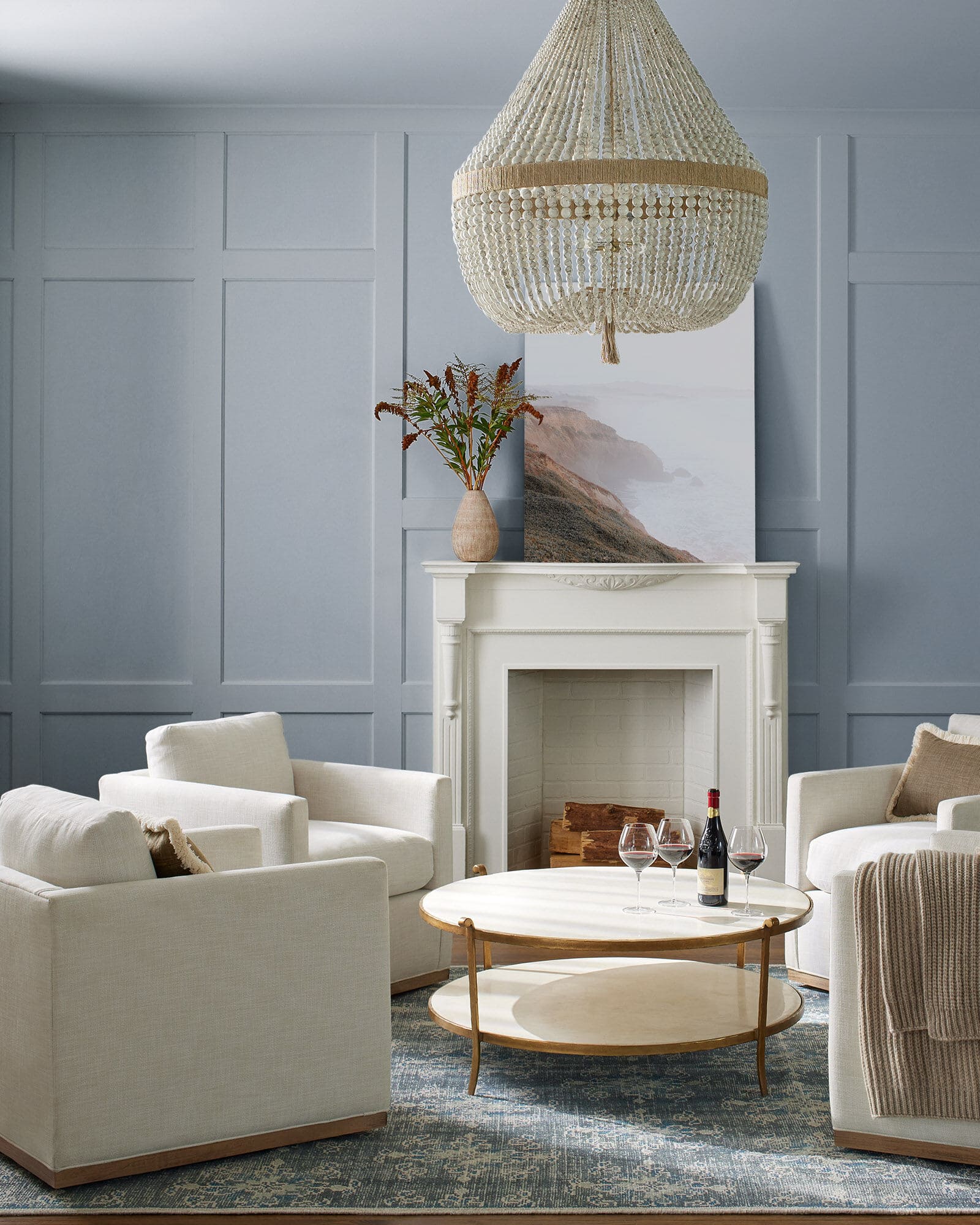 Are you after a crisp and clean look? You can't go wrong with white linen.
White linen furniture will go with all shades of blue. The white will offer contrast in dark blue rooms, and in light blue rooms, the furniture will look clean and cozy. If you use all-white furniture, you can pick a different accent color for throw blankets and pillows.
Achieve a Timeless Look with Brown Leather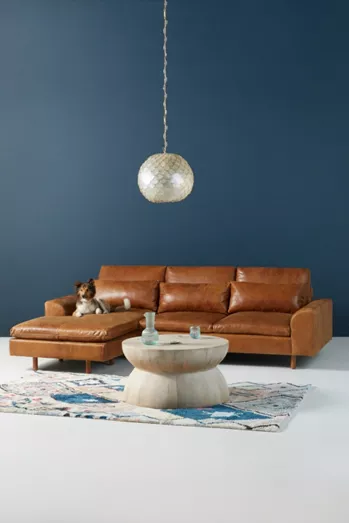 If you're wondering what color furniture goes with blue walls, you can play it safe and choose a brown leather sofa. And while it's true that these couches are trendy right now, they're also timeless.
You can find this brown leather sofa at Anthropologie. It features removable cushions and a reversible chaise. And the great thing about it is that no matter what color you decide to paint your walls, it will coordinate.
Opt for a Light Gray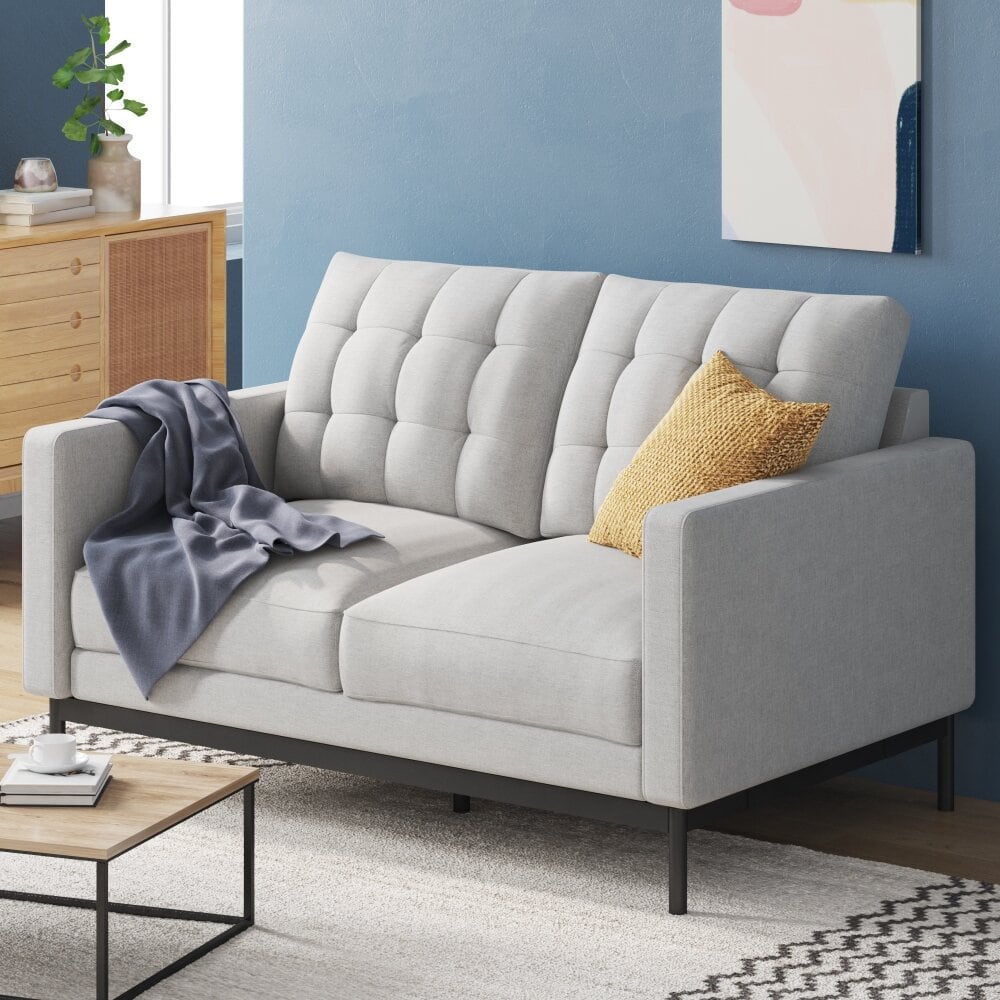 I've got some good news if you like gray furniture: any color gray will work with your blue walls. However, if you want to make a statement choose a gray that will contrast the shade on your wall.
This light gray sofa would look great against medium to dark wall colors. It's on the smaller side, so it's great for apartments or to be used as a loveseat.
Final Thoughts
Light blue walls are an incredible backdrop to a calming, peaceful room, while dark blues can set the scene for a moody space. If you're wondering what color furniture best matches, you can play it safe with grays, creams, and browns.
Other color ideas for blue walls include mustard, contrasting shades of blue, and green. If your wall and floor color have cool undertones, consider bringing in warmer shades through your furniture to balance the room.