Decorated Life is reader-supported. When you buy through links on our site, we may earn an affiliate commission. Learn More
15 Dark Brown Leather Sofa Decorating Ideas
The classic dark brown leather sofa has served as a stereotypical focal point in the living room for decades. If not properly designed and utilized, let's be honest, it can be an eyesore! Don't get discouraged though, there are many ways to take your living room look to the next level.
Let's take a look at some photos and a list of ideas that will take your drab centerpiece, to one that your guests cannot take their eyes off of!
Here are 15 dark brown leather sofa decorating ideas:
Add Some Blankets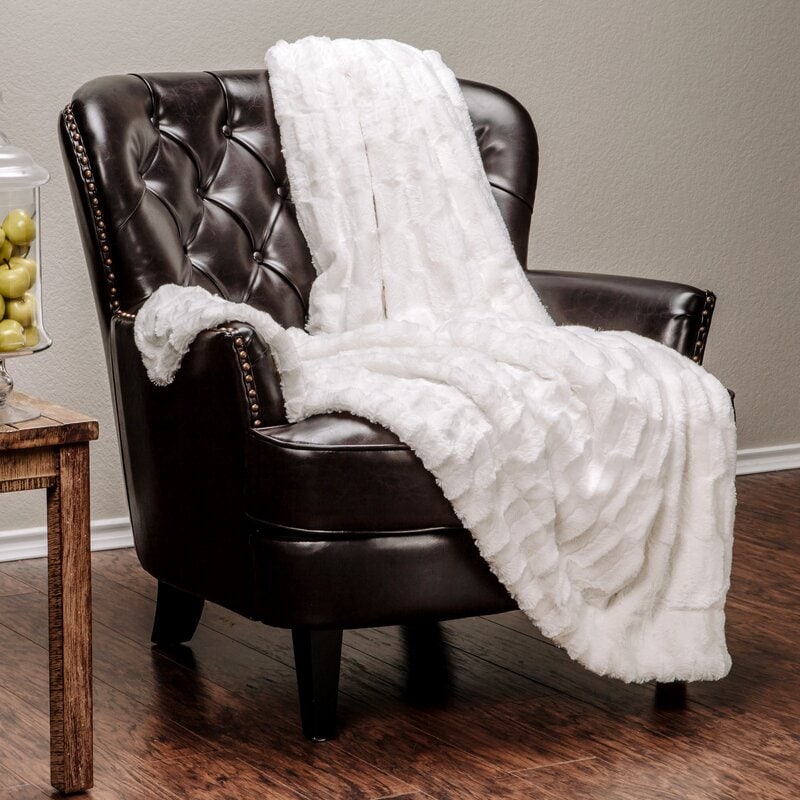 Adding blankets to your furniture piece can give it a layered look, as well as adding color that will compliment the sofa well. This white against dark brown look is modern, elegant, and definitely in-style. Get cozy and warm, all while styling your couch!
When picking a blanket or throw to add to your dark brown leather couch, consider a compatible color scheme; you can never go wrong with white, black, or grey. If you'd like to add a pop of color, try yellow. Just make sure it's comfortable as well! What better way to invite guests in and make them feel at home.
Find The Perfect Side Table
Add a useful decor piece, such as a side table, with a unique look to it. A wooden theme will go perfectly with dark brown, and something modern will make your space look well-thought-out. To go for a more trendy look, find a side-table with a marble pattern.
Not only will a side or end table make your area look more full, but it can be a necessary addition to the living room. Place your coffee mug or some magazines on it and put it to use! Even better, find a side table with extra storage space to keep track of your remote instead of having to dig through the couch cushions!
Show Off A Bookshelf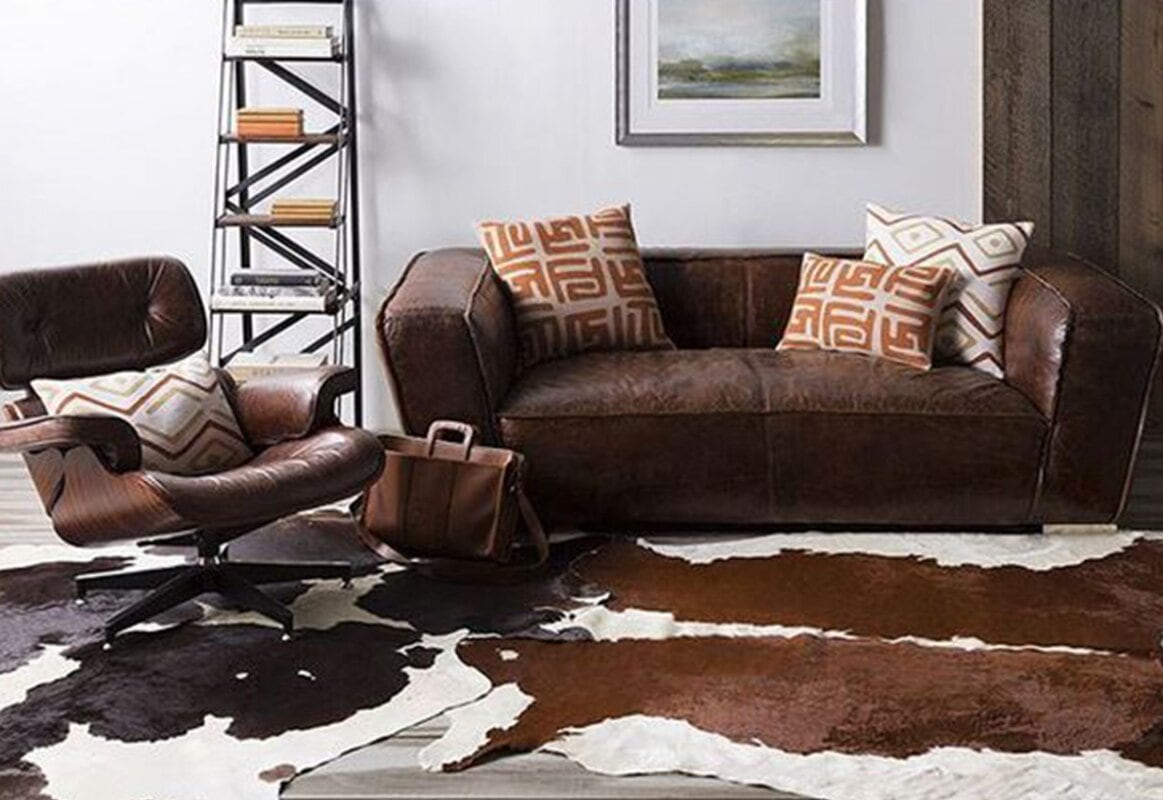 For readers, this is a no-brainer. Placing a bookshelf by your couch is the perfect way to fill space by your sitting area, where you'll most likely do a lot of reading. It's a perfect place to show off your new additions, as well as all-time favorite books. Guests can learn more about you simply by taking a glance at your bookshelf.
For non-readers, this decor idea doesn't exclude you! Adding a bookshelf can be a place to store any books, magazines, or how-to guides that you do happen to own. If you're low on books, fill the space with interesting knick-knacks or trophies. The point is to show off anything you do care about!
Choose A Pillow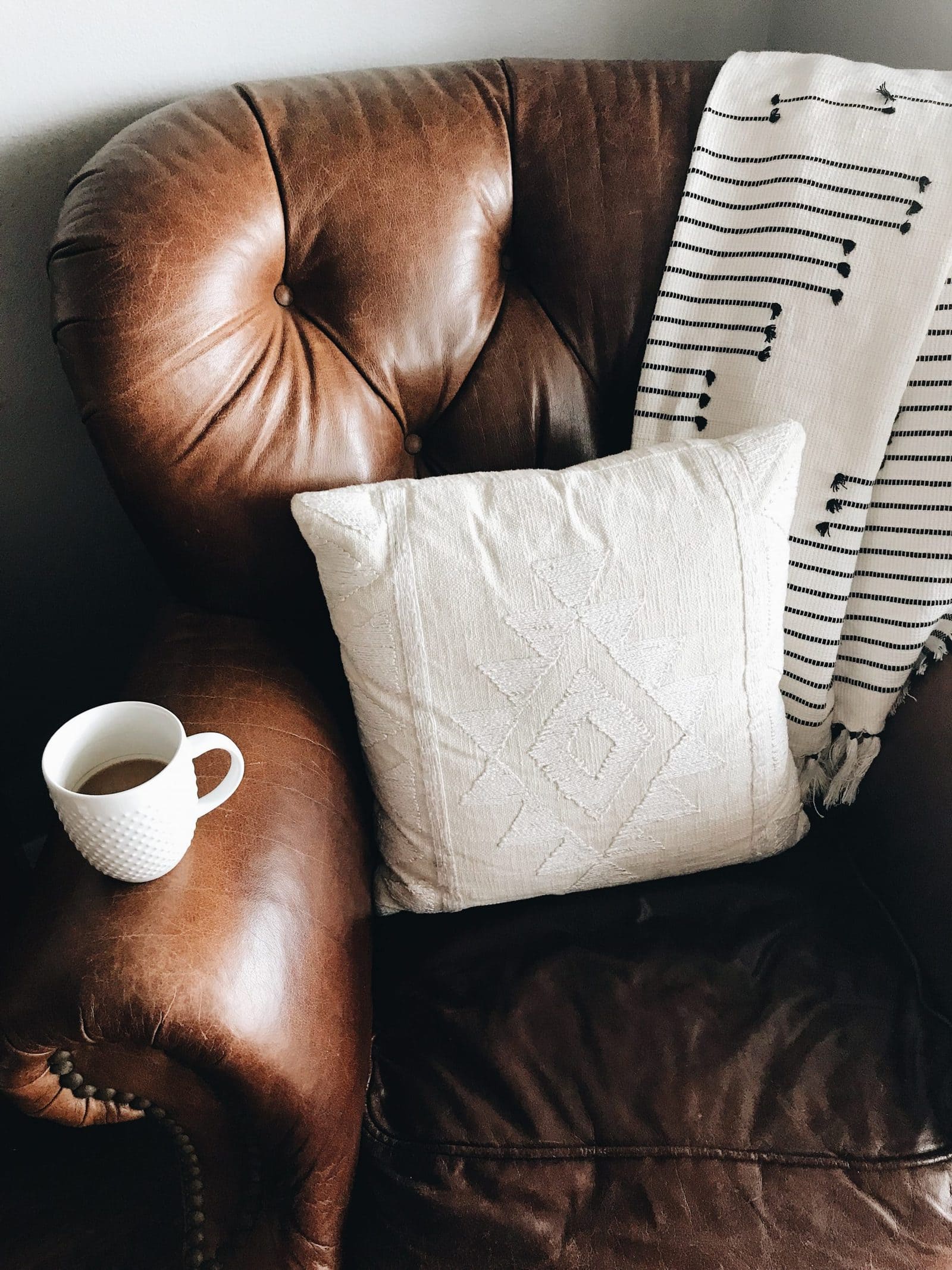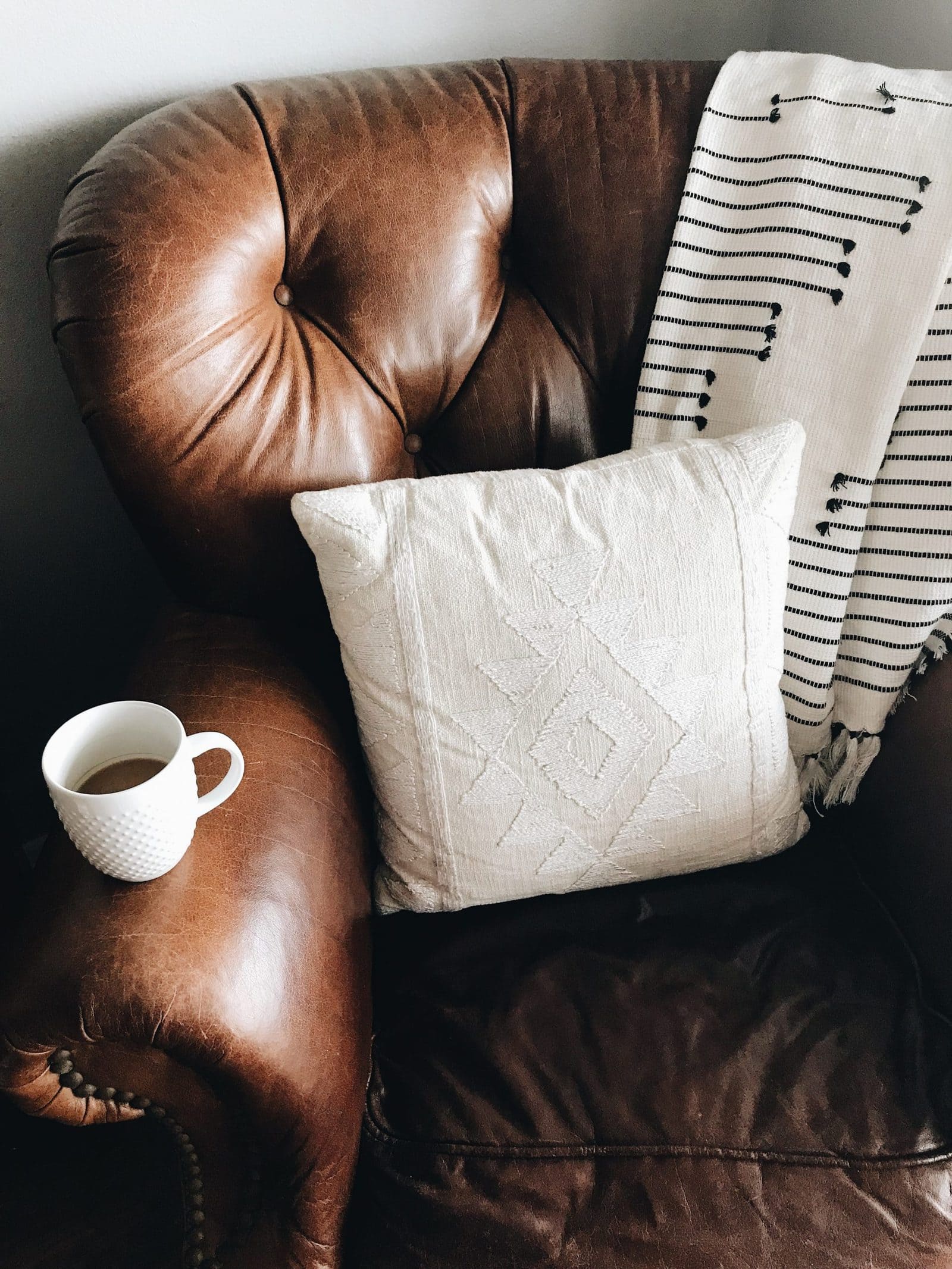 Pillows are absolutely essential to almost any couch or comfy chair you decide to decorate your room with. Along with making furniture even more comfortable, they can express your style as well! There are so many types of pillows to choose from. Picking a pillow is no longer narrowed to basic colors or plain designs.
You can choose a neutral color if you plan on having more extravagant wall art, or you could go with a bolder approach and choose a pillow with a wacky design on it! Whatever you choose, your brown leather couch will now have a complimentary or accent piece to go along with it. Expressing yourself through a pillow may seem far-fetched, but simply searching for the perfect one for you can be a fun activity in itself!
Shop similar pillows on: Anthropologie / Lulu and Georgia
Find Quirky Artwork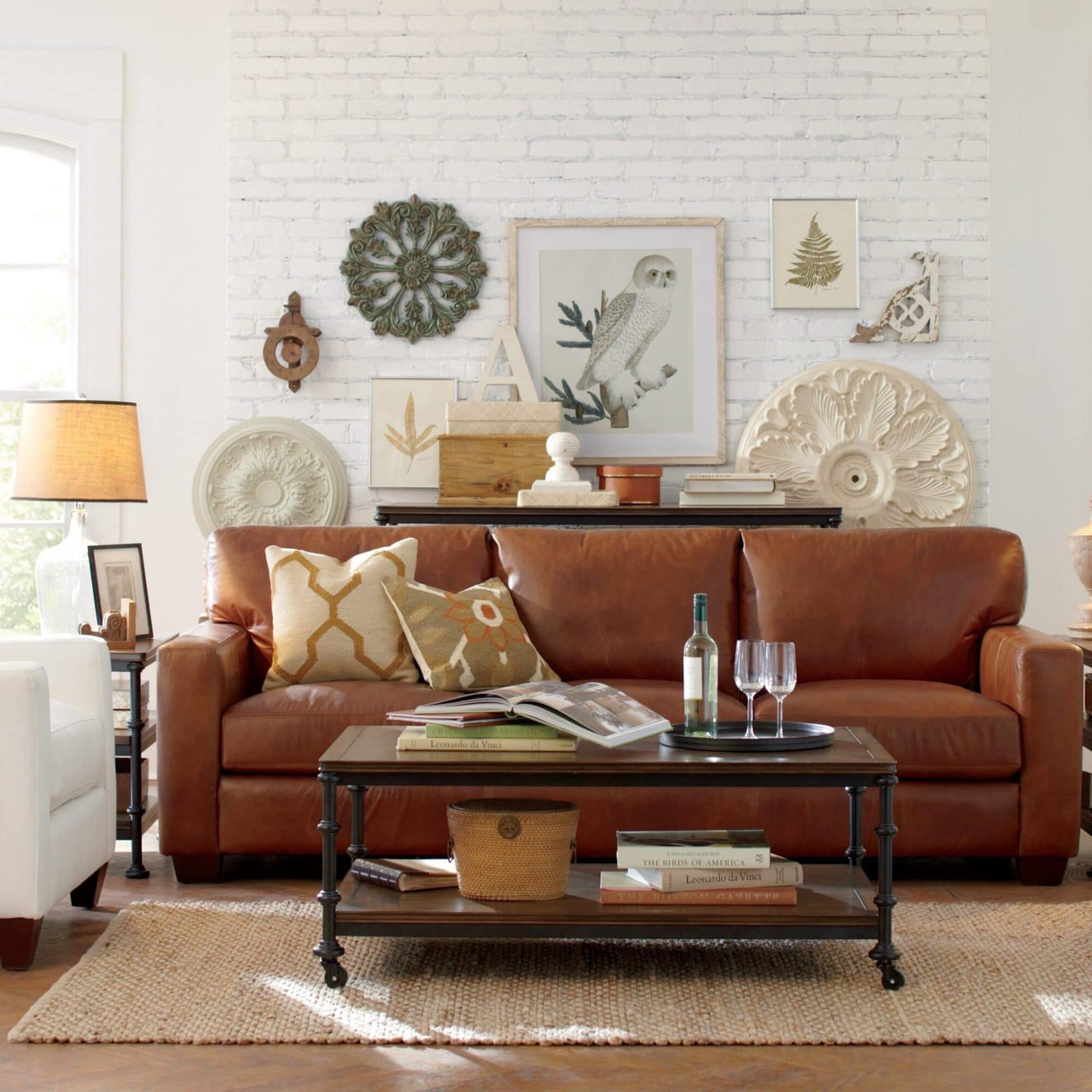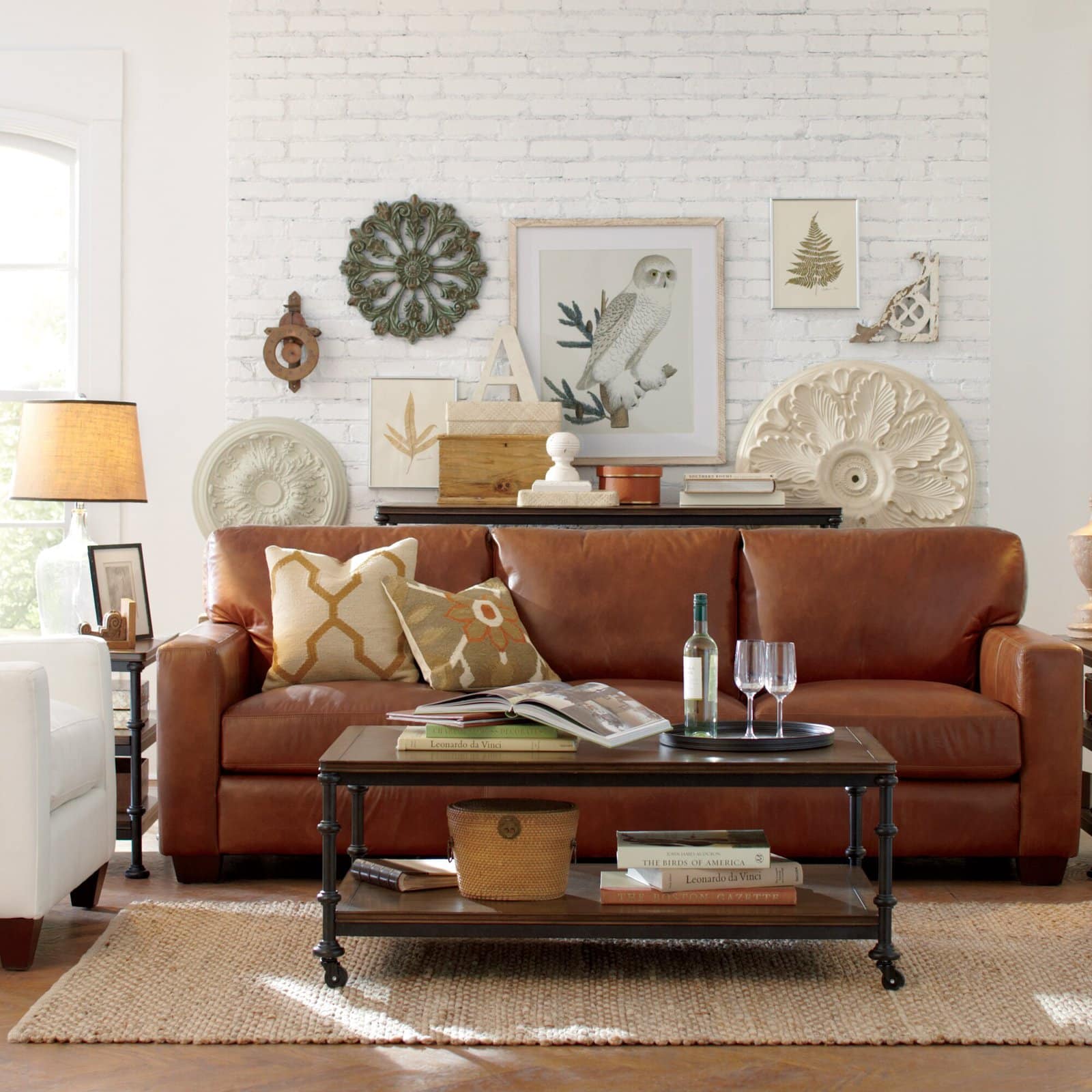 Artwork is a perfect way to add atmosphere to your living room and will make any space more interesting. When searching for brown leather sofa decor, you can easily forget to consider what will become of the space surrounding your seating area. Neglecting to pick out some unique artwork could result in an empty looking space.
Try to think outside of the box and look for some artwork that will really grab your attention, as it will most likely have this same effect when you hang it above your couch. It would be extra observant of you to choose a piece of artwork that incorporates some dark brown tones to match your dark brown leather couch… genius!
Incorporate A Cool Coffee Table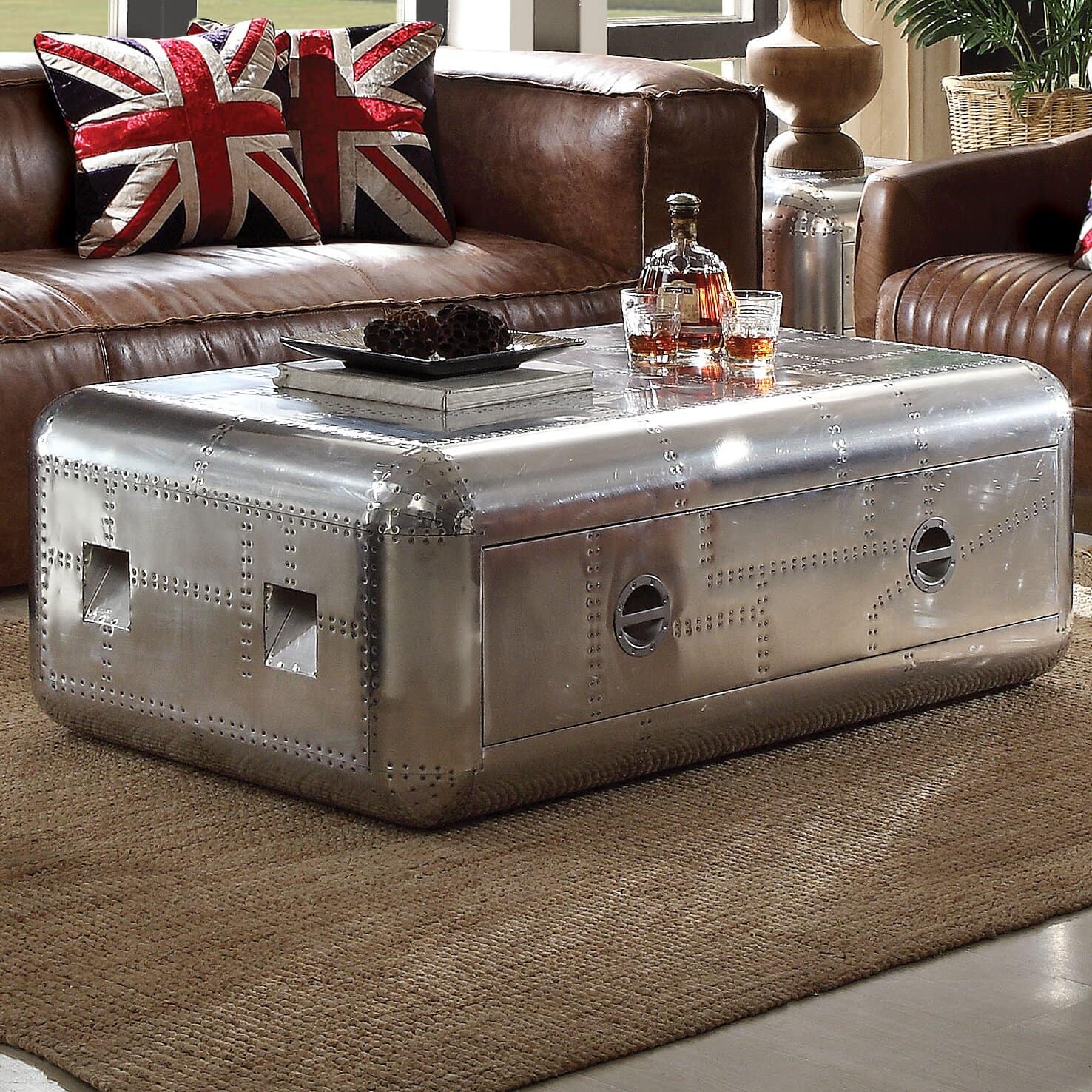 Expanding off of the idea of adding a side table, let's not stop there! Now, all we need is a larger version to set in front of the couch. This is where you're able to get very creative, keeping in mind what type of brown leather couch decor you'd like to invest in. The coffee table may be one of the first things that people observe when taking a look at your living room, so choose wisely!
Here are some things to ask yourself when picking a coffee table that will look stunning: What color goes with a dark brown leather sofa? What decorating ideas do I have for my living room? Would I like my coffee table to be more practical, or more of a statement piece? Apply your answers to your final decision and get to browsing!
Add Amazing Lighting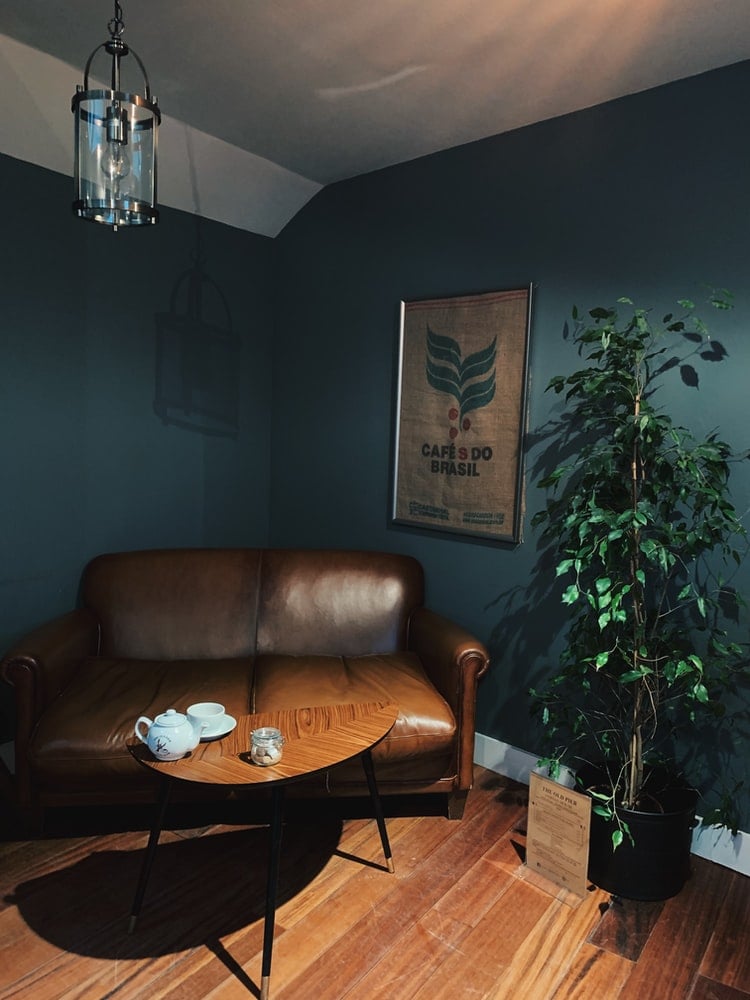 The ambiance and feel of a room is almost solely determined by the lighting provided. Typically, when taking a look at living rooms with brown couches, there is a theme of keeping the light dim and having a somewhat mysterious atmosphere. This can encourage relaxation and can be incredibly aesthetically pleasing.
Whether you're a natural, bright light person or a night mode person, lighting can be crucial to creating the space you want. Choosing a lighting fixture that will go either above or beside your modern brown leather couch should be one of the most important living room decisions you make, as it ultimately sets the mood.
Shop similar lighting fixtures on: Lulu And Georgia / Bed Bath and Beyond
Pick Some Plants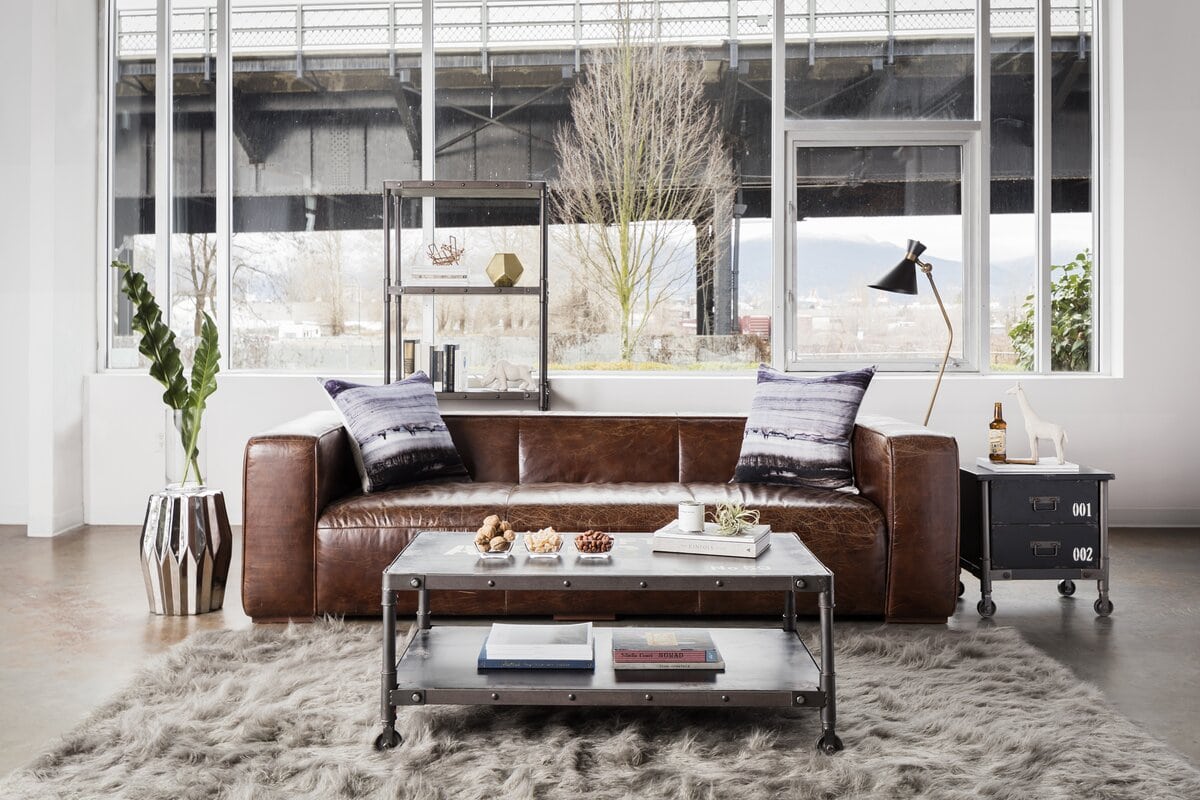 Plants are trending! Adding plants to any room seems to be the theme lately, and it can definitely brighten up any environment. If you're already a plant person, you know that it can be a fun topic of conversation, and can easily draw attention.
Placing plants by your modern brown leather couch will ensure that people take a good look around, and that they notice that you're keeping up with the trends. You will be known for your styling skills, and as a bonus, you'll have a brand new plant to take care of and call your own!
Frame A Map To Hang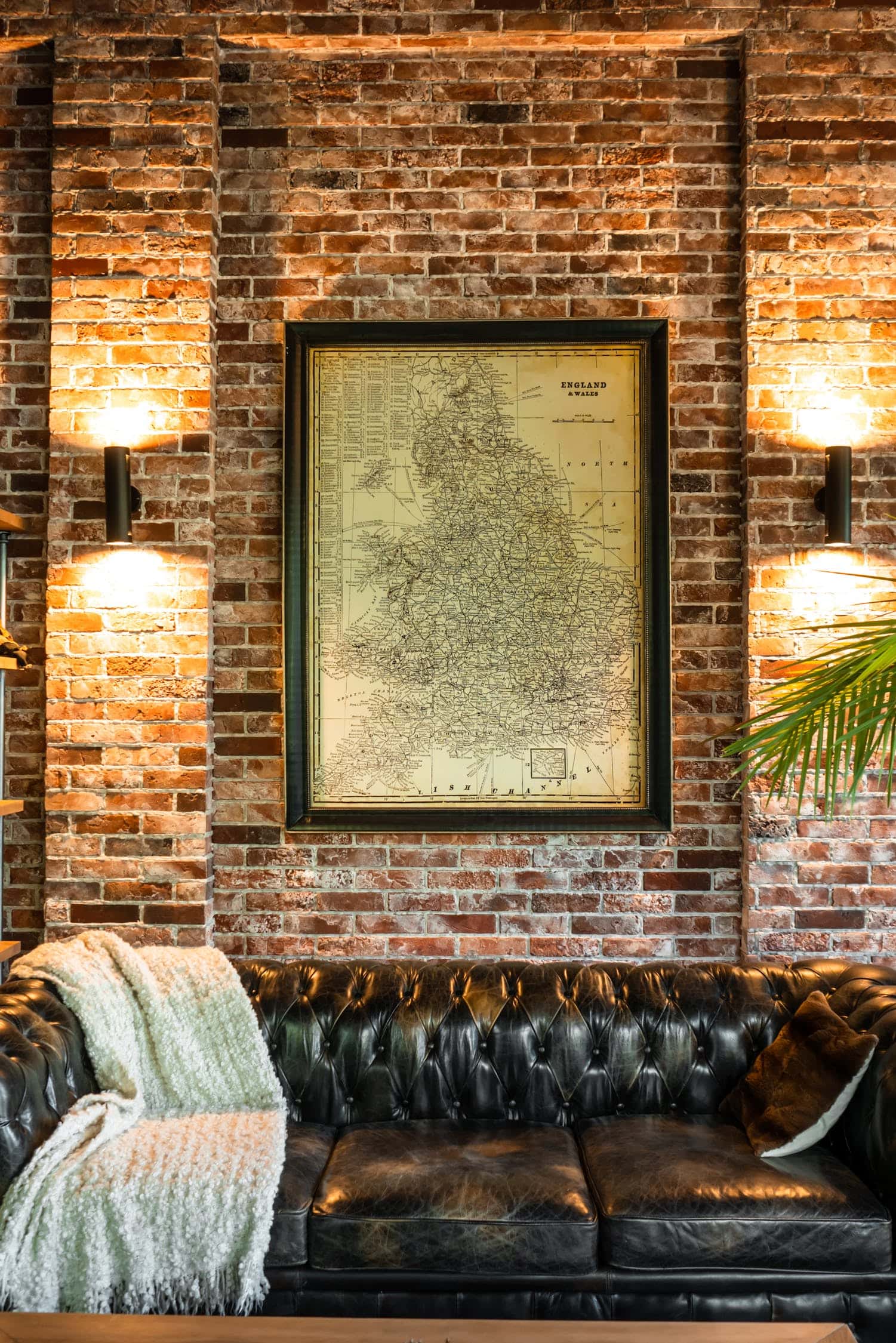 Yes, I said it: Frame a map! You may be wondering what a map has to do with your dark brown leather sofa, but when it comes to style, it's a smart and elegant move! Brown leather couches are quite traditional and have a classic feel to them. Finding a vintage map to frame and placing it above your seating area will tie together the theme and will make you and your guests feel nostalgic.
To add a little fun to your new wall art, find a more modern map and begin circling places you'd like to go! Another idea is grabbing a bulletin board, using a map as the base by pinning the edges to the board, and then attaching printed pictures of places you've already been.
Shop similar maps on: Art.com / Wayfair
Brown and Brick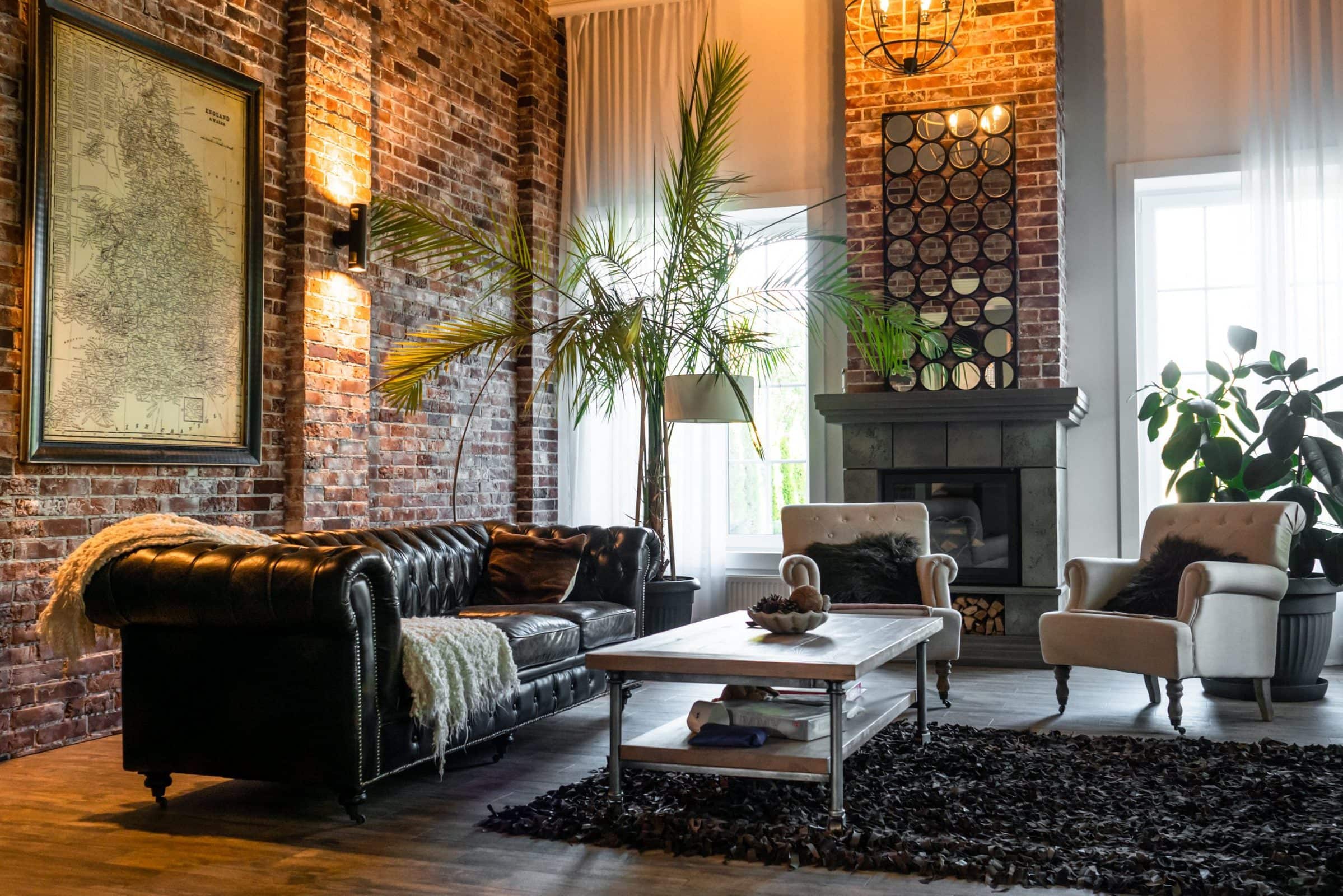 When deciding what colors and patterns to add to your room along with your dark brown leather couch, a great option would be to add some type of brick look to your walls. Whether that's brick wallpaper, or heck, actual brick! Brick and brown just seem to go together and give your room a more hipster, coffee shop vibe.
If you're laid back and enjoy the ambiance of a dimly lit and relaxing library or coffee spot, you're sure to love the brown and brick look. This allows you to create a calming space that reminds you of your favorite hangout spot without ever having to leave the comfort of your couch. Just sit back, sink in, and enjoy your cup of coffee!
Shop similar styles on: Wayfair
Test Out Teal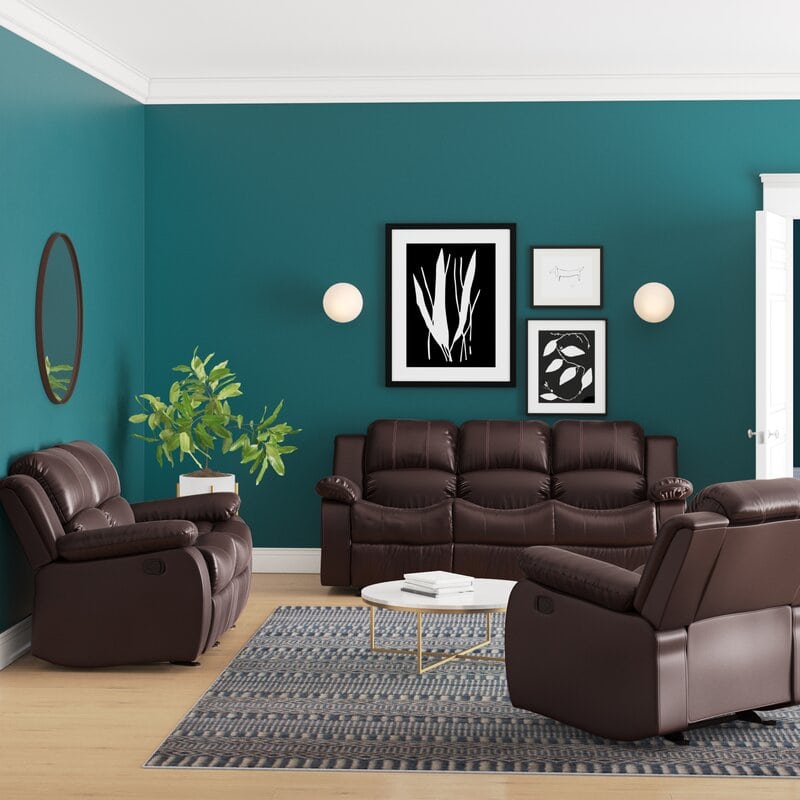 When it comes to picking out accent colors that pair well with dark brown, test out teal! Teal is a step out of some people's comfort zone, but when matched with a more toned down brown, it's really not so intimidating. Plus, it adds a pop of fun color! Try a teal colored pillow at first… if you love it, you just may end up committing to a teal wall color.
Having an accent color makes a room stand out, and keeps it from looking purely monochromatic. Don't get too attached to only having dark browns and darker colors, because what you may end up with is more of a dungeon look. Adding teal will give your dark brown sofa that little bit of liveliness that it needs!
Don't Forget Flowers
Brown leather sofa decor is so versatile and can include so many fun pieces. A romantic and visually pleasing idea to place beside your sofa would be a vase of flowers. Real or fake, it doesn't matter, they're for decoration! More dainty white flowers will give your space that vintage, old school feel.
Set a vase of your favorite flowers on your coffee table or end table and watch your living room literally come alive! Flowers are beautiful to look at and are another way to add some personality to your living room. Fake flowers can look remarkably real and don't require any maintenance. Just don't forget to water your flowers if you choose a real bouquet!
Shop similar flowers on: World Market
Place A Rug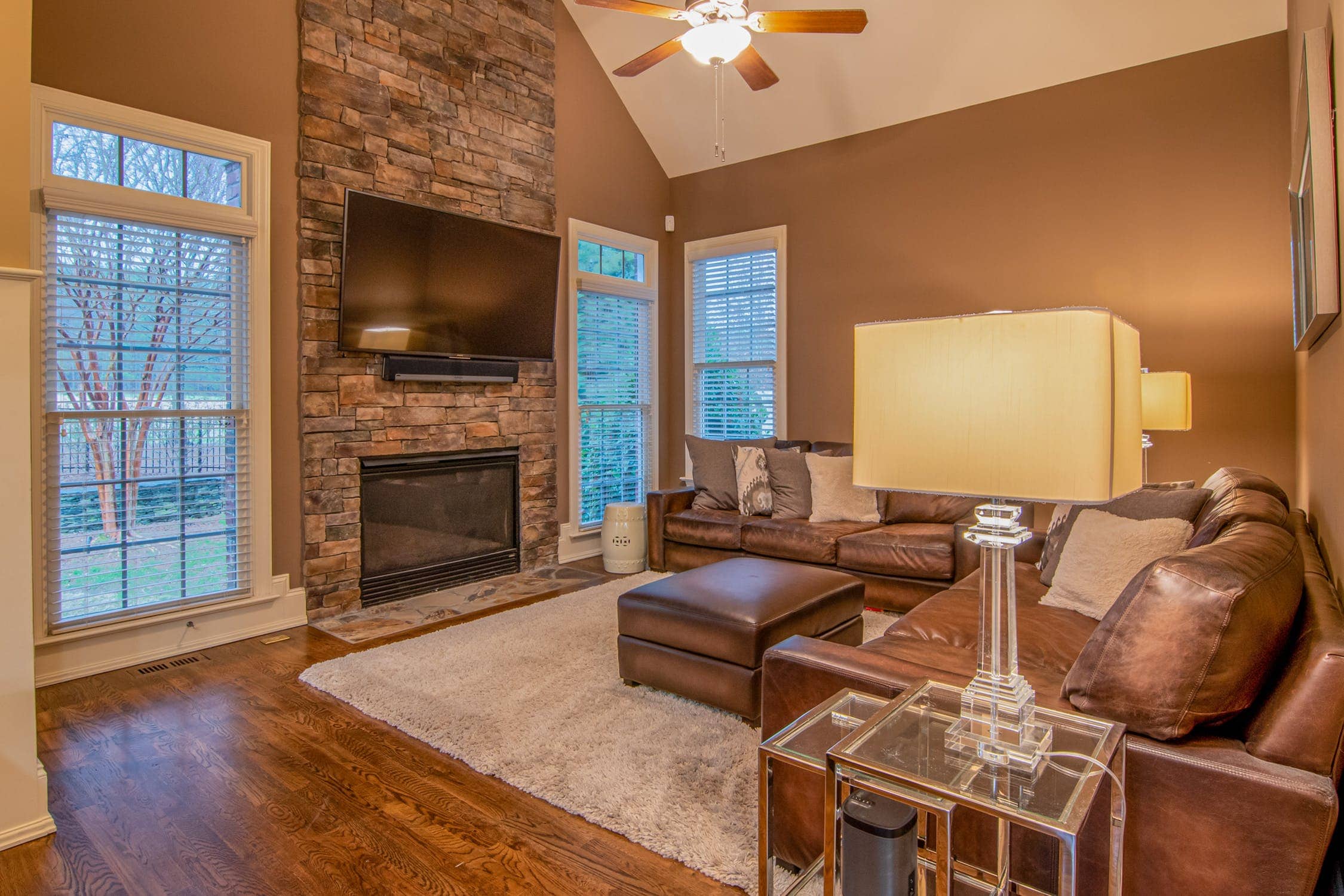 When deciding where to put your dark brown leather sofa and how to position it, you should keep in mind where a rug will go. Rugs come in all different shapes and sizes and can be customized however you choose. There is an endless variety to choose from, and you can even switch one out if you get bored of the look!
When planning what kind of rug to buy, one that will compliment your sofa will most likely come in a bold color such as; yellow, purple, blue, etc. Again, adding a splash of color to a shade like dark brown will draw attention and make the room look exciting! These sort of accent pieces and small details really do matter!
Shop similar rugs on: Ruggable / Rugs.com
White And Sage Green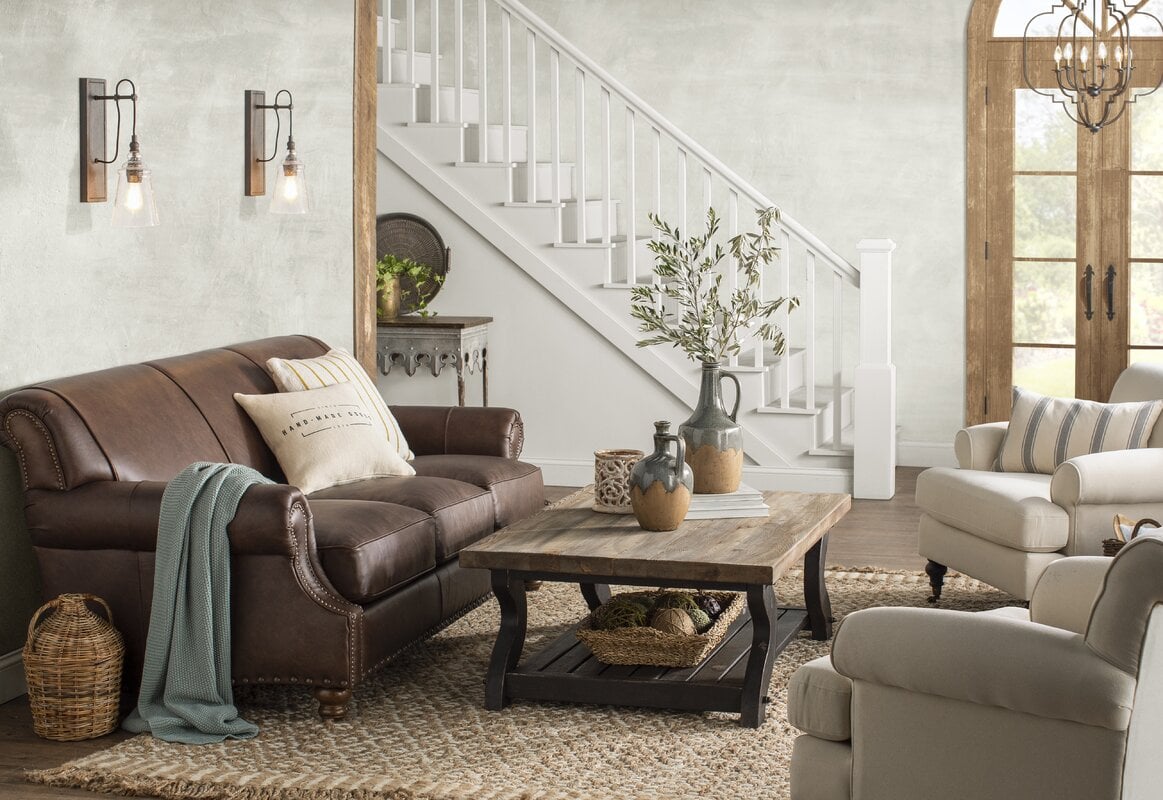 White and sage green are two colors that you can use to really enhance your environment when placing your dark brown leather couch. White is a neutral and will add nicely to the calming look of the dark brown, but will give the room a more open and brighter feel. Where your room is lacking natural lighting, white walls and decor will give the impression of space and light so that the dark brown doesn't become too overwhelming.
Sage green or even some bolder green tones will match nicely with the white and brown, giving a bit of color, while still playing it safe. If you can't get on board with the bold and brighter colors, sage green is a perfect alternative. These three colors put together look modern, sleek, and beautiful. Give them a try in your living room!
Take Part In The Cow Print Trend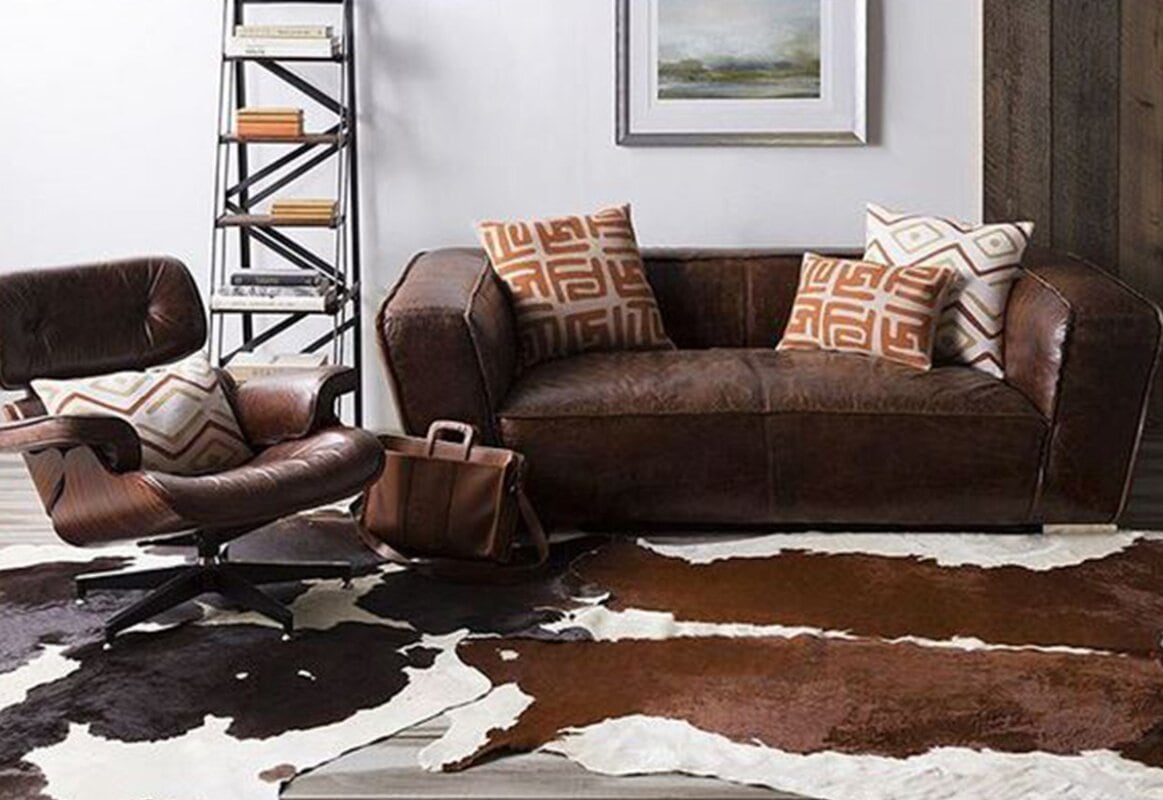 Cow Print is making a steady comeback, and since we're styling a dark brown leather couch, this is the perfect time to stay up to date! There's no better way to incorporate a unique and matching piece. There are a variety of cowhide decor pieces, from rugs to pillows and blankets. One that would fit best with your dark brown leather couch would be a brown cowhide rug.
This unique and trending addition will not only match nicely, but will be a fun and aesthetically pleasing decor idea! You can also browse some cow print pillows and blankets if you become attached to the print. To prevent clashing, make sure you get a cowhide or cow print that is dark brown with white spots instead of black and white.
Let's Sum Up Our Styling Ideas
A dark brown leather couch is a classic and traditional piece of furniture. It's versatile and can match nearly everything. The difference between it being a boring or plain piece and it becoming your living room's focal point is decided by how you decide to style it, and that decision is up to you! Get creative!
Figuring out how to style your living room can be somewhat of a daunting task, but don't get discouraged. With the style ideas listed above, you can't go wrong!
The living room should be a welcoming space and it's the first impression you make on your guests. Don't be afraid to express yourself through some colorful throw pillows or an interesting end table. It's sure to grab your guest's attention and make them want to sit down and stay awhile!