Decorated Life is reader-supported. When you buy through links on our site, we may earn an affiliate commission. Learn More
What Color Furniture Goes with Grey Flooring? 12 Ideas
While grey is a neutral color, it's harder to coordinate furniture with than wood-toned floors. And because there are many variations of grey flooring, the color that goes best with your floors will depend on the undertones.
If you want to play it safe, a contrasting shade of grey, white, or black will always work. Here are some more ideas on the best color furniture for grey flooring.
Use a Soft Pink
Pink and gray work wonderfully together. So, if you're trying to soften the room's look or provide contrast, use a soft blush couch.
This pink sofa is from Wayfair. It has a modern silhouette that works perfectly with contemporary, mid-century modern, and glam living room styles. It also comes in six other colors.
Try a Crisp White Couch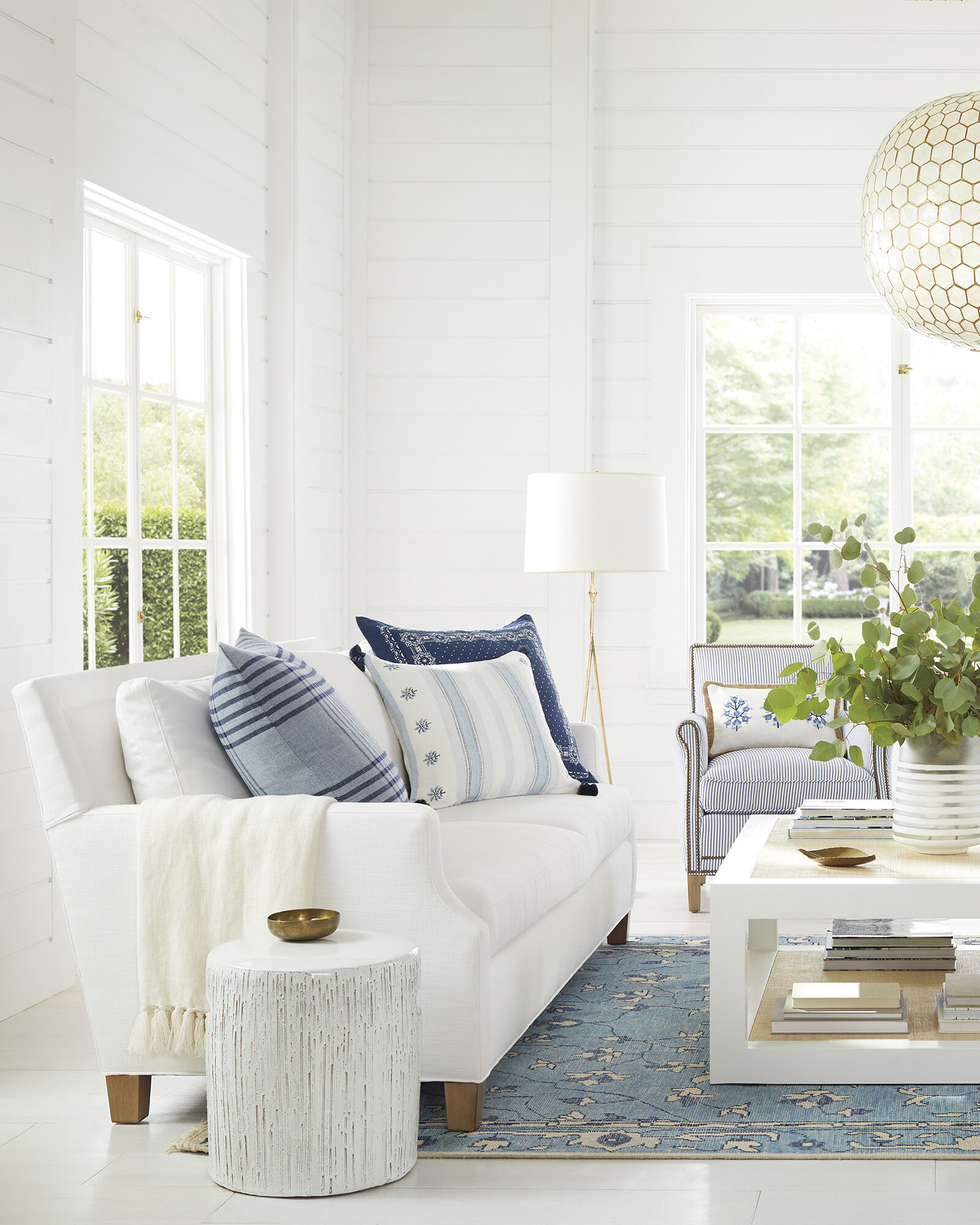 You probably knew white would make the list – because white goes with everything. So, if you're going for an ultra-clean look or like coastal style, bring some white sofas into the room.
You can accent your couches with any color you'd like. In this room from Serena & Lily, they sprinkle shades of blue throughout for a modern beachy look.
Get Cozy with a Blue Tweed Sofa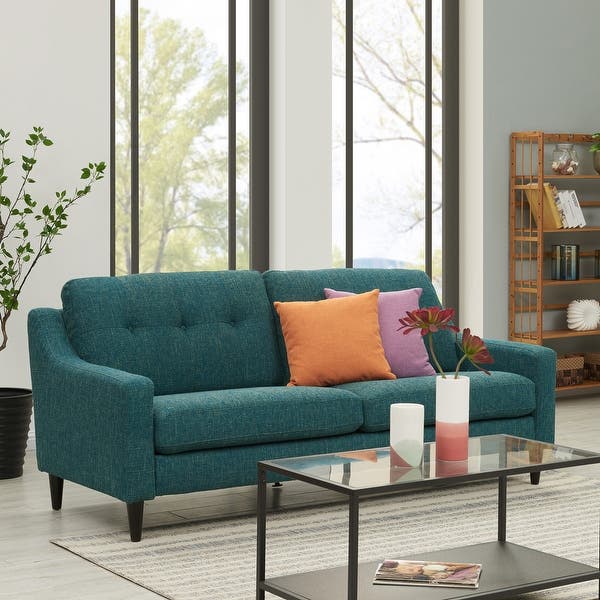 Wondering what color couches go with grey floors? All shades of blue. But if you want a more sophisticated look, try a dark teal like this.
This sofa is from Overstock and has a versatile shape that goes with many design schemes. You can use it in modern, farmhouse style, glam, and traditional rooms.
Bring in Some Ivory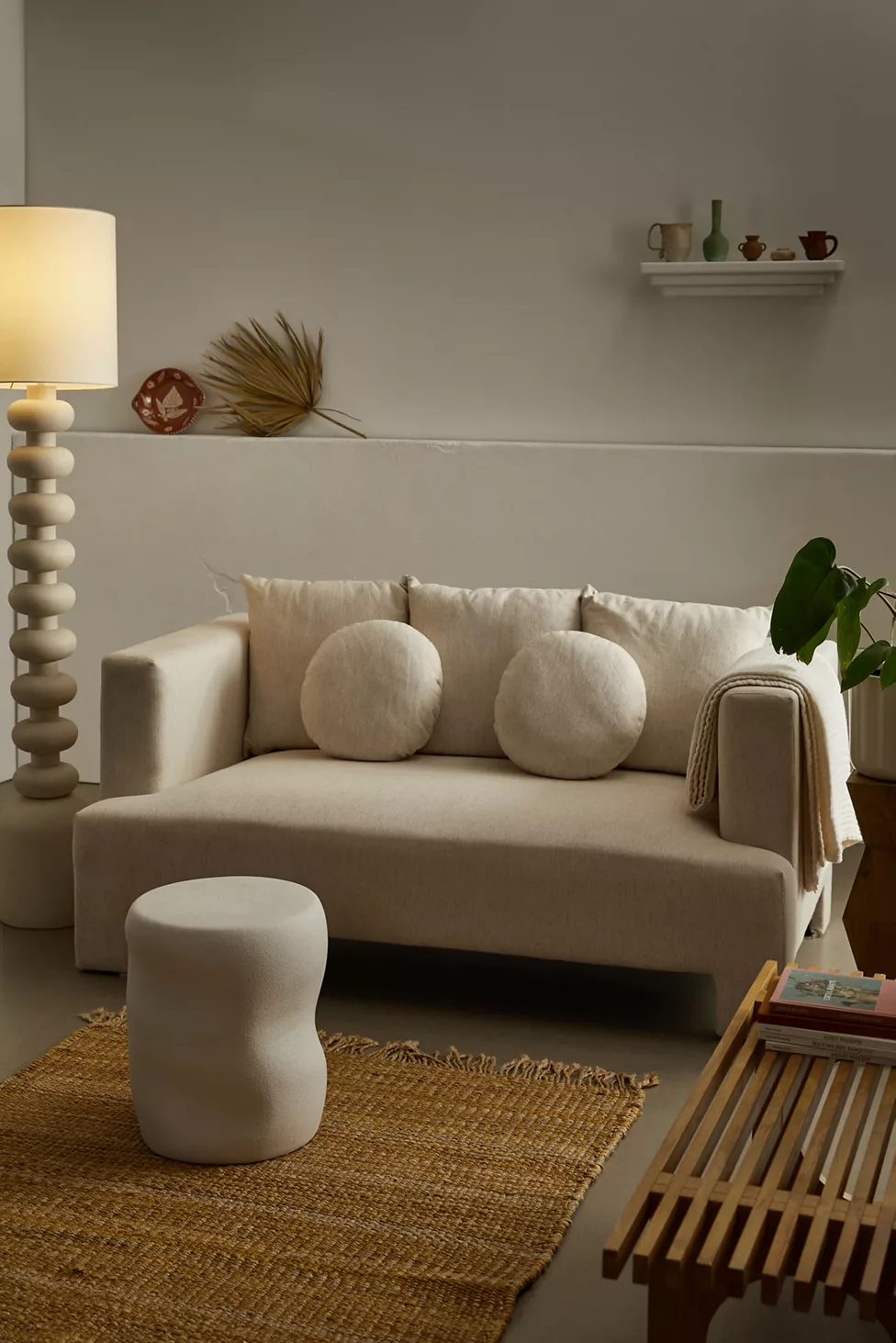 If you don't like the brightness of pure white, tone it down a bit and pull in some ivory. Ivory is a bit warmer than pure white, which is a nice contrast to cool gray. You can accent with golds, yellows, and oranges.
You can find this ivory love seat from Urban Outfitters. It has a textured linen fabric, and the shape works well for many different styles.
Find a Complementary Shade of Gray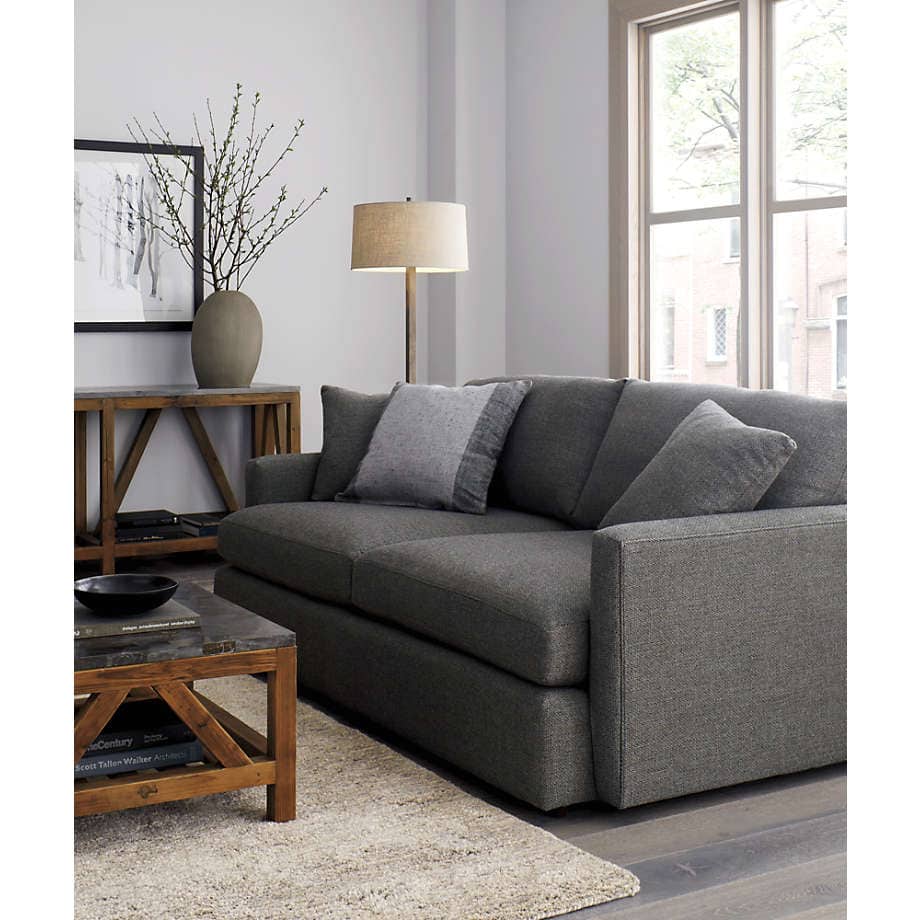 If you have gray floors and want a gray sofa, there are two ways to go about it. And this one is all about finding a complementary color for your floors.
So if your gray floors aren't solid, try finding a sofa that is the same color as one of the tones that run throughout. For example, if your floors are light gray with dark specks, get a couch the same color as the dark specks.
Elevate the Room with Green Velvet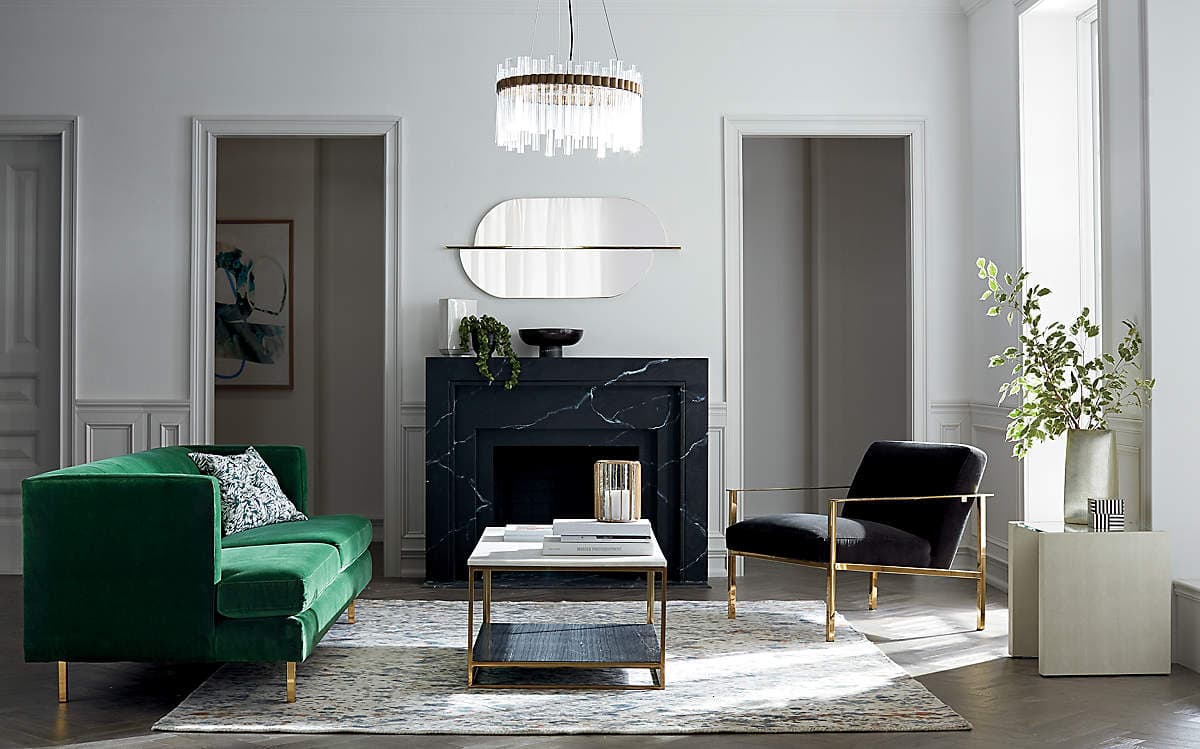 Do you want your room to scream sophistication? If yes, use green velvet furniture and gold or brass accents in your room.
Gray flooring can come off as very casual. And using a sofa like this from CB2 is one of the quickest ways to give it a more formal look.
Decorate with Mixed Wood Pieces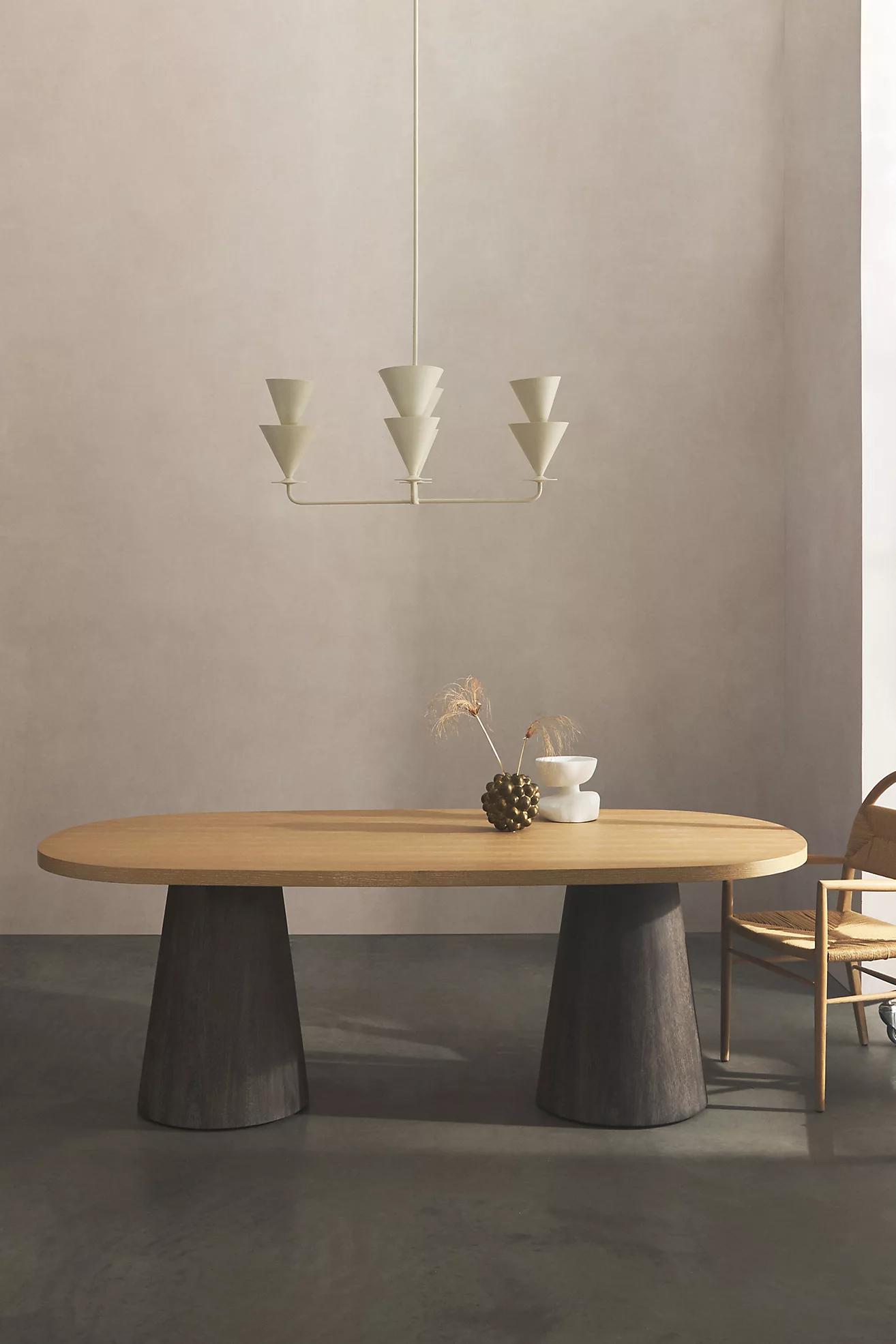 Just because you have grey flooring doesn't mean you can't use wood accents in your home. In fact, you should because most wood accents look great against gray.
However, if you're worried about not matching tones, try a mixed wood piece like this dining table. The table legs are a pretty gray that coordinates with the floors, and the light wood top offers contrast.
Contrast with Dark Gray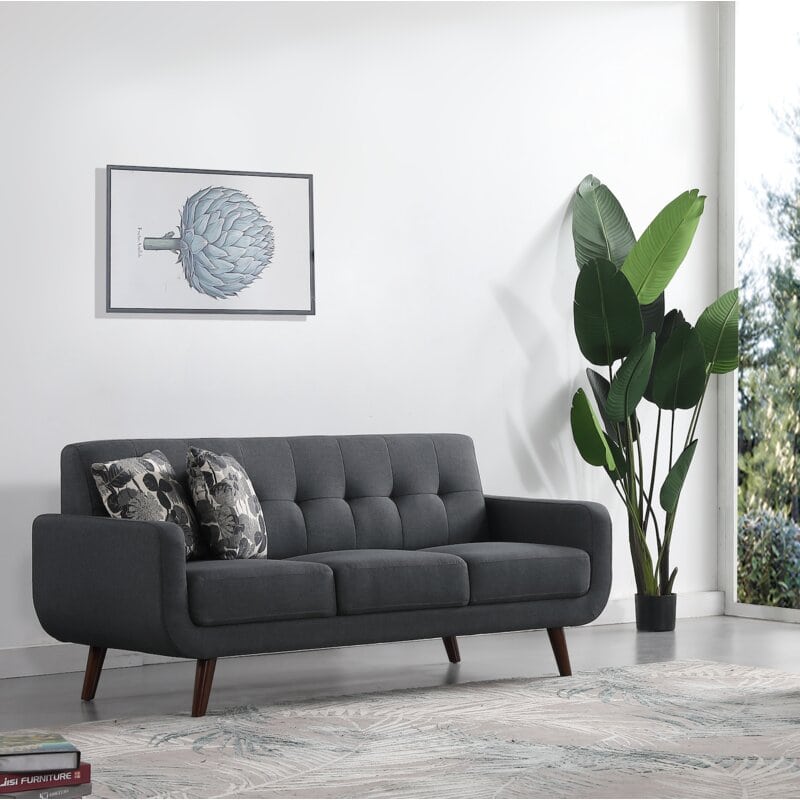 Earlier, we talked about complementing gray – now let's talk about contrasting your furniture. If you have light gray floors and want a gray couch, go dark. If your floors are dark gray, get a light gray sofa.
You can find this dark gray sofa from Wayfair. It has a design fit for modern farmhouse, contemporary, mid-century, and some boho styles. It also comes in light gray.
Brighten Your Space with Glossy White Accents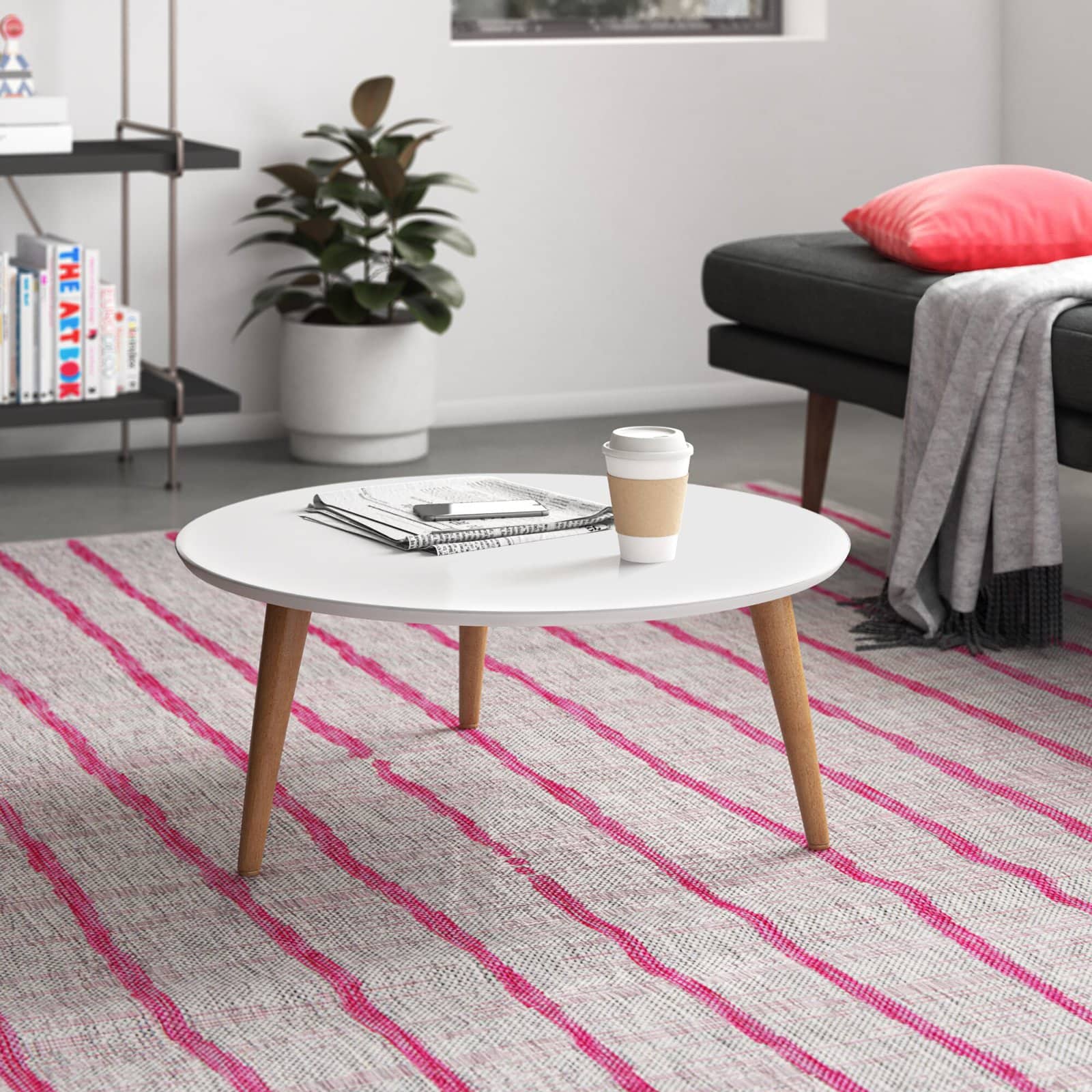 If your color scheme feels a bit dark and you want to add some crispness, bring in some glossy white accents.
This coffee table from Wayfair works wonderfully against gray floors. The wood legs and sleek white top offer a pretty contrast against the gray and match any color scheme.
Warm Your Floors with Rust-Colored Furniture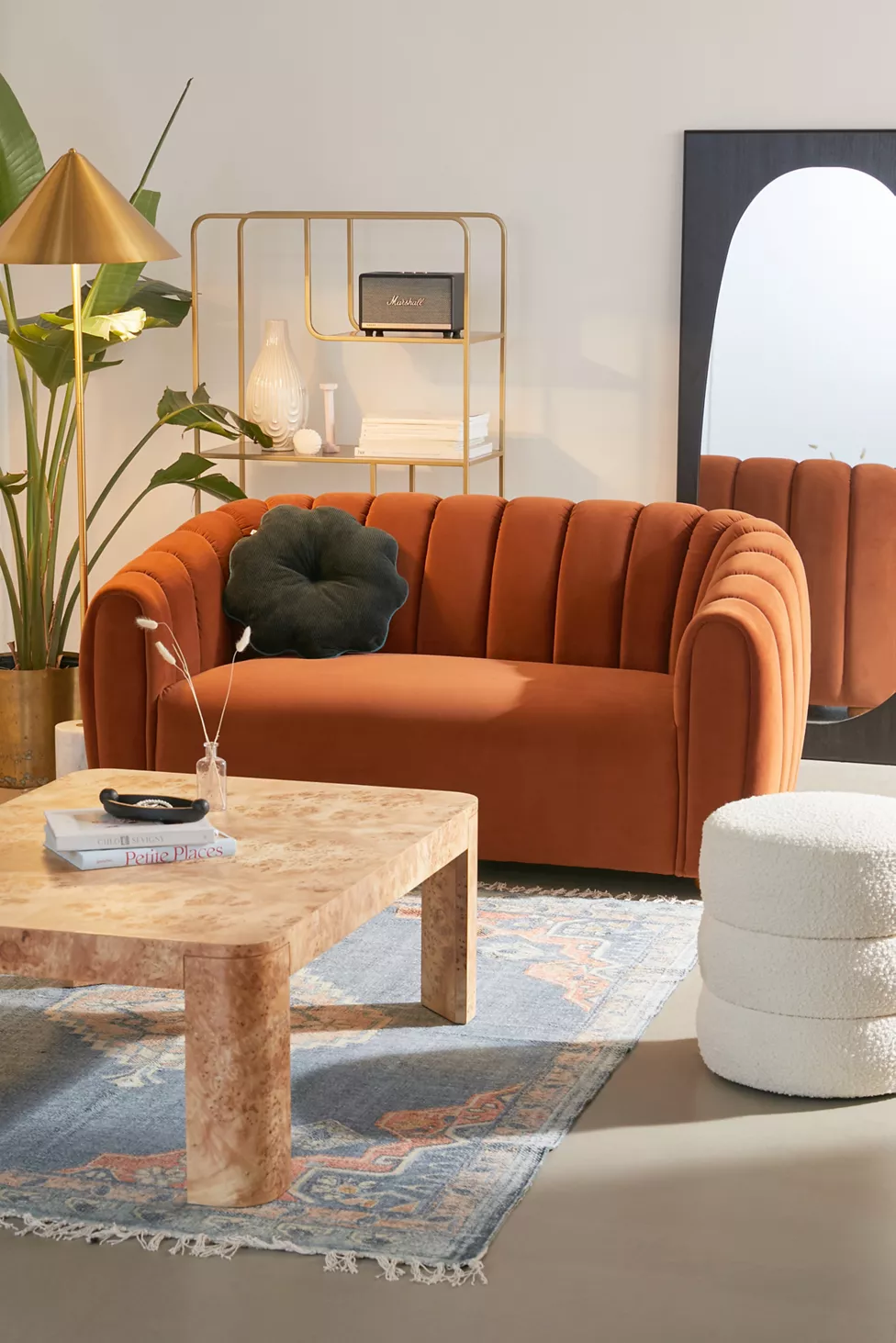 If you're wondering what color furniture goes with grey flooring, you can't rule out warm colors. This rust-colored couch from Urban Outfitters unexpectedly looks gorgeous against gray flooring.
The sofa has a vintage look and is on the smaller side at only 64 inches long. It's built for comfort and features high-quality velvet upholstery.
Pull Off a Regal Look with Deep Purple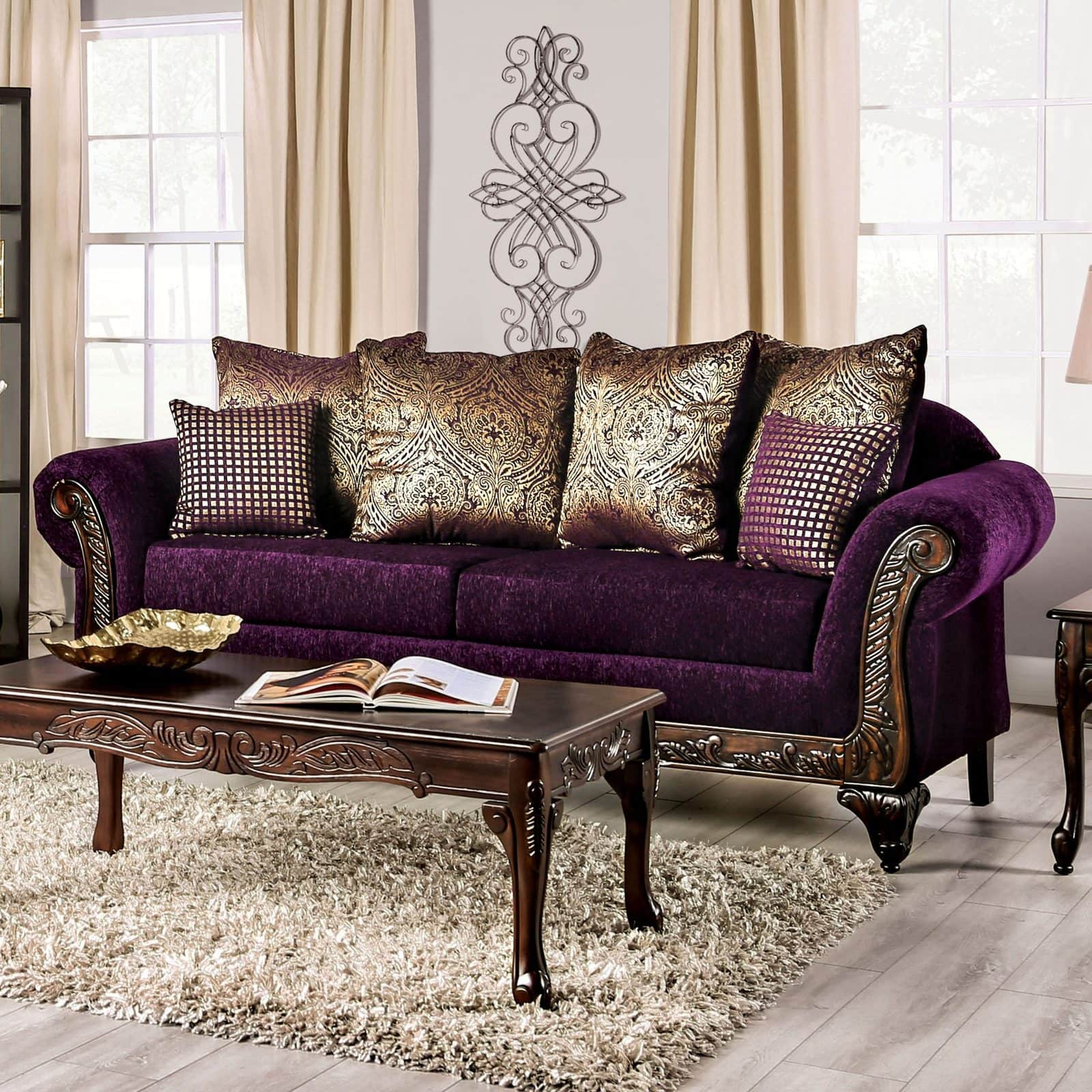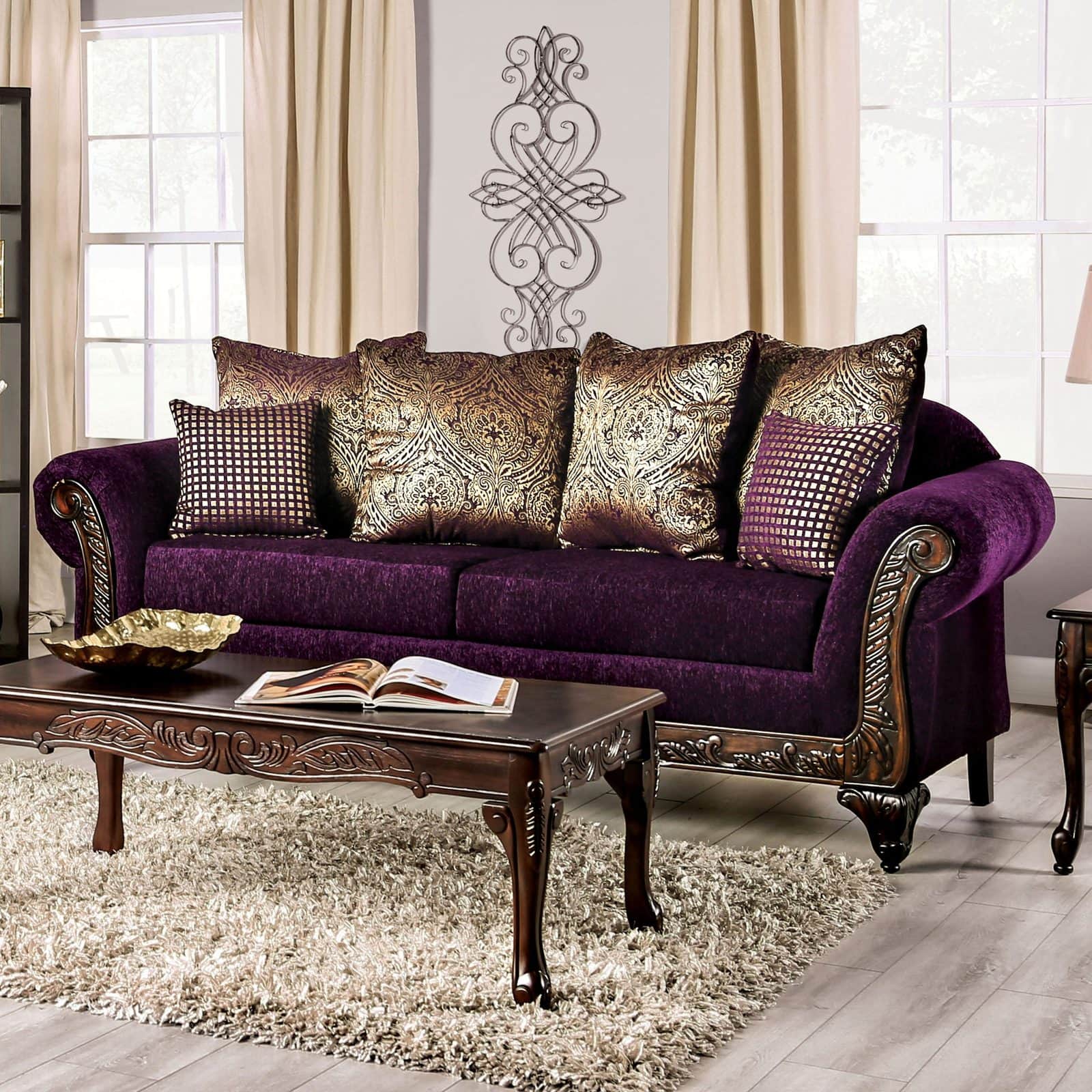 Do you want your room to feel like it's fit for a queen? Pair your gray flooring with a deep purple couch.
Purple has a regal feel that makes any room look more high-end and sophisticated. You can use a modern couch or something more ornate like this. Either way, dark purple will work with all shades of gray flooring.
Accent with a Pattern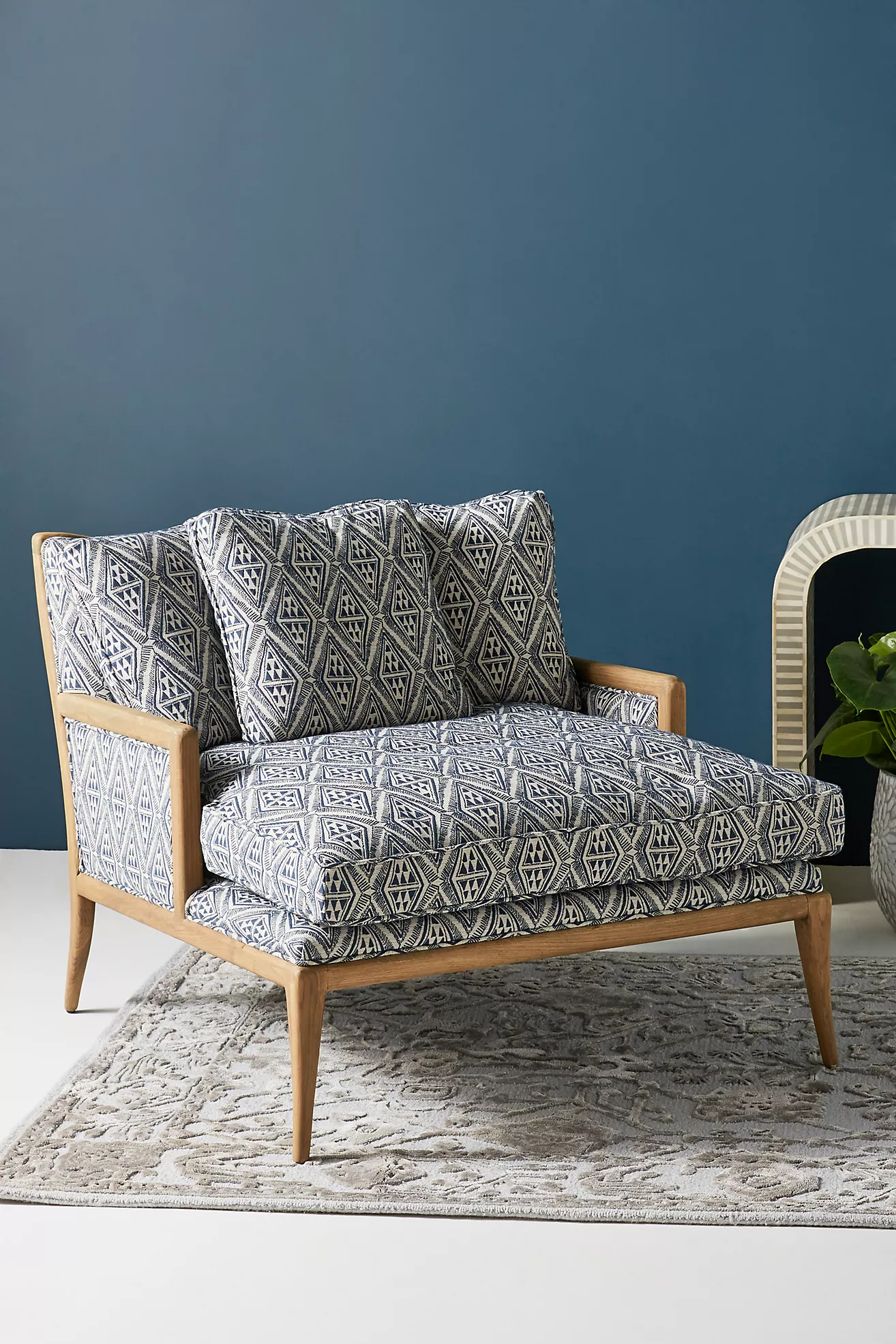 If you like to keep most of your room neutral, consider bringing in a patterned accent chair as a pop of color.
You can find this chair on Anthropologie. It features a blue and white pattern with wood framing accents, which look great on gray flooring. This chair would coordinate well with a gray or white couch.
Final Thoughts
While gray can be tricky to match with brown furniture, it goes with just about every other color. You can use white, ivory, pink, purple, blue, and green.
If your floors have various shades of gray running through them, try picking the darkest and matching your couch color to it. Alternately, you can contrast your floors by putting a dark gray sofa on your light gray hardwoods.