Decorated Life is reader-supported. When you buy through links on our site, we may earn an affiliate commission. Learn More
What Color Matches Orange Walls
Orange walls are lively, exciting, and bold. It's a warm, playful color that has been on the rise in interior design. And even though orange walls aren't the most conventional pick out there they look fantastic regardless.
But the main issue people face when painting their walls orange is matching their furniture with their walls. Orange is such a bright color it can be hard to find furniture that doesn't clash. But here are some of our ideas that might help you.
Gray Is a Fantastic Neutral That Goes Well With Orange Walls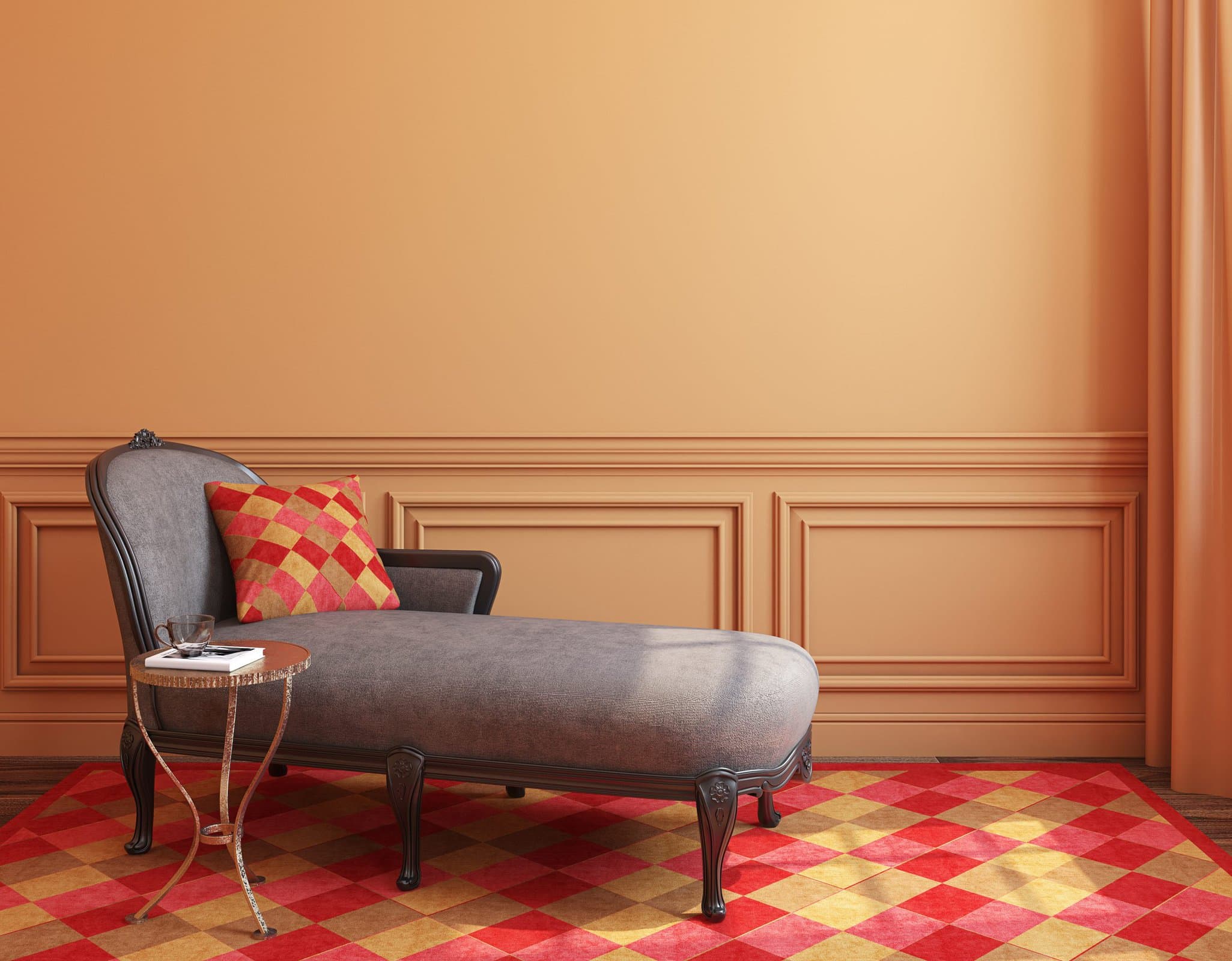 When you're in doubt, pick a neutral color for your home. You simply can't go wrong with neutrals since they work well with anything, just like their name suggests.
Gray is especially fantastic since it's muted, so it doesn't stand out, but it still helps the orange shine. But on the other hand, it still looks chic and polished, ensuring your home doesn't look bland.
Red Matches Well With Orange Walls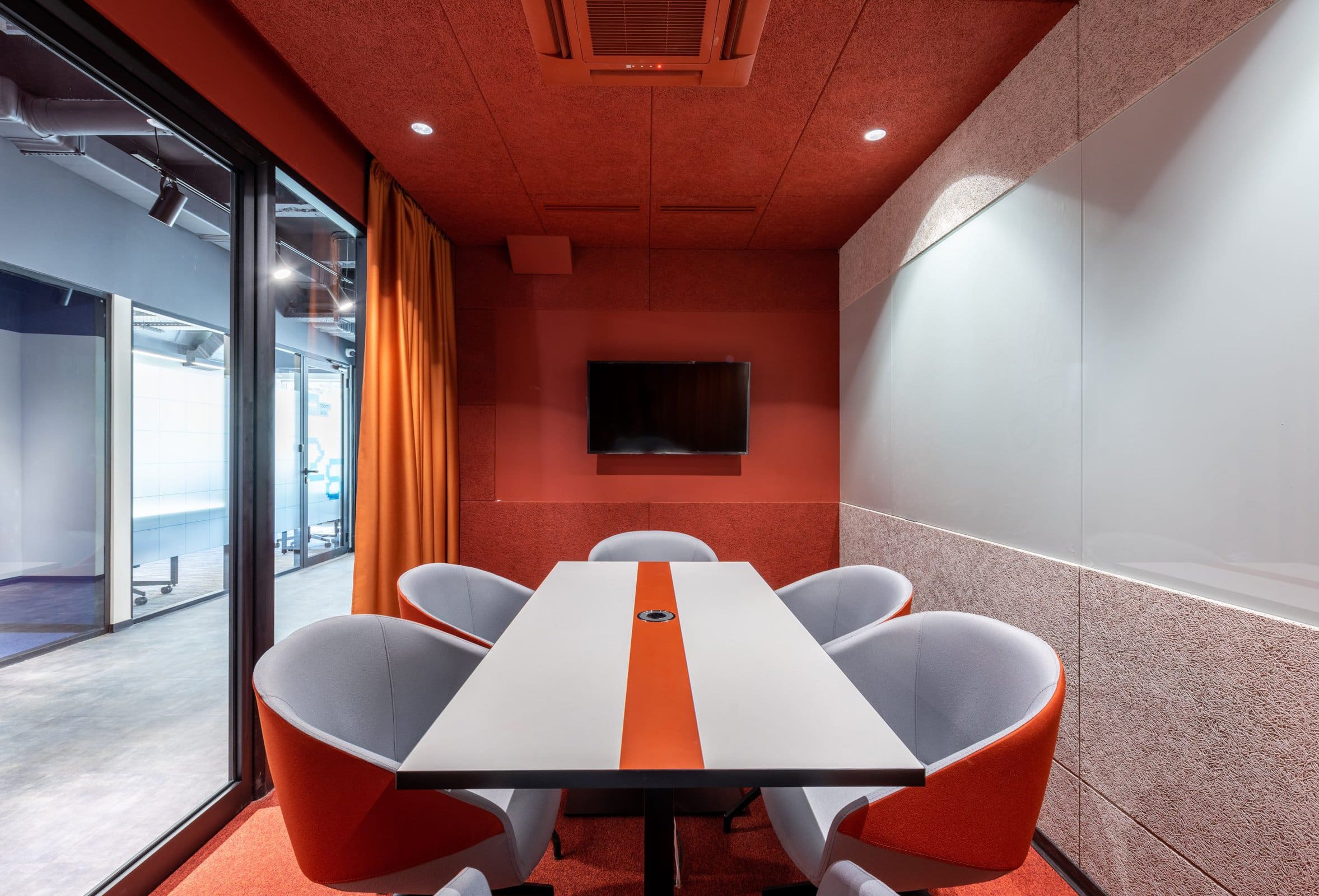 Red is a groovy pick. It's perfect when you want to create a gradient look, or for those who thrive in those bright spaces. This combination creates a warm atmosphere that has a modern kick to it.

Different shades of red will create a different look. If you'd like to diffuse the brightness of your orange walls, pick out darker shades. Darker reds will create an intriguing, glamorous look, toning the room down immensely.
Chocolate Shades Look Lovely in Orange Rooms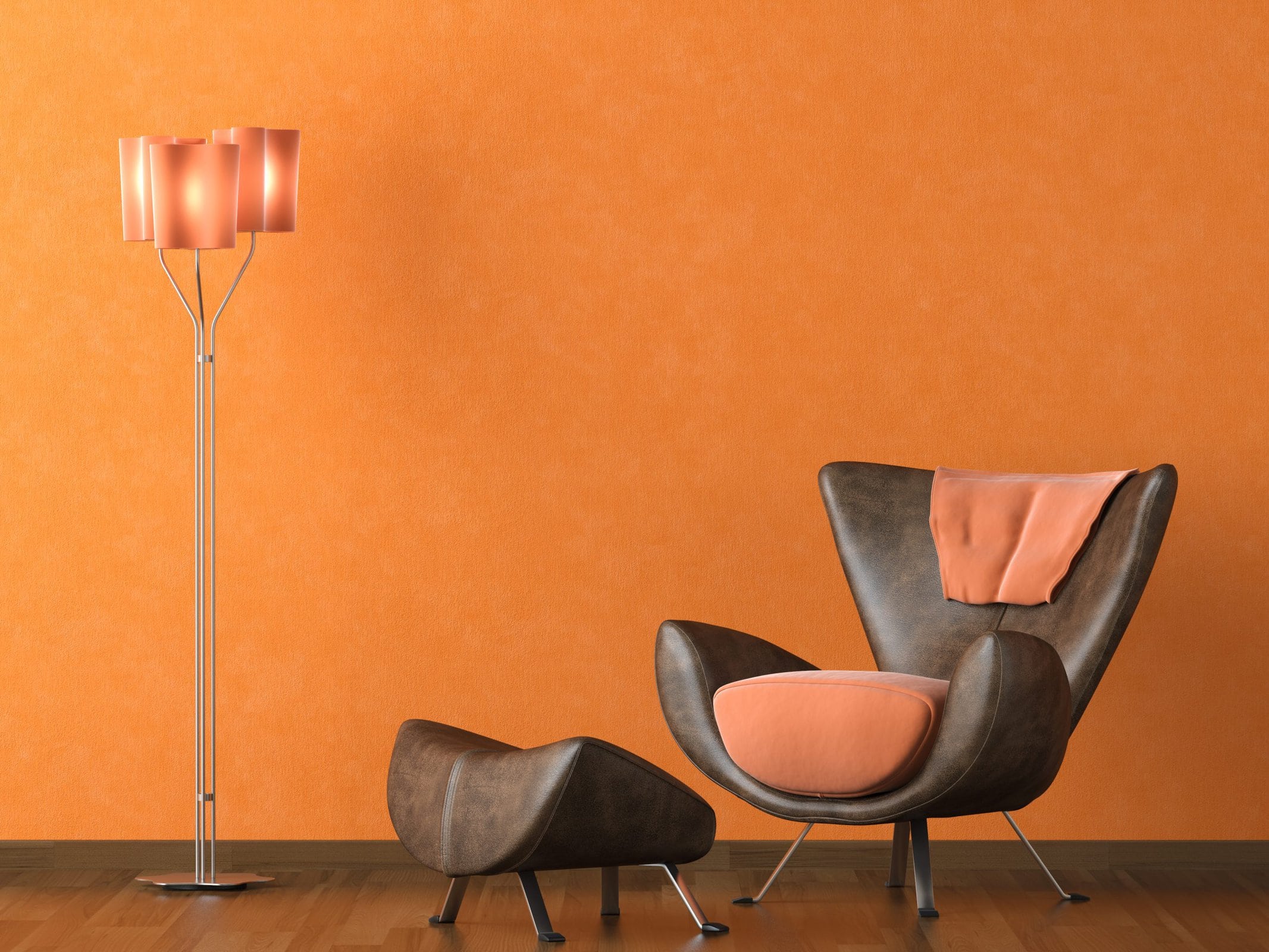 Chocolate brown is a stunning, rich color that's often associated with a more traditional style. But it still matches beautifully with bright orange walls, creating a harmonious look.
These two colors look lovely together, since chocolate brown is one of the heavier colors, and orange is so vibrant, they meet in the middle, creating a balanced look. This is a perfect combination if you're a fan of mid-century modern style.
White Is the Easiest Color to Match With Orange Walls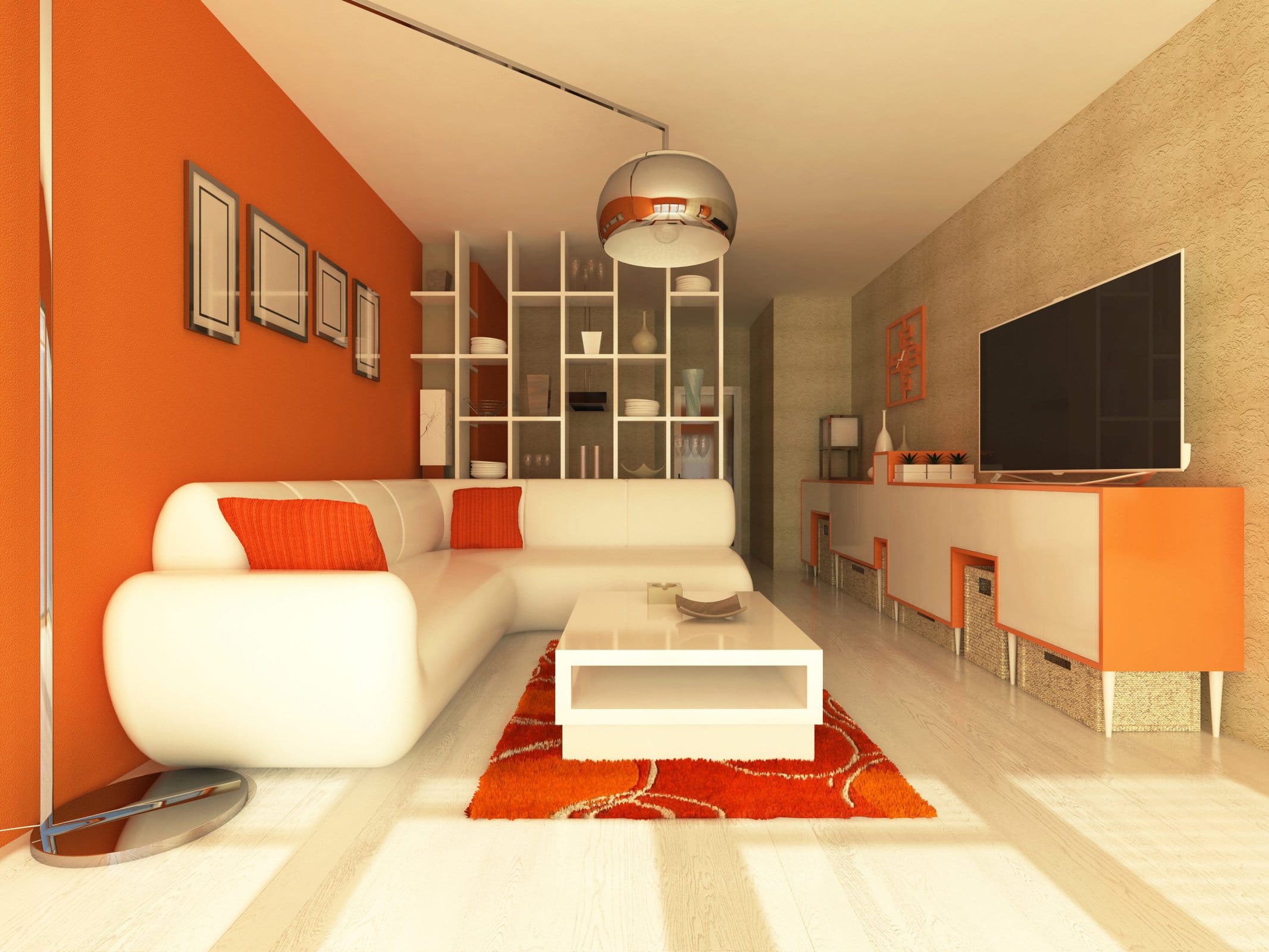 White is the easiest, and the safest pick, when it comes to matching your furniture with orange walls. White furniture will add a sleek, modern spin to your orange room. It's a blank slate of a color that will easily compliment the bright orange.
This combination is great, because white balances out the bold orange, making white furniture perfect for rooms with walls entirely painted orange.
Blue Creates a Fantastic Contrast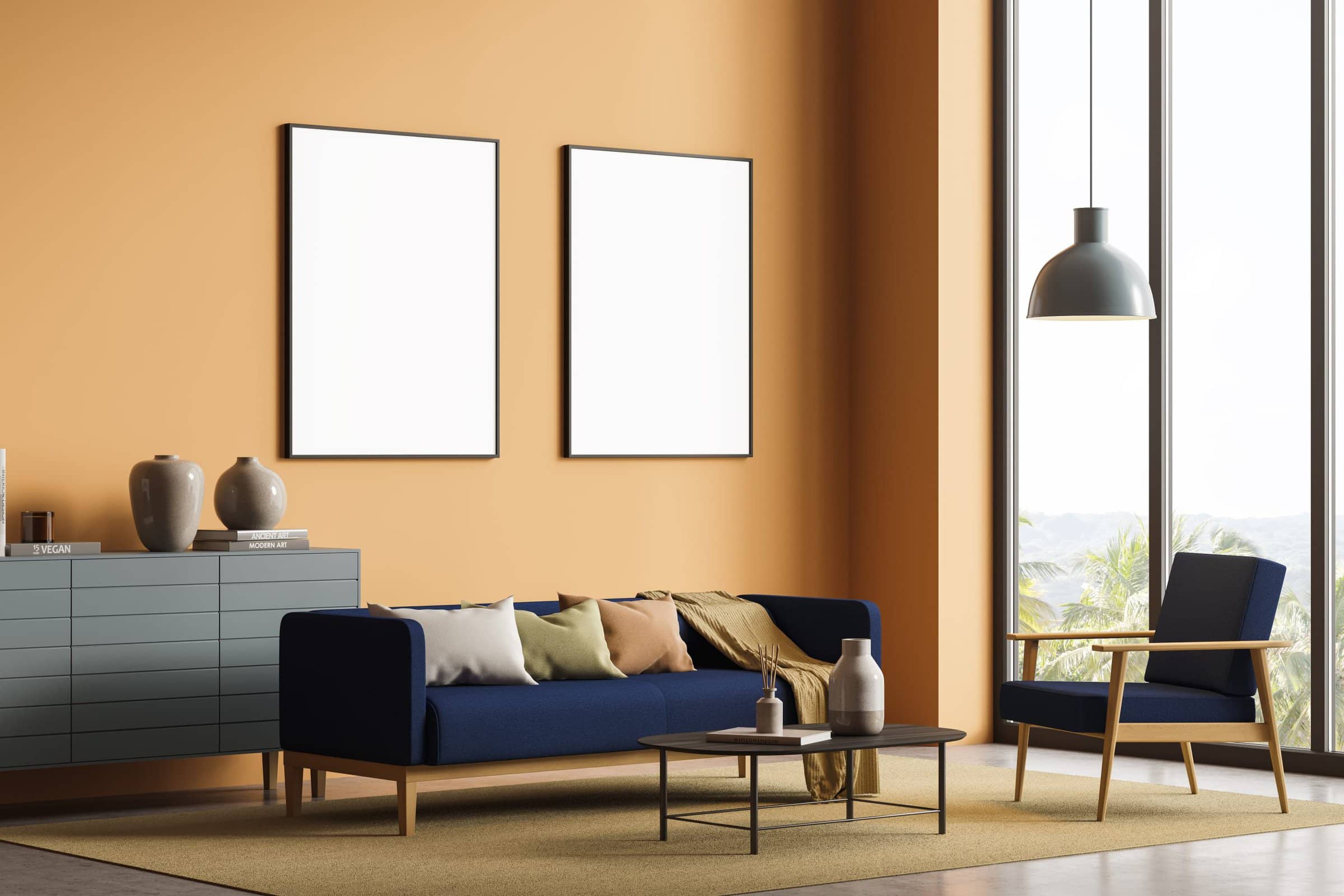 Sometimes, interior design is all about contrast. You want certain areas and places to pop and draw the eye of the person who watches. And you can easily create contrast in color when you have orange walls by picking out some blue furniture or decor.
When creating this contrasting look, you're going to want to pick out blue accents, or certain areas in this color, and not just go all in with a complete blue look. Here, the blue looks stylish, and it pops against the orange walls but isn't overwhelming at all because of the other more neutral furniture.
Create a Monochromatic Look With Orange Furniture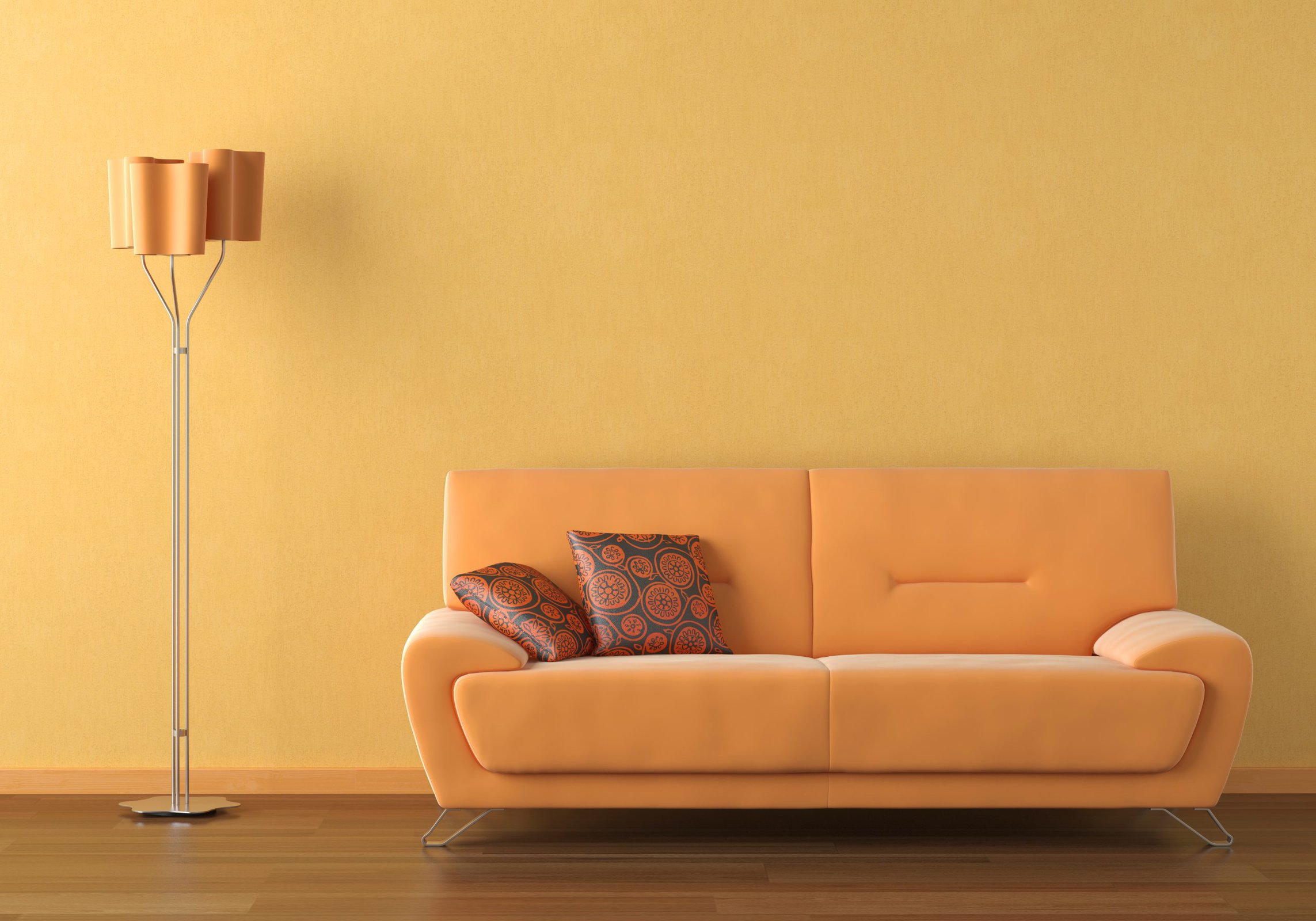 Monochromatic looks can be incredibly visually appealing, especially when you have such a bold color in mind, like orange. There are a couple of ways to go about this, like picking out darker shades for the furniture.
Or you can try out different tones, so you can create an interesting gradient look. In any case, going full orange can be daring and exciting. You can easily create an unforgettable room.
Create a Soft Look With Light Brown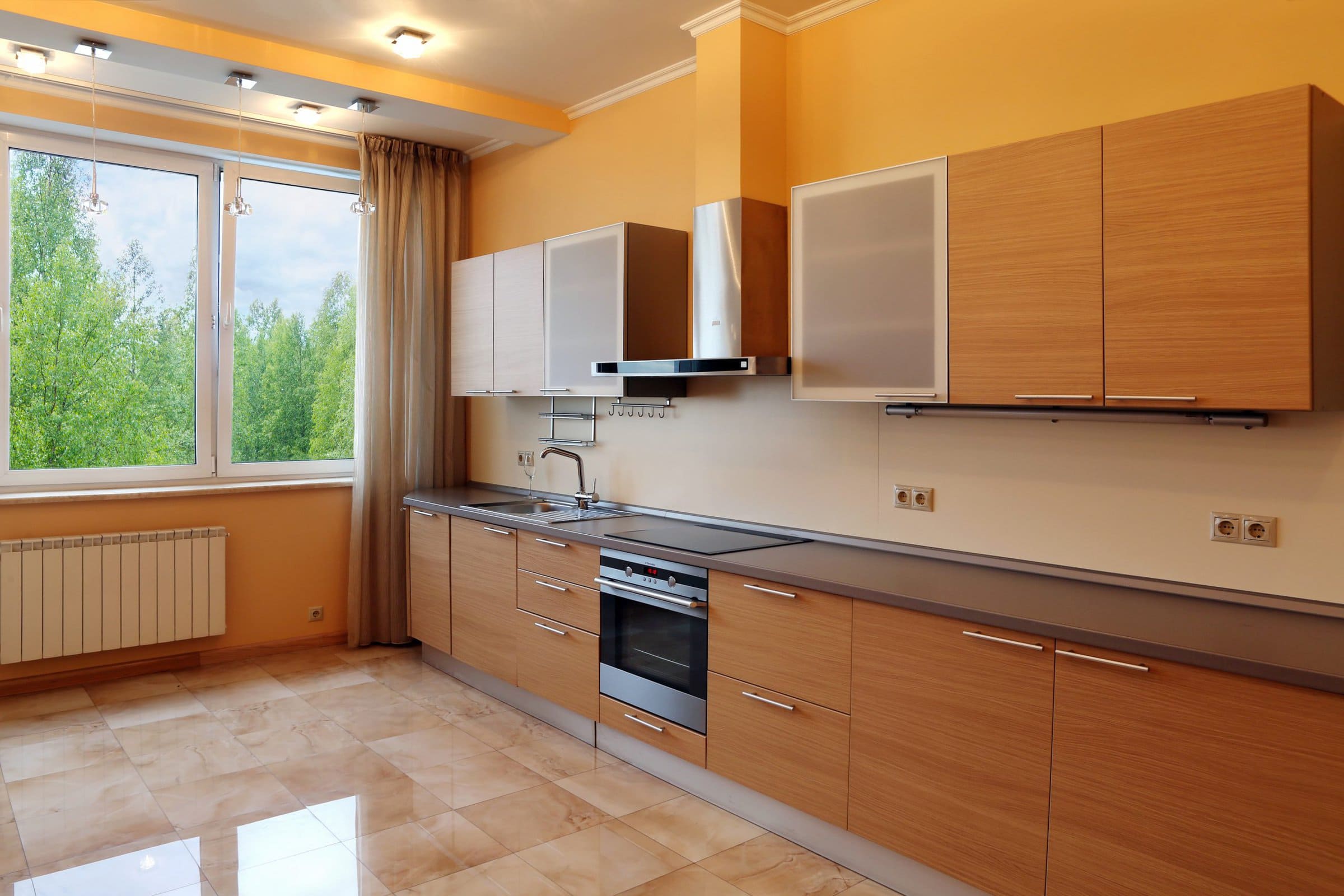 Light brown is a beautiful neutral, that's perfect for creating stunning, but immensely softer looks. Here, it can balance out the bright orange by being similar in tone, and both quite warm, with the brown being more on the neutral side.
It still creates a warm, lively look, but it's less harsh on the eyes. These two make a gorgeous, yet homely atmosphere that's perfect for kitchens and dining rooms.
Pick Yellow for a Summery Look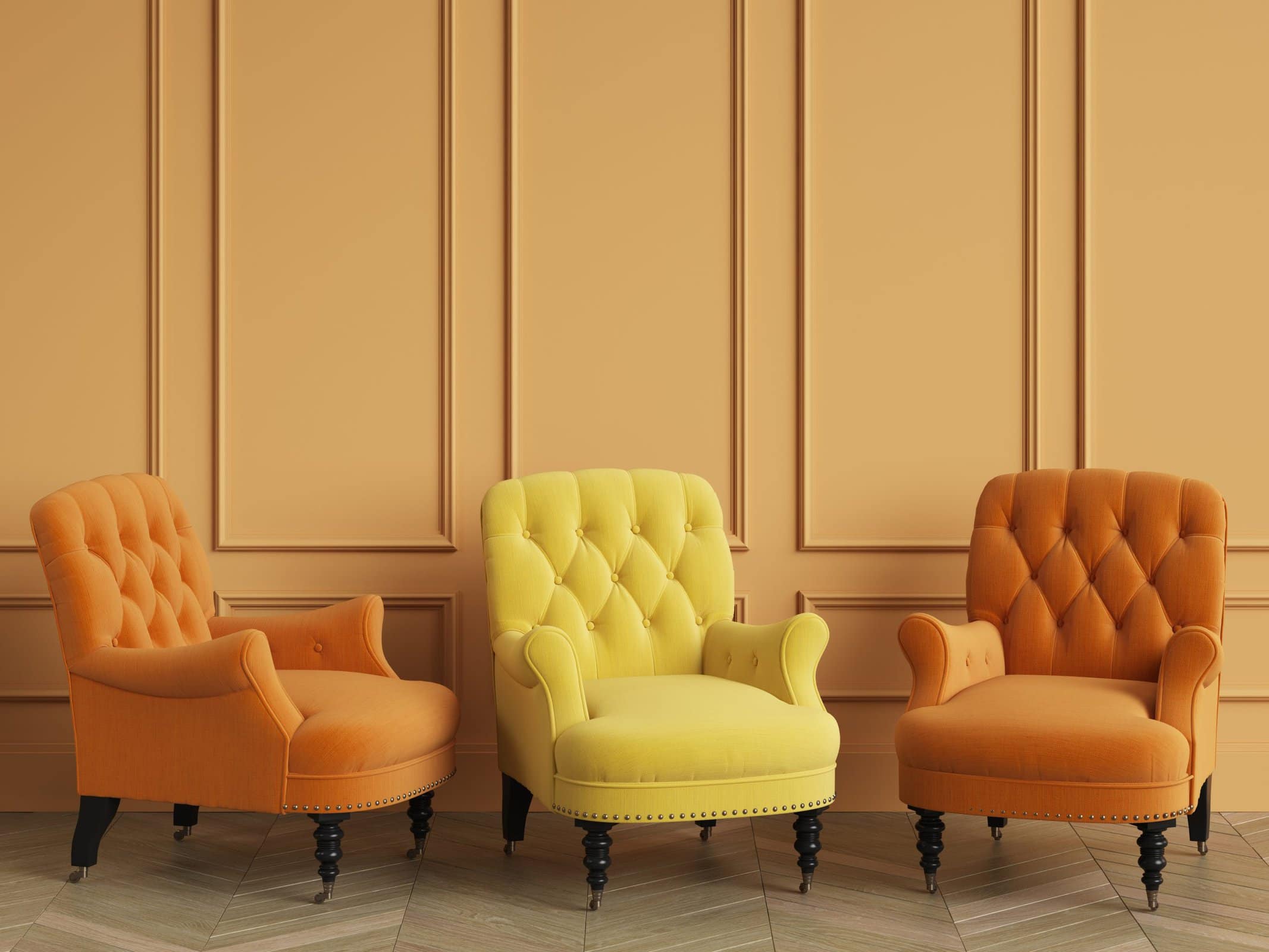 If you feel nostalgic for warm weather, and want to keep the essence of the summer in your home for a lot longer, consider pairing up yellow and orange. This color combination feels warm, yet incredibly light.
A combination like this one works wonders in a kitchen, creating a fun, vibrant space. It's a cheerful color match that makes you feel warm and chill no matter the season.
Pick Black for a Modern Solution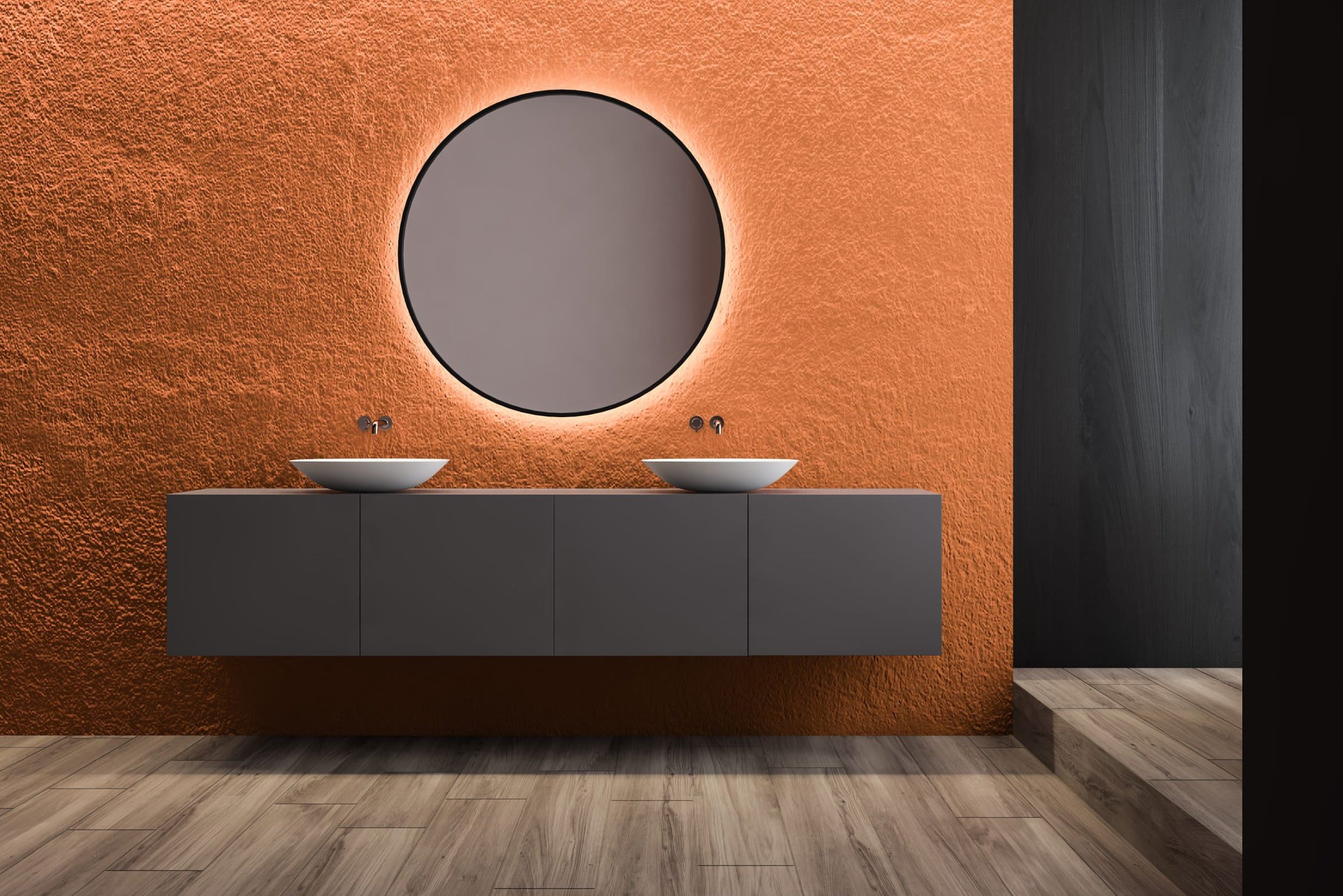 If you're looking for a stylish, modern pick that will enhance your orange room, don't shy away from black. It's a bold, excellent choice that will add a contemporary edge to the orange, creating a fantastic combo.
It's an amazing color choice when you want to accentuate your furniture in such a brightly colored room. This way, your furniture will feel accentuated, yet complimented by your bold walls.
In Conclusion
Orange seems like a difficult color to match with others, but it doesn't have to be. You can always pick out some fantastic neutrals, to pair your orange walls with them, or you can decide to go bold and match with colors such as blue, red, and yellow.
Don't be afraid to try things out, and match multiple colors with your orange walls, to create your ideal look.