Decorated Life is reader-supported. When you buy through links on our site, we may earn an affiliate commission. Learn More
10 Bathroom and Laundry Combo Layout Ideas
Bathroom laundry combo layouts can be tricky. But in many cases, they make sense.
For example, it's easy to add plumbing for a washer in the bathroom. And being able to immediately toss your dirty clothes into the washing machine? Incredibly convenient.
If you're currently working on the design of your bathroom that has a washer and dryer, here are ten ideas.
Make a Pretty Laundry Nook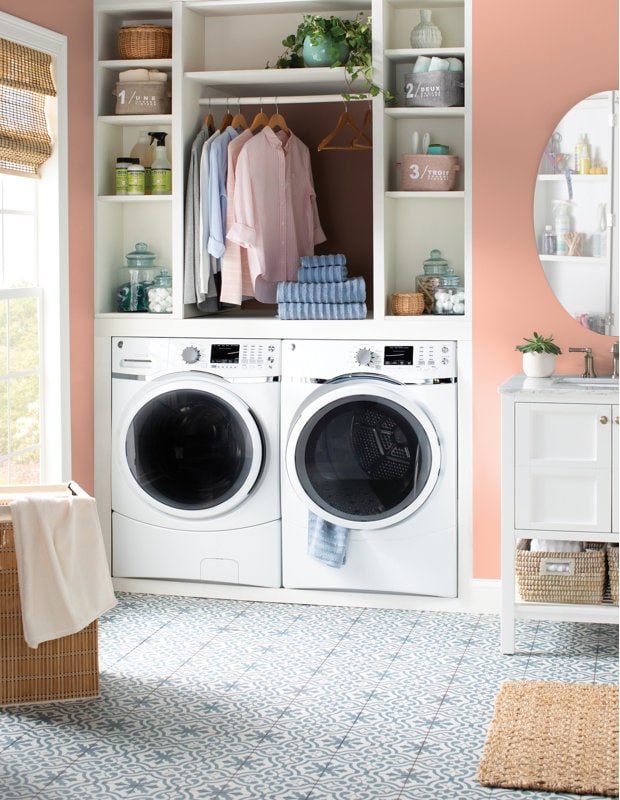 Instead of your bathroom laundry combo being a negative, turn it into an asset by creating a pretty laundry nook like this.
In this photo, the homeowners recessed the washer and dryer into the wall and added built-in shelving on top for a high-end look. They even created enough space to hang a few shirts and store their laundry supplies.
Use a Laundry Organizer to Create a Dedicated Space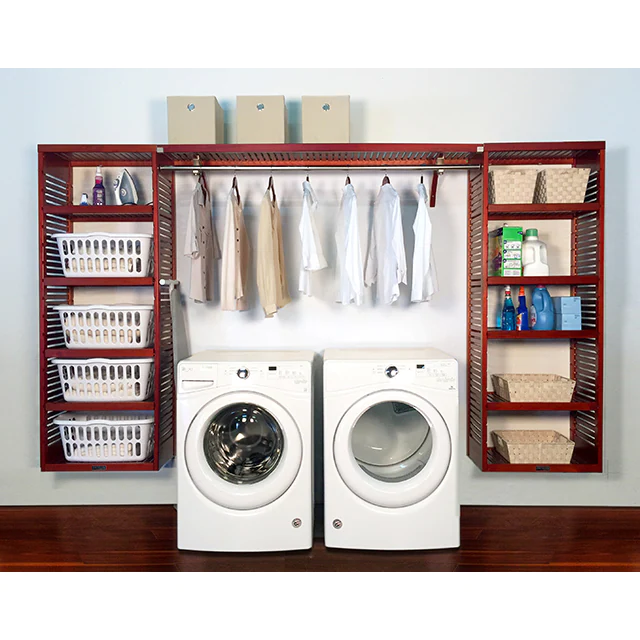 Some bathroom laundry combo layouts place the bathroom necessities on one side of the room and the laundry on the other. If this is the case in your room, consider an organizer like this.
This mahogany organizer from John Louis Home is a great way to make your washer and dryer look intentionally placed. Plus, it will give you space to store laundry supplies and sort your dirty clothes.
Add Your Laundry Supplies to Your Linen Closet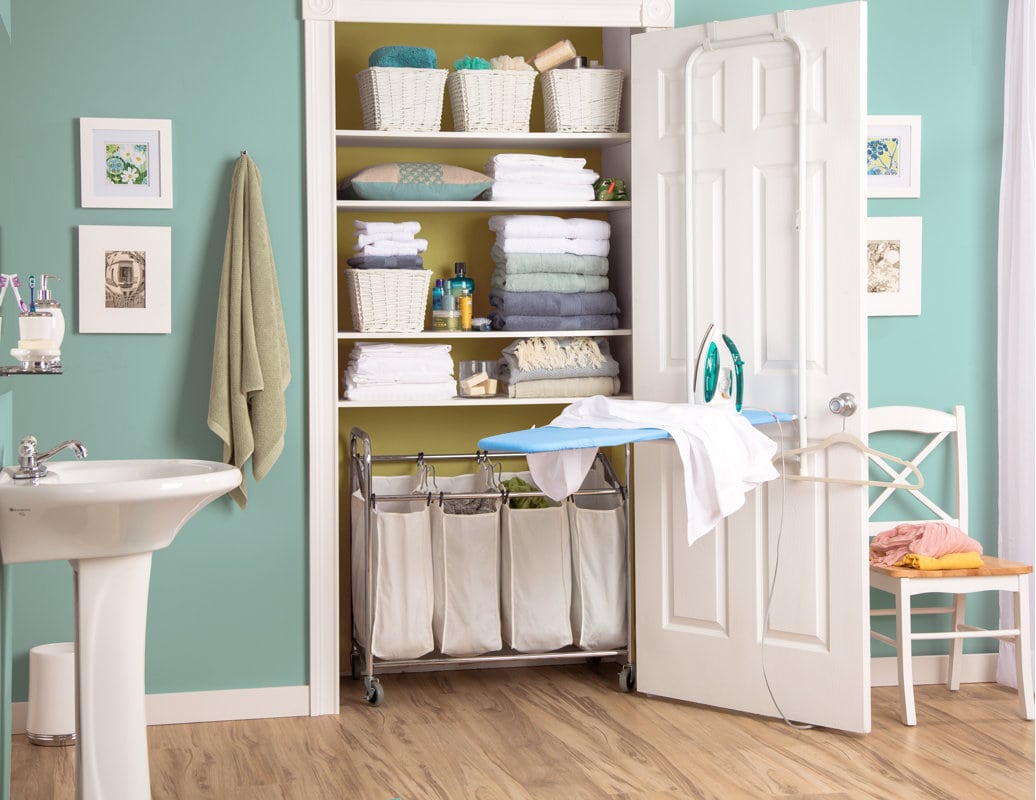 If you have a small bathroom and laundry combo, every square inch counts. Which means you need to make the most of your closet.
Try organizing your laundry supplies in baskets and clear bins to get the most out of your shelf space. You can also use an appropriately sized hamper at the bottom of the closet to sort dirty clothes.
Maximize Space with an Over the Door Ironing Board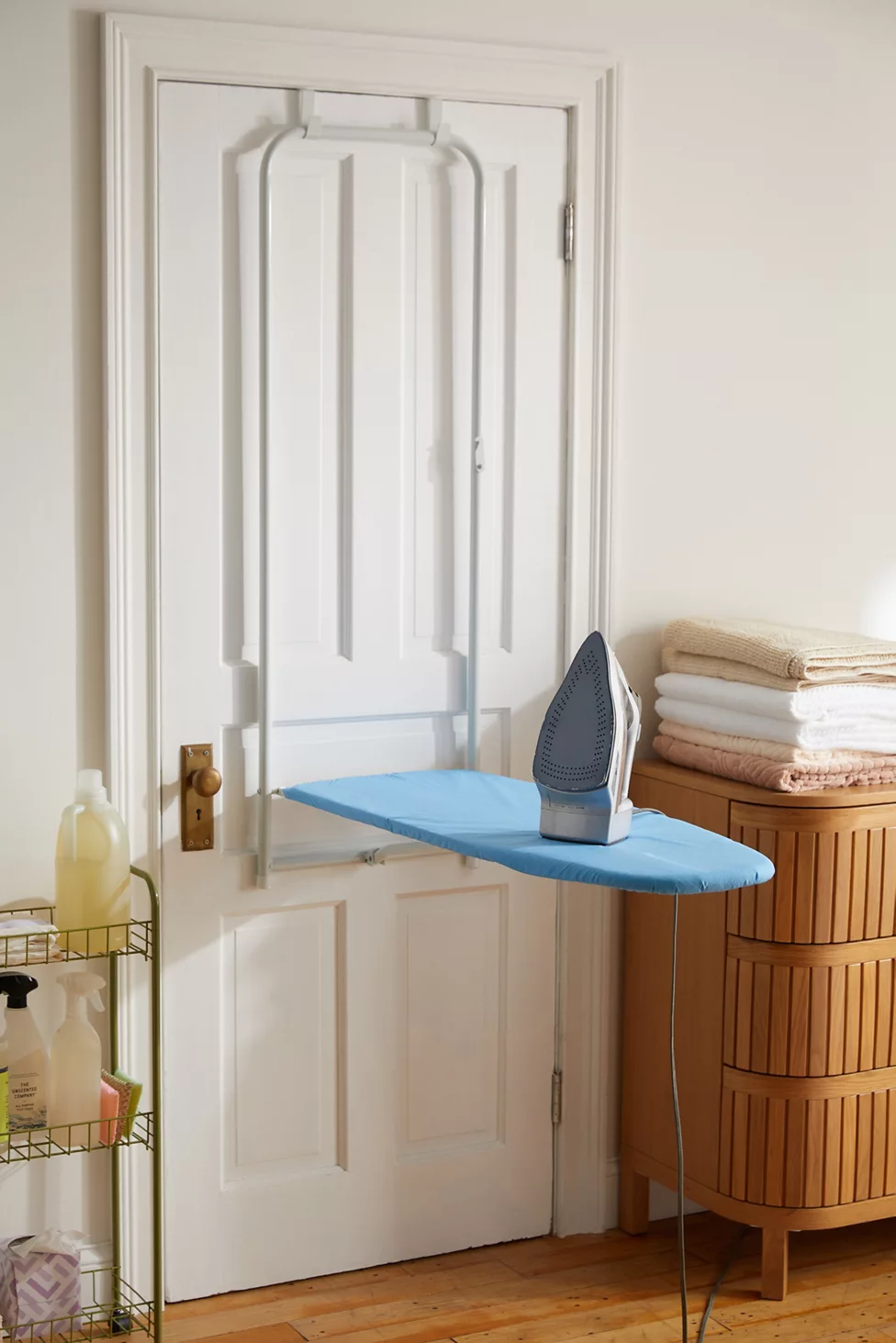 Yes, I know. Not everyone irons clothes anymore. But if you do, and you're working with a bathroom laundry room combo, save space with this over-the-door ironing board.
This ironing board is from Urban Outfitters and comes in blue. It easily stores on any door, and you can flip it down whenever you're ready to iron.
Build Your Washer and Dryer Into Your Vanity
In the kitchen it's completely normal to have appliances built into the cabinets. So, why not take that to the bathroom?
If you have a long room with lots of cabinetry, consider working your washing machine into the mix. In addition, you can add other fun items, like under-the-counter hampers.
Conceal Your Washer and Dryer in the Closet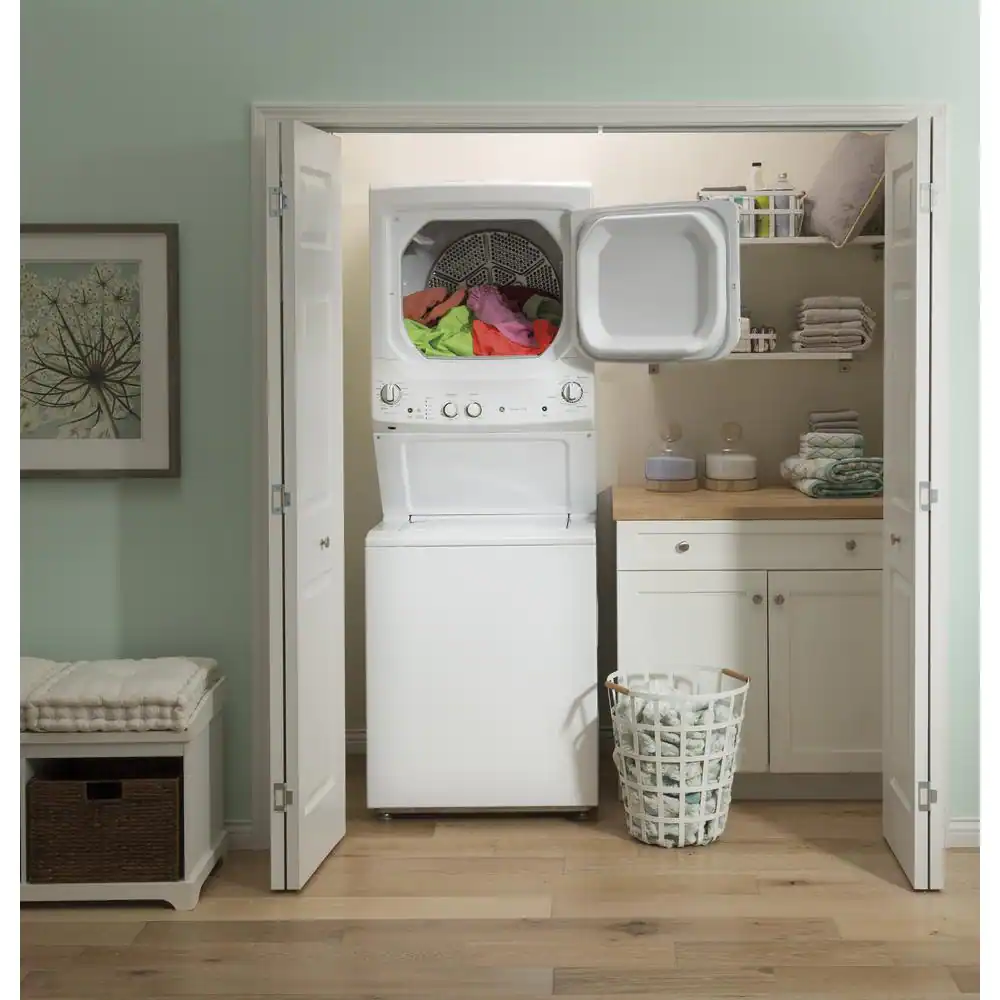 If you don't want your washer and dryer to be in the middle of the bathroom, consider a closet. Like this one from GE, a tall washer and dryer set is perfect for fitting into even the tightest of spaces.
Putting your washer and dryer in the closet is great for keeping your laundry stuff out of sight, especially if the closet has space for hampers as well.
Create Zones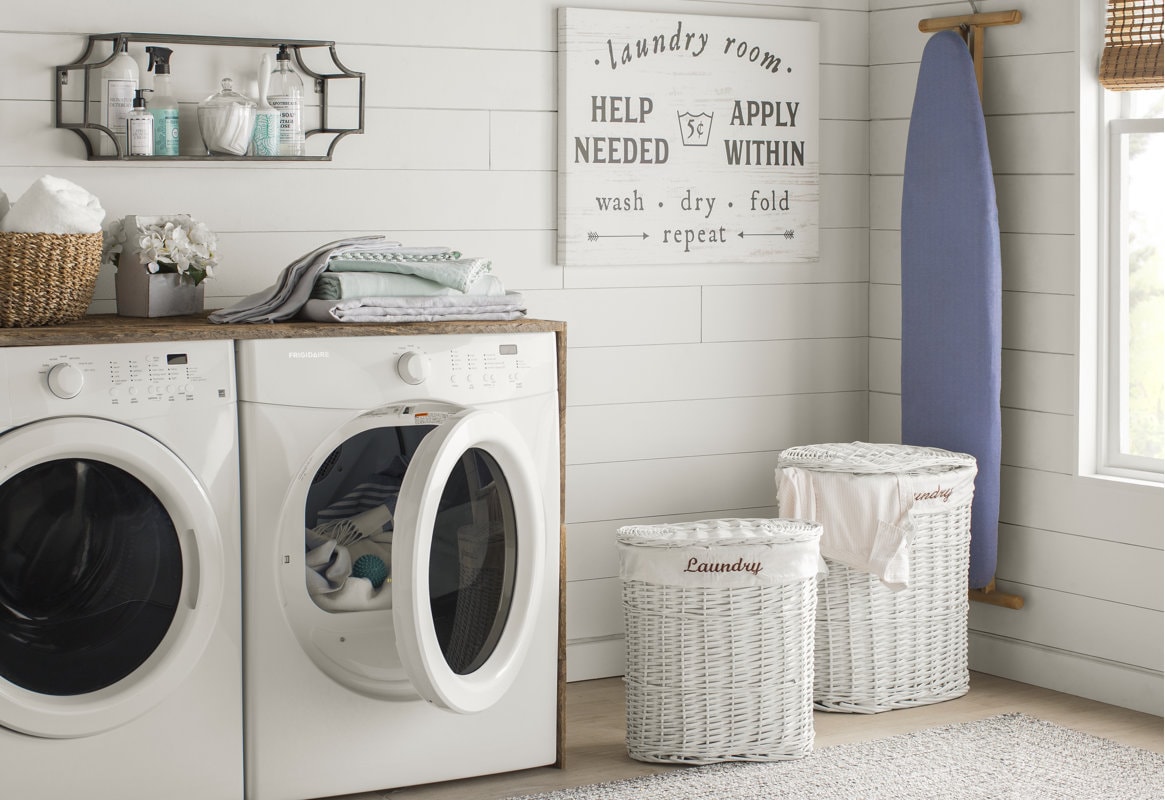 If you feel bummed about not having a separate laundry room, treat your laundry area like you would a dedicated space.
While you'll need to decorate your laundry and bathroom combo consistently throughout, you can still bring in unique laundry decor, like this laundry room sign or a hamper that says "laundry."
Equip Tiny Bathrooms with a Small Portable Washer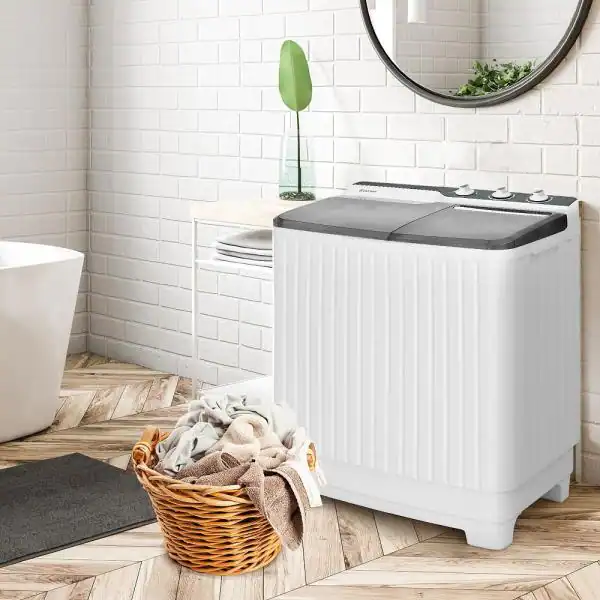 Have a super tiny bathroom? If your answer is yes, but you still need to fit a washing machine in it, try this portable option from the Home Depot.
This washer is ideal for tiny apartments, campers, and dorms. It's portable, so you can easily move it if you need to. It has 18 lbs capacity for washing and 8 lbs capacity for drying. Its nice design makes it look good, even in the middle of the bathroom.
Disguise Your Hampers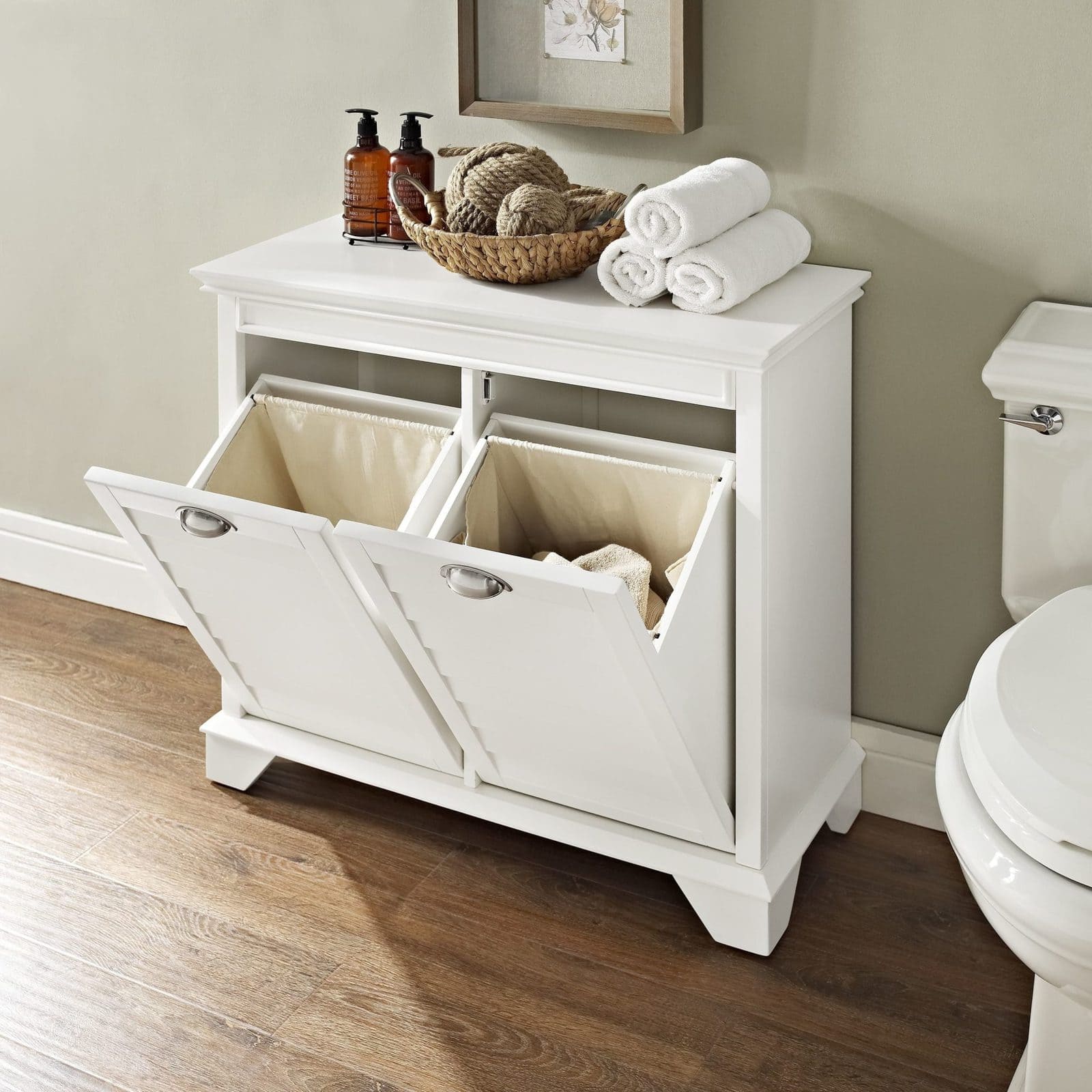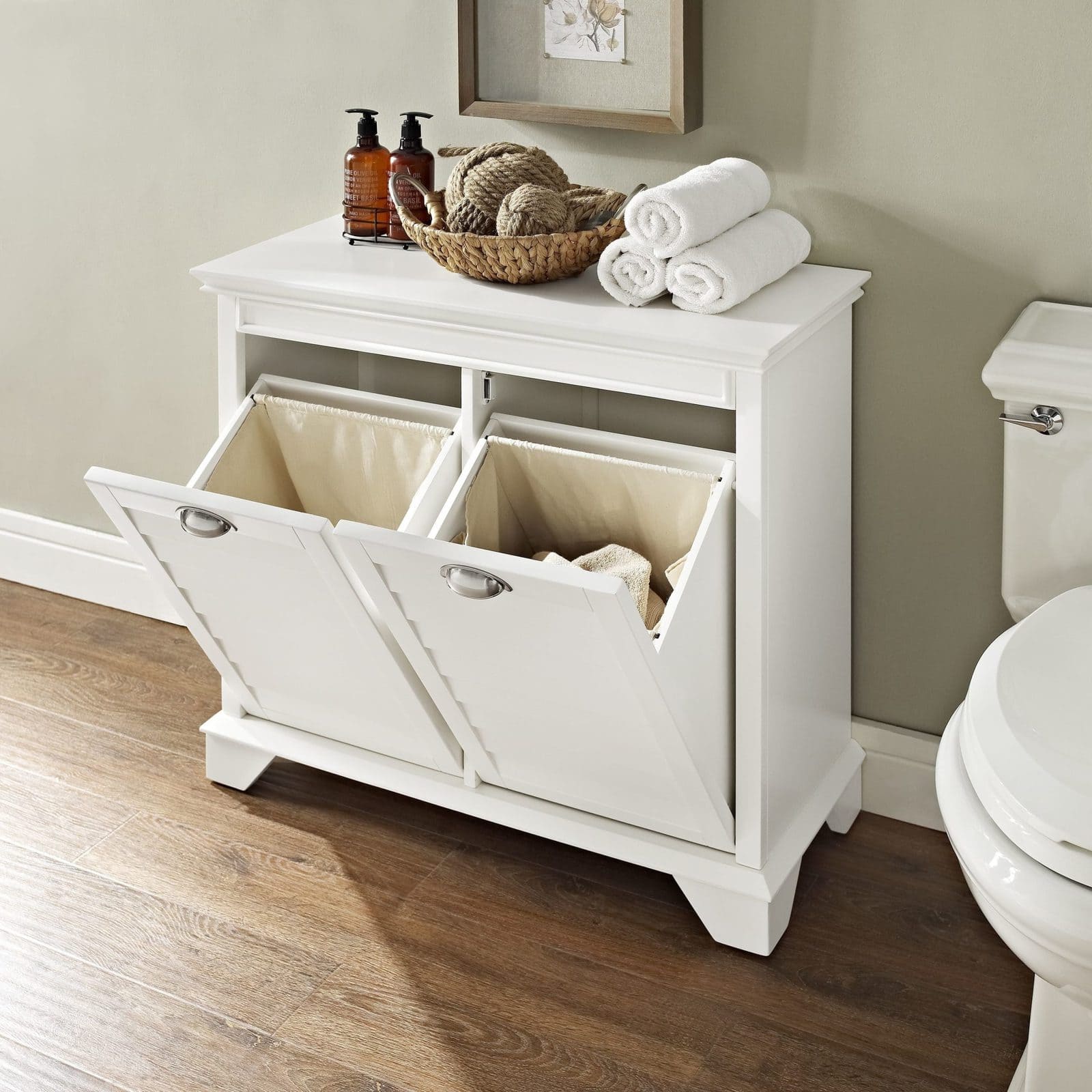 If you want your laundry bath combo to look organized and stylish versus thrown together, it's all about the details. And one great way to disguise your dirty laundry is with a hamper like this.
This white linen hamper is from Overstock. It has two large compartments to keep your dirty clothes out of sight. Each compartment has a removable bag you can take out when it's time to sort and wash a load of clothes.
Put a Washer Dryer Combo at the Bottom of a Closet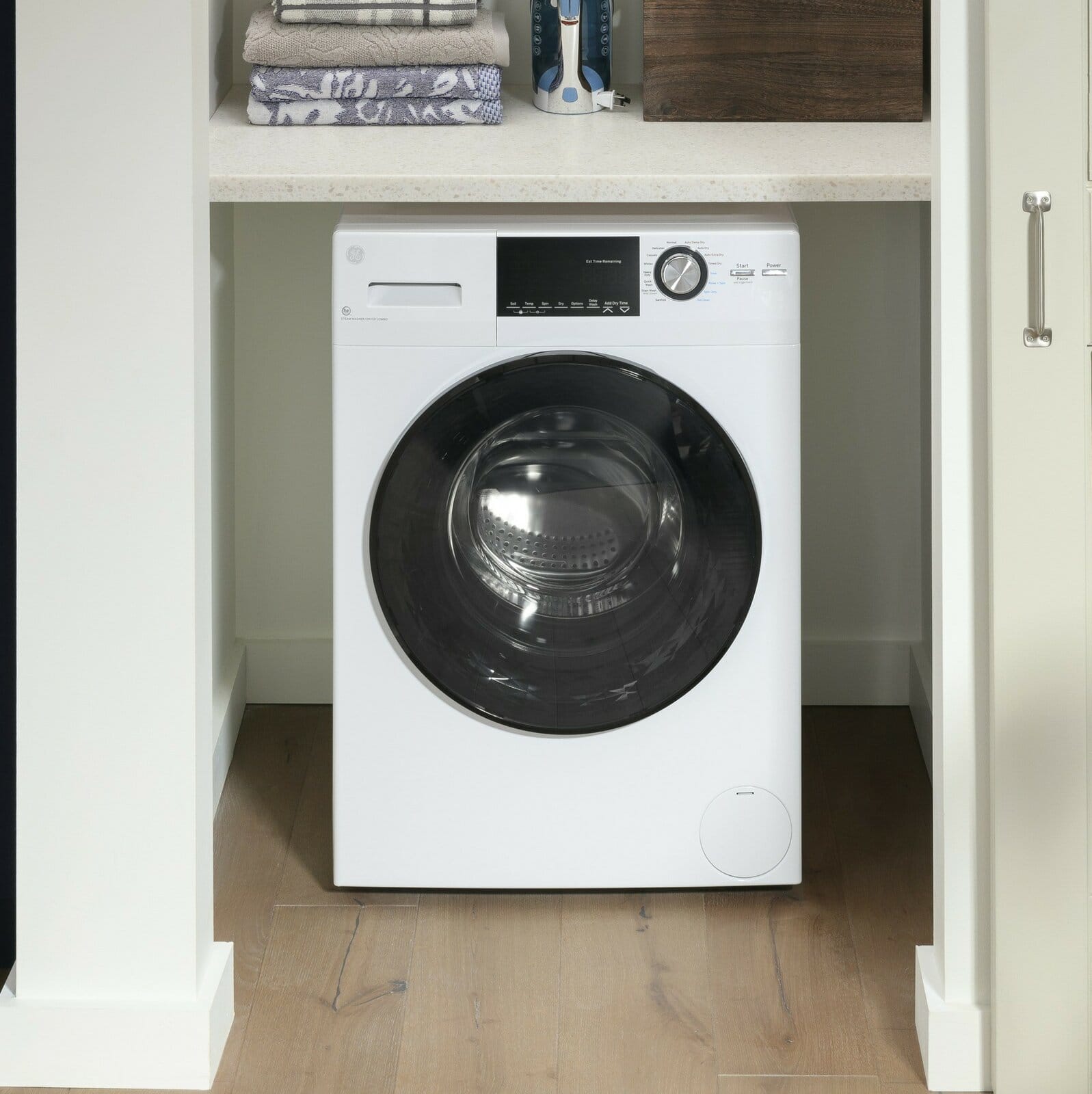 Another excellent option for a small laundry bathroom combo is this compact washer and dryer unit. (Here's how washer/dryer combos work.)
This model is from GE, and the washer and dryer both have a 2.4 cubic feet capacity. This model is perfect for tucking into the bottom of a small closet. You can add a drying rack and shelves over top of it.
Final Thoughts
While it takes careful planning, you can make your bathroom and laundry room combo look cohesive and well-designed.
Some of the most common places to put a washer and dryer in the bathroom are a closet, corner of the room, or opposite wall of the toilet and shower. You can further maximize space by using your bathroom closet to create a hanging rack and supply zone.