Decorated Life is reader-supported. When you buy through links on our site, we may earn an affiliate commission. Learn More
22 Home Office Wall Decor Ideas
What's interesting about decorating a home office is the effect it has on a person's productivity and creativity.
Some people need simple, toned-down rooms to be genuinely productive, while others thrive with a maximalist home office style.
Once you know what style best suits you, you can start planning out your wall decor for an optimal work environment. Here are 22 unique home office wall decor ideas to try.
Fill Up the Wall with Large Scale Artwork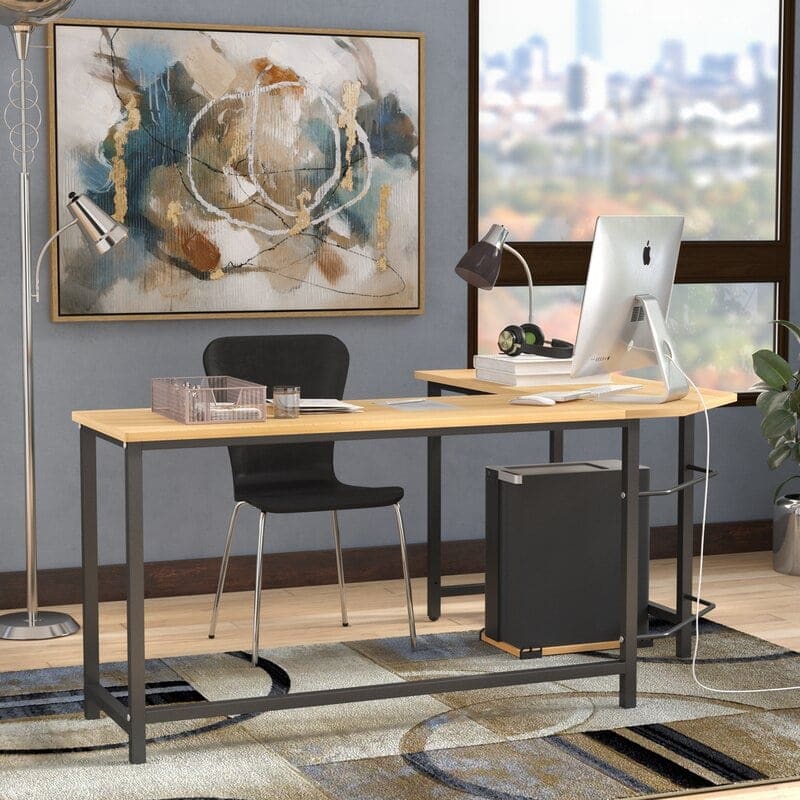 It's common to see gallery walls above desks in a home office. However, those galleries don't always work if you're into a minimal or very professional look. A great alternative is a large piece of artwork, as shown above.
This artwork nicely fills up the empty wall behind the desk and works well for minimal, modern, and traditionally styled home offices.
Inspire Yourself with a Felt Letter Board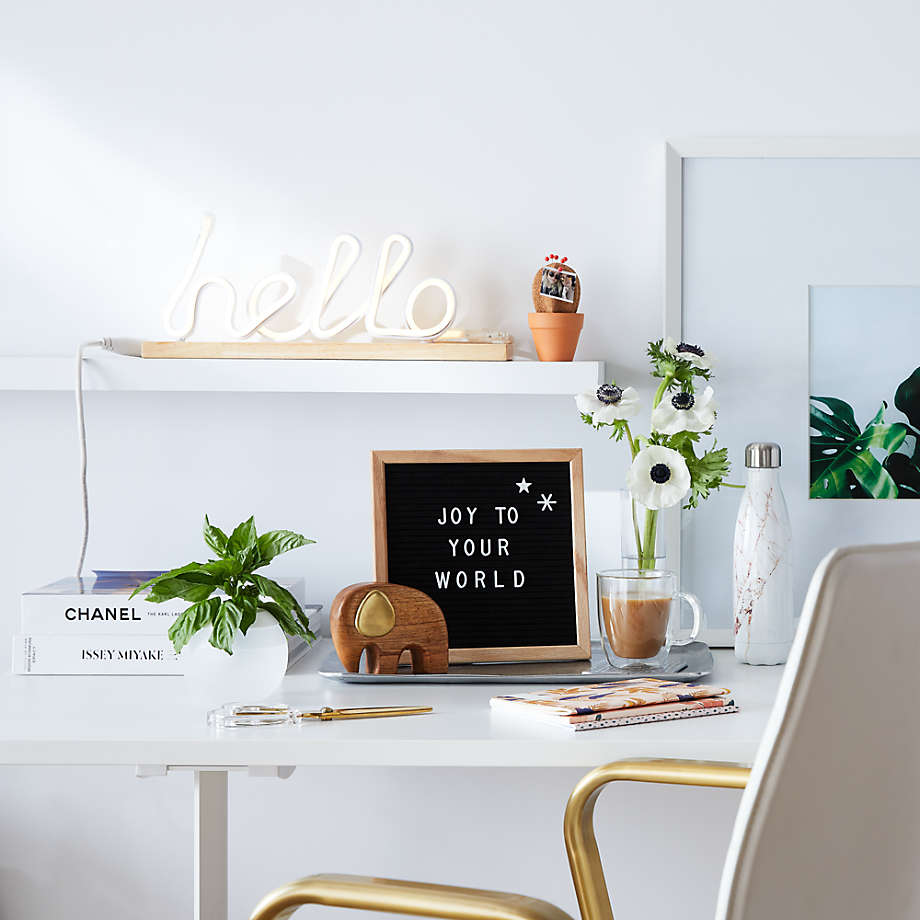 Does it motivate you to read inspirational quotes before you sit down to work? If your answer is yes, get yourself a felt letter board.
Felt letter boards, like this one from Crate&Barrel, are not only super stylish, but they're practical. You can switch out the saying as often as you'd like and hang the board on the wall or rest it on your desk.
Hang a Shelf
If you have space over your desk you'd like to fill, consider a shelf like this one. This hanging shelf provides plenty of room to store your books, greenery, and even a motivational sign.
This shelf is perfect if you prefer functional decor and need a way to keep your desk cleared off. It's about 24 inches wide and 31 inches long – just large enough to store your favorite supplies.
Try a Modern Wall Hanging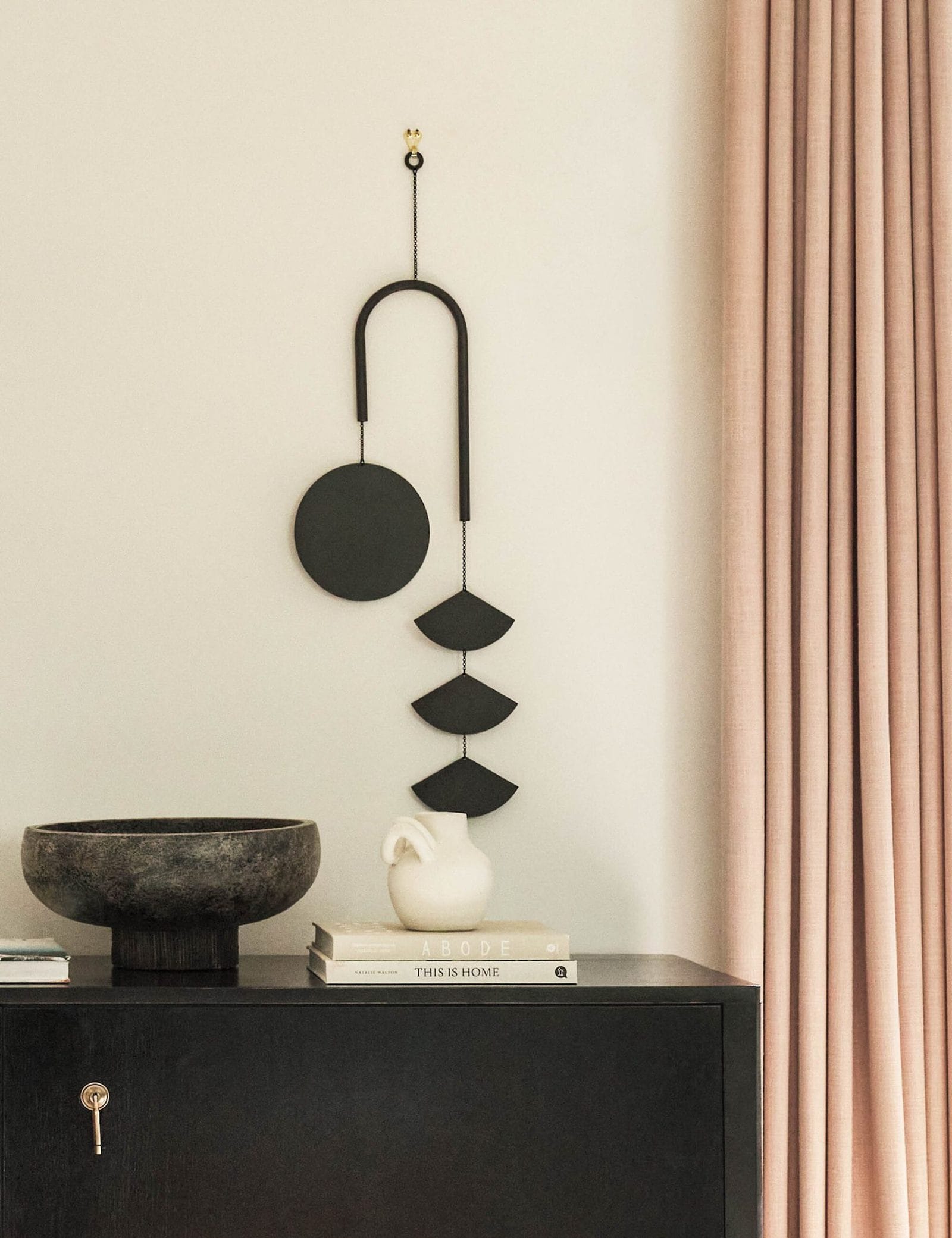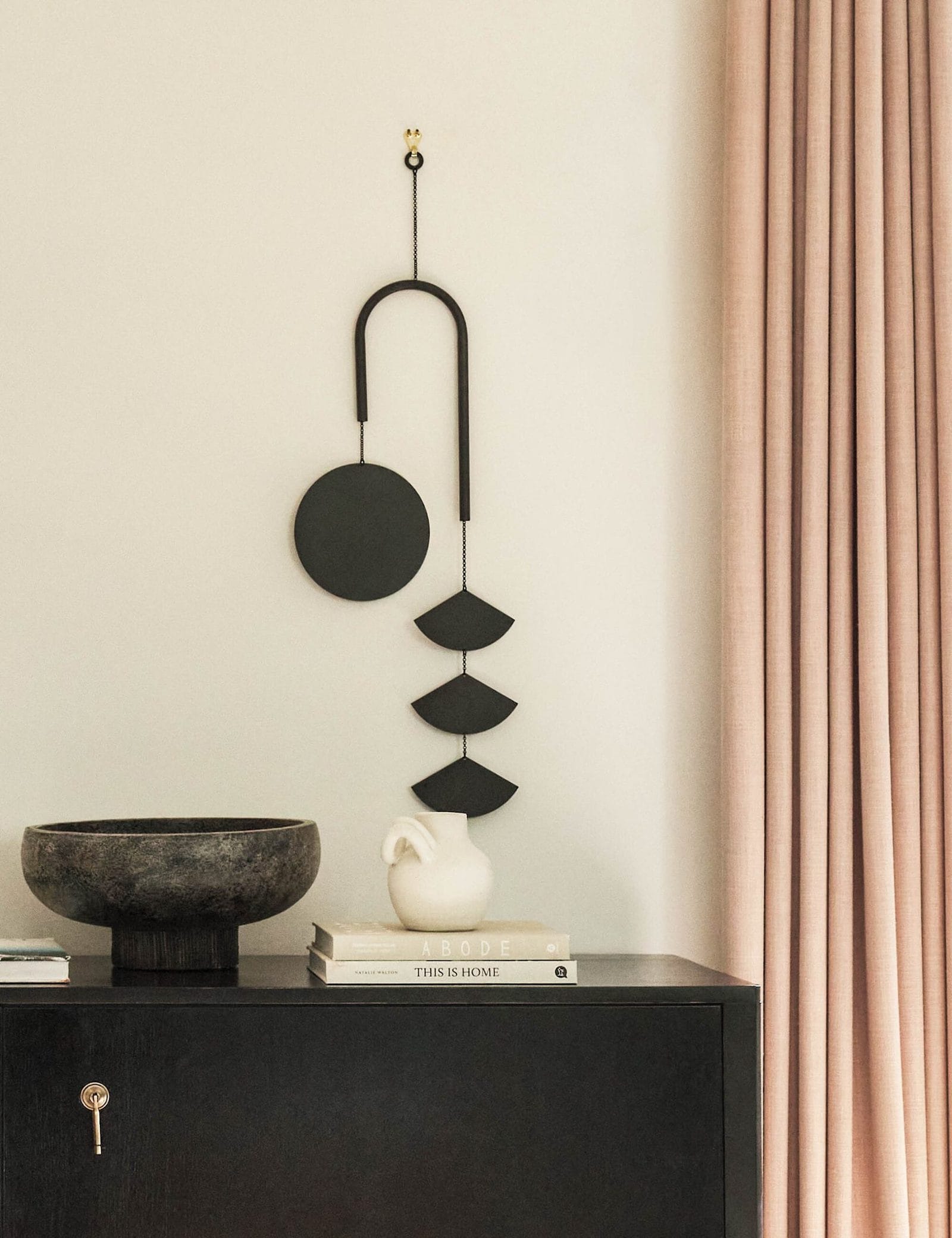 If you like sculptural art, try a modern wall hanging like this. An Austin-based designed studio crafted this hanging. It's made from polished bronze and hangs about 34 inches long.
This piece would look fantastic in a modern or minimal style home office. You could hang it by itself or place it on a gallery wall.
Create a Playful Space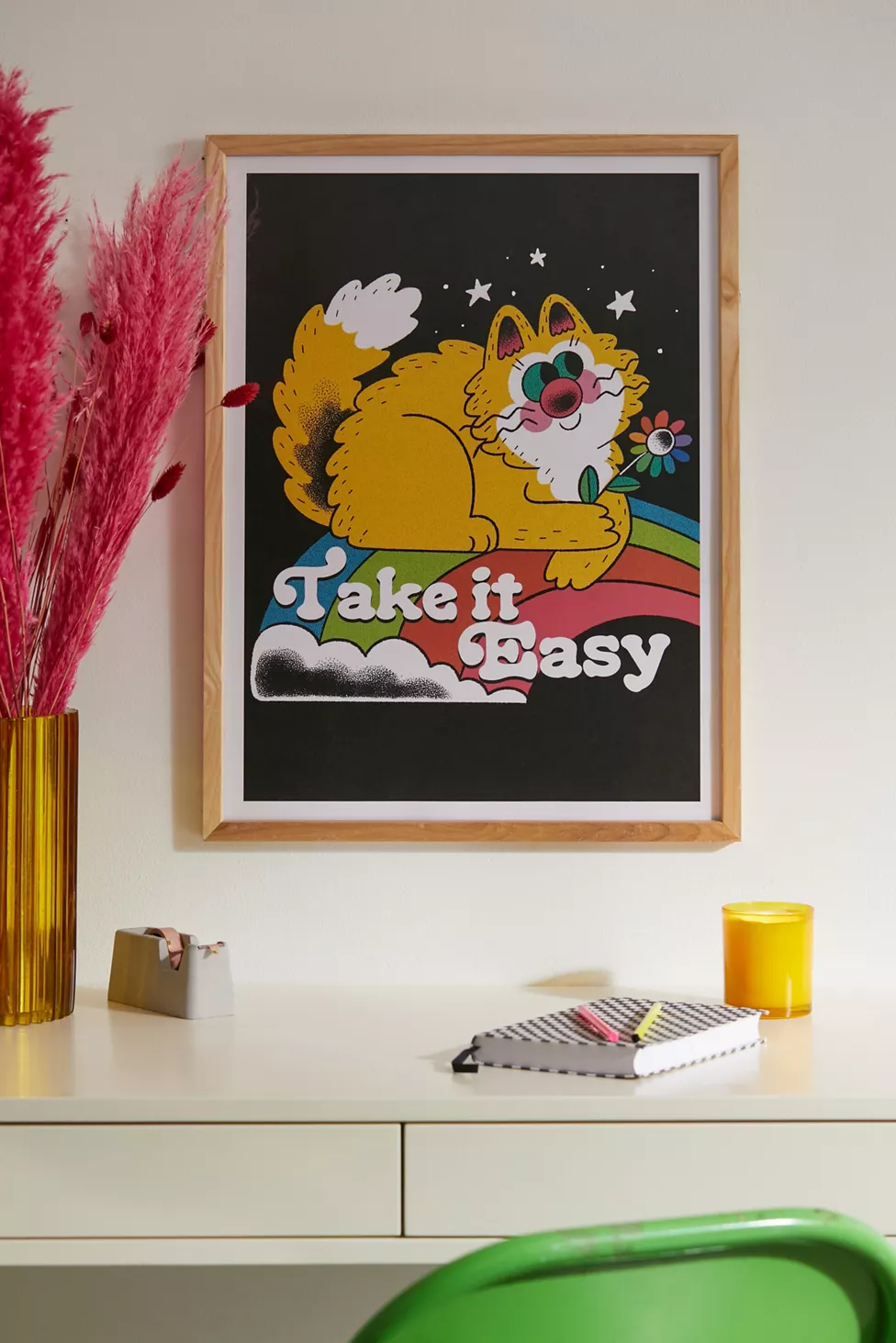 Who says home office wall decorations have to be so stuffy? If you prefer a more whimsical room, try a fun framed print like this one.
You can get this print in 9 different frame styles and four different sizes, so no matter the space you need to fill, there's an option for you.
Display an Interesting Clock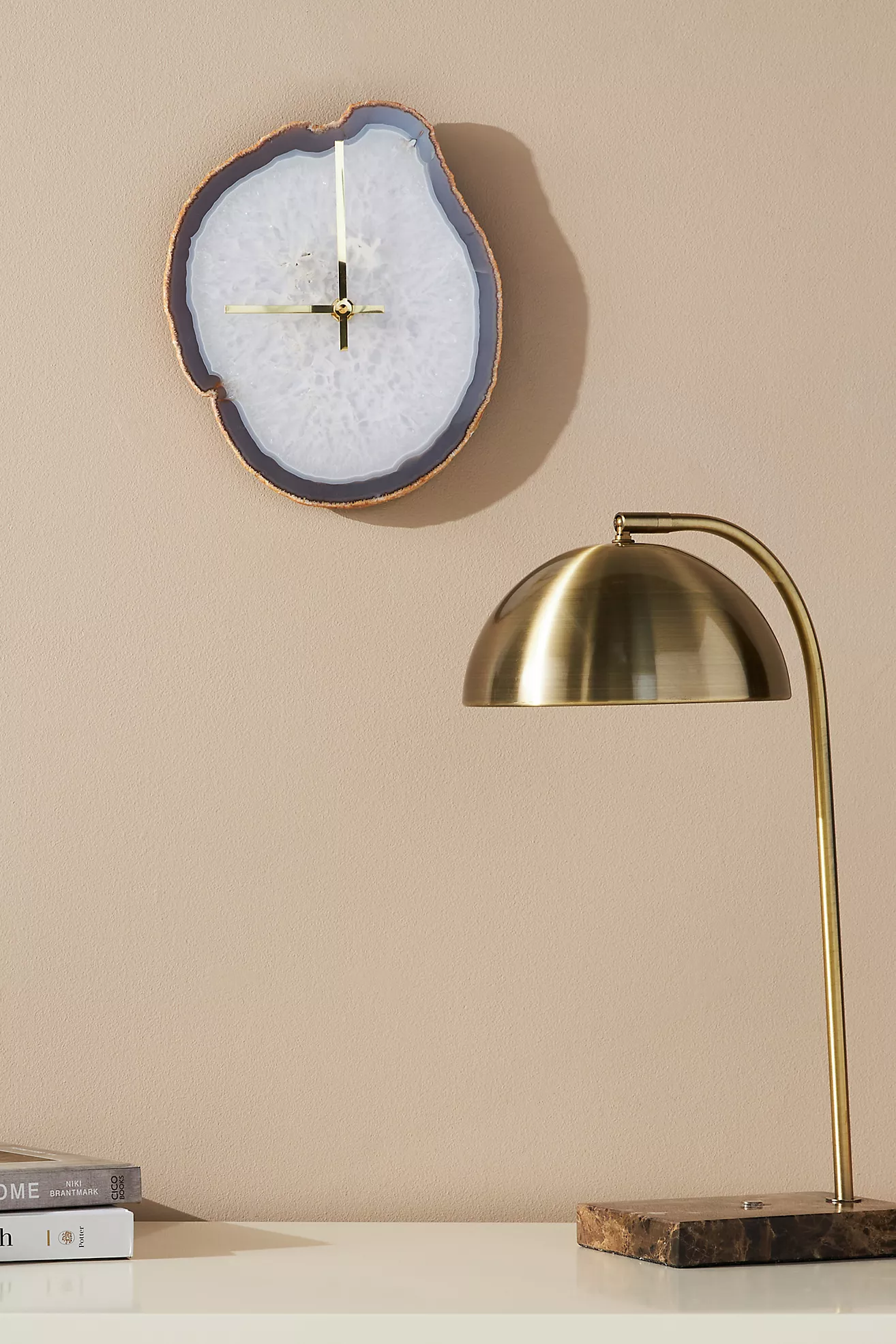 If you're the type that likes to keep a clock in the office, skip the traditional look and try something like this.
This agate clock comes in two colors: gray and brown. Since these clocks are a natural material, each piece is unique and looks slightly different. While functional, this clock will look like a piece of jewelry hanging on your wall.
Add Bookcases for Functional Decor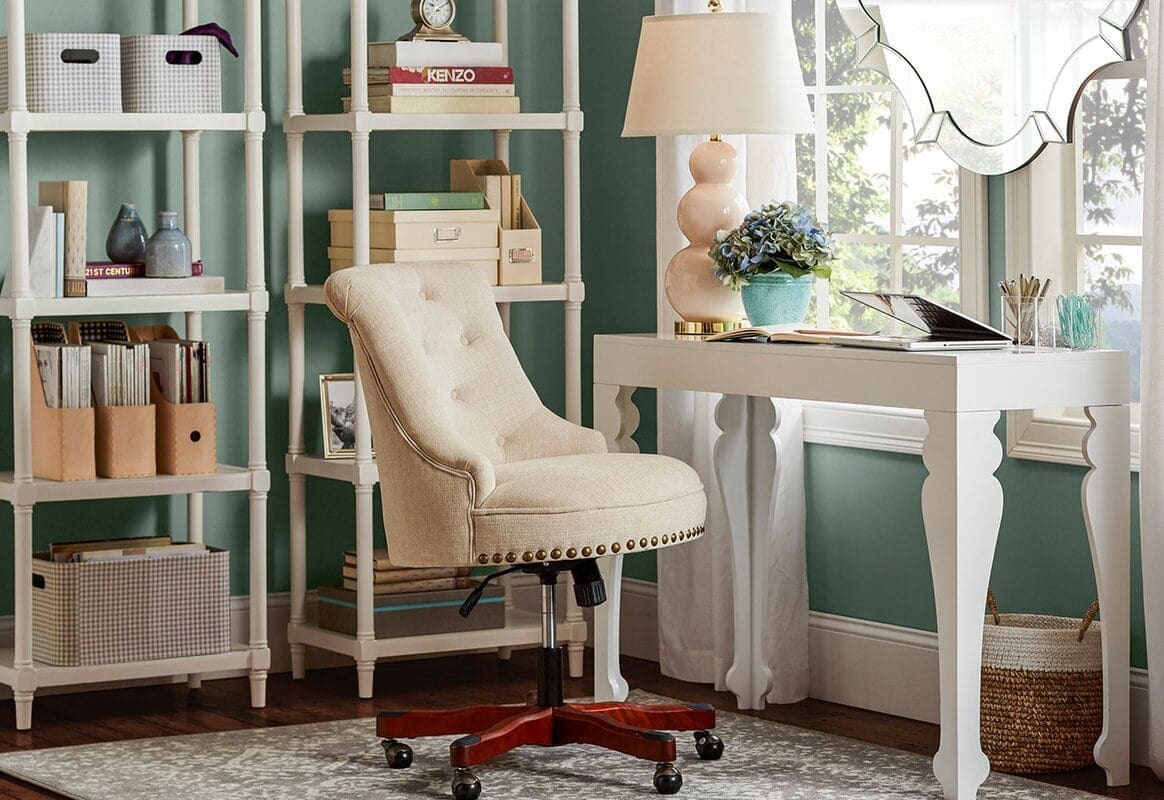 Need functional home office wall decor? Use freestanding bookcases to fill up wall space, hold your valuable documents, and double down as decorations.
If you work from home permanently, chances are your office fills up fast. Using pretty bookcases like these is a great way to create more storage while adding a decorative touch to the office.
Design an Over the Desk Gallery Wall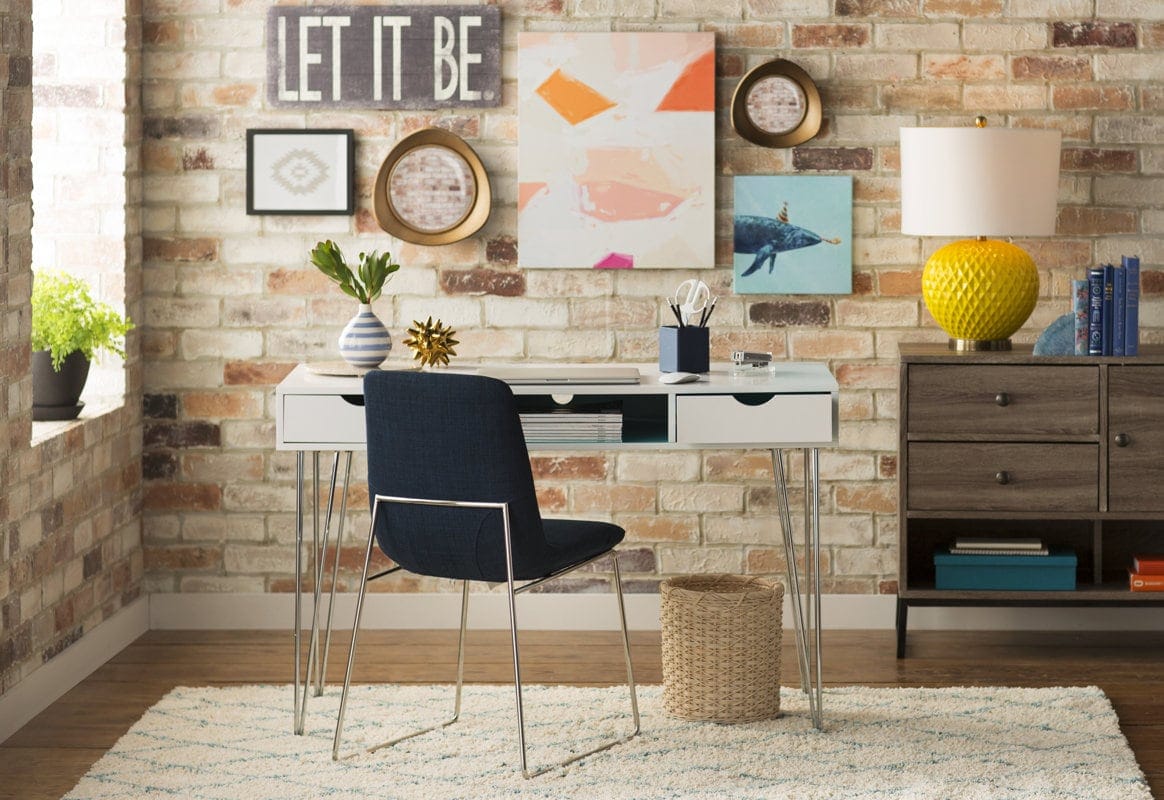 If you have many different-sized pieces of home office wall art, creating a gallery wall is a perfect way to display it all. You can start by laying all of your pieces on the floor and moving them around until you find the design you like.
Once you have your design laid out, it's time to put it on the wall. Start by hanging your largest pieces and then layer everything else around them.
Go Modern Farmhouse with this Hexagon Shelf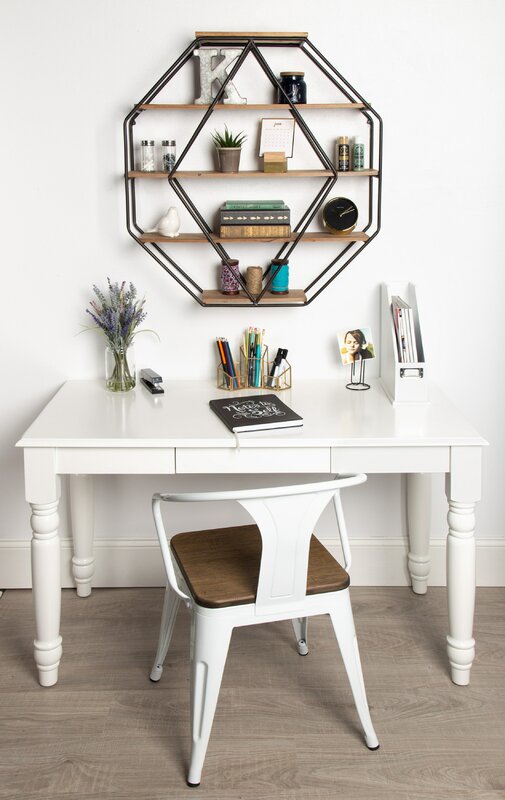 If you like the farmhouse look, this shelf is perfect for creating that style in your office. This hexagon shelf is a metal frame with solid wood shelving. It comes in several different finishes, but if you're going for a modern farmhouse, I recommend sticking with black and wood.
You can use this shelf over a small desk or make it part of a large gallery wall.
Put Wallpaper Up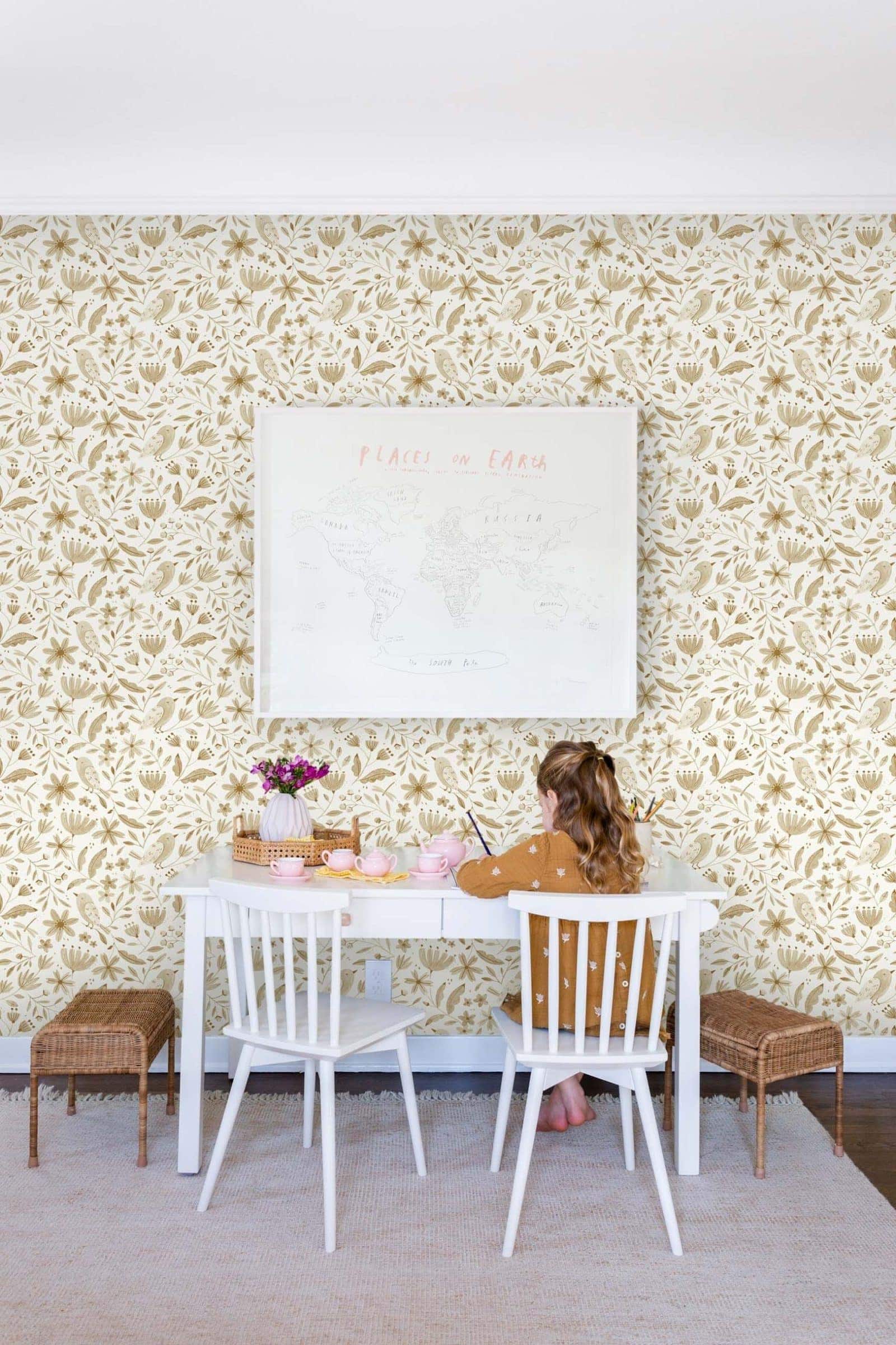 Perhaps one of the easiest ways to add interest to your office is to put wallpaper up, especially since there are now SO many wallpaper options to choose from.
You can go with a traditional paste-on wallpaper like this one or try a temporary peel and stick option. Both will yield you beautiful results.
Brighten the Room with Wall Planters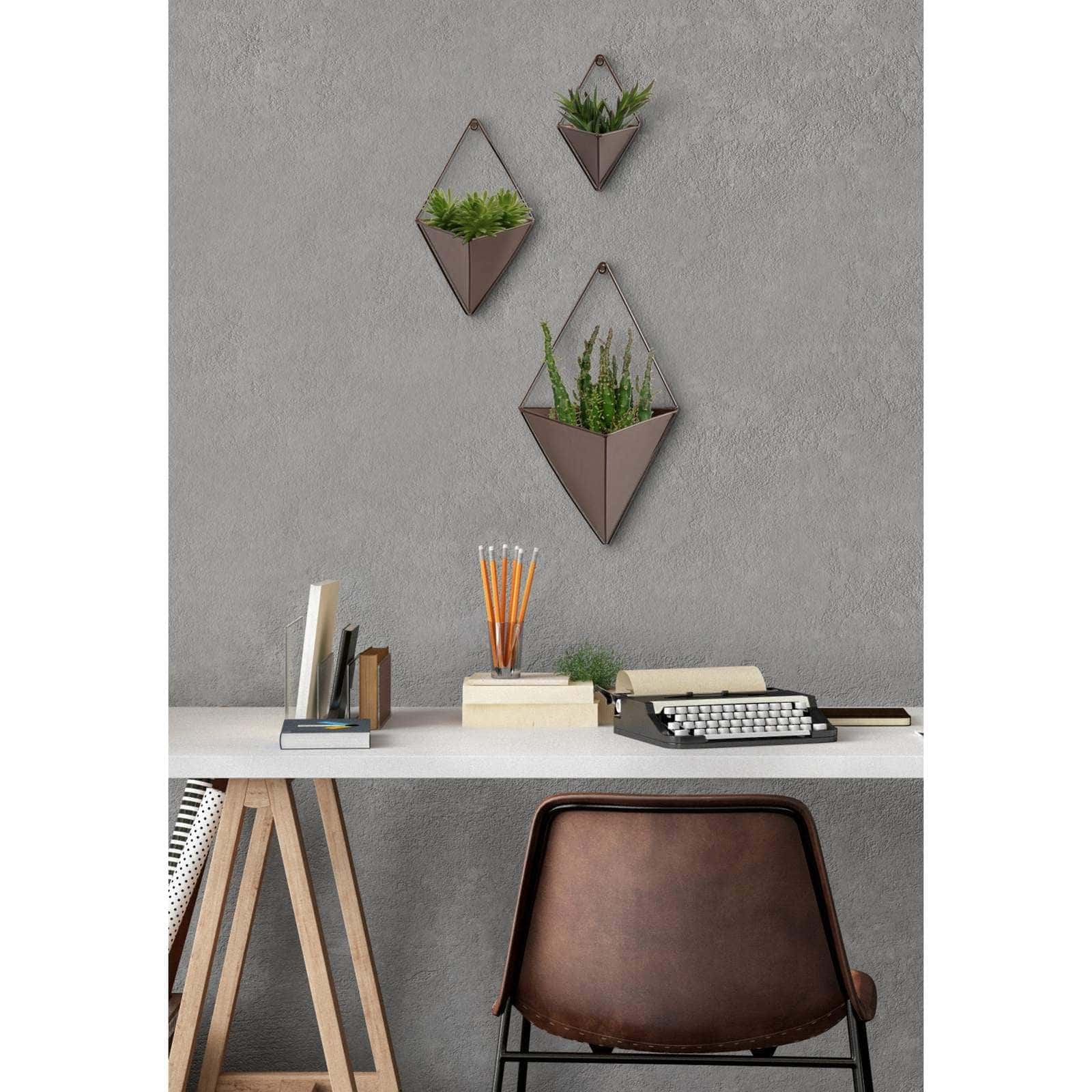 Adding plants to a room is one of the best ways to brighten and bring in some life. You can use wall planters like these to do so.
If you're afraid of killing plants, feel free to add some faux versions. If you prefer natural plants, simply add a liner and a low water plant like a succulent.
Display a Collage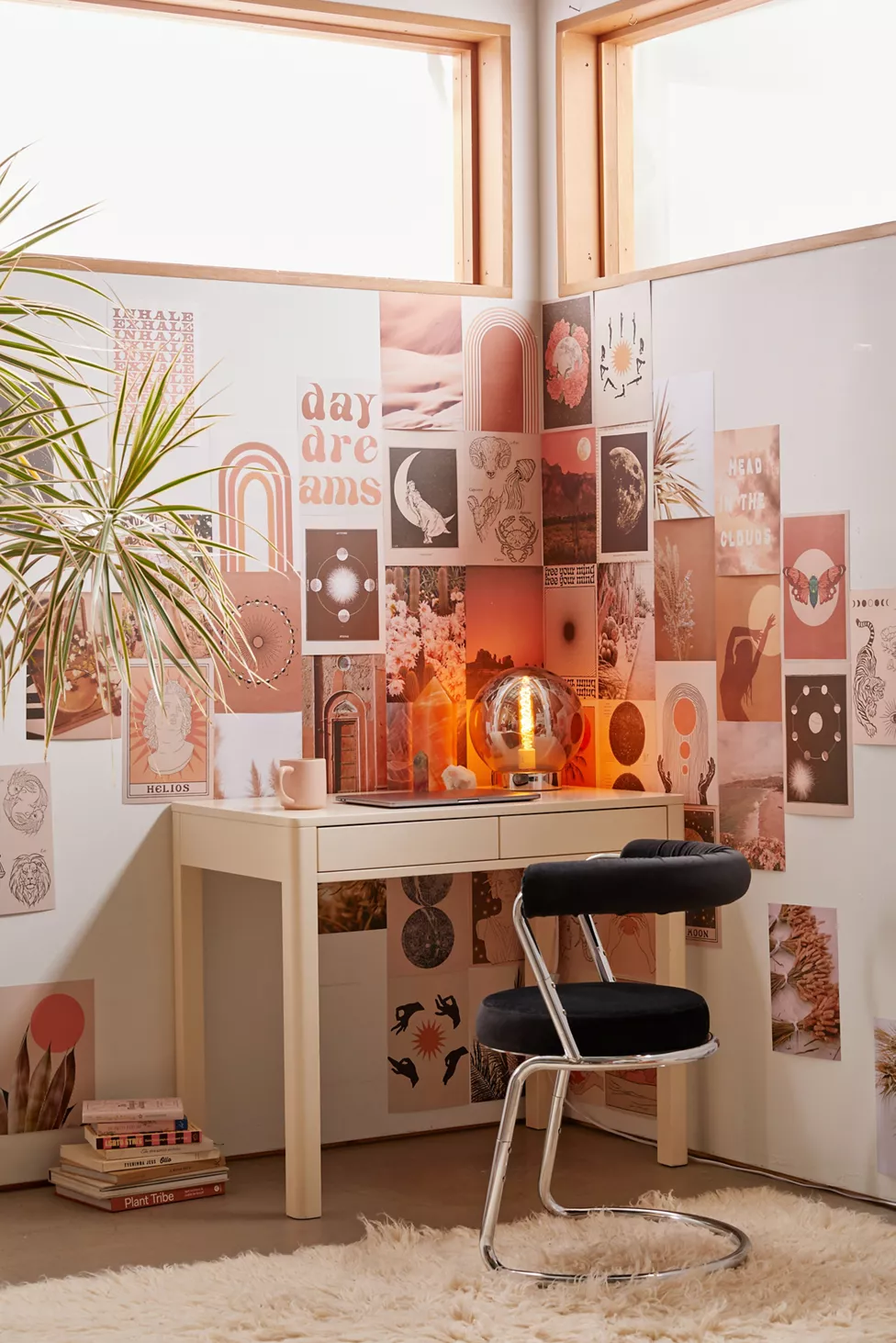 What I find interesting about home offices is that different surroundings affect people in different ways. Some people need bare, super minimal walls, while others draw creativity by being surrounded by inspiration.
If you find yourself in the second camp, consider a collage kit like this one from Urban Outfitters. The kit includes 25-50 posters, and you can choose which ones to display and how to display them.
Pull Off a Vintage Look with Zodiac Wall Art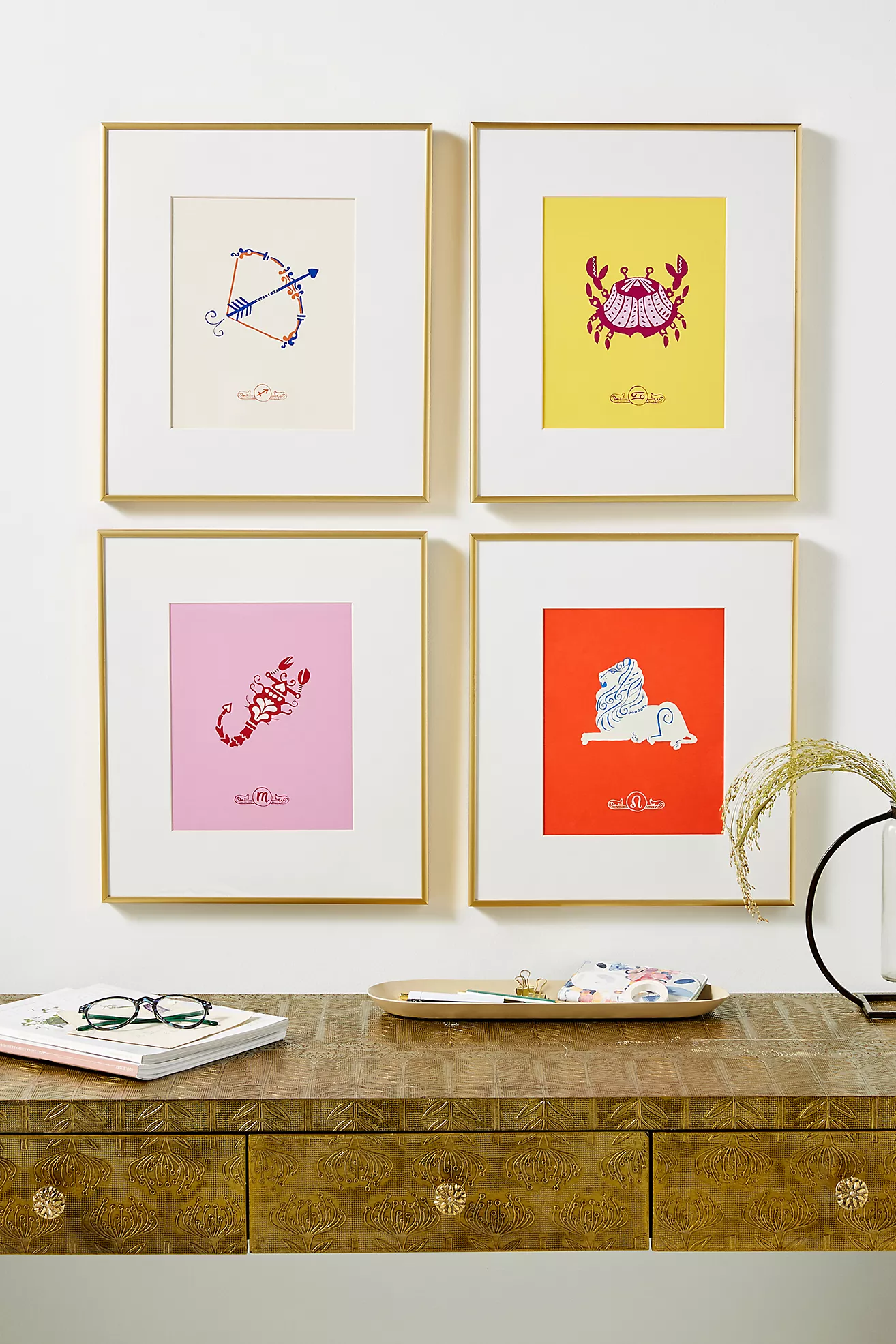 If you like the vintage look, these framed prints can help you pull it off. You can choose as many framed prints as you want based on your zodiac sign as well as your family members' and friends'.
You can add just one of these to your home office or purchase several to create a gallery wall. Each print comes with a mat and gold frame.
Lean a Printed Canvas Against the Wall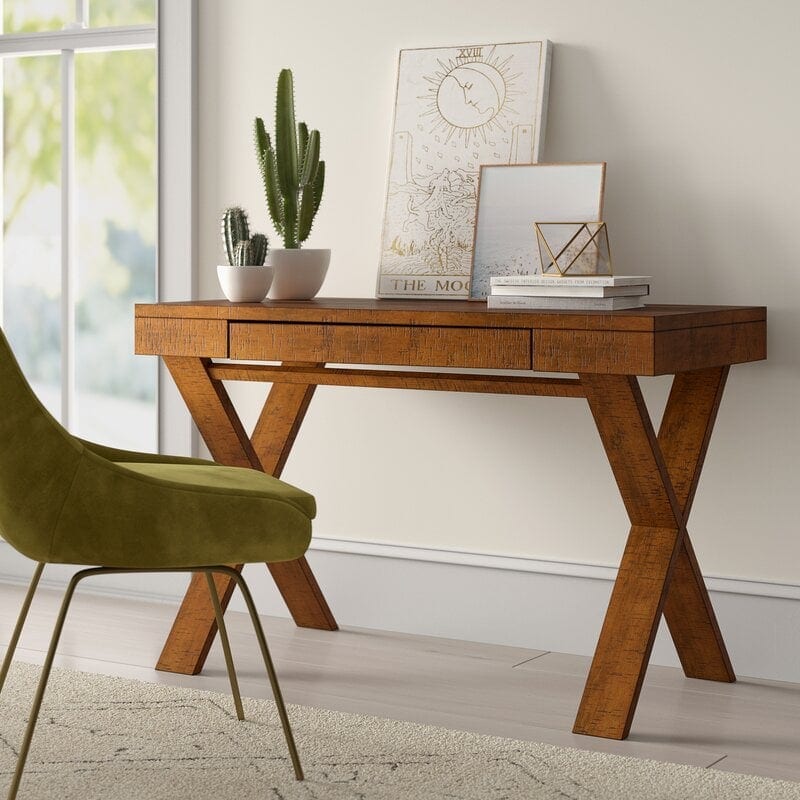 If you need desk wall decor, try leaning a printed canvas against the wall. A canvas is sturdy enough to work as desk decor without falling over or slipping through a crack.
If you're looking for a chic or whimsical print, try this one of the moon. It comes with a beautiful design and gold lettering. If you have other gold accents in your office, it will match perfectly.
Let Nature Into Your Office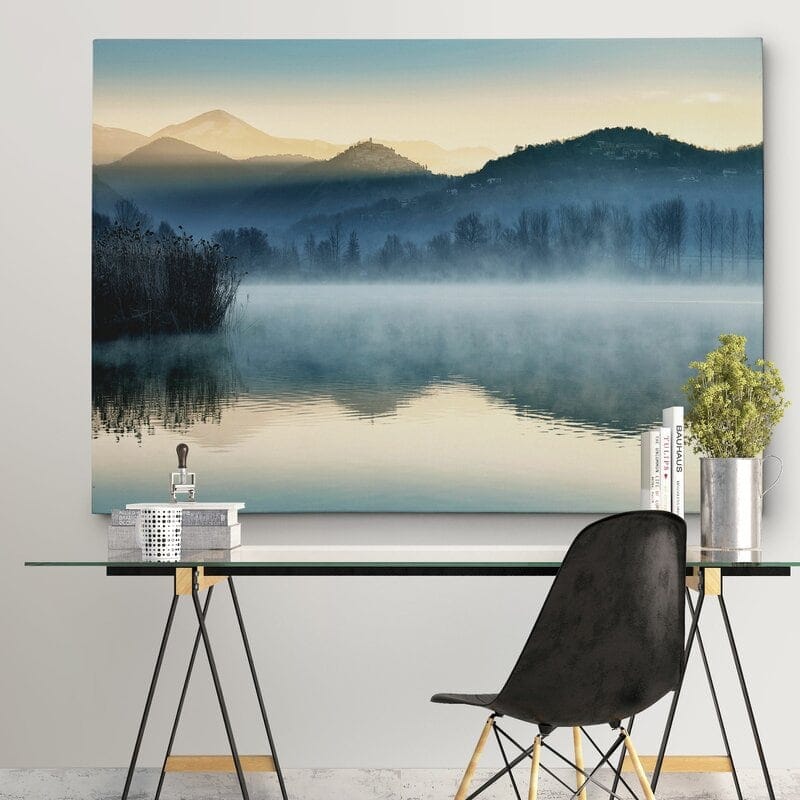 If nature is your inspiration, this giant watercolor painting is a fantastic way to bring it into your office. For a modern look, try a glass or super sleek desk like pictured above. Then, keep the surrounding decor minimal so that the painting becomes the focal point.
You can get this painting in five different sizes, so no matter the size of your room or desk, there's an option to fit.
Decorate with Florals for a Chic Look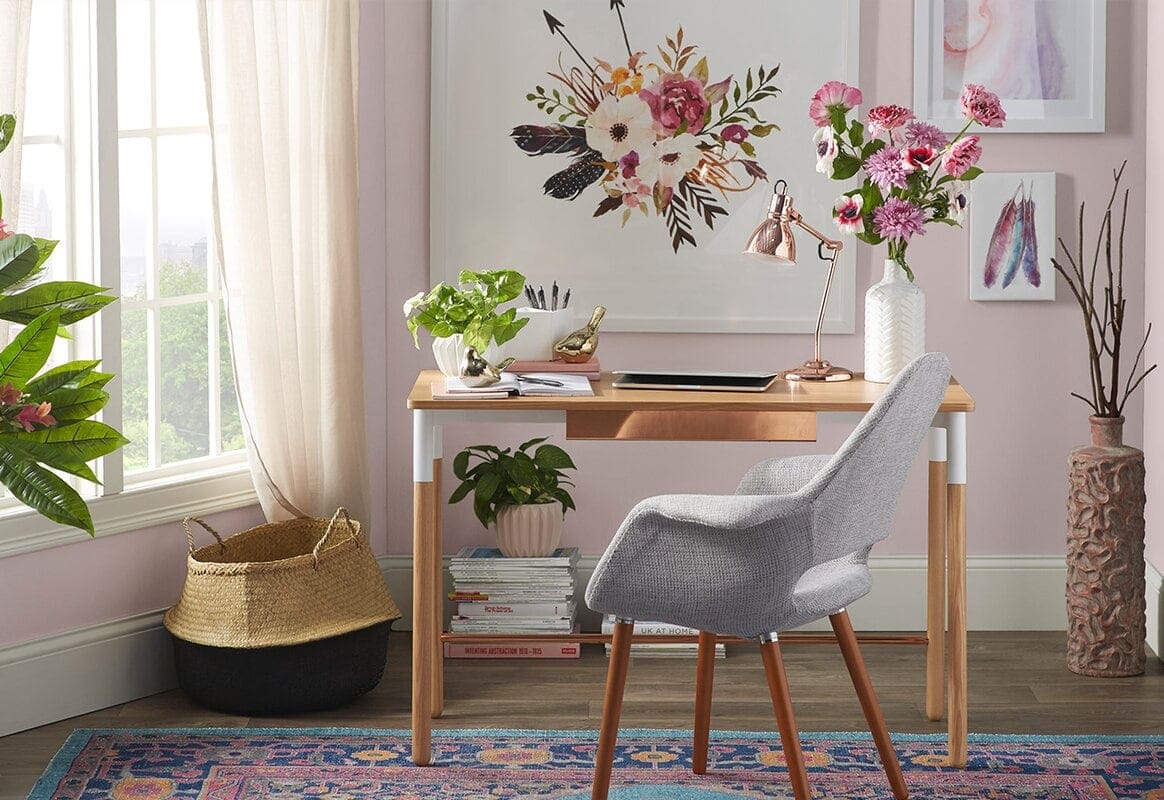 Do you like chic or modern glam looks? Try decorating with florals.
Floral prints and decor, all in a similar color scheme, come together to make a gorgeous room. You can accent your florals by bringing natural materials like a wooden desk, jute rug, or wicker baskets.
Put Framed Chalkboards Over Your Desk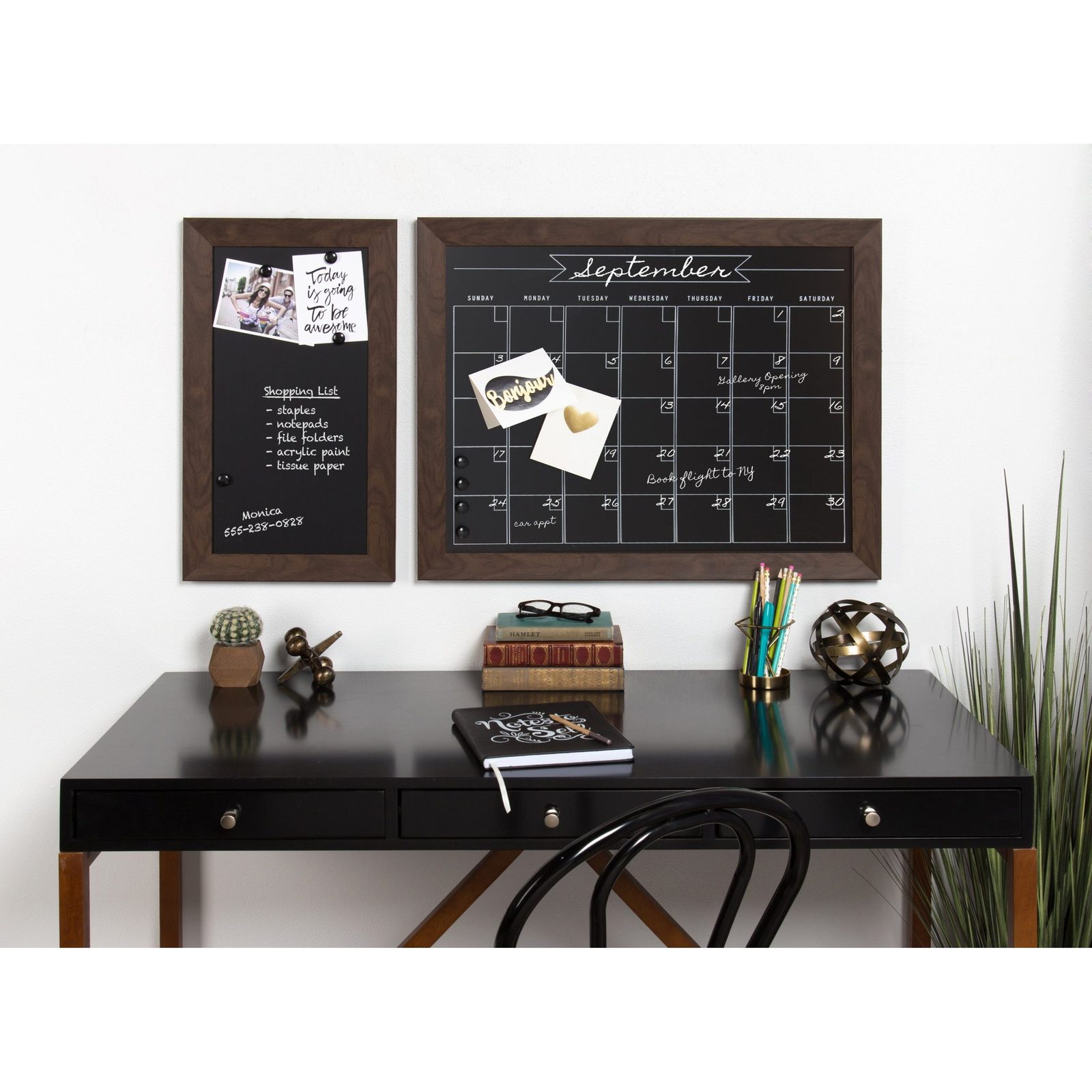 Framed chalkboards are the perfect home office wall decor. You can use one as your calendar and another for note-taking.
I love these for an office since you can erase and start fresh each month. While these will look good with any type of decor, they primarily work for farmhouse and rustic-style offices.
Try Retro Wall Art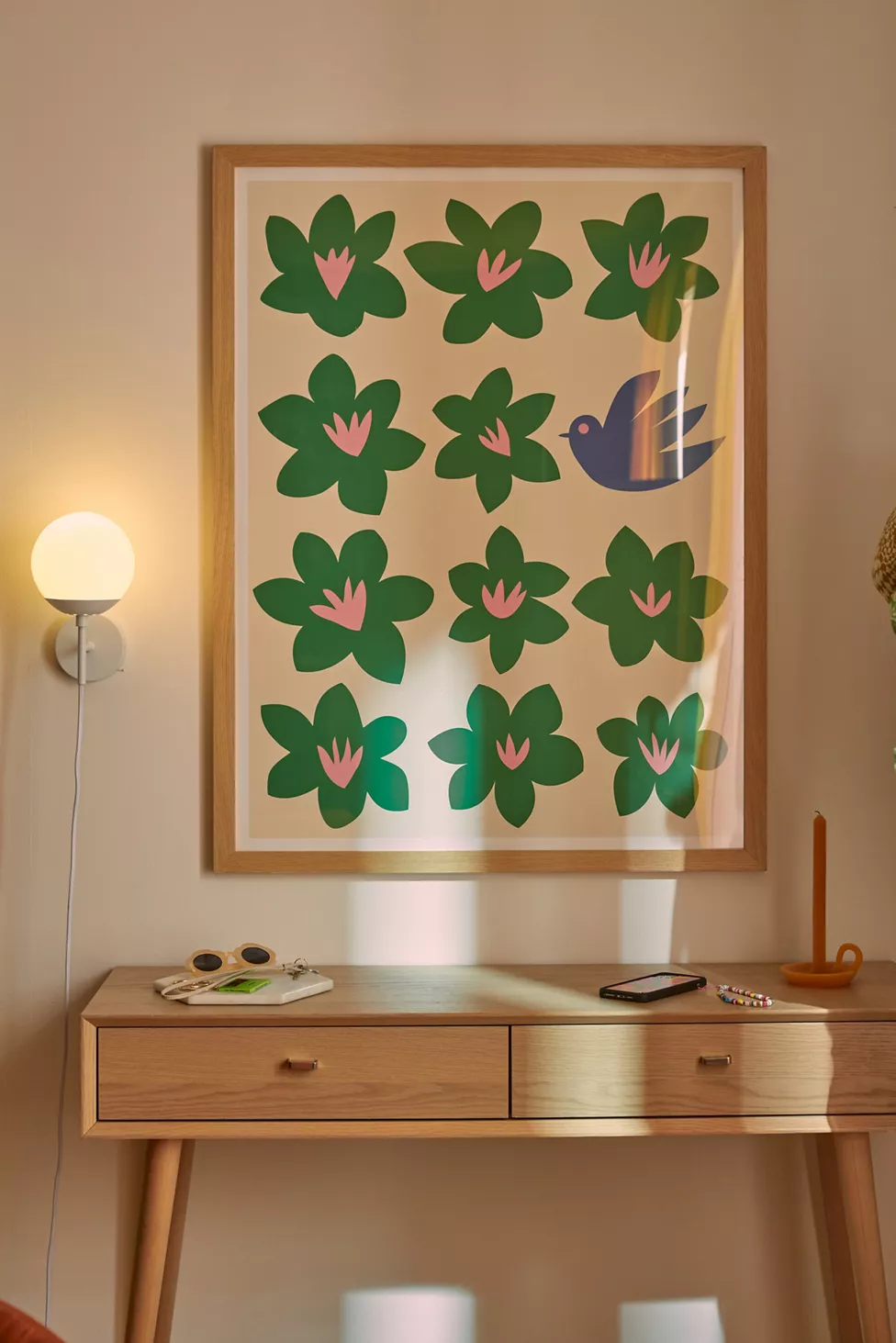 If you want your office to feel like a place of fun and a source of creativity rather than a place of dread, try some whimsical retro-inspired wall art.
This print comes in four sizes and has nine frame options. The large size would look great over a small desk, or you could get a small image and add it to a gallery wall.
Bring in Texture with Woven Textile Art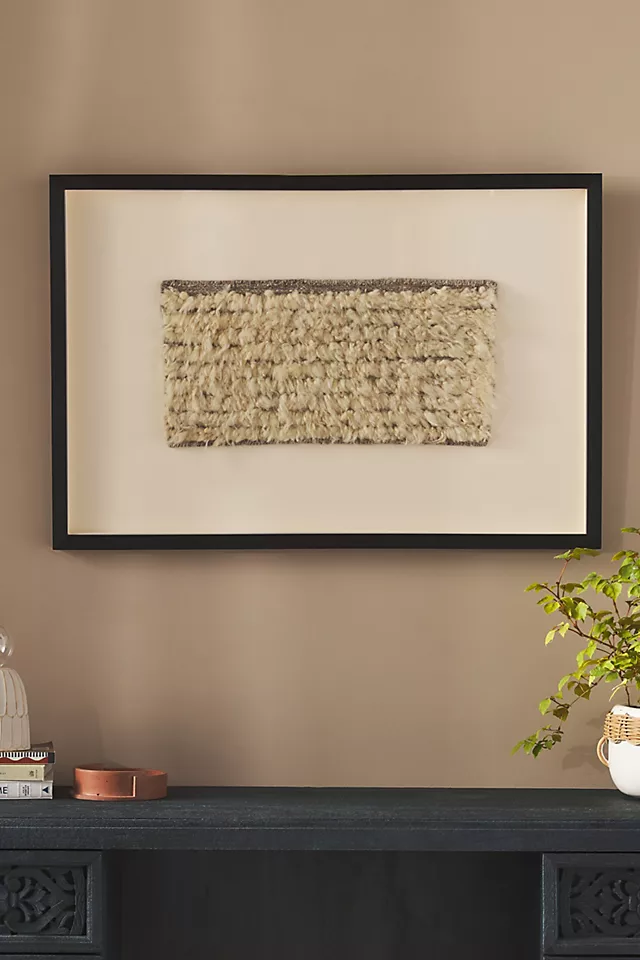 If your home office is running short on texture, you can add some with this woven textile wall art. The art has a faux wood frame and an acrylic panel.
This would look great over the top of a desk. Also, if your walls are dark, this textile art would offer a beautiful contrast.
Create an Eclectic Office with Tons of Art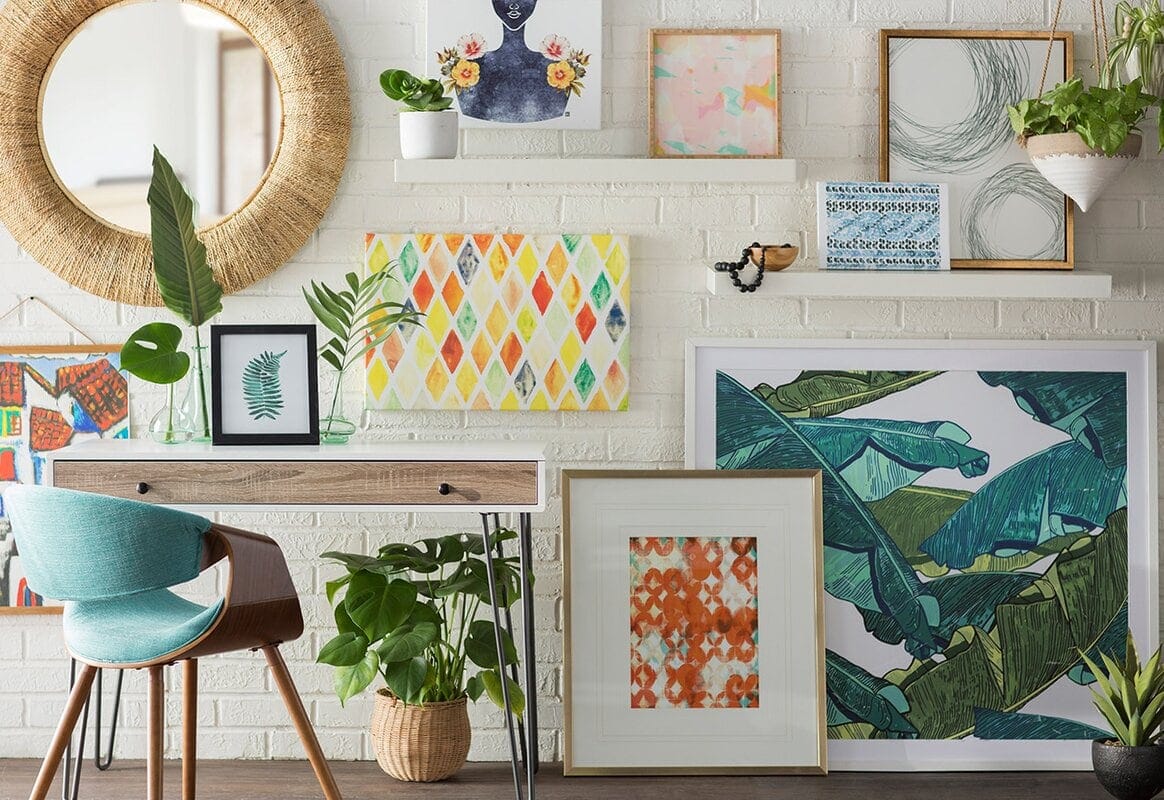 Are you a massive fan of art? No need to stop with one piece. You can create an eclectic look by layering in all kinds.
There are two ways to do this and build a cohesive look. The first is to pick a theme. For example, in the picture above, the theme is coastal, and although each piece is very different, they work together. The second method is to choose a color scheme and pick art based on color.
Leave Most of the Wall Bare for a Simple Office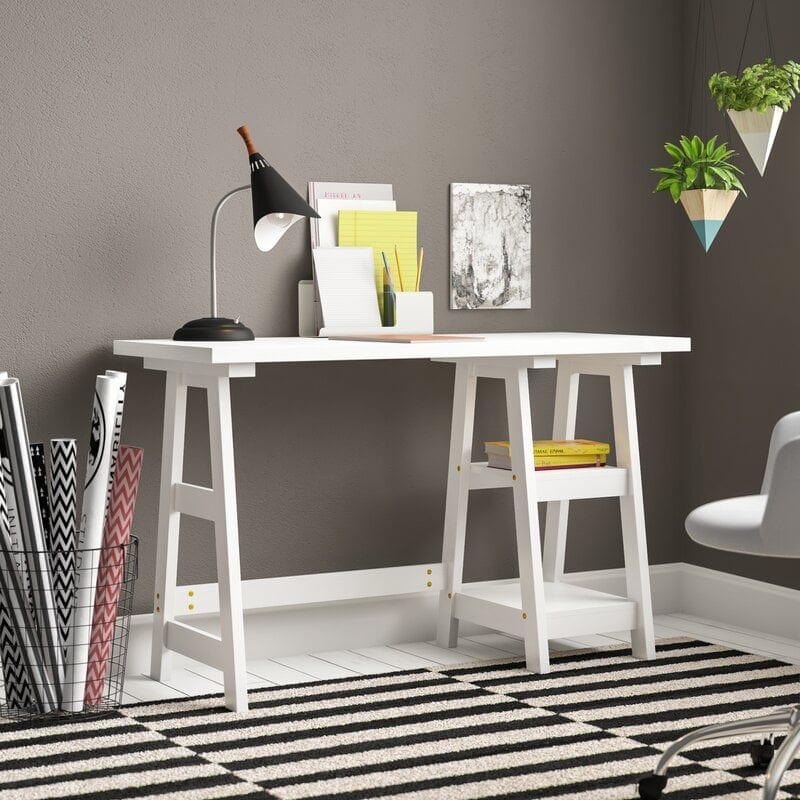 If you like minimal design, choose only one or two pieces of art and leave the rest of the walls bare. Then, you can do like pictured above, choosing one small piece to place over your desk.
Another option is to choose one large painting or even use only planters as the home office wall decor.
Add In a Bulletin Board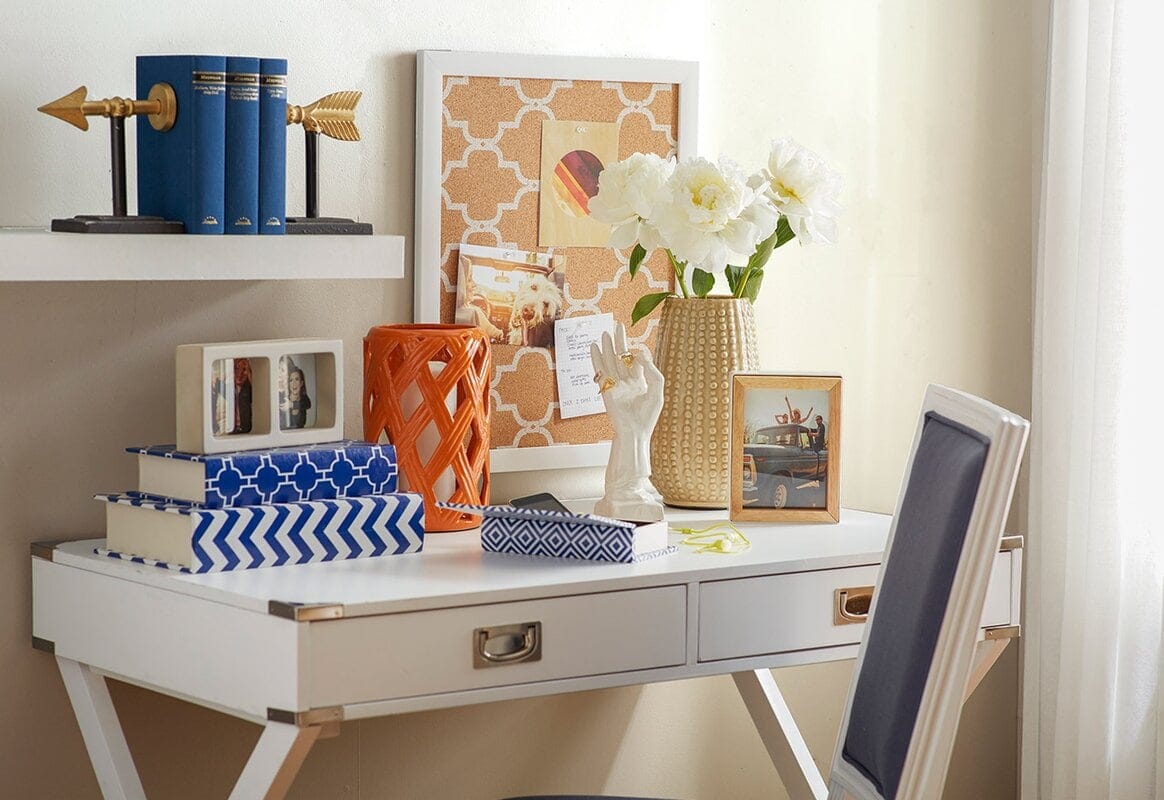 Bulletin boards are great for the office. They give you a place to display important notes or invitations while also acting as decor.
If you want a bulletin board that's a little more stylish than your run-of-the-mill option, try a framed one with a pattern like this. You can find this one in a white or black finish.
Final Thoughts
Everybody works differently, so you need to choose office wall decor that supports your optimal working environment. If you prefer a clean, simple space, try adding one photo or painting above your desk.
If you like walls filled to the brim, try a gallery wall or a collage kit. You can play around with your wall decor until you find the best design to spark your productivity.