Decorated Life is reader-supported. When you buy through links on our site, we may earn an affiliate commission. Learn More
Behr Polar Bear Paint Color Review
When you think of animals with white fur, the polar bear might come to mind. Its striking white coat blends perfectly with the snow and ice of its frozen home, allowing it stealth as one of the world's top hunters.
What's amazing about that is that the polar bear's white coat is an illusion: its fur is transparent, and its skin is black. The light that comes through its clear fur appears white because it reflects back all wavelengths of visible light.
Behr's Polar Bear paint is not transparent, but it pulls off some pretty incredible tricks of its own. It's an extremely bright white paint–brighter than the white paper that comes out of your printer–with absolutely no other colors to get in its way.
Let's walk with Polar Bear and find out what's going on under the paint can lid!
What Color is Polar Bear?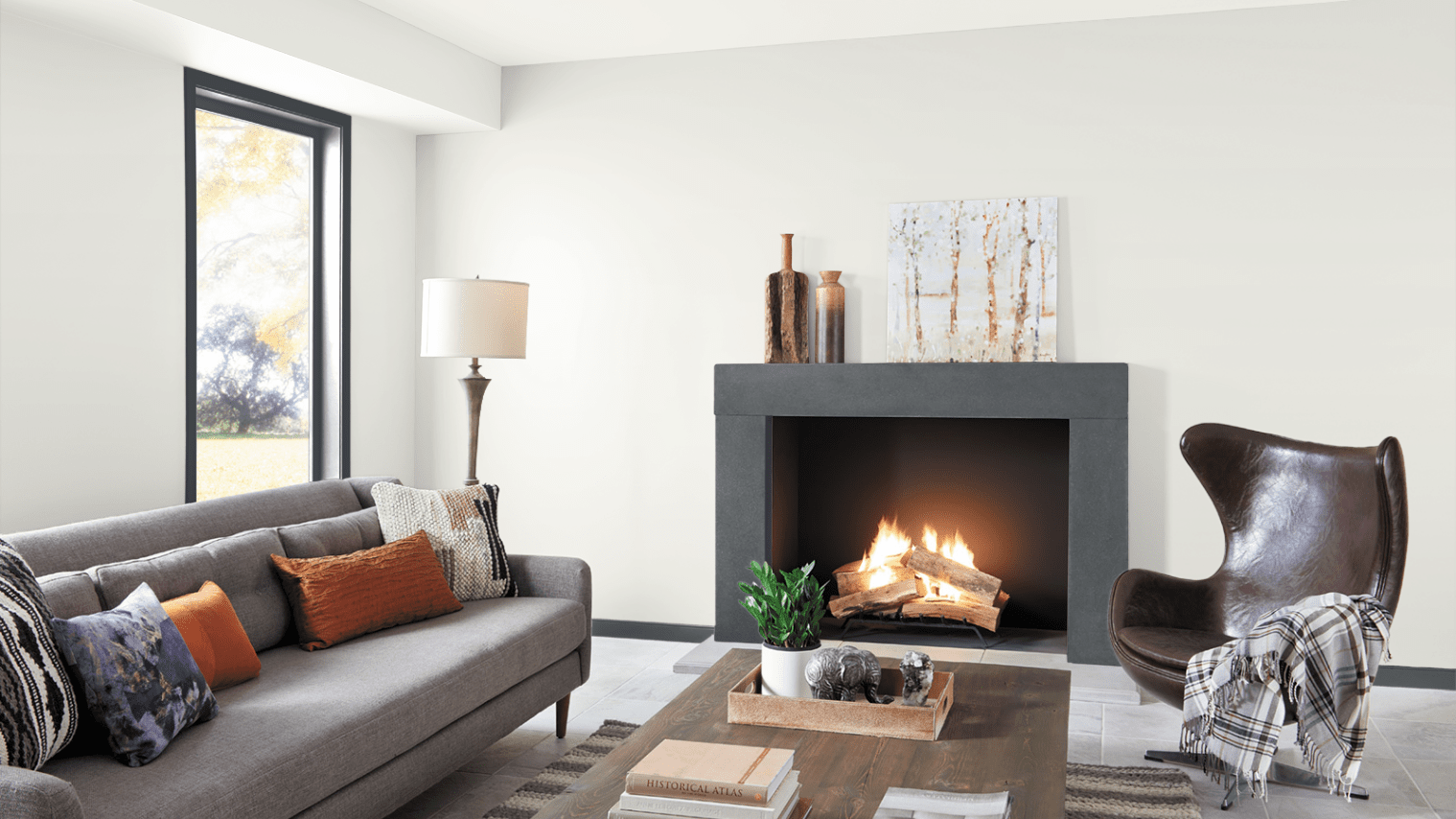 Behr's Polar Bear is an extremely bright, clean white. It's well-balanced and doesn't have any tints or shading. 
Does Polar Bear Have Any Undertones?
Nope. Polar Bear does not have any undertones. It's just plain, clean white–probably whiter than the copier paper coming out of your printer.
Is Polar Bear Warm or Cool?
Polar Bear is neither warm nor cool. It is a balanced white, with no other colors to interfere with its tone. Its red/green/blue (RGB) values are even rather close to each other, which is another indicator of how warm, cool, or balanced a color is.
LRV of 90
Polar Bear has a light reflectance value (LRV) of 90. It's a very bright white. Pure whites begin at around 83 on the LRV scale–lower values start to dip into the off-white range.
LRV is designed to measure how bright or dark a color is by how much light it reflects. It runs on a scale from absolute black, at 0, to sheer white at 100. The brighter a color is, the higher the number.
Where Can You Use Polar Bear?
Polar Bear is a super-bright white that can be used anywhere you desire. Keep in mind that large areas of Polar Bear can reflect other colors that are near it, and this includes light being bounced in through your windows.
Polar Bear can be used to flood a room with extra light, as well as to counterbalance darker colors. It's a crisp, clean white for trim and accents.
Let's take a swim among the glaciers to see Polar Bear in action!
Living Room
White walls can help a space feel more restful and less chaotic.
Polar Bear perks up this living room as it goes from generic to personal.
Kitchen
Charcoal grays in varying shades are a lovely option with Polar Bear.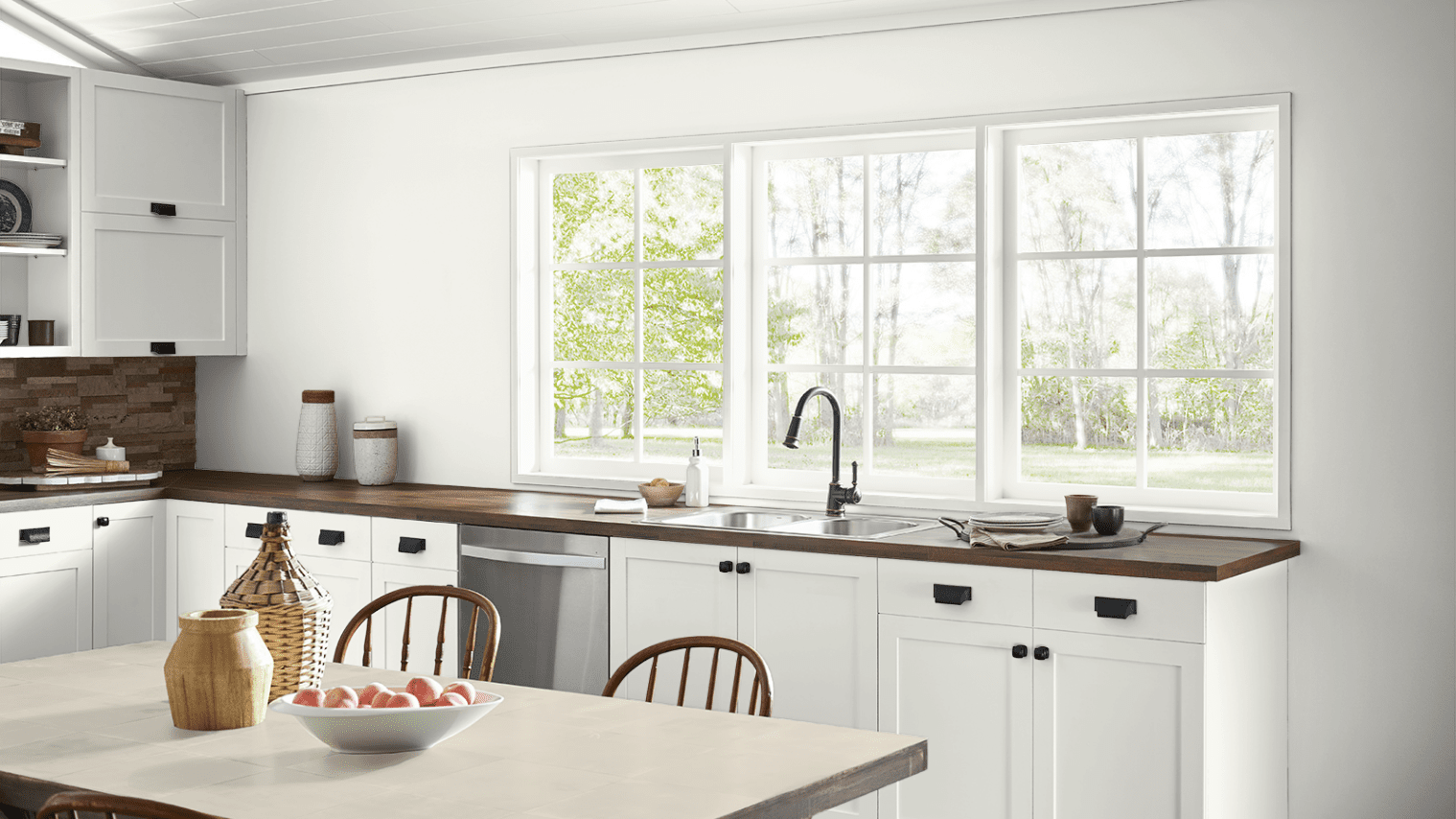 Black metalwork looks sharp and modern against Polar Bear.
Dining Room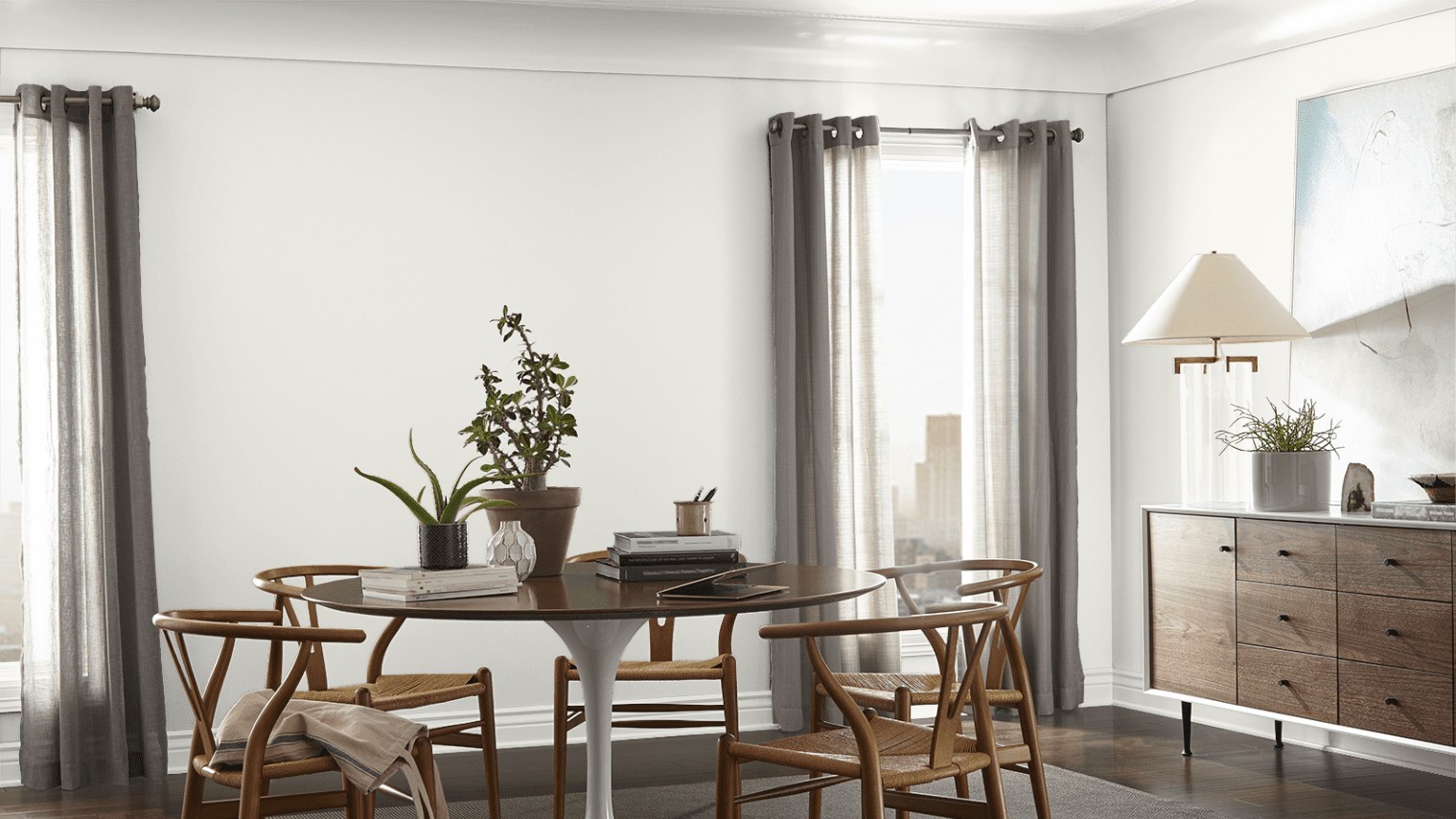 A backdrop of Polar Bear can pull together a palette of other colors, as it does with the browns in this dining room.
Bedroom
Polar Bear reflects back the cool and calming tones of this bedroom for a restful feel.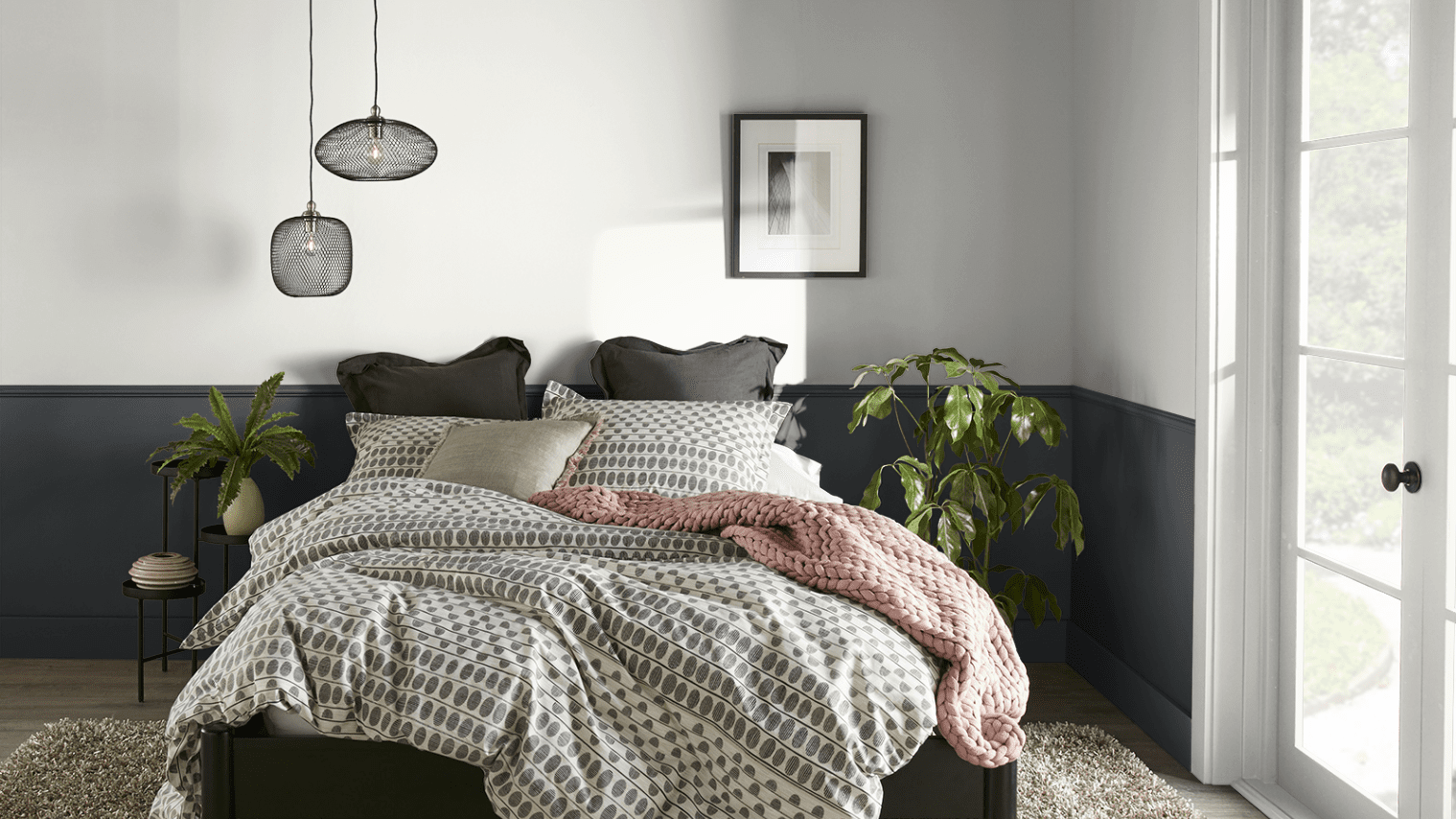 Polar Bear and Little Black Dress look chic and modern together.
Nursery
This nursery keeps things simple and quiet with Polar Bear on the walls.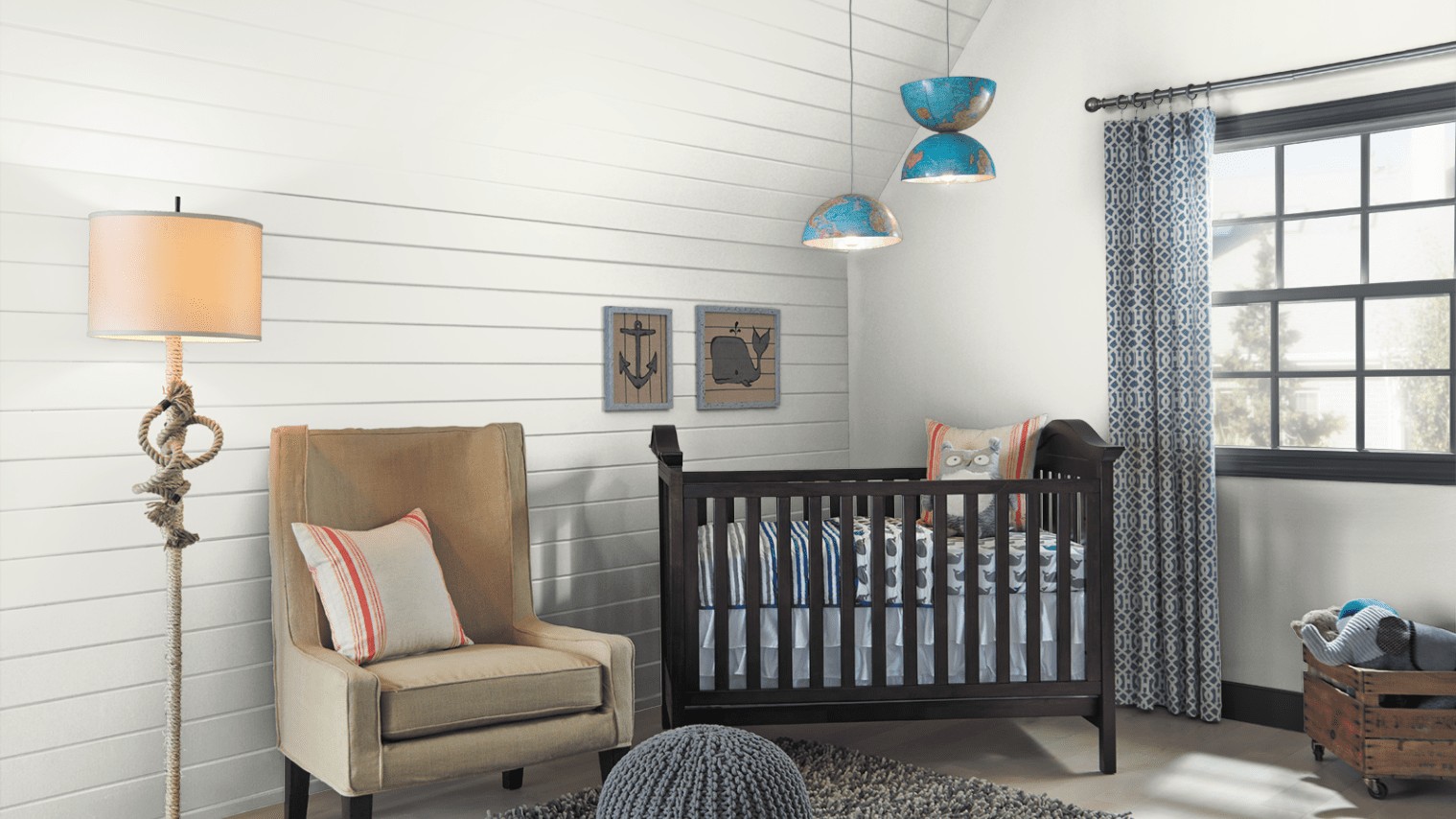 Strong contrasts, like black or navy blue with Polar Bear, drawn an infant's developing eye and are great choices for a nursery.
Bathroom
A muted light blue takes Polar Bear in a cool direction in this bathroom.
Black and white is a classic combo for a reason: it works!
Home Office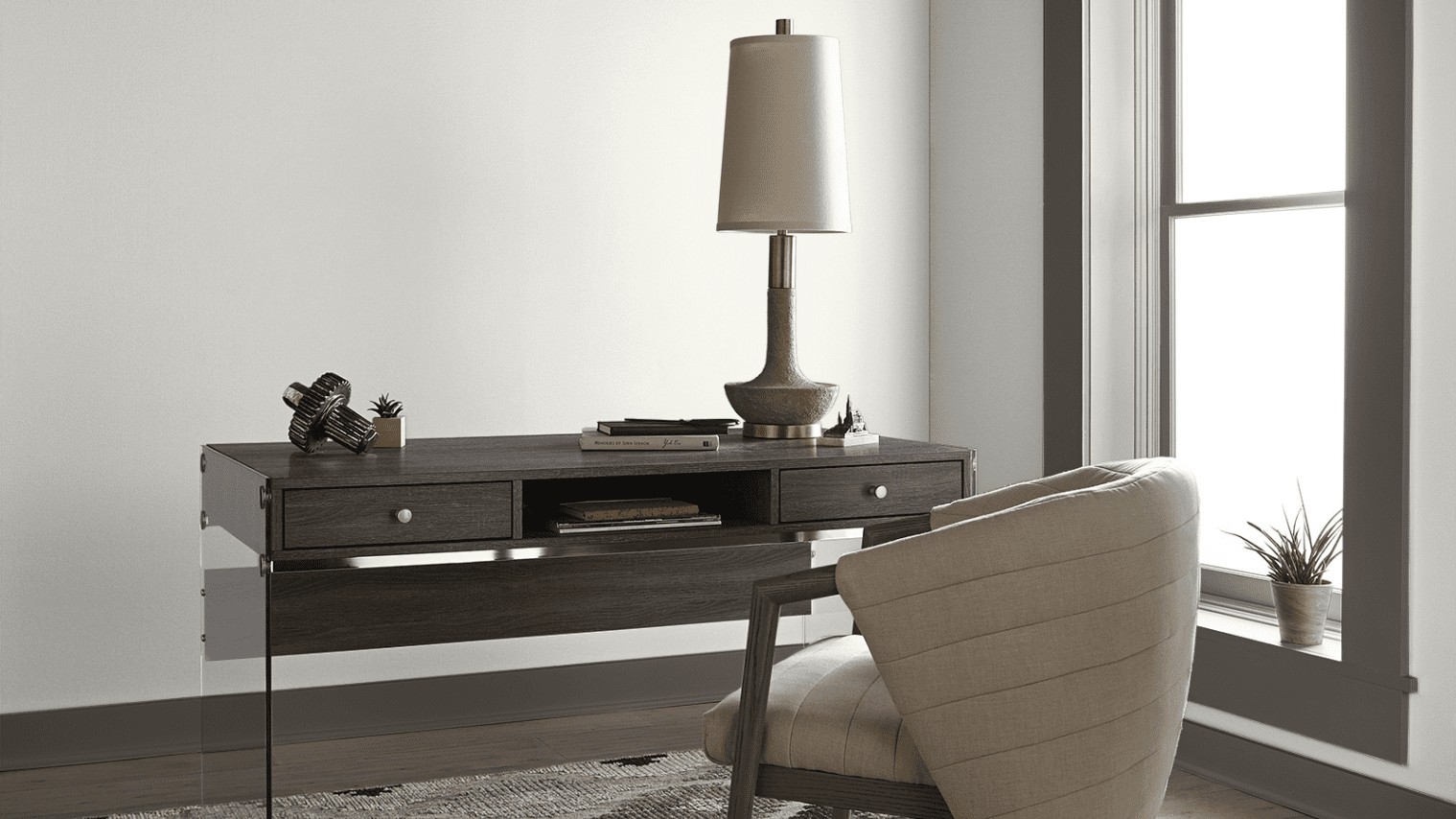 This home office shows how Polar Bear can take on something of the character of the colors around it.
Entryway
Polar Bear is just the right white for this modern farmhouse style entryway.
Exterior
Polar Bear shows off its crisp and bright trim abilities on this home exterior.
Polar Bear Coordinating Colors
Polar Bear is a pure, clean white, so you can absolutely use any and every coordinating color for it that your creative heart desires. Warm, cool, neutral, it doesn't matter–Polar Bear will go with any of them!
If you're going to use Polar Bear as your wall color, or otherwise covering large areas, keep in mind that it does have the ability to reflect back colors that are near it, and plan accordingly.
You can always plan your color palette for Polar Bear around your favorites, which is the fun of using a white paint. But if you're looking for inspiration, here are some coordinating color ideas for Polar Bear:
How Does Polar Bear Compare With Other Colors?
Polar Bear vs Ultra Pure White by Behr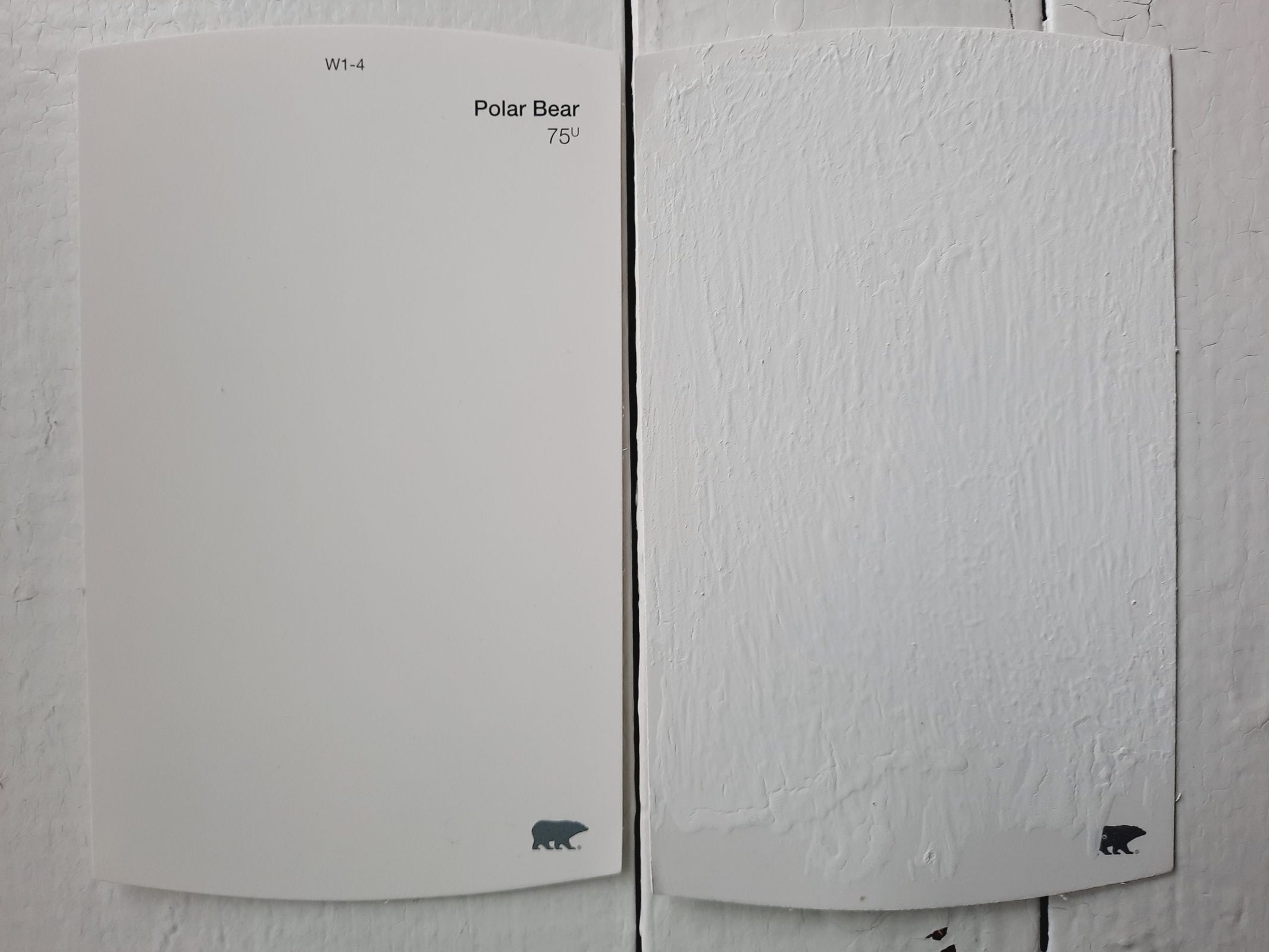 Ultra Pure White is one of the brightest whites out there, with a stratospheric LRV of 94. It's even just a few points brighter than Polar Bear. Other than that, these are both clean whites with no undertones or tints. Polar Bear is a touch warmer, but both read as pure white.
Polar Bear vs Bit of Sugar by Behr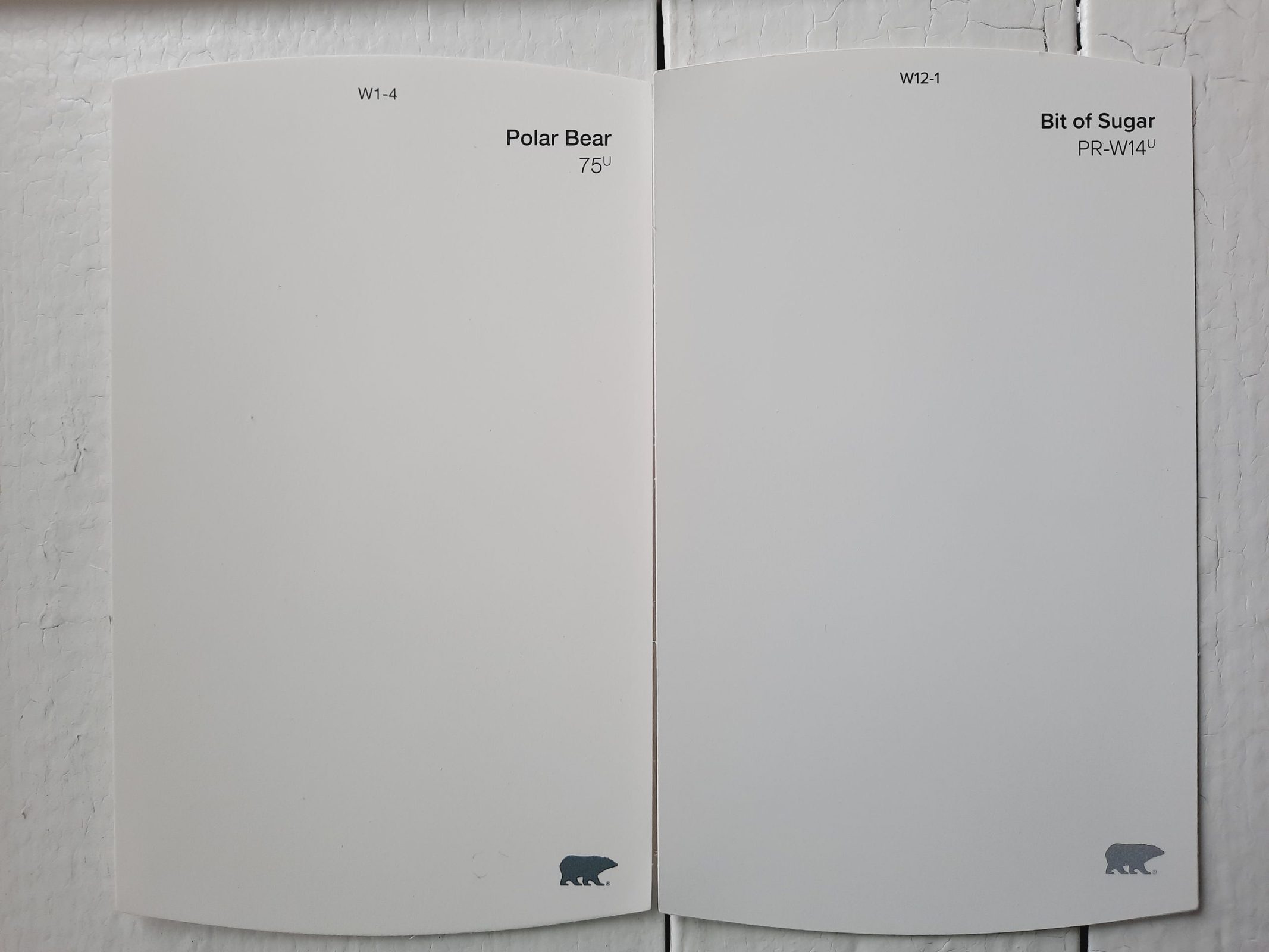 Bit of Sugar is a balanced white that's very comparable to Polar Bear. Its primary difference is that it has a tint of silvery gray. Bit of Sugar has a LRV of 89.
Polar Bear vs Chantilly Lace by Benjamin Moore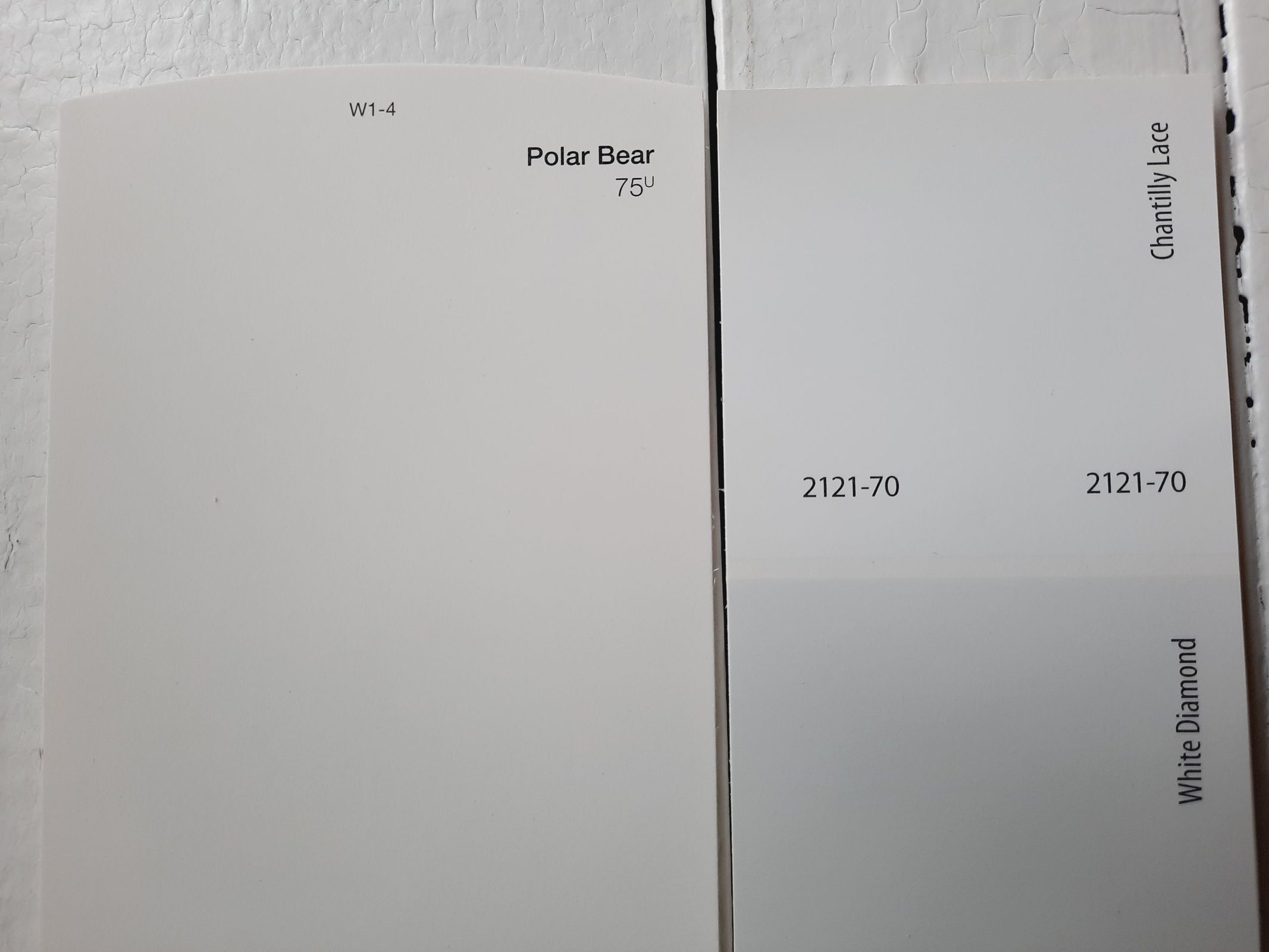 Chantilly Lace takes us back into that white glove test territory, with a squeaky-high LRV of 90.04. It's a pure white with no undertones, but it does read slightly cooler than Polar Bear when they're side-by-side. 
Polar Bear vs Extra White by Sherwin Williams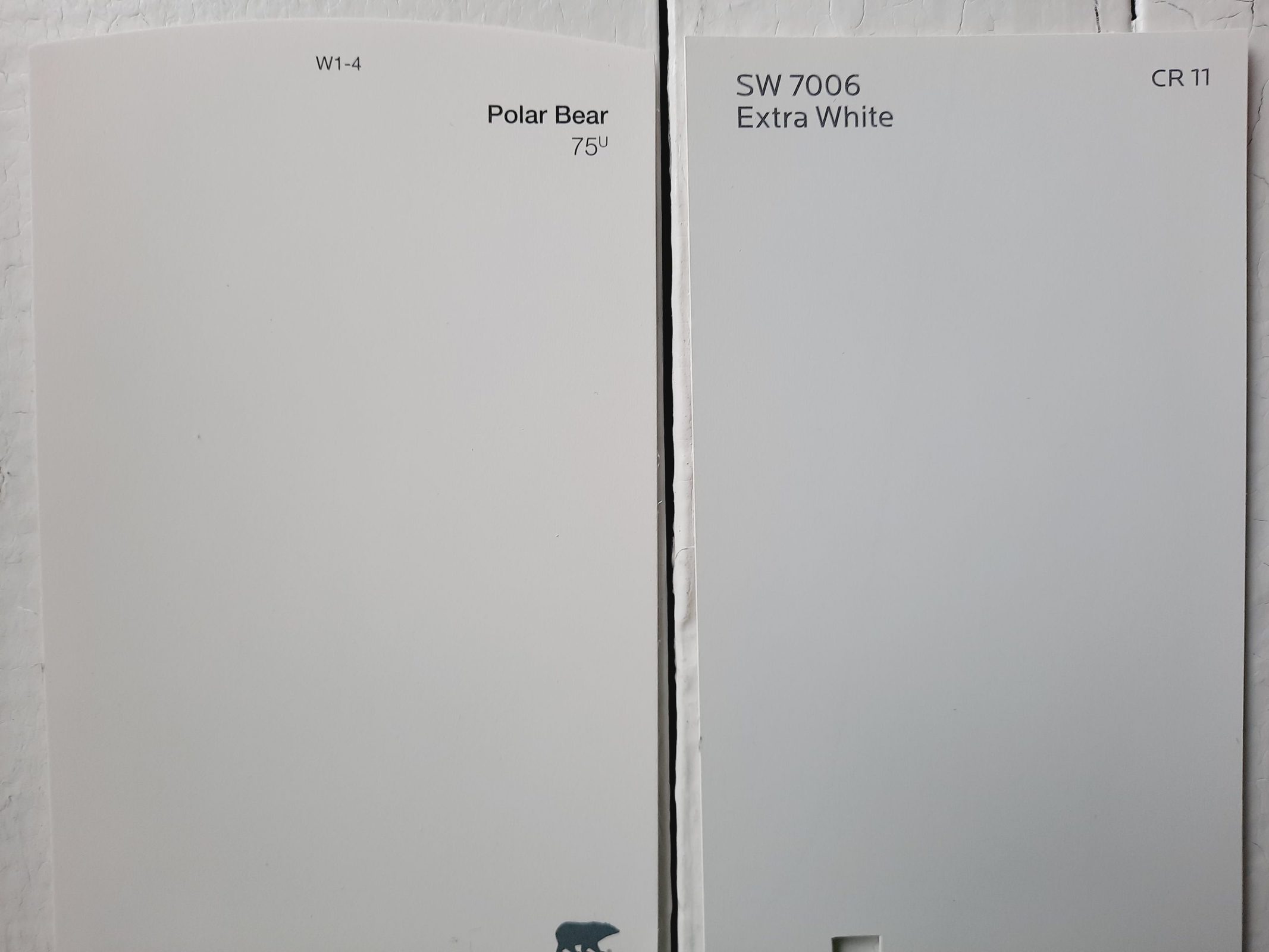 Extra White is a clean white without undertones. It's not as bright as Polar Bear, sitting a few notches down the LRV scale at 86. Otherwise, these are fairly similar whites.
Polar Bear vs Pure White by Sherwin Williams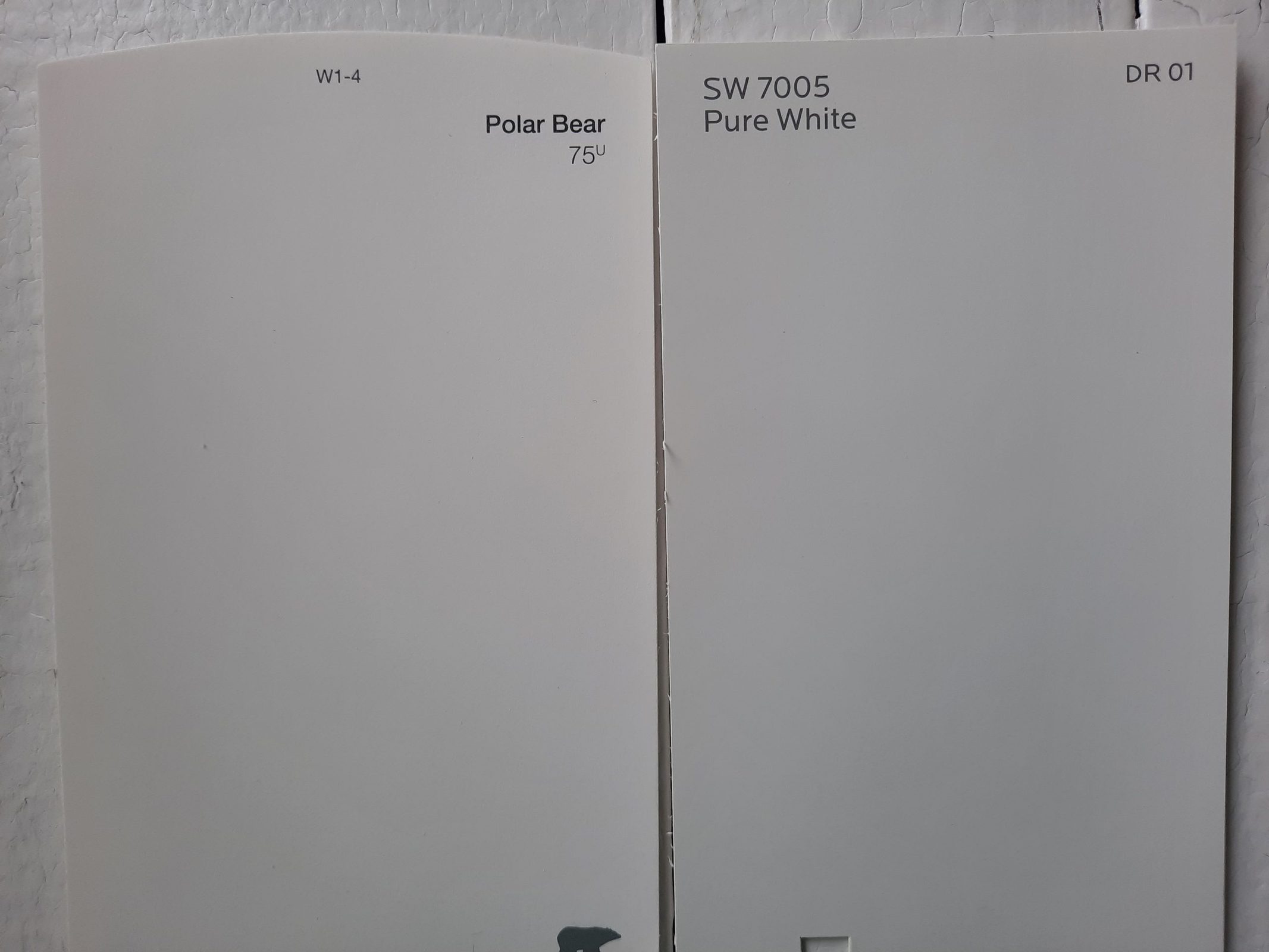 Pure White is a white that just crosses the divide between white and off-white colors. It's still a balanced and clean white, which is what makes for a good comparison with Polar Bear. But it's a softer option. Pure White has a LRV of 84.
Final Thoughts
What does it take to tame a bear? If it's Behr's Polar Bear, then it's a piece of cake: this bear will play nice with any colors or decor styles you have in mind.
Just remember that while this is a balanced white, it can sometimes look a little cool, and large areas of Polar Bear can reflect other colors. You're ready to pair Polar Bear with your favorite colors and have fun with your home refresh!