Decorated Life is reader-supported. When you buy through links on our site, we may earn an affiliate commission. Learn More
Behr Ultra Pure White Paint Color Review
What's the whitest paint color out there? The very brightest one? Is there any paint you can buy that tops out the light reflectance value (LRV) scale at 100? Not exactly, but there is a contender!
In this corner, it's Behr's Ultra Pure White. If this paint isn't the brightest white paint you can buy, then it's definitely close.
It's also the white that's used as the base for mixing most other Behr paint colors.
Let's throw down with Ultra Pure White and find out just how bright a white paint can get!
What Color is Ultra Pure White?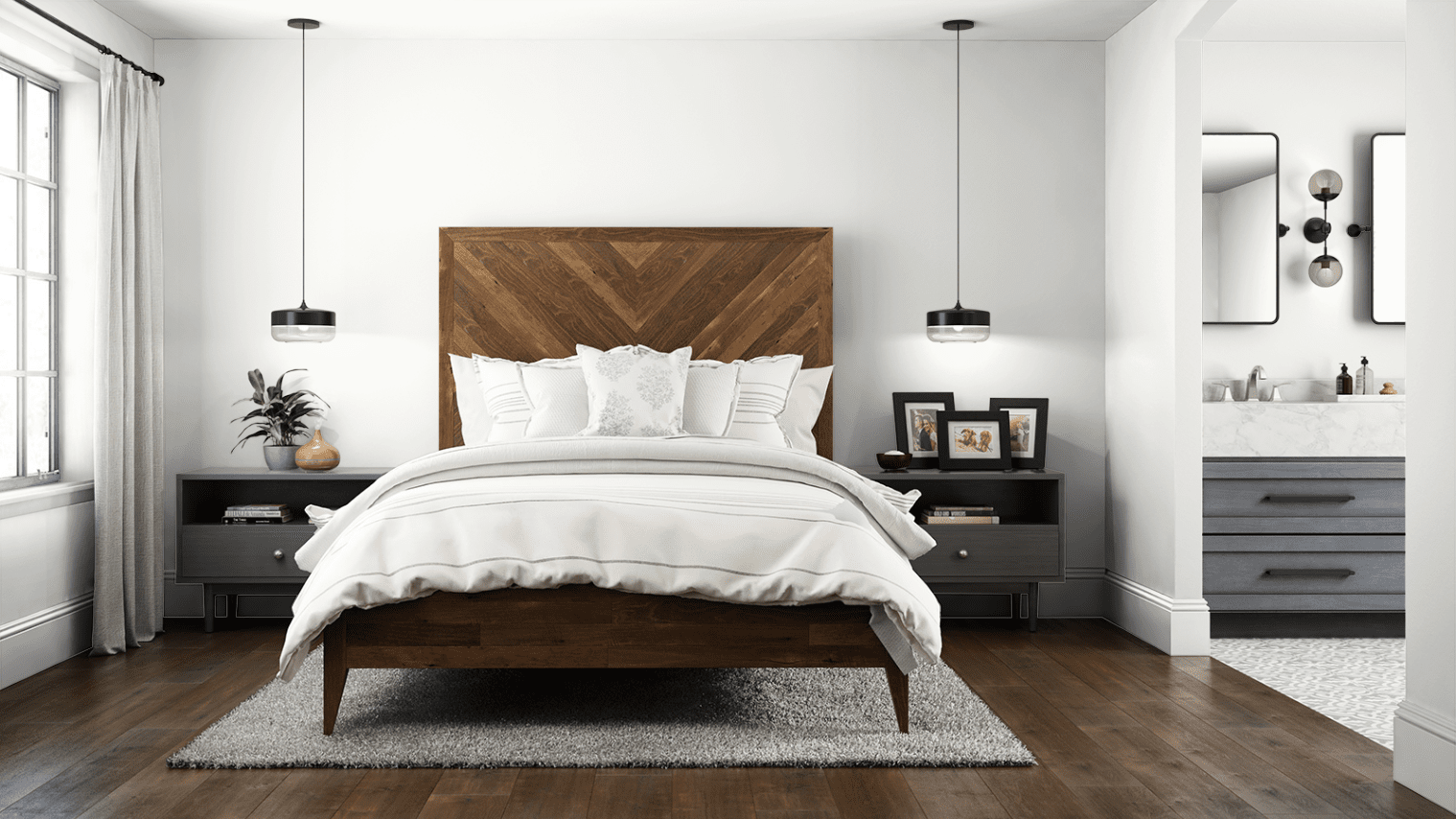 Ultra Pure White is exactly what it says on the label: one of the whitest white paints you'll ever lay eyes on. This is a clean, bright white without any tints or shading. It is intensely white.
Does Ultra Pure White Have Any Undertones?
Ultra Pure White does not have any undertones whatsoever. There are no other colors blended with it.
If you use Ultra Pure White to cover large areas, it can reflect back other colors in the area to you, and that includes both nearby paint or decor colors and light coming in through windows. Keep that in mind as you plan your color placement.
Is Ultra Pure White Warm or Cool?
Ultra Pure White is a neutral white; it is neither warm nor cool. It's a well-balanced white, with red/green/blue (RGB) values that are very close to each other. That means that it doesn't lean towards any one of those colors within its mix.
LRV of 94
Ultra Pure White has a light reflectance value (LRV) of 94. LRV is a scale designed to measure how bright a color is. It runs from 0, which is absolute black, to 100, which is sheer white. The higher the number is, the brighter the color.
Ultra Pure White's LRV of 94 is astoundingly high! There are few white paints that even come close to it.
Where Can You Use Ultra Pure White?
Ultra Pure White can be used anywhere in the home. Just keep in mind that if you're going to use it as a wall color, or over large areas, that it can reflect nearby colors.
If you find Ultra Pure White too stark, consider breaking it up with areas of color, like board and batten or focal walls. You can also use Ultra Pure White as an accent or trim color.
Let's take a look at Ultra Pure White in action to see how this intense white lives up to its reputation!
Living Room
Ultra Pure White sings with the golden wood tones in the flooring and decor in this living room.
White and gold is a classic and sophisticated combination.
Kitchen
Ultra Pure White is a favorite cabinet color, especially in farmhouse styles.
A greige wall softens the look of Ultra Pure White for a harmonious kitchen partnership.
Dining Room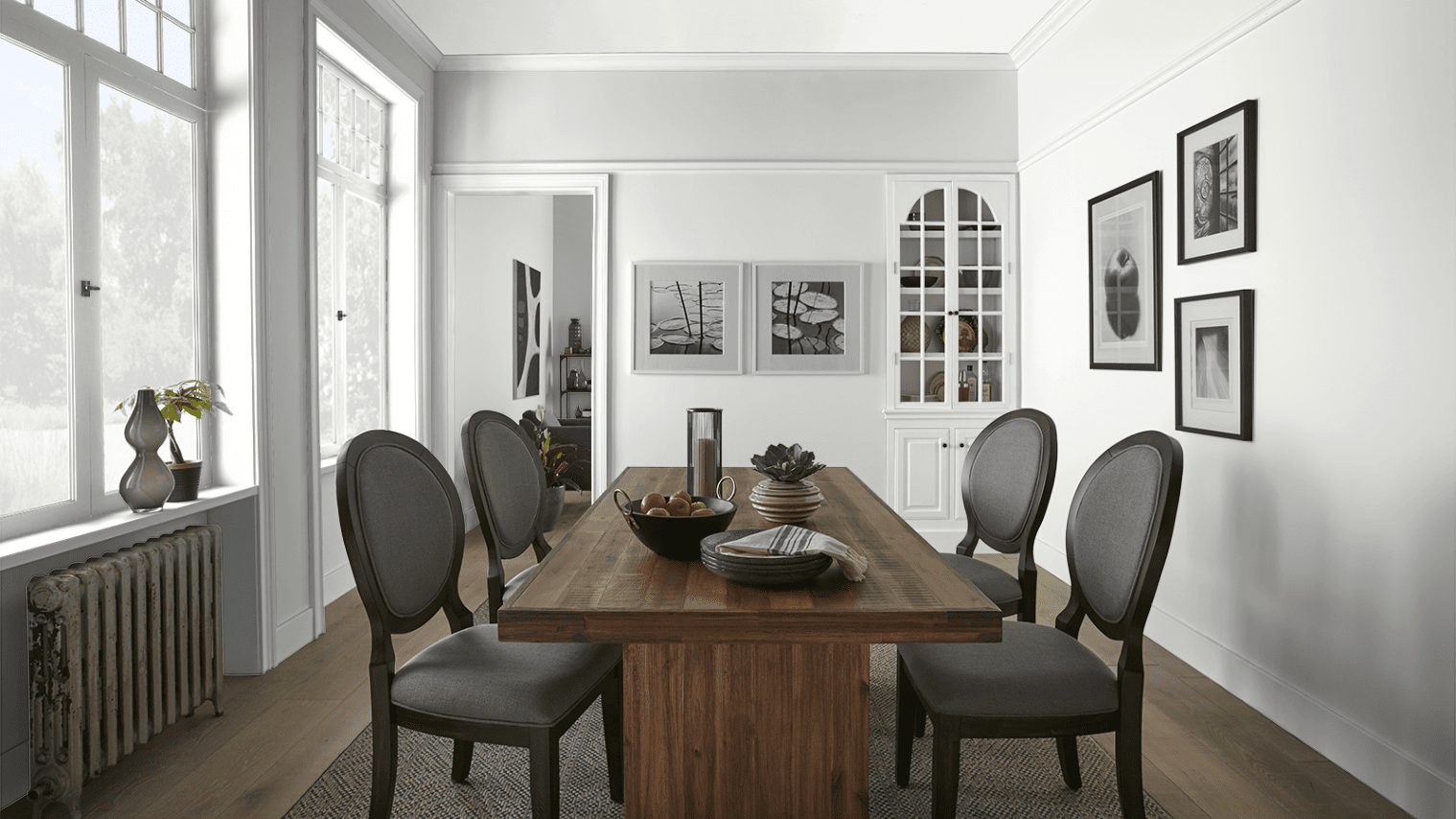 Ultra Pure White brings an elegant feel to this dining room.
Bedroom
An all-white bedroom can be calming and distraction-free.
Pale grays can give a minimalist or even coastal direction to Ultra Pure White.
Nursery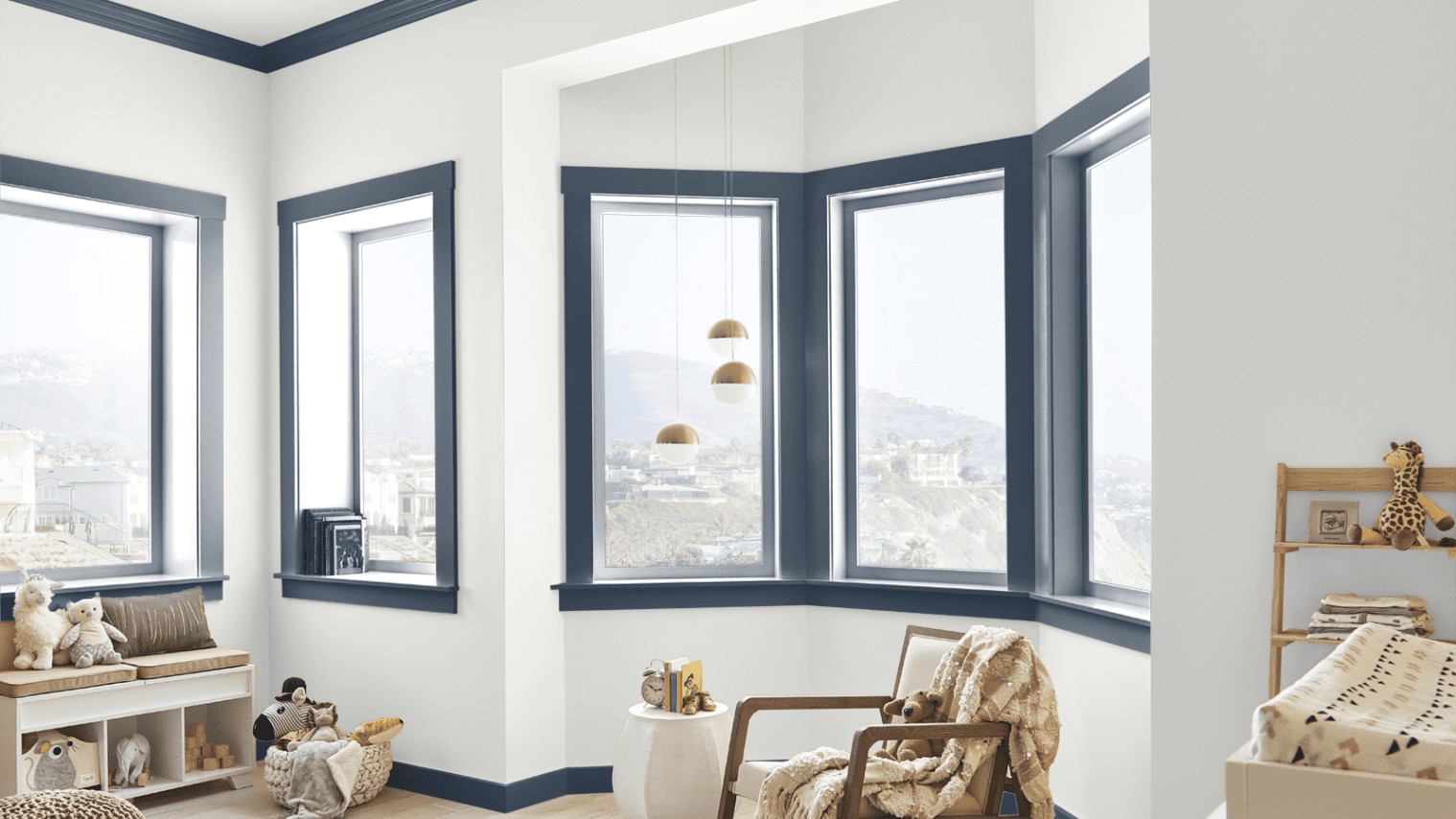 It's common to see white as an accent for navy blue, but what about navy blue as an accent for Ultra Pure White?
Bathroom
Black and white is a classic combination that always feels modern and sophisticated.
Starless Night is the perfect backdrop to set off Ultra Pure White in this bathroom.
Ultra Pure White is a great fit for tropical-inspired coastal decor thanks to its brightness.
Office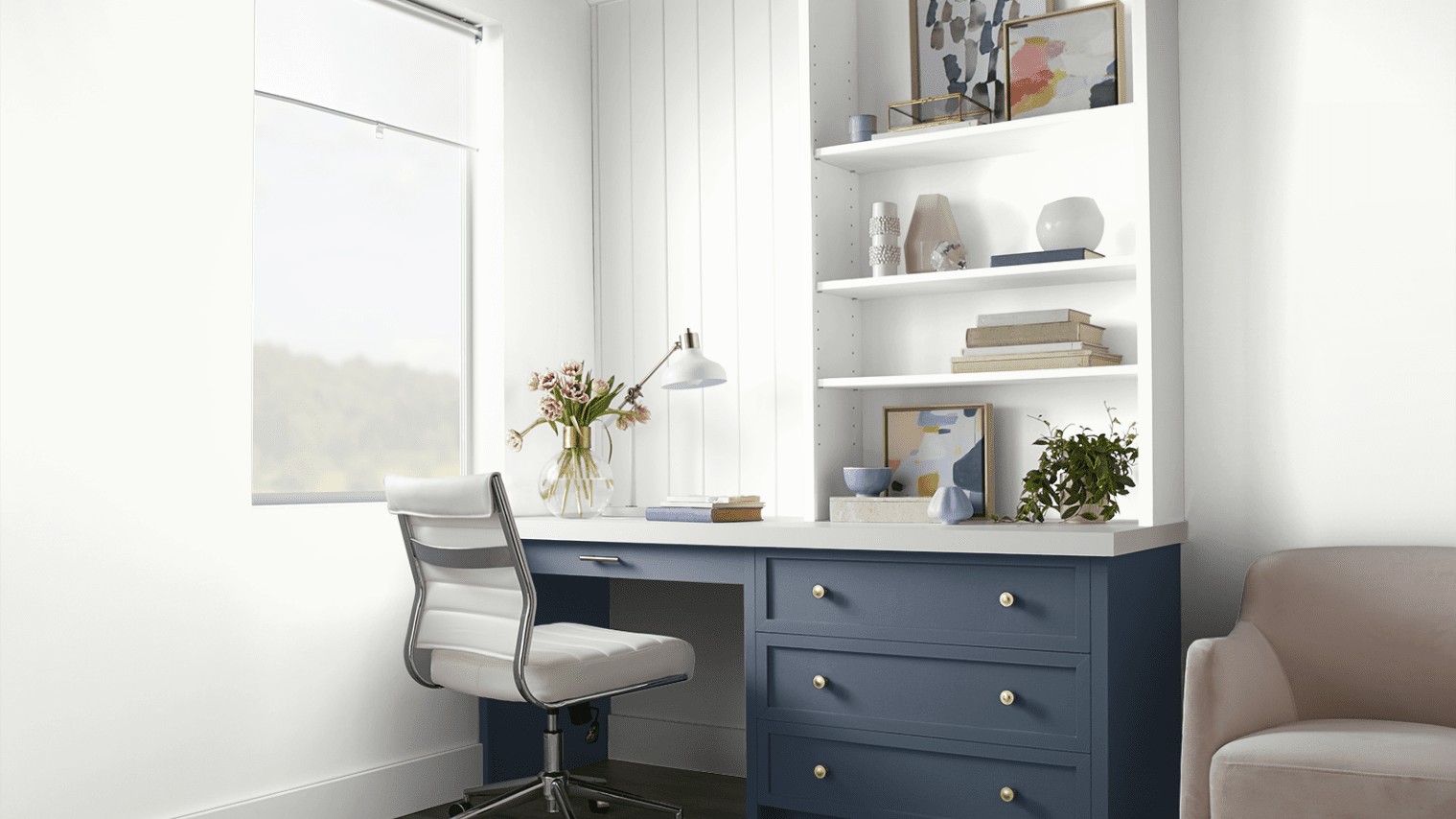 Ultra Pure White ties this office together with understated elegance.
Mudroom and Entryway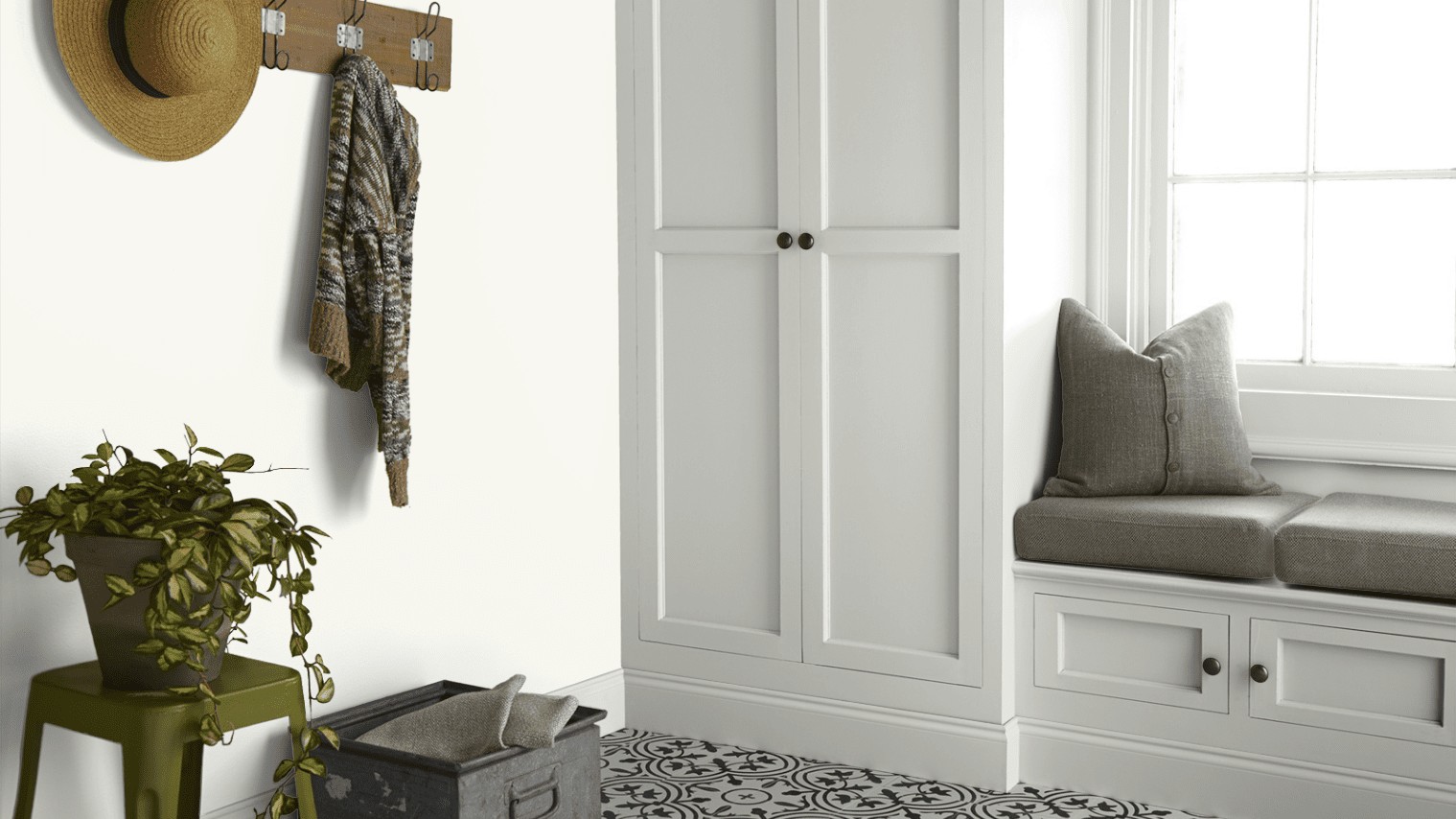 Ultra Pure White can brighten up popular neutrals like grays and greiges to make them more crisp, like in this mudroom.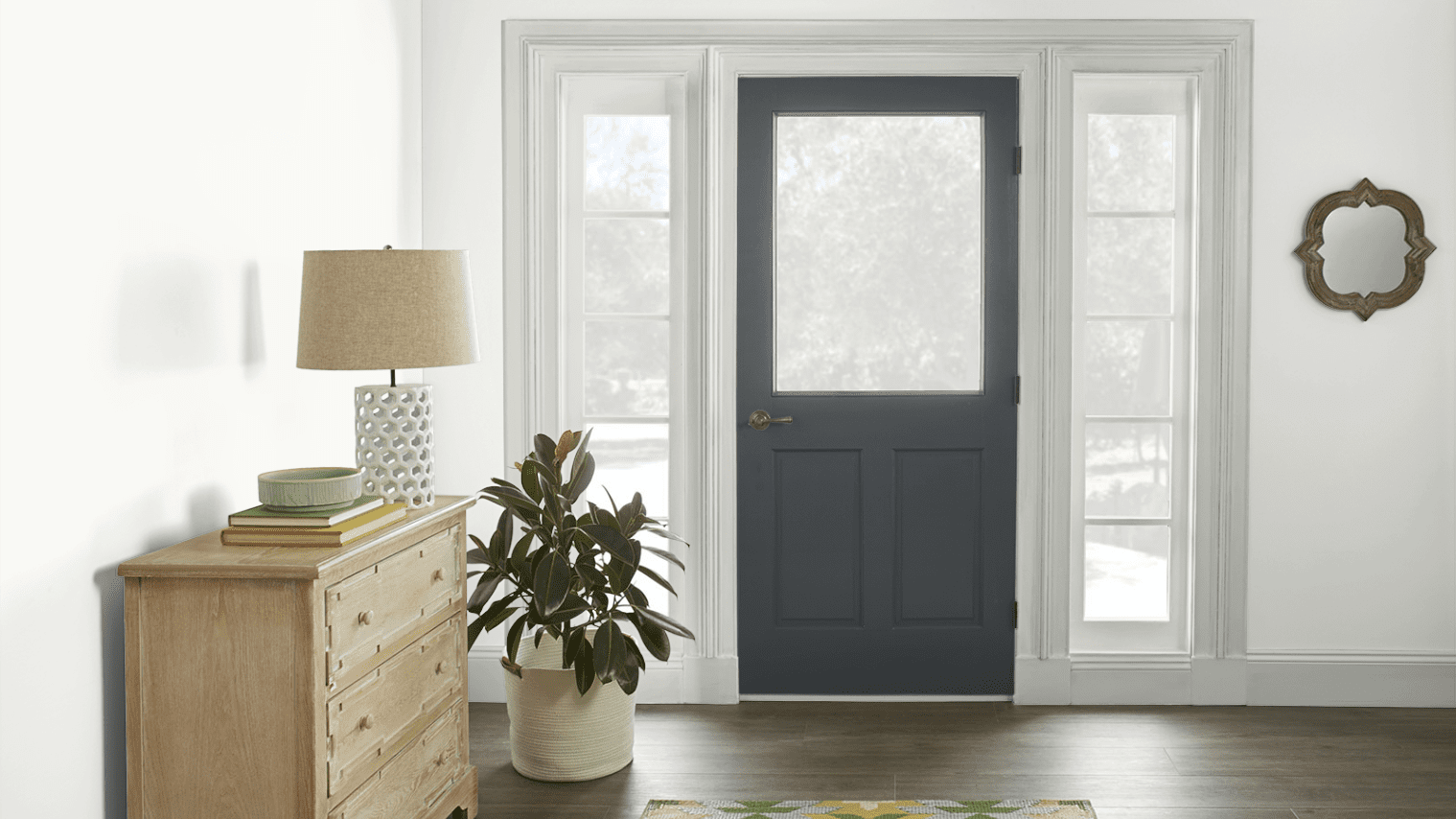 For an alternate look, a greige trim in this entryway allows a more gentle transition between the door and the Ultra Pure White wall.
Coordinating Colors for Ultra Pure White
Since Ultra Pure White has literally no undertones, tints, or shading whatsoever, you can pair absolutely any colors with it that you can dream up! This is the time to pull out your favorite paint chips and grab those colors that really make your heart sing, because there are no limits.
Just remember, large areas of Ultra Pure White are going to reflect colors that are next to it, so check your samples and lighting situation carefully before committing. Otherwise, enjoy!
In case you'd like some inspiration to help you get started, here are some coordinating color ideas for Ultra Pure White:
How Does Ultra Pure White Compare to Other Colors?
Ultra Pure White vs Polar Bear by Behr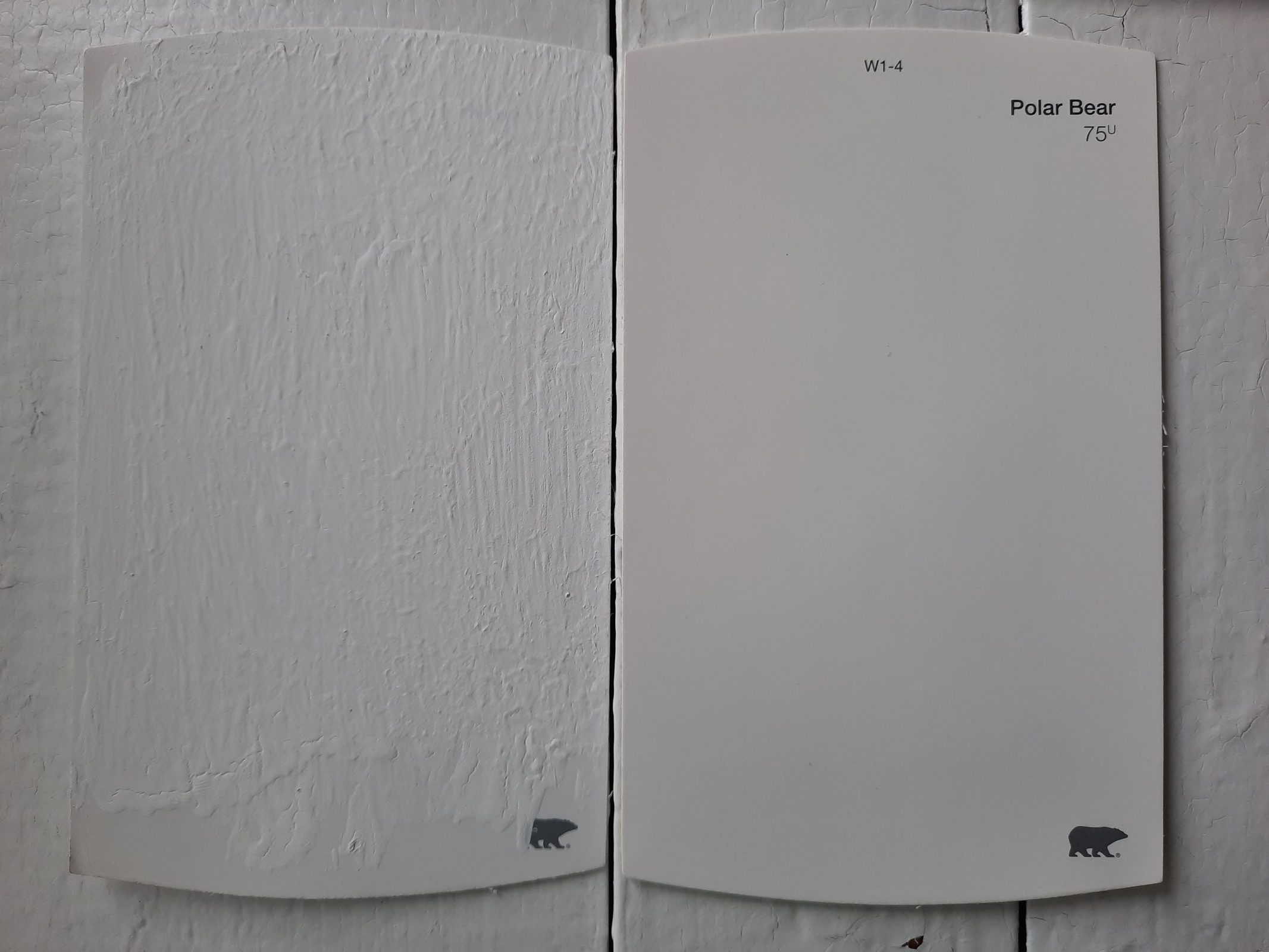 Polar Bear, like Ultra Pure White, is a clean, balanced white without undertones. It's not quite as bright, but it's close–it sits at 90 on the LRV scale.
Ultra Pure White vs Bit of Sugar by Behr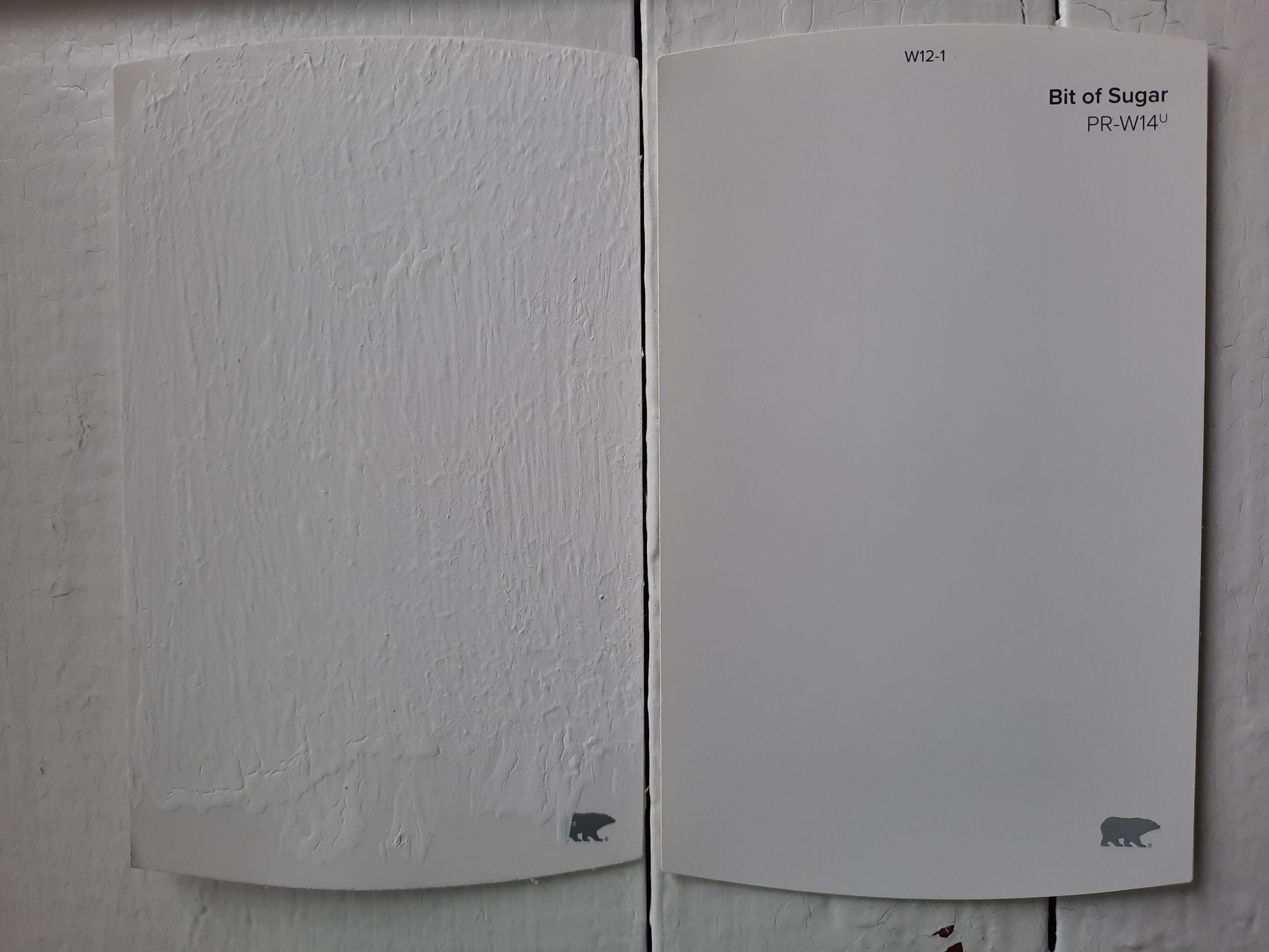 Bit of Sugar is a balanced white that's similar to Ultra Pure White. But it's a few notches lower on the LRV scale, at 89. Bit of Sugar also has a slight silvery gray tint.
Ultra Pure White vs Pure White by Sherwin Williams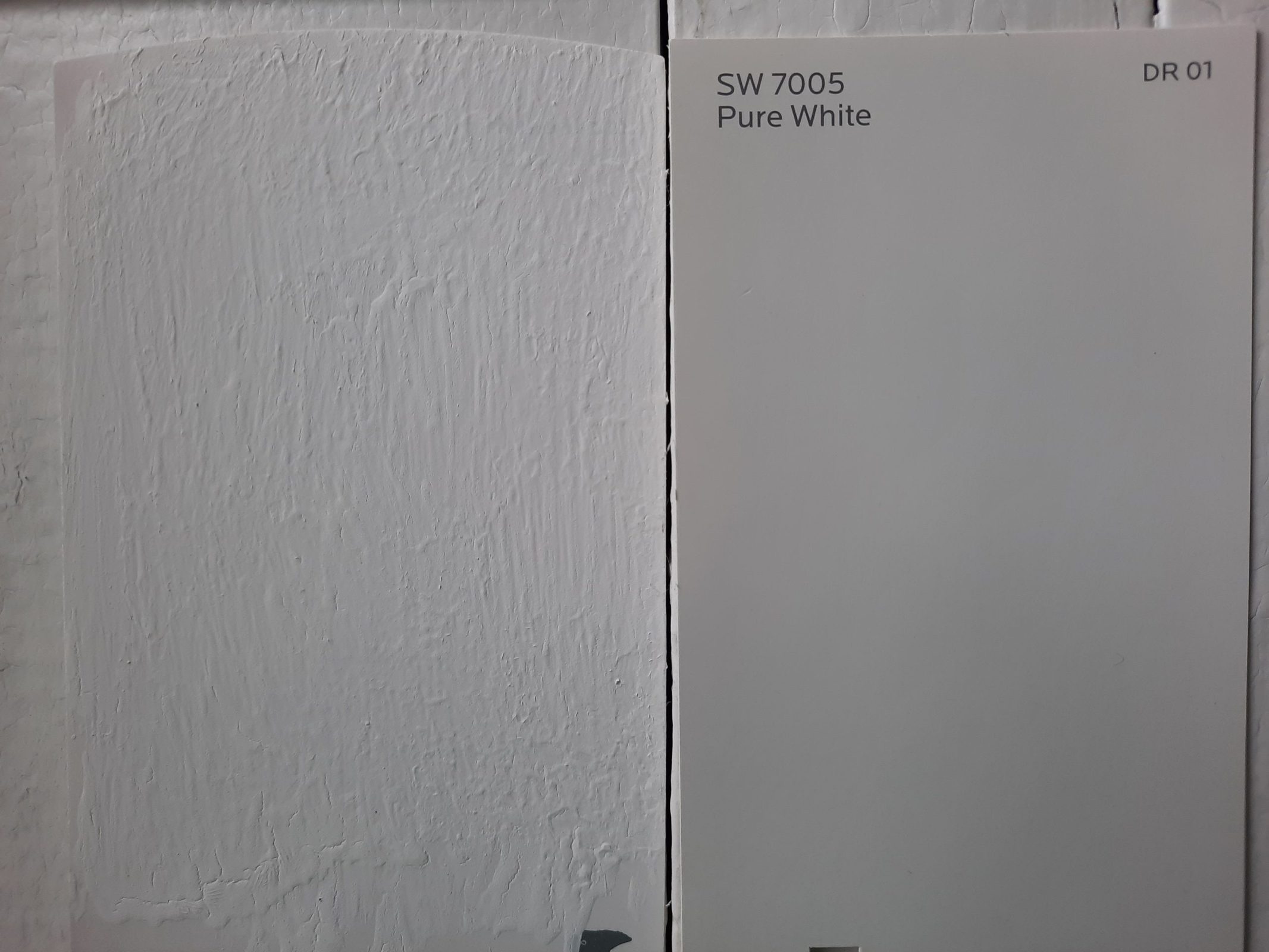 Pure White is a white that just crosses the divide between white and off-white colors. It's still a balanced and clean white, as with Ultra Pure White. But it's a softer option. Pure White has a LRV of 84.
Ultra Pure White vs Chantilly Lace by Benjamin Moore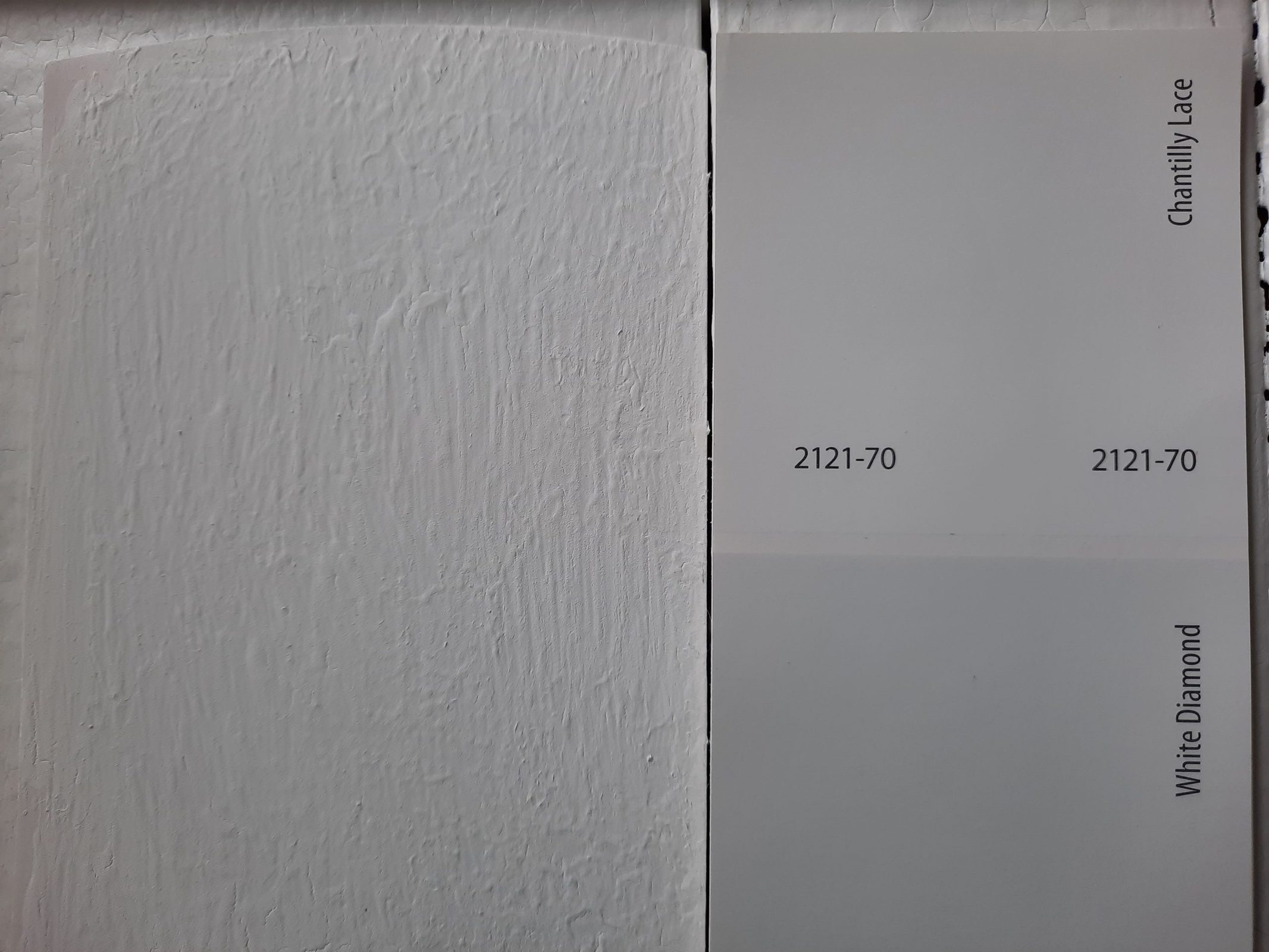 Chantilly Lace is fairly comparable to Ultra Pure White or to Polar Bear. It's a true white without undertones, although it does look slightly cooler than Ultra Pure White. Chantilly Lace has a LRV of 90.04.
Final Thoughts
Ultra Pure White just might be the ultimate white paint: the brightest, the whitest, the cleanest and crispest. With no undertones, tints, or shades, you can go wild when it comes to color companions and style choices. If you've absolutely got to have the most intense white paint available in a can, then get yourself some of Behr's Ultra Pure White.