Decorated Life is reader-supported. When you buy through links on our site, we may earn an affiliate commission. Learn More
Best Benjamin Moore Exterior Paint Colors
Nothing makes a house look new again quite like a fresh coat of paint. But what colors do you paint it? After all, the wrong choice might be worse than not updating the paint at all!
Don't worry! In this article, I'm going to sort out the best Benjamin Moore exterior paint colors for you. What do I mean by best? Popular colors, including the latest trends and the timeless favorites. Neutrals with broad appeal, as well as some more daring and exciting options. Above all, colors that are specially chosen to look fantastic on a home exterior–maybe even better than they would as interior paints!
After we take a look at the best exterior colors in action, I'll share some tips for choosing the exterior color that's best for your home in particular so that you can't go wrong. Let's get started!
Revere Pewter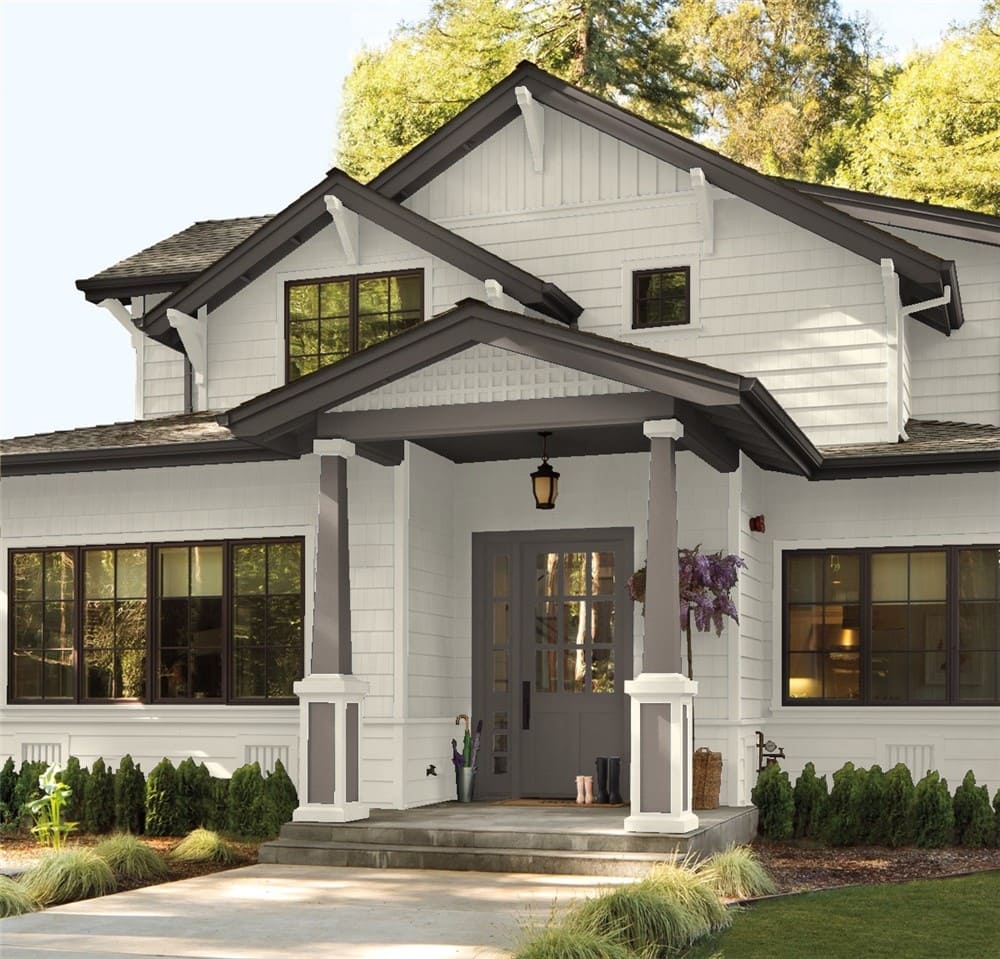 Neutrals lead the pack when it comes to favorite exterior colors, and you really can't talk about Benjamin Moore neutrals without bringing up their most popular greige color: Revere Pewter.
This king of the greiges brings that warm/cool balance that greige is so famous for, and is easy to coordinate with any palette. Its LRV of 55.51 easily withstands bright sunlight. 
Revere Pewter Belongs Everywhere
Hale Navy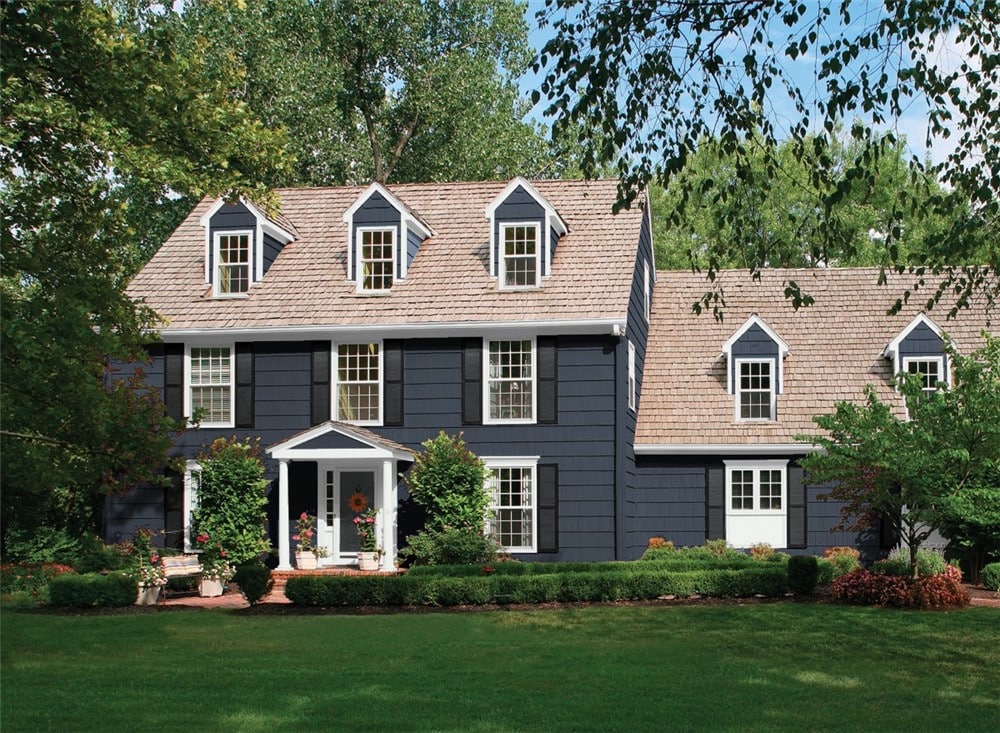 If Revere Pewter is king of the greiges, Hale Navy rules the blues. This is a traditional navy with slate gray notes that take it down to a nearly-black LRV of 6.3.
Navy and white is a crowd-pleasing combination you'll see often, but grays and black are also great contrasts for Hale Navy.
Hale Navy is the Most Popular Blue
White Dove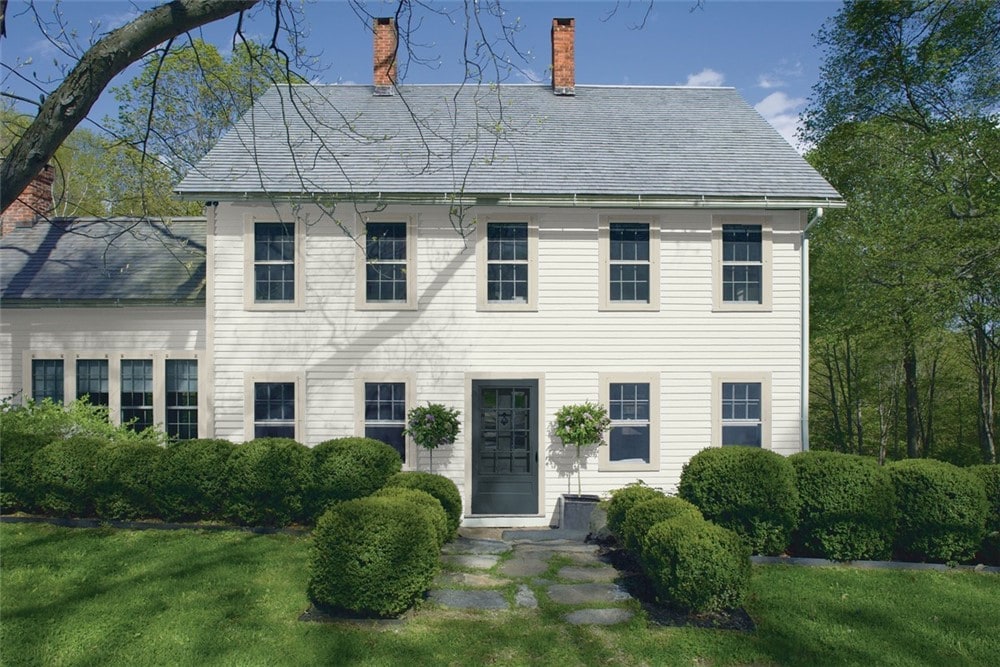 White Dove's gentle glow is prized as a wall color for interiors, but outside it really shines when it's paired up with a darker exterior color, so that both colors pop. White Dove is a white paint with a touch of magic to it that makes it glow without looking yellow.
It's Benjamin Moore's most popular white, and is the first place you should look for an all-over white or a white trim. White Dove has a LRV of 85.38.
White Dove is Perfect for Accents and Trim
Kendall Charcoal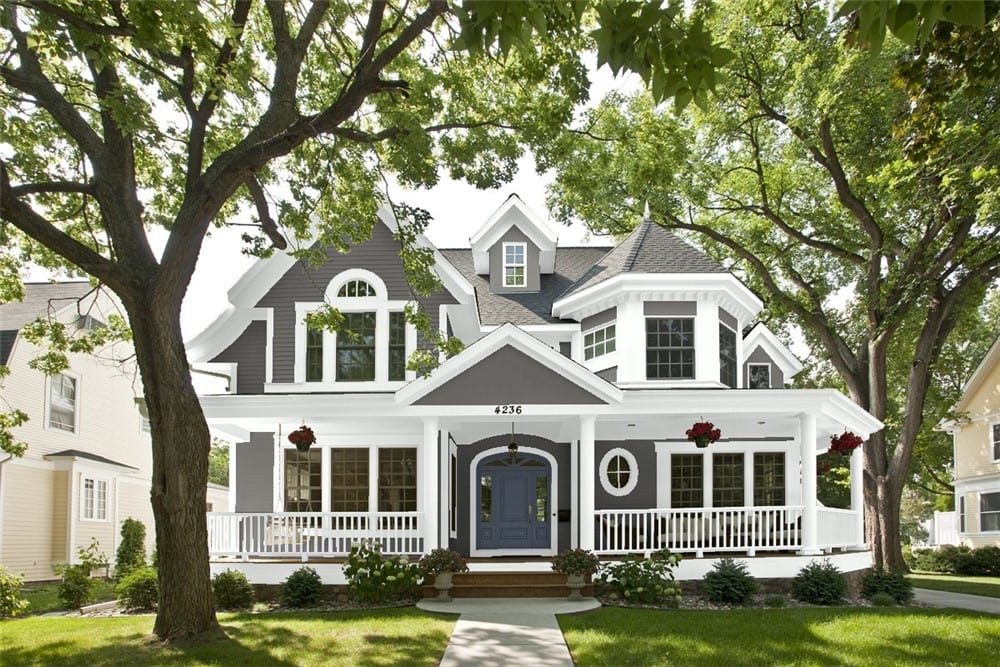 Kendall Charcoal is a warm charcoal gray that has a chameleon-like ability to look very traditional and very contemporary.
Its ability to complement the natural beauty of stone should not be overlooked. Don't think whites and grays are your only coordinating color options; blues and greens can be exciting partners for Kendall Charcoal too. Its LRV is a moody 12.96.
Kendall Charcoal Partners Beautifully with Stone
Balboa Mist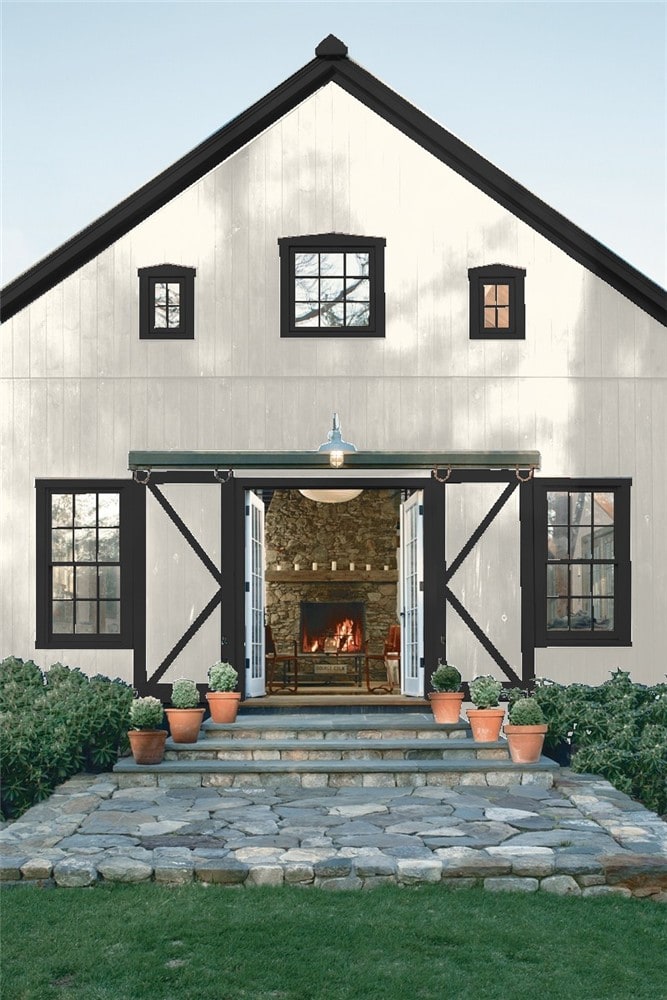 Balboa Mist is another wildly popular greige color from Benjamin Moore, but it's one with a light touch. Under the abundant sunlight outdoors, it will come across as a white or off-white more than a greige.
A scroll through Instagram will show you that Balboa Mist is a popular choice for painting brick. This soft greige has a LRV of 67.37.
Balboa Mist Transforms Brick Exteriors
Jack Pine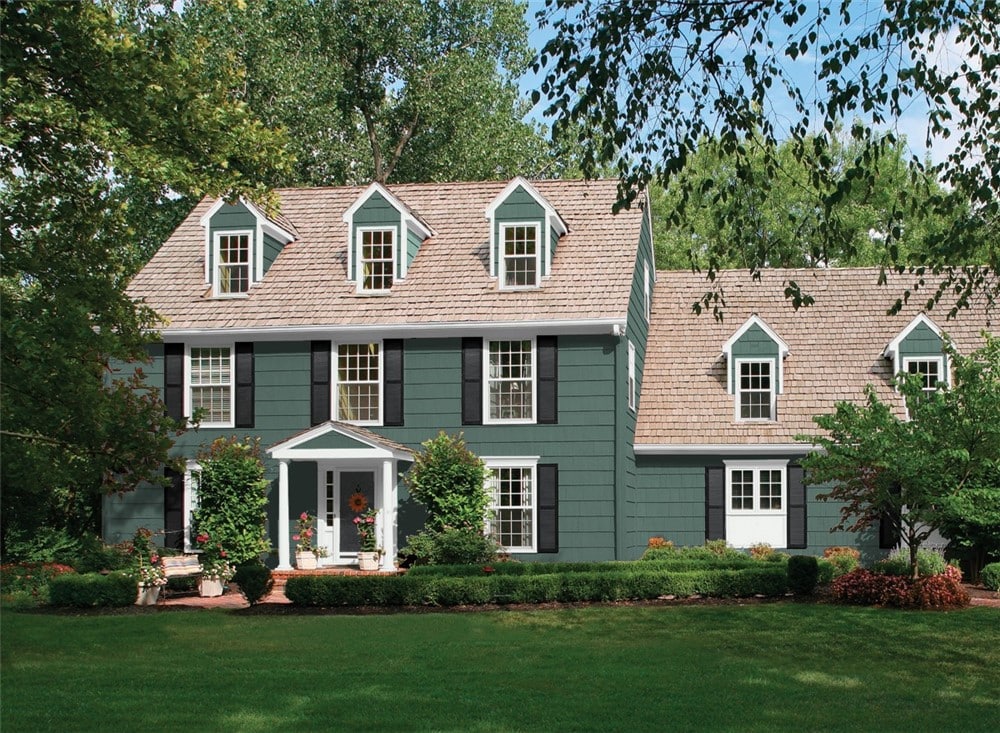 Jack Pine is a vibrant forest green that looks luscious and inviting with earthy colors or other neutrals. Whites or creams could take it in a more refined direction.
Jack Pine is a trend-setting front door color that will definitely add curb appeal. It has a LRV of 14.75.
Jack Pine is an Eye-Catching Front Door Color
October Mist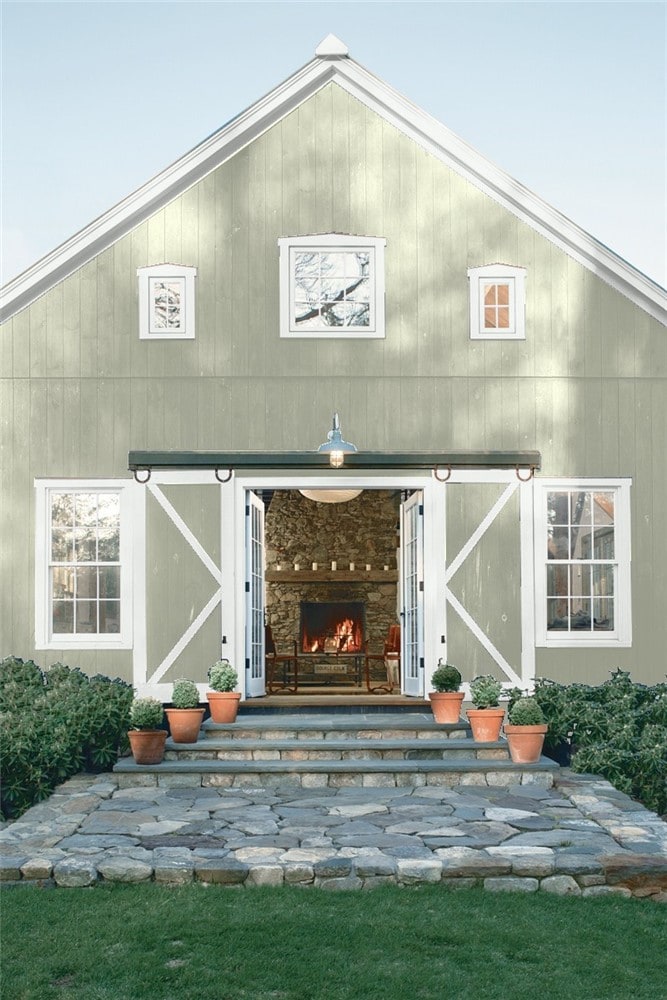 October Mist is a dreamy gray-sage that harmonizes with nature. This is Benjamin Moore's 2022 Color of the Year, and it responds to our collective desire to connect more deeply with the world outside our homes.
What better way to start than by having a home that looks like it belongs on the land it's situated in? October Mist has a LRV of 46.33.
October Mist Blends in with the Landscape
Salamander
Salamander is a dramatic dark forest green with a LRV of 3.66–that's darker than some black paints! A color this dark really has its opportunity to shine on an exterior, where there's tons of sunlight for it to take advantage of.
Salamander is another one of those interesting colors that can look both traditional and contemporary because of the intense statement it makes. 
Salamander is a Decadent Choice for Victorian Homes
Aegean Teal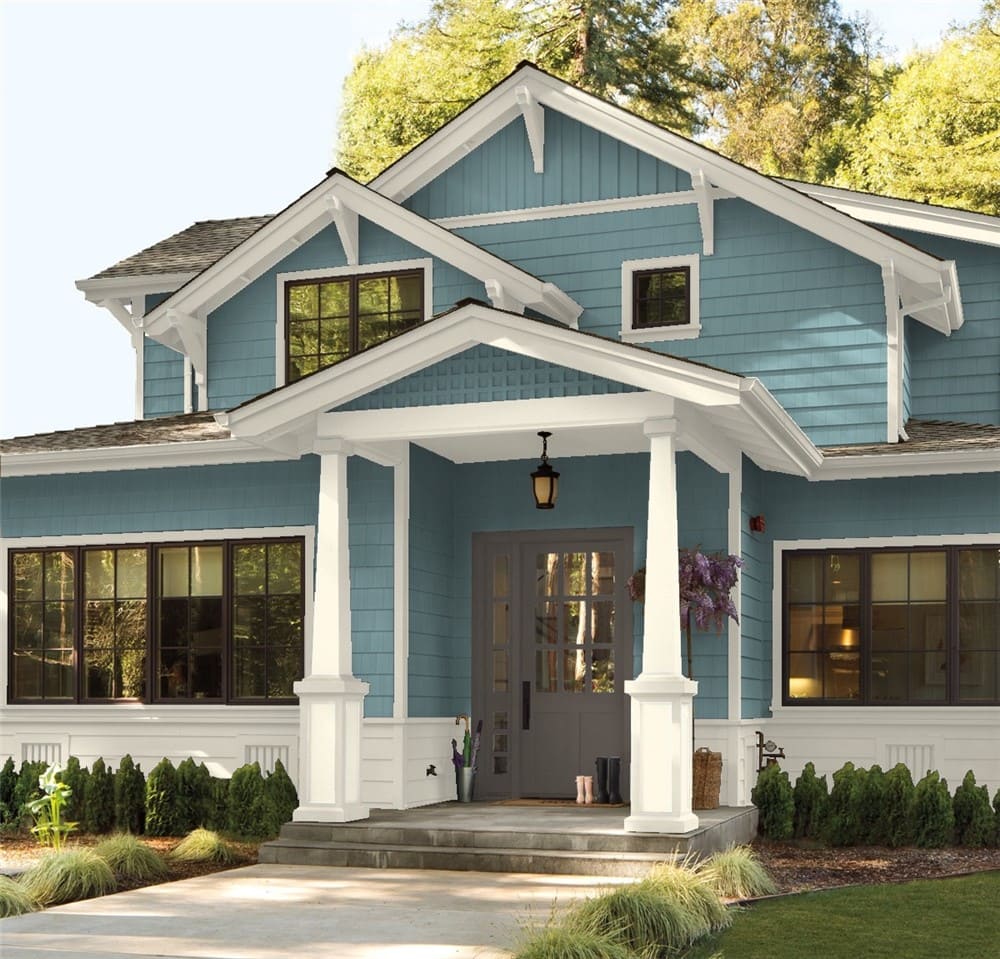 Aegean Teal is a subdued, natural-looking teal that's blended with gray to give it that nice mid-tone. This is a color that can handle an interesting range of coordinating colors while giving your home a pop of personality.
It was Benjamin Moore's 2021 Color of the Year and is still quite popular. Teal colors in particular are trending for front doors. Aegean Teal has a LRV of 23.96.
Aegean Teal Partners with Many Colors
Old Pickup Blue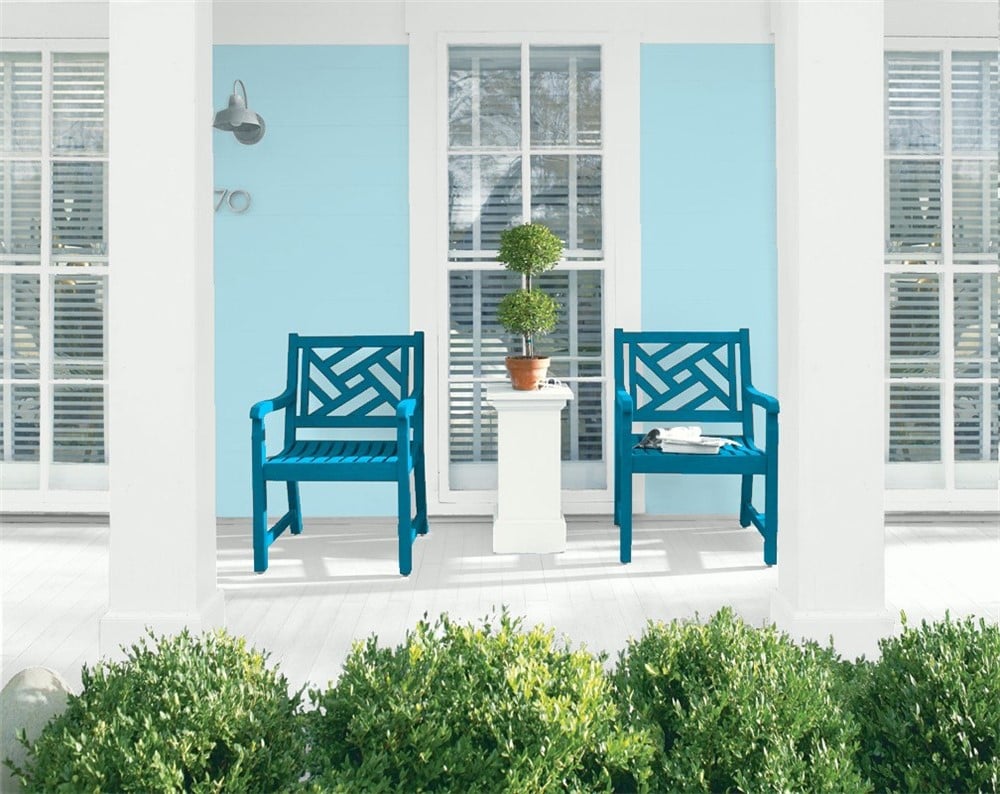 Old Pickup Blue is a light and energetic blue that conveys a vintage feel. It's perfect for styles that evoke days-gone-by, but also light enough to be incorporated into a more subdued palette as a highlight. Old Pickup Blue has a LRV of 65.87.
Old Pickup Blue is Nostalgic Fun
First Light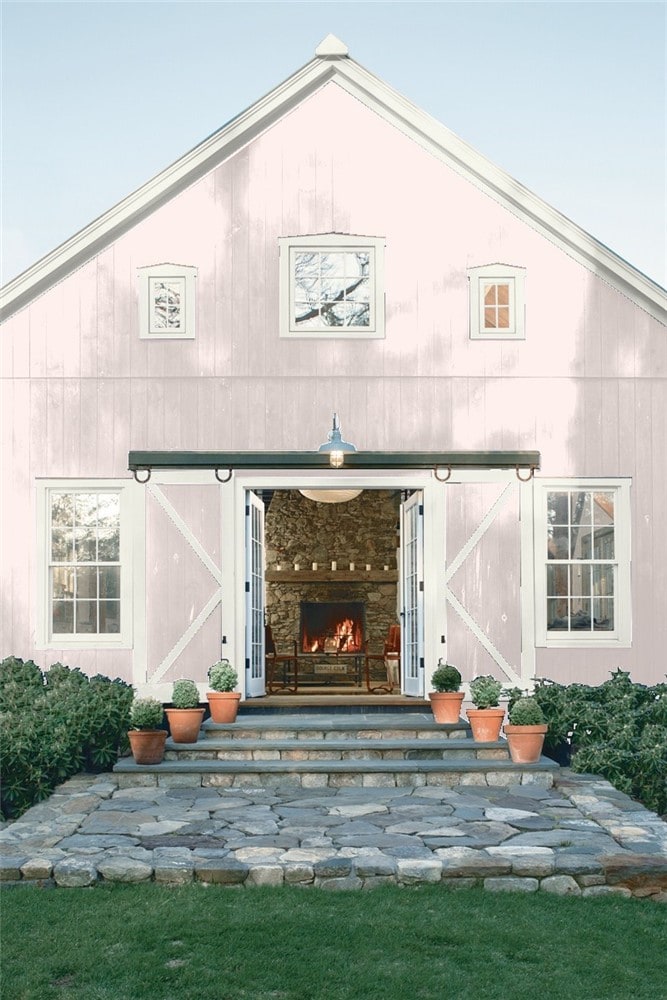 If you're intrigued by Millennial Pink but don't want to dive headfirst into the trend, First Light offers a gentle pink that's a fun alternative to your average neutral.
If you do like the idea, this is a light enough pink to try it out without regrets. Grays look amazing with pinks and can coordinate with this color if you don't want to make it your all-over choice. First Light has a LRV of 77.46.
First Light is Surprisingly Trendy
Palladian Blue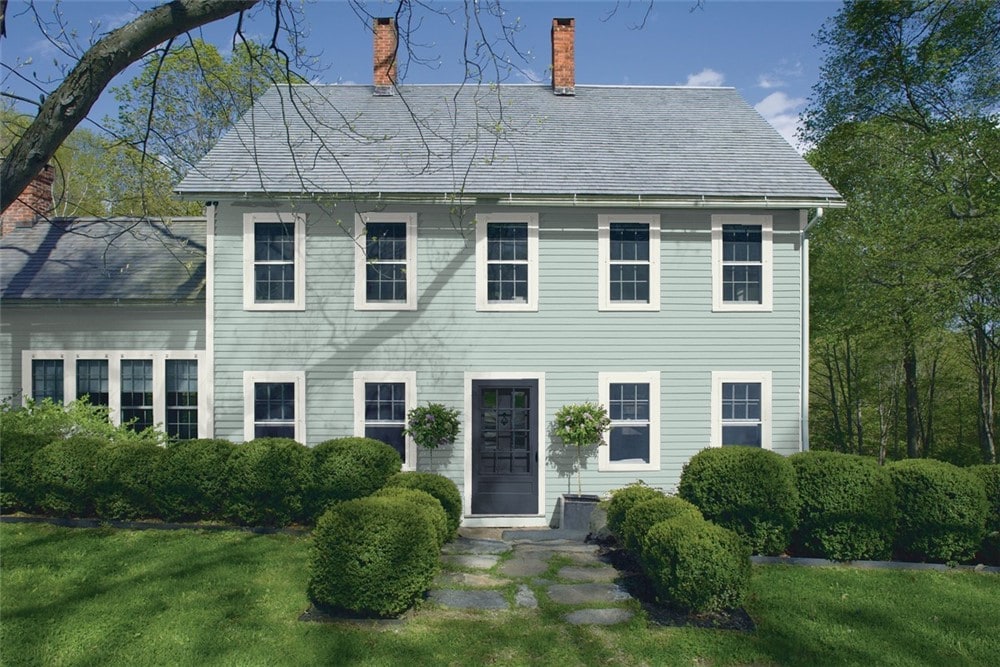 Palladian Blue is such a popular choice for exteriors that it was really hard to choose just one Instagram picture to show you! This blue does it all, from Dutch Colonial Revival to contemporary San Francisco condo to classic Victorian to beach bungalow.
This appealing aqua works equally well as a primary exterior color, or for accents and trim. Its LRV is 61.17.
Palladian Blue is a Style Chameleon
Nimbus Gray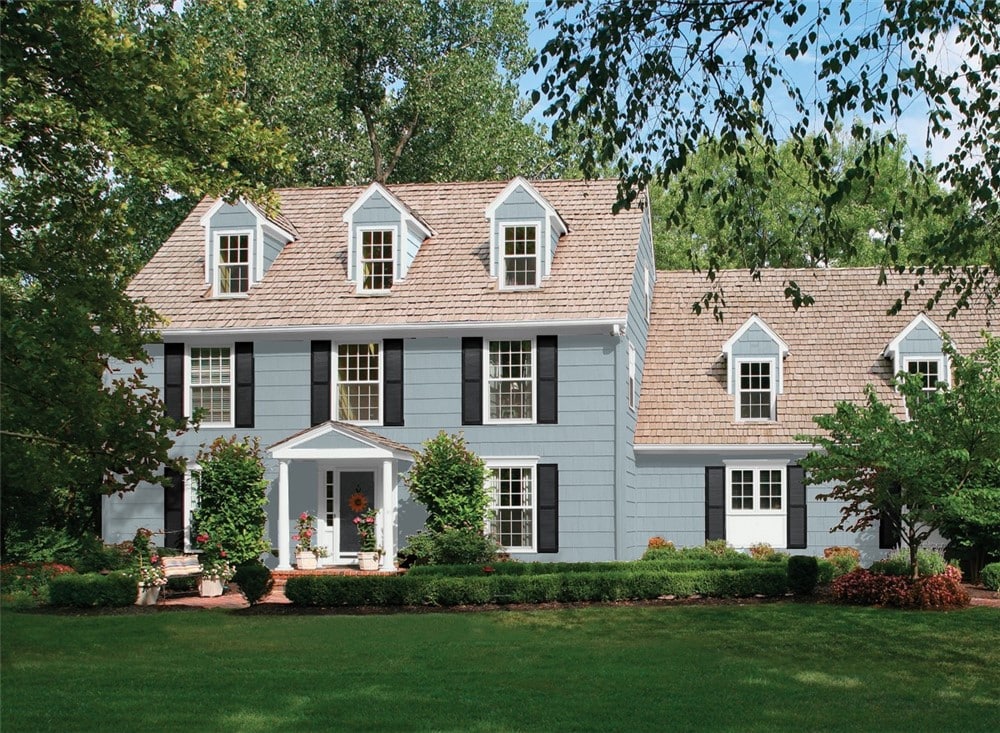 Nimbus Gray is a crowd-pleasing cool gray with blue undertones. Its color shifts under bright light bring to mind the opalescent flash of moonstone.
If you're looking for a neutral that acts more like a color, this is a good place to start. Nimbus Gray has a LRV of 41.95.
Nimbus Gray is a Neutral with Personality
Stonington Gray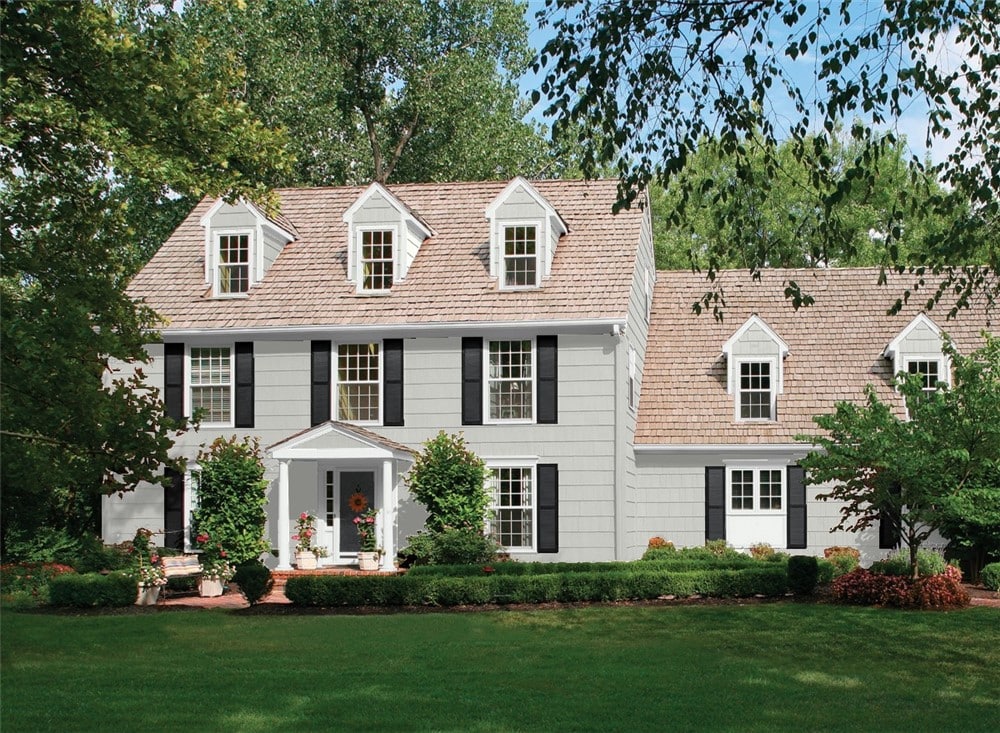 Stonington Gray is a classic, cool, mid-tone gray that reads nice and light on exteriors. This fan favorite gray is a great option to go with if you're trying to coordinate with a lot of pre-existing elements on your home like shingles, stone, or brick. Stonington Gray has a LRV of 59.75.
Stonington Gray is a Timeless Classic
Tips for Choosing an Exterior Paint Color
There are a few important factors to consider when you're choosing your home's exterior paint colors. First and foremost, some of your home's colors are there before you begin. The colors of your roof, and any stone, brick, or wood that is to remain unpainted all count. After all, you don't want your house to clash with itself!
Next, it's important to know that all that sunlight bathing your house is going to make any color look both lighter and cooler than it already is. Paint colors that are perfect for your living room can vanish into thin air on an exterior. Pick a color that can stand up to all that sun!
Before making any final commitment to a color scheme, be sure to sample. A one inch paint chip won't get the job done! Paint a large enough area that you can stand back and get a good impression of the color under changing lighting conditions throughout the day.
Don't forget to sample the color next to any permanent elements like that brick, stone, and wood we were talking about–it's the only way to be sure those colors all play nicely together.
Final Thoughts
Now you're ready to pick the exterior color that's just right for your home refresh. Keep in mind, the experts recommend a repaint every 5-10 years, depending upon your home's materials. That's also a great timeframe to keep your home on-trend and enhance your curb appeal. There's nothing like a bright, fresh exterior to give a house that well-maintained look. Happy painting!