Decorated Life is reader-supported. When you buy through links on our site, we may earn an affiliate commission. Learn More
15 Blue And Grey Living Room Ideas
When deciding a color scheme for your living room, there are hundreds to choose from that may catch your eye. Picking the perfect look for your living space is crucial to the interior design of your home, and may seem like a somewhat daunting task!
Don't stress this too much, we've got you covered with the perfect living room approach that is both simplistic, versatile, and relaxing for one of the most used areas of your home. Today, let's look at a blue and grey color scheme for your living room!
Grey And Navy Blue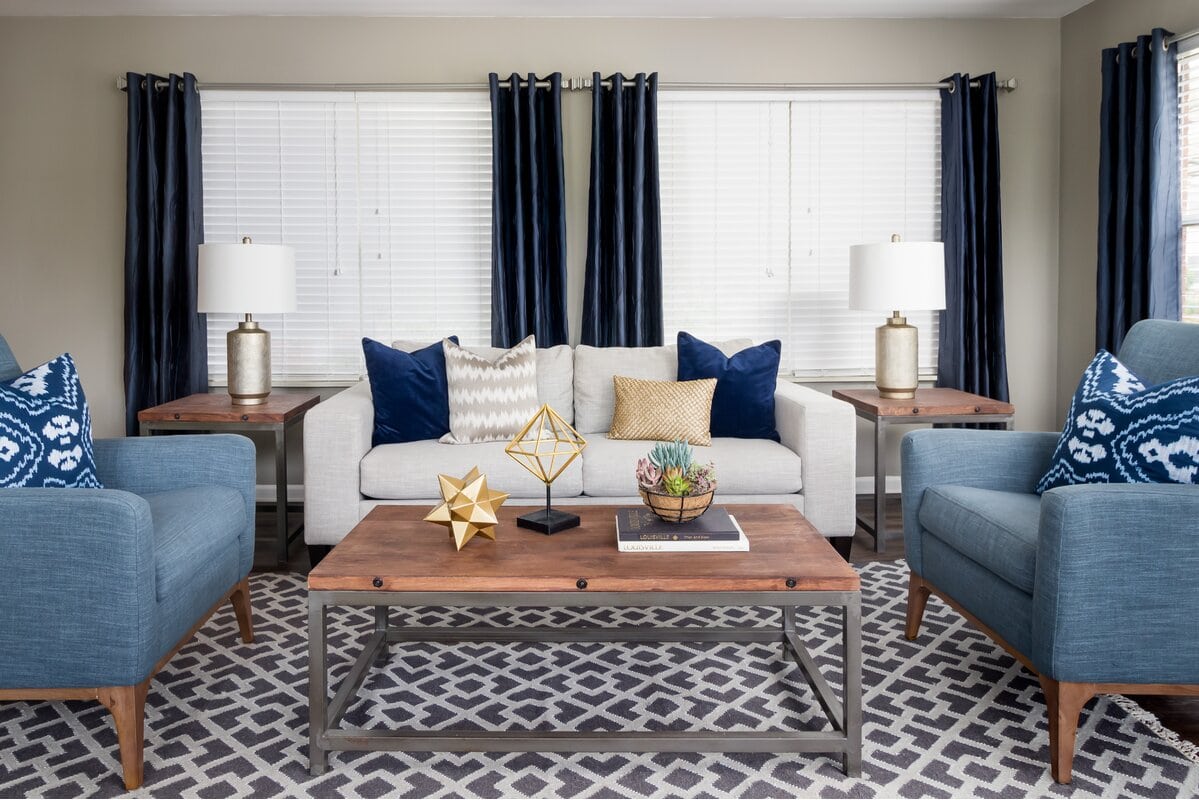 For anyone who loves a nautical theme or simply enjoys a bolder shade of blue, navy blue and grey is the obvious choice for your living room! These colors compliment each other flawlessly. From curtains to rugs, navy accents will give your living room a modern touch.
Another bonus that comes with the navy and grey color scheme is the ability to add other shades of blue without clashing. Navy blues against lighter blue shades looks beautiful, and the grey is the perfect neutral to emphasize the colors!
Grey With Light Blue Accents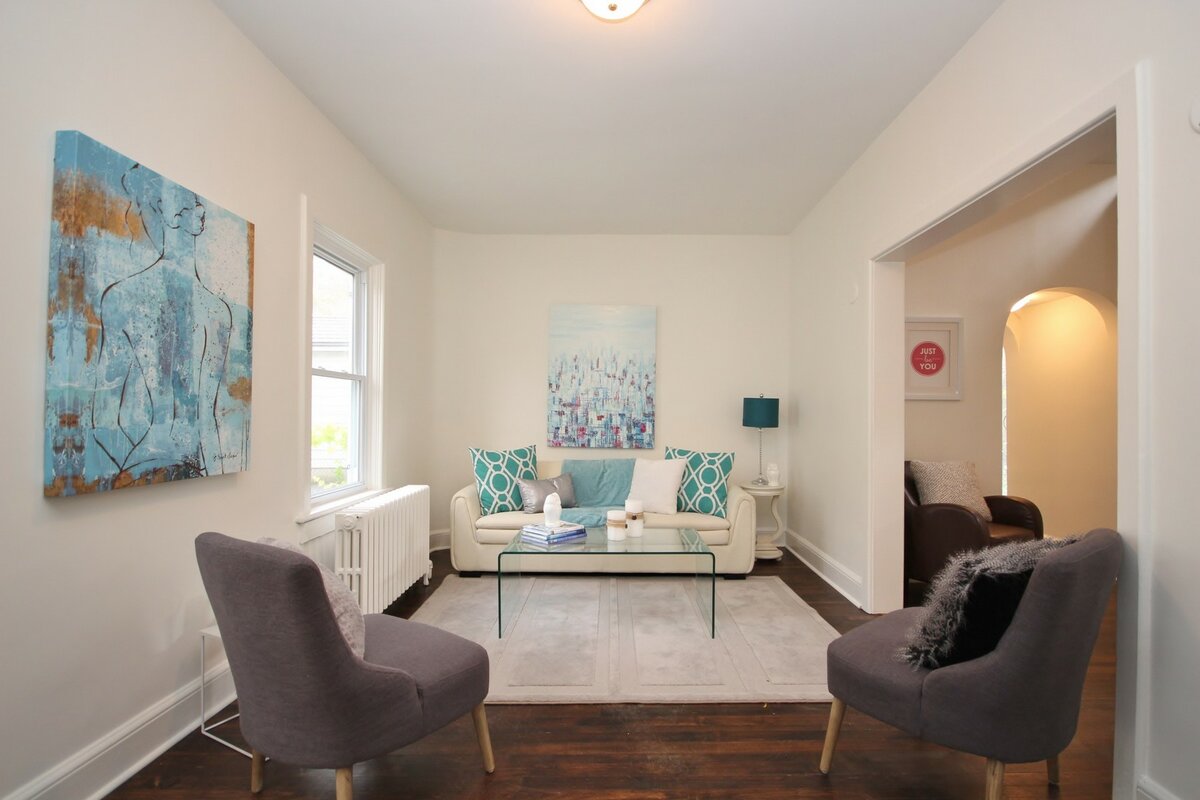 The color scheme of your living room can be showcased in many different furniture pieces and displayed artwork. In the case of a blue and grey living room, there are many ways to experiment with accent pieces. A great idea is to go with light blue additions!
Light blue against grey will give your living room a more upbeat tone. Choose some light blue pieces of wall art or even some pillows, and a few grey chairs or a grey rug, and your room will have a polished and intriguing look!
For The Minimalist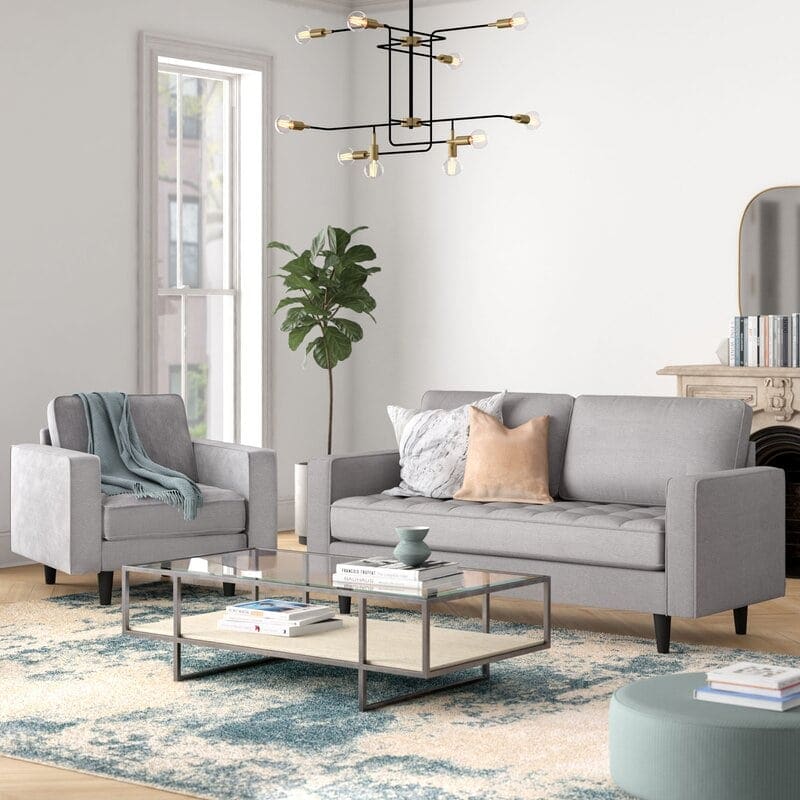 You don't necessarily need to jam pack your living room with furniture, wall art, and decor in order to get your living room's theme across. For people who like to avoid clutter and feel overwhelmed in a busy room, stick to a simpler approach in your living space!
To give your living room a more relaxed and laid back vibe, test out a light grey and light blue combination. This will ensure that your room's colors aren't harsh or overwhelming. This living room look is optimal for a modern day minimalist!
A Bold And Unique Approach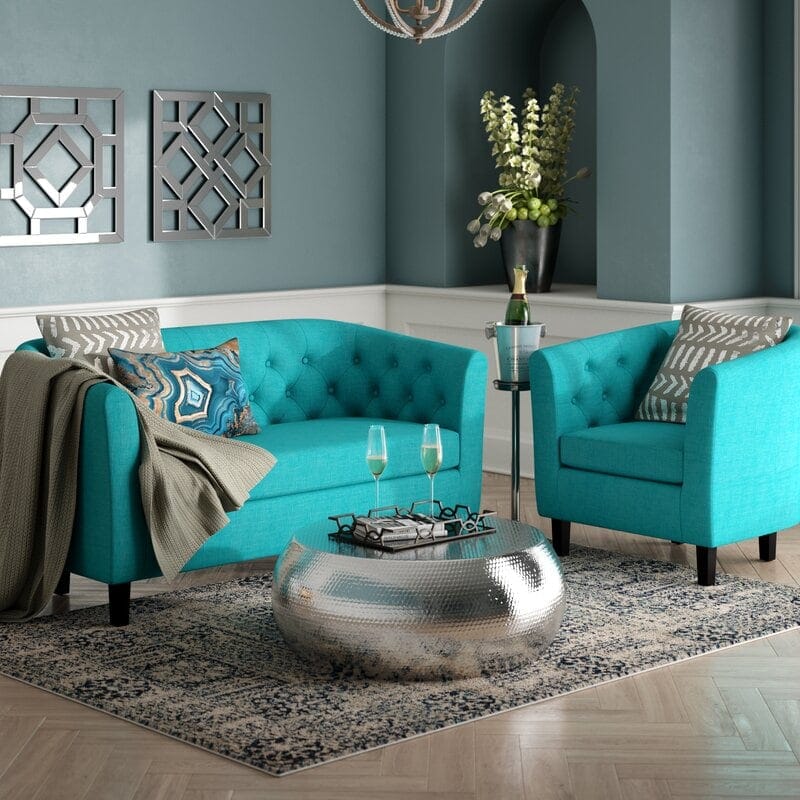 If you love a glammed up space and won't settle for bland colors or neutral tones then a grey and bluish-turquoise theme will satisfy your expensive style! This bold and unique shade of blue will stand out like no other and will look fantastic when used against dark grey.
Going with this specific color scheme will make your living room look expensive and exclusive. Your guests will notice the time and thought you put into your living space, and will be intrigued with your technique. What a statement!
Blue As The Centerpiece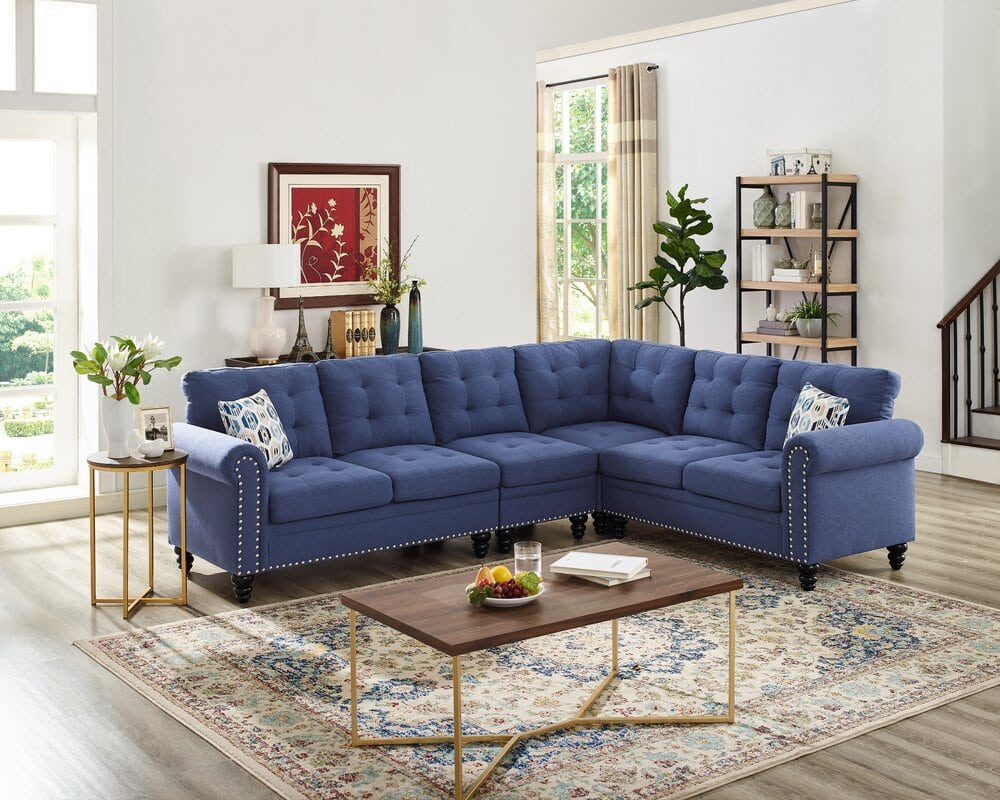 To switch things up in your living room, try using blue as the center of attention in the area. This will not only draw attention, but may be different than any other living room you visit! People will definitely be drawn to the eccentric look you've created.
Not many people opt for a blue couch or blue coffee table, so by doing this, your living room will be extraordinary! Blue is an alluring color, and having grey in the background of the room will only enhance its beauty.
Use Darker Tones Of Blue And Grey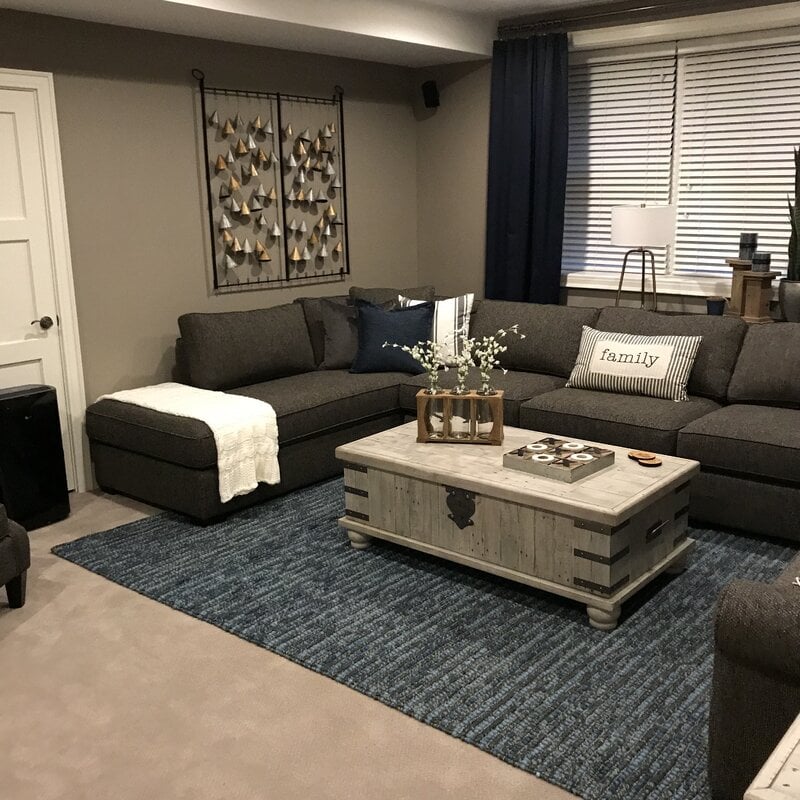 If you're a fan of a more traditional look, this is the perfect suggestion for you. Dark greys and darker blues will look wonderful in your living room! Dimmer tones will create a comforting environment and will be the perfect place to unwind after a long day.
Start out with a dark grey or blue wall color, and then try out a dark grey couch with blue accent pillows. You can also incorporate different colors within the room to add some color if needed.This traditionally styled living room is cute and classic!
Blue And Grey Accents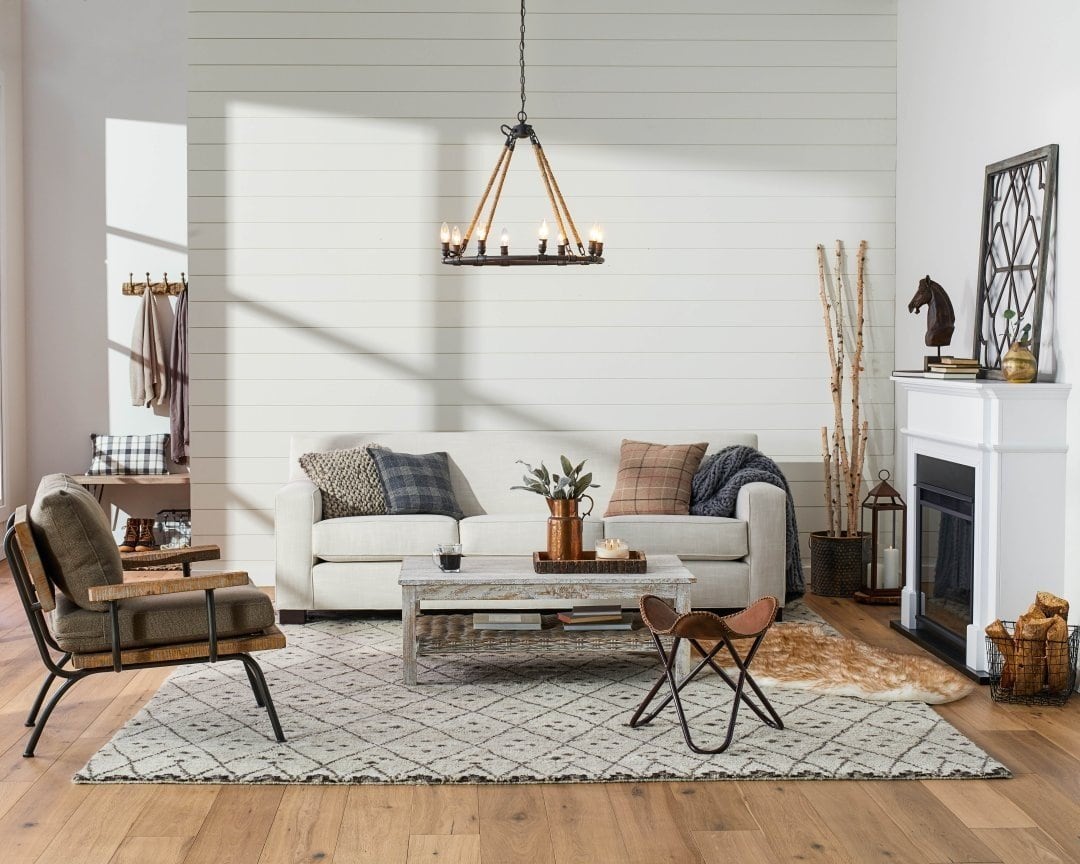 Blue and grey accent pieces are another, more subtle approach to a blue and grey living room. If you aren't yet ready to fully commit to the blue and grey color scheme, or if it seems a bit overbearing, try using blue and grey accent pieces throughout the room.
Pillows, curtains, and rugs are the perfect places to experiment with color story. Seeing the colors come together within the room will give you a better sense of the room's aesthetic. Placing blue and grey accent pieces in your living room will look elegant and well-thought out!
Farmhouse Look With Blue And Grey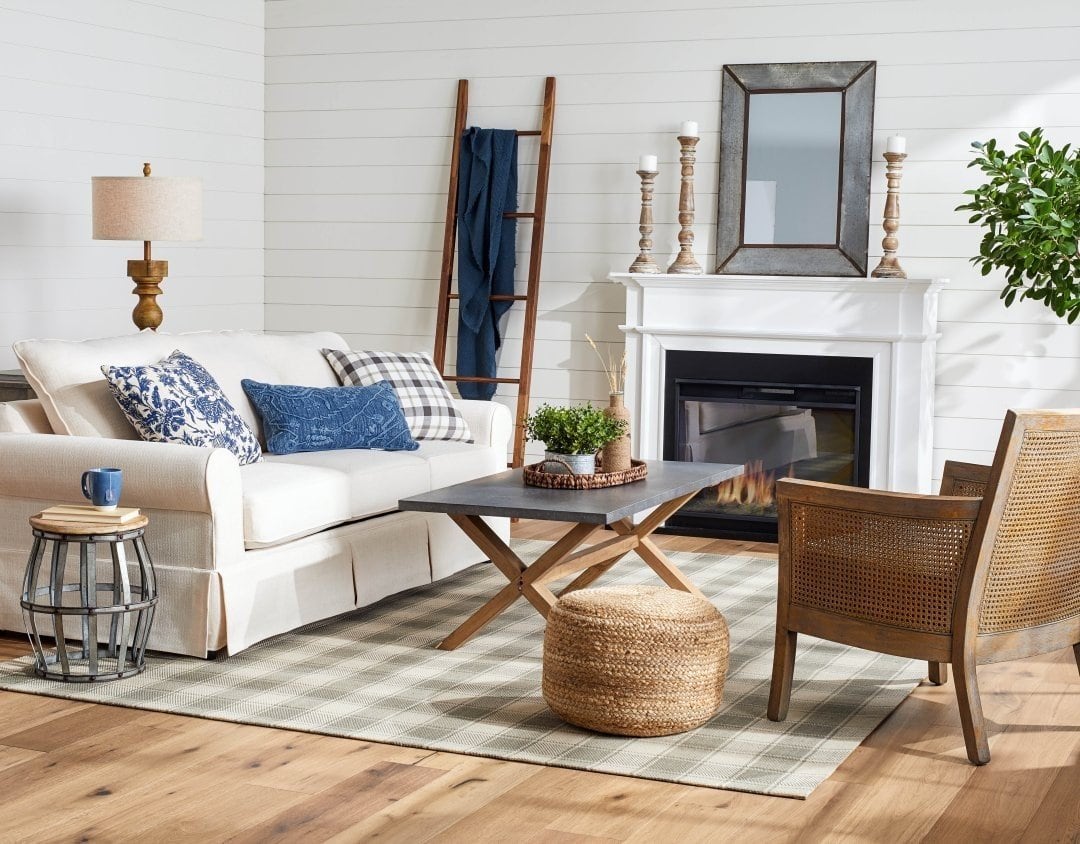 The farmhouse aesthetic is becoming quite popular and frequently displayed in modern living rooms. While it's more of a traditional style, it is being carried into the modern era for its quaint feeling and coziness.
To participate in this trend while sticking with a blue and grey color scheme, all you'll need to do is find blue and grey living room decor that fits in with the farmhouse theme. Luckily enough, decor is becoming more diverse by the day, and there's no doubt you'll be able to find the decor you're looking for!
Light, Bright, and Coastal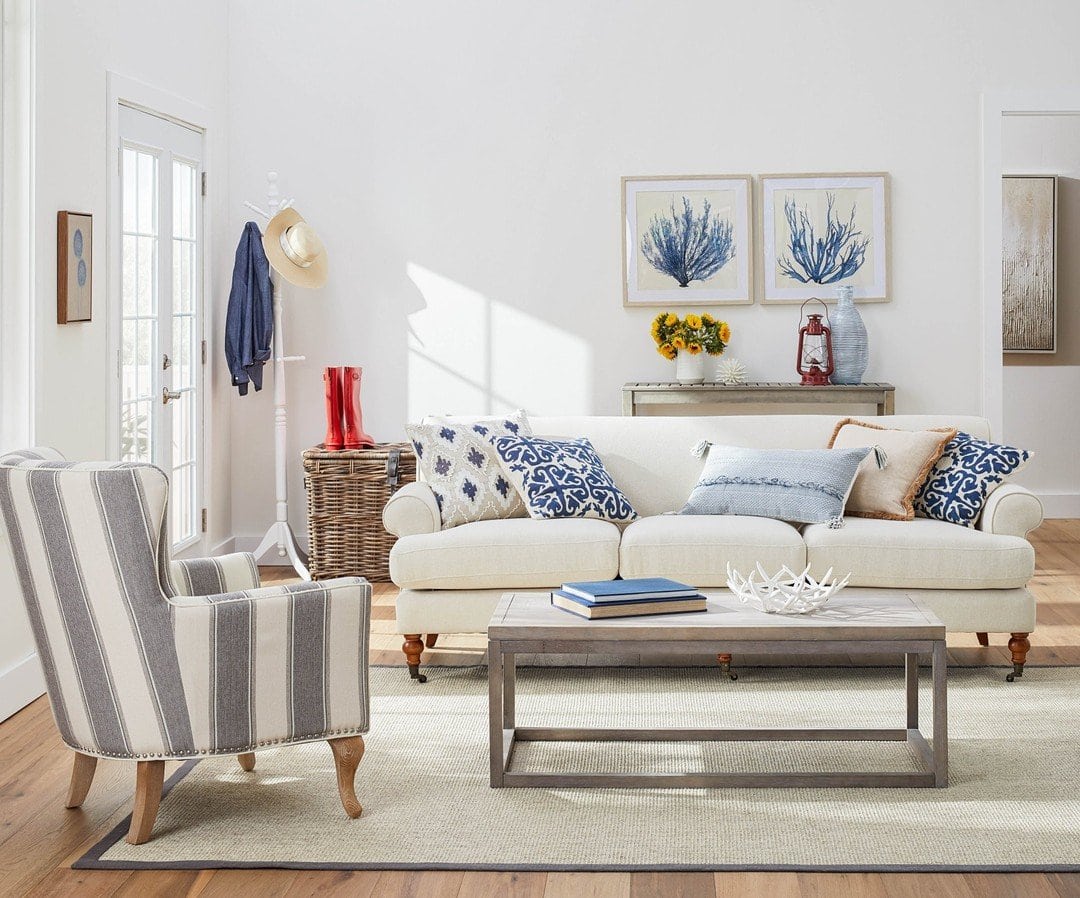 While we're checking out certain themes of your living room, let's review another popular theme that typically already incorporates shades of blue and grey: Coastal. A coastal theme is fabulous and encapsulates the warm feelings of being beach-side!
Blues and greys work tremendously well in a coastal setting! They reflect off of one another seamlessly and will not cause clashing or feel domineering. To give your living room a lighter, brighter, coastal look; try using white as a base color and add in blue and grey around the room,
Blue And Grey Bohemian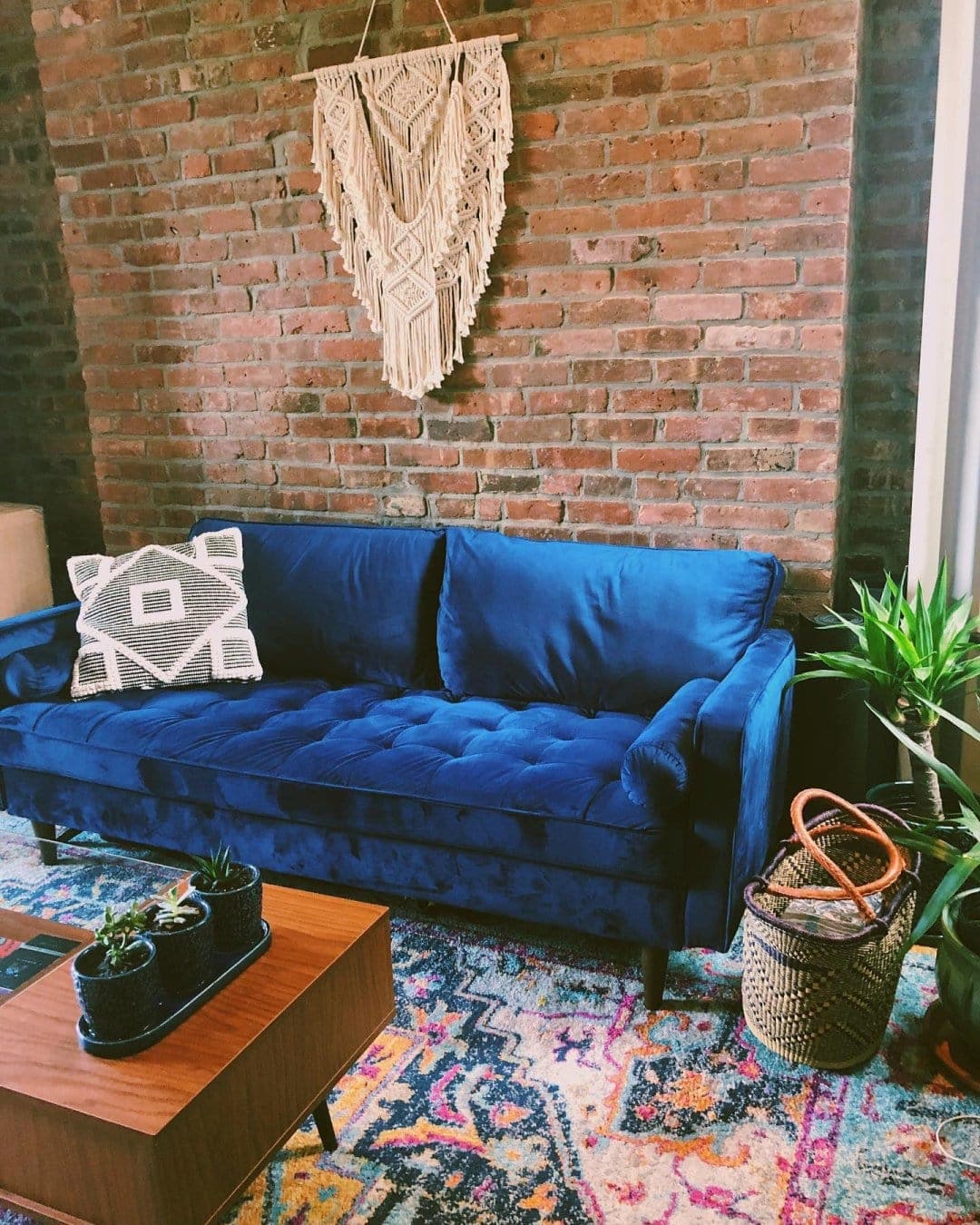 The bohemian living room is one that is sweeping the current generation and is becoming more frequently seen. It's an eccentric take on your living space. Definitely one that is totally dependent on a more bold and courageous personal style.
To add blue and grey into your bohemian style living room will require very bold blues and decorative greys. Plain patterns and dull colors are not welcome in the bohemian environment! It's all about expressing yourself creatively and being adventurous with your color choice.
Modern Blue And Grey Living Room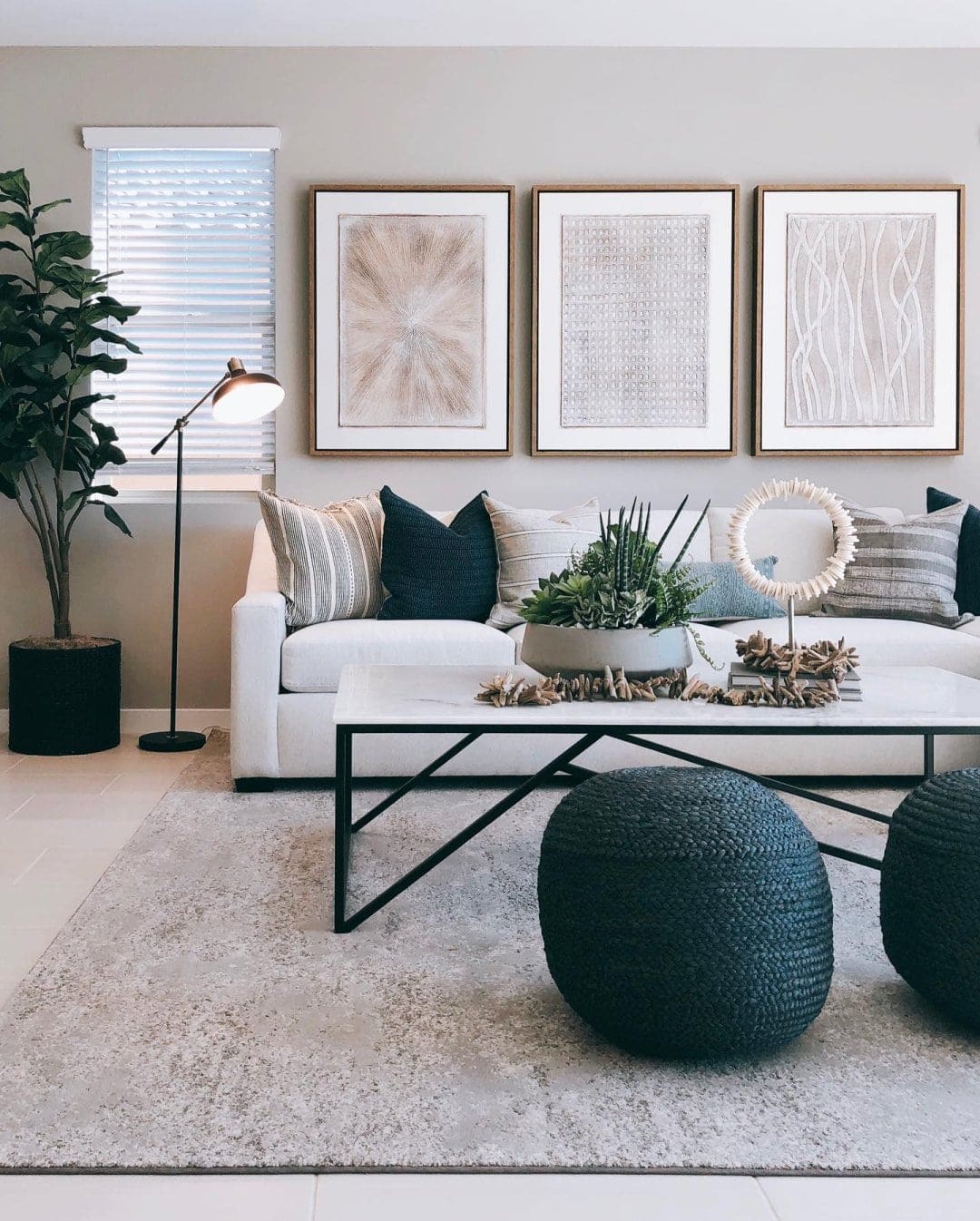 Keeping up with the times and modern trends is important to many people designing their living room. While some may prefer a more classic look, others enjoy the style of present-day. Blue and grey shades can work in this type of living room and look flawless.
In order to achieve a contemporary living room look using blue and grey, you should stick to very light greys paired with dark blue or navy colors. This will not only look modern and refined, but will match terrifically with white or black as well. No need to stick to only two colors!
Add In Other Colors Along With Blue And Grey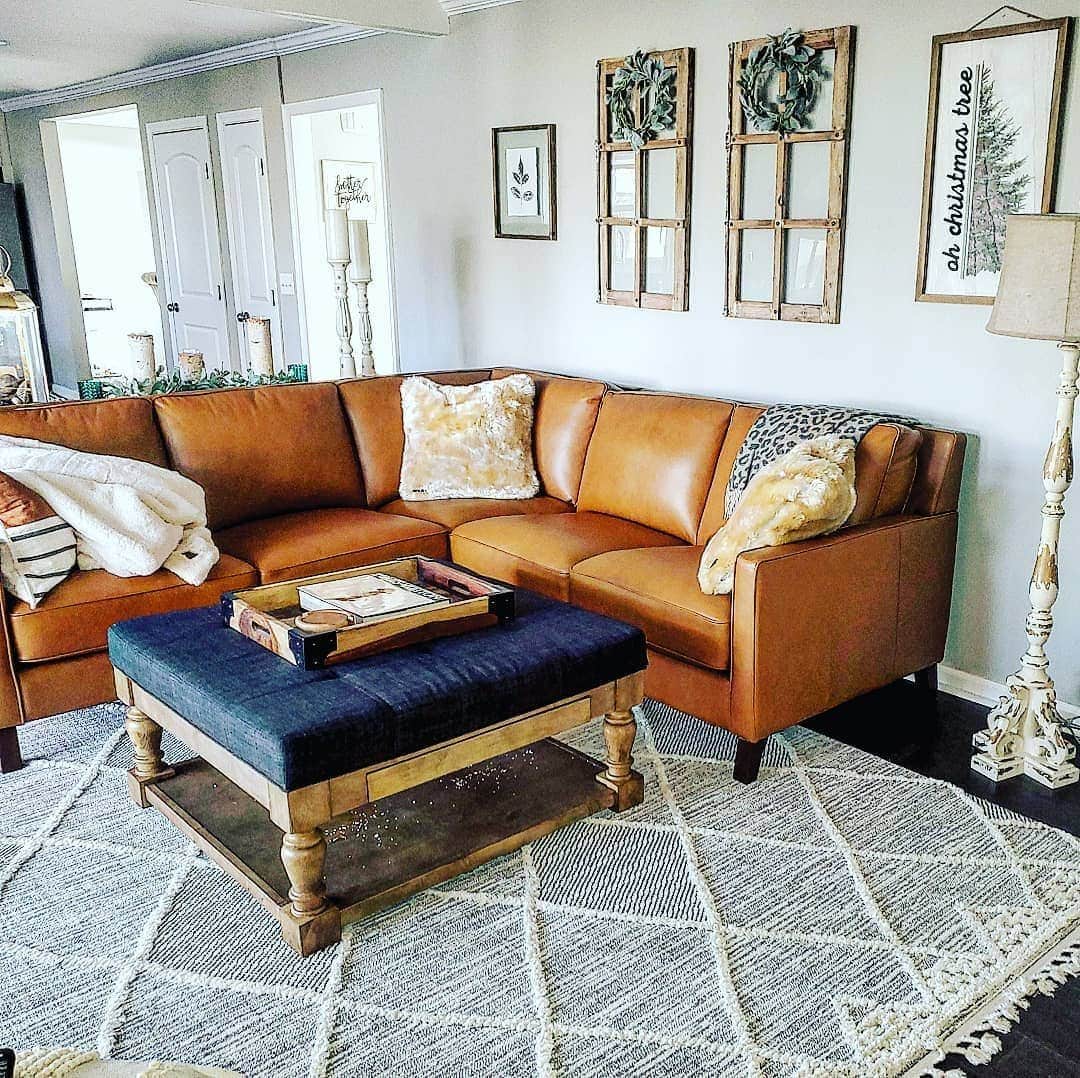 Having a blue and grey living room does not mean being limited to these colors alone. Blue and grey can be great additional colors alongside others that give your room life and charm.
If you're wanting a modern look, pair grey and blue with white or cream. If you're wanting a more outlandish living room, try adding red or orange to the room as well. A pop of color along with blue and grey tones will look alluring and interesting to say the least!
For Those With Expensive Taste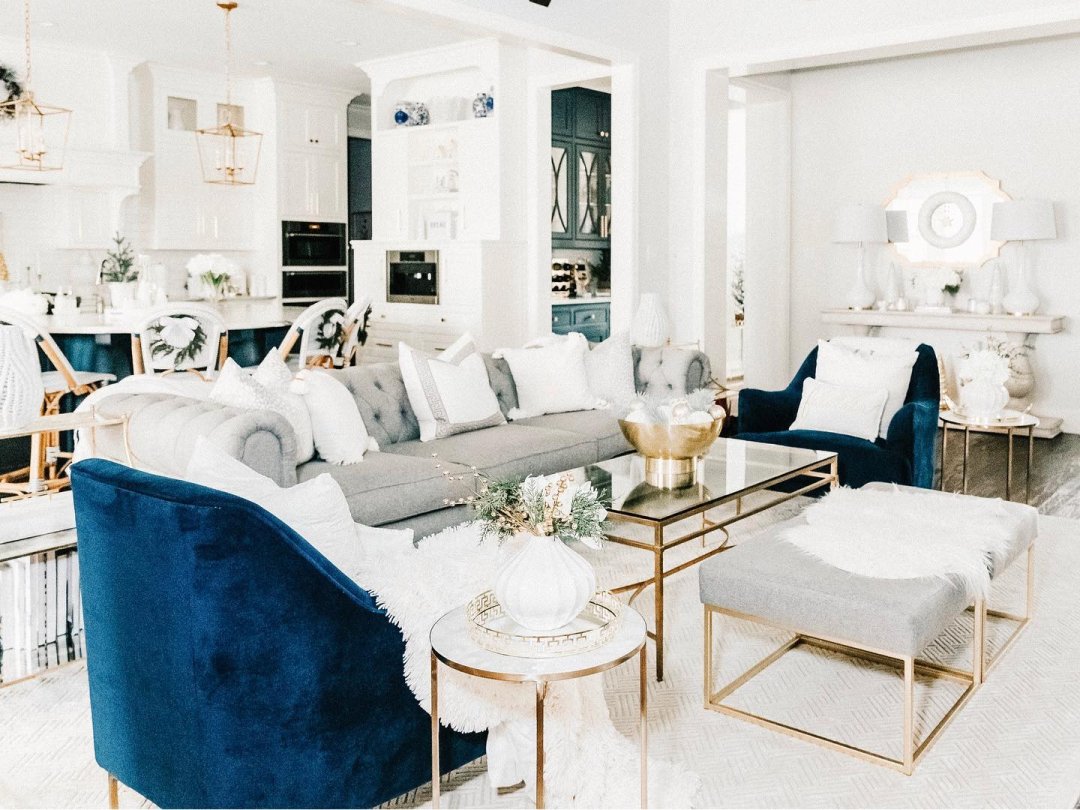 It's easy to fall in love with an expensive looking living space that gives off a rich and vibrant vibe for the guest and family visiting. This style can be achieved through color scheme and decor without necessarily having to break your bank. Grey and blue are classy colors that will fit right in!
Royal blue got its nickname for a pretty self-explanatory reason; it looks royal. Using a grey couch or ottoman and purchasing some royal blue chairs will tie the room together. You don't have to be high-class just yet to make your living room look high-class!
Focus On Artwork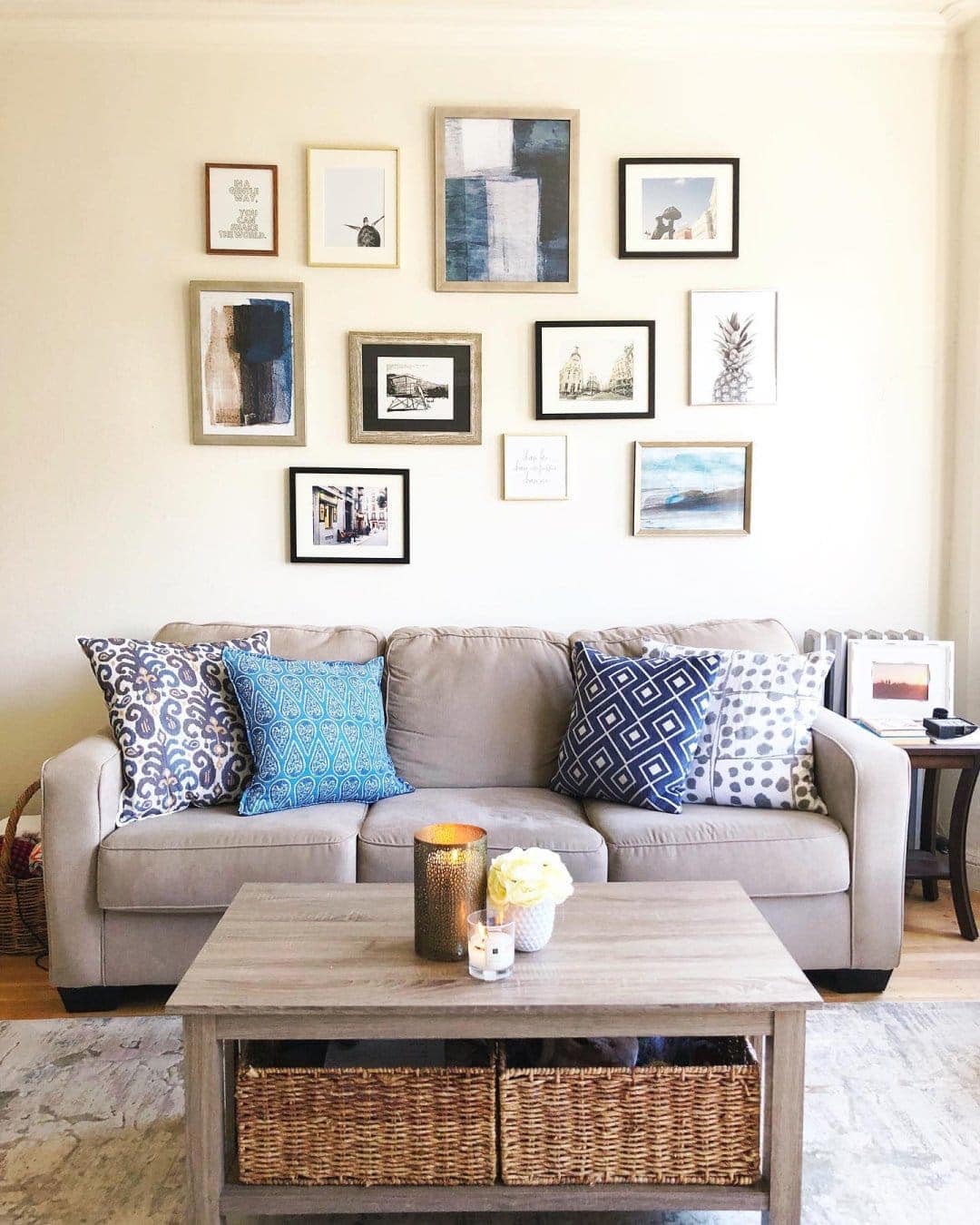 Your living room artwork is a crucial focal point and can convey the room's overall theme. The wall color and furniture are not the only places to consider your blue and grey color scheme. These colors can also be applied to wall art and decor to create a connection.
Finding blue and grey artwork can be done easily and will depend on your personal preference. You can find pieces that depict scenes of nature, or you can choose more abstract artwork. No matter what you choose, use these to tell your color story.
Small Space Vintage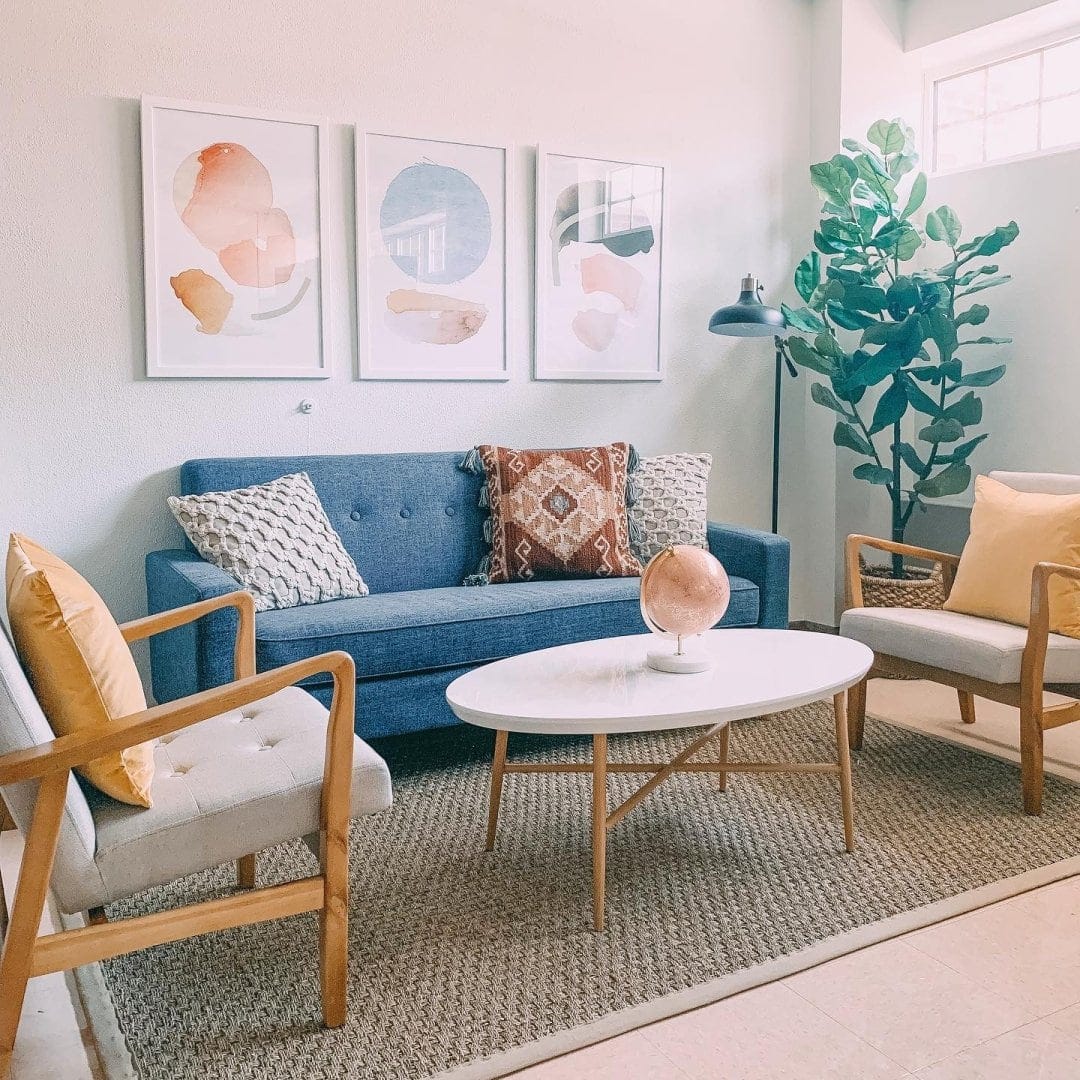 If you have a smaller living room space to work with, and still love the blue and grey concept as well as an old-fashioned look, we've got you covered. Just because you have limited living room space, does not mean you should limit your creativity!
Keep the room simple, while still staying true to blue and grey, and don't forget to add in a few vintage pieces as well. These will stand out and catch the eye of guests who want to know more about your timeless sense of style!
The Blue And Grey Living Room Approach
A blue and grey color scheme is a fantastic choice for your living space regardless of your personal style. These colors can be easily incorporated into multiple areas of your living room. You can create so many incredible themes with these versatile colors that blend well with almost any other colors you adore!
Choosing the colors you will include in your living room is a big step to make when decorating the interior of your home and should be planned and intentional. Blue and grey are two colors that are multifaceted and can make a room look elegant, bohemian, glam, or simplistic. So, go ahead and give blue and grey a chance in your living room!