Decorated Life is reader-supported. When you buy through links on our site, we may earn an affiliate commission. Learn More
25 Ideas For Wall Decor Above The Couch
If your home's layout has you pushing your couch up against a wall, that means there's probably a big blank space over the couch. A giant bare space can make a room look unfinished, so it's helpful to have something hanging up there to even things out.
You can go big with your above the couch decor, or you can keep it minimal, either way putting something in that space is going to make the room look much better and put together. Not sure where to start? Here are some ideas to help.
Curated Photo Grid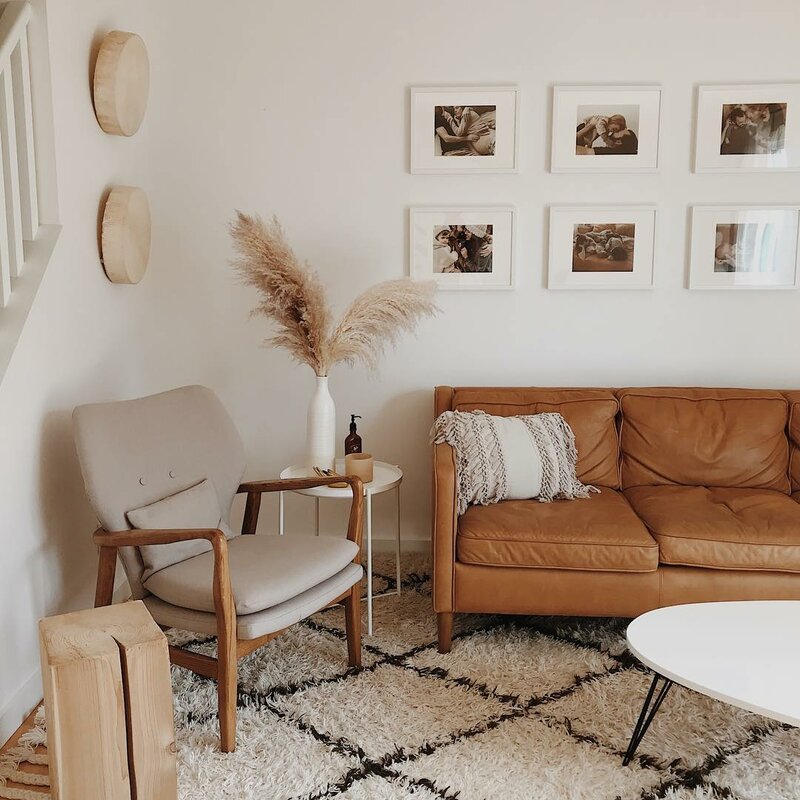 You can fill the space over your couch with photos that are evenly spaced out in a grid so that the wall doesn't look bare, but also doesn't look cluttered, like in this photo.
What makes this look so great is that each frame matches and the photos are matted, so there is a lot of white space. Also, the photos are all in a black and white or sepia tone, which adds uniformity.
Scenic Shots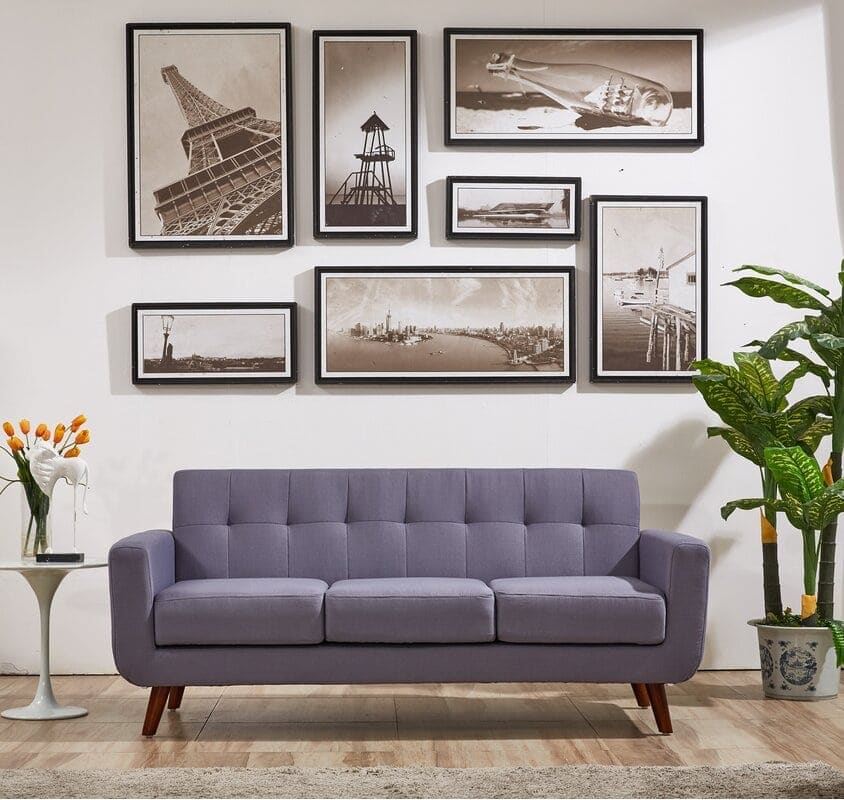 Another great way to do a gallery wall is with larger shots that all correlate, like scenic pictures from around the world, like in this photo
This is a great way for your above sofa wall decor to be personal, too. You can fill the frames with photos from your own travels to give you something to remember, and a story to tell guests!
Large Simple Print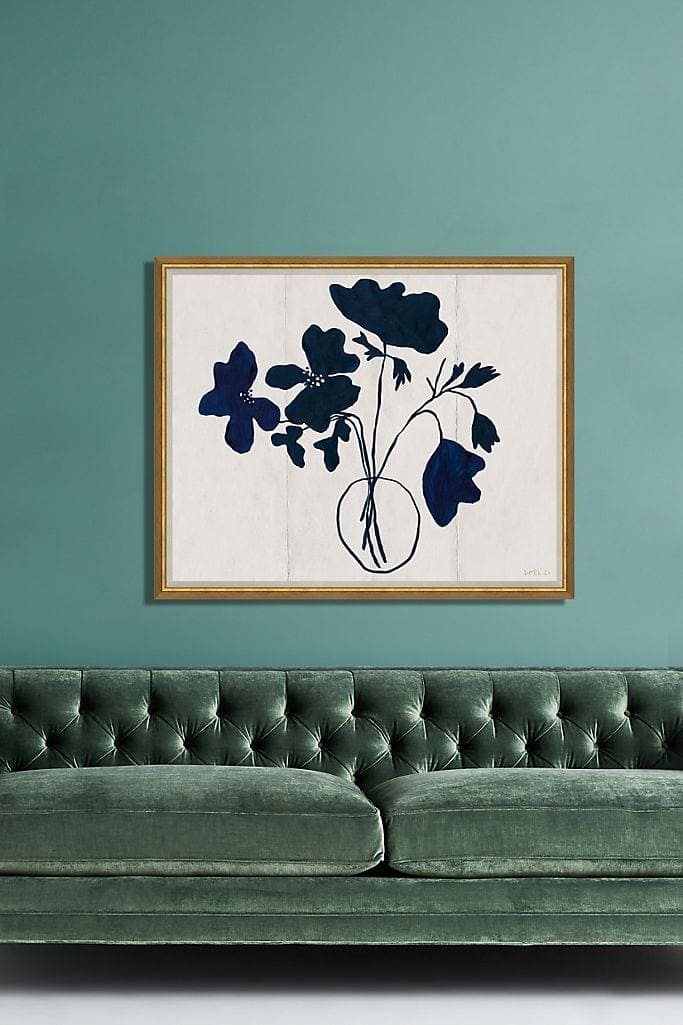 For smaller rooms, it may be helpful to go with one large simple print rather than several small ones, because it won't feel too busy. Or, if your couch has a pattern something simple behind it will balance it out.
Take a look at this photo, the print is really large and fills the space nicely, but it has a lot of white space, and only one other color, so it helps to maintain an airy feel.
Wicker Touches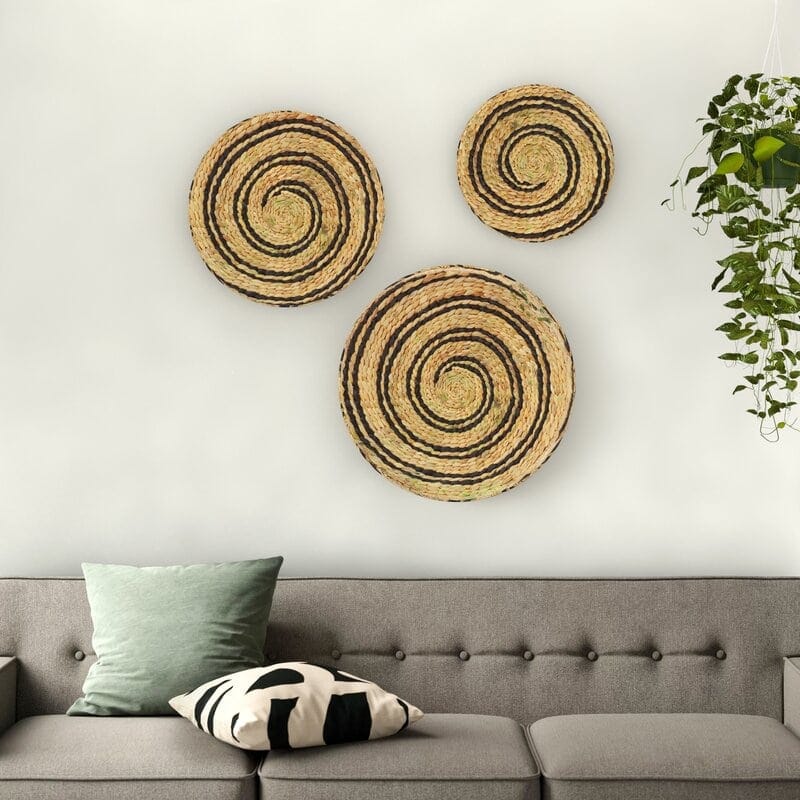 You can add a little texture and uniqueness to your living room with wicker touches over the couch. This is especially helpful if the room's decor is pretty neutral.
The three piece wicker set in this photo does a great job of adding some variety and texture without taking away from the otherwise neutral look. It helps draw the eye up over the couch without being too busy.
Frame Gallery Wall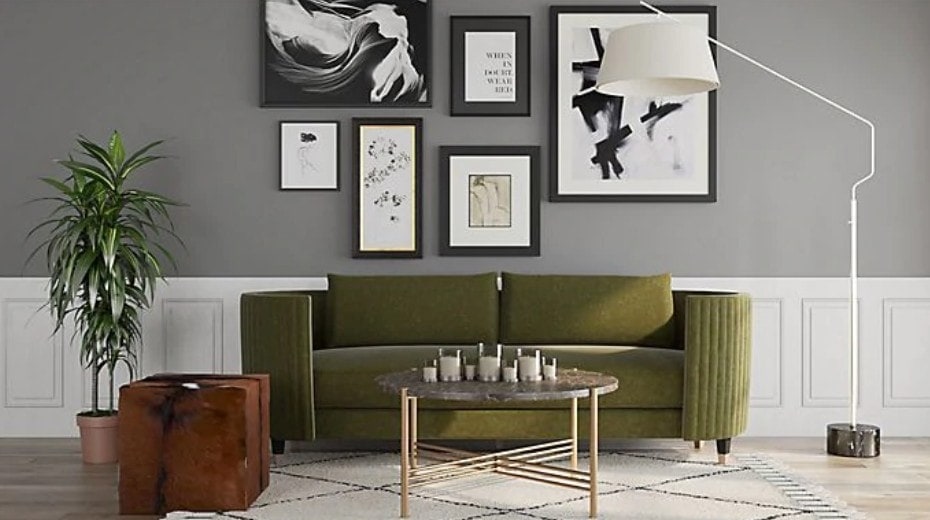 One important thing about putting a gallery wall above a couch is to make sure everything works together. Items should be various sizes and spaced out in a way that doesn't look overly planned, but also doesn't look cluttered. It's a delicate line to walk.
However, if it's done right, a gallery wall is fantastic wall decor behind a couch. You can make it a little easier on yourself, too, with a pack of frames that are already matching and various sizes so you don't have to do anything else other than fill them and hang them.
Bright Abstract Art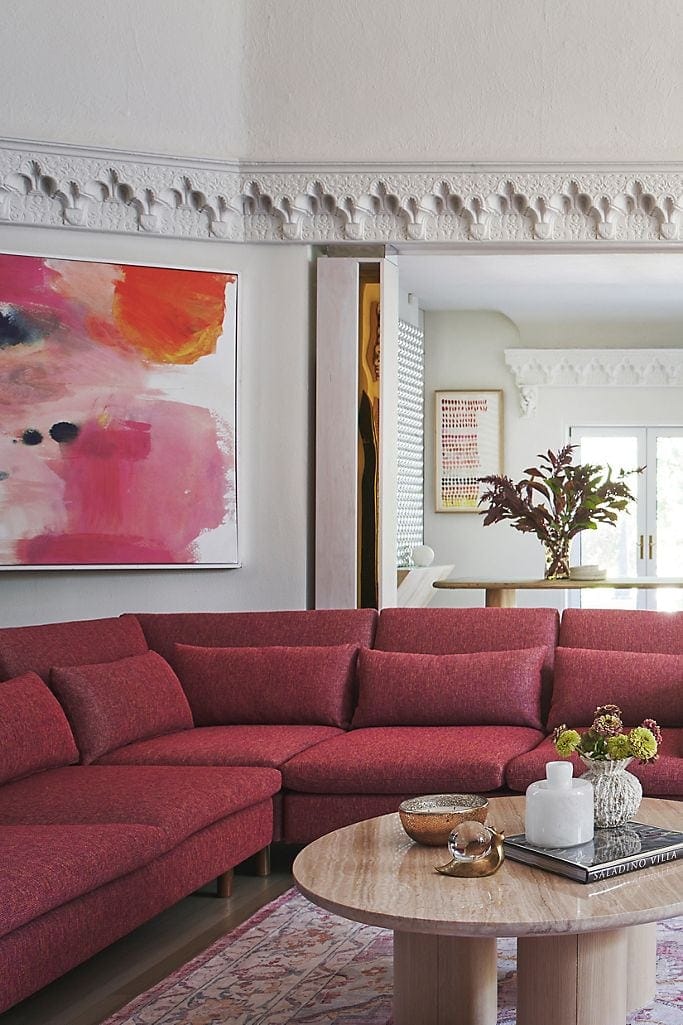 Your over the couch decor can also help bring in some color if your room is a little bland. Abstract art, in particular, is a great way to brighten up a room if you don't love scenic art.
This print is a gorgeous example of how much of a difference your wall decor can make. It fills up a lot of wall space, still looks clean with all the white space, but really brightens things up and offers colors to pull for accents throughout the room.
Large Ornate Mirror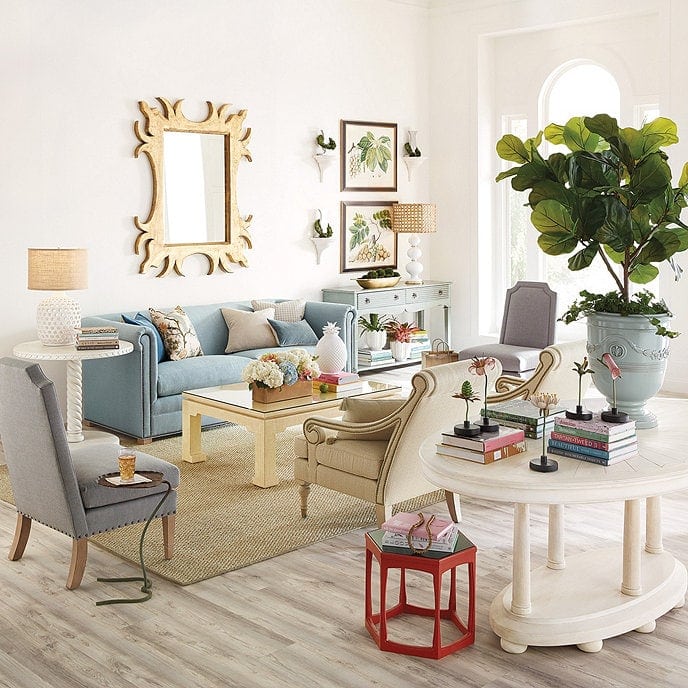 A large decorative mirror is not only a simple way to fill space without looking cluttered, but it's also a chance to make the room seem larger (especially if it's facing a window). Mirrors are great at giving the illusion of a larger room and brightening up a small dark room.
Plates in Varying Sizes and Patterns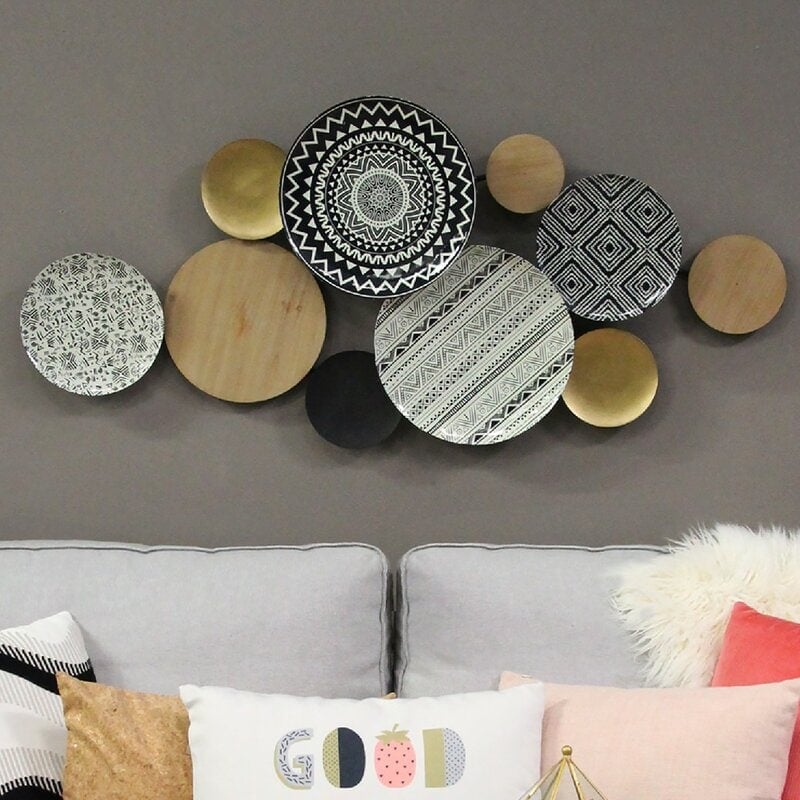 Rooms that have a lot of straight lines can often use round decorative items to help even things out and soften it up a bit. The wall above a couch is a great place to do that.
Here's a cool example of how to add in some curves in a clean and interesting way. This looks especially good because even though there are different patterns throughout, the solid gold plates help add space and tone them down so it looks clean and not chaotic.
Structured Color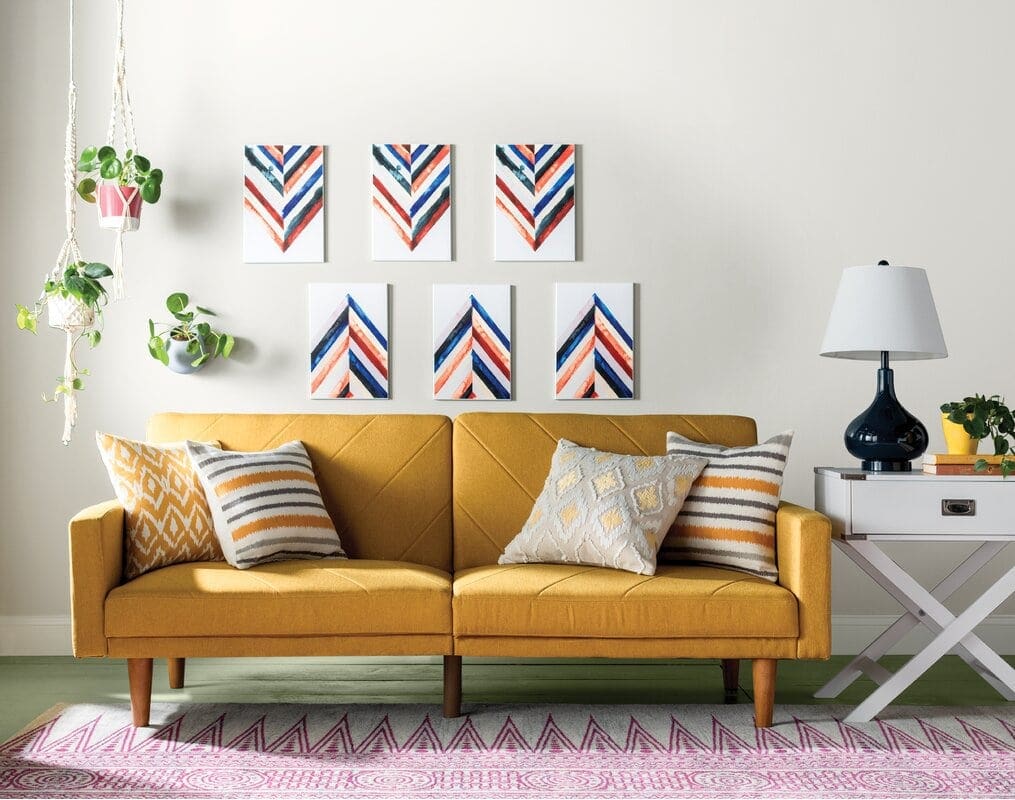 If you like the idea of color, but still want structure and uniformity, try something like this! Each canvas is the same but the way they're arranged on the wall creates an interesting look.
Something like this is such an easy way to add color without it seeming like too much. It's a very minimalistic way to add a bit of variety.
Mini Gallery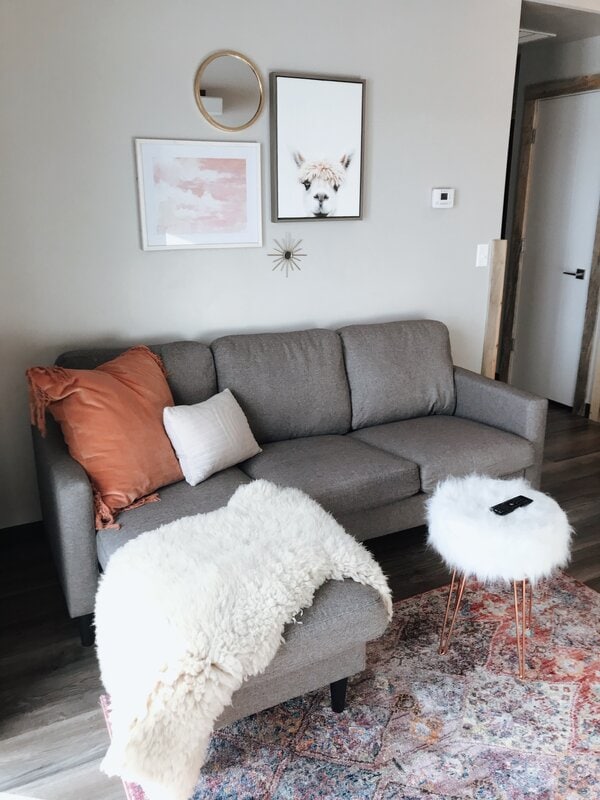 Have a smaller couch? You can still do a gallery wall over your couch, just scale it down to stay in proportion with the sofa.
In this photo, the gallery wall is small with only four pieces, but they still all work together without being the same, add some variety and texture to the room, and work well with the size of the couch. It's gorgeous!
Macrame Hanging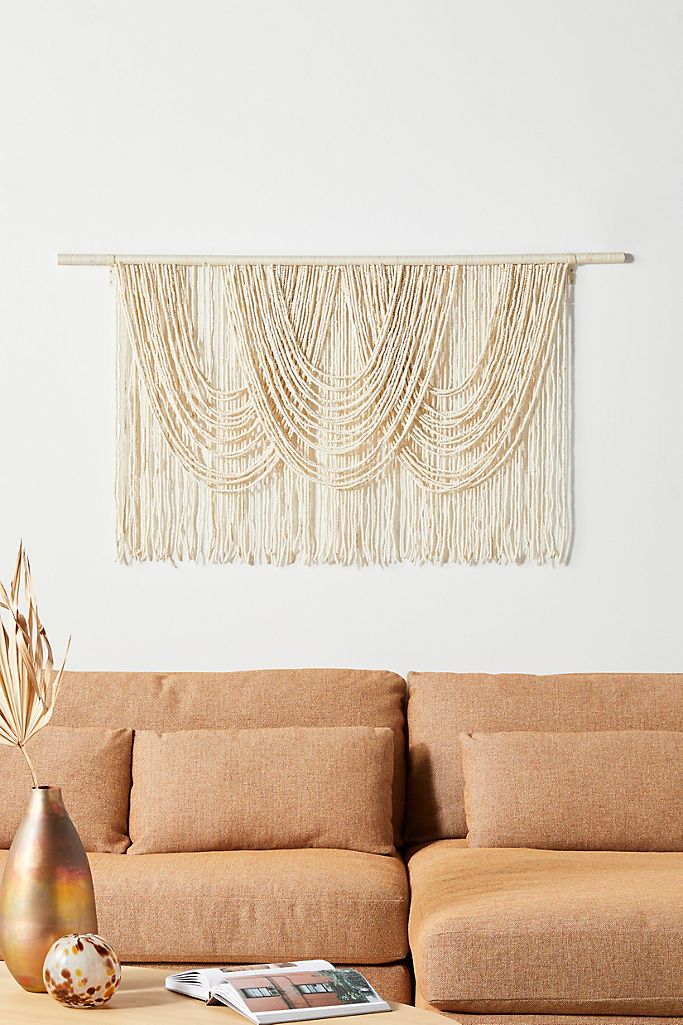 Into the minimalist boho look? Get a macrame hanging for over the couch! It will take up a good bit of space on the wall, add a really cool pattern that will draw the eye, but is still neutral so it won't take away from the light and airy feel of the rest of the room.
Large Horizontal Mirror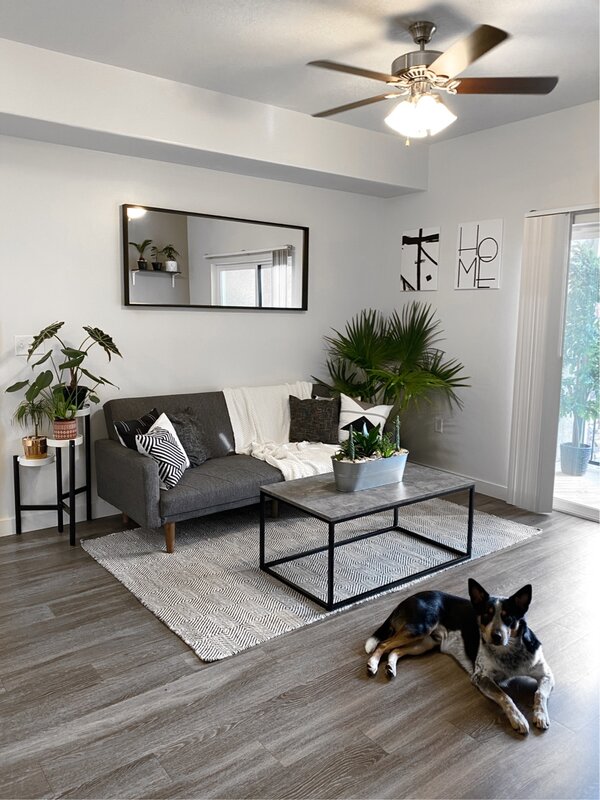 Love the idea of a mirror, but the ornate decorative style isn't for you? Or, do you have lower ceilings that make the room feel a little more cramped? Try a minimalistic horizontal mirror over the couch.
This will fill the space well without getting too close to the low ceiling, and won't be too busy even in larger rooms. It will also help make the space feel more open and bright.
Grayscale Gallery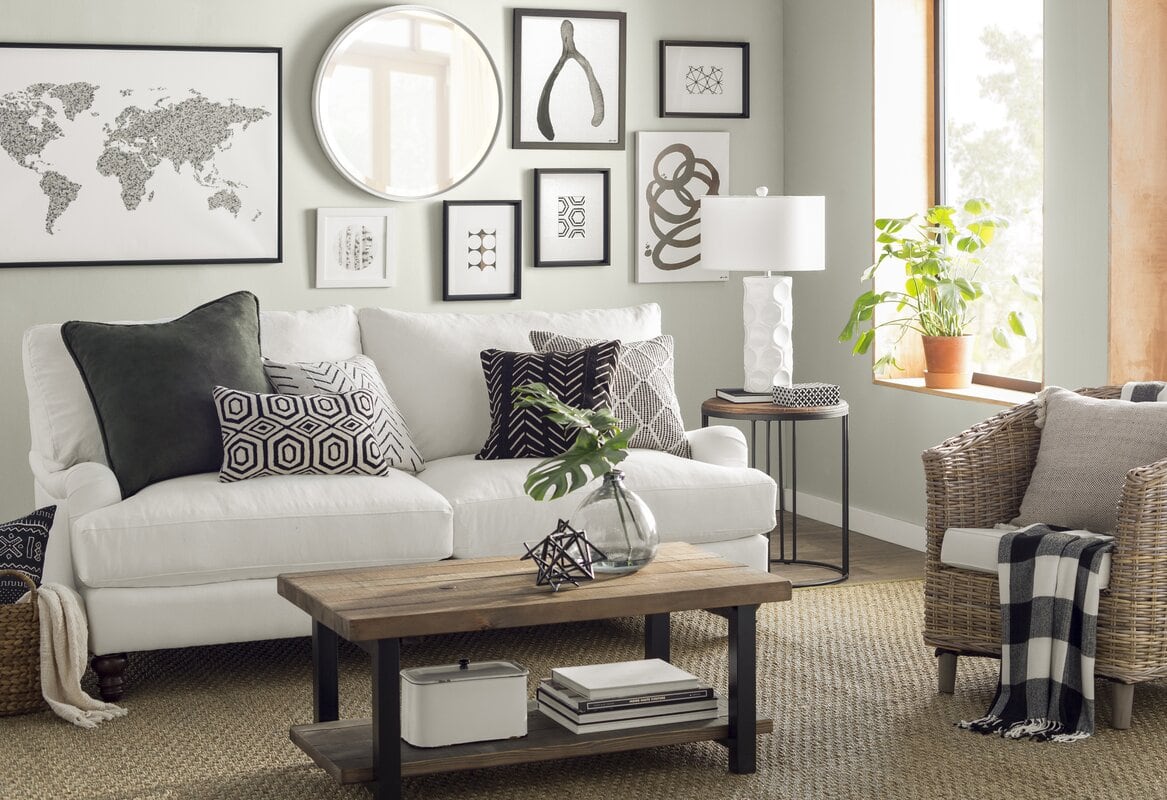 Not everyone wants a pop of color, and the monochrome scheme is still really popular. So, instead of fighting it, just go for a grayscale gallery wall like in this photo.
The wall works well with the rooms overall decor because each piece, though different, has a bit of white to balance out the greys and blacks. It all ties together with the couch, walls, and even the throw pillows.
Floral Touch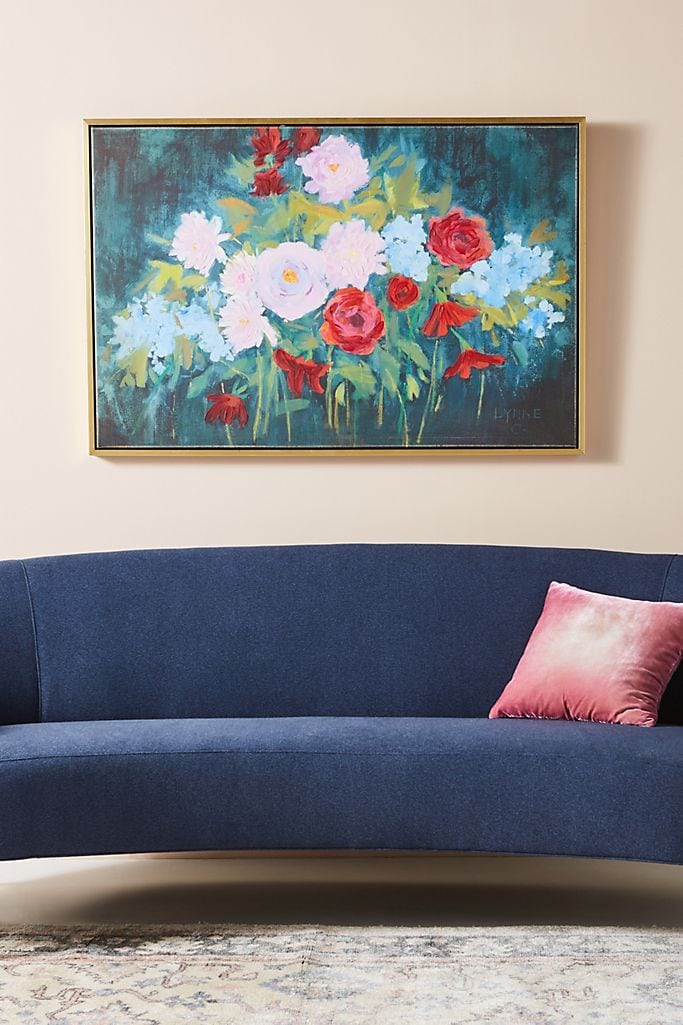 There's a middle ground between abstract art and scenic prints, and this floral print is a fun example of it. It is structured without being realistic, but still has some whimsy.
Floral art is also a nice way to add a more feminine or softer touch without being over the top (but is also a great addition if you want to be over the top!). It adds in some fun color and variety, which can really help a neutral room.
Skyline Art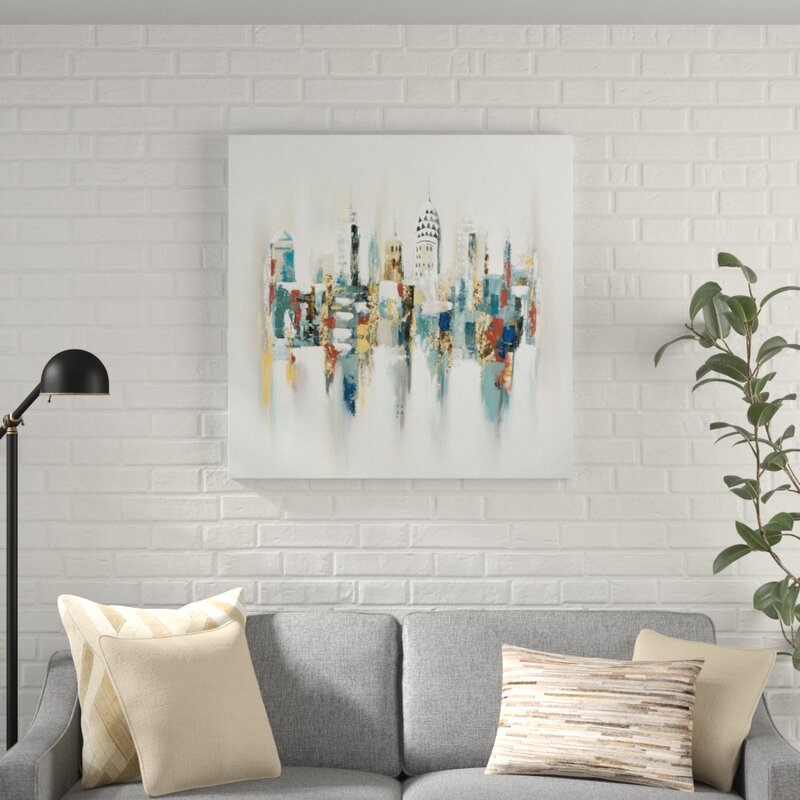 Do you have a city skyline that reminds you of home or is just close to the heart for some reason? Find a large watercolor skyline photo to hang over the couch.
Watercolor pictures like this can add some color to a room, are still clean with their white space, and will bring in a personal touch. It's a fantastic choice for over the couch decor.
Wall Sconces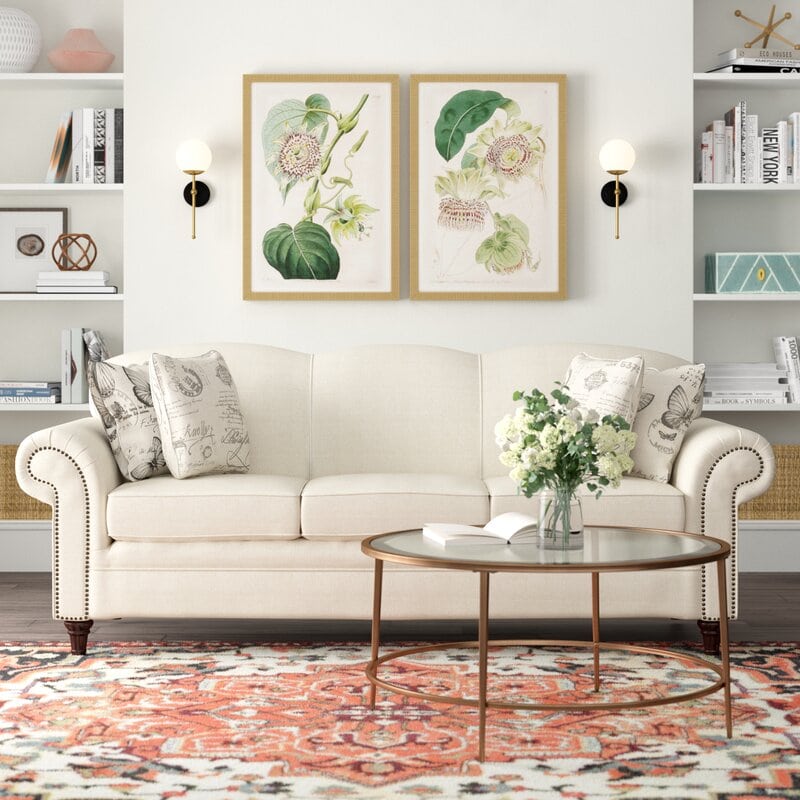 Another great way to add texture, variety, and light to the space behind your couch is by installing some wall sconces.
In this picture, they frame the two pieces of art to create a symmetrical and clean look. Plus, they're just a really pretty way to help fill out the space.
Panel Art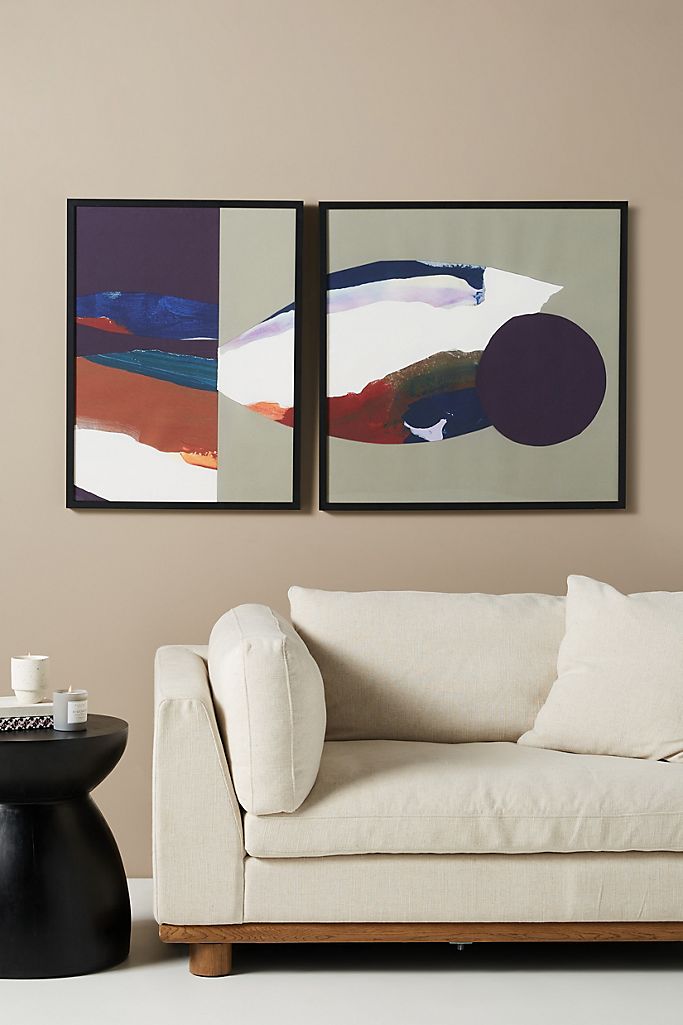 If you love the idea of a single piece of art, but it just doesn't seem like it would fill up enough space, consider panel art like in this photo, instead!
There are a lot of pretty pieces of art that are split up into two, three, or even four panels. By hanging something like this, you can space the picture out a bit to better fit your space, but you still have one large picture when you look at the separate panels together.
Thematic Decor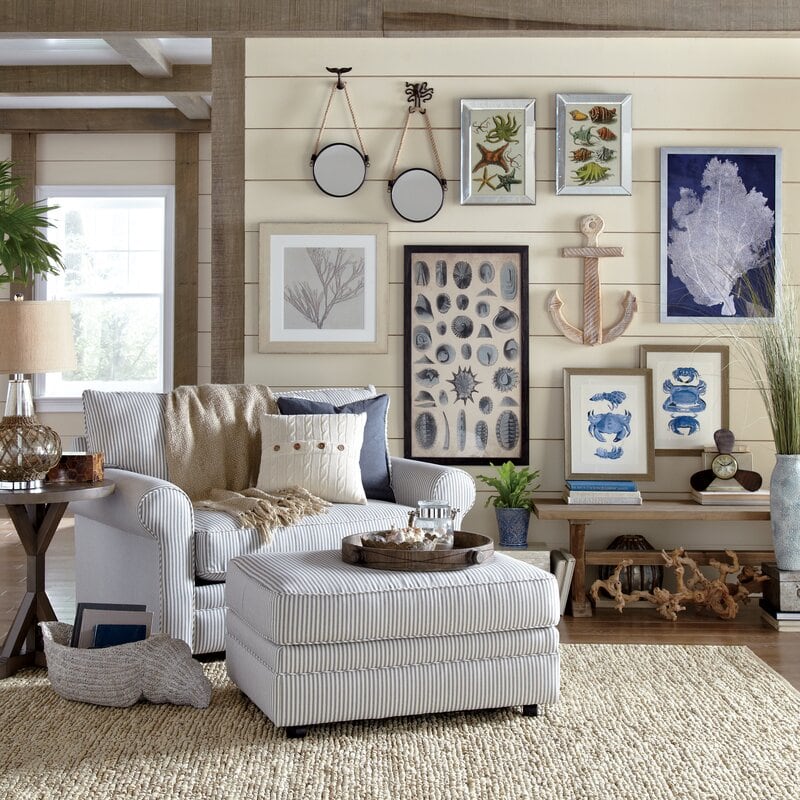 Some people love decor with a theme of some sort, if that's you try to tie that theme into the decor above your couch. The room in this photo is decorated with a beach/nautical theme, so they created a gallery wall that includes an anchor, sea life, and boat rope. It looks great and keeps the room on theme.
Off-Center Aztec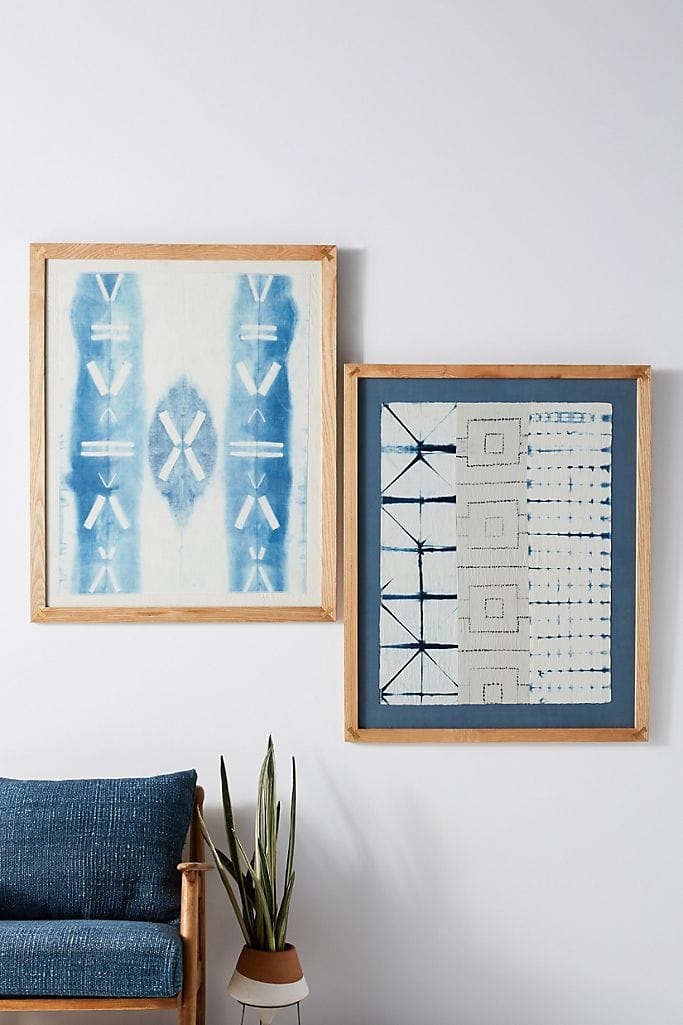 Aztec-like prints are a great way to add some pattern to a room that is still clean and uniform. They tend to be a single color on top of a contrasting color that makes them pop.
Another way to make the art even more interesting is to hang it a little off center from the furniture, like in this photo. It's a little different and adds some uniqueness to the room.
Chalkboard Wall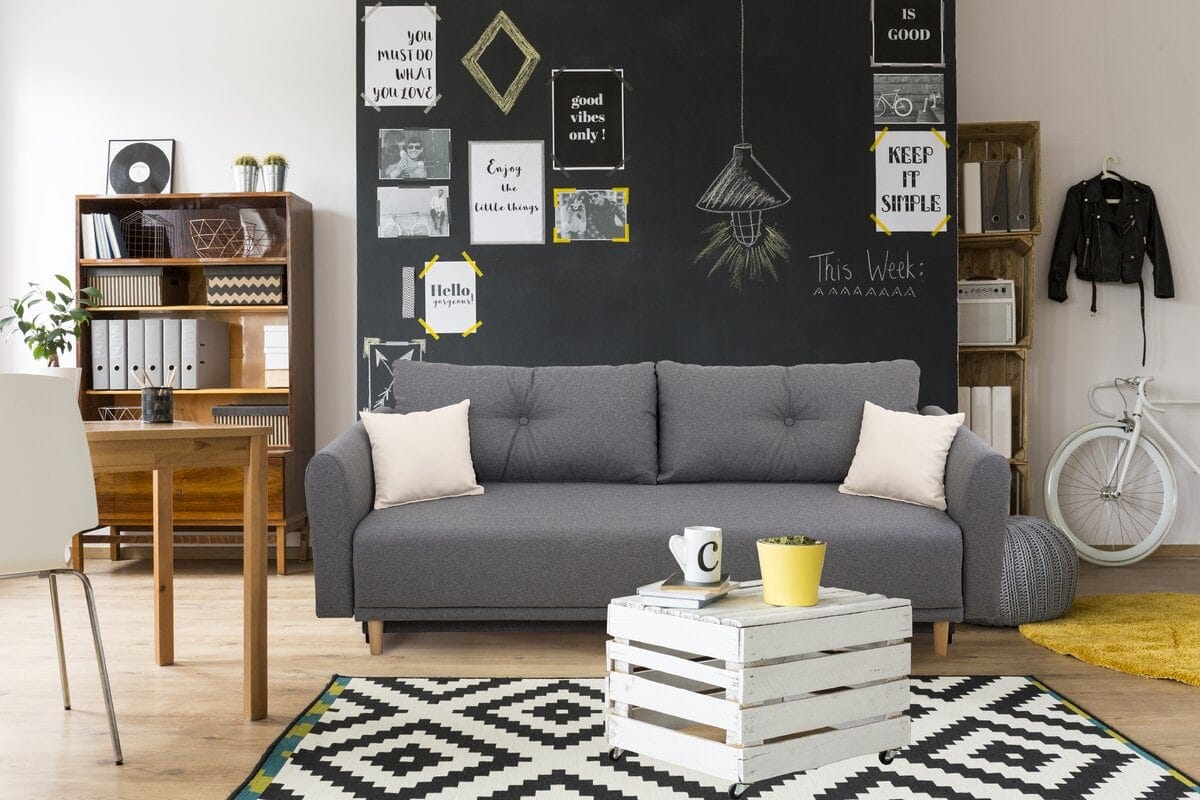 Do you love to swap out your decor all the time? Paint the wall behind your couch with chalkboard paint so you can draw different designs and hang prints with tape, like in the picture here.
This is a really fun way to make your home totally personal. Just remember to cover your couch with a sheet when you erase the chalk and color something new to protect it from the dust.
Oversized Tapestry
Having a small couch doesn't mean you can't have a really big piece of art. Take a look at this oversized tapestry over this loveseat. If you don't love the idea of a tapestry, you can get a similar look with a map or even a quilt (just make sure it's a neutral color so it doesn't look too busy or dated).
Tiered Display Shelves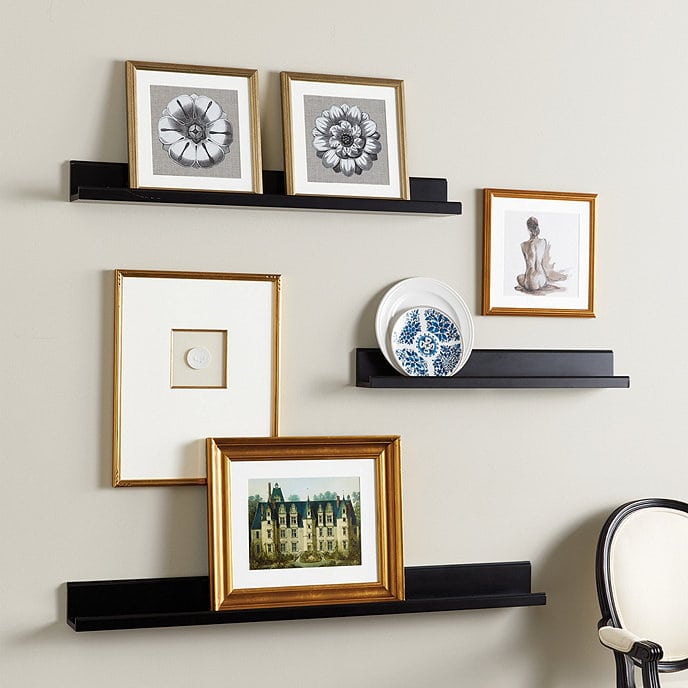 One way to display a few pieces of decor, without the pressure of coordinating a gallery wall, is by hanging a few display shelves instead.
The shelves on this wall are hung in a tiered design which is not only aesthetically pleasing, but it also takes away the stress of trying to space them out perfectly. They hold a ton of frames and decor so you can still fill up the wall but don't have to put as much thought into how you hang everything.
Oversized Clock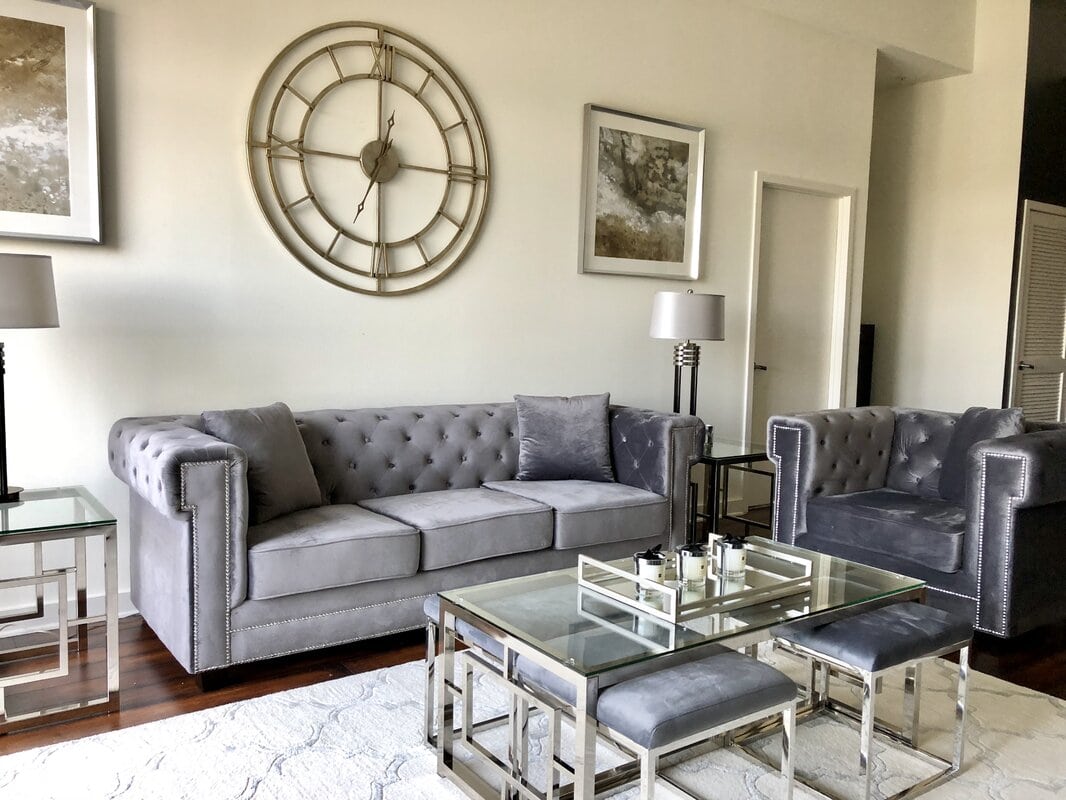 There's nothing more classic than a large ornate clock in a home, which makes it a smart choice for decor over the couch. A round clock will look especially good in a room with squared off furniture like the one in this photo.
One thing to note about this clock is that it's evened out a bit by the two large rectangle prints off to either side of it. They're all spaced out from each other so it doesn't look cluttered, but the clock by itself wouldn't have had the right proportions for the space without them.
Contrasting Art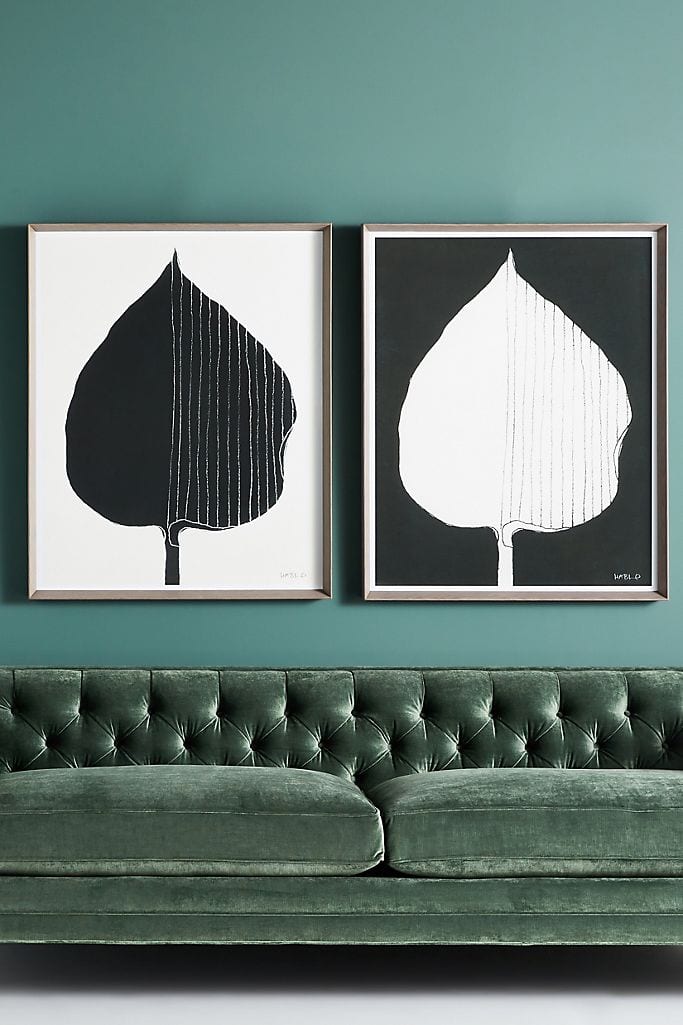 How gorgeous are these prints? They're both so simple, but the contrast makes them pop to create a real statement and draw the eye.
If you're not a fan of black and white, this look can be accomplished with other colors, too! Just pick two colors that have a good contrast and work with the rest of the room.
Simple Meaningful Script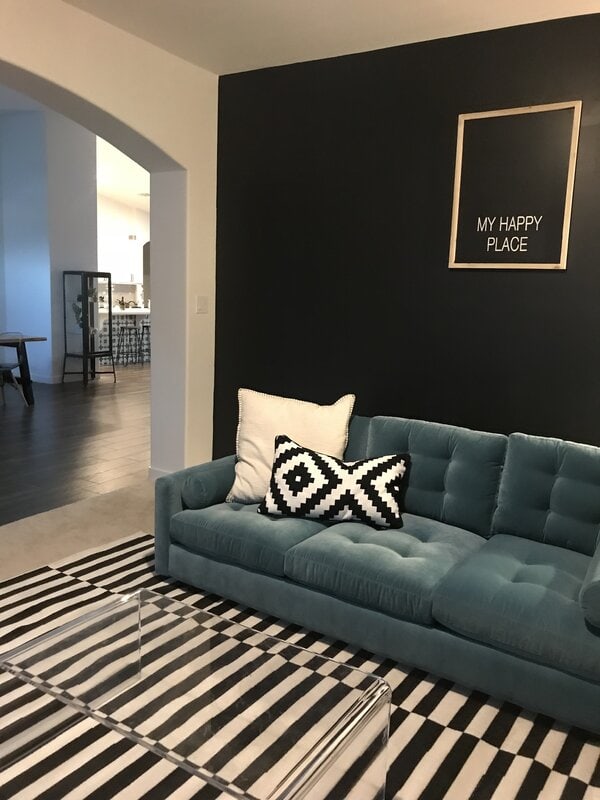 In this room, they used the wall behind the couch to serve as a statement wall with the bold black paint. But, it still would have looked pretty bland without anything on it, so they hung the letter board with a sweet quote that's personal to them.
You can do something similar in your home, either with a letter board, a custom print, or a decal. Whatever you choose, just make sure it says something that you will want to see every day and will leave you feeling warm and inspired.
Final Thoughts
Decorating the wall behind a sofa will fill out the space, and might even make the room feel a little larger than it did with just an awkward blank wall. You can go big with a gallery wall full of pictures of your family or fun prints, or keep it minimal with a two or three panel piece of art.
Whatever you choose to do, just remember to size it right. Proportions are key for a well styled room, so take your time to find the right pieces for over the couch rather than rush to get it done because it's an eyesore. You'll be much happier with the room when you get it just right!