Decorated Life is reader-supported. When you buy through links on our site, we may earn an affiliate commission. Learn More
28 Fun and Creative Ideas for Kids Bathroom
If you're redecorating your kids bathroom or trying to find new ways to entertain them during bath time, creating a kids themed bathroom is a great idea. It can encourage kids to spend time in the bathroom establishing a routine. The last thing you want is a boring adult bathroom that they hate stepping foot in.
The best way to excite them is with some of these creative and youthful decor ideas that reflect their interests.
Make Everything Accessible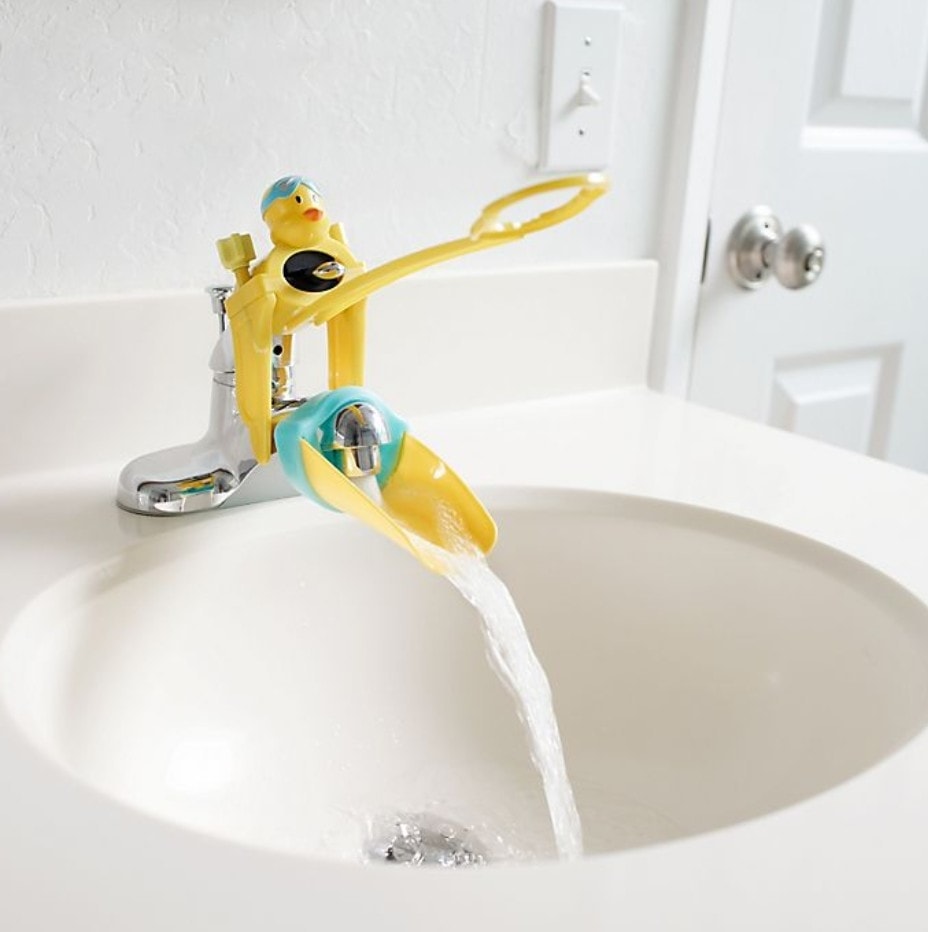 The most important thing to remember when you're looking at kids bathroom ideas, is to keep everything accessible to your kids. Keep everything your kids need easy access to right within their reach.
A basket to hold towels mounted over the toilet may look pretty in a picture, but it will come tumbling down (possibly taking drywall with it) when your child has to tug on it to get a towel out.
Add Color To The Kids Bathroom Vanity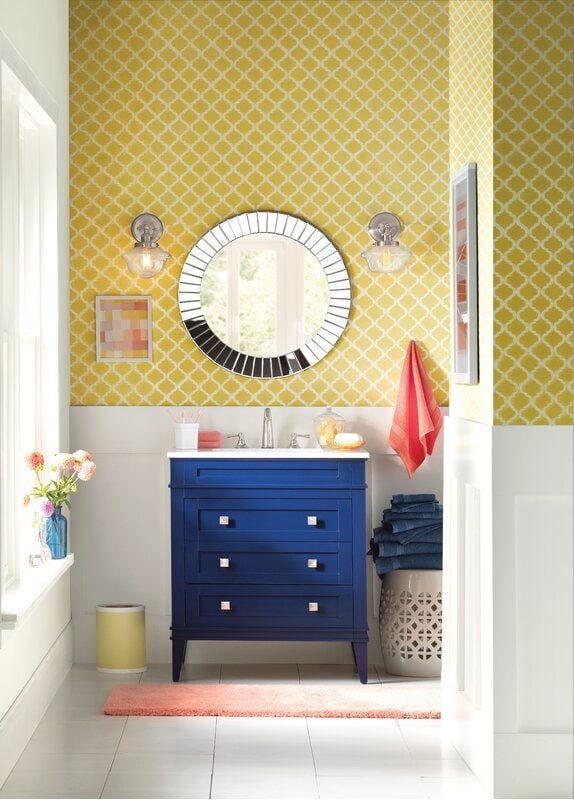 What's more fun for kids than a colorful vanity? It's easy to do and your kids will love it!
Consider a navy blue for boys, dusty rose for girls, or a dark turquoise color for a unisex kids bathroom. It will add some character and a little whimsy to the space.
Make it Pop with Bright Primary Colors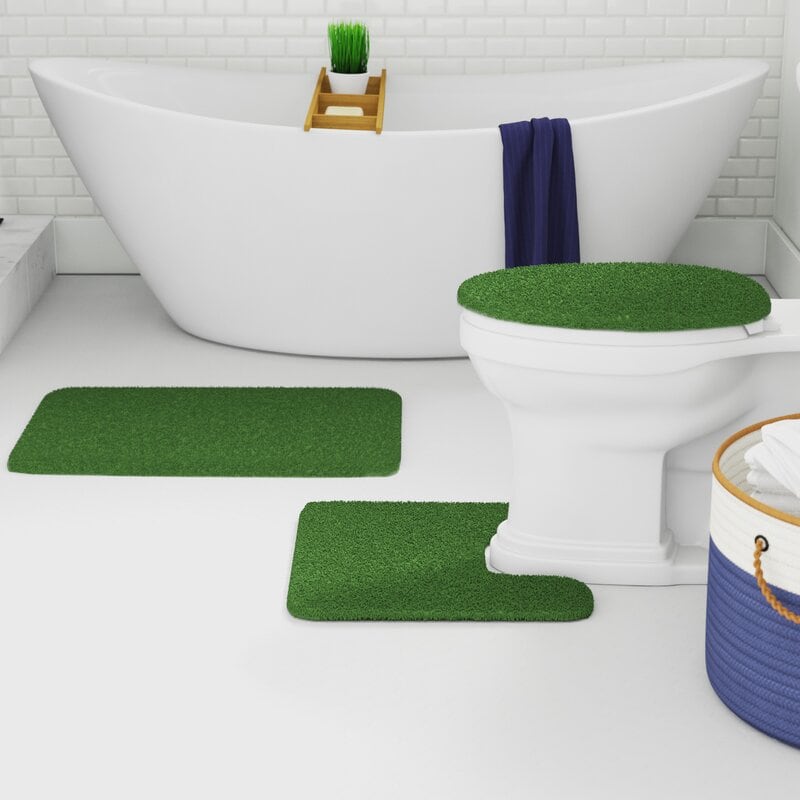 Red, blue, and yellow are the classic primary colors, but you can go a step further with other classic hues like purple, pink, green, or orange. Whatever color you pick just make it pop!
Once you have your color picked out, stock up on rugs, towels, and accessories in the color. They'll stand out well against an otherwise muted space.
Get Fun Towels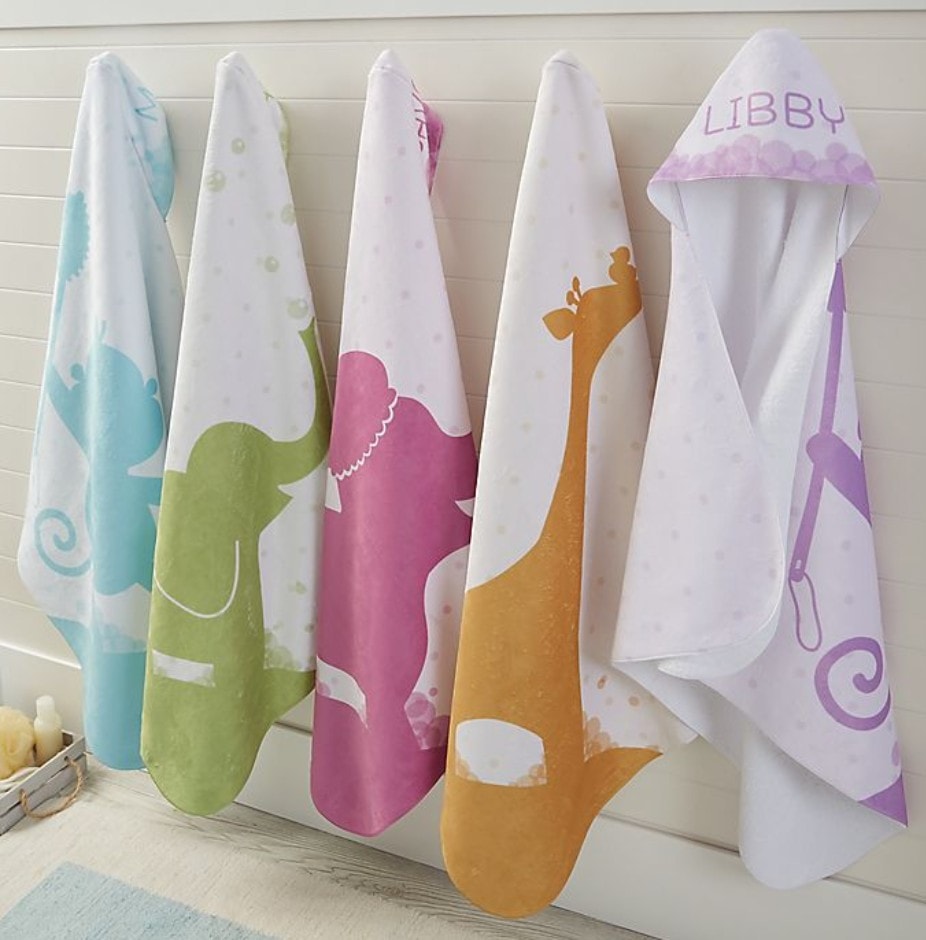 There's something to be said for white bath towels, don't get me wrong, but what's more fun to a kid than polka dots, neon colors, or those cute hooded towels with their favorite characters on them.
Sure, you'll have to wash them separate from your white towels, but what's one more load of laundry when you have kids, anyway?
Hang Colorful Reminders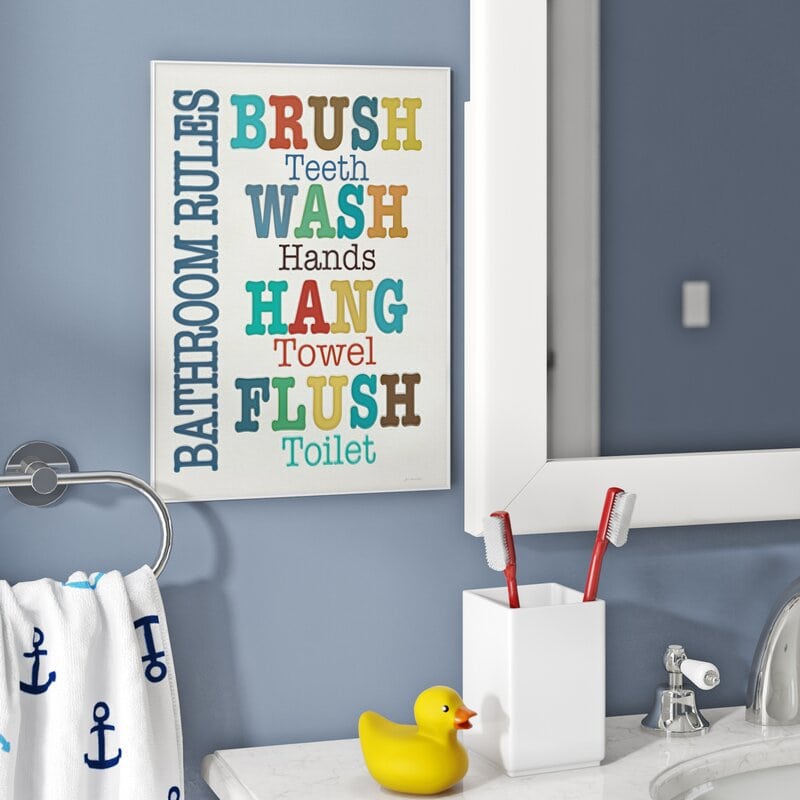 If you go into someone's guest bath and see a sign that says "don't forget to wash your hands," you'll probably chuckle to yourself because it's likely meant to be a little cheeky. But, these signs are actually really good for a child bathroom.
Even if your little one can't read yet, you can teach them that the picture on the wall says "brush and floss," and they'll associate it with the action and it will still serve as a reminder (and maybe save you from having to remind them 20 times in a day).
Speed Up Mornings With Multiple Sinks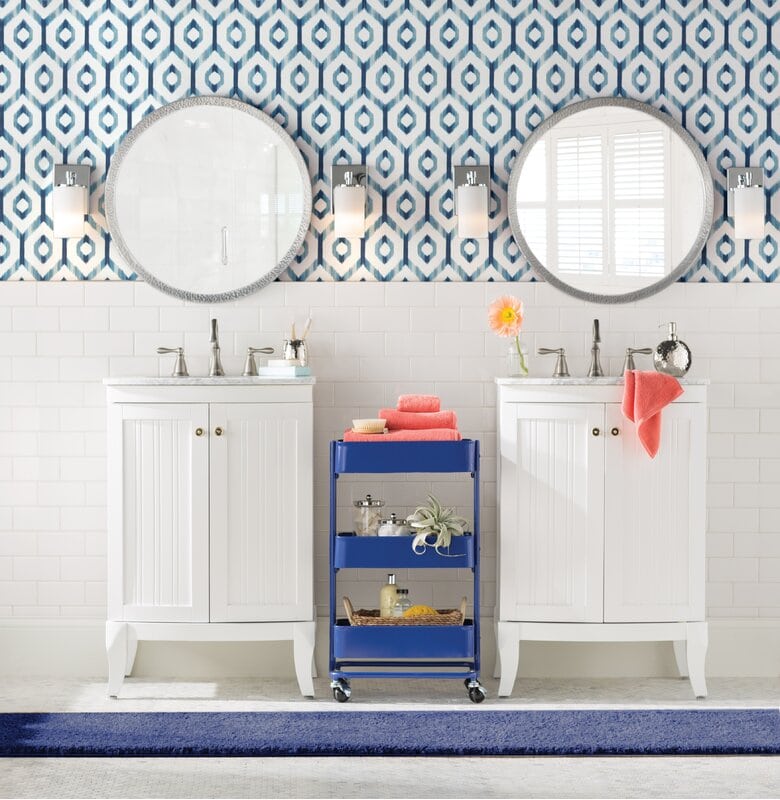 If you have the space, you could actually get multiple sinks. A vanity with multiple sinks is perfect for bigger families with few bathrooms.
You can keep the spaces defined with individual mirrors, which is especially helpful if you have two kids who whine about their sibling "going over their side" of anything from the back seat of the car to the couch.
Add Fun Touches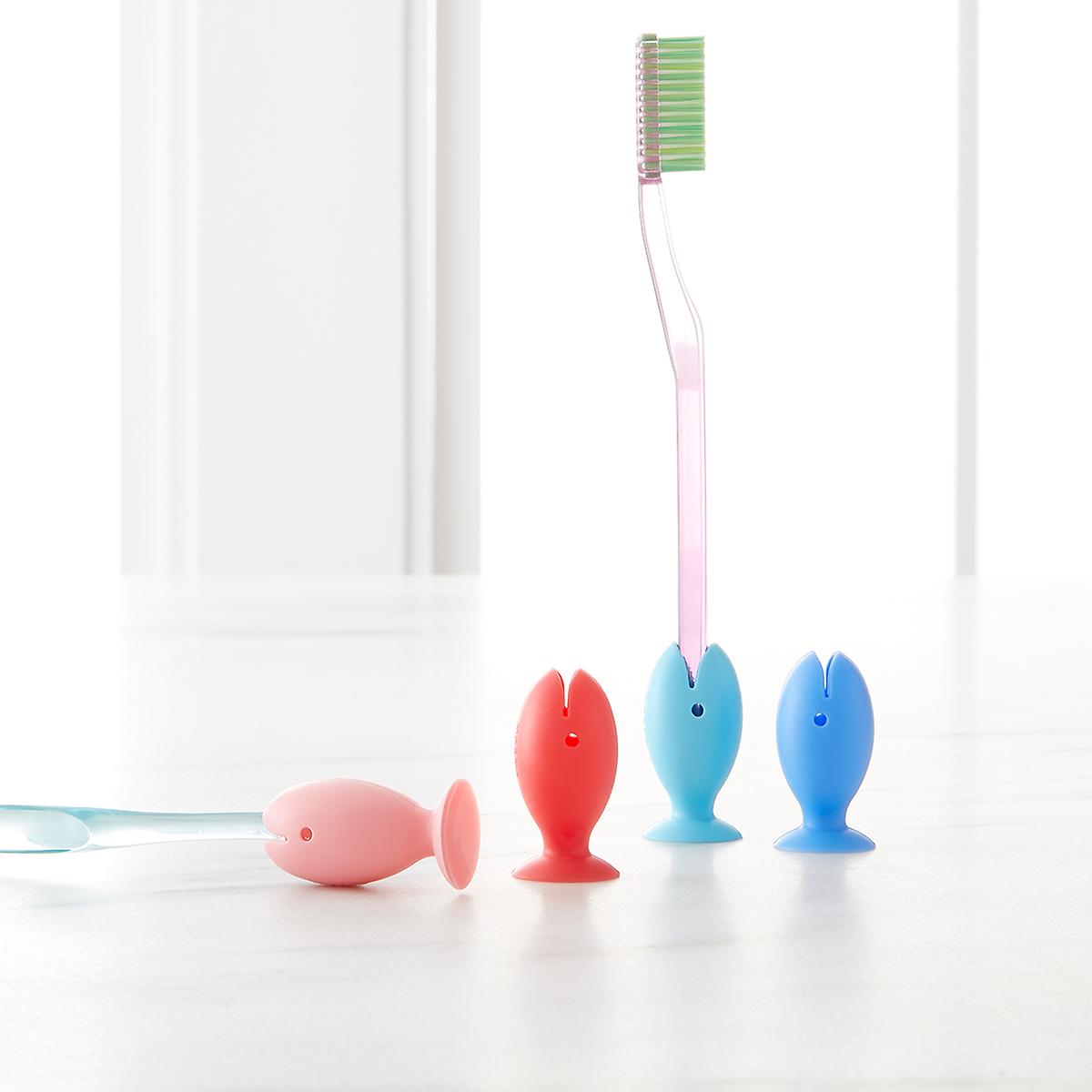 You don't have to go big with bathroom ideas for kids, because something as simple as little fish toothbrush holders like these will get your kids happy and excited. Just a few kid-friendly touches here and there will do just fine.
Double as a Guest Bathroom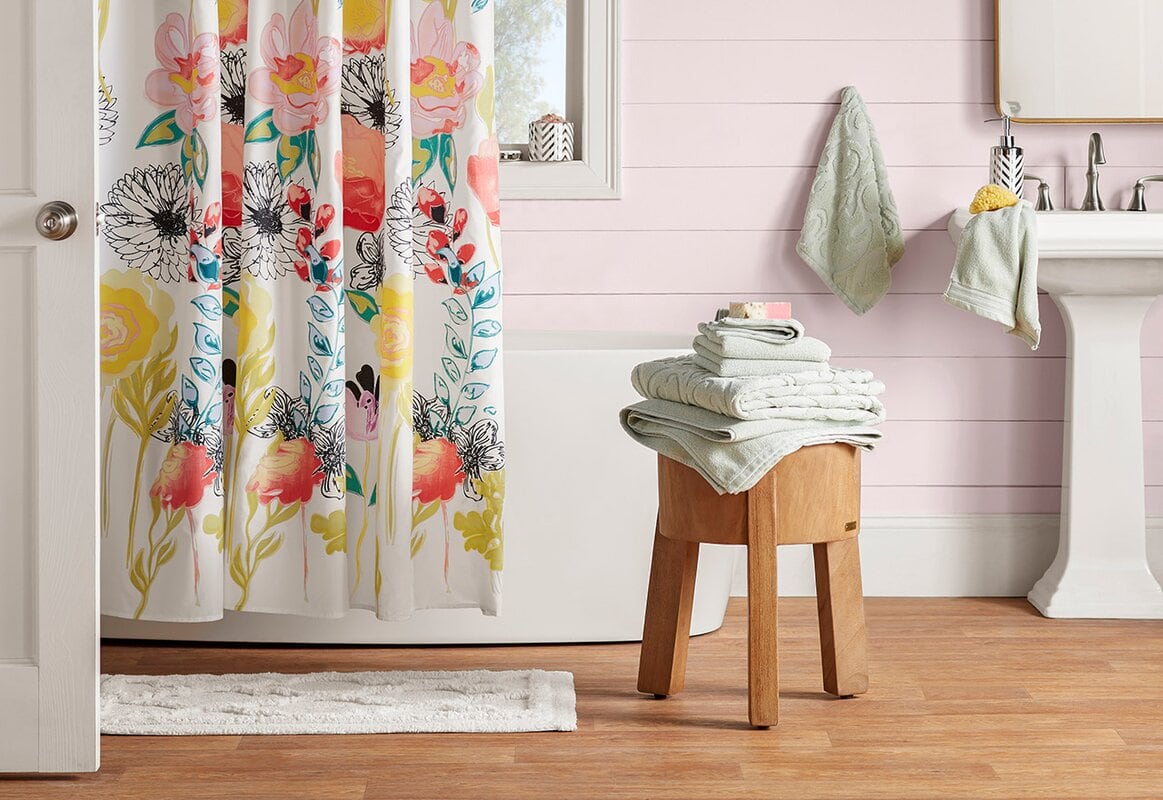 On that note, if your child's bathroom is going to double as your guest bathroom, don't feel bad if you want to tone down the kid stuff to make it a little more guest-friendly. To do this, keep it colorful but stay away from cartoon characters and just have a spot to stash the bath toys when people come to visit.
Minimize Clutter with a Bath Toy Holder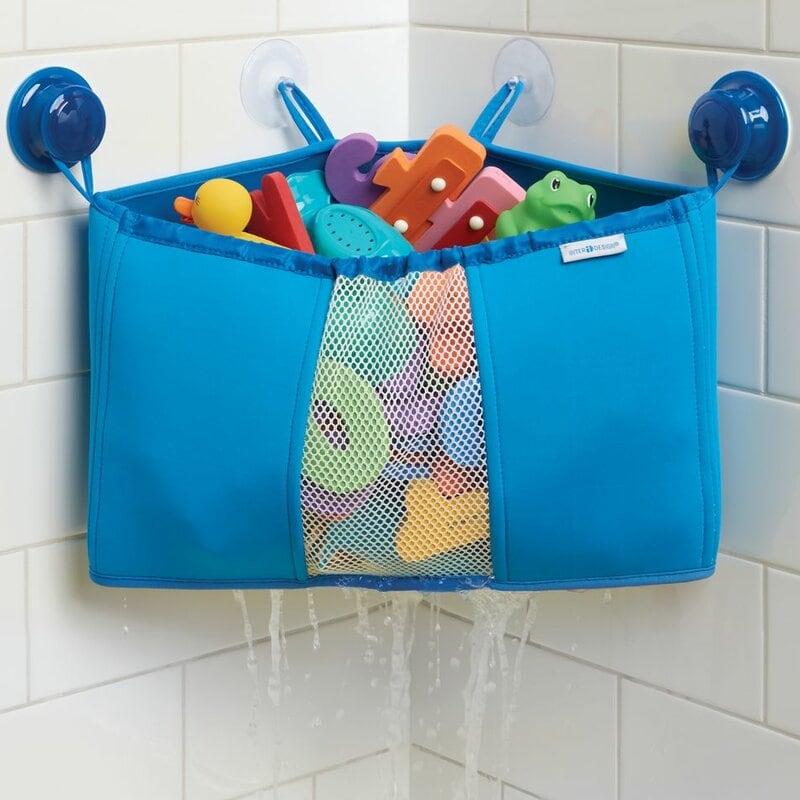 It's quite simple to buy a bath toy holder, and you'll be happy you did. Look for one with suction cups so you can hang it above the bathtub. It'll keep all your kids' bath toys organized, and the mesh covering will help them air dry to avoid mold issues.
You'll notice how much neater the room looks after, and your guests will feel much more comfortable using the bathroom once it's cleaned up.
Decorate with an Aquatic Theme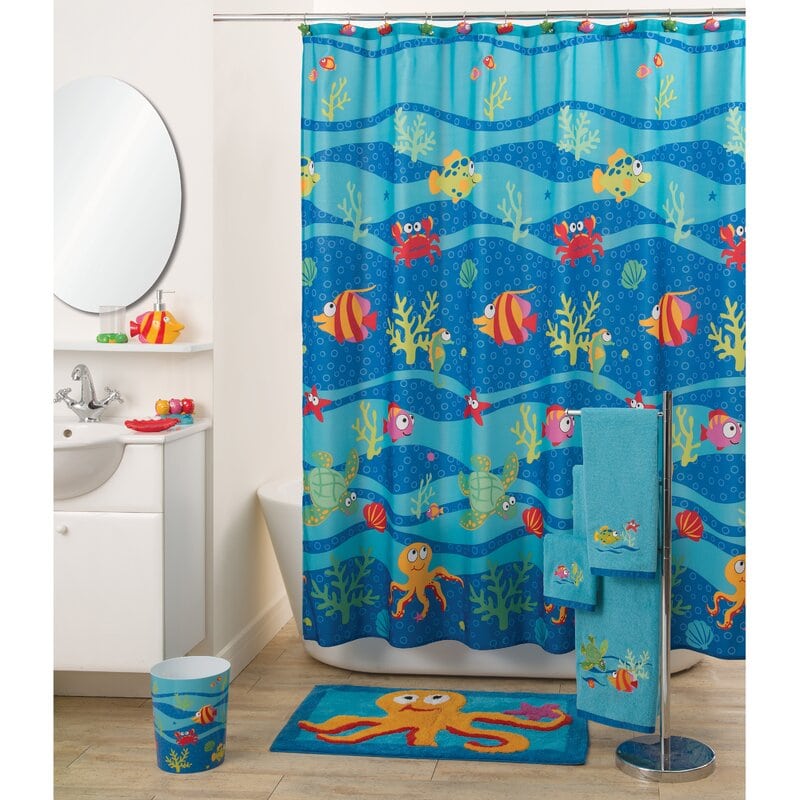 Aquatic themes are really popular for bathrooms, especially kids bathrooms where you have more flexibility to be fun and creative. The blue color mixed with hints of water is appropriate and refreshing in a bathroom decor.
This look can be achieved quite easily by painting a border at the top in a surfing wave pattern. Go beyond that with some aquatic themed towels, garbage can, and other accessories.
Make It Something They'll Grow Into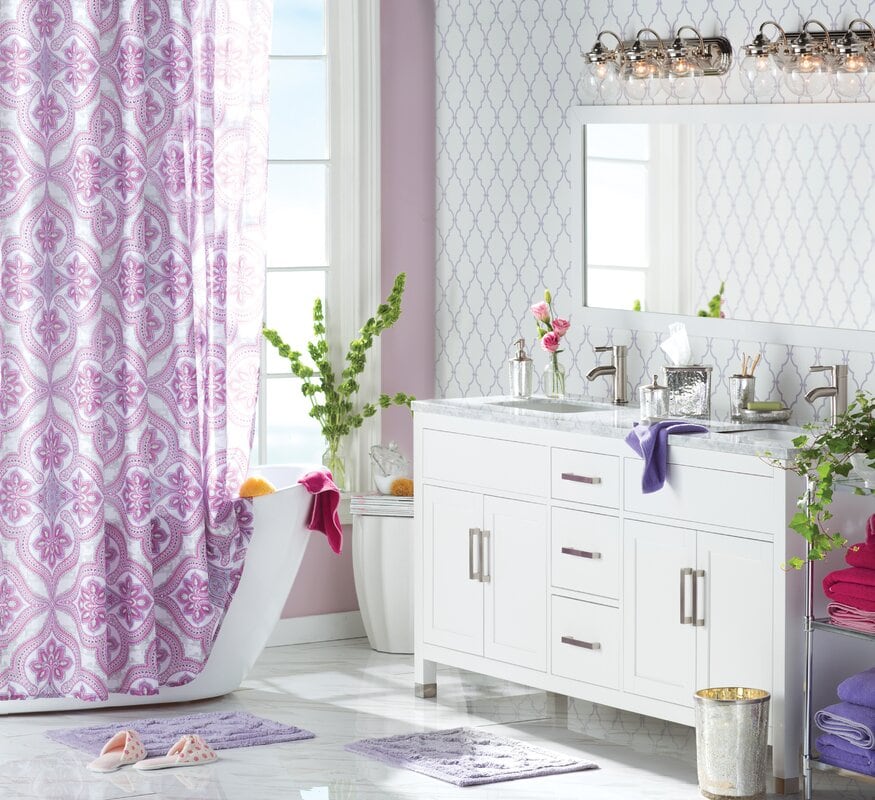 Kids don't stay kids for very long, and their interests change seemingly every day, so you may want to consider going for a more modern kids bathroom design that allows flexibility for them to grow into it rather than out of it.
This bathroom is a great example, because a little girl will love the purple shower curtain and bright white vanity, and as she grows into a tween/teen she'll start to appreciate the glam touches a little more.
Use Their Favorite Characters As Inspiration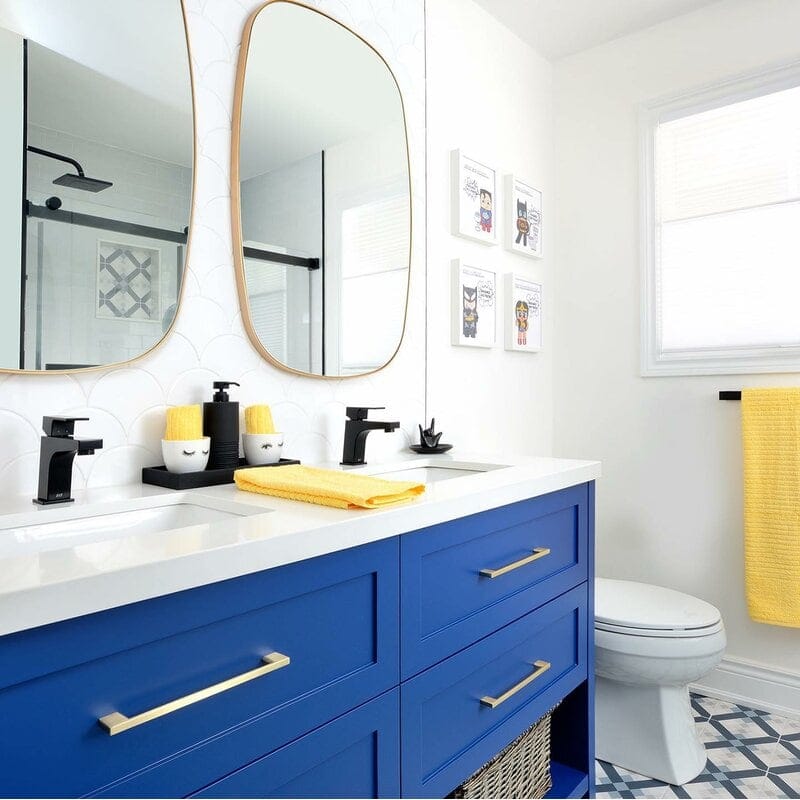 If you really want to make your kids go crazy, then just go all in by decorating the bathroom with their favorite characters.
For a little kid, it can be as simple as finding a shower curtain that features Anna and Elsa. For bigger kids, you can do something like this bathroom, which has pictures of superheroes over the toilet with the rest of the bathroom pulling colors from those photos to coordinate.
Find A Fun Shower Curtain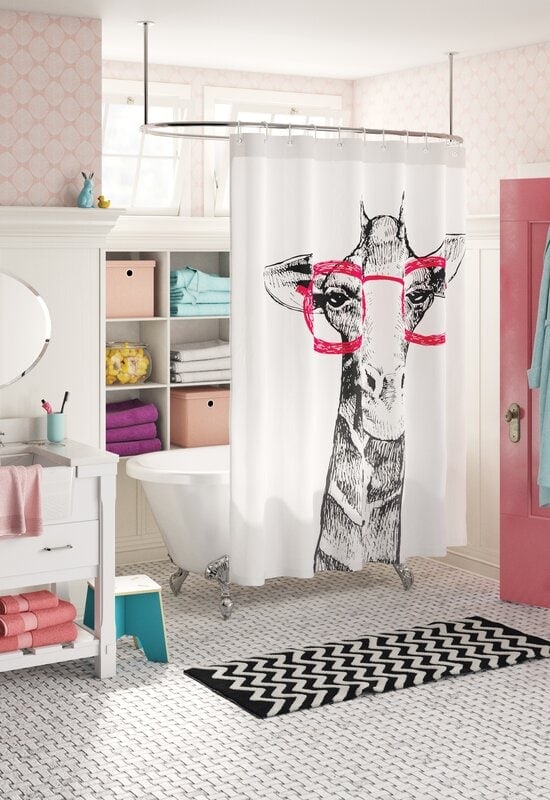 Want to make your kiddo smile every time they walk up to the bathroom? Have a fun shower curtain staring back at them. It can be anything, a favorite character, a silly design, or a fun phrase.
Set Up A Towel Hamper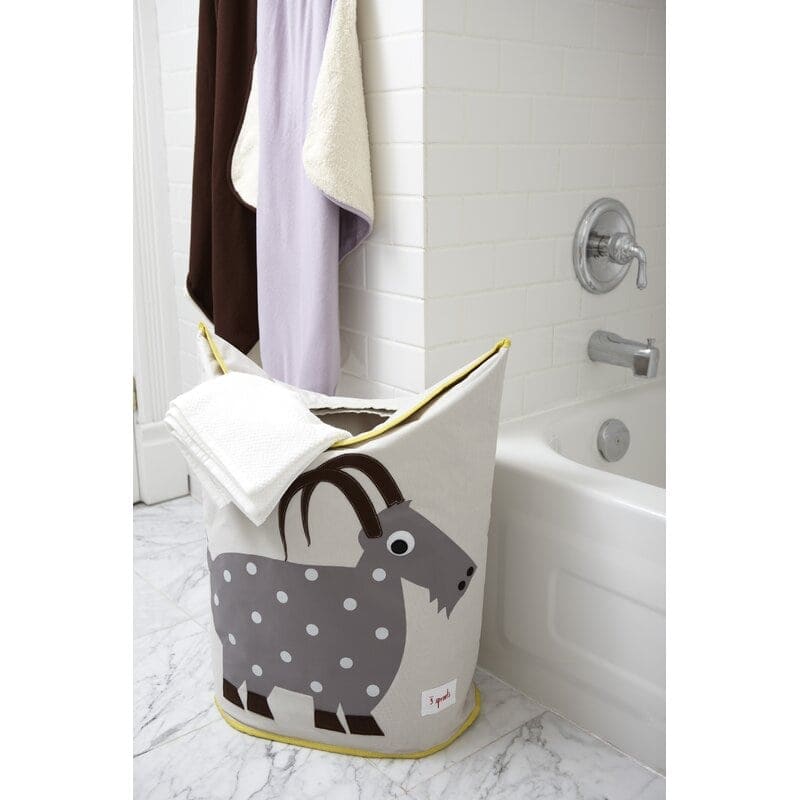 Don't forget yourself when you're looking at cool kids bathrooms for inspiration. Because, if your kids are little, you'll likely be the one who is cleaning it up.
So, keep it simple by adding a hamper or basket for towels. Even toddlers can learn how to toss their towel into a laundry basket, making it easier for you to scoop it all up.
Make It Easy To Update Later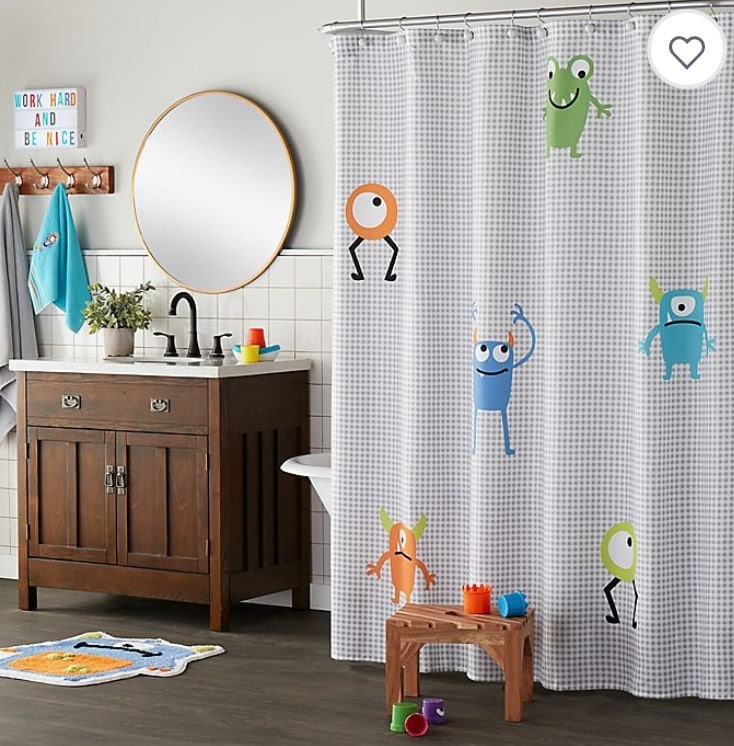 With their ever-changing interests, redecorating kids bathroom space can become a regular thing. So, make it easy on yourself by investing in inexpensive, easy to swap out accessories rather than going big like installing new tile or painting the vanity.
Shower curtains, towels, and rugs are pretty easy to replace and you can usually find some good ones for relatively inexpensive. Keep the bones of the bathroom neutral so it's easy to change up as needed.
Find Some Decals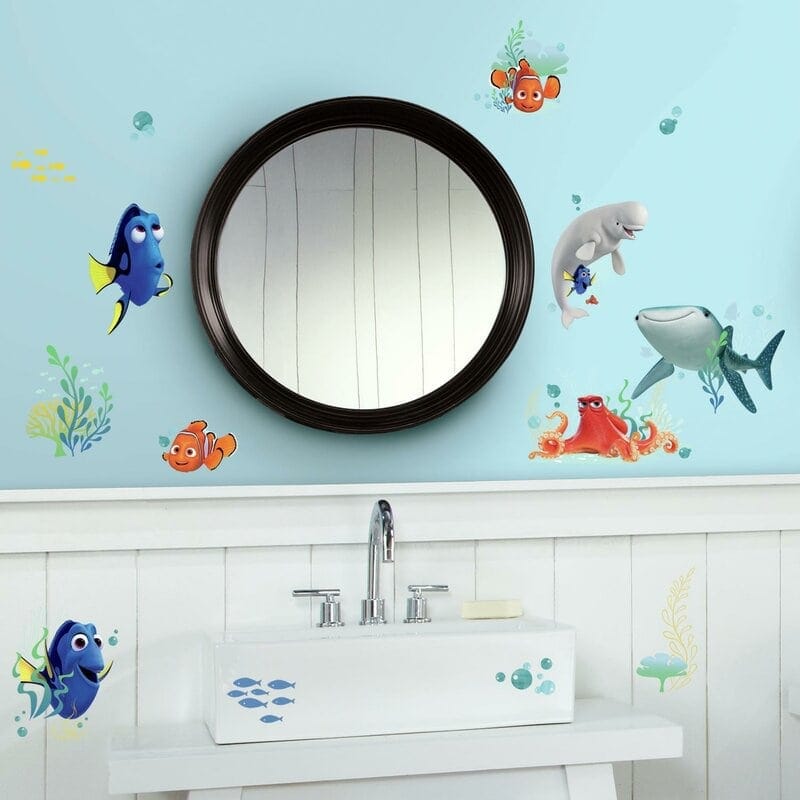 If you want to create a really amazing kids bathroom, find some fun vinyl decals to add to the walls or the mirror for a little extra something. It can be anything, polka dots that look like bubbles, a mermaid tail popping out of the tub, or Finding Nemo characters like in this picture.

Install Unique Hooks for a Fun Look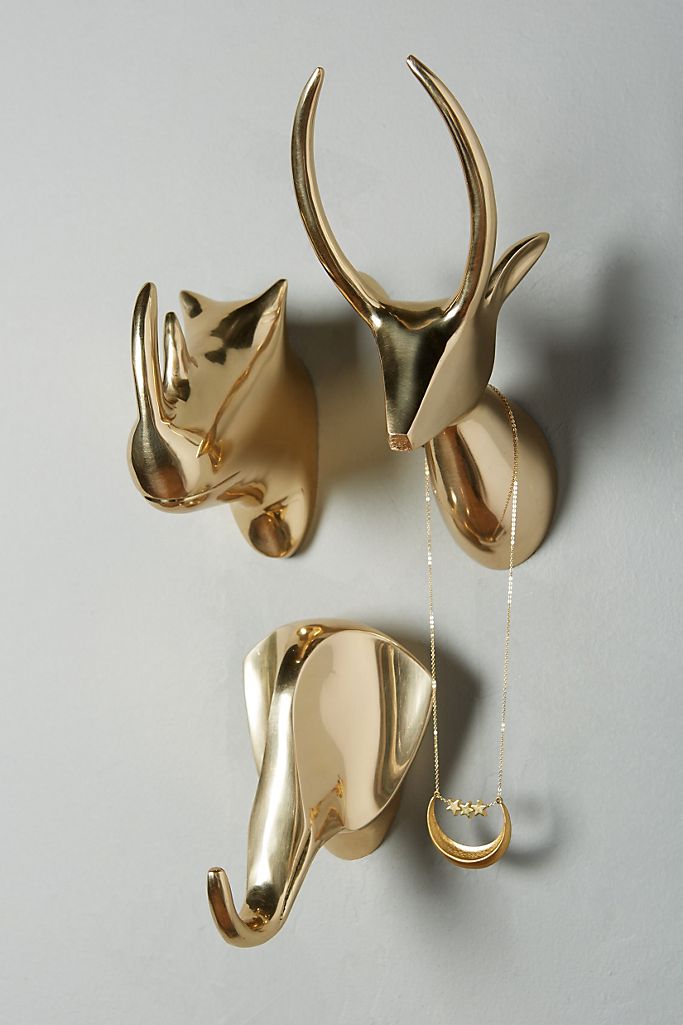 Sure, you can get regular old hooks for your kids to hang their towels on. But, if you want to make the bathroom look really cool, find some fun, unique hooks like these animals or some with a little sparkle to them. Just use the hooks as an easy way to add a little kid-magic to the space.
Sharks Are Always A Good Idea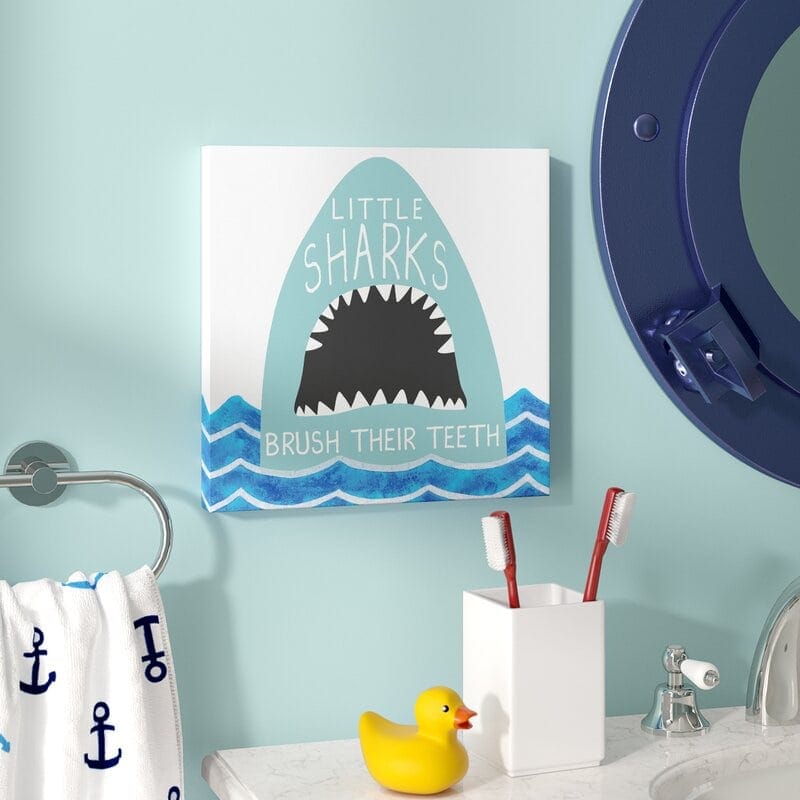 When it comes to little boy bathroom ideas, you can't go wrong with a shark theme. What's cooler than a shark coming in for an attack? Or, if it's a little kid's bathroom, what's cuter than a friendly shark smiling back at you?
Basically, when in doubt, go for sharks.
Create Low Shelving Solutions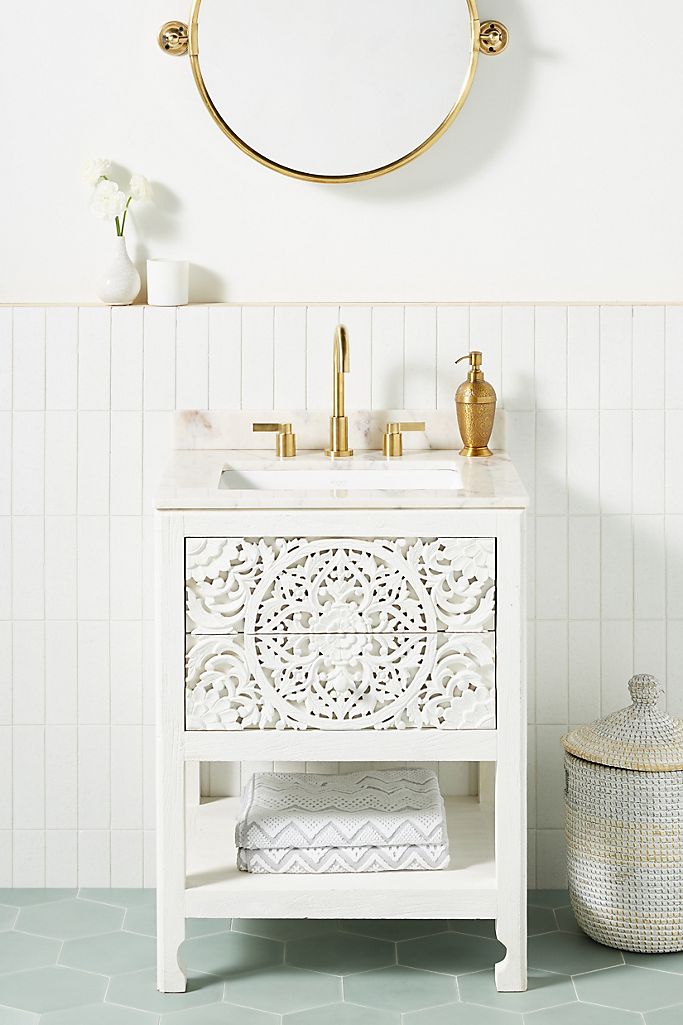 One very important thing to remember for children's bathrooms is that low shelves equal independence.
If your toddler can reach their towel, then they're not calling for you to come get it for them. Even better, you can teach them how to fold their clean towels and set the expectation that they put them away on the shelf themselves. Low shelves mean independence for them and a teeny tiny bit less on your plate.
Install Some Colorful Tile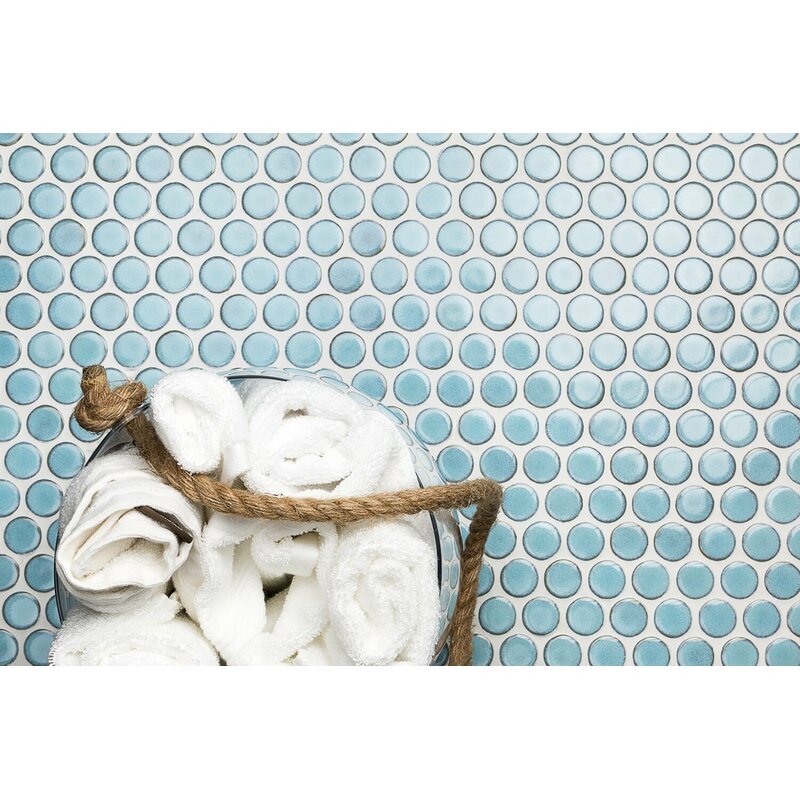 If there were ever an excuse for installing some bright tiles in your bathroom, it's kids! Line their shower with some bold mosaics or make their floor look like an actual ocean with deep blue tile.
This doesn't have to be a permanent decision either, because there are so many temporary/removable options out there, so you can get as creative and colorful as you want!
Go for a Mermaid Theme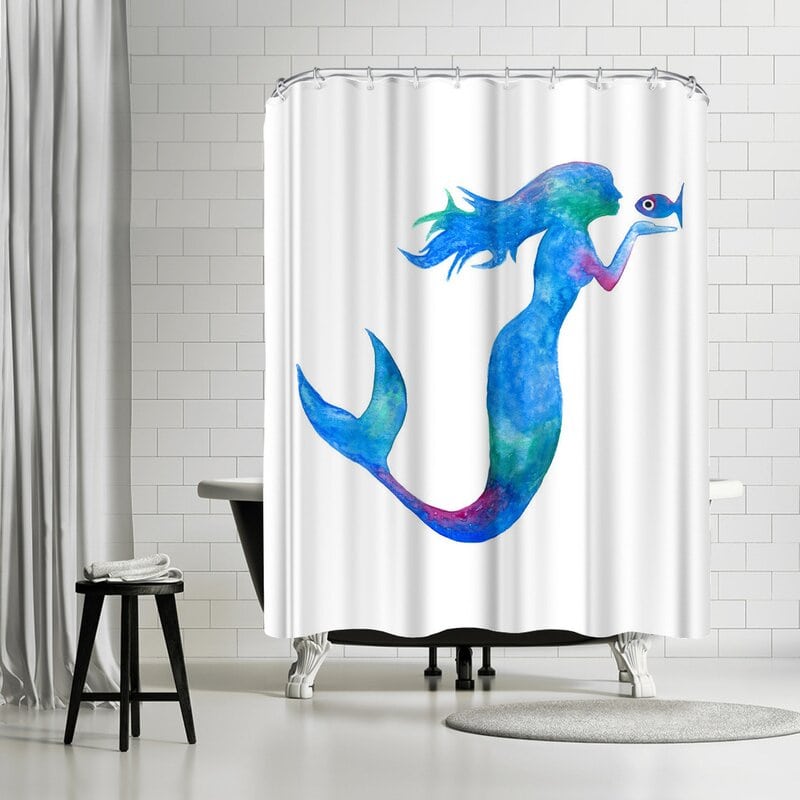 There are no better little girl bathroom ideas out there – just go with a mermaid theme.
Find a shower curtain with a mermaid tail on it, hang some wall decor with phrases like, "I'd rather be a mermaid," and incorporate some mermaid scales anywhere you can. Remember to stick to iridescent jewel tones to really bring the theme home!
Keep It Safe Without Sacrificing Cute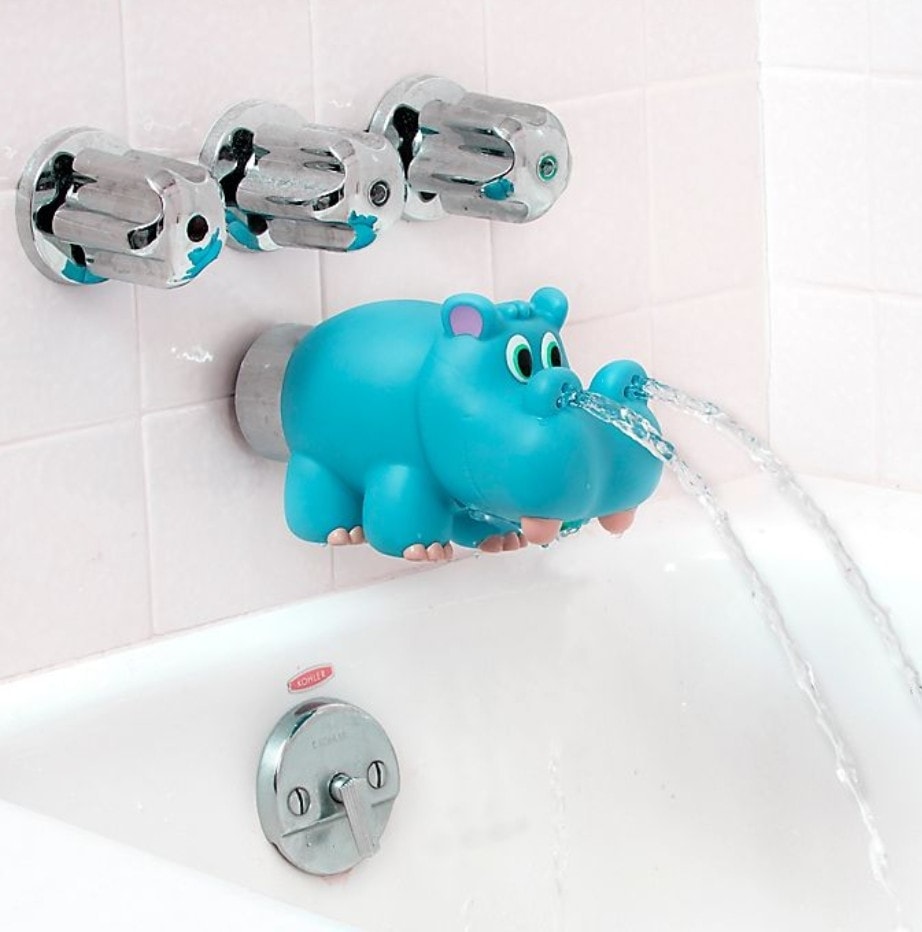 Little kids love the bath faucet. Like L.O.V.E. love it. They also love to slide around in the tub with no regard for how sharp that little faucet can be.
So, find a playful cover like this one so that if they're going to spend their entire bathtime playing with the faucet you can at least sit back and not have to worry about them hitting their head on the corner of it.
Add a Non-Slip Mat for Safety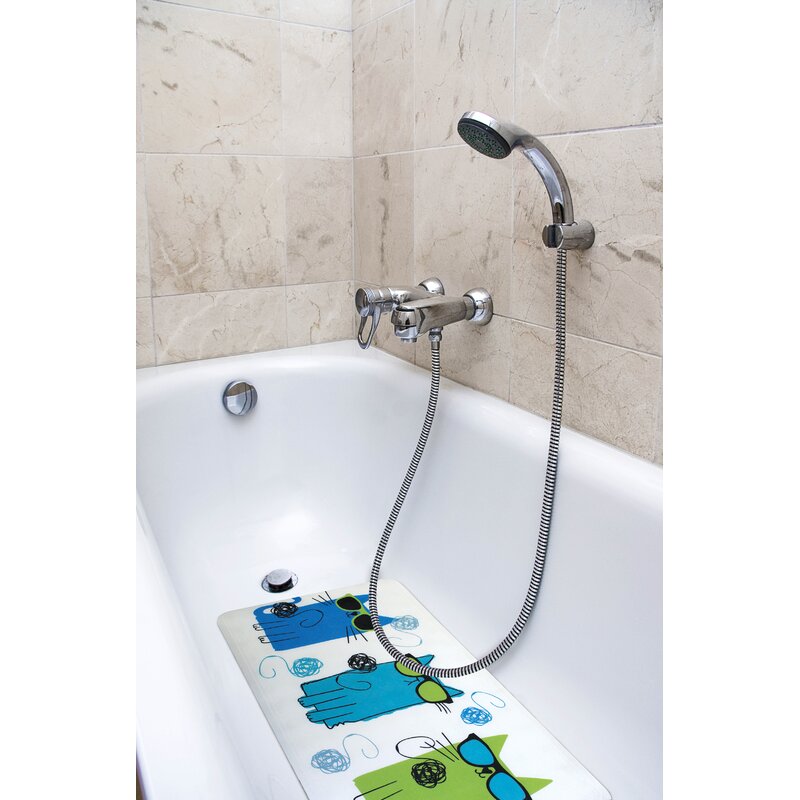 Decorating your kids bathroom isn't only about creating a fun and playful room; it's also about adding practical or safe touches. That's why you should make sure you get a non-slip mat for in the tub.
The mat will keep them from sliding all over the place if they're taking a bath, and will help prevent slips once they start taking more showers.
Get A Good Step Stool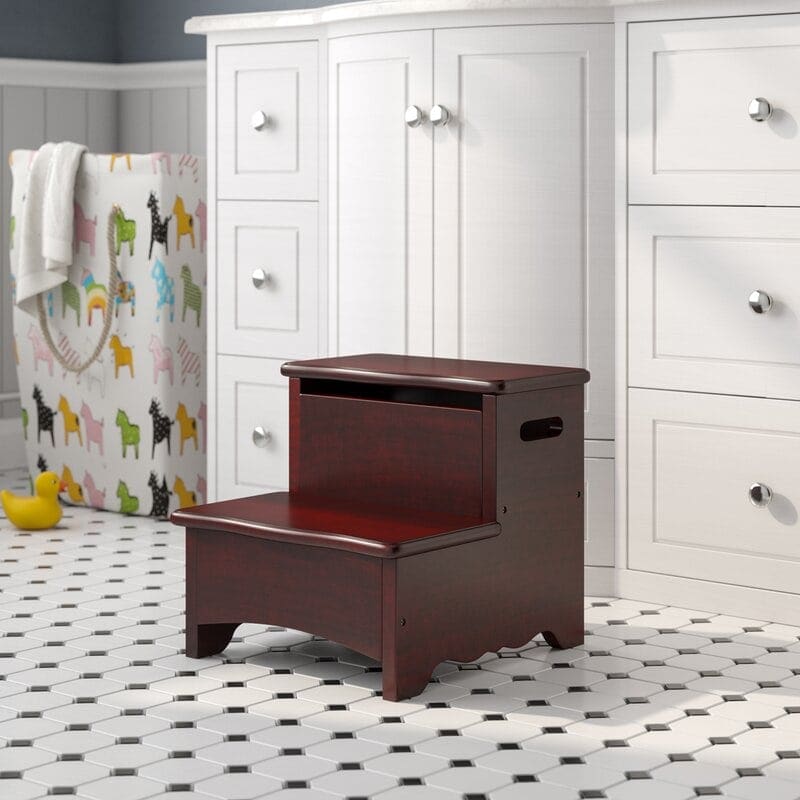 Here's another essential item to include in your kid's bathroom if you want to teach them independence. A step stool will allow them to reach the bathroom sink, which will give them a jump start on learning how to brush their teeth solo.
Plus, if they have a step stool you won't have to awkwardly hold them up every time they want to wash their hands (which is basically any time they enter a bathroom).
Mess-Free Shampoo and Soap Dispensers
Has your kid ever tried to squeeze shampoo or conditioner into their hands themself, and ended up wasting half the bottle? Or, have they somehow managed to get it everywhere, causing a huge soapy mess that's impossible to clean?
You can avoid all of this with easy-to-use shampoo, conditioner, and soap dispensers like these. It's another step towards independence, and one less mess for you to clean up (or to fight with them to clean up themselves).
Add A Night Light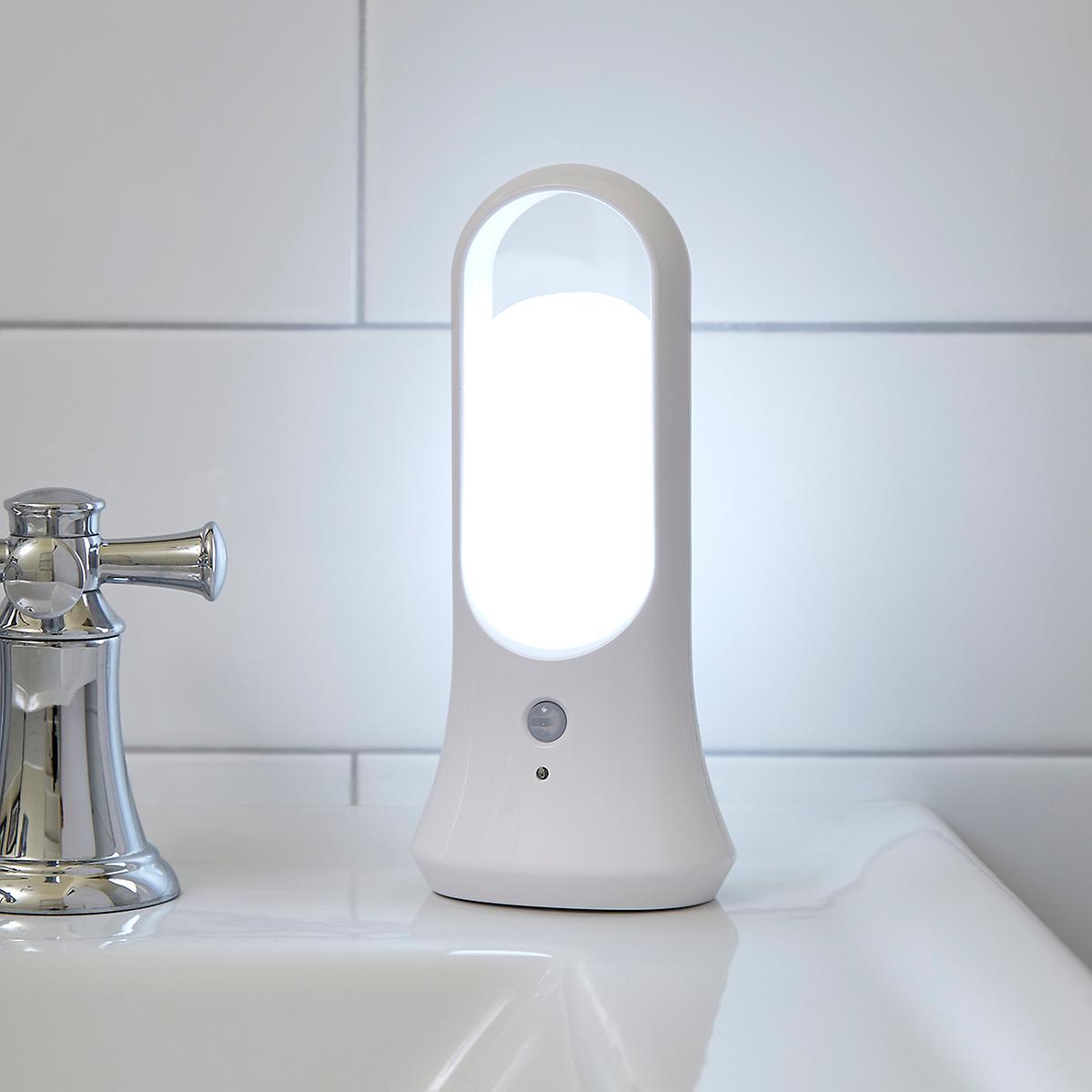 No one likes to go to the bathroom in the middle of the night and be blinded when they turn on the light. Put a little night light in the bathroom so your kids can avoid that. Plus, it will help them find their way when they're half-asleep and need to go really bad.
Don't Forget Some Toys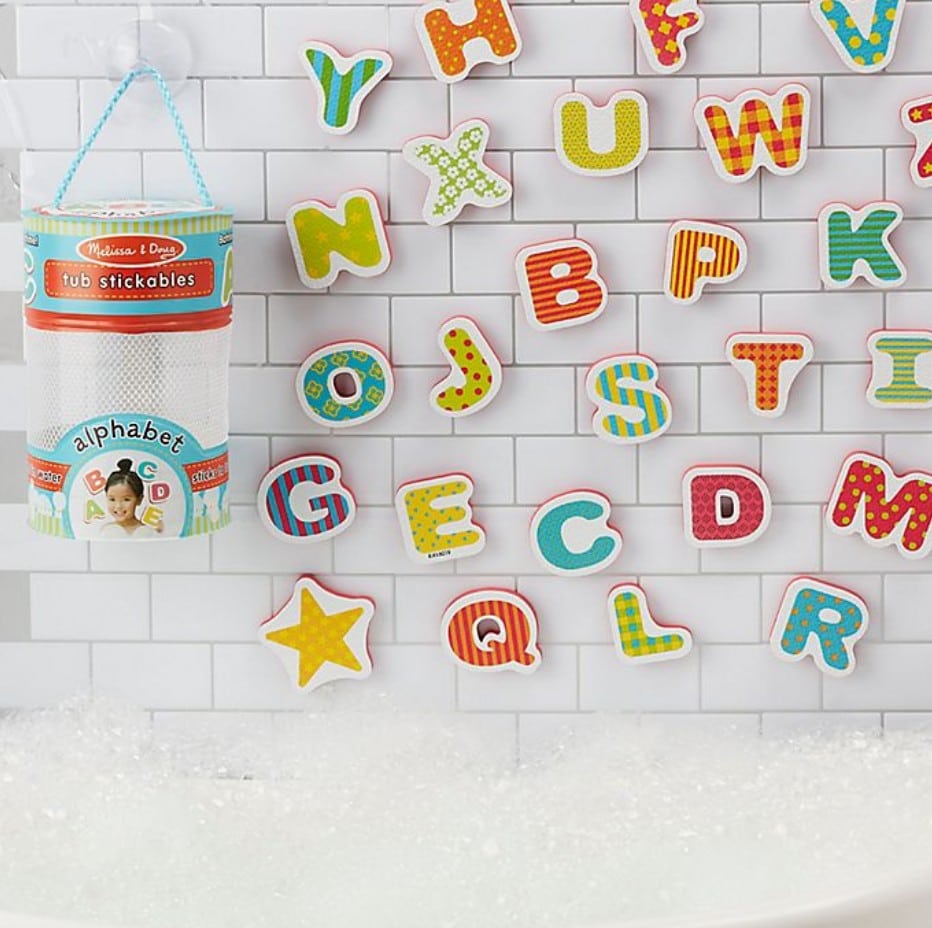 As far as toddler bathroom ideas go, don't forget to splurge on a few fun toys for them to play with in the tub. Foam letters, mermaids, fish, and cups to pour water from are always winners, and they're easy enough to stow away as needed.
Keep The Floor Dry With A Good Rug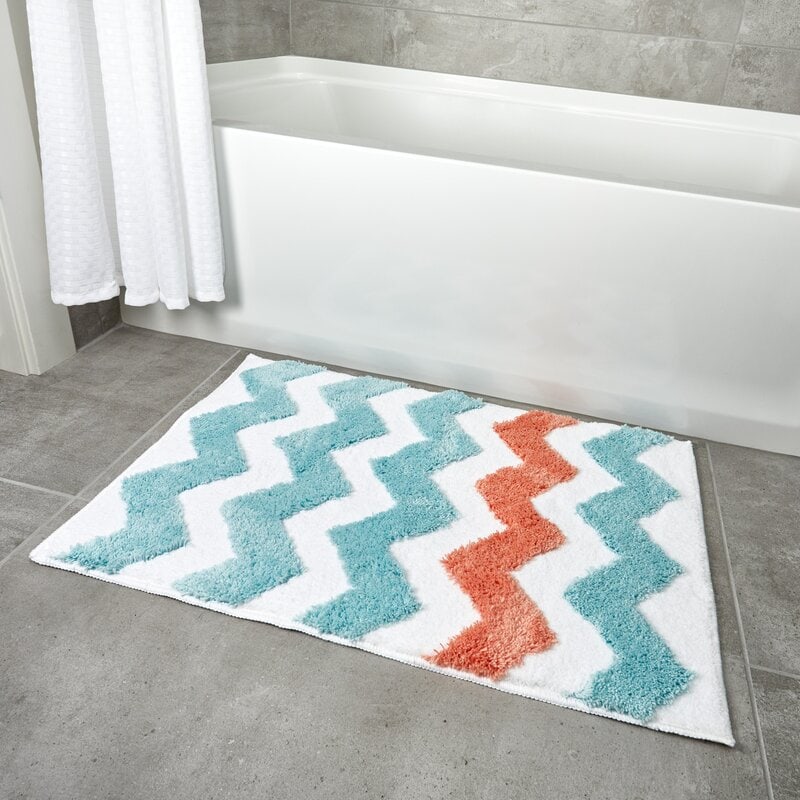 Don't rely on your kids to put a towel down on the floor to step on every time they take a bath or shower, because they won't remember to do it. Instead, just invest in a good rug that stays put at all times.
Make sure the rug is able to absorb water from a dripping kiddo and that it has a non-slip bottom so that your child doesn't go flying when they step on to it. The right rug will keep your floor dry and your kid safe.
Final Thoughts
When decorating your kids bathroom, the sky's the limit. There are so many fun and practical touches that you can add without breaking the bank. You do want to be creative, though, because it'll make it a lot easier for you down the road to convince your kids to get in the bath.
If you think they'll outgrow their current interests quickly, or there are some adults sharing the space, you might want to stick to more subtle touches. Whatever the case, you'll be sure to find some inspiring and unique ideas for your home in this list of kid-friendly bathroom decor!