Decorated Life is reader-supported. When you buy through links on our site, we may earn an affiliate commission. Learn More
23 Mid Century Modern Kitchen Ideas
By: Decorated Life Team
|
In a way, the kitchen represents the heart and soul of the home, it's very core, and the timeless mid-century modern style is perfect for accentuating that.
With its pastels, bright colors, bold shapes, geometrics, and mix-and-match patterns, mid-century modern is a big and exciting playground.
If you're in the mood to redecorate (or remodel!) your kitchen, snoop through these suggestions to get some inspiration! Let your creative juices flow and have a lot of fun styling your cooking space.
A Little Bit of Mixing Can Go a Long Way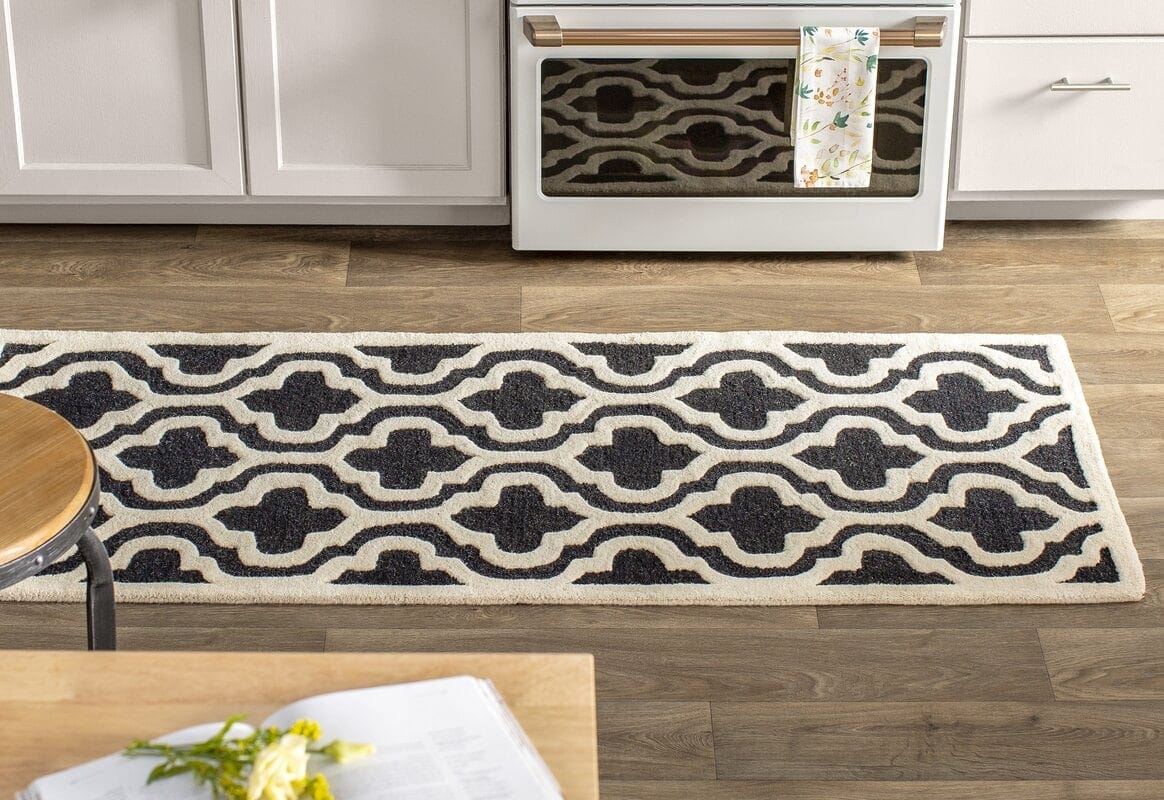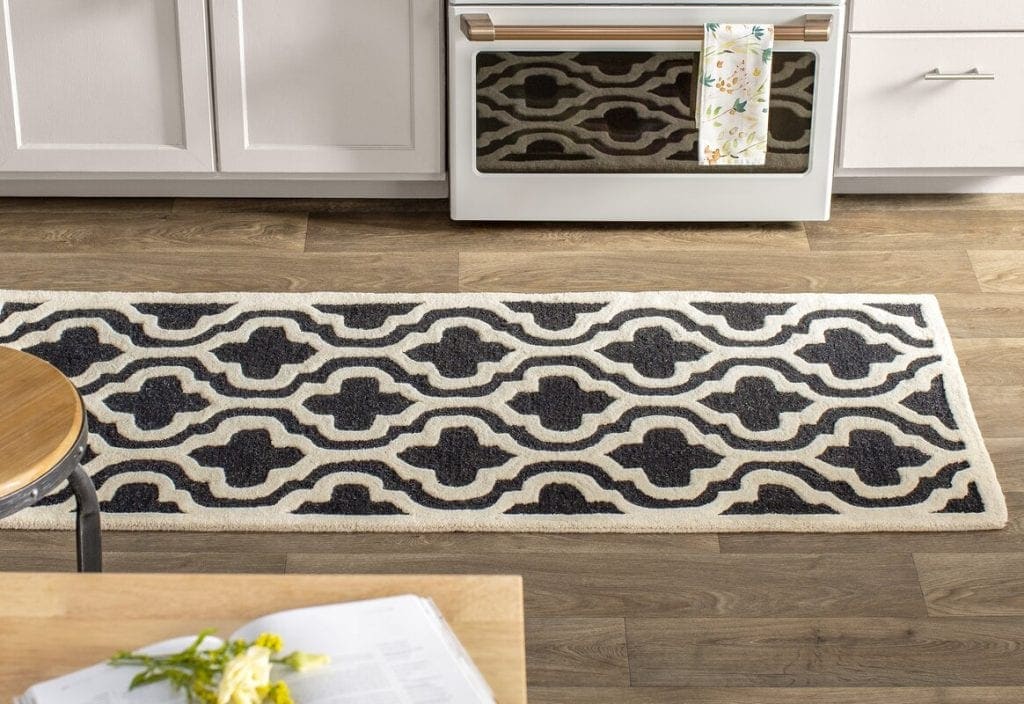 If you love the mid-century modern kitchen design, but don't have the budget to completely renovate, add in some small stylistic touches to bring in the vibe.
A geometric rug, some funky cabinet hardware, and even some wall art can transform your basic kitchen into a mid-century modern one.
Bring in the Outside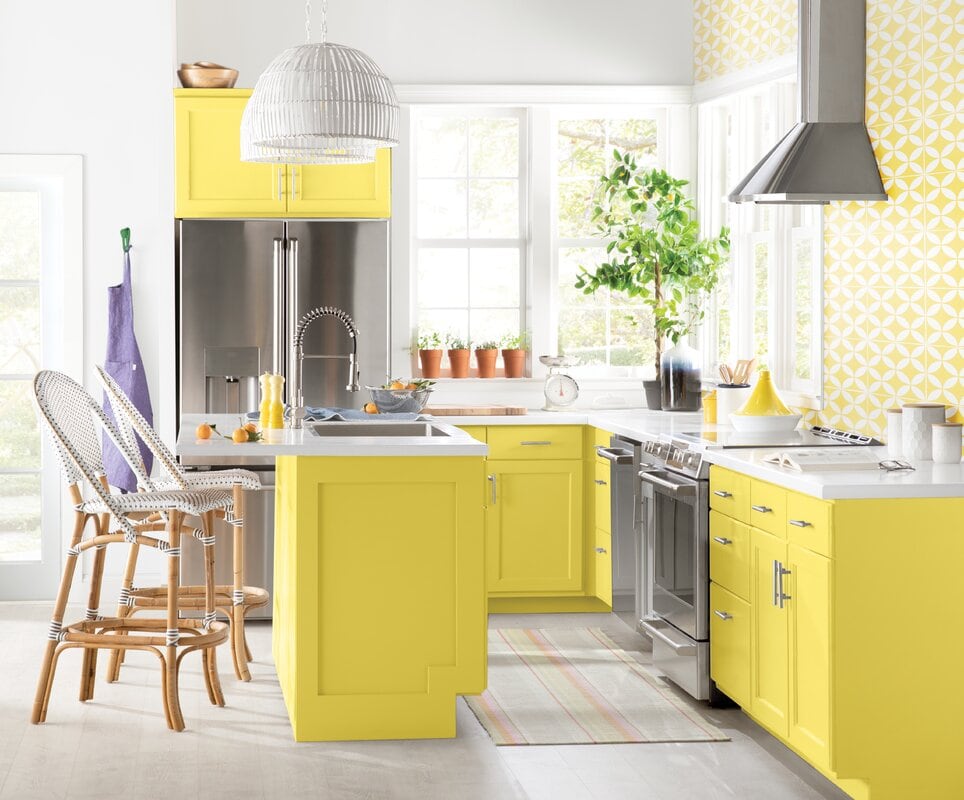 Large windows and lots of light are important elements of this style. If you are blessed with a nice yard or beautiful overview, why not use it as a part of your design?
Get rid of the curtains and let the light in, then mix in earthy colors like avocado green, brown, yellow, and all other beauty from the outdoors.
Focus On Design Elements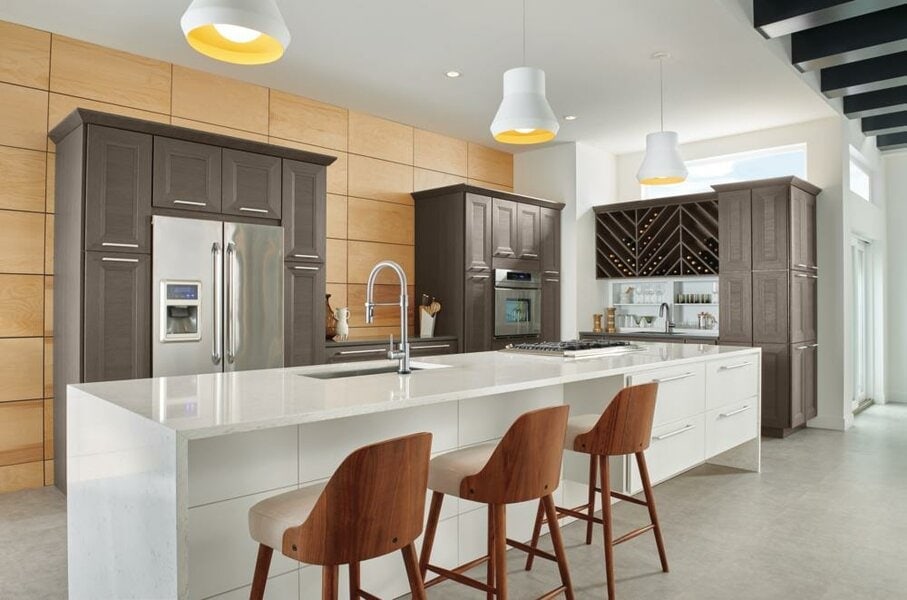 Mid-century modern kitchen cabinets are a big, long term investment and commitment. So, keep them sleek and simple and add in some other design elements to bring in the style.
The lights, chairs and built-in wine rack are all very mid-century modern, but could also easily be changed if your taste changes in a few years (except, we can't find a reason to ever get rid of that wine rack, because it's gorgeous).
Don't Be Afraid to Get Colorful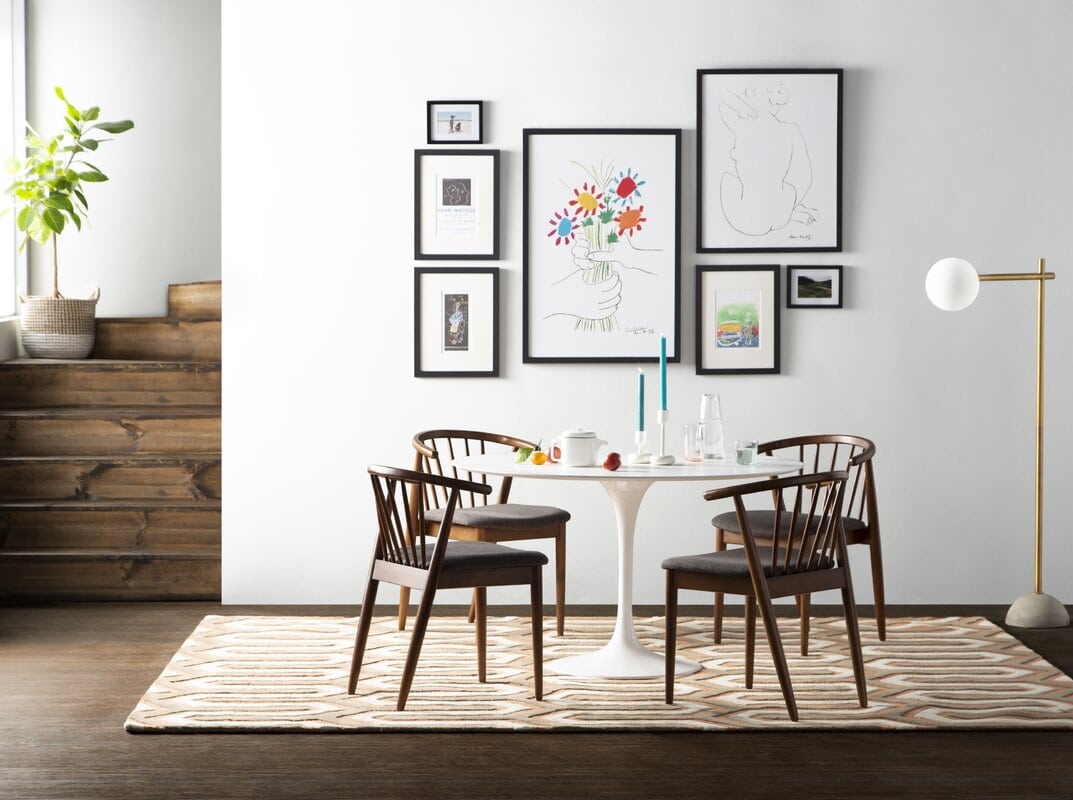 The mid-century modern style is classically full of neutral tones, but you can liven things up with splashes of color here and there.
In this eat-in kitchen, there are bright blue candlesticks, colorful art, and a green plant to help add a little variety to the otherwise muted tones.
It's All In The Details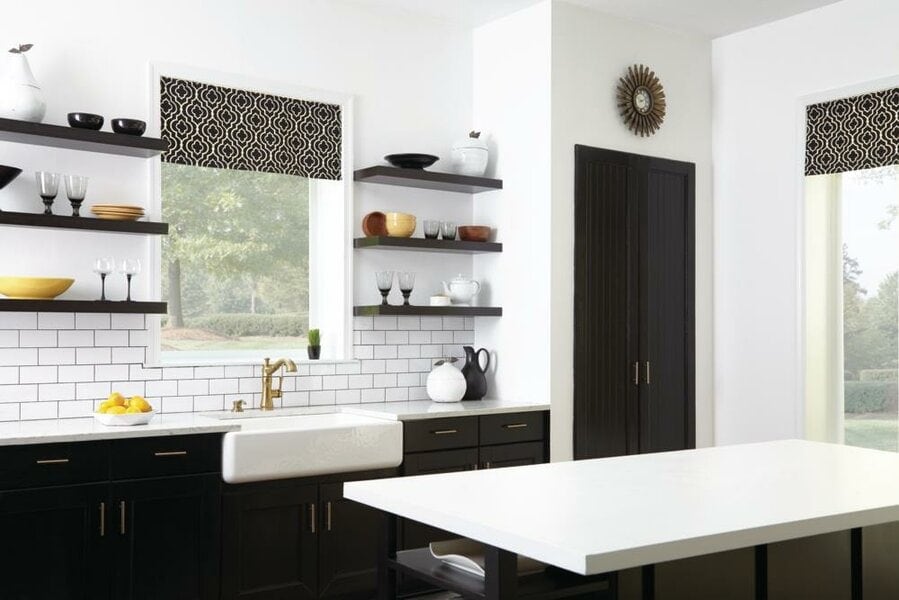 This kitchen is all kinds of dreamy, and it's because so much attention was paid to every detail down to the colored glasses that compliment the black and white color scheme.
What really ties in the mid-century look are the window shades with their geometric patterns. They're in line with the kitchen's overall aesthetic but still manage to stand out.
Make Your Island the Focal Point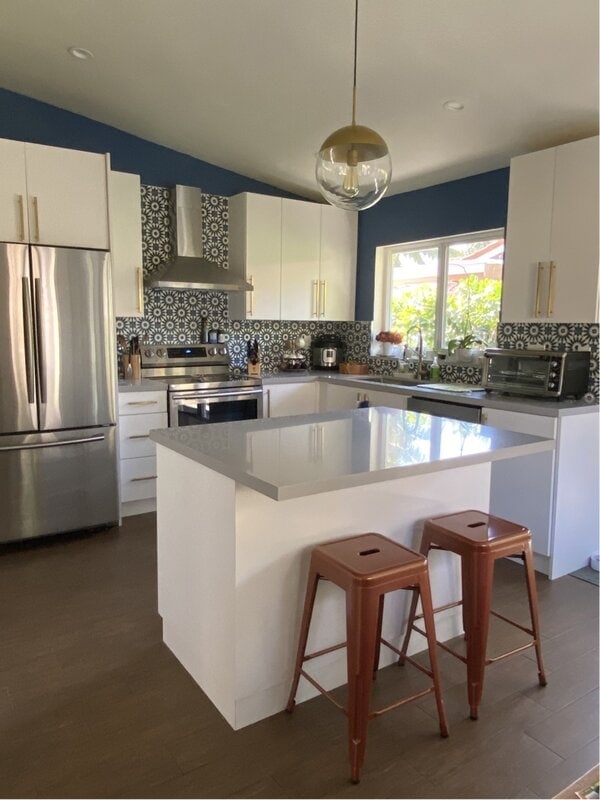 You can totally transform your space by making your mid-century modern island the focal point of your kitchen.
In this photo, the kitchen itself is pretty standard, but the backsplash paired with the island, pendant light, and stools really bring out the mid-century modern style.
Keep Your Eating Space Clean & Simple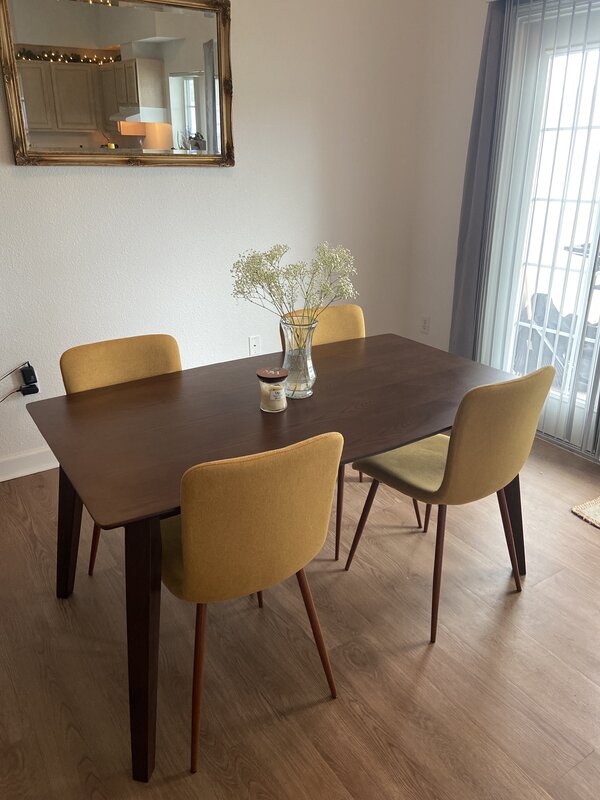 If you have an eat-in kitchen, you can really play up the mid-century modern style with your dining set and how you dress it up – or rather how you don't dress it up.
Go for an attractive shade of brown, with straight lines, and keep your decor simple (like this table with just a vase of baby's breath). It is still beautiful despite its simplicity.
Invest in a Buffet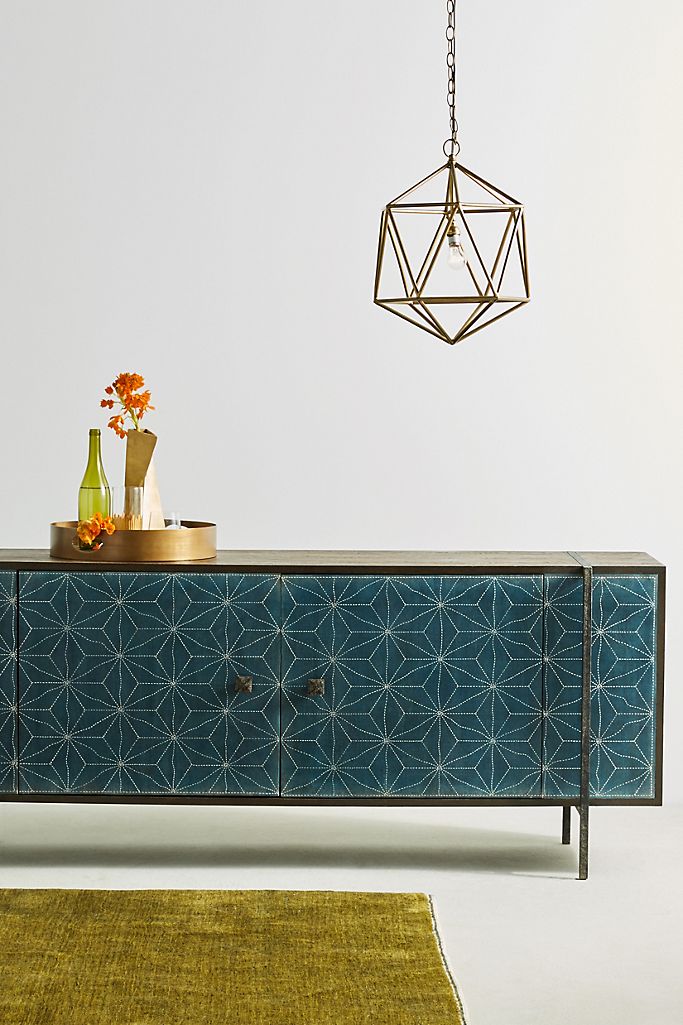 A great way to bring in the mid-century modern look without totally renovating your kitchen is by investing in other elements, like a buffet.
Buffets are perfect for anyone who needs a little extra storage space or who loves to host a party. This piece is especially great with its bar tray on top and the funky pendant light above.
Mix in Some Mint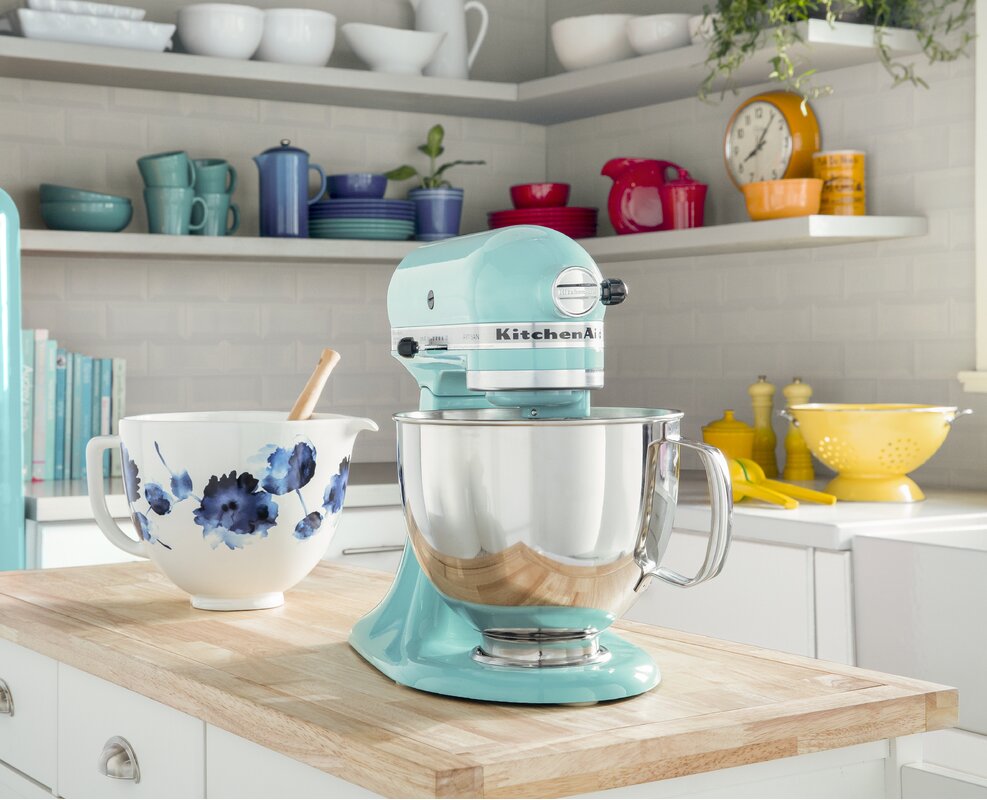 Minty green/blue has such a great retro vibe, so it definitely has a place in a mid-century modern kitchen.
Add in some mint with an appliance like a blender or a stand mixer, or you can go bigger with a mint backsplash or cabinet pulls.
Overhead Lights Can Make A Huge Impact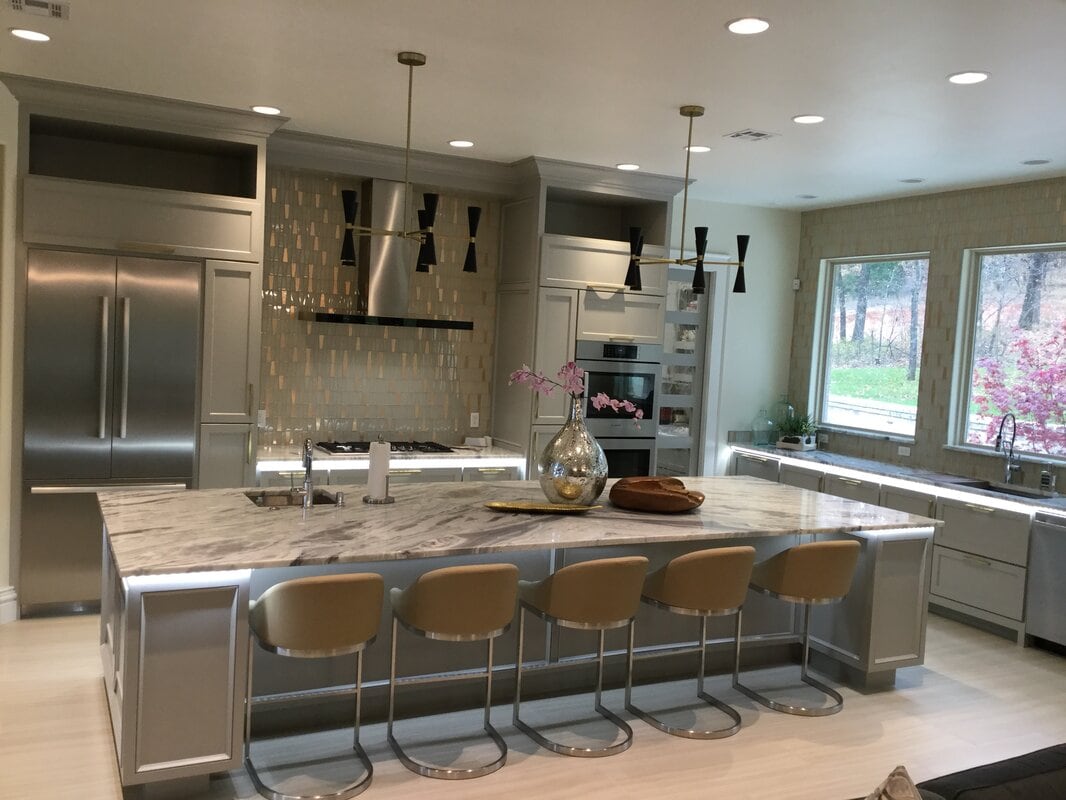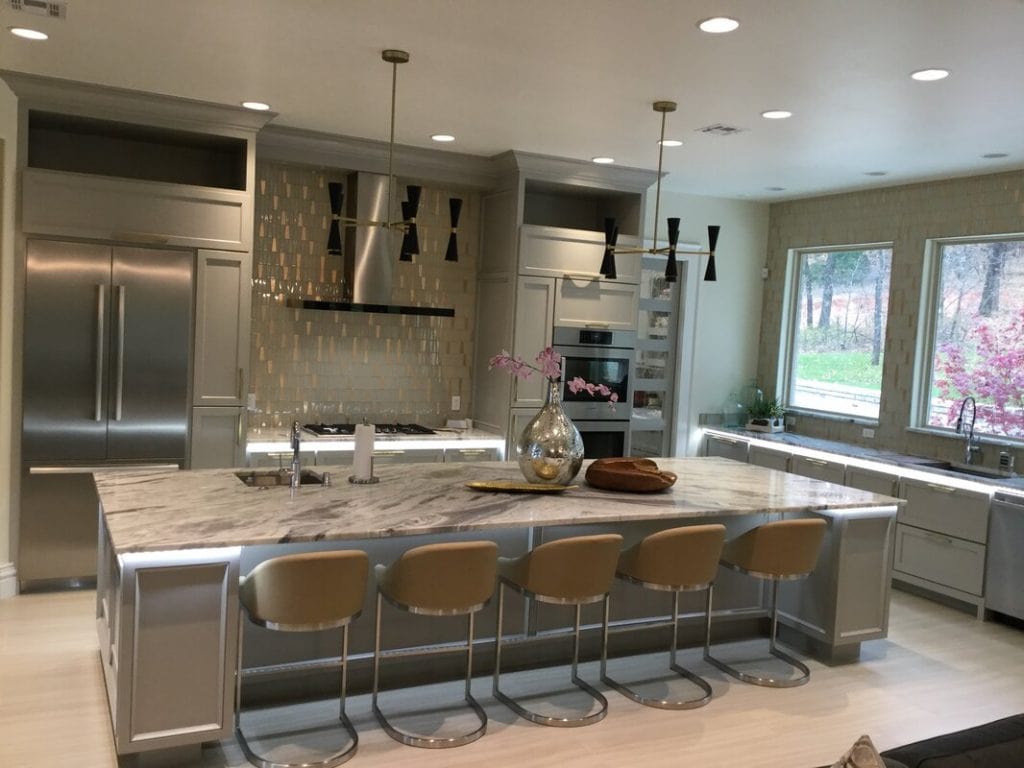 Most vintage modern kitchens have a good mixture of new and trendy with timeless. In this case, the overall kitchen itself is modern with its metallic touches and marble countertops, but the island stools and overhead lights give it the mid-century vibe.
You might be surprised by how much a new light fixture can do for a room, like the ones over this island that totally change the aesthetic and add some character.
You Can't Go Wrong With Classic Black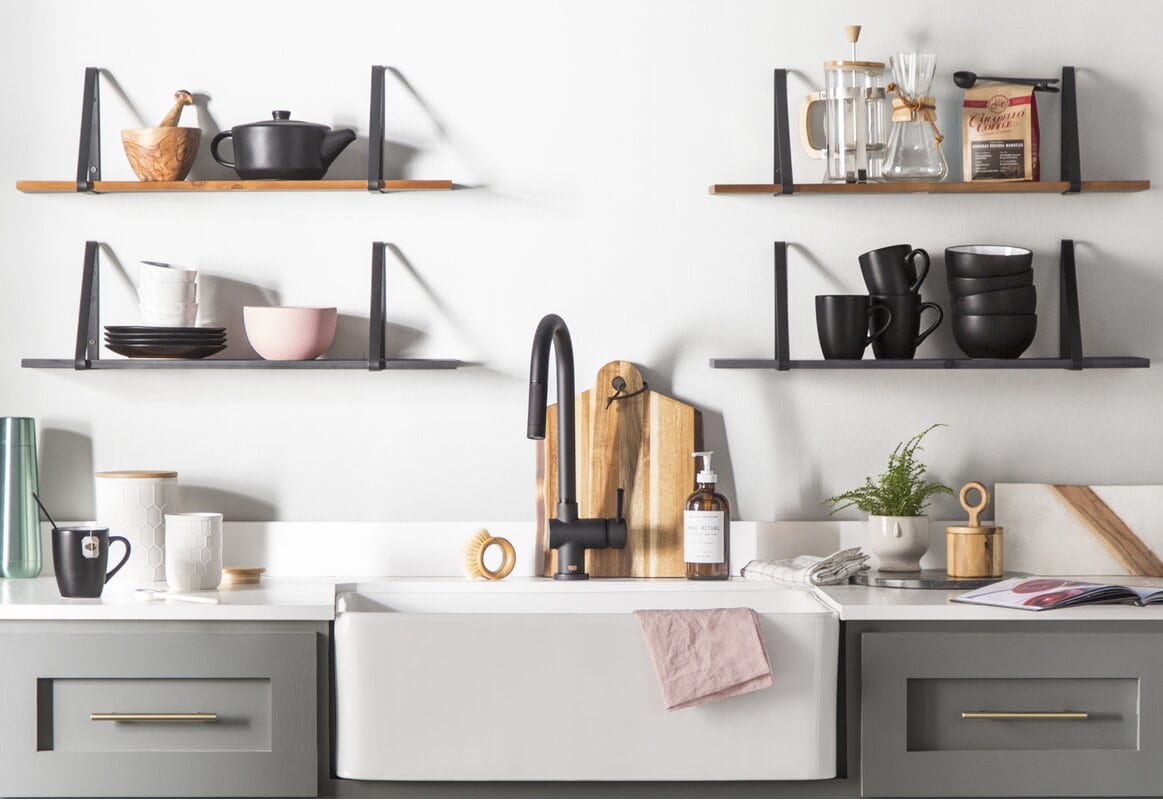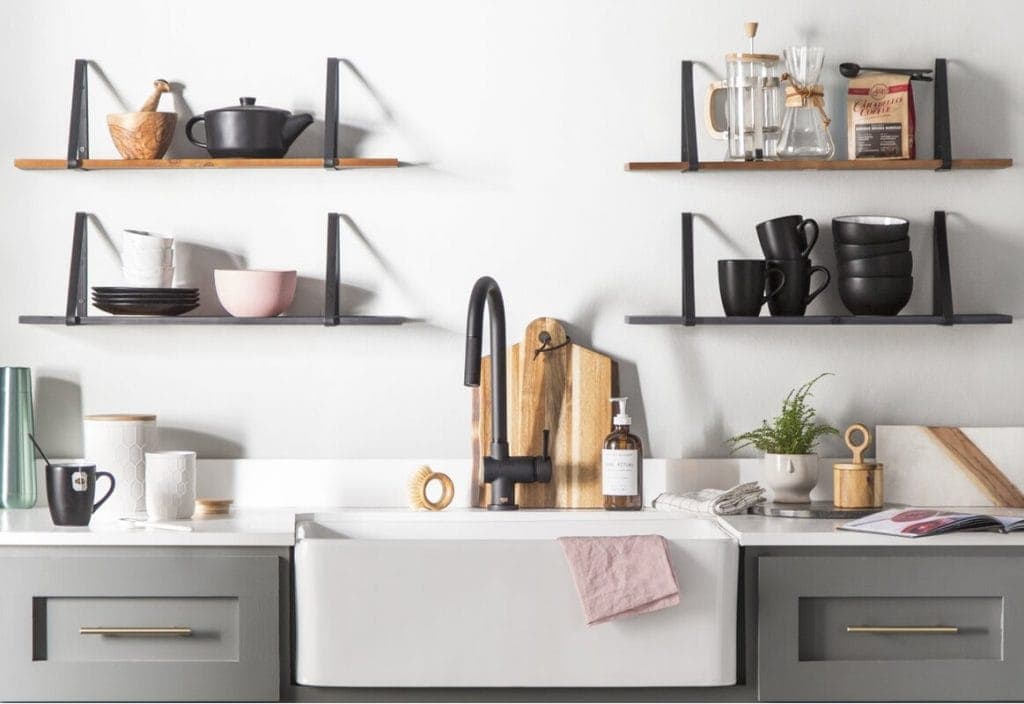 One staple in mid-century modern design is the use of black and brown. In fact, when in doubt, just find some black accents to mix into your look.
This kitchen manages to stay light and airy even with the black mugs, faucet, and leather straps holding up the shelves. It's basically the perfect modern take on a classic style.
Mix Materials For An Updated Look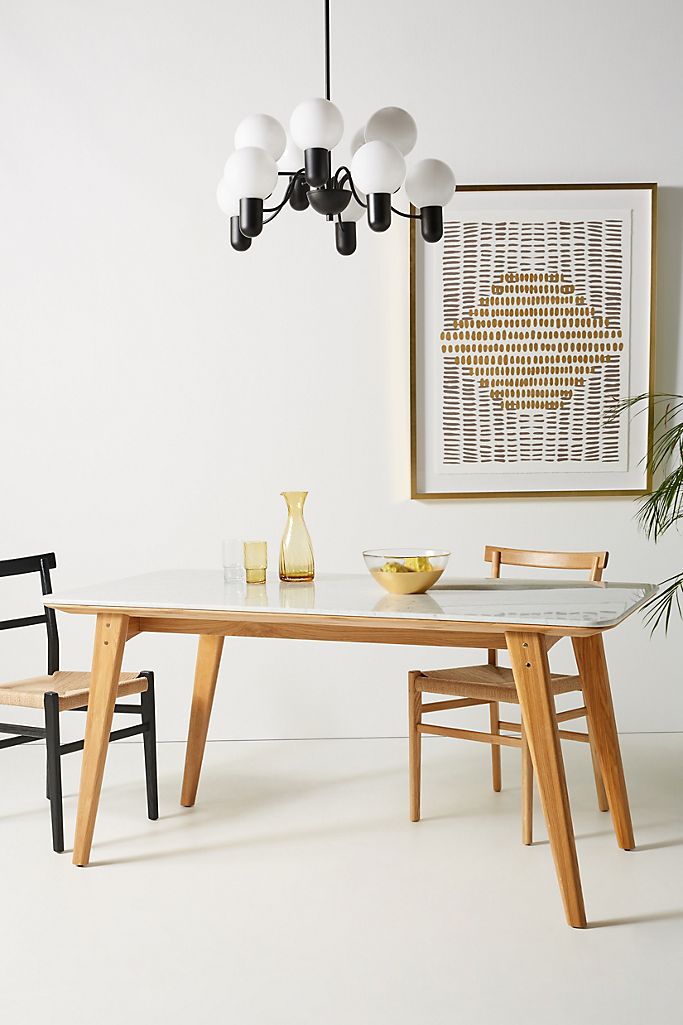 If you have an eat-in kitchen, there is so much potential to tie in the mid-century modern vibe through your dining set and overhead lighting.
Even better, it gives you an opportunity to mix up some materials and colors to give it a more updated look rather than something straight out of the 70s.
Invest in a Bold Rug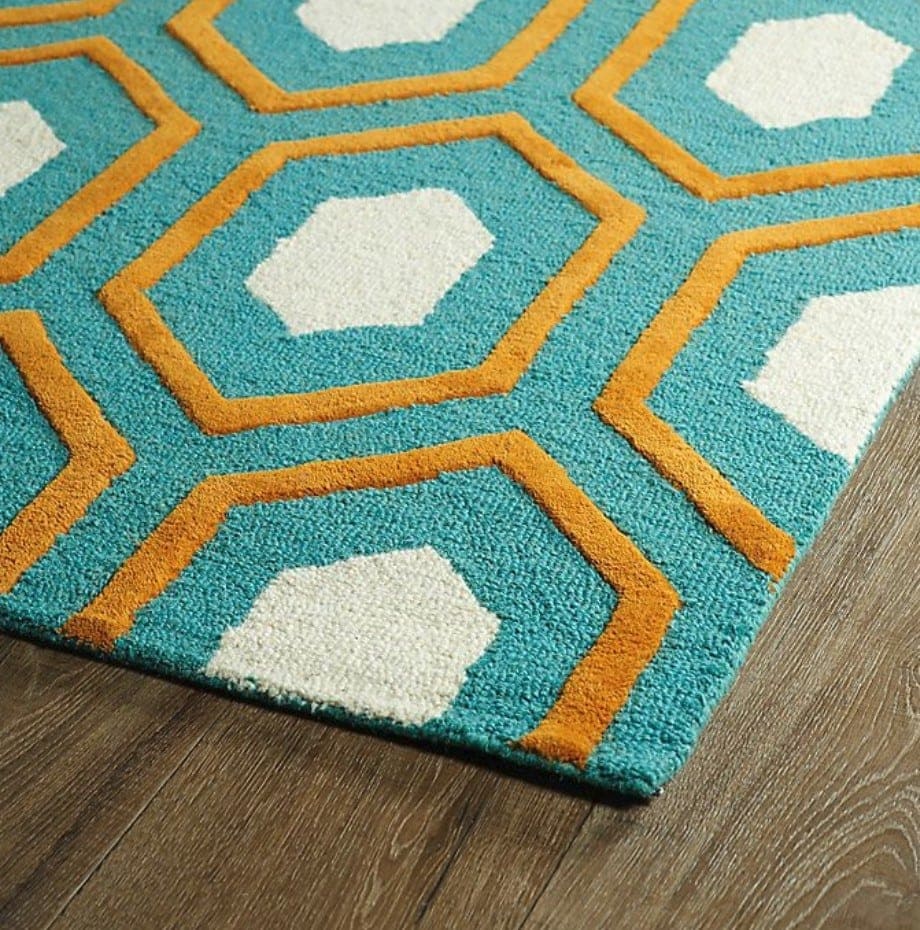 Rugs can make such a difference in a space. They can make a cold room feel warm, give your toes a soft spot to rest, and bring in some subtle color.
If you're someone who likes a splash of color in your home, a bold rug is a great way to do it in a mid-century modern kitchen. Add a runner in front of your sink, or set up your dinette over a geo-patterned rug.
Tie in the Look With Your Stools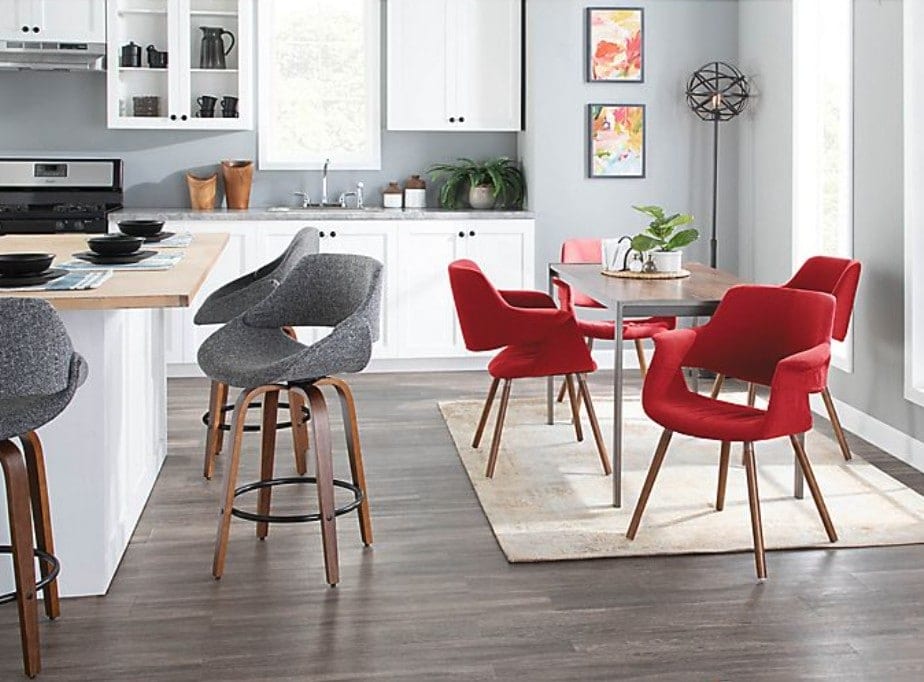 If you aren't in the market to totally renovate your kitchen, swap out your island stools for something more in line with the mid-century modern look you're going for.
These stools tie in perfectly with the mid-century aesthetic, but still pair well with the white cabinets in the otherwise modern kitchen.
Update The Look With Greys & Whites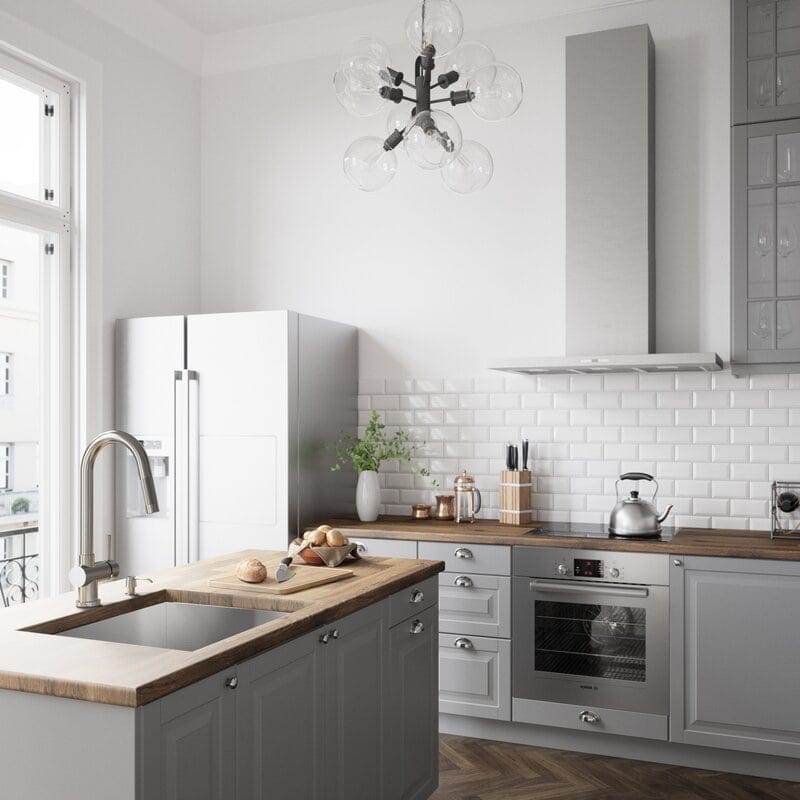 Typically, mid-century modern is synonymous with browns and blacks, but you can elevate the style and make it even more modern by instead leaning towards greys and whites.
This is an especially good way to go if you're someone who hates a dark room or if your kitchen doesn't get a lot of natural light. It will give you that airy feel without sacrificing the signature style.
Add Decorative Touches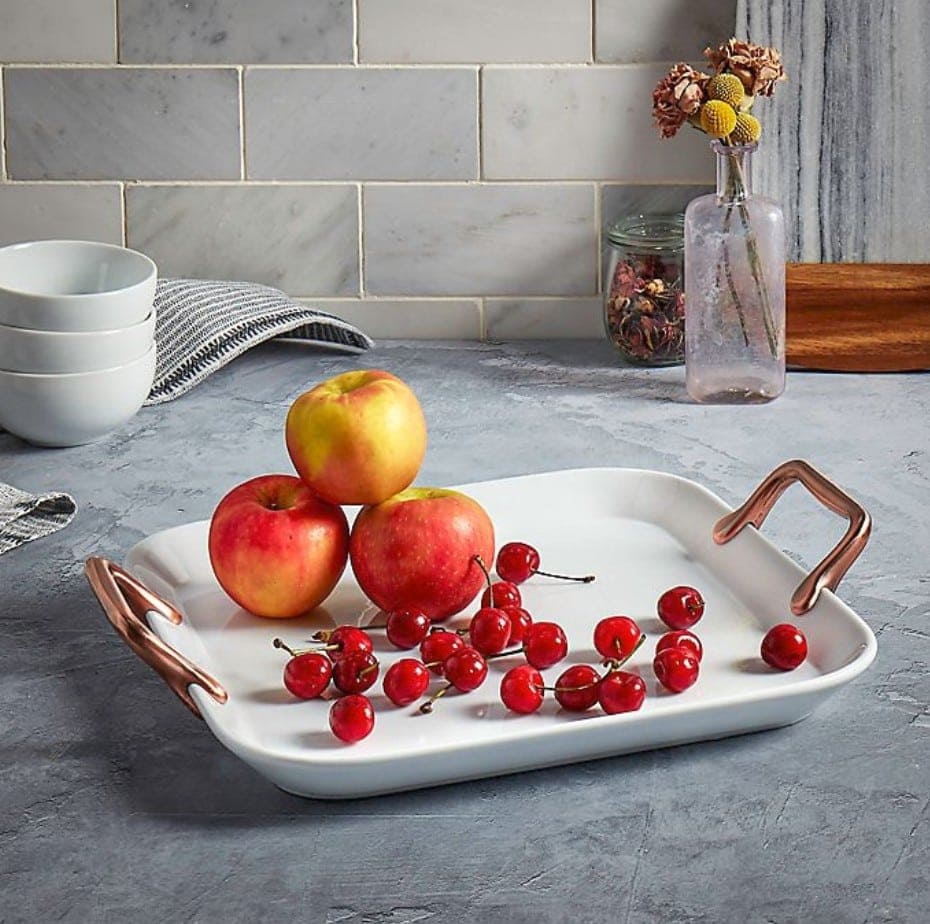 If you are decorating your counter tops or on top of your cabinets anyway, use that as an opportunity to tie in more mid-century modern touches.
Display a vintage cake stand, some colorful glassware, or a mod-style serving platter to elevate the aesthetic a little more.
Play Up The Avocado Green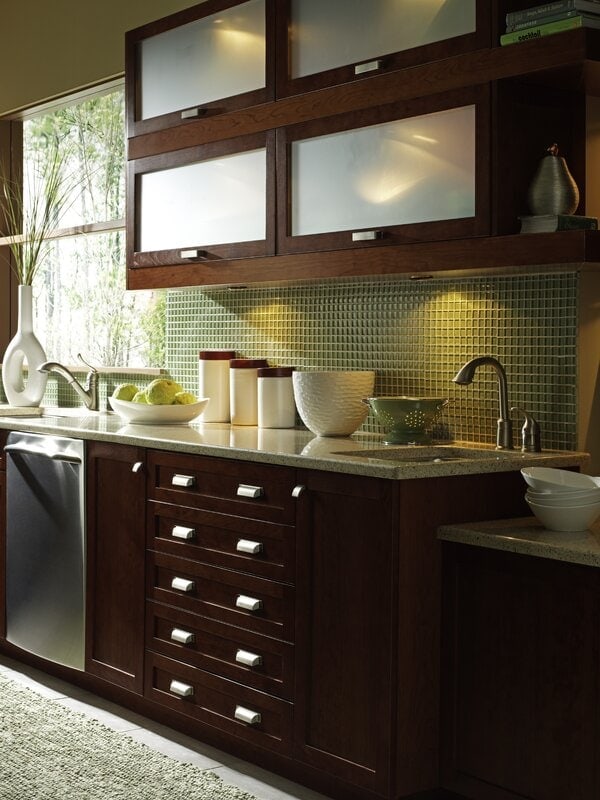 Avocado green was once all the rage in a kitchen. If you really want to go big with that color, you can try your best to find some old school appliances, but it would be much easier to implement it in other ways.
This kitchen has an avocado green backsplash that works really well with the espresso colored cabinets. But, since this color isn't for everyone, you can go even smaller with a vase or even a spoon rest for a small nod to the retro color.
Add Some Gold Elements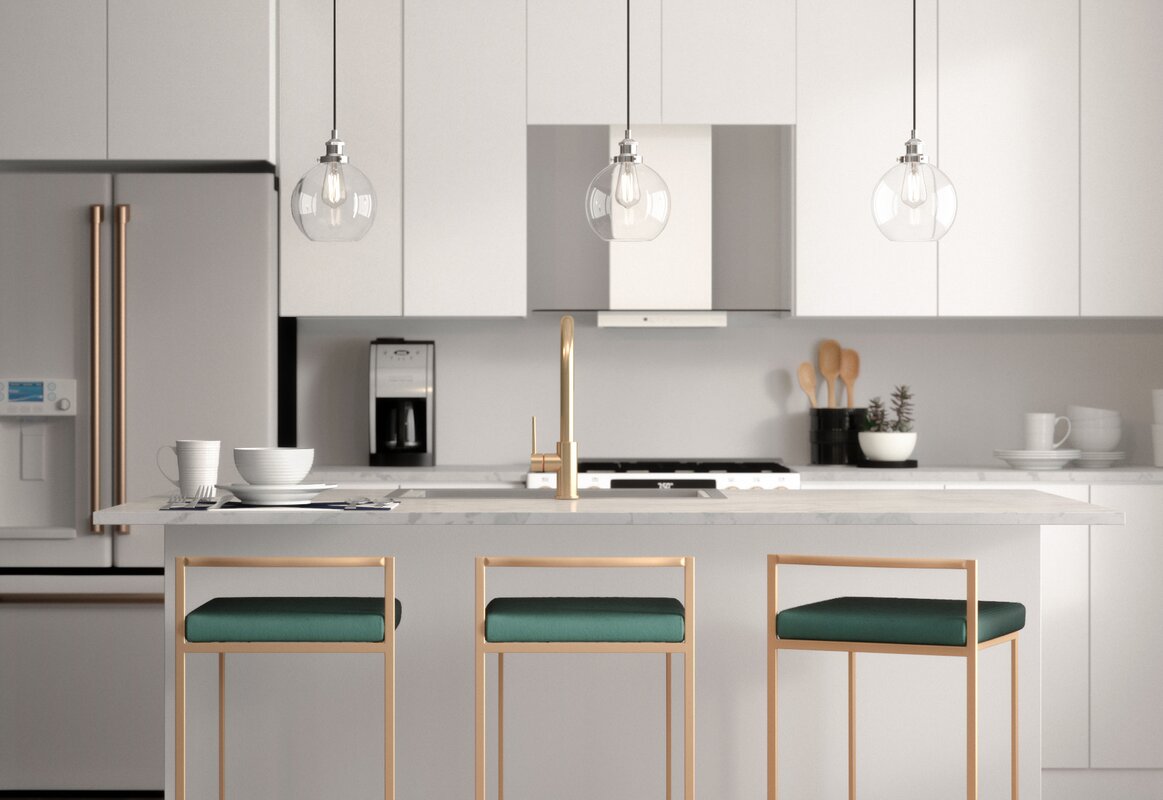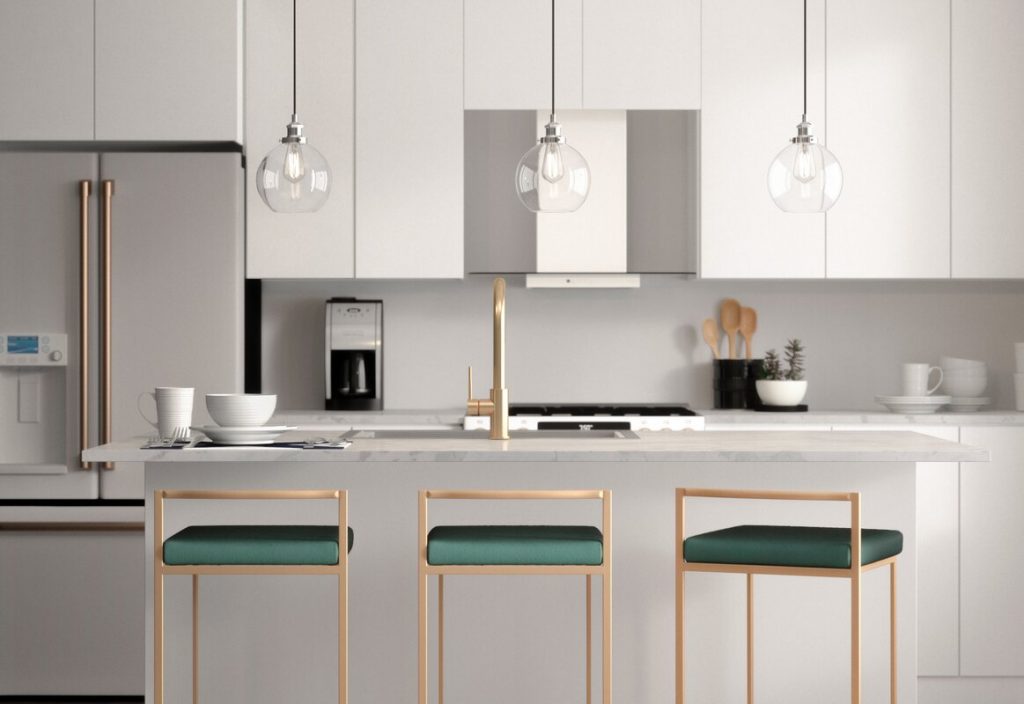 Gold and brass accents are a big part of the mid-century modern look, and gold has never been bigger than it is now.
You can add gold throughout your kitchen in so many ways, the grout of your backsplash, your cabinet pulls, little decorative touches, or even your faucet like in this kitchen.
Strategically Maximize Your Space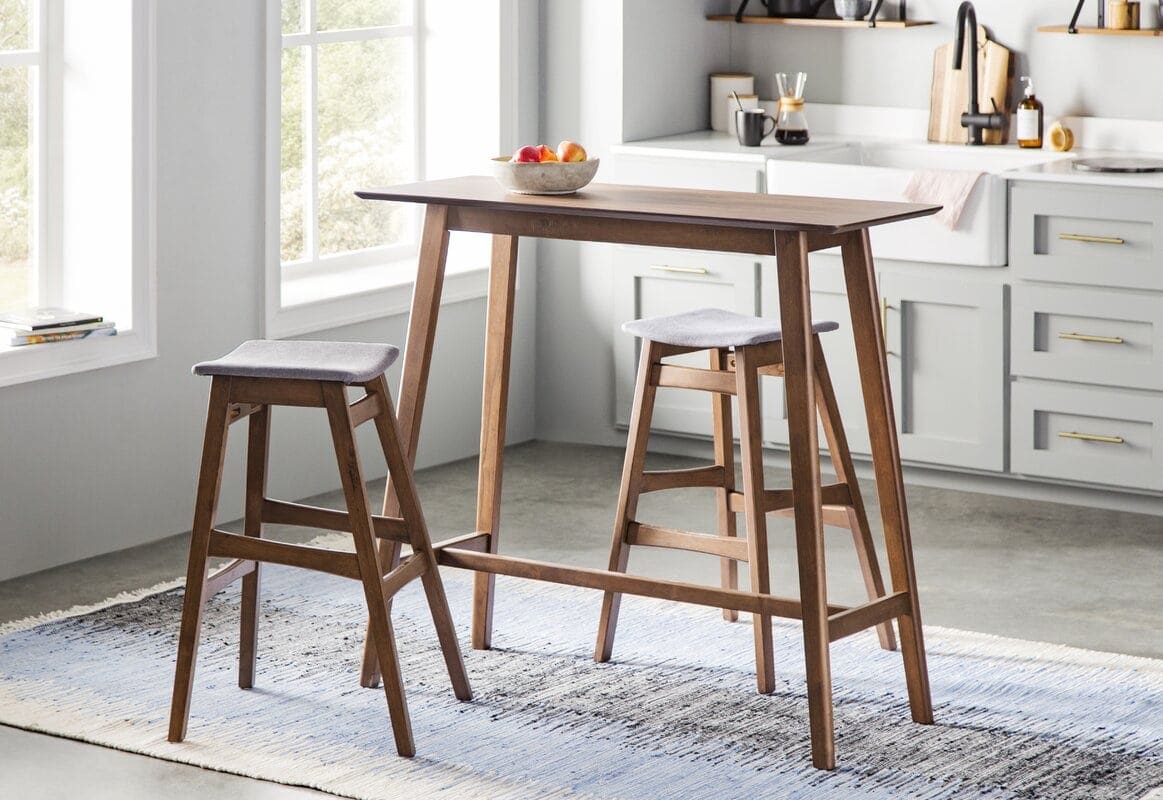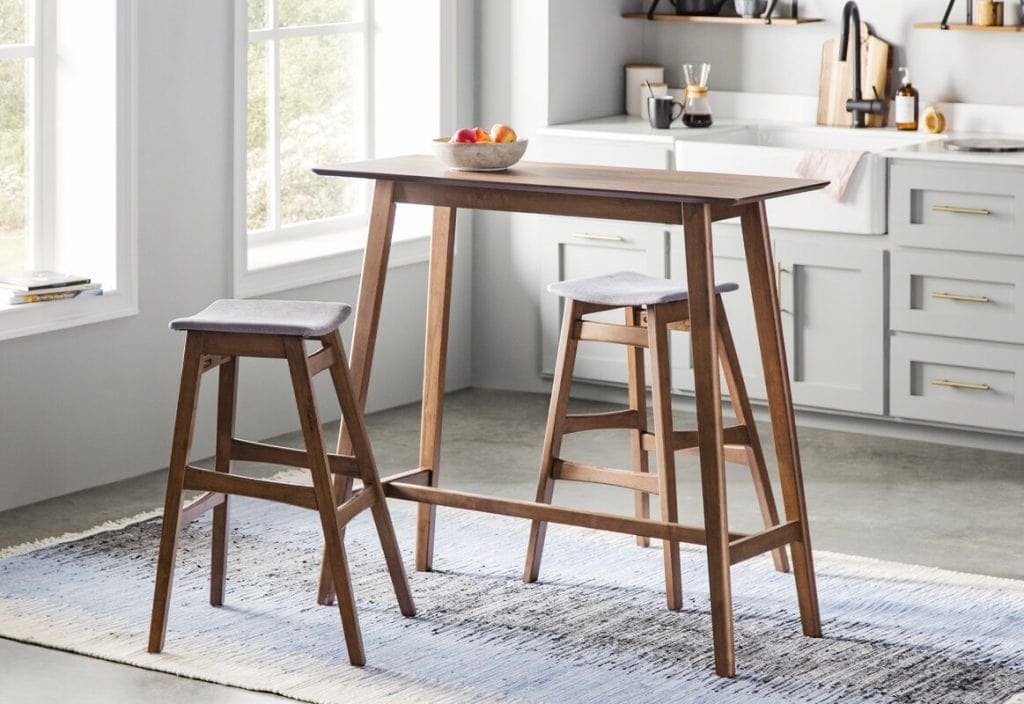 One of the nice things about the mid-century modern style is that the clean lines make it easy to create compact furniture, like this little dinette set.
If you have a small kitchen, you can still fit in the things you need (like a spot to eat) with some strategic, small mid-century modern pieces of furniture.
Keep It Clean & Minimal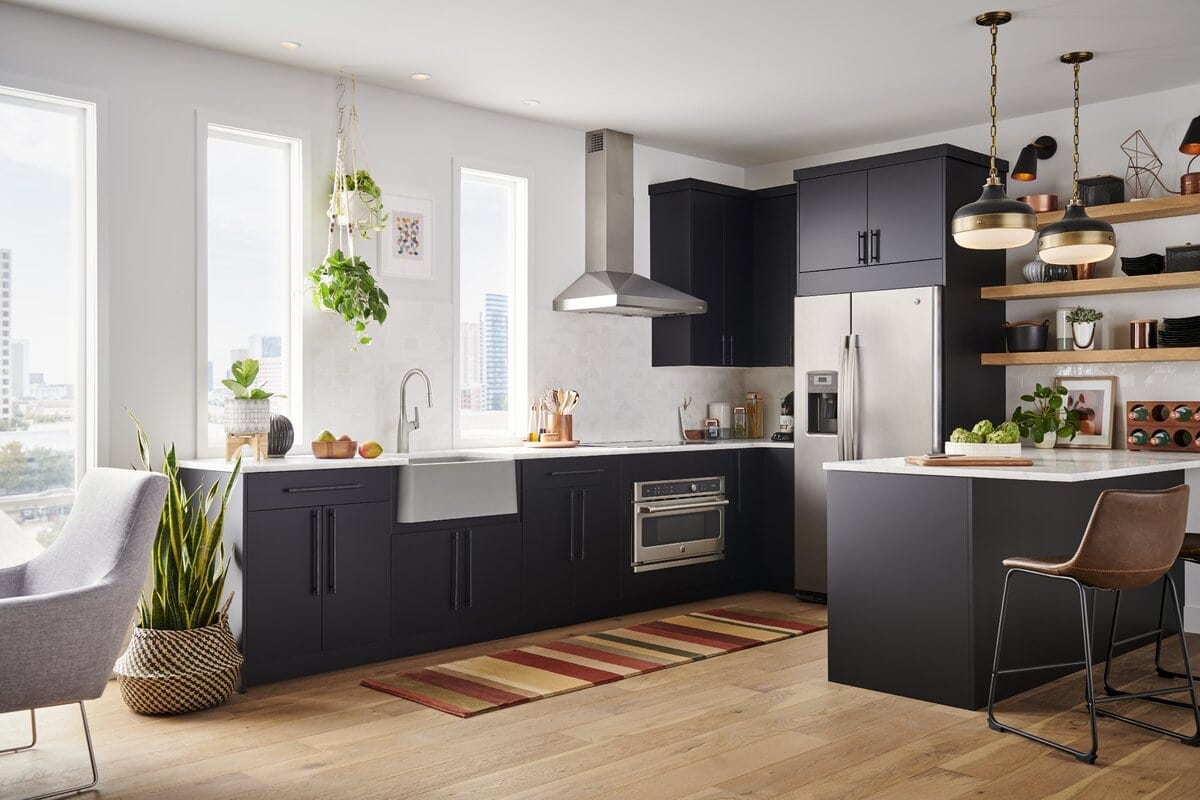 Straight lines aren't the only staple in the mid-century modern style, so is simplicity and minimalism. So, it's important to keep that theme in your kitchen.
This kitchen does it so well with one wall mostly free of upper cabinets and the other with open shelves and carefully placed decorative pieces. It doesn't get much prettier than this.
Install An Eye-Catching Backsplash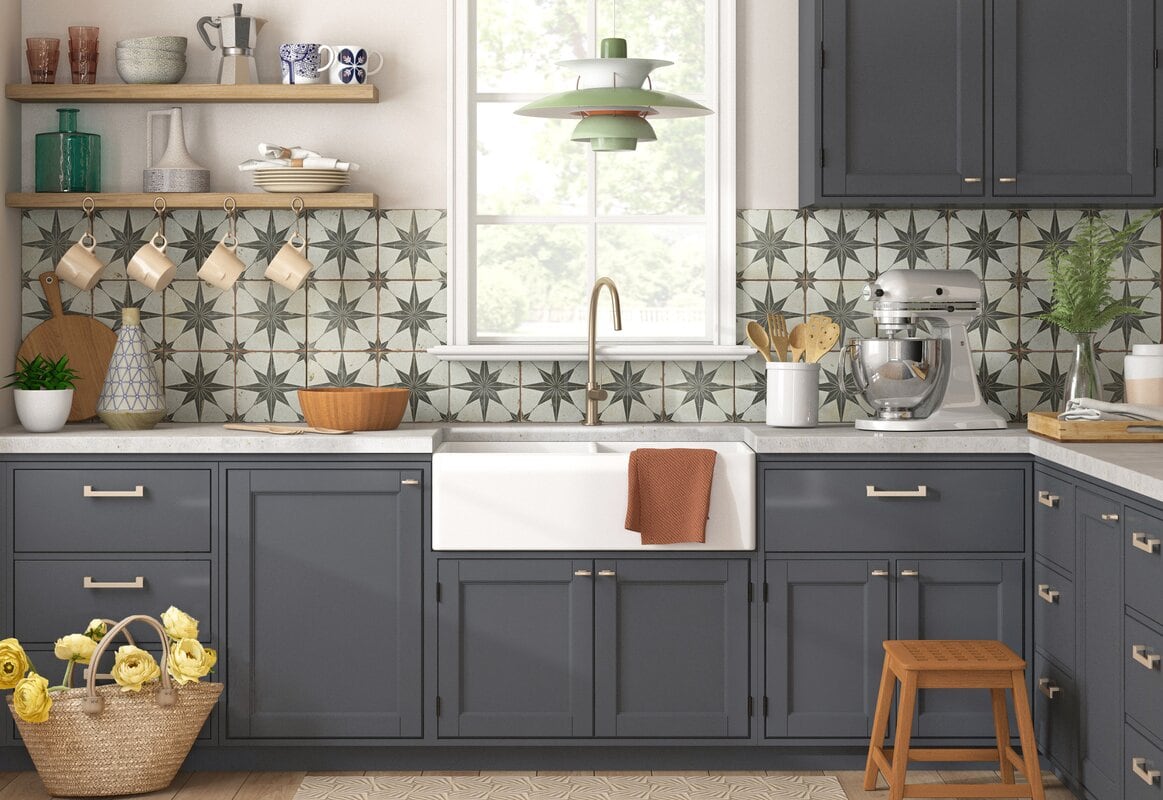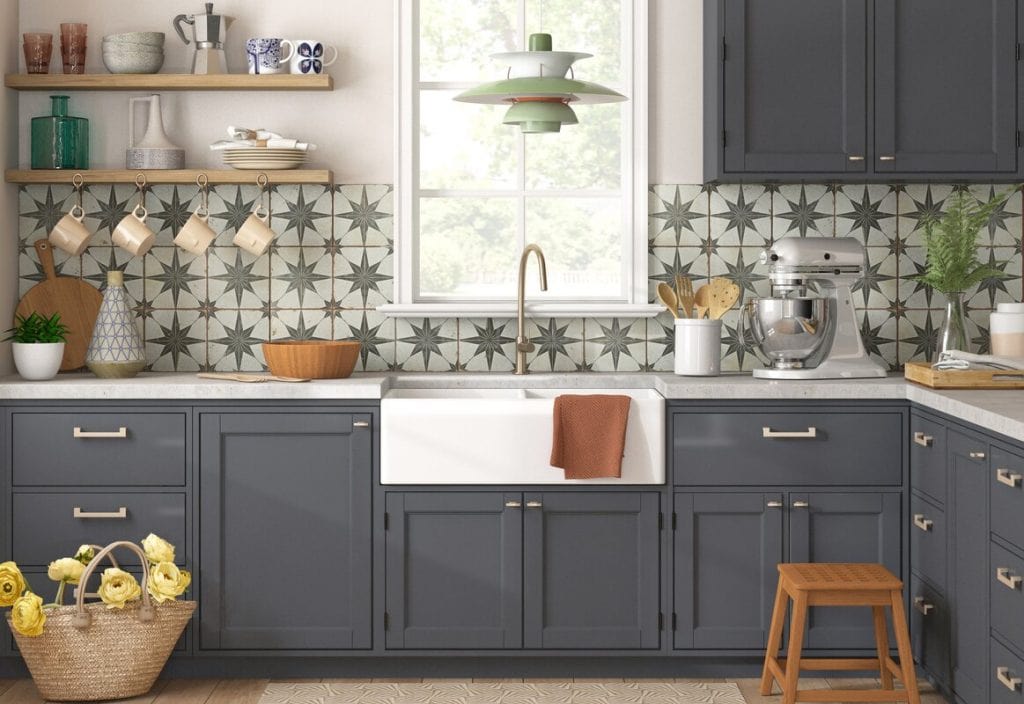 Don't you feel like you stepped back in time when you look at this kitchen? It has so many great retro vibes, but the best is definitely the backsplash.
A backsplash is an easy way to completely change the entire look of your kitchen without having to give it a major face lift. It's eye catching and, as the focal point, will set the tone for the rest of the decor.
Get Some Retro Appliances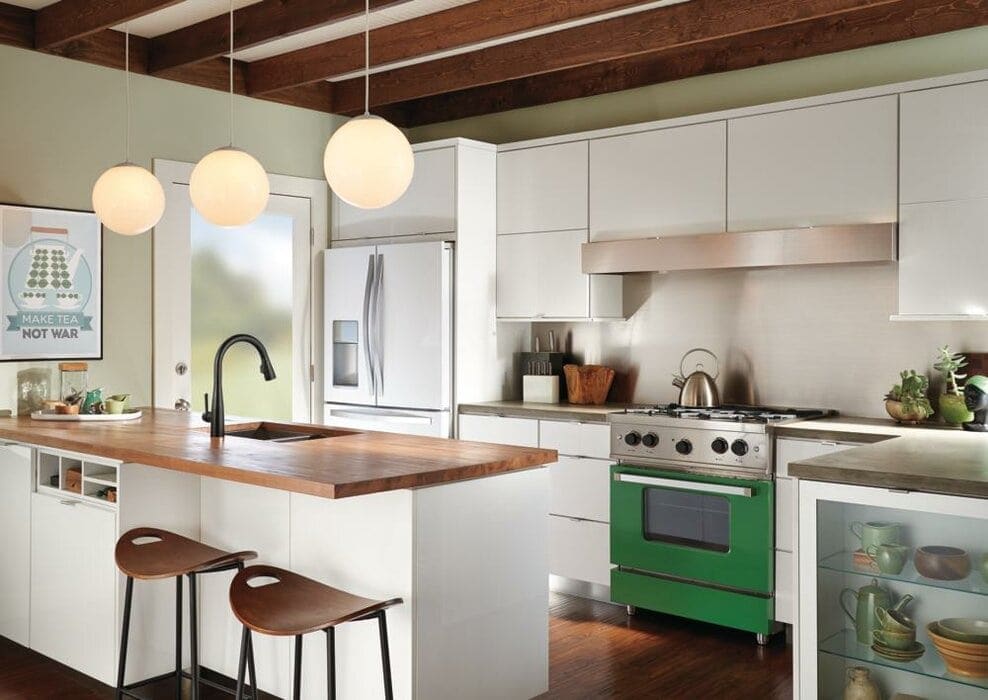 If you're able to find an old oven or refrigerator (or even a new one that just looks old), it will work beautifully in your mid-century modern kitchen.
There is so much to swoon over in this kitchen, but that green oven is by far the best. It pops out from the otherwise muted colors and adds a fun retro vibe.
Don't Forget Your Flooring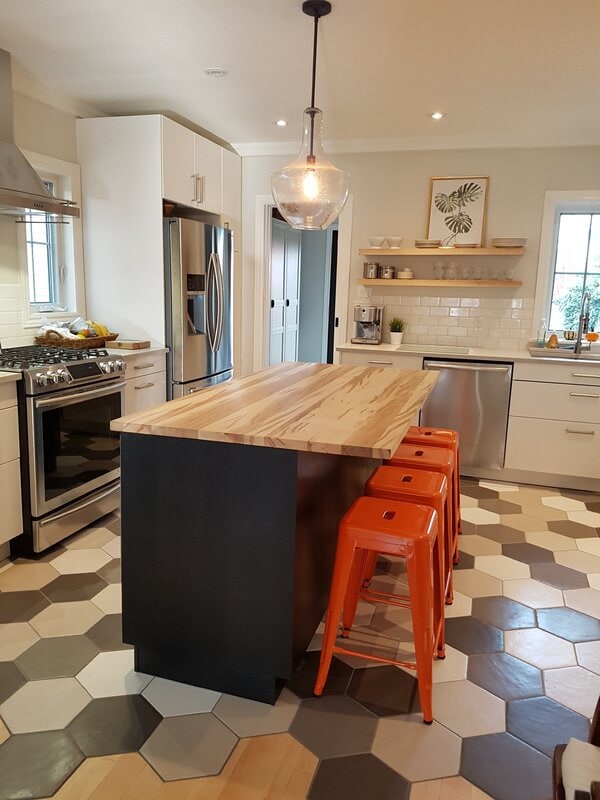 This particular kitchen doesn't overdo the mid-century modern aesthetic, but the funky floor adds such a fun element that the more understated cabinets, shelves, and subway tile backsplash work with it.
Even better, you can get a look like this without a permanent commitment because there are so many great peel and stick floor tile options available now. It's definitely a creative way to get the aesthetic you want.
Final Thoughts
We hope that we helped you to better understand this very creative concept and provided you with enough inspiration to start your project. Enjoy styling your kitchen. We would love to see the results!