Decorated Life is reader-supported. When you buy through links on our site, we may earn an affiliate commission. Learn More
20 Modern Beige Bathroom Ideas
When decorating a beige bathroom, you have many design options, whether it's going with pieces that blend for a cohesive look or going with contrasting, mixed-use of different styles.
We've gathered twenty modern beige bathroom ideas to start you on your journey of decorating a bathroom in beige. From ceiling to floor, we've got ideas for all areas. Some options are easy to incorporate with no prepping. But others may require a major renovation.
There's plenty to see, so let's dive right in with our twenty ideas for decorating a modern beige bathroom.
Drop-In a White Soaking Tub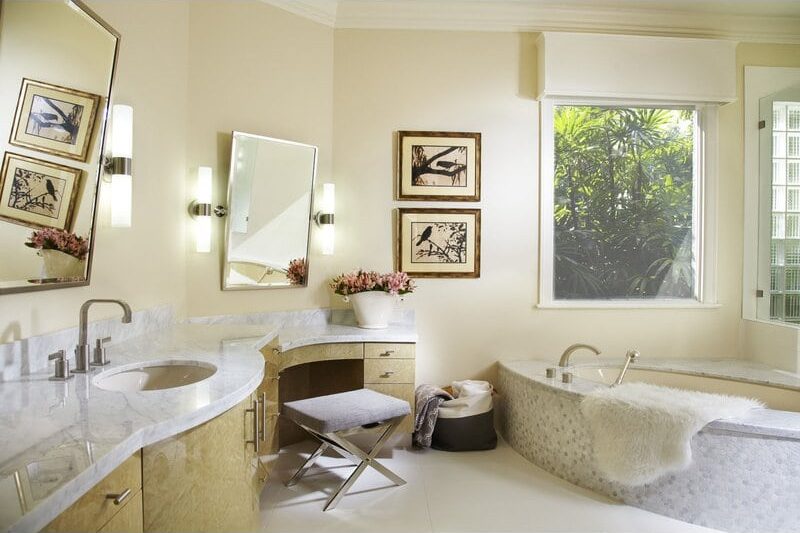 Having a deep soaking tub is a luxury that is common in many modern bathrooms. However, in this modern beige and white bathroom, the long, deep tub in stark white creates the perfect contrast against the beige stone surround and plain beige walls.
This alcove design bathtub with an inclined backrest gives plenty of room to lounge and relax after a long day and looks fabulous in almost any bathroom.
Add a Vintage Transitional Bench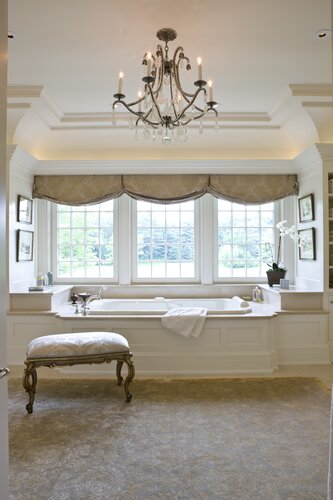 Having a bench in your bathroom is a convenient, comfortable choice if you have the space. You can use a bench for prepping in front of a mirror, resting while waiting for a bath to run, or other purposes.
This vintage bench features a distressed oak frame, with a thick upholstered cushion in Wheat Beige fabric with black nailhead trim and gracefully curving Cabriole legs.
Roaring 20s Artisan Spanish Tile Flooring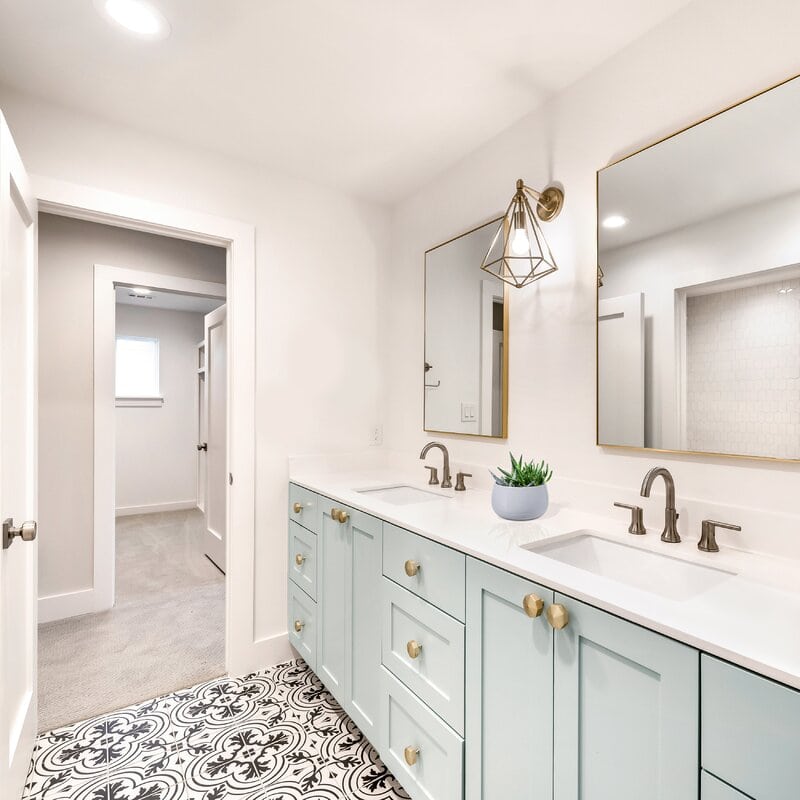 The classic color combination of white and black always looks appealing and dramatic. But when you go with a patterned print, you get even more style and contrast.
How dynamically eye-popping is this large square ceramic encaustic tile with an old-world floral print in a charcoal black print atop a snow-white base? The speckled, weathered look features simplistic arcs that give a more authentic Spanish feel for a stunning beige and black bathroom.
Consider a Contrasting Vanity in Espresso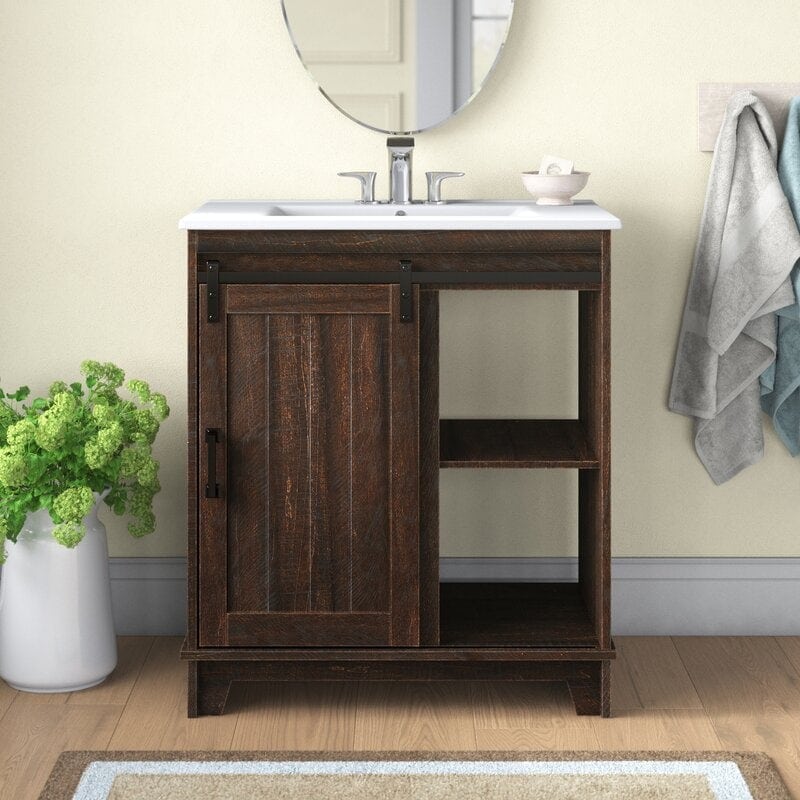 When you desire a chic, minimalistic bathroom, you can start with light golden wood floors, white trim, and beige walls covered with a shiny metal oval mirror.
You can create some contrast for the sink by adding a glossy thin white ceramic basin with a wood vanity in a rich dark brown espresso color. This rustic piece has two open shelves and a single closed door for private storage.
Pair Beige Walls with a Gorgeous Gray Vanity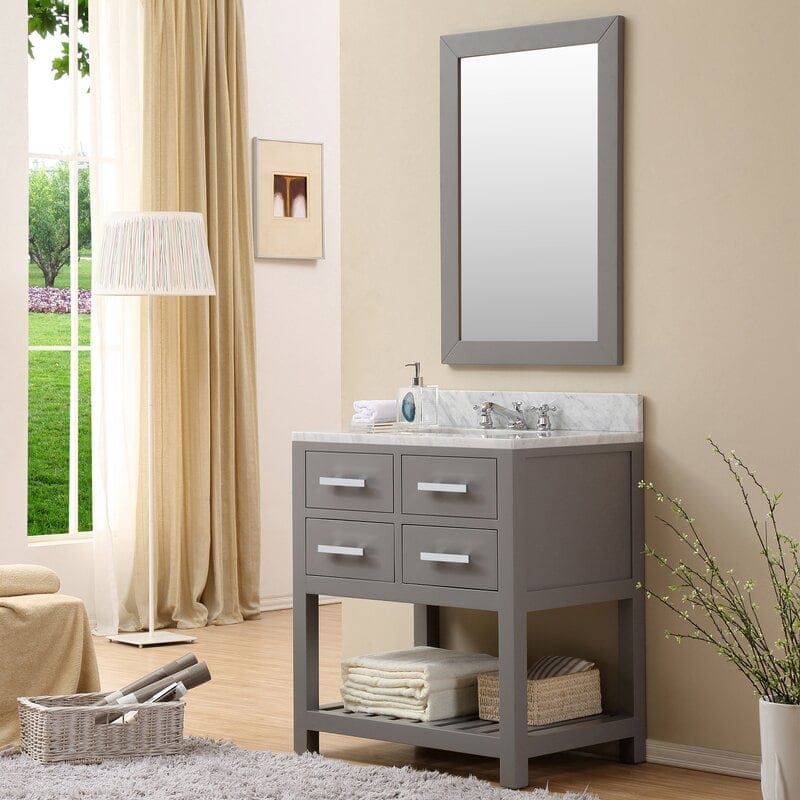 When you have warm, honey-hued beige walls, you can get an incredible nuance with the use of a dark gray vanity in a modern aesthetic.
This contemporary vanity features an open slatted shelf, two soft-close drawers, and two false drawers on top for a matching look. The Carrara white marble under-mount sink, backsplash, and countertop give a luxurious, elegant feel.
Add an Elegant Curved Farmhouse Sink in Midnight Blue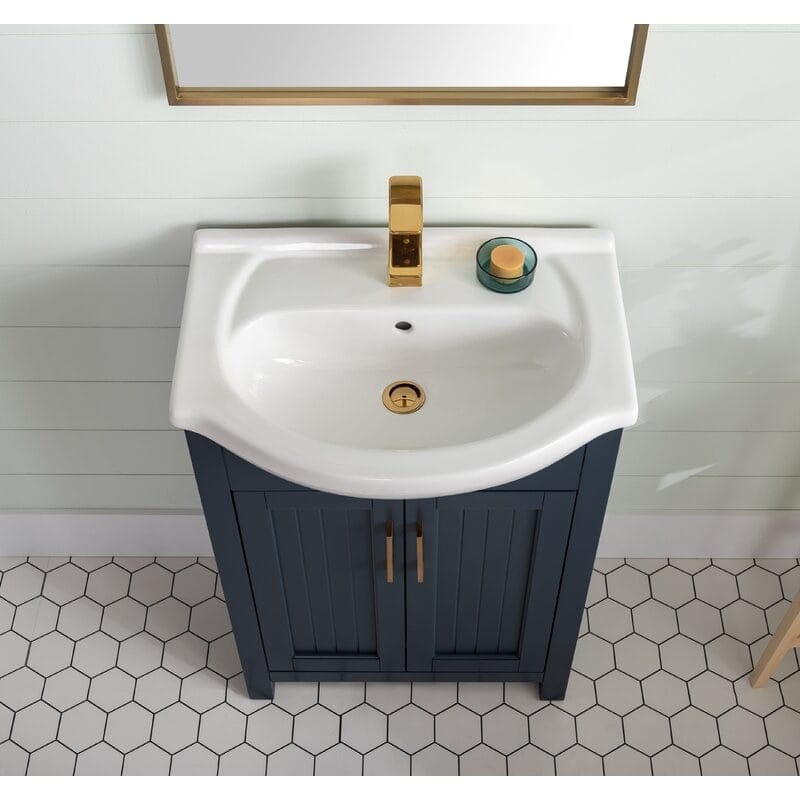 When you're working with the neutrality of beige, it's the perfect base to go dramatic with a bold color choice. This small bathroom has an understated elegance with beige shiplap walls and a classic white hexagon tile.
Pairing a space-saving vanity in a vibrant midnight blue provides the perfect pop of color, while the white sink and gold hardware add touches of glam.
Light It Up with Brass Wall Wallchieres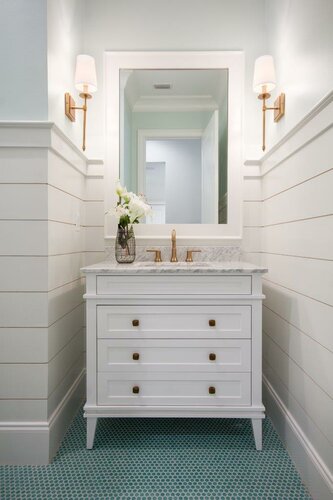 Any bathroom can get a major upgrade using proper light fixtures. This room features two wall-mounted brass sconces that look glamorous and provide plenty of light.
The simple fabric empire dome shades of these single bulb torch-like armed wallchieres give off a French-country vibe while the shiny brass adds glimmer and shine.
Get a Geometric Print Tile for the Floor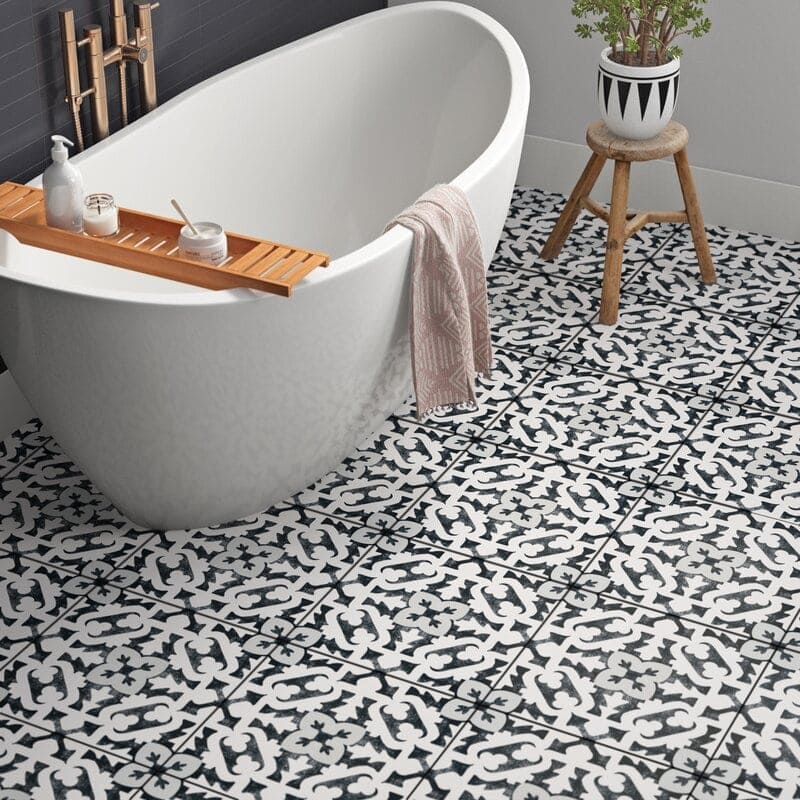 For a grey and beige bathroom idea, go for a dramatic statement using a porcelain tile on the floor. This dynamic patterned square draws the eye and screams classy elegance.
The high sheen of this glazed white tile is the perfect background for the matte black and gray lines that form geometric designs that look superb in modern bathrooms.
Add Some Humorous Wall Art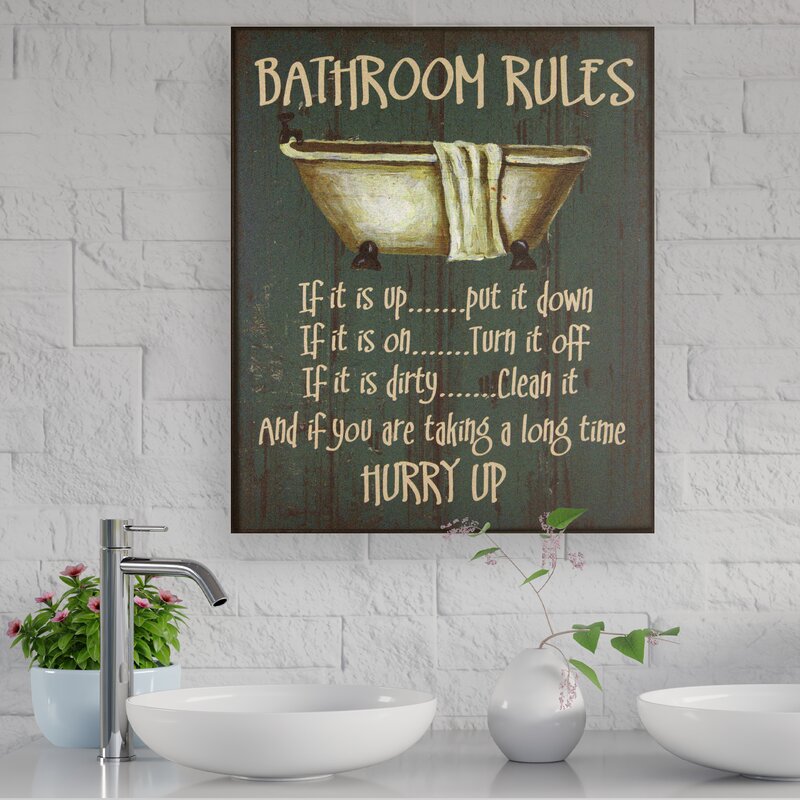 While decorating your modern bathroom, a fan idea is to choose bathroom-themed wall art. For example, you can get a cozy, homey aesthetic with a funny picture for a bathroom with tan tiles.
What's more adorable than setting some bathroom ground rules in a funny but bluntly honest way? The vintage background and funky font in beige are easy to read and remember and hilarious.
Make a Two-Tone Wall with Patterned Wallpaper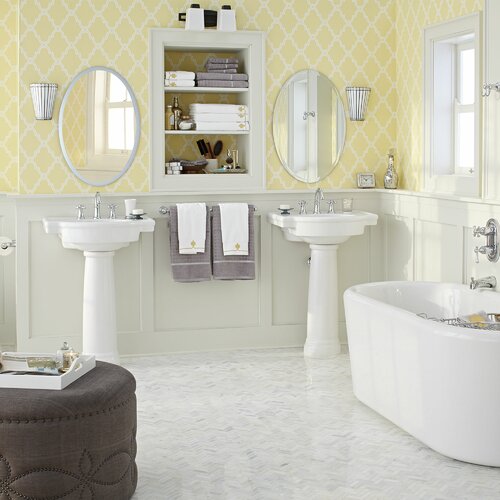 You can create a stunning aesthetic in your bathroom by making your walls two-tone. Wainscot bottoms in soft beige are an excellent companion for using a pretty print wallpaper for the top half.
This fun wallpaper in a classic diamond pattern in a cheery white and yellow color palette makes your bathroom feel brighter and welcoming. Complete the look with bright white trim and accent pieces like the medicine cabinet, mirrors, and sinks.
Do a Double Sink Vanity in a Smokey Gray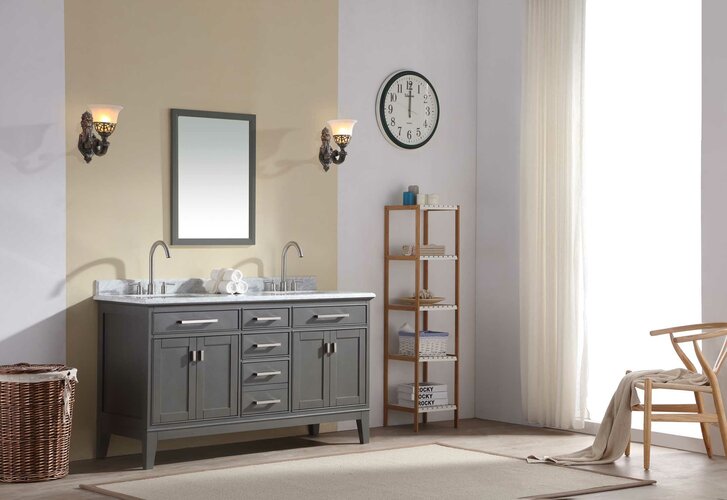 When you have a beige bathroom, adding a double vanity can not only be more convenient but also quite stylish. When you pick a rich, smokey gray vanity, you're getting a fantastic play with light and dark.
Using light-colored accent pieces throughout your bathroom ties in the beige wall color, while a dark vanity with a light-colored countertop adds contrast.
Incorporate a Matte Black Iron Towel Ladder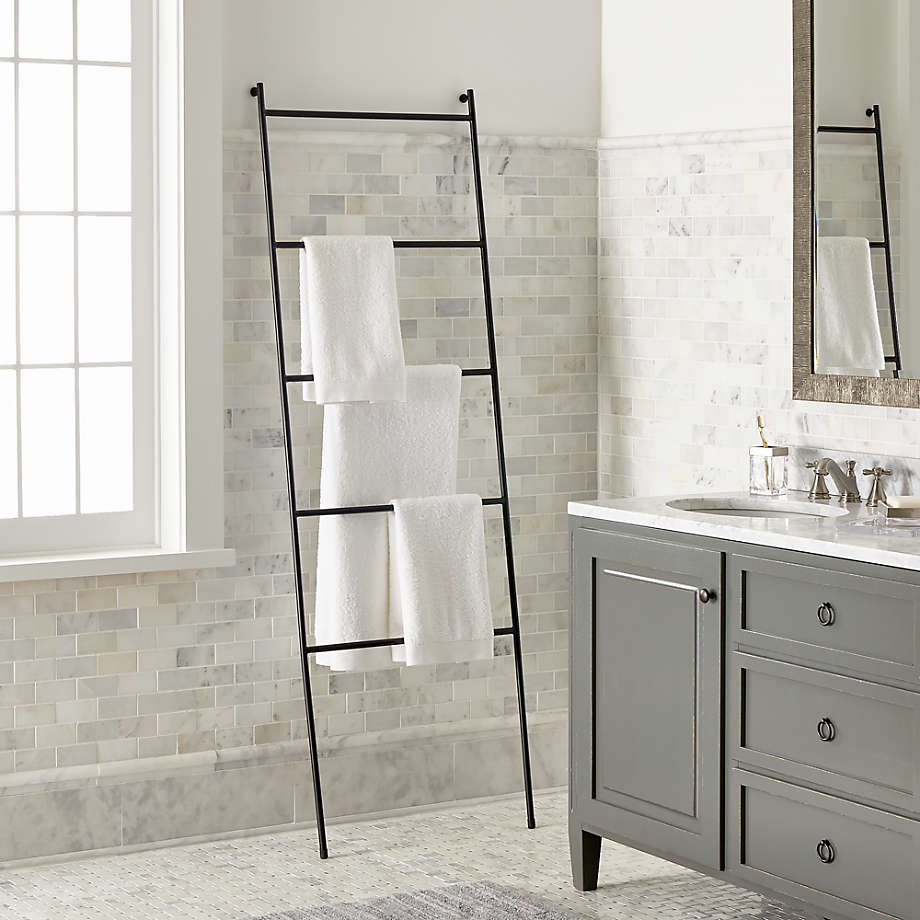 An iron towel ladder rack is an excellent addition to beige bathrooms for an industrial, modern space-saving touch.
This matte black iron shelf features a minimalistic look due to the four thin rungs and legs for a simple, clean-lined design.
Mix in a Fringed Morracan Mat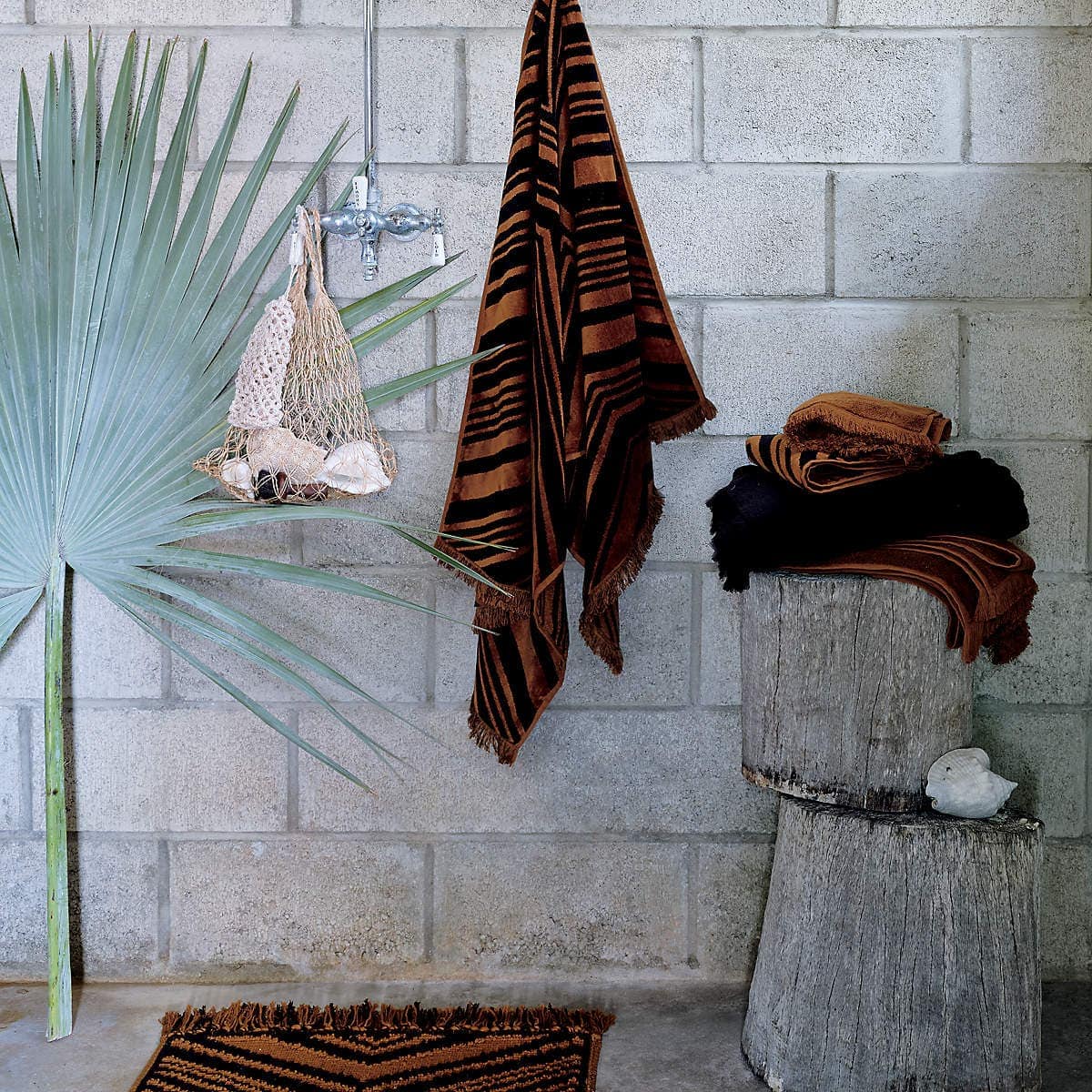 If you like bold prints and fun designs, your beige bathroom can look exquisite with the addition of a modern bath mat in a black and gold geometric pattern.
The rich color and fringed ends give this tropical rug a fun, bohemian feel that can work for an eclectic mix of styles.
Work with a Woven Vanity Organizer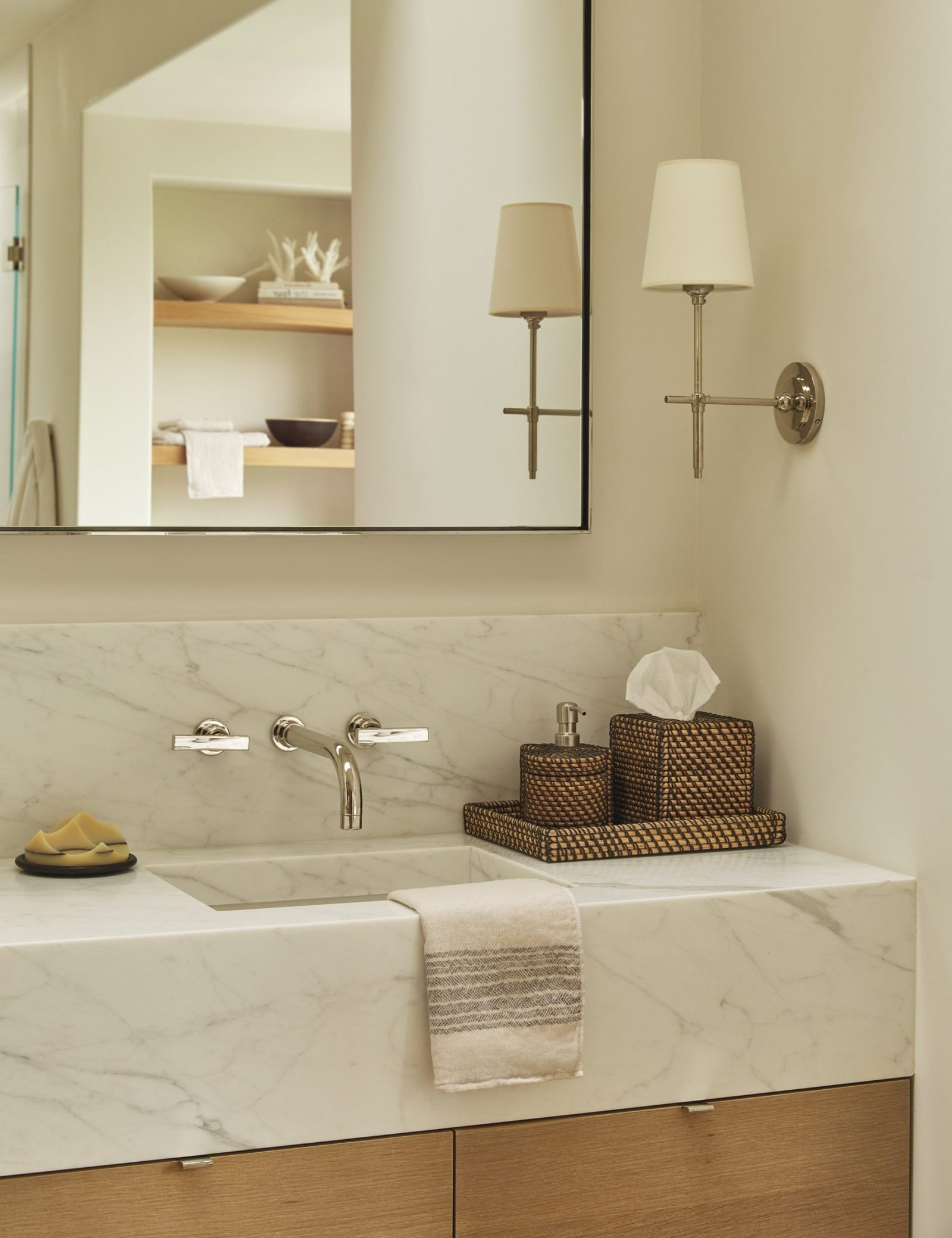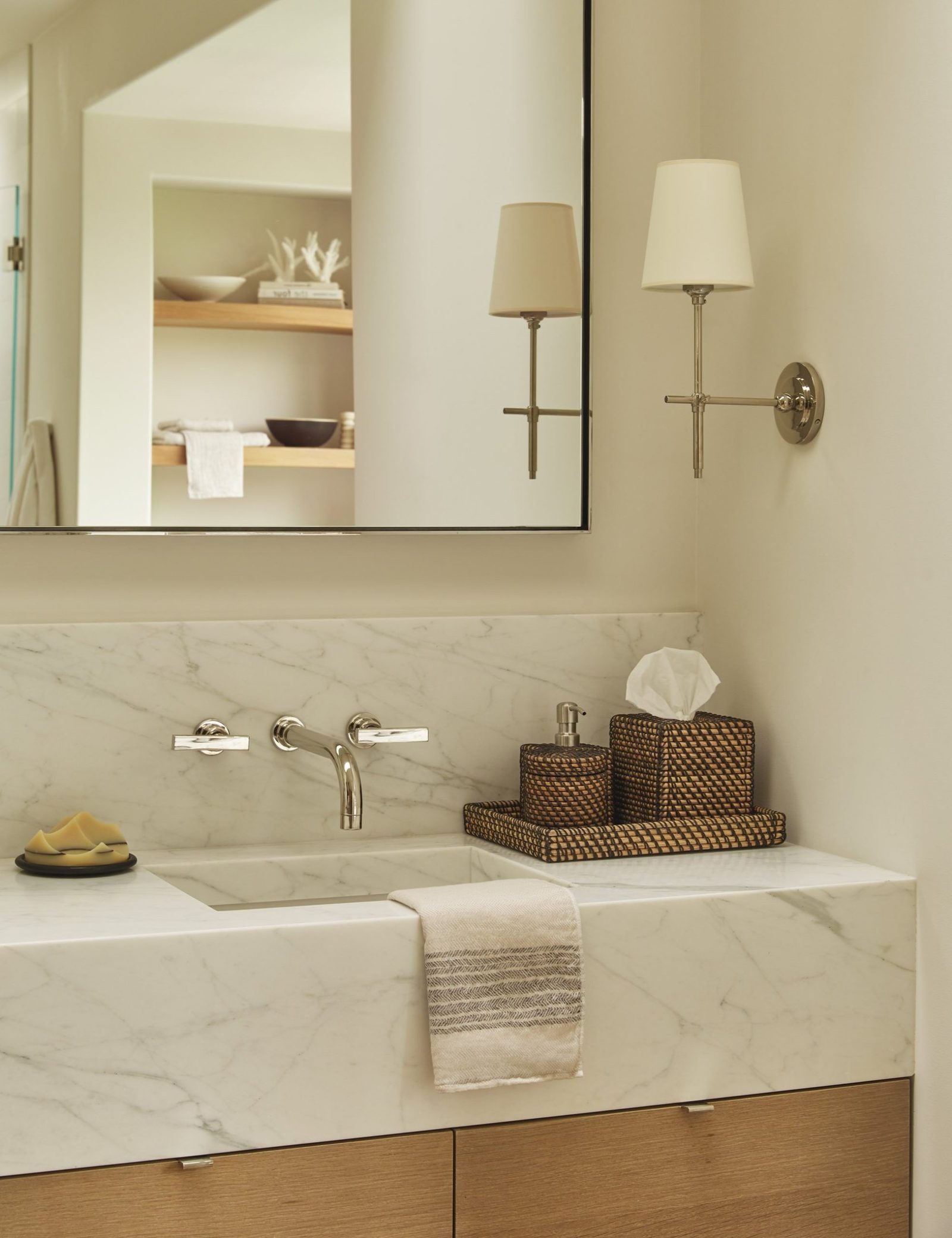 You can achieve a chic, modern look with woven rattan organizers when you have a light bathroom color palette like beige.
This four-piece vanity set consists of a woven tray, a storage canister, a soap dispenser, and a tissue box cover in a dark natural brown with black decorative stitching.
Jump for Joy with a Jacquard Shower Curtain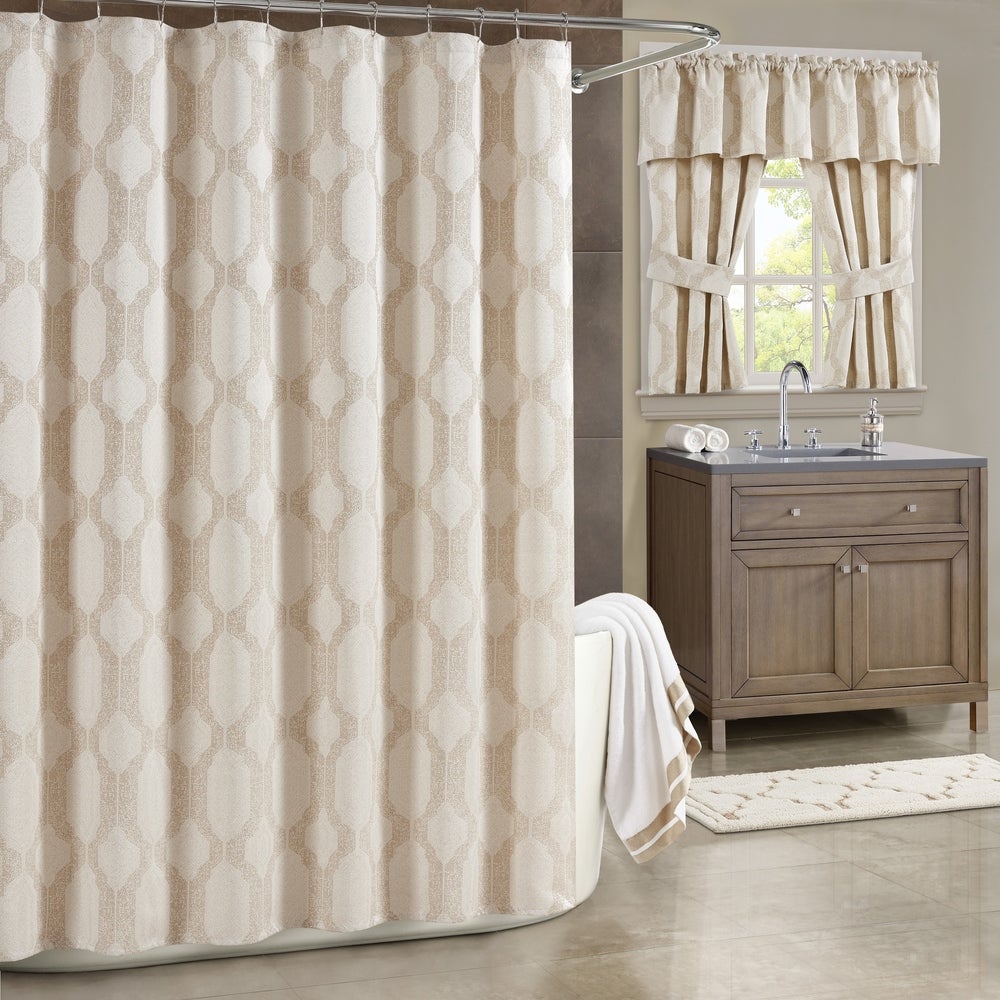 Your modern beige bathroom can get a simple and stylish upgrade with the simple swapping of a shower curtain.
We're crazy for this woven jacquard curtain in a champagne tonal palette with a fun geometric print in a modern luxe design.
Get a Group of Bath Rugs in Blue Stripes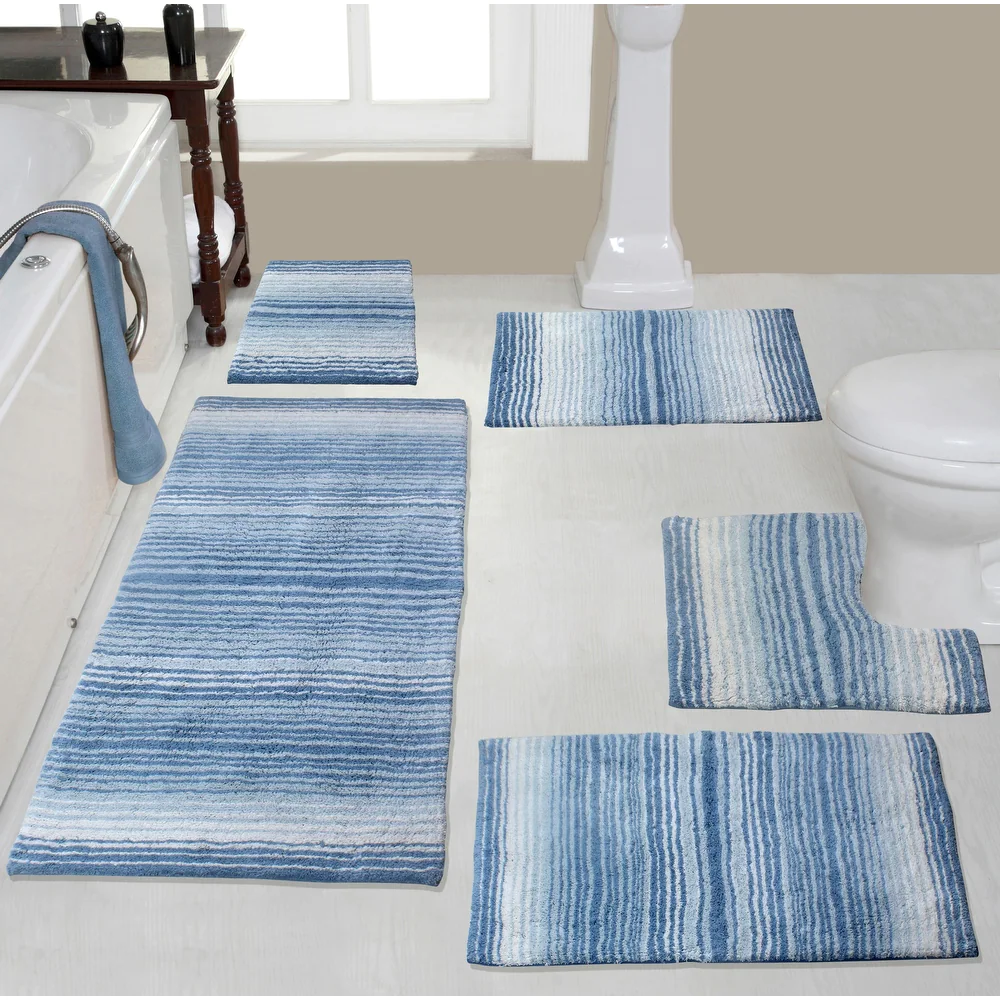 Bath rugs are a crucial component of your bathroom design, protecting your floor from water, keeping you from slipping, and jazzing up the room's aesthetic.
When you have a neutral off-color like beige for your room's main color, you have the perfect opportunity to go with pops of primary shades, like this stylish striped rug in varying tones of blue and white.
Select a Shower Curtain with a Sheen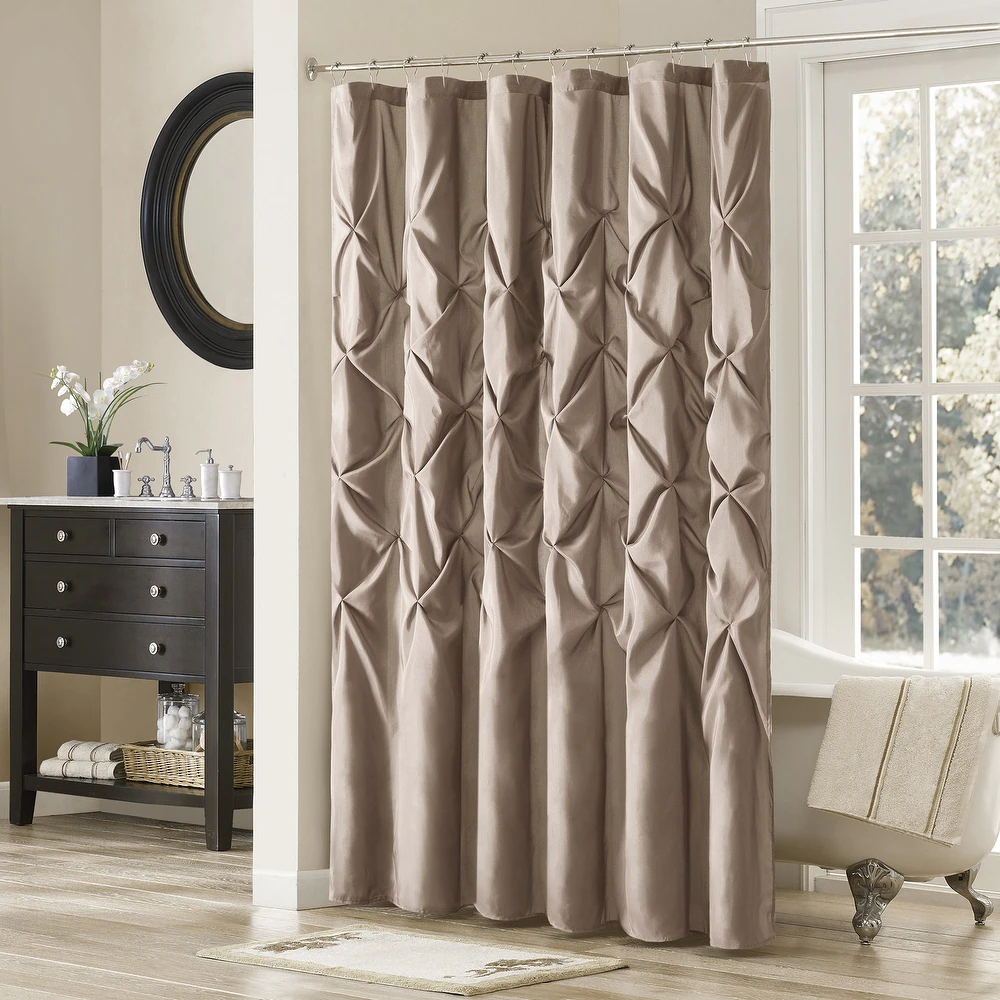 Choosing a decorative shower curtain is a fantastic way to give your bathroom a stylish, chic upgrade. This shower curtain features a pin-tuck theme in a shimmery taupe for texture and depth.
The tufted buttonhole design and semi-sheer faux silk material give a luxurious, upscale vibe that can work for any chic, modern, transitional, or farmhouse nuance.
Go for a Simple Gold Shiny Storage Shelf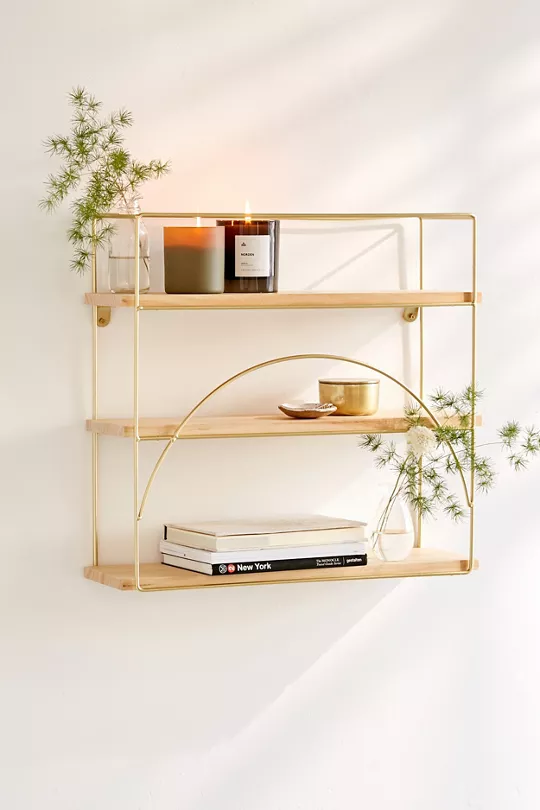 A decorative shelf in the bathroom provides the perfect place for storing small items like plants, books, candles, and other knickknacks.
This elegant wall shelf features three pale pine wood shelves, a modern minimalistic wireframe in a sleek gold finish, and an arched accent for an extra touch of glam.
Have Fun with a Honeycomb Dome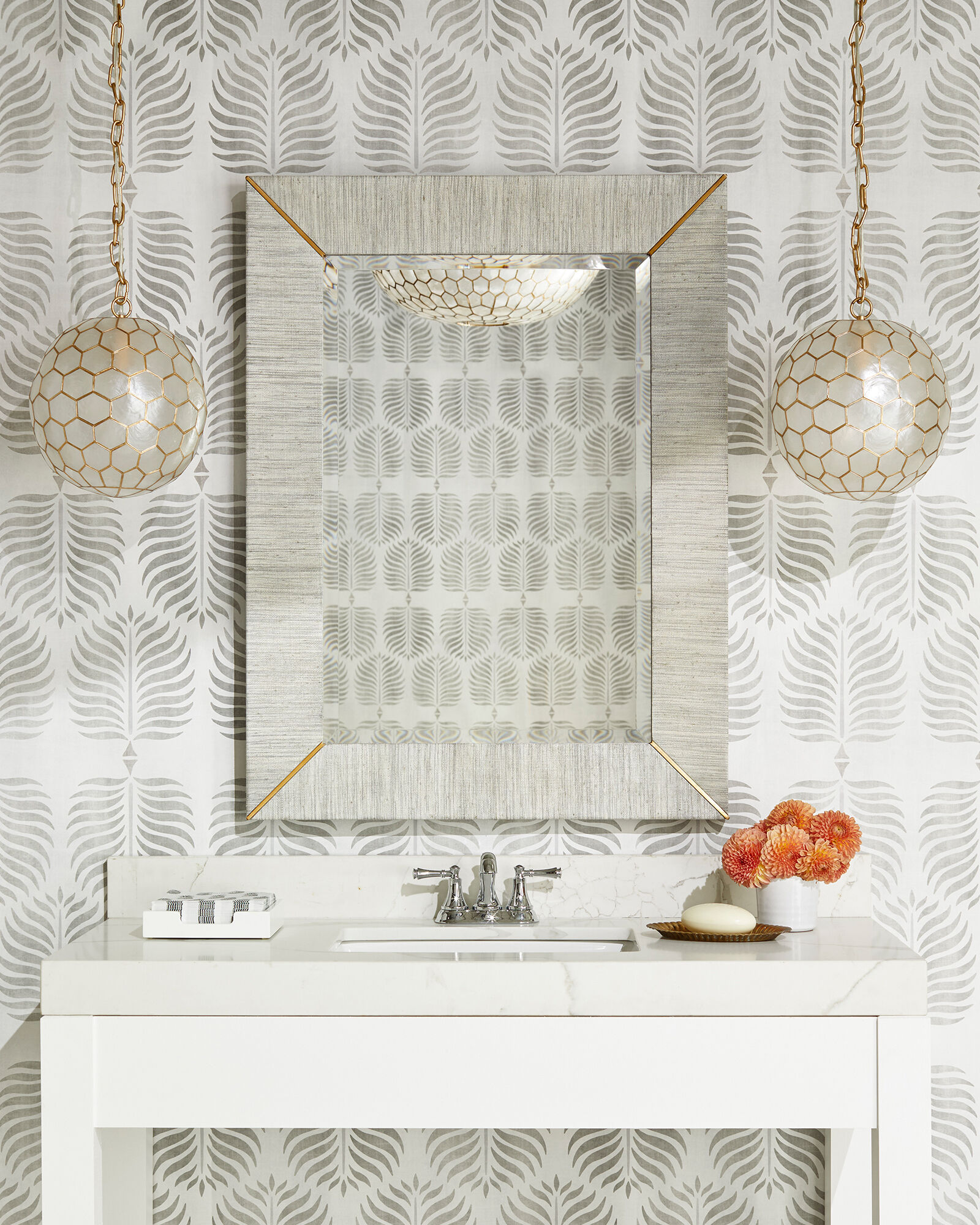 Turn your bathroom into a spa retreat using a glamorous chandelier. The understated beauty of this globe pendant feels ethereal and soothing while still looking like a focal piece.
The gold honeycomb trim adds some jazz to the simple round glass dome. And the elegant white capiz shells add a softer, warm diffuser that's perfect for adding texture and an extra depth of dimension to a beige bathroom.
Artisan Carved Vanity for a Modern Boho Vibe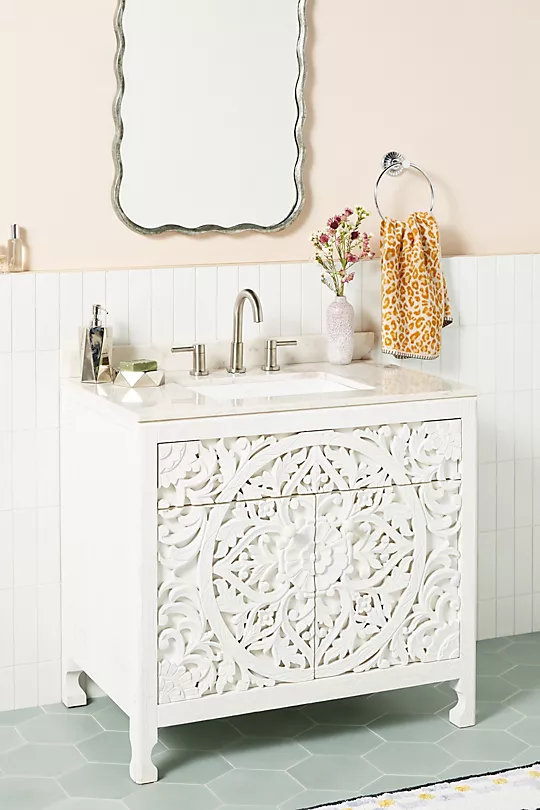 Suppose you like using contemporary pieces that are both functional and works of art. In that case, you're sure to fall in love with this vanity in a tropical acacia wood hand-finished with filigree cutouts on the double doors for an open, breathable storage space.
The bright white finish adds a classic feel to an eclectic vanity piece that pops against a neutral beige wall with cream subway tile. And the under-mount ceramic sink and marble top add slight color variations that add subtle coloring.
Closing Out
You have a lot of creative freedom when decorating a modern beige bathroom. You can keep things light and bright or pair darker pieces for contrast. The neutrality of beige is the perfect base for all colors of the rainbow and any design theme, including modern.
Which of our twenty modern beige bathroom ideas is your favorite design? Drop us a line in the comments.