Decorated Life is reader-supported. When you buy through links on our site, we may earn an affiliate commission. Learn More
20 Bathroom Pendant Lighting Ideas
While not the obvious lighting choice, pendants look great in bathrooms.
You can center them over a sink, install one over a bathtub or place a trio of them along a vanity. And since they come in so many different styles, there's something for everyone.
If you're ready to add these fixtures to your home, here are the best bathroom pendant lighting ideas to try this year.
Center a Pendant Over Your Sink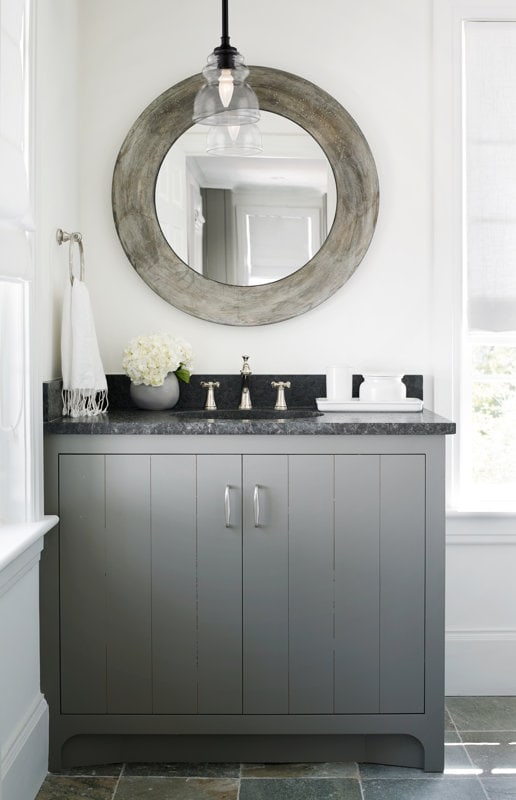 If you love the look of pendant lighting but aren't sure how to position it in the bathroom, try centering it over the sink. If you have a double vanity, you can use two pendants or center one in the middle.
This pendant from Wayfair has a versatile but still high-quality look. It looks great in the place of a regular flush mount light fixture.
Get a Modern Look with a Clear Shade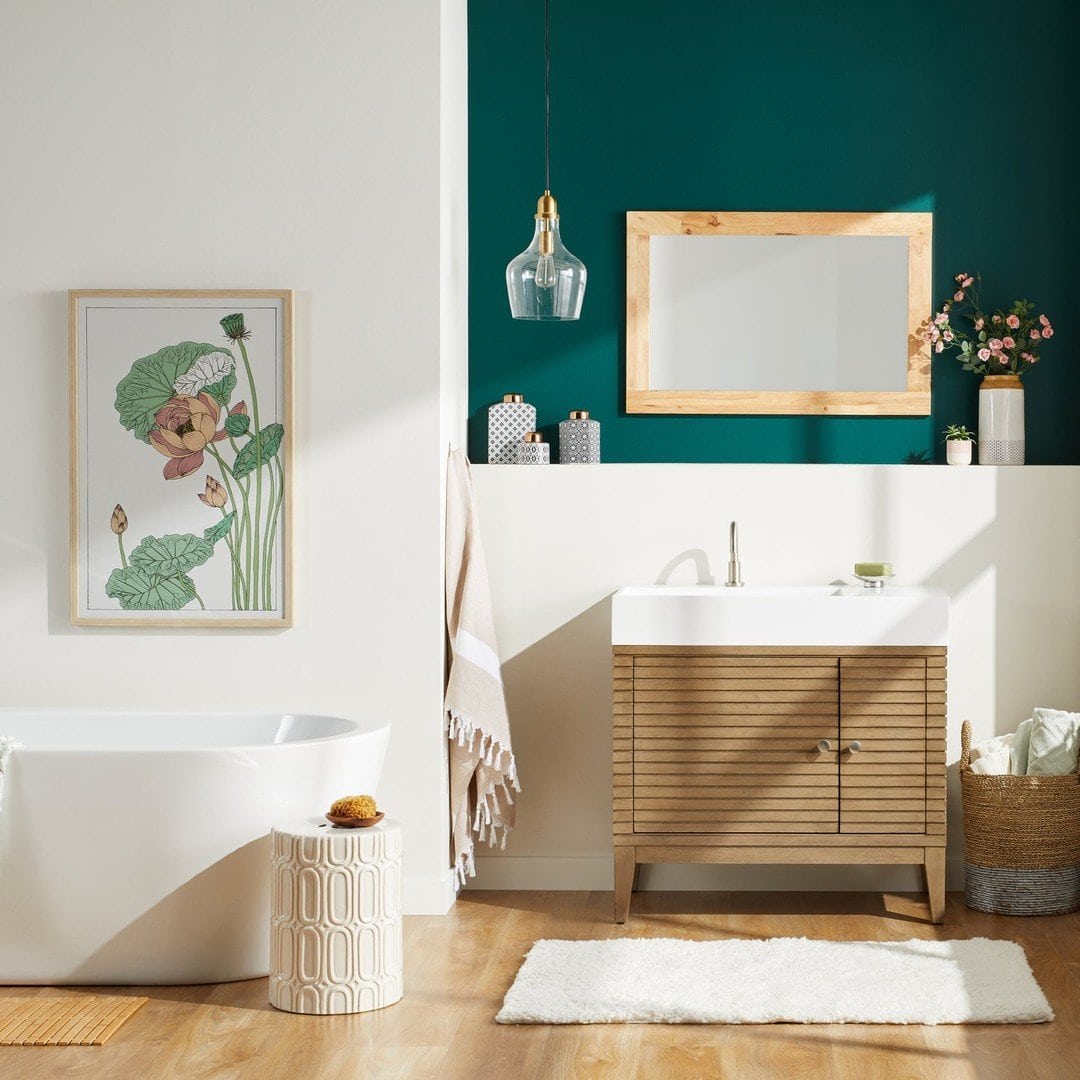 If you're after modern bathroom light fixtures, you can't go wrong with mostly glass pendants – especially if they have gold or black metal accents.
This pendant from Overstock features a bell glass shade and a metal accent of either gold, bronze, or silver. The glass shade measures 11 inches tall and 7.3 inches wide, making it a great mid-sized bathroom pendant.
Create an Elegant Look with Crystal Pendant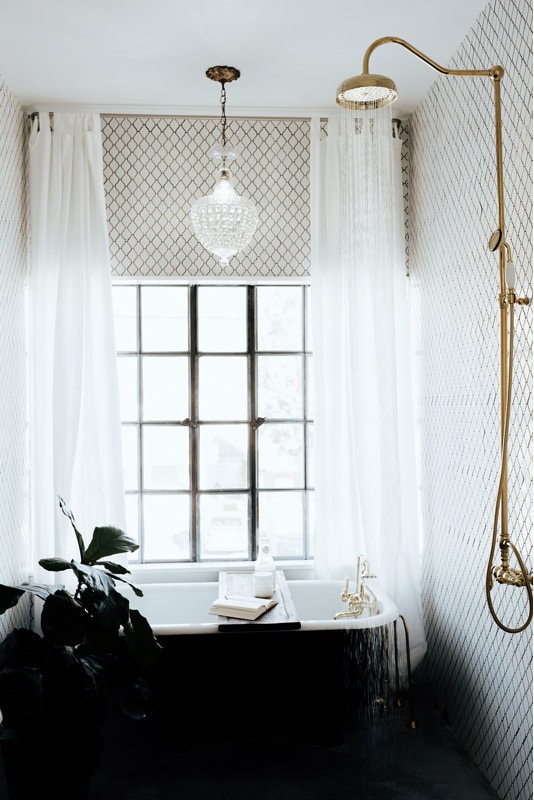 If you want your bathroom to be a retreat, make it scream elegance with a crystal pendant like this. You can find a fixture very similar at Wayfair.
It's in a teardrop shape and looks like jewelry for the ceiling. You can use it in a glam-styled bathroom or in something with a modern blend of styles as pictured.
Soften Your Room with a Romantic Glass Shade
Do you like a calming and romantic look in the bathroom? If yes, try bathroom lighting like this.
This white and clear glass pendant is from Anthropologie. It's a small/medium size, measuring ten inches in height and 12 inches in diameter. You could use one of these over the tub or two beside your vanity mirror.
Go Ultra Modern with a Set of Globe Pendants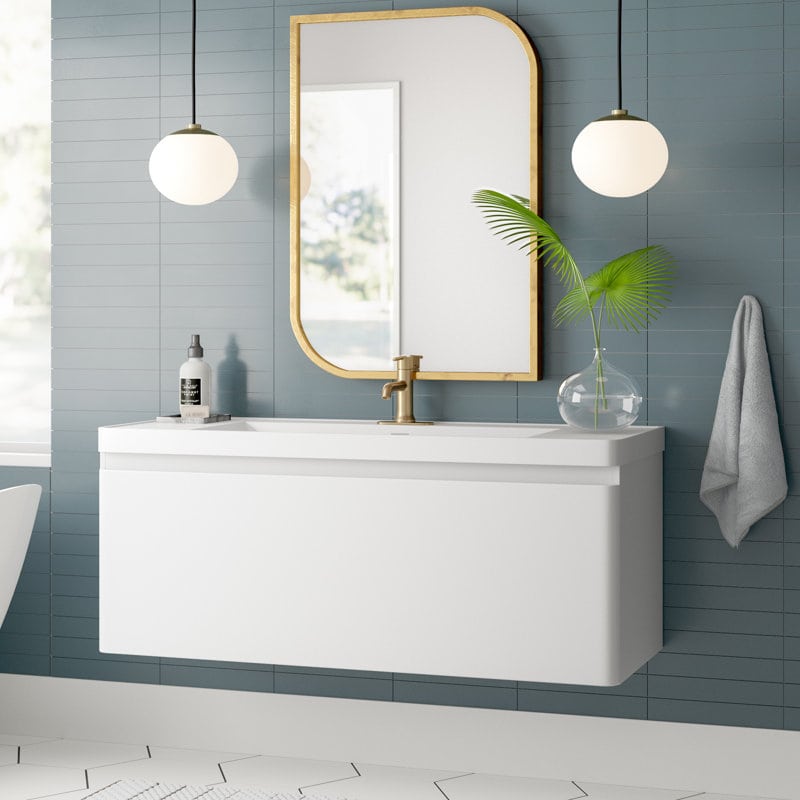 For an ultra-modern, almost utilitarian type of look, pair two of these globe pendants with a white floating vanity.
If you like the pendants but not the modern style, don't worry. If you pair these with a more traditional or rustic-looking vanity, it will completely change how they look. These pendants are very versatile.
Cast a Glow with a Unique Shade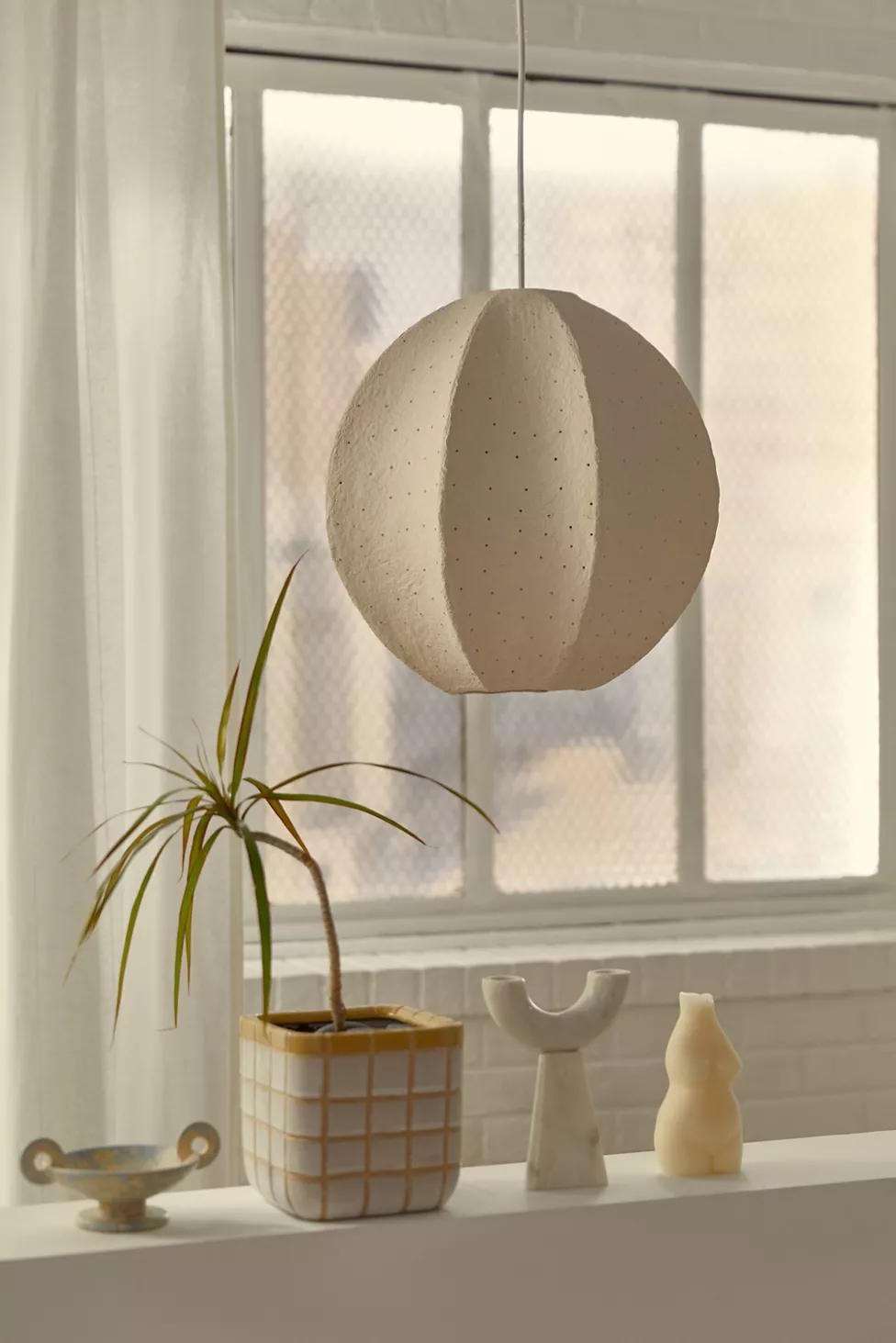 If you like using recycled material throughout your home, you're going to love this pendant shade from Urban Outfitters. It's recycled cotton in a fun shape that casts a fiery glow.
The downside is that it comes with the shade only – you'll need to pair this with your own cord kit. As far as size goes, it's 16 inches long by 18 inches wide – a great mid-large size.
Make Your Bathtub the Star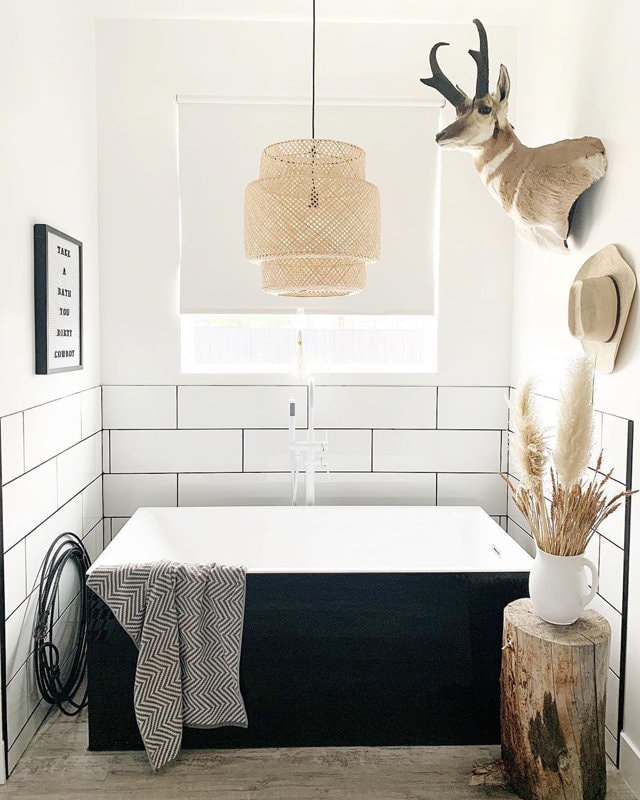 Do you want all eyes to go toward your bathtub? If so, hang a large pendant over it.
If you like rustic, farmhouse, or boho style, use a giant woven shade like pictured. It will look great with all types of decor. Try finding a large metal or glass pendant if you prefer modern or minimal decor.
Use this Light for a Minimal Aesthetic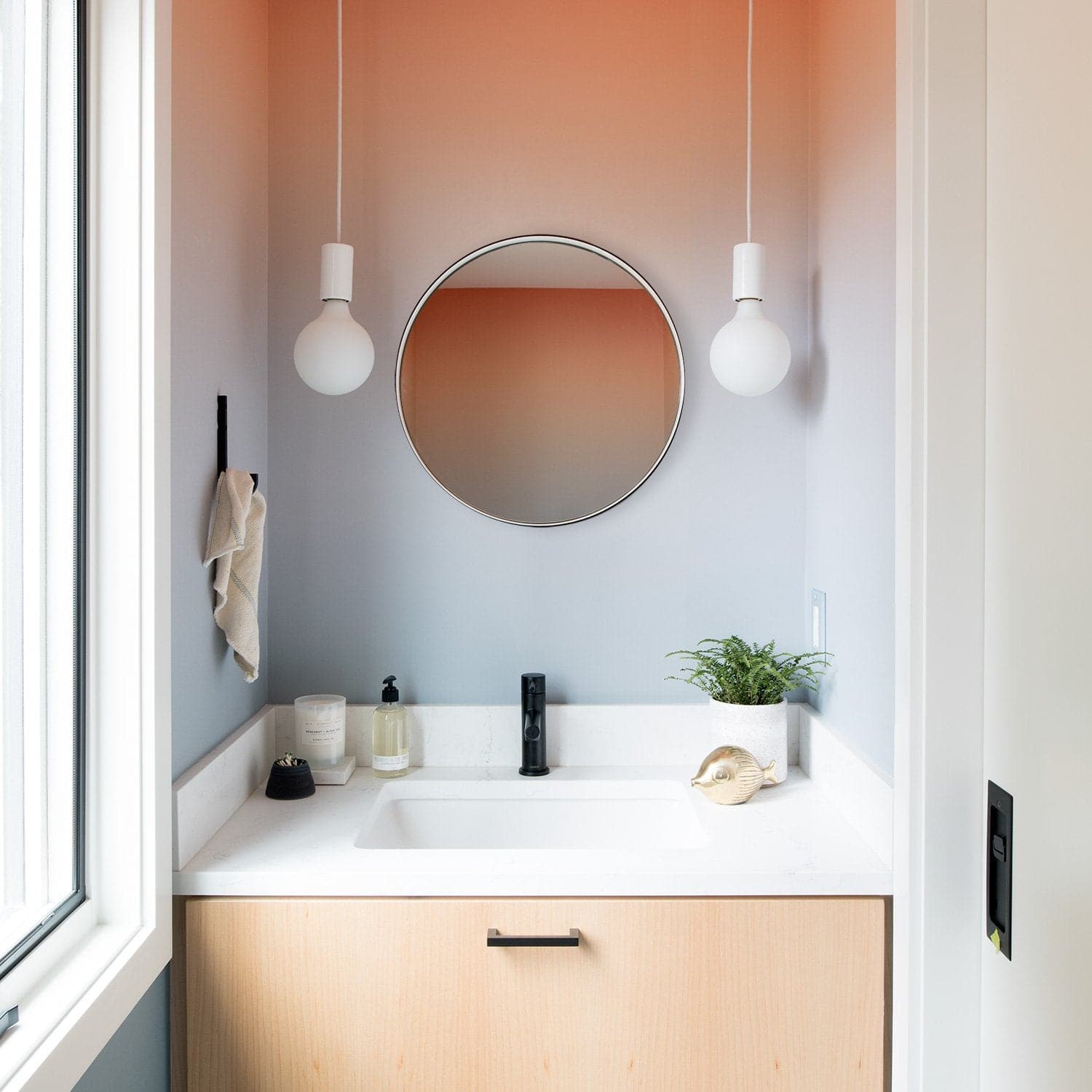 Are you into a minimal aesthetic? Then this pendant is the perfect choice for your bathroom. It's from Schoolhouse and comes in five finishes with two cord color options: white or black.
You can use this fixture as vanity pendant lights by hanging one on each side of your mirror. These pair best with modern, minimal, or mid-century style bathrooms.
Turn Your Bathroom Modern Coastal with a Black Shade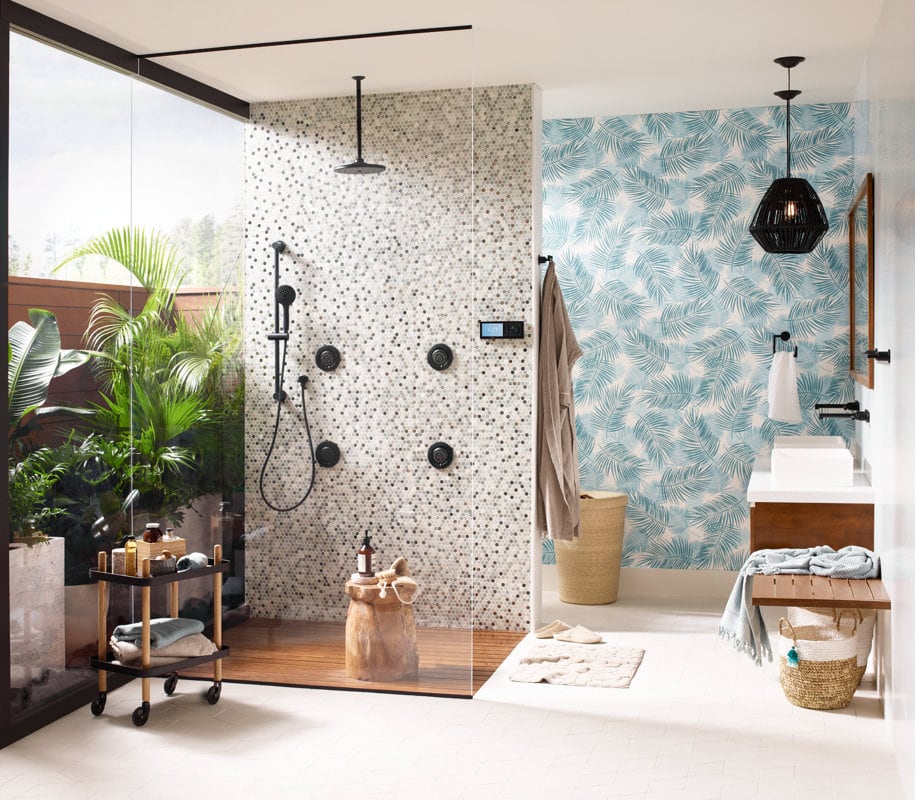 Ditch the traditional rattan shade and go for a black metal pendant if you want a fun spin on the modern coastal look.
A black pendant light will give an otherwise coastal room a very modern look. This works best with a light blue, white, and black color scheme. You can use one large light in the center of the room or two vanity lights.
Light Up the Room with a Capiz Pendant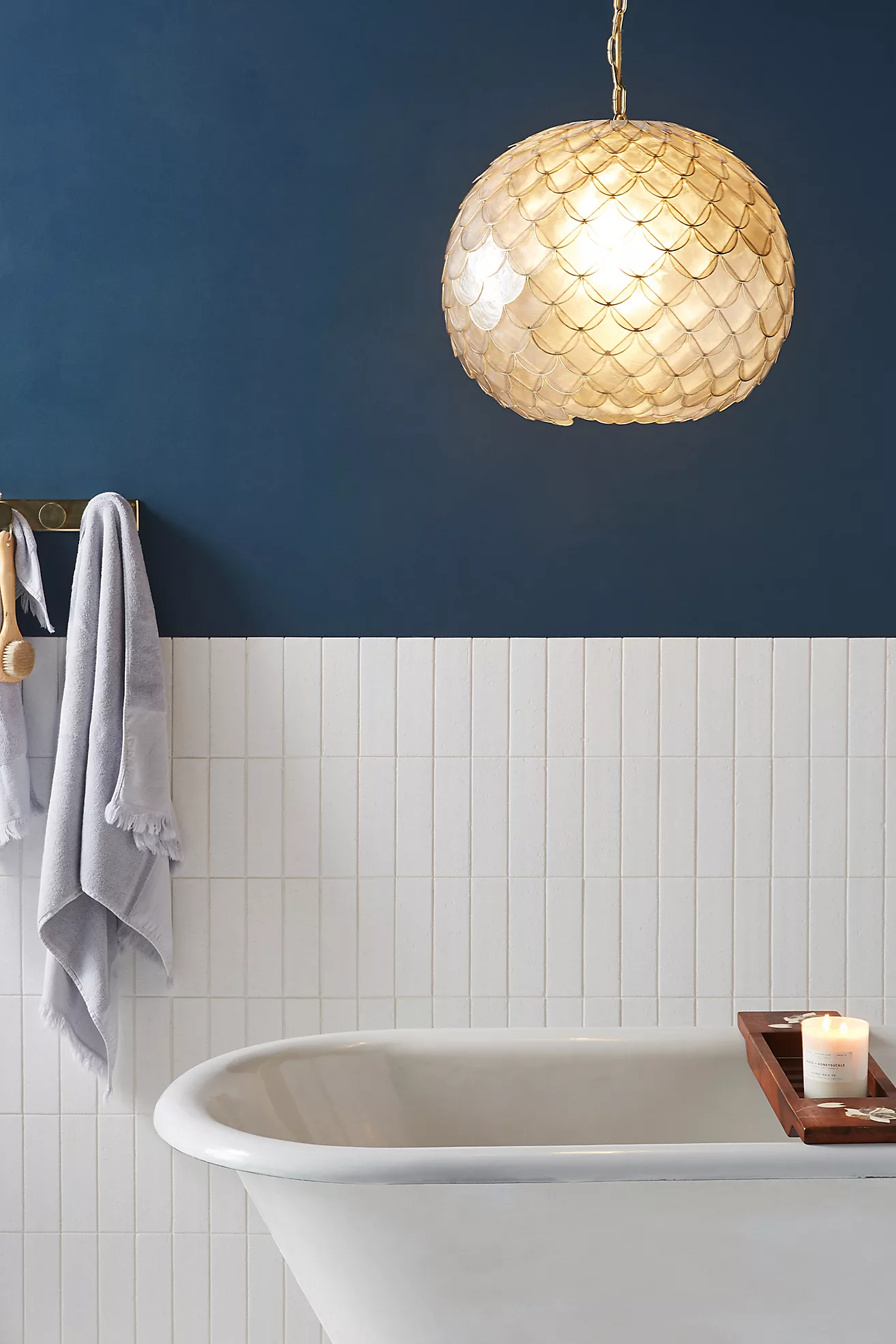 If you're looking for a light fixture that can double as an art piece, look no more. This pendant from Anthropologie is the perfect option.
This pendant features pieces of hand-cut capiz between beautiful brass binding. The light measures 18 inches in diameter and 17 inches high, so it's a great size for over the bathtub.
Install a Trio of Pendants Over the Vanity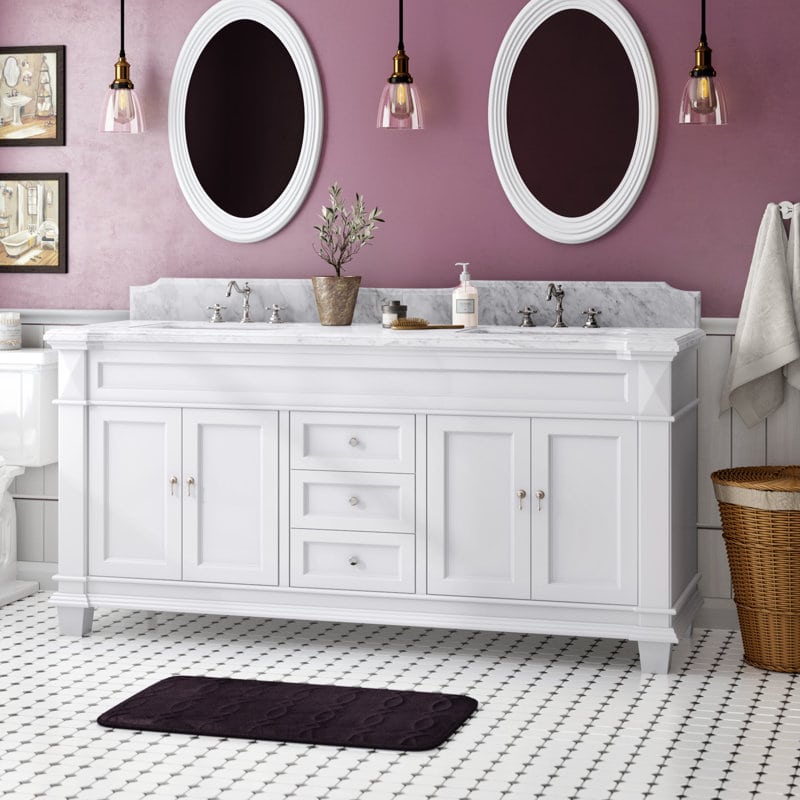 If you're worried about a lack of lighting over the vanity, consider installing a trio of pendants.
You can use an ultra-versatile option like these lights from Wayfair. They feature brass with a simple glass shade that goes with just about every type of decor. If your vanity is extra long, you could install up to five.
Hang a Pendant in the Center of the Bathroom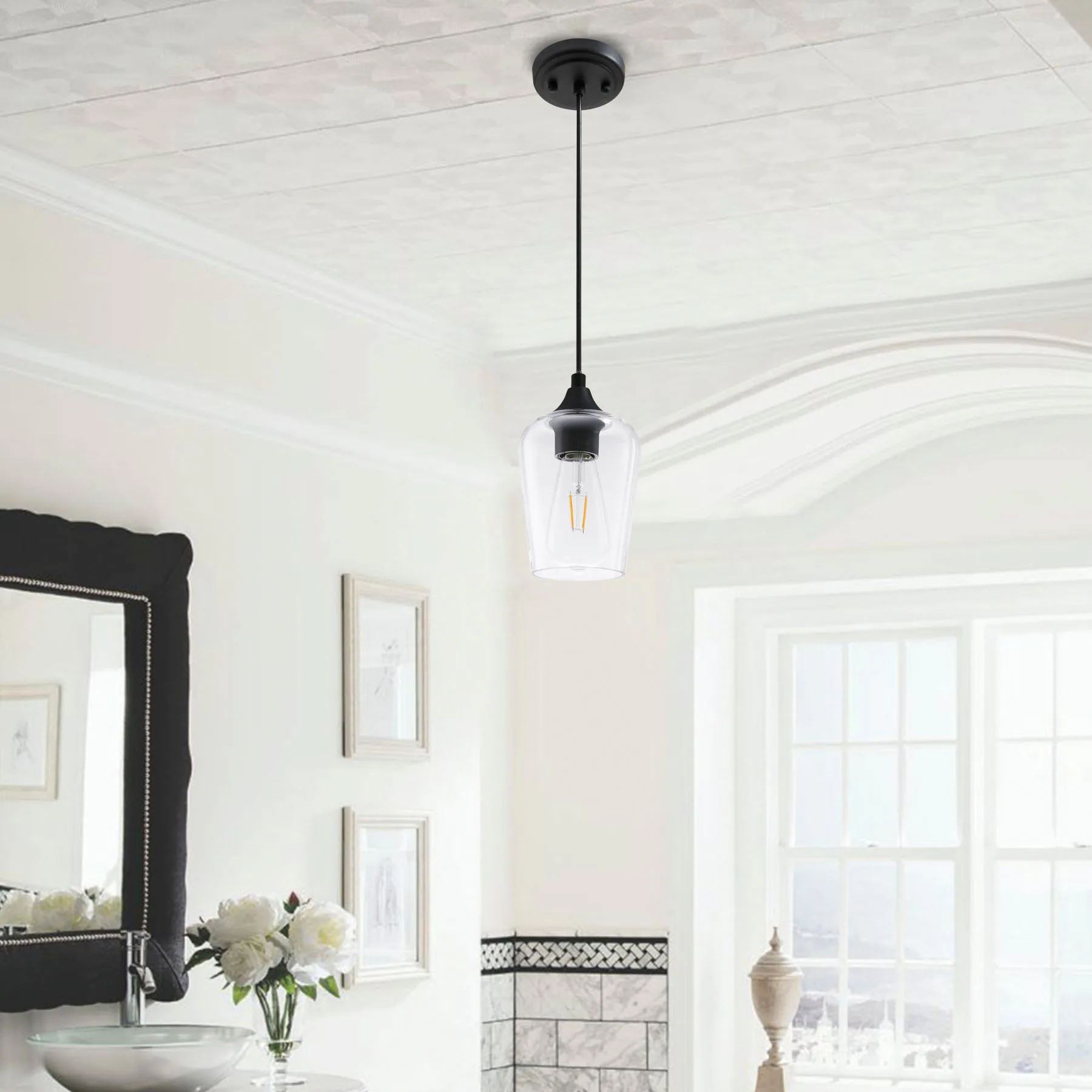 Do you prefer over-the-mirror lighting for your vanity? Even if you do, you can still work in a pendant light by placing it in the center of the room.
If you have a small bathroom, use a basic pendant like this. However, consider a bigger light if your bathroom is much more spacious.
Make a Statement with a Geometric Pendant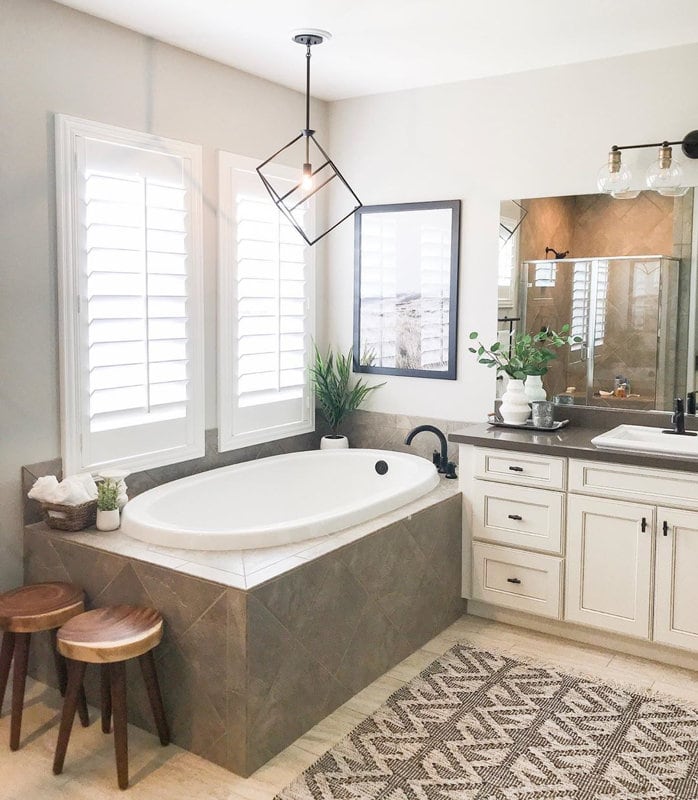 Pendant lighting doesn't have to be small. In fact, if you're using a pendant light over your bathtub or in the center of your room, it shouldn't be too small.
Instead, you can create a defined space and make a statement using a large option like this geometric pendant from Wayfair. This pendant will work with minimal, modern farmhouse and traditional-style bathrooms.
Use This Light for Mid-Century Modern Style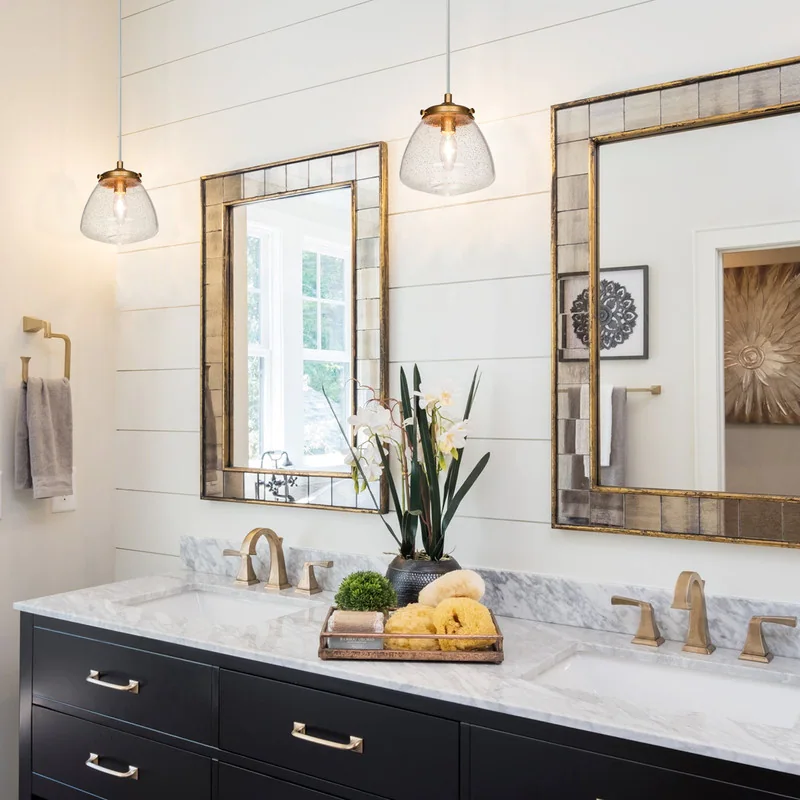 If your style borders modern and traditional, it can be hard to find a good lighting choice. Luckily, there's this pendant from Overstock.
While this pendant has a mid-century modern silhouette, its antique brass finish allows it to work in various settings. Depending on the size of your vanity, you can use one to three of these for a pulled-together look.
Get a Woven Shade for a Scandinavian Look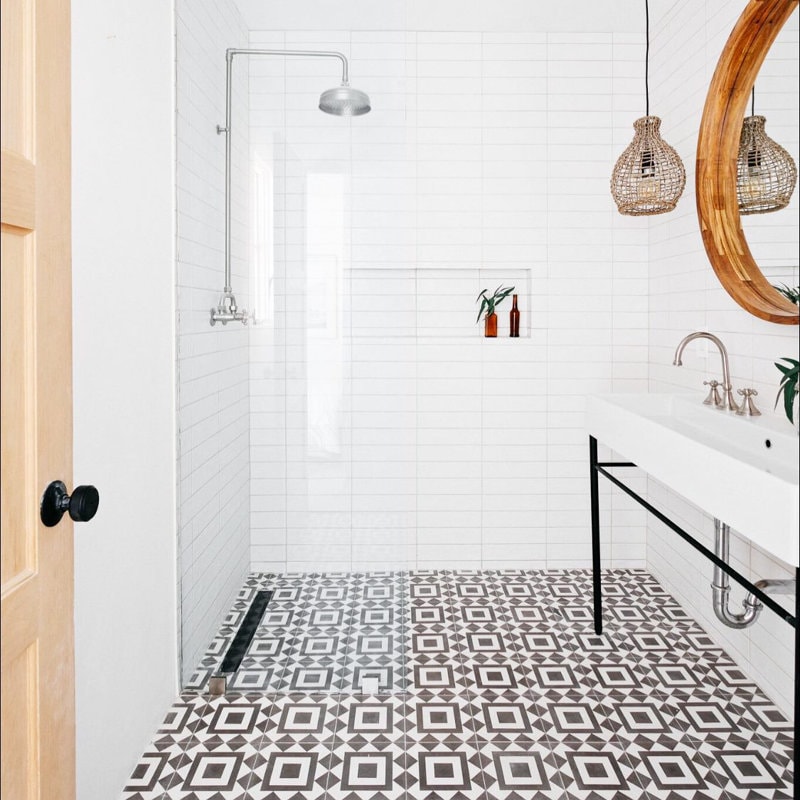 The Scandinavian look is super trendy right now. It's all about bringing in soft textures with modern pieces to create a clean yet cozy look.
So if you want this style in your bathroom, consider a sizable woven shade like this. This light looks perfect in white bathrooms that have dark accents.
Demand Attention with a Unique Globe Pendant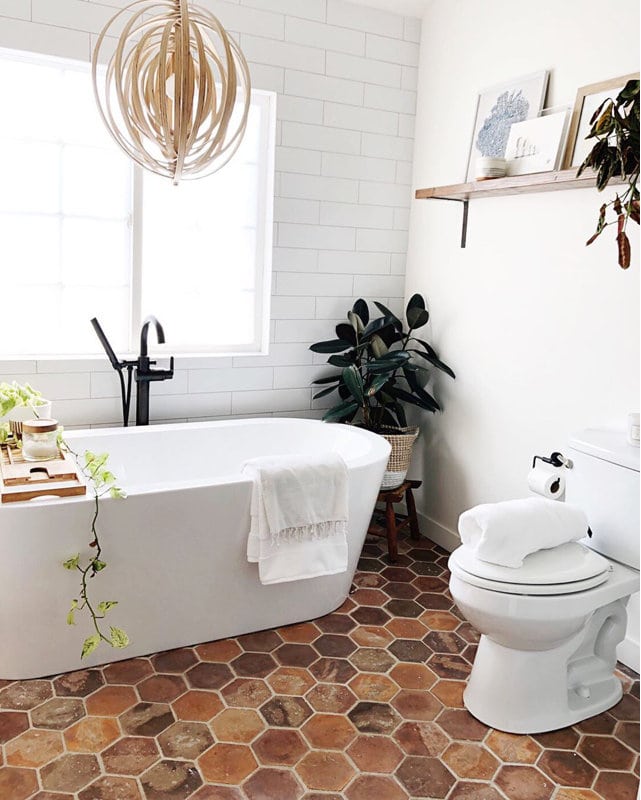 If you want a light fixture that demands full attention, you can't go wrong with this one. From Wayfair, this metal geometric pendant is the perfect size for over the bathtub.
This fixture looks clean and modern in a white bathroom but looks glam in a darker-colored room. You could even replace your standard flush mount with this.
Reflect Light with Textured Glass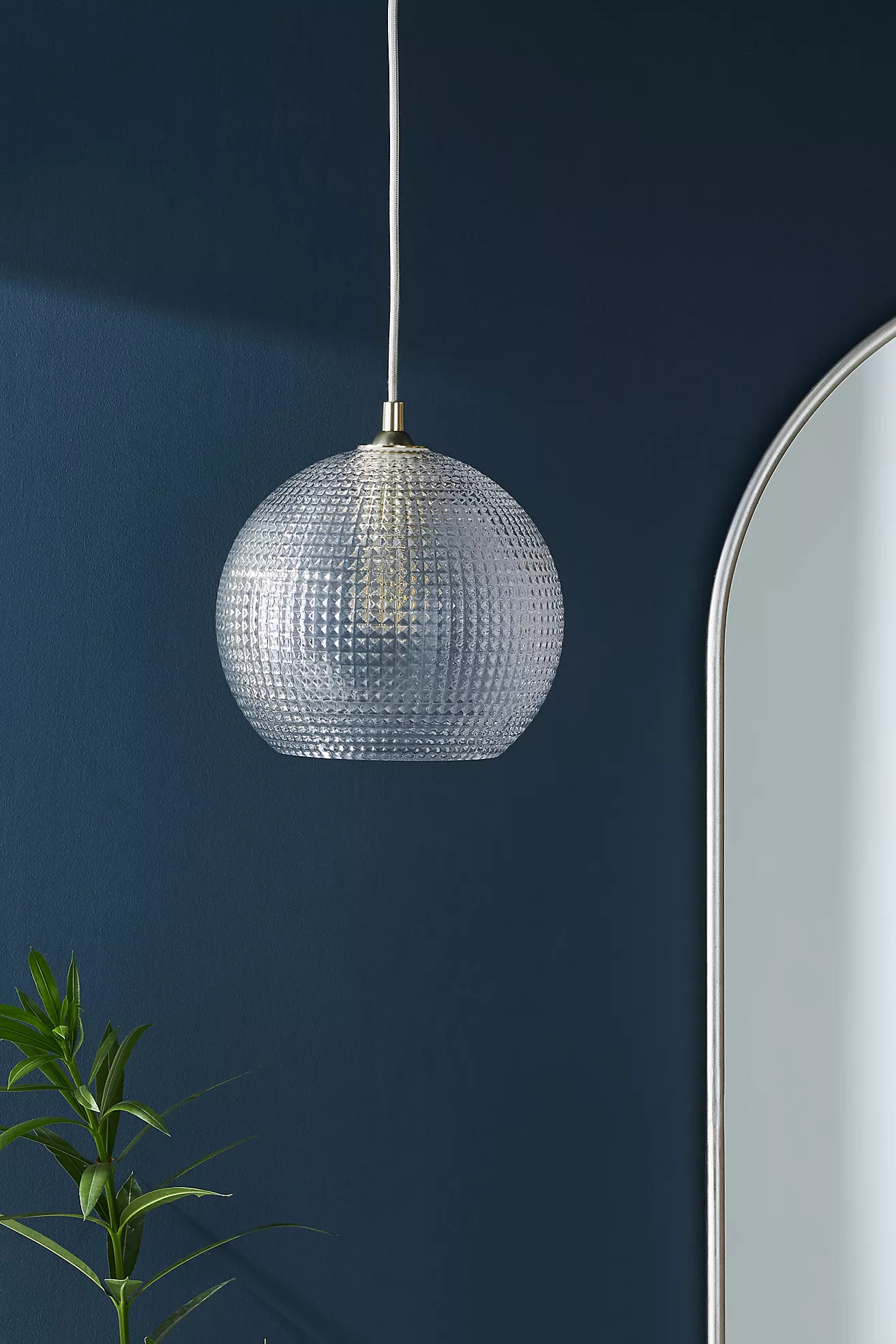 If you want something simple but still pretty, try this pendant from Anthropologie. It looks good without calling a lot of attention to itself.
This glass globe shade has texture to reflect light across the bathroom. You can get the cord and metal accent piece in silver or bronze.
Try a Drum Shade for a More Traditional Look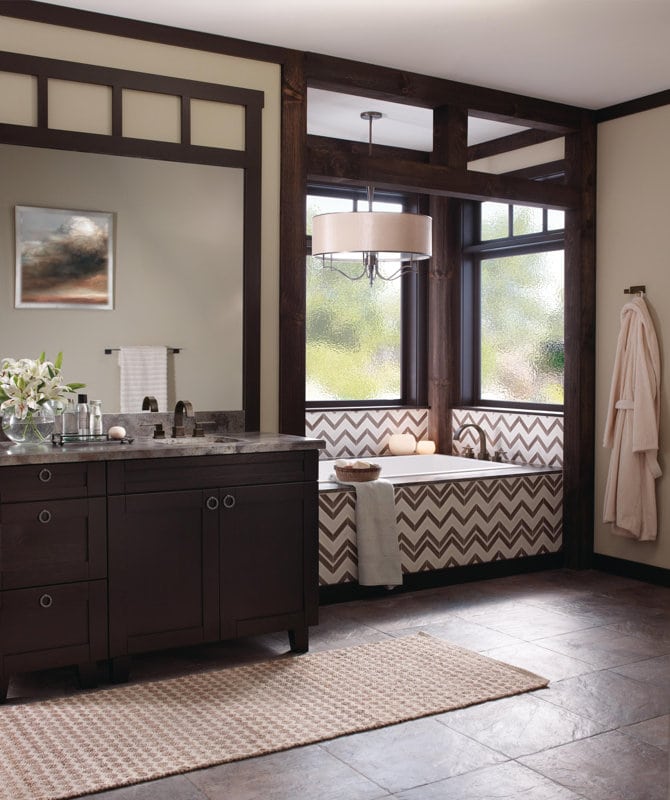 Are you looking for something more traditional to go in your bathroom? Skip the glass or metal and opt for a drum shade.
Drum shades are classic, but they look a bit more modern with a pendant cord. Since these drum shades are large, one of them would look good in the center of the room or over the tub.
Go Contemporary with Large Metal Lights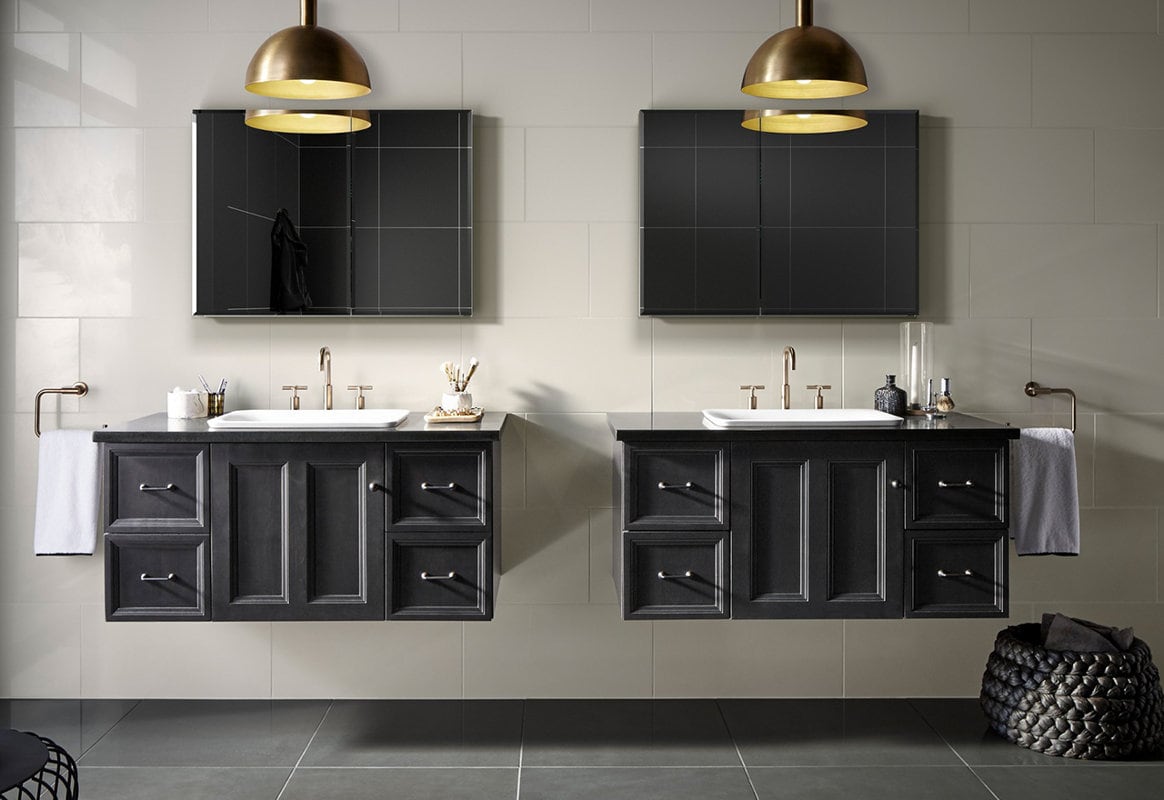 If you're trying to achieve a contemporary or industrial look, metal shades are the way to go. And in the case of a double vanity, place one over each sink.
You can find similar metal pendant lights from Wayfair that come in a gray/gold or silver/white color scheme. If you want to brighten the room, go with white otherwise, choose the gray option.
Glam Your Room with Gold Geometric Shapes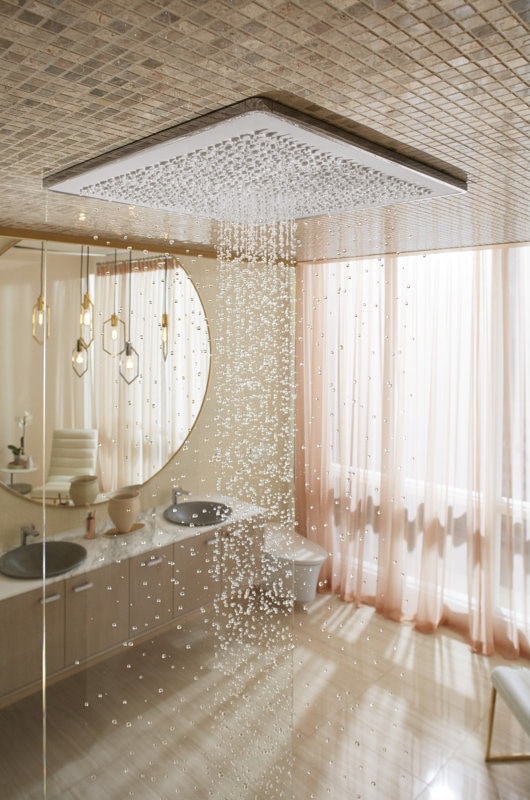 An easy way to get glam elegance in your bathroom is with your light choice. And there's no better option than gold geometric pendants.
You can line a bunch of dainty pendants in a row as pictured or use sets of larger lights over your vanity. Regardless, your pendants can act as the jewelry of your bathroom.
Final Thoughts
There are three common spots to place pendants in the bathroom: over the vanity, in the center of the room, or over the bathtub. Smaller pendant lights are great for over the vanity, while larger ones are better for the tub and center of the room.
And fortunately, no matter your style, you can find something that works. Just be sure whatever you purchase is damp-rated for bathroom and kitchen use.