Decorated Life is reader-supported. When you buy through links on our site, we may earn an affiliate commission. Learn More
14 Rustic Kitchen Backsplash Ideas
When redecorating your kitchen, one of the biggest decisions you will have to make is choosing the perfect tiles for your backsplash. There are so many different options to choose from, and the kind of tiles that will suit your kitchen depends on the age of your house and the style of your cupboards and other furnishings.
If you own an older house, or you've chosen wooden cupboards, then opting for less modern and more rustic feeling tiles is a great option. We've gathered the best rustic kitchen backsplash ideas around to inspire you, and help you choose the perfect rustic backsplash for your kitchen.
Mossy Stone Inspired Rustic Kitchen Backsplash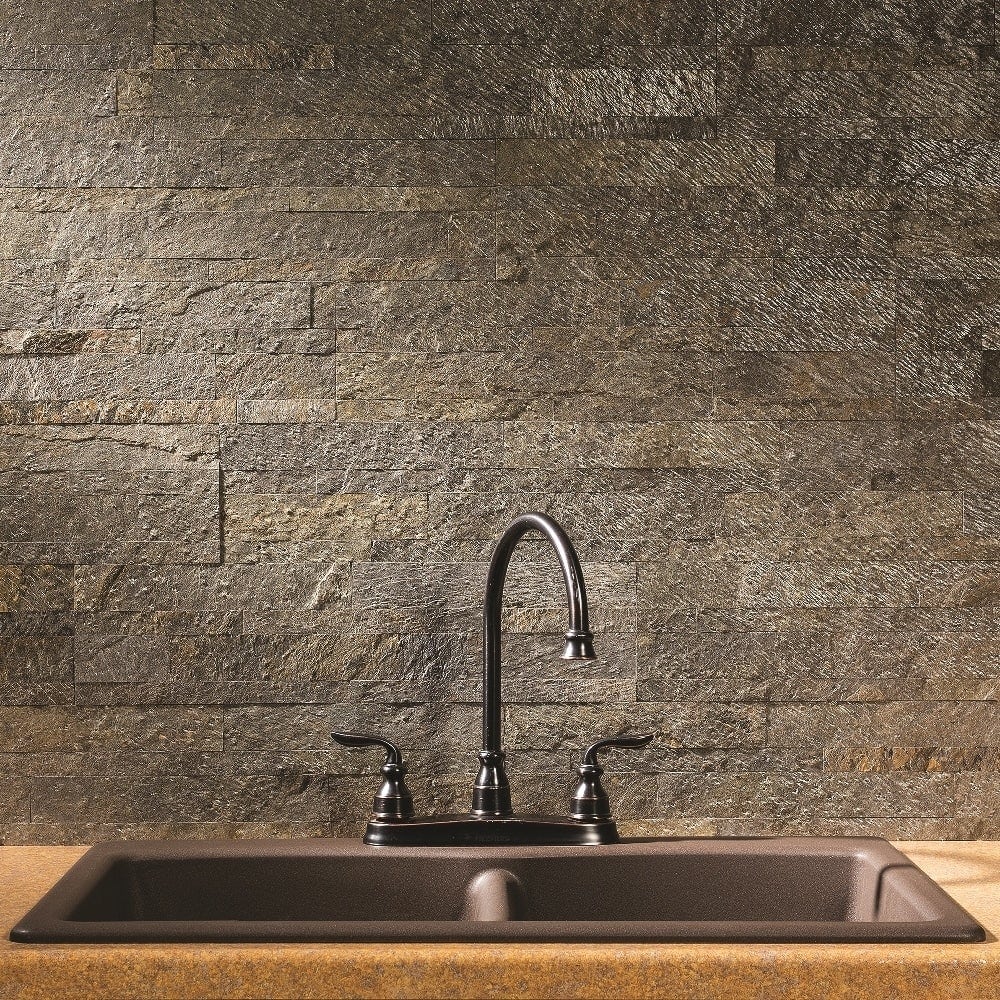 One of the most obvious materials for rustic-themed kitchen backsplash is stone. While that sounds expensive, stone tiles are actually very affordable, and they can even be found in the peel and stick style which means you don't have to use grout or hire a professional to decorate.
The natural texture of stone, along with the neutral brown color, helps to create a feeling of bringing the outside in which is perfect for a rustic country kitchen.
Aged Black Porcelain Kitchen Backsplash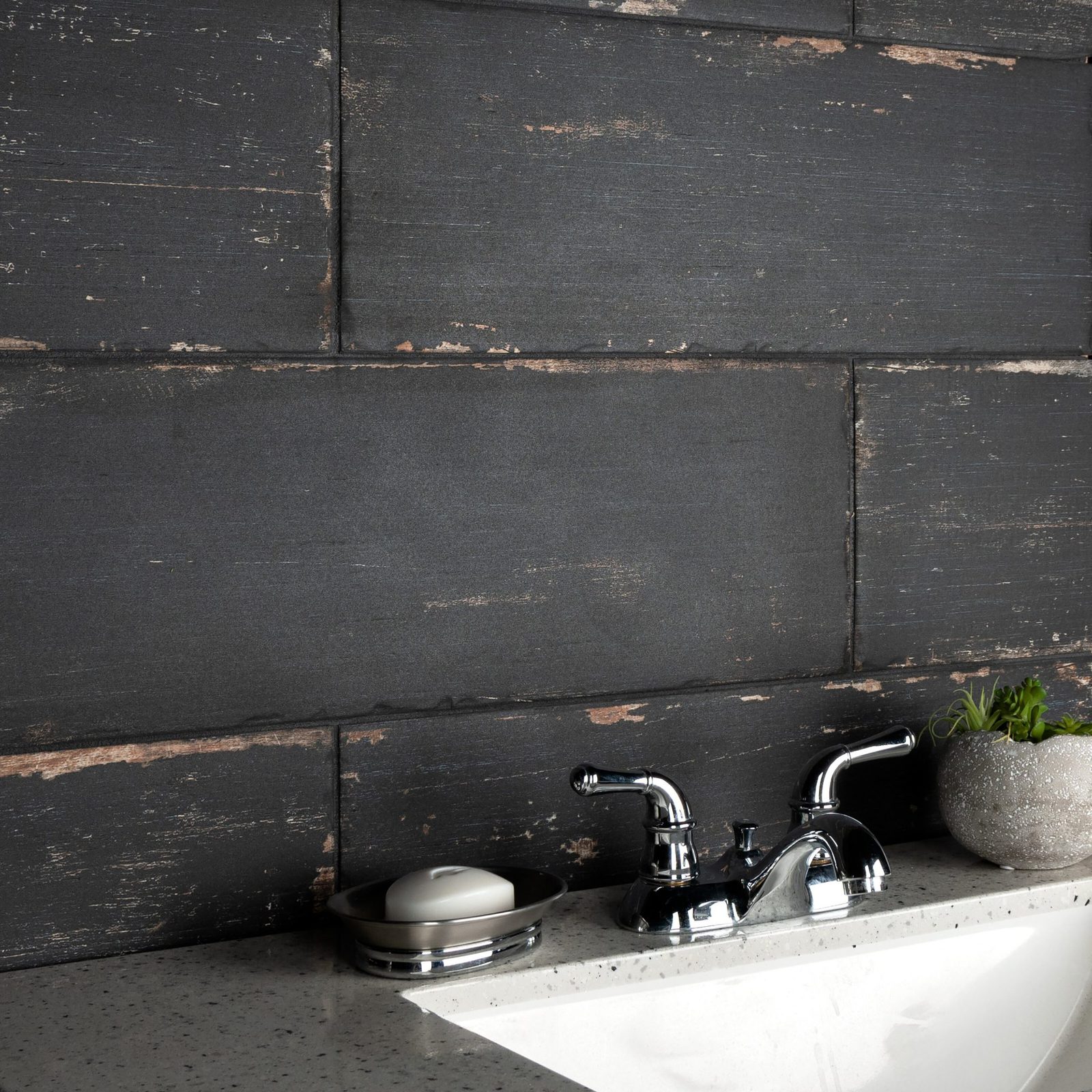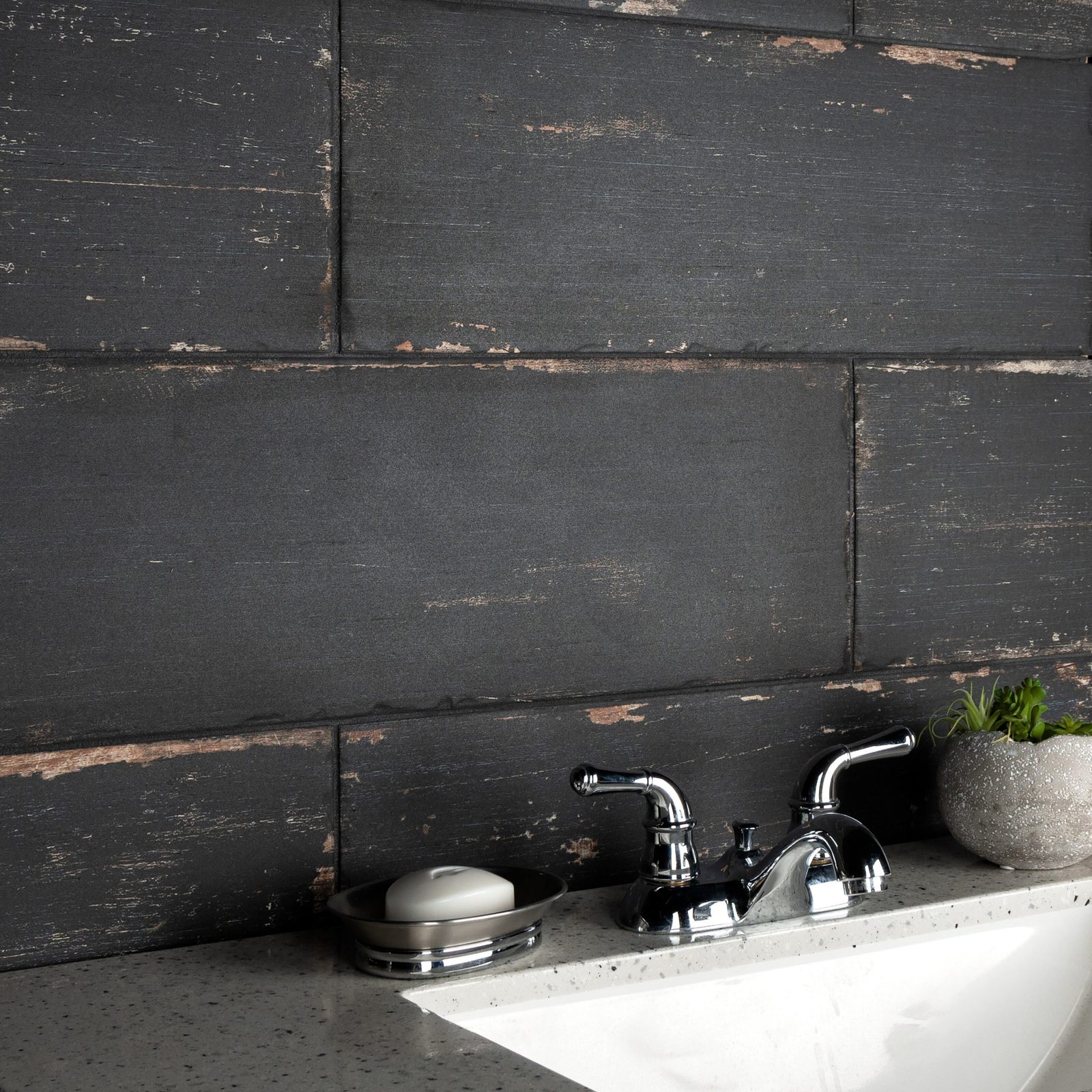 Another hugely popular style when thinking about a rustic theme is the idea of aged materials. Using driftwood or recycling materials from old projects or appliances instantly gives a rustic feel to any room. As unique and affordable as that might be it isn't the most practical in a kitchen, so the next best thing is to choose a tile that's inspired by the aging process.
These simple black tiles with brown edges recreate the look of paint chipping off of wooden panels over time, without the impracticalities of using real wood in a kitchen. If you're going for a monochrome-themed rustic kitchen, these tiles would be a great option for you.
Blend Modern and Rustic with this Neutral Geometric Tile Backsplash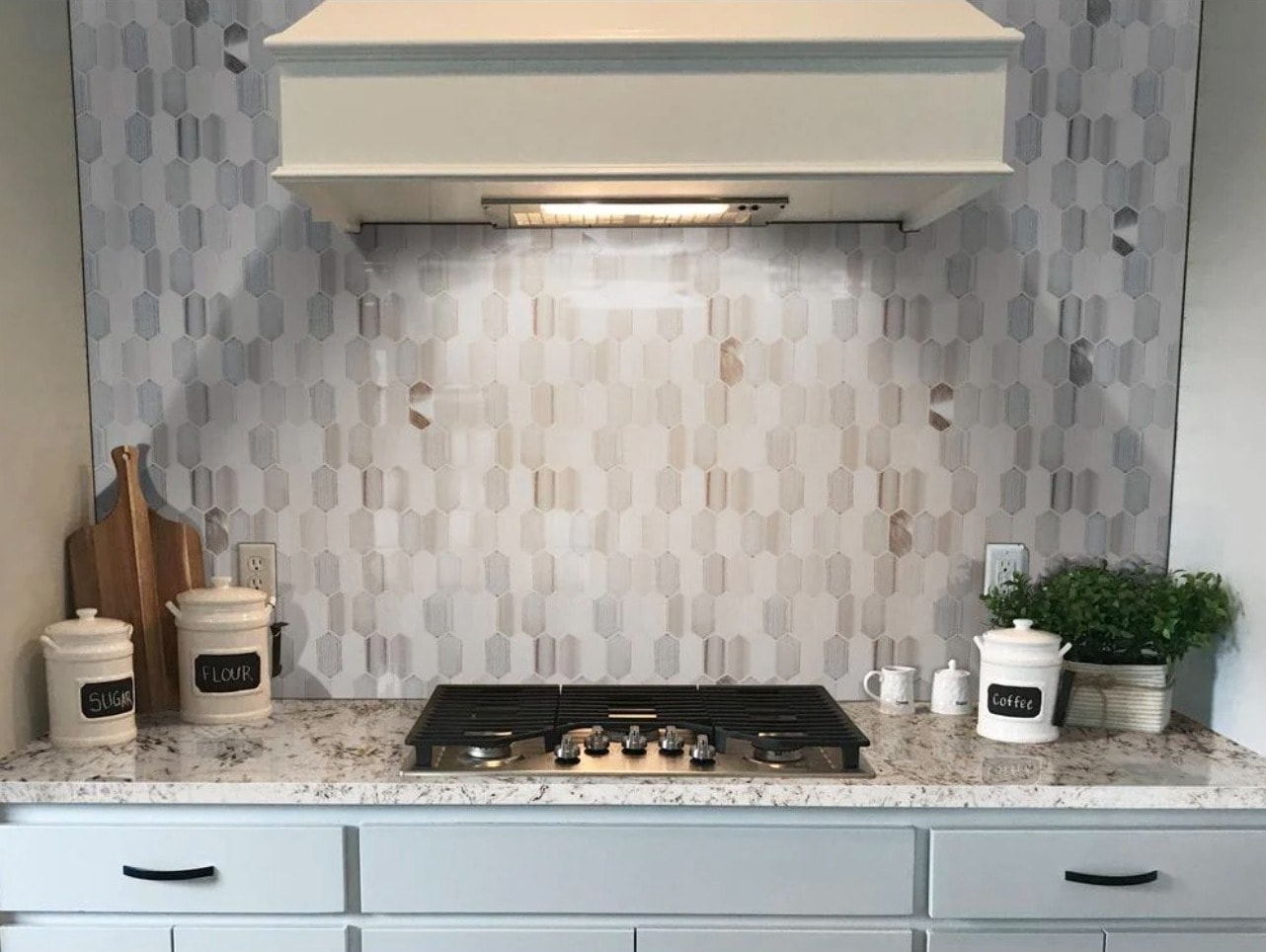 Creating a balance between rustic and modern might not sound like it's achievable, but it totally is! If you're not entirely sure which kind of style you want to go for then why not mix them together?
Using a neutral-colored tile with a stone texture that's varied across the individual tiles will give you a rustic feel, but the clean-cut hexagonal shapes give a more modern feel. The overall design comes out somewhere in the middle and allows you to combine the two styles for a more relaxed version of modern-style kitchen decor.
Add a little Color with these Blue Textured Tiles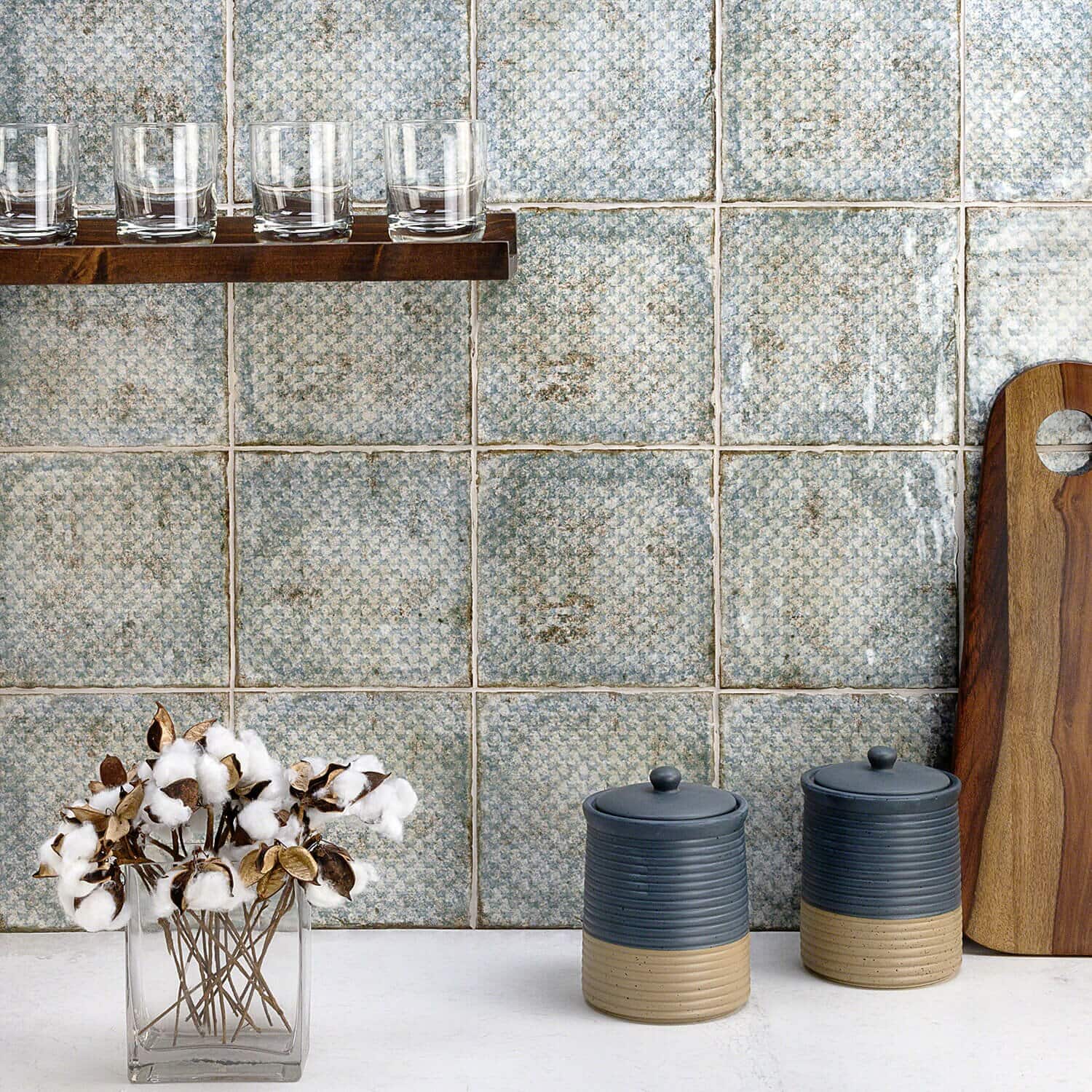 Choosing to go for a rustic kitchen backsplash shouldn't mean that you're limited to colors like grey and brown if you don't want to be. While these colors are more traditional, opting for a more muted tone of any color will give the same effect when combined with the right texture.
These textured blue tiles add a little color to the kitchen, but the subtle touches of brown in the pattern and the faded texture help to age the tiles and tone them down, creating a warmer feel that would be at home in any country kitchen.
Fitting Personality into your Rustic Kitchen Backsplash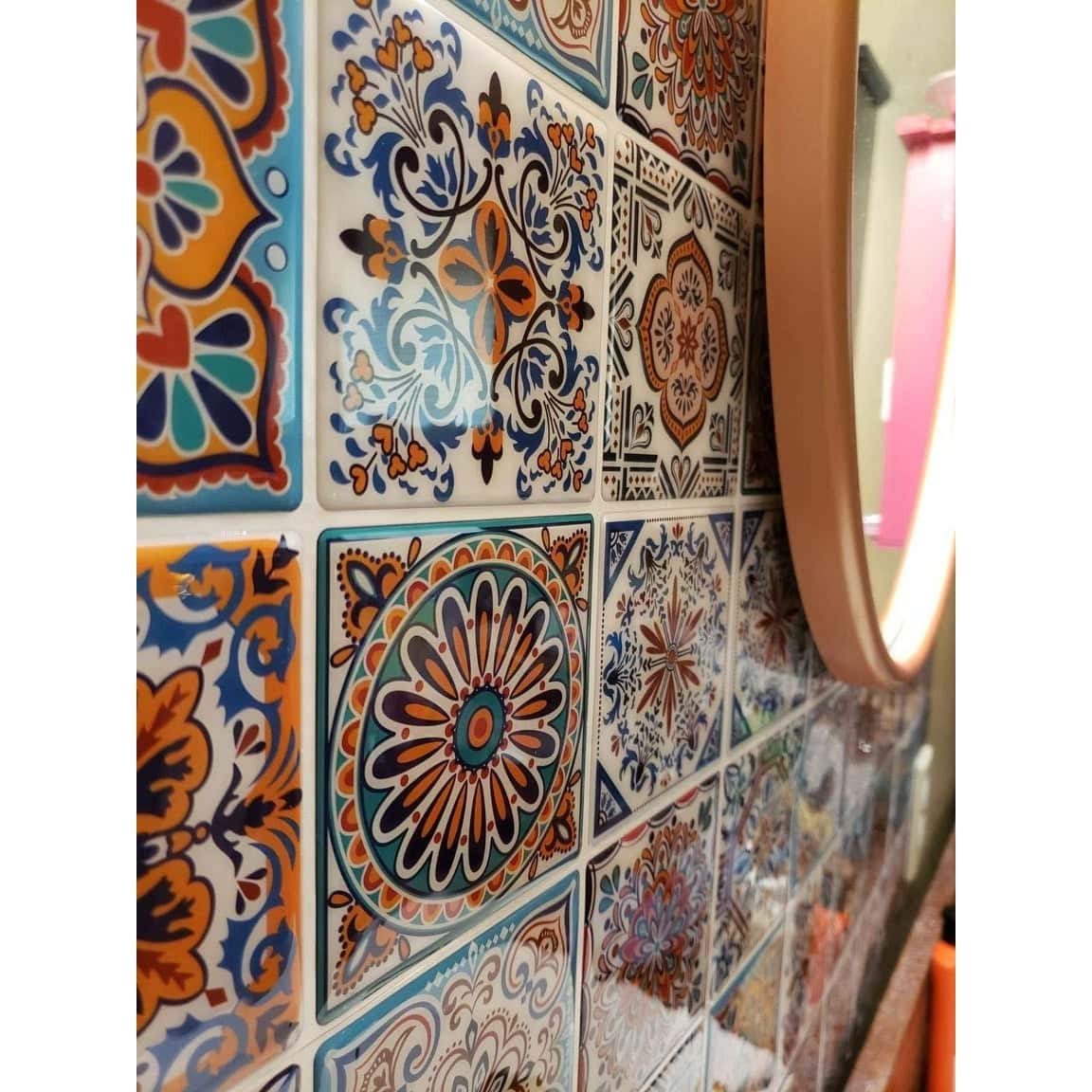 Well, we did say that rustic takes many forms!! One of the most unique rustic kitchen backsplashes comes in the form of this stunning traditional Mexican print. This tile would look at home in the kitchen of any ranch or country kitchen.
The bright colors help to give your kitchen more personality, but because they're more muted, have a traditional pattern, and are earth-toned with muted reds and oranges it still feels rustic. Add these tiles to your wall with mid-toned wood cupboards or an off-white work surface to create a country kitchen with personality.
Add a Subtle Rustic Hint with this Light Grey Backsplash Tile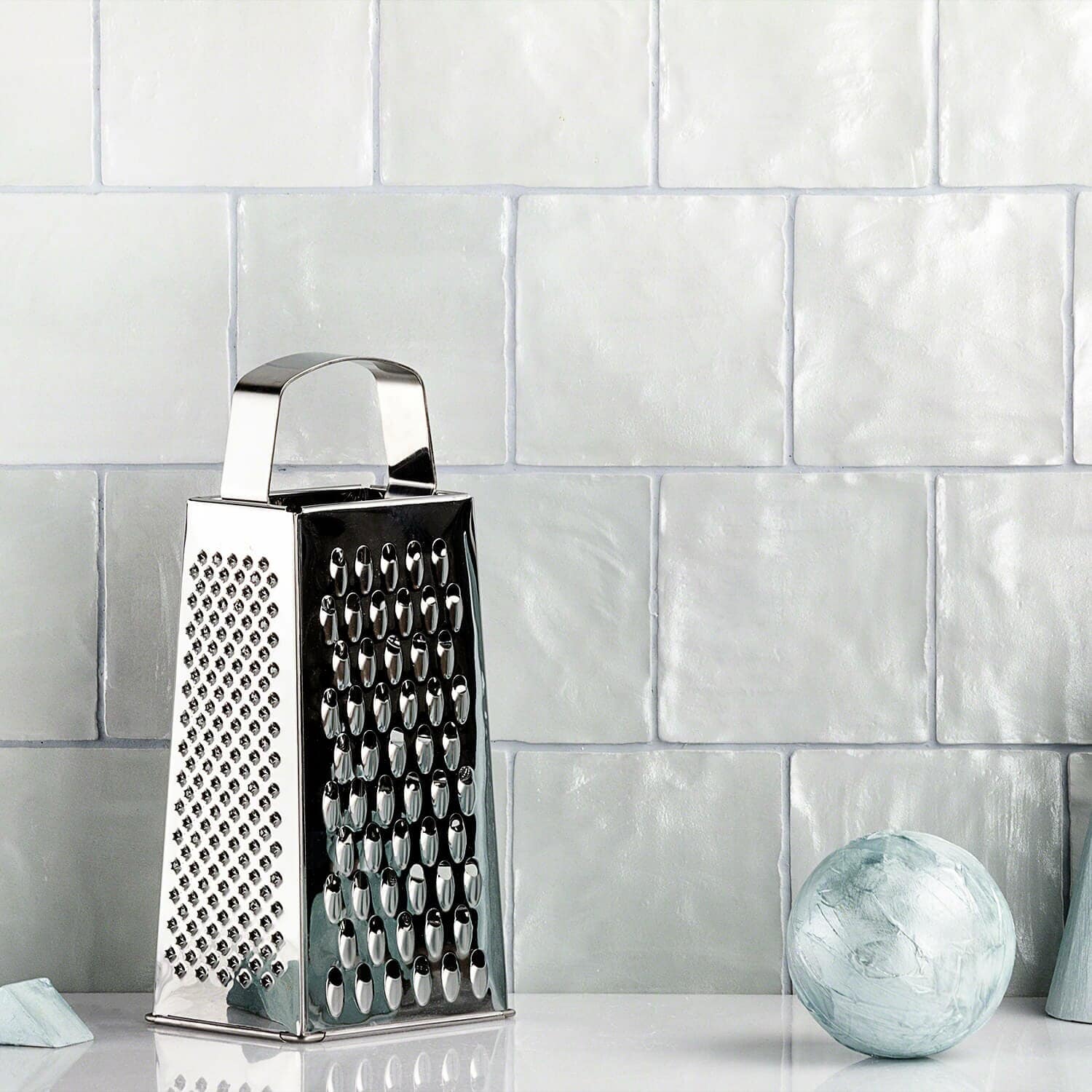 This light grey tile with its subtle texture helps to create a more subtle version of the rustic style. The texture is inspired by hand-formed tiles, and as such, each one is slightly different.
There's also a subtle variation in the colors of each tile which further emphasizes the idea of naturally created tiles. If you're struggling to find a balance between creating a rustic kitchen but not going too overboard then these could be the perfect option for you.
Choose Rustic Shapes with Modern Materials for a Natural Backsplash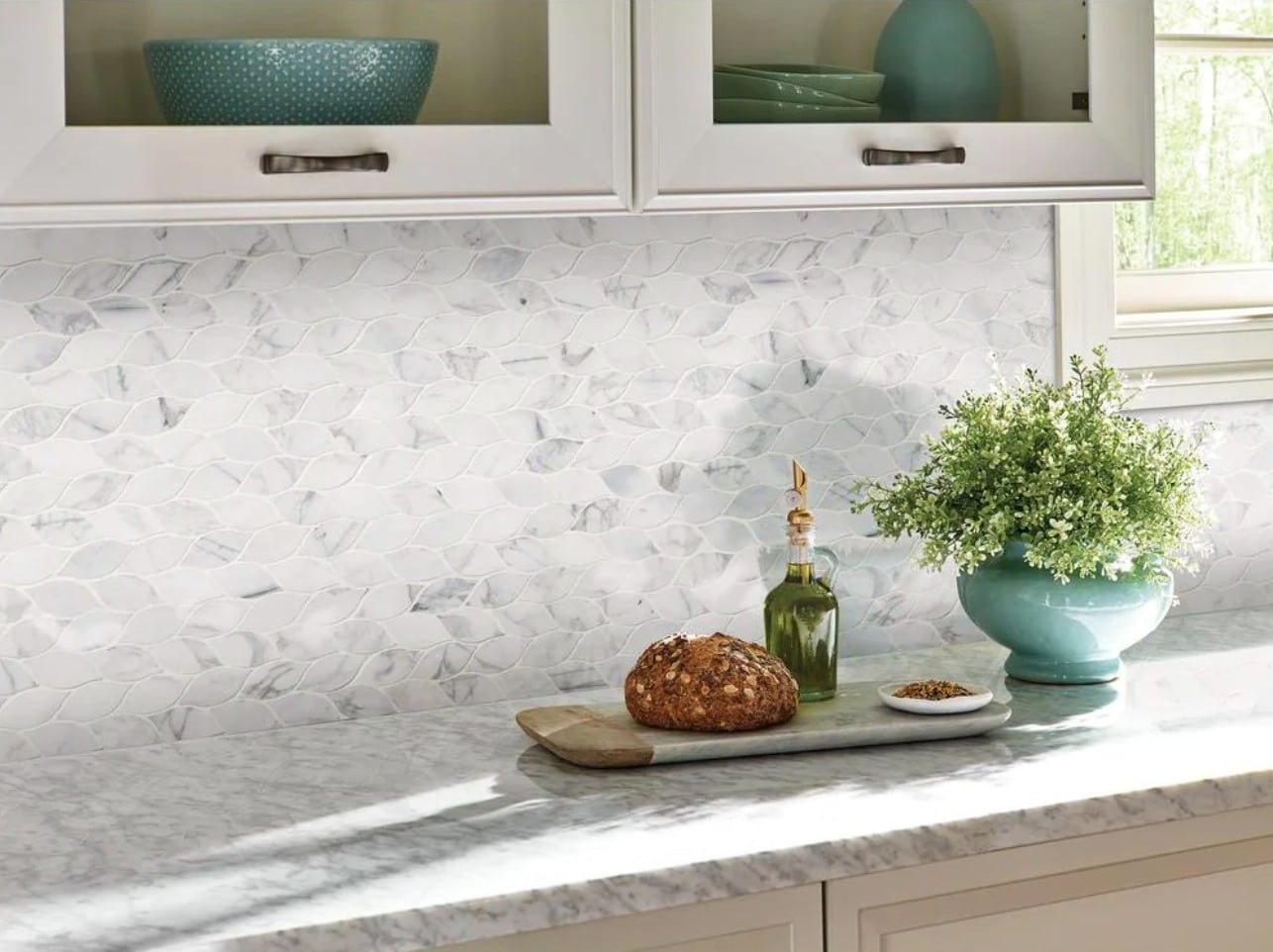 Another way to subtly hint at the rustic design theme without going too overboard is to consider the shapes of the tiles that you choose. Marble is normally reserved for the most modern of kitchen designs, but when a more subtle marble pattern is combined with leaf-shaped tiles it creates something that feels very rustic but you're not sure why when looking at it.
These tiles are a great in-between option if you're not sure about fully committing to one design style.
Use Pebble Tiles to Create a Rustic Kitchen Backsplash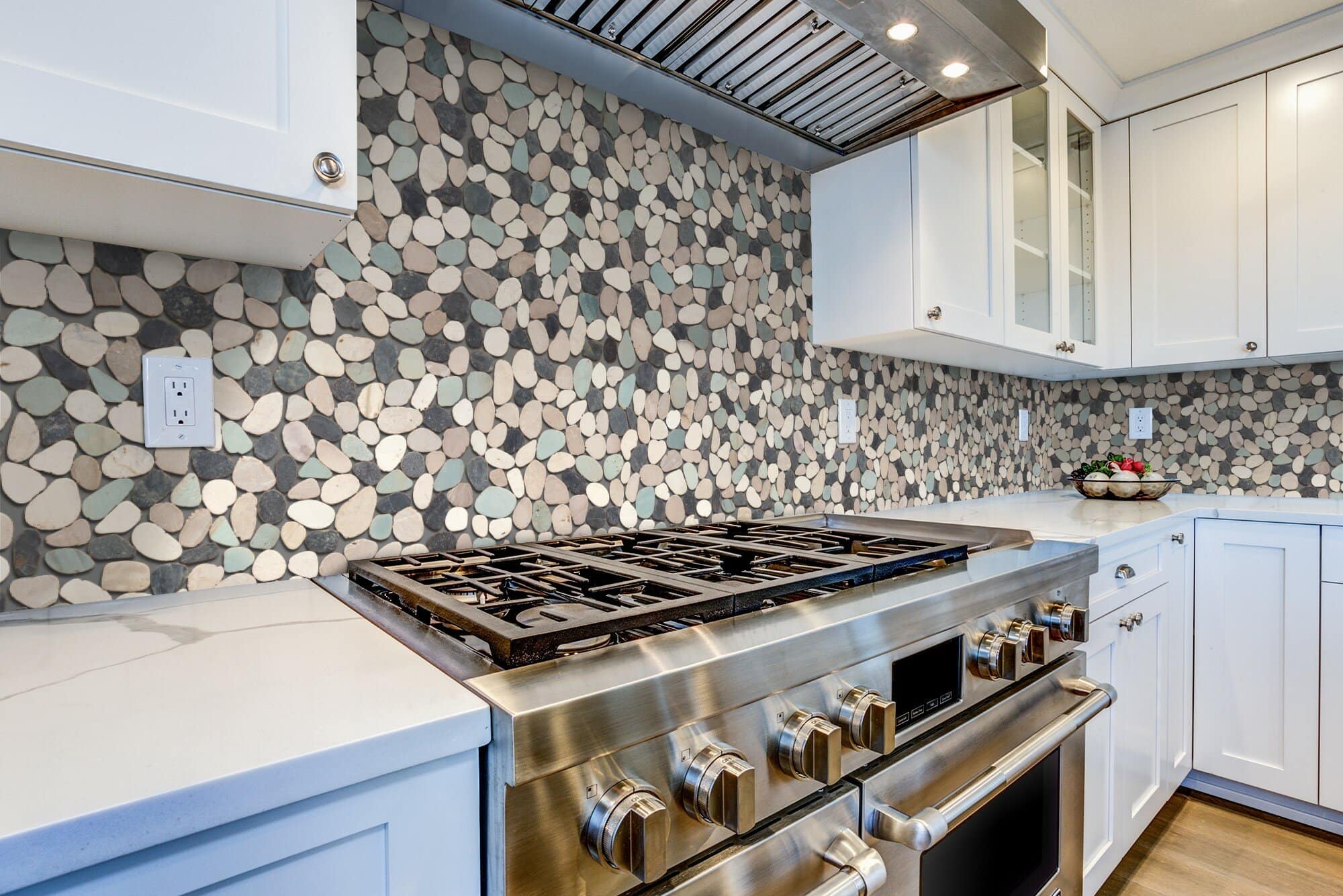 These pebble tiles combine natural earthy tones of tan, light grey, and dark grey with a muted blue. Each of the tiles is uniquely shaped and has its own slight color variations, making them a truly unique choice.
The tiles arrive on a webbed backing, so all you have to do is stick them to the wall as they are. It's affordable and easy to do, but the effect is absolutely stunning.
Wood-Inspired Tiles to Bring your Kitchen to the Beach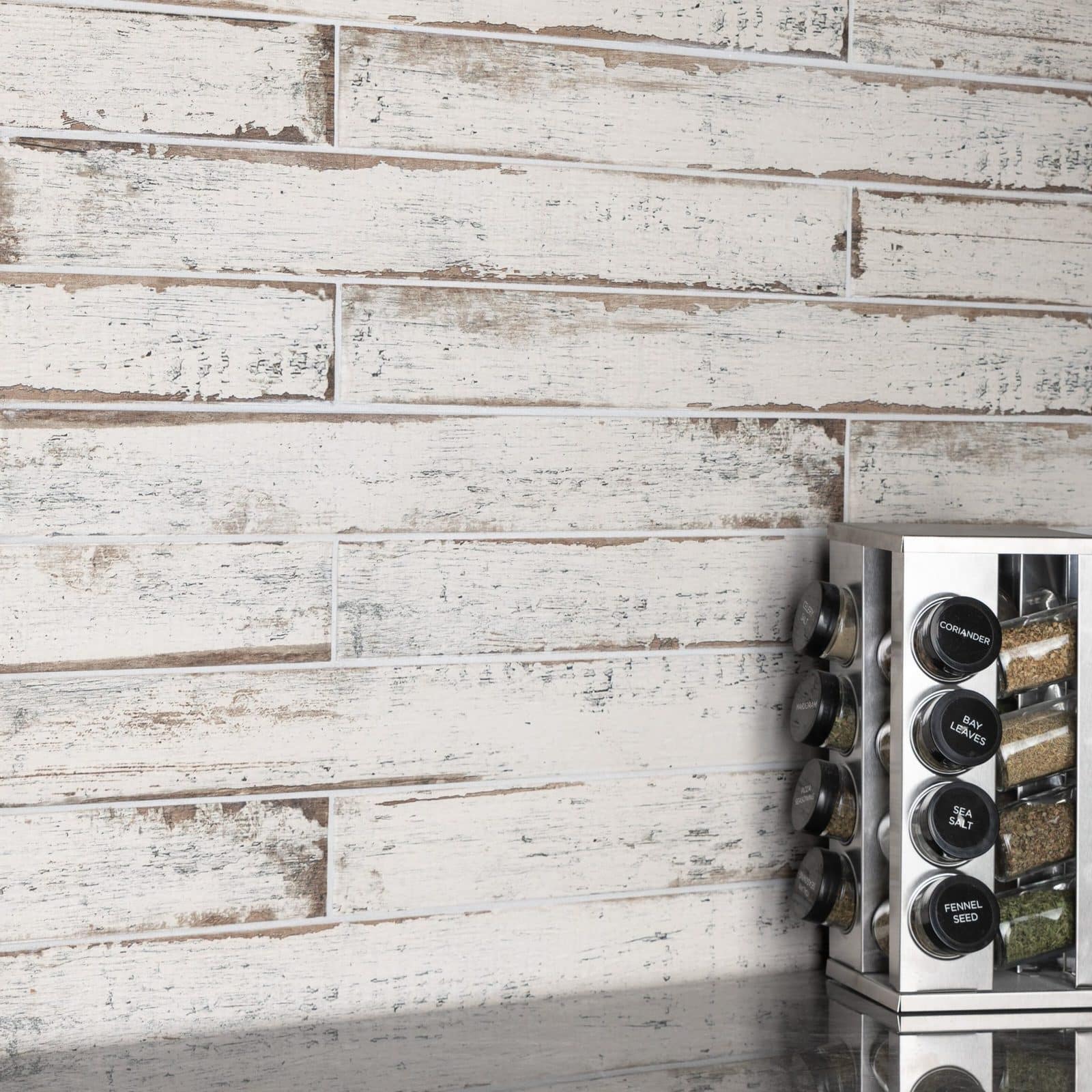 When you think of a natural texture there's absolutely no doubt that the first thing that springs to mind is wood, so why not incorporate it into your kitchen?
These wood-inspired tiles are affordable, durable, and easy to clean but they look like boards that have been aged for several decades. Choose a light-toned neutral work surface with a stone-inspired texture to create a rustic-style kitchen with a difference.
Use this Sandstone to Create a Warm-Toned Kitchen Backsplash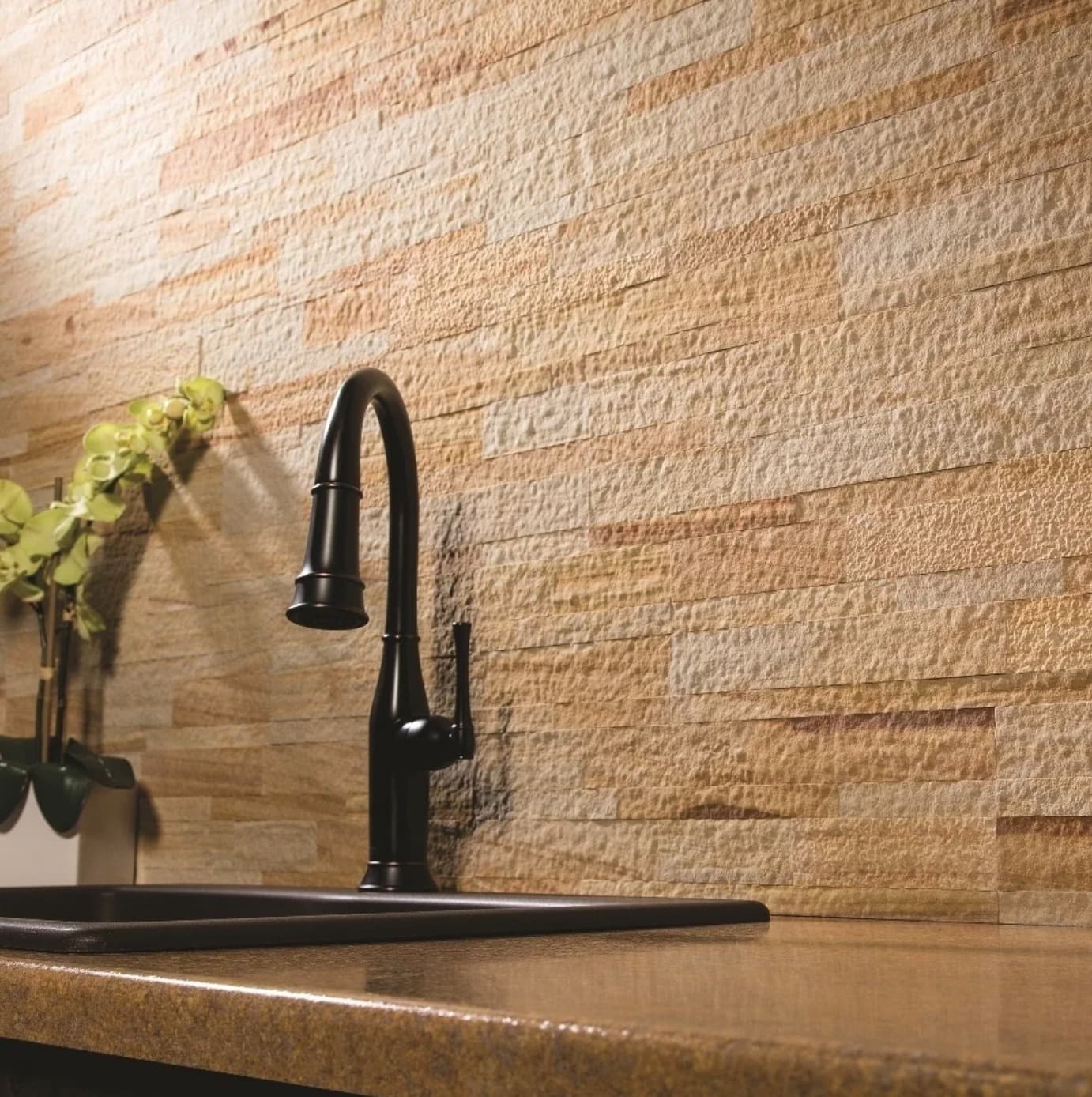 One of the most beautiful natural materials is undoubtedly sandstone, but it's just not durable enough to be used in many scenarios. However, it's easy to be inspired by the color and texture so there are many different sandstone-themed options on the market.
This tile is perfect if you're looking for something low effort as it's a peel and stick design, but it still looks high-end. The tiles are incredibly detailed with multiple different textures and colors running through them. When you use the tile for a whole kitchen backsplash it will look like the tiles have been meticulously cut by hand, despite it only taking a few hours to put up!
Subtle Blue Rustic Backsplash Tiles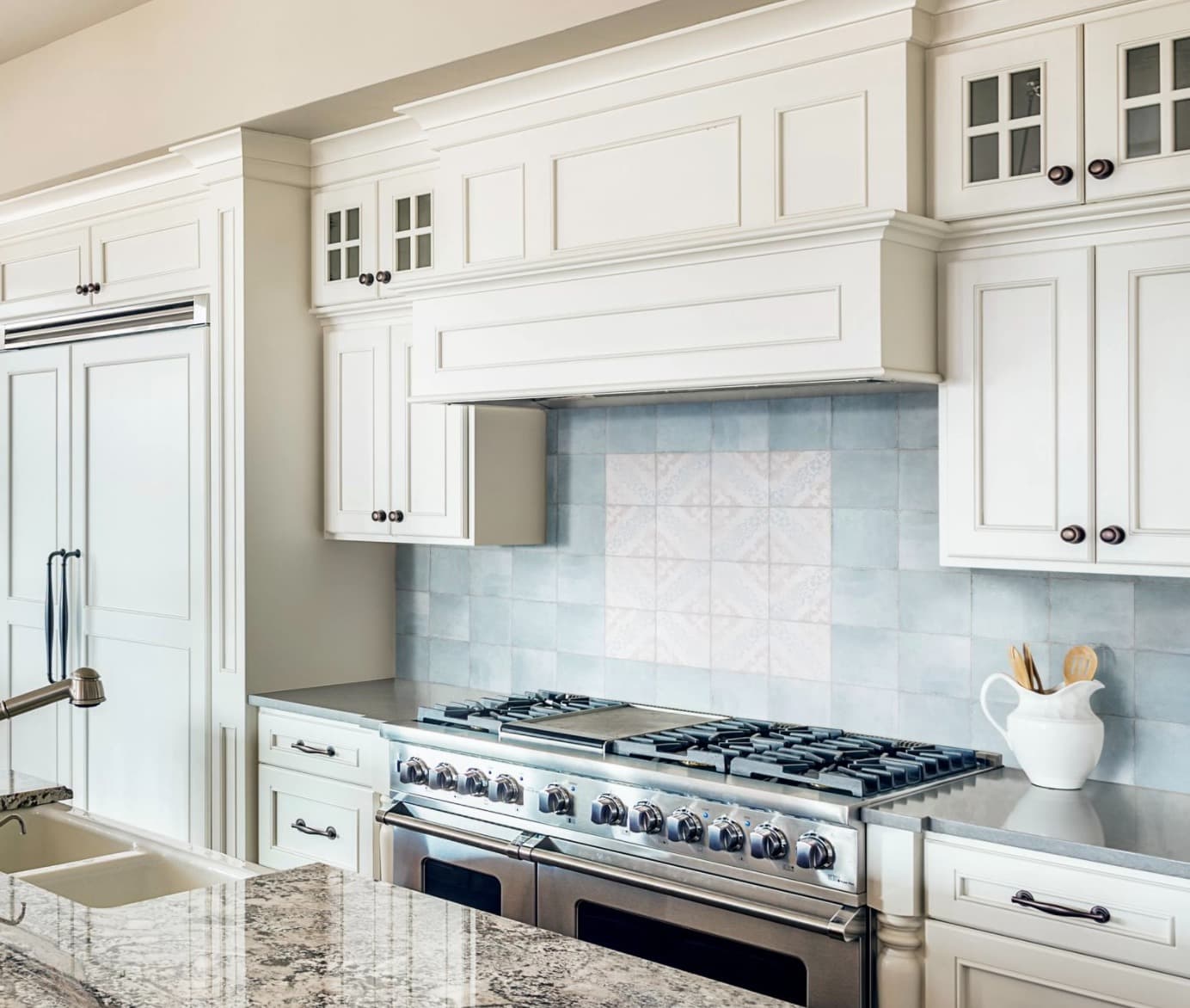 Despite most rustic designs featuring neutral colors you could absolutely choose something that matches your personality and suits the rest of your house. One of the most important things to remember if you're not going to choose a traditionally rustic color is to focus on the texture and cut of the tiles to create a rustic feel.
These muted blue tiles with lightly chipped edges appear much more naturally produced, and the slight variation in colors only adds to this. If you're looking to combine color and a rustic feel in your kitchen backsplash then these tiles are a great option.
Create the Perfect Warm-Toned Kitchen Backsplash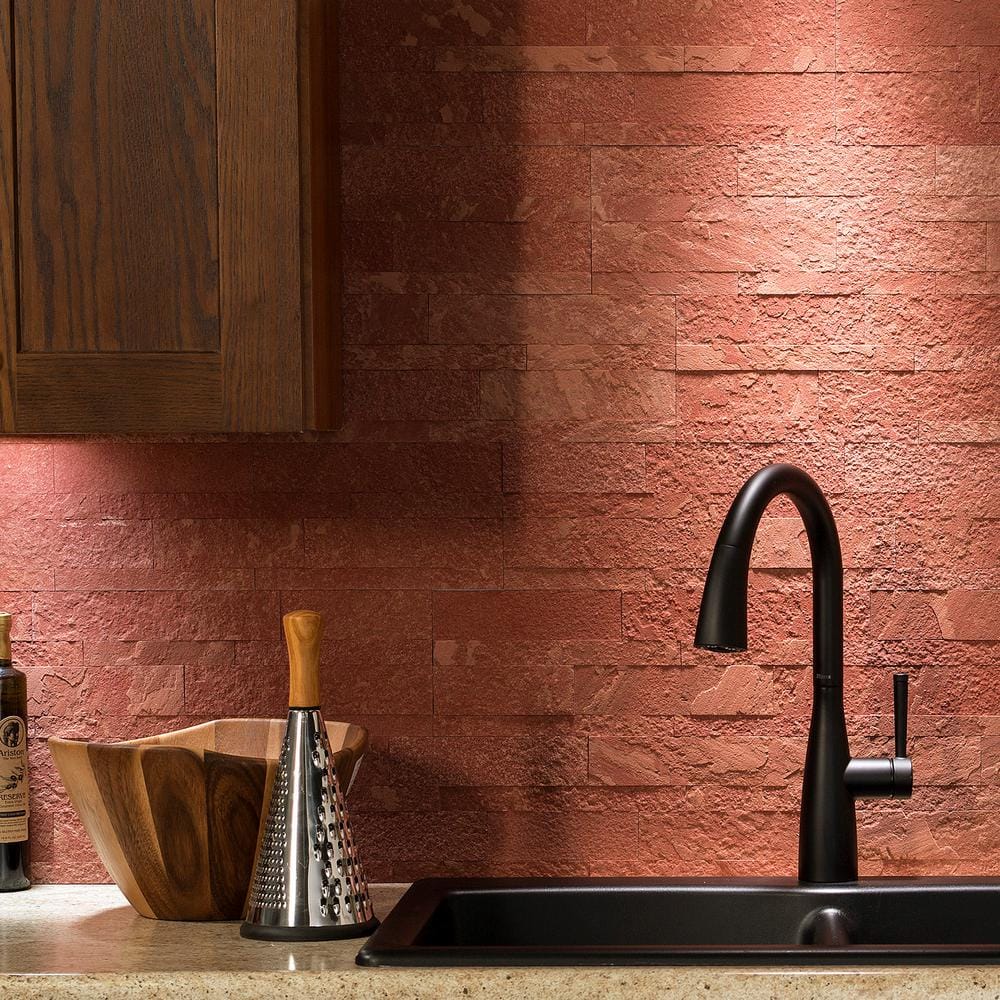 While you can get the more natural golden-colored sandstone tiles (like above) you can also find brighter and warmer toned styles, like this terracotta-colored tile. It has the same incredible level of detail as other stone tiles, but the deep color helps to create an entirely different feel, making the kitchen as a whole a lot warmer.
This kitchen backsplash tile would look stunning next to dark wood cabinets, to give an elevated rustic look.
Use Subtle Pattern to Create a Rustic Design
If you want to go for a rustic style kitchen without sticking to natural textures like wood or stone, then why not look at something that's clearly man-made but has more of an aged texture to it.
Anything that has an aged feeling also counts towards the style, and these clay post inspired tiles with subtle blue detailing definitely fit the rustic brief without being too typical. This rustic kitchen backsplash would perfectly complement black, grey, or dark blue cabinets to create a more modern take on the rustic design movement.
Aged but Manmade Patterned Tile Backsplash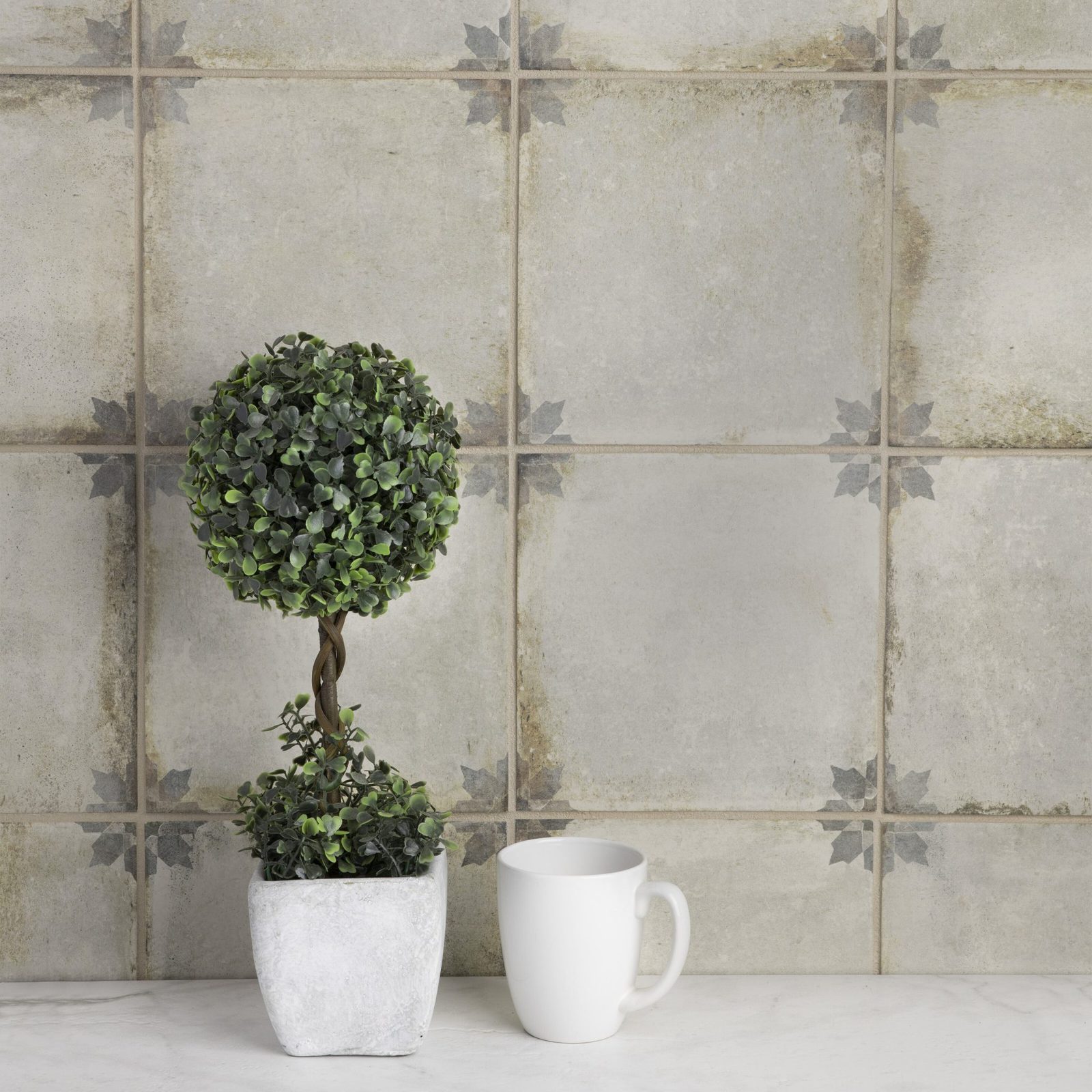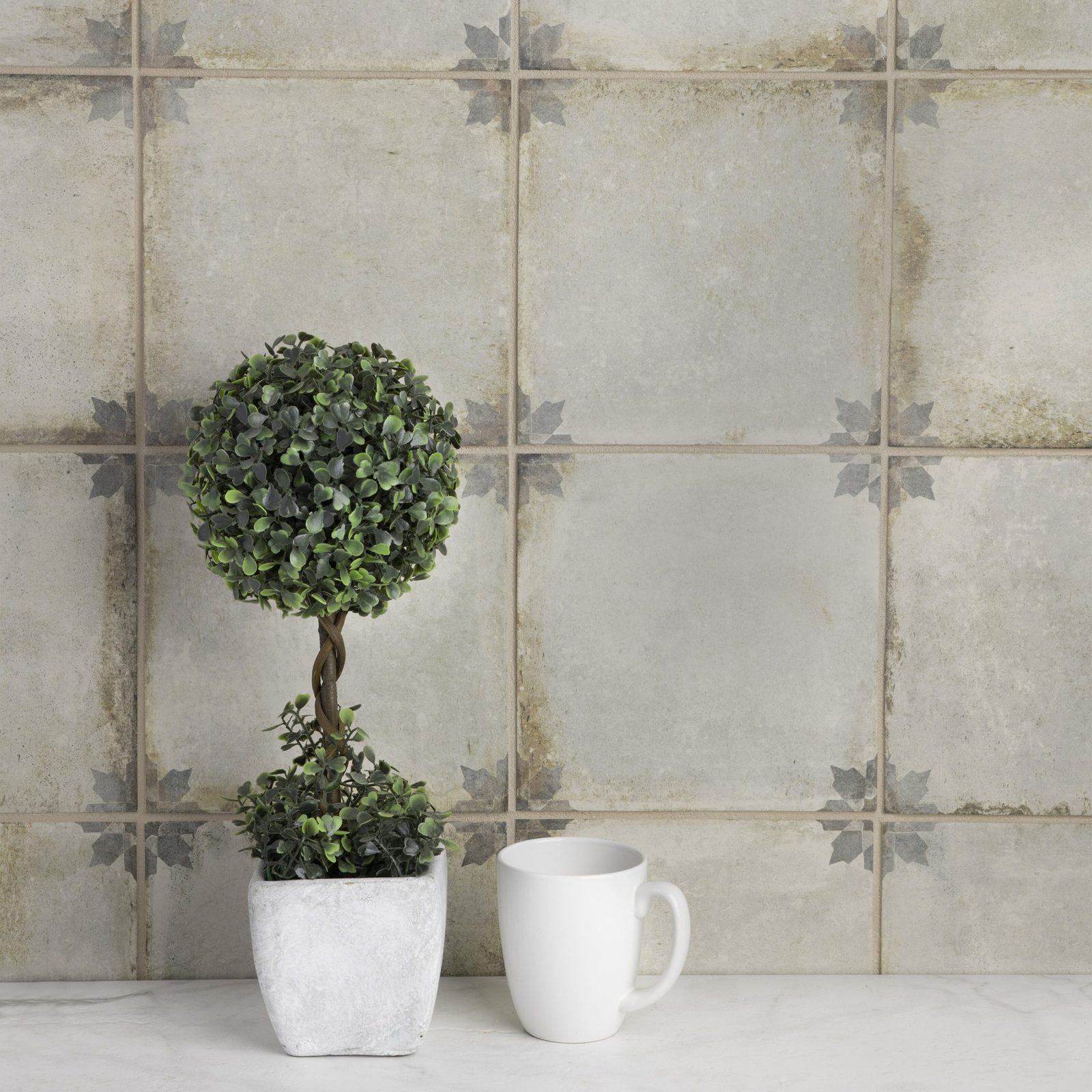 Leaning into the "aged but manmade" category, these styles also fit the rustic brief well, without being too traditional. The light stone color, coupled with the distressed edging on each tile is a stunning detail that adds to the rustic feel of your kitchen backsplash.
The pattern on the corner of each tile also helps to bring back a piece of tradition that adds to the rustic design with its "days gone by" feel. If you're looking for a unique tile that would fit into your countryside kitchen then these are definitely a great option for you!
Final Thoughts…
When trying to choose a kitchen design that's appropriate for the age or style of your house, the word "rustic" brings to mind very limited options but that mindset couldn't be further from the truth.
Rustic isn't just earthy tones and only choosing wood or stone materials. Rustic is a very broad term and allows for muted or bright colors, manmade materials, and traditional patterns. There are so many gorgeous rustic backsplash tiles to choose from that you will be spoiled for choice, Hopefully, these ideas have helped inspire you to choose the perfect rustic backsplash for your own home.