Decorated Life is reader-supported. When you buy through links on our site, we may earn an affiliate commission. Learn More
15 English Countryside Kitchen Ideas
The English countryside theme is becoming a widespread design choice for kitchens, partly due to the wide use on multiple trending TV shows and because it's so charming.
When working with English country decor, you can combine traditional, rustic, and modern elements to achieve a one-of-a-kind kitchen design. We've amassed a collection of decor ideas for English country themes to inspire you on your next kitchen remodel.
Keep reading to find out our favorite design ideas for English countryside kitchens.
Choose a Ceramic in Blue Pattern Print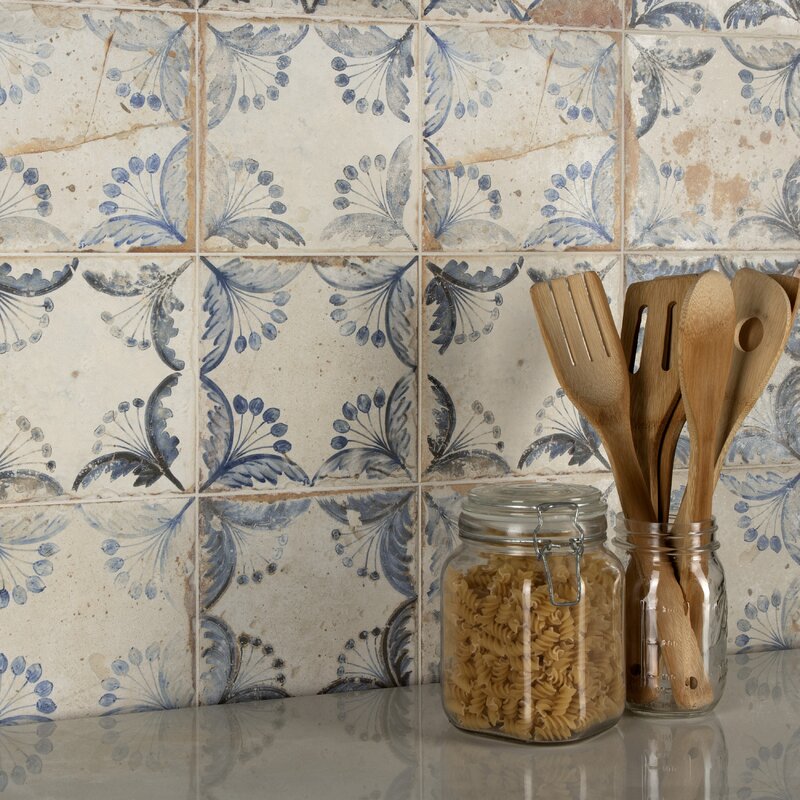 When you're decorating a vintage English cottage kitchen, you can choose a backsplash in an aged low-sheen cream glaze with the natural red tones of the ceramic poking out.
Touches like scored grout lines, natural spots, faded scuffs, and an elegant floral frame in varying hues of vintage blue all scream out as elements of English cottage refinement.
Set the Mood with Geometric Candle Lanterns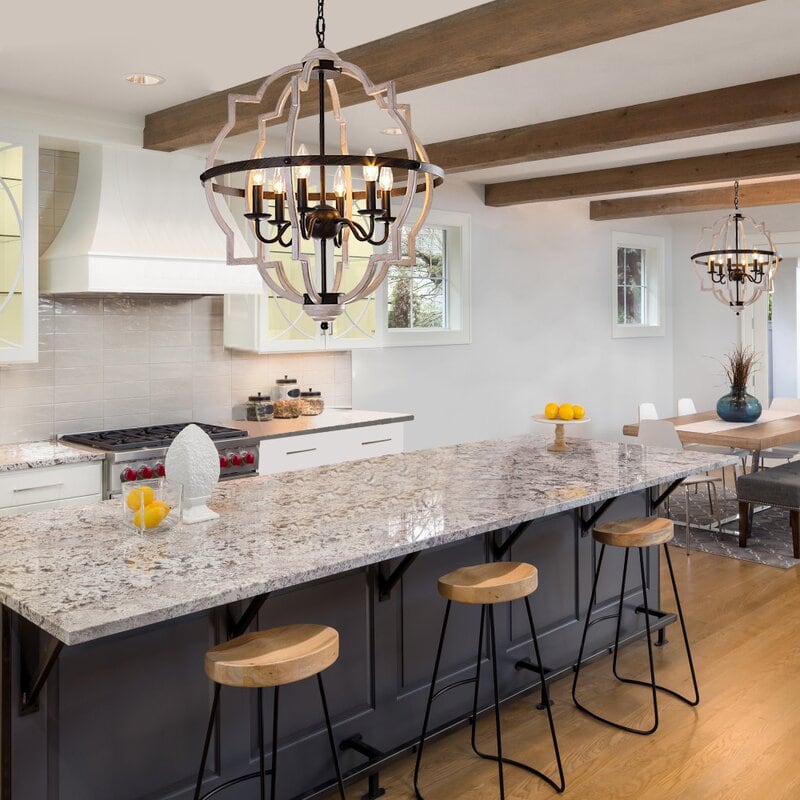 Picking lighting for the kitchen is a fine balance between style and safety. It should be bright enough for prepping and cooking, but that doesn't mean it has to be harsh lighting.
We love these classic geometric pendants with metal canopies in a gray and dumb silver sweep black finish. The single-tier candelabra houses four candle bulbs with dimming capabilities.
Scatter Light with a Crystal Chandelier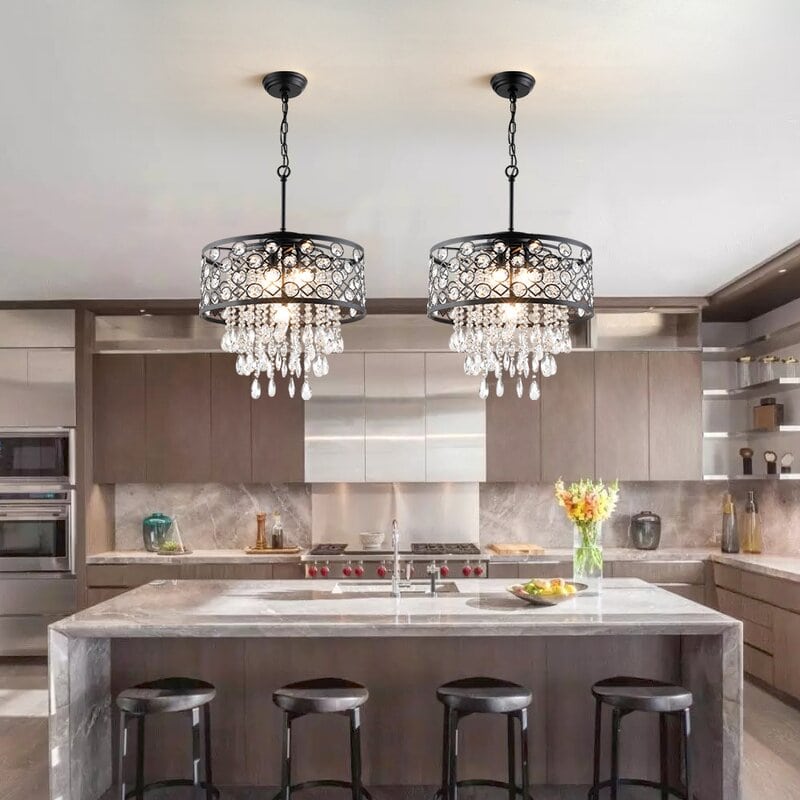 Crystal chandeliers are a common sight in English country kitchens. And there are so many kinds of designs, from simple to elaborate fixtures.
We're here for the over-the-top elegance of this chandelier in a drum shape featuring a crystal lattice and clear dangling crystals surrounding five candelabra bulbs, perfect for English country glam.
Rustic Swivel Saddle Seats in Shale Gray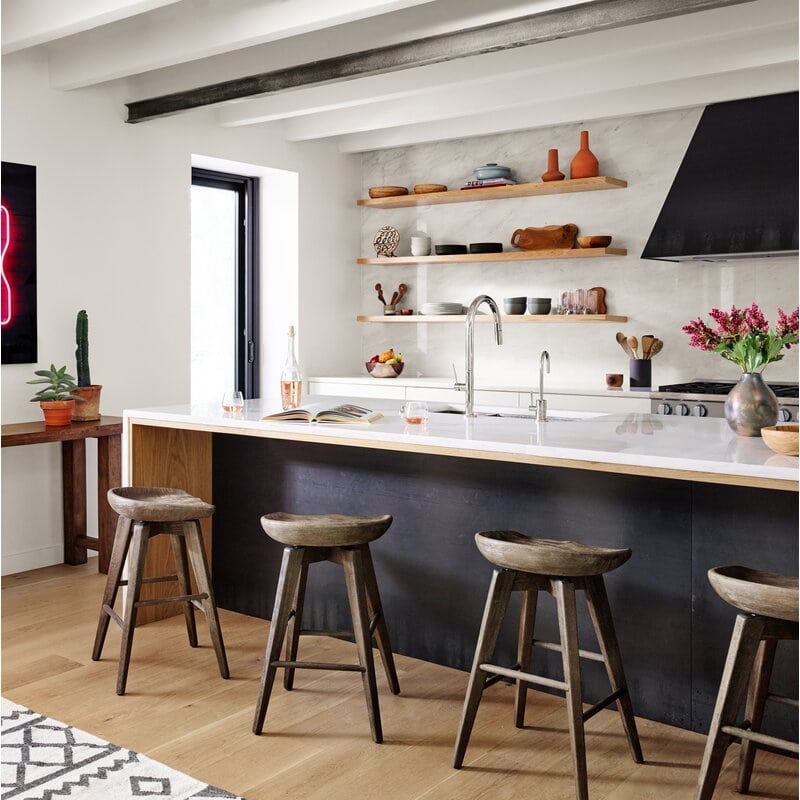 You can create a fascinating blend of modern style and English countryside with the use of key pieces. Vintage elements like exposed beams, a wood vent hood, and natural open shelving add old-school vibes.
And arranging barstools along a large island with a white stone countertop in a rich black echoed in the vent and window frame provide modern touches. As do the refreshed updating of classic barstools, such as these backless, flared swivel seat parawood pieces in a deep charcoal Shale Gray finish with kickplates.
Create a Collection of Classy Cabinetry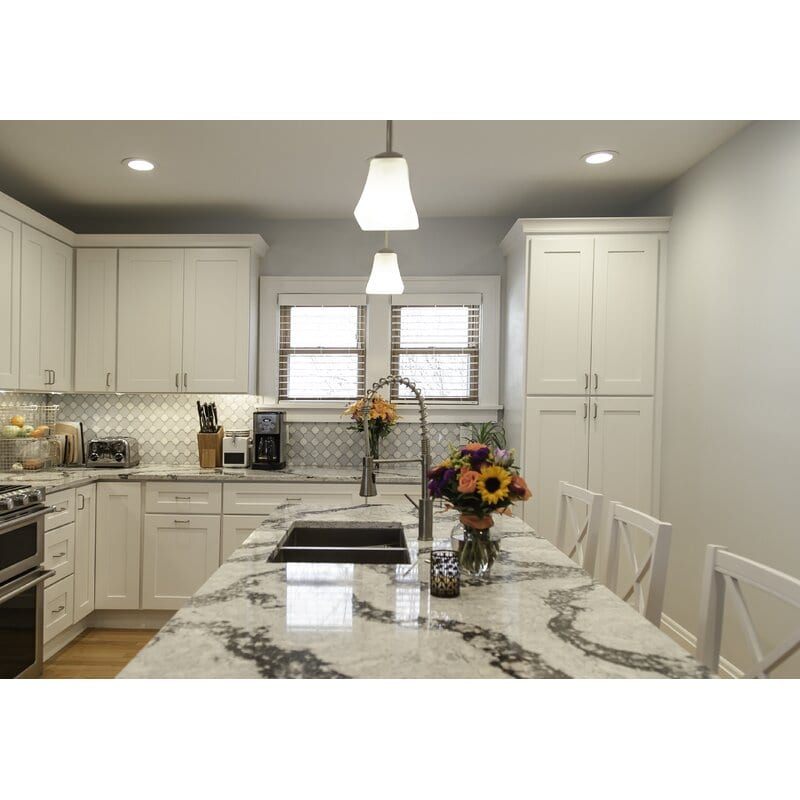 Nothing is worse in a kitchen than poor lighting and minimal storage. Thankfully, traditional English country kitchens feature tons of storage, whether it's with open shelving, stand-alone storage pieces like cupboards and sideboards, or full sets of cabinetry.
We love modern Shaker-style cabinets in a matte white finish and silver hardware matched with dovetail drawers with inset front panels.
Bring Out the Brass Bridge Faucet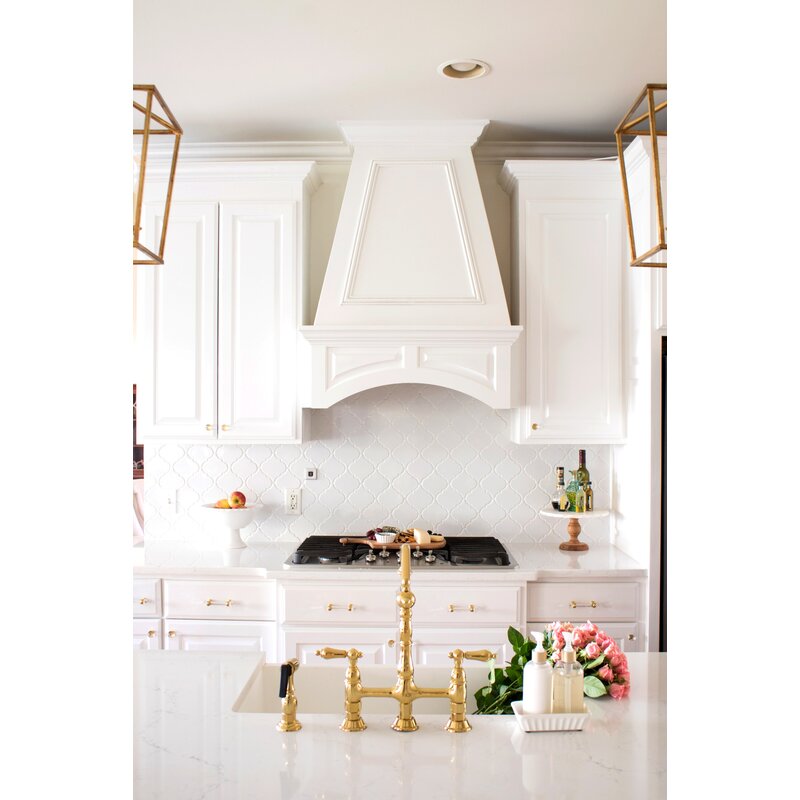 Embrace the European spirit when decorating your kitchen by choosing a kitchen sink faucet in a bridge design and metallic finish.
This attractive shiny faucet in a brass finish has a high arc gooseneck design with a separate spray head trigger and double attached lever style handles
Put In a Pot Filler Faucet in Silver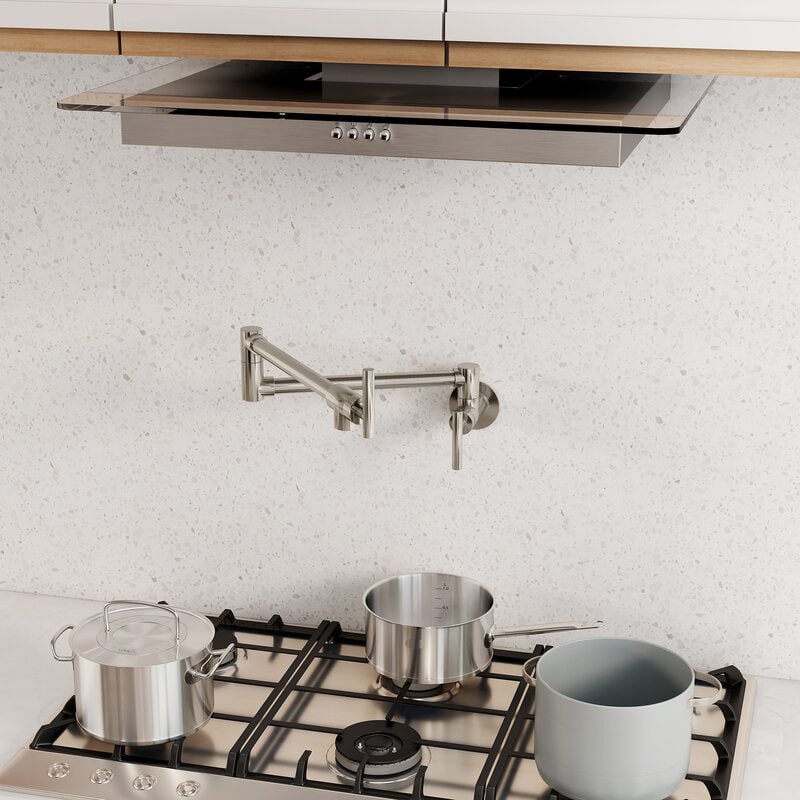 If you're serious about achieving an authentic European country kitchen and having all the modern gourmet luxuries, you'll drool over the idea of having your very own pot filler.
Adding a shiny swivel pot filler in polished silver is a smart design choice, as the neutral color goes with most themes, so you won't be stuck with a clashing look if you remodel years later.
X-Backed Chairs are Excellent for English Vibes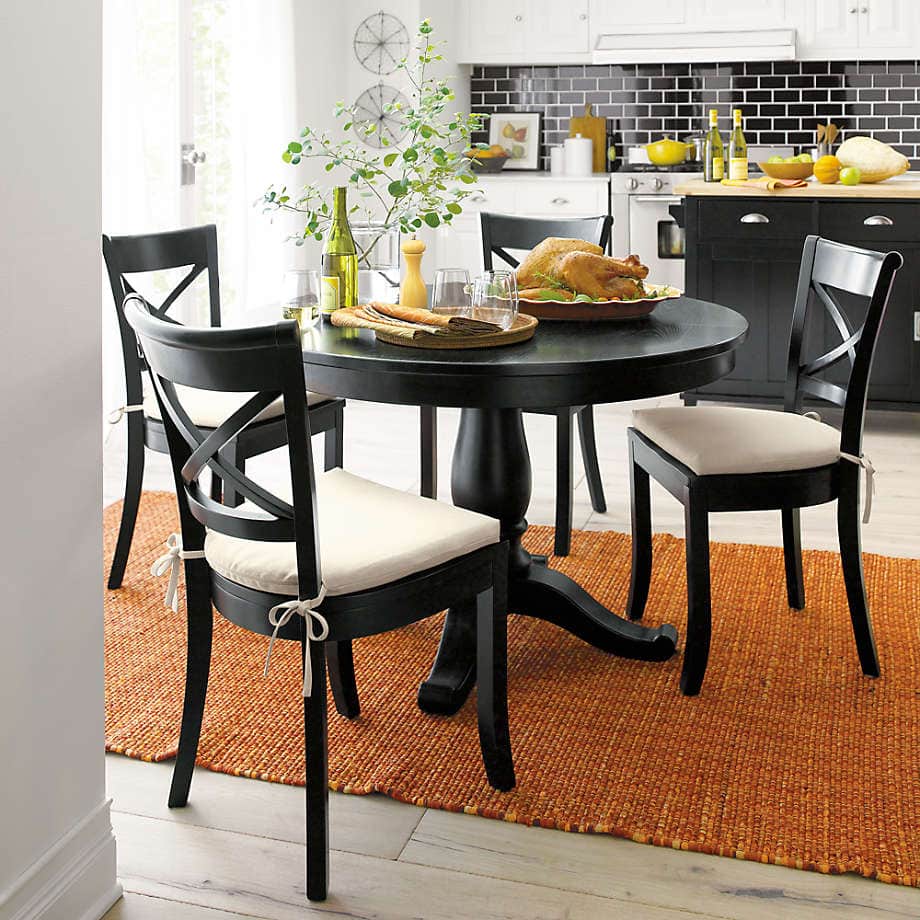 You can get a powerful aesthetic for a quaint breakfast nook in an English country kitchen with a round pedestal table with four claw feet and X-backed chairs.
These solid hardwood side chairs with an X-back and carved seats scream farmhouse in a black finish with hand-rubbed edges for an old-fashioned feel with faint red undertones.
Throw Down a Traditional Colorful Print Runner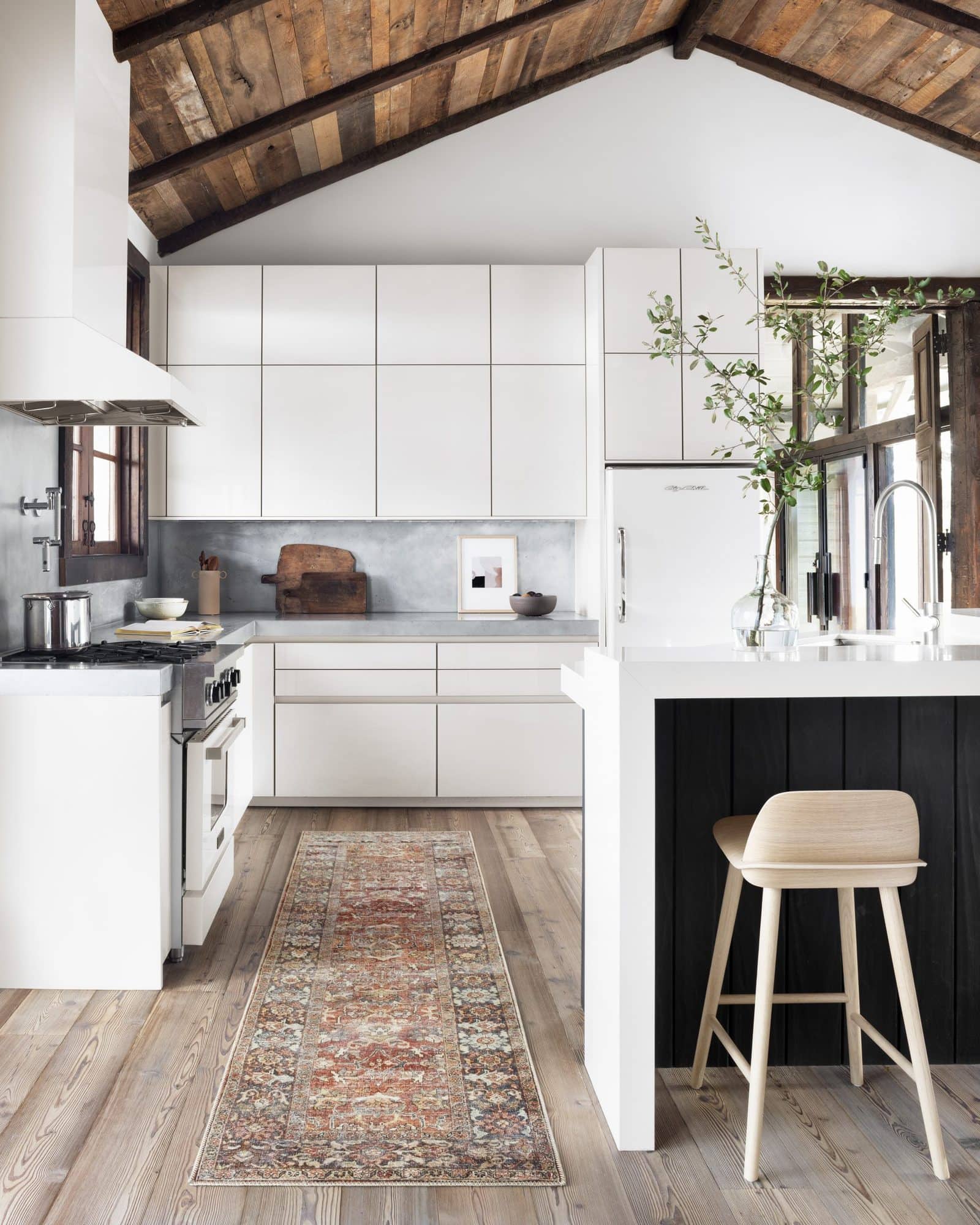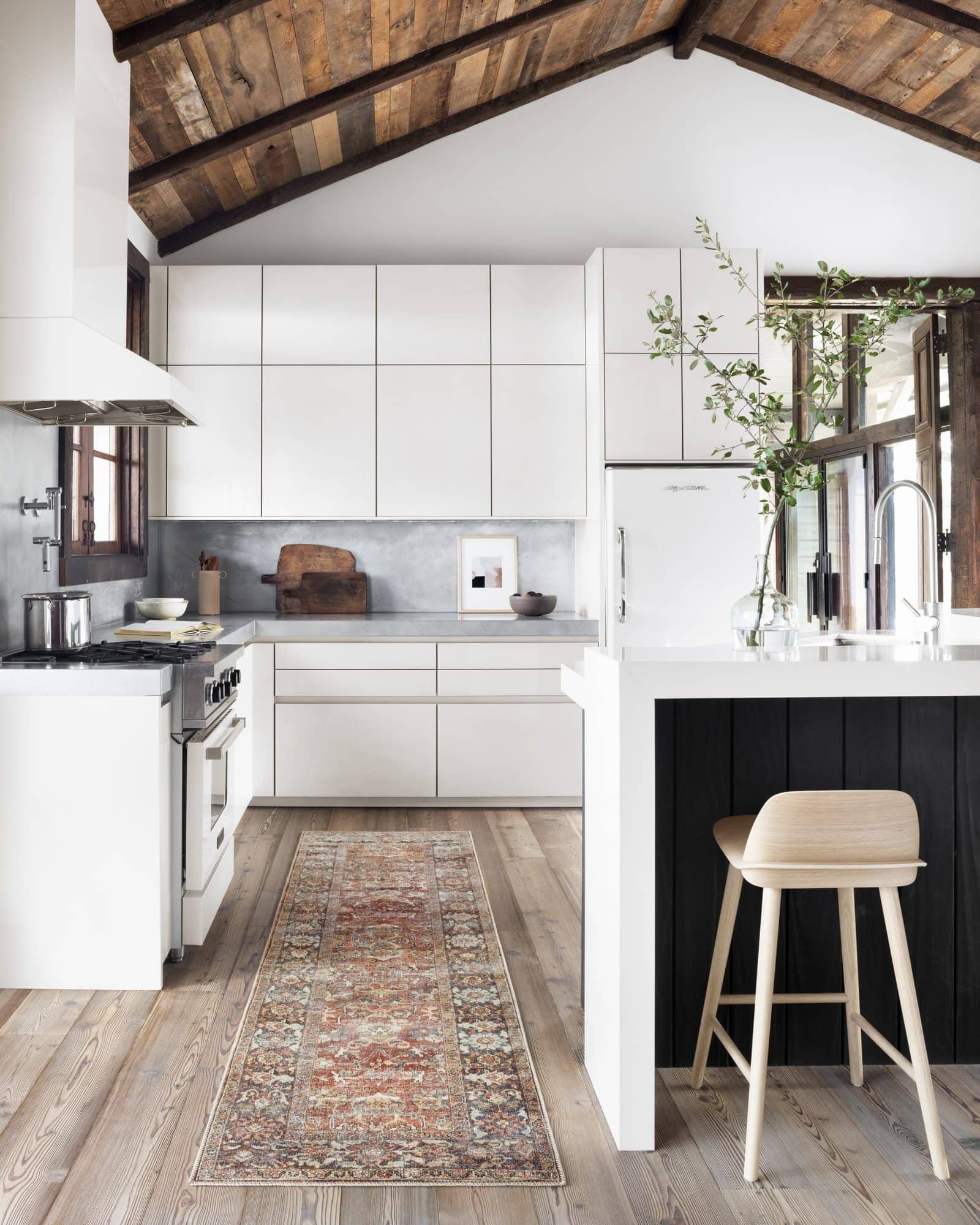 Carpet runners are fabulous for kitchens, giving you a cozy place to stand while looking great on your floors. To keep with the English country vibe, look for an area runner in traditional patterns.
The bright red Pantone colors in a power-loomed construction and a ⅛" pile height give this rug a huge personality, while the distressed finish adds a vintage-chic touch that looks excellent with white counters and light wood floors.
A Country Sink in White is Wonderful
There are many different elements in your kitchen that you can use to achieve your desired theme, like English country, including your sink.
This farmhouse country sink in a glazed white fireclay features a strainer, bamboo cutting board, and washing grid. Not only is it set up for functionality and multiple uses, but it's also stunning.
Select a Sideboard for a Stylish Organization Solution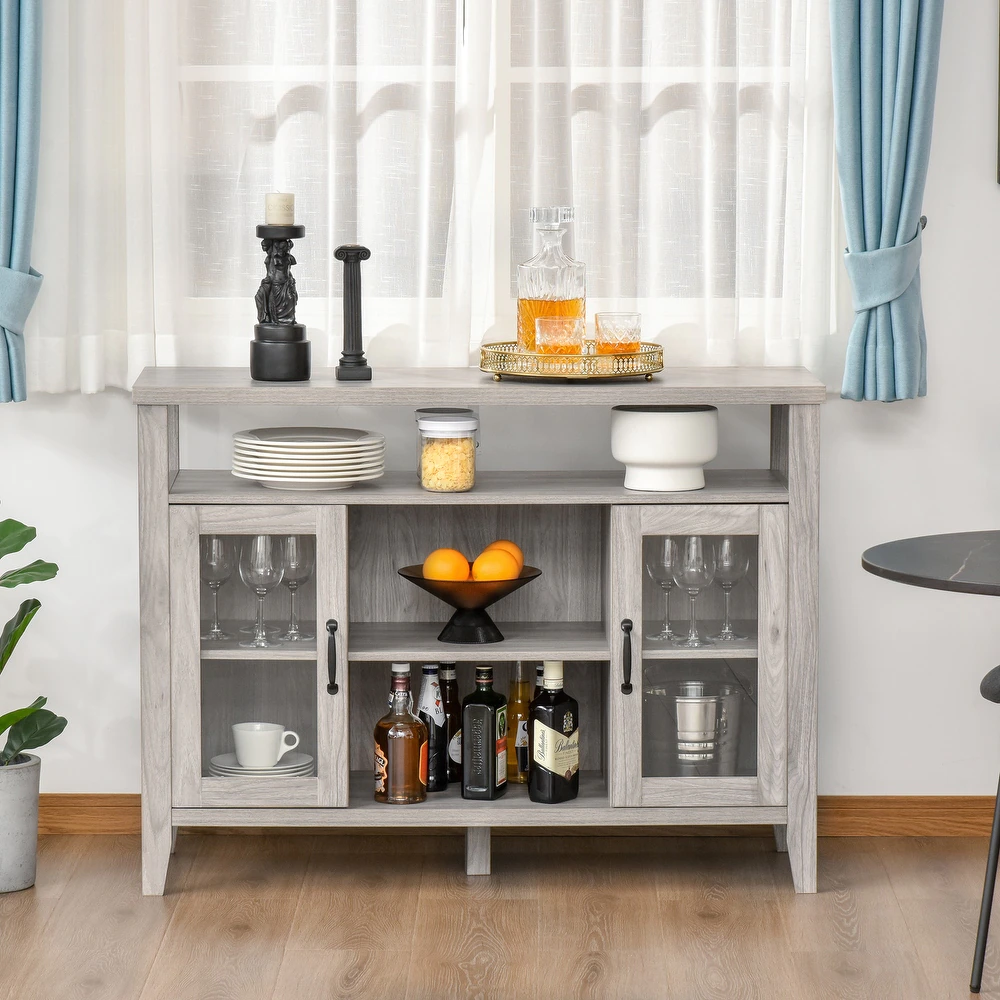 Sideboards are a wonderful solution for providing extra storage opportunities and keeping items closer to the dining area, so there's less running back and forth during meals.
This rustic country sideboard in a classy gray finish and retro wood grain effect features double cabinet doors with glass pane fronts covering two adjustable shelves and three open storage compartments.
Add a Multipurpose Island in Rich Espresso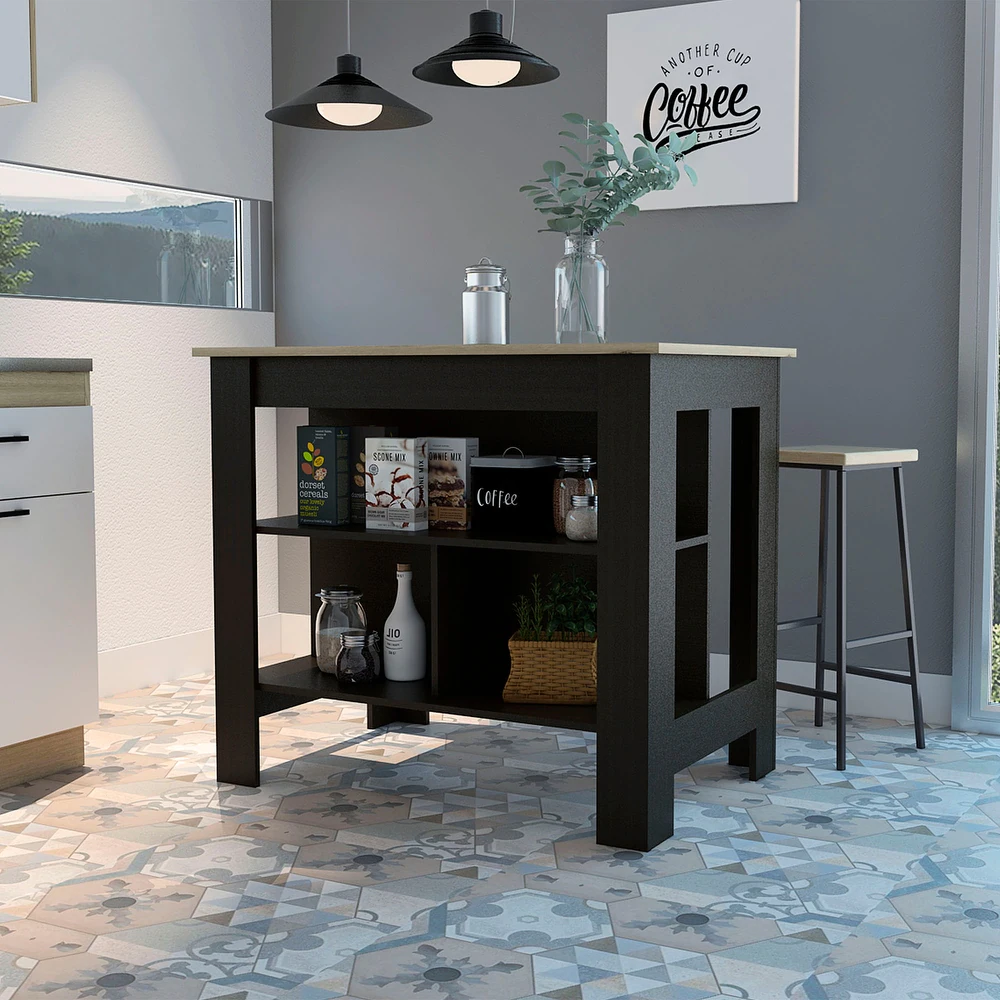 English farmhouse kitchens look fantabulous with a butcher block kitchen island. The rich Espresso color provides elegance, while the natural wood surface provides a spacious workspace slash dining space.
The slight overhang and indented sitting area give legroom and keep stools neatly tucked away. And you get the added benefit of two lower shelves for storing important items you want to keep close at hand.
A Minimalist Island Can Make a Powerful Statement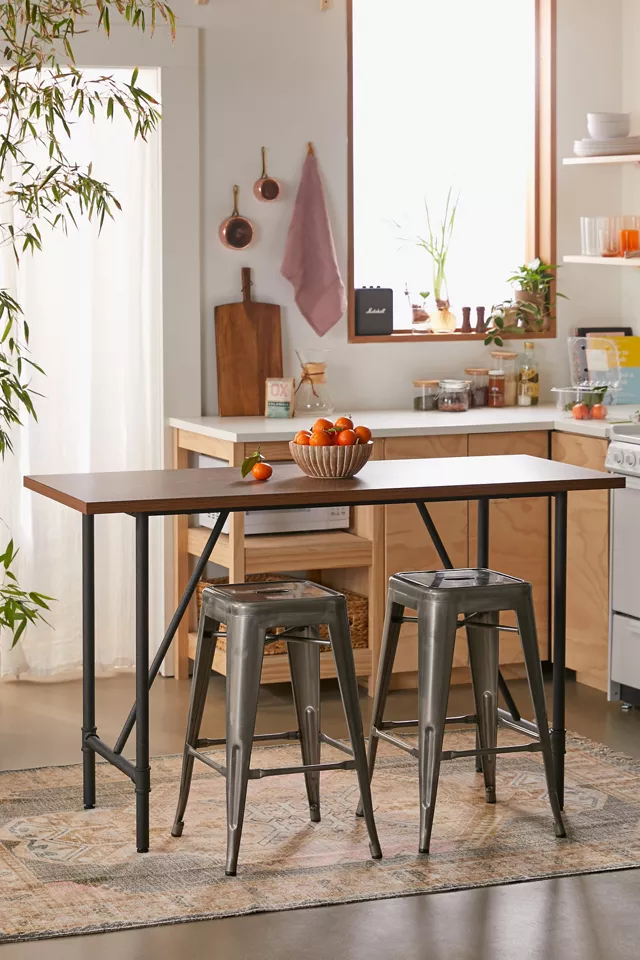 Being tight on space doesn't mean you have to give up all your desired goodies. For example, you can still benefit from additional workspace with the use of a kitchen island that doesn't take up all of your space.
For a minimalistic English countryside kitchen vibe, check out this simple counter-high table. In addition to being slim and compact for easy moving, this island has powder-coated pipe framing and a worn wood tabletop.
Rock Out with High Seating in Rattan
Islands are popular for English country kitchens, providing a place for working and sitting. We love choosing rustic seating with upgraded elegance.
Check out the understated elegance of this chic kitchen with bright white cabinets and island counter, balanced with the beauty of mahogany frame chairs weaved with rattan. Angled lines, thick tailored cushions in soft, classic cream, and brass end caps on the legs make the chairs comfy, cozy works of art.
Try a Slatted Teak Dining Table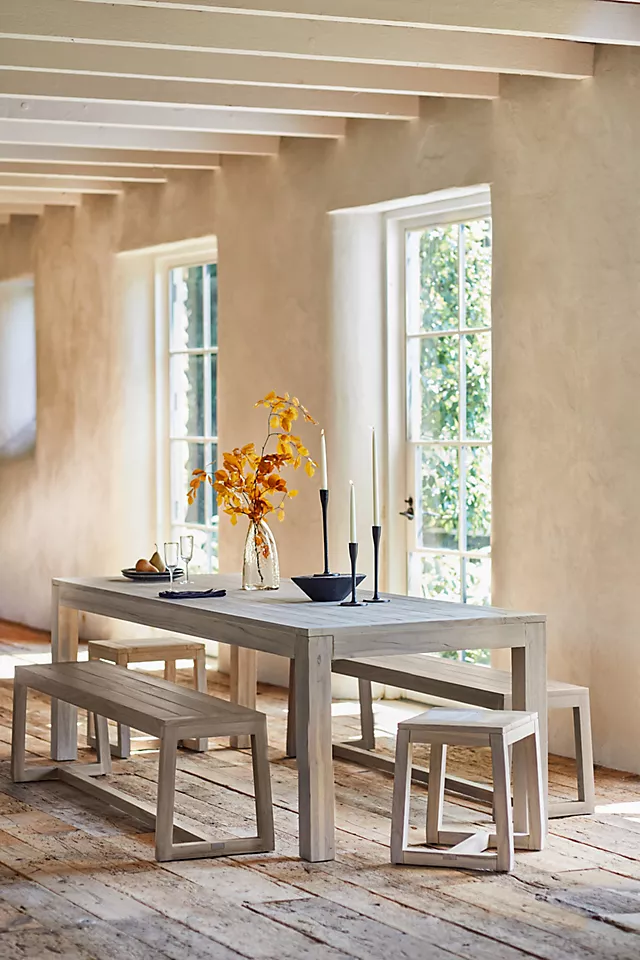 If you have a large space with enough room for cooking and eating, you have the wonderful opportunity to create an English cottage-style kitchen.
To enhance the vibe, we love going with a long farmhouse-style table in beautiful Teak wood. The slatted surface and silvery gray patina color give this table an aged appeal, while the sleek lined silhouette adds a modern flair.
In Closing
English country kitchens can encompass many design aspects, from antique blueprint tiles to lighting chandeliers, runners, and fancy fixtures. Whether you want to go for permanent designs or temporary pieces that you can change out on a whim, this list shows the broad spectrum of potential options.
Which design idea is your favorite? Drop us the deets in the comments.