Decorated Life is reader-supported. When you buy through links on our site, we may earn an affiliate commission. Learn More
Should Kitchen Cabinets Go to the Ceiling?
Decades ago, the standard ceiling height was eight-foot, and because of this, upper kitchen cabinets often reached the top of the ceiling.
But, an eight-foot ceiling is no longer the standard.
Instead, today's homes usually have nine or ten-foot ceilings. And because of the added height, it's no longer necessary for cabinets to touch the ceiling.
Of course, that doesn't mean you can't get tall upper cabinets – you just need to consider the pros and cons.
Pros and Cons of Kitchen Cabinets Reaching the Ceiling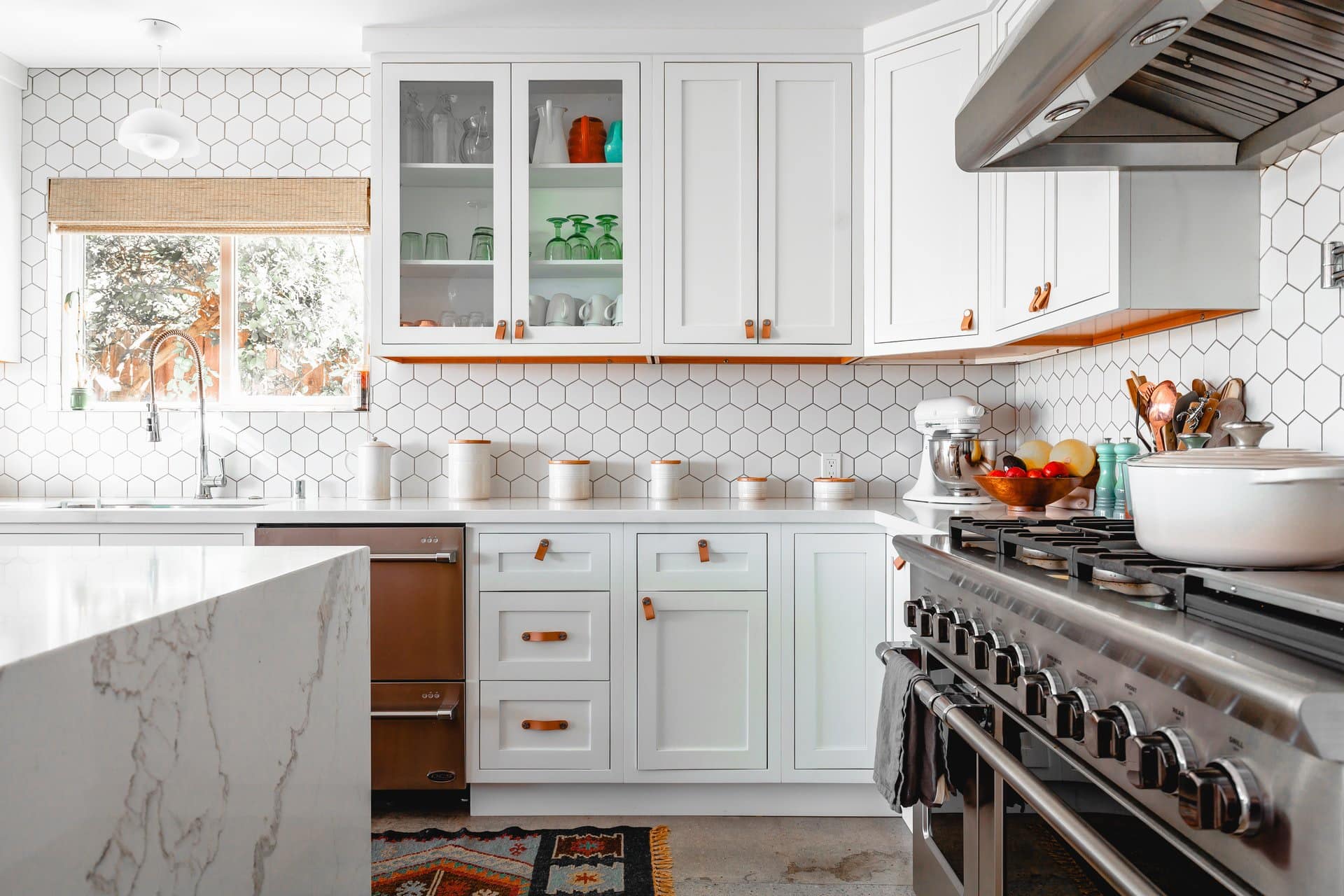 In newer homes, kitchen cabinets don't usually touch the ceiling. Instead, there's space above the cabinets that ranges from a few inches to a couple of feet.
Running cabinets to the ceiling in 10-12 foot high rooms doesn't usually make sense. However, if your ceiling height is 9 feet or less, you can consider running the cabinets to the ceiling.
Here are the pros and cons.
Pros of Cabinets Touching the Ceiling
More space – If you run your cabinets to the ceiling, you'll utilize all available space and create more storage for kitchen supplies.
High-end look – A tall, sleek cabinet or a cabinet with decorative molding on top can give your kitchen a high-end look. This is particularly important if you're after an ultra-modern aesthetic.
No dust build-up on top cabinets – If you constantly see dust build-up on the top of your cabinets, running them to the ceiling will completely prevent this.
Cons of Cabinets Touching the Ceiling
Hard to reach – If you run your cabinets to the ceiling, the items on the top shelf will be harder to reach. And the higher your ceilings, the more impractical this storage space becomes.
Expensive (Depending on Ceiling Height) – If you have tall ceilings, a standard kitchen cabinet isn't going to cut it. Instead, you'll need custom cabinets to reach ceiling height which can be expensive.
Not ideal for small spaces – If you have a tiny kitchen, extra tall cabinets can make it feel heavy and closed off.
Kitchen Cabinets that Touch the Ceiling: Examples
If you're unsure whether or not to run your cabinets to the ceiling, here are some examples.
Modern Kitchen with Cabinets Touching the Ceiling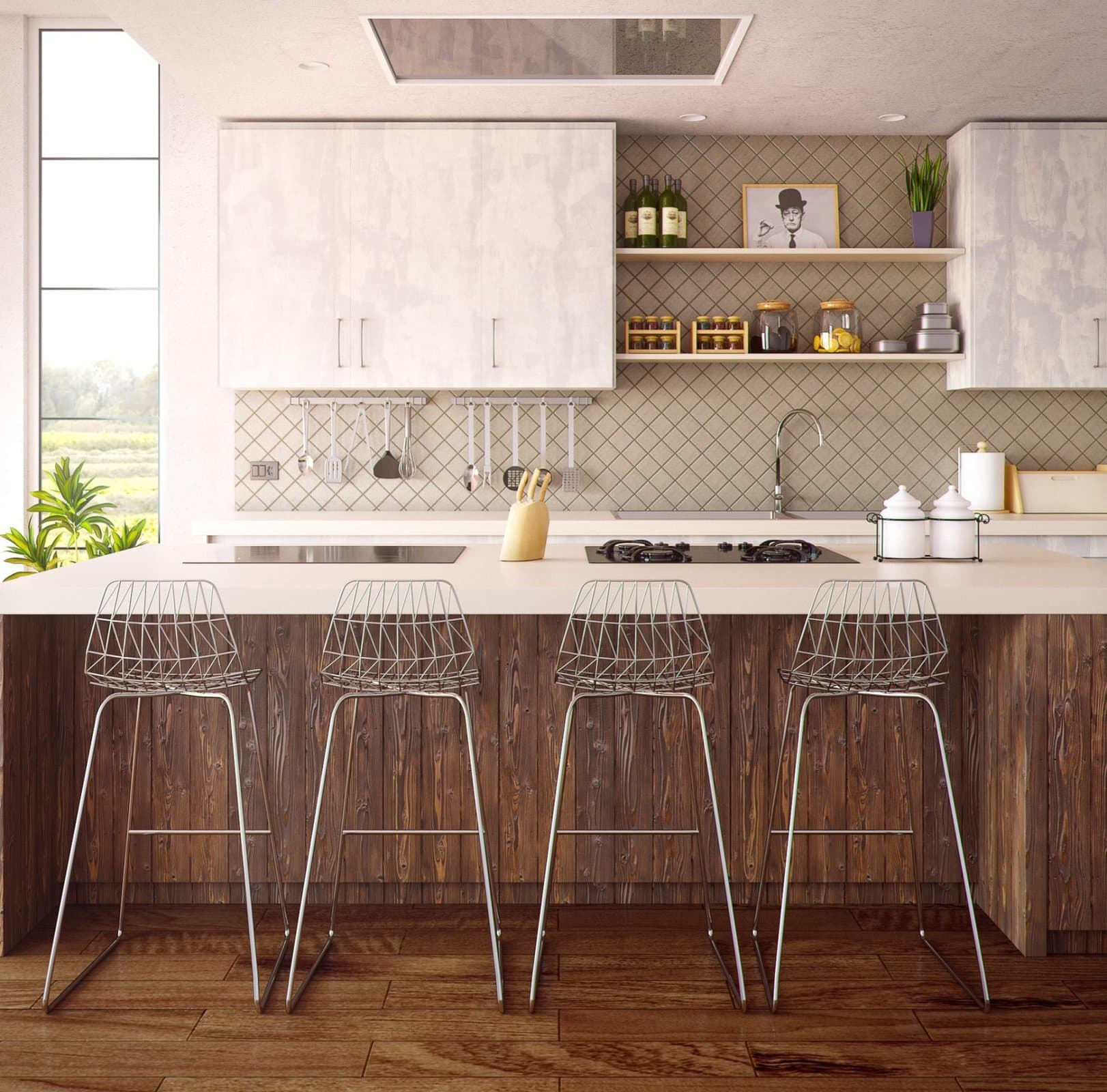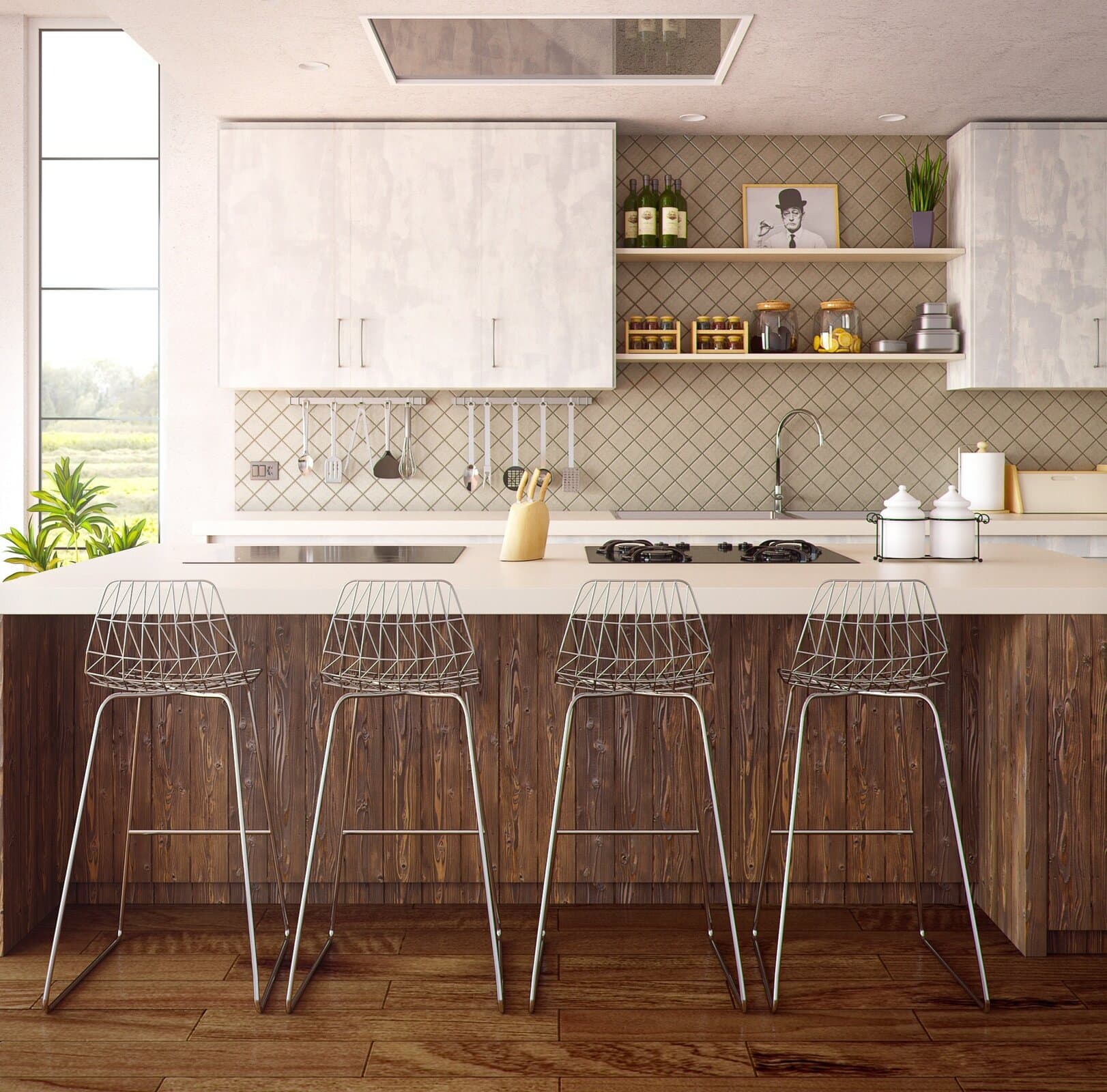 If your ceiling is lower in the kitchen than the rest of your house, it makes sense to take your cabinets to the ceiling.
In this modern kitchen, the homeowners chose a marble-look upper cabinet to complement the wood-toned lower cabinets. The result is a kitchen that feels balanced and full of texture.
White Kitchen with Custom Cabinets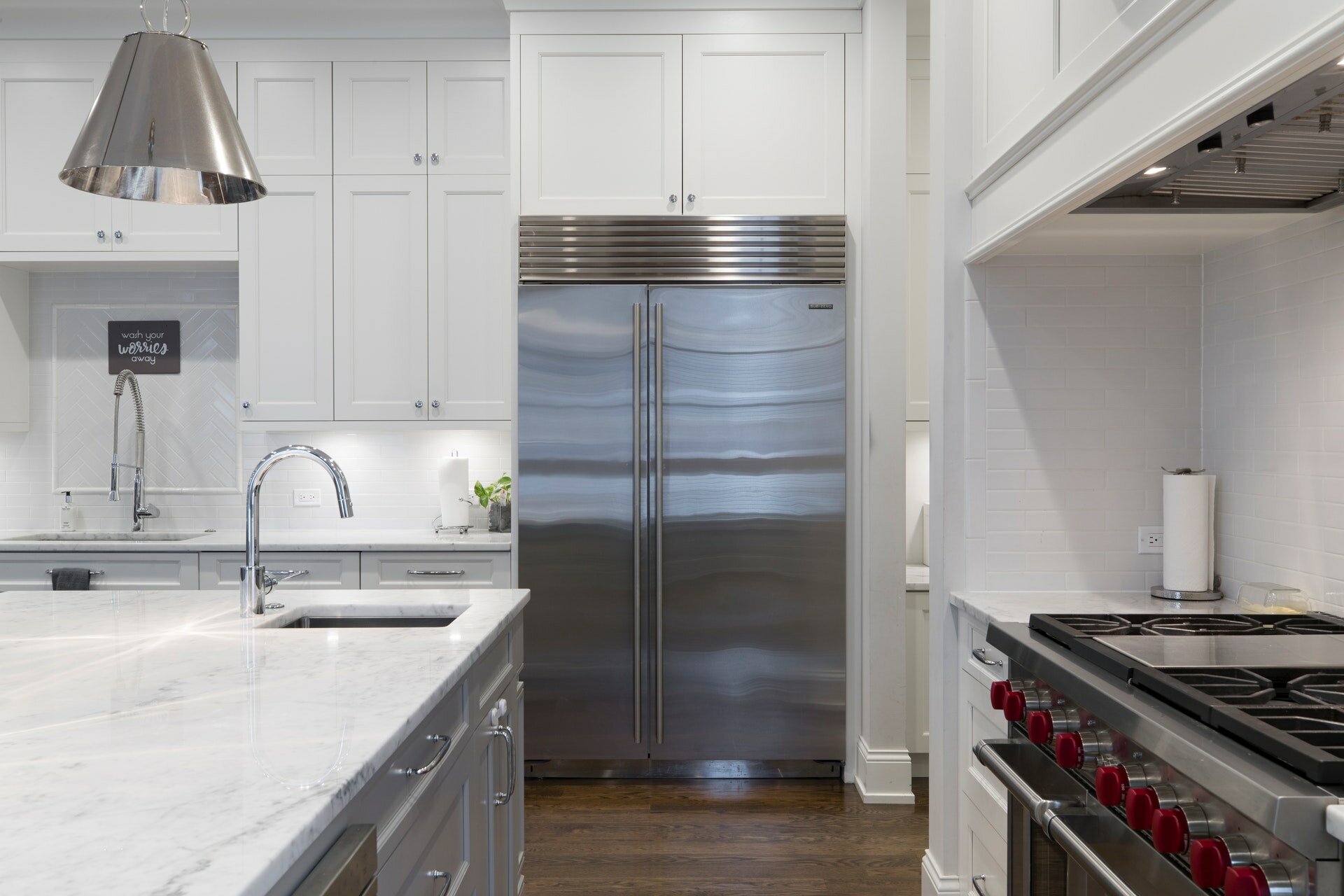 In this kitchen, the ceilings appear to be reasonably high. Because of this, the homeowners ran double cabinets, with small ones on top of longer ones.
A setup like this is more practical if you have high ceilings. You can place small appliances you rarely use up high and utilize the cabinet underneath for frequently used items.
High-End Kitchen with Cabinets Touching the Ceiling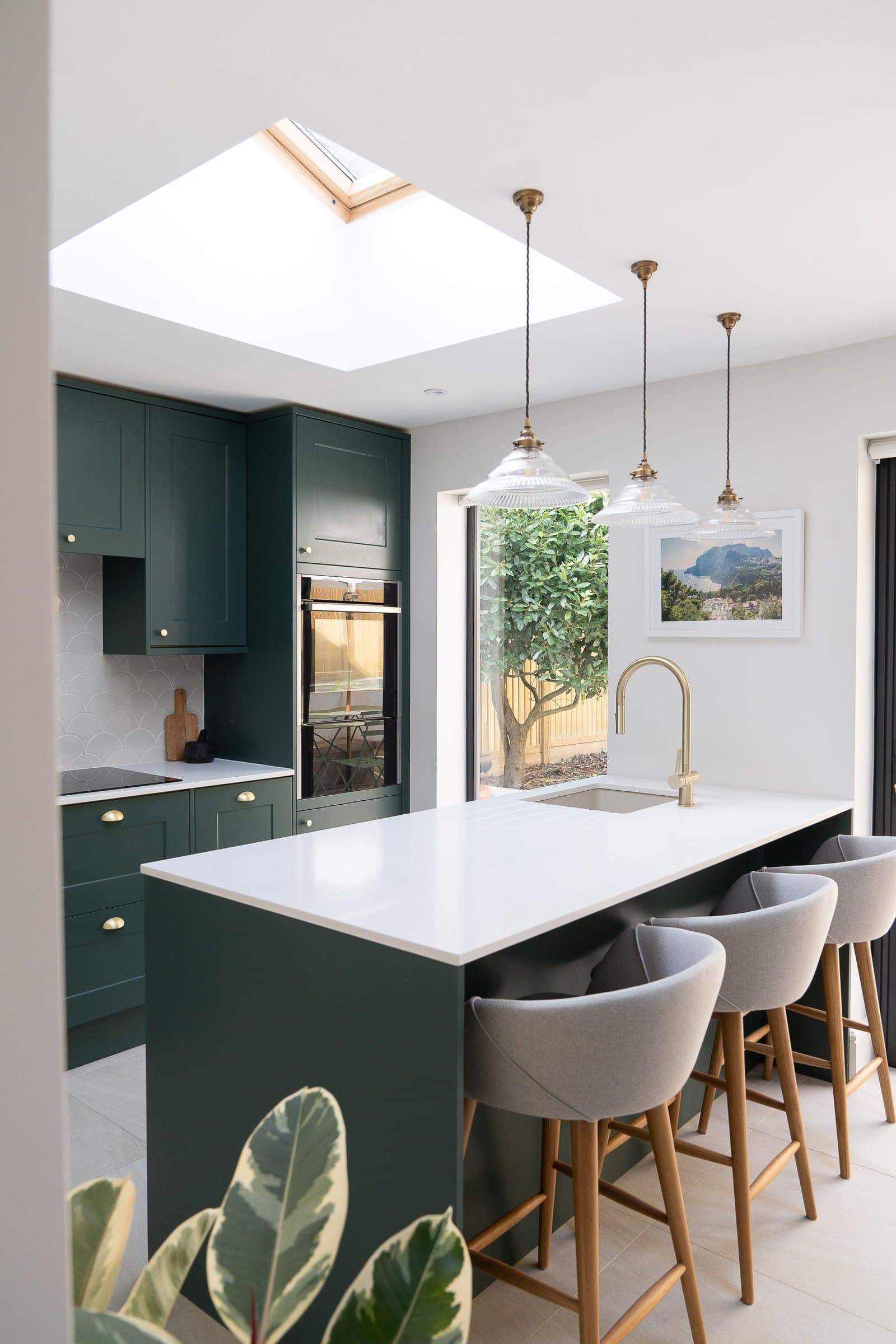 Run your cabinets to the ceiling if you're after a high-end, modern feel. The look is very sleek and works for contemporary and minimal aesthetics.
Also, consider a dark cabinet with a softer metallic pull like pictured.
Kitchen with Cabinets and Open Shelving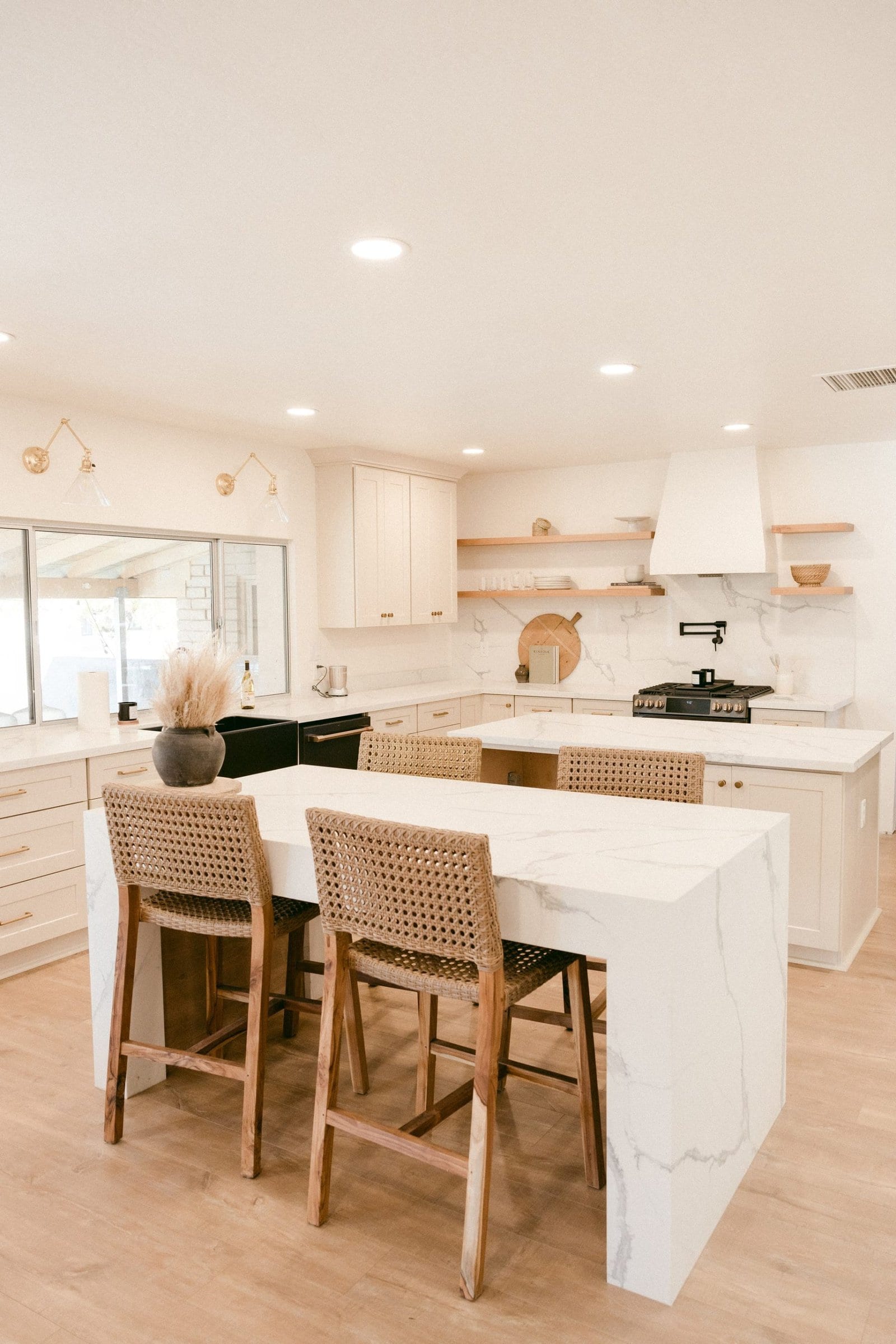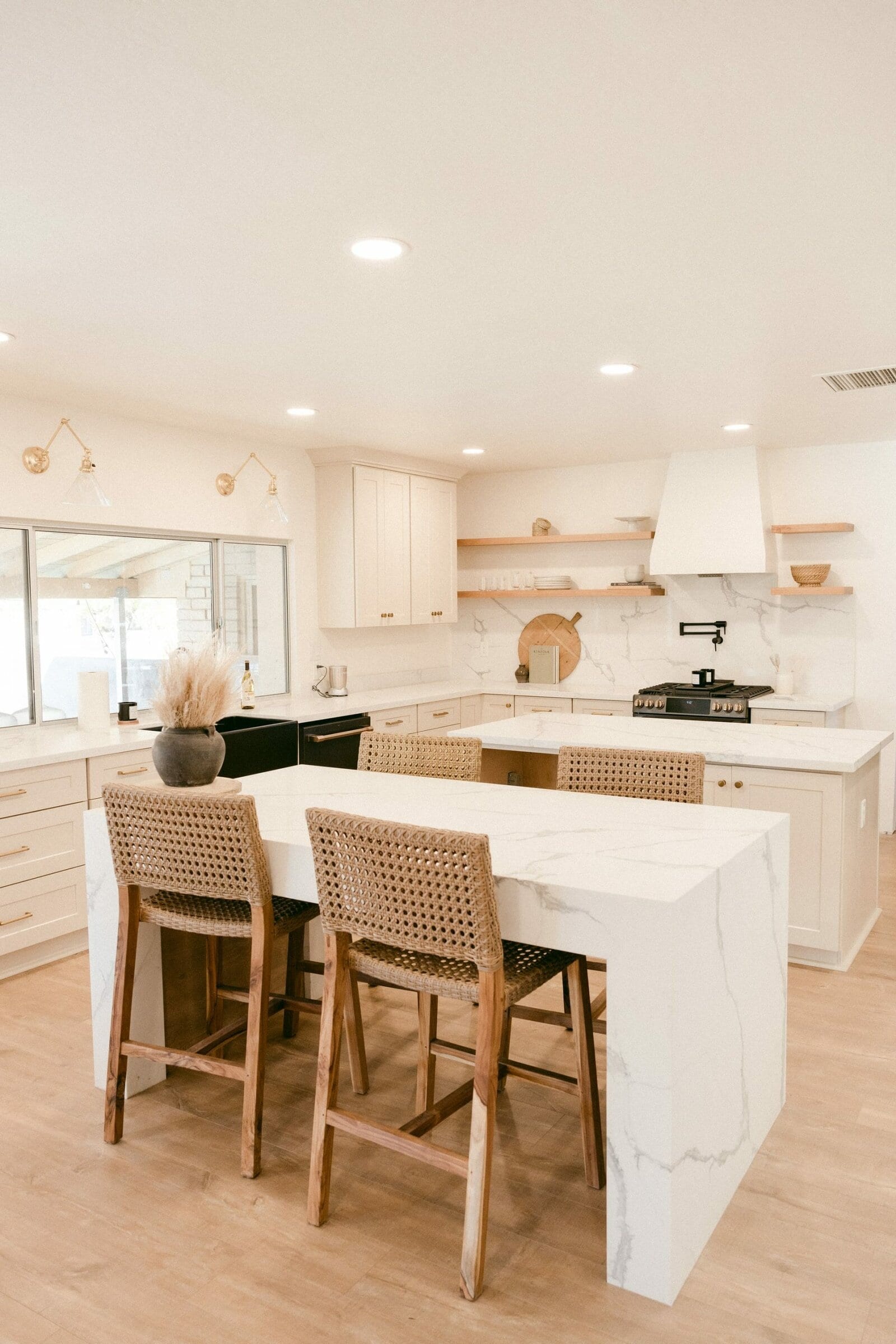 Mix in open shelving if you have a small kitchen or feel like multiple cabinets touching the ceiling are too heavy for your space.
You can do open shelving in the middle of two cabinets, a wall of cabinets and a wall of shelves, or a mix like pictured.
Custom Kitchen with Two Tone Cabinets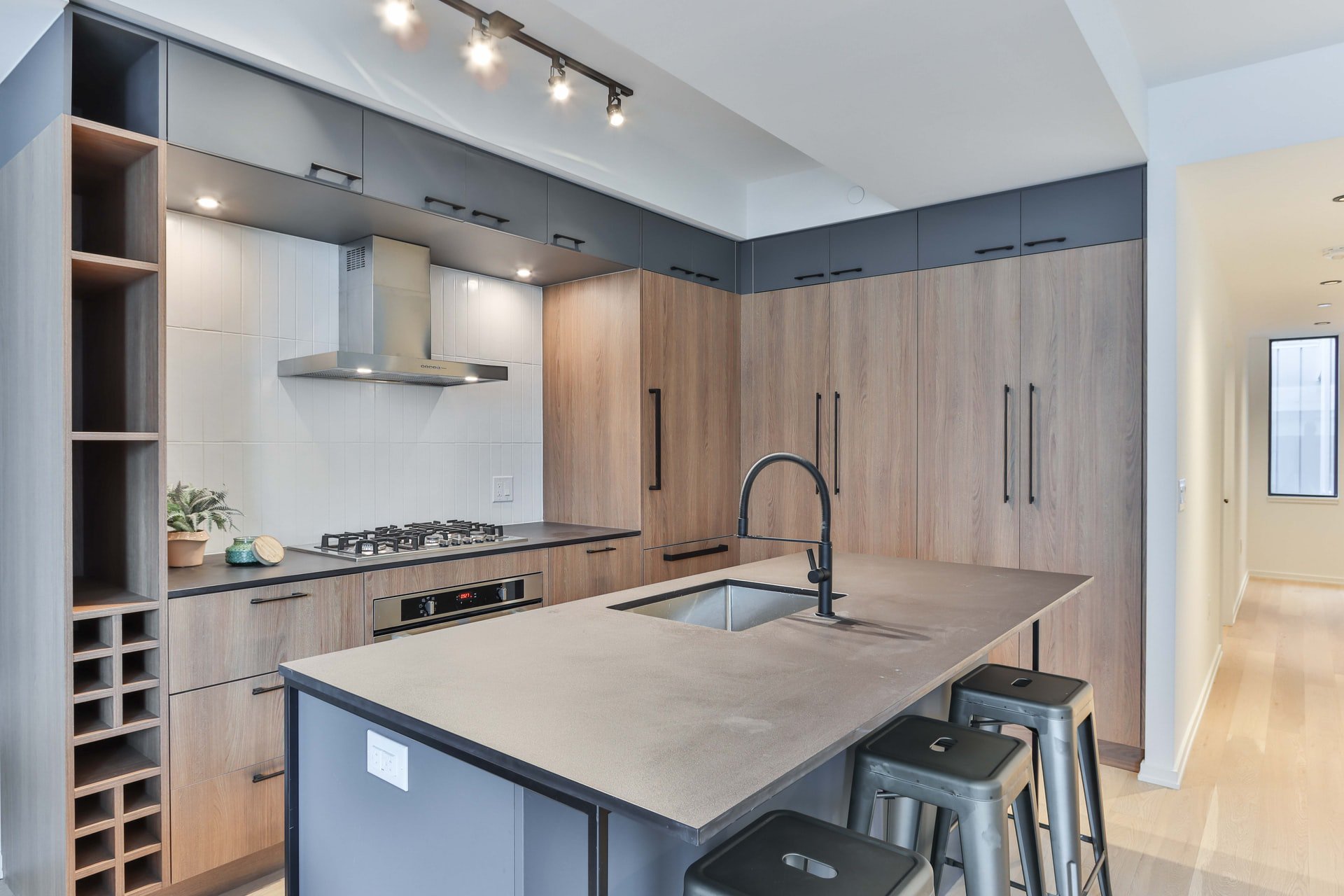 One way around paying the big bucks for super tall cabinets is to use a mix of small and tall, like pictured.
The different color and material choices give the kitchen a nice amount of texture and a modern appearance. In addition, the layout makes the kitchen appear light and airy even though cabinets touch the ceiling.
Final Thoughts
Whether or not your kitchen cabinets should touch the ceiling is entirely dependent on your space. For example, if you have eight or nine-foot kitchens, then using upper cabinets that reach ceiling height can be practical. But if you have 10-12 foot ceilings, it just isn't.
If you're working with a designer, have them draw up different plans with cabinets of various heights. If you're designing independently, look at inspo pics and consider the pros and cons of your kitchen's dimensions.