Decorated Life is reader-supported. When you buy through links on our site, we may earn an affiliate commission. Learn More
20 Small Rustic Bathroom Ideas on a Budget
Many people love a rustic theme for its natural materials, reused or recycled pieces, and pretty color choices.
When you're working with a tiny rustic bathroom, there may be limitations on what pieces you want to use to give your room personality and style. However, there are many ways to give your small bathroom a rustic feel without spending a fortune, from the right lighting to the right colors.
Check out our twenty small rustic bathroom ideas on a budget to get a head start on what you can do to decorate your bathroom.
Boat Shaped Tree Bark Sink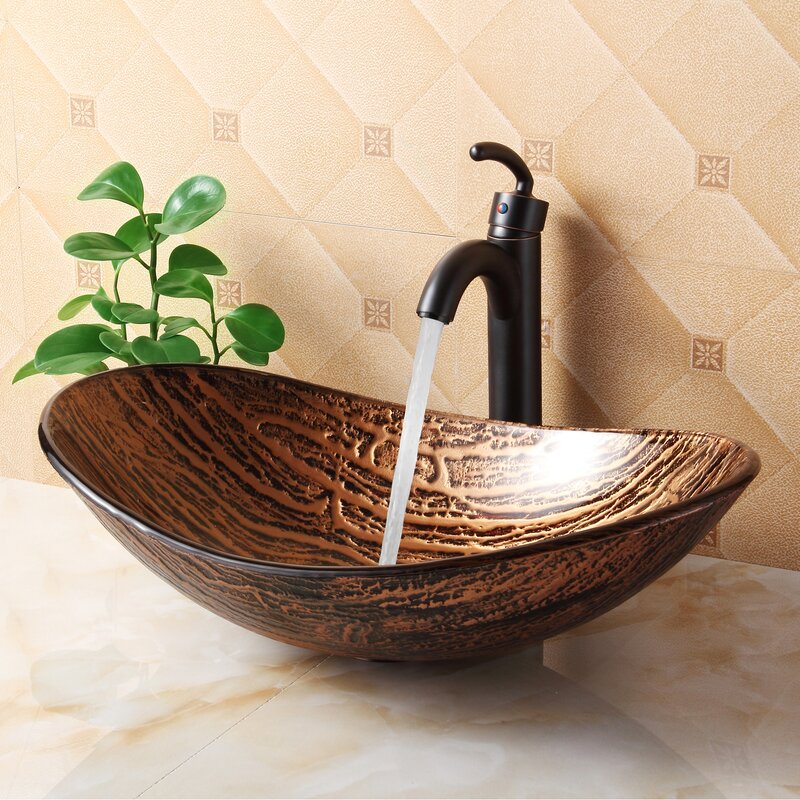 If you're looking for a unique, chic way to add style to your bathroom without breaking the bank, you're sure to enjoy the aesthetic of this table-mount boat-shaped sink.
Appreciate the beauty of tempered glass melted into a fun tree bark pattern in gorgeous golden amber color with rich brown undertones. Finish the look with an antique well-shaped faucet in an aged black and a textured gold backsplash with a granite counter in white and brown.
Add Some Flair with a Sliding Barn Door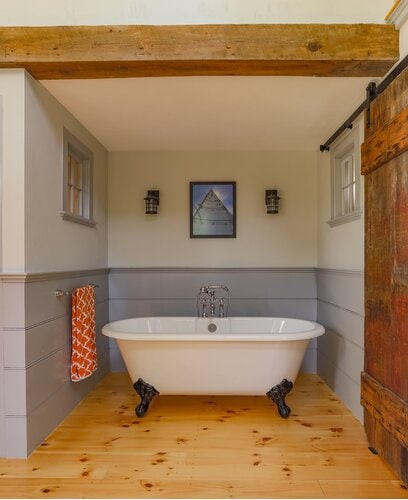 Sliding barn doors are a rustic staple and are a favorite for tons of people looking for small rustic bathroom ideas on a budget.
The natural look of the reclaimed wood frame can look magnificent with knotty honey pine floors and exposed ceiling beams. At the same time, gray plank wainscotting makes the small space look cozy.
Try an Over-Mount Farmhouse Sink
Farmhouse sinks are fantastic for small rustic bathrooms. The deep basin rectangular sink in a white glaze looks chic and contemporary and can fit on any surface.
The semi-recessed design makes this sink look fantastic as a focal piece of art, and the round corners add safety and a modern touch.
Go for a Slim Planked Single Vanity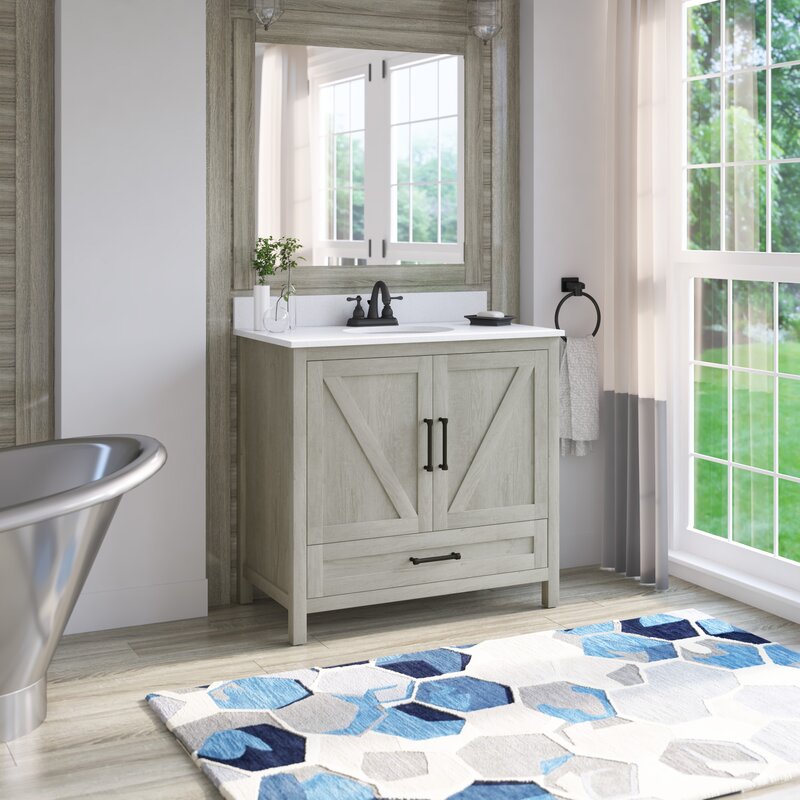 You can make an incredible, rustic bathroom with the inclusion of a farmhouse vanity. In addition, the light color of Fairfax Oak is perfect for making small bathrooms feel bigger.
While the double door design with diagonal planks will offer discreet storage, and a lower storage drawer adds extra organization.
Choose a Glamorous Shiny Mirror
Mirrors are like a secret weapon when it comes to the illusion of making a small area feel more spacious. This antique-inspired mirror features silver moldings and clear acrylic rods.
The beveled edges and engineered back give this mirror a modern feel that feels luxuriously rustic and chic.
Pick a Plank with Arched Glass Lighting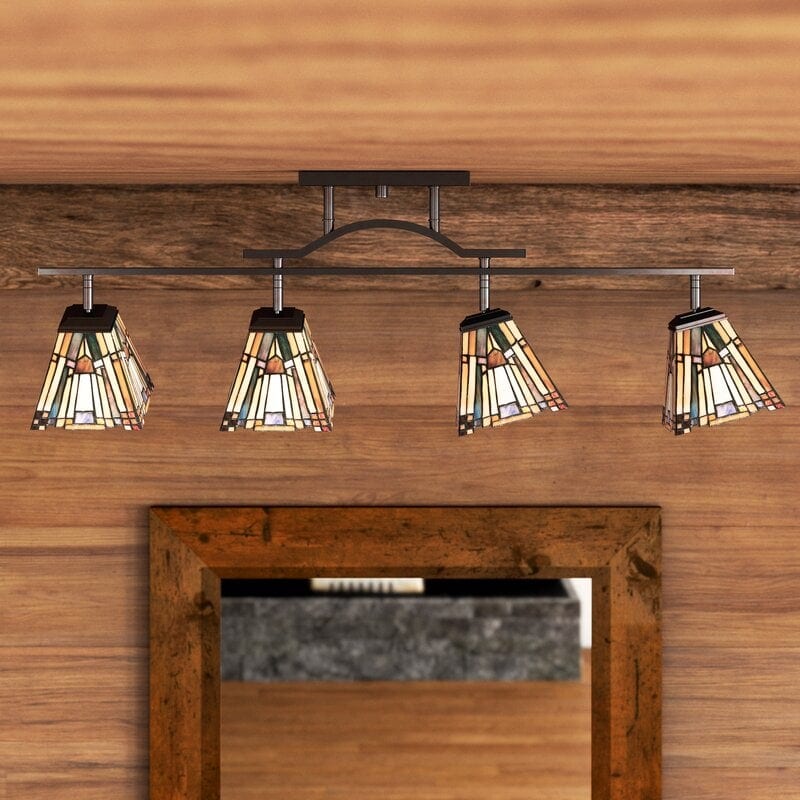 Lighting is a crucial part of your bathroom design. And it's an amazing opportunity to bring in an extra layer of aesthetic design to your room.
We love this light fixture with valiant bronze track lighting supporting four Tiffany lamp domes, each made up of 184 multi-color pieces for an authentic rustic feel.
Hang a Porthole Mirror by a Rope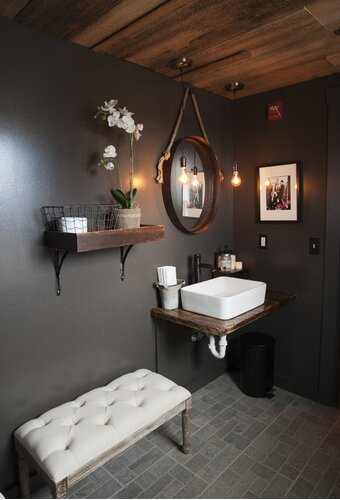 For an understated rustic bathroom, you can go with a mirror in a simple round shape, like this nautical porthole-inspired piece.
The jute rope hanger adds an extra layer of rustic, while the brown leather-wrapped rim over a metal frame gives a touch of an old-timey industrial feel. Finish the design with a dark plank ceiling, wood shelving, and narrow vanity.
Play Around with a Three-Tiered Pipe Shelf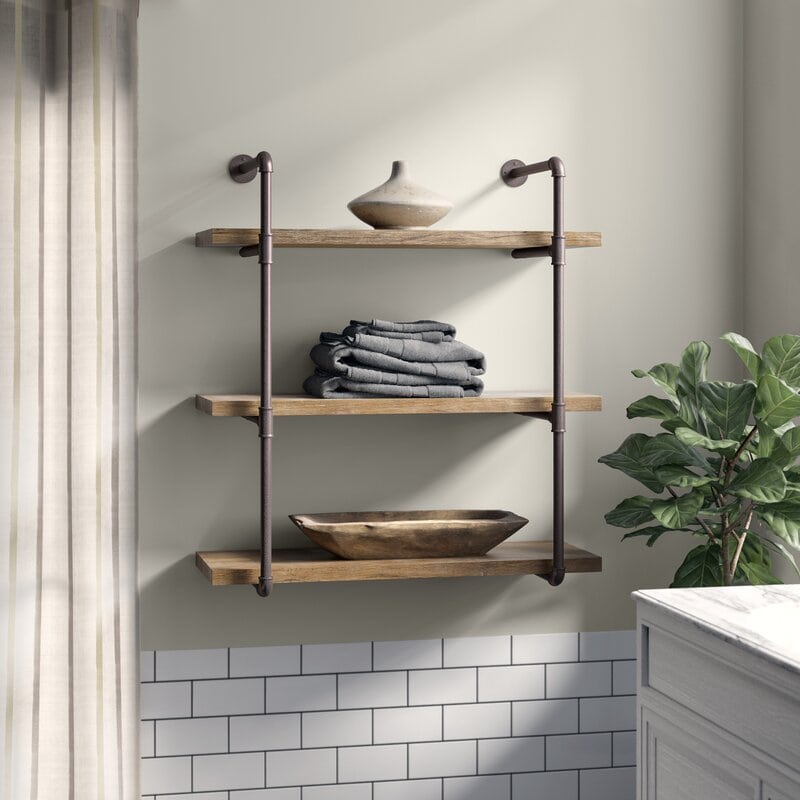 When considering shelving in a small bathroom, you may vote against a large storage cupboard that takes up a ton of room. Instead, consider a minimalistic wall-mounted storage unit.
We're in love with the rustic industrial vibe of this three-tiered shelving, with an exposed pipe frame in a natural dark brown finish with three moderate-sized open shelves for holding books, towels, decor, and other small bathroom items.
Select a Classic Subway Tile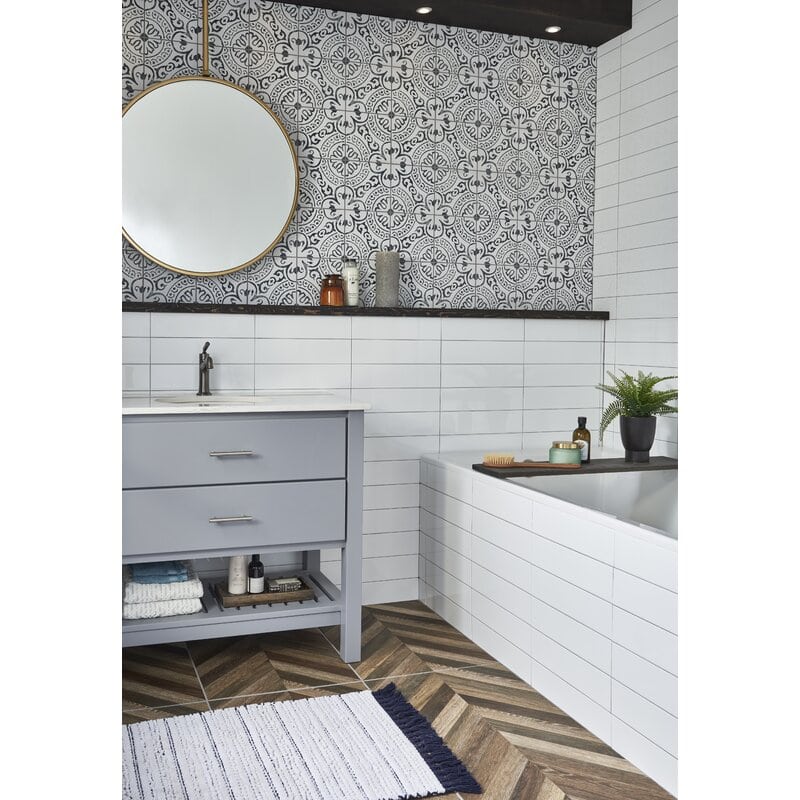 Subway tiles are one of the most popular backsplashes used in the bathroom. And nothing is more classic or rustic than a standard white in a small brick pattern.
As this bathroom shows, adding a white subway tile surround to the walls and bathtub gives this small rustic bathroom a bright, spacious feel that's balanced with the hints of gray.
Green Juniper Floral Wallpaper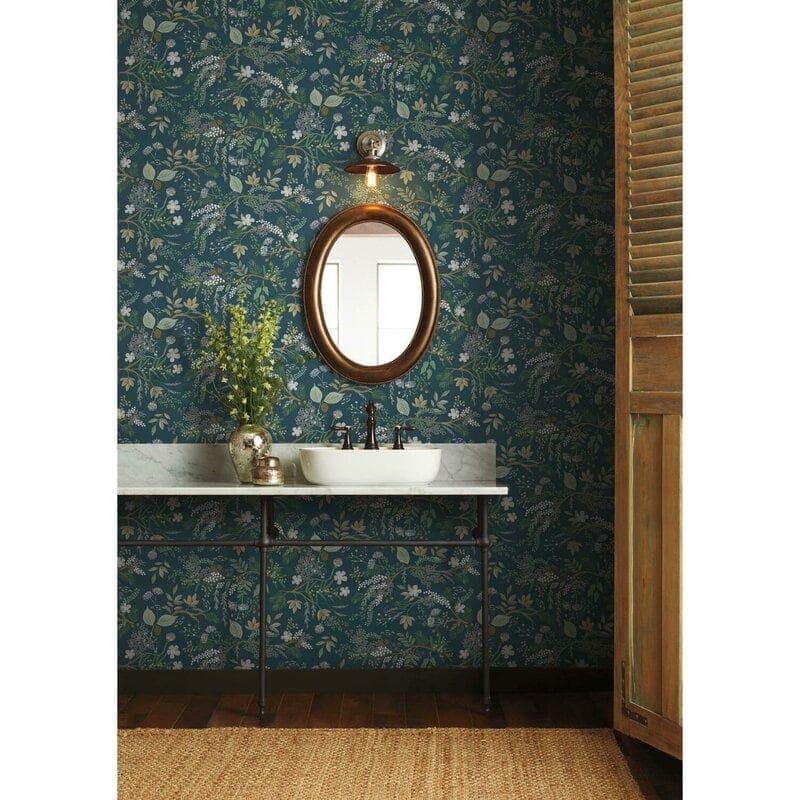 Floral prints are another popular design for a vintage rustic bathroom. You can add a few floral prints on the walls around the room.
Or you can get bolder with your design and look for a brilliantly-colored wallpaper. This green matte print with rambling branches and stems holds clusters of pinecones, berries, and hanging moss.
Do It Up with a Deep Soaker Tub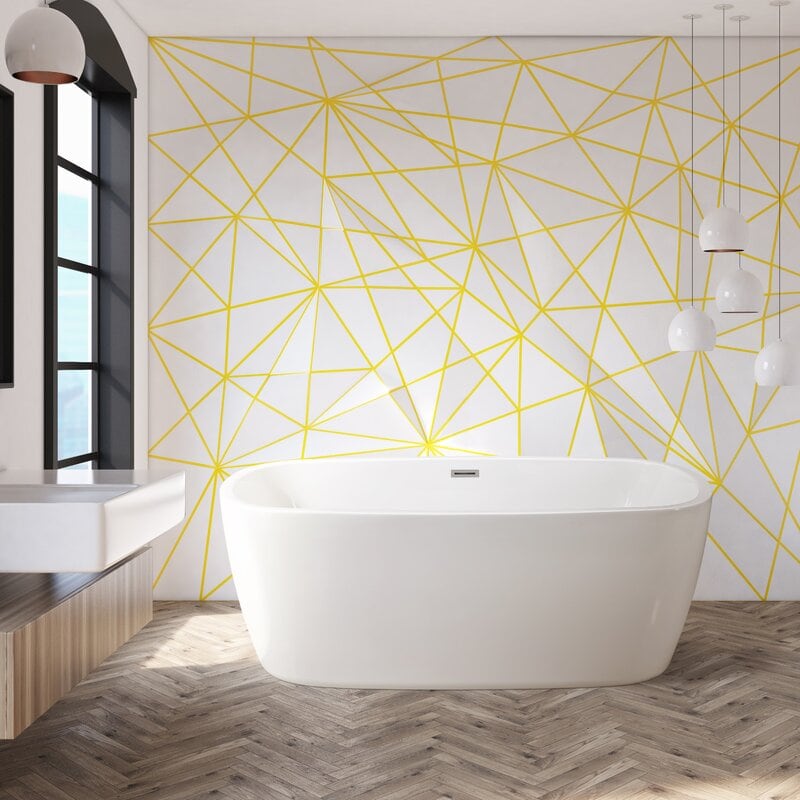 A smaller bathroom doesn't mean you have to go with a tiny bathtub or skip the bath altogether and install a shower. Instead, you can choose a comfy, stylish tub that fits in any tight space.
Nothing looks better in a rustic bathroom than a sleek, clean-lined deep soaker bathtub, like this sleek, clean-lined model that sits flush on the ground and gives you plenty of room to stretch and relax.
Slim Rattan and Teak Cabinet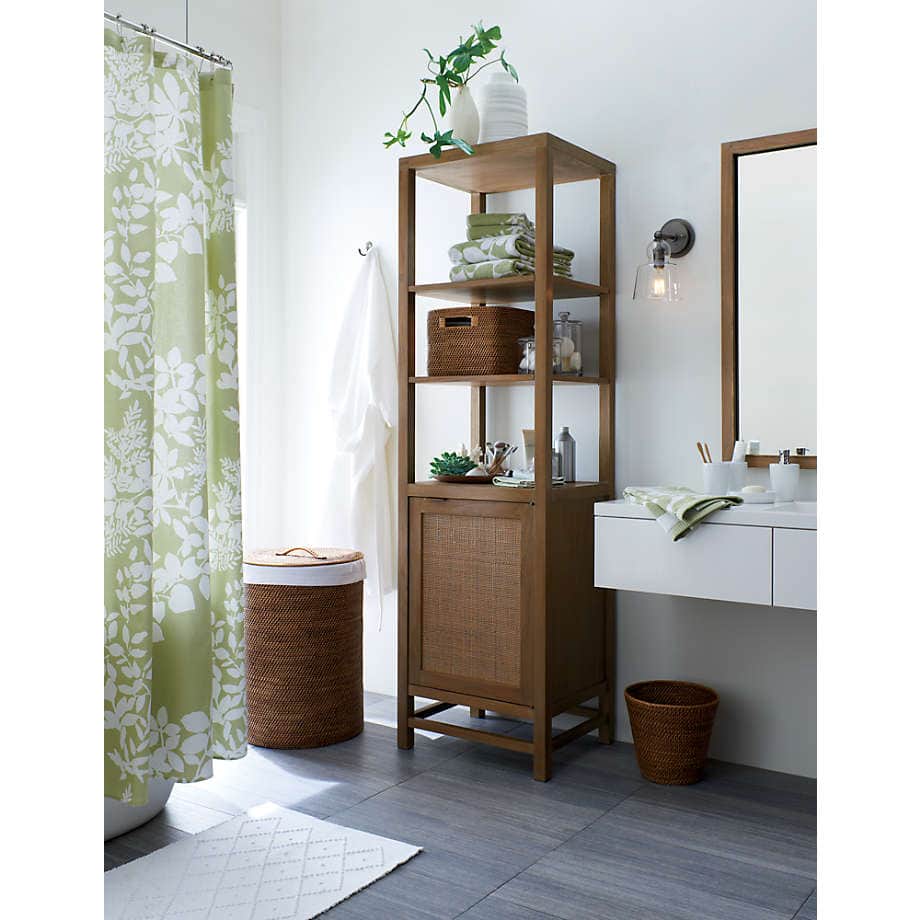 When you're limited on space in your bathroom, you can choose a cabinet in a sleek, tall design that saves space while providing storage.
This rustic minimalistic teak cabinet features three open shelves and a lower closed door with a woven rattan front panel.
Throw Down a Slatted Teak Mat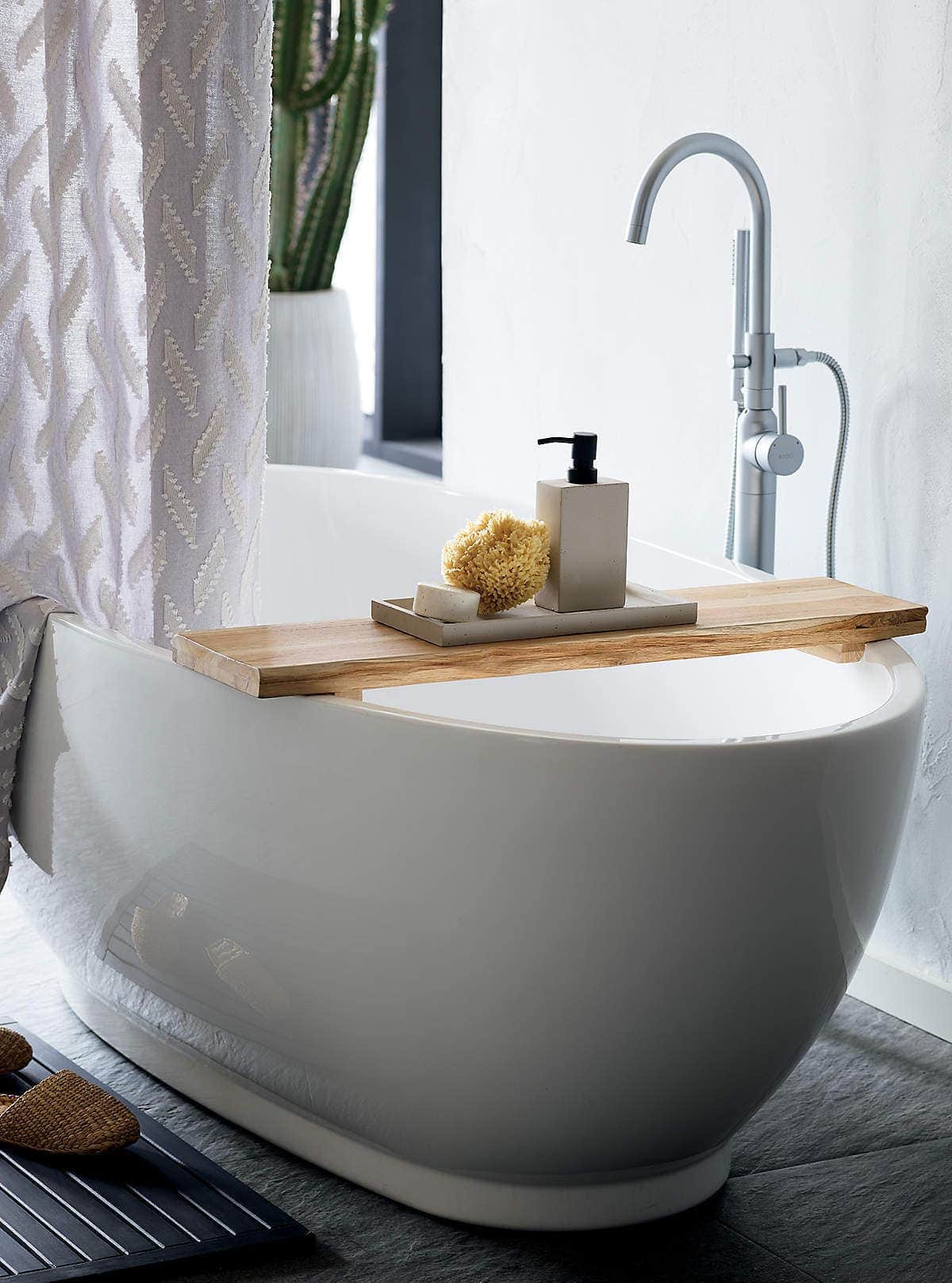 If you're looking for a modern, minimalistic way to add some understated decor to a small rustic bathroom, consider skipping the thick cushy floor mats for something a bit more natural.
This dark teak slatted shower mat looks exquisite while giving your bathroom a spa-like vibe while keeping your floor dry from dripping water.
Set the Mood with a Stone Diffuser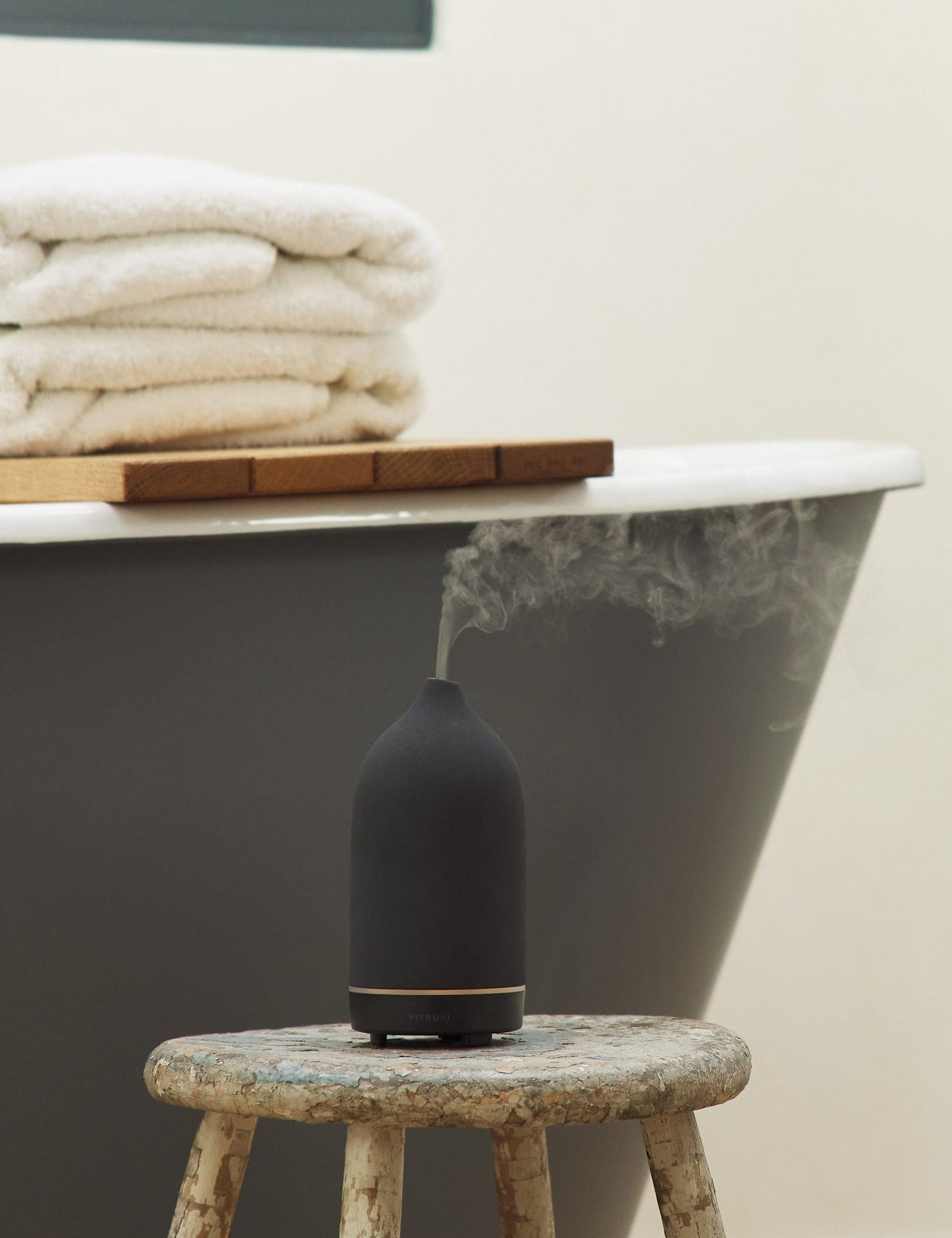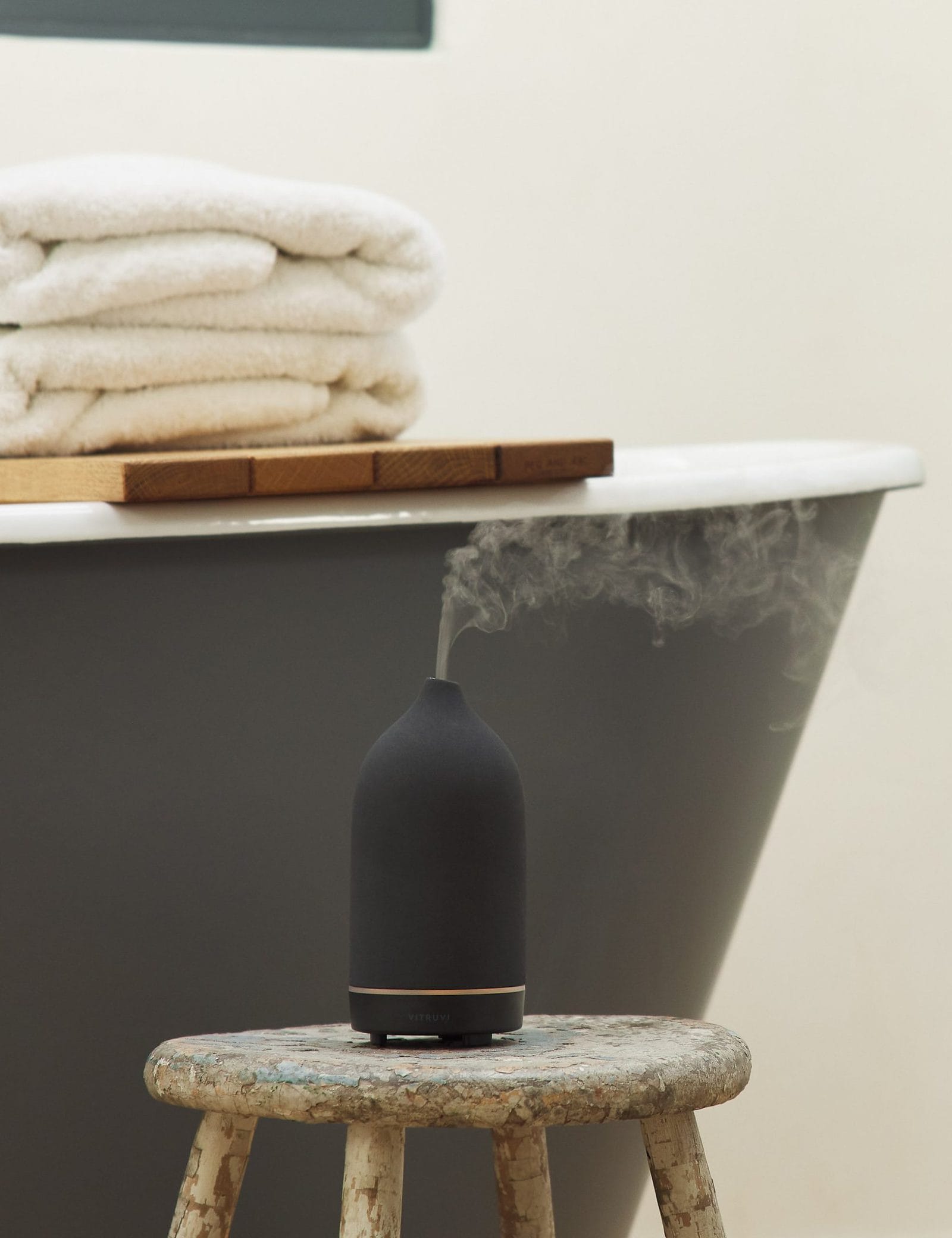 Diffusers are an excellent accessory to add to your bathroom to create a relaxing, aromatic transcendence.
We dig this black stone diffuser with its chic, sleek design that fills your room with your favorite mood-boosting scents for a truly zen retreat.
Try a Tufted Mat in Teal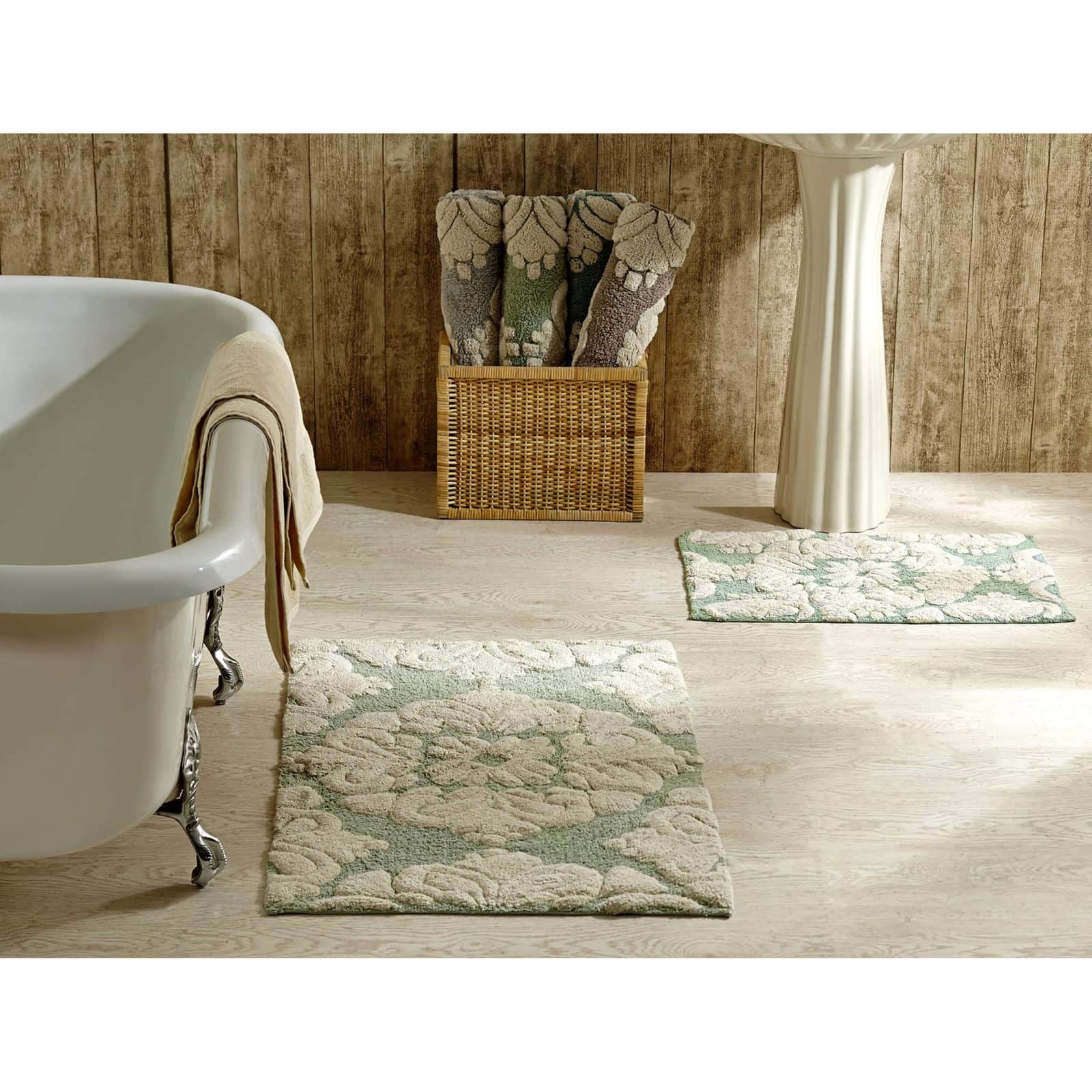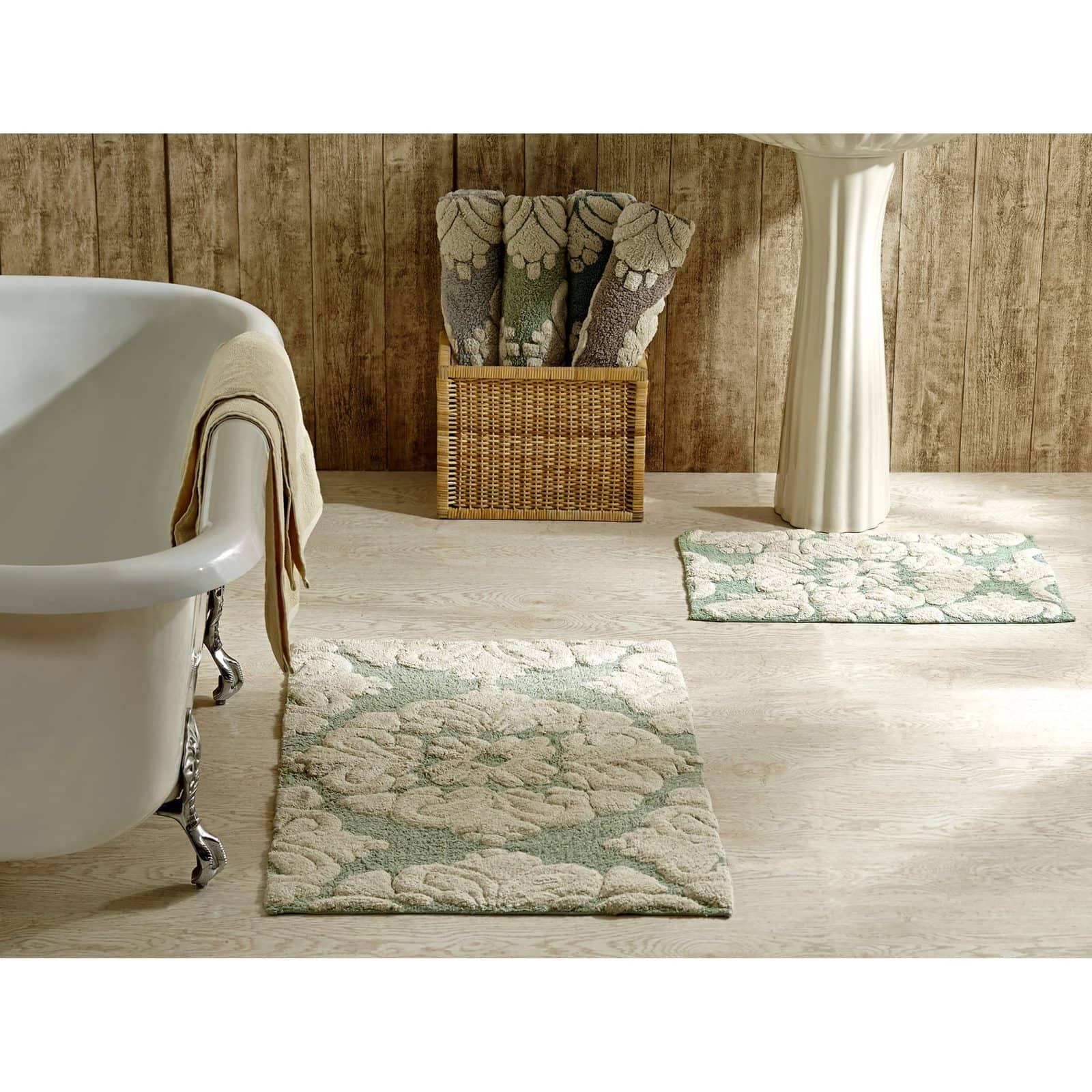 Give your feet something cozy to step onto when you come out of a soak in your tub with these stylish tufted bathmats in a pretty blue.
A raised white floral print design adds texture and contrast against the blue for a vintage vibe that suits any rustic bathroom design.
Select a Multiuse Wicker Holder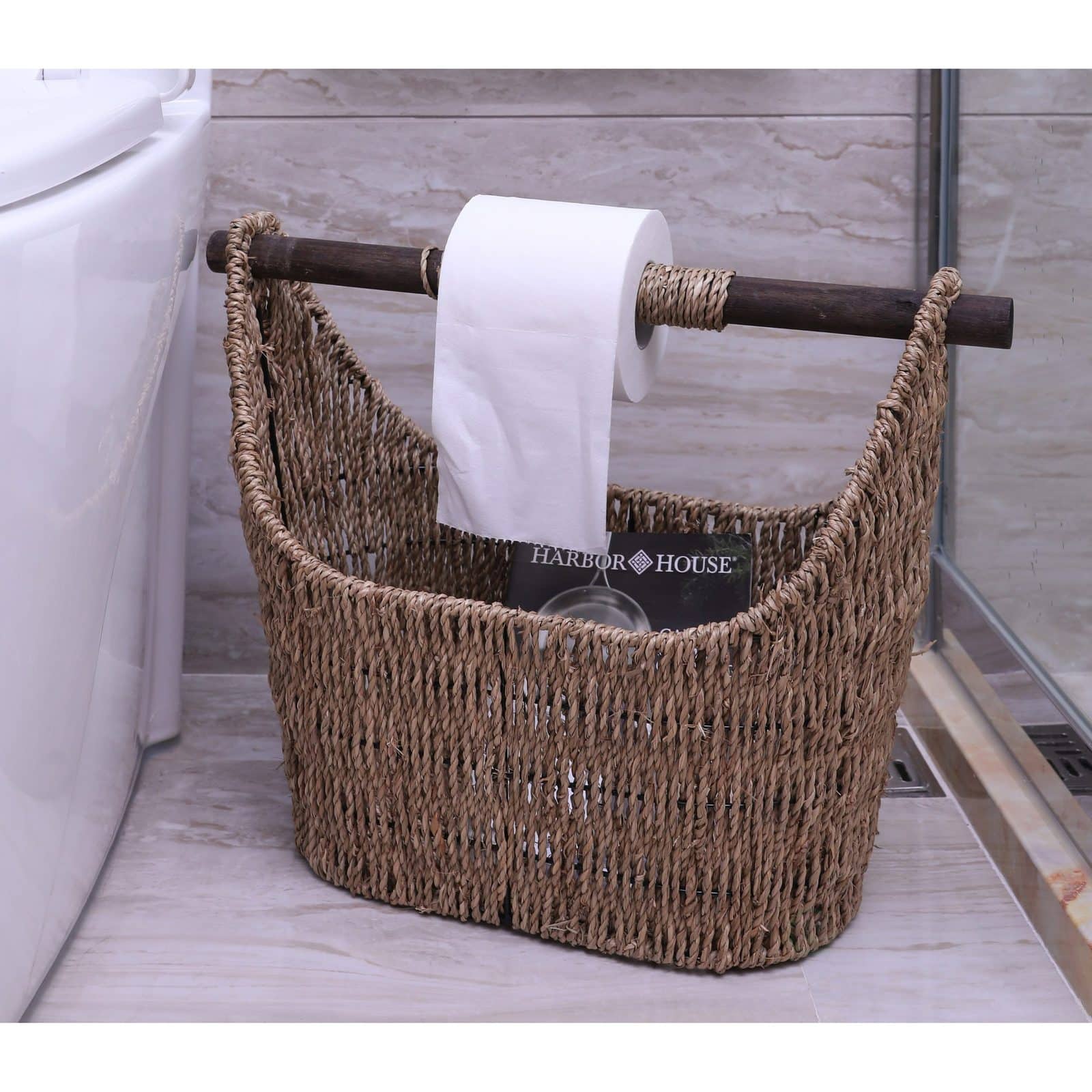 When you're tight on space, you want to make the most out of every inch of space. This dark brown wicker basket offers plenty of storage and purpose.
The large empty cavern is excellent for storing books, magazines, or other items you like having close to the toilet while doing your business. And the rustic wood stick handle with a rope wrap works as a toilet paper roll.
Take a Break with a Bamboo Shower Bench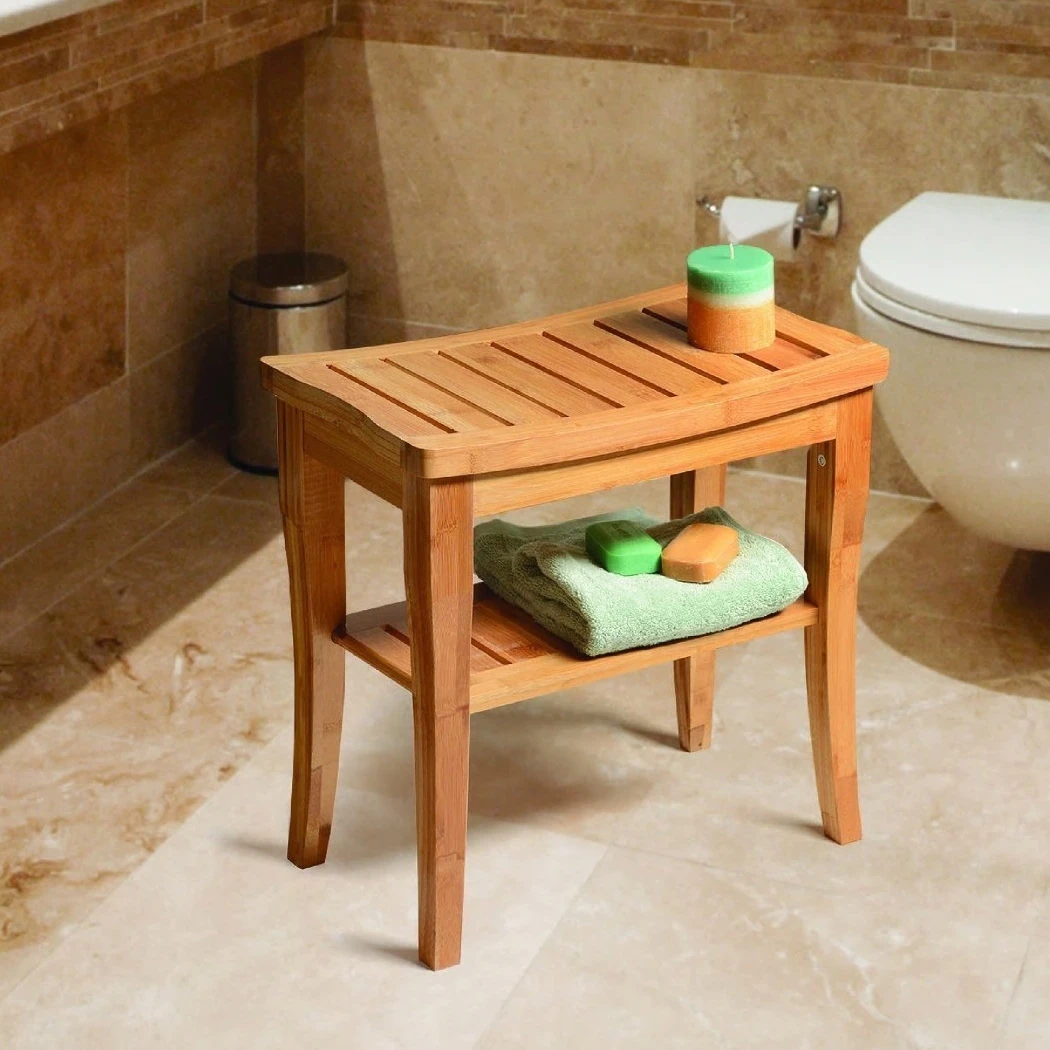 If your shower or tub doesn't have enough room for a built-in sitting area, you can choose a versatile structure like this bamboo shower bench.
The curved slatted seat offers a comfy place to sit or prop up while showering. And the lower shelf holds items, so there's less need to move around while bathing.
Choose a Cheerful Shower Curtain in Yellow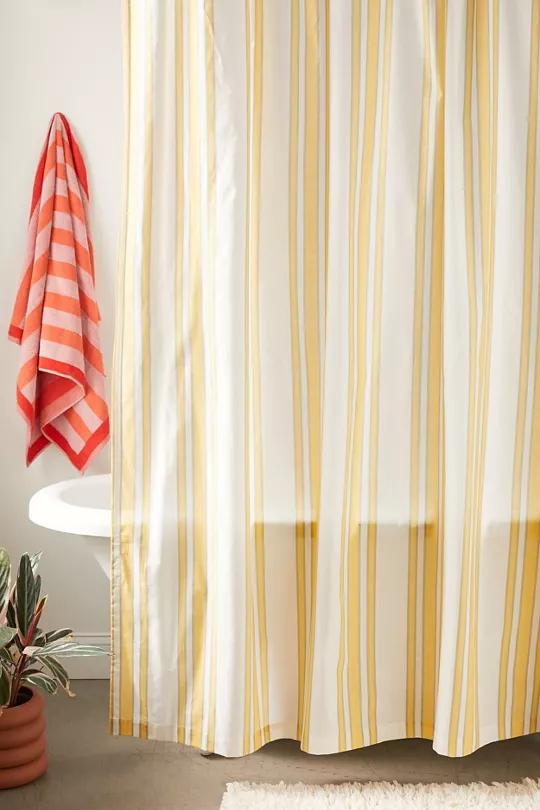 The shower curtain is another minor design element that you can use to add personality and style to your bathroom.
Choosing a shower curtain in a sheer cheery, sunny yellow color makes your bathroom more fun and bright, while the white stripes add a touch of classy.
Get Lit with Rounded Rattan Wicker Sconce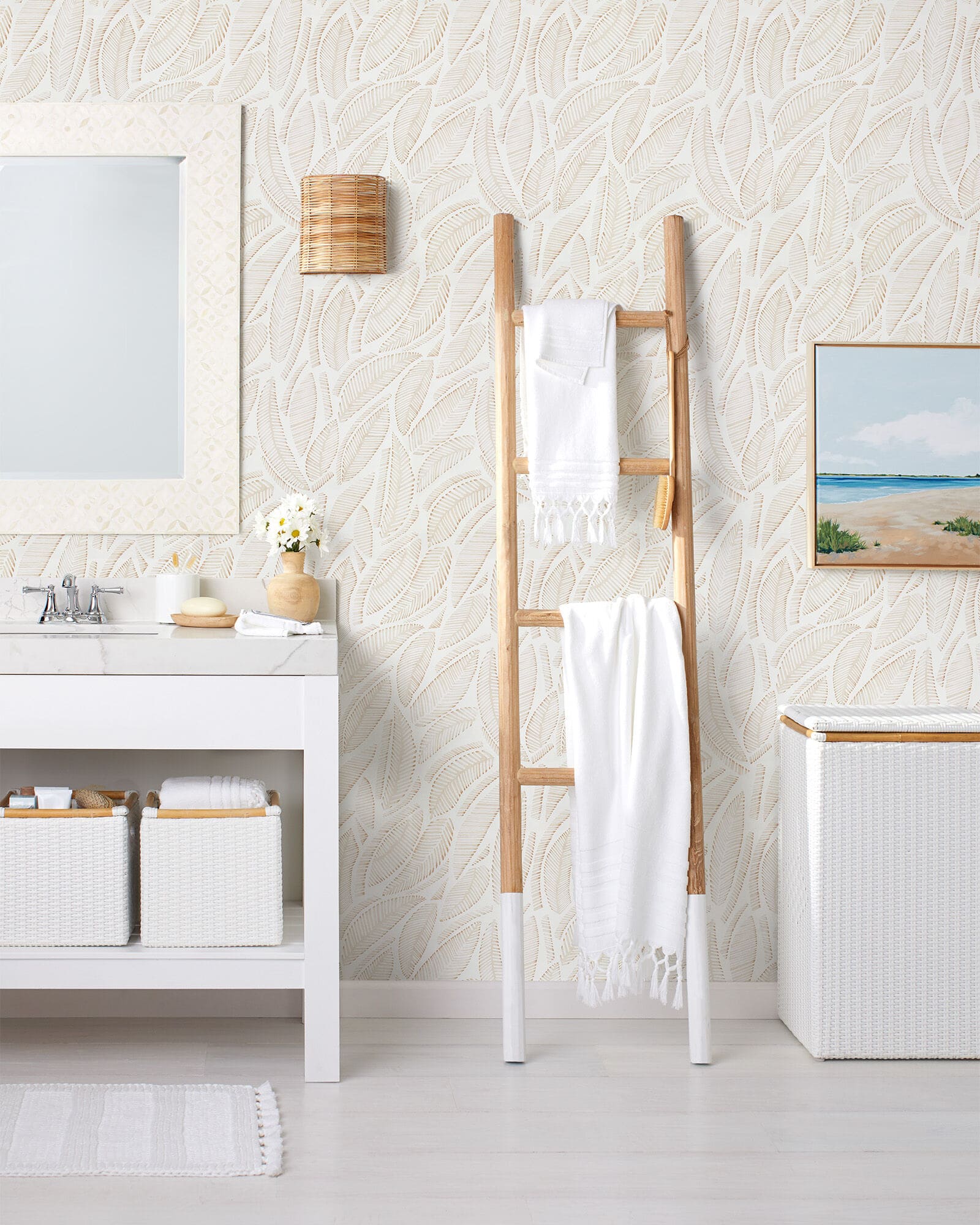 For an understated yet bohemian rustic trend for your bright bathroom with lots of white and off-whites like ivory, cream, and beige, go for a simple natural lighting fixture.
These small, wall-mounted drum-shaped light fixtures in a light tan, weaved rattan shade with natural color variations provide a fantastic ambiance.
Add a Rustic Wood Plank Tub Caddy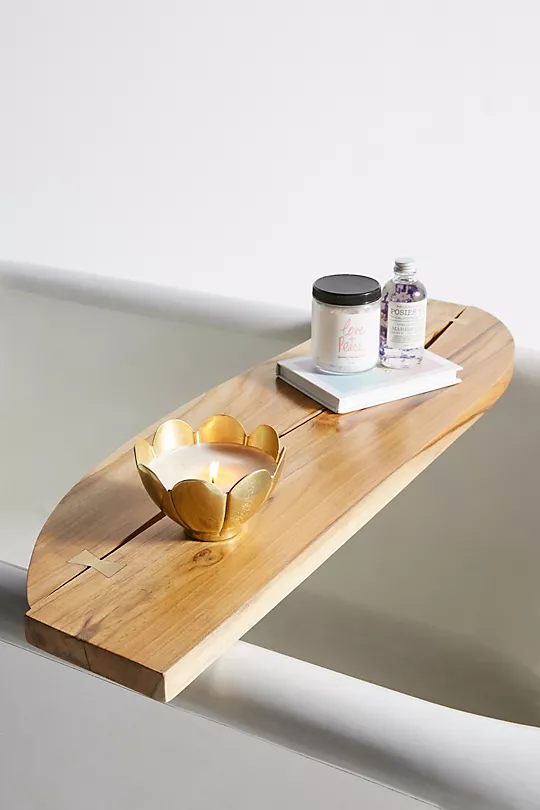 If you have a large bathtub that begs you to sink in and soak for hours, you're in desperate need of having a tub caddy to keep things close at hand but safe from water dangers.
This rustic plank caddy features a split center with a rough-hewn outline that provides plenty of space for a candle, book, and bathing supplies.
Final Words
When you have a small bathroom, you have to use care to pick pieces that further the design of your theme without going overboard and adding too much stuff. There are many different ways to go for small rustic bathrooms, from the right fixtures to the perfect accents.
Now that you've seen our impressive collection of twenty small rustic bathroom ideas, take some time to tell us which one is your favorite.