Decorated Life is reader-supported. When you buy through links on our site, we may earn an affiliate commission. Learn More
16 Stylish Black Leather Sofa Decorating Ideas
If you've got a black leather sofa (or you're thinking about buying one) it can be tricky deciding how to decorate your living room around it. Black is a very strong bold color that symbolizes power and elegance, making it an ideal choice for creating a smart, sophisticated living room design.
A black leather sofa can be used to create a variety of different moods for your interior, and the beauty of it is that it will work with a variety of different styles and color schemes. If you're not sure where to start, read on to see some of our favorite black leather sofa decorating ideas.
Choose a Glass Coffee Table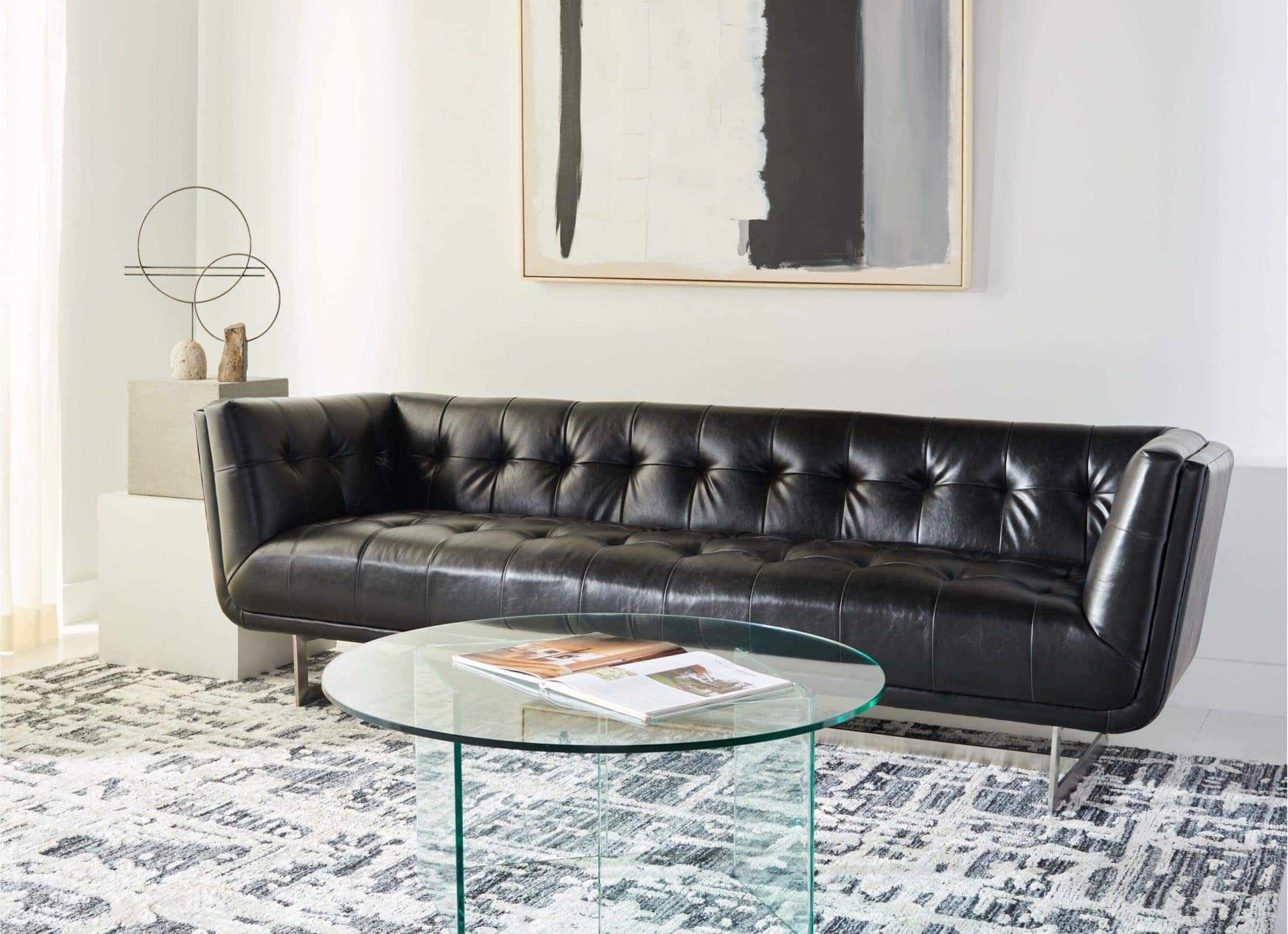 For a sleek modern look in your living room, try pairing your black leather sofa with a contemporary glass coffee table. Glass coffee tables are a great choice to go with a black leather sofa, as they will work with almost any color scheme.
Complete this striking contemporary look with some bold modern art on the walls, a chic grey area rug, and some sculptural art.
A Black and Grey Color Scheme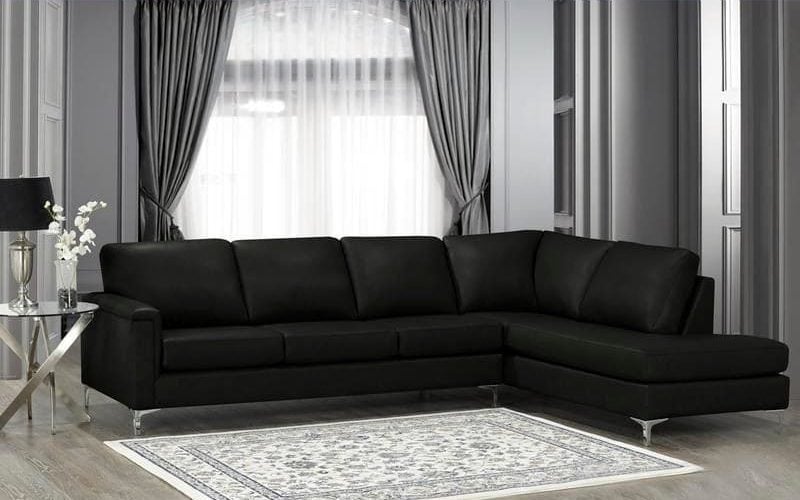 A black and grey color scheme will create a sophisticated look in your living room, with your black leather sofa taking center stage. To create a monochrome look, choose the same shade of grey for both your curtains and your walls.
Choose side tables and accessories made from glass and chrome to add a touch of glamor to this look. If you want to change things up you can always add in another accent color such as pink or white with throw pillows on your couch.
Teal and Gold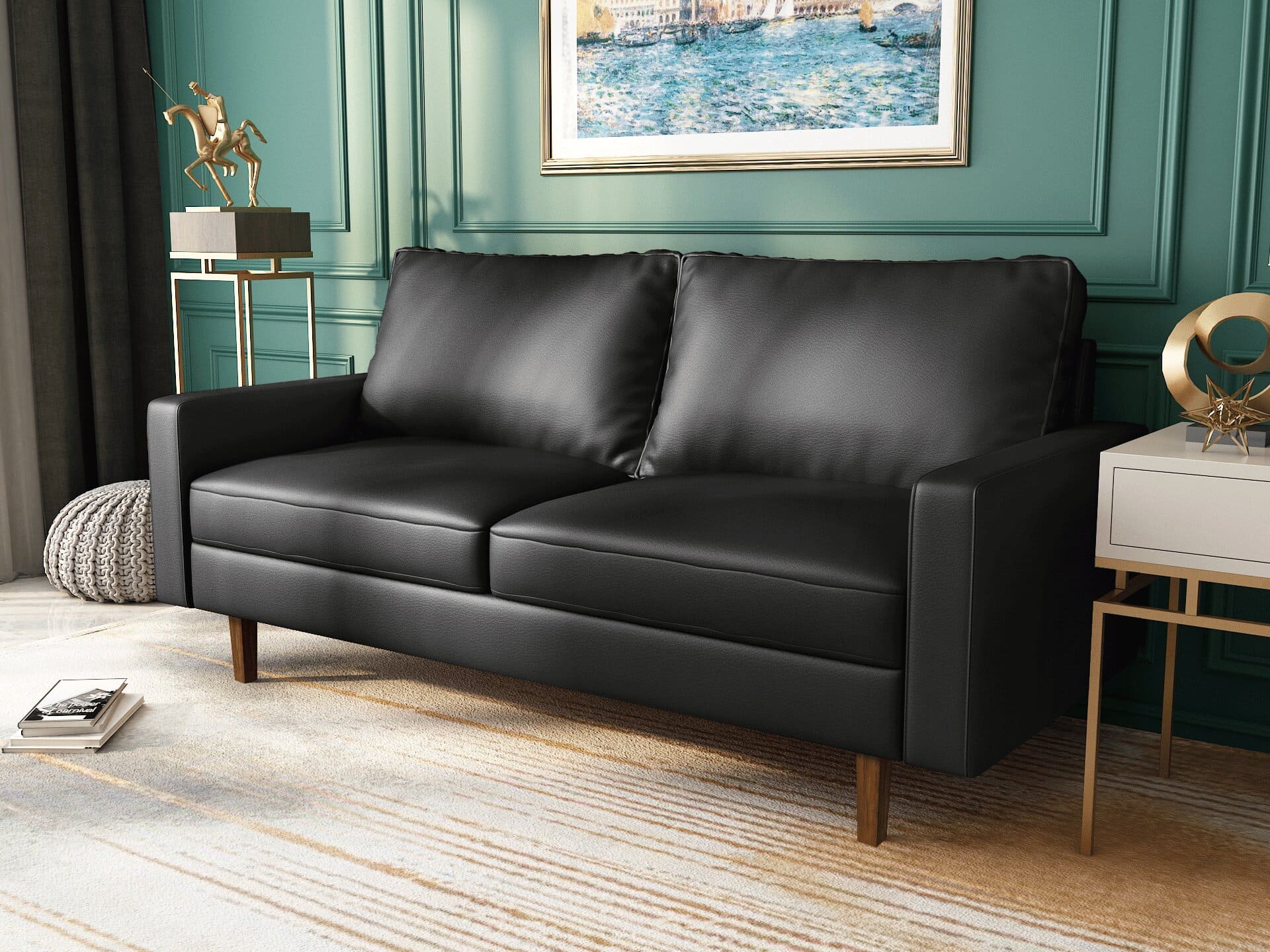 Painting one or all of your living room walls in a rich teal color will provide the perfect backdrop for your black leather sofa for a modern luxe look. Gold accents will complement this look perfectly, so use gold picture frames, furniture, and accessories to ramp up the glam.
Black curtains will mirror the black of your sofa, and give your living room a balanced look. Choose a fairly neutral rug to go with this color scheme to ensure your space doesn't feel overloaded.
Add Some Texture With Fluffy Throw Pillows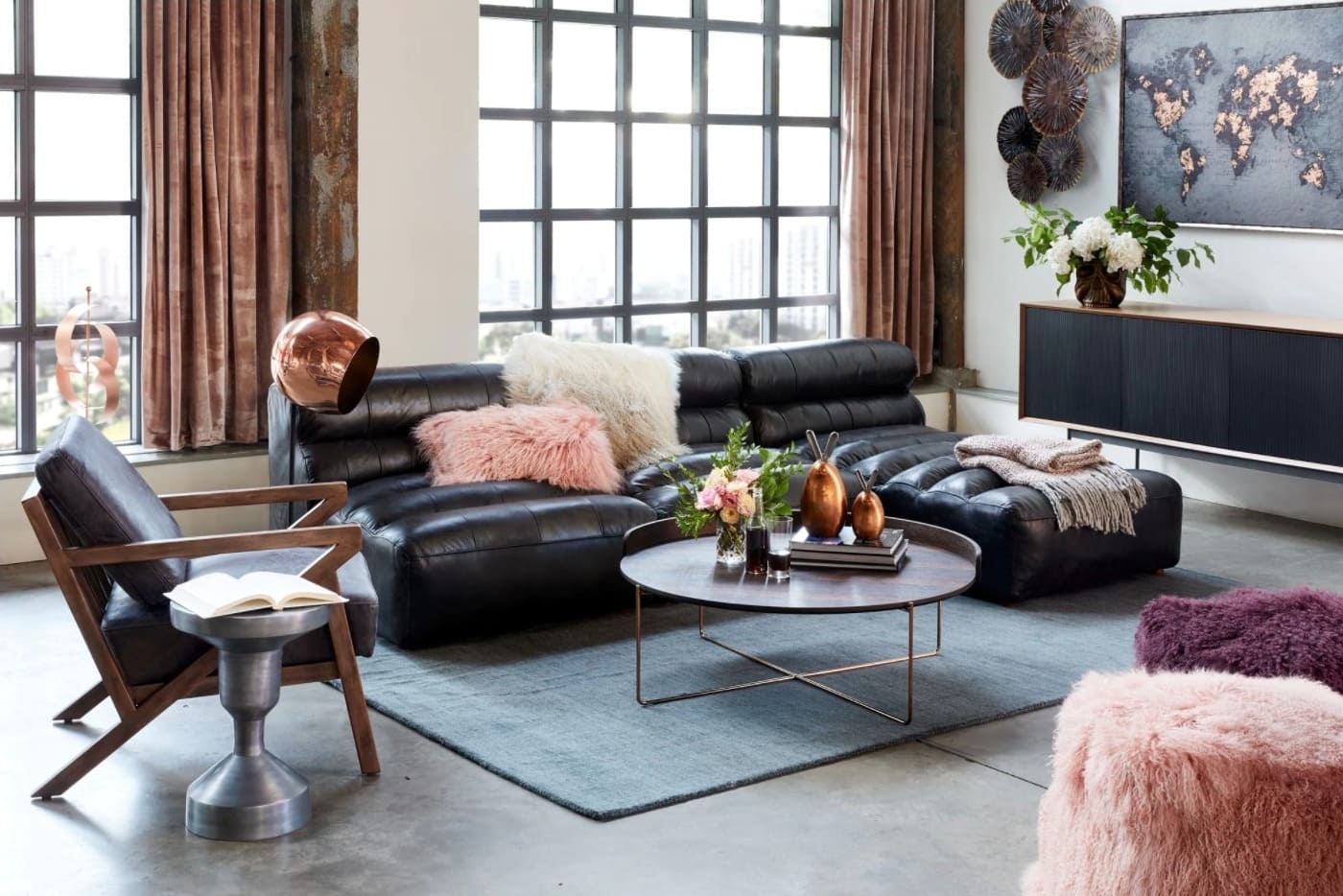 When it comes to choosing throw pillows for a black leather couch, the options are endless. Black leather sofas can be used to create a variety of different decor styles, so it really depends on the look you want to go for.
Some large fluffy throw pillows in warm colors such as pink or terracotta will add plenty of texture, which will bring your space to life. You can enhance this look by choosing curtains and accessories in the same warm shades to create a cohesive look.
A Chunky Wooden Coffee Table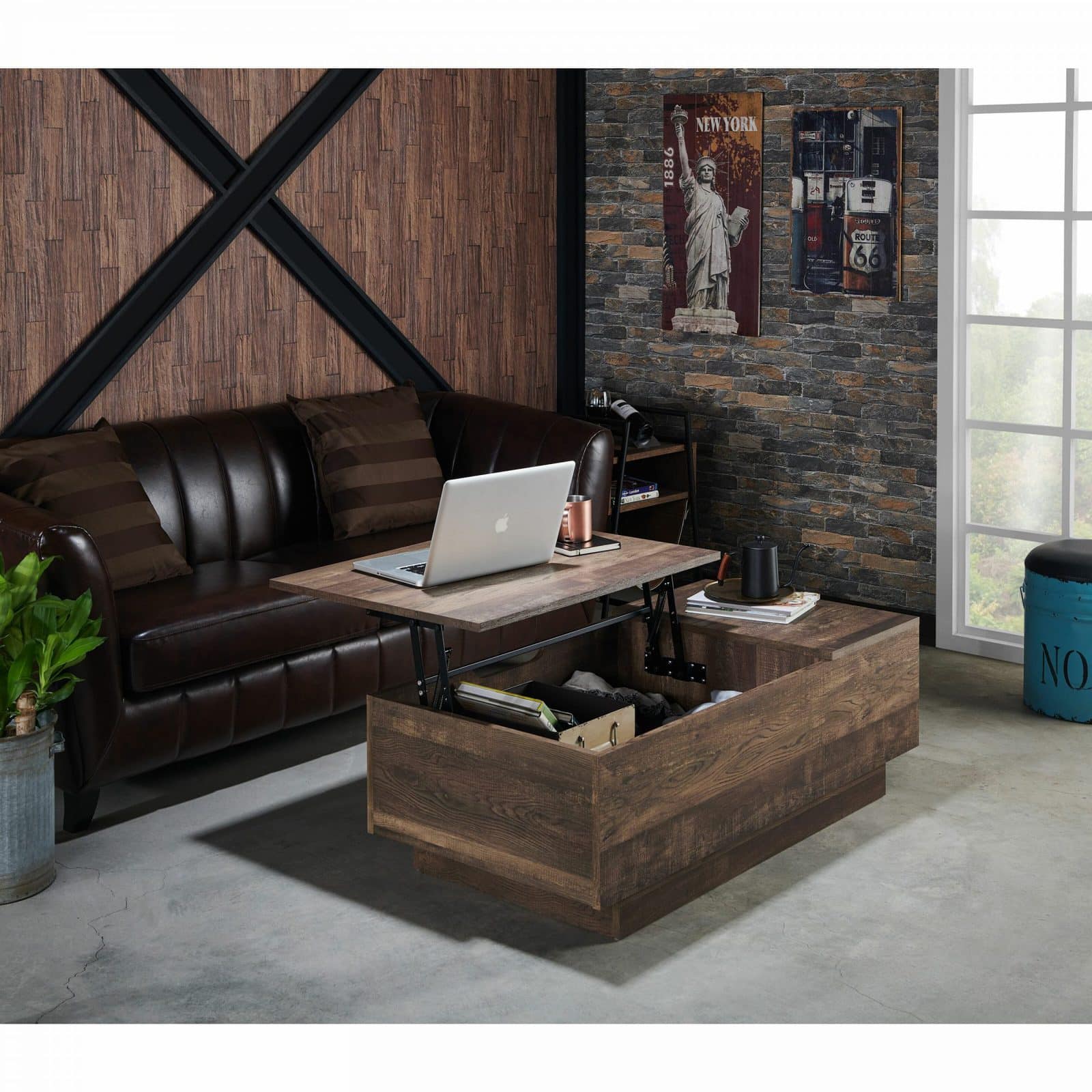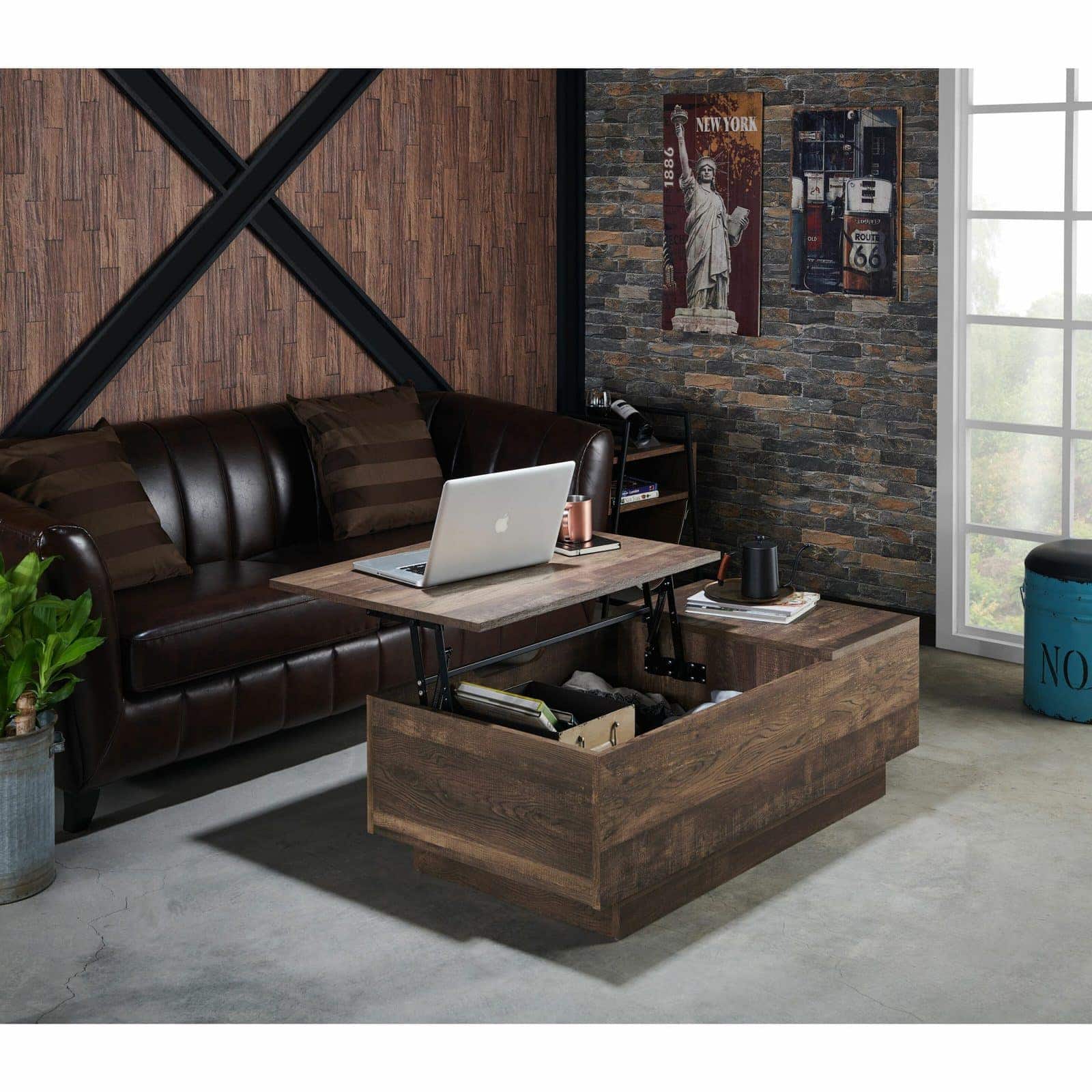 Choosing a coffee table for a black leather couch can be tricky, but you might be surprised to know that there are some great options available! You can create a bold industrial look by pairing your black leather sofa with a chunky wooden coffee table. Try using other raw materials such as exposed brick, concrete, and metal to enhance the industrial vibe.
This clever coffee table lifts up into a desk, making it an excellent choice for anyone who works from home. It also has plenty of hidden storage which will help to keep your living room tidy and clutter-free.
Black and Neutral Color Scheme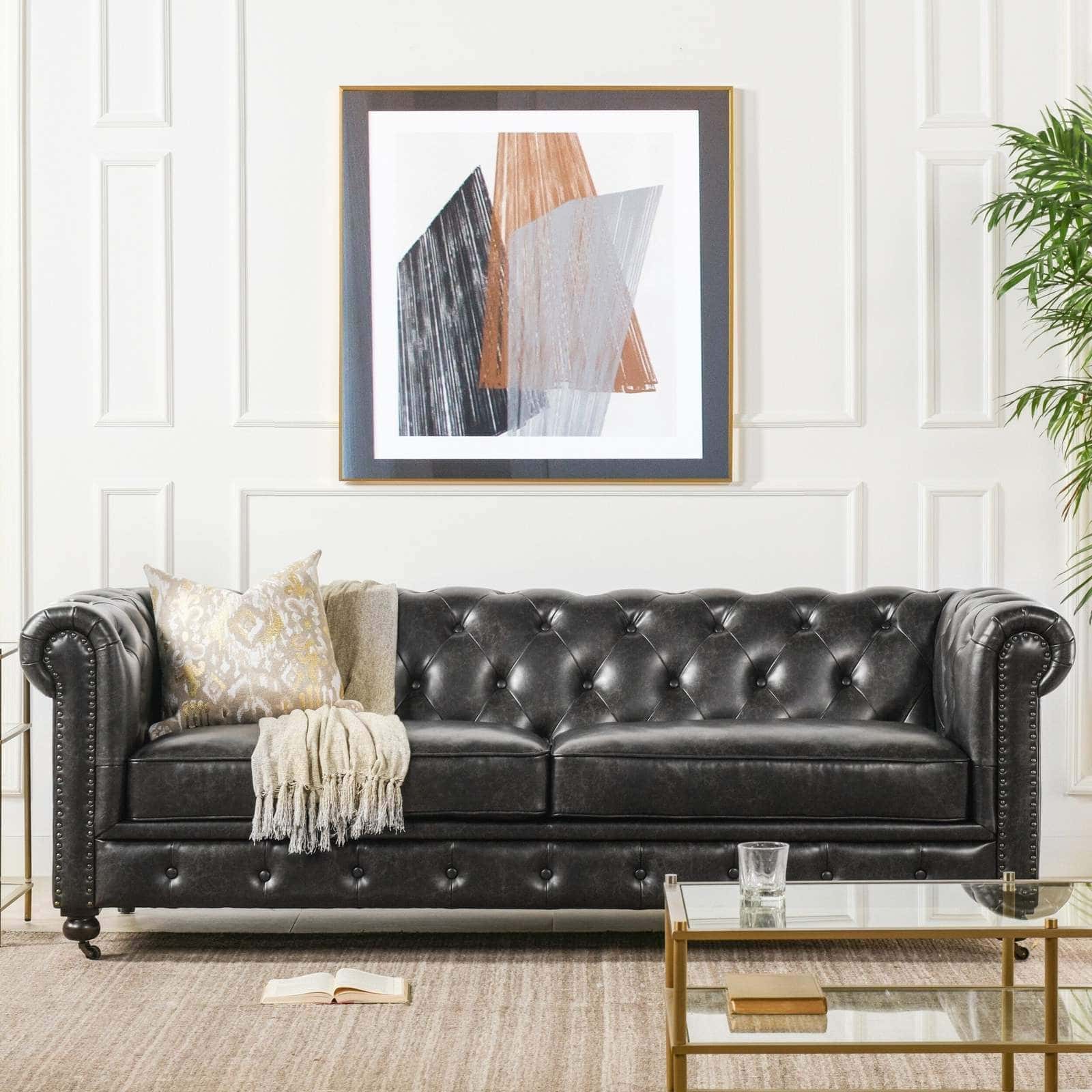 If you're looking for black leather sofa decorating ideas, you can't go wrong with a neutral color scheme. There's something really striking about a neutral color scheme with black accents, making this the perfect choice for anyone with a black leather sofa.
A natural fiber rug will fit beautifully with a neutral color scheme, whilst adding texture and detail to your space. Adding some neutral throws and throw pillows is another great way to bring the neutral color scheme to your black couch.
Royal Blue Walls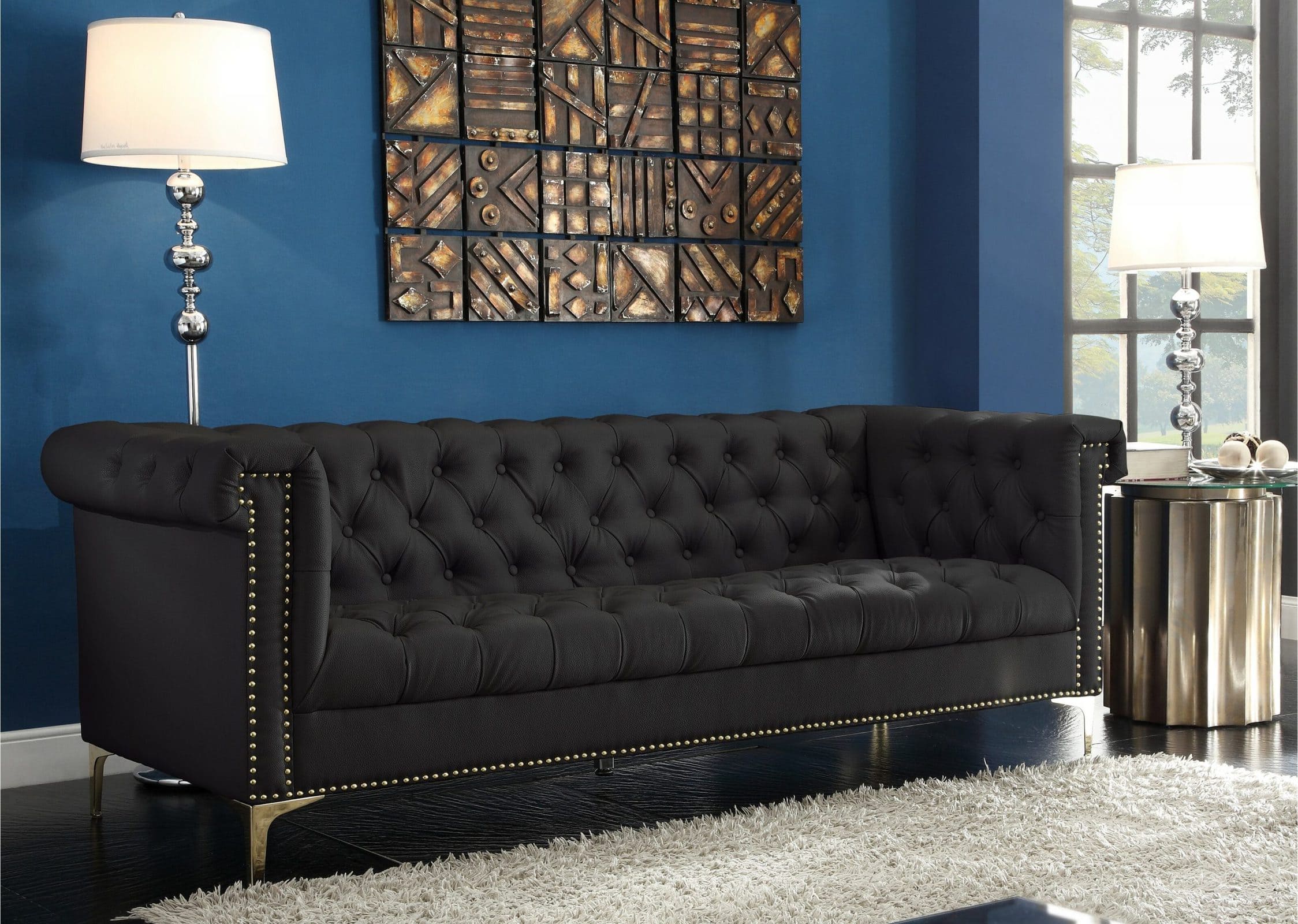 Create a striking look by pairing your black leather sofa with royal blue walls. Blue is a popular color around the world, creating feelings of loyalty, honesty, authority, and trust, as well as evoking feelings of calmness and serenity.
Add in some brass and silver accents and suddenly you've got a very striking design. The silver lamps and elegant brass side table help balance out the masculine elements in this design scheme resulting in a balanced look.
Minimal and Elegant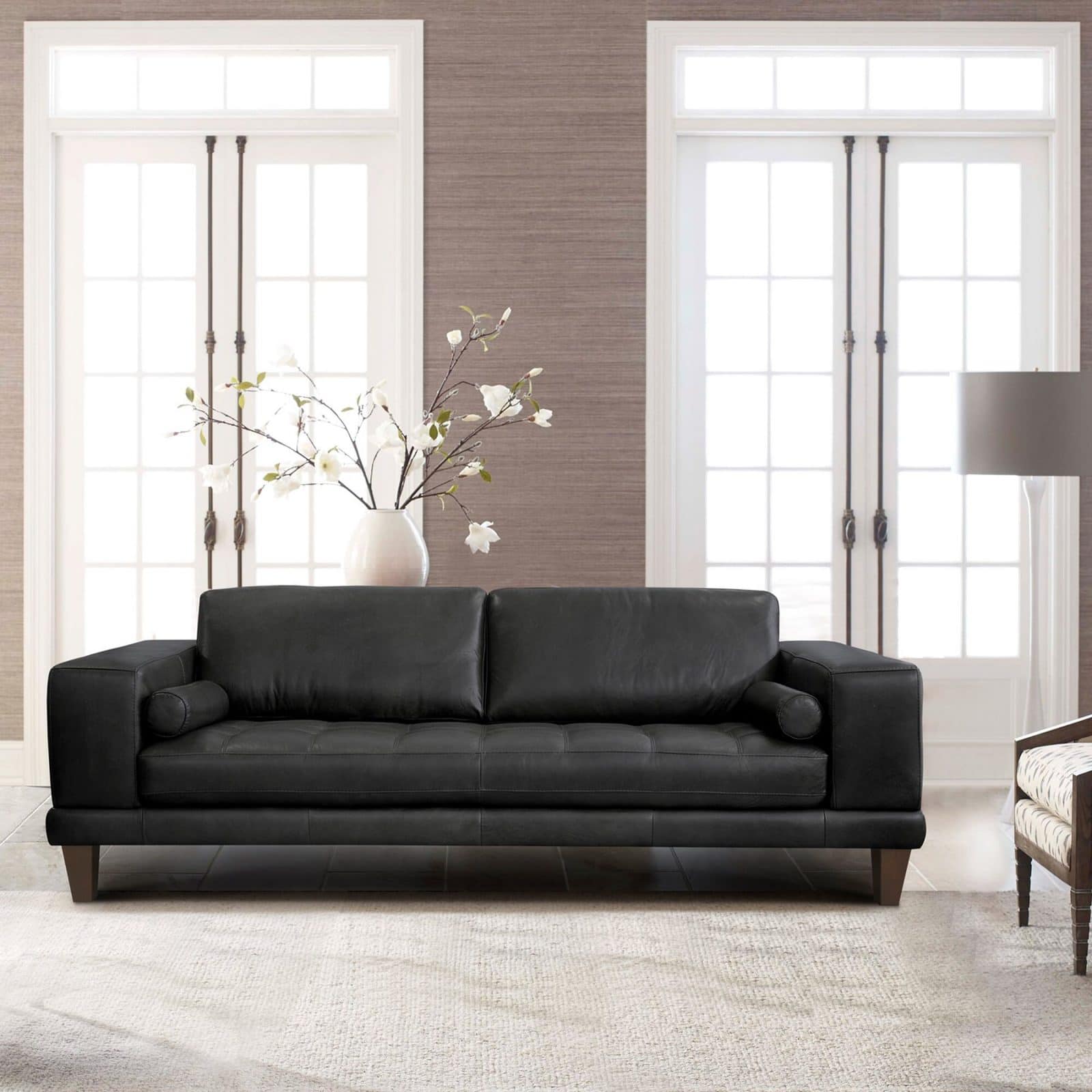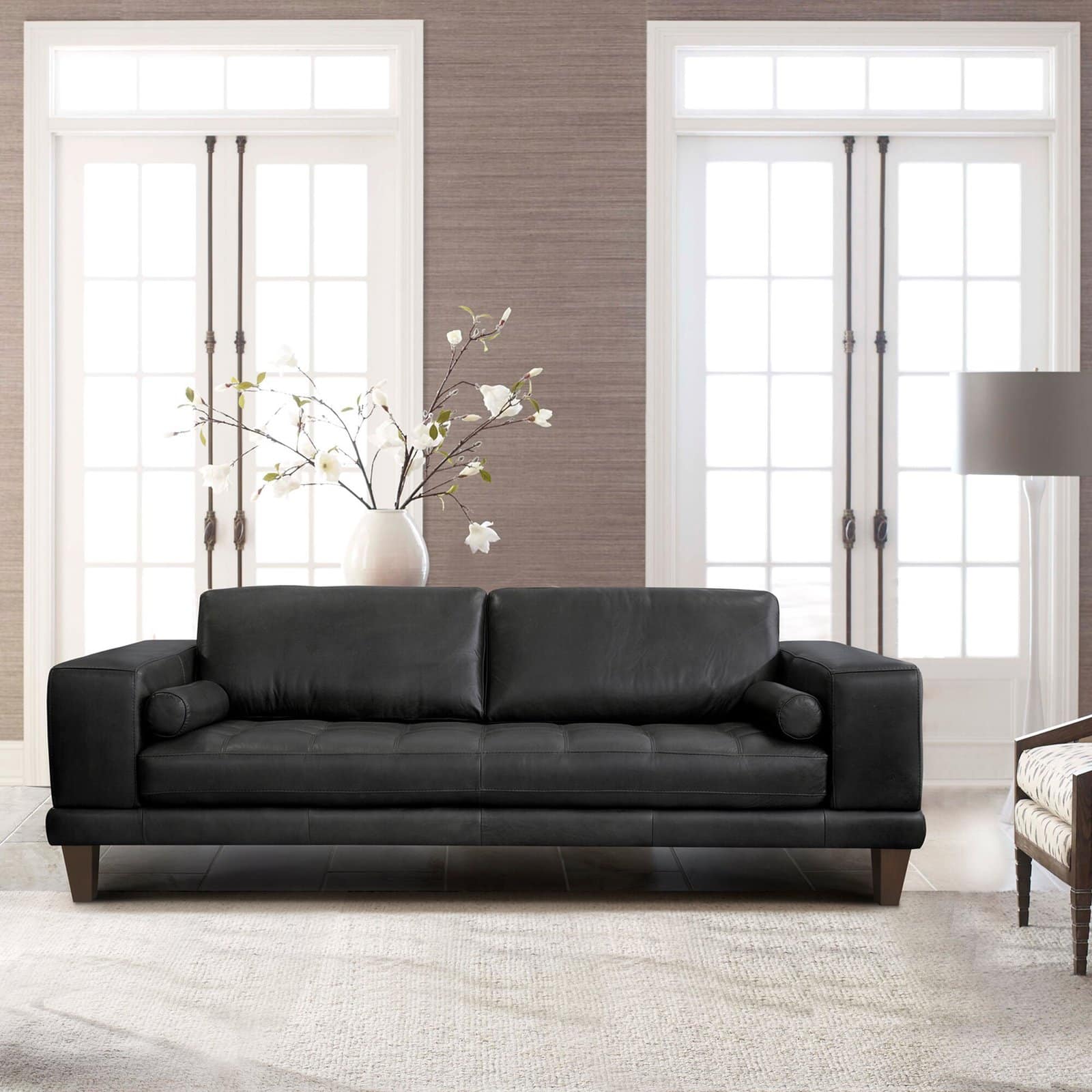 Black leather sofas work really well for minimal interiors. Their bold black color looks particularly striking against white or neutral-colored walls, as well as light flooring and rugs.
If you're going for a minimal design scheme, try using textured wallpaper. This will add texture and depth to your space, as well as making it look and feel more refined. Simple accessories are all that's needed to complement this sophisticated look.
Black and White Art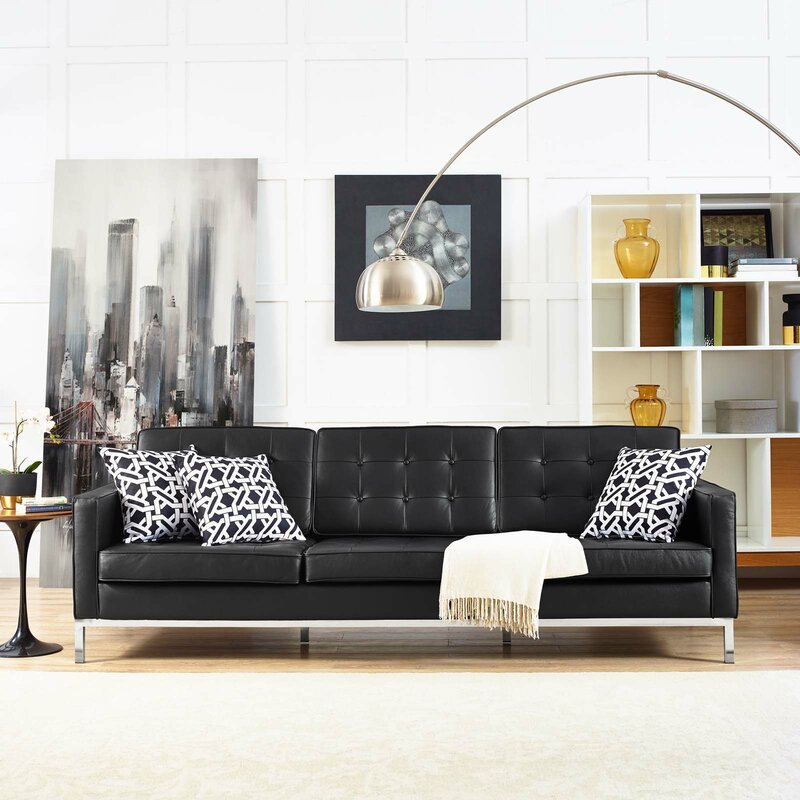 Using black and white art is one of the best ways to create a stylish modern look in a living room with black leather couches. If you're blessed with high ceilings then choose large contemporary art to really make a statement in your living room.
White walls will work well in this case, creating a stark contrast that will allow the artwork as well as the sofa to stand out.
A Vintage Grey Rug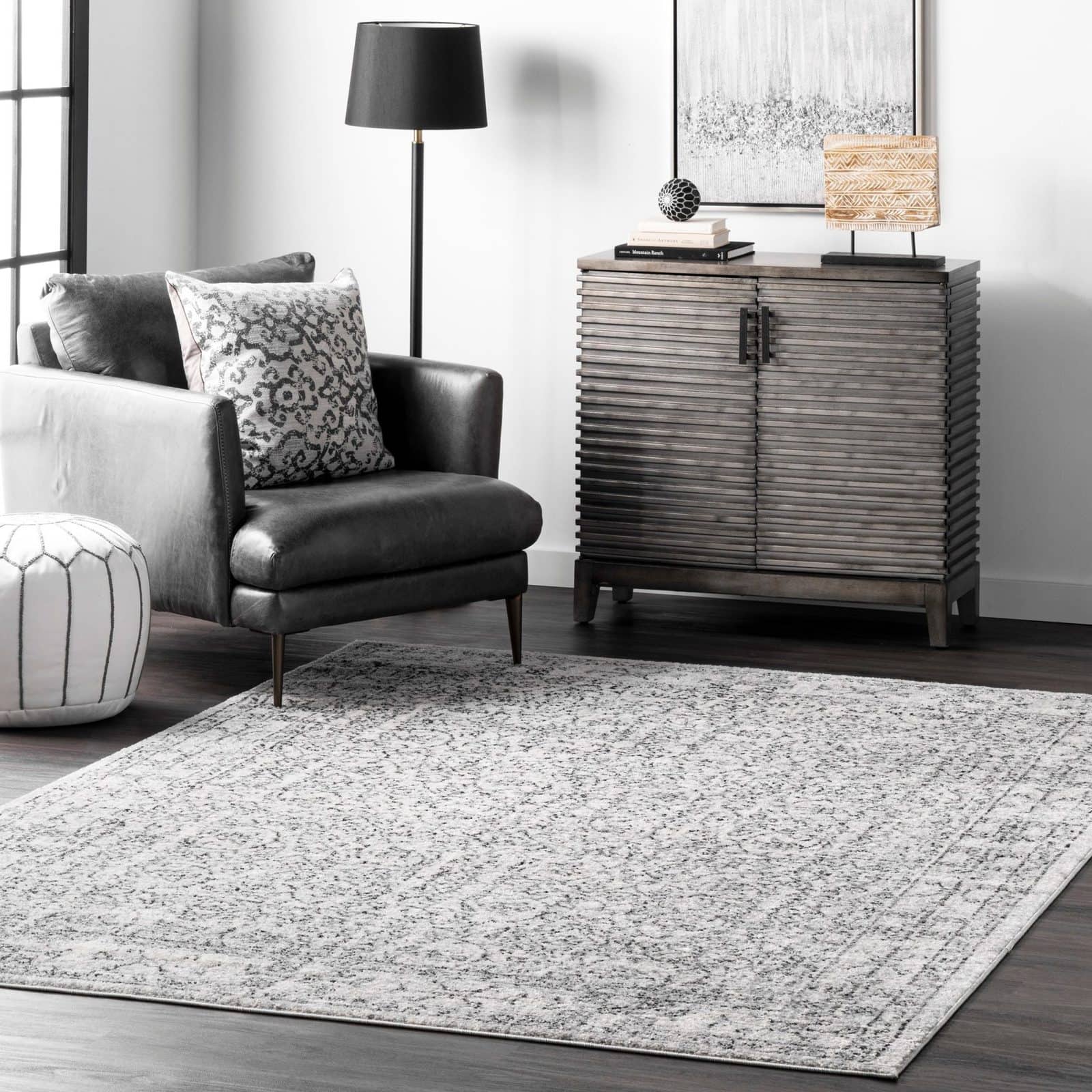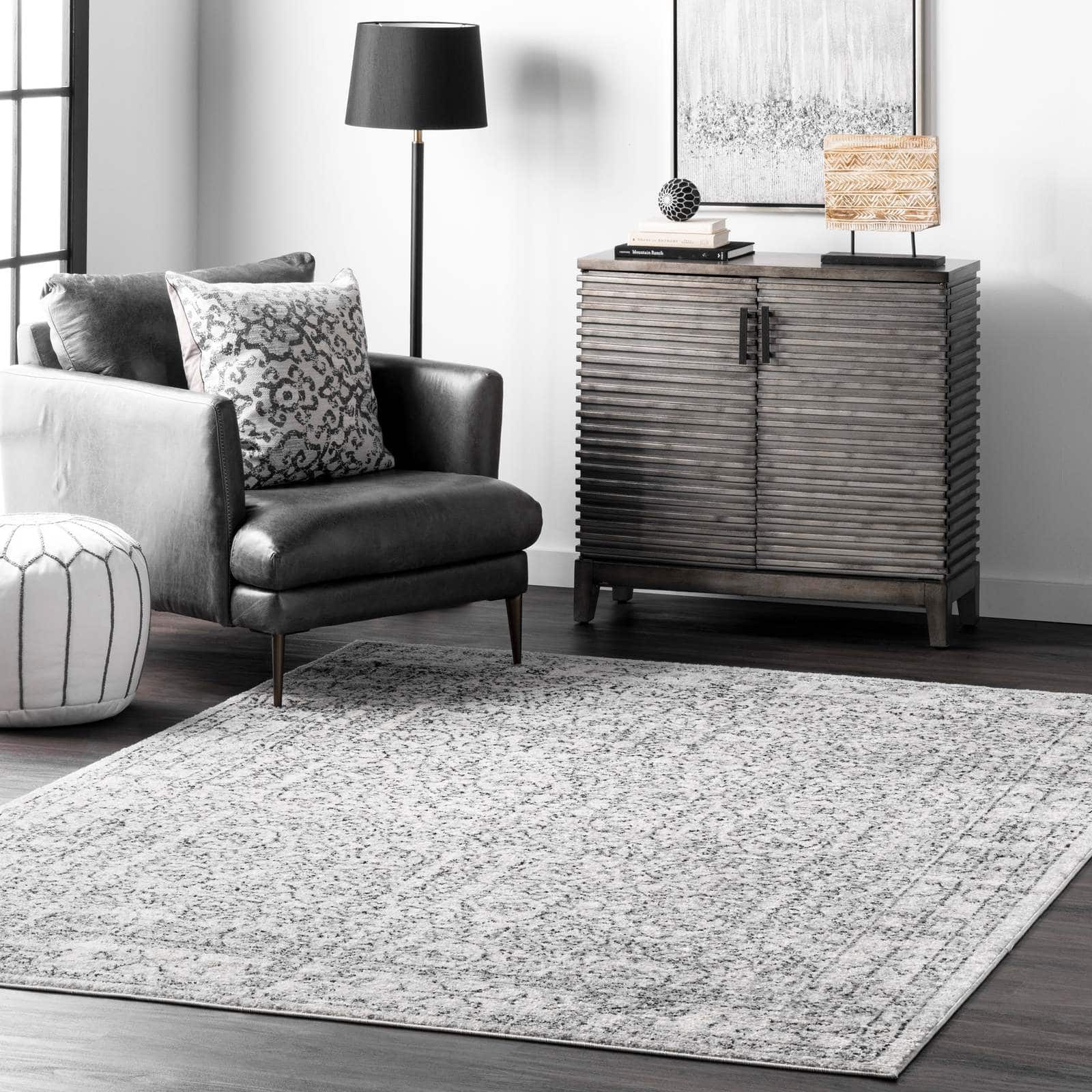 Create a transitional look in your living room by pairing a modern black leather couch with a vintage-style grey area rug. The grey tones of the rug will compliment your black leather sofa, and work well with most color schemes—although the grey color scheme pictured works particularly well!
Vintage-style rugs are a great investment. This rug is perfect for high traffic areas such as living rooms, and is easy to clean, making it the ideal choice for families with kids and pets.
All Beige with Black Accents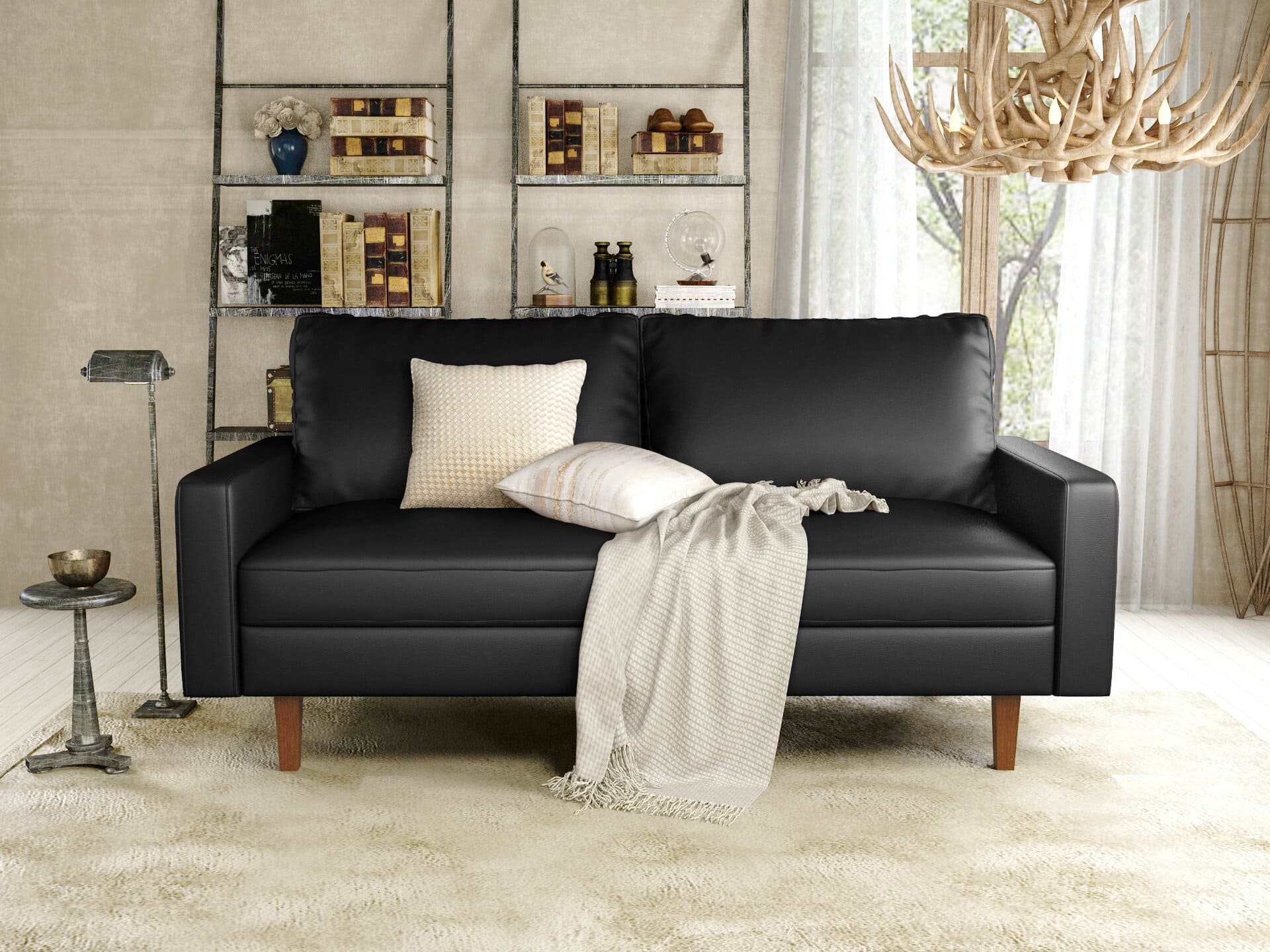 If you want to create a magazine-worthy living room, try decorating in all beige with black as an accent color. This will enable your black leather sofa to stand out as a feature in the room.
A beige rug, walls, curtains, light fixtures, and accessories all work together to create this stylish space. While the black metal shelves behind mirror the black of the sofa. What a great look!
Don't Forget Plants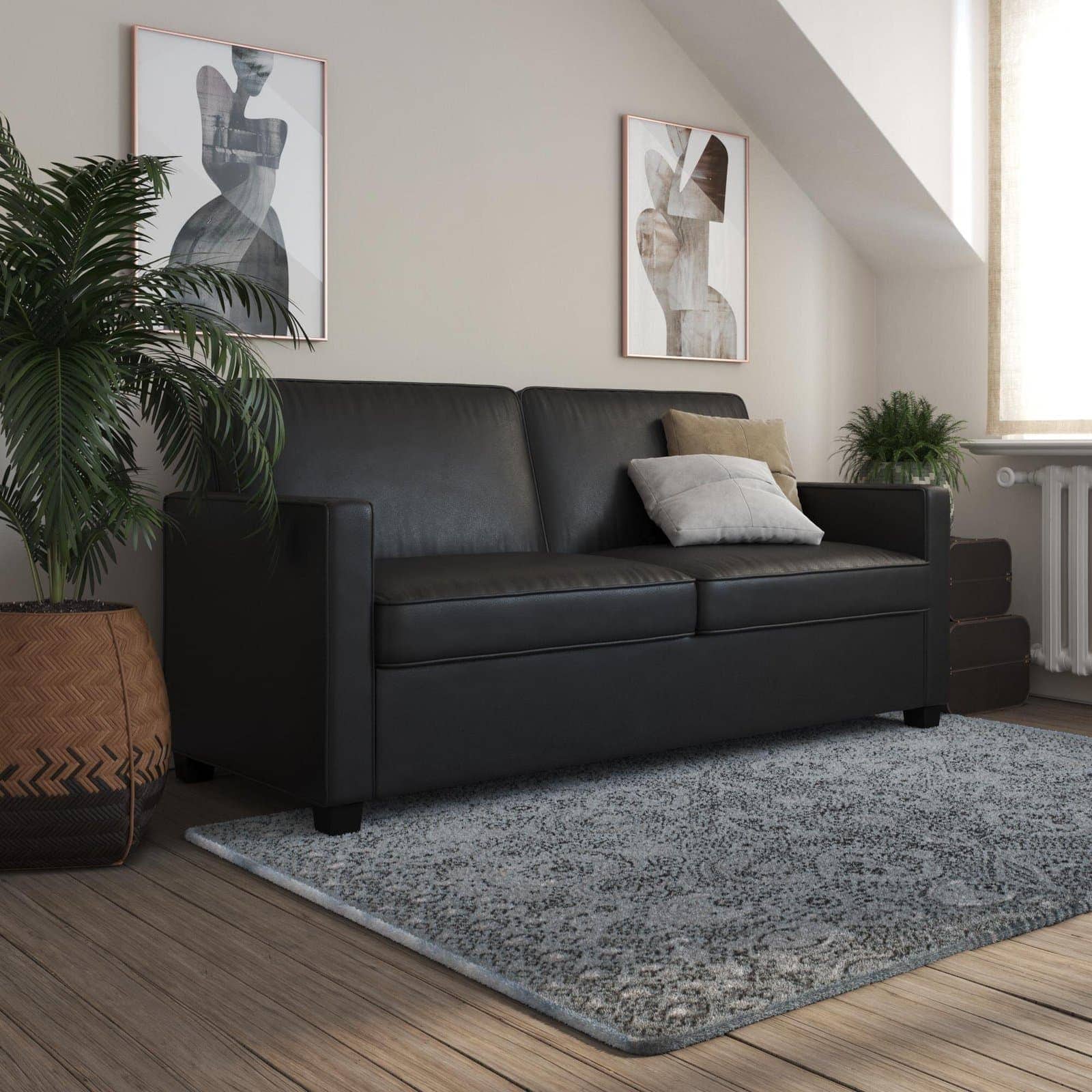 Large leafy indoor plants will enhance almost any interior design scheme and are one of the best ways to decorate a living room with a black leather sofa. As well as looking lovely, house plants will actually make your home a healthier place to live by cleaning your air.
The color green naturally makes us feel relaxed, so adding green leafy plants will be beneficial to your wellbeing too. Some of the best large houseplants include the Fiddle Leaf Fig, Kentia Palm, Rubber Plant, Snake Plant, and more.
Use Concrete For an Industrial Look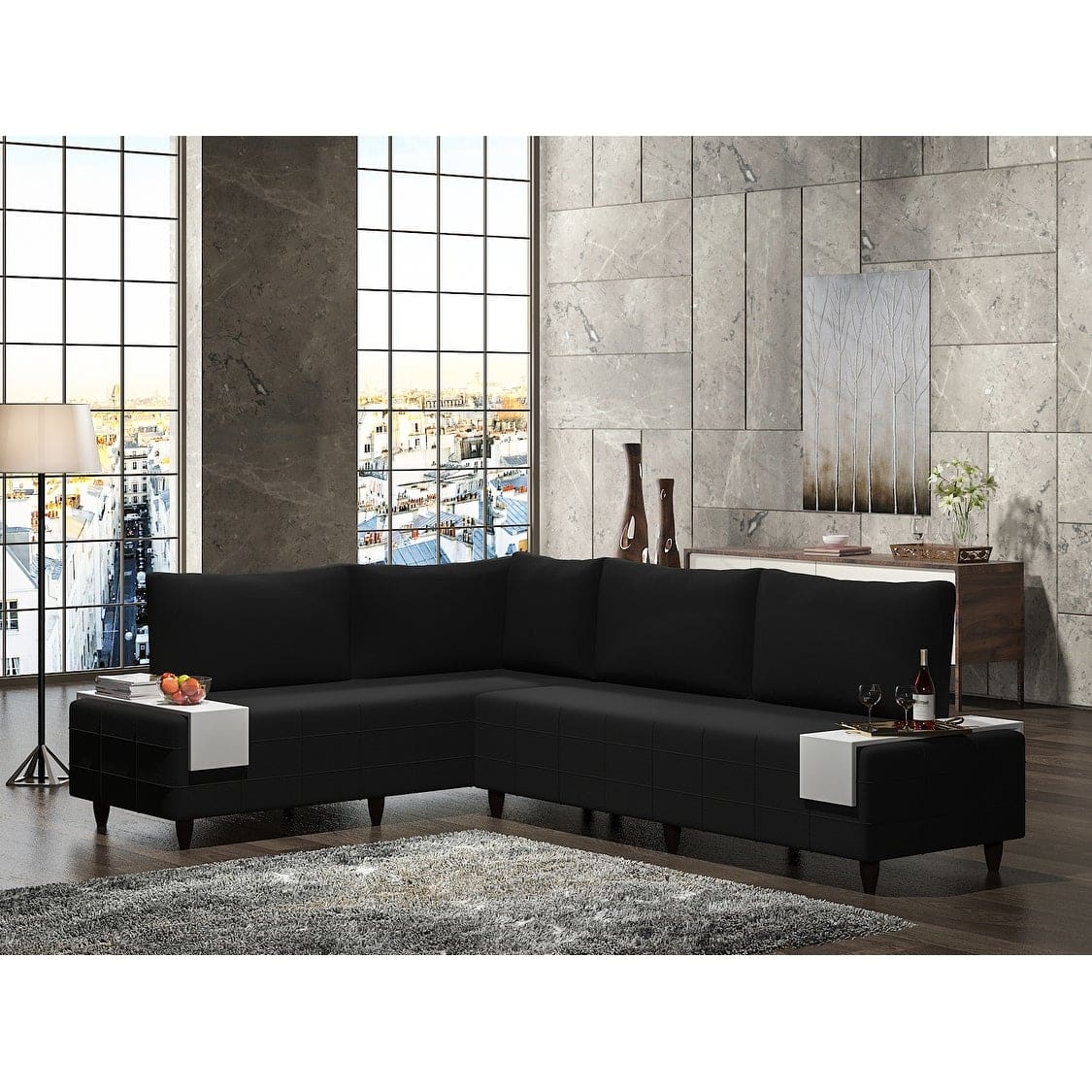 Black leather sofas work really well with industrial interiors and whether you live in a big city apartment or a smaller townhouse, you can make this look work for you. If installing concrete walls is unrealistic for you, you might want to try a concrete effect wallpaper or wall mural.
Alternatively, you can bring concrete accents into your living room by using accessories, such as bowls, vases, ornaments, and sculptures that are made of concrete.
Add Color With a Distressed Area Rug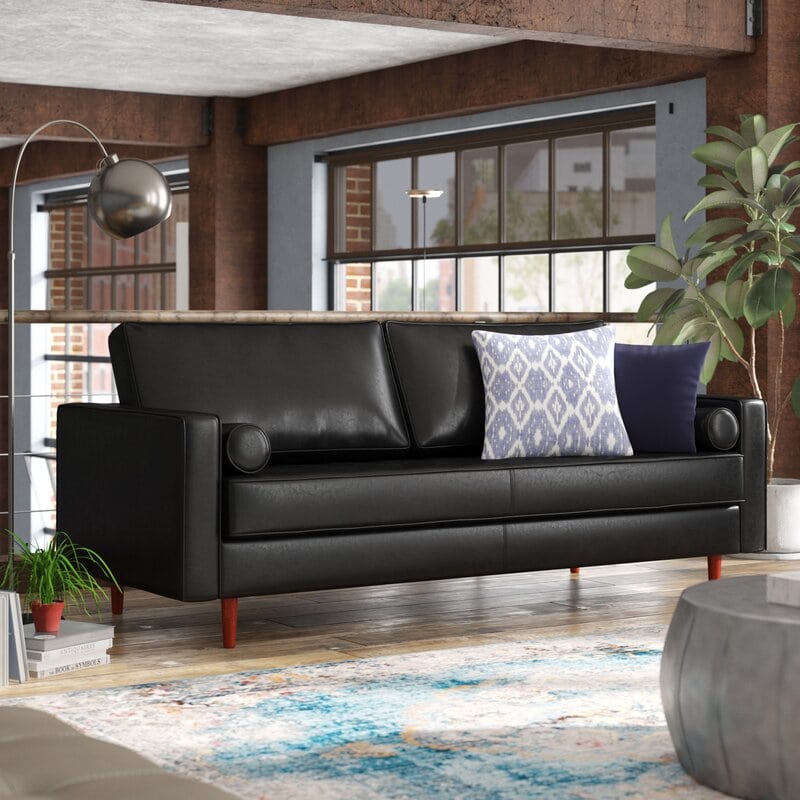 If you've been searching for rugs for a black leather sofa and you want something with a bit more color, why not try a distressed vintage-style area rug. The vintage style of the rug will go well with a black leather sofa, and it will add some color to your space without being too overpowering.
You can enhance this look by choosing throw pillows and other accessories in the same accent color as the rug.
Mix Black and Brown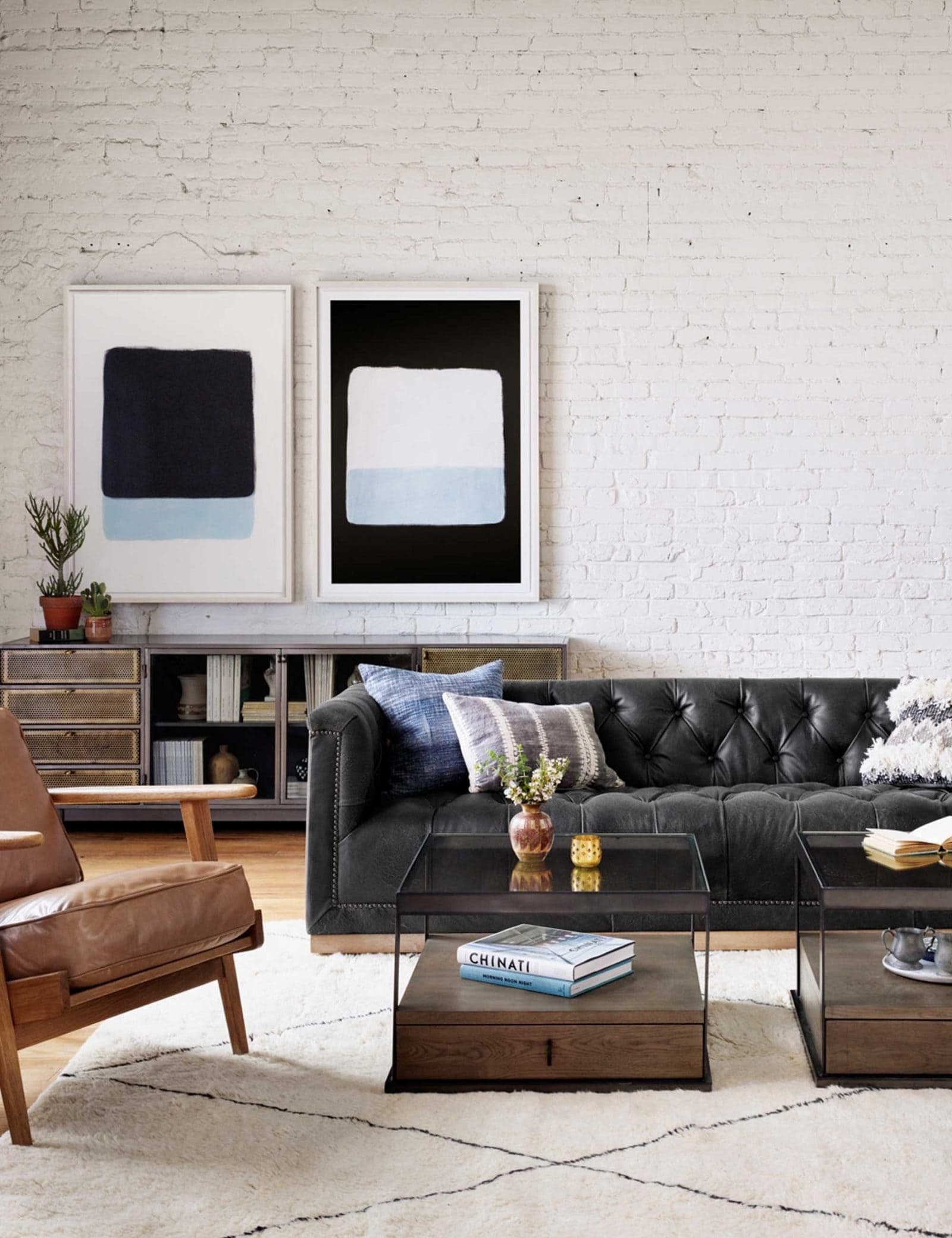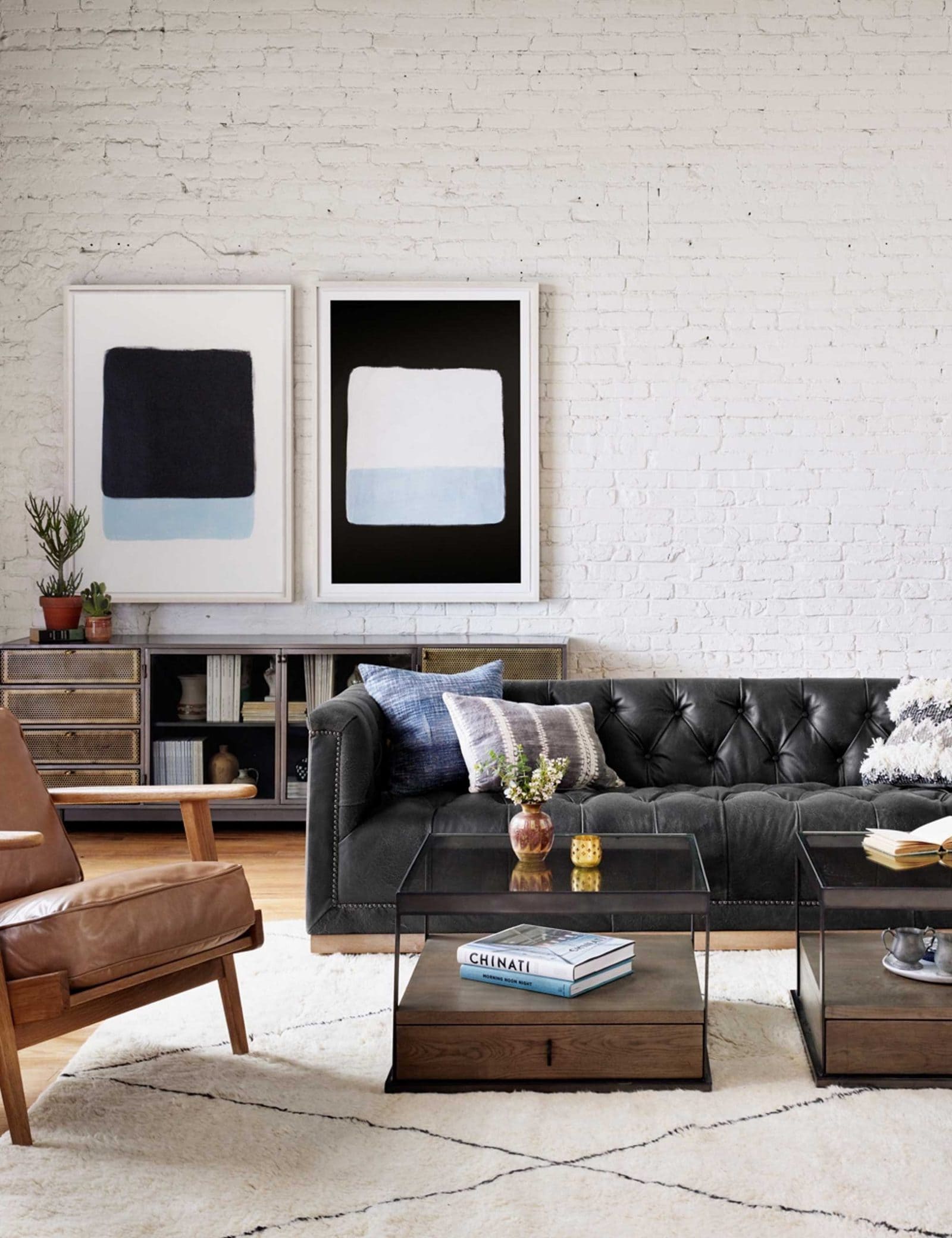 When used in the right way, black and brown together can create a uniquely stylish look. Try pairing your black leather sofa with some brown leather armchairs for an effortlessly cool rustic look.
If you're on the hunt for a coffee table for a black leather couch, then a chunky brown wood, metal, and glass coffee table like the one pictured is the perfect choice for this design scheme!
Mid-Century Modern Decor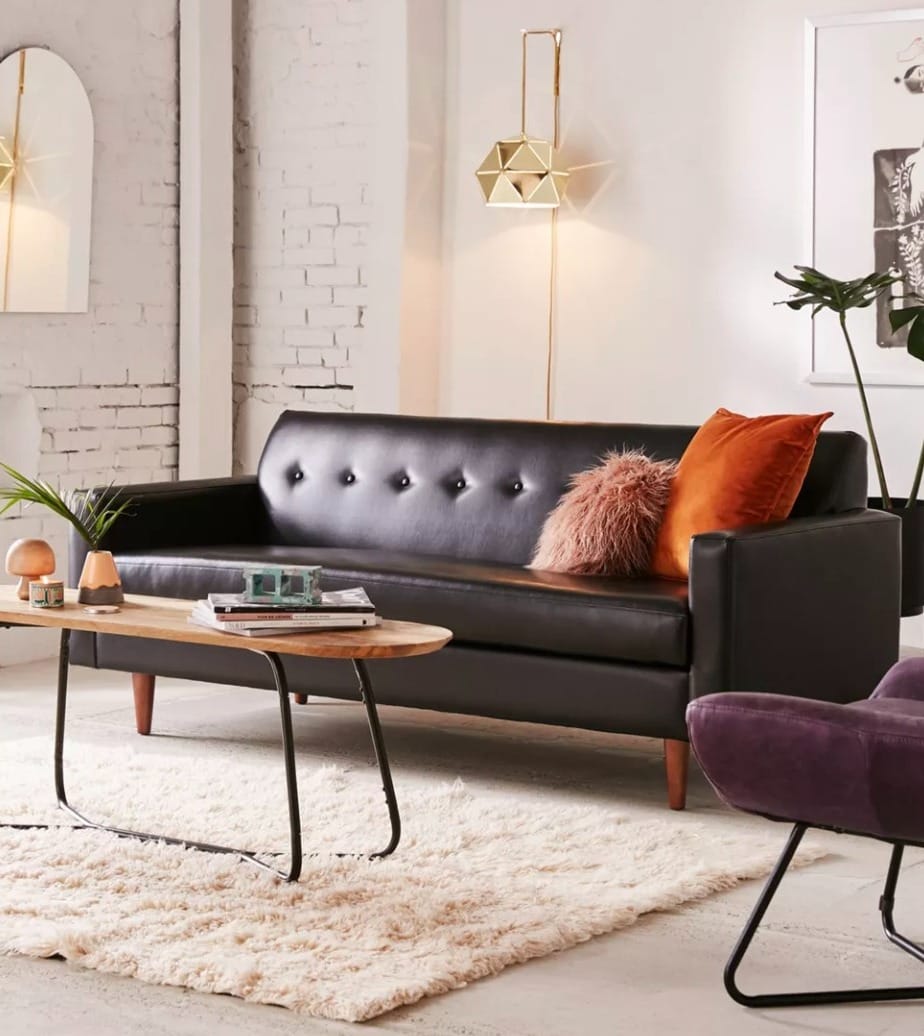 One of the most fun options when it comes to black leather sofa decor is the Mid-Century Modern style. The beauty of this style is its versatility, as this young and stylish look can work in a variety of different color schemes.
To achieve this look with your black leather sofa, choose a mid-century modern rug in a light color, and a natural wood coffee table in a typical mid-century style. Add some bright bold cushions in a variety of textures, and finish off the look with a stylish floor lamp.
Final Thoughts…
When it comes to black leather sofa decorating ideas, there's a lot of great options available for you! Consider the style of your home when choosing how to decorate your living room.
If you live in a modern apartment then the industrial or modern styles will work well. On the other hand, if you live in a more traditional building you might want to consider one of the more traditional looks we have featured here. Hopefully, these ideas have given you all the inspiration you need to create the perfect design scheme to suit your black leather sofa!