Decorated Life is reader-supported. When you buy through links on our site, we may earn an affiliate commission. Learn More
20 Wall Mural Ideas for Your Home
If you've been longing to make a statement in your home, you will be pleased to know that there are loads of gorgeous wall mural ideas to choose from. With self-adhesive backings that leave no trace when removed, wall murals are a convenient, and stunning way to decorate any room in your home.
In this article, we are sharing our favorite wall mural designs. From mountains and landscapes to underwater scenes and geometric designs, there's something for everyone here!
Mountain Lake Sunrise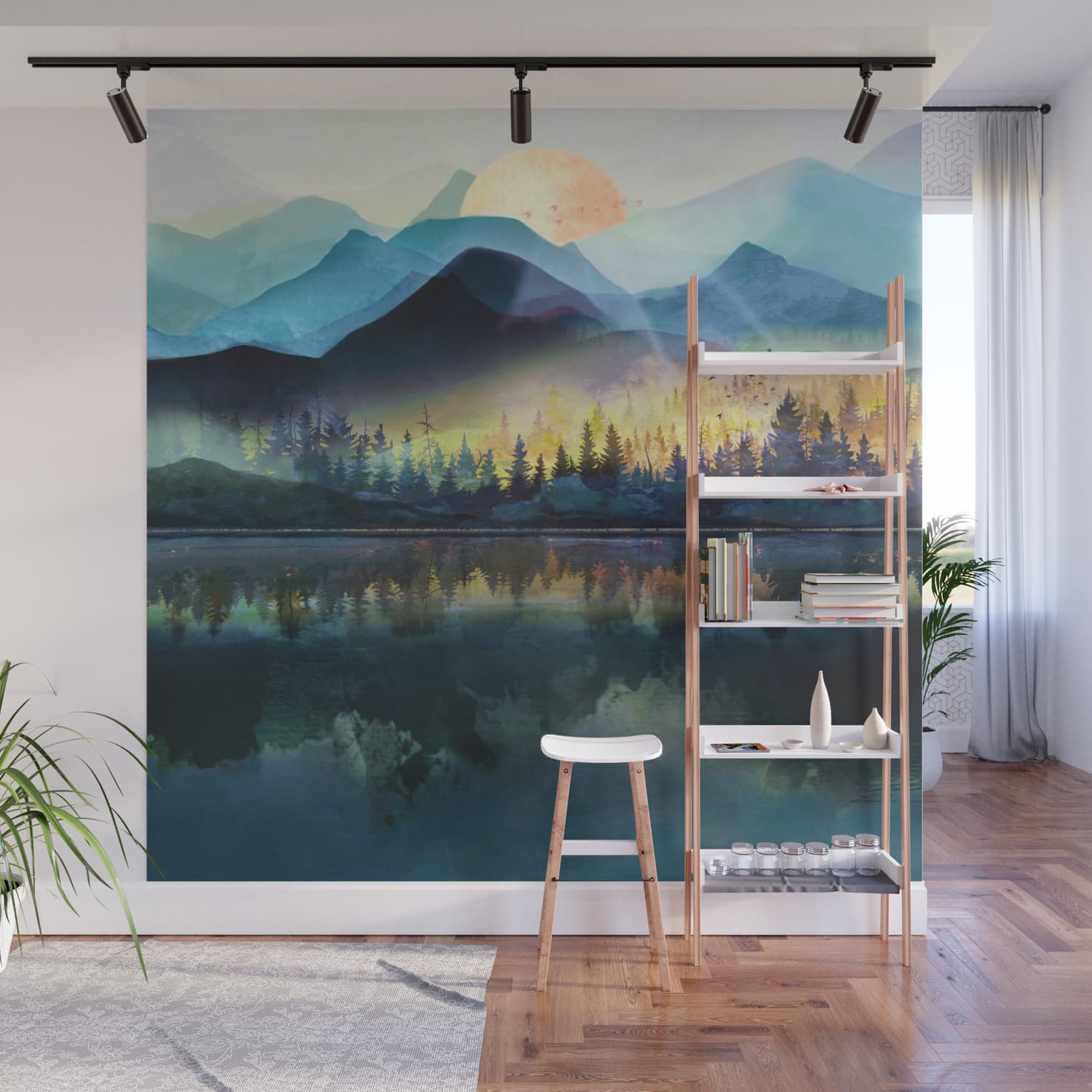 Landscapes are the most popular images for murals, giving depth and beauty to your living space. Here we have an epic sunrise vista over a mountain lake. The cool crystal clear water will give a calming influence to your home, with gorgeous use of color and scale. If only this was your real window view!
Dark colors are more pronounced in this mural so will need a bright, light wall to place against. The watery theme would really suit a bathroom or kitchen.
Rolling Fields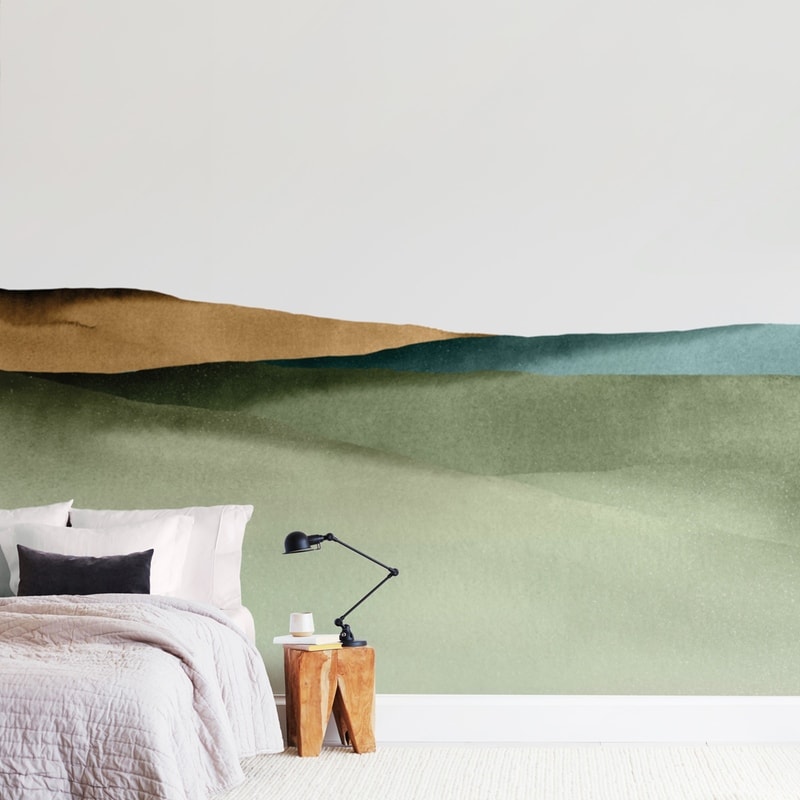 Superb tones in this print from Little Valley Studios. The composition brings a real sense of calm and wonderment. I would love this in my bedroom, with a window open to help transport me to the breezy plains and drift away to sleep.
The soft tones in this wall mural make this suitable for most decors, but it would work particularly well in a nursery or master bedroom – or anywhere you want to create a calming environment.
Flowers in Bloom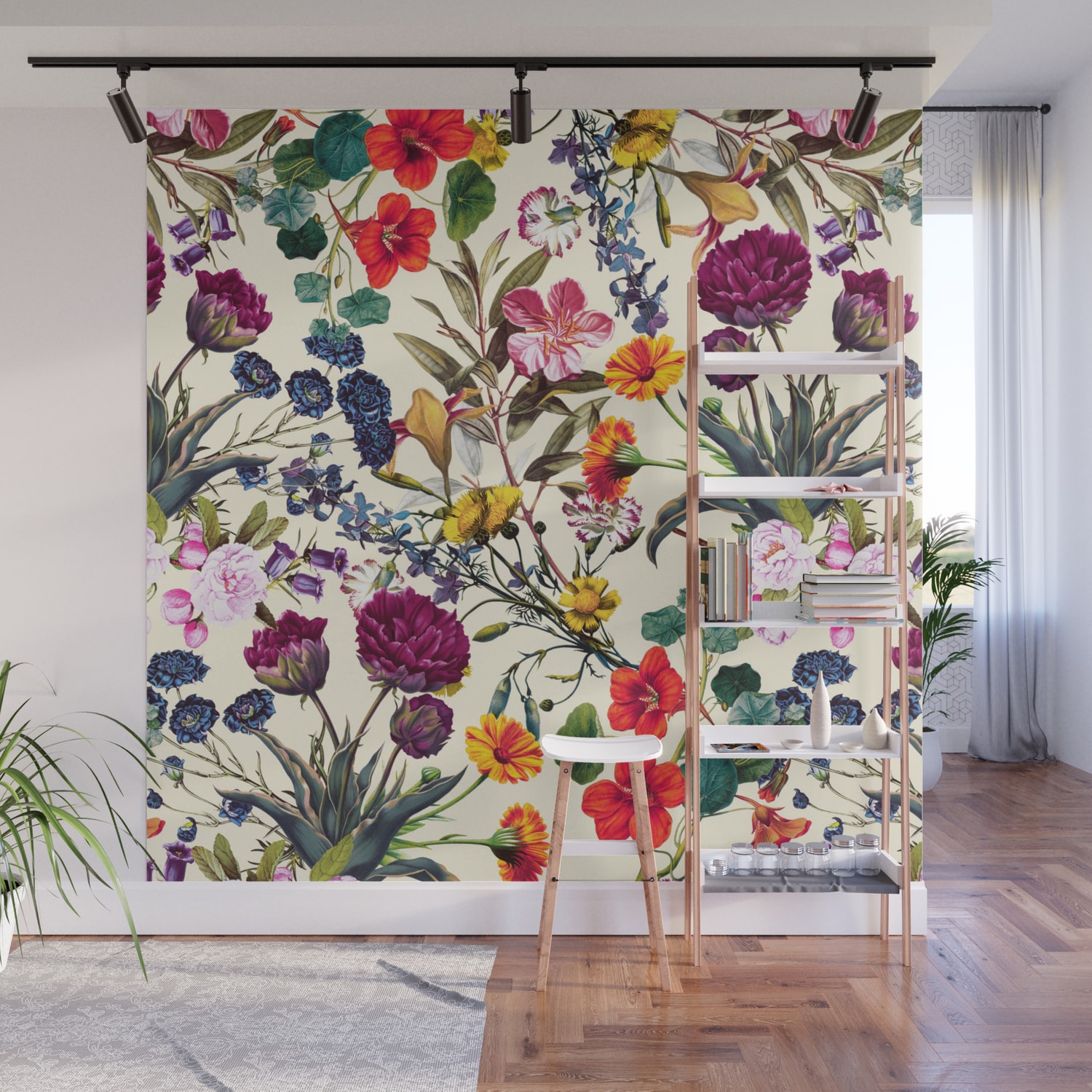 Floral designs are a great way to bring color and life into your home. What better way to have some fresh flowers around you every day than this sensational wall mural. The budding petals really burst off the wall with vibrancy and color.
Since this wall mural design is busy and colorful, allow it to stand out by keeping the rest of your interiors more minimal.
A Country Scene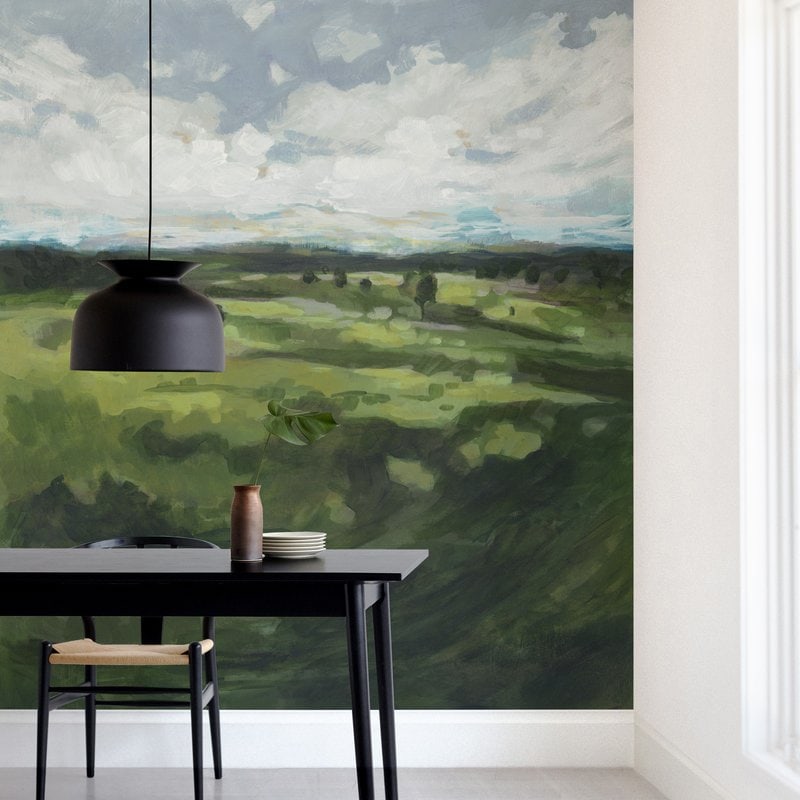 Here is a real treat for country dwellers, or city slickers dreaming of the great outdoors. This bold impressionist illustration really takes you there, with a dreamy contrast of colors on the horizon.
This could be great in a study or dining room, perhaps with some dark hardwood furniture to really bring out those greens.
New York City Wall Mural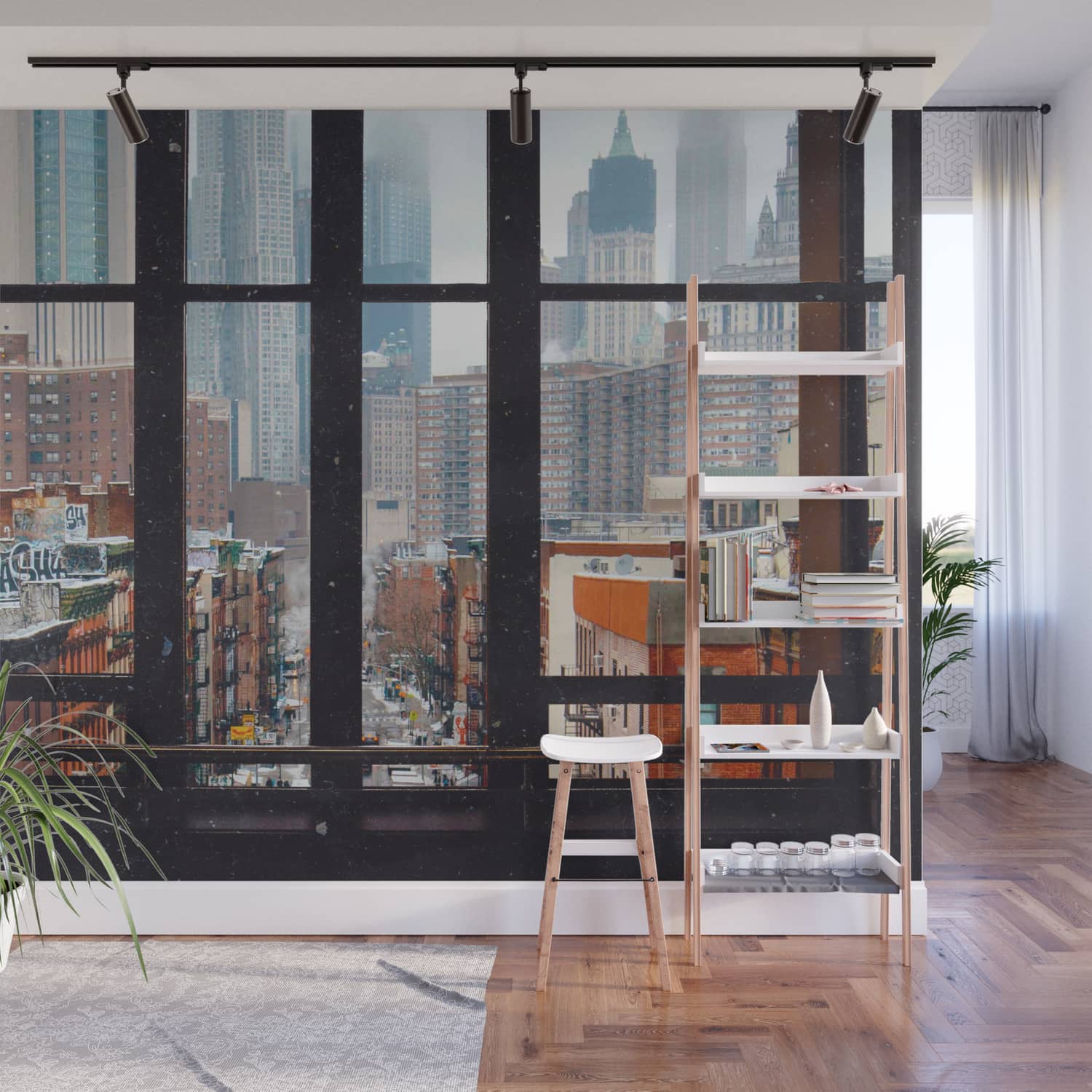 Cityscapes are a very popular choice for accent wall murals. What could be more iconic than the big apple itself? I love that the artist has included the window frames in this piece. With a moment frozen in time from the city that never sleeps.
This would work incredibly well on an empty wall in an urban apartment, placed carefully you may even trick yourself into thinking it's real.
Ice Canyon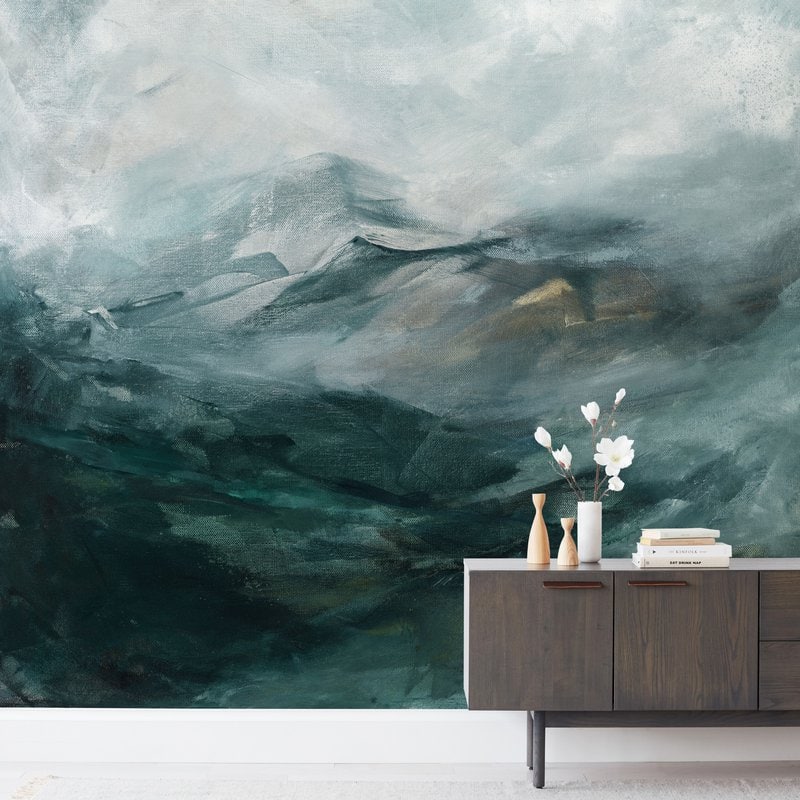 A slightly chillier landscape in this epic glacial scene. Painted with light reflection in mind, some carefully placed downlights will highlight the frosted sky. I would love this in a cozy bedroom to make me want to bury myself deeper in the duvet.
A deep-colored rug or wooden flooring beneath this painting would really compliment the deep blues in this stunning wall mural.
Neon City Blues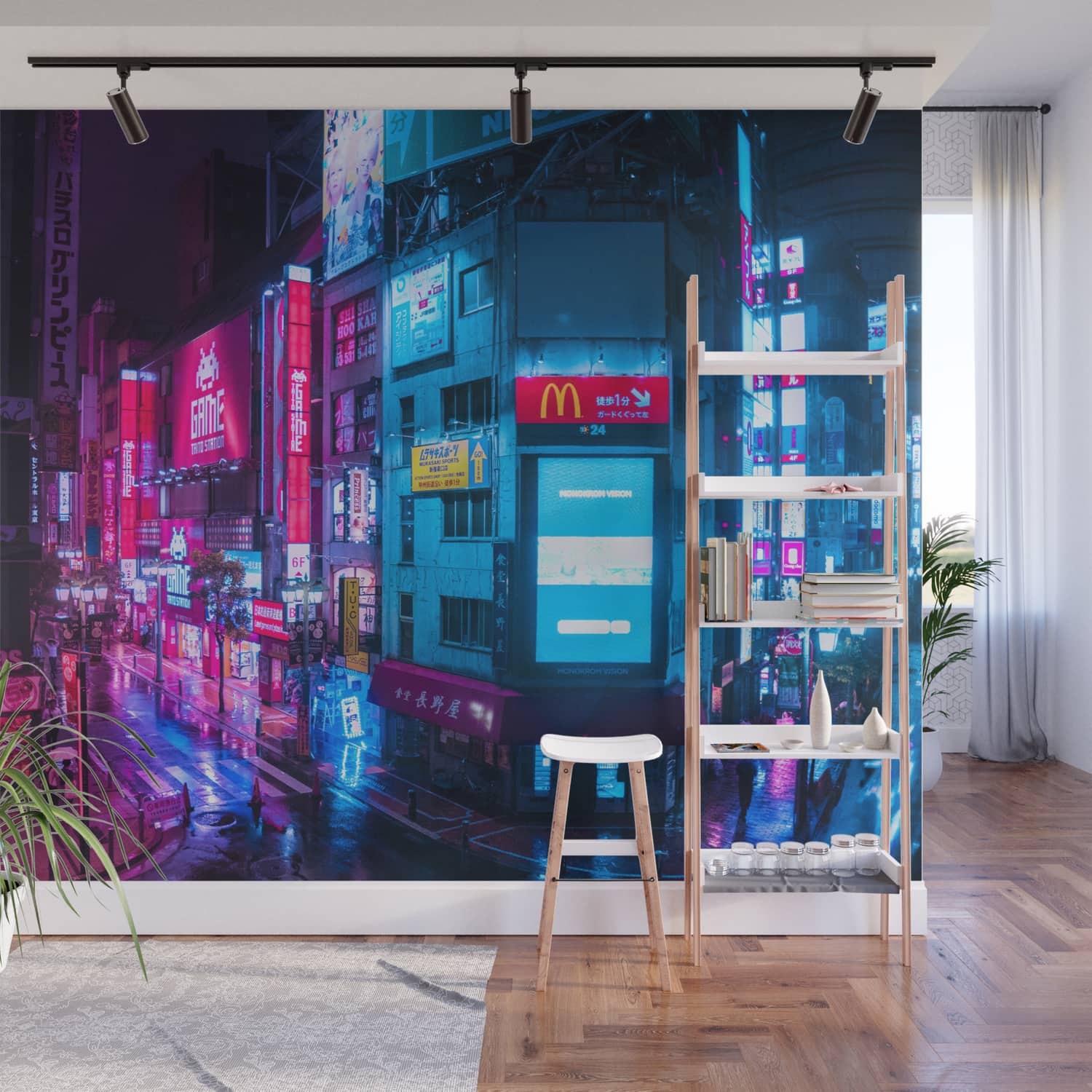 This image has captured the glorious colors you'll find in a modern City center in the rain, with a dark sky and watery neon reflections bouncing off the rain-soaked streets.
Unusually, the artist has captured a moment with no signs of life, titled "post-apocalyptic neon city blues, this was clearly no accident, and you can let your imagination decide why that might be. Like most cityscapes, this will be perfect in your urban apartment living space.
Poppy Field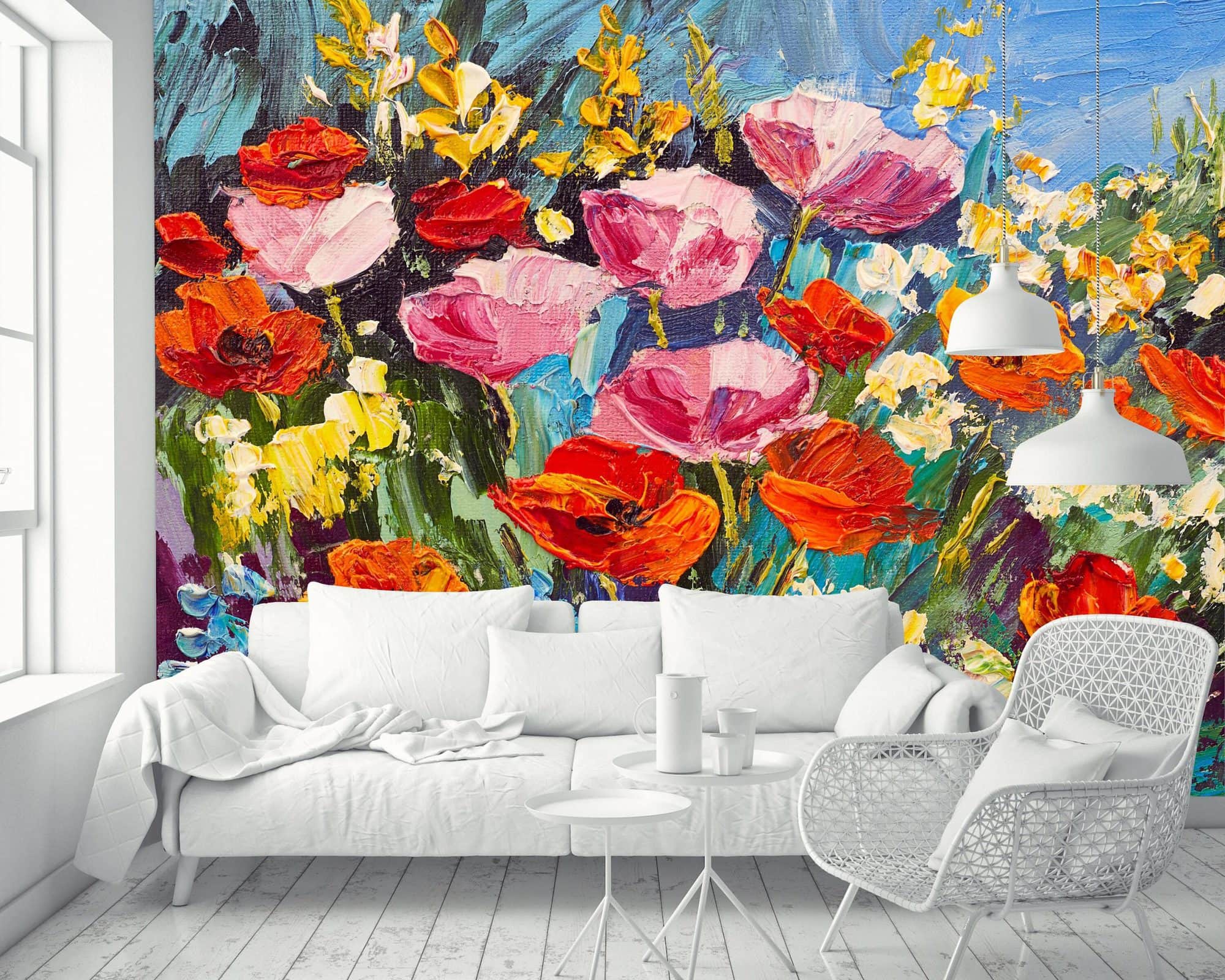 This striking oil painting looks so immersive blown up to these proportions, I feel like an ant looking from this point of view. This really maximises the effect you get from wall murals, giving you so much impact you just wouldn't get with wallpaper.
The towering poppies are literally bursting above the grass in a cascade of colors. As pictured, this would go beautifully in a white themed lounge or drawing room.
London Skyline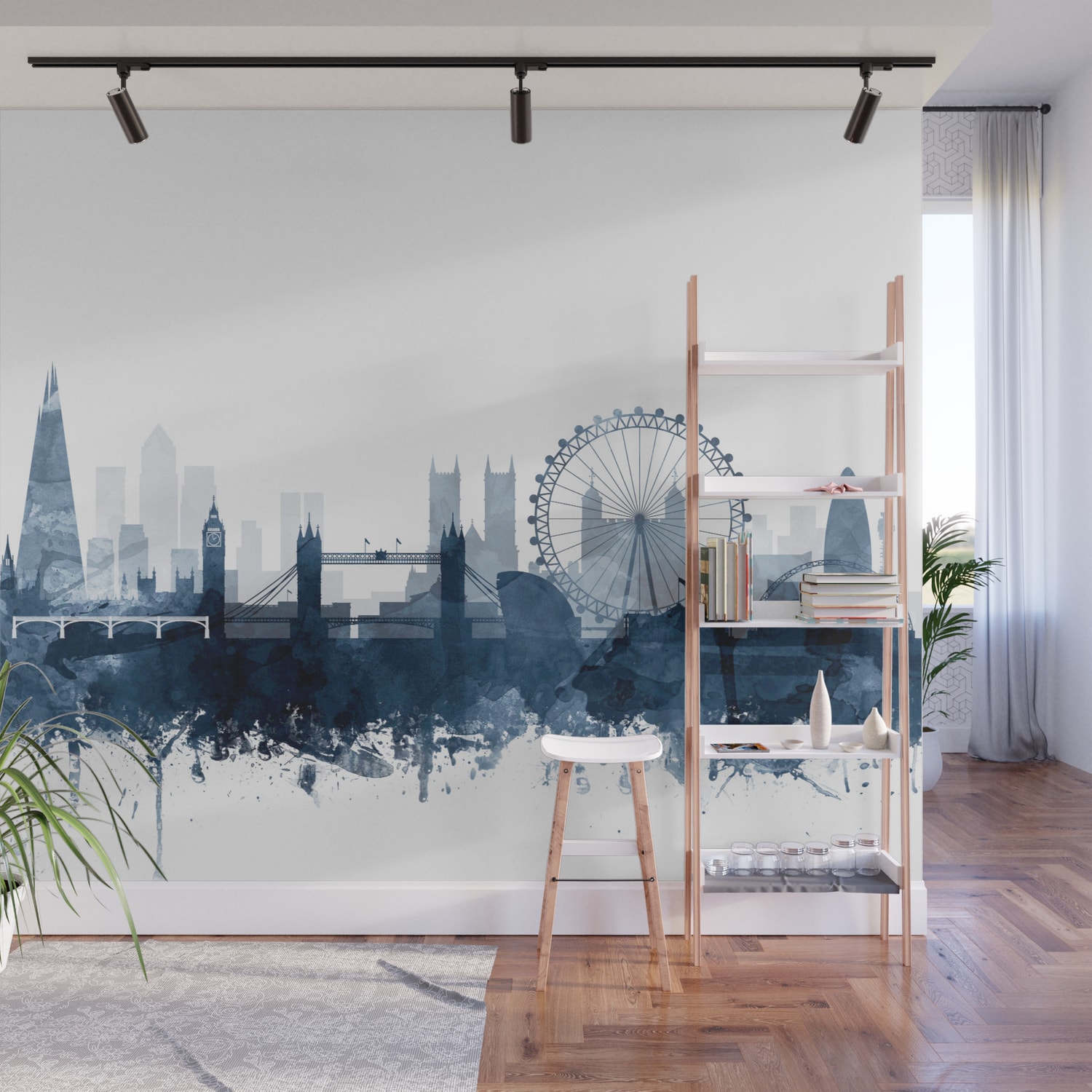 Another iconic skyline is easily recognizable as the Big Smoke. Lots to remind you of the historic capital, from the old Tower of London to the modern Shard. The inky colors used remind me of the great literature that comes from here, from Shakespeare and Dickens to Bowie and Elton John.
Superb contrasts in this print, dark blues and greys against white walls are a must.
Sunset Countryside Tree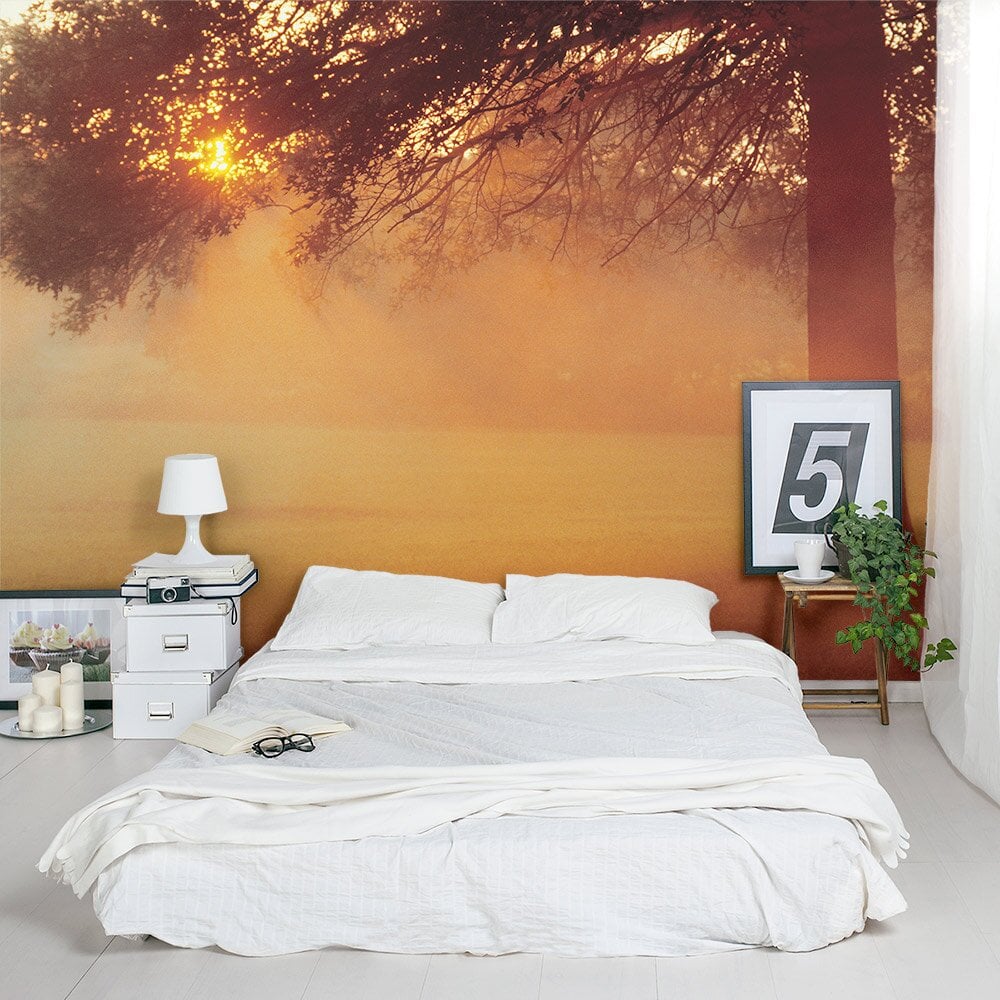 This beautifully captured scene lends itself to some wistful thinking and mindfulness. I feel calmer immediately just looking at it. You can almost taste the sunset haze in the air. Perfect for a library or study room.
Golden brown and yellow hues in this piece would suit a deep beige carpet or flooring, or any type of wooden furnishings.
Retro Chic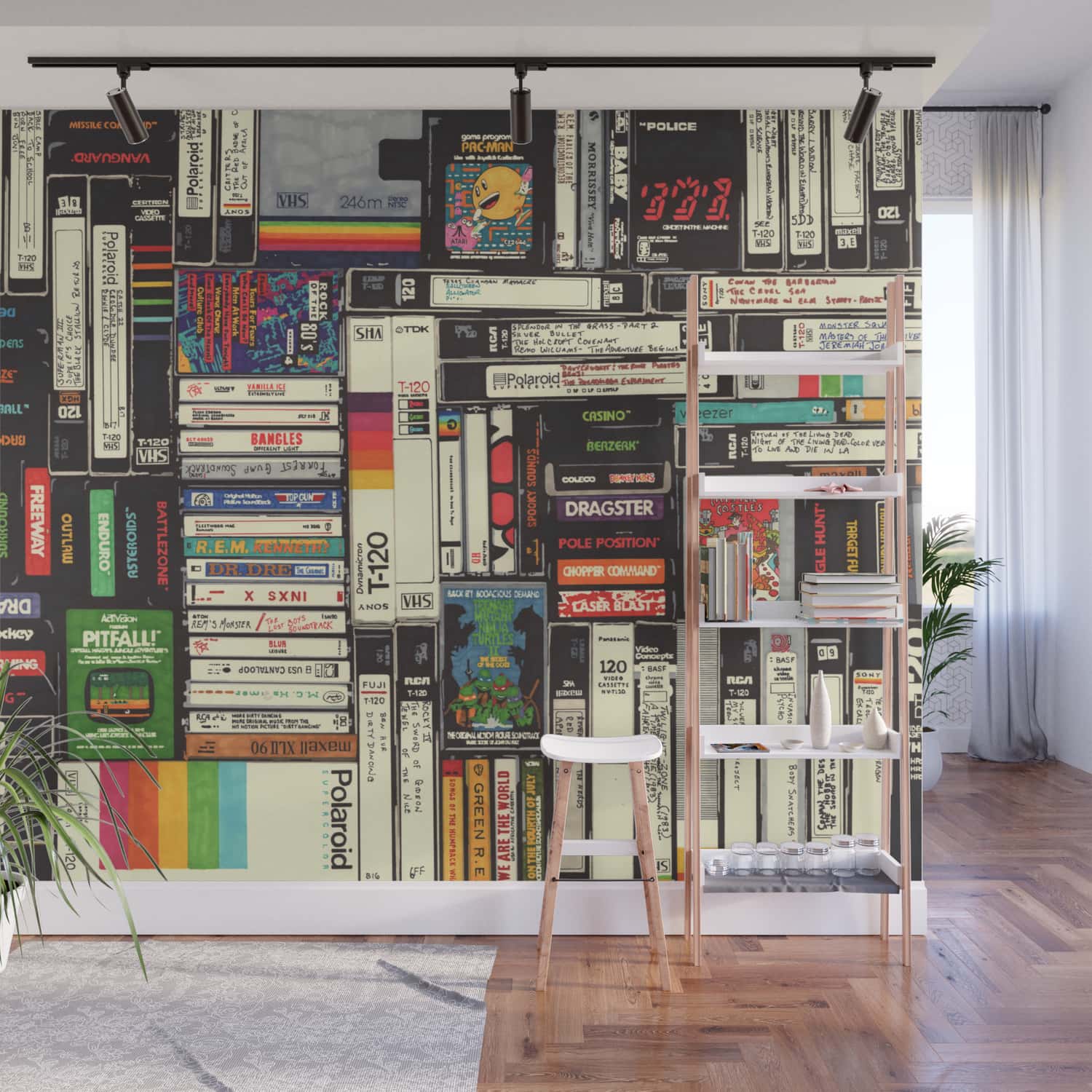 80s retro-chic is back with a bang at the moment with the re-releases of cassettes and vinyl. What's not to love for any grown-up 80s kid who enjoyed their Atari games and music.
This retro wall mural is perfect for a den or TV Room, and for the confused looks on your kid's friends' faces when they come to visit!
Deer in the Forest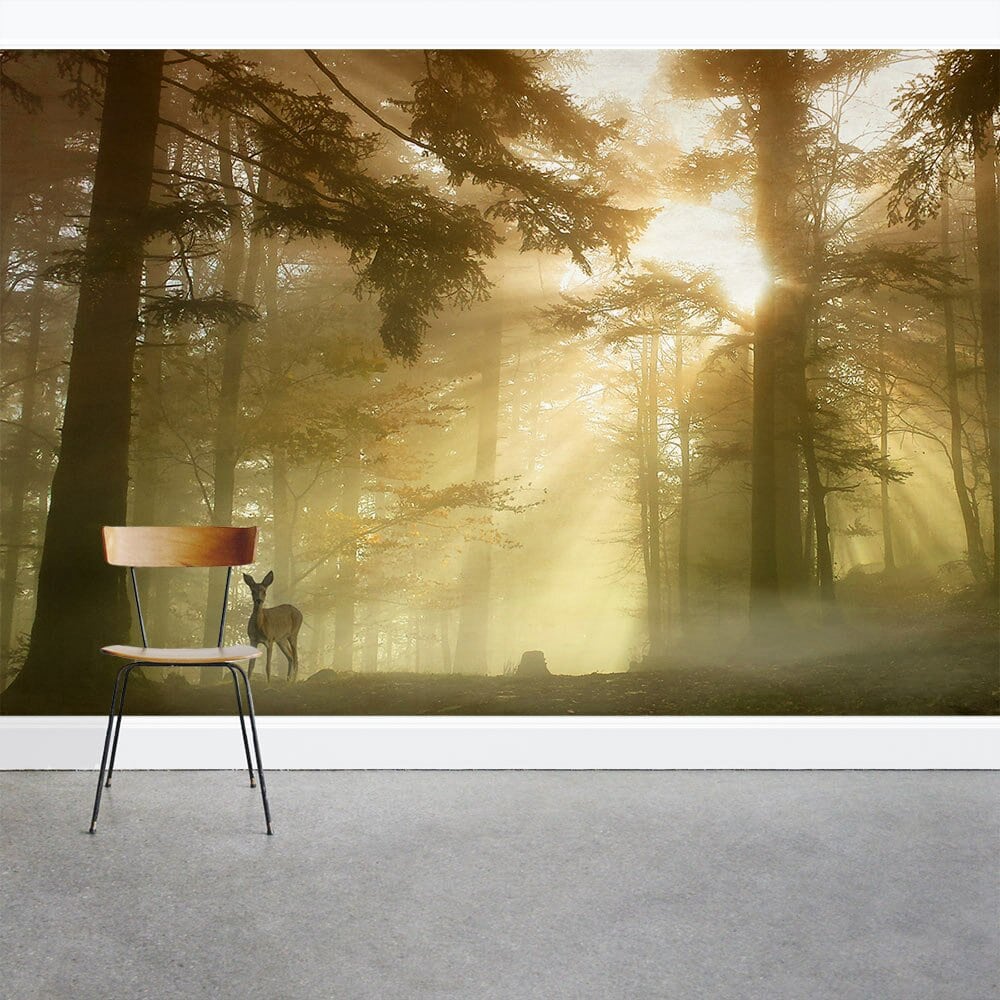 This print is breathtakingly beautiful, what an incredible addition to a room this would be. I think it would best suit a child's bedroom, what better way to start the day than a visit from this little friend at daybreak. The branches of the trees, shrouded in mist, add a sense of magic. Just gorgeous.
This would look great against wooden flooring, on a well-lit wall to bounce the sunlight back into the room.
Mid-Century Modern Sun and Rainbow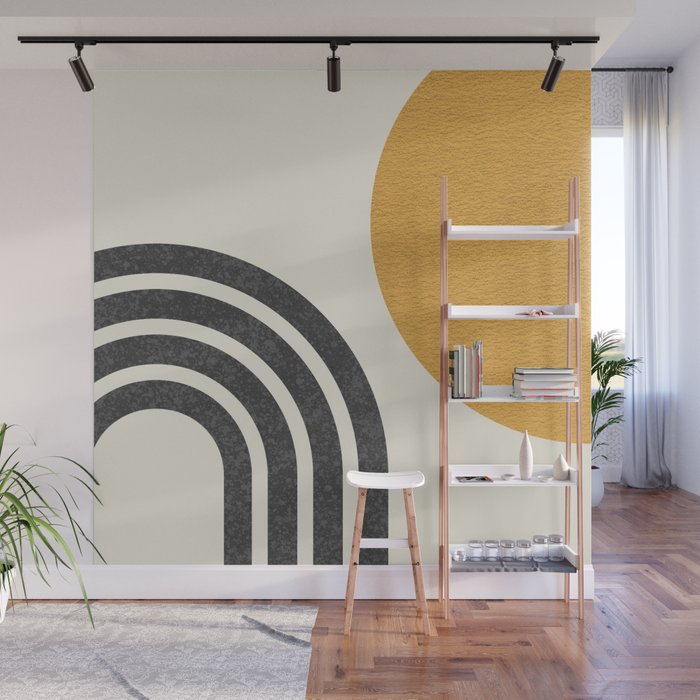 If you love the mid-century modern look, then this gorgeous wall mural will be perfect for you. It's the perfect way to add color and personality to your home! It features a bold rainbow and sun, in a muted grey and yellow color palette for those relaxed mid-century vibes,
This mural would work best in a mid-century modern style living room or bedroom, with some classic mid-century style furnishings.
Big City Lights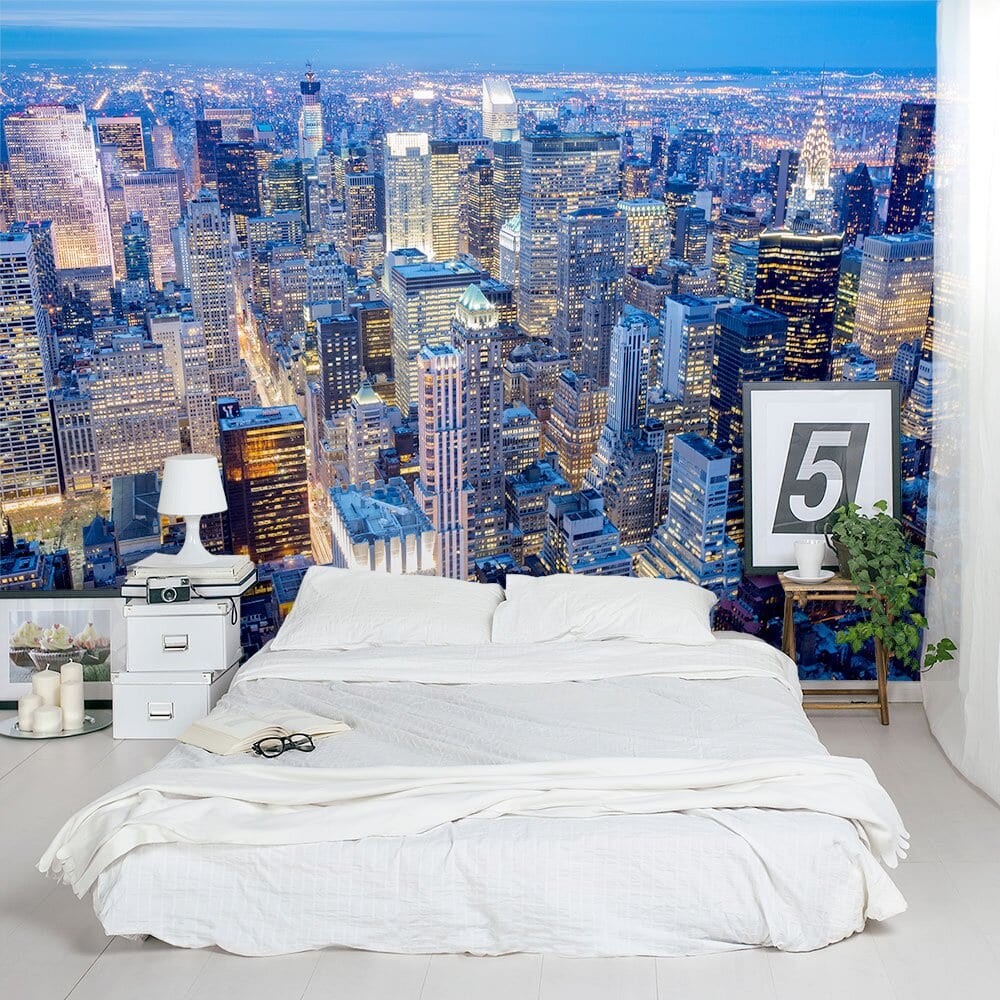 This City scene wall mural will have a stunning effect in your home. The high-quality resolution really makes this pop, combined with the depth and sense of scale you get from the forest of skyscrapers makes this a real joy to behold.
You just want to jump in like Neo from the Matrix and grab yourself a coffee and donut! It would be perfect for a bedroom or living room in a contemporary apartment.
Some Feathered Friends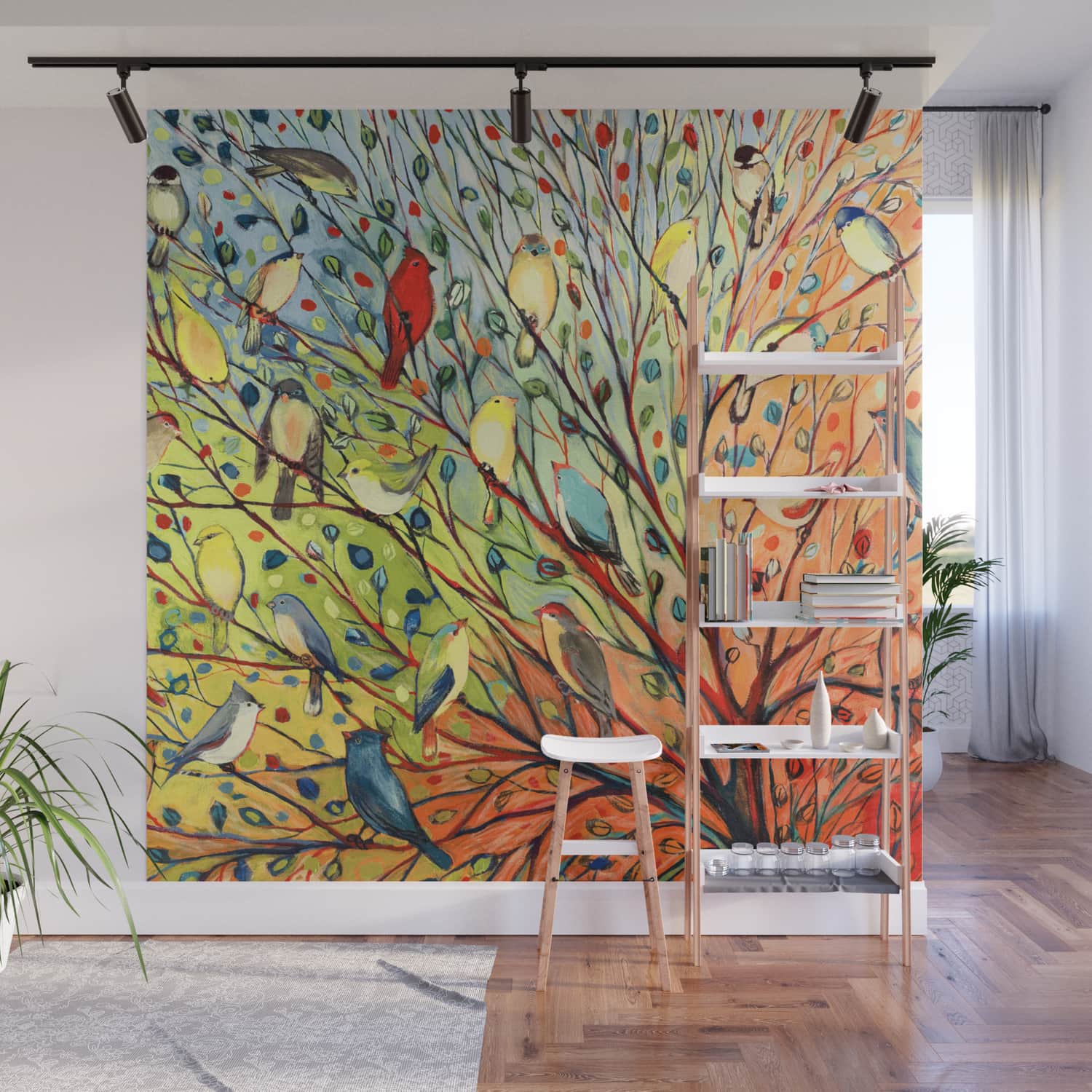 There are plenty of bird murals to choose from, forever popular for their varied colors and beauty. This is one of our favorites, with a flock of various breeds perched in a sprawling tree sprouting from your floorboards, if placed correctly.
The gorgeous color tones will suit most decor styles, but wooden flooring would be preferable to add to the realism of the illustration.
Under the Sea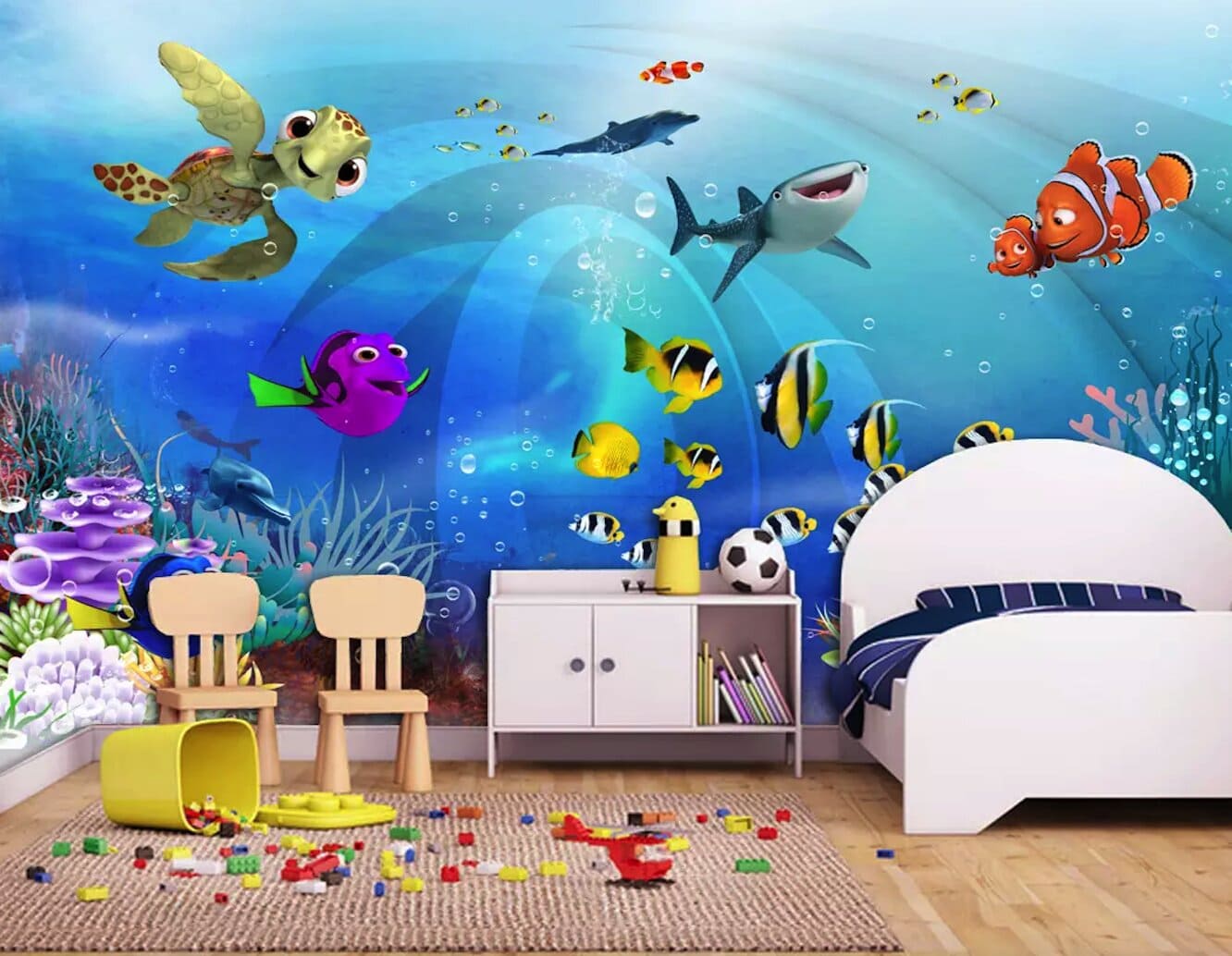 Dive into this bubbly scene with some of your kid's favorite Disney characters. This creates a stunning effect on a bedroom wall, so your little one can play and sleep under the sea. I suspect this may have a calming and cheering effect on any child. What's not to love!
Sandy-colored flooring would work beautifully with this print to add to the underwater look!.
Bear Family Portrait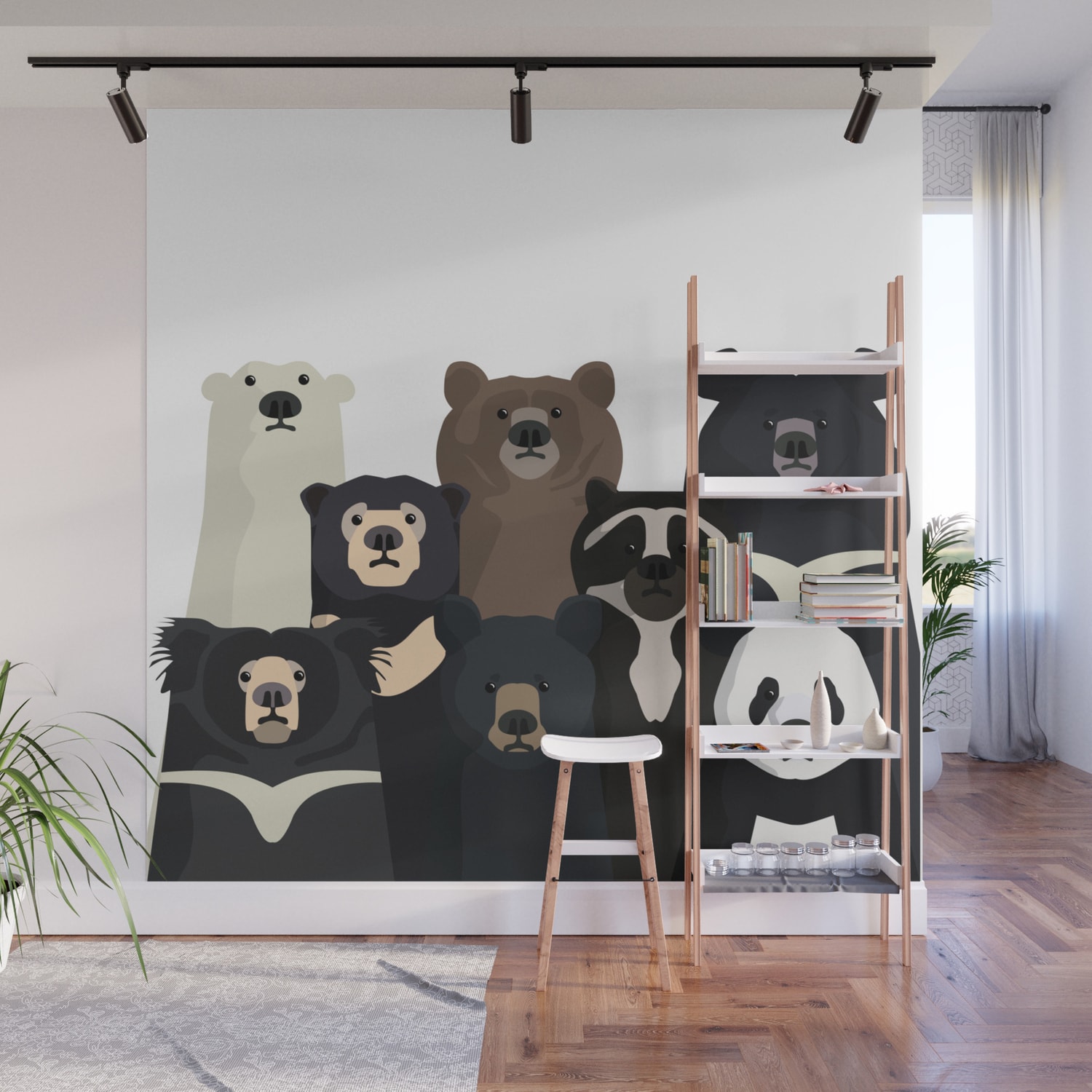 These furry characters are all members of the bear family, so why not bring them home and add them to yours. This will look great in a kid's bedroom, keeping a watchful eye over them whilst they sleep.
Lots of black and white in this print, so it will naturally stand out well against a white background.
Dinosaur Wall Mural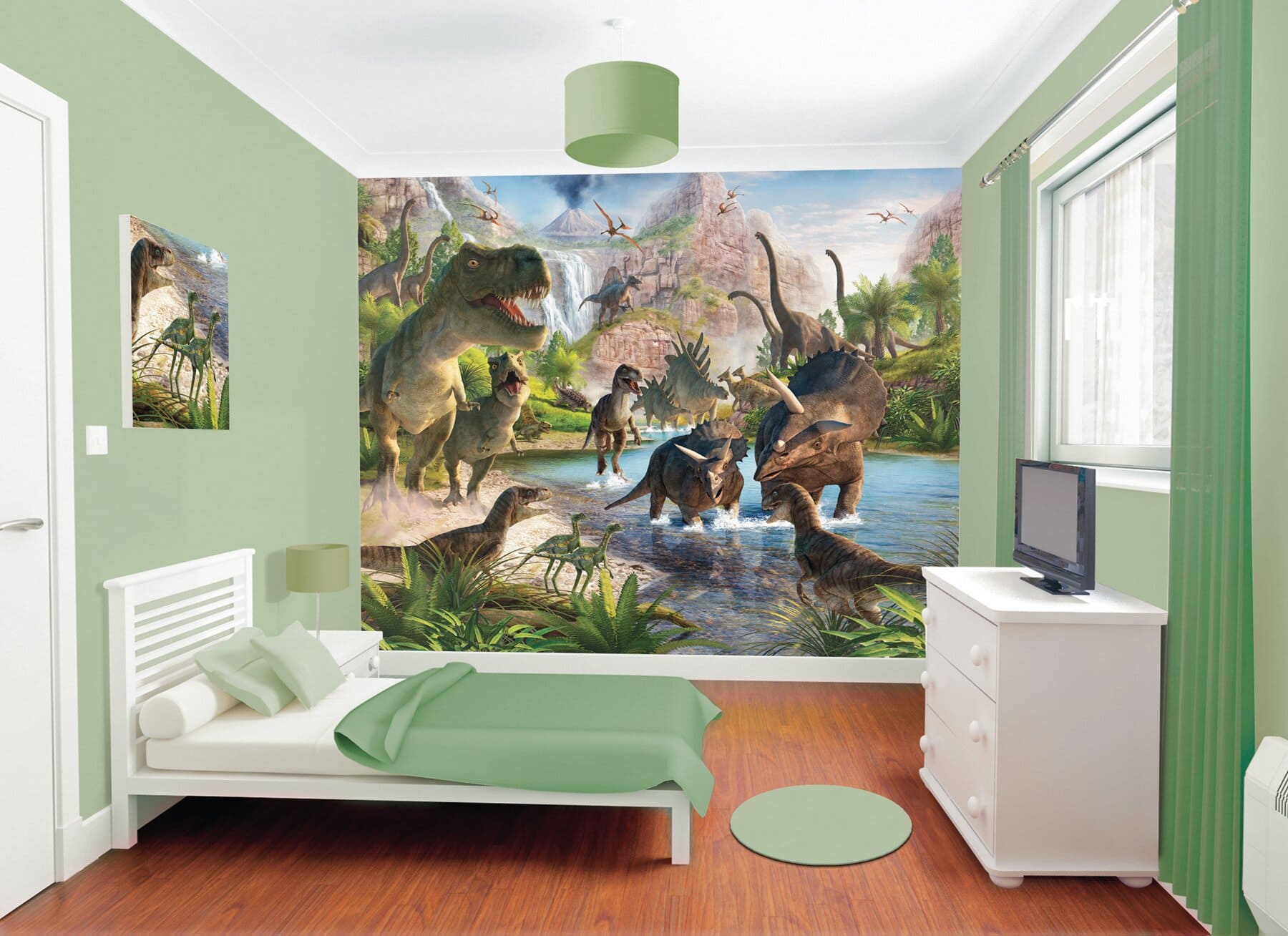 Another great wall mural for the kid's room, this time some prehistoric friends to play with, but this time not so friendly! If your kids are anything like mine then they will be dinosaur crazy.
So why not feed their imaginations with this epic design of prehistoric beasts at the water hole, can you teach them to name them all?
Abstract Pastel Wall Mural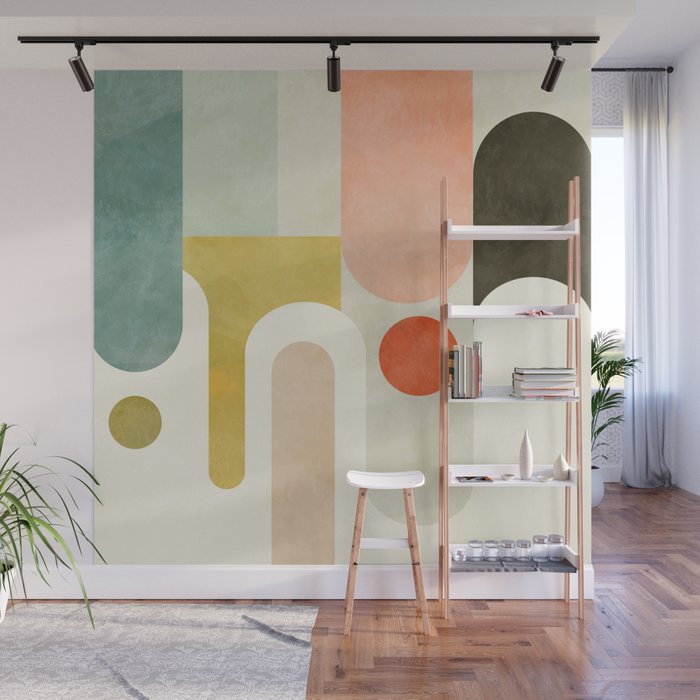 Geometric designs are very on-trend at the moment, adding interesting shapes and patterns to any room in your home. This beautiful pastel design is one of my favorites because of the color combinations, it is the perfect way to add some fun to your home!
Turquoise or pink furnishings would complement this wall mural perfectly.
Vintage Iridescent Mural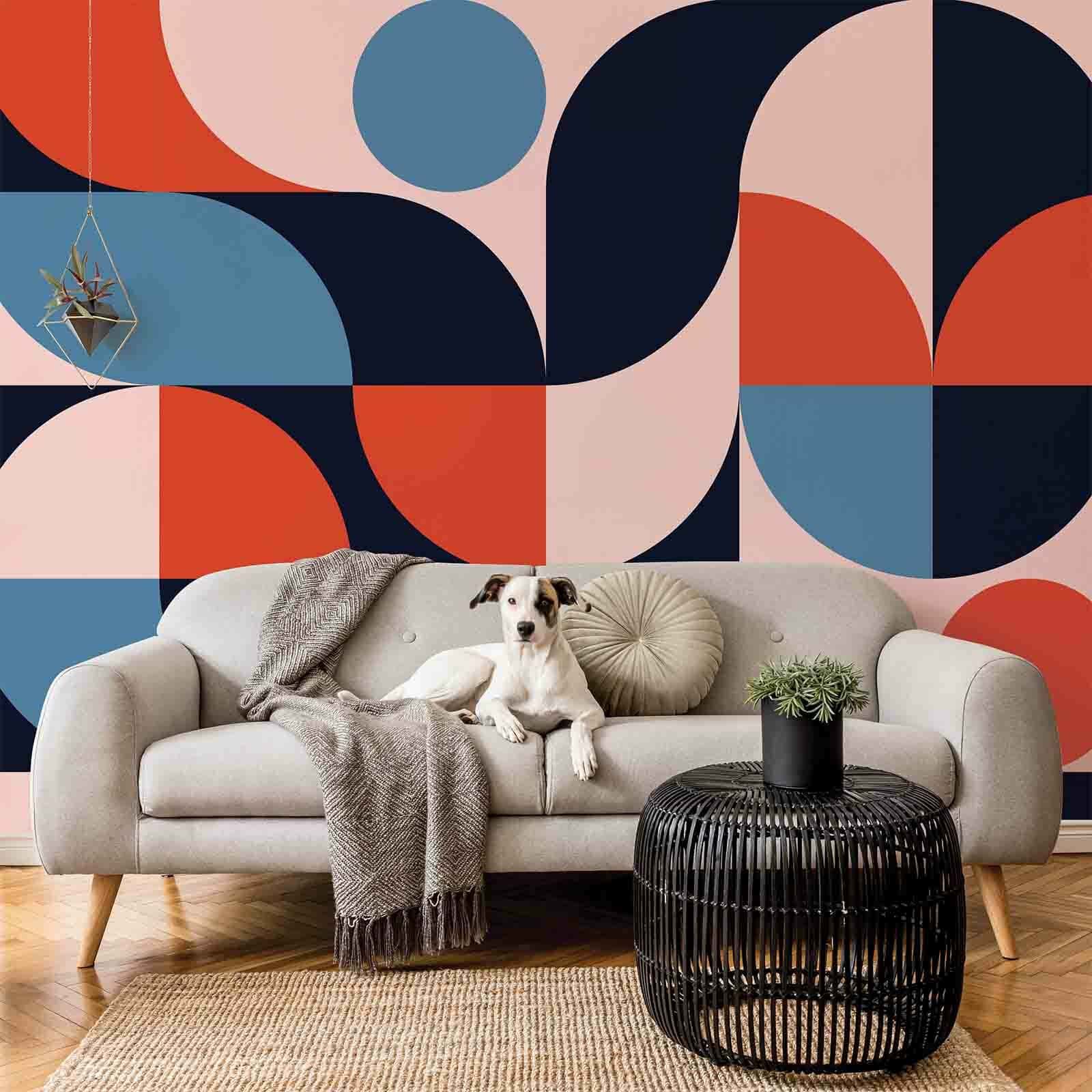 This striking design would be perfect in a vintage 70s style living room. The bold colors and flowing curves really make an impression. This makes me want to bust out some disco records and have some friends over for a boogie!
This mural is printed on an iridescent material, giving it a slight metallic sheen, which makes it really unusual. It's the perfect statement piece, and is sure to get guests talking!
Final Thoughts
Wall murals can be used in any area of your home – even the bathroom! They are the perfect choice for anyone who likes to change up their look on a regular basis. They are super easy to apply and remove, and won't do any damage to your walls, this makes wall murals a great option for renters.
Whether you are looking for bedroom mural ideas, or the perfect mural for your living room, hopefully these ideas will have given you some inspiration!