We independently select these products — if you buy from one of our links, we may earn a commission.
15 Unique and Trendy Dresser Alternatives in 2020
Almost every bedroom has a dresser, but you might be surprised to hear you don't actually need one. The key to creating a peaceful bedroom is reducing clutter and having a more open space, and getting rid of your dresser is the first step to accomplishing that.
A lot of the items in your dresser can actually go in your closet, and there are some great ideas here for alternate storage that are fashionable and more minimalist. Let's take a look.
Buy a Vintage Armoire
Instead of a regular old dresser, look for a vintage wooden armoire like the gorgeous piece pictured here. It's got shelves and a rack so you can put in quite a lot of clothes, as well as store wicker baskets on top of it.
The pale wood and detailed carving add a lot of charm and character to your bedroom, especially if you're decorating in light colors and a lot of natural materials.
Invest in a Clothes Organizer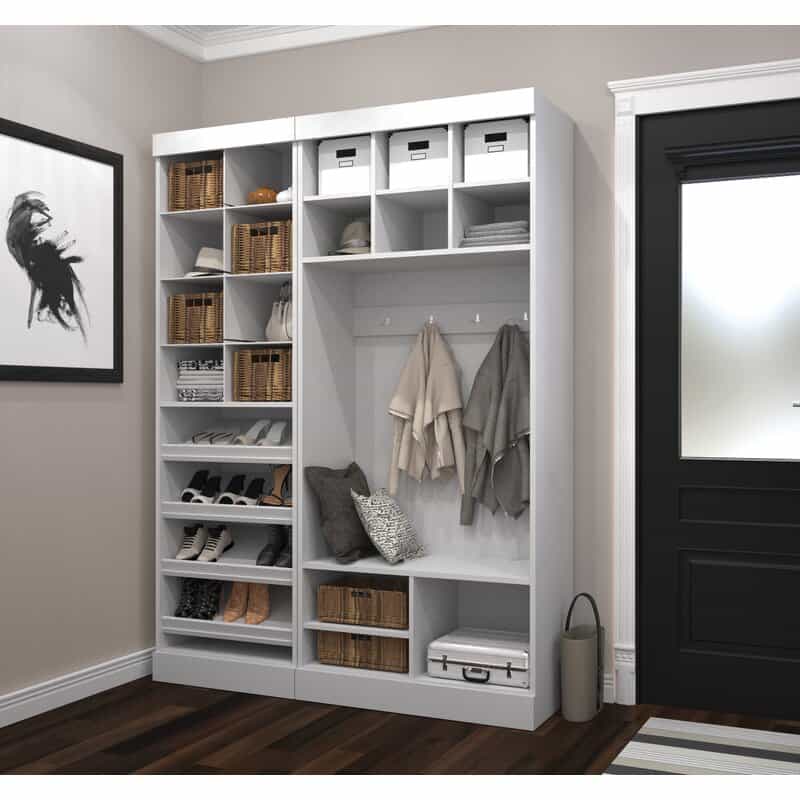 You can get a custom-made clothes organizer like this large white unit. It takes up a lot of space so you need a large room, but the minimal white design with silver handles is a great addition to a modern bedroom.
There's enough space for a few different racks, tons of drawers, and shelves of different sizes. Look at different options for customizable shelves and choose a style and size that works best for your wardrobe.
Install Some Nice Hooks
If you want to go really minimal, hang up some decorative hooks, either individual ones or a row of pegs like in this photo. Hooks are also a helpful option if your room is too small for a traditional dresser.
It's perfect for a few outfits, a bathrobe, a purse: all the essentials at arm's reach. It also means you don't need to hang up too much decor on the wall because the hooks are enough.
Get Pullout Drawers Under Your Bed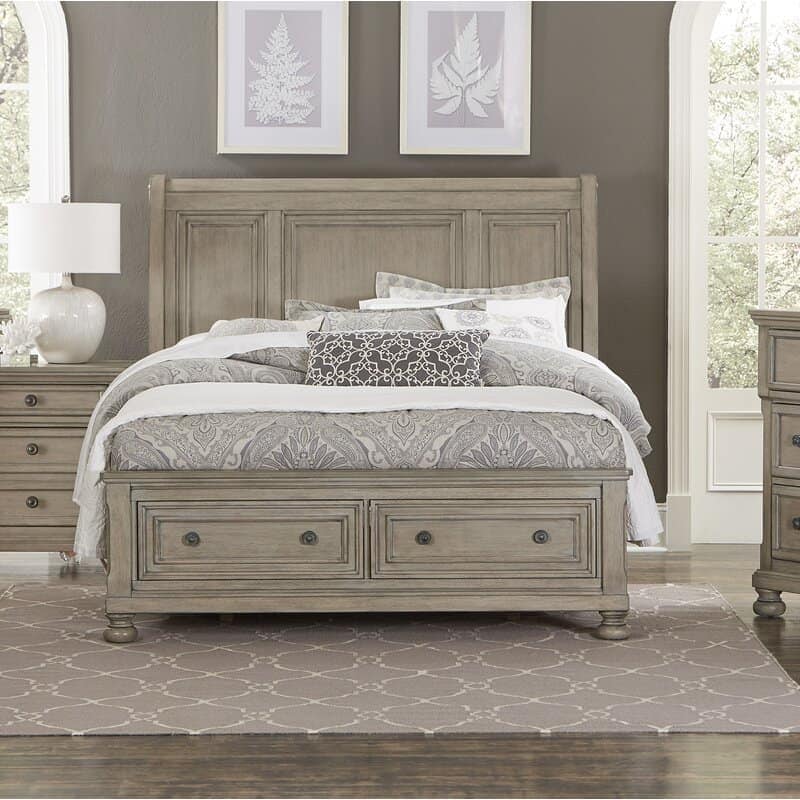 You can get a bed like this one to maximize space; it has a lot of drawers to keep all your clothes organized. There's even a little door for a cubby hole at the foot of the bed as well as tons of shelving in the headboard.
If you want to build your own drawers for under your bed, there are a lot of great DIY options and ideas to look at for inspiration and guidance.
Buy an Old-Fashioned Metal Locker
If you want to go for an old-school look with mix and match materials, think about getting an old metal locker instead of a traditional dresser.
As you can see, there are a lot of large drawers to store your clothes, and you can even label each drawer if you wish. The low profile of the locker is perfect for storing your book collection or other decor on top of it, all within easy reach.
Look for a Bedside Table with More Storage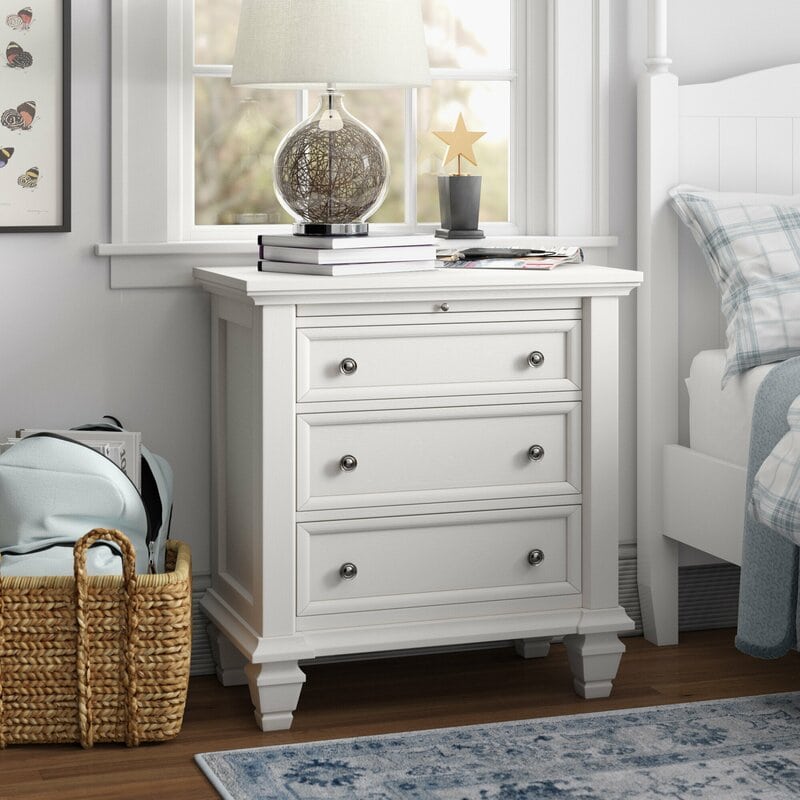 Getting rid of a dresser is definitely possible, especially if you can maximize your storage in other areas like your bedside table.
You can get a great option like this dresser with a lot of drawers and even a pull-out surface to manage everything you want beside you in bed. The white is quite simple and would work in a lot of different rooms and decor styles.
Put Your Clothes on Display with a Garment Rack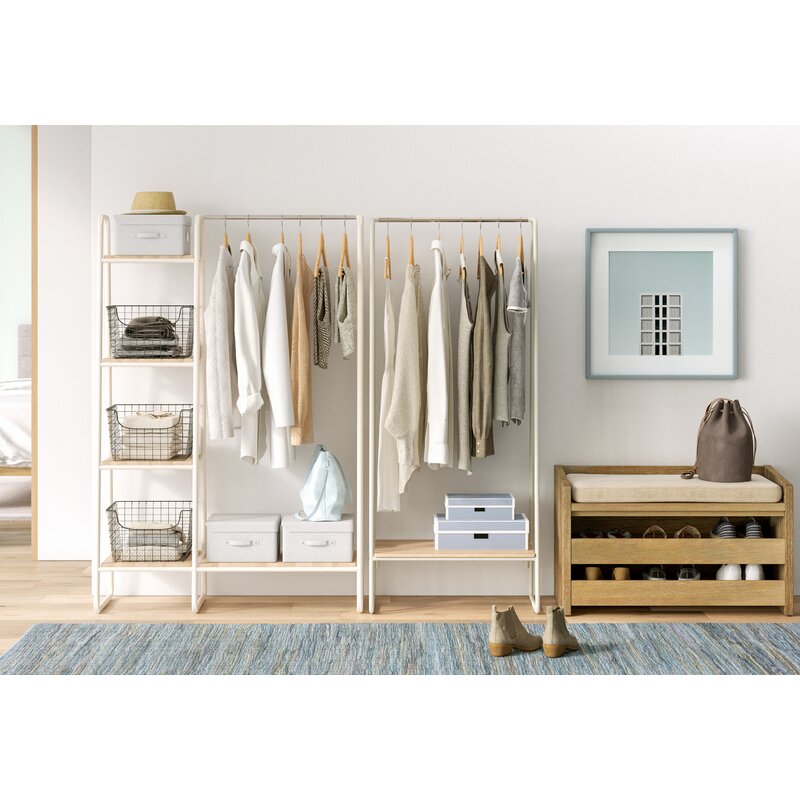 If you want to get some nice color pop, you can get a garment rack and keep your clothes and shoes exposed. It creates the feeling of a high-end boutique.
If you'd prefer to hide some of your clothes away, you can zip up the rack too. Look for some cute shoe storage boxes like the ones resting on the base of the rack here.
Get Colorful Plastic Storage Bins for a Budget Option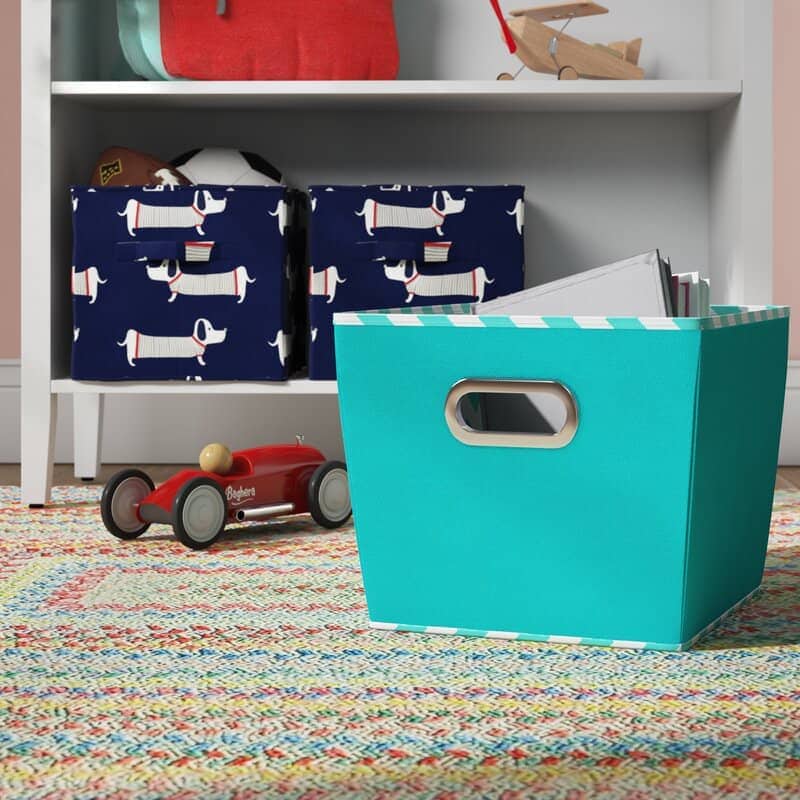 For a budget option, you can buy fabric storage bins for your clothes. It's an easy way to quickly see what your options are, and you can even get some nice colorful buckets.
Look for a certain color theme that goes well with your room decor.
Look for These Cute Stacked Drawers
If you want a clothing storage solution straight out of Harry Potter, consider getting these lovely stacked drawers. There are a lot of different size drawers with black accents, and the wood pattern on each drawer is unique.
The stair-like drawers are a great place to add a few touches of decor, like this bouquet of lavender. It's also a great statement piece that does a good job of breaking up the usual lines of a bedroom.
Use Wooden Crates on Metal Shelving
If you're a fan of minimal decor and using materials that are readily available, you should look at getting this type of dresser alternative. It's pretty simple—all you need is a bunch of authentic or vintage wooden crates and a metal adjustable shelf.
Each crate can be for different types of clothing, and you can add more levels if you need. Make sure the wood is sanded so you don't get tears in your clothing.
Buy a Trunk for the Bottom of Your Bed
A trunk at the bottom of the bed is an excellent solution for rooms that have a bit of extra space. You can use it to store clothes, blankets, or extra pillows, and it even doubles as a bench.
You can get any style of trunk that you want to go with your room decor, whether it's a vintage steamer trunk, a plain wooden model, or a sleek and modern option.
Look for Pretty Vintage Suitcases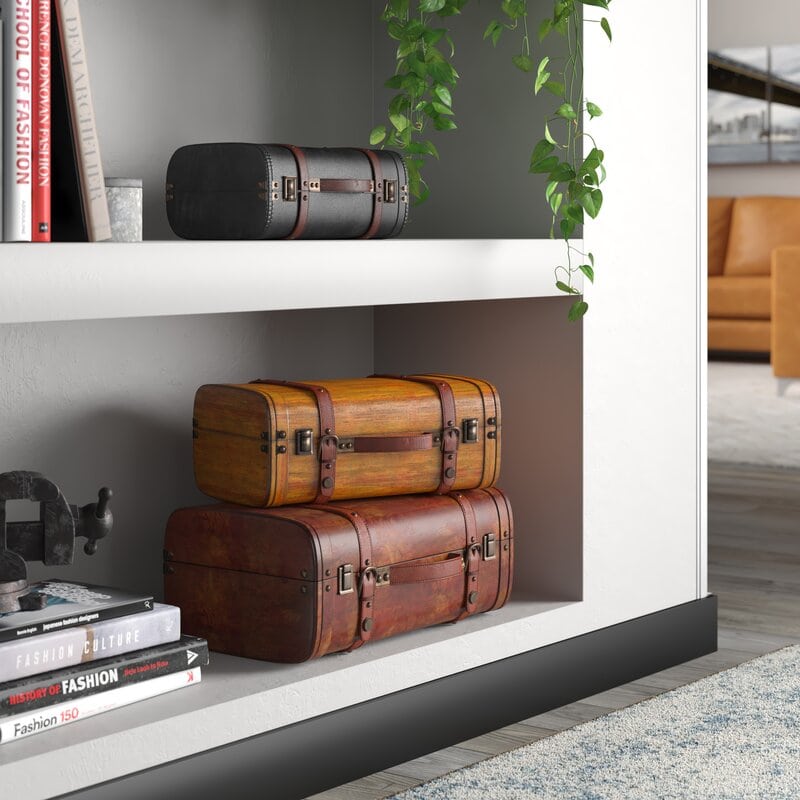 Suitcases are a unique way to replace a dresser in the bedroom. You can put some clothes away in the suitcases, but also stack them up to create another piece of decor.
Each suitcase has its own charm and character, and the light suitcase sets off the darker ones perfectly. If you're going to put clothes in the suitcases, make sure they're clean and fresh so your clothes don't smell musty.
Add Shelving Above the Bed
This look is stunning and quite a different way to replace a dresser. The cabinet shelving above the bed is a gorgeous grain of wood that pairs well with the whites and soft grays of the room.
It's an interesting way to replace the dresser, because it means there's a lot more floor space to move around in without that furniture. If you're willing to reach up to those cabinets, this could be the right option for you.
Hang Wire Baskets from the Wall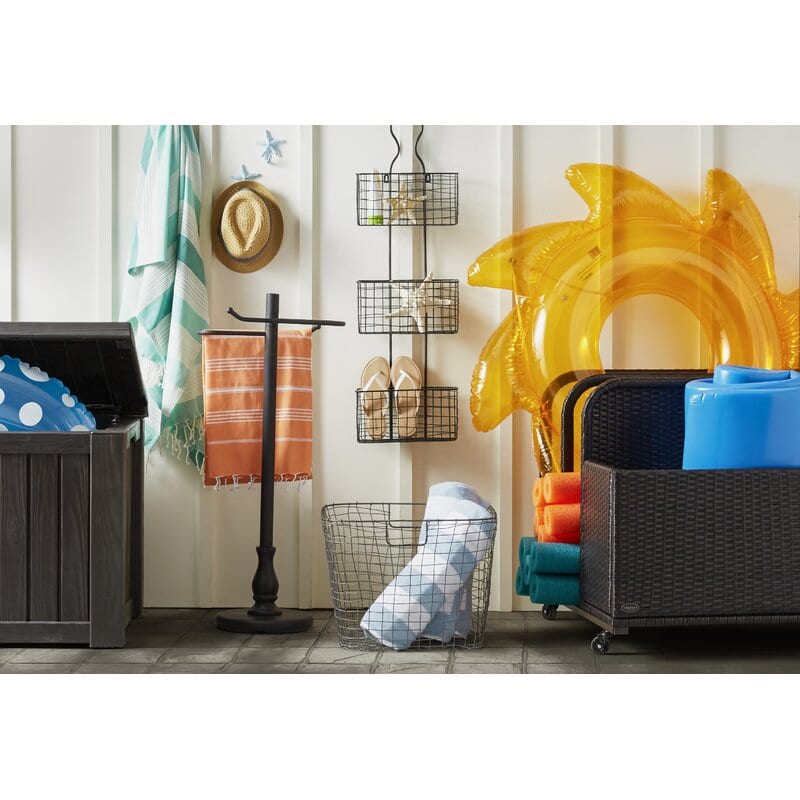 This is another unique and fun dresser alternative, which involves getting some wire baskets and hanging them from the wall so they open out into the room. It's also very simple and affordable, requiring only baskets and hooks.
Getting rid of a big dresser is a great way to reduce clutter. Minimalism is a trend that has become very popular in the last few years, and there are some great reasons you should declutter your space.
Look for Pull-Out Boxes and Baskets
Finally, this is a simple dresser option made from a low console table with baskets and boxes that easily slide in and out. It's a low unit, so you can also use the top surface for books, decor, or picture frames.
If you find you're running out of space, you can simply install a third row on top of the existing piece.
Final Thoughts
Most people have a dresser in their bedroom, if not two. They're functional pieces of furniture great for storing clothes or books; however, you might be feeling like they take up too much space in your room or you want to look for a more minimal solution.
You can get a lot of budget storage or vintage pieces of furniture to create a trendy and unique dresser alternative. When it comes to switching out your dresser, you should think outside the box; these 15 ideas should inspire you and help you to figure out how best to store your clothes.