Decorated Life is reader-supported. When you buy through links on our site, we may earn an affiliate commission. Learn More
What Color Accent Chair Goes with a Brown Leather Sofa? 10 Ideas
Brown leather sofas are the perfect grounding piece for any living room. They can look rugged and rustic or sleek and modern, depending on the color and style.
And fortunately, they coordinate with many types of accent chairs.
If you're looking for the best ideas, try pairing your brown leather couch with any of these choices.
Accent with Wood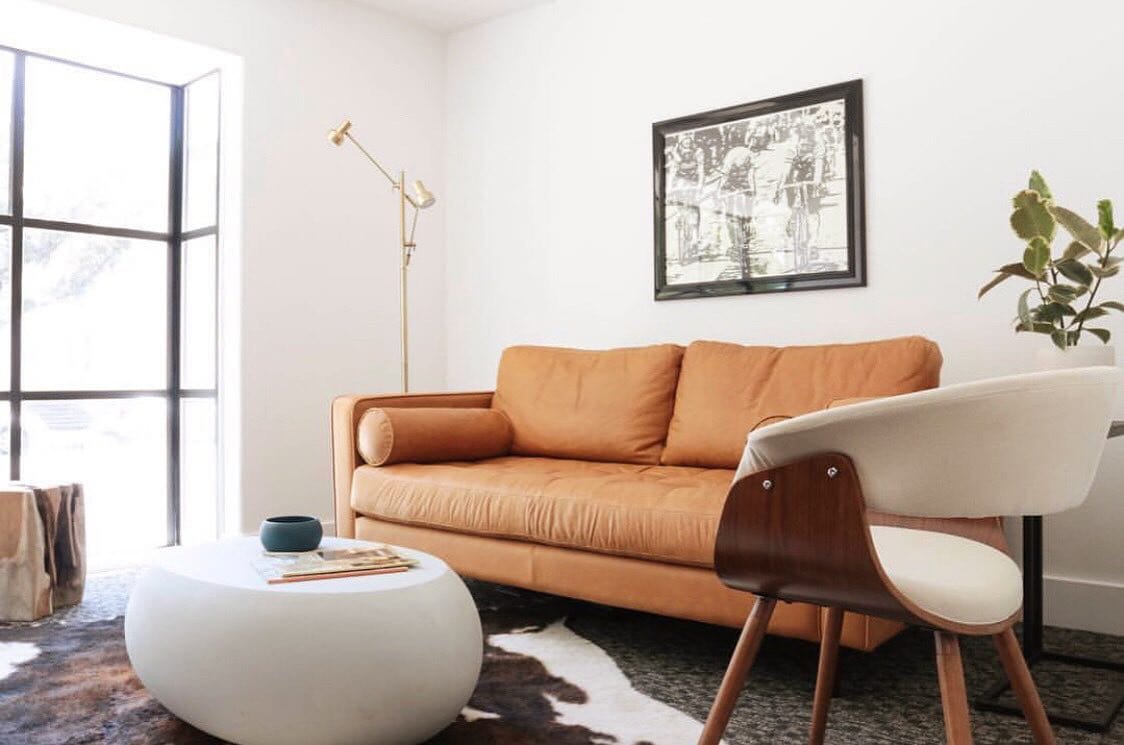 It's hard to find a primarily wood chair that doesn't look good with a brown leather sofa. So whether your couch is dark or light brown, this idea will work.
If you like a contemporary or modern vibe, try something with curved lines and tapered legs like this. This chair is from Wayfair and comes in two upholstery options: gray and charcoal.
Try Plaid If You Like Farmhouse Style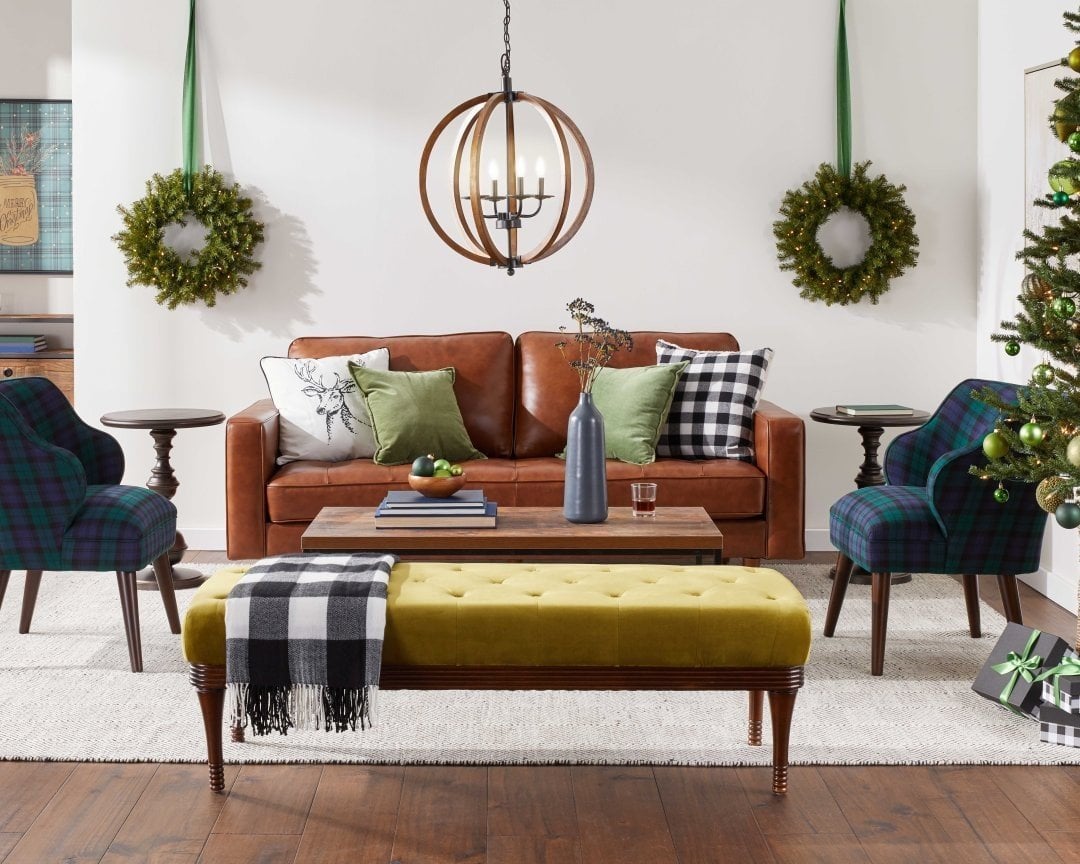 If you like farmhouse style, one of the best accent chairs for a brown leather sofa is plaid. And if you're worried about color, don't – brown leather is neutral, so any color can match.
If you want to encourage conversations in your living room, try a setup like this – place two armchairs on the opposite side of the couch.
Use a Contrasting Leather Shade
Just because you have a leather couch doesn't mean you can't also have leather chairs. However, the color of the chairs needs to be lighter or darker than the shade of your couch.
And to keep your living room from looking clunky, choose a leather chair with wooden legs, like this one from Lulu and Georgia. It comes in a lighter Sahara tan and a darker medium brown.
Brighten Up the Room with a Bold Color
While brown leather couches are a staple for neutral lovers, they also fit in quite well with more colorful rooms.
So if your style tends to lean toward glam or colorful boho, bring in some bright accent chairs. You can use multi-colored striped chairs like shown in the photo or solid colors. For a bit of added texture, consider a velvet option.
Easily Match with White or Cream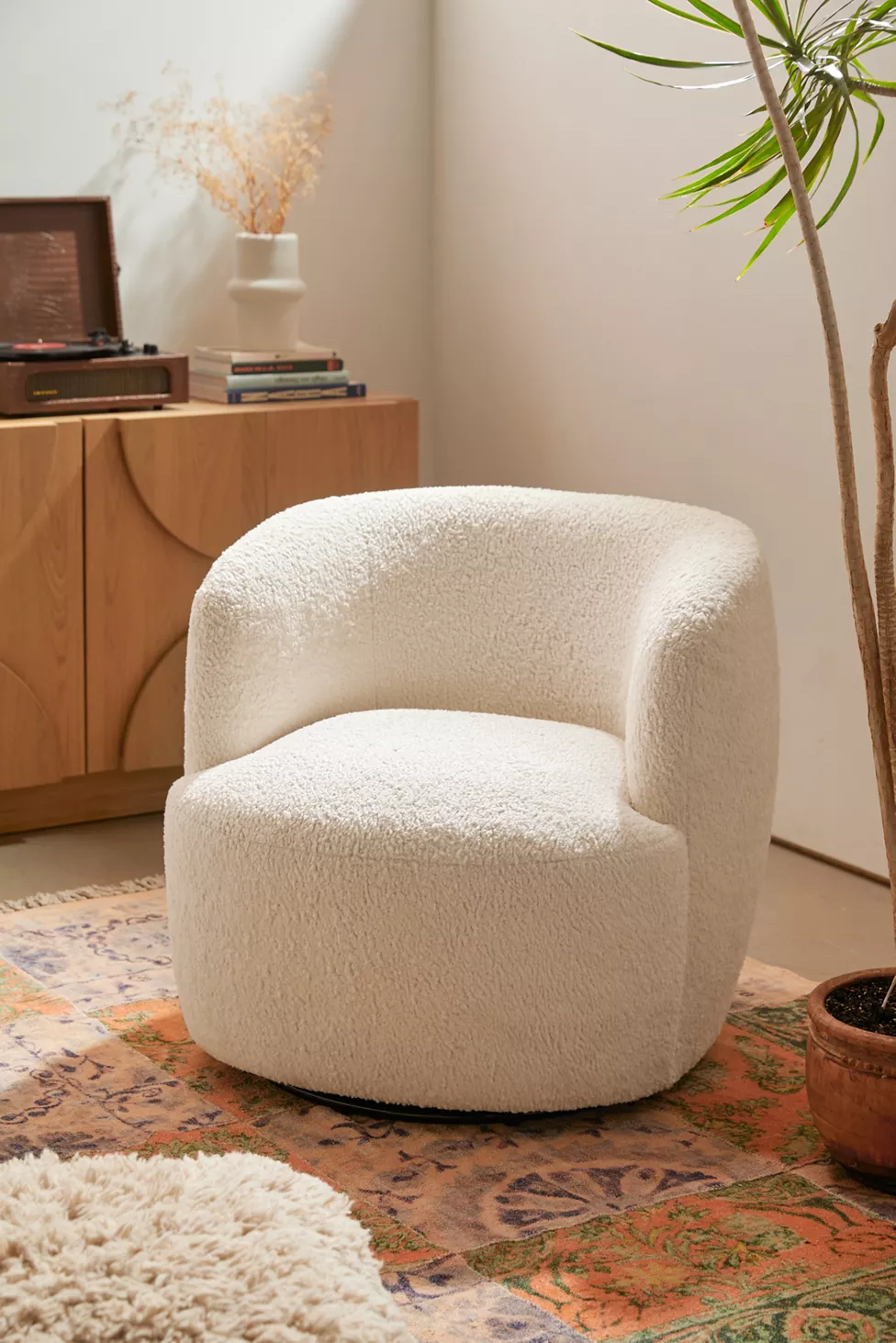 If you love neutrals or are worried about choosing the wrong chair color, try white or cream. These are the best-colored accent chairs to match a brown leather sofa.
I like this chair from Urban Outfitters for a bit of added dimension. It's faux sheepskin, and the chair has a swivel. While the design is modern, this chair doesn't lack comfort.
Pair Your Sofa with Natural Cane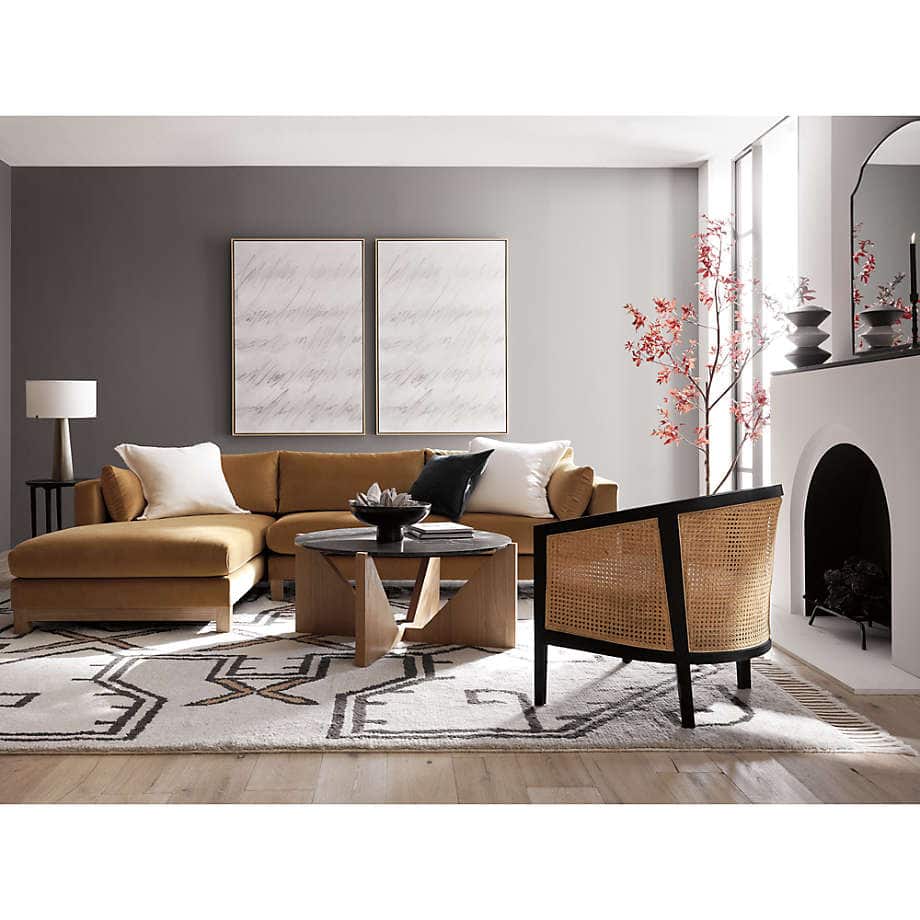 If you're going for a more sophisticated look in your living room, consider pairing your couch with a natural cane chair like this.
This chair has modern lines with natural elements. The combination leads to an elegant chair that will work in contemporary, casual, and modern boho rooms. The chair's frame is solid with a black finish, and the cushion is ivory.
Soften the Room with a Subtle Pink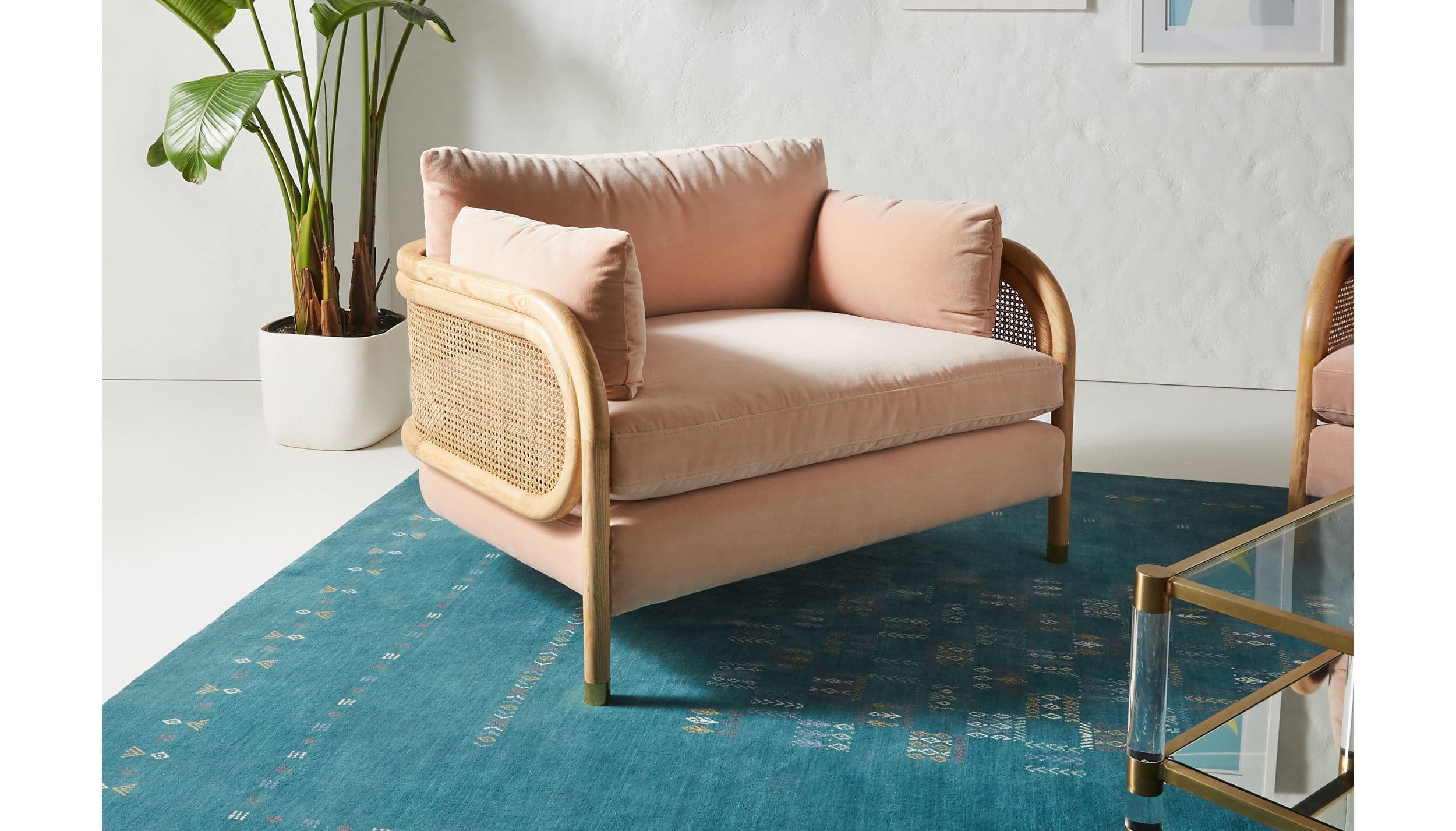 When comfort and style are equally important, chairs like this come into play. This chair from Anthropologie features canes framing, brass accents, and customizable cushions.
The cushion choices include linen or velvet, and you can choose between 12 different colors. While I love this pink to soften the look of the leather couch, a rich, velvety green or blue would also work.
Go with Gray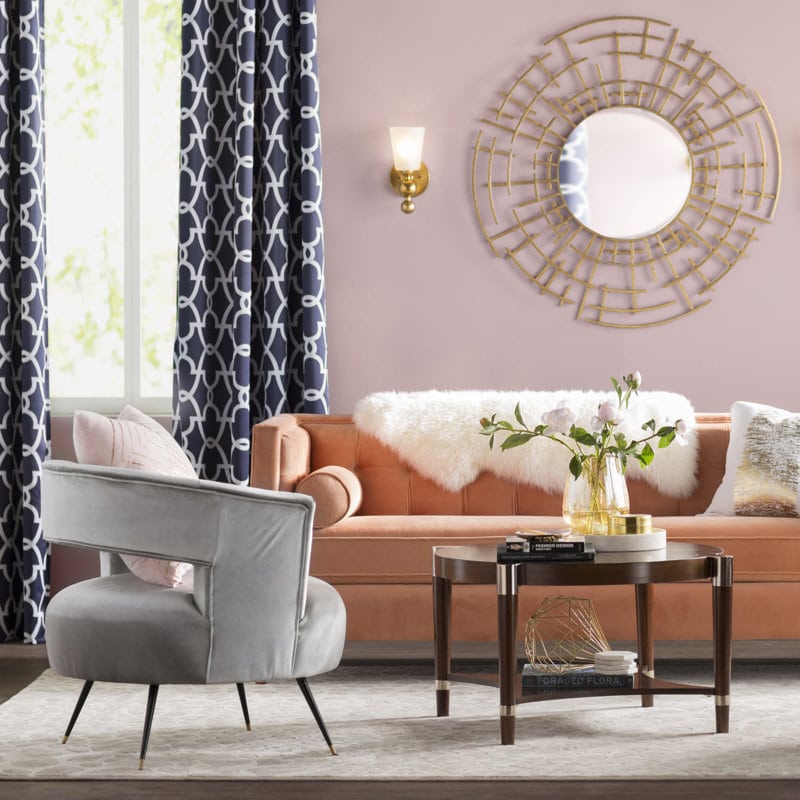 While you wouldn't think gray would be the best choice for a brown leather sofa, it works – especially if you have a cooler paint color on the wall.
You can go with a curved chair like this for glam or mid-century modern styles. On the other hand, if you like farmhouse or traditional style, try a standard arm or wingback chair in a complementing gray color.
Add Interest with Animal Print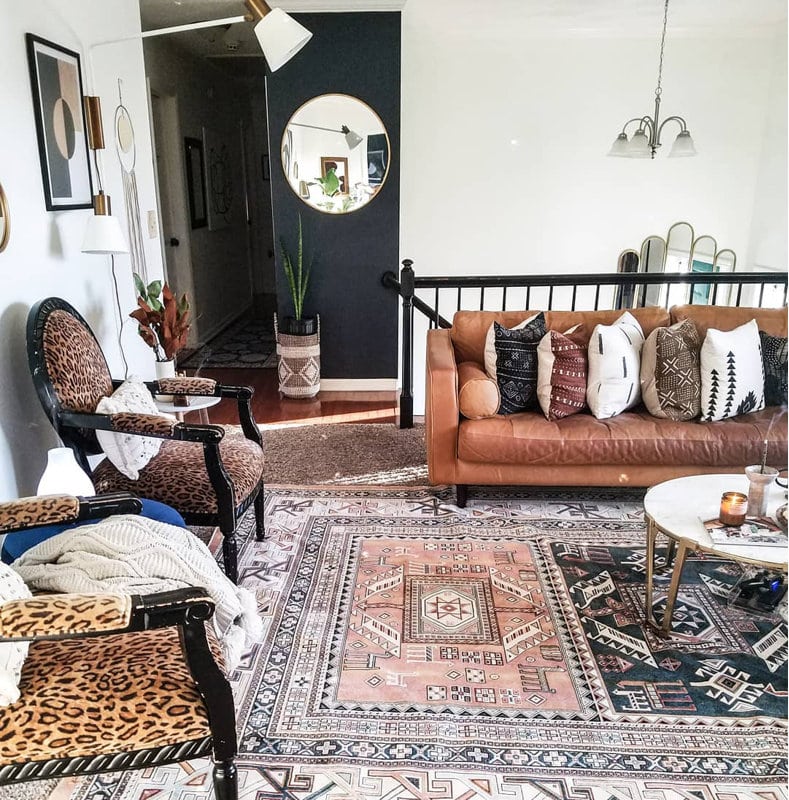 If you like lots of interest and patterns in your room, add an animal print chair.
These chairs are not only stylish, but their soft cushions make them comfortable. You can add just one chair to your living room or use two chairs with different patterns. This works best in boho, glam, and eclectic spaces.
For Formal Style, Try an Upholstered Side Chair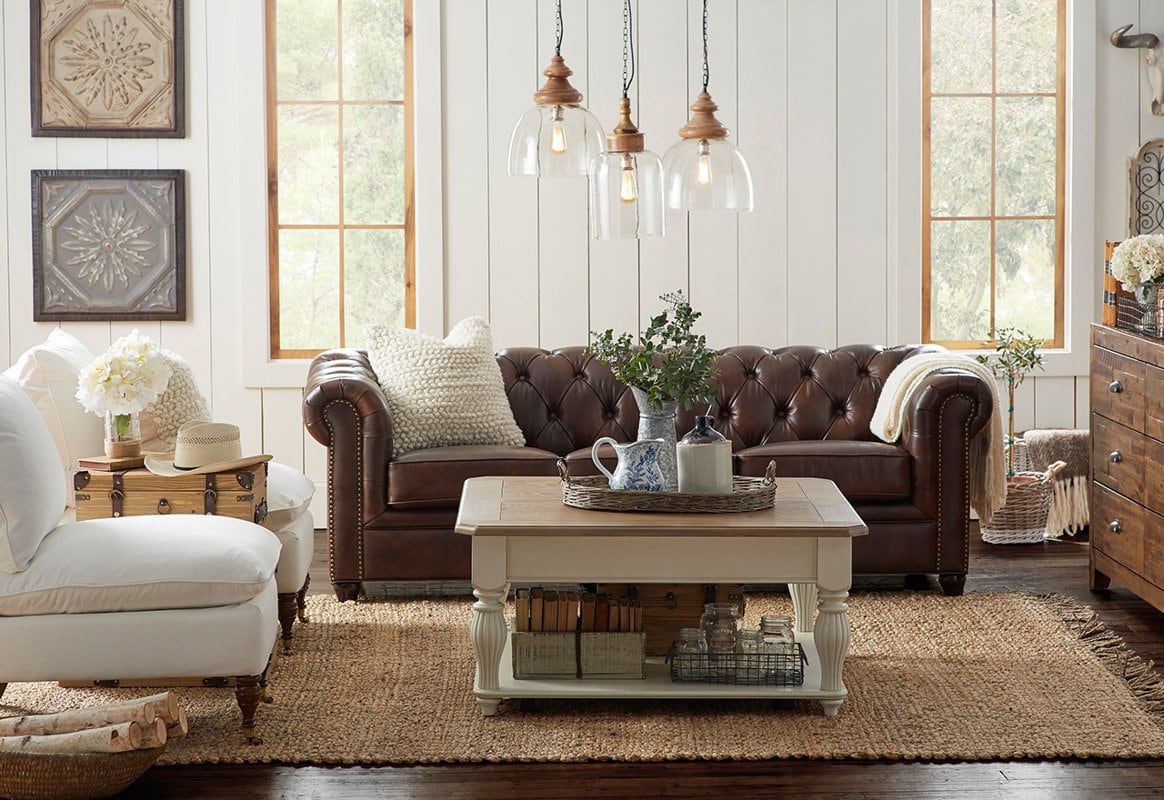 Do you like your room to look a little more on the formal side? If so, you can't go wrong with a traditional side chair.
These chairs have clean lines for a pulled-together look, but their thick cushions provide lots of comfort. Depending on your tastes, you can choose a neutral one or pick a colorful pattern.
Final Thoughts
Brown leather sofas work in nearly all design schemes and match many different colors and patterns of accent chairs. If you like farmhouse or traditional style, choose an armchair in a pattern or solid color.
If you like modern, boho, or eclectic styles, choose a chair with clean lines and a natural accent like wood or cane. And remember, you don't have to go neutral. Almost all colors pair well with brown leather sofas.