Decorated Life is reader-supported. When you buy through links on our site, we may earn an affiliate commission. Learn More
What Color Comforter Goes With a Gray Headboard – 13 Ideas
A headboard is responsible for bringing a cozy and comforting element to your bedrooms. They foster a sense of balance and symmetry while adding a colorful character to the space. And with the ongoing trend, gray is a color that seeks utmost attention from homeowners. Of course, the reason why it's such a popular color for modern, contemporary, farmhouse, and Scandinavian-style bedrooms.
The versatility of this color allows you to pair it with a wide variety of hues for the comforter. From bold and dark blues to burnt orange, pastels, and neutrals – here is a list of 13 color comforter ideas for your gray headboard. You can take inspiration from these and induce a personal touch to complete the look of your bedroom.
Go For White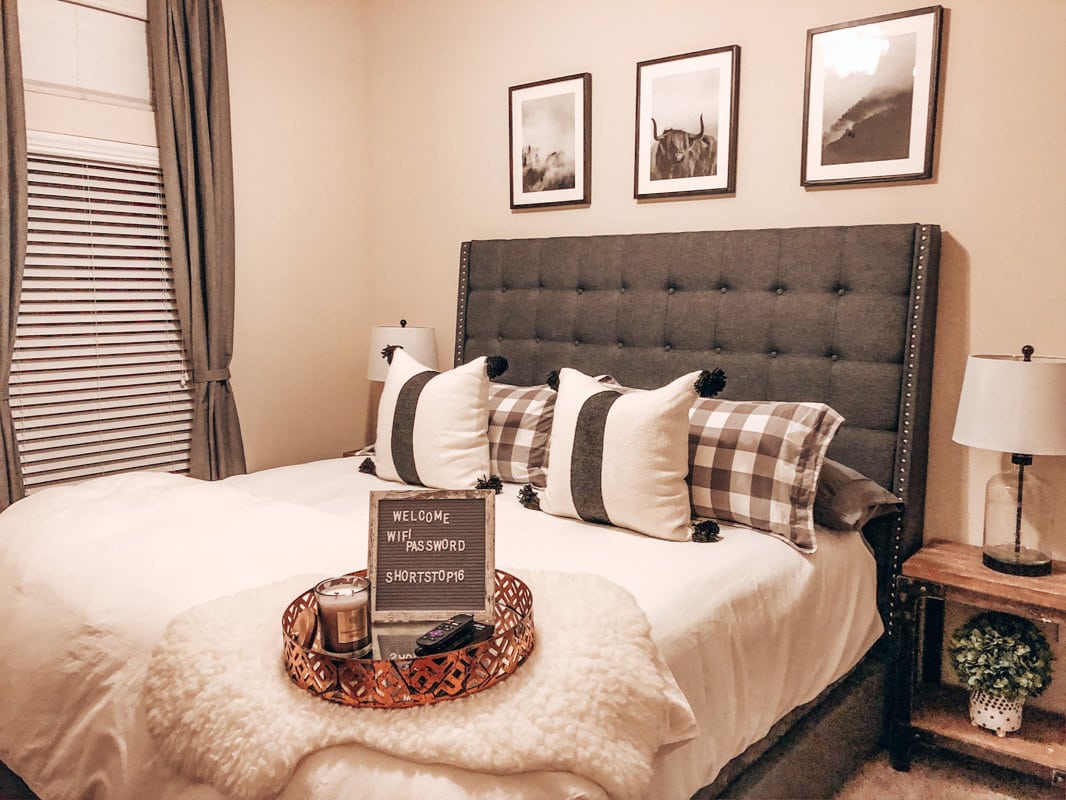 This is one of the simplest and most common colors to pair with your gray headboard. So, whenever in doubt – pick a white comforter that will undeniably create a clean and crisp, airy environment. Of course, too much white can be monotonous, so you can always add textures through fur and faux and a couple of plaid pattern throws.
This will give your room a sense of character and depth – and a perfectly welcoming environment!
Play Drama With Black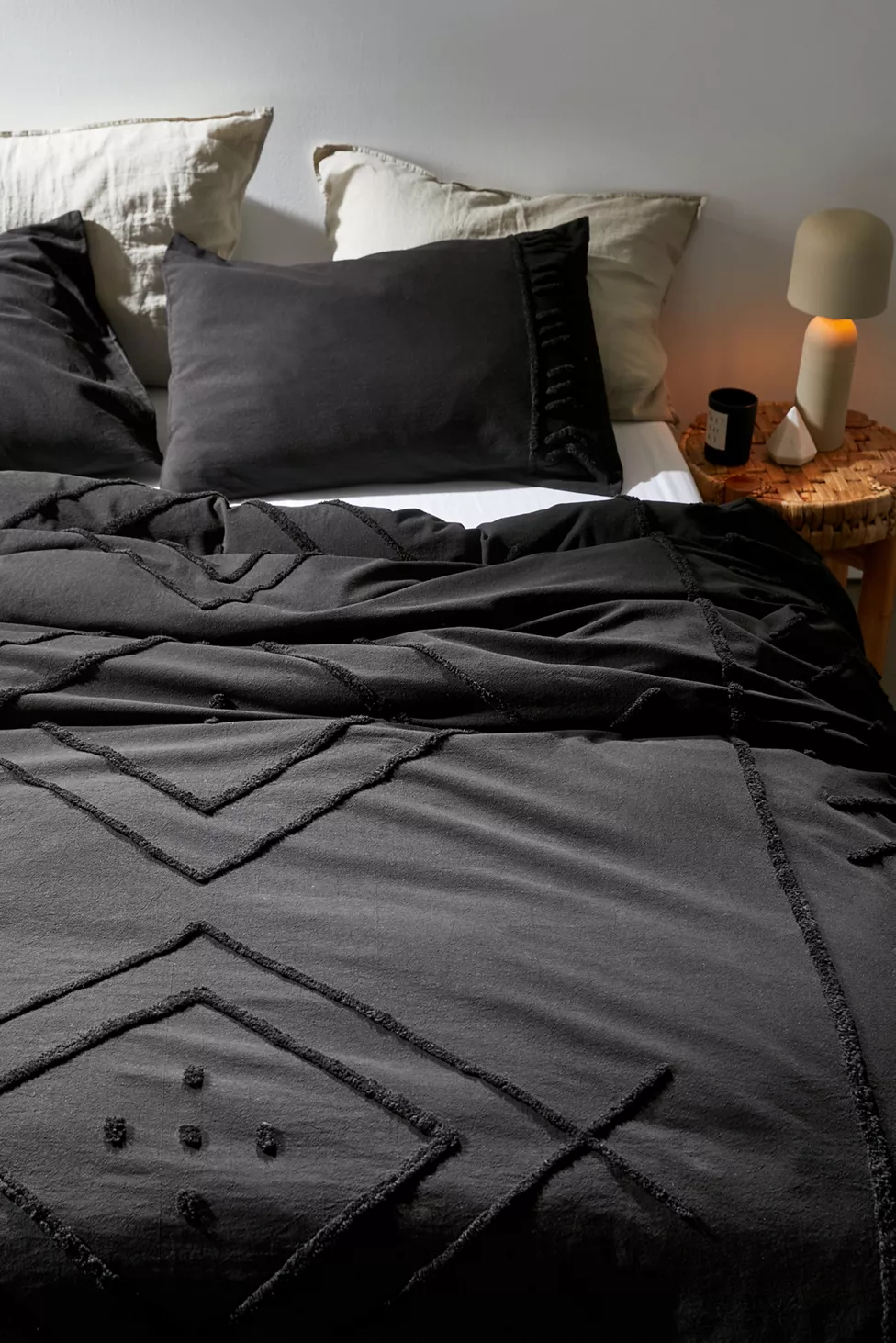 In the case of lighter gray headboards, you can choose to add depth and drama with the help of black comforters. Obviously, this texturally-rich, boho-inspired duvet will steal all the attention of your room – but at the same time, give a homely vibe that you always craved.
Instead of going for an all-black theme, you can choose to create a monochromatic vibe with the help of lighter and darker gray hues on the throw and accent pillows.
The Feminine Pink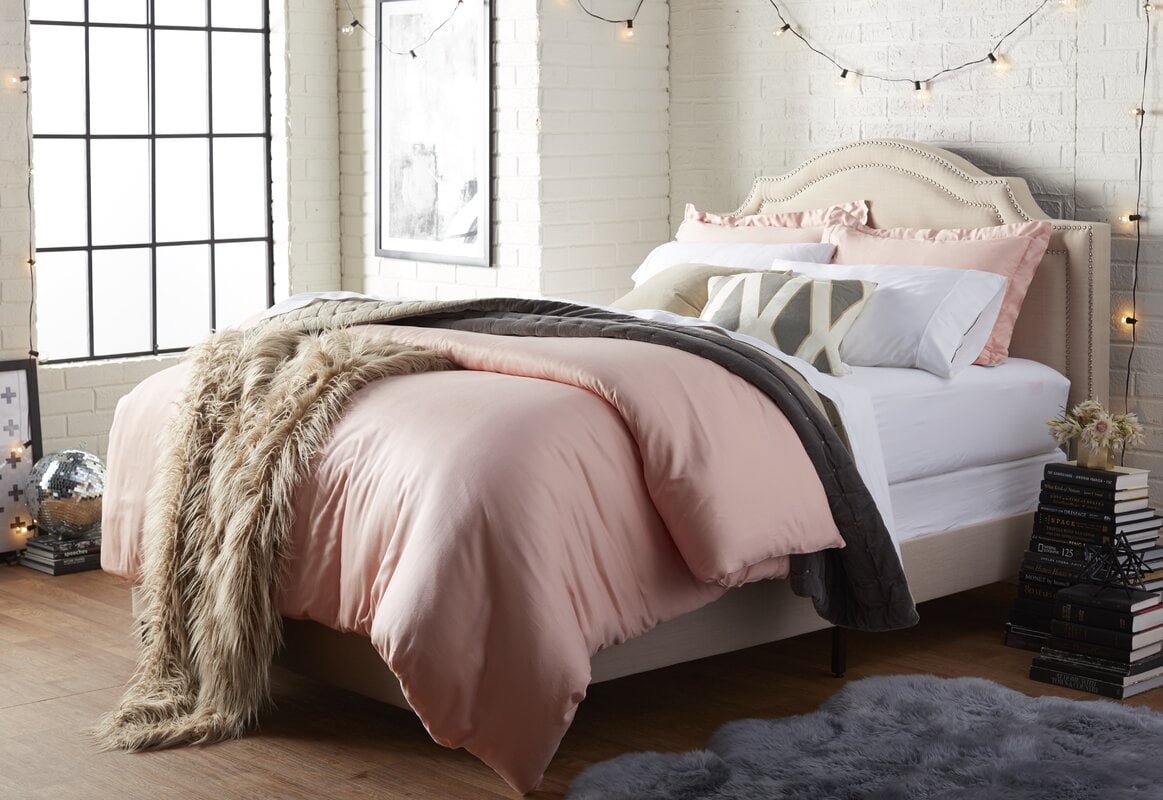 Shades of pink like rose, blush, and coral can beautifully pair with your gray headboard to create an eye-catchy and feminine appeal. So, if your baby daughter is doubtful about the gray headboard – you can always add a tinge of pink to transform her room the way she wants!
Furthermore, you can achieve elegance with the help of gold and rose gold metal accents along with pretty floral patterns.
Pair With Breezy Blues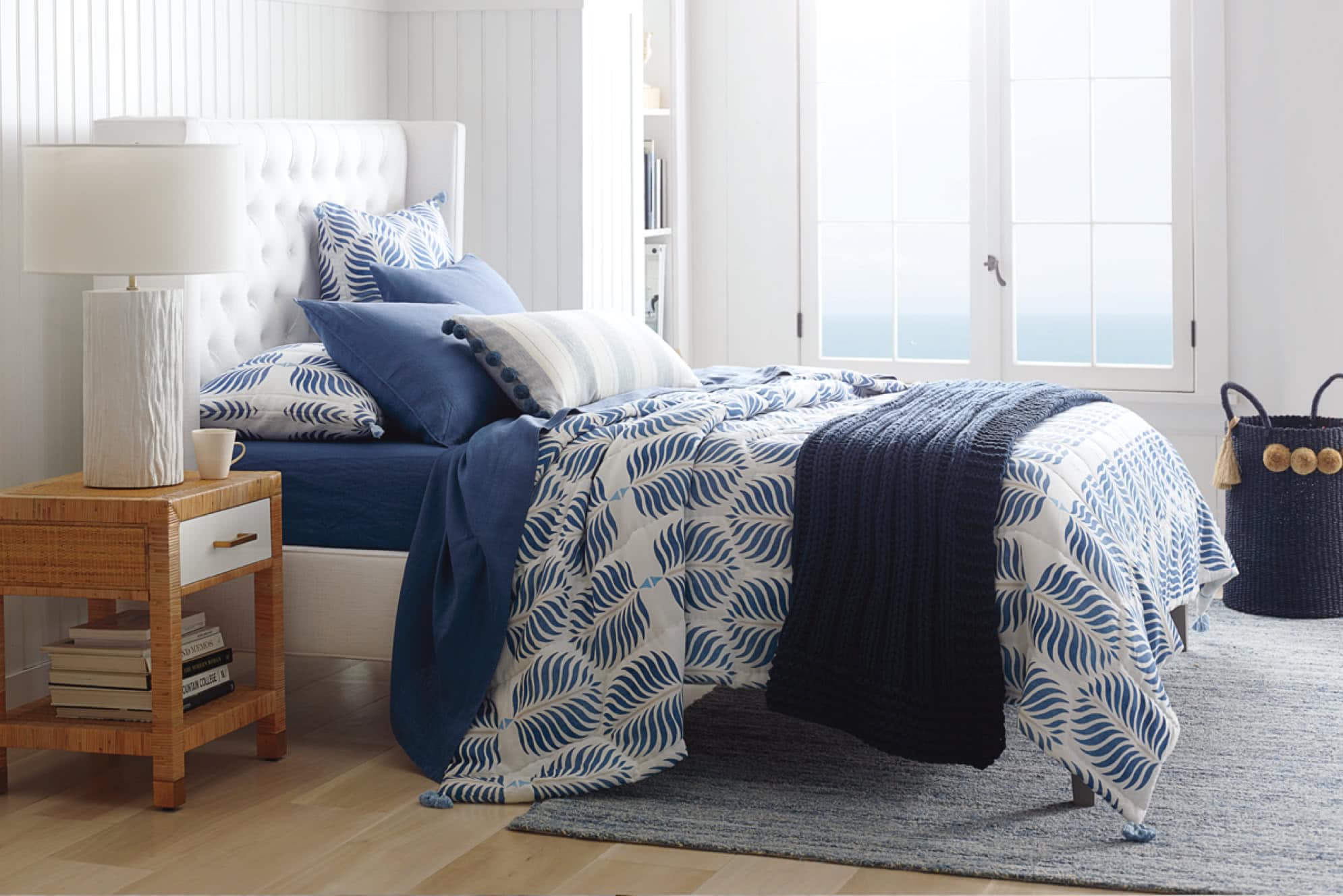 If you prefer a cool and coastal-like palette, you can absolutely take into consideration these blues that will create a striking contrast with your gray headboard. Of course, you don't have to go for solid hues every time! Even quirky patterns can pave a way for creativity.
And just in case, if this dark blue is too crisp and straightforward for you – don't hold back from the mustard and terracotta accent to make it warmer.
Embrace the Blue and Green Prints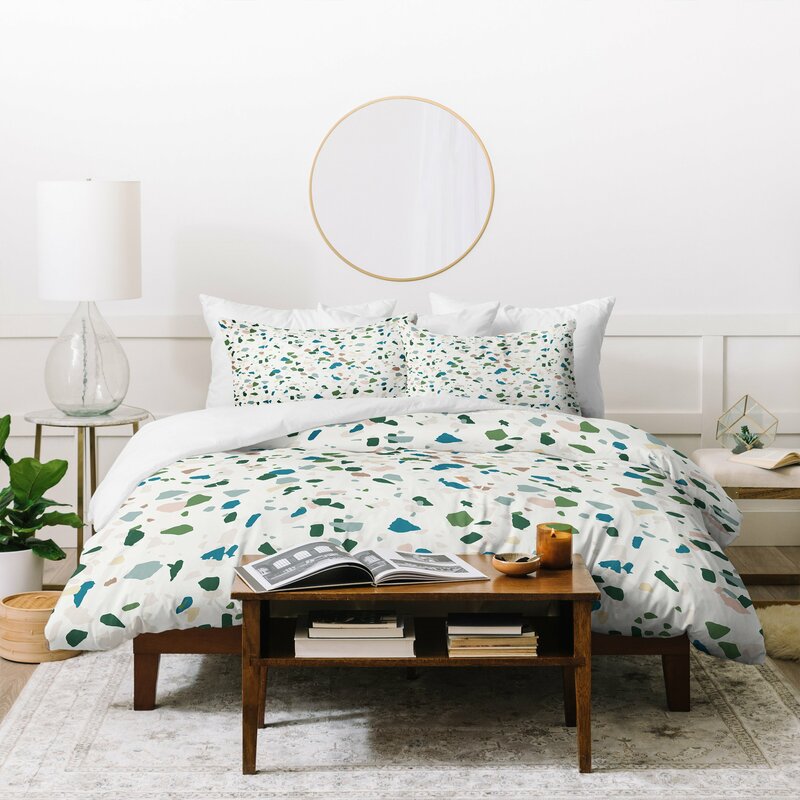 Patterned bedding can be quite quirky, playful, and whimsical! So, if you have a subtle-looking room with basic neutrals reigning the palette, you can let this fun-loving printed comforter play loud and focal.
To ensure that you don't get bored of this palette, add a couple of blue and green solid hues on the accent pillows and bed sheet. Also, remember to throw some white to play a base with this palette!
The Velvet Luxe Mauve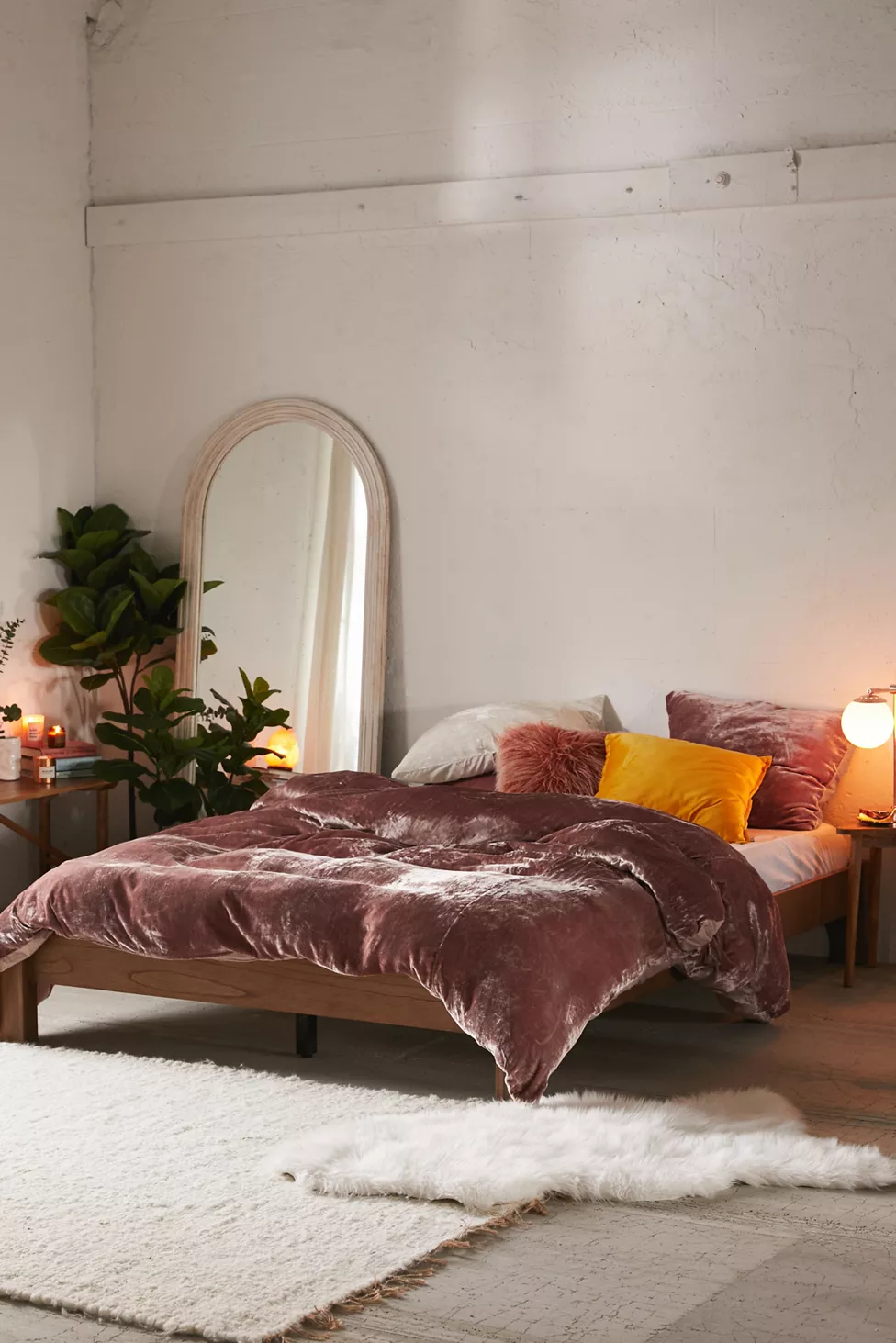 Give your bedroom a dreamy look with this luxe, mauve-colored velvet comforter that seamlessly pairs with your gray headboard. It tends to give your room a sense of splendor and richness with its utmost smooth and soft texture. And especially if you have a Hollywood Glam or Shabby Chic style, this ultra-luxurious palette is something to look forward to.
Moreover, you can always streamline the palette with the help of fur throw pillows and faux area rugs!
Choose Monochromatic Grays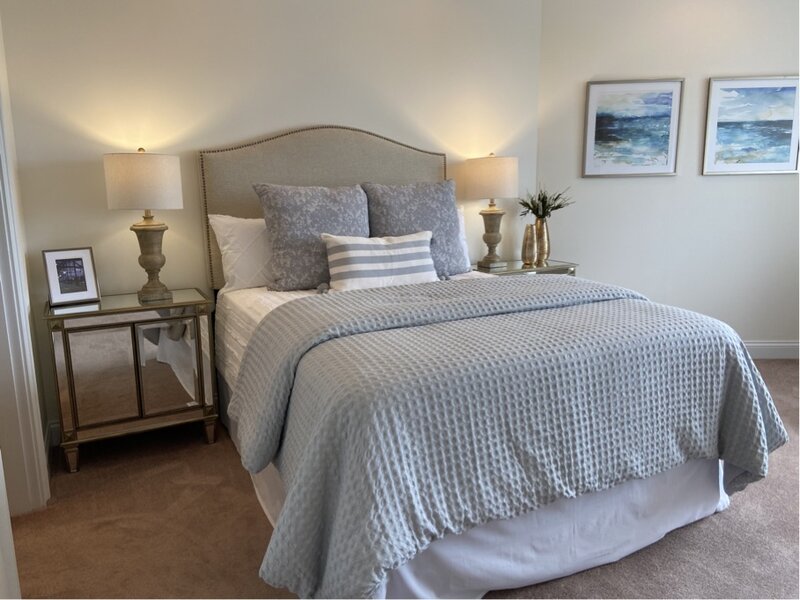 Blending different shades of gray can create a sophisticated and elegant touch in your home. Now, it all boils down to the vibe you're aiming to create! Hence, if you want a warmer vibe, it's generally preferable to choose warmer grays on the comforter, sheets, and throw pillow cases.
Else, the cool grays will create a modernist and contemporary touch with a sense of crisp and formal appeal. Yes, this is also one of the most versatile color palettes to pair with your gray headboard.
Multi-Colored Striped Comforter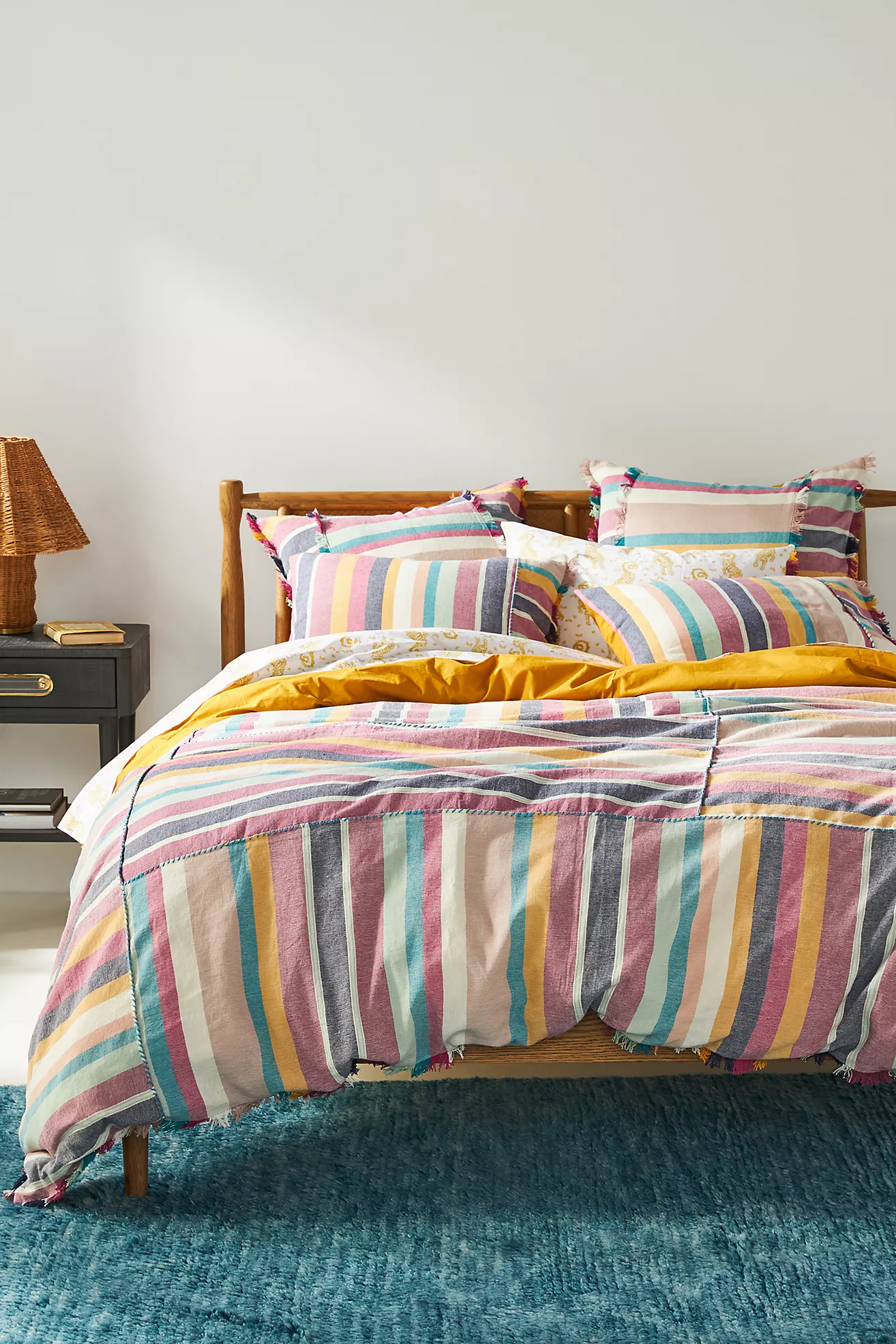 Why choose a single hue when you have the opportunity to blend them all! Yes, you can absolutely create a playful and eclectic background with the help of this multi-colored patterned comforter to pair with the gray headboard.
It's a given that this comforter makes your bedroom feel more welcoming and cheerful. And readily solves your problem if a gray headboard is too monotonous for you!
Play with Checkerboard Pattern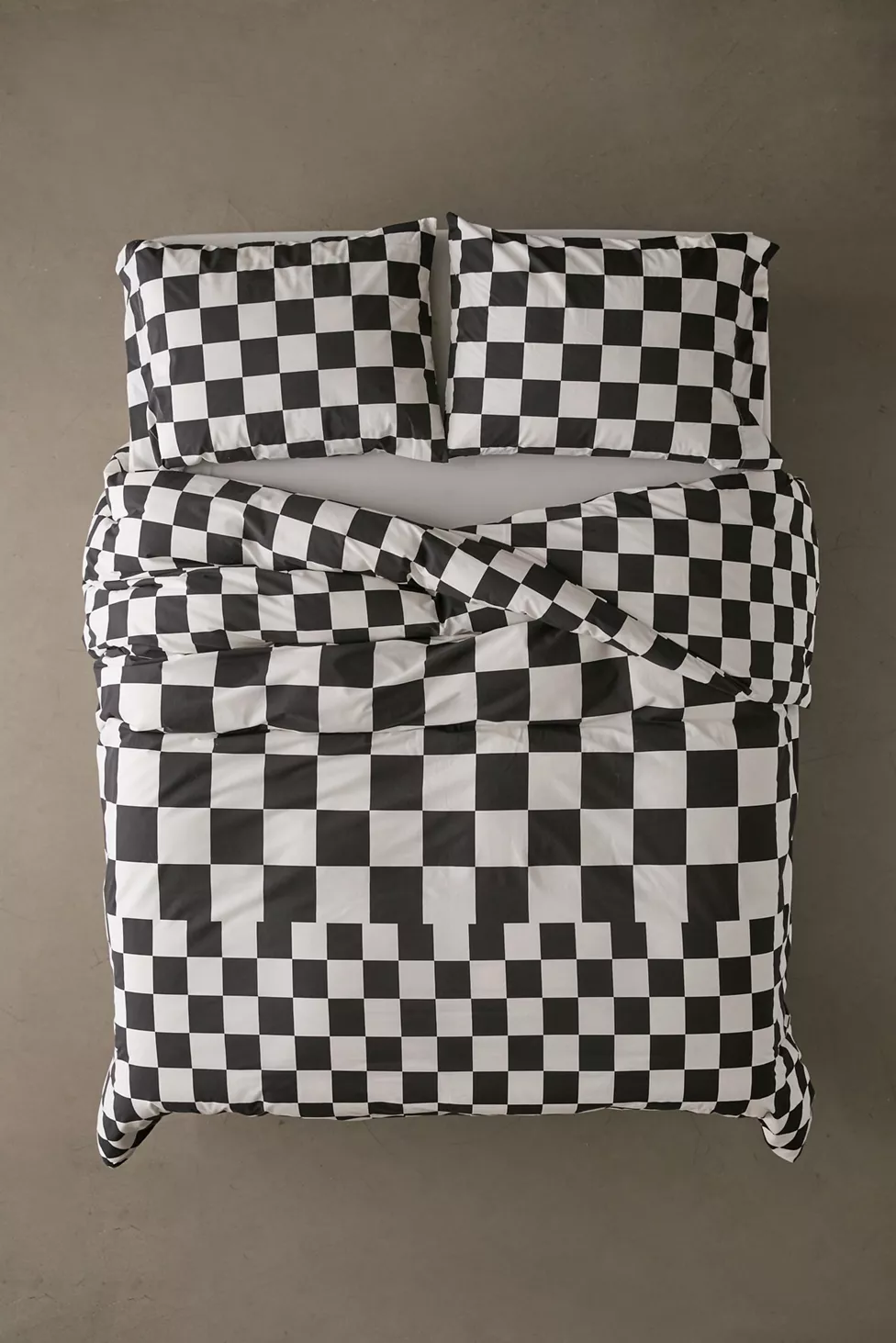 It's time to coordinate your gray headboard with a chic and playful checkerboard pattern. This black and white pattern adds a sense of visual interest while making your room feel even more vibrant and eye-catchy. However, you must ensure to add a couple of contrasting yellow, rust, or blue solid hues to play subtly with the existing loud background.
Yes, it's important to foster harmony and balance since too many patterns can gradually look old and outdated. Rest assured, you're good to go with checkerboards!
Introduce the Vibrant Teal
Teals have the potential to beautifully pair with your gray headboard as they unexpectedly bring pop and a stunning visual interest. From suede fabric to velvet – you could choose either to infuse a sense of luxe and vibrancy in your bedroom.
Furthermore, you can always introduce a tinge of dark gray and mustard with the teal to enhance the palette and make the room feel cohesive. Golden tints on the metals are something to look forward to!
Pair With the Daring Florals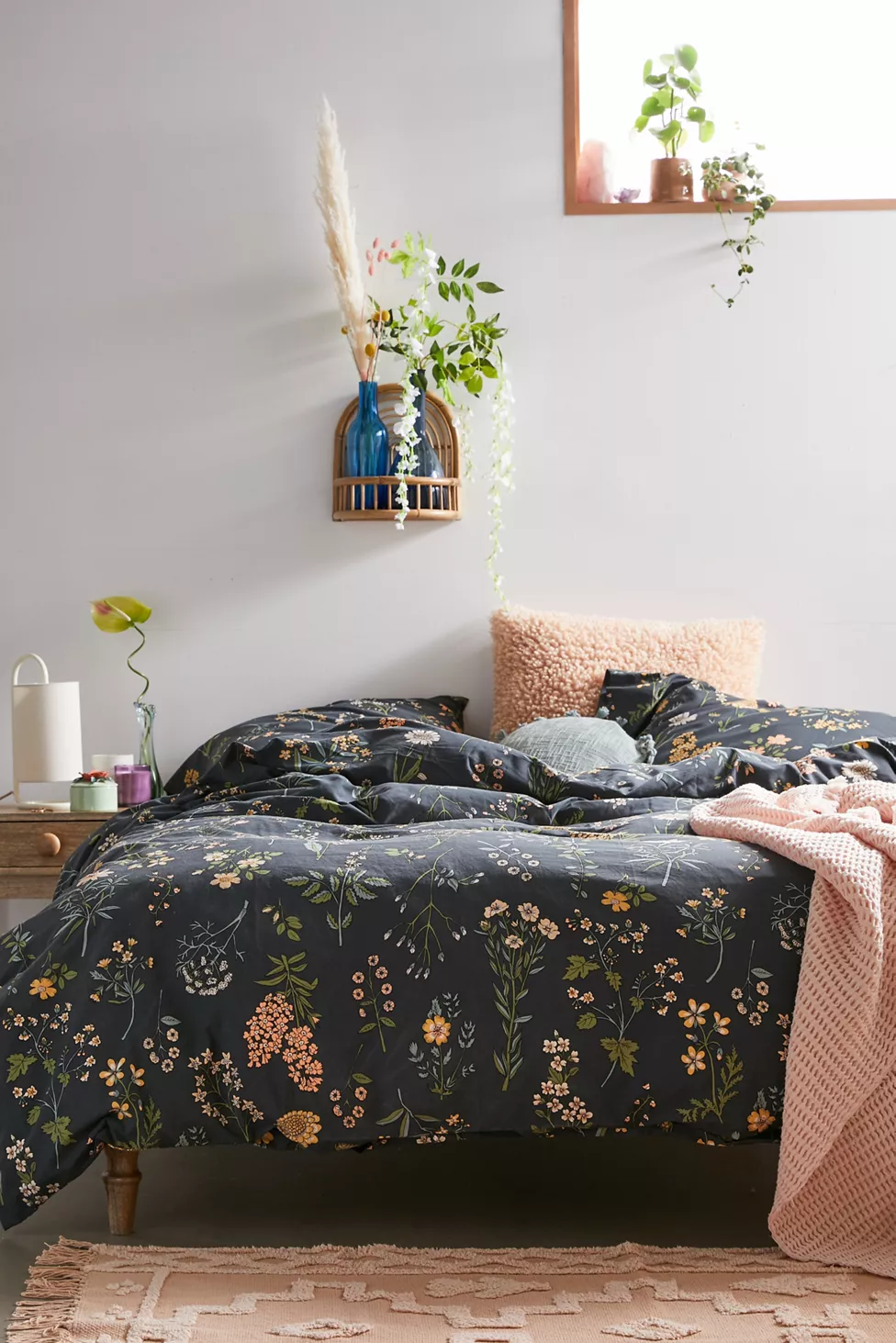 If you have an eye for floral details, you know that's what you want. So, with your gray headboard, you must pair this bold, blooming floral print with an amalgamation of soft pink, mustard, and gray throw pillows. This could either be fur, faux, or cotton!
A woven throw blanket to style wouldn't be a bad option either. So, let your bedroom feel more dreamy and cheerful than ever!
Play With Contradictory Burnt Orange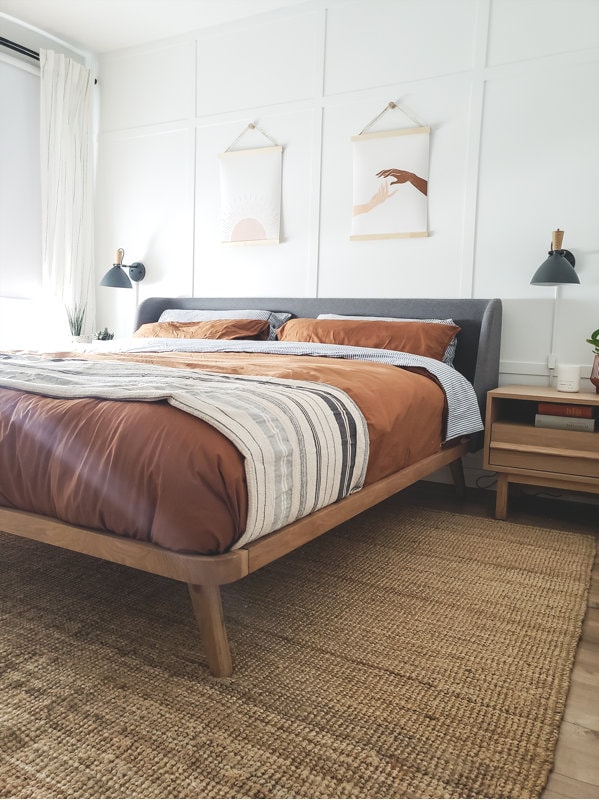 Burnt orange is a striking and energetic warm color that can superficially pair with the gray headboard. And this absolute contrast is what makes the palette so stunning and mesmerizing. Yes, the orange is going to protrude out and make a focal point in your bedroom.
This earthy tone on the comforter can be best paired with a jute rug and ample wooden textures for a homely and lively appeal.
Blend of Fawn and White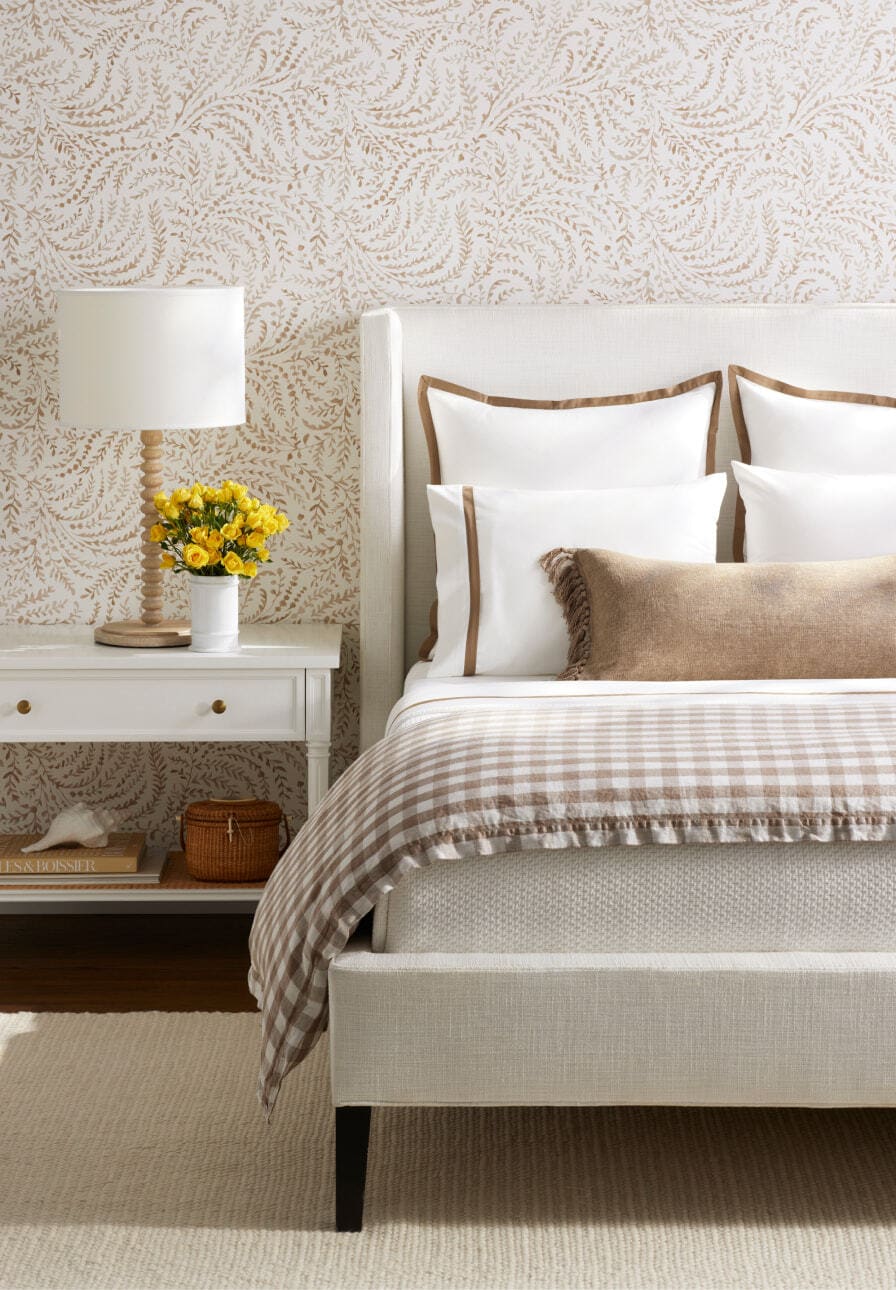 Add a sense of warmth to your bedroom with the help of a fawn-colored comforter to pair with your gray headboard. Of course, you can mix and match the solid hue, plaid patterns, and stripes to imbibe a sense of depth and charisma to your space.
This palette should work with vintage, farmhouse, and even coastal-style bedrooms. And you must know that this is a blend ideal for light gray headboards as compared to darker gray headboards!
Summing It Up
By this time, it's a given that gray can pair with almost any color comforter. Since you already have so many options, it all depends upon your interior design style, color palette preferences, and overall vibe. Is there any idea that specifically mesmerized you? Well, do let me know your thoughts in the comments below!