Decorated Life is reader-supported. When you buy through links on our site, we may earn an affiliate commission. Learn More
What To Put Above a Kitchen Sink With No Window – 15 Ideas
Many kitchen sinks have windows above them, providing ample natural light and a beautiful view. If you have a kitchen without a window over the sink, however, you might have trouble figuring out how to fill in the empty space.
We've compiled this list just for you. Here are 15 ideas for what to put above a kitchen sink with no window. These ideas will help complete your kitchen decor and allow it to look both chic and stylish.
Go for Ultimate Practicality With a Dish Rack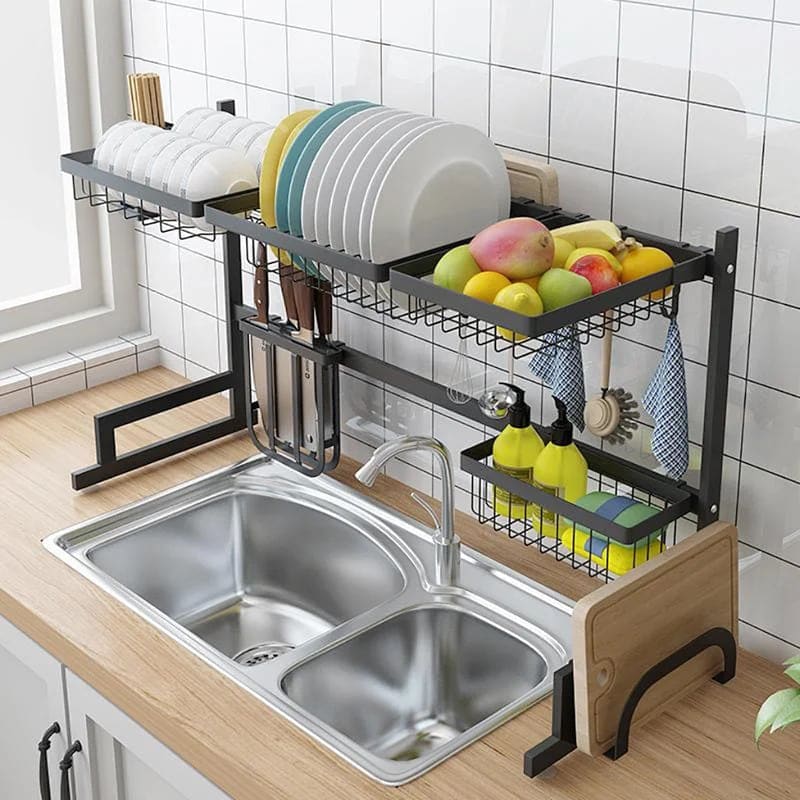 Dish racks are a popular option to put above your kitchen sink, and it makes total sense. If your dishes are wet, you can put them on a dish rack to dry, and any leftover droplets will fall into the sink. They also make for easy organization, which is especially great for keeping your favorite dishes within reach.
This dish rack in particular has the added benefit of extra shelving, allowing you to store soap bottles, knives, cleaning brushes, or other practical kitchen items. Along with filling the empty space above your sink, it's a highly practical solution.
Cherish Your Favorite Moments With a Collage Photo Frame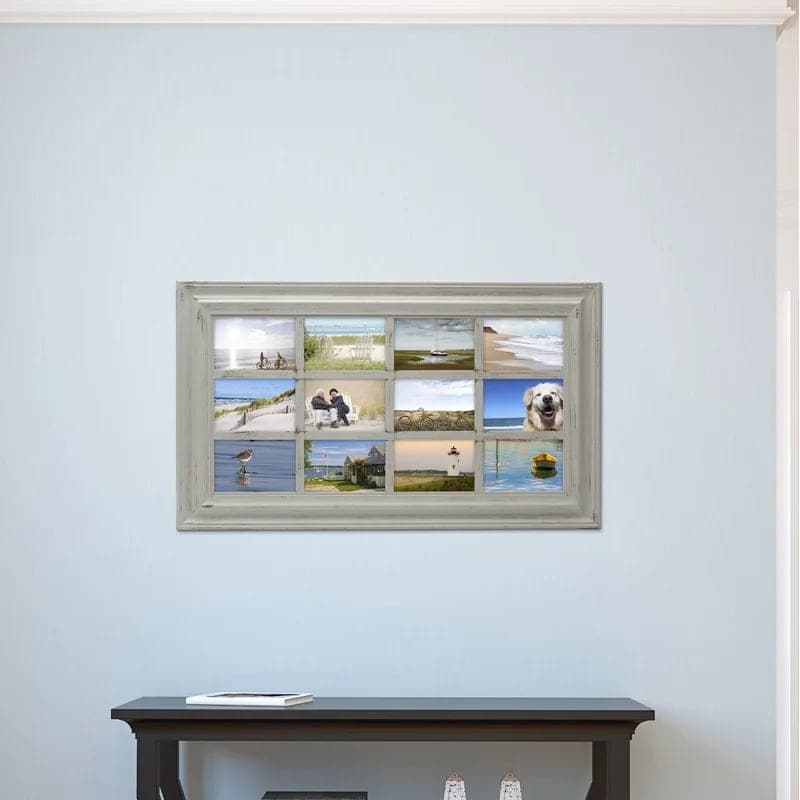 Why not make each trip to the sink a nostalgic blast to the past? Using a collage photo frame above your sink can make this a reality. You can easily fit pictures of your friends and family, photos of the sea you took on a beach vacation or any other photos you're looking to display. Depending on how you arrange them, the collage can even be a work of art in its own right.
It's also a versatile option since this collage photo frame can be hung both vertically and horizontally. Whether the space over your sink is higher or wider, it will likely fit in with your existing setup.
Show Off Your Artistic Side With an Abstract Painting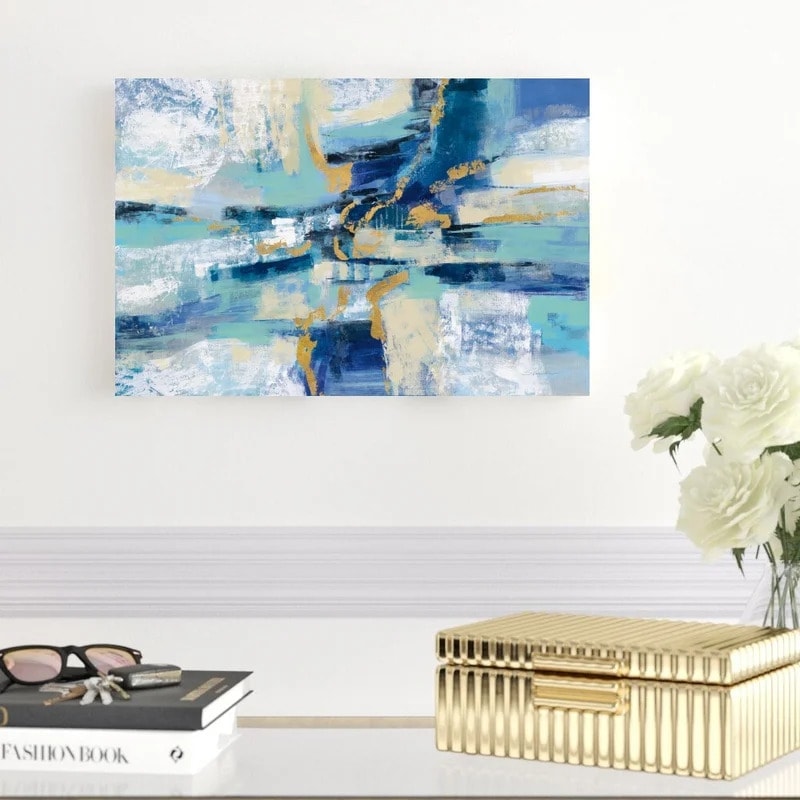 Abstract paintings can be a colorful addition to your home. If the area above your kitchen sink is looking a little dull, it can easily be solved with a great painting.
This painting in particular uses gorgeous cool tones with golden accents. It's a great addition to existing blue kitchens or ones with a monochrome color palette that need a splash of color. It would work especially well with wider over-the-sink areas due to the painting's horizontal orientation.
Be Ready for a Good Time With an Under-Cabinet Wine Rack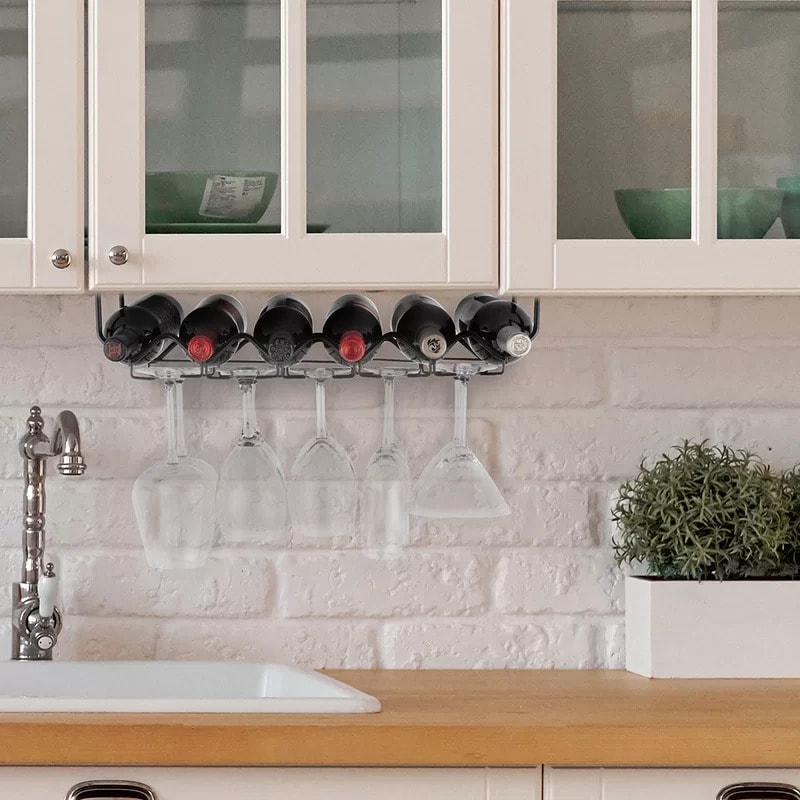 Wine is a staple of dinner parties or a quiet night at home. Whatever the occasion, if you're a wine-lover, you'll definitely need a storage option. If you have cabinets above your sink and some space underneath, an under-cabinet wine rack could work perfectly with your setup.
This wine rack stores up to six bottles and has plenty of space for wine glasses. If you'd like a practical and stylish storage solution for your wines, this could be a great option for you.
Start a Mini Garden With Wall-Hanging Planters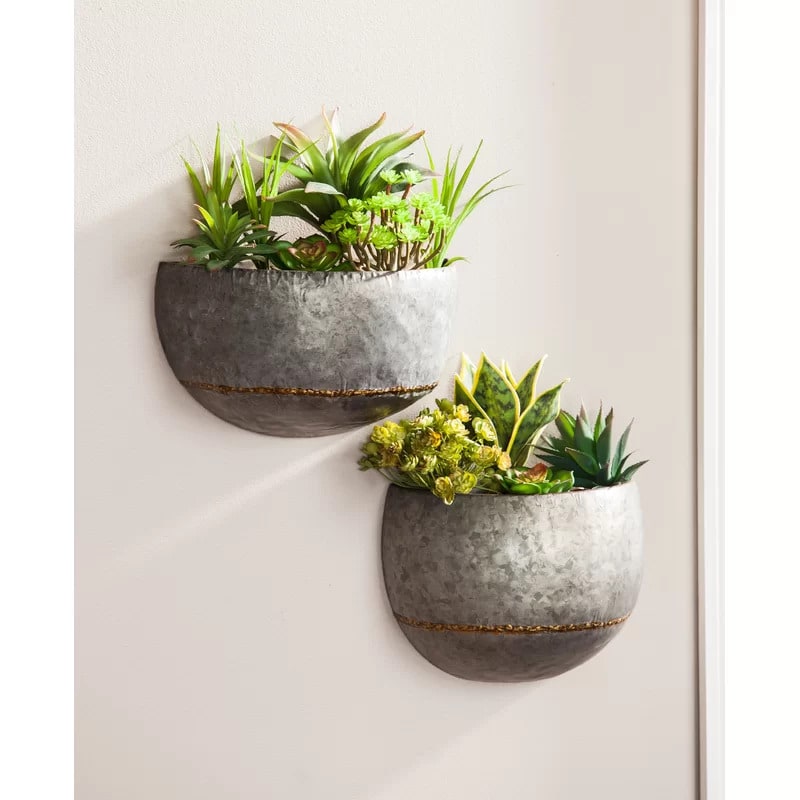 If you have enough natural light in your kitchen without a window above the sink, you could easily fill the space with some wall-hanging planters. If you'd like to add a burst of color, you could add some colorful flowers. Or, if you love cooking, you could start a mini herb garden.
Even if you don't have a green thumb, you could still utilize these stylish planters. Mini succulents are easy to grow and don't require much upkeep to survive. You could even fill them with small fake plants for the lowest maintenance option possible. Whatever you decide to fill them with, they could definitely be a great option to make the area around your kitchen sink shine.
Check the Time in Style With a Wall Clock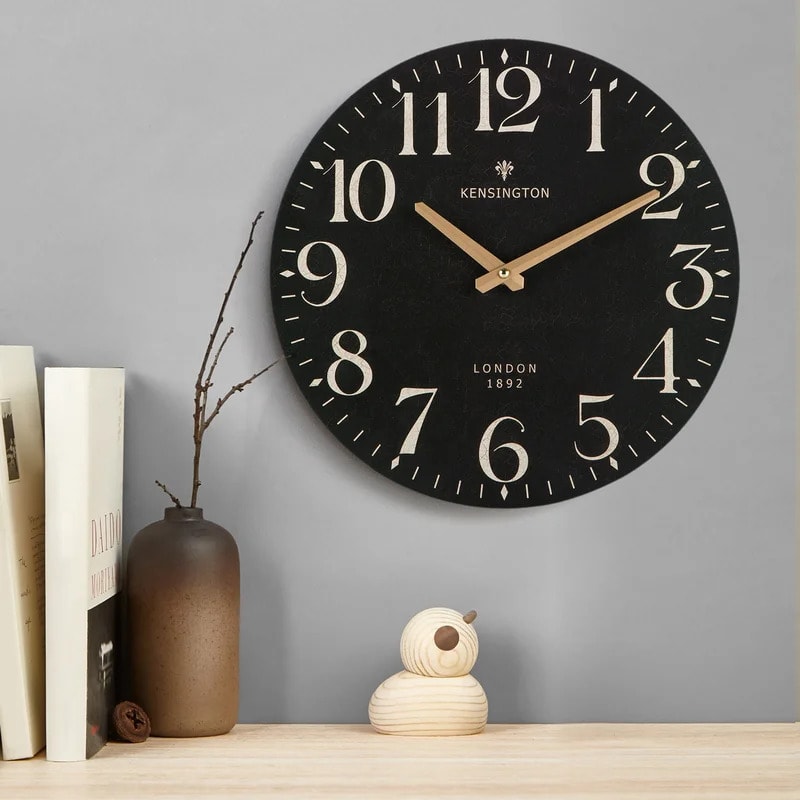 Wall clocks are a staple of interior design. Many are works of art in their own right, and the variety of designs they come in can fit with any aesthetic.
This wall clock is minimalistic but makes a statement in its own way. The light-colored numbers against the dark gray background make for excellent contrast, and the brown wooden clock hands add a unique twist to the design without going overboard.
Replicate a Window Look With a Window Mirror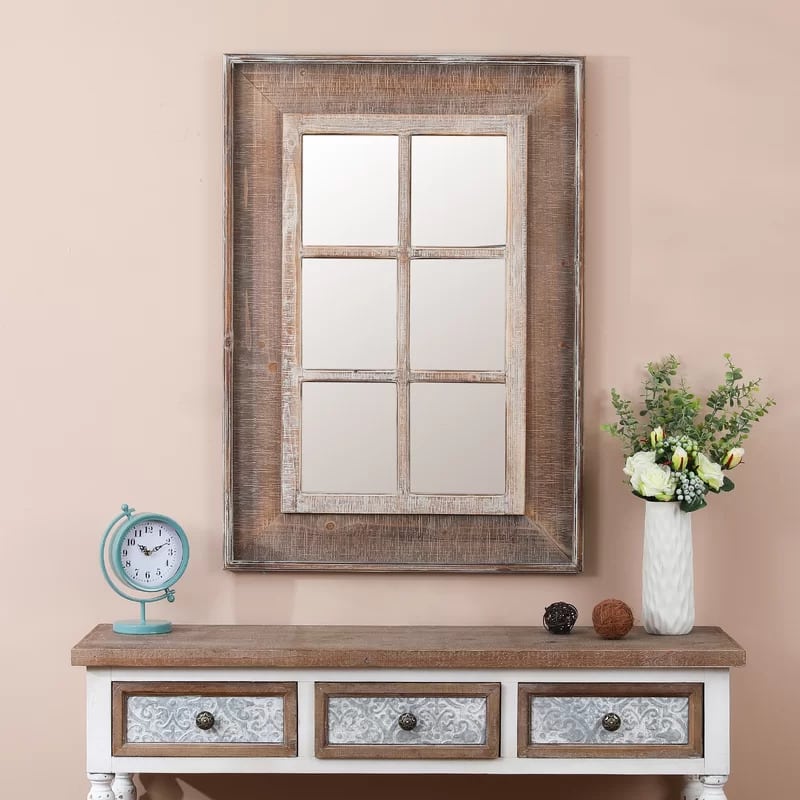 If you don't have a window above your kitchen sink but really wish you did, you can easily replicate the look with a window mirror. Window mirrors look nearly identical to real windows, just with a reflective surface instead of transparent glass. They can also serve a practical purpose as well, spreading natural light throughout your space.
This window mirror is relatively simple, allowing it to fit in a variety of contexts. It would work especially well if you have a lot of vertical space above your sink.
Keep Track of Your Busy Schedule With a Calendar Board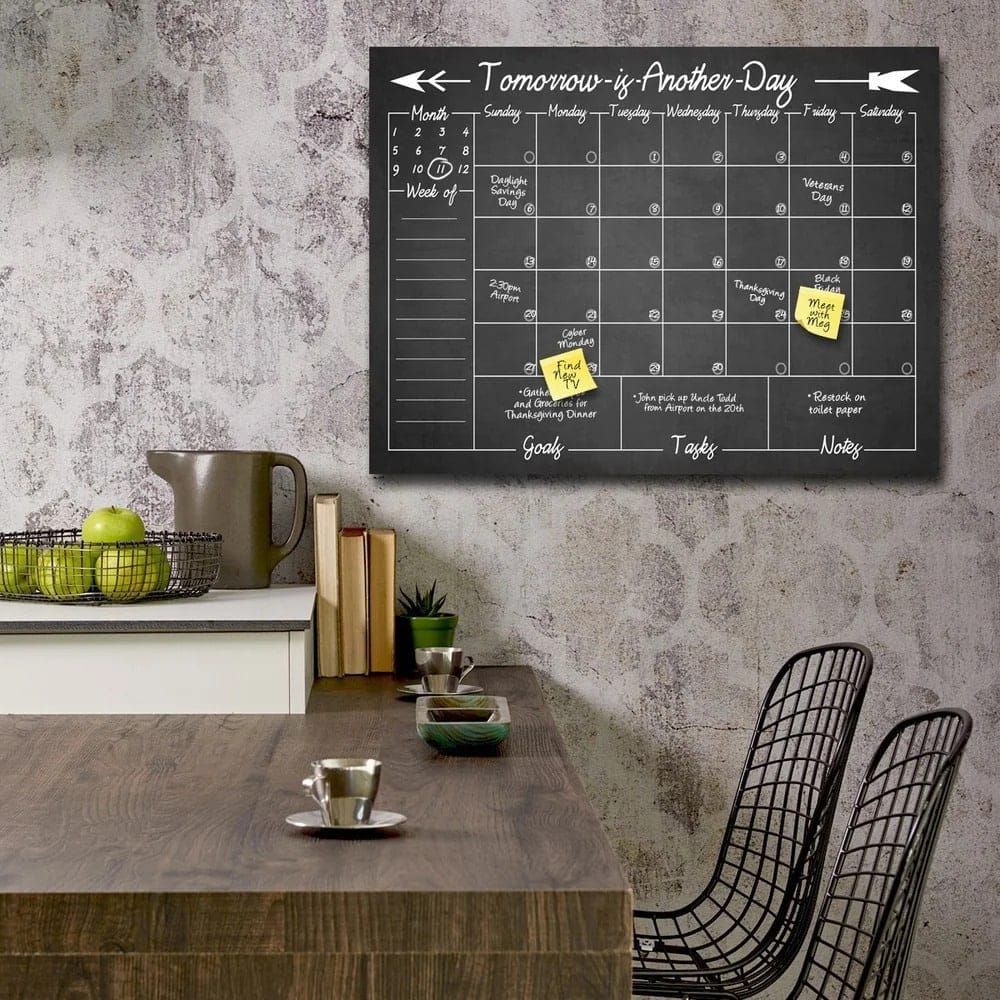 Another practical approach to above-sink decor besides a dish or wine rack is a calendar board. It may not store items, but it does organize dates, events, and deadlines. If you use the kitchen sink often, it could be a great way to remind yourself of what's coming in the days and weeks ahead.
This calendar board looks like a chalkboard, but it's dry-erase instead. It has plenty of space to fill in the dates on the calendar, and it even has space at the bottom for goals, tasks, and notes.
Keep Easy Cleaning Within Reach With a Towel Rack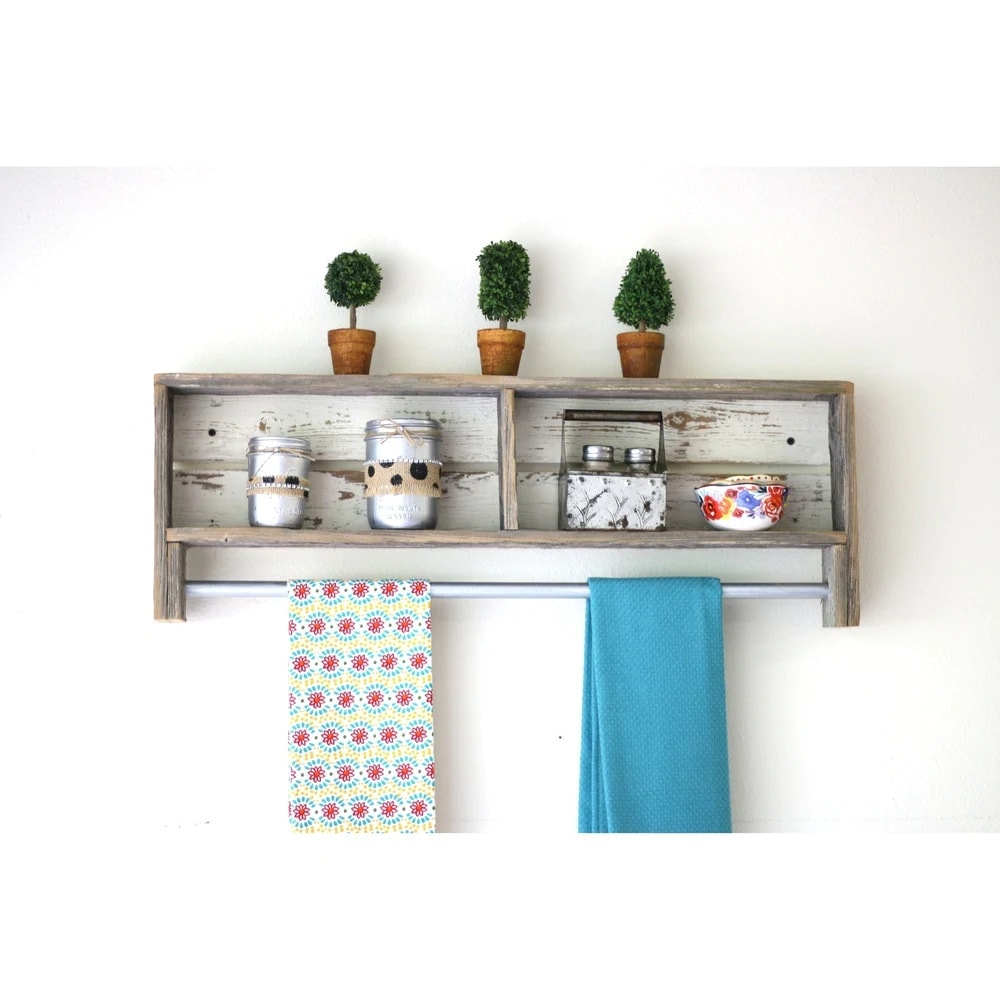 Many put their towel racks on cabinets, but if you have space above your sink, you can easily adopt a different solution. Putting your towels above the sink puts them within reach whether you need to clean up a spill or dry your hands off.
You can even make your towel rack a statement piece depending on your towel choices. You can add bright kitchen towels for a bright pop of color, or monochromatic colors for a minimalistic look.
Let Your Creativity Run Free With a Pinboard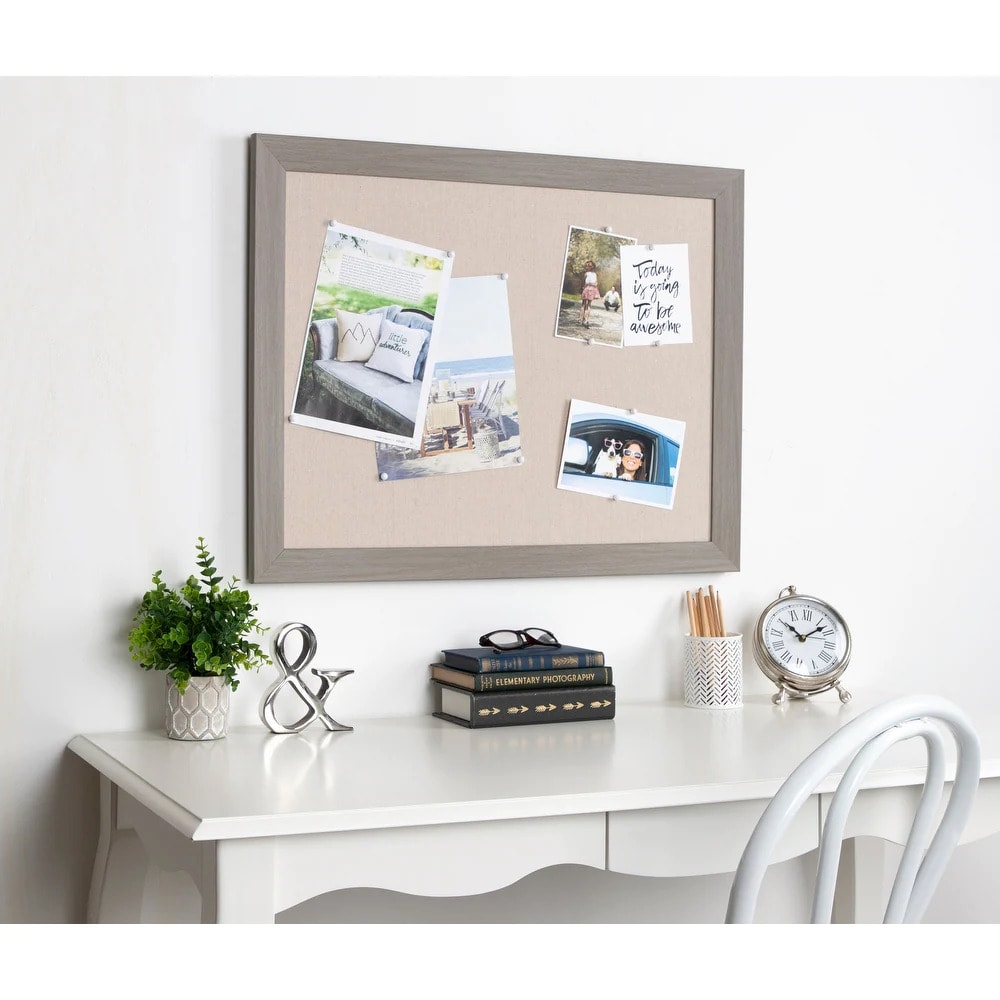 Pinboards can serve many different purposes. You can put up images that represent your goals and make an inspiration board, or you can pin essential memos like shopping lists and more. However you decide to use it, depending on your setup, you may be able to fit a pinboard above your kitchen sink.
This pinboard is very simple, giving you the creative freedom to make it match your favorite aesthetic. You can add colorful pins for some artistic flair, for example.
Add Flair to Your Minimalistic Kitchen With a Metal Line Art Print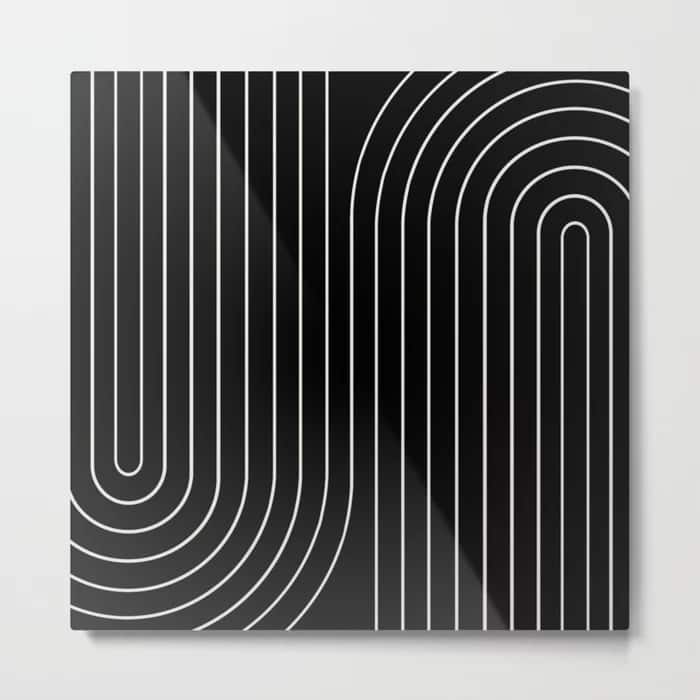 If you're a minimalist but would love to add some art above your kitchen sink, a simple metal art print might be the choice for you. Being metal, it's durable and can stand up to wear and tear.
This metal art design is made by an independent artist and would work well in both minimalistic and modern contexts. It has a simple line art design on it, but it makes a statement thanks to the black and white contrast. It also comes in different sizes, making it easier to fit into your existing setup.
Make Your Kitchen Look Unique With a Modern Tapestry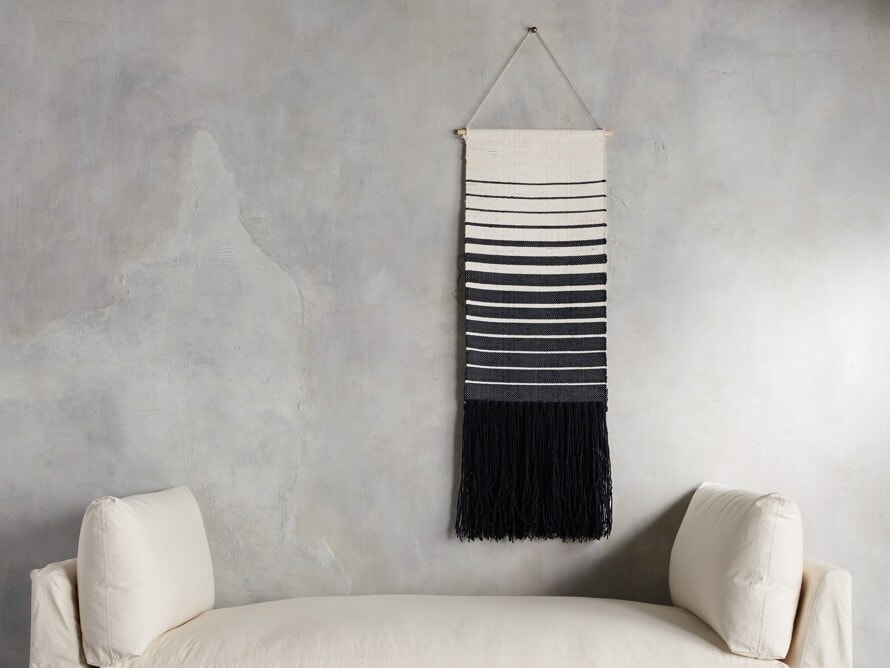 If you have a lot of vertical space above your sink but nothing to fill it with, you might enjoy putting up a gorgeous tapestry. This tapestry is vertically oriented and simple, allowing it to fit in a variety of different styles
Since contrast is a staple of modern design, however, it would be right at home in a modern kitchen.
Add a Simple Touch With Circular Wall Art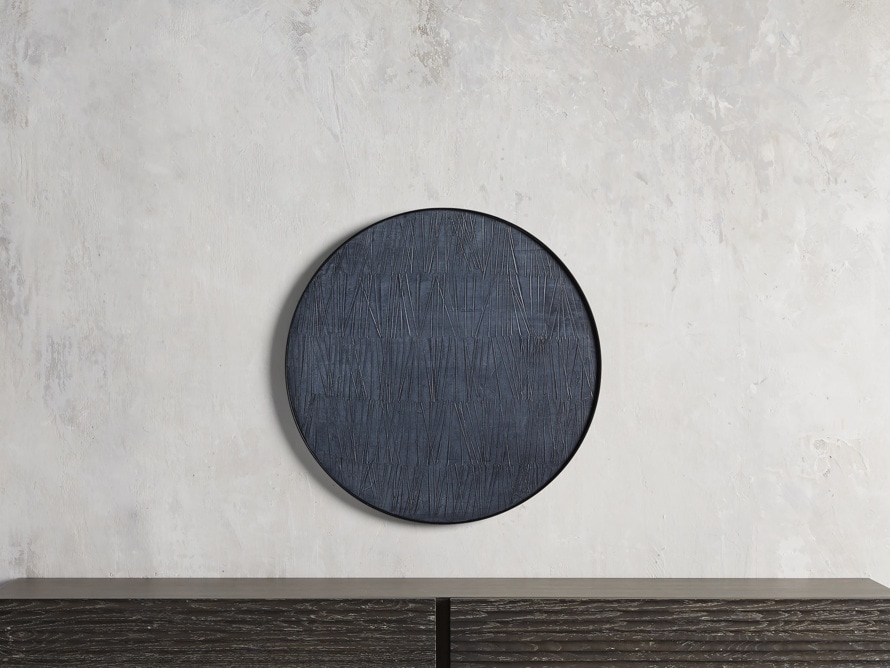 If you'd like to add a simple flair to your kitchen, a great option is circular wall art. This circle wall art has hatched lines in it for subtle texture. Its navy blue color scheme allows it to fit in seamlessly with many kitchen color palettes.
Circular wall art can also be great for design versatility. If you have a lot of space above your sink, you can put multiple pieces together and create a unique display.
Bring the Beach to You With Metal Coral Art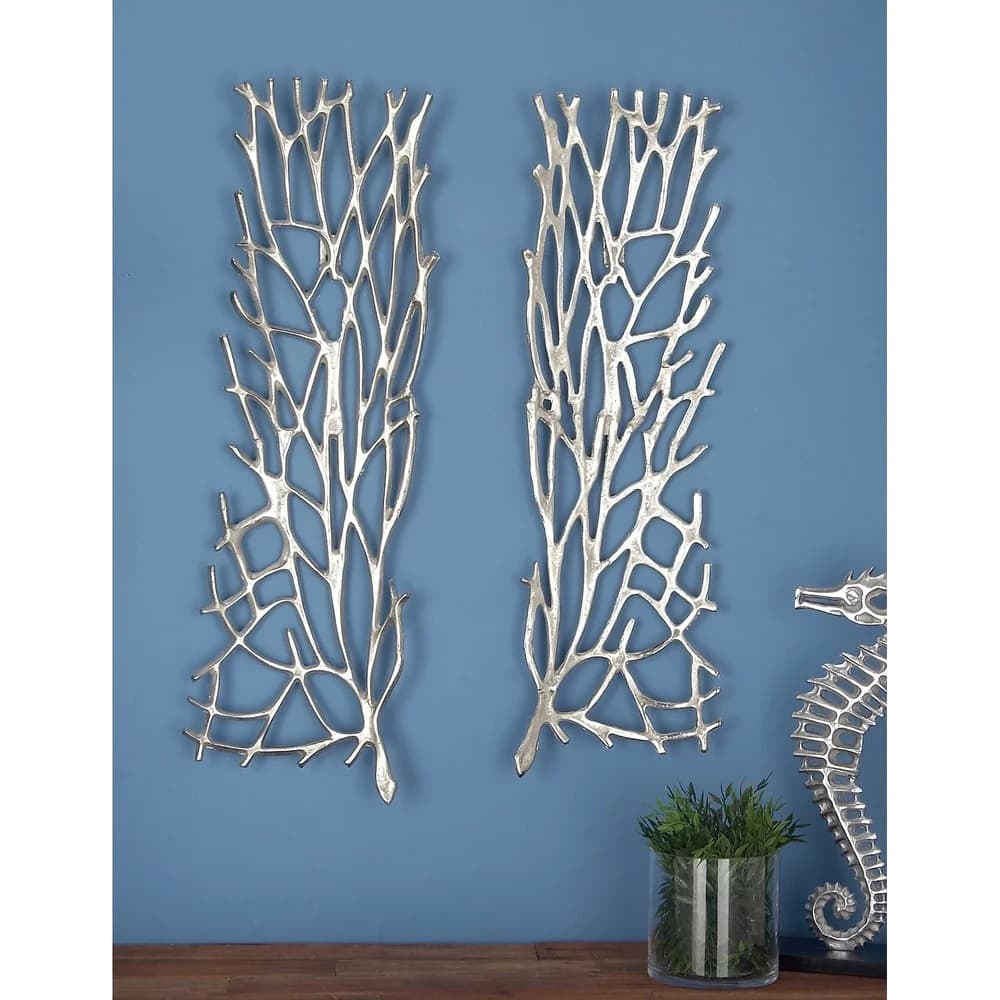 Plenty of homes incorporate sea-themed elements, bringing the beach without having to go on a fancy island getaway. This metal coral art is no different. Being silver, it can fit in with pretty much any beach-themed room, no matter how you set it up.
If you have some vertical space above your kitchen sink, you can continue an existing beach theme or just add a bit of natural flair with this metal coral art.
Go For a Rustic Aesthetic With a Metal Plaque Set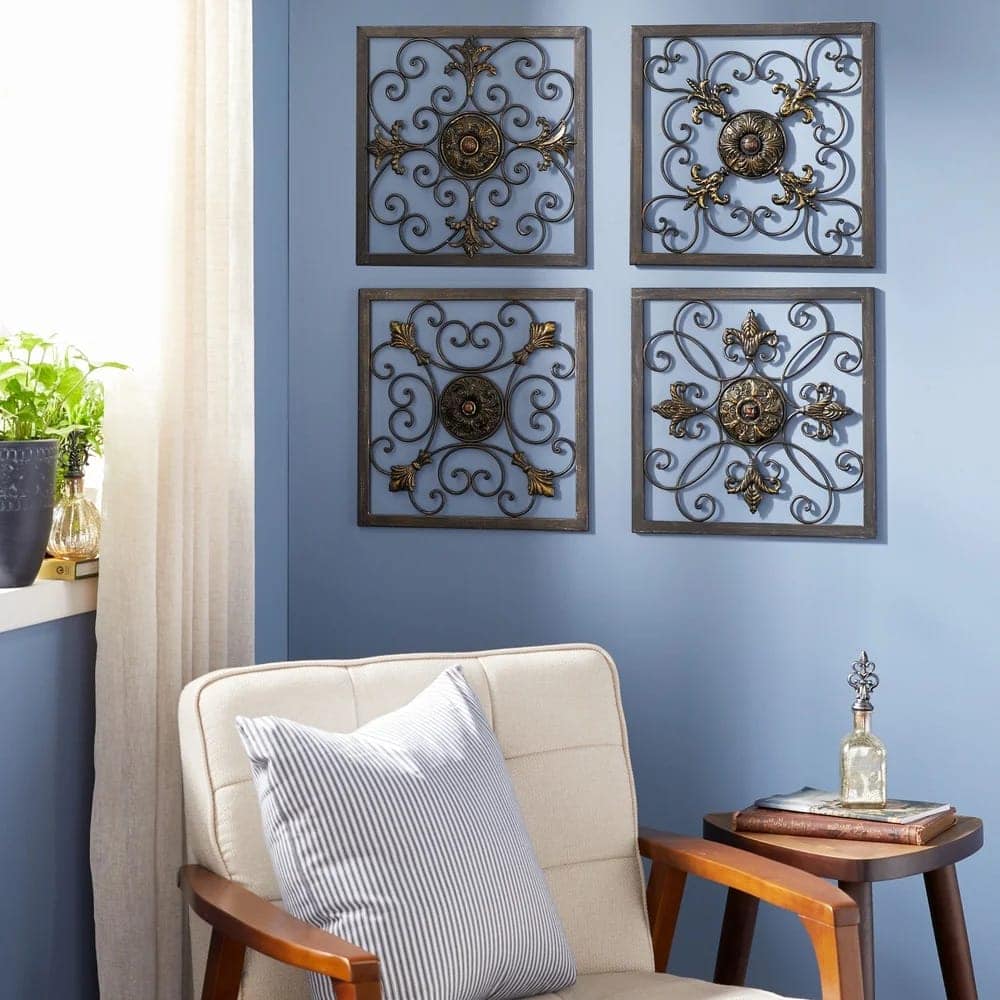 Metal plaques can make a gorgeous statement in your home. This set of four resembles tile work. It can add a touch of asymmetry since each one is unique. Its aged bronze look is perfect for incorporating into a rustic kitchen.
If you have a lot of space above your sink, this could be a great option for you. You can even change up the orientation depending on your preferences, keeping the plaques closer together or putting them farther apart.
Final Thoughts…
Whether you're looking for an artistic statement piece or a practical storage solution, there are plenty of ideas when it comes to what to put above a sink. If you have no window above your kitchen sink, it's no longer an issue. You can still have a stylish kitchen set-up, even without an outside view.
Thanks to endless decor options, your kitchen sink area doesn't have to look plain any longer. We hope this list inspired you and gave you ideas for what to put above your kitchen sink.