Decorated Life is reader-supported. When you buy through links on our site, we may earn an affiliate commission. Learn More
26 Kitchen Wall Decor Ideas
A kitchen is the heart of your home. After all, it's where the magic happens! It's where meals are prepared, and where family and friends can gather the end of a long day to relax and enjoy spending time together.
When it comes to decorating your kitchen, an easy way to let your personality show is through your wall decor. Today I'm going to be sharing some of the best kitchen wall decor ideas, to inspire you for your own kitchen!
Rustic Metal Kitchen Sign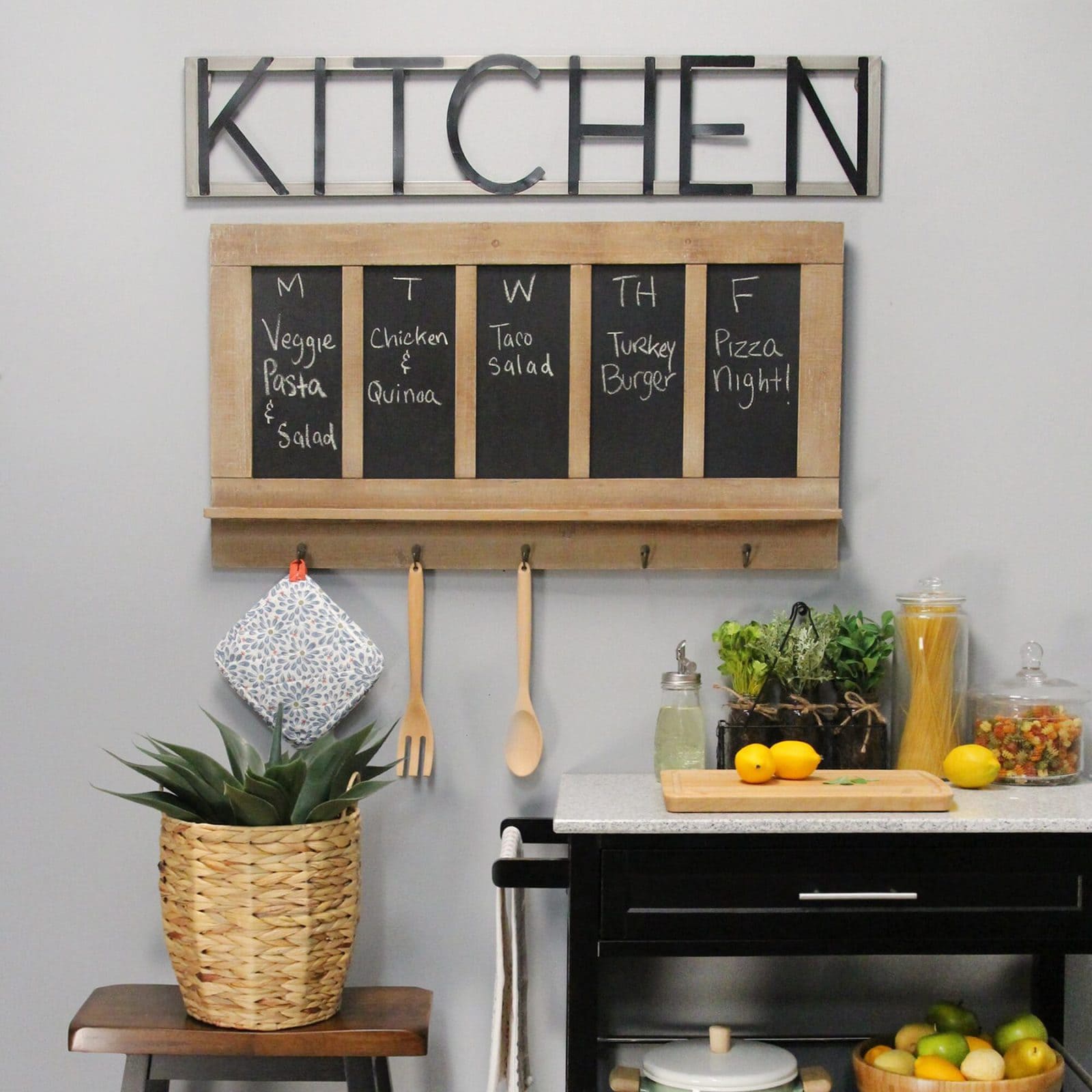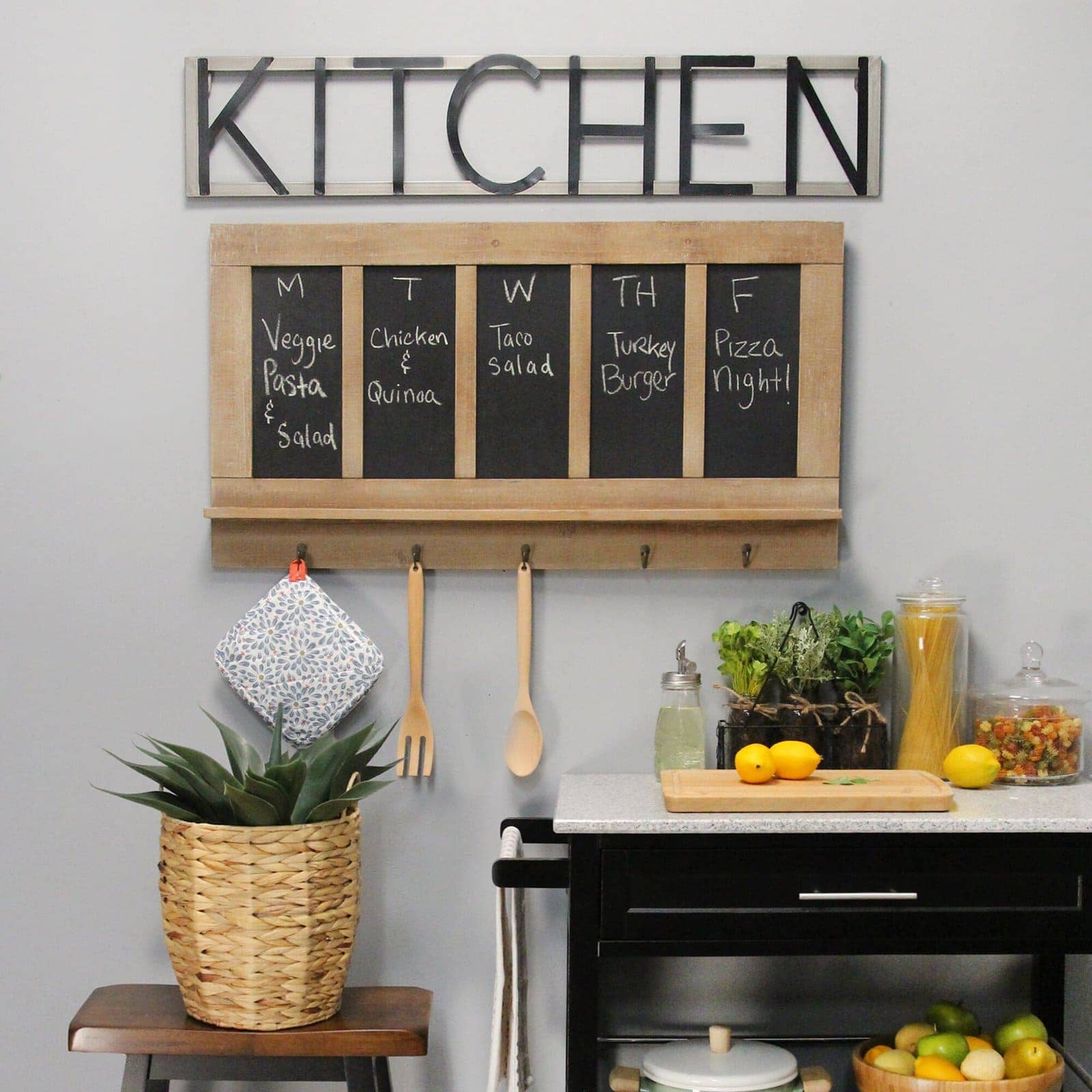 If you have a farmhouse kitchen, then rustic metal signs will always make a great addition to your kitchen wall decor. This metal sign is the perfect mix of rustic and modern, and is a great way to make a statement in your kitchen.
It can be hung on the wall, or you can stand it on your counter leaning against the wall for an effortlessly stylish look. It looks great hung above a chalkboard, where you can write your menu choice for each day of the week!
Wooden Spoon Canvas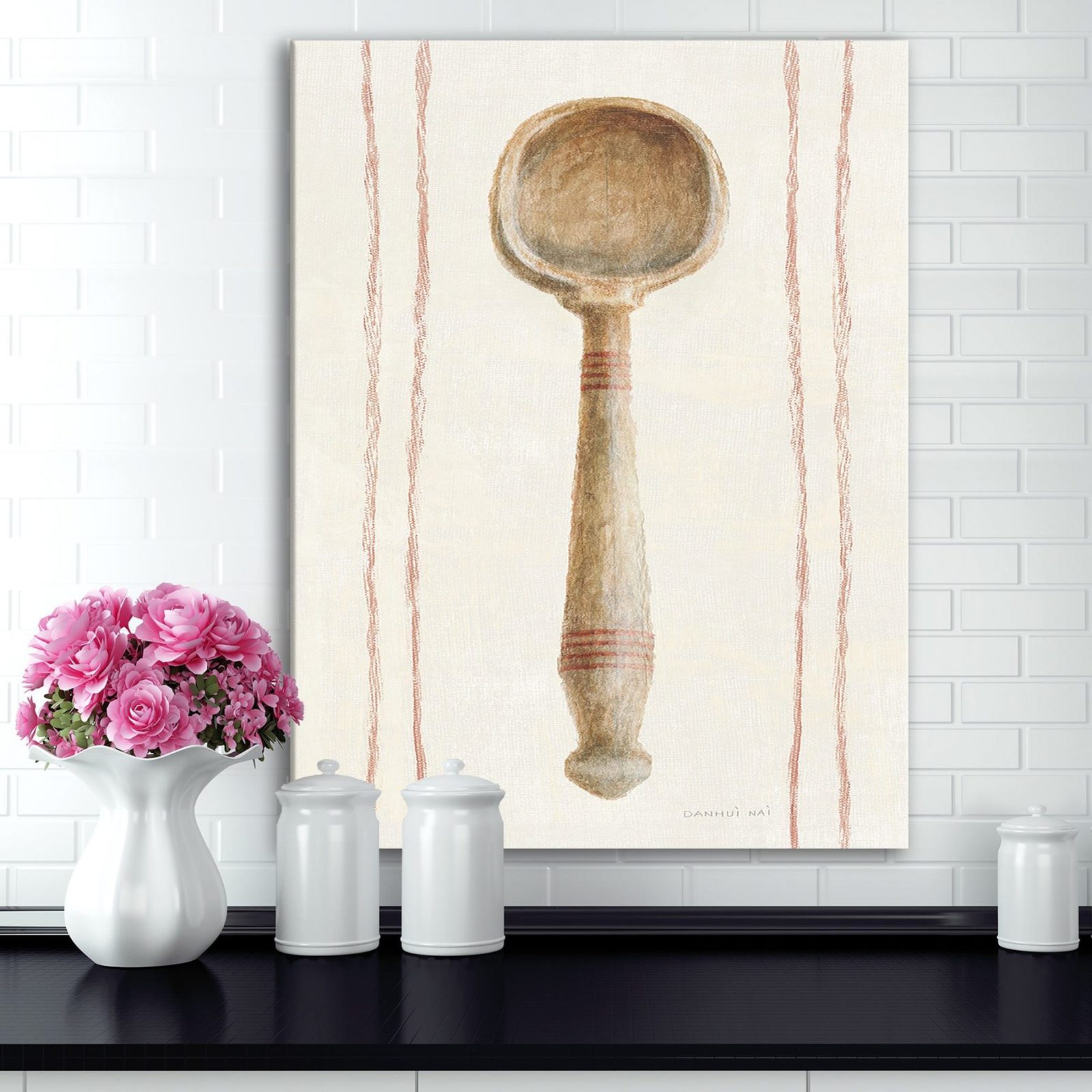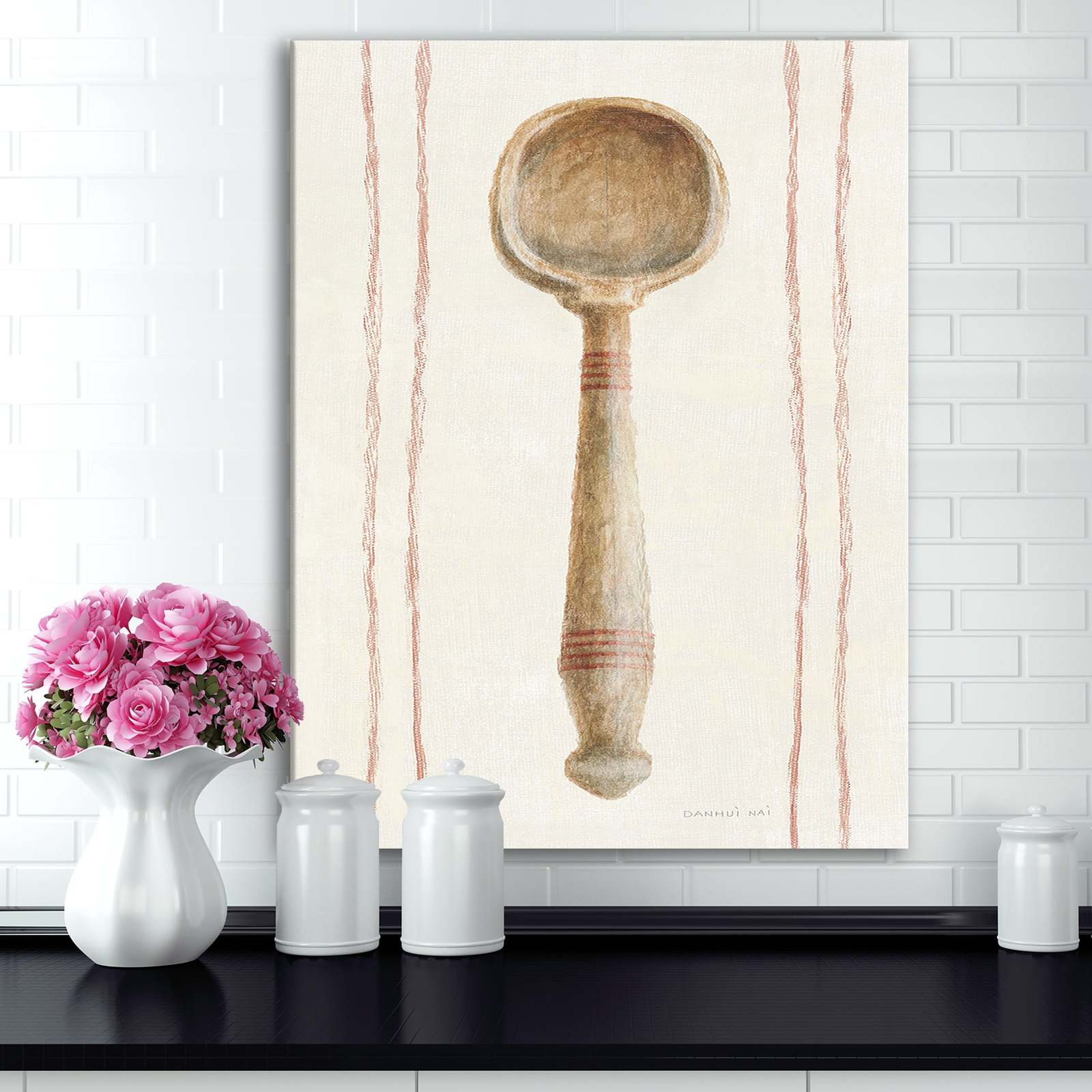 If you're looking for kitchen wall ideas for a farmhouse kitchen, traditional paintings like this one of a wooden spoon will work well. Its muted palette and classic design will bring a touch of country charm to your kitchen.
This wall hanging is made from high quality canvas and comes ready to hang, so you can easily put it up anywhere in your kitchen.
But First Coffee…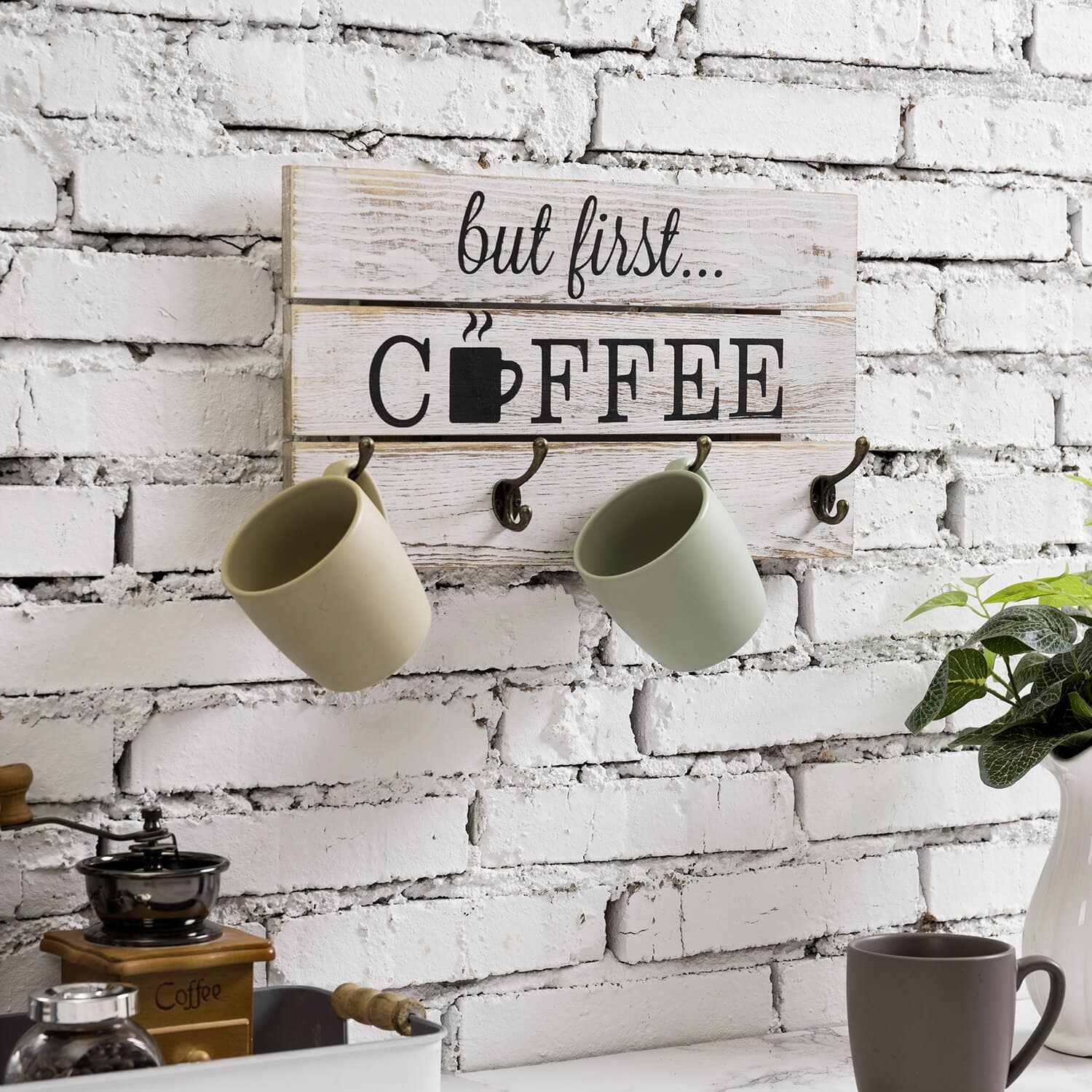 This one is for the coffee lovers. If you're for kitchen wall accessories that are also highly functional, then this coffee sign with hooks is perfect for you. This rustic wooden sign can hold up to four coffee mugs, keeping your kitchen surfaces clutter free.
It features a whitewashed finish with black painted text which will work in both modern and traditional kitchens. As well as coffee mugs, you can use this decorative sign to hold tea towels, keys, or anything else you want stores safely out of the way.
Avocado Art Print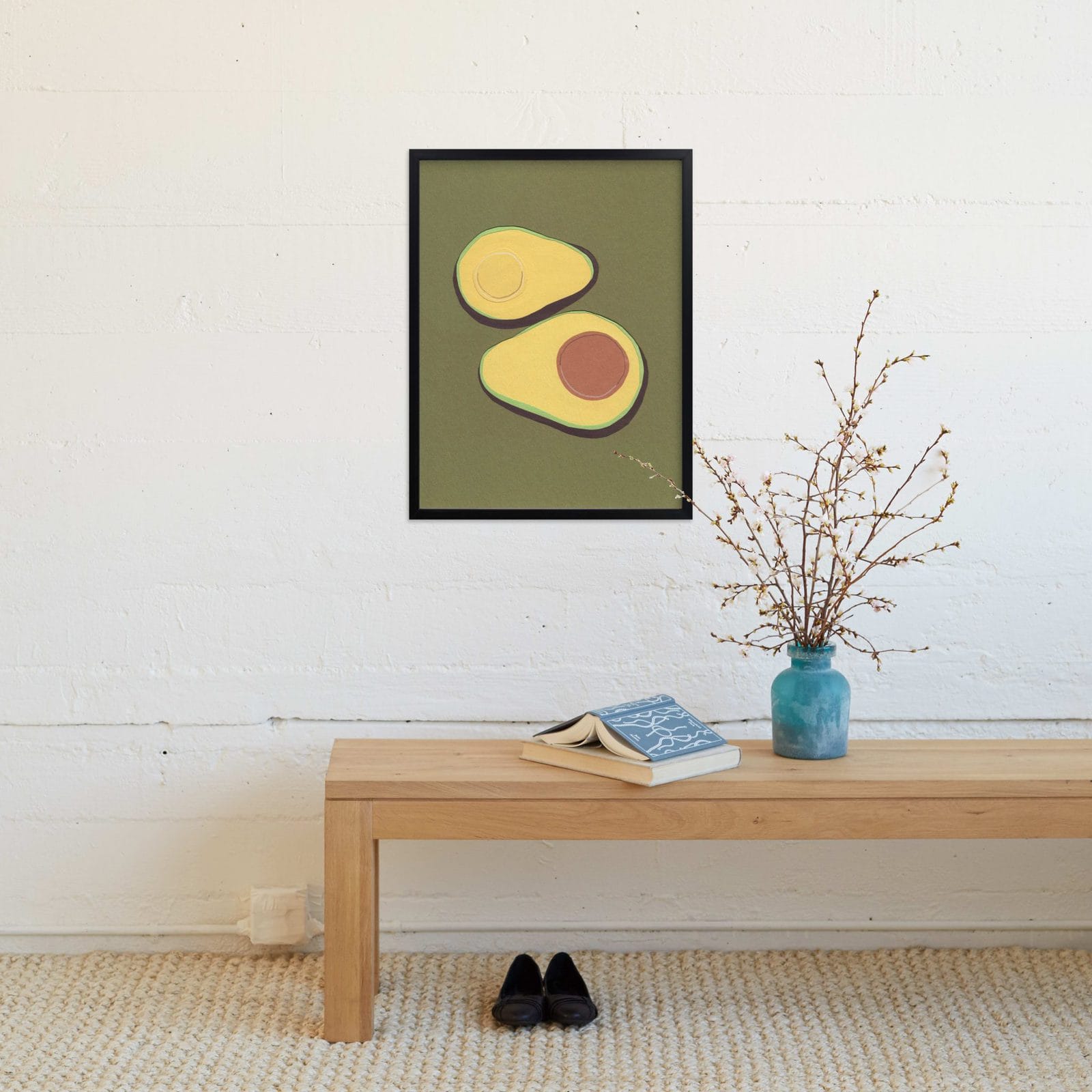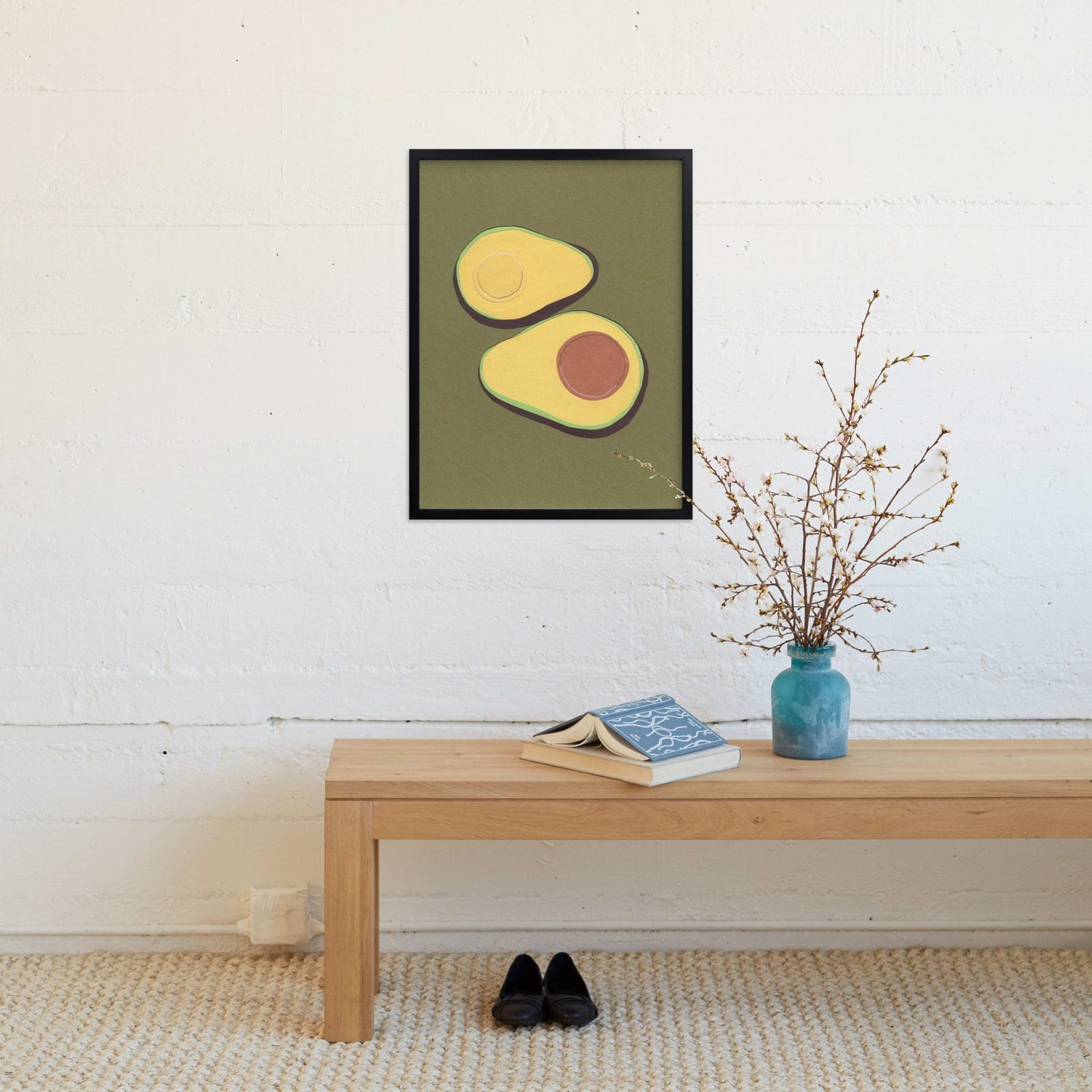 This limited edition Avocado art print is the perfect addition to any modern or traditional kitchen. Artwork featuring foods is ideal for a kitchen, making your mouth water and inspiring you while you cook.
This bold print will add a splash of color to your kitchen too, perfect for anyone who wants to add personality and flair to a plain kitchen.
Let's Eat Sign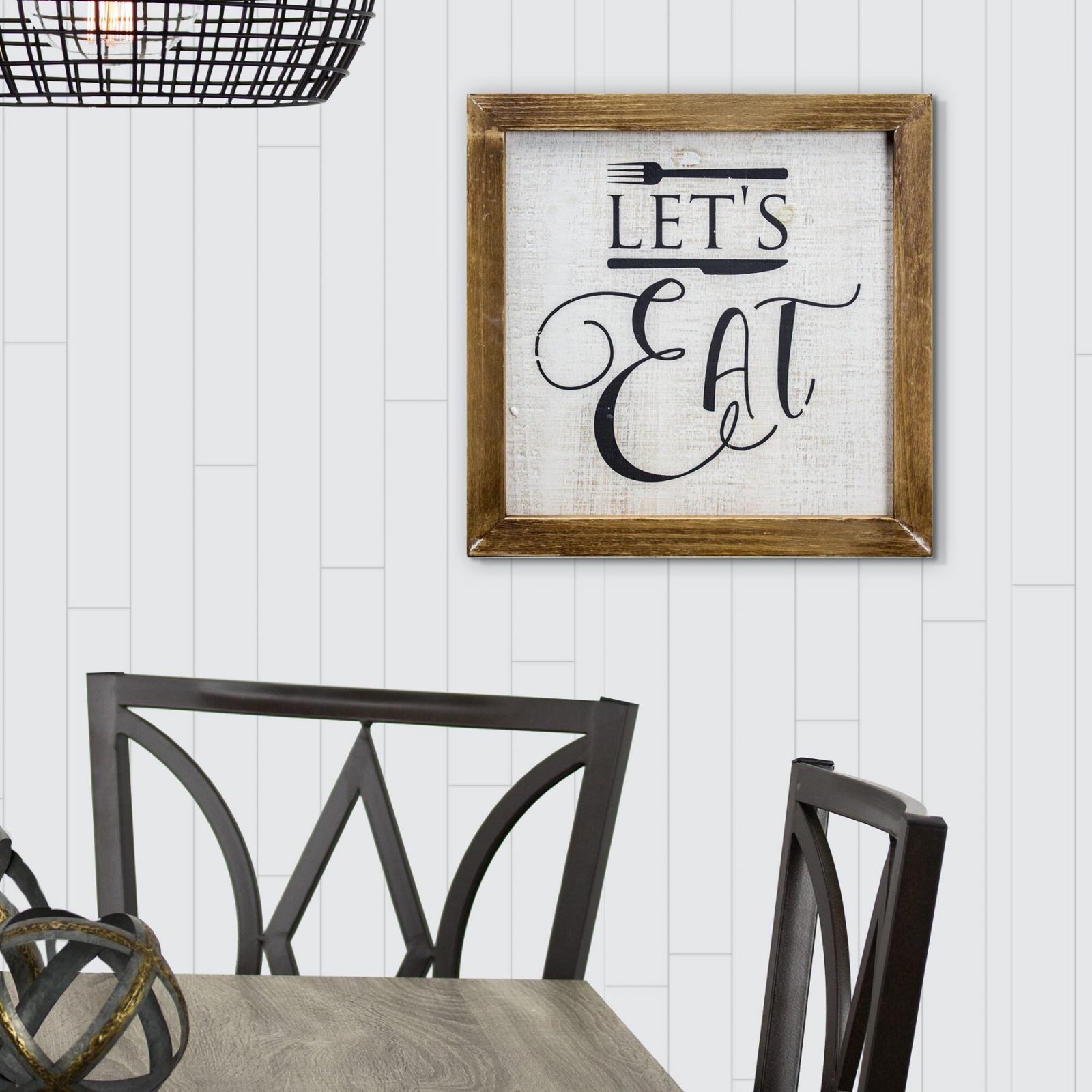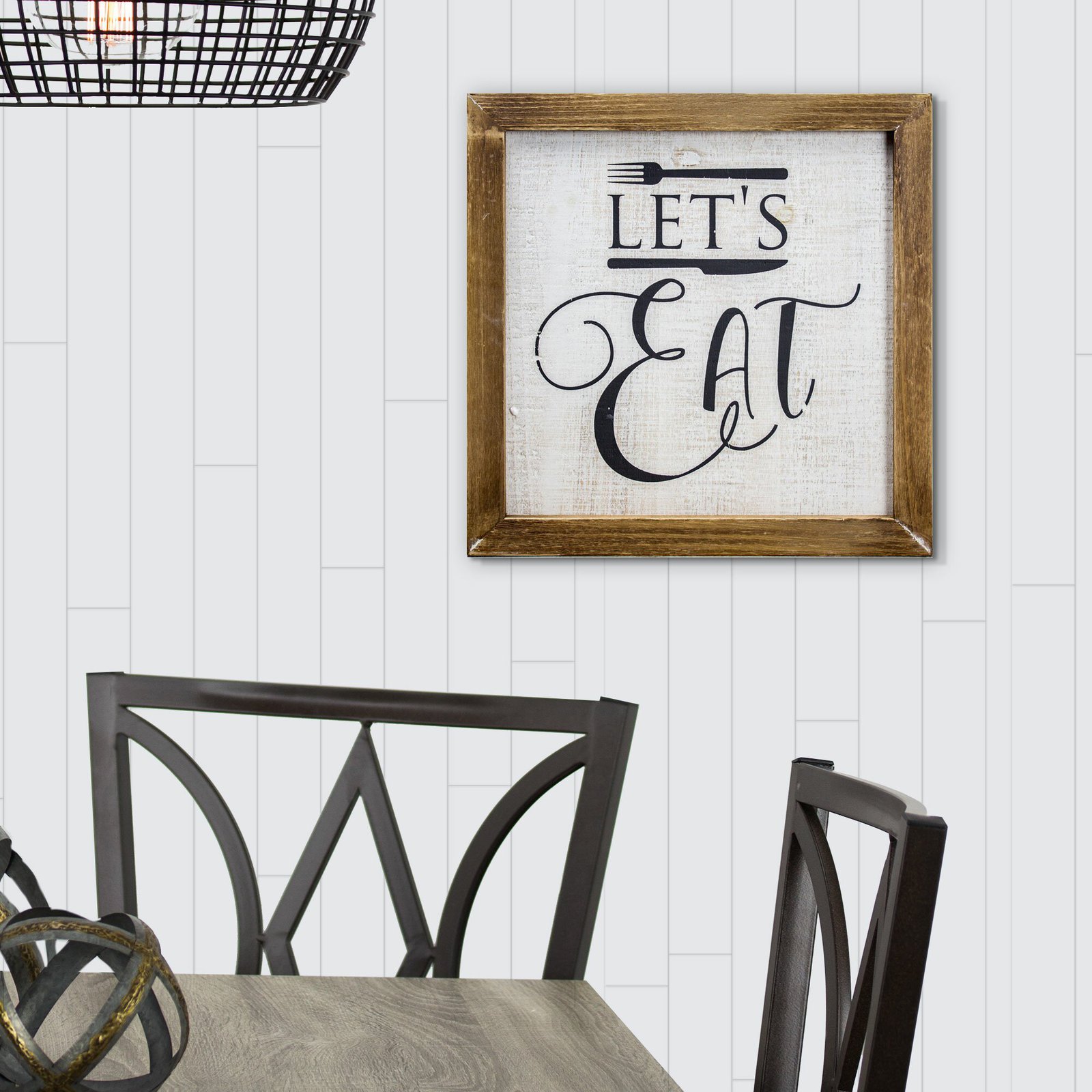 This rustic 'Let's Eat' sign is perfect for anyone looking for country kitchen wall decor ideas. It features beautiful scripted text with iconic knife and fork symbols on a whitewashed wooden background for a farmhouse look.
The frame is made from natural wood which gives it a shabby chic elegance, and it comes ready to hang with two hooks on the back.
Carrots Watercolor Wooden Wall Art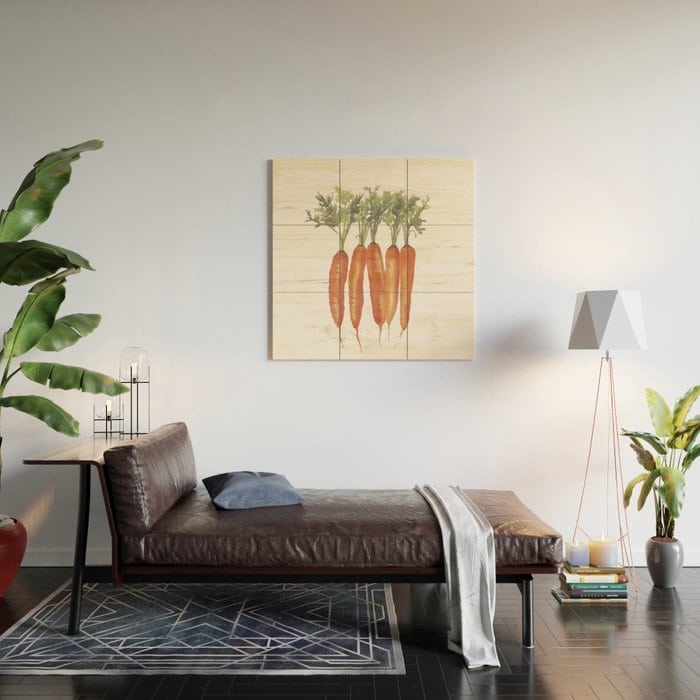 This stylish modern wood wall art is sure to brighten up any kitchen! The piece is made up of 6 separate panels that come together to create one image… of carrots! Perfect for anyone who loves to cook.
The panels can be placed close together, or further apart to create a more abstract image, depending on the look you want to go for.
Metal Cutlery Kitchen Wall Art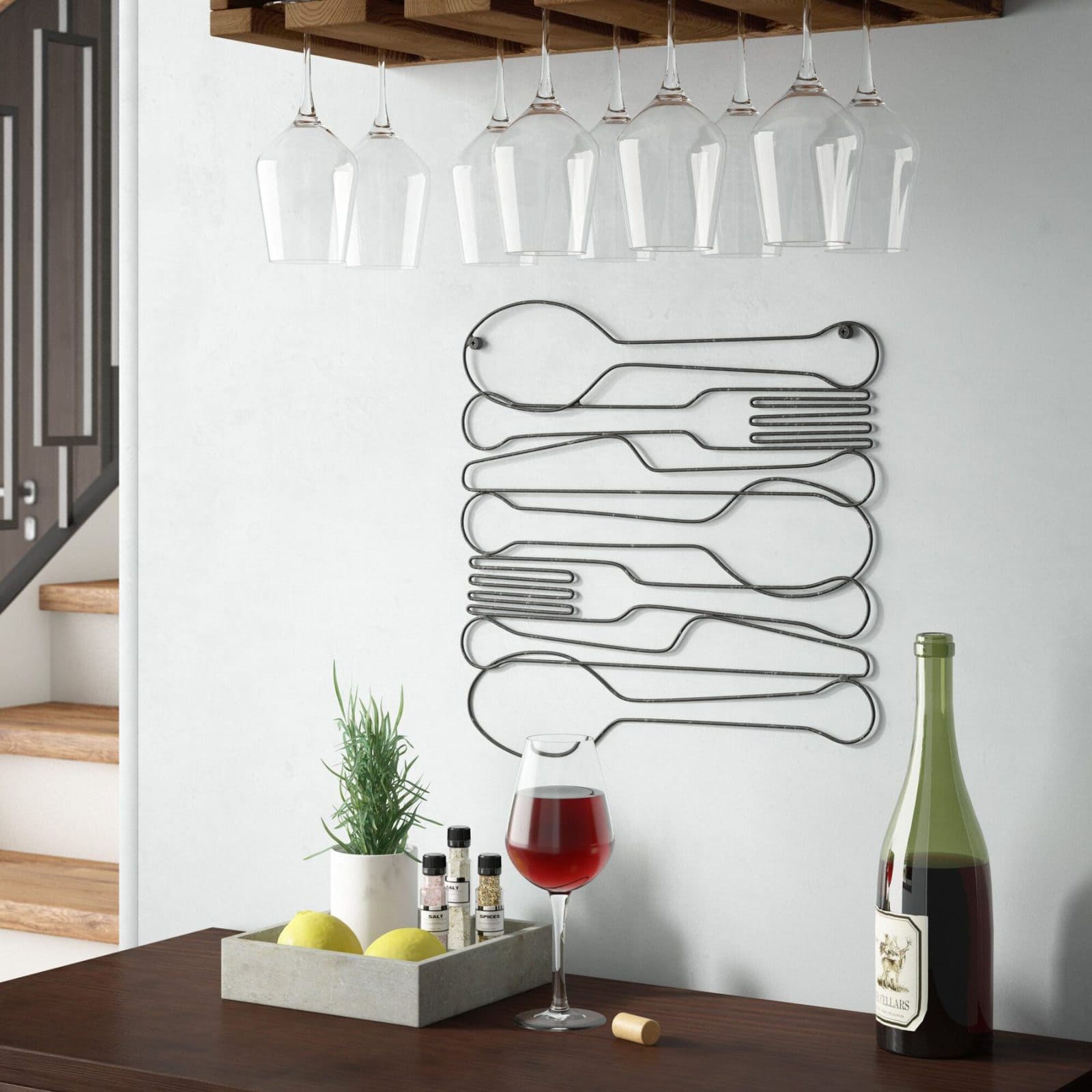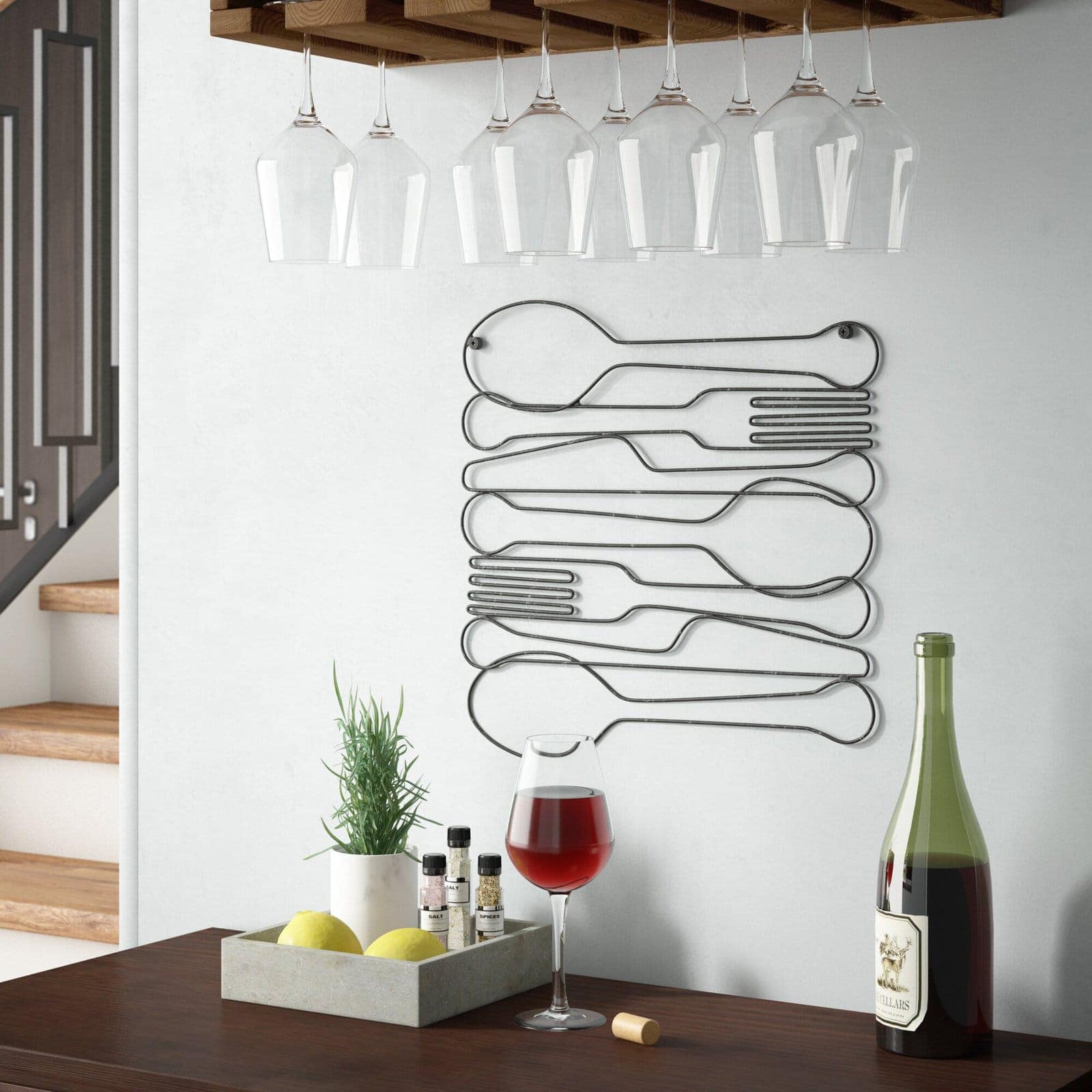 This unique kitchen wall art features knives, forks, and spoons crafted out of gray metal wire. It's contemporary design makes it perfect for modern kitchens, creating an eye catching feature on the wall that is sure to be a talking point with guests.
This unusual metal artwork could be placed alone on a wall, or used as part of a gallery wall to add something a little unique to your wall decor.
Burger Plant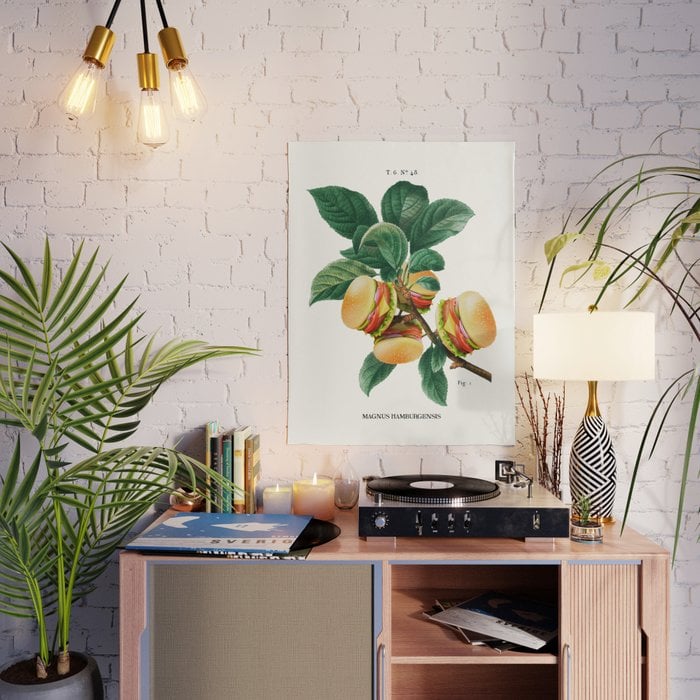 Mix traditional and modern with this amusing 'Burger Plant' poster. The poster features a traditional botanical drawing, but with juicy hamburgers instead of flowers! This large print would be perfect on its own, to create an eye catching statement in your kitchen.
It's perfect for anyone who wants to get a traditional farmhouse look, with a touch of modern humor.
Farmer's Market Wall Sign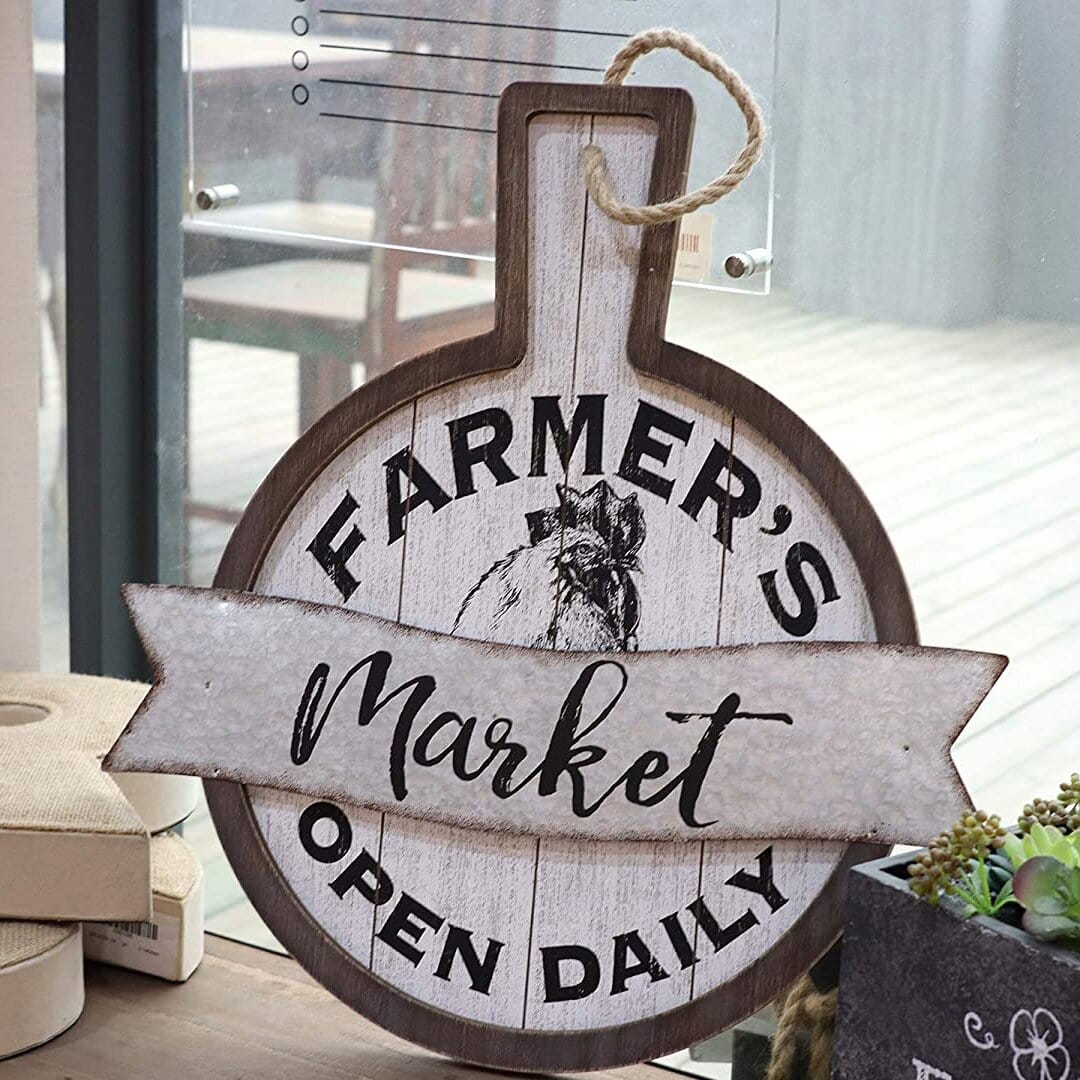 This wooden kitchen wall hanging is perfect for adding a touch of country market charm to your kitchen! It features the words 'Farmer's Market, Open Daily' in black, painted onto a white washed solid wood background.
It features a metal accent across the middle, which has been lightly distressed for a unique, rustic look. It's finished off with a natural Jute rope loop for easy hanging and a vintage feel.
Kitchen Rules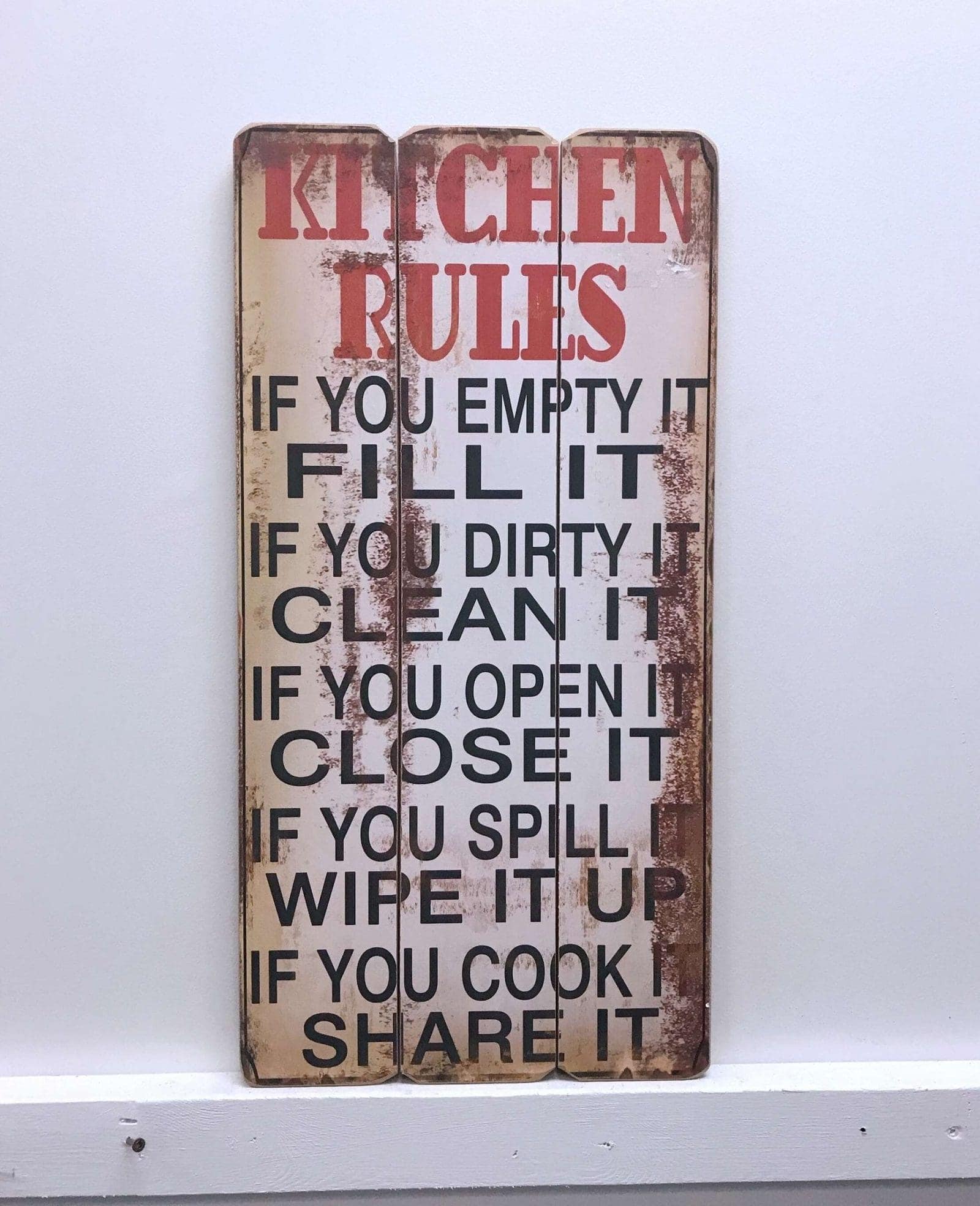 Do any members of your household frequently break your kitchen rules? If so, put up this fun sign to remind everyone of the rules on a daily basis! This fun sign features kitchen rules painted onto a wooden plank backing.
It has been lightly distressed to give it a rustic look which would be at home in any farmhouse or industrial style kitchen.
Cursive Coffee Sign Wall Decor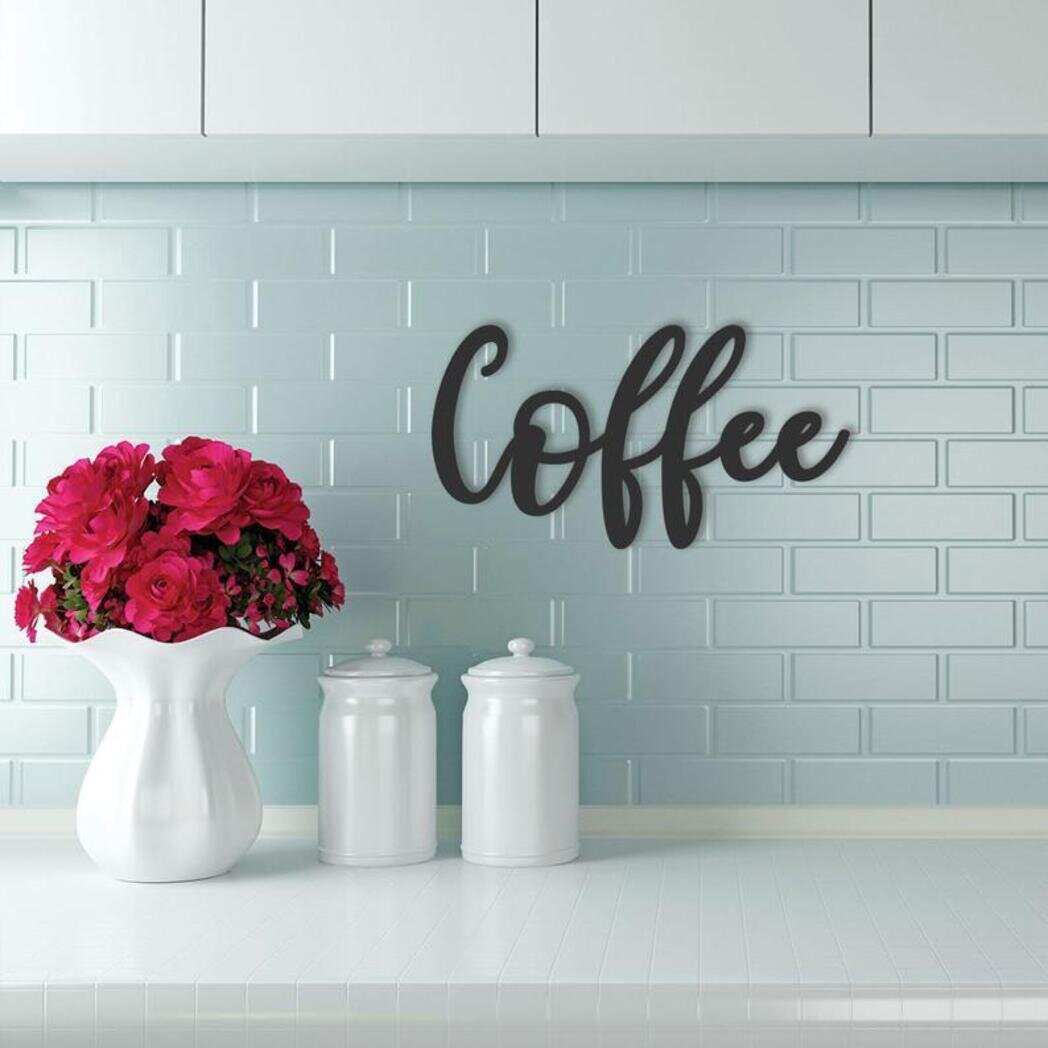 This Coffee wall sign is perfect for anyone looking for small kitchen wall decor. It features the word 'Coffee' in a modern cursive script. It's bold black design works beautifully on lighter colored tiles or painted walls creating a contrasting look.
If you wanted a more rustic look for use in a farmhouse kitchen, the sign can be left outside and exposed to the elements which will allow it to rust giving it a vintage look.
Herbs and Spices Wall Decal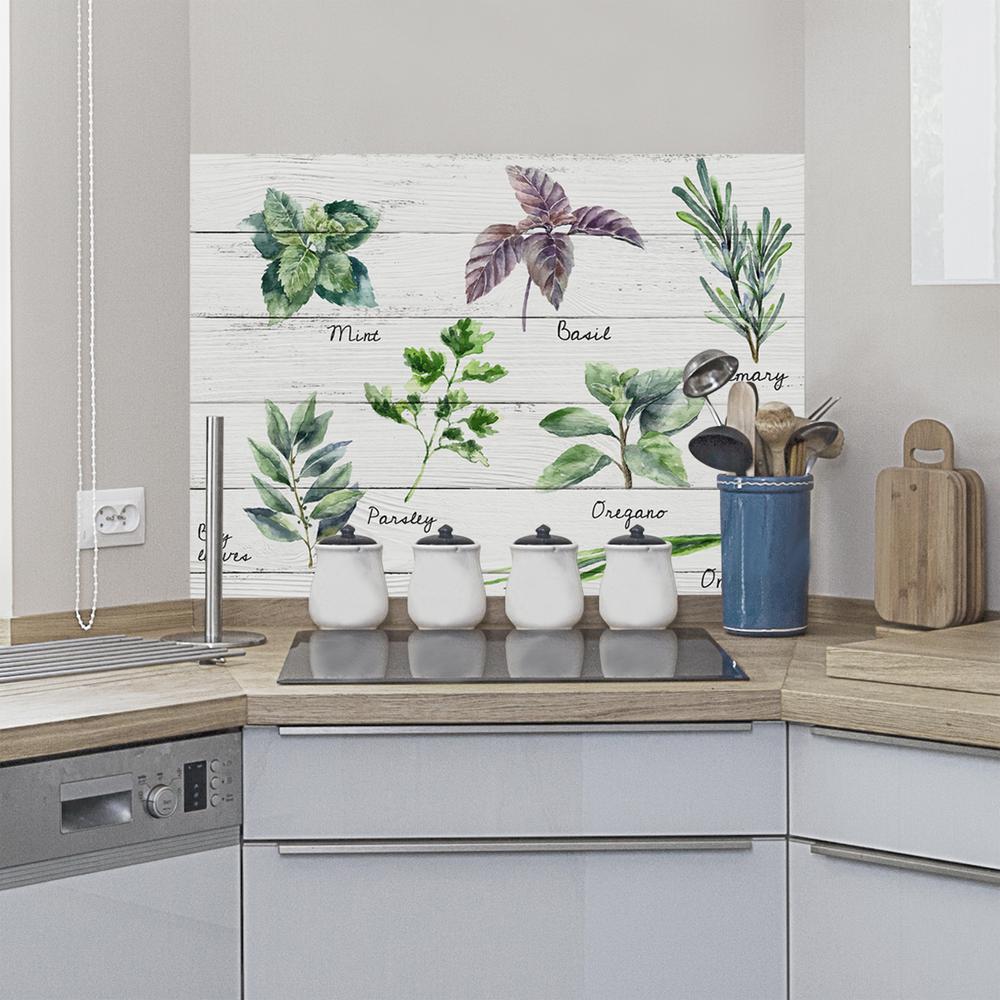 If you love to cook, these herbs and spices wall decals will be the perfect addition to your kitchen. The decals feature a variety of fresh herbs against a faux shiplap backdrop to give your kitchen a rustic farmhouse feel.
It is removable and washable, so you can use it anywhere in your kitchen safe in the knowledge that it won't damage your walls. This is perfect if you want to brighten up any part of your kitchen without making any drastic changes.
This Kitchen is For Dancing Wall Sign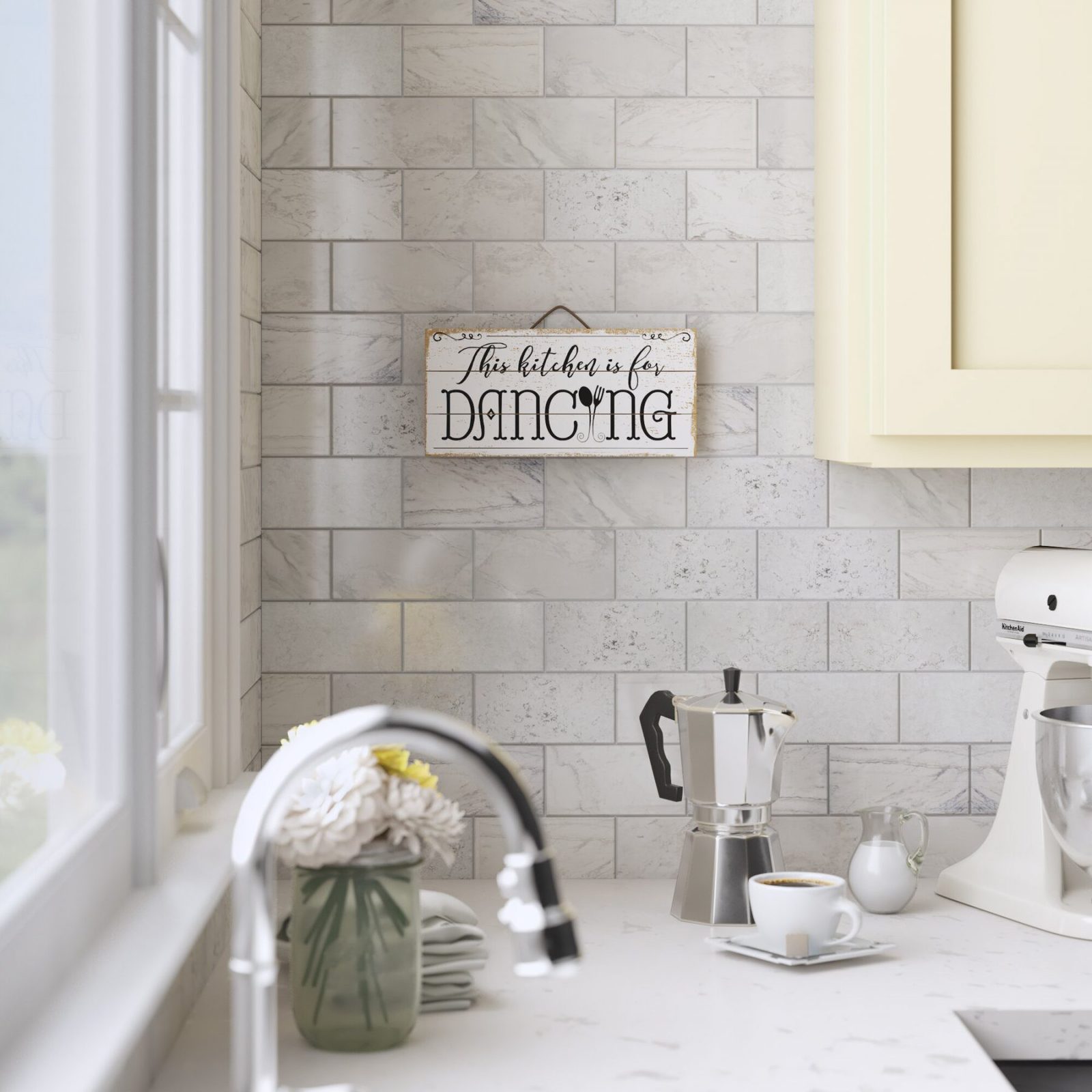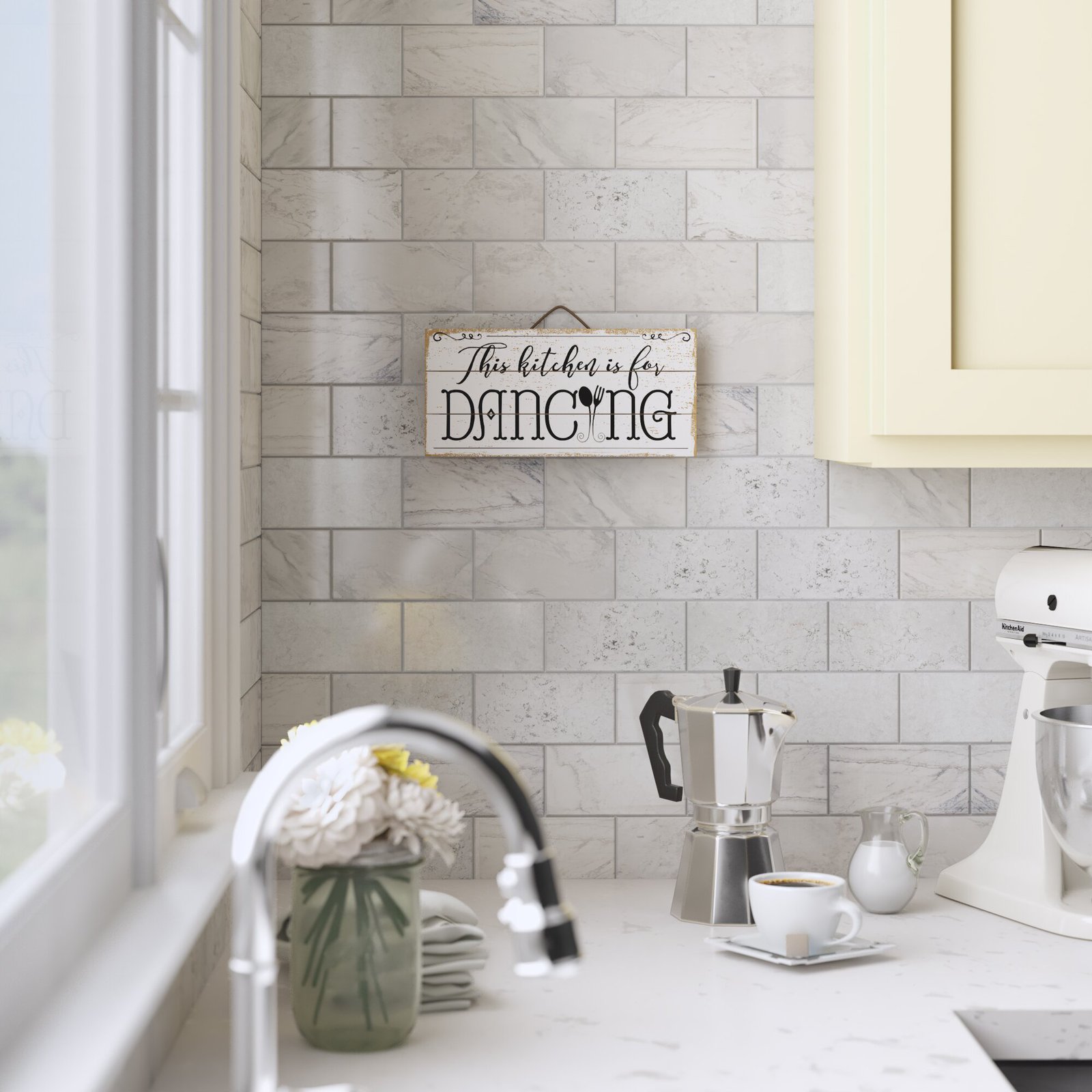 If you love to listen to music and dance around your kitchen while you are cooking, then this is the perfect sign for you! This fun kitchen sign is made from reclaimed wooden pallets, painted white with a distressed finish.
It features an artistic design in a fun modern font, with a metal hanger attached to the back for easy hanging. A great choice for anyone looking for inexpensive kitchen wall decor!
Lovely Window Shutter Wall Hanging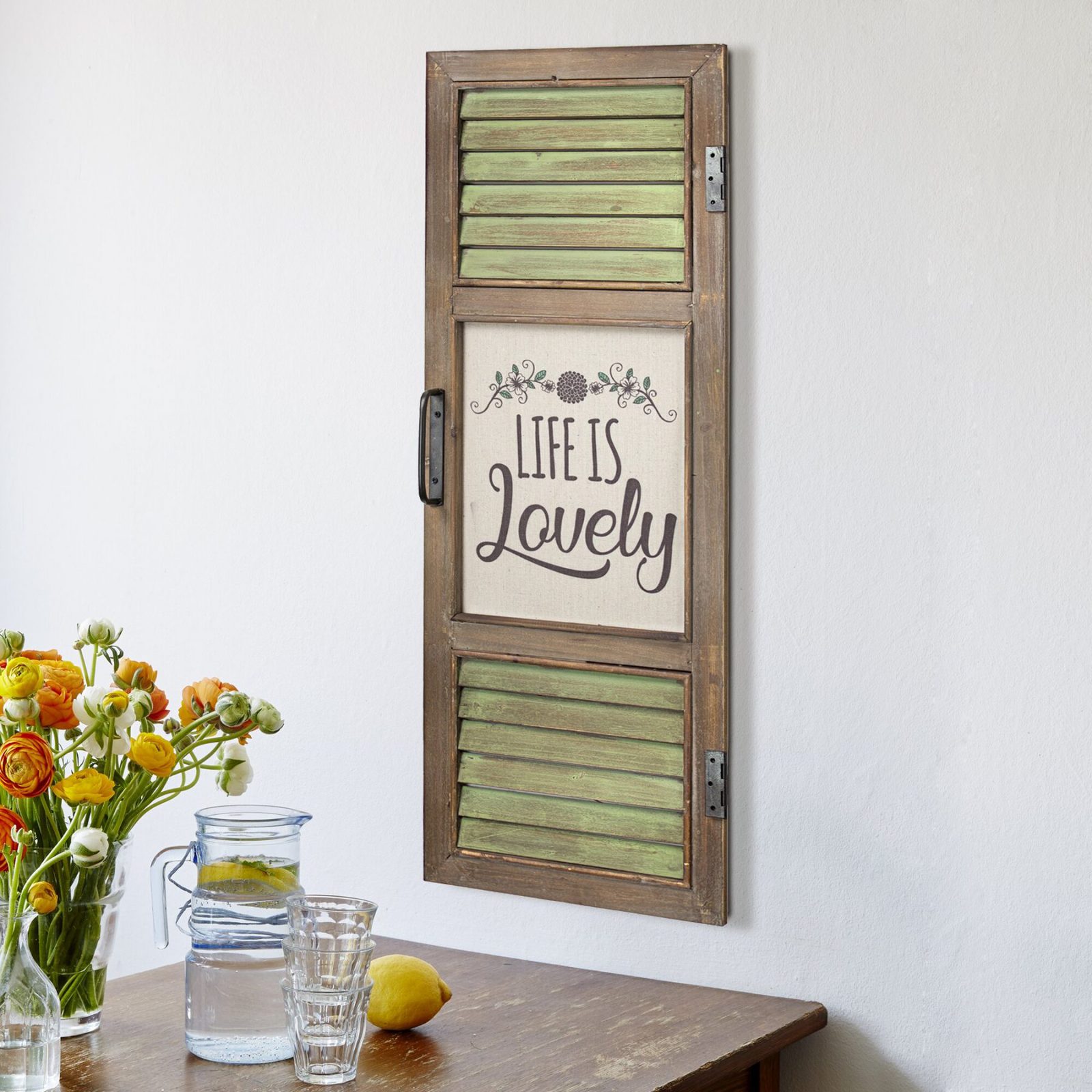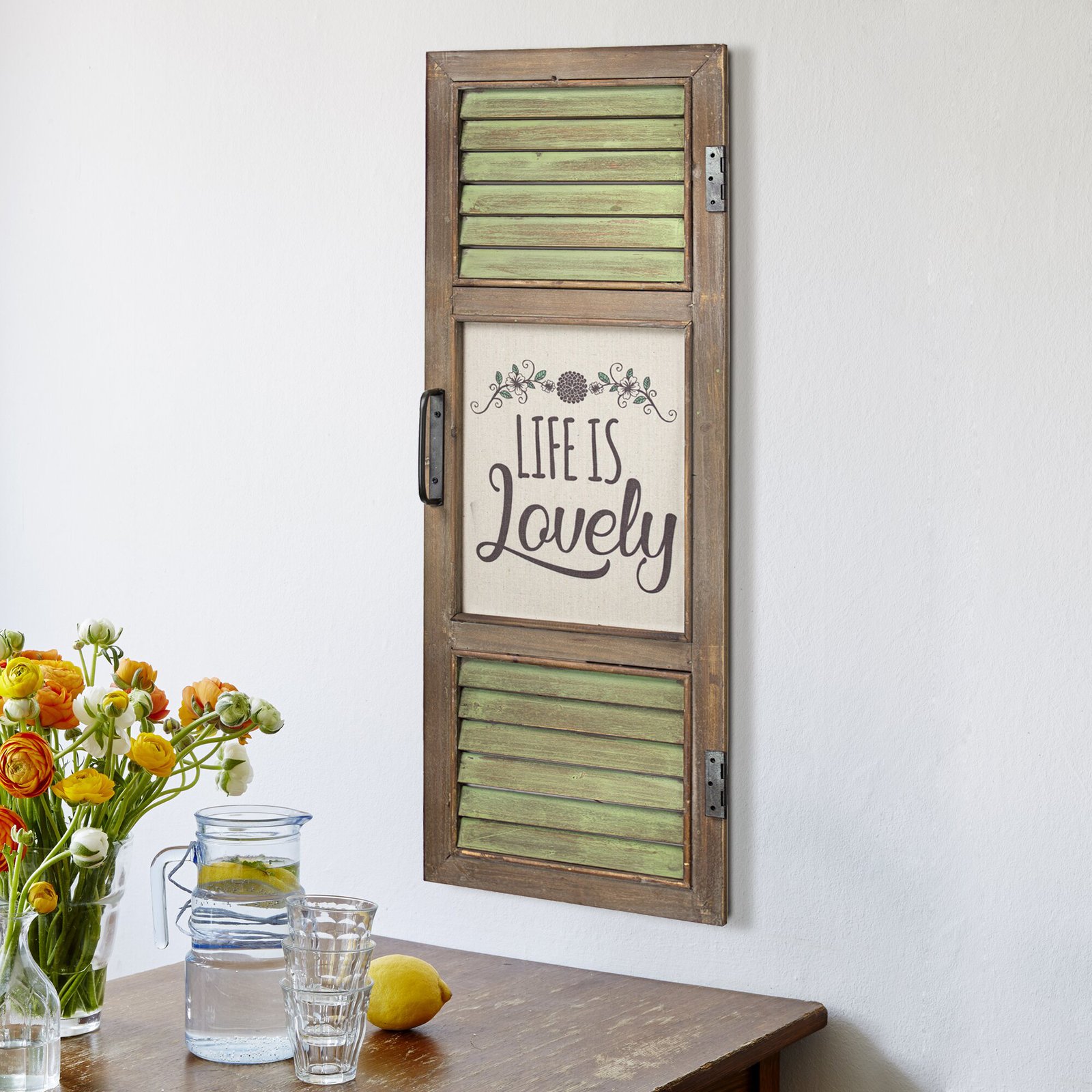 If you want something to remind you just how great life really is, then this window shutter wall hanging is sure to fit the bill. This beautiful wall sign has been made from a reclaimed wooden window shutter, which gives it that perfect country kitchen feel.
Featuring the words 'life is lovely' written in delicate script, and adorned with a painted garland of flowers, this cheerful wall hanging is the perfect way to add energy and life to your kitchen.
Zodiac Cutting Board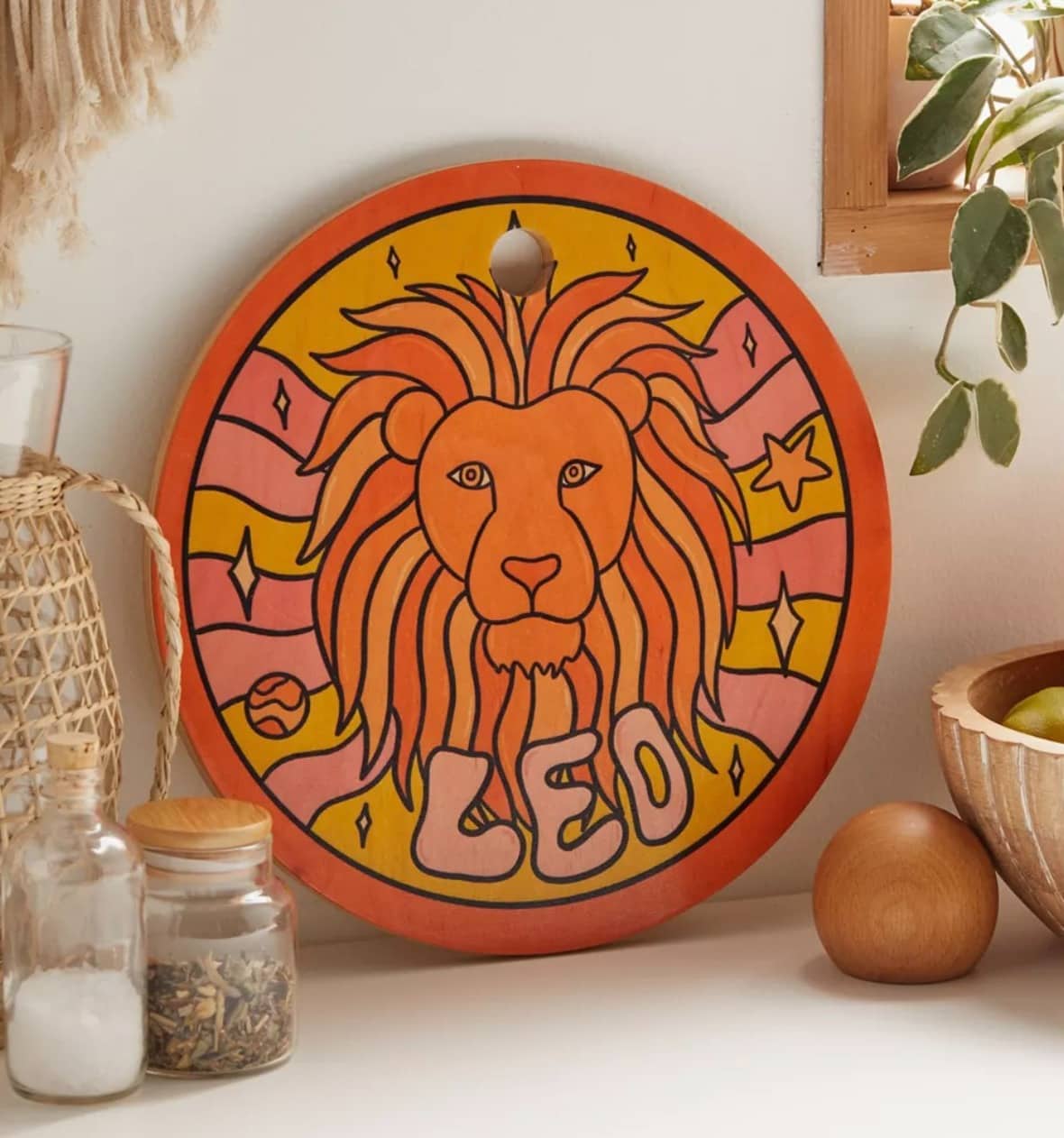 Another item that is both stylish and functional! This beautiful Zodiac cutting board can be hung in the wall when it's not being used, making it the perfect fun statement decor for your kitchen walls.
This bright piece would work well in a modern or boho kitchen, adding a splash of bright color, and fun vibes to your walls.
Butchers Selection Sign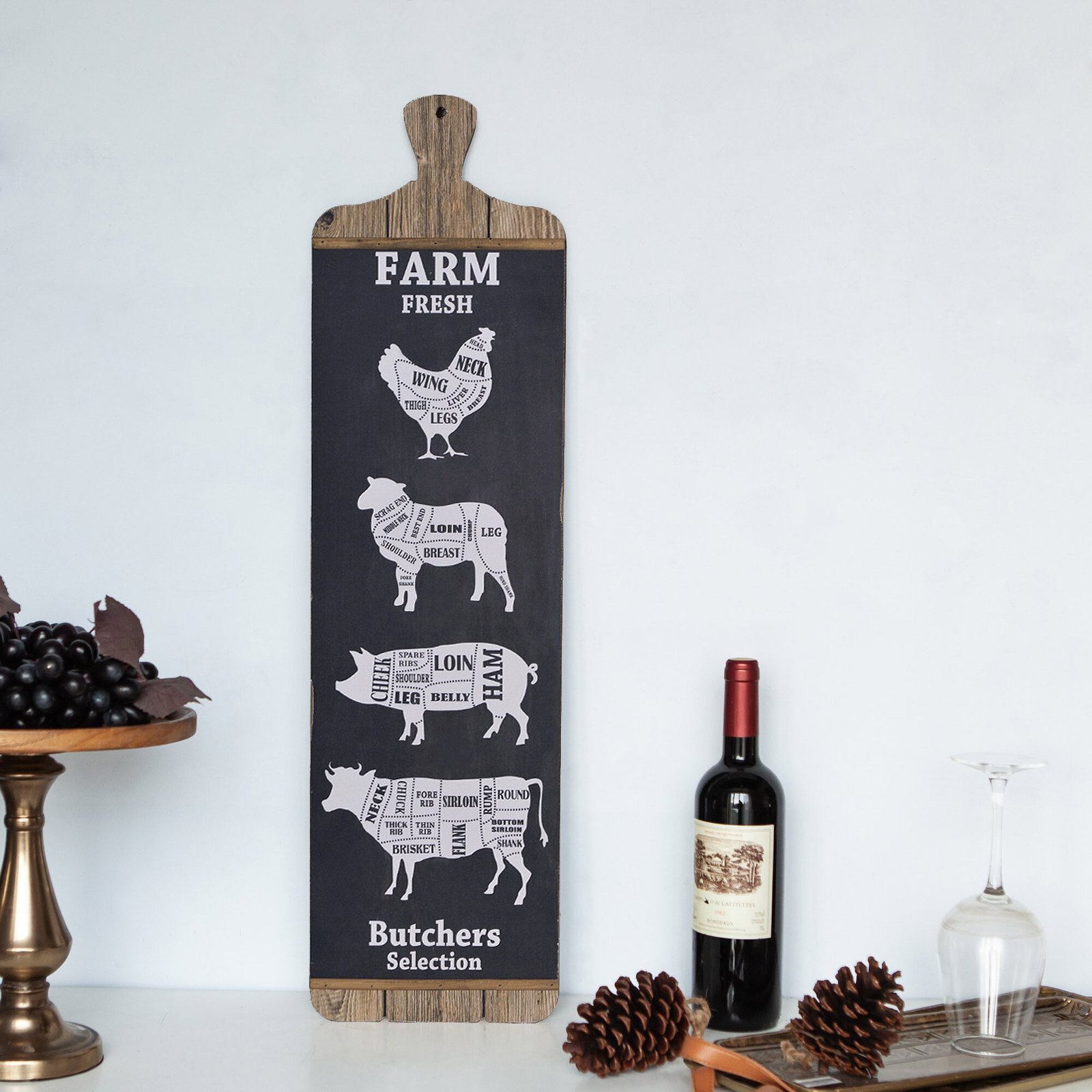 It can be tricky to know just what to hang on kitchen walls, but you can't go wrong with anything to do with food! This butchers selection is a great option for anyone who loves their meat.
The sign shows the prime cuts of popular meats on a wooden paddle, with a classic black and white chalkboard design. It can be used both indoors and outdoors, so whether you are cooking in your kitchen or your outdoor barbeque area you can enjoy this sign.
Easy Peasy Lemon Squeezy Canvas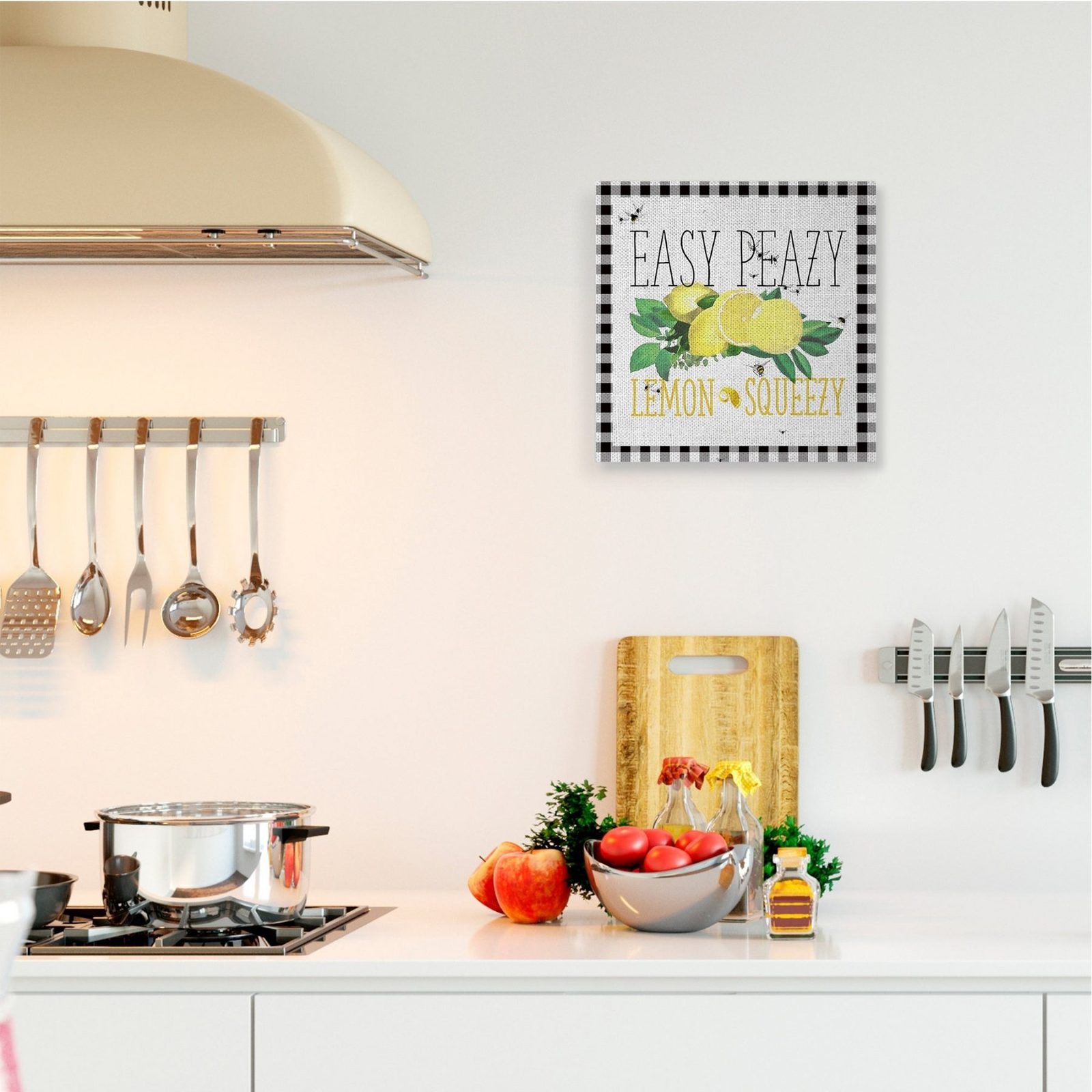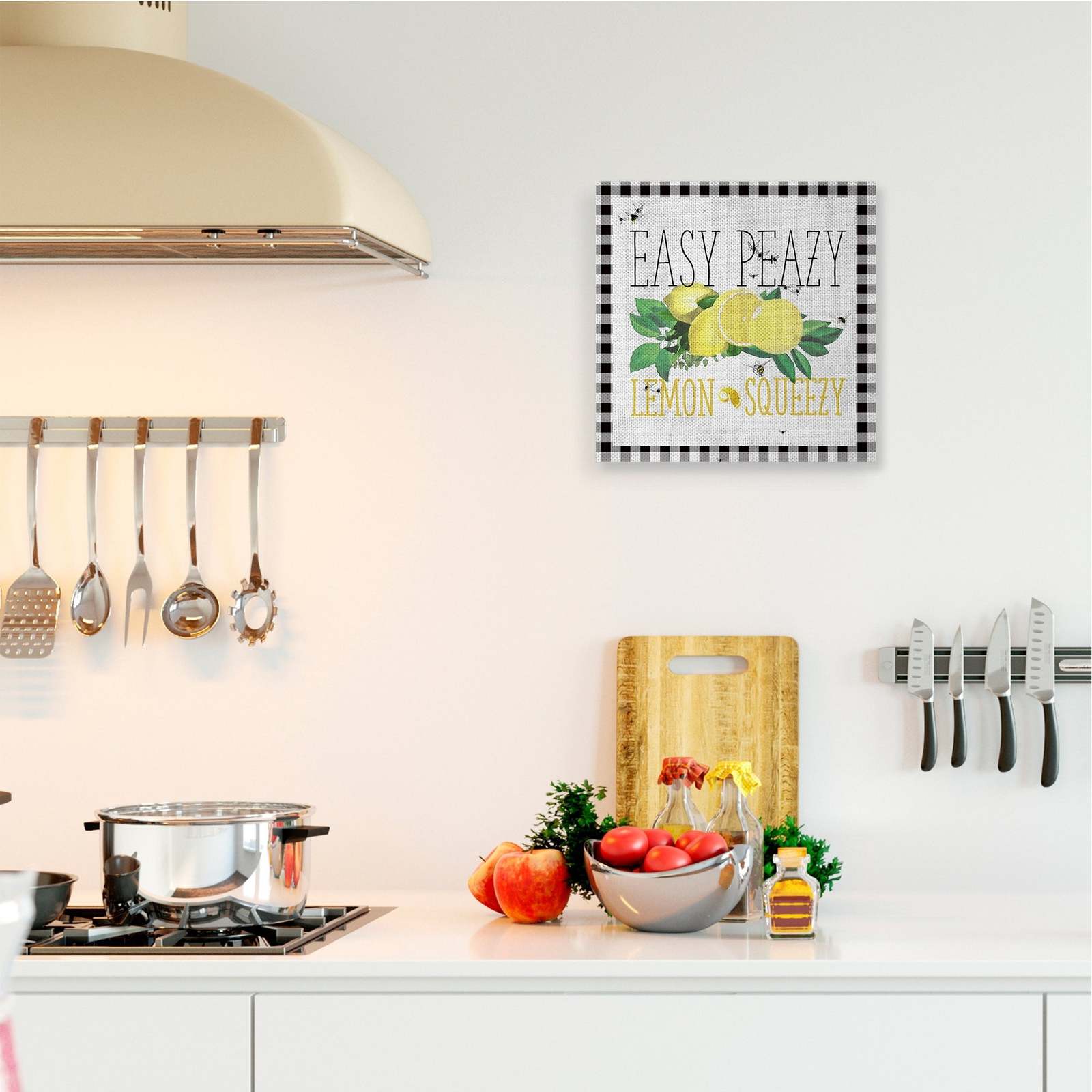 If you're looking for lighthearted kitchen walls pictures, this 'Easy Peasy Lemon Squeezy' wall canvas will definitely fit the bill! This is the perfect wall art for hanging in your kitchen, adding a splash of cheery yellow to your walls with this fun design.
This canvas would work well in both traditional and modern farmhouse kitchens, with it's plaid border and vintage design.
Fresh Baked Pies Sign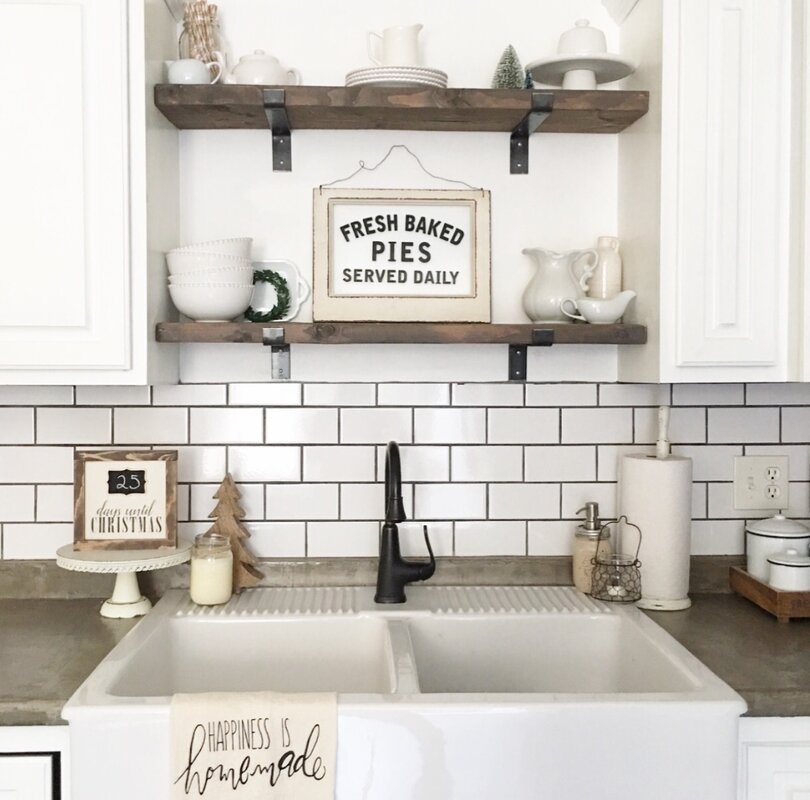 If you love to bake, then this 'freshly baked pies' sign would be a great addition to your kitchen. It will work well in both modern and traditional farmhouse kitchens, adding a touch of rustic charm to your walls.
It's neutral color palette means it will fit in with pretty much any color scheme, and it comes with a wire already attached for easy hanging.
Wine Not?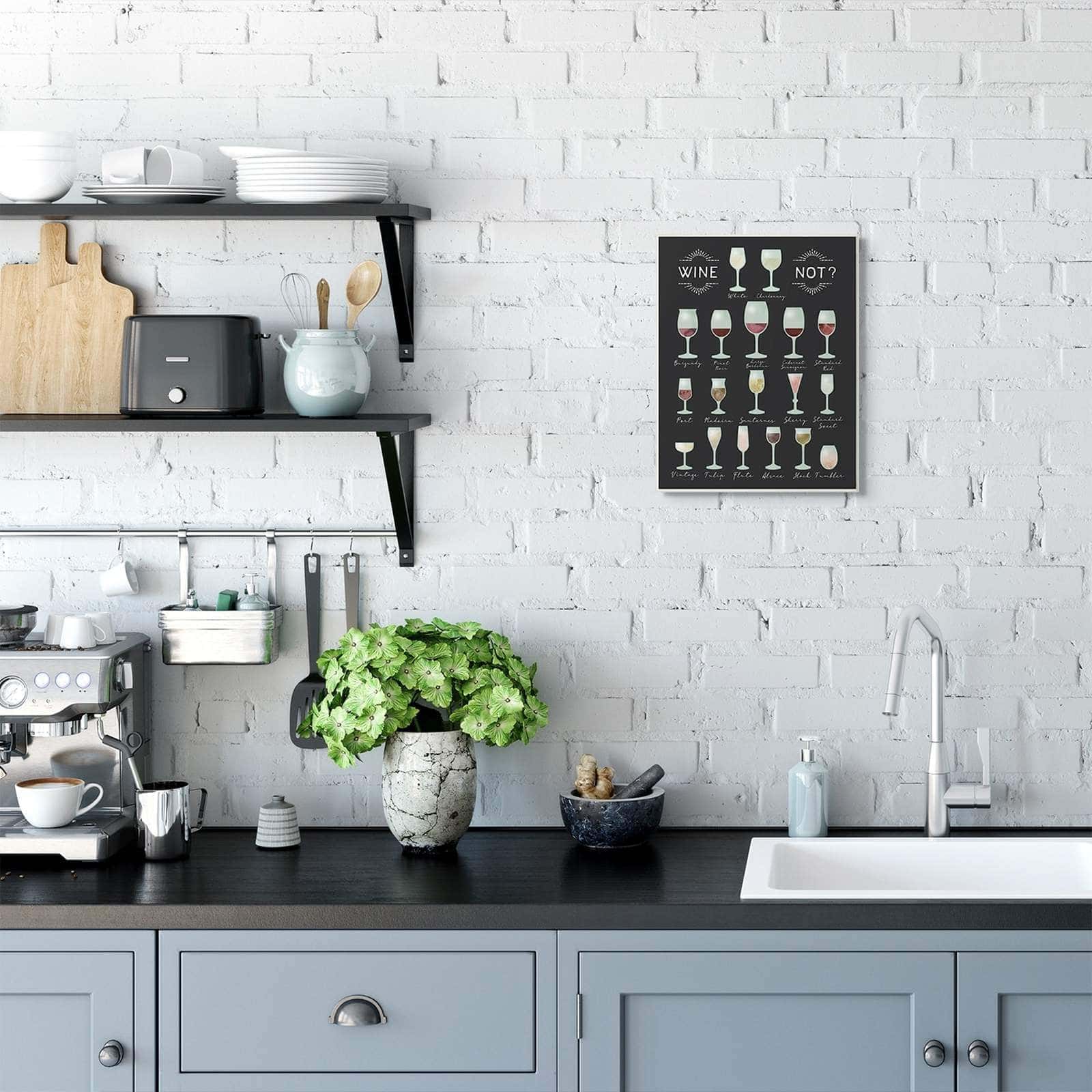 This wooden wall plaque is the perfect addition to any wine lovers kitchen. It depicts all of the different glasses used to drink wine, and your other favorite beverages! This print is on a black background, so it contrasts well with lighter walls.
It would make a great addition to a modern kitchen, and could be styled as part of a gallery wall, or simply hung on its own for maximum impact.
Industrial Oversized Clock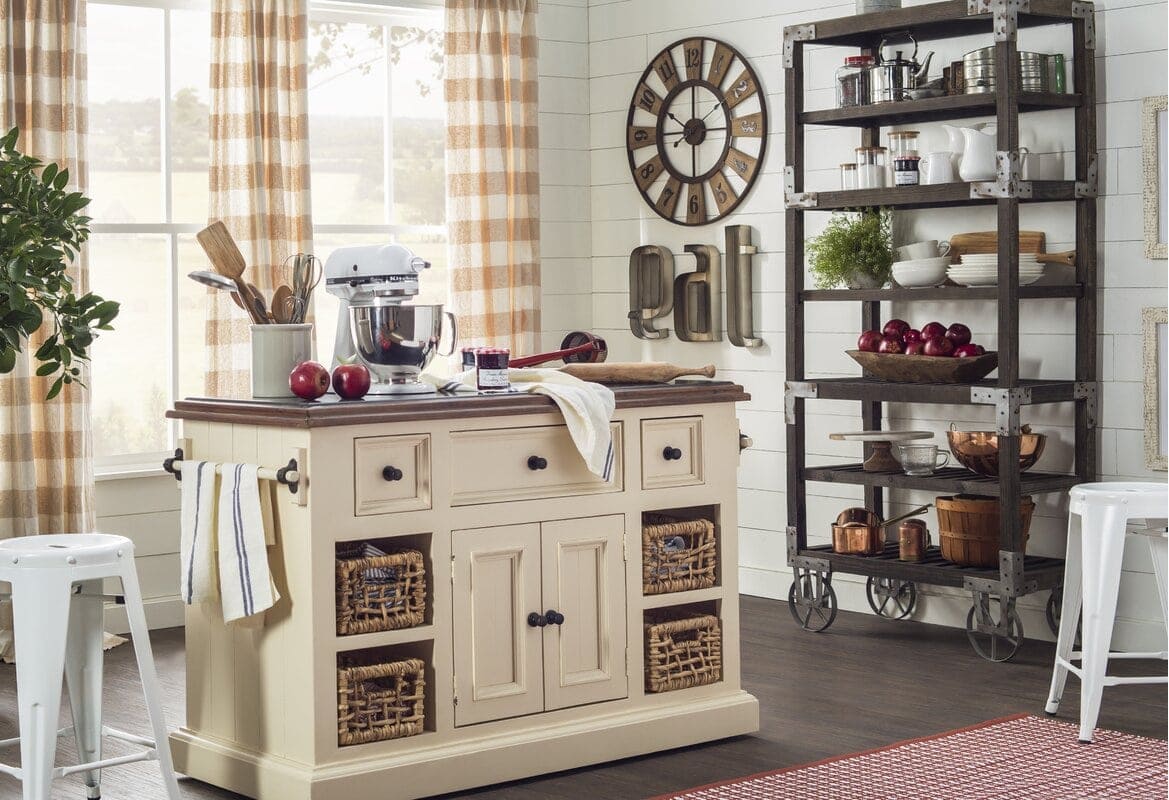 If you're not sure how to decorate a large kitchen wall, then an oversized clock is a great starting point. Clocks always look great in the kitchen, and they are useful here too, helping you to time your cooking, or know exactly when to leave for work!
This oversized clock is the perfect addition for industrial and farmhouse style kitchens, bringing an effortless rustic style to your walls.
Funny Coffee Quote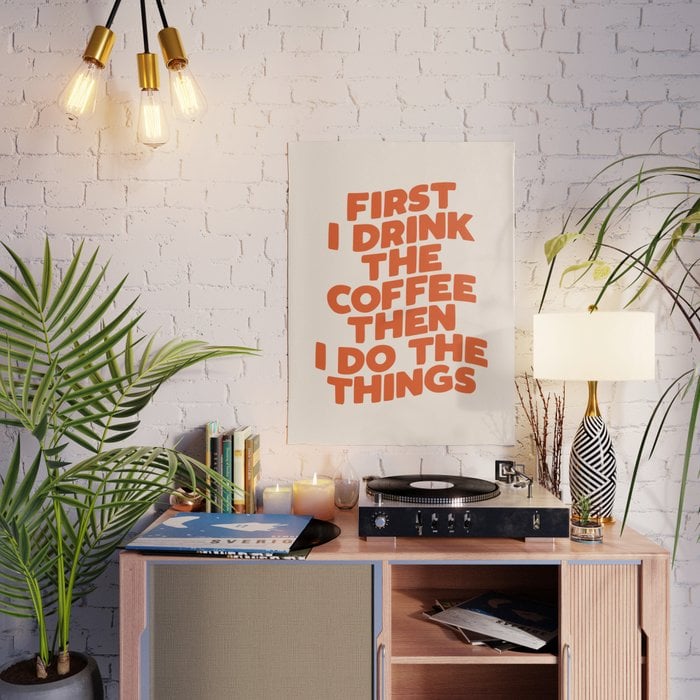 When it comes to modern kitchen wall decor, you can't go wrong with a bold graphic poster. This colorful coffee quote poster will serve as a reminder to drink your daily coffee, as well as add a pop of color to your kitchen, and cheer you up every time you see it.
It could be used as part of a gallery wall, or simply on its own to make a bold statement. This is a great way to add color and personality to your kitchen without having to make big changes – perfect for rentals!
Fun Kitchen Chalkboard Signs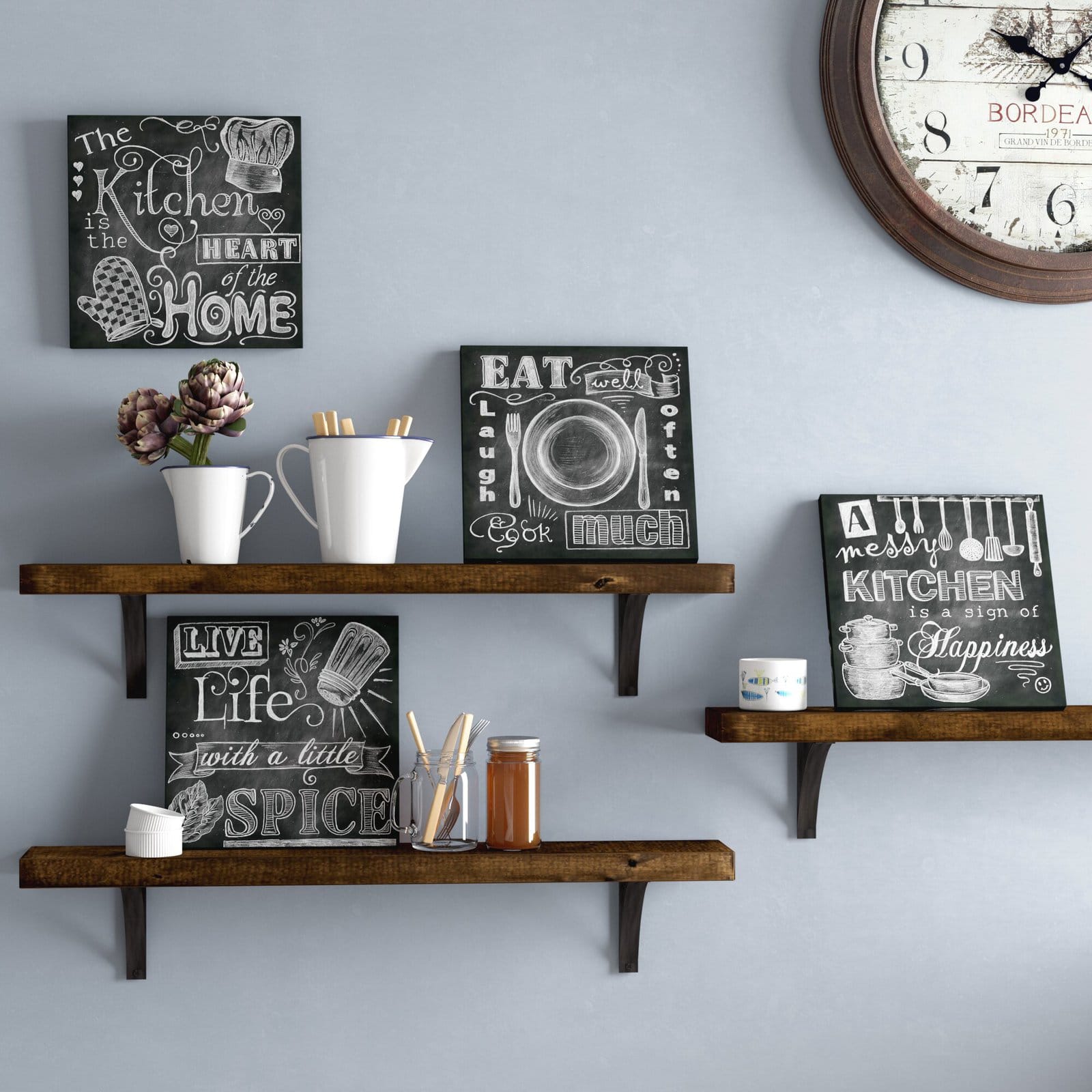 These chalkboard kitchen signs are perfect for adding some fun to your kitchen walls! They come as a set of four, each one featuring a quote about your kitchen.
These lovely signs are the perfect way to add personality to your kitchen. They can be hung as a set or spaced out around the room, depending on the size of your kitchen. Each piece is made from canvas stretched on a wooden frame, and painted to look like a chalkboard.
Decorative Beer Bottle Opener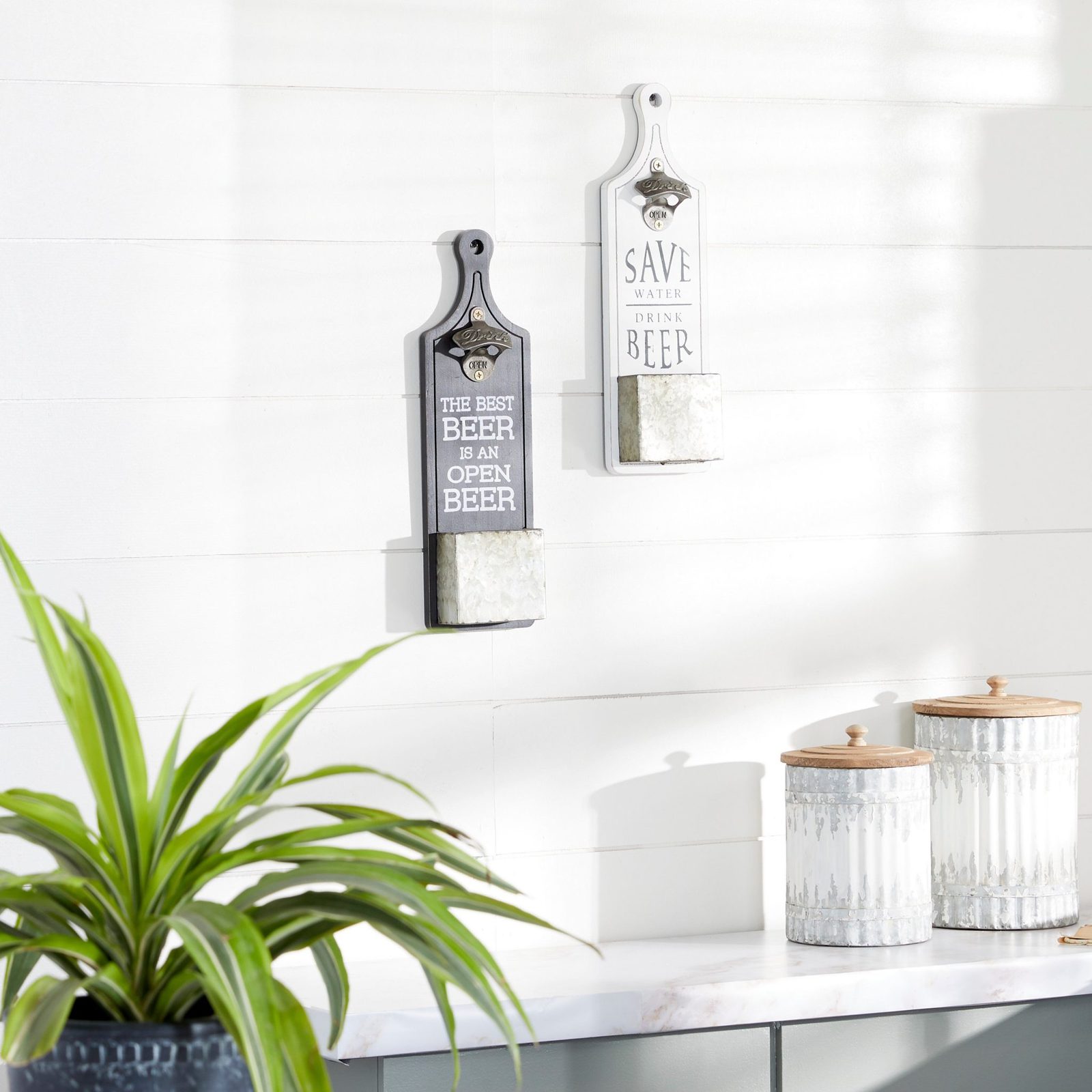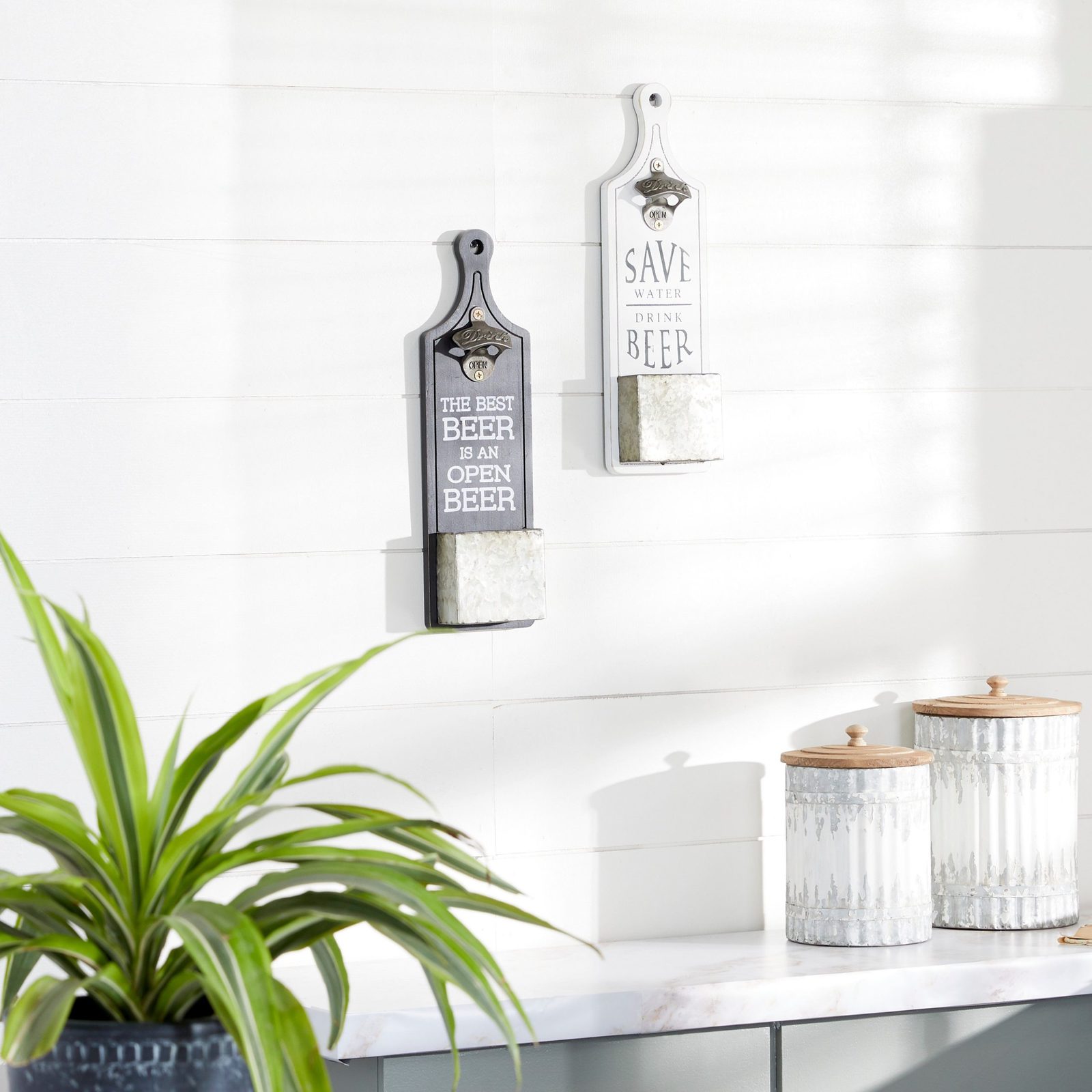 This is one for the beer lovers out there! This kitchen wall decor also functions as a bottle opener, with a little tray to catch your bottle tops. What more could you want?!
The wall hangings feature a vintage wooden paddle, painted with a funny beer quote. The wood has been lightly distressed to give it a rustic feel, and they can be hung together, or separately depending on the look you want to go for,
Wooden Kitchen Wall Sign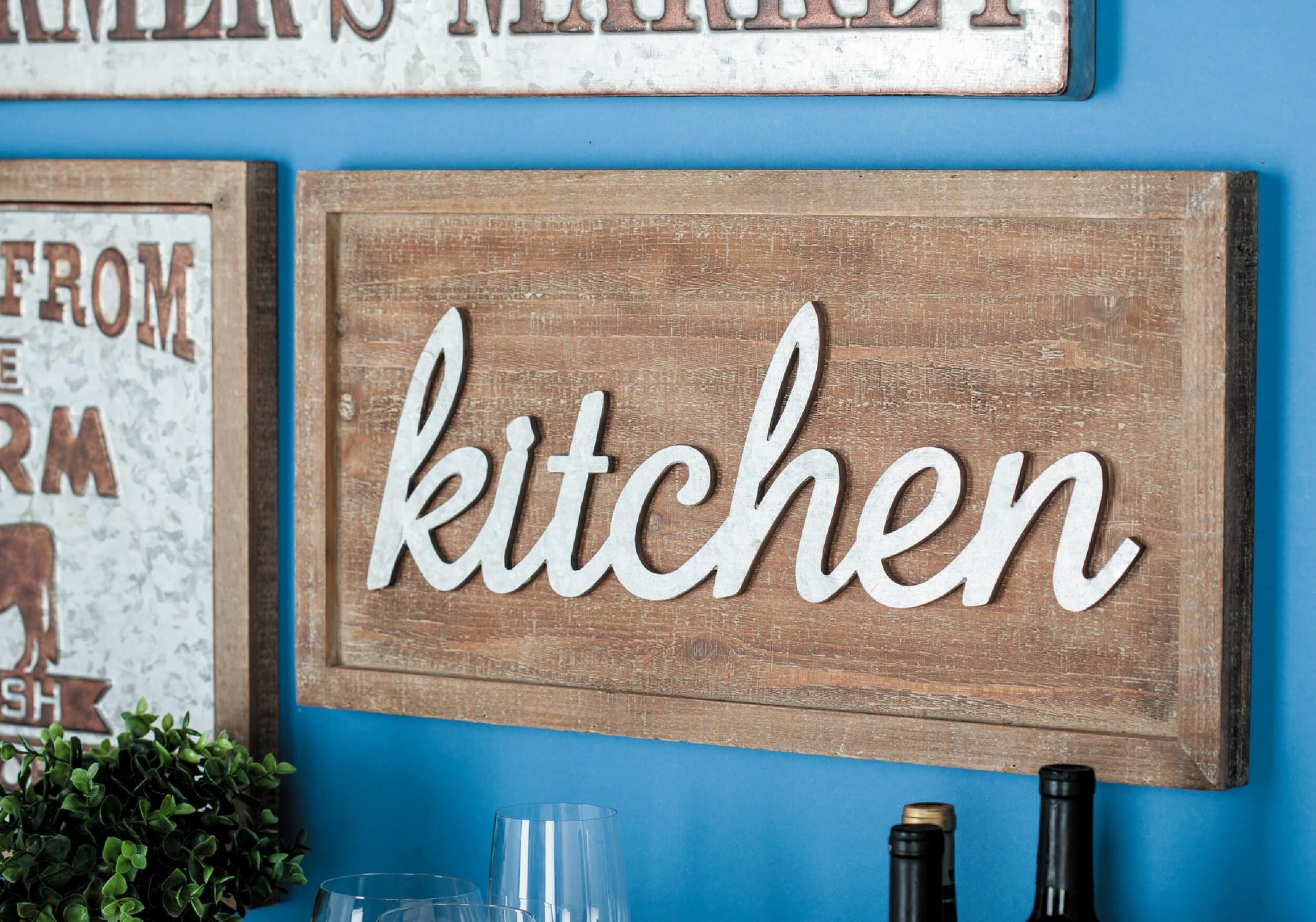 If you are looking for decor ideas for above your kitchen door, then signs are always a great bet. This minimalistic kitchen sign has been crafted from Chinese fir wood. It features the word 'kitchen' in white cursive script, which contrasts beautifully with the natural fir wood.
As well as using signs like this in small spaces such as above a door, they also work well as part of a gallery wall.
Fresh Orange Art Print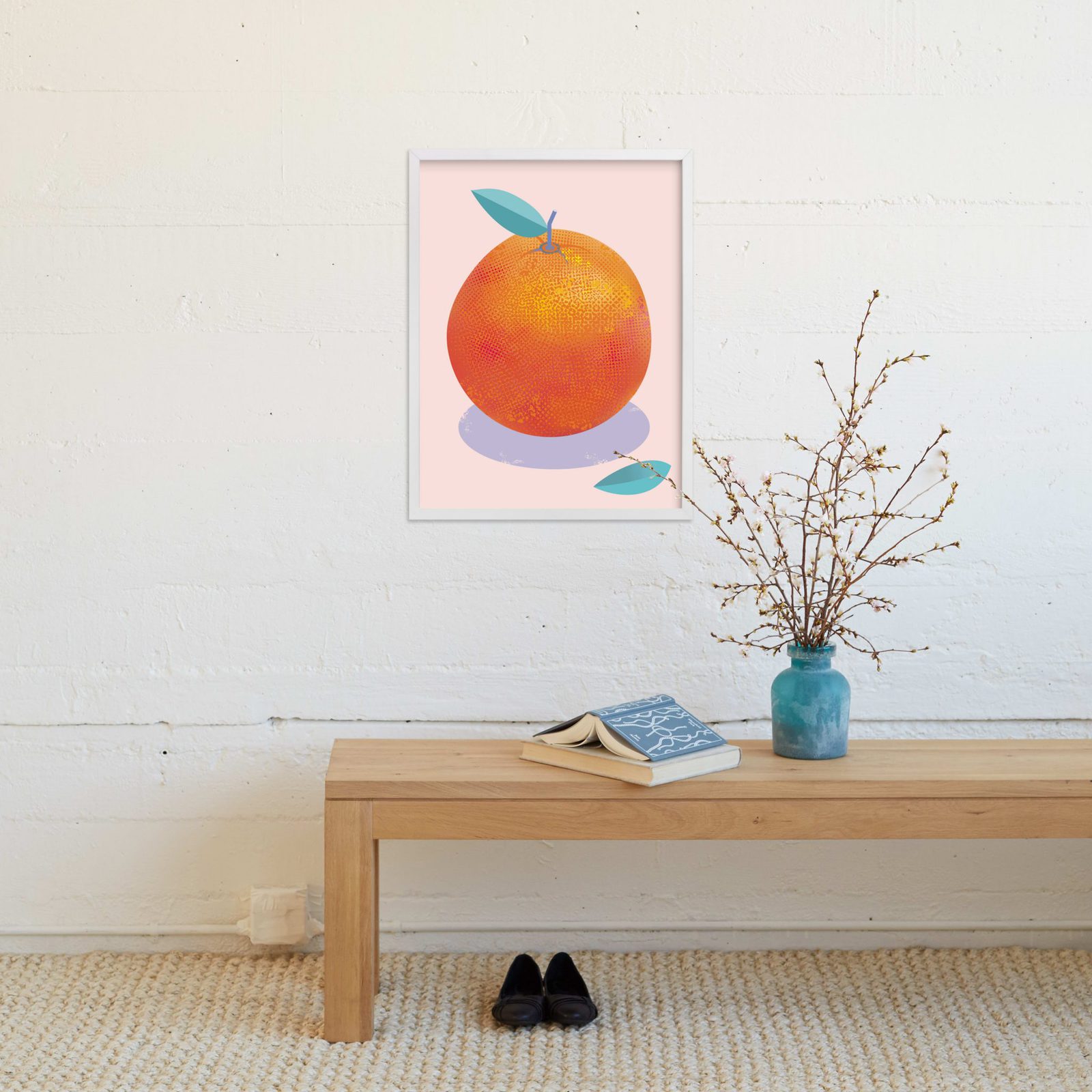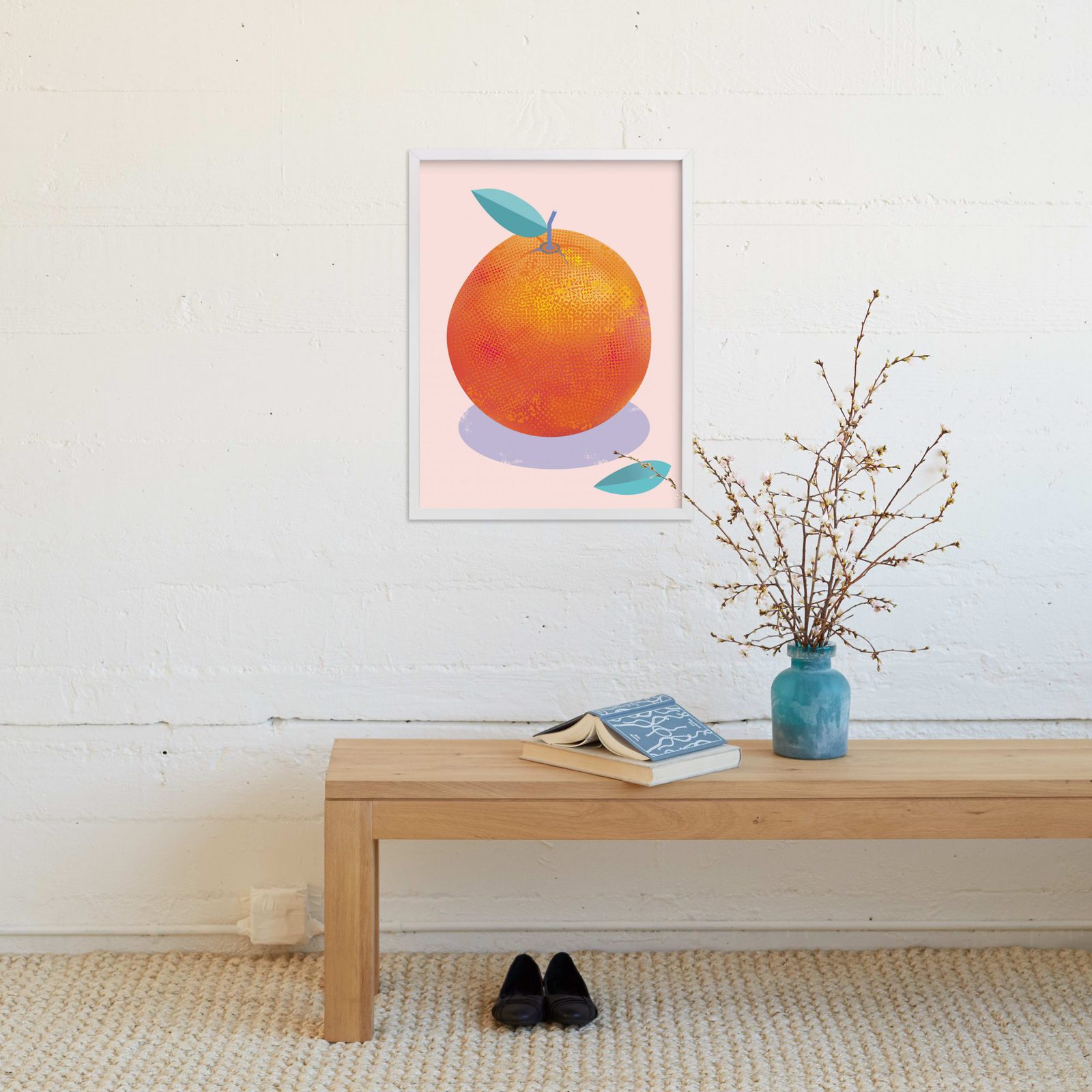 Now this is what you want to see first thing in the morning when you walk into the kitchen for breakfast! This bright bold Orange print will not only make your mouth water, but it will brighten up your kitchen too.
Symbolising cheerfulness and health, this Orange print is ideal for a modern kitchen, where it will bring you joy every time you see it.
Farmhouse Wall Signs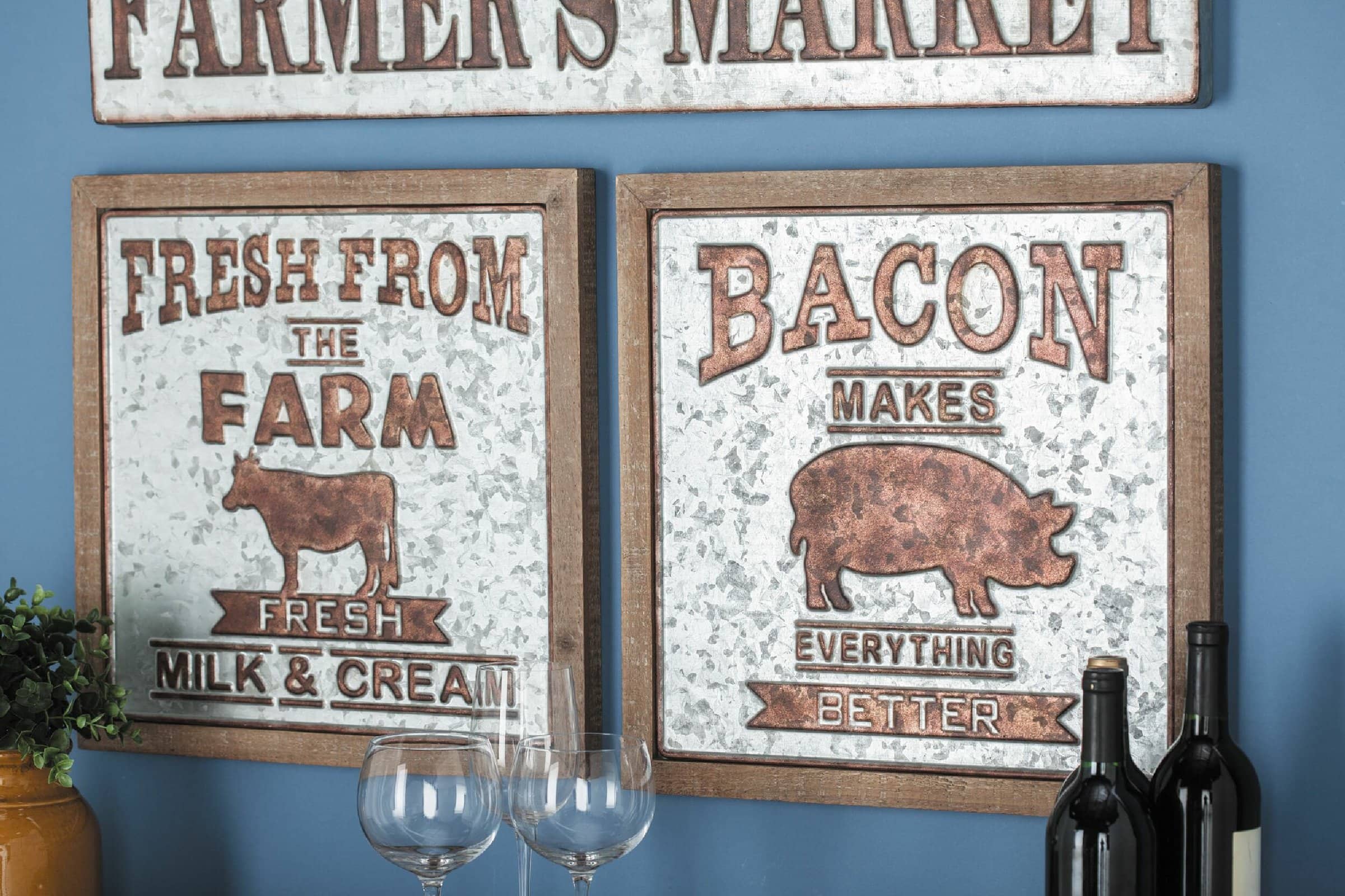 This pair of farmhouse wall signs is perfect for anyone looking for vintage kitchen wall decorations. Featuring a stylish design made from iron and Chinese Fir wood, this pair of farm themed signs will bring a touch of country charm to your kitchen.
One sign reads 'Fresh from the farm milk and cream' while the other is a little more playful reading 'Bacon makes everything better'. Which is kind of true – who can argue with that?
Final Thoughts…
When you're coming up with ideas for your kitchen wall designs, don't be afraid to show your personality. Wall decor is the perfect opportunity to experiment with different ideas, because if you feel it doesn't work, you can easily change things around or even move them to another room.
Beautifully decorated kitchen walls are part of making your house a home, and whether you are decorating a modern kitchen, or want to go for a traditional farmhouse look, there should be something here for you. I hope these decor ideas for kitchen walls have inspired you to spice up your own kitchen!