Decorated Life is reader-supported. When you buy through links on our site, we may earn an affiliate commission. Learn More
Wickham Gray by Benjamin Moore
As the makers of Coca Cola like to remind us, there's nothing like a classic. Sometimes, when it comes to a neutral paint color, that's exactly what you need.
Wickham Gray is a light gray from Benjamin Moore that gives that classic gray feel. It's versatile and user-friendly without being a greige, and it's cool and refreshing without being too cold.
Let's pop open the paint can and explore Wickham Gray!
What Color is Wickham Gray?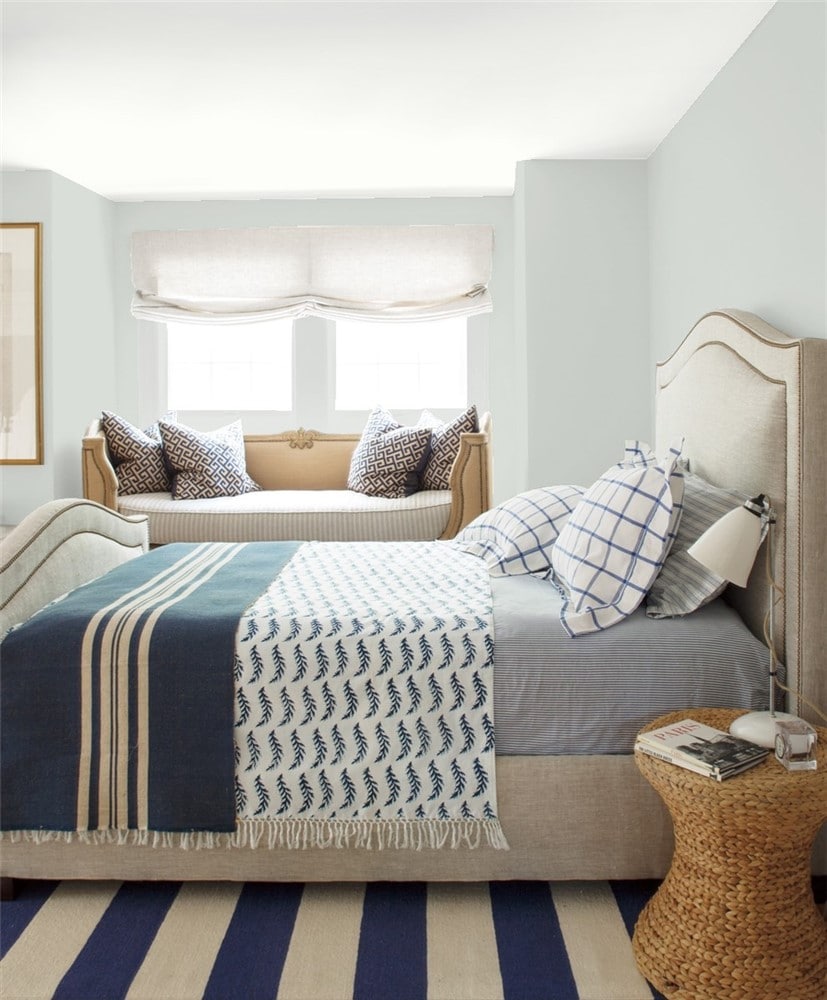 Wickham Gray is a light blue-gray with a traditional feel. This is a classic gray that fits the bill for what most people imagine when they envision a gray. It's not blended with any other colors the way that say, a greige color would be.
Does Wickham Gray Have Any Undertones?
Wickham Gray has strong blue undertones, and some green undertones. Surprisingly for a gray color, it doesn't have purple undertones–this is because its blue side comes to the foreground.
Is Wickham Gray a Warm Color or a Cool Color?
Wickham Gray is a very cool gray, thanks to its strong blue side.This color's strong cool tone is important to note when choosing its coordinating colors.
LRV of 67.87
Wickham Gray has a light reflectance value (LRV) of 67.87, making it a lighter color.
Light reflectance value is a scale designed to measure how bright a color is, and ranges from absolute black at 0 to sheer white at 100. The higher the number, the brighter the color.
Where Can You Use Wickham Gray?
Wickham Gray offers you plenty of flexibility when it comes to where you're going to use it in your home. Its LRV makes it suitable for just about any lighting situation you're going to encounter.
Just about the only place you wouldn't want to use Wickham Gray is in a room that feels too cold. If that's the case, balance Wickham Gray with some warmer colors, either in your coordinating paint colors, or with warm woods, leather, and other materials.
Wickham Gray's natural coolness makes it a soothing and restful choice for spaces like bedrooms, bathrooms, and living rooms. It's great for any space where you want to relax.
Let's take a look at Wickham Gray in action in real homes, and gather inspiration for that next home refresh!
Living Room
Wickham Gray creates a backdrop that allows the artwork in this living room to stand out.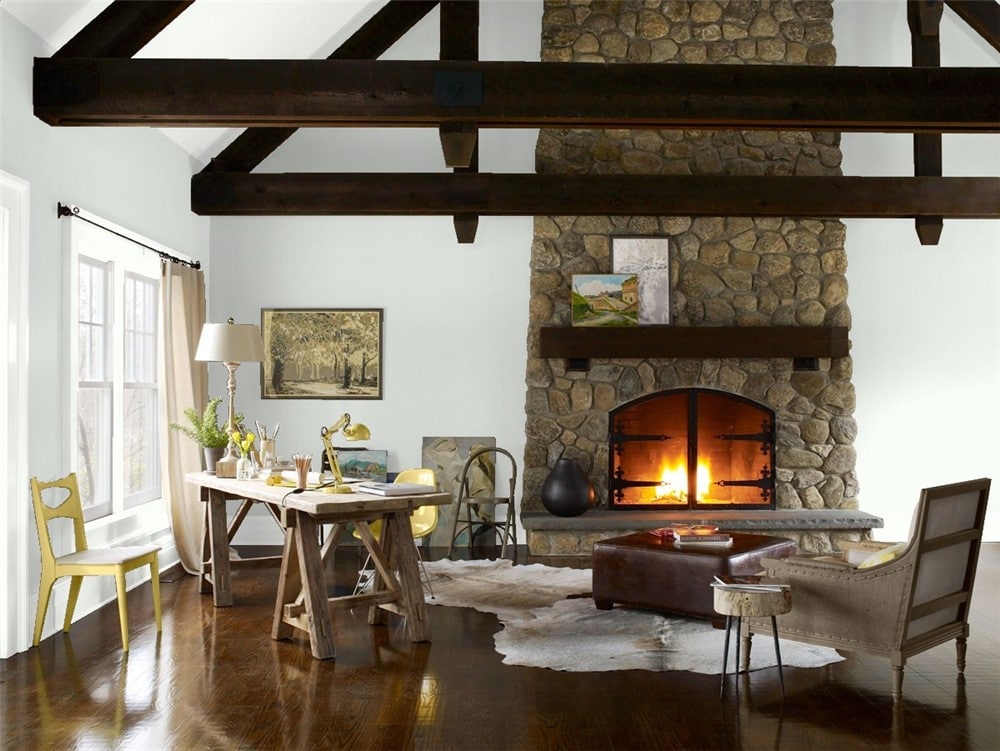 The cool tones of Wickham Gray enhance the beauty of natural materials like stone, wood, leather, and hide throws.
Kitchen
Wickham Gray is a great choice for a modern kitchen cabinet color.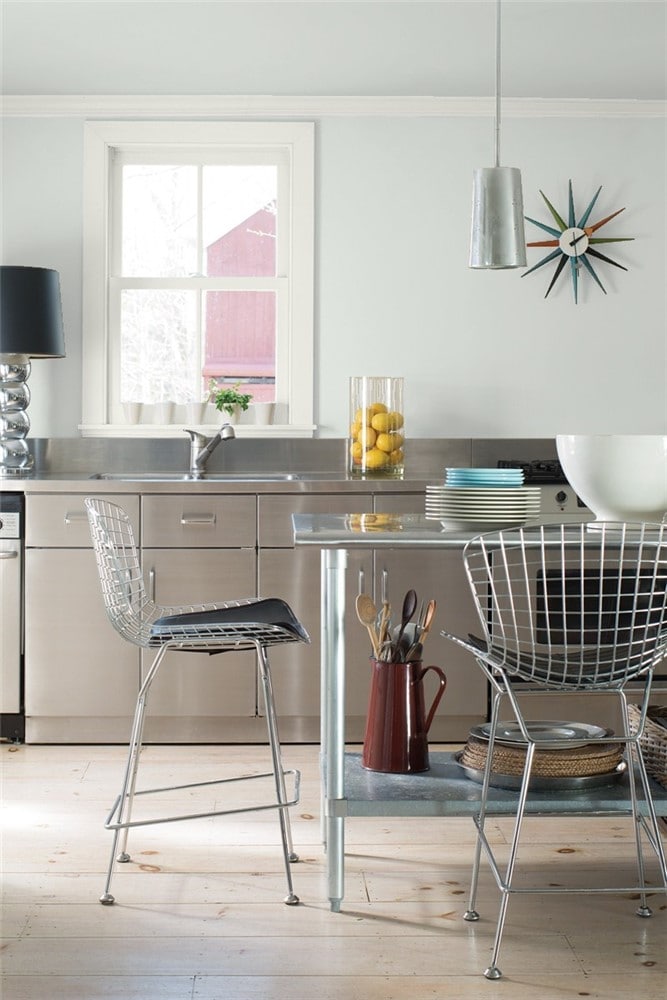 Wickham Gray's silvery tones make it a natural choice for rooms with lots of appliances and metalwork, like kitchens, bathrooms, or even offices.
Dining Room
Wickham Gray can combine with other neutrals like beige and taupe for a more grounded and cozy effect.
White accents make Wickham Gray look elegant in this dining room.
Bedroom
In this bedroom, Wickham Gray shows its ability to work with warmer neutral colors.
Wickham Gray is a great choice for shabby chic styles.
Wickham Gray's natural coolness makes it a restful choice for bedrooms.
Bathroom
Wickham Gray coordinates beautifully with marble.
Wickham Gray looks great with monochrome color schemes.
Thanks to its high LRV, Wickham Gray will look nearly white under high lighting. You can use it to offer a very gentle contrast in all-white spaces.
Home Office
Wickham Gray frames the fantastic view in this home office.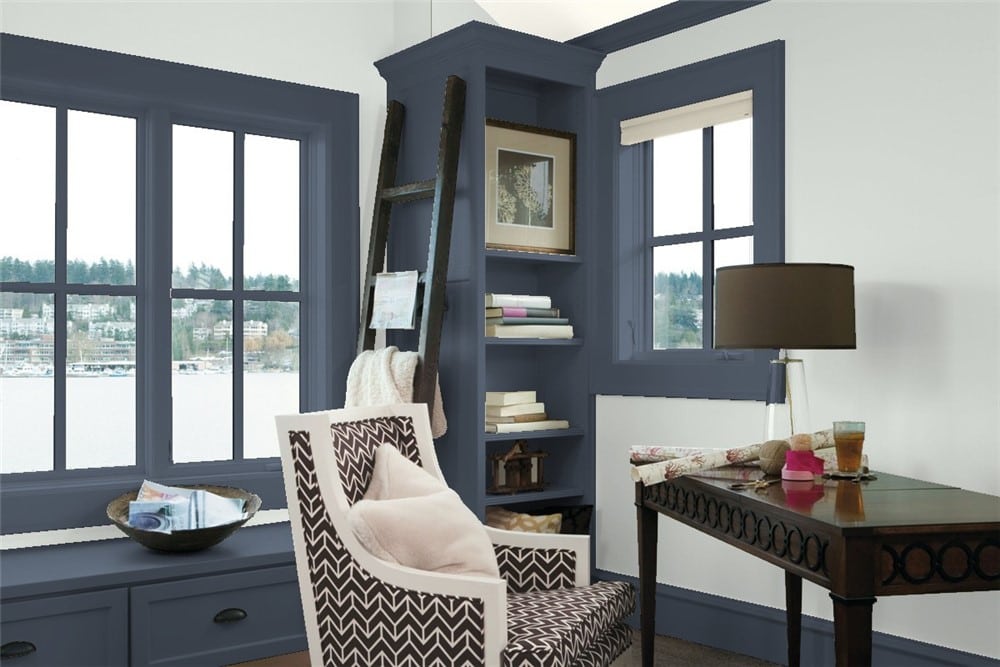 Hale Navy brings out Wickham Gray's blue undertones in this cool and comfortable home office.
Entryway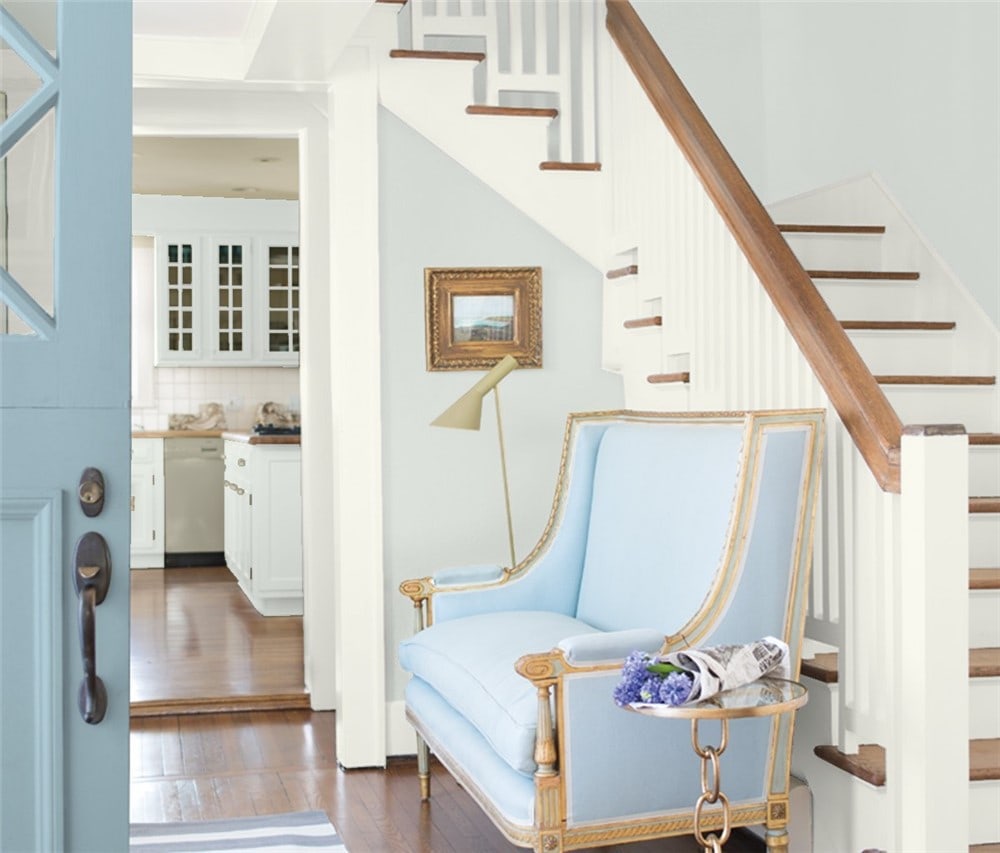 Wickham Gray balances with an array of lighter colors to keep this entryway lofty and inviting.
Exterior
Wickham Gray with a smart white trim sets off these charming beach homes, accented by Woodlawn Blue shutters.
Under the bright light outdoors, Wickham Gray is a great option for when you want a white paint look without the starkness of a true white.
Coordinating Colors for Wickham Gray
Wickham Gray is a classic, neutral gray that's easy to coordinate with other colors. It works beautifully with its fellow cool colors, including blues, greens, purples, and other grays.
Wickham Gray is especially handsome next to darker blues, such as navy blue, smoky blue, or even teal.
A classic combination you can turn to again and again is black, white and gray. This trio will always look chic and sophisticated. To go elegant, accent with gold. For a fun twist, accent with pink or purple.
Rather than black, you can pair Wickham Gray with your favorite dark or charcoal gray, for a moody look with depth and interest.
If you're looking to pair a white with Wickham Gray, look for clean, balanced whites for a refreshing contrast. Clean whites make a great trim color for Wickham Gray.
There's lots of ways you can take this flexible neutral, but if you're looking for a place to start, here are some coordinating color ideas for Wickham Gray:
How Does Wickham Gray Compare With Other Colors?
Wickham Gray vs Stonington Gray by Benjamin Moore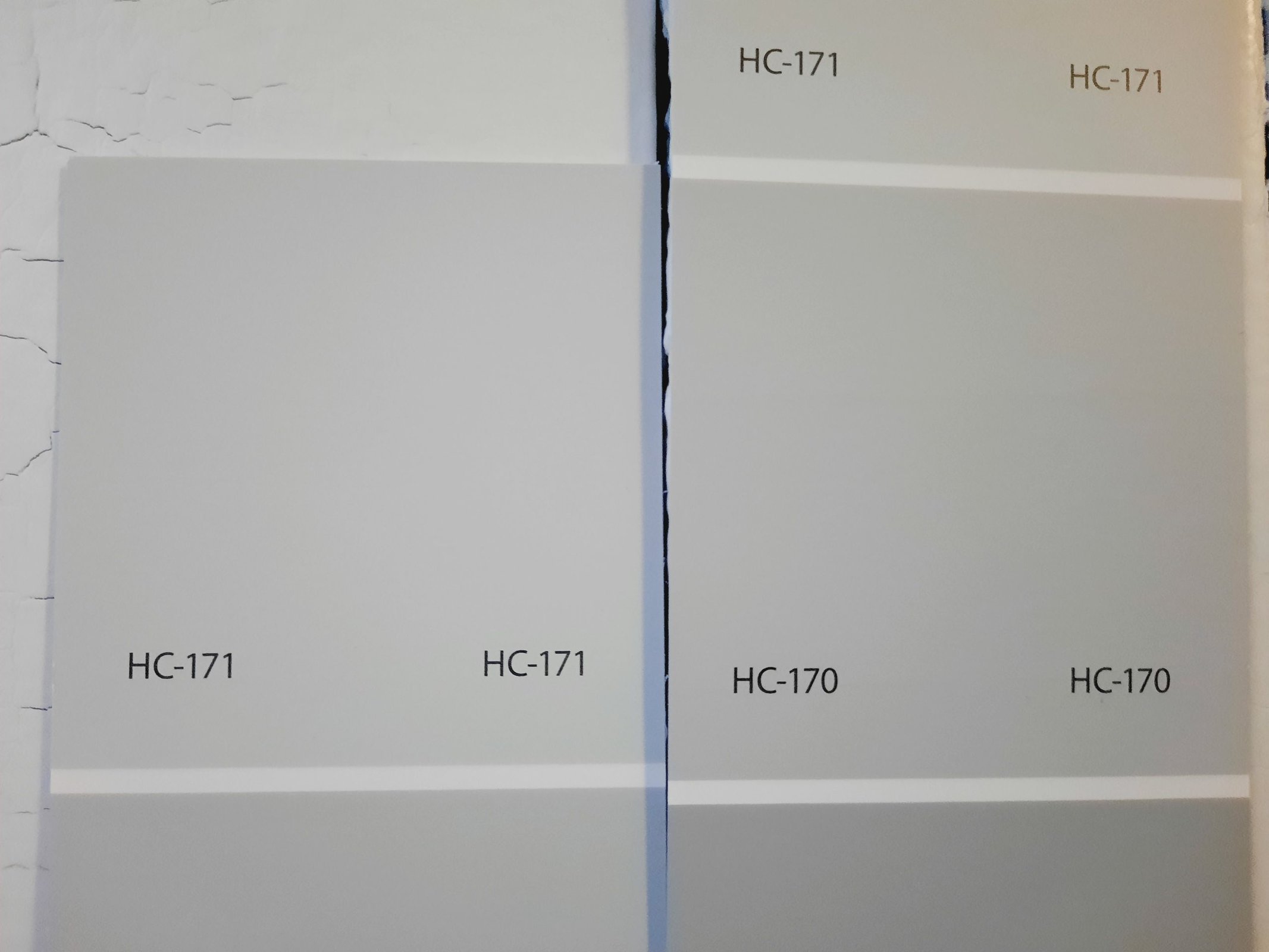 These neighbors on the color card have a lot more in common than not. Stonington Gray is essentially the same color as Wickham Gray, but darker. Its LRV is 59.36, compared to Wickham Gray's 67.87.
Wickham Gray vs Passive by Sherwin Williams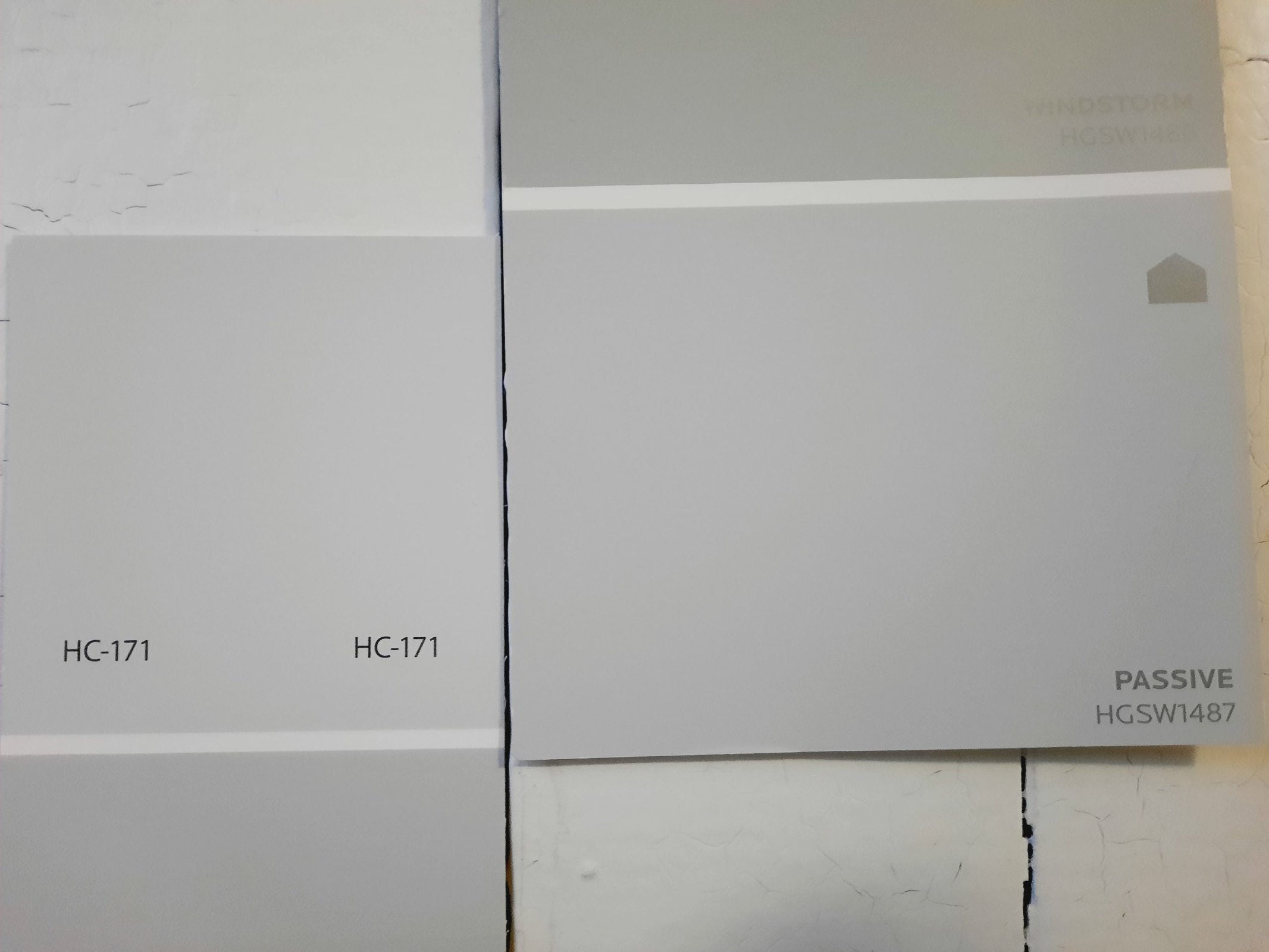 Passive is a gray from Sherwin Williams that's a little cooler than Wickham Gray, but in the ballpark. It's also a touch darker, with a LRV of 60. Otherwise, these colors are pretty close. 
Wickham Gray vs Olympus White by Sherwin Williams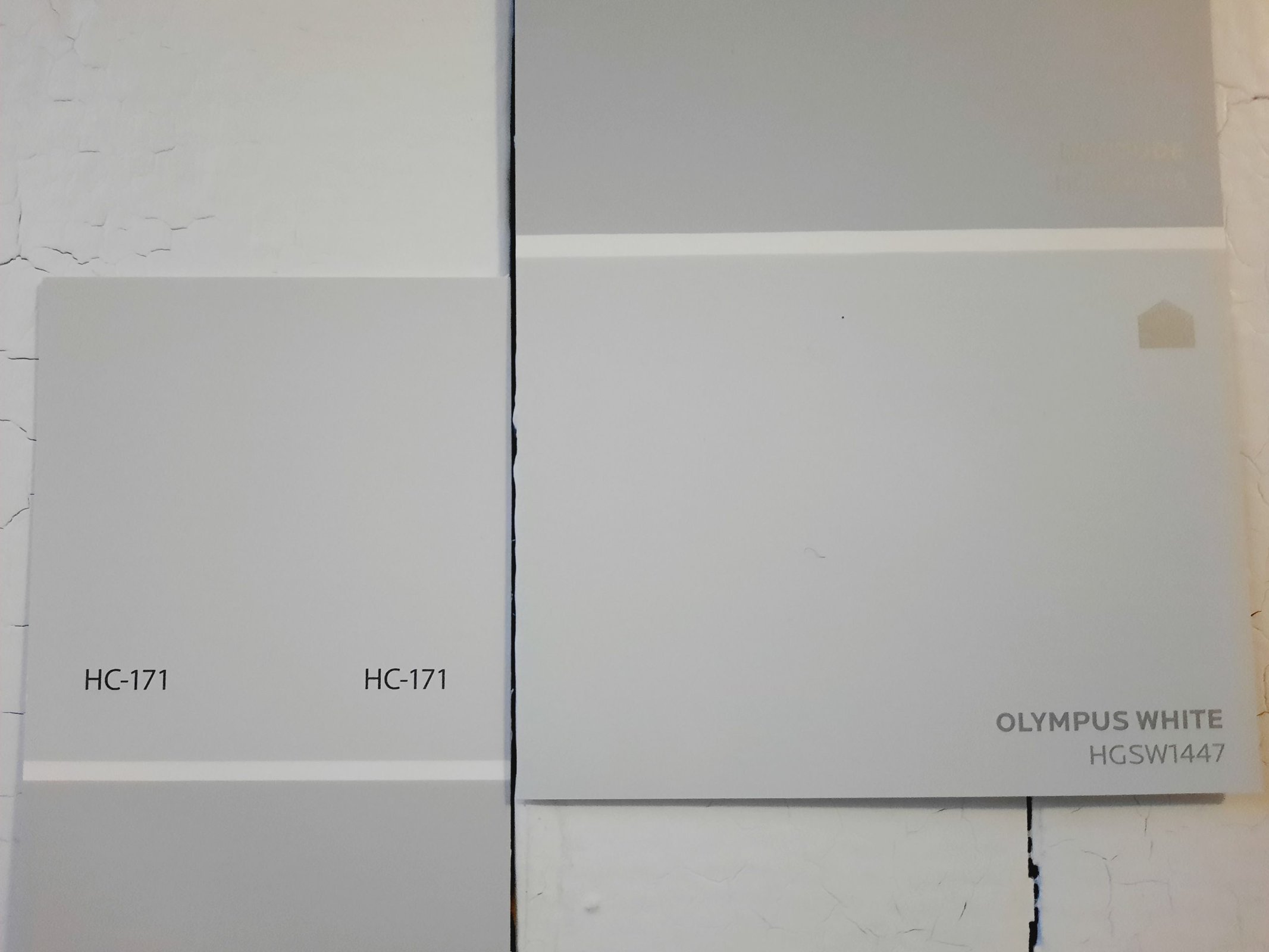 Olympus White might be the closest match Sherwin Williams can offer to Wickham Gray. It's a light, cool gray color with a nearly-identical LRV of 68.
Final Thoughts
Wickham Gray proves that the classics have staying power for a reason. This traditional gray is light enough to feel modern. Its light touch makes it user-friendly and easy to add to any room of the home. A solid gray option is a must-have for minimalist decor styles, but Wickham Gray is versatile enough to add to plenty of other styles too. What can Wickham Gray do for your home refresh?