Decorated Life is reader-supported. When you buy through links on our site, we may earn an affiliate commission. Learn More
26 Bathroom Mirror Ideas
If there's one essential item that you need in your bathroom (apart from the obvious!) it's a bathroom mirror. Aside from it's functionality, the right bathroom mirror has the power to make the space feel bigger and brighter, and a statement mirror can be the perfect finishing touch to your design scheme.
Today we're going to be talking bathroom mirror ideas. There are so many to choose from, so we have curated a list of the best bathroom mirrors to help you find the perfect one for you!
Modern Farmhouse Arched Wall Mirror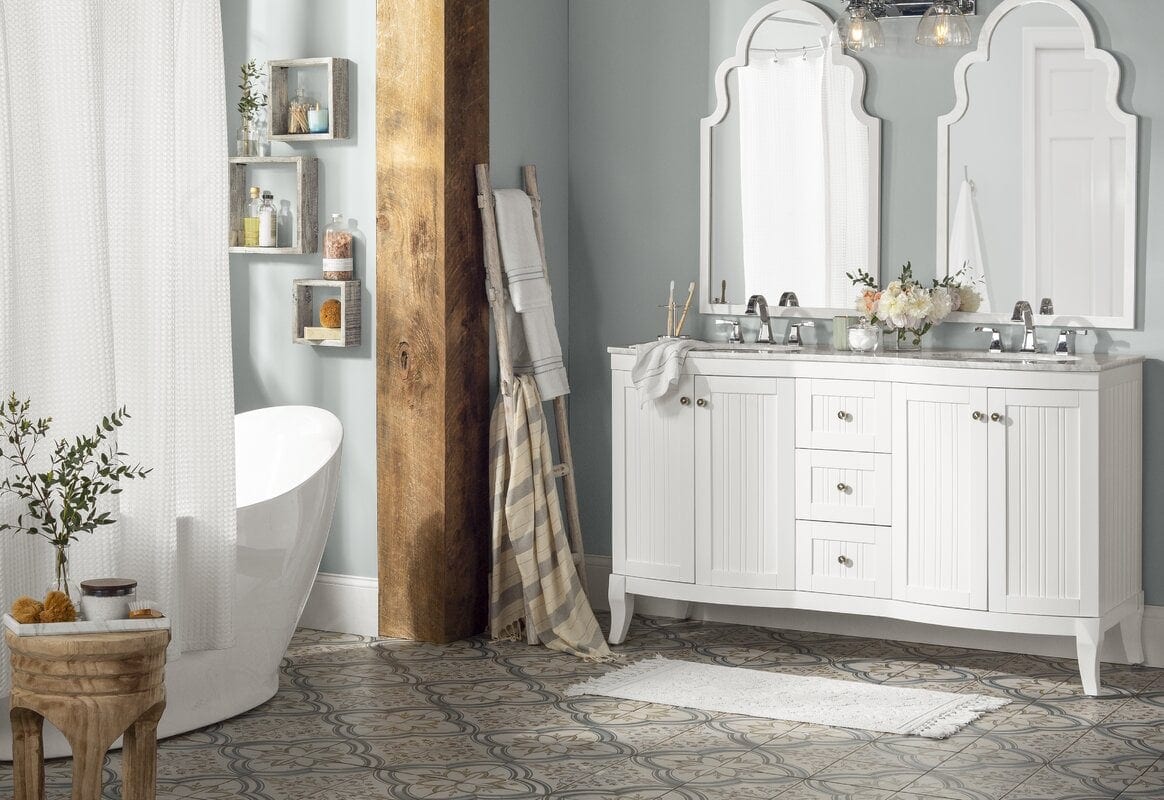 If you want to create a farmhouse style bathroom design, this arched wall mirror is the perfect accessory! With an elegant profiled top and a white finish for a clean, contemporary look, this mirror will fit well with a modern farmhouse decor style.
It's ideal for small powder rooms using a single mirror as well as large bathrooms by using two mirrors side by side over a double vanity.
Melanie Octagon Mirror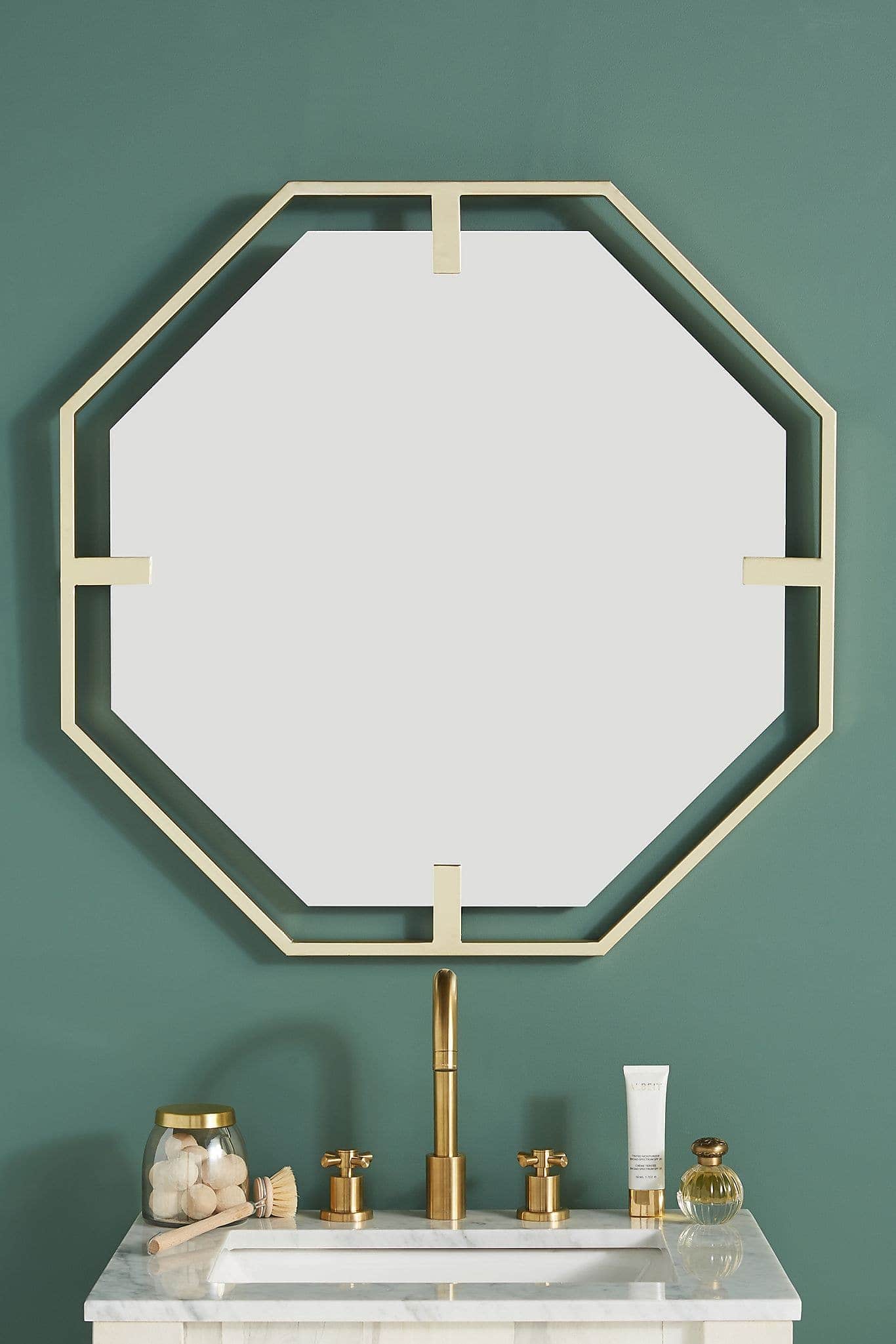 Add a touch of timeless glamour to your bathroom with this Melanie octagon mirror. With an octagonal design in a bronze finish, this stylish mirror will add the 'wow' factor to any powder room or bathroom.
It's bathroom rates so there's no need to worry about it becoming damaged by water or steam, and it's fitted with a ready-to-hang sawtooth, so it's easy to install too!
Modern Round Mirrors With a Black Edge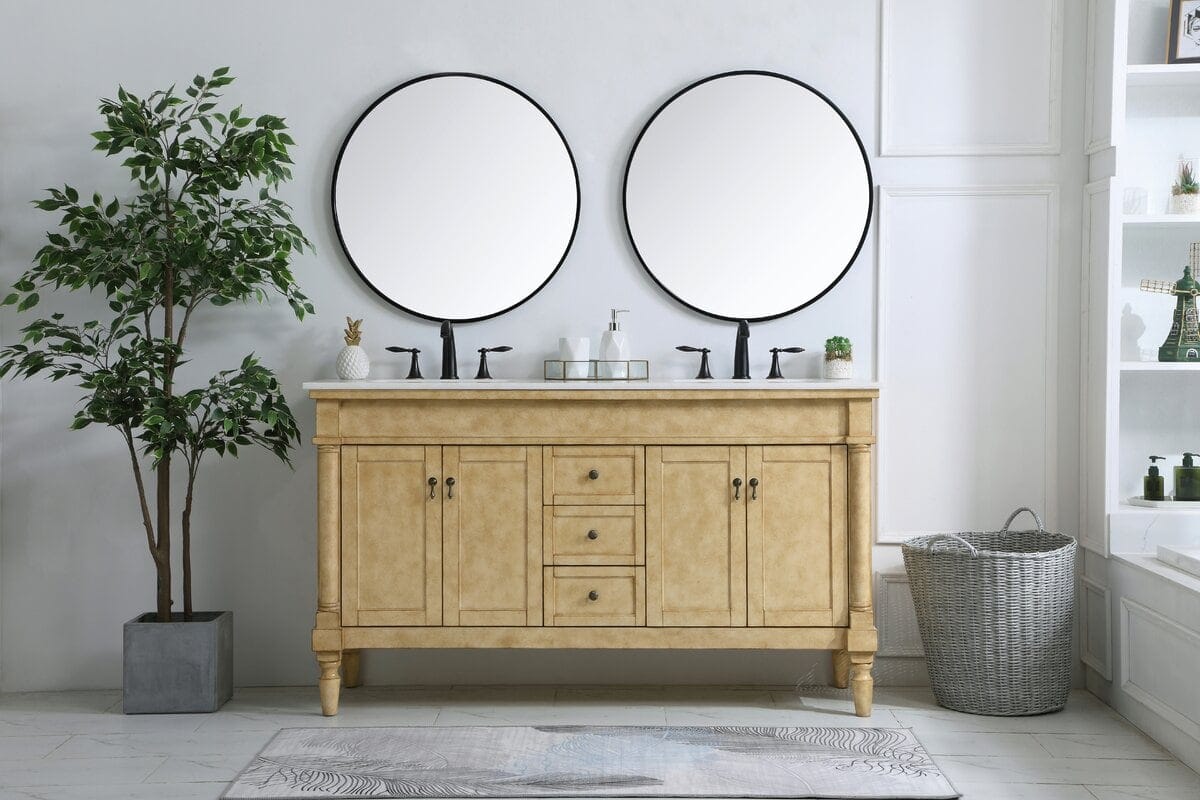 This pair of black-framed round bathroom vanity mirrors creates a modern look over a double vanity. The black frames contrast against the clean white walls creating a striking look in this bathroom.
Round mirrors are a great way to create a contemporary look in a bathroom, and as you can see, they look great in pairs. For smaller bathrooms with just one basin a single mirror can be used to achieve a similar look.
Large Industrial Style Wall Mounted Bathroom Mirror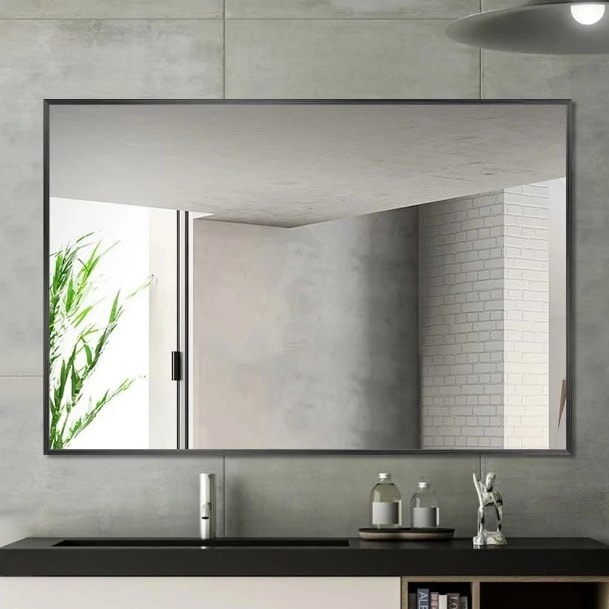 If you want to create an industrial look, try this large rectangle aluminium alloy framed bathroom mirror. It can be hung horizontally as well as vertically, and would be at home in any loft-style apartment.
This mirror works well over the black-topped vanity, and the sleek black frame stands out against the gray tiled walls giving the bathroom a masculine vibe.
Hub Oval Mirror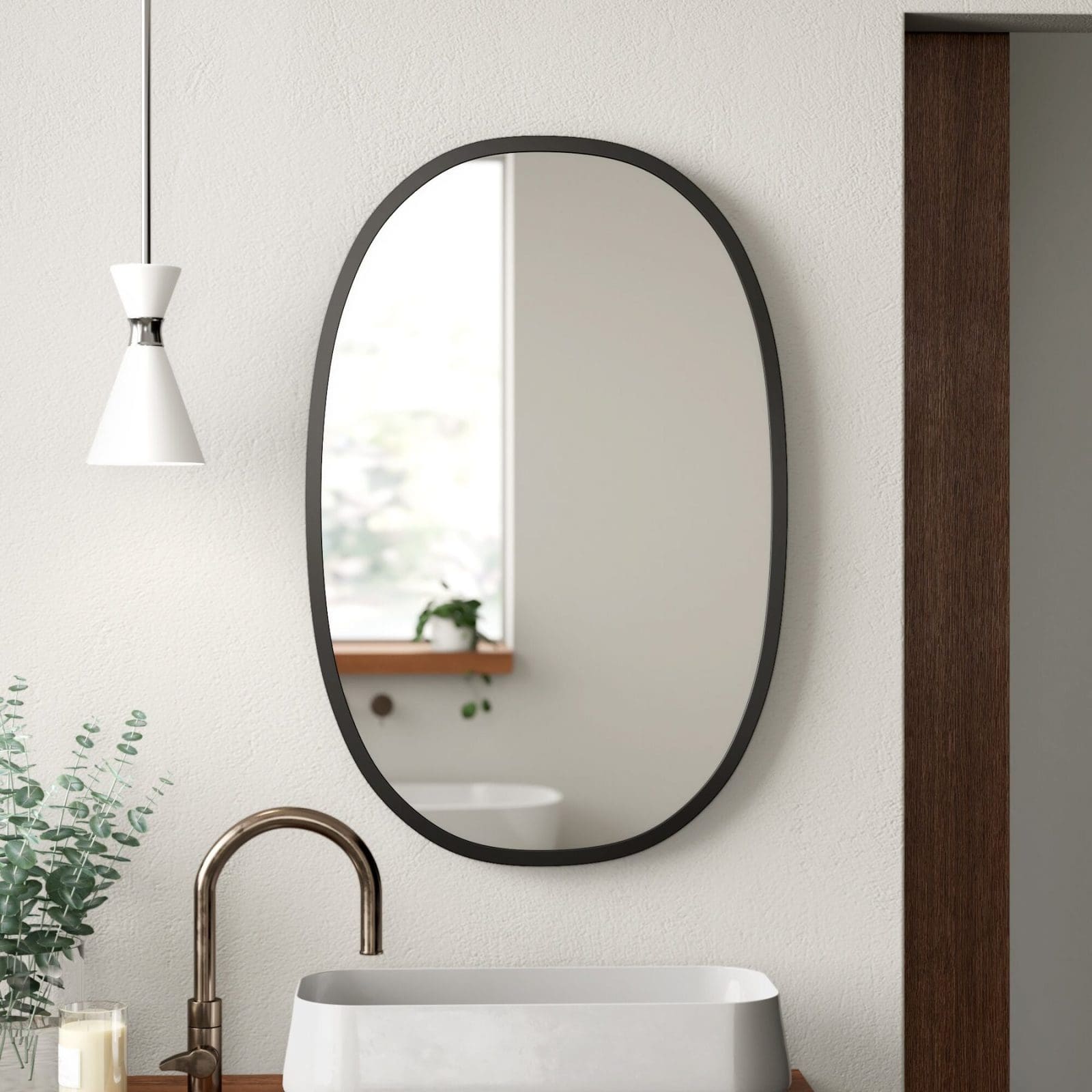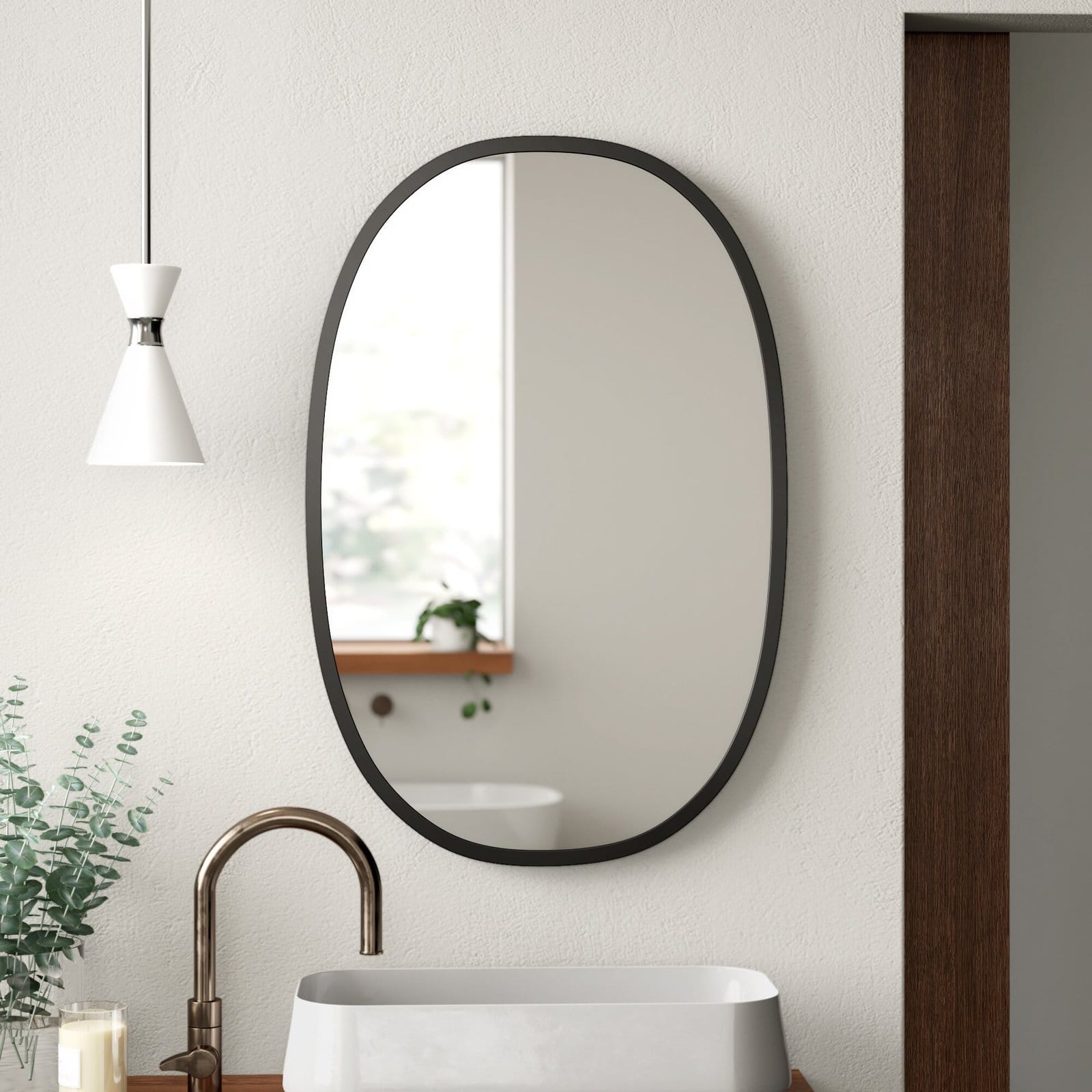 The Hub oval accent mirror is an ideal modern powder room mirror. It features a contemporary rubber frame which is highly durable, making it suitable for any high traffic areas as well as bathrooms.
The sleek contemporary design with a black frame looks great against white walls, and is ideal for modern homes. It comes ready to hang, and includes all necessary mounting hardware.
Avery Mirrored Bathroom Cabinet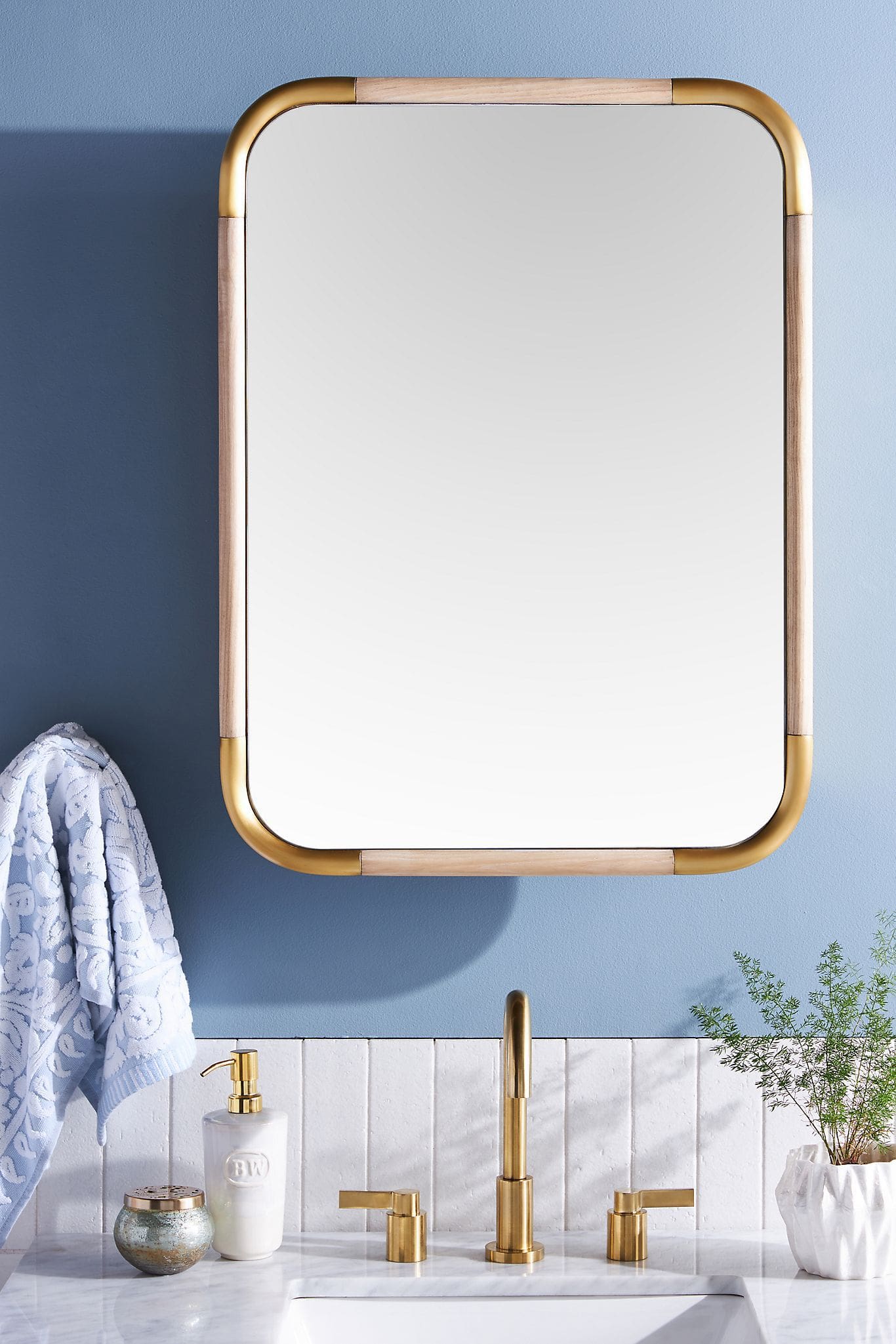 This stunning bathroom mirror is also a cabinet which opens up to offer ample storage, perfect for small bathrooms that may need extra storage space!
The contemporary design features a frame of engineered hardwood joined with Ash wood, surrounding mirrored glass creating a luxury contemporary look. Inside the cabinet there are two glass shelves and the back of the cabinet is mirrored too, so it looks amazing even when it's open.
Rosenblatt Soft Corner Accent Mirror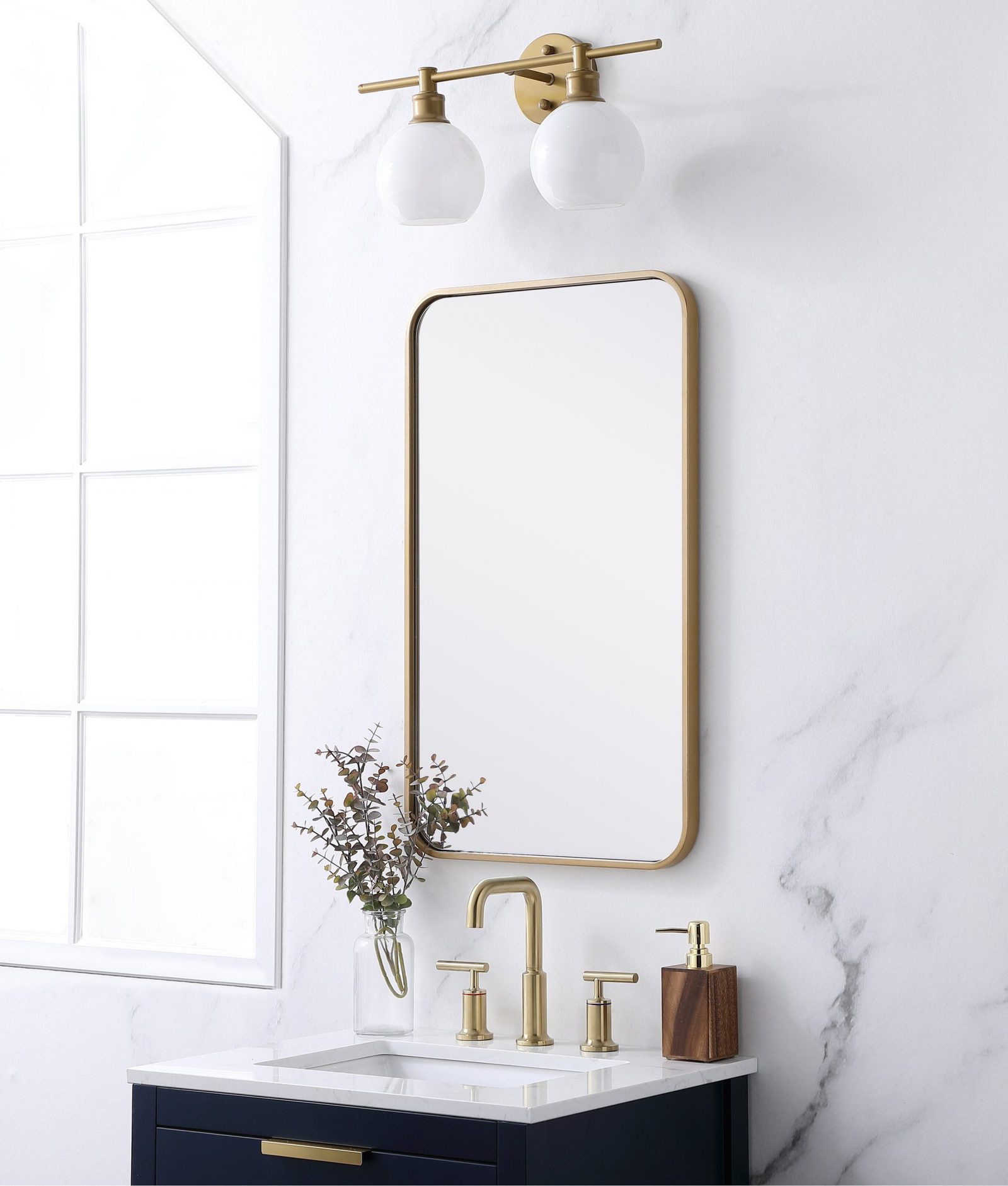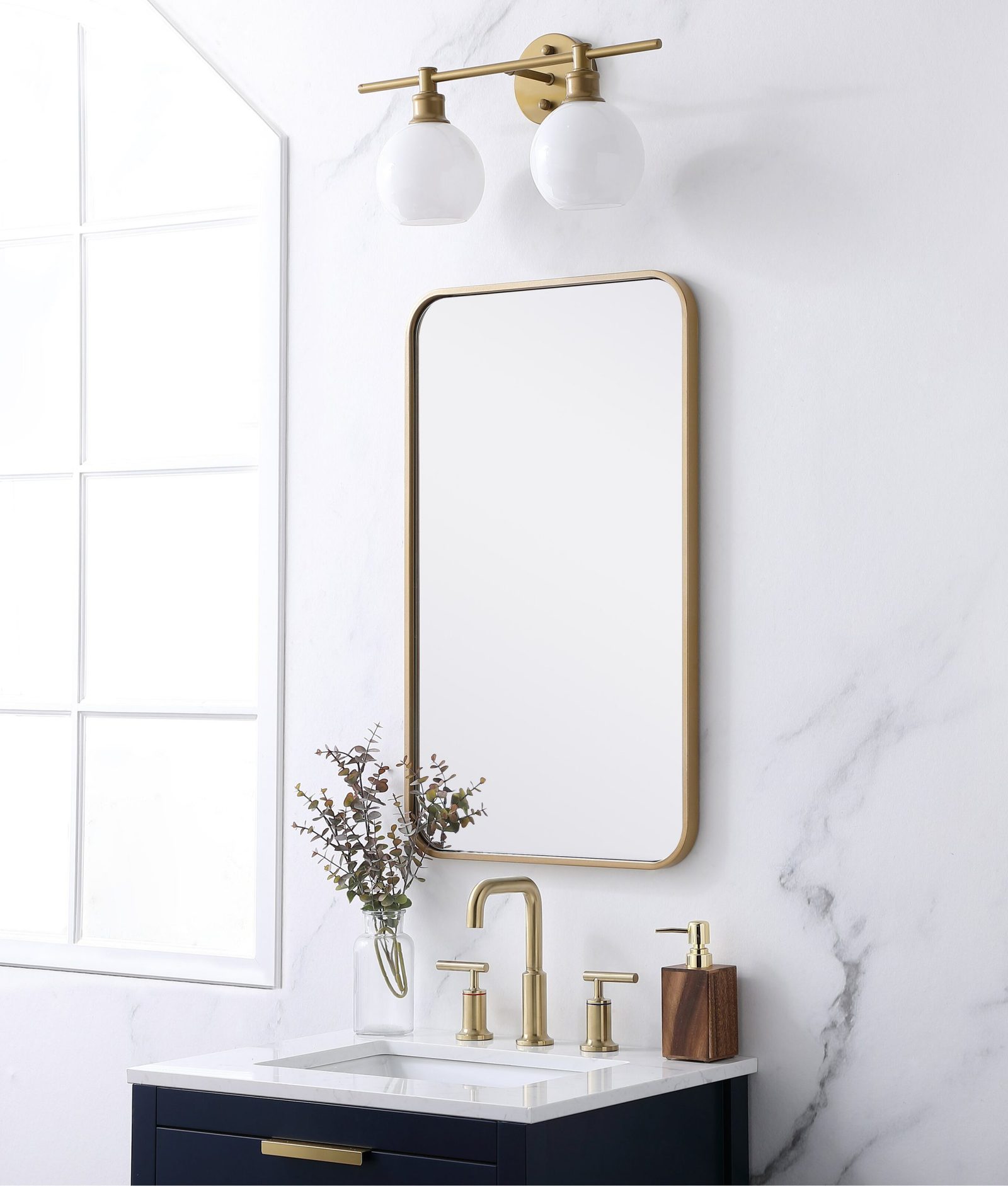 This soft cornered accent mirror features a thin brass frame with a deep profile for an unusual look. The timeless, minimalist design will look at home in any modern bathroom, and would even work in a powder room.
This mirror is also a great choice for anyone who wants to achieve a mid-century modern look in their bathroom, because of its classic mid-century inspired shape.
Neom Round Mirror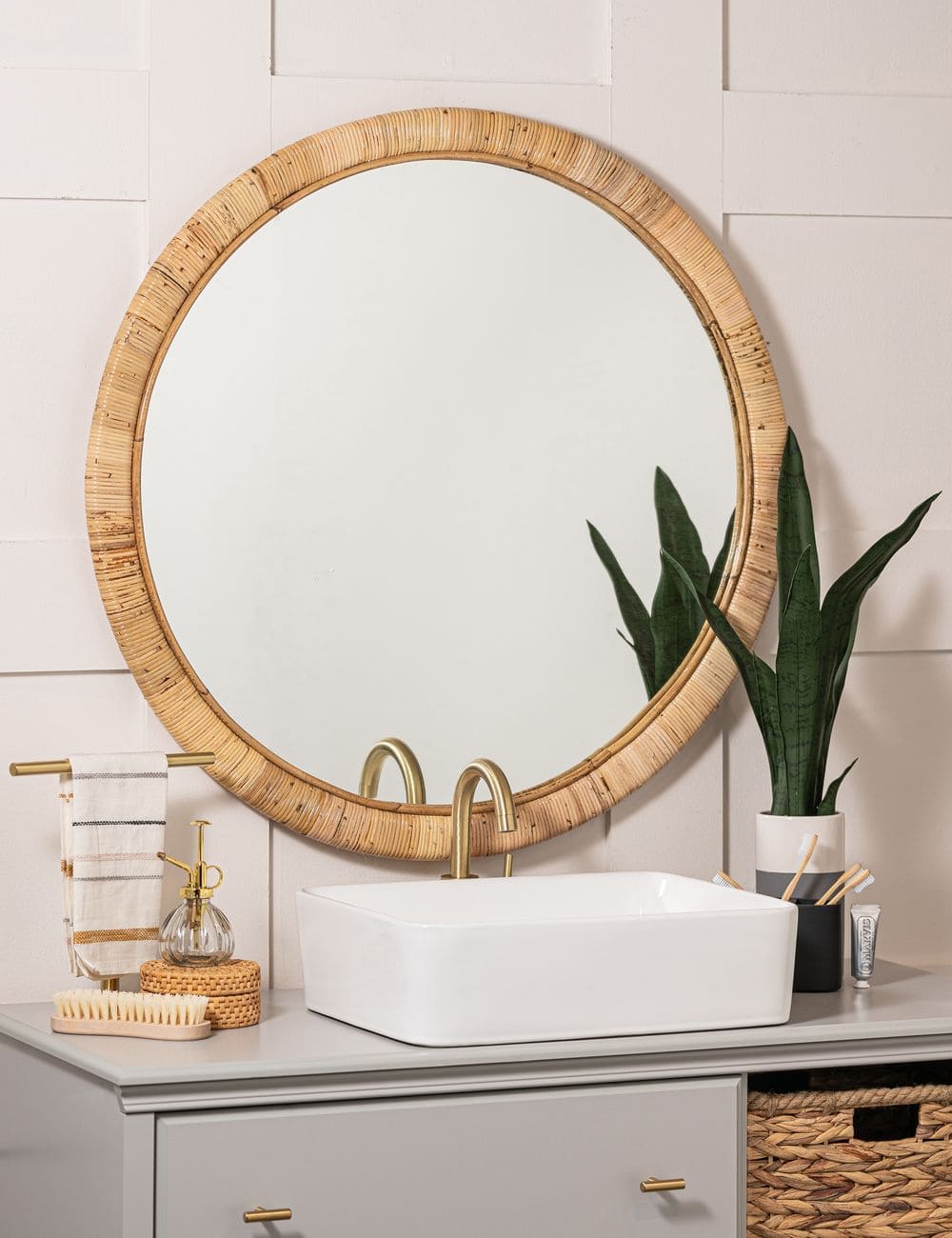 This unique artisan-inspired bathroom mirror features a round, rattan wrapped design, perfect for anyone who wants to achieve a natural look in their bathroom. The natural color and texture add depth and interest to the mirror making it a unique feature in the room.
It's fairly large for a round mirror, with a diameter of 34.5", and although it's made from rattan, it's perfectly suitable for bathroom use.
Clean and Contemporary Rectangular Bathroom Mirrors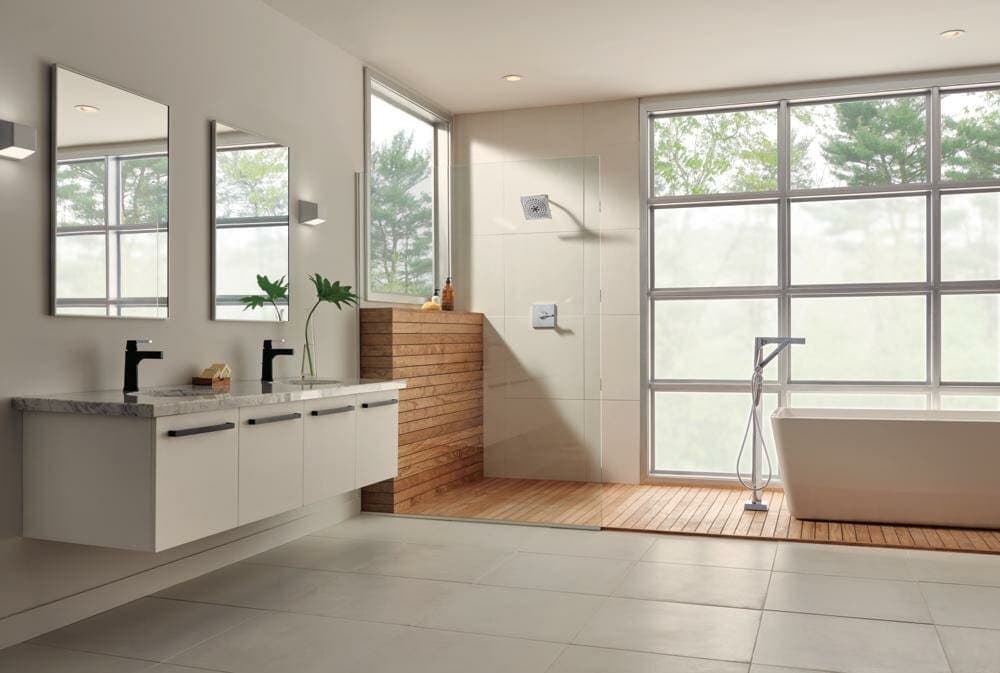 If you are looking to create a clean and contemporary design in your bathroom, then these frameless rectangular bathroom mirrors will work well. This is simplicity at its best, with the lack of frame giving these mirrors a sleek and understated chic look.
These mirrors are ideal for a minimalist bathroom, where you will want to keep things looking as clean and uncluttered as possible. They're the perfect size to hang above a vanity, and you could use them as a pair, or just purchase one on it's own if you have a single vanity.
Coralie Round Mirror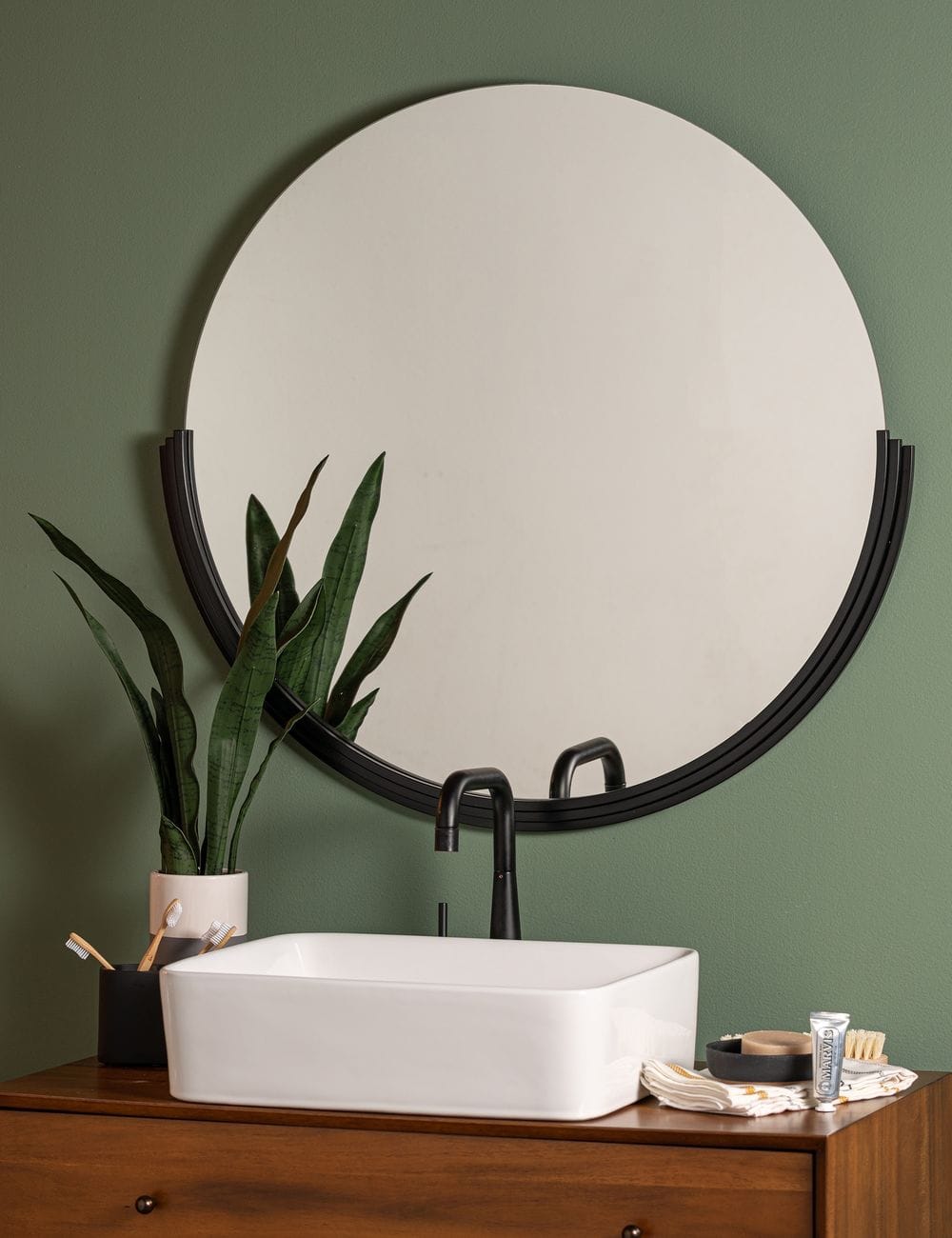 This contemporary bathroom mirror has an Art Deco feel to it, with a beautiful layered half-circle frame giving it a unique look. Its unusual design makes it the perfect choice for anyone looking to create a stylish modern bathroom in their home.
This gorgeous mirror is rated suitable for bathrooms, and is fairly large with a diameter of 34.5" making it the perfect choice for hanging over a large single vanity.
Nautical Rope Arch Mirror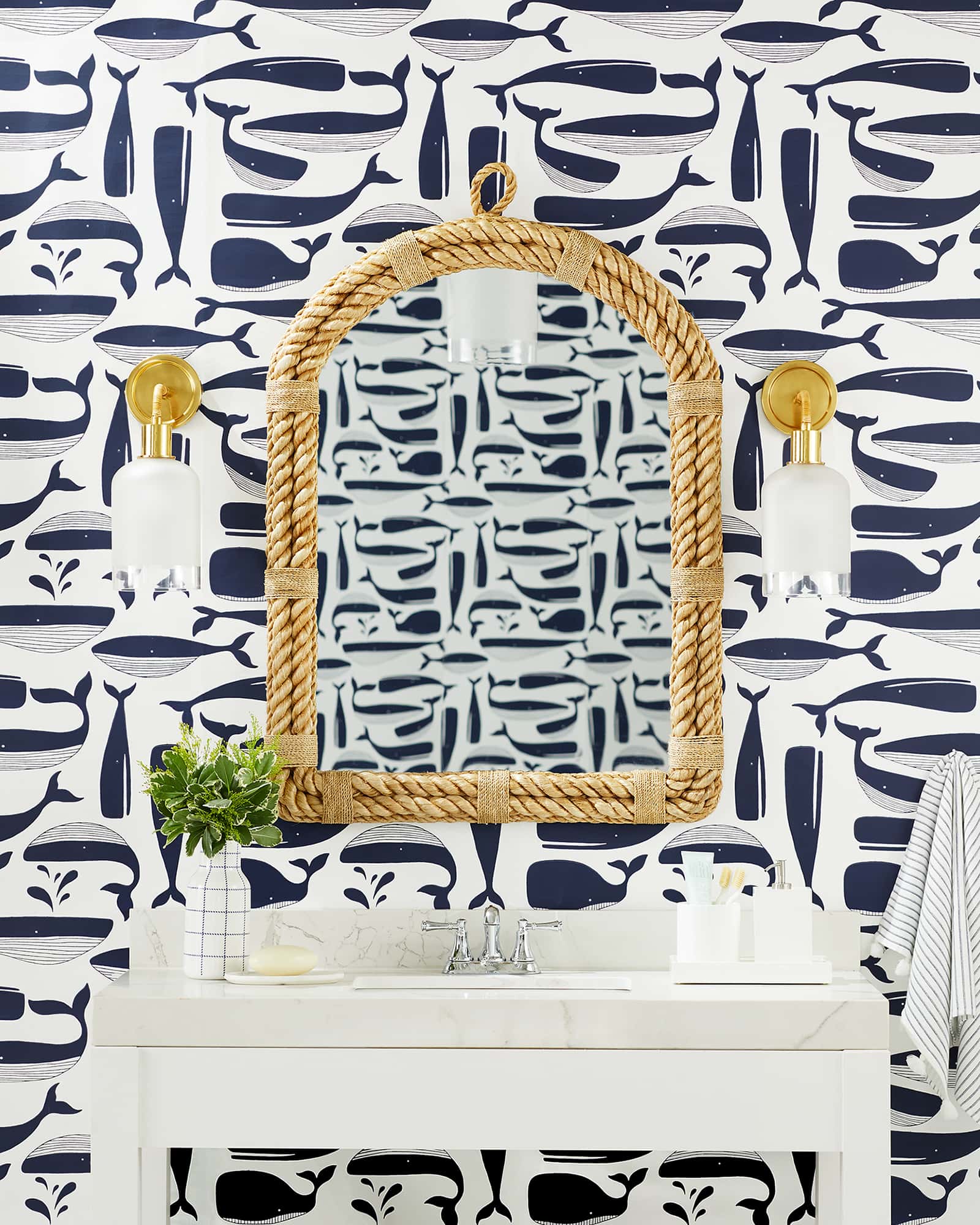 If you're searching for bathroom mirror ideas for a beach house, this nautical rope arch mirror should fit the bill! With a nautical inspired rope design, this mirror is a real statement piece that would be perfect in any coastal residence.
It features an Abaca rope border with a decorative loop at the top to finish off the look, and includes D-rings attached at the back for easy hanging.
Extra Large LED Illuminated Mirror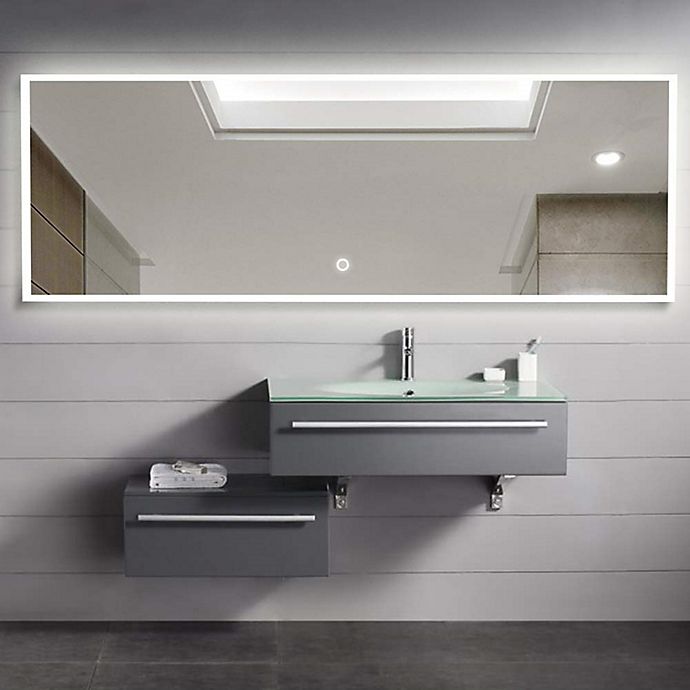 This extra large bathroom mirror is illuminated with LED lights to provide the perfect amount of light you need to get ready for your day. It includes smart controls, so you can easily control the brightness and warmth of the light depending on your needs.
The LEDs which frame the mirror are cased in a white finish glass which is easy to wipe clean, and the extra long rectangular design of this mirror makes it ideal for couples, so two people can use it at the same time without having to fight for space!
Large Arched Wall Leaning Mirror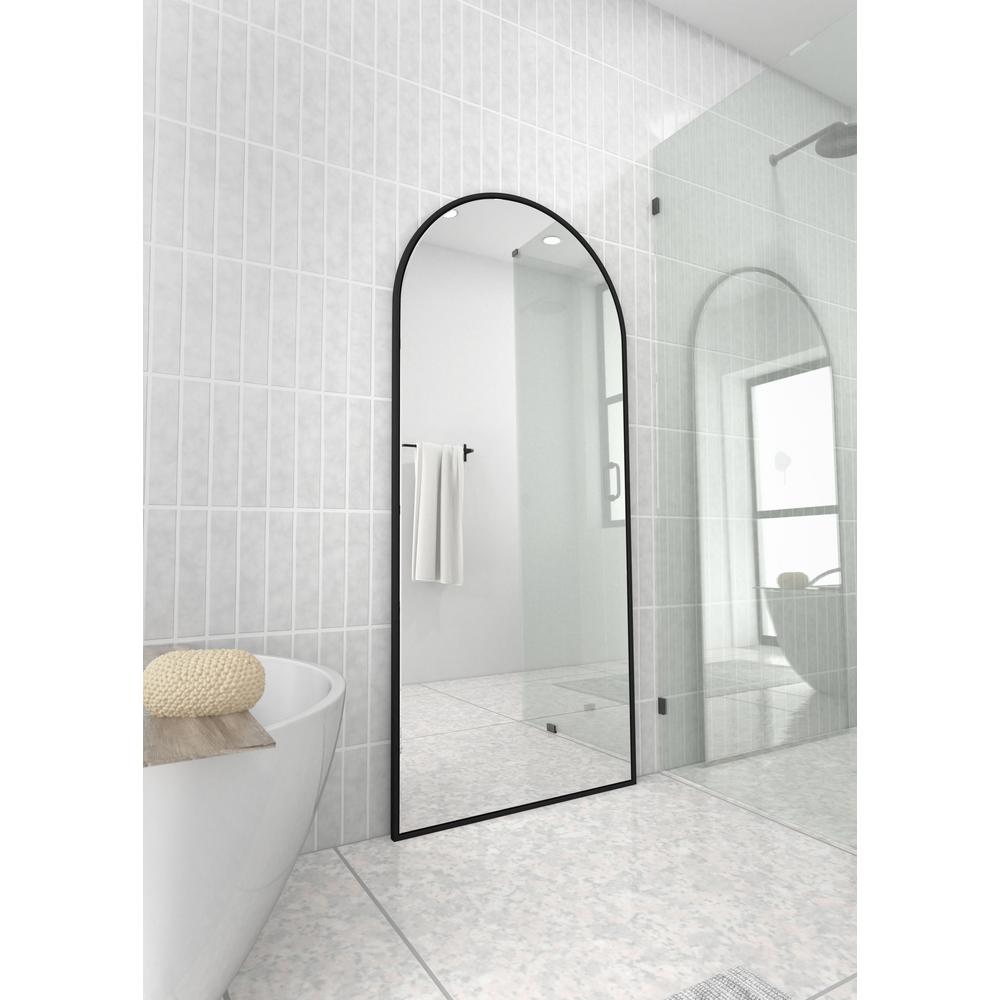 Now, if you really want to make a statement in your bathroom, this seriously cool bathroom mirror if the one for you. This oversized arched mirror is designed to lean against the wall, giving you a full length view for dressing.
The bold black frame is made from stainless steel, and contrasts well against the light gray tiles creating a really striking look. It's easy to install, and very safe, with D-rings on the back to anchor it to the wall. This mirror will give your bathroom an instant designer feel!
Baraboo Lighted Vanity Mirror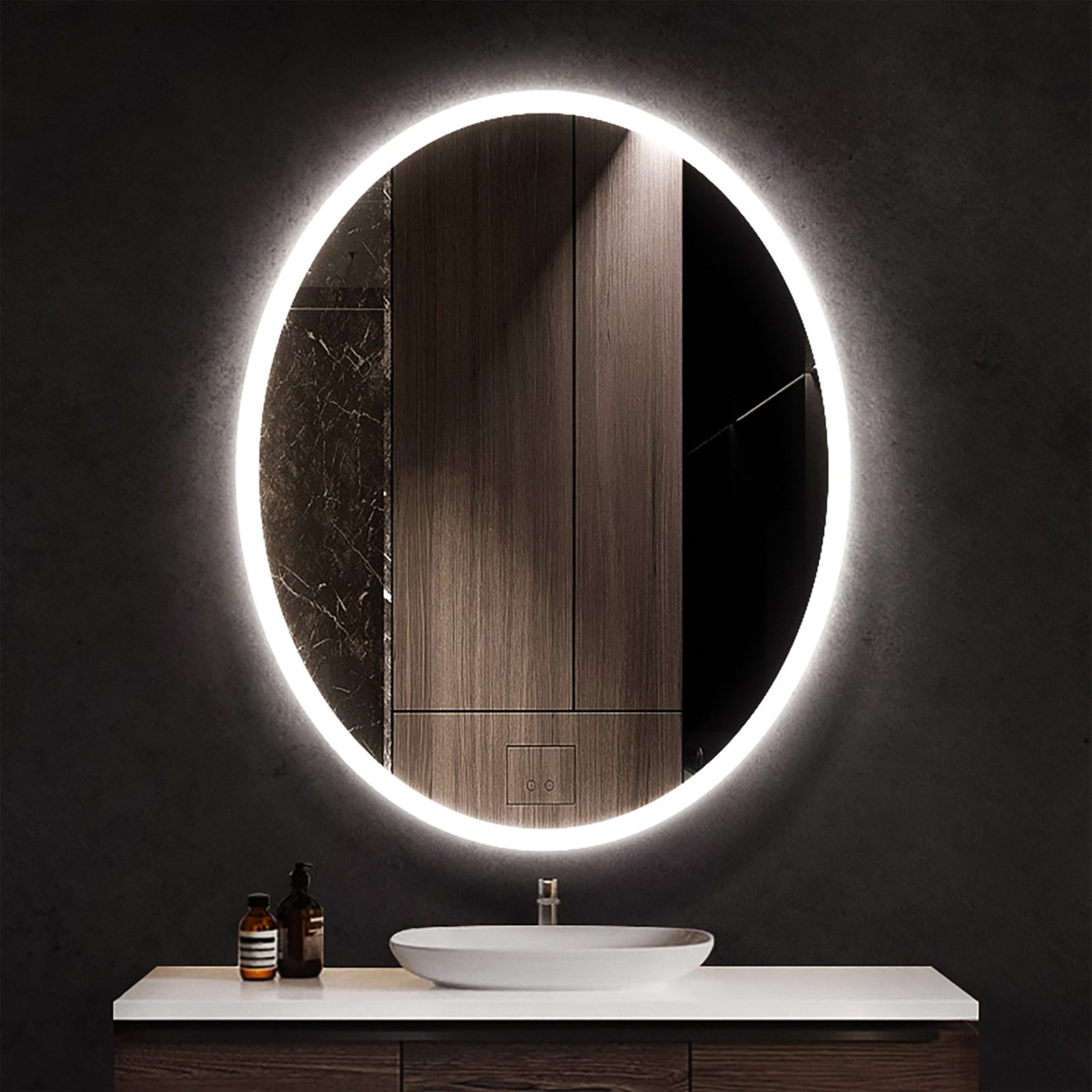 This Baraboo lighted vanity mirror is the perfect mix of elegant and functional. With a sweeping oval design and an LED lit frame encased in frosted glass, this mirror is perfect for using to get ready in the morning, providing light right where you need it.
This mirror is designed to be wall mounted, and you have the option of hanging it either horizontally or vertically depending on your needs.
Hexagonal Metal Wall Mirror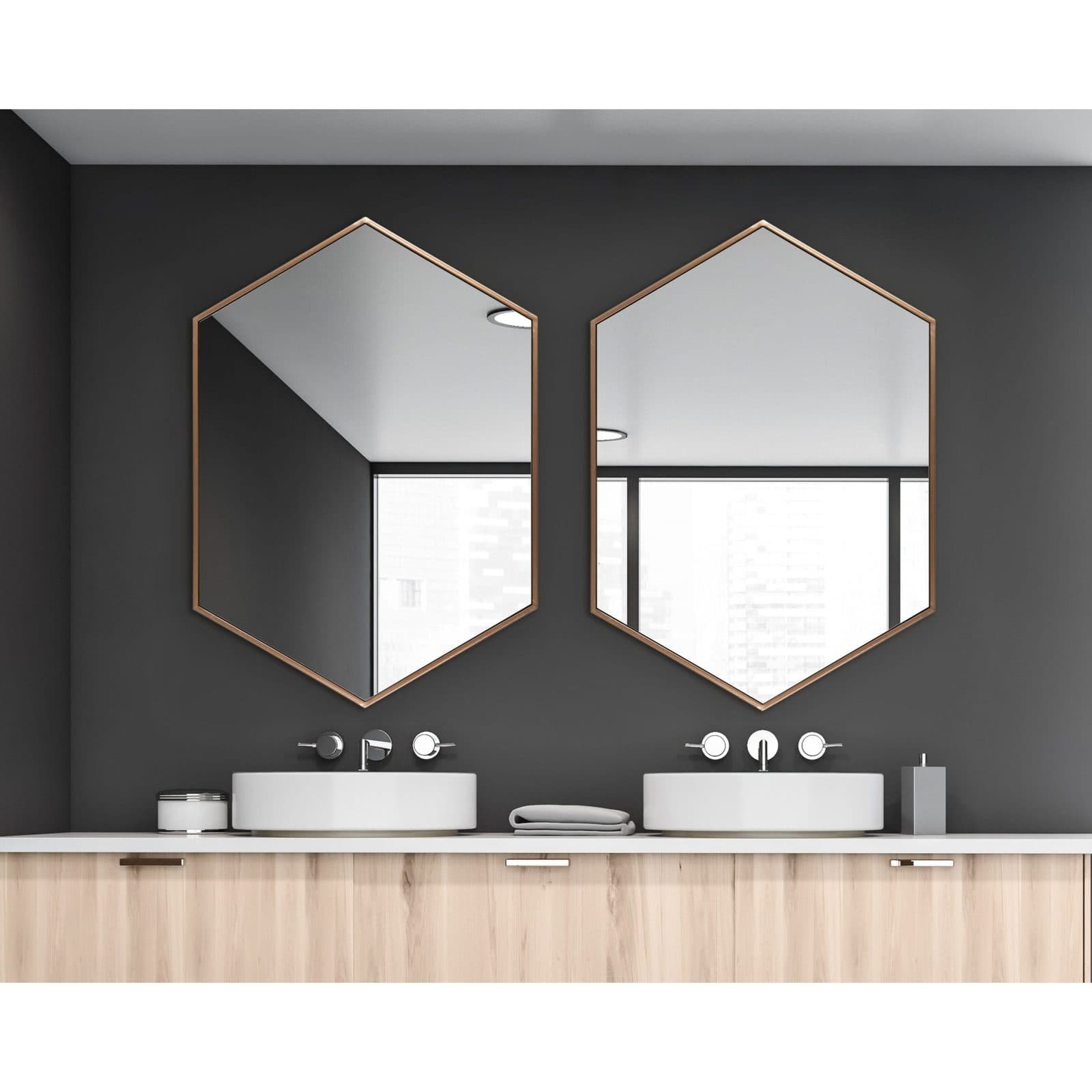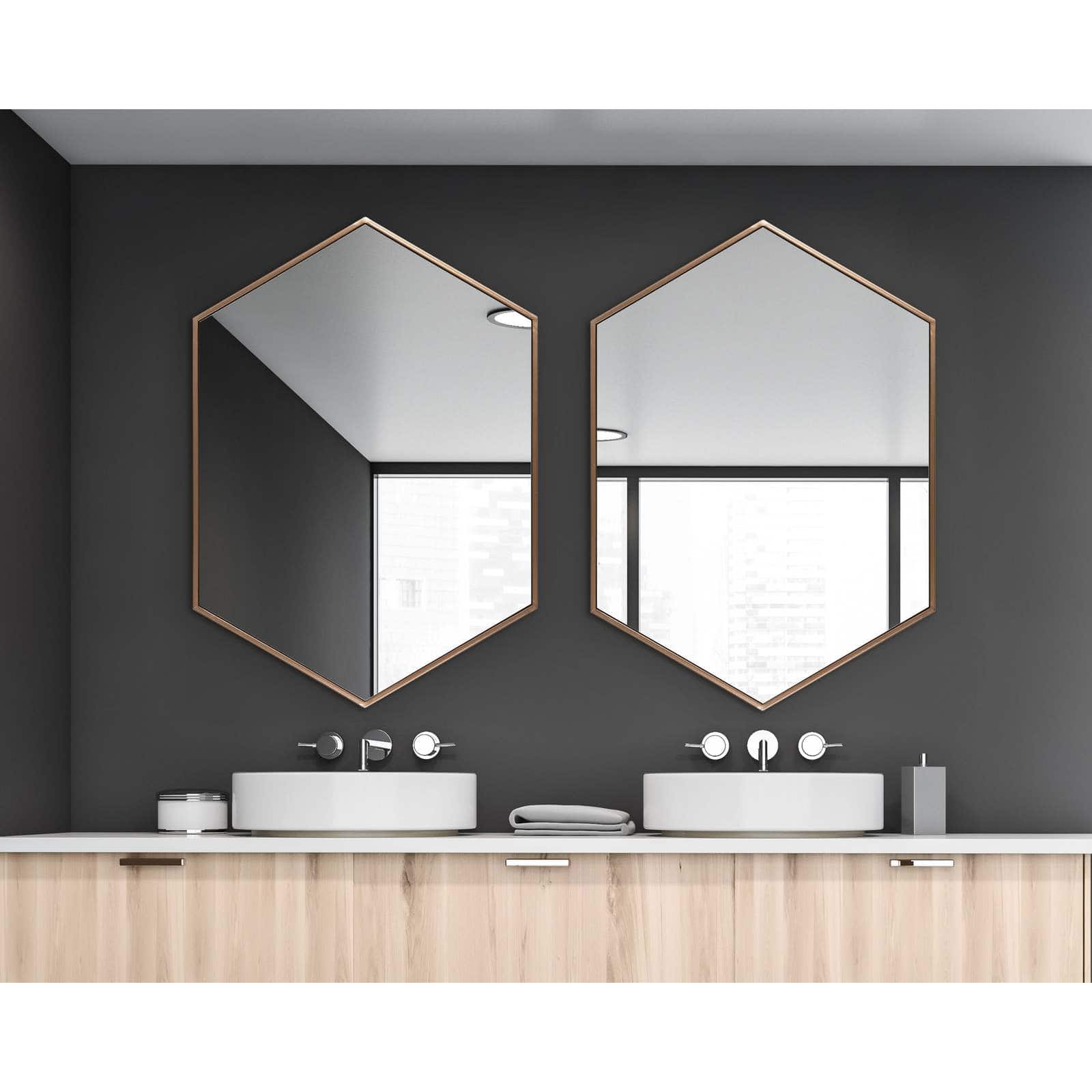 If you're looking for unique bathroom mirrors, it's worth checking out this avant-garde geometric mirror. The unique hexagonal design will bring a sophisticated modern aesthetic to your bathroom, and looks fantastic as a pair over a double vanity!
With its minimal yet striking design and gold trim, this unusual piece is sure to make a bold statement in your bathroom.
Modern Arched Bathroom Mirror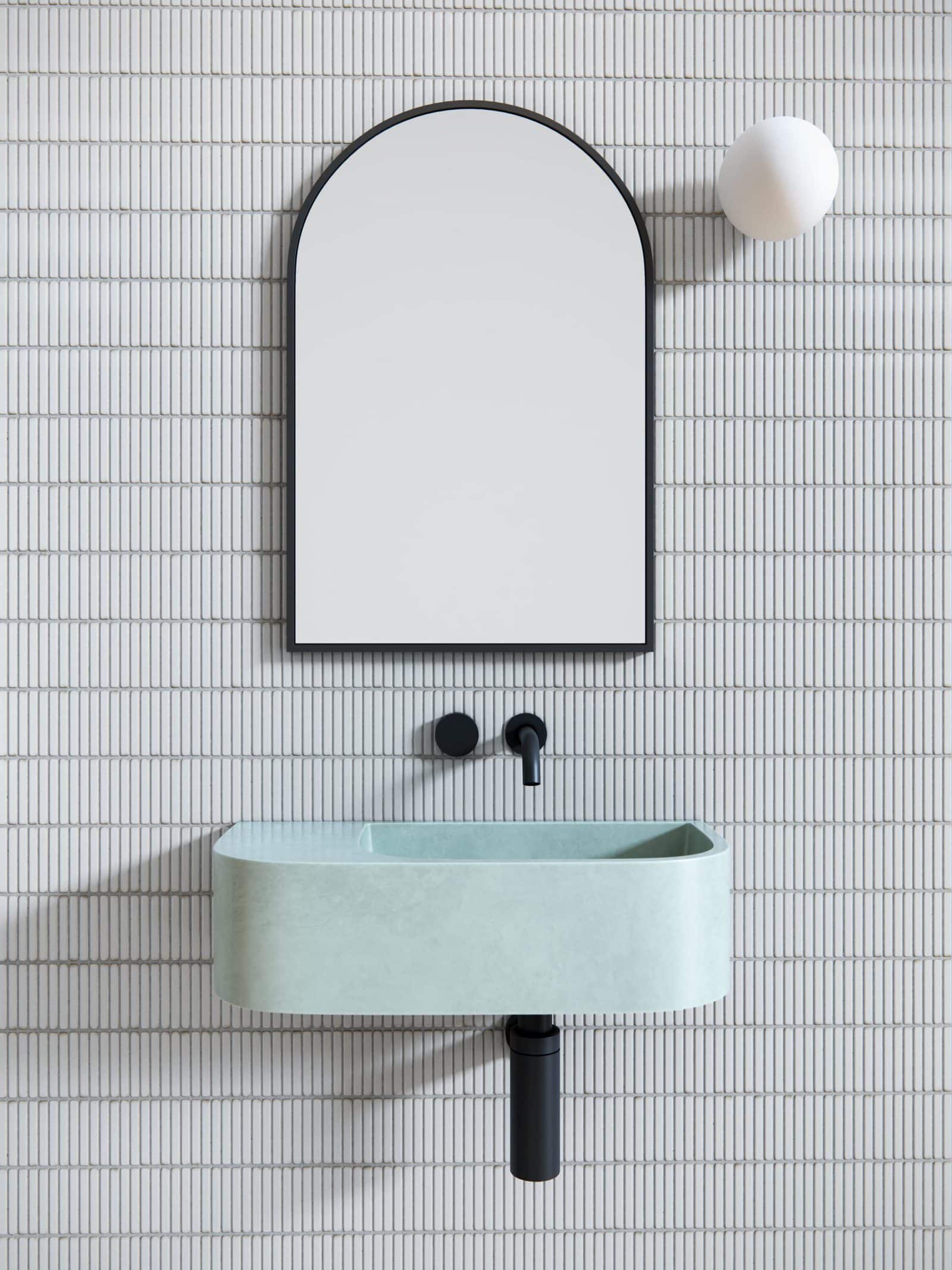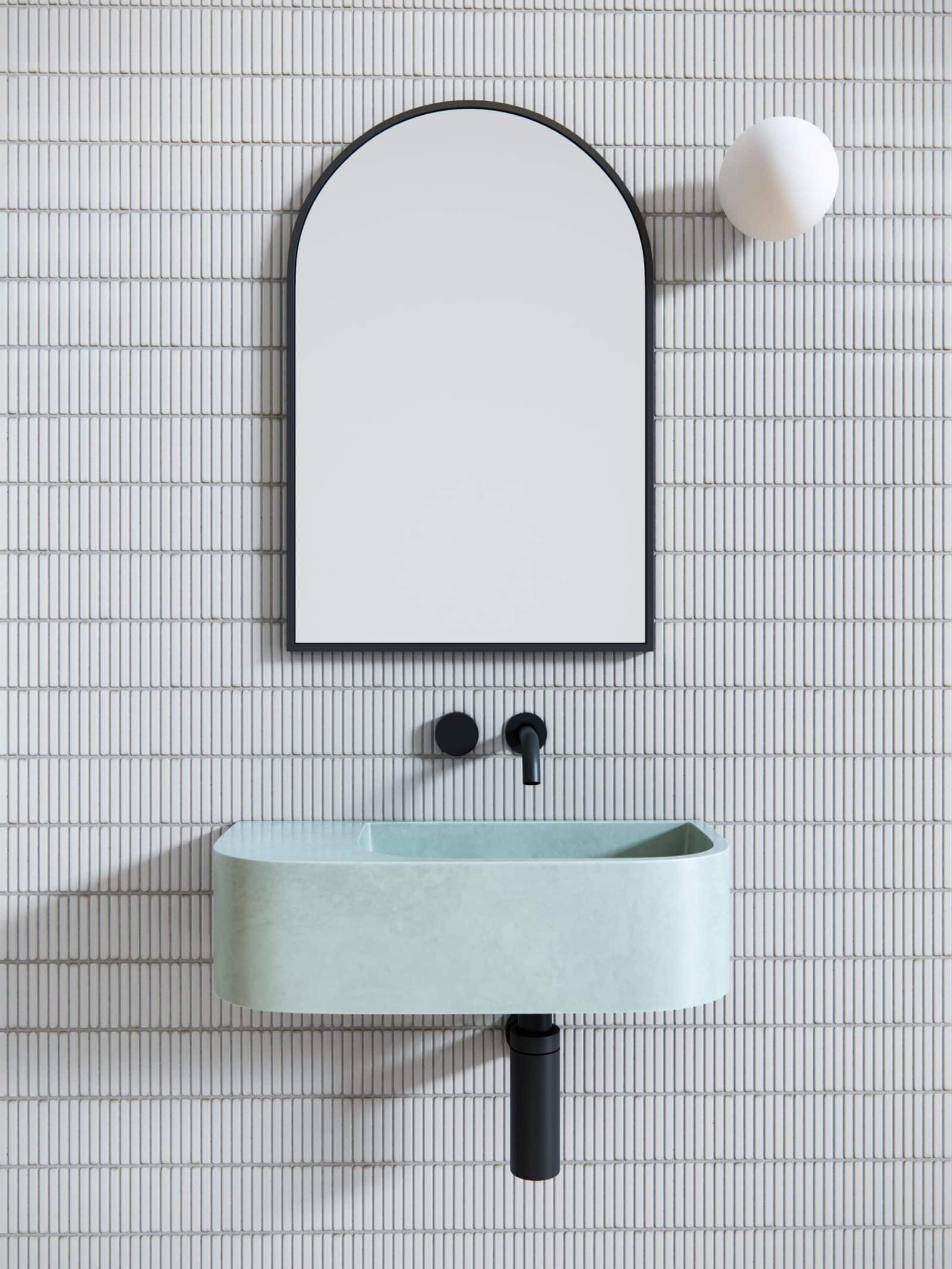 If you want to achieve a modern look in your bathroom, go for an arched mirror. This gorgeous bathroom mirror design features a sweeping curve at the top, which brings a touch of femininity to the design, while the black steel frame balances it out with a touch of masculinity.
This mirror is suitable for use in the bathroom, and it will certainly add something special to your space! It's super easy to install and hang, with fitted D-ring clips at the back.
Marta Bath Cabinet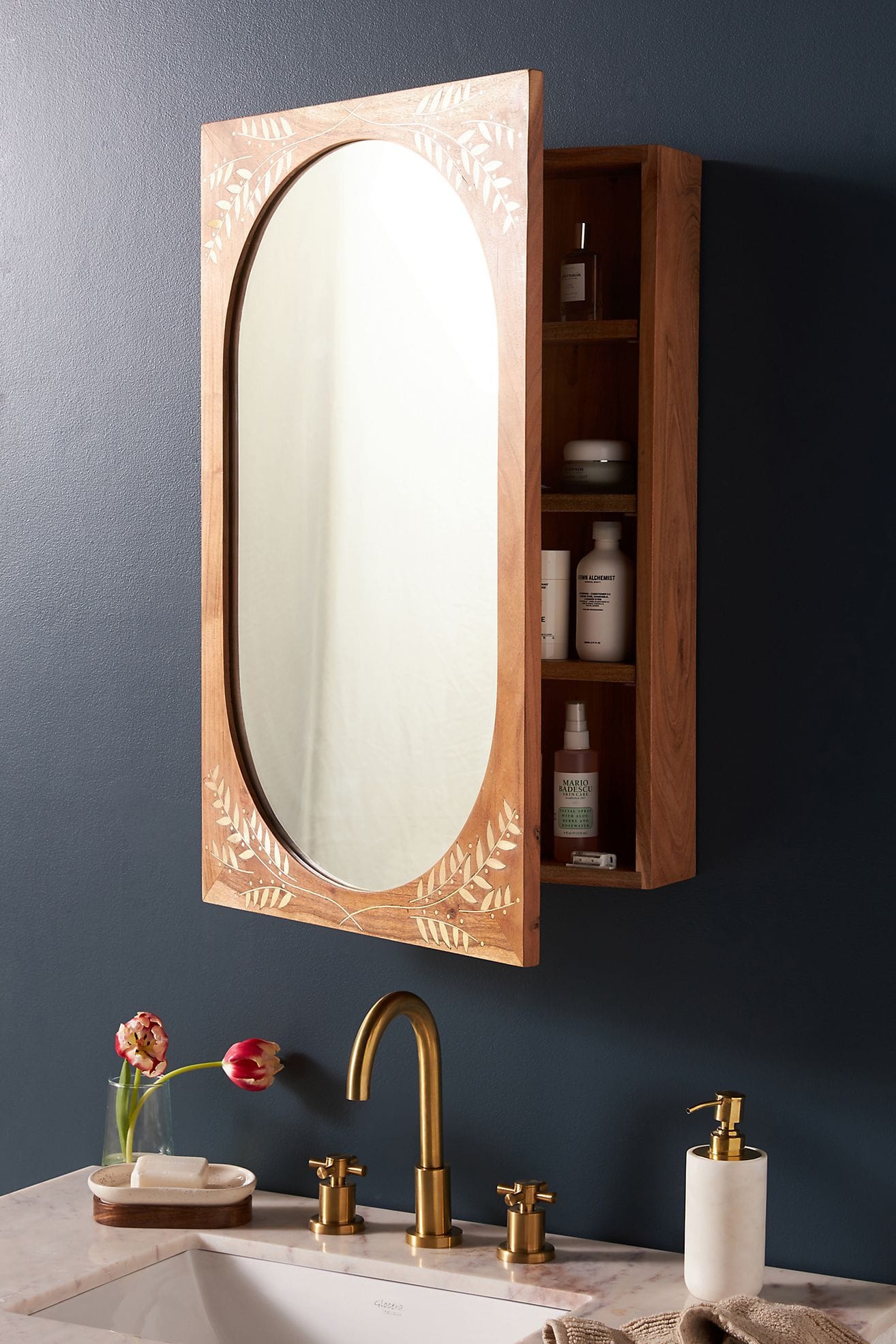 Cabinet mirrors make ideal mirrors for over bathroom sinks, and since they provide additional storage, they are a great choice for use in small bathrooms.
This stunning bathroom cabinet is handcrafted from acacia wood, with delicate brass inlay accents, giving it a truly unique look. Inside the cabinet there are three wooden shelves which are perfect for storing toiletries and other bathroom products to keep your bathroom clutter free.
Allia Vertical Wall Mirror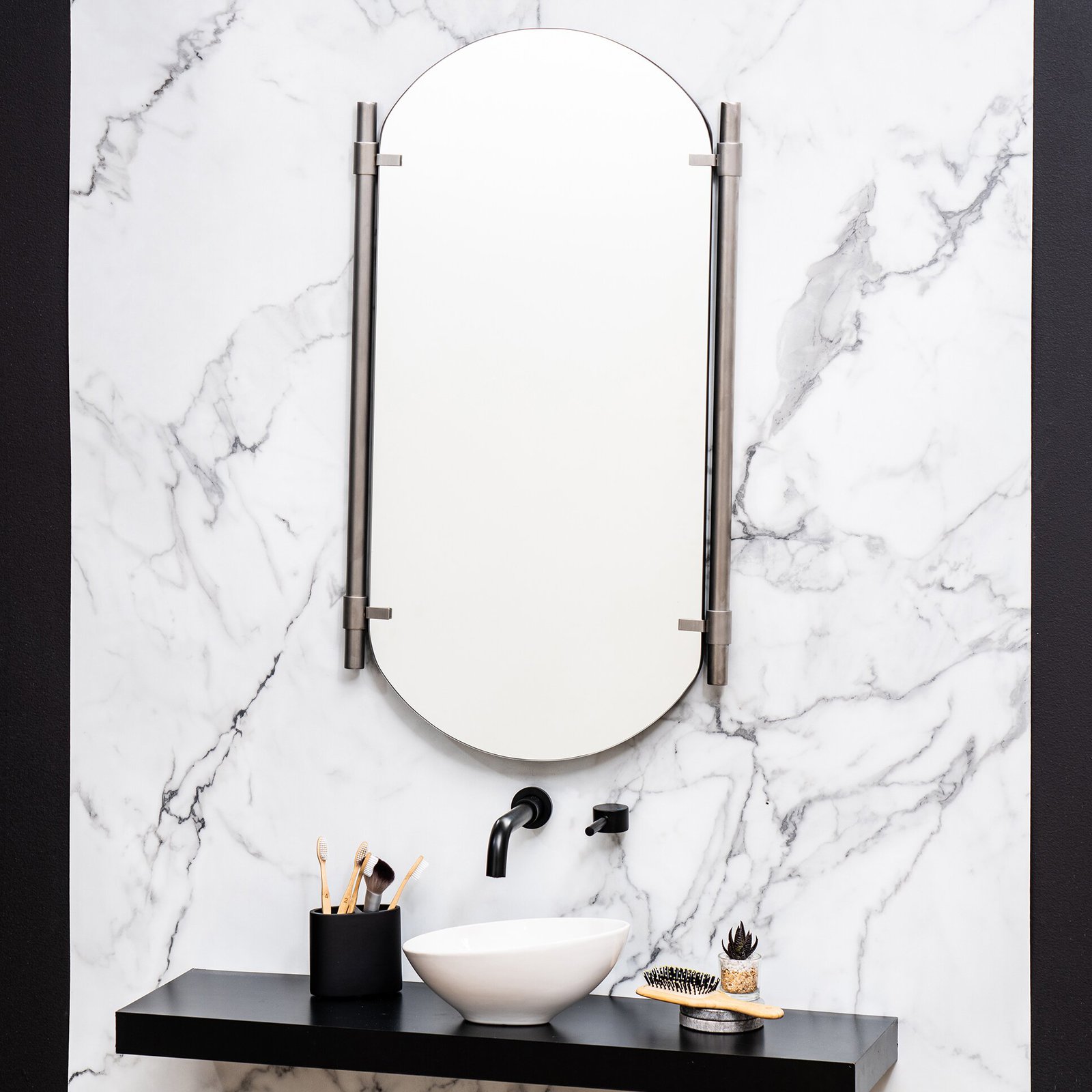 This cool bathroom mirror features a silver frame with thick metal bars at each side giving it a unique look. Since this is a vertical mirror, it's ideal for use over a bathroom sink, and would look great in an industrial style bathroom.
The arched top and bottom of this mirror give it a modern look, and set it apart from more traditional mirrors. It comes ready to hang, with rings on the back of the mirror which enable you to hang it either horizontally or vertically.
Tayla Mirror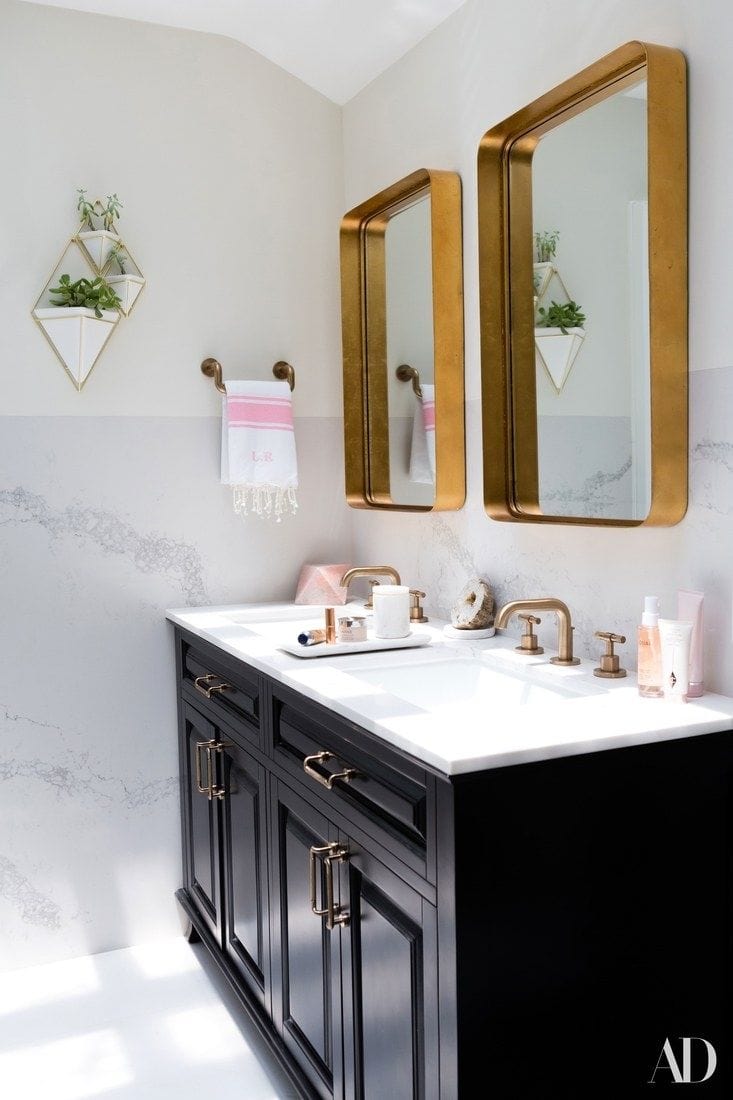 This beautiful bathroom mirror will bring an elegant look to your bathroom. It features rounded corners and a thin, yet very deep gold frame that gives it a very unusual look. The frame is lightly coated in gold leaf which creates a stunning effect on this effortlessly stylish, feminine mirror.
This mirror is suitable for use in bathrooms and could be used on its own or as part of a pair over a double vanity. It also gives you the option of hanging it either horizontally or vertically.
Cayman Glass Beveled Round Bathroom Mirror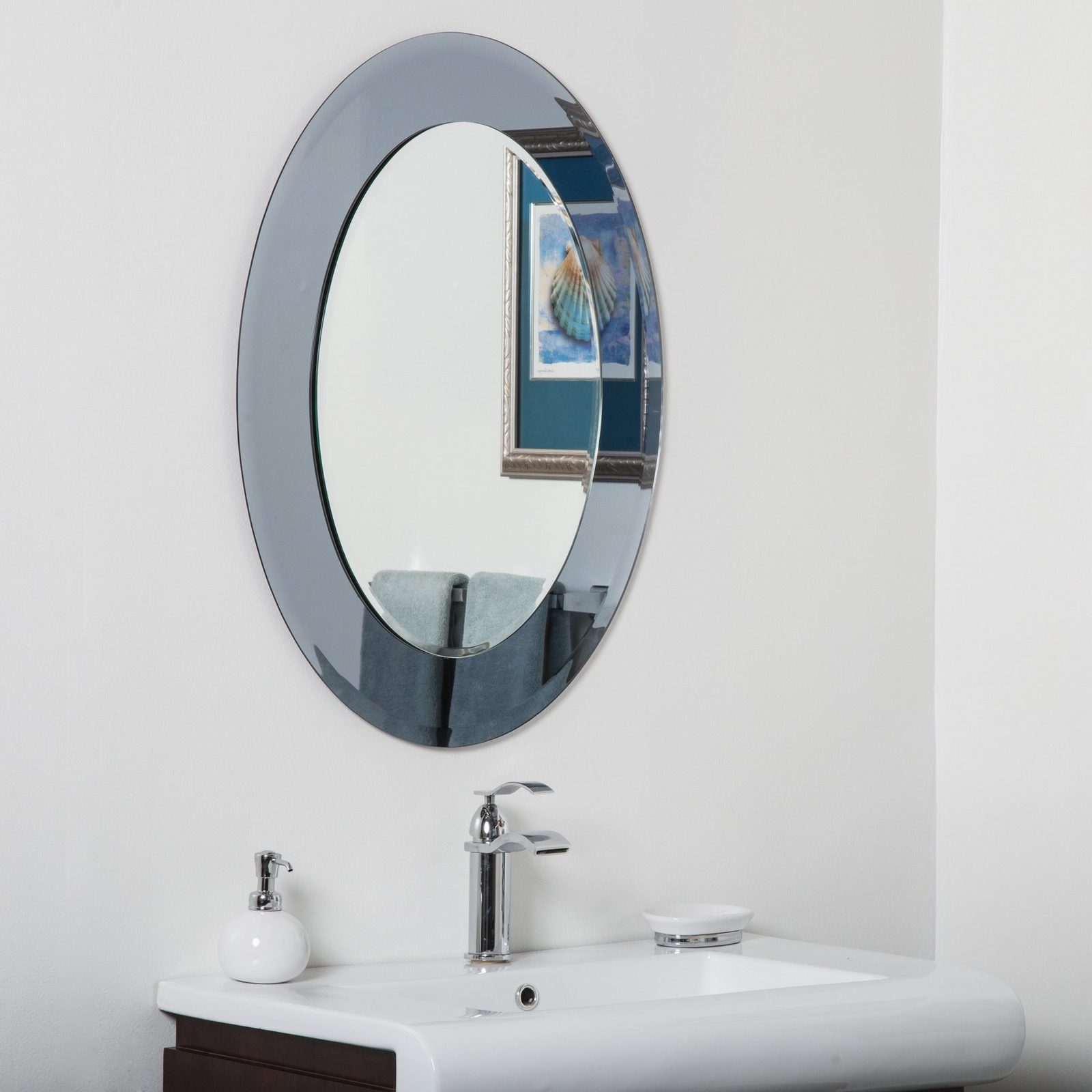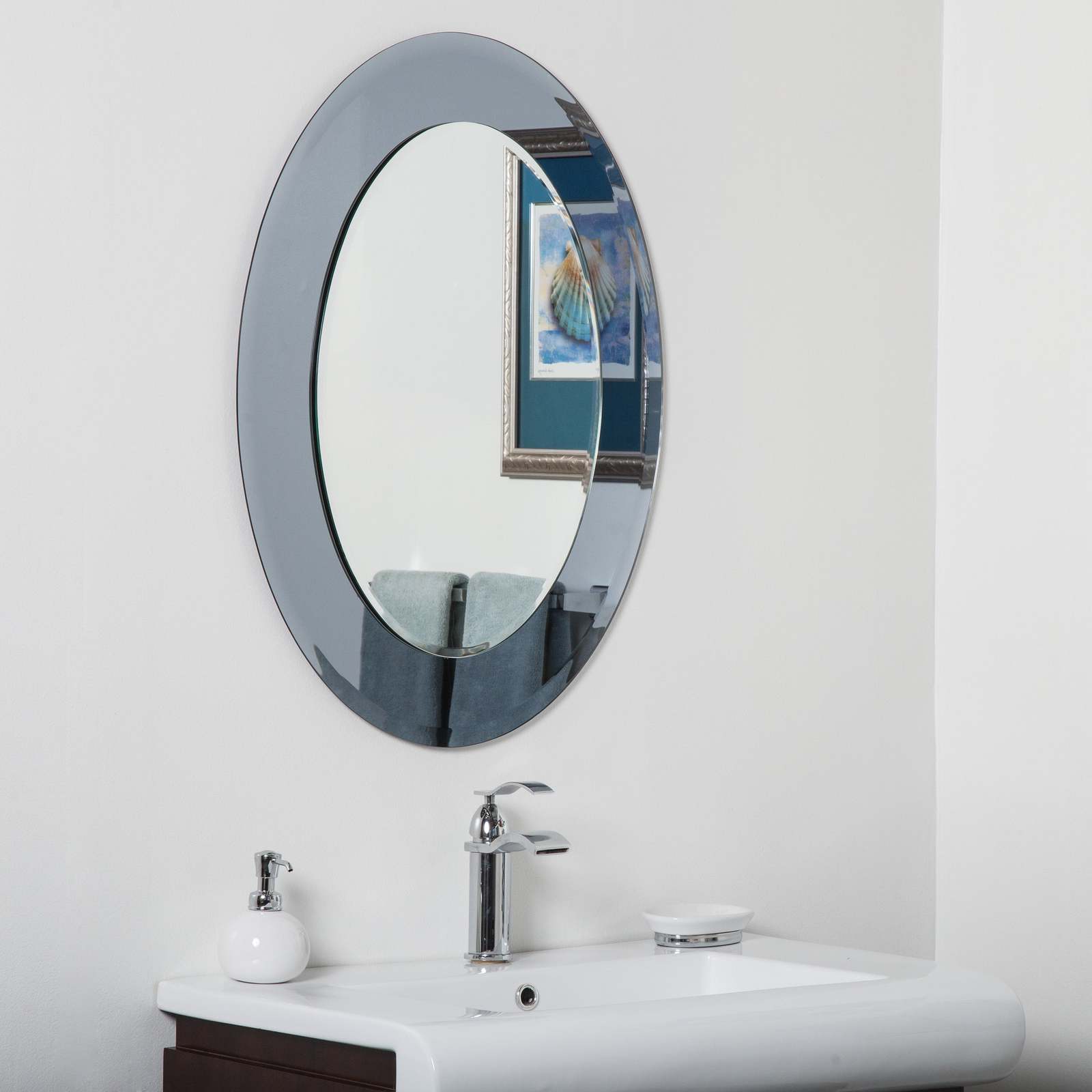 If you're looking for a small bathroom mirror that will give a big impact, look no further. This unique decorative bathroom wall mirror features two layers of mirror: a black mirror, with a smaller clear frameless mirror on top for added dimension.
The black mirror on the base features a 1" bevel, and the mirror on top has a 0.5" bevel, creating a stunning decorative effect. These mirrors are made using real silver rather than aluminum, which lasts longer, and provides a warmer reflection.
Raynham Bathroom Vanity Mirror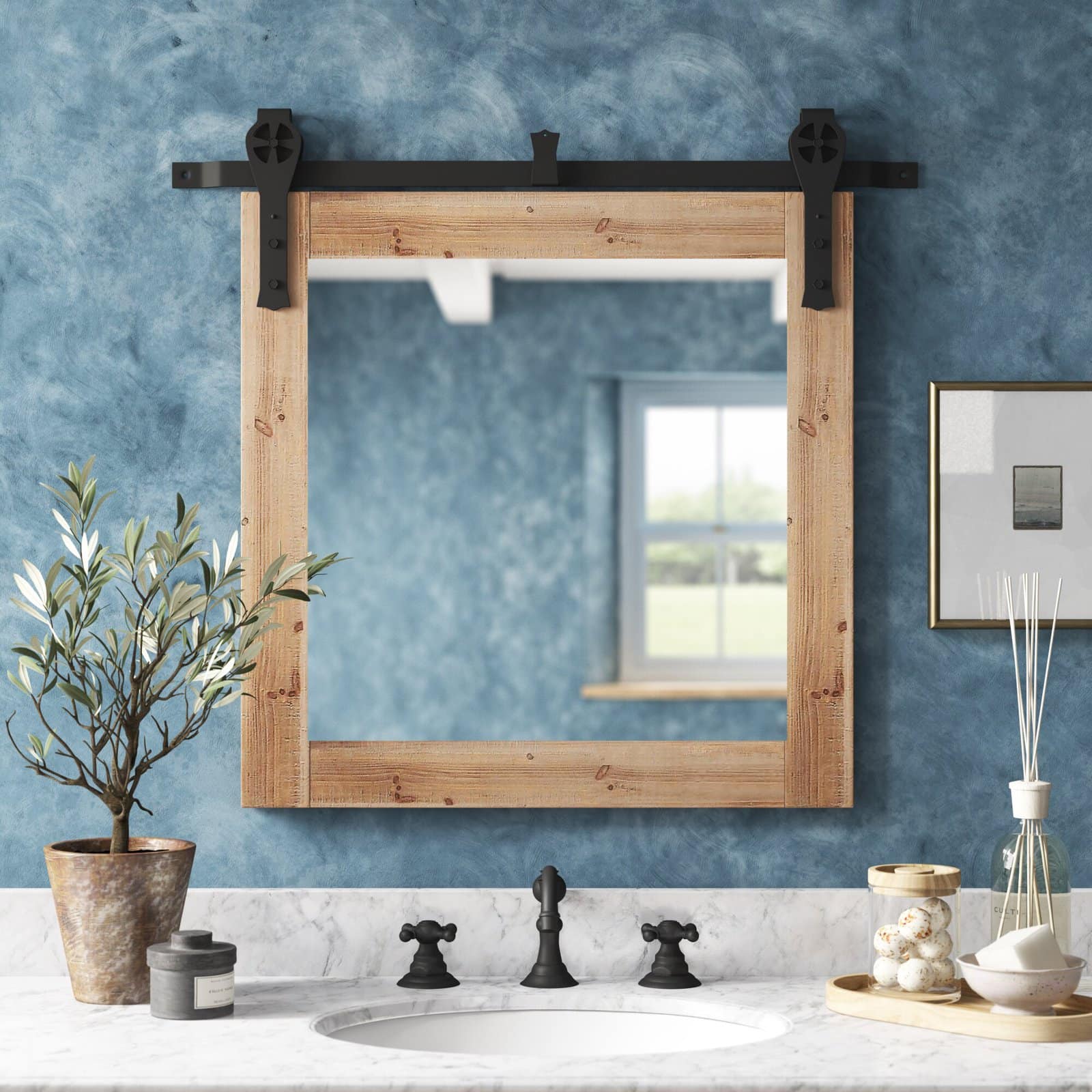 This unusual mirror is crafted from fir and pine, and finished with a warm brown wood stain, and lightly distressed, giving it rustic character. It features a black matte metal mount which adds a touch of modern farmhouse chic to the overall design.
It is designed to hang vertically, however, no fixtures are included, so remember to purchase these separately.
Aperture Portrait Mirror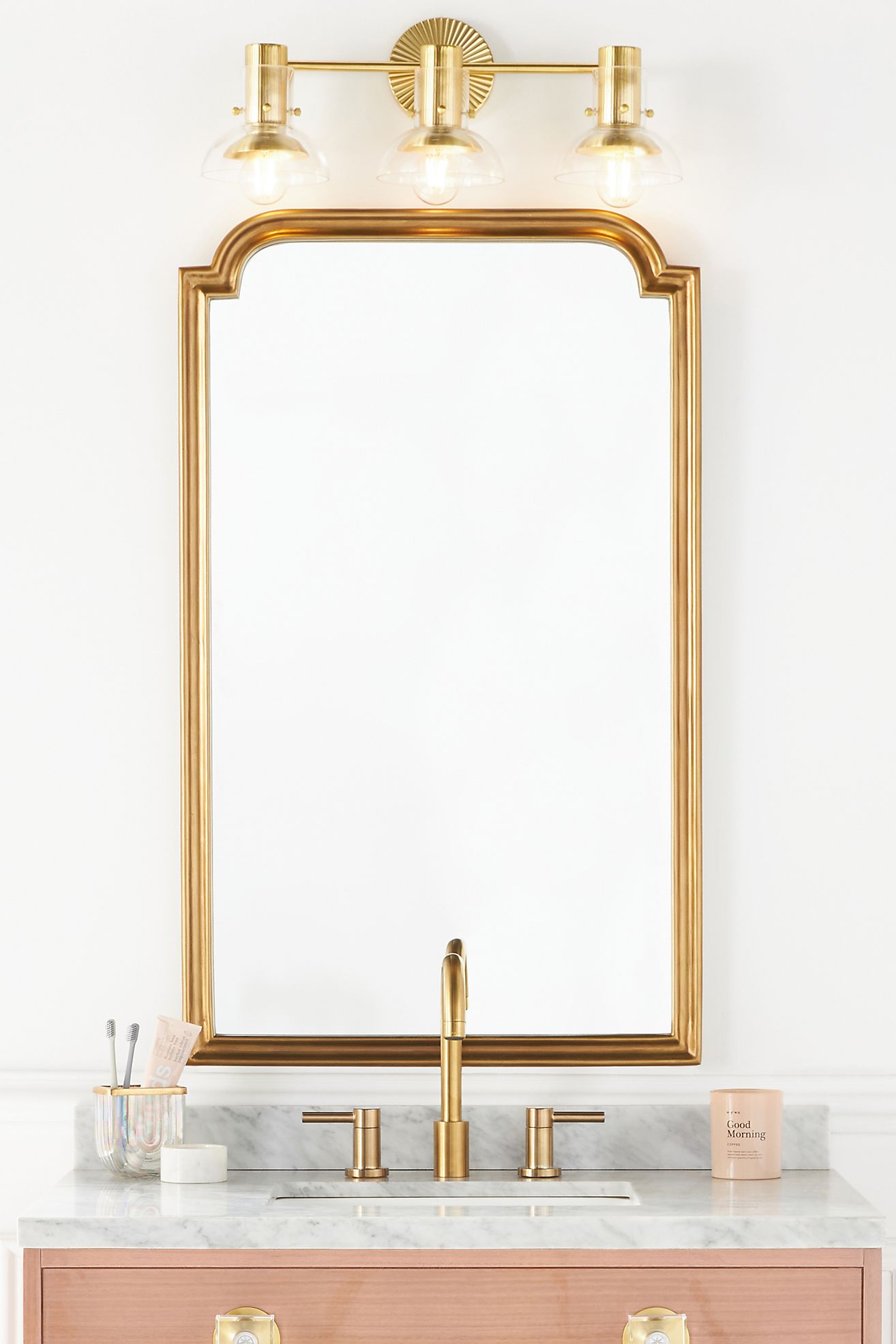 Both elegant and understated, this mirror is perfect if you want to add a touch of femininity and glamour to your bathroom. The beveled gold frame has an arch at the top which adds a touch of parisian chic.
It is handcrafted from polyresin, and comes ready to hang, fitted with a French cleat. It looks perfect on its own, and would be ideal for a bathroom or small powder room. Alternatively this could work well as a pair of mirrors over a double vanity.
Maisy Wall Mirror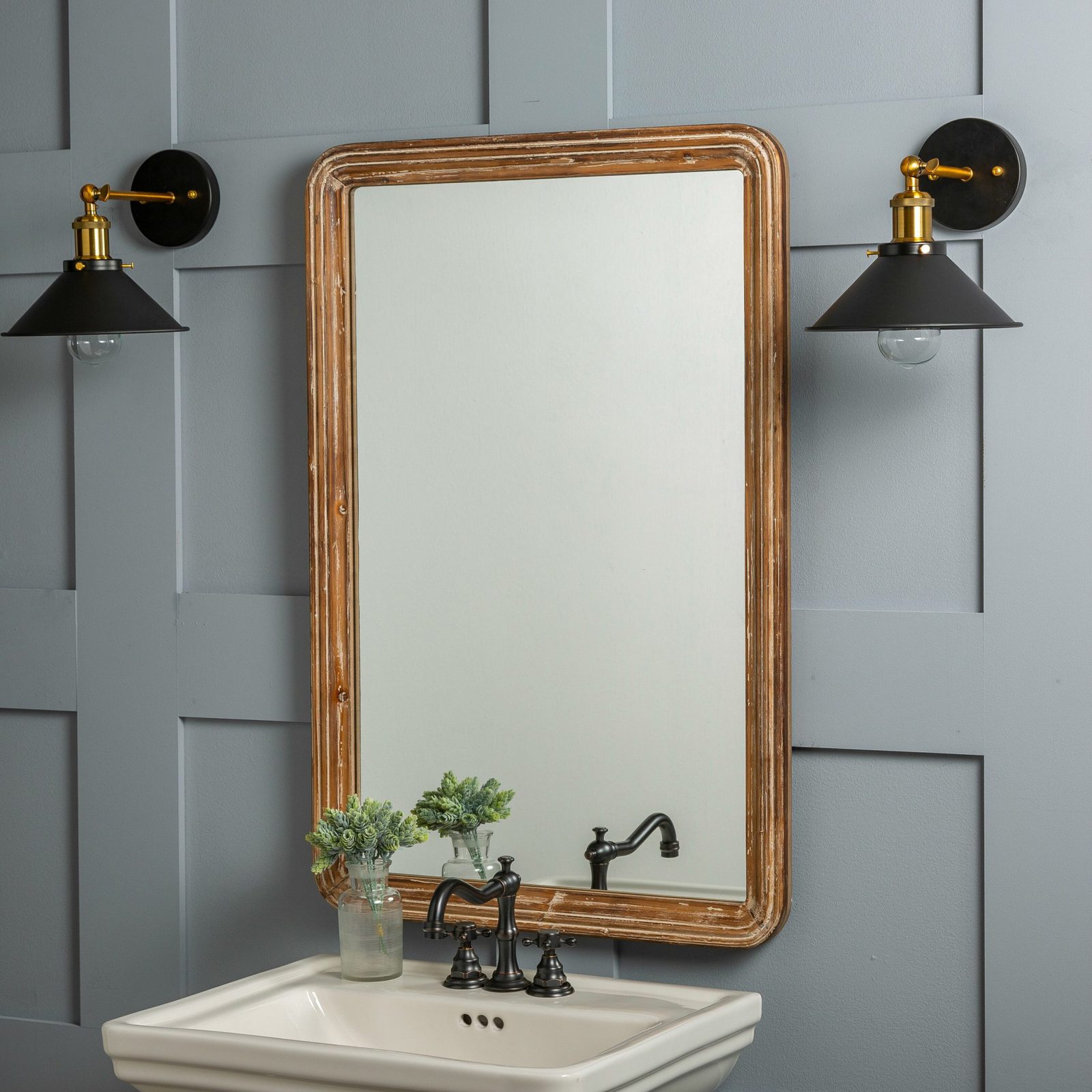 The Maisy wall mirror is perfect if you want to add a touch of rustic charm to your bathroom. It has been artfully distressed with a 'rub through' technique, and comes ready to hang with D-ring hangers on the back.
This mirror is an ideal choice for small bathrooms, as it's long and narrow, not taking up too much wall space, while still providing a wide enough reflection to be practical while you are getting ready.
Bree Mirrored Shelf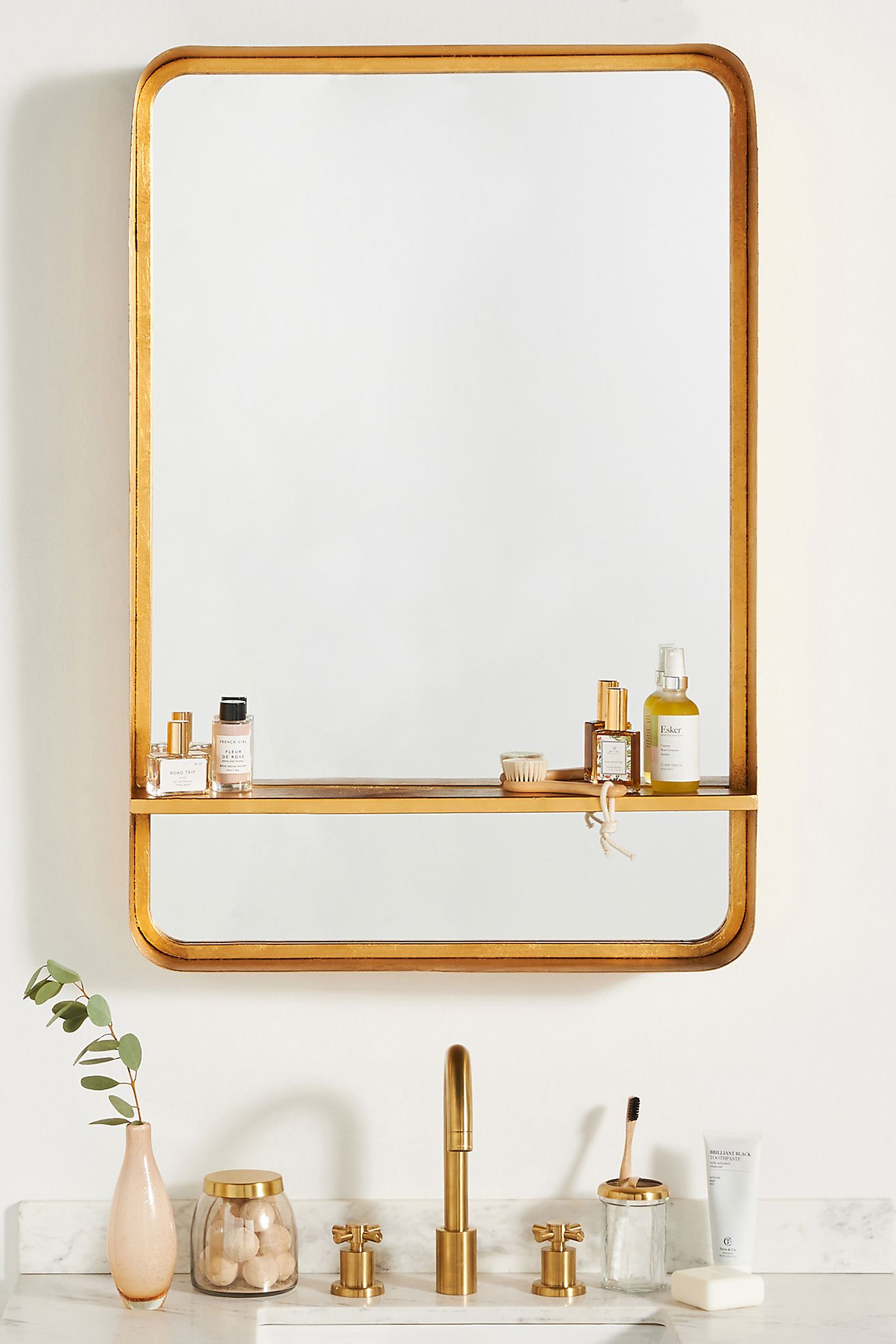 The Bree mirrored shelf is practical as well as beautiful! Crafted from mirrored glass and iron with a gold finish, this mirror will add a chic and contemporary look to your bathroom. It has a built in shelf which you can use to store lotions and other necessities.
This is a great choice for anyone who has a small bathroom and could benefit with a little extra storage for essentials!
Baycroft Cottage Americana Bathroom Mirror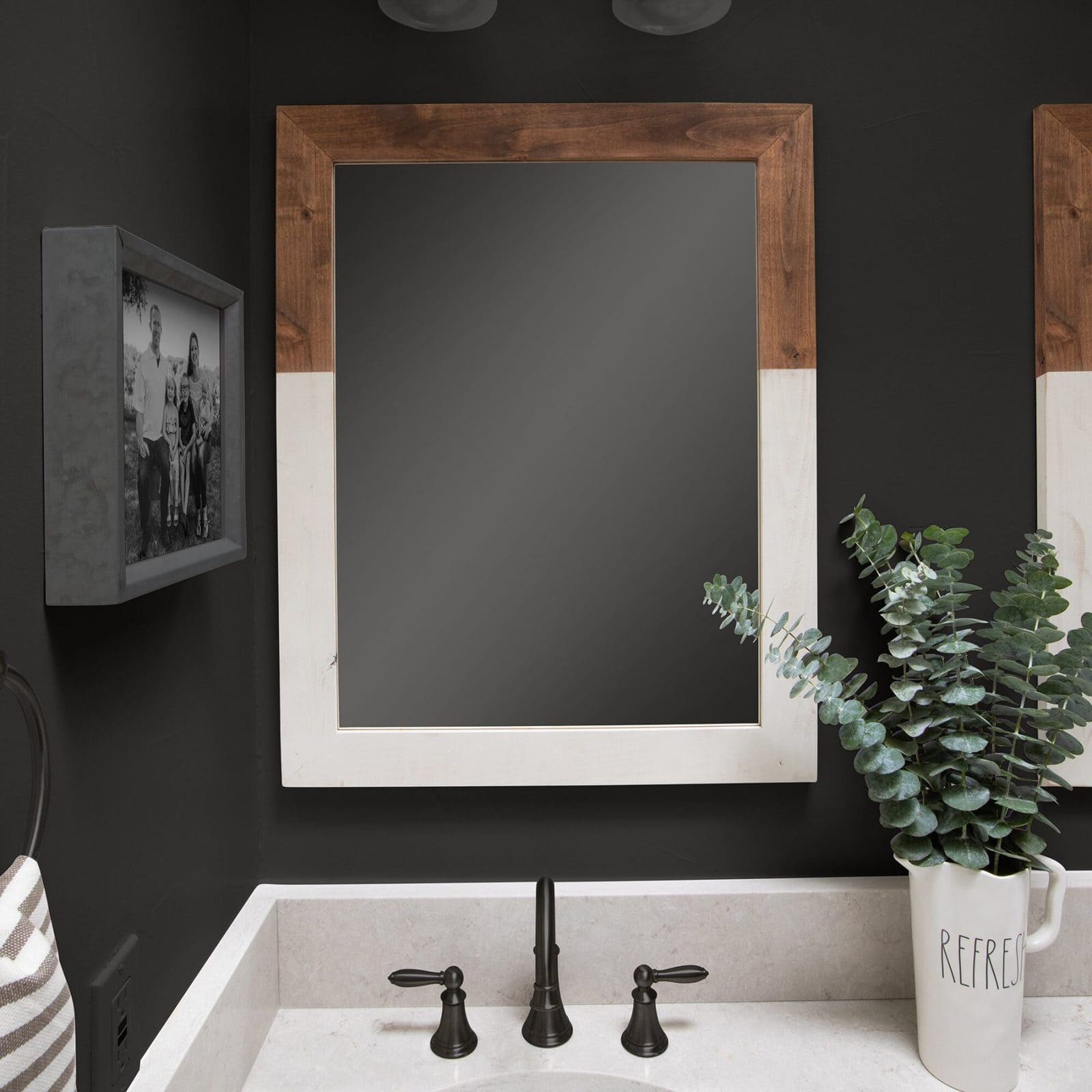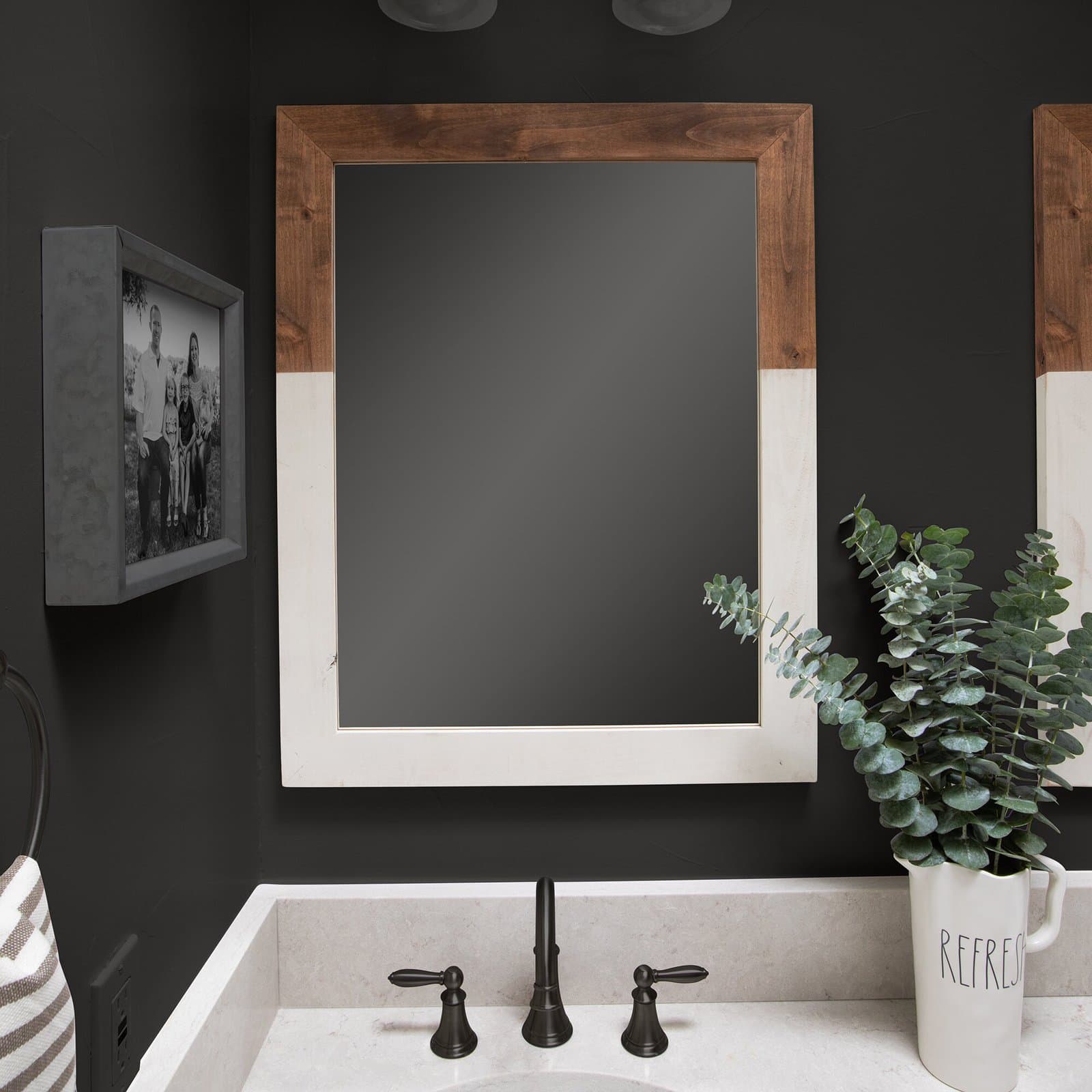 A perfect mix of farmhouse chic and mid century modern, this mirror will bring a touch of rustic style to any bathroom. Handcrafted from alder wood, each of these mirrors is unique in its own way. It would work well over either a single vanity, or a double vanity as part of a pair.
The frame is half painted in white, providing contrast and making this frame even more unusual. Each of these mirrors is handmade in Texas, USA.
Semi-Circle Bathroom Mirror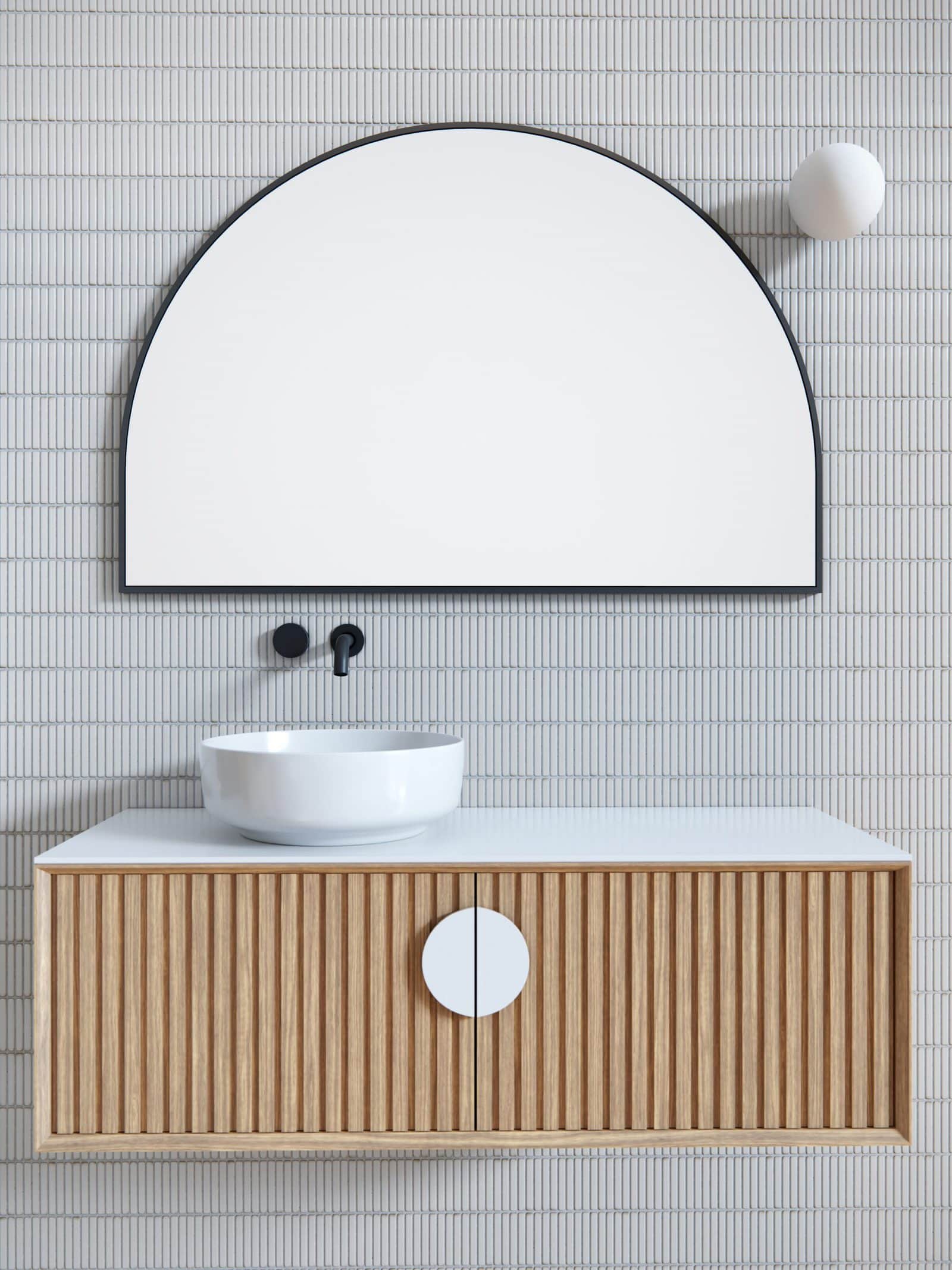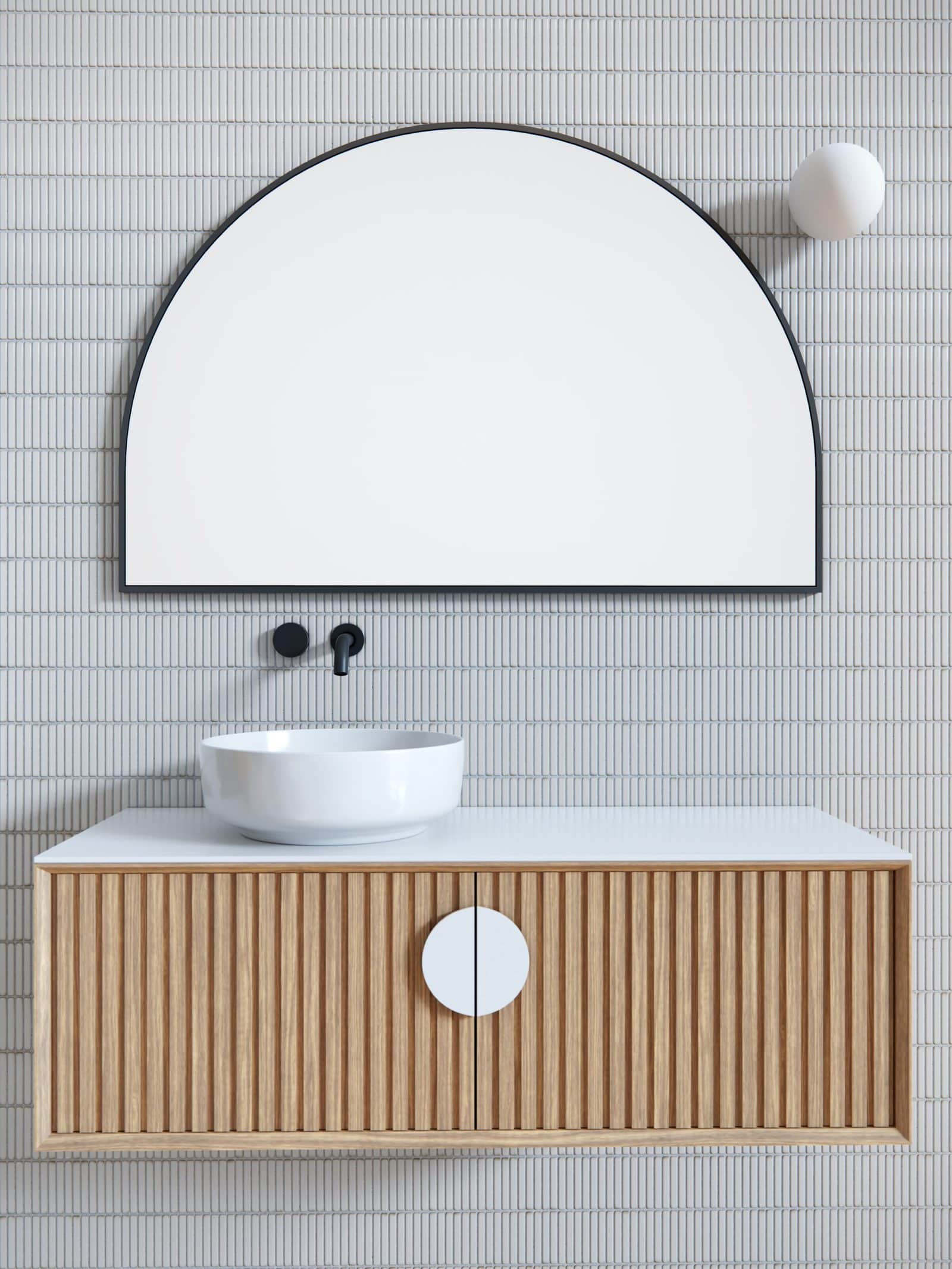 This striking mirror is perfect for anyone who wants to create a modern interior in their bathroom. It's large, at 48", so an ideal choice for a double vanity or a large single vanity, and would definitely work best in a larger bathroom.
The unusual semi-circle design makes this mirror a real statement piece, with a black stainless steel frame that will contrast well against lighter colored tiles so it really stands out.
Summing it Up…
Choosing the right bathroom mirror has the power to transform your bathroom design from something unremarkable into something quite extraordinary. Whether you want to create a glamorous feminine bathroom, or go for a moody, industrial look, a mirror will go a long way to helping you achieve the look you're going for.
Make sure you measure your vanity before choosing a mirror, and if you're not sure how it will look, one of my favorite ticks is to trace the size and shape of the mirror onto a piece of cardboard or paper and pin it to the wall so you can visualize how it looks!