Decorated Life is reader-supported. When you buy through links on our site, we may earn an affiliate commission. Learn More
9 of the Best L-Shaped Rugs for the Kitchen
If you're looking for an L-shaped rug for your kitchen, you'll usually find them in sets of two.
In these sets, one of the rugs looks like a long runner, and the other is closer to the size of a welcome mat. You put the two together to create the L-shape you need.
Occasionally, you can find L-shape rugs that come in one piece, but these aren't nearly as easy to find.
If you're looking for the best options, try any of these corner rugs for your kitchen.
Spruce Up Your Kitchen with Buffalo Check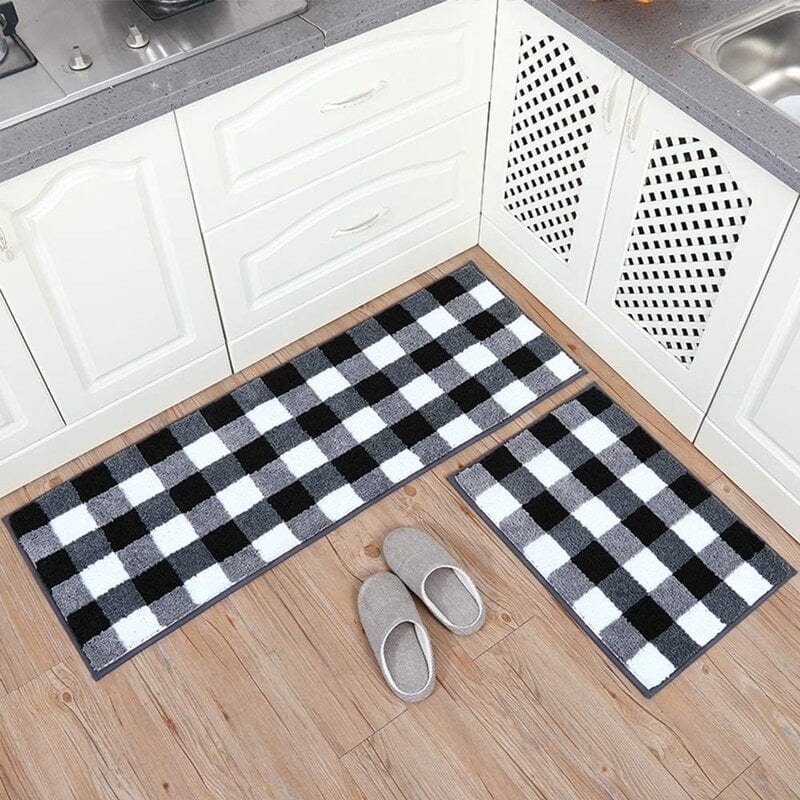 If your kitchen is modern or farmhouse style, consider these buffalo check two-piece rugs from Wayfair. They come in black and white or red and black.
The rugs are a microfiber material with a non-skid backing. The material absorbs liquid and then quickly dries. And when these rugs get dirty, you can toss them in your washing machine, and they'll come out good as new.
Bring in Texture with Jute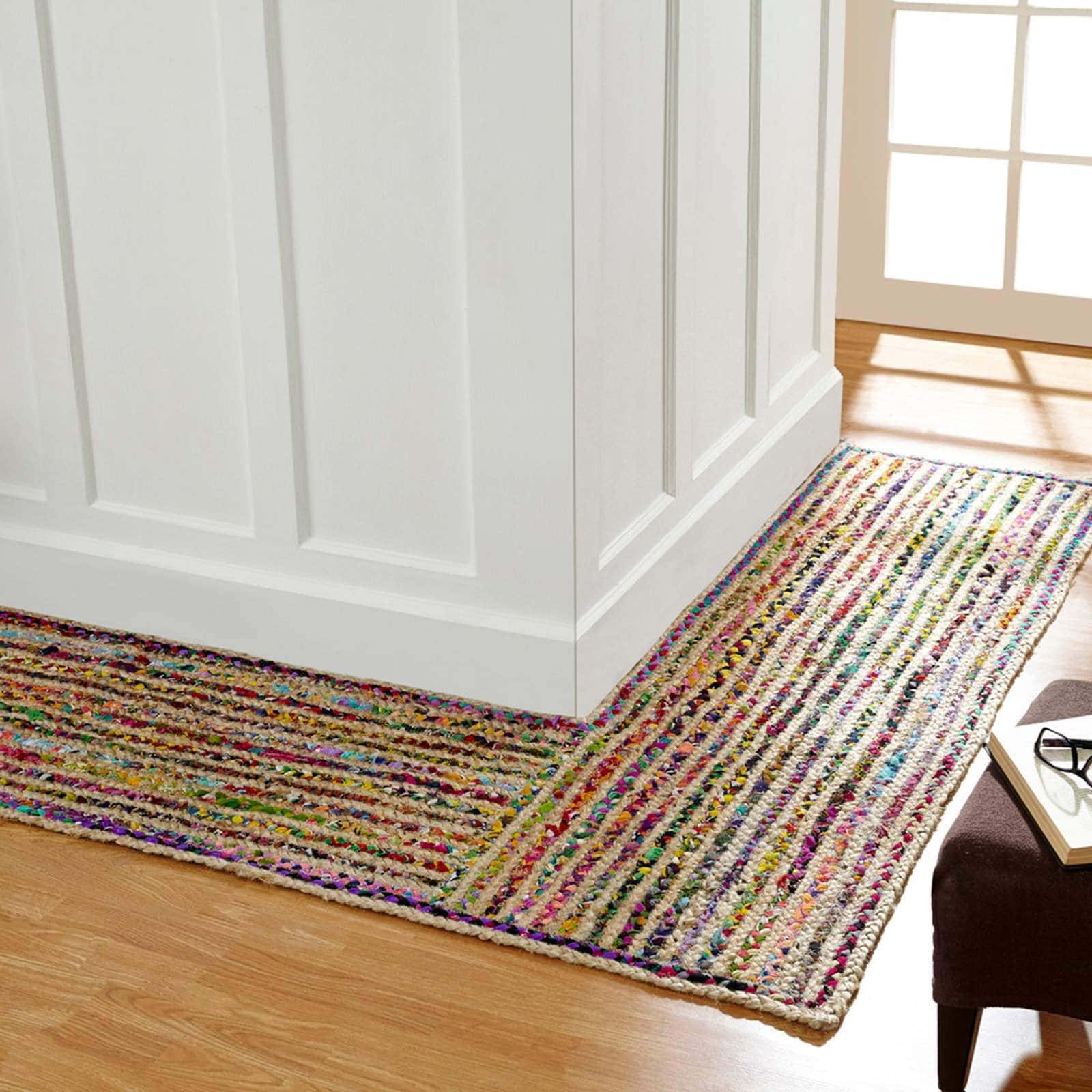 Are you looking for a mold and mildew-resistant L-shaped corner kitchen rug? Try this jute version.
This rug from Overstock is a natural material that won't mold, even if it repeatedly gets wet. It's also reversible, so you can use it on an inside or outside corner in your kitchen.
Keep it Neutral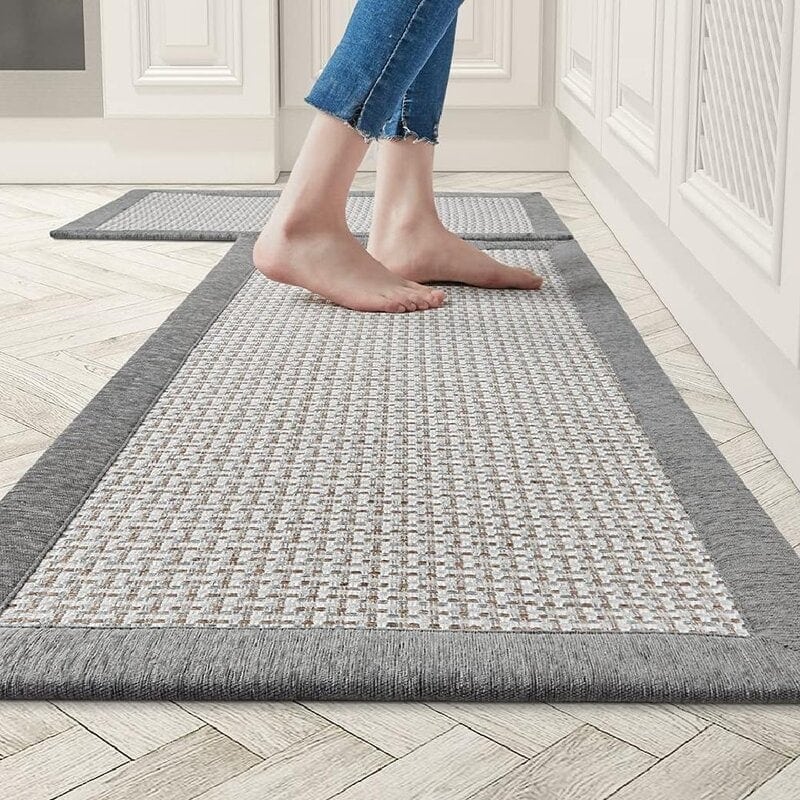 If you're looking for a rug purely for practical reasons, try a simple neutral rug like this. This rug is super-absorbent, so it's great to use by your sink or stove.
You can find this rug in two colors: gray and brown. The material is stain-resistant, slip-proof, and washable.
Show Off Your Style with a Geometric Flower Print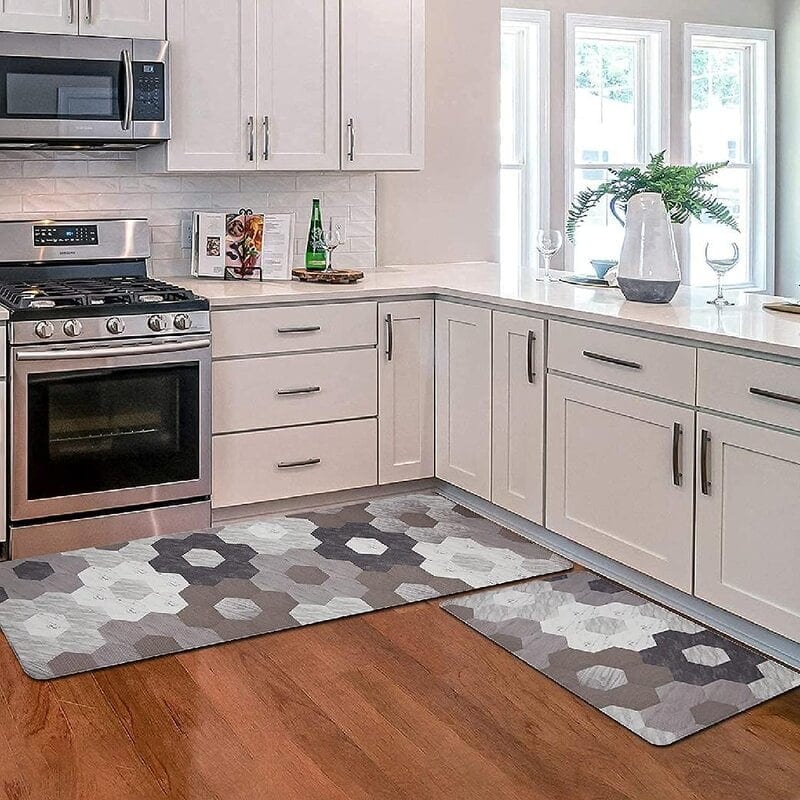 Do you need an ergonomic mat to provide some relief to your feet and back? This flower-printed geometric mat from Wayfair can help.
This rubber anti-fatigue mat is slip-resistant, easy to wash, and eco-friendly. The colors are shades of gray and white, so this will look good in most kitchens.
Try an Inexpensive Two Piece Set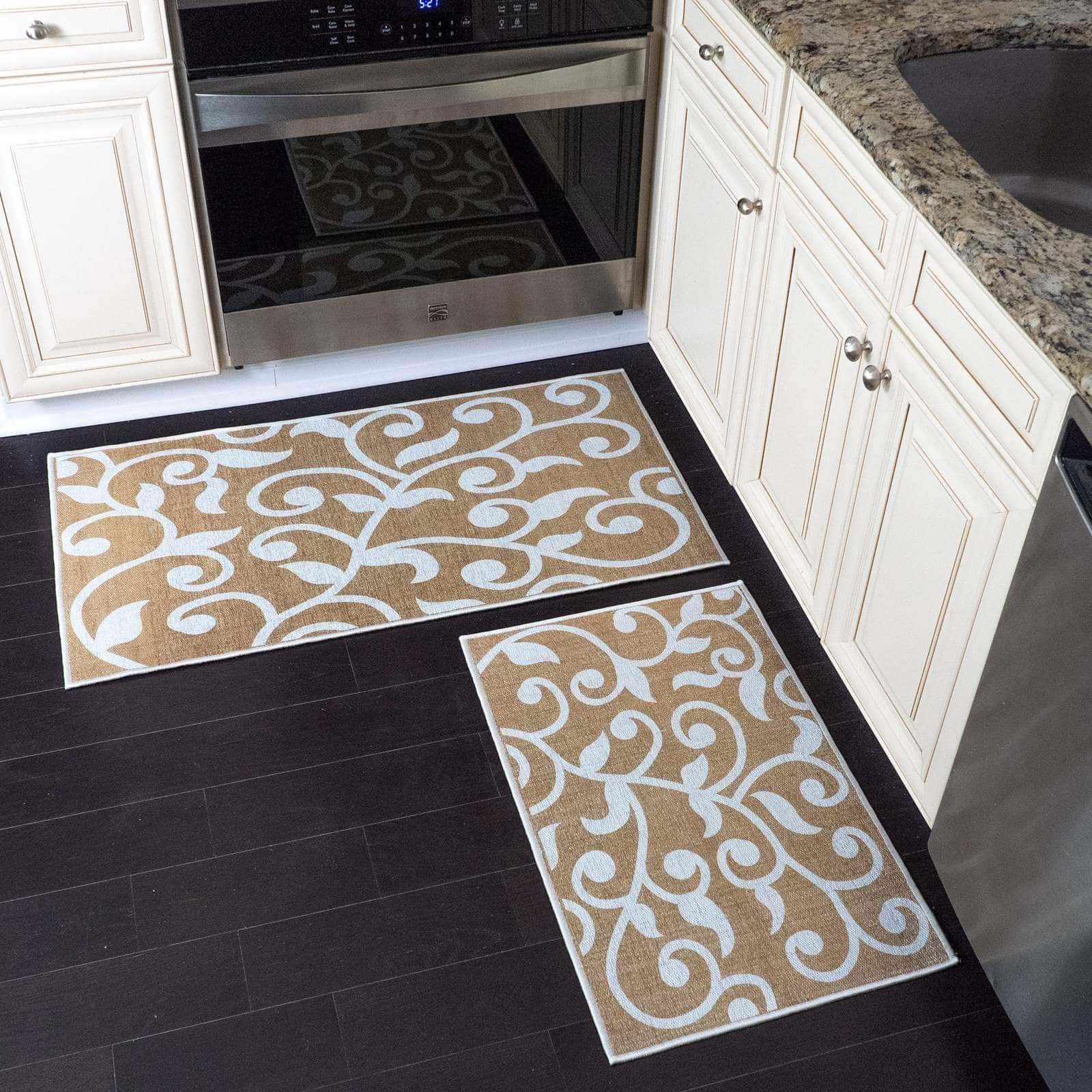 If you're looking for l shaped kitchen runners that won't break the bank, try one of these from Overstock.
This two-piece kitchen runner set comes in nine designs. The rugs are washable and non-skid. If these get dirty, you can throw them in your washing machine and clean them on the cold cycle. Then, you can tumble dry on low.
Keep it Simple with a Solid Color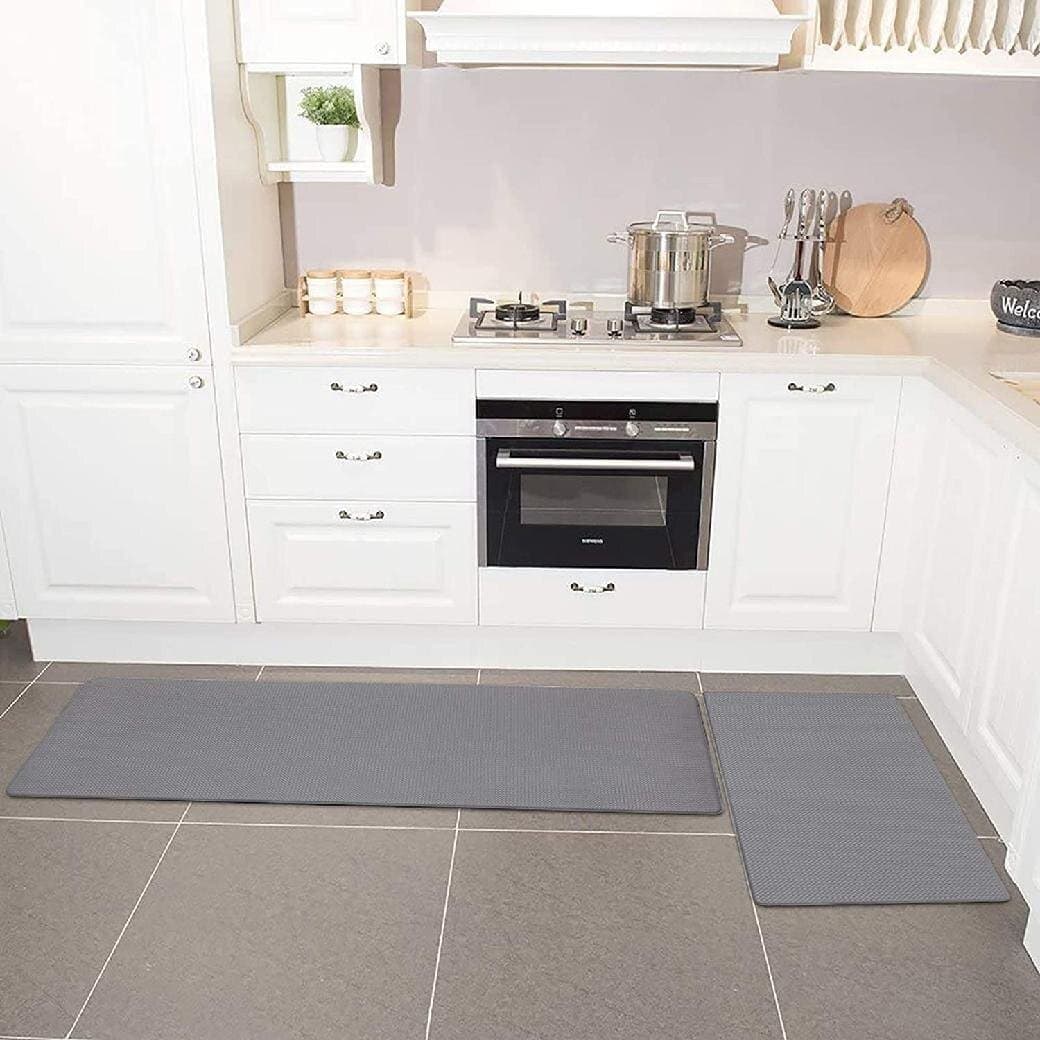 If you like to keep your kitchen minimal or neutral, forget the patterns and choose a solid colored rug.
This kitchen runner set from Wayfair comes in five colors: gray, black, brown, red, and blue. The rugs are waterproof and anti-fatigue, perfect for homeowners who spend a lot of time cooking and cleaning.
Sweeten Your Kitchen with a Pretty Floral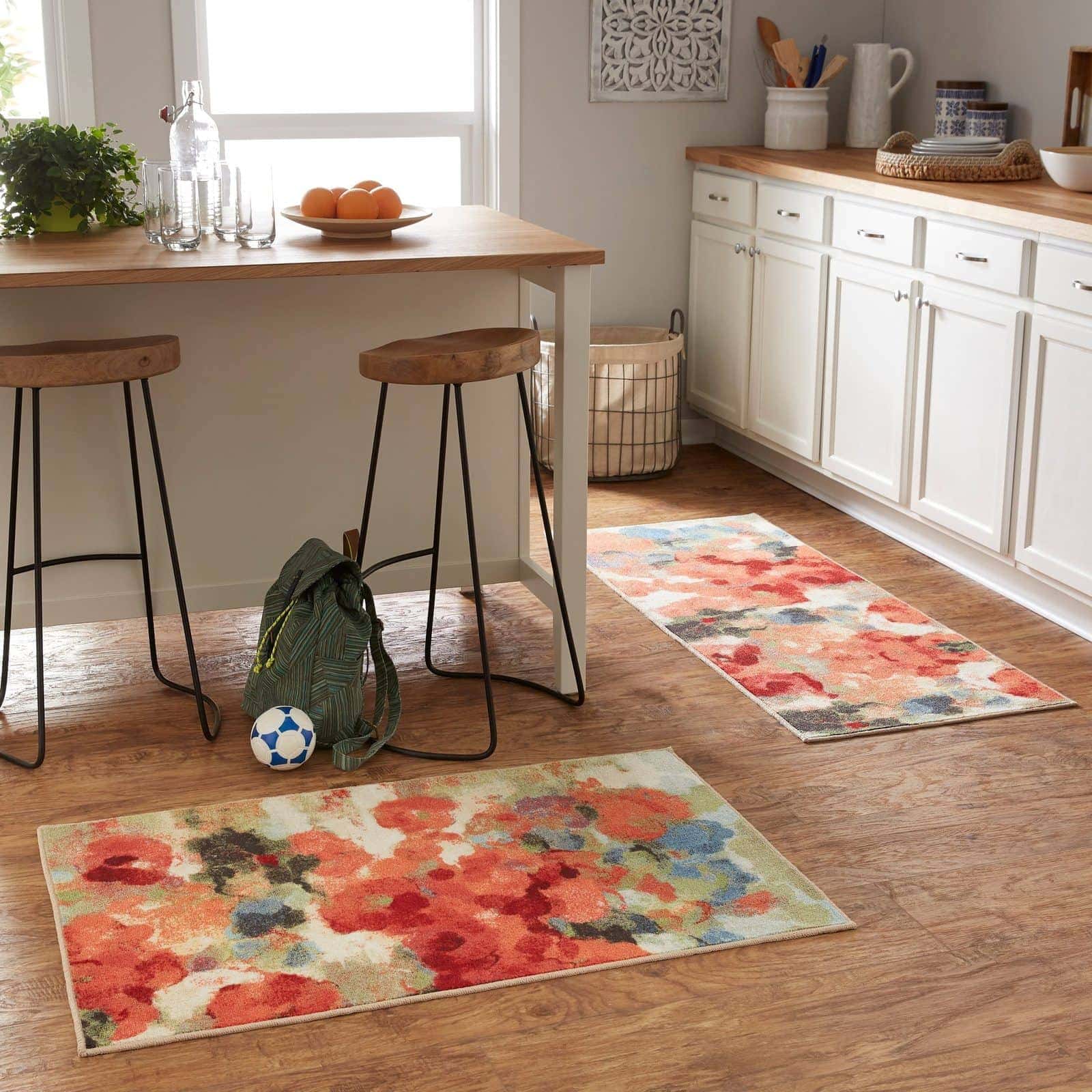 If your kitchen design features soft colors and floral patterns, consider adding this set of two kitchen runners.
You can push the rugs together to create the perfect L-shape rug where you need it. This rug is nylon with a low-loop pile. Instead of being machine washable like many others, you'll need to spot treat this one when it gets dirty.
Add a Touch of Whimsy with a Kitchen Design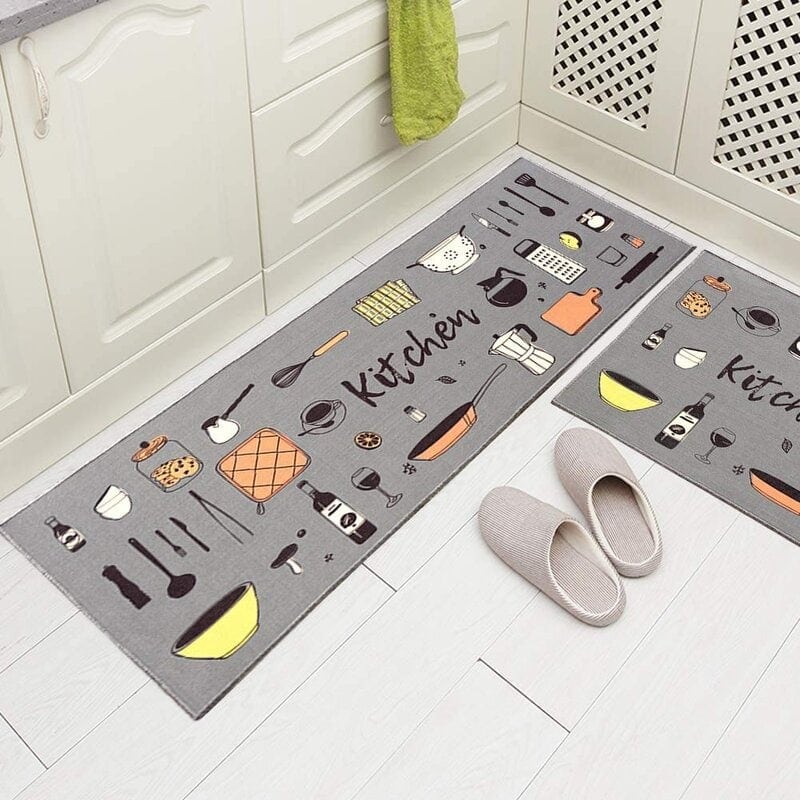 If you don't take yourself too seriously and want to add a touch of cuteness to your kitchen, do it with this mat set.
This mat features cartoon drawings of everyday kitchen items. The rug itself is absorbent, anti-fatigue, and anti-slip. And luckily, when the rug gets dirty, you can toss it in the washing machine.
Use a Plant-Themed Rug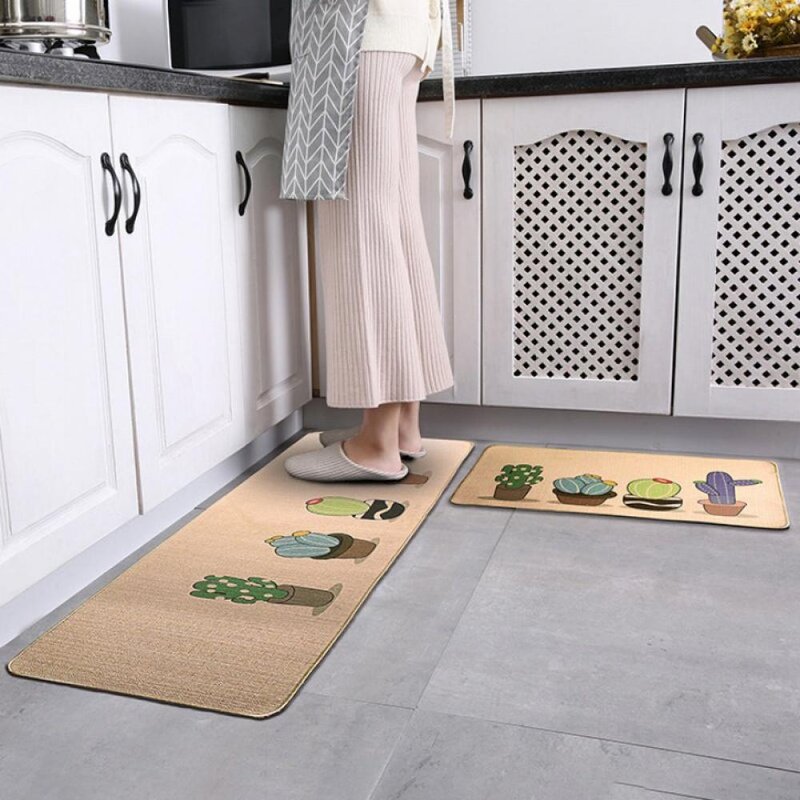 Do you love plants? If so, carry your love over to your rug. This two-piece L-shaped rug set from Wayfair features a selection of cute cacti.
This set is reasonably inexpensive compared to most of the others we've covered. These rugs are also slip-proof, absorbent, and machine washable.
Final Thoughts
If you're looking for an L-Shaped rug, they're much easier to find in two-piece sets than they are one-piece. The two-piece sets allow you to arrange the rugs how you'd like, and most are anti-slip and machine washable.
For neutral kitchens, consider going with a solid color. But don't worry – if you like color and pattern, there are many good options to choose from.