Decorated Life is reader-supported. When you buy through links on our site, we may earn an affiliate commission. Learn More
The 15 Best Kitchen Runner Rugs of 2023
When you are decorating your kitchen there are lots of things you can do to make it truly instagram worthy, but one of the easiest fixes that can have the biggest impact is the addition of a beautiful runner rug.
Adding a runner rug will not only make your kitchen feel warm and homely, but it can also add a much needed splash of color and style to the space. Today we're going to be sharing the best kitchen runner rugs to give you some inspiration for your own kitchen!
Kamran Coral Rug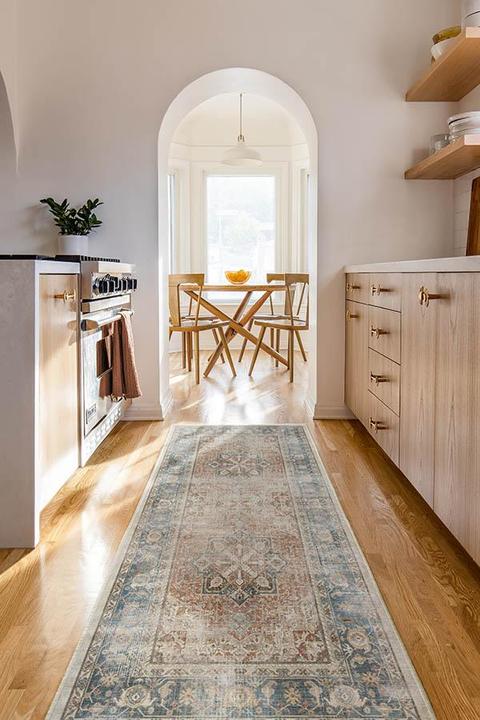 This gorgeous Kamran Coral rug features a persian inspired design, with a bold geometric pattern and an ornate border, inspired by traditional Heriz rugs. The color palette is muted coral and blue, with a neutral base, and has been artfully distressed to give it a vintage look.
Ruggable specializes in creating washable kitchen runners, so you will never have to worry about it getting dirty or stained, you can simply remove the cover from the rug pad and put it in the washing machine!
Blue Distressed Persian Runner Rug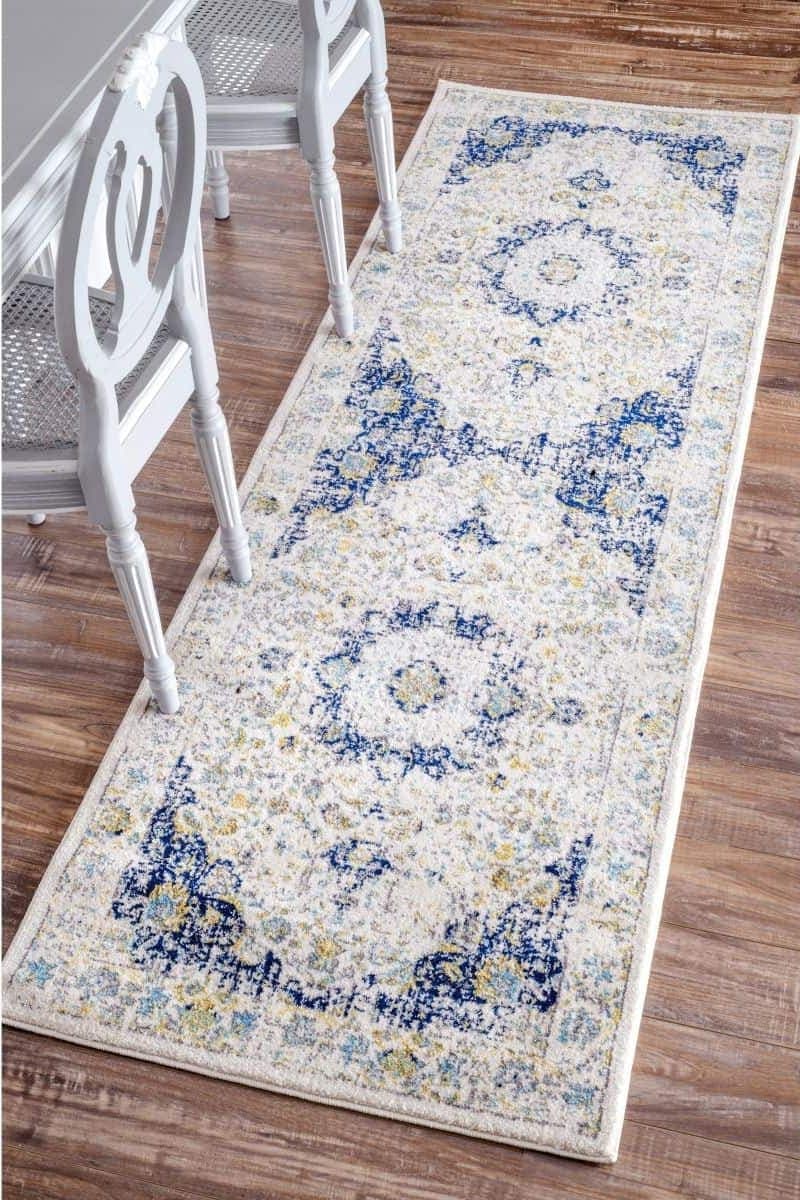 For a touch of modern elegance, you can't go wrong with this blue distressed Persian kitchen runner rug. The muted color palette of ivory, grey, yellow, and blue look incredible, and work perfectly with the elegant Persian inspired design.
This rug is soft underfoot, and hardwearing, making it an ideal choice for heavy traffic areas such as the kitchen, and is easy to spot clean when required.
Modern Farmhouse Kitchen Runner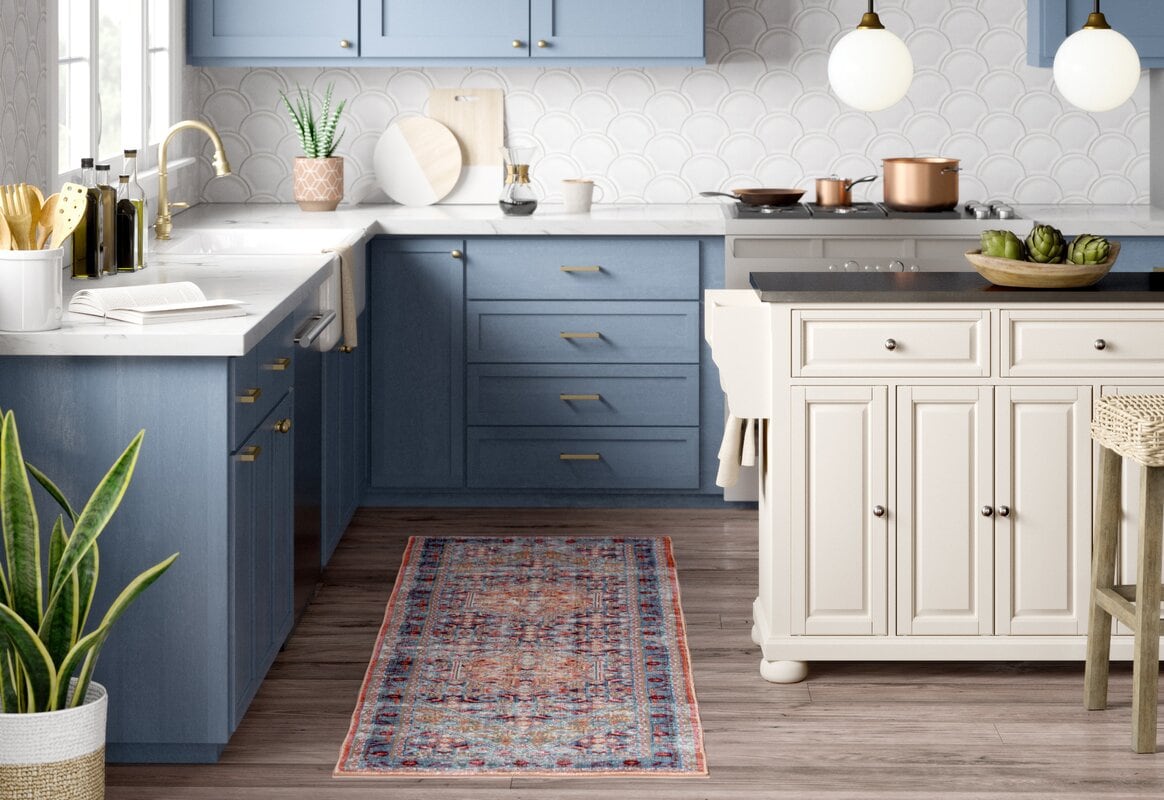 This oriental runner rug would be at home in any modern farmhouse kitchen. The warm color palette of rust, brick, and navy will instantly make your kitchen feel like home, even if you've just moved in!
The Persian inspired design has been deliberately faded for a vintage look, and although it looks like it could be made from silk, this rug is 100% polyester meaning it can handle anything life throws at it and still look great. Ideal if you have pets or messy kids!
Verena Dark Wood Rug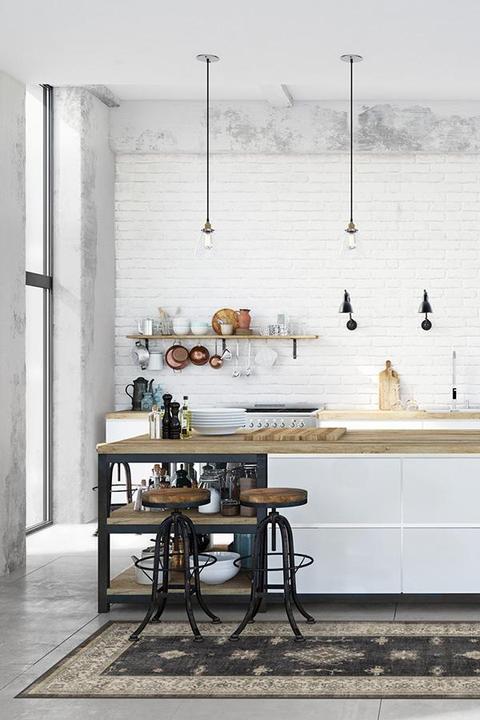 If you're looking for a durable kitchen runner with a modern farmhouse feel, the Verena dark wood rug is the one for you! This rug takes a Persian inspired design but uses a deep rustic brown and ivory color palette for a more modern feel.
This rug has been distressed to give it a rustic feel, and although it may look like an antique, it's super durable and can be easily washed in your home washing machine.
Cambria Ruby Rug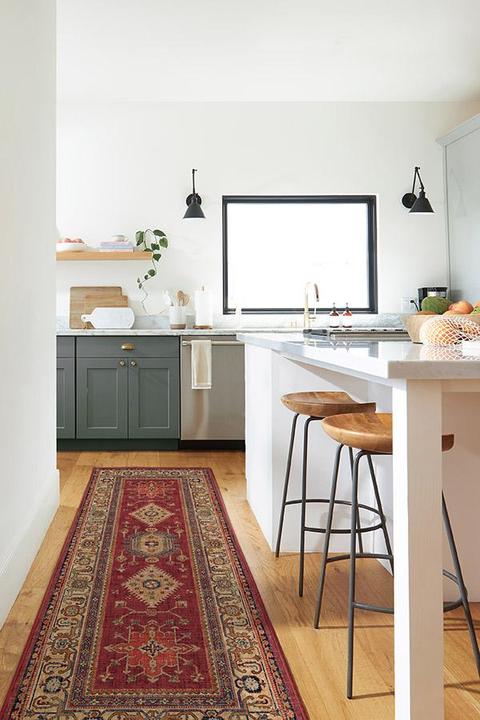 The Cambria rug is inspired by the kilim textile designs from Turkey, and it's perfect if you want to bring a worldly, well-traveled feel to your kitchen. This rug features a deep ruby red, beige, orange, and brown color palette with an intricate design reminiscent of traditional persian rugs.
The warm colors of this rug are perfect for adding warmth and personality to your kitchen, and aside from being gorgeous, the best thing about this runner is that it's machine washable!
Versatile Black and White Plaid Runner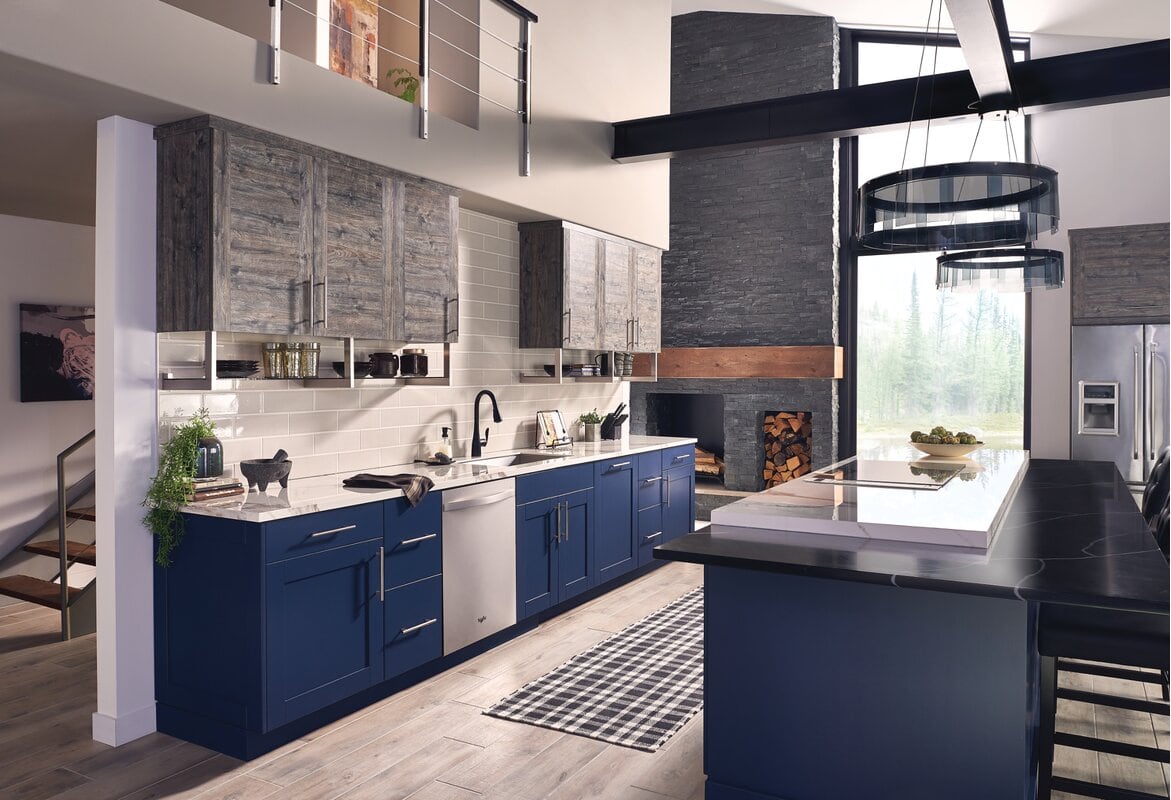 To complete the look in any modern kitchen, a plaid runner is the way to go! This black and white runner is eye catching, and makes a stylish statement in this industrial style kitchen.
Since the design and color palette on this rug is so versatile, it would also be at home in a farmhouse or lodge style kitchen. This rug will stand up well to heavy use, and is water resistant so ideal for families with pets or children where spills and accidents may happen!
Polar White Plush Rug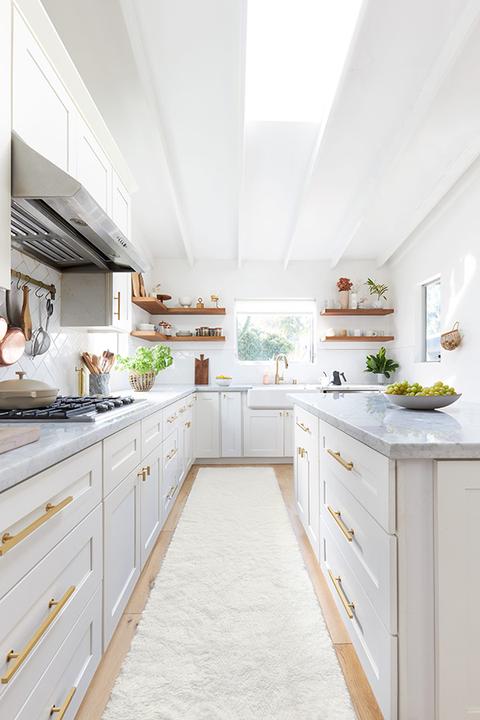 You might think I'm mad for suggesting a white runner rug for a kitchen, but this Polar white rug is perfect if you want to add a touch of luxury to your kitchen, and you don't need to worry about it getting dirty on your kitchen floor: it's machine washable and stain resistant!
This rug is super soft, with long velvety fibres, perfect if you like to walk around your home barefoot, saving your feet from a cold kitchen floor.
Victoria Slate Blue Rug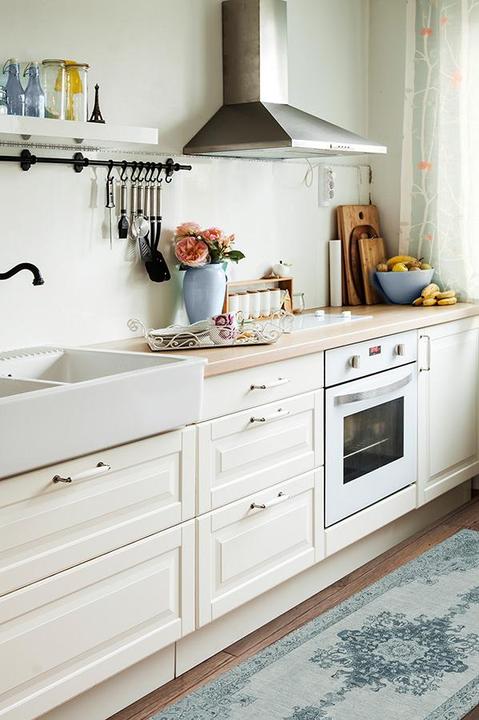 This stunning antique inspired rug features a traditional floral design in a blue monochromatic color scheme, giving an elegant Mediterranian feel to any kitchen.
It has been distressed slightly to give it an antiqued look, and although it might look delicate, it's actually extremely durable making it a great choice for a kitchen. As well as being great in high traffic areas, the rug easily detaches from it's pad so it can be washed in a washing machine.
Multi-Colored Mosaic Medallion Runner Rug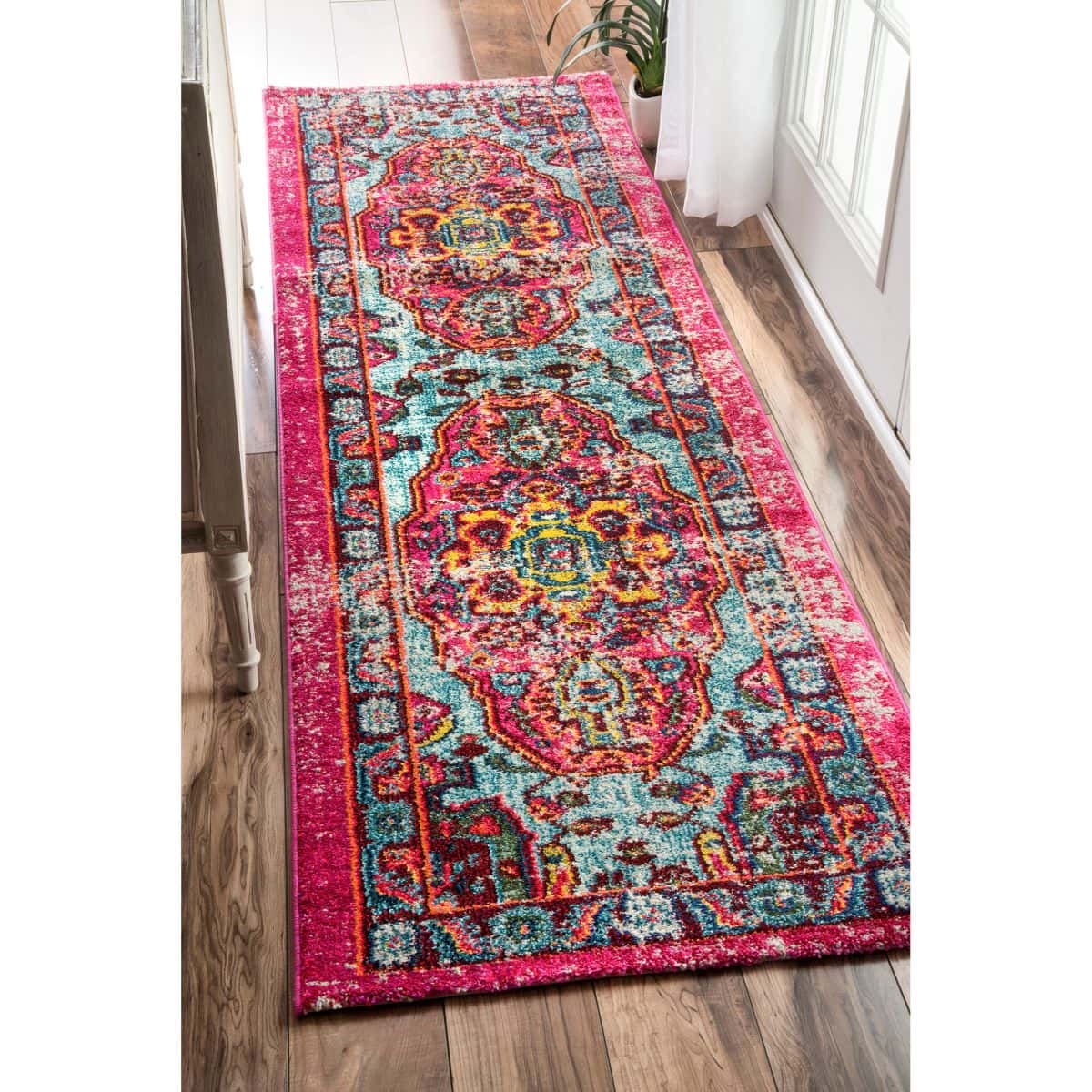 This multi-colored mosaic medallion runner rug is perfect for anyone who wants to add some joy to their kitchen! While this rug is inspired by a traditional persian design, it features a bold modern color palette.
The bright color palette makes this runner rug a real statement piece. And it's not just lovely to look at, it's also durable and can stand up well to heavy foot traffic making it an ideal choice for a kitchen.
Vintage Kilim Runner Rug
If you're looking for one-of-a-kind kitchen runner ideas, then you should definitely check out the selection at Revival Rugs. This vintage kilim rug has been flat woven from 100% wool pile on a cotton foundation, for a super soft finish.
It has a warm color palette of reds, oranges, browns, and pinks, and would be the perfect statement piece in any modern or farmhouse style kitchen!
Overdyed Blue Persian Area Rug
If you are on the lookout for long kitchen rug runners, then you're in luck! This extra long runner rug comes in sizes up to 12 ft, making it an ideal choice for anyone with a large kitchen.
The overdyed Persian inspired design gives this rug a modern look, while still using traditional patterns, great for anyone wanting to achieve a chic, bohemian look in their kitchen.
Handwoven Dakarai Jute Rug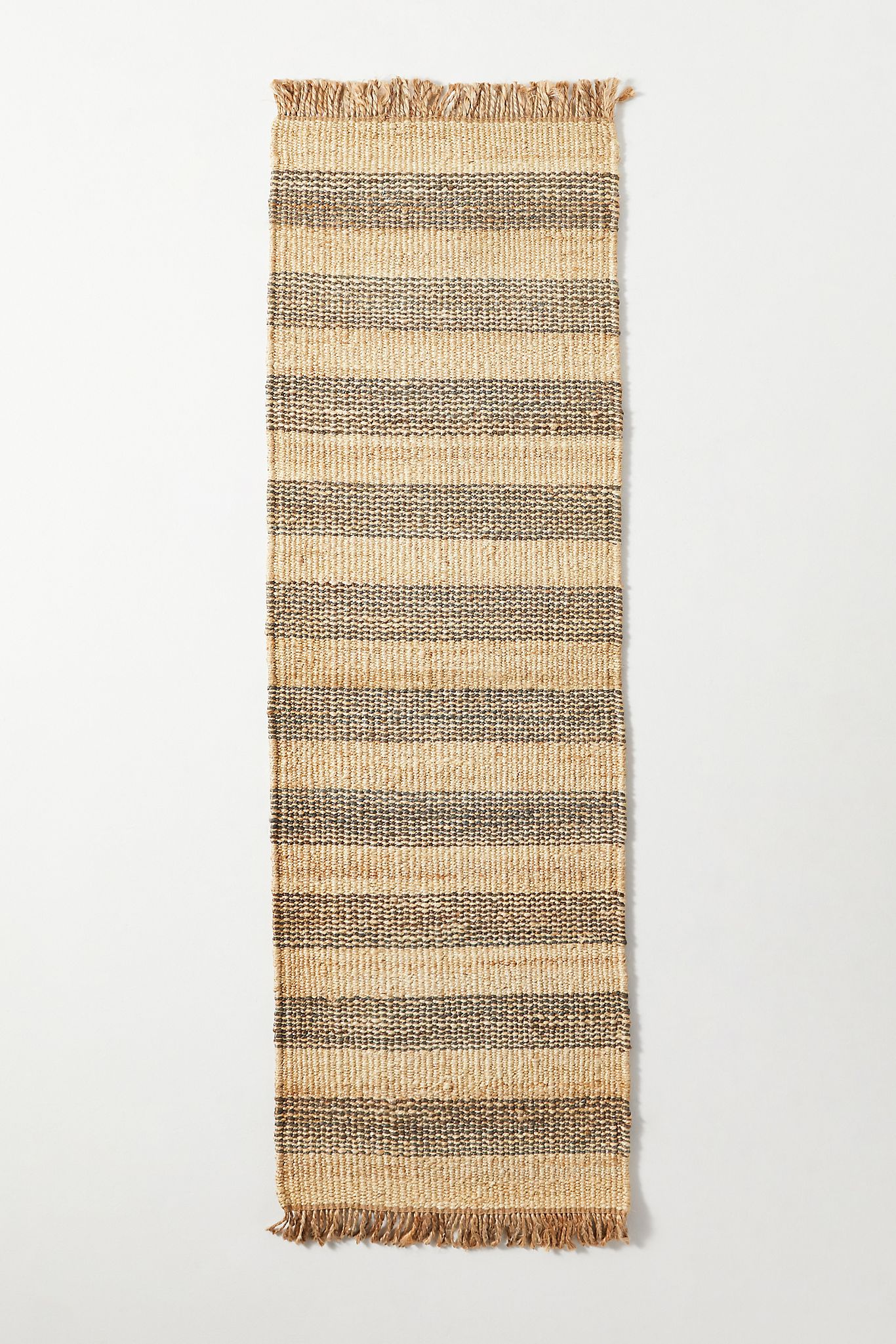 For a relaxed, beachy vibe in your kitchen, try this handwoven Dakarai Jute rug. With thick stripes and a neutral color palette or brown and sandy beige, this timeless rug is ideal for bringing another dimension of texture to your kitchen.
Since Jute is a natural and renewable fibre, this rug is also an eco friendly choice, and it also stands up well to wear and tear from high traffic areas.
Blue Gray Moroccan Trellis Runner Rug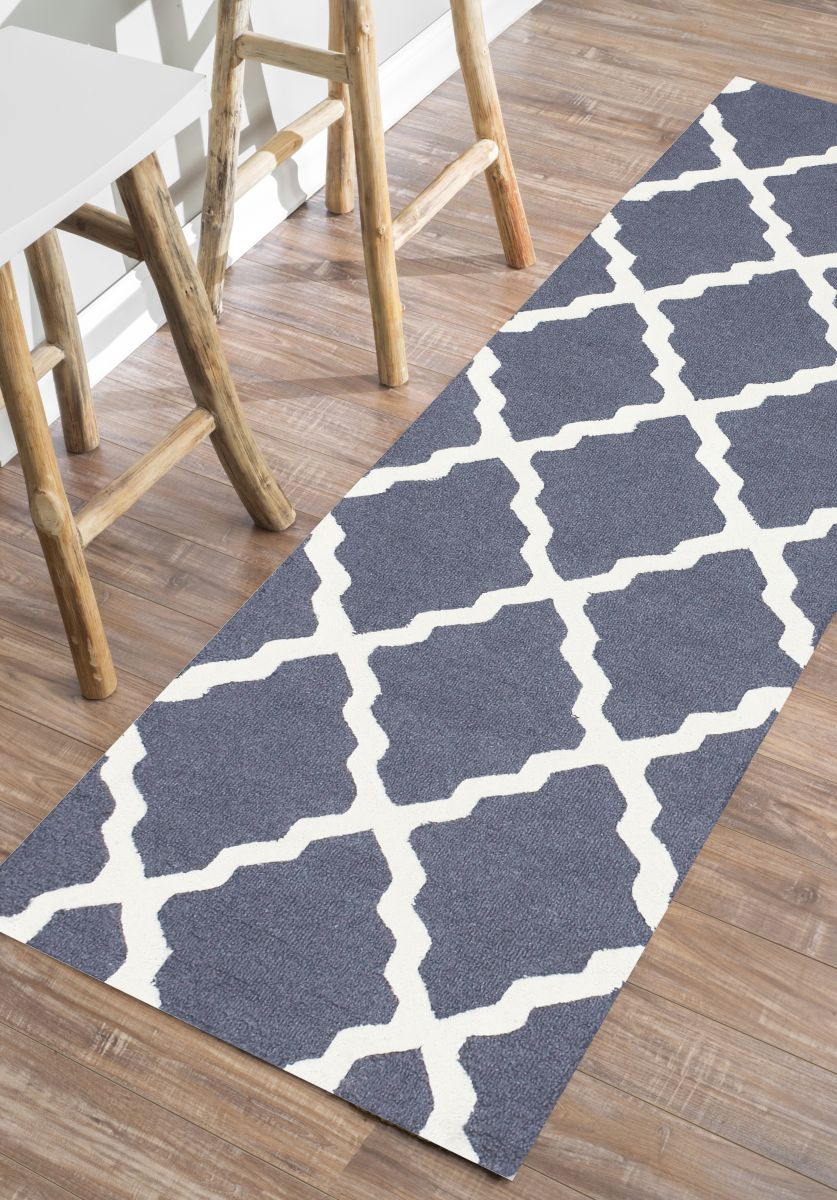 For a modern Moroccan style, this blue gray trellis runner rug will complete the look! This beautiful rug is hand hooked, and made of 100% wool, combining comfort and quality perfectly.
The bold geometric trellis design would make an eye catching addition to any modern farmhouse kitchen. This rug is nice and thick, so will feel great underfoot, as well as being able to stand up to the wear and tear of any high traffic areas.
Antique Farahan Persian Runner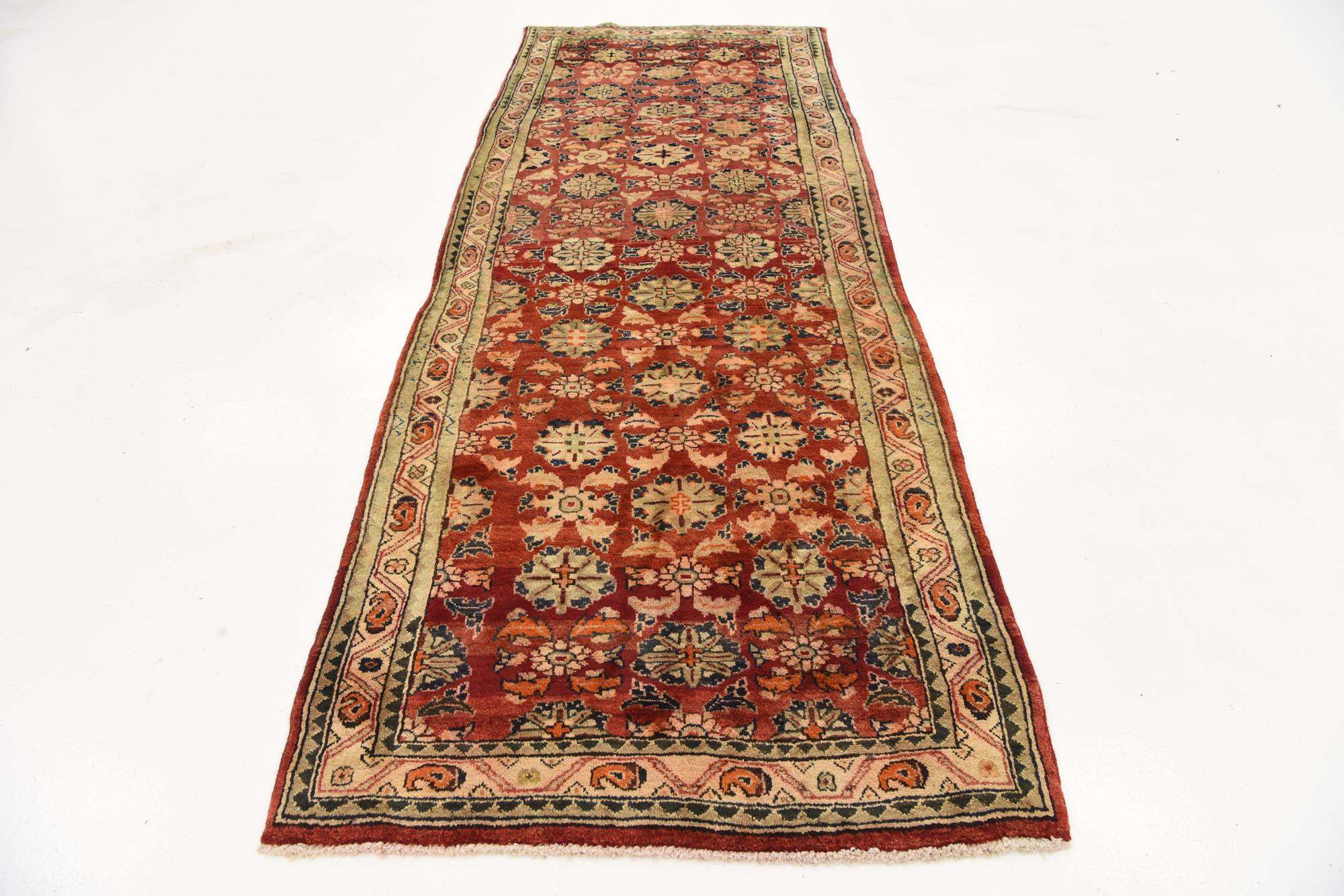 If you're looking for something really special, then take a look at this antique authentic Persian runner rug. This rug is 60-70 years old, and has been hand knotted from 100% wool, so it's beautifully soft underfoot.
With a warm palette of red, gold, green, ivory and navy blue, and an intricate persian design, this rug will really make your kitchen feel like home.
Gray Nelsonville Kitchen Runner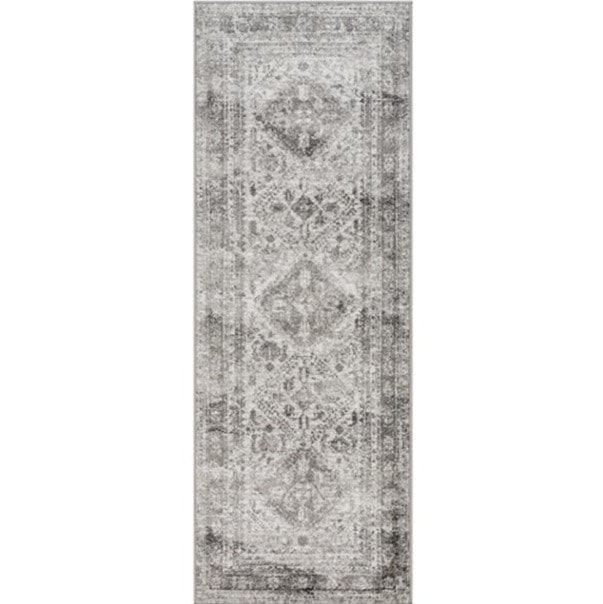 This beautiful gray Nelsonville kitchen runner would be perfect in any modern kitchen. The classic design works so well with the muted gray color palette, and it would work well on either light or dark floors.
It's durable enough to stand uo to the daily wear and tear of being used in a kitchen, and is easy to clean with soap and water when required.
Summing it Up…
If you've been searching for the perfect kitchen runner rugs, hopefully you have found some inspiration here, or maybe you've even found the perfect one!
Having the right runner for your kitchen will not only warm up your space, but also add some of your personality, as well as making it more comfortable while you walk around your kitchen, providing natural cushioning for your knees and back as you walk around.
Kitchen runners generally have to withstand a lot of wear and tear, as the kitchen is usually a high traffic area, so it's worth looking out for rugs that are machine washable, such as the range from Ruggable and Rugs USA, especially if you have kids and pets!